Original Link: http://www.anandtech.com/show/344


After just a few reviews, Gigabyte has quickly become known as a manufacturer of extremely stable motherboards around here at AnandTech. Their boards always seem to come out as very solid, stable solutions that get the job done without many faults. But what happens when Gigabyte is presented with Intel's i810, a chipset intended for the most cost conscious of markets? Did they make any quality or feature sacrifices in the name of cost? The first i810 AnandTech has looked at from Gigabyte, the GA-6WMM7, shows Gigabyte's strong commitment to what got them where they are.
---
New Anand Tech Report Card Rating
87/B+
CPU Interface
Socket-370
Chipset
Intel i810
L2 Cache
N/A (on-chip)
Form Factor
microATX
Bus Speeds
66 / 70 / 75 / 83 / 90 / 95
100 / 101 / 105 / 115 / 120
124 / 133 / 140 / 150
Clock Multipliers
2.0x - 8.0x
Voltages Supported
Auto Detect
Memory Slots
2 168pin DIMM Slots
Expansion Slots

1 AMR Slot
0 AGP Slots
3 PCI Slots (3 Full Length)
1 ISA Slot (1 Shared / 1 Full Length)

BIOS
Award 6.00PG
---
The Good
The GA-6WMM7 isn't quite your typical i810 board with quite a few features that stray from the normal, barren boards based on this chipset. The first thing that you'll notice is that Gigabyte actually included an ISA slot - quite a rarity in this new market segment. The other biggie is the inclusion of true hardware based sound based on the Yamaha YMF744 PCI chip - most i810's only have software powered AC97 codec's. The addition of true sound adds to the price, of course, something that is quite critical for the target market. Gigabyte realized this as well and the onboard hardware audio is optional with AC97 software sound available in its place.
The 3/1/1/0 (PCI/AMR/ISA/AGP) slot configuration is about as good as it gets in the microATX i810 world. All slots can handle a full length board if necessary. Two DIMM slots, the maximum for an i810 board, round out the expansion options. Intel's 801AA I/O Controller Hub (ICH) was selected by Gigabyte for the GA-6WMM7 and provides full Ultra DMA/66 support. Another version of the board, the GA-6WMMC7 is available with the Intel's ICH0 which only supports UDMA/33 and no hardware audio. Gigabyte also selected the 810-DC100 Graphics and Memory Controller Hub (GMCH) with 4MB 100MHz display cache on the board itself to complete the "high end" version of the i810 on the GA-6WMM7. Two 2MB 7ns SDRAM chips from Goldstar provide the display cache that handles z-buffering for the integrated i752 found on the i810. Interestingly, the GMCH is not topped by a heatsink at all. It did not get hot in AnandTech's testing, however.
Eight 1200uF and four 330uF capacitors surround the CPU socket and provide for excellent stability in overclocked and non-overclocked situations as we've come to expect from Gigabyte. It's nice to see a company up hold their standards of quality in the face of such a cost conscious market that the i810 lives in. Performance was typical for an i810 motherboard - just like the i440BX motherboards out there, all i810 solutions seem to perform within a few percentage points of each other.
The GA-6WMM7 provides for some decent overclocking options, although it can be a bit confusing if you're new to the i810. Fortunately, the Gigabyte manual outlines some of the pitfalls in their section on bus speeds. The default setting is for Auto detection of either 66 or 100MHz based on the state of BSEL (commonly known as B21 on Slot-1 CPU's). A single jumper can be used to force either 66 or 100 MHz operation, but four additional jumpers are required for bus speeds not officially supported by Intel on the i810. These include 66 / 70 / 75 / 83 / 90 / 95 / 100 / 101 / 105 / 115 / 120 / 124 / 133 / 140 / 150. The interesting twist on the i810 is the manner in which the memory speed is derived from the bus speed - Intel intended the memory to run at 100MHz regardless of the bus speed by using a 1:1 ratio when the bus is at 100MHz and a 3:2 ratio when the bus is at 66 MHz. So when overclocking using 70 / 75 / 83 MHz, you end up using the 3:2 ratio and get a memory speed of 105 / 112 / 125, which not all PC100 memory can handle. Speeds above that drop back to the 1:1 ratio. AnandTech's testbed Celeron 366 which normally overclocks just fine to 83 x 5.5 = 458 required CAS 2 memory to even POST at this speed on the GA-6WMM7 and could not boot into Windows. However, the same CPU was completely stable at 90 x 5.5 = 495 using CAS 3 memory.
The ATX specification is also closely followed with all major components strategically placed to minimize cable clutter and provide the most room to work around the board. All HDD/FDD connectors are located where they should be, right at the front of the board, so that no cables are forced to run over the CPU and/or memory. Just about all connectors are color coded, as per the PC99 specifications. Primary IDE is blue, while secondary IDE white to make identification at a glance possible. Of course, the backpanel features the rainbow of colors required for PC99 compliance. The ATX power connector is right behind the DIMM slots, but still far enough forward to allow adequate air flow over the CPU from the power supply. The board is an average sized microATX and should fit fine in any microATX or ATX case.
A nice touch is the inclusion of a header for front USB ports. However, the cables aren't included, but then again how many cases can accept them without cutting a custom hole? When the front ports are enabled, the onboard rear ports are disabled. Gigabyte has also included an upgrade connector that a 34-pin connector that looks surprisingly like a FDD connector (because it is) for TV/DFP LCD output upgrades. A 9 pin header is included for adding the second COM port that is not available on the ATX shield due to the onboard VGA connector. Three fan headers are included, two by the CPU and one at the front of the board.
Complete hardware monitoring is included on the GA-6WMM7 through the Winbond 83782D chip and monitors 3 fan speeds, 9 voltages, and up to 3 temperatures. The 83782D improves upon the older Winbond 83781 by including a provision to read CPU temperature straight from the on-die thermal diode for the most accurate CPU readings possible. The 9 voltages measured include VGTL, +5VSB, and battery voltage, in addition to the standard +/- 5V, +/- 12V, +3.3V, and Vcore.
The reason for "up to 3 temperatures" is that the Winbond hardware monitor can only monitor two temperatures on its own - the temperature of the Winbond chip itself and the CPU's thermal diode (where available, which in the case of Socket-370 CPU's, is always). In order to monitor the other temperature, the Winbond chip requires an external thermistor. There is no place to connect a thermistor, so with this board, you're stuck with just two temperatures - the CPU and system temperatures.
Gigabyte takes things one step further by allowing the system to be shut down if the CPU temperature exceeds a user defined value in the BIOS. This can of course be disabled as well if erroneous readings ever crop up and cause problems. Alarms for overheating and fan failure are also available via the BIOS. To top the hardware monitoring off, the core voltage and CPU ID are proudly announced upon bootup just before the memory check - a nice touch by Gigabyte.
Speaking of that BIOS, Gigabyte has also taken the new Award 6.00PG BIOS found on i810 boards and improved upon it just a bit, starting off with a feature well known on AOpen boards - a set of BIOS options that can be loaded and are already tweaked for performance. These options pretty much are optimal for the majority of users, but if you're a real hardcore tweaker, you'll want to go through and double check that everything set the way you like it. SDRAM CAS latency can be configured to 2 or 3 manually, or just left to be ready off the SDRAM SPD.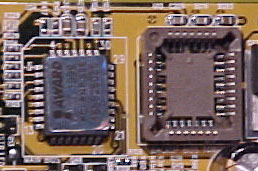 Gigabyte's Dual BIOS, first seen on their BX2000, is optional on the GA-6WMM7. The feature is designed to prevent any form of BIOS corruption due to viruses, incorrect flashing, etc. by including a backup of the BIOS on a second flash ROM that can be restored at any time. In theory, it is capable of booting from the non damaged BIOS automatically if something should ever happen. AnandTech's evaluation sample did not include the backup BIOS, so we could not try it ourselves, but the procedure has worked on the BX2000.
Power management consists of pretty much the standard stuff these days. Wake on LAN and wake on modem ring headers are available to allow the system to power on in the presence of network activity or incoming call. The BIOS can be set to turn on the system at a specific time. The CPU fan can be shut off when the system suspends to quiet things down a bit. ACPI support is built into the BIOS for added power management under an ACPI compliant OS like Windows 98 or Windows 2000. The system can be configured to power on via hot key or mouse click as well, but what's interesting here is the option for USB keyboard power-on - a first for this reviewer.
As many other i810 boards are starting to do, Gigabyte has also included Suspend to RAM (STR) as another power management feature. STR uses the +5VSB power from your ATX power supply to continue to power the system RAM while everything else is power down (even the power supply) so that the system appears completely off. When the power switch is hit again, the system is up and running in just seconds. You'll need an ACPI compliant OS that is properly configured to take advantage of this feature. Fortunately, the manual covers the upgrade in Windows 98, the only publicly available OS currently to support ACPI. When enabled, an LED onboard lights up to let you know that the DIMM's are powered. Of course, since they are fully powered while the system is "off," you should completely unplug your ATX power supply before adding or removing memory.
A nice touch is the ability to configure what the system will do when AC power is restored after a power outage - either remain off, turn on, or resume last power state. This is a feature often overlooked since ATX and soft power became available, but is critical for anyone using their system where it must be on 24/7 or as close as possible. It also allows for users to shut the system on and off from a surge protector.
Although lacking details on installing a motherboard, the manual is otherwise pretty good for the experienced user and includes detailed information on all connector pin outs as well as the various BIOS settings. On the other hand, the CD is much better than the manual and includes Intel LANdesk Client Manager (LDCM) for hardware monitoring, Trend PC-Cillin 98 (OEM) anti-virus software, a suspend to disk utility, and even DirectX 6.1. Of course, there's also the traditional chipset patches and drivers. The CD is not board specific and does not include an online version of the manual.
The Bad
The front panel connectors are not labeled on the motherboard, despite the fact that just about everything else is. A slight annoyance when setting up a system without the manual handy.
Although we're finally seeing it from the likes of AOpen, Soyo, IWill, and Asus, there's still no sign of voltage tweaking options from Gigabyte. Another oversight by many manufacturers is also found here - the ability to assign a specific IRQ to a particular PCI slot. This has been a boon for many users trying to sort out fully loaded situations, but something Gigabyte users will have to do without for now.
As mentioned earlier, the manual is a bit weak in the installation section. Anyone that has never installed a motherboard before will not feel comfortable with the complete lack of information given in the Gigabyte manual on this topic.
---
USB Compatibility
Number of Front Universal Serial Bus Root Ports: 2 (rear disabled when front enabled)

Number of Rear Universal Serial Bus Root Ports: 2

USB IRQ Enable/Disable in BIOS: Yes

USB Keyboard Support in BIOS: Yes
---
Recommended SDRAM
Recommended SDRAM: 1 x 64MB Mushkin SEC Original PC100 SDRAM; 1 x 64MB Memory-Man SEC Original PC100 SDRAM
SDRAM Tested: 1 x 128MB Mushkin SEC Original PC100 SDRAM; 1 x 128MB Memory-Man SEC Original PC100 SDRAM
Manufacturer: The Memory Man
Purchase Web-Site: http://www.memory-man.com
Manufacturer: Mushkin
Purchase Website: http://www.mushkin.com
---
The Test
In recent times, choosing a motherboard cannot be completely determined by a Winstone score. Now, many boards come within one Winstone point of each other and therefore the need to benchmark boards against each other falls. Therefore you shouldn't base your decision entirely on the benchmarks you see here, but also on the technical features and advantages of this particular board, seeing as that will probably make the greatest difference in your overall experience.
Click Here to learn about AnandTech's Motherboard Testing Methodology.
Test Configuration

Processor(s):
Intel PPGA Celeron 366 OEM
RAM:
1 x 64MB Mushkin PC100 SDRAM
1 x 64MB Memory-Man PC100 SDRAM
Hard Drive(s):
Western Digital Caviar AC28400 - UltraATA/33
Bus Master Drivers:
Microsoft Win98 DMA Drivers
Video Card(s):
Integrated Intel i752 in i810
Operation System(s):
Windows 98 SE
Motherboard Revision:
Gigabyte GA-6WMM7 Revision 1.3
Windows 98 Performance

Business
Winstone 99
Intel Celeron 366 (66MHz x 5.5)
18.0
Intel Celeron 495 (90MHz x 5.5)
20.4
---
The GA-6WMM7 is a fully featured i810 board with rock solid stability, onboard hardware sound, a variety of overclocking options, optional Dual BIOS support, and excellent power management. If you're in the market for an i810 board, the Gigabyte GA-6WMM7 is hard to pass up.
---
AnandTech Motherboard Rating

Business
Performance
85%
Price
85%
Ease of Use
85%
Overclocked Stability
92%
General Stability
92%
Quality
87%
Documentation
88%
Reliability
85%
Overall Rating
87%
Click Here to learn about AnandTech's Motherboard Testing Methodology.