Original Link: http://www.anandtech.com/show/307


The world first learned of the Diamond Viper V770 through the shocking previews performed by two of the internet's most well respected hardware review sites, Sharky Extreme and Tom's Hardware. At the time, there were no other TNT2 cards to compare the V770 to, and the Voodoo3 drivers weren't as mature as they are now. The combination of those two factors placed the Viper V770 at the top of everyone's wish list, simply because it was beyond the fastest thing the market had ever seen. 
Soon enough, Diamond had pre-orders worked out with Electronics Boutique and offered to take pre-orders for the card on their page as well.
From Diamond's perspective, the V770 was thrust into the position of the company's graphics flagship. 3dfx left Diamond, along with a handful of other companies in the cold as they merged with STB, if anything, Diamond has a large void to fill as a result of 3dfx's absence. Diamond isn't any better off now that 3dfx has left their Voodoo3 wishes unfulfilled, Diamond's primary goal here is to make sure that they aren't any worse off without the backing of 3dfx's high powered chips. This obviously puts a lot of pressure on NVIDIA to succeed, and ultimately inspired NVIDIA to drop the originally speculated clock speed of the TNT2 Ultra part down to 150MHz for the core frequency and 183MHz for the memory frequency. Diamond, not willing to go out on the same limb Hercules and Guillemot have traversed, willingly changed the specs on their two TNT2 based cards to reflect the changes. The top of the line Viper V770 Ultra card now weighing in at a 150MHz core setting with 32MB of 183MHz SDRAM.
The Specifications
Controller:
NVIDIA RIVA TNT2 ULTRA
True 128-bit
Bus Type:
AGP 4X
(Compatible with AGP 1X/2X)
Memory:
Integrated RAMDAC
Horizontal Sync Signals:
Vertical Refresh:
Maximum Dot (Pixel) Rate:
Monitors Supported:
Standard and Multi-frequency Analog Monitors
DDC2B Plug and Play
Video Playback:
AVI and MPEG-1
DVD/MPEG-2 requires DVD ROM Drive
Multi-tap X and Y scaling and filtering
Color space conversion
Connectors:
DB-15 analog monitor connector
Drivers
Windows. 95/98, including DirectX 6 and OpenGL. ICD
Windows NT 4.0, including OpenGL ICD
Microsoft WHQL Certified
Click here to find lowest prices on this product.

The Card
The Viper V770 Ultra is the first non-reference design TNT2 Ultra card AnandTech has tested. What is so special about a TNT2 Ultra based card that isn't build around NVIDIA's reference design? This opens up a few new pathways that can be beneficial to the buyer in the end.


Click to Enlarge

Not following NVIDIA's reference design can mean that the card is manufactured with a greater quality than the bare minimum standards NVIDIA's reference design cards are expected to meet, or it can mean that the card is considerably worse than your run of the mill TNT2 Ultra card. Which one of those categories does the V770 Ultra fall into? Let's find out.
The board is cleanly designed and happens to be very reminiscent of most other Diamond products, including their Savage4 based Stealth III S540 accelerator. The board AnandTech received was outfitted with sixteen 2MB EliteMT 5.5ns 183MHz SDRAM chips, divided into two groups of 8 chips, with one group per side of the board. As with all TNT2 Ultra boards, the V770 Ultra features an active heatsink/fan combo designed to help keep the temperatures of the board to a manageable level. The board features no TV-out port nor does it feature a digital flat panel output port either, an interesting set of absences, but ones worth noting nonetheless.
The installation of the Viper V770 was by far the easiest out of all of the TNT2 cards AnandTech has tested. The installation CD packaged with the card fired up the classic Diamond installation screen, and the trip from there was very simple. The Viper V770 Ultra features Diamond's new InControl Tools 99, a collection of the best utilities and features Diamond customers have been asking for. It's nice to know that Diamond listens to what the market demands, as the InControl Tools 99 provide an incredible combination of useful features into one excellent utility.

Diamond realized that there would always be a chance that the owner of a competing TNT2 card would try and install Diamond drivers over their own in order to take advantage of the InControl Tools 99 features, in order to prevent this Diamond took some extra steps to make sure that the V770 Ultra drivers could only be used on a V770 Ultra card. Although this makes sense for Diamond, it prevents the detection of the equivalent reference driver revision which the V770 Ultra drivers are based on. Judging by the performance/compatibility, you could be lead to assume that the drivers are revision 0173 or maybe a generation or two earlier.
It would be extremely disappointing for Diamond to release a card clocked at 150/183 without any way of manipulating the clock frequency, so Diamond managed to sneak in a nice set of utilities into their InControl Tools 99 driver utility. Creatively enough, Diamond dubbed a set of 5 pre-set overclocked frequencies, the 5 different "Boost Levels" unofficially supported by the Viper V770 Ultra. Upon launching any 3D application or game, a profile is created for that application/game within Diamond's InControl Tools 99 utility. You can modify that profile by selecting different "Boost Levels" which basically allows your card to be clocked at a different frequency depending on what game you run.


Click to Enlarge

Why on earth would you want a feature like that? Well, overclocking can be a tricky thing at times, while running your TNT2 at 175/183 may work just fine in Quake 2, when you fire up Unreal it may lock up after a few minutes. Although that scenario is rare, it does happen. Some games happen to tax the system in different ways than your more conventional Quake 2 engine based games. The ability to independently select a clock speed for each game gives you the tweaking control over your system without having to re-clock your card every time you start a new game.
Click here to find lowest prices on this product.

| | |
| --- | --- |
| Ok, so what if you don't really care about that feature? InControl Tools 99 also allows you to enable/disable features like V-sync, Single Pass Multi-texturing, the fog table, anti-aliasing, and MIP mapping. All of those features can be independently set using your profiles for each game. If you happen to be playing a game that runs extremely fast on your system you have the option of enabling V-sync in that game alone, so that when you drop down to play some Quake 3 Arena v-sync will be disabled again. The possibilities are endless, and while it's the card that counts, it is the attention to detail that gives the Diamond Viper V770 Ultra the edge over similarly clocked and priced cards from the competition. | Click to Enlarge |
Speaking of clock speeds, how far could AnandTech push the Viper V770 Ultra? Using Diamond's "Boost Levels" the highest setting we could achieve was the Boost Level 5, which is the maximum the drivers allow for. What speeds do the Boost Levels correspond to? Here's a quick table describing exactly that:
Core Frequency
(in MHz)
Memory Frequency
(in MHz)
Base Level
150
183
Boost Level 1
155
183
Boost Level 2
160
183
Boost Level 3
165
183
Boost Level 4
170
183
Boost Level 5
175
183
If you'll notice, it doesn't seem like Diamond wants us overclocking the memory frequency, most likely because the 5.5ns EliteMT SDRAM was only intended to run at 183MHz. Well, AnandTech intended to run that 183MHz SDRAM at 200MHz, so we did. If Hercules can accomplish it with 5.5ns SDRAM, Diamond should be able to as well. To AnandTech's surprise, the V770 Ultra worked fine at the 200MHz memory frequency. The core seemed to be the most difficult part of the card to overclock, after 175MHz there was a significant drop off in stability, and passing the 180MHz mark was a task Diamond's heatsink/fan simply couldn't help accomplish. Keep in mind that the extent of the V770 Ultra's overclocking ability will be unique to each individual card, but it would seem that 175/200 isn't a far stretch for most V770 Ultra owners. Why?
While testing the Hercules Dynamite TNT2 Ultra, one interesting thing that surfaced was the fact that the Leadtek Winfast 3D S320 II managed to outperform the card, albeit by a tiny margin, when both cards were clocked at the same frequency. Upon closer inspection, it was revealed that the Dynamite TNT2 Ultra used considerably slower memory timings to achieve its stability at 200MHz when compared to the Leadtek board which was only required to run at 150MHz (memclock). To no surprise, the Diamond Viper V770 Ultra used the exact same default memory timings as the Dynamite TNT2 Ultra, making the 200MHz memory frequency not a far stretch. With Diamond, it seems as if the core will be the limiting factor, so cross your fingers and hope you pick the right V770 Ultra off the shelf.
 

This allows the Diamond V770 Ultra to perform equivalently to the Hercules Dynamite TNT2 Ultra as long as the core/memory speeds remained the same, however the Dynamite TNT2 Ultra gained the advantage in its ability to run at the 195/220 frequency, where the V770 Ultra was limited to only 175MHz core. 

The 2D quality of the V770 was towards the upper end of the TNT2 Ultra image quality curve, much like the V550 which offered a significant improvement in 2D image quality when compared to other TNT boards.   The difference between the V770 and other TNT2 boards in terms of 2D quality is small, but can be noticeable depending on how sensitive your eyes are to picking up poor quality 2D output at higher resolutions (1600 x 1200+).  As with most TNT2 boards, the V770 Ultra is AGP 4X compliant, meaning the board will automatically take advantage of the AGP 4X specification (and its transfer rates) when placed in an AGP 4X compliant motherboard.  Consider it a free performance boost for upgrading your motherboard in a few months, not bad eh?
Click here to find lowest prices on this product.

The Test
For a complete listing of the V770 Ultra's performance, visit AnandTech's Hercules Dynamite TNT2 Ultra review. The two cards perform identically, except for the Dynamite TNT2 Ultra's ability to run at 195/220.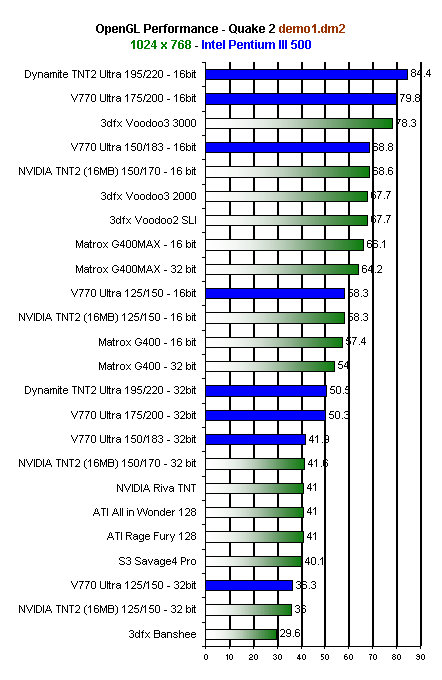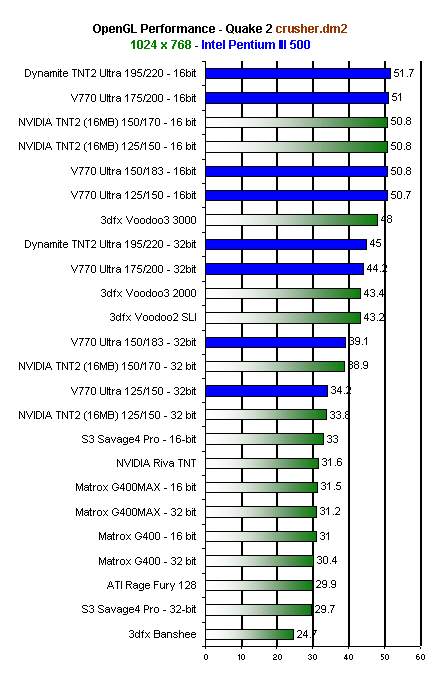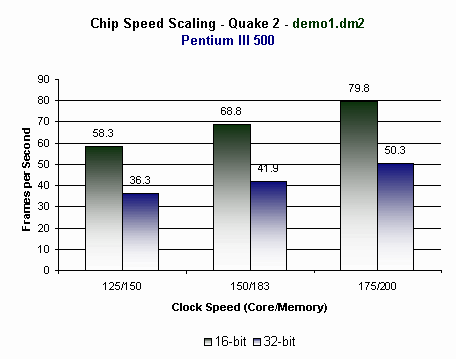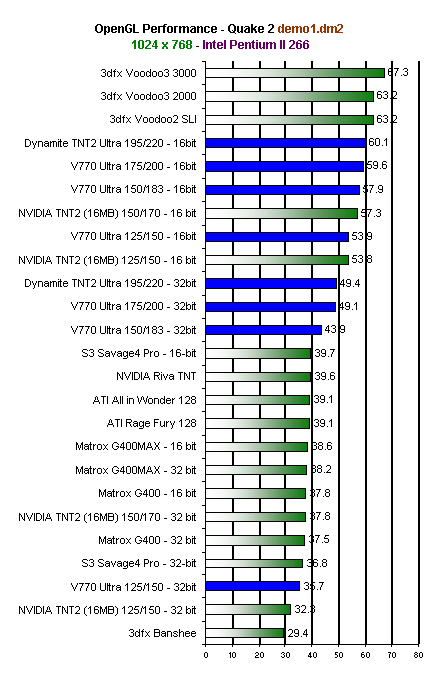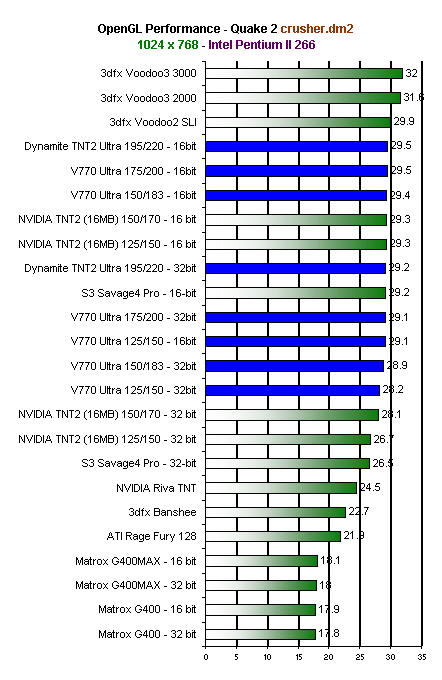 Click here to find lowest prices on this product.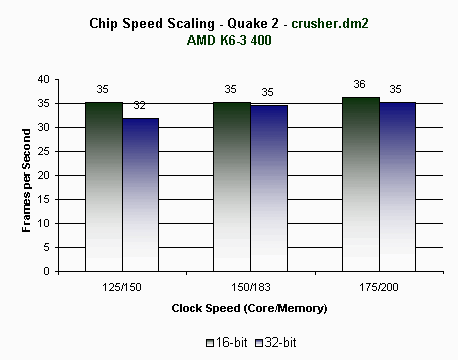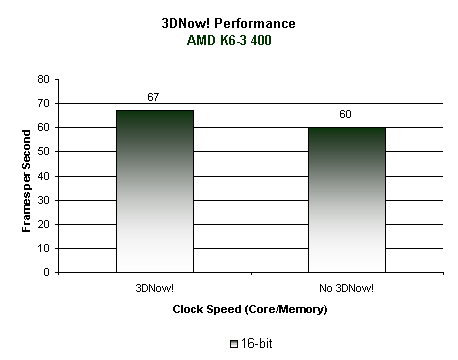 Final Words
It's been proven that the V770 Ultra isn't the overclocking monster everyone expected it to be, limited by a maximum of around 170 - 180MHz core and with a default clock of 150/183, there is no guarantee that your board will even work at 155/183, much less 175/200 as AnandTech's sample turned out to be relatively stable at.  If you're a hard core gamer, and only care about performance, then the Hercules Dynamite TNT2 Ultra is still probably your best bet. 
What if you're not all that interested in overclocking?  What if you're looking for a decent TNT2 Ultra board that gives you the features you want?  In that case, the Viper V770 Ultra is definitely a viable option.  It is probably what will turn out to be the best overall, normally clocked TNT2 Ultra card.  The ease of use and installation of the V770 Ultra is top notch, it's obvious that Diamond put a lot of effort into making their InControl Tools 99 drivers the best they could be, and it would take quite a bit to make them any better.  Kudos to Diamond on making a good card, but they take a back seat to Hercules as the overclocker's choice.