Original Link: http://www.anandtech.com/show/2962/asus-n61j-x2-optimus-gt325m-meets-arrandale


It was only last month that we got our first taste of NVIDIA's Optimus Technology, courtesy of the ASUS UL50Vf. We were without doubt impressed, but there was a small issue with the test platform… or perhaps a not-so-small issue. The UL50Vf uses a CULV processor with G210M graphics—nothing spectacular in performance, but good enough for a reasonable system that can last upwards of 10 hours on a single charge. The problem is that the UL50Vf is a 15.6" notebook, and while it's not as bulky as other 15.6" offerings we have to admit that the pairing of CULV and Optimus cries out for a smaller chassis. Today, we're reviewing our second Optimus notebook, but while the chassis isn't any smaller—in fact, it's slightly larger with a 16.0" LCD—the other changes make this a much better platform. We're going to cut straight to the chase and hit the spec sheet.
ASUS N61Jv-X2 Specifications
Processor
Intel Core i5-430M
(2x2.26GHz + HTT, 32nm, 3MB L3, Turbo to 2.53GHz, 35W)
Chipset
Intel HM55
Memory
2x2GB DDR3-1066 (Max 2x4GB)
Graphics
NVIDIA GeForce GT325M 1GB Optimus
Intel HD Graphics IGP
Display
16.0" LED Glossy 16:9 768p (1366x768)
Hard Drive(s)
500GB 7200RPM HDD
Optical Drive
8x DVDR SuperMulti
Networking
Gigabit Ethernet (Atheros AR8131)
802.11n WiFi (Atheros AR9275)
Audio
HD Audio (2 speakers with mic/headphone jacks)
Altec Lansing SRS Surround Sound
Battery
6-Cell, 10.8V, 4400mAh, 48Wh battery
"Up to 4 Hours"
Front Side
Flash Memory Card Reader
Left Side
WiFi On/Off Switch
1 x USB 3.0
ExpressCard/34
HDMI
Ethernet
VGA
Cooling exhaust
AC Power Connection
Kensington Lock
Right Side
Headphone/Microphone jacks
2 x USB 2.0
1 x eSATA
Optical Drive (DVDRW)
Back Side
None
Operating System
Windows 7 Home Premium 64-bit
Dimensions
15.12" x 10.43" x 1.10-1.47" (WxDxH)
Weight
6.16 lbs (with 6-cell battery)
Extras
NEC USB 3.0 Controller
2MP Webcam
102-Key keyboard with 10-key + 5 multimedia keys
Flash reader (SD, MMC, MS/Pro/Duo, XD, Smart Media)
Altec Lansing Premium Sound
ASUS Splendid LCD Color Control
ExpressGate Linux Environment
Warranty
1-year global warranty
1-year accidental damage (one incident per unit)
30-day no bright dot LCD guarantee
Pricing
Available online for $899
Gone is Core 2 CULV, replaced by a much, much more powerful i5-430M processor. Sure, CULV overclocked to 1.73GHz provides reasonable performance (as with the ASUS UL series using the Turbo33 feature, or Alienware's M11x), but switch to Arrandale, bump the clock speed up to 2.26GHz (2.53GHz with Turbo Boost) and add Hyper-Threading and there's simply no competition. We'll see this later when we get to the benchmarks.
The CPU isn't the only upgrade, however; ASUS pairs the faster CPU with a significantly faster GPU, the GeForce GT325M. Now, the G210M is a much faster GPU than any IGP. We measured gaming performance that's at least 40% faster than the 9400M, and as much as 100% faster; average performance is about 60% faster than the 9400M. And to put things in perspective, the 9400M is currently the fastest IGP solution, coming in anywhere from 10% to 90% faster than the HD 3200 in our testing (average is about 25% faster in games); the HD 4200 is only a slightly faster clocked version, trading blows with Intel's new HD Graphics but not beating the 9400M.
Where does the GT325M rank? It has 48SPs compared to 16SPs on the 9400M; core clocks are about the same as the 9400M, which means it has almost three times the Shader/GPU processing power. It also has 1GB of dedicated GDDR3-1400 (at least in the N61J) and a 128-bit bus, giving it a dedicated 22.4GB/s; IGP solutions have to get by with sharing half as much memory bandwidth with the CPU and the rest of the system. What we're looking at then is performance that should be more than twice as fast in most games (assuming the game is GPU limited). And of course, Optimus Technology means that the GPU can turn off completely when it's not needed, so you can get maximum battery life from the Intel IGP when you're mobile.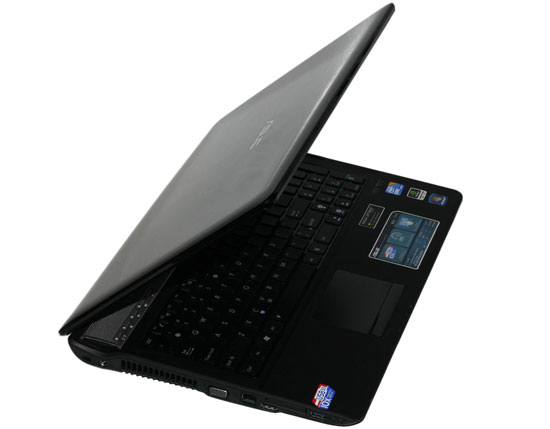 Other changes relative to the UL50Vf aren't quite as significant, but they do help performance. ASUS ships the test model with a 500GB 7200RPM hard drive; our system uses a drive that Seagate touts as using "only .05% more power than a 5400RPM drive". We're not sure what 5400RPM drive they're comparing the 7200.4 Momentus with, but it's definitely faster than 5400RPM drives so we're happy to lose a bit of battery life if it means snappier performance, considering the other component choices.
Speaking of battery life, the above upgrades do not do the N61J any favors when compared with CULV offerings. ASUS provides a 48Wh 6-cell battery with the N61J, and the combination of a smaller battery and a more power hungry CPU+IGP means you're looking at around 4 hours of battery life best-case scenario. Obviously this isn't meant to be an all-day mobile solution, and when we look at all of the specs together 3-4 hours of battery life for typical tasks is quite good. This system can function quite well as a desktop replacement, provided you're not trying to run workstation type applications. We do wish ASUS was able to cram in a larger 65 or 84Wh battery like the UL series, but we understand the need to keep BOM costs in check.
The particular variant of the N61J that we're reviewing is the N61Jv-X2. If you're not familiar with the ASUS nomenclature, the "X" following the main model name indicates a specific build for a major reseller, in this case Amazon. Other variants of the N61J will feature i3-330M, i5-520M, or i5-540M processors; differing HDD capacities and RPMs; and Blu-ray support on some models. We'd love to see the N61Jv with a Blu-ray combo drive, but before we go Blu-ray we'd like to see a better LCD—1080p in a 16" LCD is a perfect fit for Blu-ray in our book. Such upgrades would naturally have a significant impact on the pricing, so taken as a whole the X2 model is equipped very well. It's currently available (and in and out of stock) at Amazon for $899.
$900 is a major price point target with competition from every major manufacturer. We've recently looked at the Dell Inspiron 1564, which is going to be a focus for our performance and value comparisons. We've got reviews of other vendors in the works as well, including a Lenovo ThinkPad T410 and the Acer Aspire 5740G. What sets the ASUS apart from the competition, beyond NVIDIA's Optimus Technology, is the overall package. The warranty is a great example: ASUS provides a standard 1-year global warranty with accidental damage protection (one incident only and one-way shipment for accidental damage), two-way shipping for the customer, and a 30-day zero bright dot guarantee on the LCD. Would we prefer a 2-year warranty? Sure, but every little extra bumps up the price—Amazon does offer a 3-year warranty with the N61Jv for $1030 if that's important to you.
Rounding out the package are the usual extras, plus a few noteworthy additions. ASUS provides HDMI and VGA outputs, Gigabit Ethernet, 802.11n wireless, a flash memory reader, and an ExpressCard/34 slot. In addition, ASUS provides a single eSATA port and two USB 2.0 ports. The big extra is that ASUS has added an NEC USB 3.0 controller for one more USB port on the left side. We unfortunately didn't get the necessary hardware to test the USB3 performance, but ASUS' internal testing with a USB3 hard drive enclosure shows transfer rates over three times faster than USB2; at that point, they run into a conventional HDD performance bottleneck. USB 3.0 support is in its infancy, but the inclusion of the feature on the N61Jv makes it a forward-thinking design and we're sure users will be happy to have that extra down the road. About the only area where ASUS cut any corners is the LCD; it's yet another low contrast 1366x768 model—not the end of the world, but nothing to brag about either.
ASUS N61Jv-X2 Overview
The N61Jv has a split personality as far as appearance goes. The cover once again uses a dark enamel finish that shows every little smudge or fingerprint—and the same of course applies to the glossy LCD. The LCD bezel is also glossy black, but the palm rest and keyboard have a nice matte finish.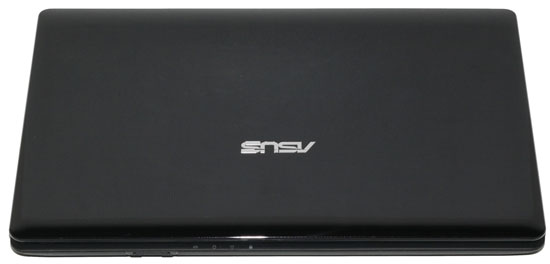 The N61Jv-X2 comes with a "dark brown" cover, which you probably won't notice at first glance. I thought the unit was black, so when ASUS sent a link to the Amazon page I asked if all of the units used the "new brown cover" in place of the "black cover" on my test system. Only later did I realize that I did in fact have a "brown" notebook. If you catch it at the right angle in the right light, you can see the brown pattern, but honestly I don't know what sort of lighting Amazon used for their photos because try as I might, I couldn't get the pattern to show up well. Perhaps in a bright white, halogen-lit office complex it would be more apparent, but carrying it around my home and outside it looks mostly like an enamel black cover. With fingerprints.
Open up the notebook and the appearance changes completely. In place of the glossy plastic on the outside and unlike the UL series, the inside of the N61Jv is composed mostly of matte finishes. The palm rest has a sort of "rubbery" textured plastic found on some mice and keyboards, along with the Alienware M17x and ASUS G73J. The technical description is a "soft touch rubberized painted plastic" surface for the palm rest; whatever it's called, we like it, and we wish the top cover used the same material.
| | |
| --- | --- |
| | |
The keyboard is of the chiclet variety and has a good feel and key action. We only have one minor complaint with the keyboard, and that's the use of a half-size "0" key for the number keypad. Above are two different keyboards, on the left is the ASUS N61J and on the right is the Acer Aspire 5740G; Acer gets the number keypad right. If a company is going to go to the trouble of fitting a 10-key into a notebook, they need to use the standard layout. Yes it's a minor quibble, but it's our only real complaint with the keyboard. We do feel there are better keyboards out there, but that's largely a matter of personal taste—I'm partial to the Lenovo ThinkPad T410 approach, with raised and contoured keys that feel more like a desktop keyboard. If on the other hand you prefer chiclet keyboards, the N61J won't disappoint.
The build quality and construction of the N61J are very good, with no noticeable flex in the keyboard or chassis. If you press quite hard, you can get the keyboard to flex very slightly, but it requires an unreasonable amount of force. The LCD panel has a solid backing that doesn't show any distortion on the screen of you press against the back of it. Our one concern is the panel hinges; they feel fine right now, but we're using a brand new notebook. Long-term they may wear out, but then extra stiff hinges have been known to crack the plastic chassis over time so it's a tough call. Accessing the internals to make any upgrades is quite simple, with a small cover providing access to the hard drive and a larger panel for the RAM, CPU, and mini-PCIe (occupied by the WiFi card) slot. Even with the ease of access, outside of upgrading to 2x4GB RAM or a new HDD/SSD, there's not much need to get at the internals.
The only blemish on an otherwise excellent design is the LCD panel. It has limited horizontal viewing angles and the contrast is quite poor—both are qualities of inexpensive laptop TN panels. Backlight bleed is easily visible, with "blacks" that look more like dark grey. The problem is finding something that's clearly better without spending more money. RGB LED displays can look great, but they cost significantly more than regular LED panels (over twice as much). We've seen a couple ASUS laptops with better contrast ratios, but most laptops source LCDs from several manufacturers so even getting the same model laptop is no guarantee. While we could wish for a better display, at least we can say that the N61Jv isn't clearly worse than the competition in this particular area.
One other oddity that we mention more as a potential help than as a warning is that we did experience a BSOD at one point during testing. Now, the cause of the BSOD can't be put on ASUS: we connected an old X-Rite DTP-94 colorimeter. We have tried using this colorimeter on quite a few laptops and desktops, and to date we have not found a single Windows 7 system that won't BSOD when we connect this older peripheral. We've had to move on to an i1 Display 2 colorimeter for our LCD testing because of this problem, but the BSOD did cause some other behavior that we've passed on to ASUS. Specifically, after the BSOD we booted into Windows only to find that our GT325M was gone. After rebooting and trying to reinstall drivers, we were at a loss as to what had happened. Eventually, we were able to determine that the fix is to do a complete shutdown (not hibernate or restart) and then power up the system, and the GPU would be back. We don't know if this is specifically related to the BSOD caused by the DTP-94, and we didn't have any other instabilities or blue screens during testing, but if you should happen to experience a similar situation and "lose" your GPU, hopefully this will help.
Finally, just to reiterate what we've said in the past: Optimus laptops are intended to run Windows 7. We successfully booted off a Ubuntu 9.04 Live CD with the ASUS UL50Vf, but the GPU was obviously not enabled and it ran off the Intel GMA 4500MHD IGP. The N61Jv didn't fare so well, as Ubuntu 9.04 booted into a "VGA Compatible" mode and 9.10 ended up at a black screen rather than the login prompt. Most likely, this is a problem with the new Intel HD Graphics IGP in the i5 CPU and we would need to use a different flavor of Linux. Regardless, if you want to use a discrete GPU with Linux, you won't want Optimus. Since the Optimus GPU has no direct link to the video output and the Optimus driver copies data from the GPU framebuffer to the IGP buffer at a low level, you would need a similar approach to get an Optimus GPU working under Linux. It's possible someone outside of NVIDIA can enable such a feature, but we're not holding our breath and NVIDIA isn't committing any resources to such a project right now.
Taken as an entire $900 package, we really can't fault ASUS' choice of components. The only missing feature is FireWire support, but including USB 3.0 easily trumps that in our book. Higher specced versions of the N61J also exist, including the N61Jq-X1 with i7-720QM and HD 5730 graphics; we expect to see lower spec models as well with i3-330M CPUs, but we don't have any details on those yet. We would have liked a slightly higher battery capacity, as 48Wh is on the low end of the spectrum for a midrange laptop, but battery life is still reasonable. If you're looking for a very well balanced platform that can handle multimedia, gaming, and office tasks, it will be hard to beat the N61Jv-X2.
ASUS N61Jv-X2 General Performance
The N61Jv is like the Dell Inspiron 1564; we have many similar components and a good point of comparison. We have the same 4GB of DDR3, a slightly slower Core i5-430M processor, and a different GPU. General performance should be more than fast enough for all but the most demanding users; if you're one of those, consider moving to an i7-based notebook instead (with an accompanying loss in battery life). Here's the quick recap of our N61Jv configuration.
ASUS N61Jv-X2 Testbed
Processor
Intel Core i5 520M
(2x2.4GHz, 32nm, 3MB L3, Turbo to 2.83GHz, 35W)
Memory
2x2GB DDR3-1066 (Kingston ASU1333D3S9DR8/2G)
Graphics
NVIDIA GeForce GT325M 1GB 128-bit Optimus
48 SPs (CUDA Cores) @ 450/990/1400MHz GPU/SPs/RAM
Intel HD Graphics IGP
Display
16.0" LED Glossy 16:9 768p (1366x768)
(HannStar HSD160PHW1)
Hard Drive(s)
500GB 7200RPM 16MB HDD
(Seagate Momentus 7200.4 ST9500420AS)
Optical Drive
8x DVDR SuperMulti (LG GT30N)
Battery
6-Cell, 10.8V, 4400mAh, 48Wh battery
"Up to 4 Hours"
Operating System
Windows 7 Home Premium 64-bit
Pricing
Available online for $899
We'll start with a look at general performance using PCMark05 and PCMark Vantage, Internet browser performance courtesy of Peacekeeper, and Cinebench and x264 encoding for computationally intensive tasks.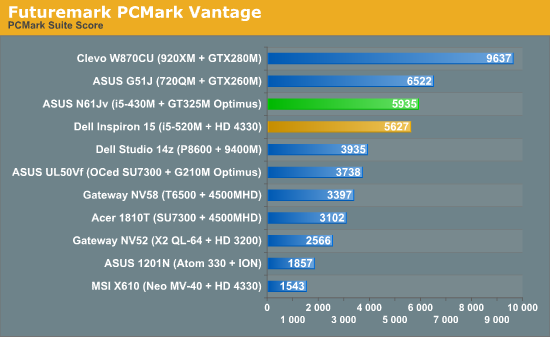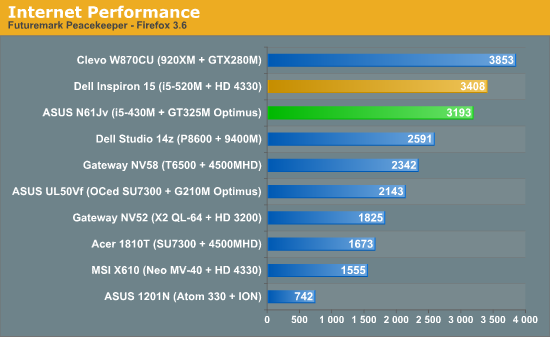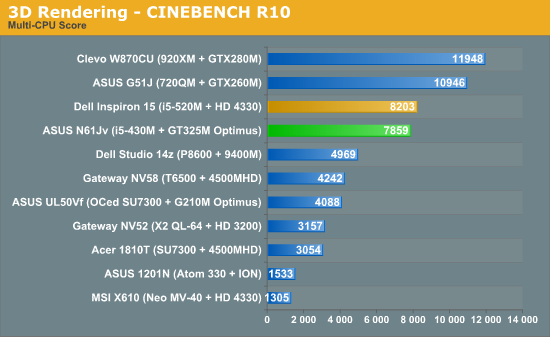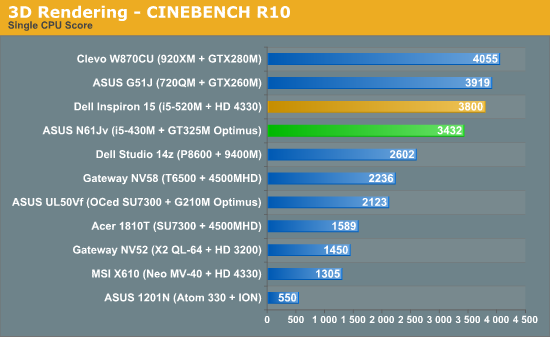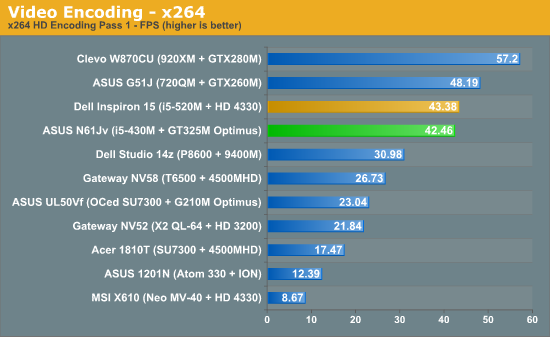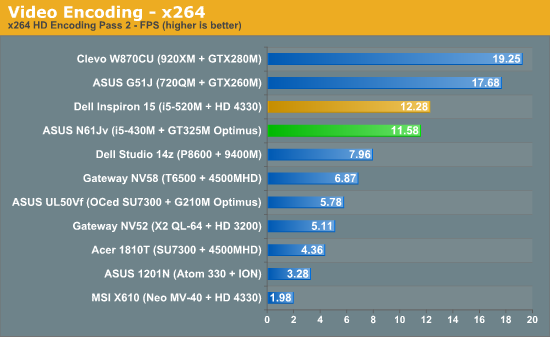 The results are great for a sub-$1000 notebook, trading blows with the Inspiron 1564 depending on whether the particular test benefits from a faster CPU or a faster GPU. PCMark05 doesn't benefit from faster graphics while PCMark Vantage does, which explains the swap in rankings. Peacekeeper also gives the i5-520M equipped Inspiron 15 a slight lead, along with x264 and Cinebench, but the gap is never more than 12%—exactly what we'd expect from the i5-430M vs. i5-520M matchup.
If you want something faster, you can see how the i7-720QM (ASUS G51J) and i7-920XM (Clevo W870CU) rank in terms of application performance. The W870CU also includes an Intel SSD, which dramatically boosts the PCMark scores (though the real-world impact is usually closer to a 10% performance increase). Obviously the i7-920XM isn't even in the same ballpark in terms of price, as the CPU alone will cost more than the N61Jv, but you can get notebooks with i7-720QM for around the same price as the N61Jv if you're willing to compromise on other areas (e.g. battery life).
ASUS N61Jv-X2 3DMark Performance
Before we get to the gaming tests, here's a look at theoretical graphics performance as measured by the various 3DMark iterations. With 48 SPs and 22GB/s of memory bandwidth, the GT325M is a big step up from most of the other GPUs. For these entry-level and midrange laptops and notebooks, the next closest competitor is the G210M-equipped ASUS UL50Vf, followed by the HD 4330 in the Inspiron 15. The GT325M has nearly three times the shader processing power of the G210M with over twice the memory bandwidth, so we should see a very large gap between the N61Jv and the rest of the competition (and let's not even discuss the old GMA 4500MHD performance). That said, the GTX 260M and 280M are likewise a big step up from the GT325M… but of course those GPUs don't support Optimus Technology.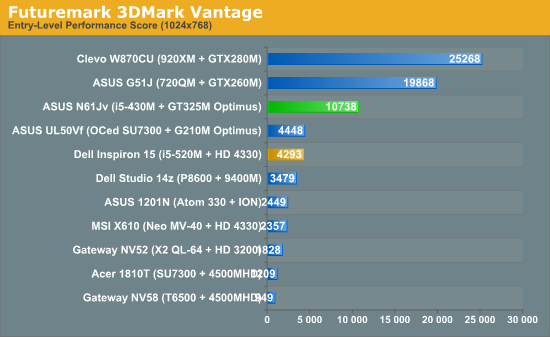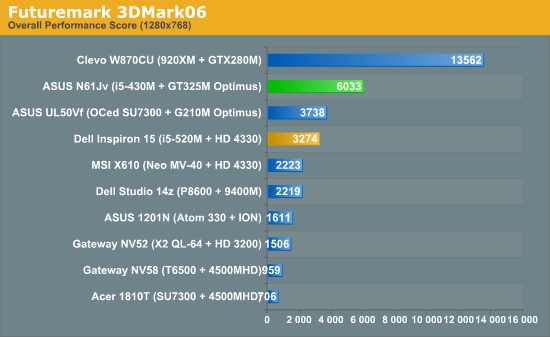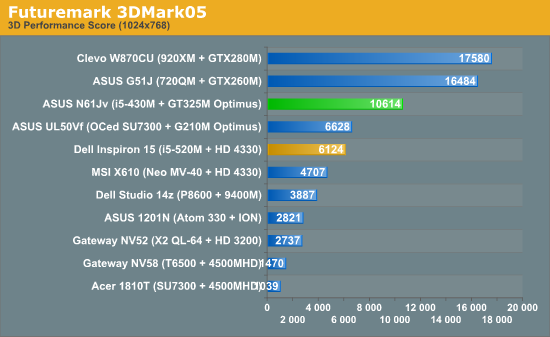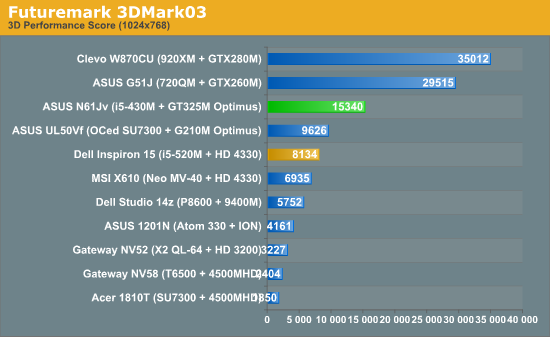 The lead over the HD 4330 ends up being 73% in 05, 84% in 06, 89% in 03, and a whopping 150% in 3DMark Vantage. Considering Vantage represents the state of the art in gaming a lot better than the earlier 3DMark tests, we expect Medium and High detail settings to correlate better with it rather than with the earlier 3DMark versions. Note that we tested at 1280x768 in 3DMark06 since none of these laptops support the default 1280x1024 setting without an external LCD; we also tested 3DMark Vantage at the "Entry" defaults (1024x768) since most of these laptops can't handle the "Performance" defaults—the N61Jv is a likely exception, though again it lacks support for the default 1280x1024 resolution. But enough about 3DMark; let's look at some actual gaming results.
ASUS N61Jv-X2 Gaming Performance
The biggest selling point for the N61Jv over the competition is undoubtedly Optimus Technology. With a reasonable GPU, users get the benefit of being able to run games when they want, but they don't have to sacrifice battery life. We'll look at battery life next, but first we've got gaming results.
We used the built-in benchmarks for Batman: Arkham Asylum, Crysis: Warhead, DiRT 2, Far Cry 2, and the S.T.A.L.K.E.R.: Call of Pripyat benchmark. Empire: Total War and Mass Effect 2 used FRAPS and a repeatable segment. All of the results below are for 1366x768, since that's the native resolution on all of the laptop LCDs. We used the low/minimum (whichever was lower) setting for the default test, but we've included higher quality settings on the ASUS N61Jv. Unlike most of the other laptops in the charts, the N61Jv has enough graphics performance to handle ~Medium settings in nearly every title, and even higher settings in some games. Also note that we've dropped older Intel and AMD IGP results from the gaming charts; the former is certainly not worth the bother in games.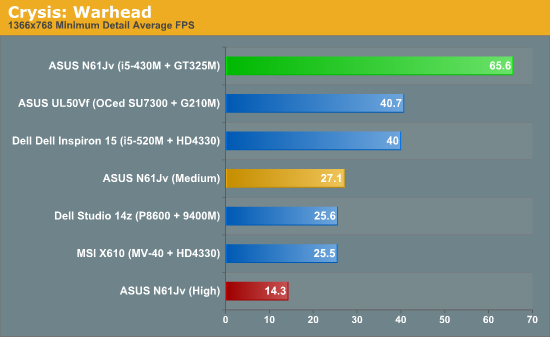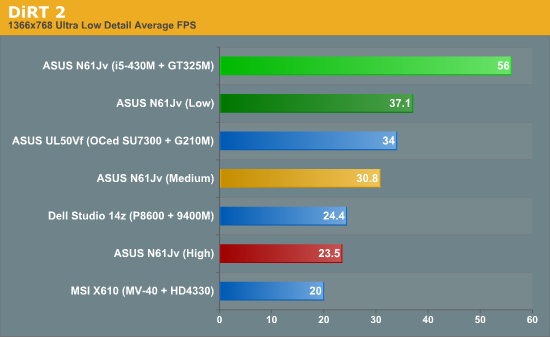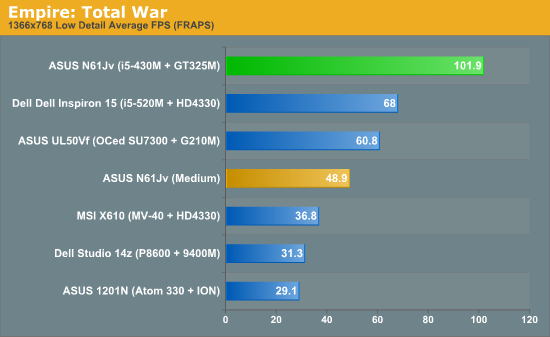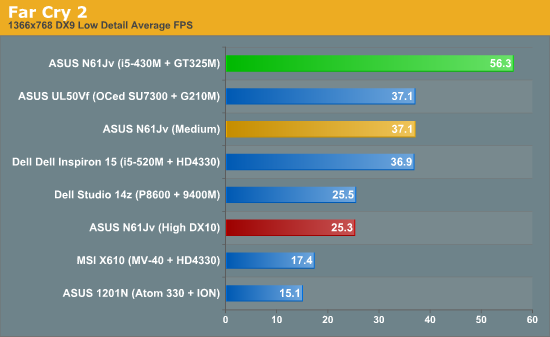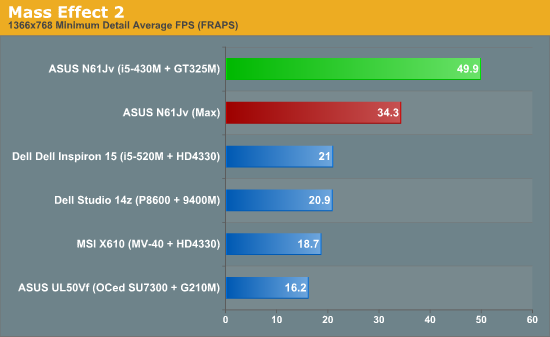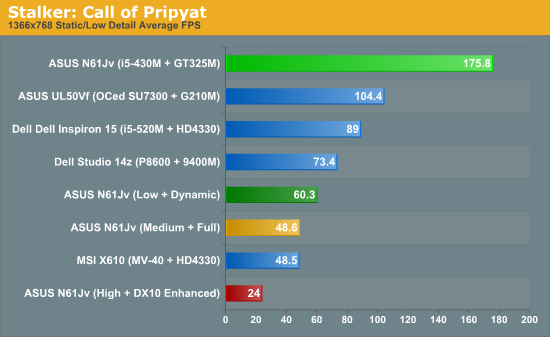 As expected, the performance advantage for the GT325M is very large compared to the other laptops in the field. The N61Jv ends up being anywhere from 50% (low detail Far Cry 2) to 250% (minimum detail Crysis: Warhead) faster than the UL50Vf. Likewise, the lead over the Inspiron 1564 (HD 4330) is 50% to over 200%. The N61Jv not only provides good gaming performance at the native 1366x768 panel resolution, but it also manages to do so with medium or higher detail settings (with the exception of Crysis: Warhead where a few settings would need to drop from "Gamer" to "Mainstream" to get performance above 30FPS). Overall, the i5-430M and GT325M is an excellent combination for an all-around computer. It won't set any speed records, but it can provide a good to excellent experience in every application we've tested.
One glitch that we did encounter with Optimus in our gaming tests is that the Steam version of Empire: Total War appears to limit our available settings based on the capabilities of the Intel HD Graphics IGP. We couldn't select the "High" or "Very High" graphics presets, and many of the individual preferences were missing the High/Very High options as well. NVIDIA is aware of the problem and we expect an updated Optimus profile will remedy the situation. As seen in the charts, however, the drop from Low to Medium is rather precipitous, and we know from experience that the High preset cuts performance by another ~third relative to Medium.
Optimus is new technology, and we expect a few hiccups with games; we also had a slight glitch with the latest Intel IGP driver, which broke Optimus support until NVIDIA and Intel were able to work together and address the problem. You'll want the updated NVIDIA Optimus driver (32-bit version here) if you plan on running with the March Intel driver. NVIDIA states that they "are working with Intel to ensure this issue does not happen again." The new NVIDIA Optimus driver includes improved merging of Optimus profiles and additional performance enhancements.
Obviously in our tests today we're comparing a more recent NVIDIA GPU against older ATI chips, and that's not entirely fair. We have an Acer 5740G laptop that we've begun testing, and we can report that it is indeed faster than the N61Jv—typically around 20% faster. The catch is that you give up not just Optimus, but switchable graphics as well. What that means is that gaming performance is better but battery life is worse. Some will also wonder about the DX11 factor; after all, HD 5650 provides it and nothing from NVIDIA can match it for now. That's true, but again we have to go back to Optimus. It's the clearly superior solution if battery life matters at all, and even though DX11 is the latest and greatest, the fact is most titles that feature DX11 support will run quite slow on the HD 5650. Just to throw out a couple examples, STALKER: Call of Pripyat with medium detail and DX11 + Tessellation yields a 1366x768 result of 33.7 FPS—playable, but not at all high performance. DiRT 2 performance drops to just over 20 FPS at high details with DX11 features enabled, making it even less palatable. We'll provide full details in our upcoming review of the Acer notebook, but the decision still comes down to performance vs. battery life.
What we'd really like—and what we're unlikely to see for a while yet—is Optimus Technology paired with a DX11 capable GPU. Alternately, getting an AMD equivalent of Optimus would be acceptable as well. Sadly, both options are more than likely several months away at best, and there are rumblings that NVIDIA may not have any mobile DX11 parts until the next cycle. When DX10 parts first arrived, we were in a similar situation for over a year, and we could very well experience a relapse with the NVIDIA DX11 rollout. Given the choice between DX10 + Optimus and DX11 without Optimus, for a midrange laptop we'd rather have Optimus. Like DX9 and DX10 before it, we expect DX11 to remain a high-end feature in games for a while. When DX11 games run acceptably on midrange mobile GPUs, NVIDIA and AMD will both be using something other than their current parts.
ASUS N61Jv-X2 Battery Life
Like the Dell Inspiron 1564, the N61Jv comes with a 6-cell, 48Wh battery. ASUS doesn't specify a battery life for the N61Jv (that we could find), but users are reporting up to four hours of battery life in light loads and around two hours for movies. We calibrated the display for ~100nits (a setting of 41% results in 94nits brightness) and ran our standard battery life tests.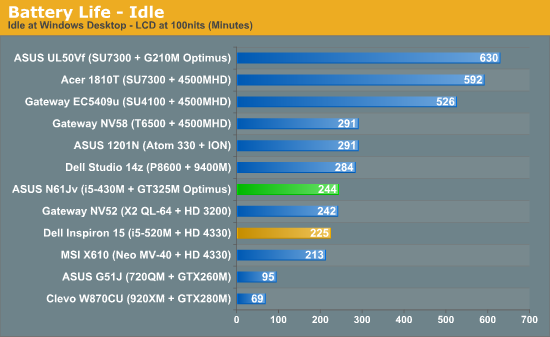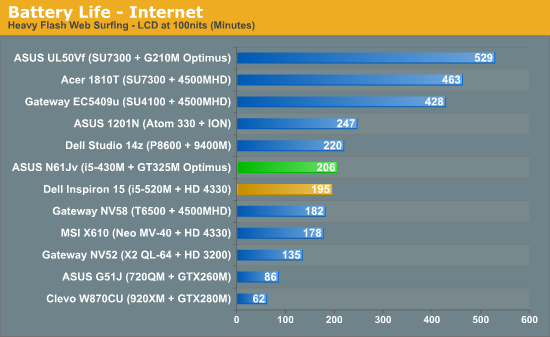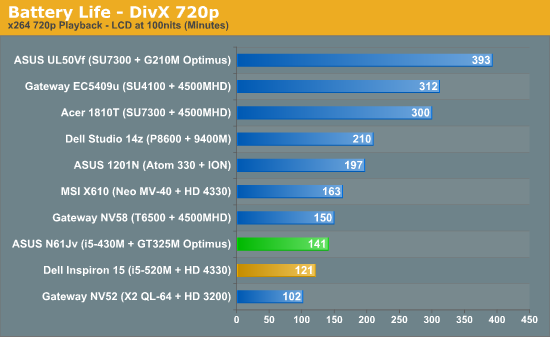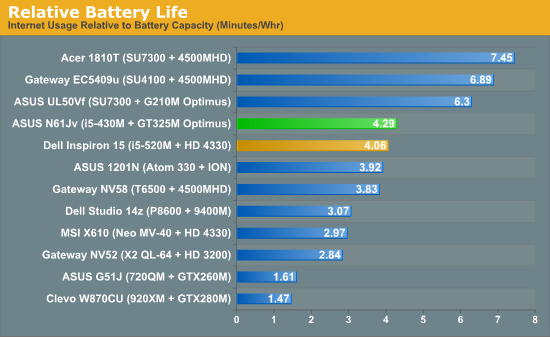 The battery life of the ASUS N61Jv is very similar to the Inspiron 1564, but it lasts 5-15% longer depending on the task. Video playback results favor the N61Jv more than the idle/internet tests, which is interesting since all of these tests use the Intel HD Graphics in the i5 CPU. Of course, the N61Jv battery life pales in comparison to CULV offerings, which can last more than twice as long. If you want a long-life mobile solution, the N61Jv isn't a great choice, but by the same token you can't come anywhere near the performance of the N61Jv with a netbook or CULV platform.
Looking at the relative battery life does provide a bright spot in an otherwise ho-hum set of charts: the N61Jv with i5-430M provides 12% better battery life than a previous generation Core 2 Duo + 4500MHD combination. In fact, the only laptops that provide better relative battery life are CULV designs (and Atom, though we didn't include Atom results in this review as netbooks are in a completely different classification). If ASUS had included a 65Wh battery, the N61J would be pushing into 5+ hour territory.
ASUS N61Jv-X2 LCD Quality
We ran our standard series of tests on the ASUS N61Jv-X2 16.0" LCD using ColorEyes Display Pro. The results, as we alluded to earlier, are quite poor. Contrast ratio is higher than many of the other laptops in our entry-level list, but the difference between 270:1 and 200:1 isn't all that great. What we'd really like to see is a contrast ratio of at least 500:1, as that usually means blacks and dark colors will look a lot better.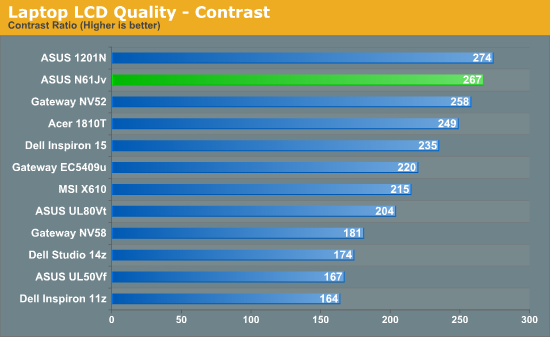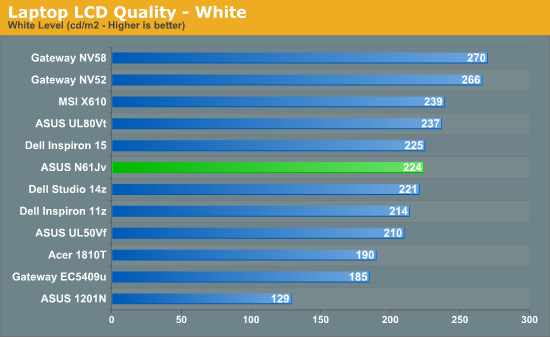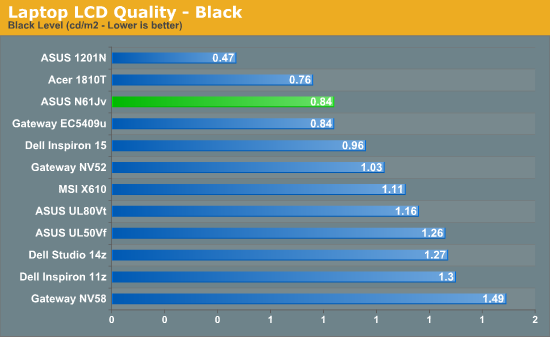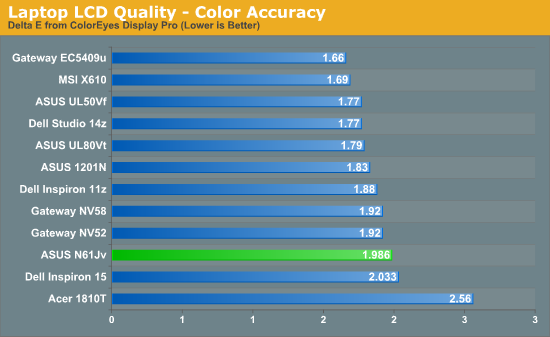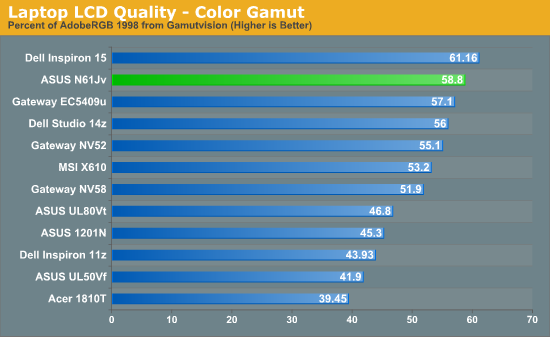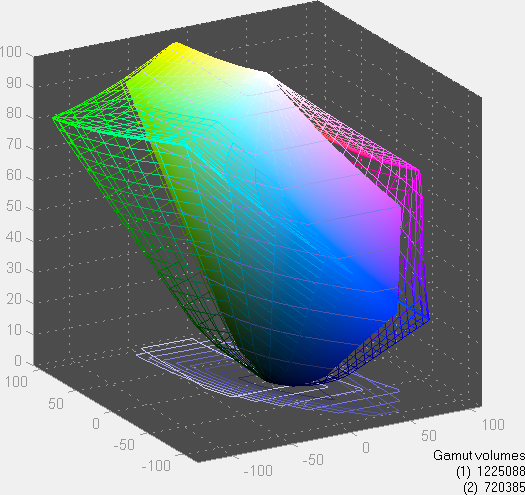 Interestingly enough, the panel in the N61Jv test unit comes from HannStar and is specced at a 600:1 contrast ratio. We're not sure how they managed to come up with that figure, but we didn't come anywhere near the rated contrast ratio. The maximum brightness on the other hand matches the rated 220nits value almost exactly. Perhaps HannStar "accidentally" divided the maximum white level by the 100nits black level… that would give the stated 600:1.
It's unfortunate that the LCD doesn't achieve the rated specs, as otherwise this would be an excellent display for the N61Jv. Color accuracy is by no means perfect, but it's at least competitive and we'd be happy with a 2.0 average Delta E as long as the contrast ratio was better. Color gamut is also higher than most laptops, measuring nearly 60%. Horizontal viewing angles are good, but vertical viewing angles are quite limited, just as with other TN panels. Of course, we'd also like to get an anti-glare (matte) display in place of the current mirror finish, and a panel that isn't TN would be great for improving vertical viewing angles, but one thing at a time.
ASUS N61Jv-X2: An Excellent All-Around Notebook
It's clear that ASUS did their homework in putting together a competitive midrange notebook. The $900 price point was probably set by Amazon from the start, and ASUS has done everything they can to provide a quality mobile solution while stretching the available budget as far as possible. There are laptops that are smaller with better battery life, but they're also slower. Other laptops provide similar performance and better battery life, but they cost more. The one thing that nearly every other option is currently missing is NVIDIA's Optimus Technology, and that gives the ASUS and the N61Jv a clear leg up over the competition. It looks like Optimus is able to improve battery life by around 20% compared to similar performance notebooks that lack the technology (and lack switchable graphics in general), which is a far bigger jump than we've seen from other platform updates in the past.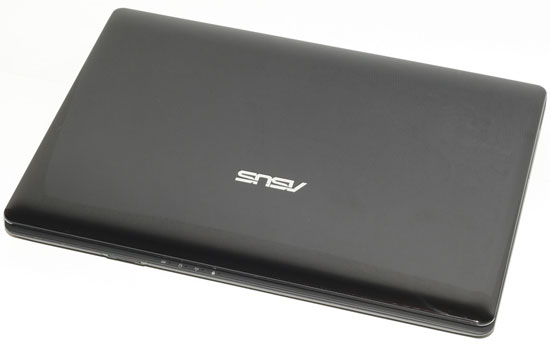 In terms of competition, the N61Jv runs into a variety of offerings from all the major brands. There's the Dell Inspiron 15, for example, and we've also got the Acer Aspire 5740G. We can state unequivocally that the N51Jv-X2 bests the Inspiron 15 in every important metric. With the same i5-430M CPU, the Dell 1564 costs $799 (with a current $95 instant rebate). $100 less gets you about half the graphics performance, no USB 3.0, and a 5400RPM hard drive; you also lose Gigabit Ethernet and 802.11n, instead getting 100Mbit and 802.11g. We like the appearance and build quality of the N61Jv more than the Inspiron 15 as well, making such a match a no brainer.
The more difficult match is the Acer Aspire 5740. If you don't care about graphics/gaming, you can pick up the 5740 with Blu-ray for $685. In that case, you get a 320GB 5400RPM drive and an i3-330M CPU, but the overall package is quite good. For the performance oriented crowd, the Aspire 5740G skips Blu-ray but adds an HD 5650 GPU for a total cost of $750. We can confirm that the HD 5650 is faster than the GT325M in the N61J, but the 5740G also ends up getting about 25% less battery life. The HDD is also a 5400RPM model and it doesn't include USB 3.0 or an ExpressCard slot, and the ASUS warranty is better as well. Build quality seems quite good, and we do like the keyboard layout a bit more on the 5740G, but the N61Jv looks better in our opinion and we like the "rubberized paint" coating on the palm rest. All told, the 5740G definitely offers some stiff competition and the DX11 support may be enough to sway some buyers.

Ultimately, while there is plenty of competition, ASUS has done a lot to stand out from the crowd. Features like USB 3.0 support and Optimus make our "must have" list for any new laptop purchase. We can't point to any single area on the N61Jv and say, "wow… they messed up there!" The worst aspect is the mediocre LCD panel, but when everyone uses lousy LCD panels (at least in sub-$1000 laptops and notebooks), we can only complain so much. The LCD panel and somewhat small battery capacity prevent us from giving the N61Jv our top Gold award, and we'd like the same matte black coating on the cover and LCD bezel and not just the palm rest. Those are minor complaints at best, however, and we are presenting the N61Jv with our Silver Editors' Choice award for providing a superbly balanced package.
Like the recently ended Olympics, the difference between Gold and Silver often comes down to splitting hairs; unlike in the Olympics, though, we can have multiple winners and we don't actually have a competing laptop that we'd currently rate as the Gold standard. By that token, the N61Jv is the best midrange ($800 to $1000) notebook currently available. It's possible to match or surpass it with competing products, but not without sacrificing in other areas. What we want to see now are laptops that can match ASUS in all the good areas, and then add some other extras to sweeten the deal.