Original Link: http://www.anandtech.com/show/2955


Watching the evolution of Dell's 15-inch Inspiron line is interesting, especially when you look at how the chassis designs have changed over the past couple of years. Gone are the bulky gray-and-white monstrosities in favor of a measure of customizable colors and sleeker, more spartan designs. Crossing paths with this smart design evolution has been the continually rising popularity of Apple's MacBook line and the slimmer form factors of notebooks based on Intel's CULV platform and AMD's Athlon Neo processors. Sony's been able to balance powerful internal hardware with light, stylish builds for a while now, but they've largely been the only game in town. Dell's affordable new Inspiron line seeks to change that, and today we have the Inspiron 1564.
Dell Inspiron 1564 Specifications
Processor
Intel Core i5 520M
(2x2.4GHz, 32nm, 3MB L3, Turbo to 2.83GHz, 35W)
Chipset
Intel HM55
Memory
2x2GB DDR3-1066 (Max 2x4GB)
Graphics
ATI Mobility Radeon HD 4330 512MB GDDR3
(80 SPs, 450/1.2GHz Core/RAM clocks)
Display
15.6" LED Glossy 16:9 768p (1366x768)
Hard Drive(s)
320GB 5400RPM HDD
Optical Drive
8x DVDR SuperMulti
Networking
10/100 Ethernet
Dell Wireless 1397 802.11g
Dell Wireless 365 Bluetooth
Audio
HD Audio (2 stereo speakers with mic and headphone jacks)
Battery
6-Cell, 12V, 48Wh battery
"Up to 4 Hours"
Front Side
None
Left Side
Kensington Lock
AC Power Connection
Cooling exhaust
VGA
Ethernet
HDMI
1 x USB 2.0
Right Side
Optical Drive (DVDRW)
2 x USB 2.0
Memory Card Reader (SD/MMC)
Mic Jack
Headphone Jack
Back Side
None
Operating System
Windows 7 Home Premium 64-bit
Dimensions
15" x 9.8" x 0.8" (WxDxH)
Weight
5.44 lbs (with 6-cell battery)
Extras
Webcam
103-Key keyboard with 10-key
Flash reader (MMC/MS/MSPro/SD)
Warranty
1-year basic warranty
Pricing
Starting at $579 ($979 as configured)
In the process of reviewing the Inspiron 15, we came across an unfortunate change of heart from Dell: their notebooks just aren't as configurable as they used to be. This may simply be for the initial i3/i5 launch, but at present Inspiron 15 options are very limited. Unlike previous models, you can't individually select memory, hard disk, processor, and graphics—they're all bundled now. Finding the Inspiron 15 with Core i3/i5 on Dell's site is a bit trickier than usual as well—you're more likely to find the older Core 2 based Inspiron 15 models. With a bit of searching we can get to the appropriate models, and at present the Inspiron 1564 has four available models. The configuration we received for review is the highest priced model with a Core i5 CPU and discrete ATI graphics. Add in the Ice Blue chassis and the current price is $979.
Packed into our review unit is Intel's latest and greatest in the form of the Core i5-520M CPU, built on a 32nm process with two physical cores and Hyper-Threading adding two more logical cores. It comes with 3MB of L3 cache and a stock clock of 2.4GHz that ramps up to 2.83GHz using Intel's Turbo Boost technology. Running graphics duty alongside the Core i5 is an ATI Mobility Radeon HD 4330 with 512MB of GDDR3 video memory. The 4330 is ATI's slowest dedicated graphics part, commanding 80 shaders (stream processors) at a low 450MHz core clock speed—25% slower than its desktop cousin the Radeon HD 4350. Dell makes up for this by opting for 512MB of GDDR3 running at an effective 1.2GHz, helping mitigate the anemic 64-bit memory bus. The Radeon HD 4330 comes with all the hardware video-acceleration trimmings.
While the low clocks will reduce heat output and improve battery life for the Inspiron 15, it bears mentioning that there's no way to switch to using the integrated graphics built into the Core i5 CPU and thus improve battery life further. This is similar to what we saw with NVIDIA's switchable graphics, which have only been in a few products over the years. As we covered in our Optimus Technology Overview, switchable graphics requires more validation and testing, more motherboard layers, and several multiplexer chips (typically two per video output). Given all of the added work, it's perhaps not too surprising—though it is disappointing—that Dell chose to keep costs down on the Inspiron 15. Less expensive models are available with Intel HD Graphics, for those that don't need a faster GPU.
Rounding out the package is 4GB of DDR3-1066 memory (expandable to 8GB if you're willing to lose the 2GB SO-DIMMs that the system comes with), a 320GB hard drive running at 5400 RPM (a Western Digital Scorpio Blue in our test unit, though we suspect actual hard drives will vary based on Dell's current inventory), and a DVD+/-RW drive. Networking comes courtesy of Dell's Wireless 1397 802.11g network adapter, 10/100 Ethernet, Bluetooth, and an integrated 1.3-megapixel webcam. While the memory is bog standard for this market segment, the rest of the components are curiously underpowered for such a monstrous processor. The lack of gigabit Ethernet is disappointing, and the modified configuration utility is a mess.
We were able to find a package with 802.11n networking by starting with the $794 package (on sale for $709) and selecting one of the upgraded configurations. The base package has a 500GB HDD compared to the 320GB package we received, but it uses the i3-330M CPU. The $1009 package ($120 on sale) adds a Core i5-430M CPU and BD-ROM along with 802.11n, and the $1039 ($909 on sale) adds a 9-cell battery as well. While none of these upgrades are essential, they're all reasonable choices, but we really do miss the ability to specify our own components. Hopefully Dell will bring that ability back to the 2010 Inspiron line—customization options remain plentiful on other laptops.
Finally, in order to fit everything into what is admittedly a very handsome chassis, Dell seems to have made a few unfortunate cuts to connectivity. There's the bare minimum three USB ports, HDMI and VGA ports for connecting a second monitor or a television, an Ethernet jack, microphone and headphone jacks, and the traditional memory card reader. The omission of FireWire and eSATA ports wouldn't be so painful if Dell hadn't also elected not to include an ExpressCard port. As a result, the Inspiron 15 isn't going to be suitable for even hobbyist level video work since there's no way to connect a video camera to it. With the Inspiron 15, what you see is what you get; end of discussion.
Dell Inspiron 15 Overview
Our review unit came to us with the "ice blue" lid, and it's attractive indeed. While glossy plastics adorn the majority of the Inspiron 15, it's not quite the fingerprint-magnet and general eyesore that many of Toshiba's notebooks have been over the past two years.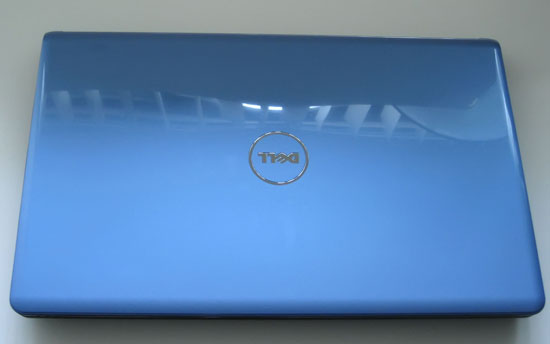 Glossy plastics can be fairly attractive if used in moderation, and for the most part they are here, though even photographing the Inspiron 15 required having a microfiber cloth handy to remove smudges from fingerprints. Glossy plastic is used on the lid as well as the bezel for the screen and trim around the touchpad and keyboard. The bluish-silver coloring on the inside is attractive, with a light-brushed aluminum pattern to it. In the center is the touchpad, which is lightly textured and very comfortable to use.
Dell's designers know moderation, though, and we were happy to see a matte plastic keyboard and frame. Many manufacturers have taken to using glossy plastics even on the keyboards, which is frustrating as the texture isn't as pleasant or comfortable. The matte plastic keyboard takes advantage of the added width required to accommodate a 15.6" 16:9-aspect screen to include a numeric keypad. Overall, the keyboard layout is logical and well thought out, with no real sacrifices made to fit the keypad and dedicated keys for Home, End, Page Up, and Page Down. Dell even includes a dedicated touchpad toggle key between the F12 and Insert keys, but eschewed the Scroll Lock key to do so. The keyboard is comfortable and easy to use, and while flex isn't ideal—the keyboard isn't completely firm—it's nowhere near as bad as many other consumer laptop keyboards are.
While the overall build of the Inspiron 15 is very firm and the use of glossy plastics at least tasteful, Dell's designers seem to have missed the boat in stripping down features to produce a more affordable notebook. As we mentioned before, expandability has taken a massive hit with this model and the cuts Dell made have been cruel ones. The lack of eSATA or FireWire—not even an eSATA/USB combo port—is exacerbated by the missing ExpressCard port. The bottom panel on the unit allows the user to replace the hard drive or memory, but there's just no way to improve connectivity beyond what's there. Likewise, the limited customizability on Dell's website ensures you're stuck with the 15.6" LED-backlit screen's mainstream 1366x768 resolution. Even a matte screen would be a welcome change, especially with the default screen's mediocre viewing angles and poor contrast.
We understand that the Inspiron 15 is meant to be more of a bargain, entry-level laptop, but there's little point in upgrading from the base model Inspiron 1564 with i3-330M (2.13GHz with no Turbo Boost) to the beefier i5-520M. Not only does the added performance go to waste in most cases, but it's also a $270 jump for the CPU upgrade. We suspect Dell shipped us the higher-end model to improve benchmark scores, but frankly it's not worth the cost and we recommend the less expensive Inspiron 15 offerings for general use. If you want a faster CPU, look to the Dell Studio 15 line, which adds the missing eSATA, Firewire, and ExpressCard/34 along with a 1080p LCD and the ability to customize many other areas—or look at HP, Acer, ASUS, Toshiba and others who offer notebooks in the same price range with far more expandability than the Inspiron. Ultimately, the trade-off is going to be how much you want to sacrifice to get a mainstream processor in a fairly slim, lightweight chassis.
Dell Inspiron 15 Application Performance
Given the 4GB of memory and powerful quad-threaded Intel Core i5-520M processor, it's reasonable to expect our Inspiron 15 review unit will tear through most processor-related tasks with relative ease. To refresh, here's how our Inspiron 15 is configured:
Dell Inspiron 1564 Testbed
Processor
Intel Core i5 520M
(2x2.4GHz, 32nm, 3MB L3, Turbo to 2.83GHz, 35W)
Memory
2x2GB DDR3-1066 (Max 2x4GB)
Graphics
ATI Mobility Radeon HD 4330 512MB GDDR3
(80 SPs, 450/1.2GHz Core/RAM clocks)
Display
15.6" LED Glossy 16:9 768p (1366x768)
Hard Drive(s)
320GB 5400RPM HDD
Optical Drive
8x DVDR SuperMulti
Battery
6-Cell, 12V, 48Wh battery
"Up to 4 Hours"
Operating System
Windows 7 Home Premium 64-bit
Pricing
$979 as configured
For basic performance we've tested the Inspiron 15 in PCMark05 and PCMark Vantage, and in both programs you'll see it simply excels, blowing past the Intel Core 2 powered competition. We've also included results for video encoding, 3D rendering, and web browser performance.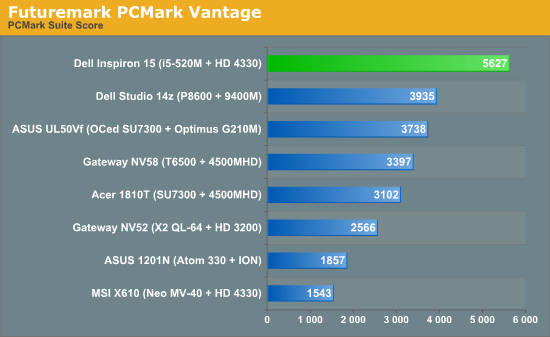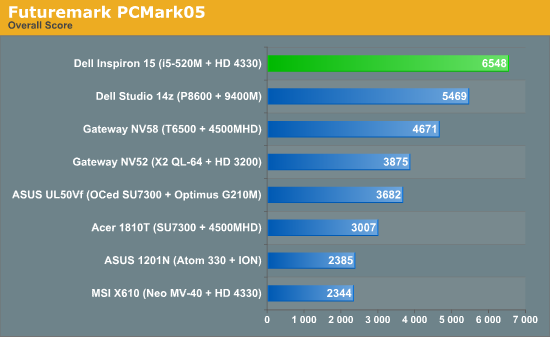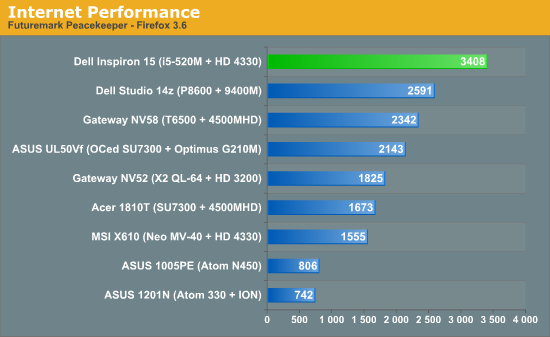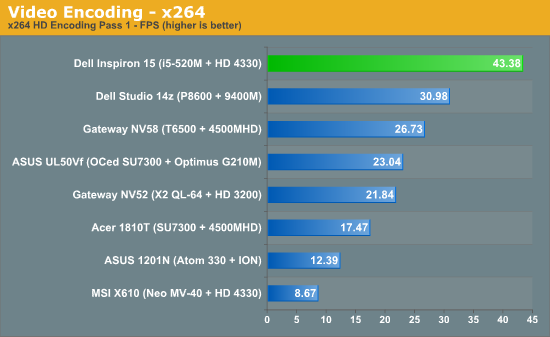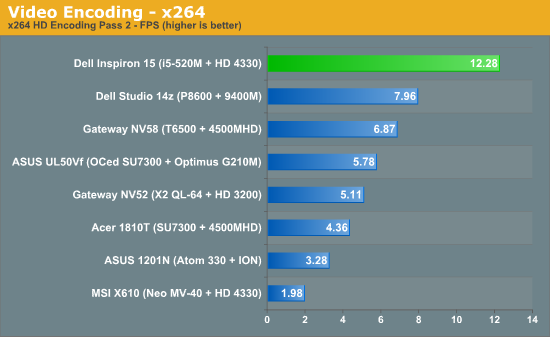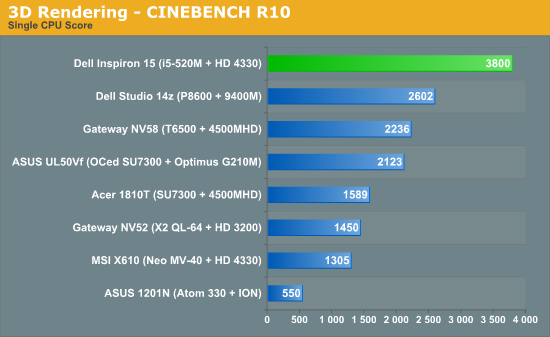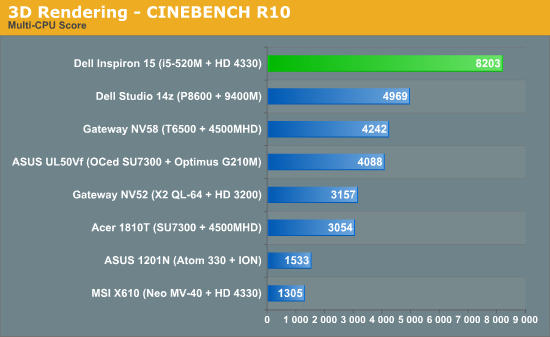 Intel made some very big strides with the Arrandale-based Intel Core i5 processors, and the i5-520M's performance here is proof of that, showing leads of 20% to 65% in the various benchmarks compared to the next-fastest notebook (Dell Studio 14z/P8600). Suffice it to say, it's very fast and more than up to any processor-related task you want to throw at it. The only way you'll get more performance in a laptop is to move to a quad-core CPU, and even then it will only be in tasks that can leverage multi-threading effectively.
Dell Inspiron 15 3DMark Performance
The chip that powers the Inspiron 15's ATI Mobility Radeon HD 4330—the M92, the desktop RV710's mobile derivative—remains extremely common as a dedicated option in modern laptops, routinely appearing as the higher-clocked Mobility Radeon HD 4570. While it sports an anemic 80 stream processors, that's still twice the number found in AMD's top-end integrated graphics part, the Radeon HD 4200. The HD 4330 also benefits from a dedicated 512MB of GDDR3 in the Inspiron 15 clocked at an effective 1.2GHz. While most gamers would scoff at such an underpowered GPU, we only need enough power to game at the Inspiron 15's modest 1366x768 resolution.
We've got a second point of comparison with the HD 4330 just to make things interesting. The MSI X610 uses a single-core AMD Athlon Neo MV-40 running at 1.6GHz. Obviously, that's a much slower CPU than the i5-520M, but it will be interesting to see whether the bottleneck is the CPU or GPU in our 3D and gaming results.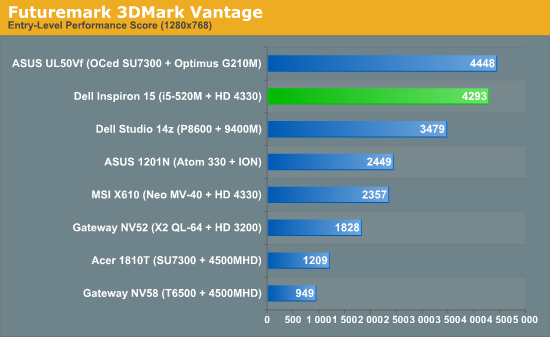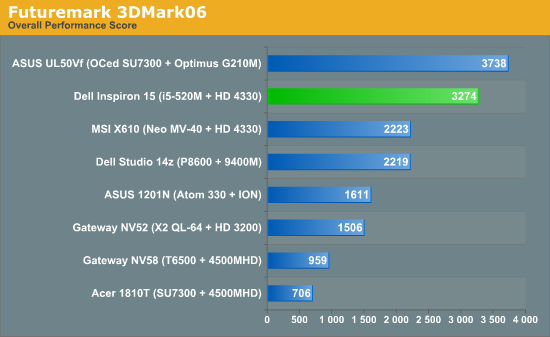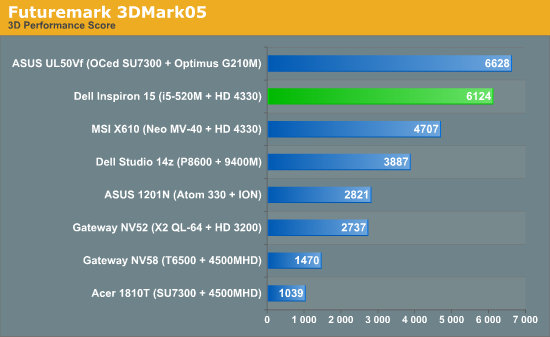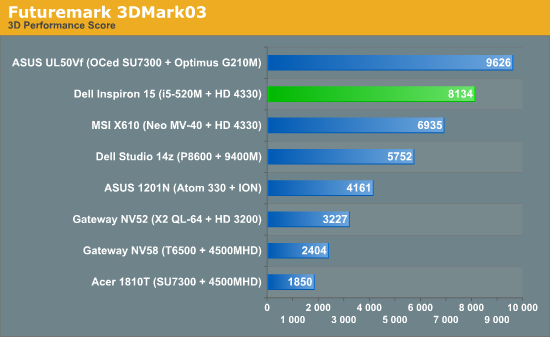 It isn't ideal, but in 3DMark the Mobility Radeon HD 4330 at least puts in a decent showing against NVIDIA's competing lowest-common-denominator, the GeForce G 210M powered by 16 of NVIDIA's CUDA cores—though granted the G210M is handicapped somewhat by the slower SU7300 @ 1.73GHz CPU. The CPU also makes a huge difference when we compare the MSI X610 and the Inspiron 15, with each succeeding 3DMark version showing a larger gap. We'll see how things stack up in our gaming results next.
Dell Inspiron 15 Gaming Performance
In our actual game benches, we found the Inspiron 15's Mobility Radeon HD 4330 to offer barely adequate performance. Since the Intel Core i5's integrated graphics can already handle high definition video acceleration, the real reason to opt for upgrading to the Radeon is going to be for a casual game here and there.
We used the built-in benchmarks for Far Cry 2 and Batman: Arkham Asylum, while Empire: Total War, S.T.A.L.K.E.R.: Call of Pripyat, Crysis: Warhead, and Mass Effect 2 were all tested by repeating a section in each game and measuring the framerate using FRAPS. You'll notice we've added a few new titles, which means at present we don't have any results for previously tested laptops in those games. We'll be adding more as time passes, but it's pretty clear the HD 4330 is the bottleneck here.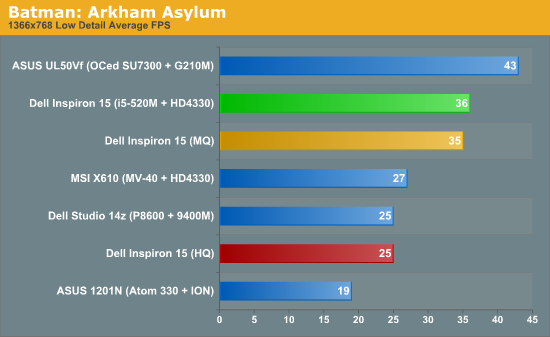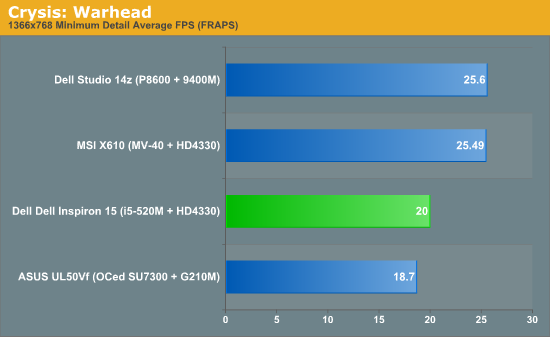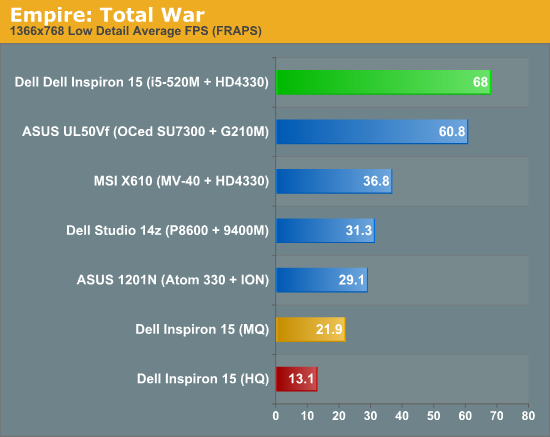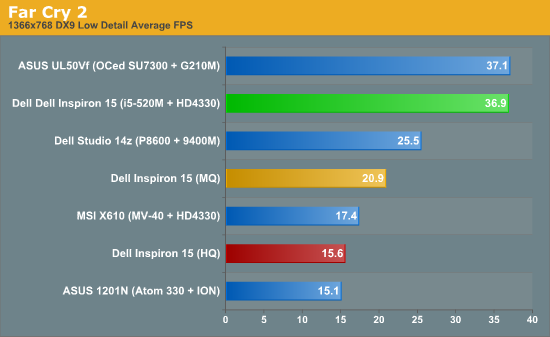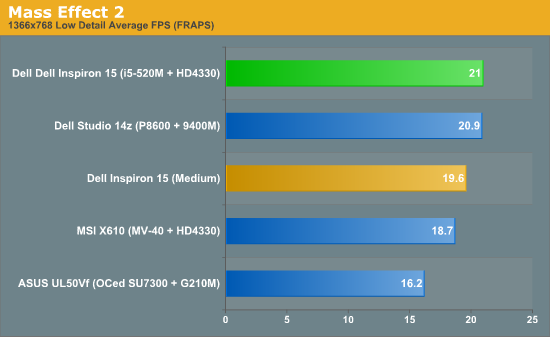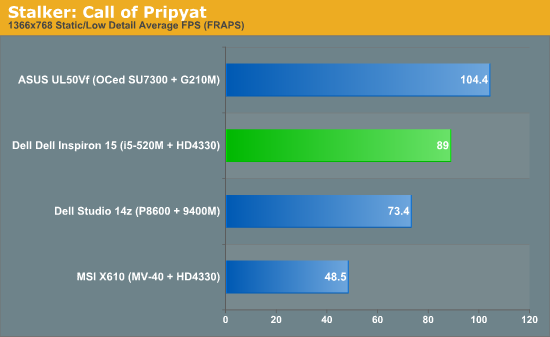 The ATI Mobility Radeon HD 4330 in the Inspiron 15 doesn't offer world-shattering performance—and we didn't really expect it to—but it does at least show playable performance with low/minimum settings at the screen's native resolution in every game we tested, the one exception being Crysis: Warhead. This shows that at least there's some breathing room with the 4330 for playing modern games; the brand new S.T.A.L.K.E.R.: Call of Pripyat isn't going to run in all its DirectX 11 glory, but there's definitely room to raise the detail settings.
Comparing the Inspiron 1564 with other laptops, we see the 3DMark results reflected in the various gaming titles. Titles that are more CPU limited show the i5-520M with HD 4330 with a slight lead over the UL50Vf with G210M. The UL50Vf struggles in Crysis: Warhead and Mass Effect 2, though the latter appears to be more of a driver issue than a CPU bottleneck, given the performance of the MSI X610.
Given that the Mobility Radeon HD 4330 can at least handle games at the Inspiron 15's native resolution, we're comfortable suggesting this upgrade for light gaming on the go. If you look at Dell's pricing, the Intel HD Graphics model comes with only 2GB RAM and a 250GB HDD for $579, so the extra $90 gets you a larger HDD and twice the memory ($50) in addition to the GPU upgrade ($40)—certainly a reasonable cost, if you're willing to sacrifice a bit of battery life. One thing that does bear mentioning is the system's fan: during games it spins up, and it gets extremely loud. The sounds of the game should mask it for the most part, but it's very audible. If you're going to game on the Inspiron 15, consider investing in a pair of closed-ear headphones.
Dell Inspiron 15 Battery Life
Dell shipped our Inspiron 15 review unit with their standard 6-cell, 48Wh battery and advertise it as being able to hit up to 3 hours and 43 minutes of running time. For our battery life testing, we set the screen's brightness to a measured 100 nits.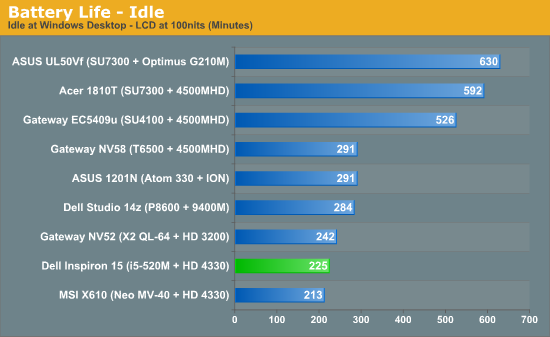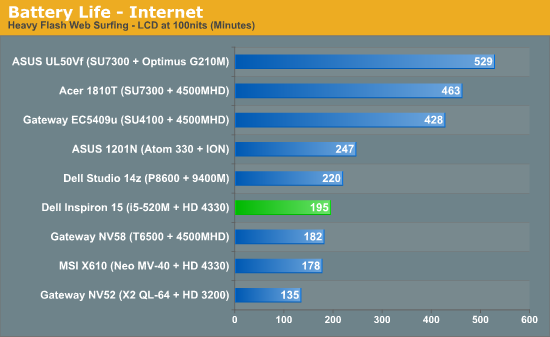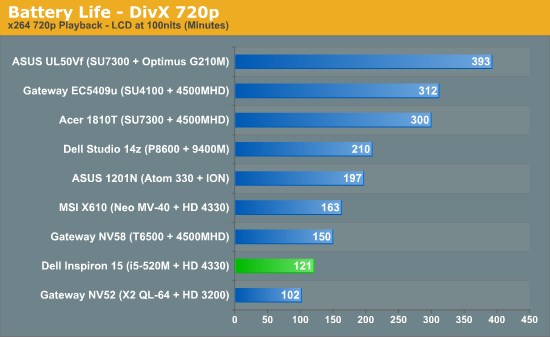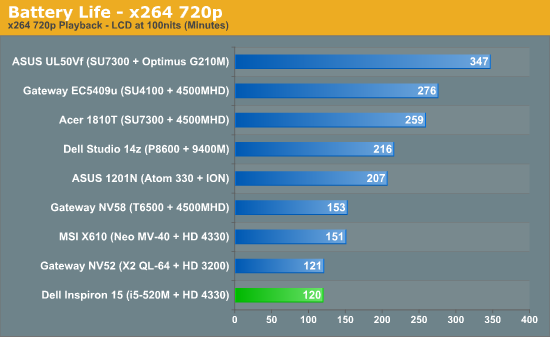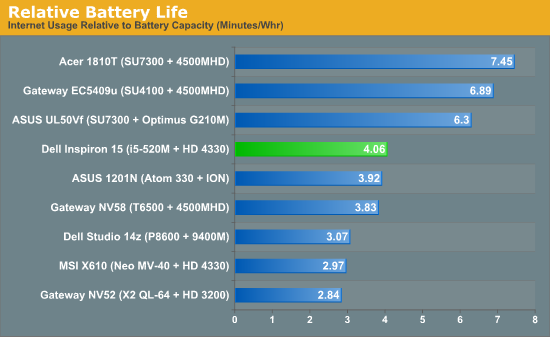 The running time of the Inspiron 15 isn't exactly breaking any records, but it's not a showstopper and Dell should be commended for at least a measure of truth in advertising. Leaving the computer idle at about 30% brightness in the software settings resulted in a battery life two minutes longer than what Dell advertises. When we put the computer to basic use, we get a touch over three hours, which is just about the bare minimum of what a modern notebook should be able to provide. When video playback enters the equation, however, battery life takes a swan dive, losing a full hour of running time. The Inspiron 15 is still managing two hours of useful life, though, just long enough to watch a movie before having to put the machine into standby.
Dell Inspiron 15 LCD Quality
We ran our standard series of tests on the Dell Inspiron 15's 15.6" LCD screen using ColorEyes Display Pro. While viewing angles are likely to continue to be problematic for laptop screens, the Inspiron 15's is particularly troubling. Most laptop screens have a sweet spot you can tilt them to in order to minimize discoloration at the top or bottom of the screen, but the Inspiron 15 can't ever quite make it there. Likewise, color contrast is particularly poor.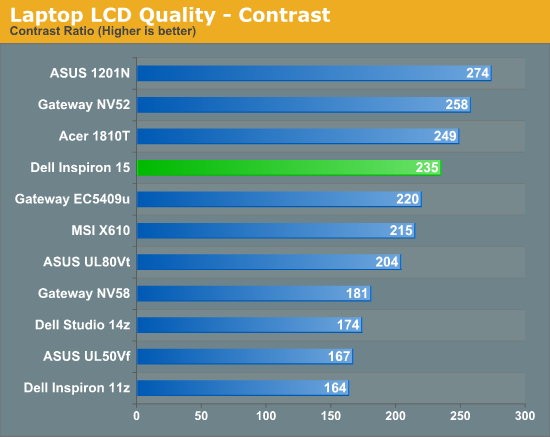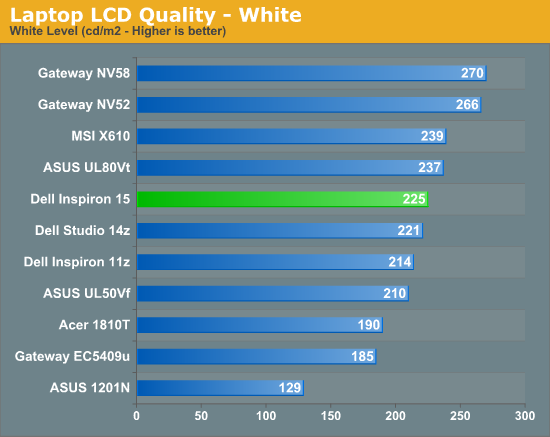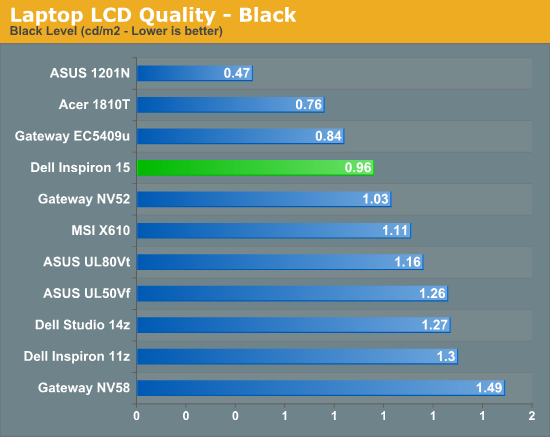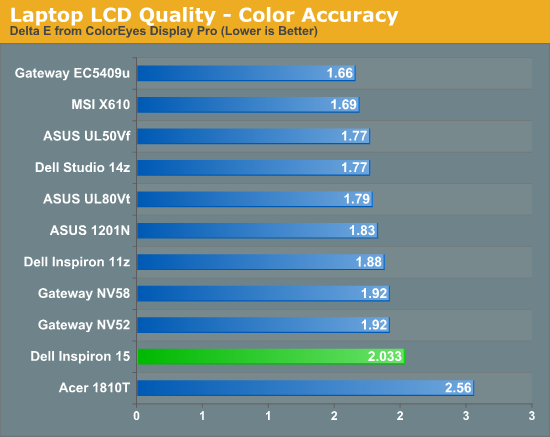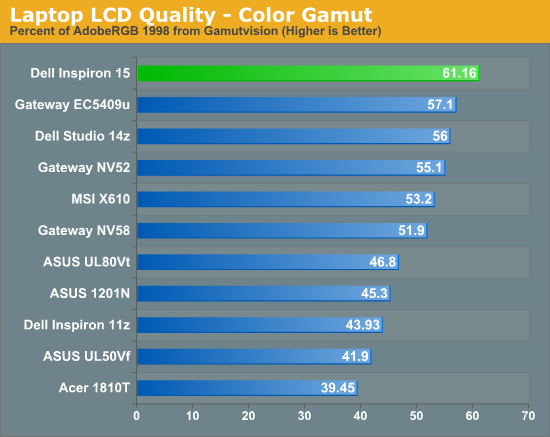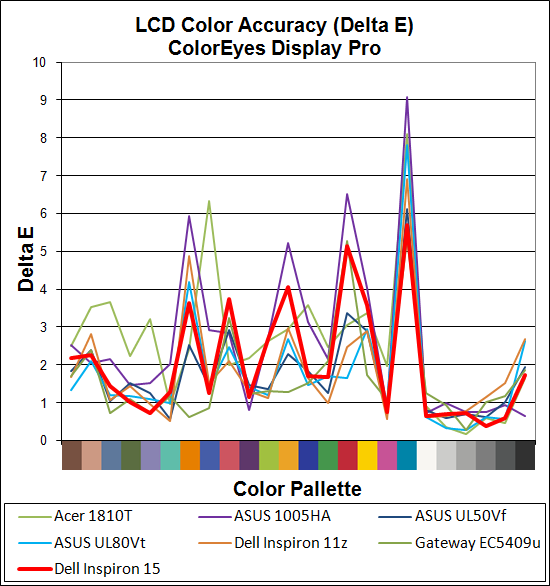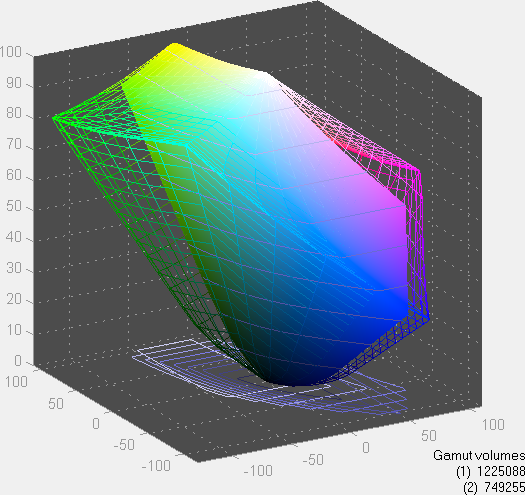 Like so many other laptops, the LCD quality on the Inspiron 15 is unimpressive. It will get the job done, but graphics artists are going to be disappointed. The color gamut is higher than most competing offerings at 61%, color accuracy of 2.0 Delta E is par for the course, and the 235:1 contrast ratio is right down with the rest of the inexpensive laptops we've looked at. We have a business oriented Dell laptop with a matte LCD, and it truly impresses with its high gamut LCD and anti-glare (matte) coating. It would be great to see a reasonable consumer notebook come with better display options that don't break the bank, but right now no one seems to be bothering.
Dell Inspiron 1564: A Lightweight "DTR"
Dell's targeting the consumer market with the Inspiron 15, and it certainly does have a lot to offer. The Intel Core i5-520M in our review unit may almost be a bit too much for a unit that otherwise seems fairly stripped down, but otherwise the overall build is well-rounded. The ATI Mobility Radeon HD 4330 isn't going to break any speed records, but it serves its purpose. The chassis is indeed quite light and attractive despite the glossy plastics, and though the fan can get noisy under heavy load, at least hot spots don't materialize under the palm rests or keyboard.
If we had to single out a bright spot for the Inspiron 15, it would be the general build quality and design. Physically it's very attractive and the keyboard has a smart layout that doesn't make too many sacrifices to fit the numeric keypad. The whole thing is sturdy and enjoyable to use. Dell's designers seem to understand the importance of user experience extending beyond simple metrics like system performance. Simply put, the Inspiron 15 is largely a joy to use. For the casual user who's interested in some light gaming, the optional Radeon HD 4330 is also going to be plenty adequate.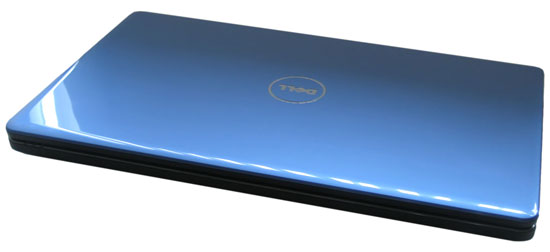 The essential problem with the Inspiron 15 is really how stripped-down it feels. While it's lovely, limitations start to creep to the surface as you continue to use it. Three USB ports is really a bare minimum at this point (ASUS tends to offer as many as five on their laptops), and without FireWire or eSATA, backing up data to an external hard disk is going to become aggravatingly slow in short order. These omissions would be forgivable if Dell at least included an ExpressCard slot, but that's nowhere to be found either. There's plenty of room on the 15.6" chassis for some additional ports, and we'd like to see Dell make use of it. The kind of processing power modern Intel processors offer makes them ideal for the home video editor, but the Inspiron 15 has no way of facilitating that. Likewise, the 10/100 Ethernet connectivity and 802.11g wireless networking are both painful omissions. The design is beautiful, but it seems they had to strip too much to get it where it is.
If you're looking for a notebook that's both large enough to be practical as a desktop replacement and light enough to be transported, the Inspiron 15 definitely has something to offer you. It's more than serviceable as a general computing machine, and though the optional ATI Mobility Radeon HD 4330 isn't ideal for gaming, it's still up to the task. The battery life isn't stellar but it's nowhere near terrible, either. It's just a shame the unit isn't more expandable, because the omissions Dell made are the kinds of choices that keep it from being a slam dunk. If you're not interested in the multimedia aspects of computing, some of the omissions won't matter much, but in that case you very likely have no use for the i5-520M CPU. Stick with the base models of the Inspiron 15 with i3-330M and you'll get a lot more value for your dollar; otherwise, you might find the Dell Studio line to be more to your liking.