Original Link: http://www.anandtech.com/show/2952


No news isn't always good news. AMD has been purposefully vague on the graphics specifications of its 8-series chipsets. Today we know why. The AMD 890GX has the exact same graphics horsepower as the 790GX:
| | | | |
| --- | --- | --- | --- |
| | AMD 890GX | AMD 790GX | AMD 785G |
| CPU | AMD Socket-AM3 | AMD Socket-AM3/AM2+ | AMD Socket-AM3/AM2+ |
| Manufacturing Process | 55nm | 55nm | 55nm |
| PCI Express | 24 PCIe 2.0 lanes | 22 PCIe 2.0 lanes | 22 PCIe 2.0 lanes |
| Graphics | Radeon HD 4290 (DirectX 10.1) | Radeon HD 3300 (DirectX 10.0) | Radeon HD 4200 (DirectX 10.1) |
| Core Clock | 700MHz | 700MHz | 500MHz |
| Shader Processors | 8 (5-way) | 8 (5-way) | |
| Full H.264/VC-1/MPEG-2 HW Decode | Yes (UVD2) | Yes (UVD) | Yes (UVD2) |
| 8-channel LPCM | No | No | No |
| South Bridge | SB850 | SB750 | SB750 |
| USB | 14 USB 2.0 ports | 12 USB 2.0 ports | 12 USB 2.0 ports |
| SATA | 6 SATA 6Gbps ports | 6 SATA 3Gbps ports | 6 SATA 3Gbps ports |
In fact, it's virtually the same graphics core as the 790GX and 785G built on the same 55nm process.


AMD 890GX North Bridge (left) vs. AMD 790GX North Bridge (right) - nothing has changed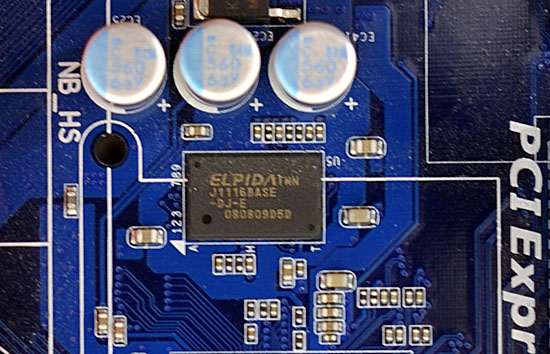 SidePort memory on a motherboard
For those of you who aren't familiar with AMD's integrated graphics, it's a 40 SP implementation of the RV6xx core running at 700MHz. The chipset supports optional SidePort memory. It's an optional dedicated frame buffer that provides additional low latency bandwidth to the integrated graphics core. If your application demands more memory, the GPU can still use the CPU's memory controller and system memory.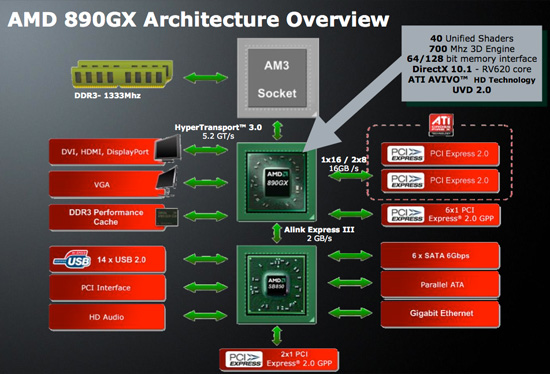 There haven't been any improvements to the audio side of the chipset either. The 890GX still supports 2-channel LPCM or 5.1 Dolby Digital/DTS bitstreaming over HDMI. If you want more, AMD will happily sell you a Radeon HD 5450 to plug in to your new board.
AMD continues to offer full hardware H.264/MPEG-2/VC-1 video decode acceleration. The UVD2 engine responsible for the video acceleration remains unchanged from the 785G and 790GX.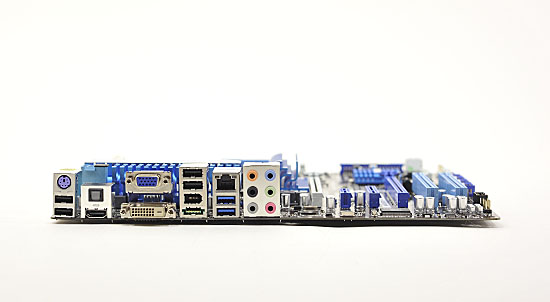 Boards based on the 890GX will be well equipped with video outputs like this ASUS M4A89GTD Pro/USB3
Overall system performance remains unchanged. The 890GX performs no differently than the 790FX/GX chipsets:
| | | |
| --- | --- | --- |
| | AMD 890GX | AMD 790GX |
| x264 HD Encode - Average FPS | 26.6 fps | 26.6 fps |
| 7-zip Benchmark | 5962 MIPS | 5917 MIPS |
With nothing new on the integrated graphics front, the 890GX relies mostly on its new South Bridge, the SB850, to excite. AMD first doubled the bandwidth between its North and South Bridges. Then, it added a native 6Gbps SATA controller with 6 ports, a Gigabit Ethernet MAC and two PCIe 2.0 lanes. The SB850 doesn't offer any native USB 3 support, so we'll still see motherboard manufacturers rely on NEC's external USB 3 controller. The new South Bridge does support two more USB 2.0 ports as well, bringing the total up to 14.
| | | |
| --- | --- | --- |
| | AMD SB850 | AMD SB750 |
| NB-SB Link | 2GB/s Each Direction | 1GB/s Each Direction |
| Additional PCIe | Two PCIe 2.0 x1 Lanes | None |
| USB | 14 USB 2.0 ports | 12 USB 2.0 ports |
| SATA | 6 SATA 6Gbps ports | 6 SATA 3Gbps ports |
| PATA | 2 Channels | 2 Channels |
| HD Audio Interface | Yes | Yes |
| Integrated Gigabit Ethernet MAC | Yes | No |
The first 890GX motherboards will be starting at $130. ASUS' M4A89GTD Pro will sell for $145, add another $10 if you want USB 3.0 support.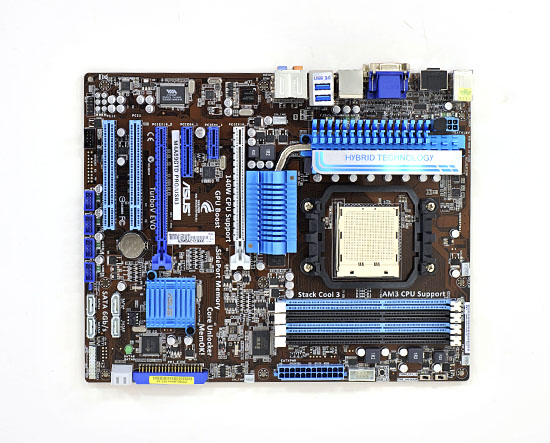 ASUS M4A89GTD Pro/USB3
I'd expect Gigabyte's pricing to be somewhere in line with that as well.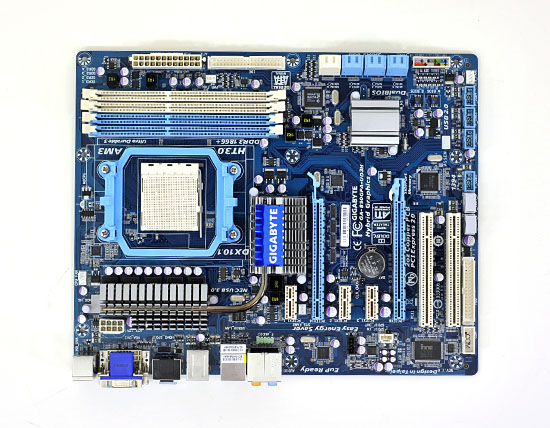 Gigabyte's GA-890GPA-UD3H
Ready for Integration
The 8-series of chipsets will be AMD's last incarnation of traditional integrated graphics chipsets. Sometime next year we'll get Llano, AMD's first APU with a CPU and GPU on the same die.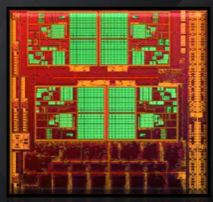 AMD's Llano 32nm CPU/GPU due in 2011
At 55nm, the 890GX North Bridge is tiny. At 32nm the North Bridge would be about 1/3 the size. Now you can see why it makes sense to bring this on-die. The South Bridge is even smaller: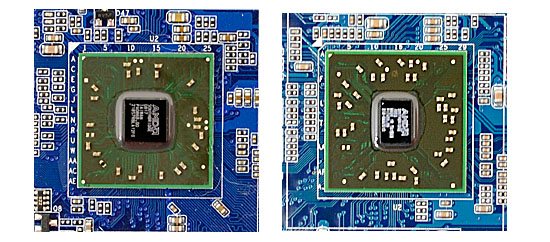 AMD SB750 (left) vs. AMD SB850 (right).
We're not too far away from having nearly all of this technology integrated into the CPU.
The Test
Motherboard:
ASUS M4A89GTD Pro/USB3 (AMD 890GX)
Intel DH55TC (Intel H55)
Gigabyte's GA-890GPA-UD3H (AMD 890GX)
Chipset Drivers:
Intel 9.1.1.1020 (Intel)
AMD Catalyst 10.3
Hard Disk:
Corsair P256 SSD
Memory:
Corsair DDR3-1333 2 x 2GB (7-7-7-20)
Video Card:
ATI Radeon HD 5450
Video Drivers:
AMD Catalyst 10.3
Desktop Resolution:
1920 x 1200
OS:
Windows Vista 7 64-bit
AMD's Integrated HD 4290 vs. Intel Integrated HD Graphics
As I mentioned at the start of this article, AMD's 890GX graphics are identical in every way (other than model number) to the 790GX integrated graphics. Earlier this year, Intel introduced its biggest leap to date in integrated graphics performance with its Intel HD Graphics.
Found only on the physical CPU package of Core i5, i3 and Pentium G-series CPUs, Intel HD Graphics is the first step towards on-die graphics integration. Today, Intel uses graphics performance as a differentiator between various CPU price points. Depending on what CPU you buy, you either get Intel's HD Graphics clocked at 533MHz, 733MHz or 900MHz. In order to provide the clearest picture, I've included results from all Clarkdale CPUs.
AMD's graphics is still on-motherboard, and thus all 890GX boards run their Radeon HD 4290 core at the same 700MHz clock. To show the influence of CPUs on integrated graphics performance I've included results from both a Phenom II X4 965 and an Athlon II X2 255. As I've already shown that there's no difference in performance between a 790GX and 890GX, I'm only using 890GX numbers in these charts.
Many of you have asked for us to compare integrated graphics to low end discrete graphics. For this specific purpose I've included results with a Radeon HD 5450.
Batman: Arkham Asylum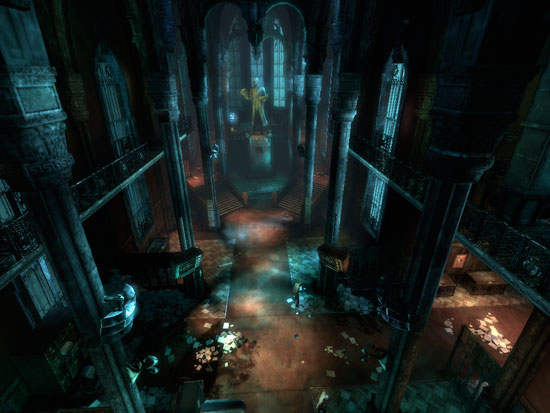 Intel technically has the same performance as AMD does, but it requires a $210 CPU to get it. If you look at the more mainstream Core i5s and i3s, they use the slower 733MHz graphics clock and aren't as fast as the 890GX's 4290.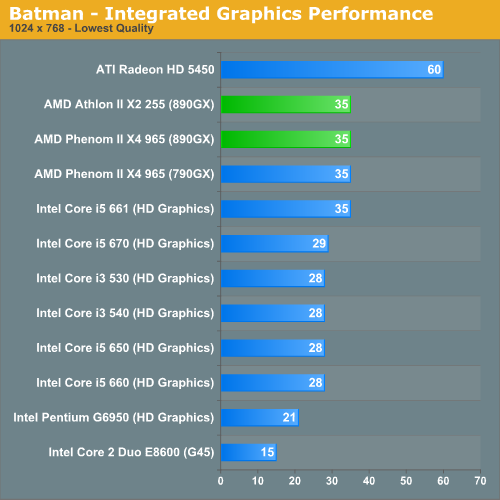 Dragon Age Origins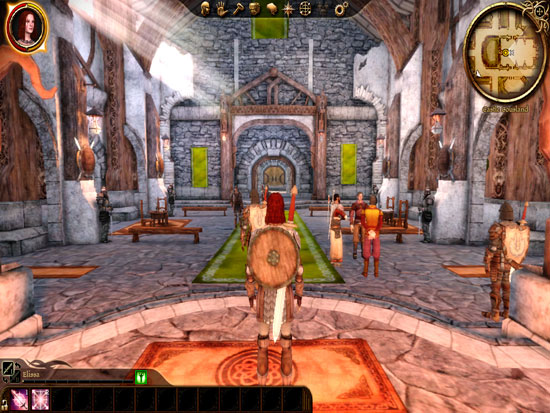 We see a similar story under Dragon Age. If you have a Core i5 661 then you've got clearly better than AMD performance, but pick any of the other i3s or i5s and you're about equal. If you pick a more reasonable AMD CPU, Intel takes a small lead.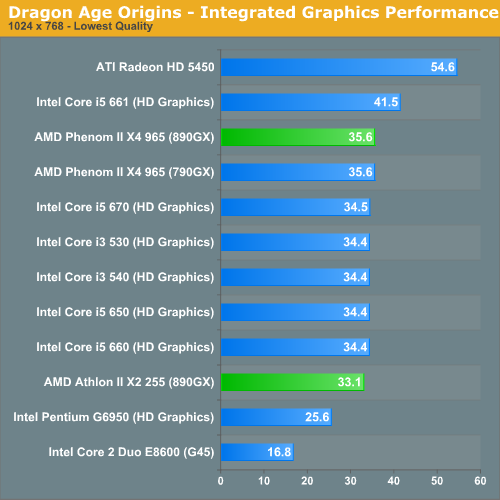 Dawn of War II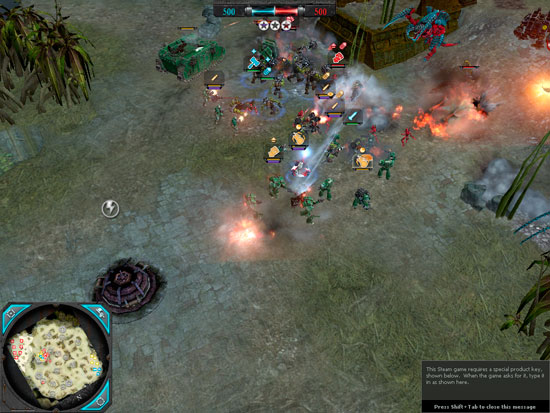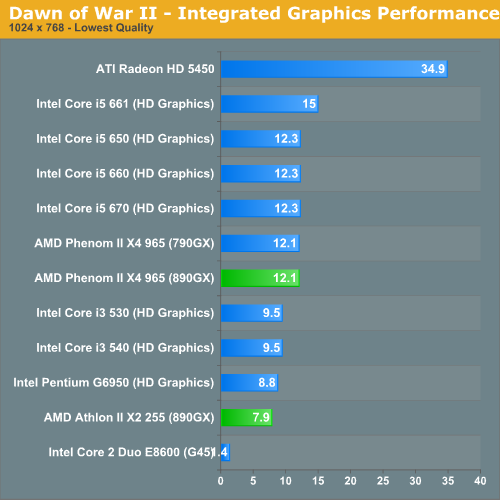 The Core i5s all post roughly the same numbers as the 890GX. If you opt for a more reasonable AMD processor, the gap widens. Now compared to the Core i3s, it boils down to what CPU you have. If you have a quad-core AMD you're probably faster on the 890GX. If you have a dual-core AMD, you're probably faster with Intel.
The fact that picking the winner is this conditional means that Intel has come a long way in integrated graphics performance.
Modern Warfare 2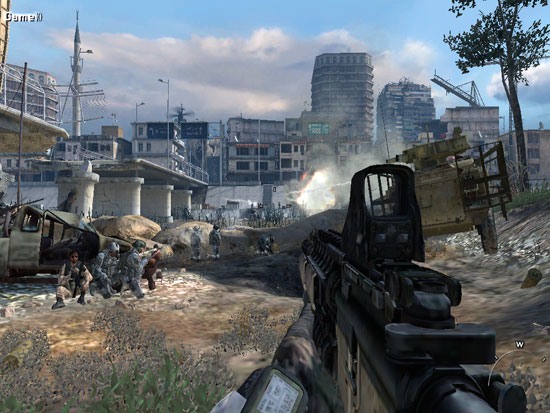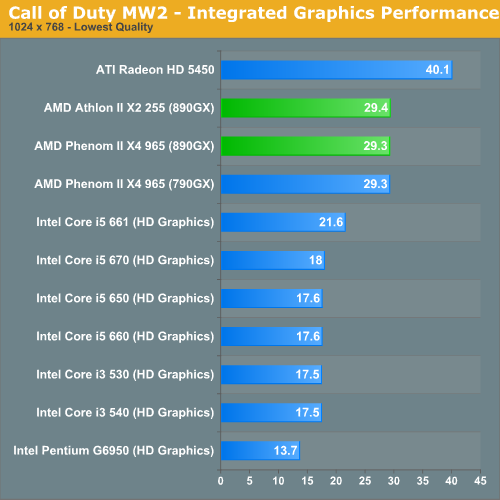 AMD has the clear victory here. The 890GX's graphics is a good 35% faster than Intel's fastest.
BioShock 2
BioShock 2 is a pain to play on either platform, even at the lowest settings. Upgrading to a $50 graphics card makes a huge difference in playability. Intel's Core i5 661 is technically the fastest followed by the 890GX with a Phenom II X4 965 and then the rest of the i3/i5 lineup and finally the 890GX with an Athlon II.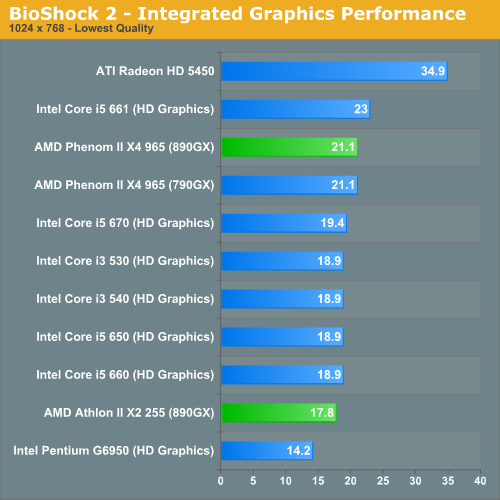 World of Warcraft
I had to drop the quality settings on my WoW test from Good to Fair in order to get something playable on these IGPs. That doesn't change the results though, Intel loses out on another key benchmark here. WoW is noticeably faster on the 890GX, regardless of CPU.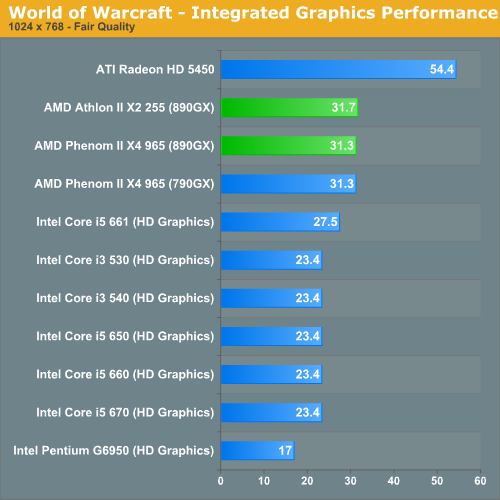 HAWX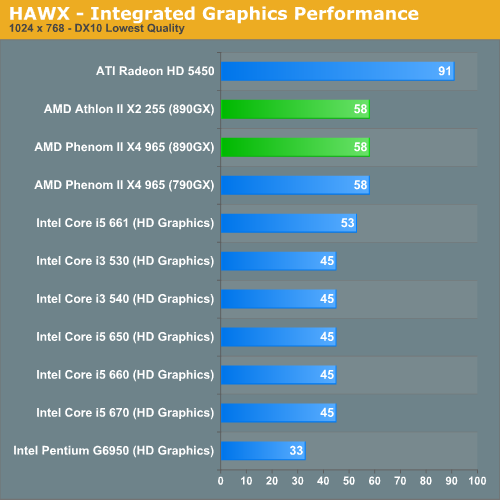 AMD scores another win in HAWX.
Overall Intel has significantly improved its integrated graphics, but it loses on a couple of key benchmarks (Modern Warfare 2 and World of Warcraft). I'd call Intel HD Graphics in the same league as AMD's 890GX (something AMD could have avoided by actually increasing performance this generation), but when AMD wins it tends to be by a larger margin.
The 890GX also benefits from much wider compatibility testing and optimization done for AMD's other GPUs, which make it a safer bet from a being able to run all games standpoint.
I do have to say though, the fact that a $50 video card can offer roughly twice the performance of either integrated graphics solution is telling. Integrated graphics can be useful for playing a small subset of games, but you still need a discrete solution to have fun.
Power Consumption
While we're presenting power consumption data here, it's not a very balanced comparison. Our H55 test motherboard is a micro-ATX board without any fancy features like USB 3.0 and uses scaled down power delivery. Our 890GX board however is a fully equipped ATX board from Gigabyte and thus can easily draw another 10W+ over a reduced micro-ATX design.
With nearly identical motherboards, we would expect x264 playback power consumption to be relatively similar between Intel and AMD integrated platforms. It's also not a far stretch to imagine an AMD system with similar idle power given how close the Athlon II X2 255 is to the H55 setup. The only situation where AMD doesn't stand a chance is under 3D gaming load.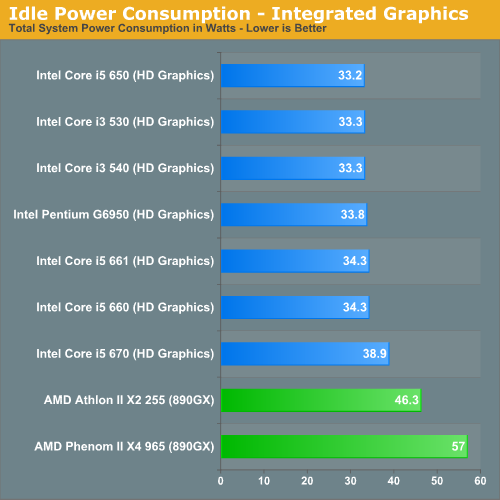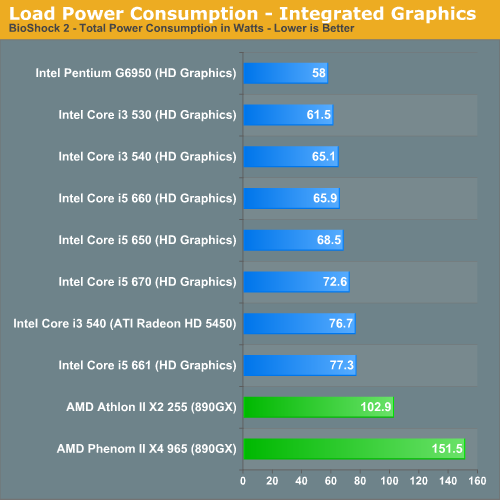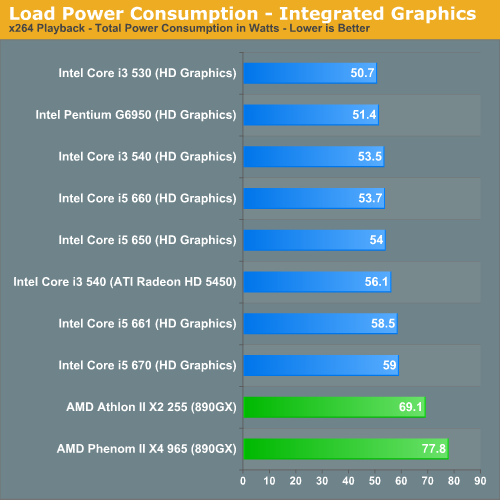 Dual Graphics Support
AMD's 890GX chipset does support two PCIe x8 slots for running cards in CrossFire mode, but you do have one more option for flexibility. If you have a Radeon HD 5450 and happen to be running one of the following games: Battleforge, BioShock, Company of Heroes, HAWX, World in Conflict or 3DMark Vantage then the 890GX's IGP will work in tandem with the 5450.
Unfortunately I could not get Dual Graphics mode working on my testbed. AMD is calling this a preview at this point (hence the limited hardware and software support), so we may see a more extensive rollout in the future.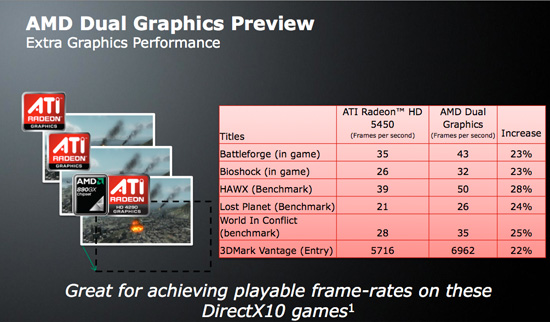 Generally, after a certain point it doesn't make sense to use the integrated graphics core to boost performance. With 40 SPs the integrated Radeon HD 4290 can add 50% to the core count of a 5450. But go up to a 5670 and the 890GX can offer only 10%, and even less if you take into account clock frequencies.
The 890GX + 5450 (or similar class hardware) would seem to be the only combination that makes sense.
Better Suited for USB 3.0?
A little known fact is that Intel's P55/H55/H57 chipsets run their PCIe lanes at 2.5GT/s. Meaning that a PCIe x1 lane off the chipset only offers 250MB/s in each direction. Aggregate bandwidth is 500MB/s, but that's only attained if you're reading at 250MB/s and writing at 250MB/s.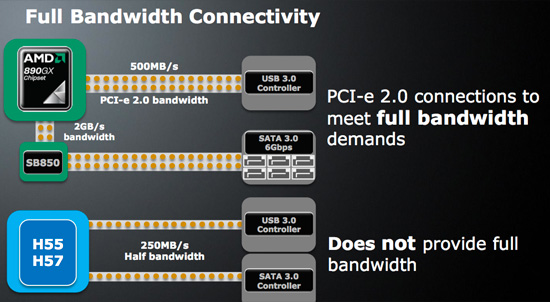 AMD runs all of its PCIe lanes at 5.0GT/s, so a single PCIe x1 slot offers 500MB/s up and 500MB/s down.
Neither AMD nor Intel have integrated USB 3.0 controllers, so they must rely on NEC's PCIe-to-USB3 controller. AMD's 890GX chipset offers roughly twice the bandwidth between the chipset and the USB 3 controller.
Today that doesn't amount to anything. No currently available USB 3.0 peripheral can saturate PCIe 1.0 speeds, but down the road AMD's approach will avoid any bottlenecks. I'd expect this to start being a problem towards the end of 2010 and into 2011 as we start getting more ONFI 2.0 NAND equipped SSDs that can boast 300MB/s+ read speeds.
USB Performance
No chipset launch article is complete without a never-before-seen problem and we think we hit our quota. We stumbled across an issue using Sharkoon's USB QuickPort and our ASUS M4A89GTD Pro motherboard; hot-plugging the device into a USB 2.0 port results in a system crash whether you're in the OS, during POST or within BIOS. The USB 3.0 ports will occasionally work with the drive and we did manage to scramble a quick test (see the graph at the bottom of the page), although the symptoms are largely the same (system hangs, loss of display).
Now, the Sharkoon QuickPort comes with its own power adapter (which it needs to work) and is fully USB 2.0/3.0 compatible, so it should not draw excessive current from the USB ports. There's always the chance that we've got a faulty unit, but bear in mind that it works perfectly with nine motherboards featuring various chipsets.
One thing we noticed is that the M4A89GTD Pro seems to cut power to other USB devices briefly when plug we plug the QuickPort cable into a socket. We tried plugging the drive in while the motherboard is powered down, doing so does allow it to post and enter the OS. After that, Windows finds our USB hard drive and proceeds to load drivers. Trouble is that the drive is not displayed in the 'My Computer' menu, and trying to access the drive via the Disk Management snap-in does not work either; we're continually greeted with a refresh error.
We're leaning towards the notion of a faulty motherboard at present. ASUS have been notified and have dispatched a new board which should arrive with us shortly. In the meantime, all we've got to show for our efforts is 1GB file transfer time over the AMD SB850 vs. Intel's H55/H57 to the NEC D720200F1 USB 3.0 port using a couple of 1TB Western Digital Caviar hard drives. We know it's far from an ideal test but will have to suffice for today - sorry folks!
There's little to divide the boards in a one 1GB file transfer using the SATA HDD's, it's obvious that the drives are a bottleneck. We're aiming to put a couple of 6G SATA drives through their paces on these boards in the near future so we get a better idea of what USB 3 technology can do.
Say Goodbye to ACC, Say Hello to ASUS
One thing AMD neglected to mention in its press presentation about the 8-series chipset was the fact that it removed support for Advanced Clock Calibration (ACC) from AMD's BIOS. You may remember that ACC was the nifty tool that first let us overclock Phenom processors higher, but later allowed us to unlock disabled cores on Phenom II X2, X3 and Athlon II X3 processors. You heard it right, apparently ACC is gone.
Well, not exactly. Apparently ASUS has figured out a way to unlock cores despite not having easy access to whatever it is ACC did. And you have three ways to enable it:
1) Turn this switch on: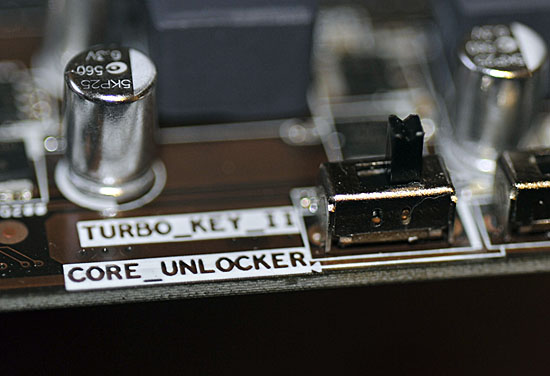 Technically it's the switch to the right of this one, but you get the point
2) Hold the "4" key during POST

3) Or enable it in the BIOS
Nifty. As far as I can tell, ASUS and ASRock are the only companies implementing ACC at this point. I suspect the rest will follow once they figure out how to do it.
Testing the SB850's SATA Controller
Update: New 3Gbps and 6Gbps results on the AMD 890GX here.
In my review of OCZ's Vertex Limited Edition SSD I previewed some of the results of the world's first SSD with native SATA 6Gbps support - Crucial's RealSSD C300. Capable of sequential read speeds greater than 333MB/s, the C300 is the only drive in the world that can actually benefit from 6Gbps SATA at this point.
There's just one problem. My RealSSD C300 died in the process of testing it with the 890GX. I don't believe it was the motherboard or chipset, but right now it looks like I stumbled upon an untested usage case that put the drive in a state where it won't even let a system POST anymore.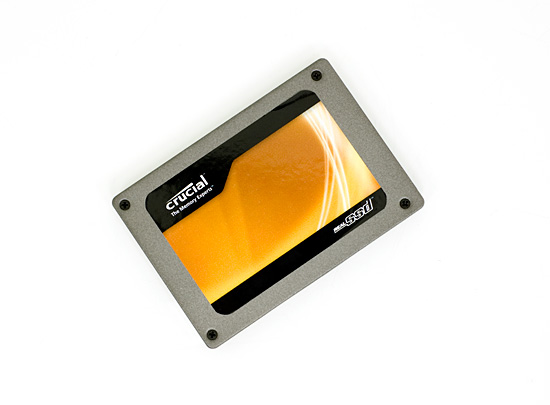 It's because of situations like this that I've been very cautious in recommending any new SSDs. Hence my conclusion in the Vertex LE review:
"Go up another $100 and the recommendation is easily the Crucial RealSSD C300. Again, assuming that nothing horrible ever happens with the drive. I do have more faith in Crucial's validation testing given that Micron is shipping the same drive to OEMs, but it's still a brand new, unproven platform."
With the bricked C300, I can't provide any 6Gbps results on the 890GX unfortunately. I should have a new drive in about 12 hours so I'll update here once I do get it. With the C300 out of my parts bin, I switched to a drive that could really push the limits of 3Gbps SATA - the OCZ Vertex LE.
Unfortunately, in doing so I uncovered another problem - this time with the 890GX. It's AHCI performance is noticeably lower than Intel's:
| | | | | |
| --- | --- | --- | --- | --- |
| Iometer 6-22-2008 Performance | 2MB Sequential Read | 2MB Sequential Write | 4KB Random Read | 4KB Random Write (4K Aligned) |
| AMD 890GX | 248 MB/s | 217.5 MB/s | 38.4 MB/s | 130.1 MB/s |
| AMD 790GX | 247.8 MB/s | 213 MB/s | 37.6 MB/s | 119.5 MB/s |
| Intel H55 | 264.9 MB/s | 247.7 MB/s | 48.6 MB/s | 180 MB/s |
AMD's south bridge ends up delivering anywhere from 72 - 93% of the performance of Intel's ICH. While this isn't something that you'd necessarily see with hard drives, it is something that is evident with SSDs since they do actually push the limits of 3Gbps SATA. To make sure it wasn't an iometer thing I also copied a 2.4GB x264 over from the boot drive (Intel X25-M G2 160GB) and still noted slower performance on AMD's chipset. This is actually an improvement over the SB750 used in the 790GX/FX. Performance was even worse back then, particularly with writes.
And in case you're wondering, running the SSD in Native IDE mode didn't help either - performance was expectedly slower.
ASUS' engineers apparently ran across something similar. They found that disabling C1E and Cool'n'Quiet boosted drive performance and recommended I try it. The results were unexpectedly higher, but not on par with Intel's ICH performance:
| | | | | |
| --- | --- | --- | --- | --- |
| Iometer 6-22-2008 Performance | 2MB Sequential Read | 2MB Sequential Write | 4KB Random Read | 4KB Random Write (4K Aligned) |
| AMD 890GX | 248 MB/s | 217.5 MB/s | 38.4 MB/s | 130.1 MB/s |
| AMD 890GX (C1E/CnQ Disabled) | 256.4 MB/s | 234.8 MB/s | 42.3 MB/s | 135.3 MB/s |
| Intel H55 | 264.9 MB/s | 247.7 MB/s | 48.6 MB/s | 180 MB/s |
Obviously disabling important power management features isn't a long term solution, but it does show that AMD may be able to provide a future hardware or BIOS fix for the problem.
Slower SSDs didn't exhibit the problem. I tried the Indilinx Barefoot based Mushkin Io:
| | | | | |
| --- | --- | --- | --- | --- |
| Iometer 6-22-2008 Performance | 2MB Sequential Read | 2MB Sequential Write | 4KB Random Read | 4KB Random Write (4K Aligned) |
| AMD 890GX | 229.6 MB/s | 166.5 MB/s | 35.7 MB/s | 13.4 MB/s |
| AMD 790GX | 229.7 MB/s | 166.5 MB/s | 35.7 MB/s | 13.4 MB/s |
| Intel H55 | 236.9 MB/s | 164.4 MB/s | 36.0 MB/s | 13.4 MB/s |
It appears that the dropoff only happens in one of two cases: 1) When you're pushing a lot of IOPS (e.g. 4KB random write tests on the OCZ Vertex LE) or 2) When you're pushing a lot of bandwidth (e.g. 2MB sequential read tests on the OCZ Vertex LE).
As a mainstream chipset, the SATA issues don't really matter. Unfortunately, if you are going to buy a high performance SSD then it may be an issue.
Integrated Gigabit Ethernet MAC
The SB850 includes a new integrated Gigabit Ethernet MAC. However, unless I'm reading this incorrectly both the ASUS and Gigabyte boards I've seen thus far still rely on external Realtek RTL8111 series single chip MAC/PHY solutions.
| | | |
| --- | --- | --- |
| Windows File Copy from NAS to SSD | AMD 890GX | Intel H55 |
| Peak Bandwidth | 952 Mbps | 952 Mbps |
Performance is as expected - transfer rates approach 1000Mbps regardless of platform. I don't believe these boards are using AMD's integrated MAC though.
Final Words
At this point there's not much to say about AMD's 890GX. With no improvement in graphics performance, no die shrink and no new audio/video features today's launch is really about the SB850 South Bridge.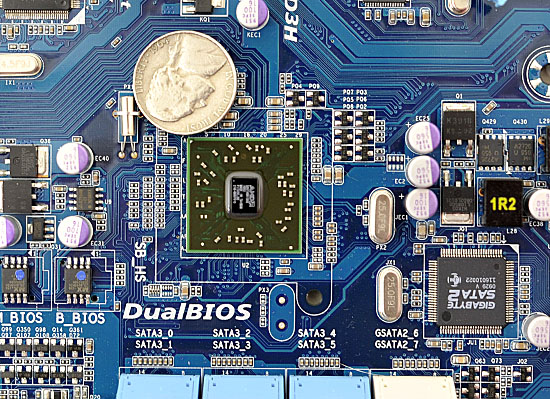 Native 6Gbps SATA support is an impressive move by AMD. Unfortunately I'm not totally sold on AMD's SATA controller. Compared to the SB750, the new SB850 appears to be a step forward. However, even the new south bridge isn't as fast as Intel's I/O controllers when it comes to peak performance with a high end SSD. With standard hard drives and even slow SSDs I doubt there's much cause for concern, but as SSDs become more commonplace we're going to see controller deficiencies exposed more readily. I had hoped for a bigger reset in south bridge performance with the 890GX/SB850 combo. Perhaps it'll take a few more BIOS/driver revisions before we get there. Update: We're getting closer!
While I would have liked to have seen native USB 3 support as well, at least AMD is willing to provide enough bandwidth to feed any external USB 3 controllers at this point. It's more of a theoretical advantage than anything else today, but it's worth giving credit for.
I get the distinct feeling that there just wasn't much effort put into 890GX. The real focus for AMD has been Llano and making sure that chip has the sort of significant improvement in graphics performance that we've been waiting for. Until then, it looks like we'll get a model number update with few new features. In a sense, AMD has finally taken a page out of Intel's chipset playbook.