Original Link: http://www.anandtech.com/show/2932/intel-core-2-culv-roundup-who-needs-atom-


A couple years back, ASUS released the first netbook on an unsuspecting world. Compared to the UMPCs and other tiny handhelds that preceded it, the Eee PC offered more in some areas and cost a lot less - and compared to ultraportables, it was smaller and cost about one fifth as much! Many consumers fell in love with the netbook, and now every major laptop company has some form of netbook. Intel just released the Pine Trail platform that updates Atom in a few areas, but Pine Trail is less about improving performance and more about reducing costs - mostly Intel's costs, as the new netbooks all cost the same or slightly more than preceding models. So yes, Atom is undoubtedly a success, but are Atom-based netbooks truly good are they just a current fad? To answer that question, we need to look at the next step up the mobile ladder: Intel's CULV platform.
CULV (Consumer Ultra Low Voltage) processors have been around for a while, but where formerly they were the domain of $1500+ ultraportables, netbooks have forced them into much lower price brackets. If the choice is between a $330 Pine Trail unit and a $1500 CULV, few would opt for the latter; today, the difference is a lot less, with some CULV designs starting as low as $400. It's no surprise that the least expensive models are more difficult to find in stock, and we're left to wonder if the problem is inadequate production or if the manufacturers are intentionally producing low volumes with the hope of getting more users to spring for higher cost offerings. Realistically, you're far more likely to find CULV laptops priced around $600, but a quick search turns up quite a few priced under $450 (though admittedly many vendors are backordered). Even at twice the cost of a netbook you should give them serious consideration, and in this roundup we'll show you why.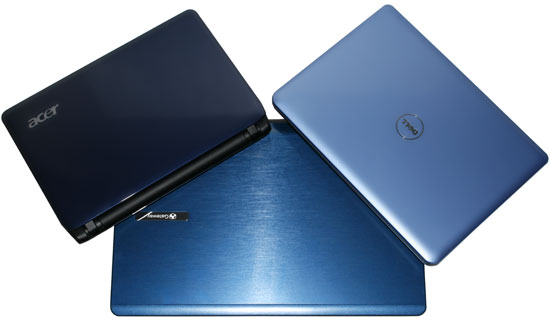 When you get right down to it, most CULV laptops are very similar. The slowest dual-core CULV CPU is a Celeron SU2300, clocked at 1.2GHz and with 1MB of shared L2 cache on an 800FSB; meanwhile the fastest CULV option right now is the Core 2 Duo SU9600, clocked at 1.6GHz and with 3MB of shared L2, but still on an 800FSB. With triple the L2 cache, the typical performance boost at the same clock speed would be ~10%, and the raw clock speed advantage and higher FSB would give the SU9600 another 33% advantage for a total performance increase of up to ~50%. However, not many companies ship laptops with the SU9000 CPUs and they're priced at $1500+. For those interested in affordable CULV, the "high-end" CULV CPU is going to be the Core 2 Duo SU7300, clocked at 1.3GHz and with 3MB L2. That CPU is only up to ~20% faster than the SU2300, and if you drop down to the most common Pentium SU4100 you're down to 1.3GHz with 2MB L2, or closer to a 15% performance improvement. What that means is that raw performance among most CULV laptops is going to be close enough that most people won't notice the difference.
There are a few other items to note. First, of the current CULV processors, only the Pentium SU4100 and SU2700 lack virtualization (VT-x) hardware support. Most users are unlikely to need the feature, unless they plan on installing Windows 7 Professional and running the XP virtual machine. Oddly enough, the Core 2 Solo SU3300 includes VT-x but skips xD (Execute Disable). The single-core Solo CPUs also have a lower TDP of just 5.5W, putting them in direct competition with Atom; they'll be faster in single-threaded tasks and very similar in multi-threaded tasks. Given the pricing, however, we recommend against buying any of the Core 2 Solo solutions; the jump to dual-core is definitely noticeable and the price of the CPUs actually makes many of the Core 2 Solo laptops as expensive as SU2300/SU4100 offerings.
If performance isn't going to be the big differentiator (with some exceptions like high-end laptops with SU9000 CPUs and SSDs in place of hard drives), what you really need to pay attention to are the other features and the overall design. Specifically, we'll look at the keyboard, touchpad, LCD, and battery life in our roundup of CULV laptops today. We'll also look at other features that differentiate the laptops. We've got three models from Acer, Dell, and Gateway, and as you'll see performance is very much a wash between them.
These laptops are representative of what you'll find with most other CULV offerings, but you can still decide between a larger or smaller chassis and some other items. Some of the differences are easy to analyze even without using a laptop in person: a larger chassis will weigh slightly more and you might get an optical drive, or you might find a few select companies offering a higher resolution LCD. What we can't say is whether these other laptops have better LCDs or not (most likely not, though the higher resolution would still be a benefit), how the keyboard and touchpad feel, or if there are other useful features that aren't immediately visible. Ultimately, price is often the biggest factor, with entry-level CULV designs starting at around $400 (if you can find them in stock) and most ranging up to $650. Beyond that, there are designer CULV laptops and business tablets that can push pricing into the $1500+ range, but we aren't looking at that category in this roundup.
Acer Aspire Timeline AS1810T
We'll start with the Acer Aspire Timeline 1810 (AS1810T), which competes against other 11.6" CULV laptops. It's better in some areas and comes up a bit short elsewhere. Also worth noting is that the basic design of the AS1810T is used on the AS1410, the differences being in the internal components. The Gateway EC14 and EC18 share the same design, with the only difference being a few cosmetic changes to the colors/surfaces and a small tweak to the keyboard - the latter being for the worse, as they moved the backslash key next to the Z key instead of putting it above the Enter key.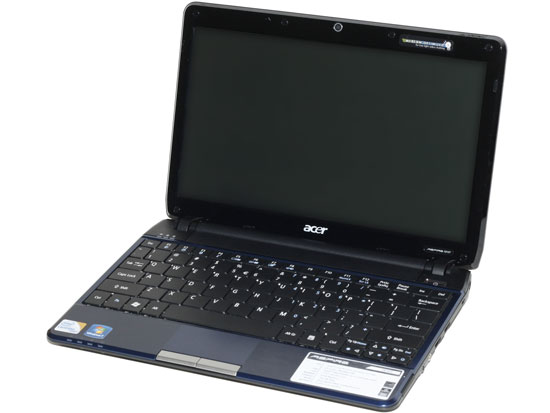 Acer Aspire Timeline AS1810T-8679 Specifications
Processor
Intel Core 2 Duo SU7300
(2x1.3GHz, 45nm, 3MB L2, 800FSB, 10W)
Chipset
Intel GS45 + ICH9M
Memory
2x2GB DDR2-667
(Max 2x2GB listed by Acer, but it may support 2x4GB)
Graphics
Intel GMA 4500MHD IGP
Display
11.6" LED Glossy 16:9 768p (1366x768)
Hard Drive(s)
320GB 5400RPM
Optical Drive
N/A
Networking
Gigabit Ethernet (Atheros AR8131 PCI-E)
Intel Wifi Link 5100 AGN
Bluetooth v2.1 + EDR
Audio
2-Channel Realtek ALC269 HD Audio
(2.0 speakers with headphone/microphone jacks)
Battery
6-Cell, 11.1V, 5600mAh, 63Wh
Front Side
WiFi On/Off
Bluetooth On/Off
Left Side
1 x USB 2.0
HDMI
Heat Exhaust
Power Adapter
VGA
Right Side
Flash reader (MMC/MS/MS Pro/SD/xD)
Headphone/Microphone
2 x USB 2.0
Kensington Lock
Ethernet
Back Side
None
Operating System
Windows 7 Home Premium 64-bit
Dimensions
11.2" x 8.0" x 0.9-1.2" (WxDxH)
Weight
3.1 lbs (with 6-cell battery)
Extras
Webcam
84-Key keyboard
Warranty
1-year standard warranty
Pricing
Available Online starting at $680
(Black version available for $600)
Let's start with the good news first: the model we received has decent specs compared to the Dell Inspiron 11z we'll look at next. You'd think with both being the same size that they'd be very similar, but that is not the case. First, Acer includes a slightly higher capacity battery, so the AS1810T should get better battery life… and it does. Acer also includes two SO-DIMM slots; in theory that means you could run up to 8GB RAM, but we didn't have any 4GB modules on hand so we were left with the default 2x2GB configuration. Regardless, you still get more RAM than the Dell 11z at a lower price point, and the dual-channel memory means it should have a bit better performance as well (since the IGP shares memory bandwidth). In practice, the added bandwidth doesn't really matter, as the FSB limits the bandwidth to the CPU and the IGP is too slow to really benefit. Finally, Acer elected to send us the 1810T with an SU7300 CPU (rather than the more mundane Pentium SU4100). What does that really mean? Well, they're the same 1.3GHz clock speed but the SU7300 comes with 3MB L2 cache; it probably amounts to a 3-5% performance increase at best, at a slightly higher price.
So if that's where the Acer is better than the Dell, where does it fall short? Our biggest complaint is the keyboard, and the touchpad is better in some ways and not as good as the competition in others. Let's take these areas in turns.
The keyboard has large keys, but the shape of the keys just didn't feel as good when typing and the action is mushy compared to the Inspiron 11z. There's also a bit of flex/bounce in the keyboard, especially towards the center area - not as bad as what I've seen on some MSI laptops, but still noticeable. When I first looked at the keyboard I thought it would be better than the 11z, but after typing on both for a while I definitely prefer the Dell keyboard. While the keys themselves are large, there's very little space between the keys and it's easy to accidentally brush another key if you're typing quickly; the same is true of the 11z, but the 1810T keyboard just feels more fatiguing to use and I made more typing errors.
Another problem with the keyboard is the cursor keys; they're made cumbersome by their small size and the inclusion of PgUp/PgDn keys to the sides of the up arrow key. I'd prefer these to be Home and End keys as the primary function (that's currently accessible via an Fn key combination), but even then the small cursor keys are more difficult to use than on other keyboards. The main 11z keys are all slightly smaller than the 1810T keys, but by making them fractionally smaller Dell is able to squeeze in a column of Home, PgUp, PgDn, and End keys on the right of the keyboard. The left and right edges of the Dell keys are also slightly rounded, and in general it just feels better in my opinion.
As for the touchpad, here the 1810T is definitely better than Dell, but there are still a few issues with the design. Dell includes a large touchpad with integrated buttons in the bottom corners, and the result is highly unpleasant. Acer includes two dedicated buttons, but the touch-sensitive surface is smaller and it's very difficult to feel the difference between the active surface and the remainder of the palm rest. The result is that it's quite easy to move your finger off the touchpad without realizing it, which makes double-tap-and-drag all but useless. The touchpad does support both gestures and multi-touch, and with dedicated buttons I found both worked fine. Because of the limited area on the touchpad, the swirling scroll feature was perhaps slightly more useful than using two fingers, but this is counterbalanced by the need to start the scroll gesture on the right edge of the touchpad.
In other areas of design, the 1810T rates higher than the 11z. For one, the dimensions are slightly smaller; the Dell 11z has a larger palm rest and ends up being about .75" deeper, and the battery jutting out the bottom of the 11z makes it significantly thicker (though that's only if you get the 6-cell battery upgrade). The large palm rest on the Dell may be part of what makes it more comfortable for typing, and it would have been better if Acer could have moved the keyboard up another inch or so - which would have also made it possible to give the touchpad a larger surface area. LCD quality ends up being pretty much a wash - as in, "washed out". Like so many other laptops on the market, the panels are very low contrast with limited viewing angles. They're plenty bright for indoor use, but the glossy finish makes outdoor use suspect.
We do have some complaints with the AS1810T, and these are areas we've discussed before. First, the shiny plastic exterior feels cheap and attracts fingerprints. Shiny may look nice in photos, but we prefer matte finishes. The glossy LCD is also practically a given, unless you get a business laptop. For indoor use, it's not a huge problem, but we find the reflective surfaces to be practically useless outdoors. It's interesting to note that the Gateway EC54 we'll be looking at in a minute ditches the glossy surfaces in several areas, but unfortunately the EC14/18 do not, and neither do the larger Timeline models. Another interesting tidbit is that the 11.6" Acer laptops use DDR2 memory while all of the 13.3" and larger models use DDR3 - the benefit being slightly lower power requirements for DDR3, but the cost is also a bit higher. Build quality in general is decent but not great - there's a bit of flex in the keyboard, as mentioned, and the top cover will twist and bend more than the other two laptops we're looking at (though not so much that we feel it's a serious concern).
Outside of the design, the features and package on the AS1810T are very good. You get HDMI and VGA output, and the GS45 chipset (GMA 4500MHD IGP) is able to handle H.264 decoding without too much trouble. We were able to view 1080p x264 (12Mbit) content on all of the CULV laptops, with CPU load in the range of 5 to 23% (average of just 13%), so clearly there's plenty of headroom left. 1080p on an Atom-based netbook (without ION or some other GPU/video decoder to help)? Blu-ray playback should be possible, though we lacked an appropriate drive to verify this - you'll need an external USB device, obviously, so it's easier to get your video fix from the HDD. Forget it.
The current CULV offerings deliver much better features in terms of video decoding, and they're also significantly faster than Atom. In general, CULV ends up delivering twice the performance of N280/N450 in a variety of applications, as our benchmarks will illustrate. Battery life isn't quite as long as the latest Atom offerings, but the 1810 definitely reaches the "8+ hours" of battery life Acer advertises; we measured just shy of 10 hours idle battery life (you'll come very close to this if all you're doing is typing in a Word document) and slightly less than 8 hours in a heavy internet surfing test. Video playback (at least when Atom is fast enough to handle it) does favor Atom by a larger margin - we only got about 4.5 to 5 hours of video playback on the 1810, compared to 5 to 6.5 on an N280 netbook and 6 to 7 hours with N450.
Ultimately, making a smaller laptop is an exercise in balance and compromise, and what works well for one person may not be pleasant for another. For many people, 10.1" netbook keyboards are fine but they have definitely passed the limit of what I find comfortable. The 11.6" chassis of the AS1810T allows for larger keys, making it somewhat more comfortable, but the action of the keys and the spacing still leave me wanting. It should be possible to find one of the various Acer 1410/1810 (or Gateway EC14/18) models at a local Best Buy or similar store to try them for yourself. If you're not happy with the 11.6" Timeline, Acer offers 13.3" (AS3810T), 14.0" (AS4810T), and 15.6" (AS5810T) models, with the latter two providing optical drives on some models.
We really need to look at all of the Acer Timeline series to put things in proper perspective. Pricing on the Aspire 1410 starts at just $420, so you get the same chassis as the AS1810T with an SU2300 and 2GB RAM. You can find the AS1810T for around $600 if you're willing to wait for it to ship, or $680 if you can't wait. As an alternative, the AS1810TZ is $580, with the difference being the use of a Pentium SU4100 instead of the Core 2 Duo SU7300. Similarly, the 3810T goes for $650, with 4GB DDR3 and a 500GB HDD along with the SU7300; drop to the SU4100 and 320GB HDD for $580. The AS4810TZ adds a DVDRW for around $650; AS4810T with Core 2 Solo is something we'd recommend skipping, and the models with an SU9400 bump the price up to around $800 so we'd pass on those also. Finally, the $650 Timeline AS5810TZ goes with the SU4100 again, and we'd avoid the more expensive SU7300 versions as well as the Core 2 Solo models.
Given the similarity in pricing, any of the TZ models would be a great alternative to netbooks and still deliver plenty of mobility. We're inclined to go with the 13.3" AS3810TZ because of the larger keyboard, but others might be happy with the 1410/1810 models. For $420-$450, the AS1410 makes a very compelling argument against higher priced Atom netbooks.
Dell Inspiron 11z
Dell's CULV offering that we're reviewing today is the Inspiron 11z. One of the nice features of any Dell laptop is that you can customize the parts to a higher degree than most other laptops. The system we received includes an SU4100 CPU with a single 2GB DDR2-667 SO-DIMM. What's that, a single SO-DIMM? Yes, that's correct: Dell limit's the 11z to a single memory chip, with support for up to 4GB. The bigger issue isn't the single-channel interface so much as the pricing. With a single SO-DIMM the 11z is going to be slightly slower than the Acer AS1810T, and it's also going to be more expensive if you choose to go with a 4GB SO-DIMM.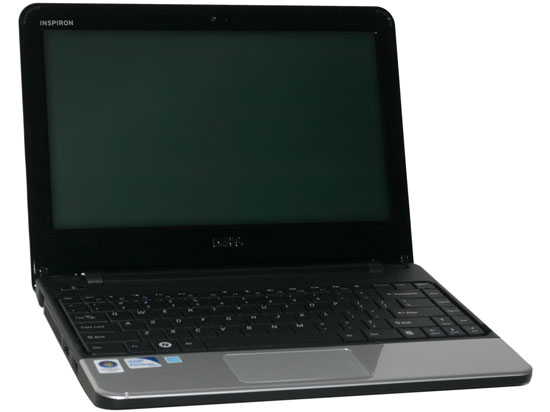 Dell Inspiron 11z Specifications
Processor
Intel Pentium SU4100
(2x1.3GHz, 45nm, 2MB L2, 800FSB, 10W)
Celeron 743
(1.3GHz, 45nm, 1MB L2, 800FSB, 10W)
Chipset
Intel GS45 + ICH9M
Memory
1x2GB or 1x4GB DDR2-667
Graphics
Intel GMA 4500MHD IGP
Display
11.6" LED Glossy 16:9 768p (1366x768)
Hard Drive(s)
250GB 5400RPM
Optical Drive
N/A (USB External optional)
Networking
Fast Ethernet (Atheros AR8132 PCI-E)
Dell Wireless or 1397 802.11ABG
Dell Wireless 1520 802.11ABGN
Bluetooth v2.1 + EDR
Audio
2-Channel Realtek ALC272 HD Audio
(2.0 speakers with headphone/microphone jacks)
Battery
3-cell 28Wh
6-Cell, 11.1V, 4840mAh, 56Wh
Front Side
None
Left Side
1 x USB 2.0
HDMI
VGA
Heat Exhaust
Ethernet
Right Side
Flash Reader (MMC, MS, SD)
Headphone/Microphone
2 x USB 2.0
Power Adapter
Kensington Lock
Back Side
None
Operating System
Windows Vista Home Basic 32-bit
Windows 7 Home Premium 64-bit
Windows 7 Professional 64-bit
Dimensions
11.5" x 8.43" x 0.92-1.75" (WxDxH with 6-cell)
Weight
3.2 lbs (with 6-cell battery)
Extras
Webcam
86-Key Keyboard
Warranty
1-year standard warranty
2-year and 3-year extended warranties available
Pricing
Available Online starting at $400
Test System: $564 (with current $173 savings)
Most of the other features of the 11z we received are the same as other CULV laptops: GS45 chipset with GMA 4500MHD graphics, 250GB 5400RPM HDD, and an 11.6" 1366x768 LCD. The 11z includes the standard three USB ports, flash memory reader, headphone/microphone jacks, Ethernet, WiFi, and an HDMI output. Unlike some of the other options, there's no VGA port. Like so many laptops we've looked at recently, the Inspiron 11z comes with glossy plastic surfaces and a glossy LCD. The keyboard and the plastic surrounding the keyboard are matte plastic, and we wish Dell would have simply extended that to the rest of the chassis. I have a friend with an Inspiron from a few years back, and frankly the matte plastic chassis and LCD still look better than most current laptops. Want an anti-glare laptop from Dell? You'll need to go with their business Vostro or Latitude lines. On the bright side, the light blue chassis Dell shipped us masks fingerprints and smudges a lot better than darker laptops.
We talked with one manufacturer (not Dell), and their take was that when the first glossy laptops came out, they were different from the matte options and everyone raved about them. Like so many things in life, it wasn't enough for other companies to start offering a few glossy laptops; they had to go all the way and start shipping everything glossy. While glossy laptops look nice in pictures (when staged properly), they just don't weather regular use well. Fingerprints and scratches are very visible, and it's time for a shift back towards matte designs in our opinion. We don't need to get rid of all glossy laptops, mind you; we just want more variety.
As far as build quality goes, the Inspiron 11z is reasonable. You can twist the LCD/cover a bit, but the design as a whole feels plenty durable. The keyboard is definitely one of the better aspects, though here personal preference will play a role. Dell uses flat keys that are nearly full size (with a few exceptions), and the layout works well. It's a little odd that Dell defaults to having the function keys act as special keys (e.g. adjust brightness, volume control, etc.) but you can change the default setting in the BIOS. The difference in keyboard layout and design seems very small compared to the Acer 1810, but the keys don't feel mushy and the spacing and contour of the keys felt better.
While there's plenty to like with the 11z, there is one area that I absolutely can't come to grips with: the touchpad... specifically the integration of the left and right mouse buttons in the corners. I tend to use two hands on touchpads, my left for the buttons and my right for pointing, and with multi-touch I end up with an epic fail on the 11z. Any time I want to click and drag, I usually get "zoom" behavior instead. The large touchpad seems nice but in practice either the drivers or hardware don't work well, so we recommend Dell ditch the button integration. I did try disabling multi-touch to see if that would help, and things were better but ultimately separate buttons would be superior - even without multi-touch, if one finger is on a button there are still plenty of times when using the another finger doesn't work properly. We talked to Dell about this and they are aware of the problems with the current design; it sounds as though the next Inspiron models will go back to a traditional touchpad.
Another complaint for the 11z is that the larger 6-cell battery juts out the bottom (the 3-cell doesn't do this, but you lose roughly half of your potential battery life). It's not the end of the world, but it would be nicer to have a laptop that will lie flat. Finally, the single SO-DIMM slot for memory was a poor choice; you can get 4GB RAM, sure, but it will cost more than 2x2GB on the competition, and we would have preferred DDR3 memory - lower power and better battery life relative to DDR2. Both the use of DDR2 and the single SO-DIMM slot appear to be more of a manufacturing cost consideration as opposed to features that would make a laptop better.
Ultimately, it's going to come down to pricing for most people. Well, pricing and the touchpad. The base configuration of the 11z starts at just $400, but it includes a single core Celeron 743, 2GB RAM, and Vista Home Basic, along with a 3-cell battery. In short, it's not at all impressive. With a moderate configuration (SU4100 CPU, Win7 Home Premium, 2GB RAM, 6-cell battery, and 250GB HDD) the Inspiron 11z will sell for $549 - or $589 with a non-black finish. You can customize other areas as well, and the Design Studio is a nice extra as well for another $45, assuming you want to personalize your laptop a bit. However, if you add in 4GB RAM (an extra $120 charge) the price becomes too high relative to the competition. We put together an Inspiron 11z that roughly matches the Acer 1810TZ with 4GB DDR2, 320GB HDD, and 802.11n WiFi for a total price of $694. For $580, the 1810TZ is the easy choice, and even if price were the same we'd take the Acer design if only because the touchpad was such an issue. Ideally, we'd like the Dell 11z keyboard and palm rest with the 1810T chassis, but while the 1810 keyboard wasn't quite as good it was at least "good enough" - something we can't say of the 11z touchpad.
Gateway EC5409u
The Gateway EC54 series bucks CULV convention and goes with a larger 15.6" chassis. Yes, it's bigger and heavier, but if you're already carrying a laptop bag around the difference is really quite small. I was recently at an NVIDIA technical presentation, and while everyone else was pulling out their stylish MacBooks and VAIOs, with some Dell and ASUS laptops thrown in for good measure, I was the only one with a Gateway system. Maybe no one else really paid much attention to what I had sitting in front of me, but afterwards I was speaking with one of the NVIDIA marketing folks. We were discussing netbooks and ION among other things, and I said, "Honestly, laptops like this have made me feel that Atom is almost totally irrelevant now. I'm sure we'll see millions of people still buying them, but that's only because they don't know any better." That naturally lead into a discussion of this Gateway laptop, and when I showed him current availability online for $600, he agreed that it was a very impressive offering. So what's so great about the EC5409u?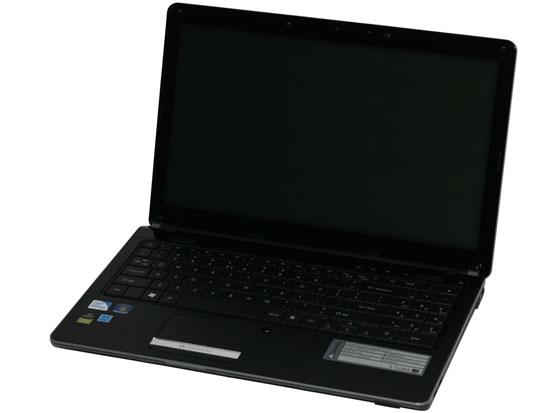 Gateway EC5409u Specifications
Processor
Intel Pentium SU4100
(2x1.3GHz, 45nm, 2MB L2, 800FSB, 10W)
Chipset
Intel GS45 + ICH9M
Memory
2x2GB DDR3-1066 (Max 2x4GB)
Graphics
Intel GMA 4500MHD IGP
Display
15.6" LED Glossy 16:9 768p (1366x768)
Hard Drive(s)
320GB 5400RPM
Optical Drive
8x DVDR SuperMulti
Networking
Gigabit Ethernet (Atheros AR8131 PCI-E)
Intel Wifi Link 1000 BGN
Audio
2-Channel Realtek ALC269 HD Audio
(2.0 speakers with headphone/microphone jacks)
Battery
6-Cell, 11.1V, 5600mAh, 63Wh
Front Side
Flash Reader (MMC, MS, MS Pro, SD, xD)
Left Side
Headphone/Microphone
1 x USB 2.0
HDMI
VGA
Heat Exhaust
Ethernet
Right Side
2 x USB 2.0
Optical Drive (DVDRW)
Power Adapter
Kensington Lock
Back Side
None
Operating System
Windows 7 Home Premium 64-bit
Dimensions
14.85" x 10.0" x 1.01-1.08" (WxDxH)
Weight
5.29 lbs (with 6-cell battery)
Extras
Webcam
99-Key Keyboard with 10-Key
Warranty
1-year standard warranty
Pricing
Available Online starting at $600
First, it has a really attractive design. Glossy plastic is gone, other than around the LCD bezel. The keyboard and palm rest are a nice matte plastic, and the cover is blue brushed aluminum. (You can also get it with a silver brushed aluminum top if you prefer.) I wish Gateway had taken things a step further and eliminated the glossy LCD and the shiny plastic on the LCD bezel and above the keyboard, and I don't see a need for a mirror on the touchpad buttons, but the important surfaces are no longer as prone to collecting fingerprints. I do have to note that after using the laptop for a couple weeks the matte finish shows the wear in the form of "oily spots", with areas on the palm rest and keyboard (especially the space key) visibly marked. You'll have to decide whether you prefer clearly visible fingerprints on glossy finishes or wear spots on matte finishes, unless you can find a surface that's completely immune to marking.
The hinge feels solid and the metal backing of the LCD panel makes it less prone to flexing or twisting. You also get a full size keyboard with a dedicated number keypad, though we do have a few complaints in that area. On the number keypad, the decimal point is in the wrong place, as are the plus and minus keys, and the zero key should be twice as wide. What's more, Gateway doesn't provide any dedicated Home/End or Page Up/Down keys… unless you don't use the numlock function. Again, personal preference comes into play, but like the NV52 and NV58 I ended up leaving numlock off. There's still about an inch of horizontal real estate to the sides of the keyboard that could have been used to fit in a few more keys and alter the layout, but it goes unclaimed. This was at least partly to keep costs down, since this is the same layout Gateway uses on several 15.6" designs. While I wouldn't say it's "perfect", the keyboard is comfortable for regular use and it provided good feedback for my typing style. It was far more comfortable during extended use than either of the 11.6" keyboards.
When we look at the features a few corners have been cut, but there are no major omissions. You won't get a dedicated graphics card, for example, so you'll be stuck with the integrated GMA 4500MHD graphics. (Not surprisingly, that was the NVIDIA rep's one complaint.) The LCD is a glossy low resolution 1366x768 panel, and while we're okay with 1366x768 in 11.6" laptops, 15.6" designs would definitely benefit from 1600x900 or even 1080p LCDs. In other areas, the features weren't cut at all. You get 2x2GB of DDR3-1066 memory, which is plenty for this sort of system (and up to 8GB is supported if you're willing to shell out $380+). The LCD uses LED backlighting, helping to improve battery life by cutting power use. Other components worth mentioning include the Intel WiFi Link 1000 802.11n networking, Gigabit Ethernet, a 320GB 5400RPM HDD, webcam, DVDRW, and flash memory reader. The CPU is a Pentium SU4100, which isn't the fastest CULV offering but it provides a good blend of price and performance. (As we mentioned at the start, the SU9400 is about 15% faster for almost twice the cost.) Overall, the design and construction are very good, and at $600 this is a really great value.
In terms of day to day use, the EC5409u provides excellent battery life, just like the other CULV designs. You can easily run typical office tasks for an entire eight hour workday without ever plugging in, and even at its slowest the SU4100 can run circles around an Atom N280/N450. The only areas where the system falls a bit short are the usual suspects for Intel IGP laptops: gaming and video playback. The gaming is pretty much a complete failure, outside of undemanding games like Sims 3 and Spore where it can provide acceptable performance at minimum details. We've discussed this in the past, and the latest Intel HD Graphics in Arrandale are two to four times as fast, so newer laptops can hopefully avoid this problem. The 4500MHD's video support is actually quite good overall, and we were able to view 720p and 1080p H.264 videos without difficulty. The problem is if you place a heavy emphasis on Flash video content, as the current Intel drivers and Flash 10.1 Beta 2 don't always work properly. That may be addressed with future drivers or a final version of Flash 10.1, but right now we would still give the clear win for Flash video support to NVIDIA GPUs.
So where does the Gateway EC54 series rank in the pantheon of CULV laptops? For the pricing, design, and features, this is easily my favorite of the three offerings we're looking at today. I've also poked around at a few other options at local electronics stores, and if you're looking at CULV (i.e. battery life without killing performance) it's going to be hard to beat the EC54 package. The graphics situation is a drawback, but you have the same thing on any of the less expensive CULV offerings, and it really only creates problems if you want to play games or if you want to watch certain Flash videos. (Hopefully the Flash 10.1 Beta 3 - or final release - along with updated Intel drivers can address the playback concerns, though we're not holding our breath). The only remaining concern is the question of size: do you want something closer to netbook proportions, or are you more comfortable with a larger keyboard and an extra pound to carry around? If Gateway were to cut out the number keypad and shrink the EC54 down to a 13.3" chassis, that would be about as good as it gets for CULV designs in my book. The Acer Timeline 3810 and 4810 come close, but they don't have the nice brushed aluminum cover. The other 13.3" and 14.0" CULV laptops (e.g. the Lenovo IdeaPad U450 and Toshiba Satellite T135) continue to use glossy plastic surfaces. ASUS also offers the UL20A, a 12" CULV with a chassis that appears the same as the 1201N, or the UL30/50/80A in 13.3", 15.6", and 14" sizes respectively. All of those are viable options, but they don't change the fact that the EC54 is one of the better CULV designs, and at $600 it won't even cost an arm and a leg.
Test Setup
We'll be comparing the CULV laptops against other inexpensive mobile solutions, like Atom N280 and N450 netbooks, the ASUS 1201N, and a few entry-level laptops from Dell and Gateway that don't focus as much on battery life or size. We've highlighted a few of the laptops to help clarify the charts (per reader request).
The ASUS 1201N represents the fastest Atom-based netbook/laptop, as it's armed with a dual-core Atom 330, and its results are shown in orange. The gold bars are for the ASUS UL80Vt with G210M active and a 33% overclock; combined with the discrete graphics this represents the high water mark for CULV performance - and the super sized battery doesn't hurt either. (Note that the Alienware M11x takes a similar approach but bumps the GPU up to a GT335M for even better graphics performance.) ASUS' Eee PC 1005HA is representative of the best Atom N280 netbooks, with results in black. Likewise, the ASUS 1005PE is the best (well, only) Pine Trail Atom N450 we've tested, with results in dark green. Finally, the MSI X610 is a single core Athlon MV-40 with HD 4330 graphics - an odd combination, as we pointed out in our review - with results in red.
Below you can find the specs of the laptops we're testing today; other laptops can be found in our previous mobile reviews if you're interested.
Acer Aspire Timeline AS1810T Test System
Processor
Intel Core 2 Duo SU7300
(2x1.3GHz, 45nm, 3MB L2, 800FSB, 10W)
Memory
2x2GB DDR2-667
Graphics
Intel GMA 4500MHD IGP
Display
11.6" LED Glossy 16:9 768p (1366x768)
Hard Drive(s)
320GB 5400RPM HDD
Optical Drive
N/A
Battery
6-Cell, 11.1V, 5600mAh, 63Wh
Operating System
Windows 7 Home Premium 64-bit
Pricing
Available Online starting at $680
(Black version available for $600)
Dell Inspiron 11z Test System
Processor
Intel Pentium SU4100
(2x1.3GHz, 45nm, 2MB L2, 800FSB, 10W)
Memory
1x2GB DDR2-667
Graphics
Intel GMA 4500MHD IGP
Display
11.6" LED Glossy 16:9 768p (1366x768)
Hard Drive(s)
250GB 5400RPM HDD
Optical Drive
N/A
Battery
6-Cell, 11.1V, 4840mAh, 56Wh
Operating System
Windows 7 Home Premium 64-bit
Pricing
Available Online starting at $400
Test System: $564 (with current $173 savings)
Gateway EC5409u Test System
Processor
Intel Pentium SU4100
(2x1.3GHz, 45nm, 2MB L2, 800FSB, 10W)
Memory
2x2GB DDR3-1066
Graphics
Intel GMA 4500MHD IGP
Display
15.6" LED Glossy 16:9 768p (1366x768)
Hard Drive(s)
320GB 5400RPM HDD
Optical Drive
8x DVDR SuperMulti
Battery
6-Cell, 11.1V, 5600mAh, 63Wh
Operating System
Windows 7 Home Premium 64-bit
Pricing
Available Online starting at $600
We'll include the usual assortment of application benchmarks, battery tests, and LCD tests. If you're interested in gaming performance, we suggest you look at our ASUS 1201N review, where we show gaming performance of the EC5409u at minimum detail settings. In a word, it's painful, but we'll include the 3DMark results later just to make things clear. If you want games and CULV, we highly recommend something like the ASUS UL series; check back next week for some new information in that area.
Okay, it's time for the test results. We'll spoil the charts a bit by once again stating that nearly all of the tests show complete parity among the tested laptops. If we had something with an SU9600, sure, it would be measurably faster. Similarly, an SSD can improve tests that are limited by hard drive performance. Both of those items would add at least $100 each to the cost of a laptop, so you quickly approach the $800+ laptop range, which is currently the domain of the ASUS UL30/50/80Vt laptops. If you're after a $600 CULV, the components you can get into such a design are pretty much set, leading to virtually identical performance. Outside of comparisons to other laptop categories (e.g. netbooks and non-CULV laptops), the previous pages on the design and features are going to be more meaningful than looking at how much faster the 1810T is relative to the 11z. The only areas where we see any real separation are the battery life results and the LCD testing.
General Performance: Atom Gets Dusted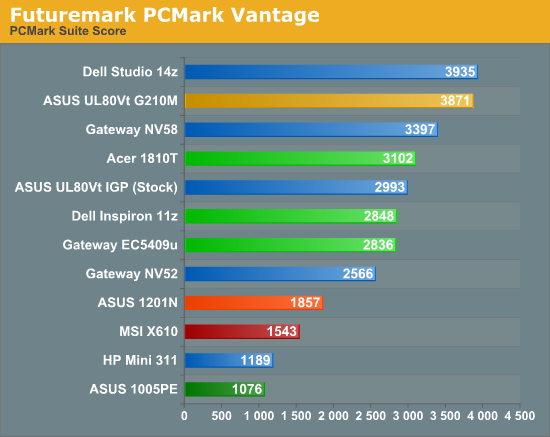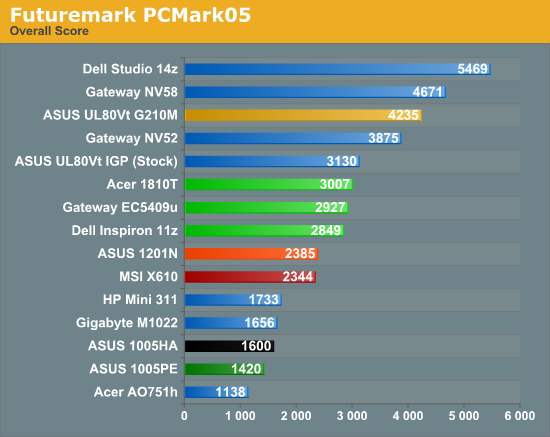 We've shown most of these results in our ASUS 1201N review, but where we were comparing dual-core Atom 330 to Atom N280 and N450, let's now focus on CULV performance. Starting with PCMark, we immediately see a very large performance gap. This isn't some synthetic divide, either: you will very much notice the performance boost moving from Atom N450 to the 1201N, and you'll feel it even more if you compare CULV to Atom N450. Even the Atom 330 is still a big drop in PCMark Vantage, where it's 35% slower than the EC5409u. PCMark05 shows a smaller difference of around 17%, but PCMark05 is relatively outdated now (as the 2005 year indicates).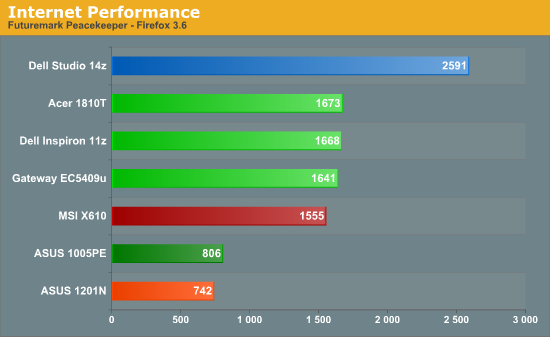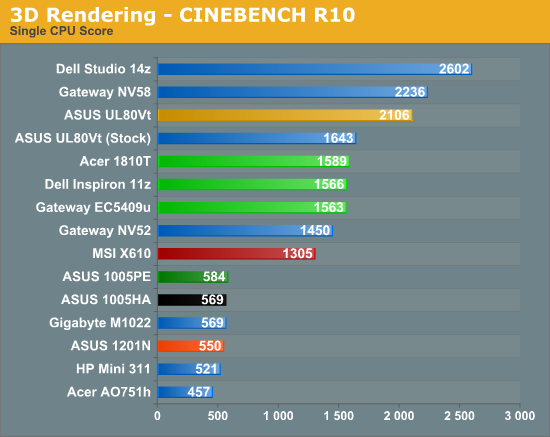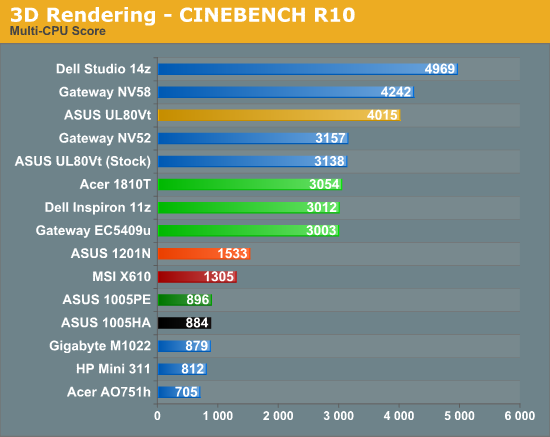 Next up we have Internet Surfing performance measured by the Futuremark Peacekeeper benchmark using Firefox 3.6. Peacekeeper is single-threaded in nature, taxing only one CPU core, but this is quite realistic for many non-video websites. Here the Atom 330 is hurt by its lower clock speed relative to N280/N450, and the jump to CULV roughly doubles performance. If you tend to surf simple text/image sites, the gulf may not be quite so large, but on most modern websites there's a clear difference between rendering times on Atom compared to CULV.
Similarly, CINEBENCH allows us to show quite clearly the difference between single-threaded and multi-threaded tasks. In single CPU mode, the CULV laptops are about 2.5 times as fast as Atom - N280, N450, or 330 doesn't matter. In tasks that can use multiple threads efficiently, the gap between CULV and Atom 330 closes a bit. CULV is still nearly twice as fast as the 330, but it's also 3.35 times as fast as N450. Remember that the multi-threading on N450 is actually Hyper-Threading (SMT) rather than two complete CPU cores, so this is expected.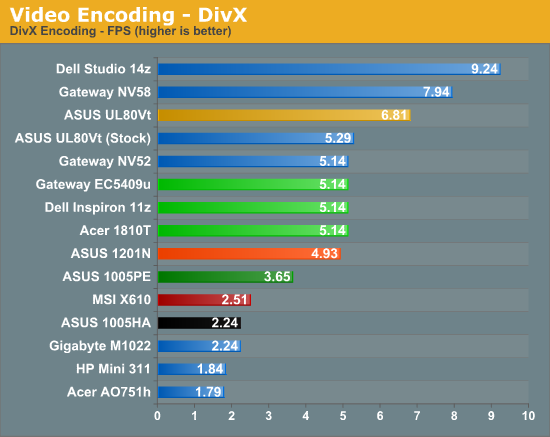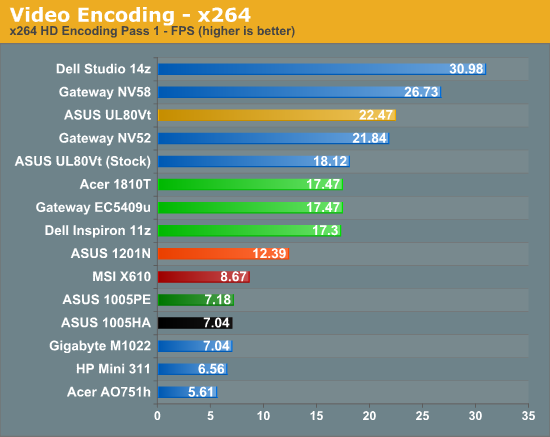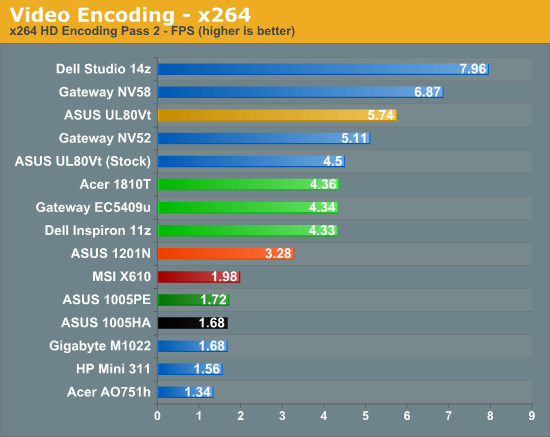 Wrapping things up with some heavily threaded video encoding tests, the four threads on 330 can at times come close to a 1.3GHz CULV. The best result is in DivX encoding where the 330 is only 4% slower than the various CULV laptops. x264 is more strenuous and the CULV offerings are 30~40% faster than Atom 330. Meanwhile, the "new and improved" Atom N450 shows only a very small improvement relative to N280, with CULV still delivering about 2.5 times the performance.
So as you would expect, the performance comparison between Atom and CULV is a lopsided affair. Atom is about keeping costs and power requirements low, and performance just isn't a major concern. Yes, it can run Windows 7, but you wouldn't want an Atom-based system to be your primary computer if at all possible. Given the pricing, you also wouldn't want to spend much over $300 unless you really like some of the other features on an Atom netbook (e.g. perhaps the chassis and build quality are a lot better than the competition). For the most part, Atom wins the price wars, but what about power and battery life?
Blending Battery Life with Performance
We just showed how CULV skunks Atom when it comes to performance. Dual-core Atom 330 is still quite a bit slower, and it's not even close when we look at the mobile Atom CPUs. This is all from a relatively "weak" 1.3GHz Core 2 processor. But Atom CPUs have a TDP of just 2.5W for N280 and 5.5W for N450 (the latter also includes the chipset, so it actually uses less power than N280 + 945GSE); meanwhile, CULV is listed as having a TDP of 10W. Advantage: Atom, right? Well, not so fast. The newer Pine Trail platform definitely helps, with a much lower power draw from the chipset and graphics. Max TDP doesn't necessarily correlate well to idle or low use TDP, though, which is where most users tend to operate their PCs. Here's how battery life stacks up.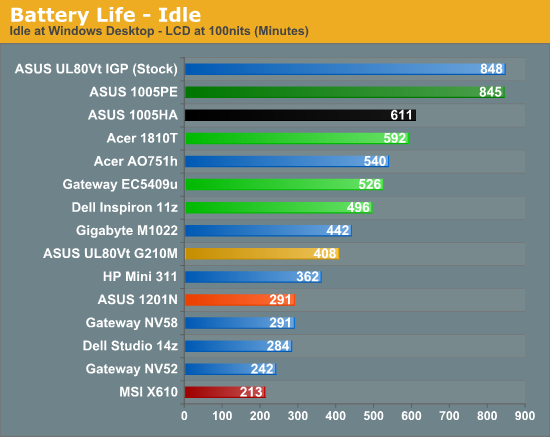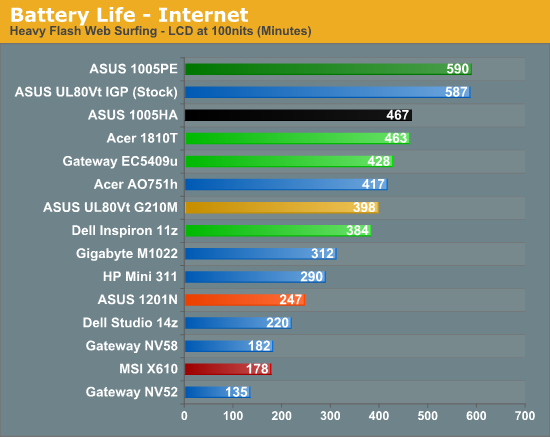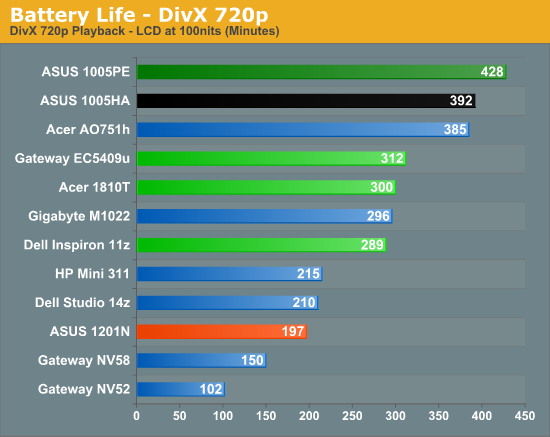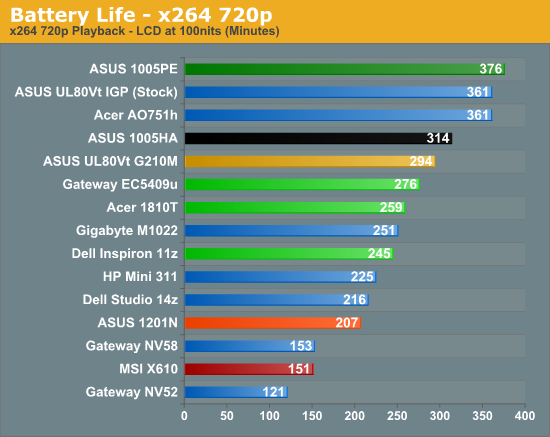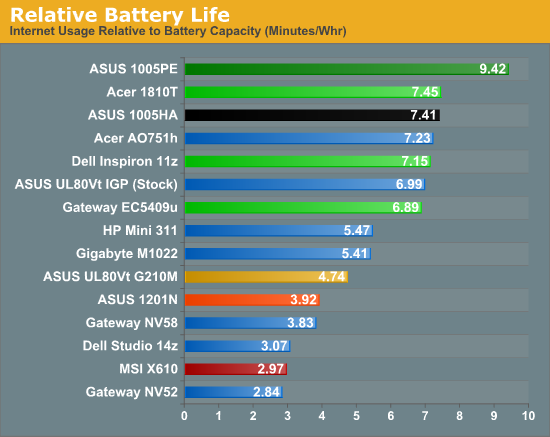 We gained performance but we do give up a bit in battery life - at least when we look at Pine Trail. The smaller CULV laptops like the Acer AS1810T are able to come very close to Atom N280 battery life in the Idle and Internet tests, while the video playback results still favor N280 (provided you're not trying to do 1080p H.264). Atom N450 on the other hand manages to boost battery life by anywhere from 10% (DivX) to 40% (Idle), putting it out of reach of CULV when both are using similar capacity batteries.
The AS1810T delivers an impressive result in our Heavy Internet Browsing test, coming in just shy of eight hours at 463 minutes. That's a virtual tie with the older Atom N280 based ASUS 1005HA (467 minutes), indicating CULV is able to render the web pages and get to a deep sleep state faster than N280. The newer ASUS 1005PE Pine Trail netbook still bests the AS1810T by just over two hours (590 minutes), so if you want maximum battery life Atom continues to beat the other Intel processors. The other CULV options both trail the AS1810T, which is expected. The EC5409u is larger and so the LCD will draw more power, while the Dell 11z has a slightly lower capacity battery.
In terms of relative battery life (and of course, we should note that we're going off the advertised battery capacities, which may be slightly off), the CULV and most N280 offerings are clustered tightly together. While the EC5409u does use more power, the DDR3 memory appears to mitigate that somewhat, with overall battery life still very close to the smaller laptops. Pine Trail is at its best in Idle battery life, but the Internet test is another strong point: it gets 25% more battery life compared to CULV for the same battery capacity.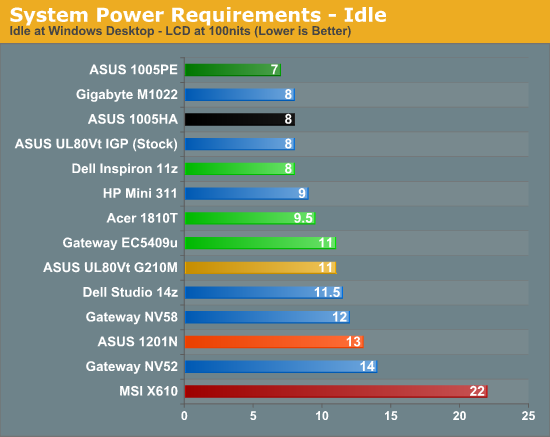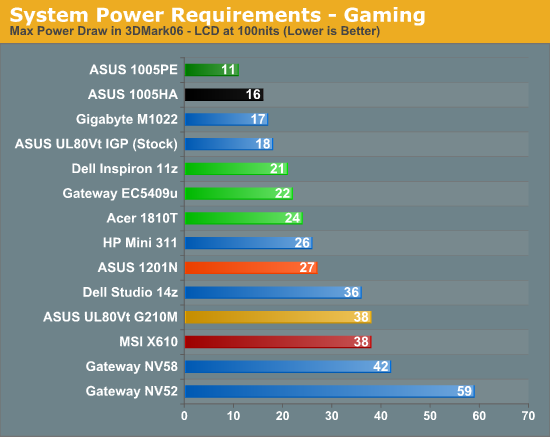 Looking at power requirements helps clear up any lingering questions. Mobile Atom CPUs are designed to sip power, with their highest load sucking down around 4W for N450 and 7W for N280 (including chipset power draw). We estimate that at idle, Atom N280 uses 1W, the chipset probably uses 2W, LCD gets 3W, and the remainder is divvied up among the other bits and pieces. Atom N450 can cut another 1W from Idle power requirements, which is at least a 15% reduction (and possibly more, given our tools are only accurate to at best .5W). In contrast, a CULV CPU can idle very well, but under load the power draw jumps significantly. The AS1810T looks like it uses every bit of its 10W max TDP. Add on graphics and the gap widens even more, though here we need to mention that GMA 950/3150 are a very big step down from GMA 4500MHD (which is another big step back from something like GeForce 9400M).
Overall, it appears that CULV processors are very similar in terms of idle power requirements when compared to Atom N280, especially once we factor in chipsets. As we mentioned above, in many situations an application will need to do a set amount of work as quickly as possible (e.g. rendering a web page), after which the CPU can go into a deep sleep state. The faster the work gets done, the sooner the CPU can sleep, and the net result is that even in moderate loads CULV can compete quite well against N280. The catch is that there are other loads (like video decoding) where CULV ends up using quite a bit more power than Atom, but in common usage scenarios the battery life is still very good.
Graphics Performance - Needs More Oomph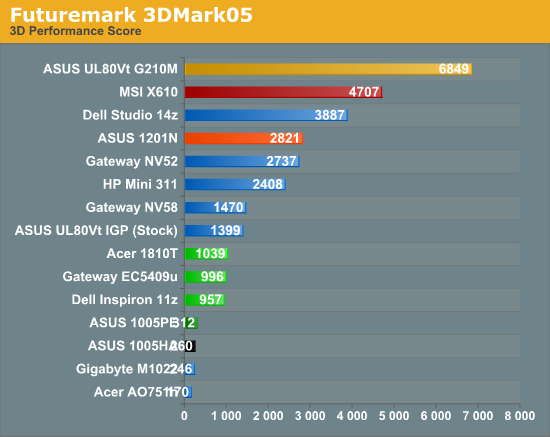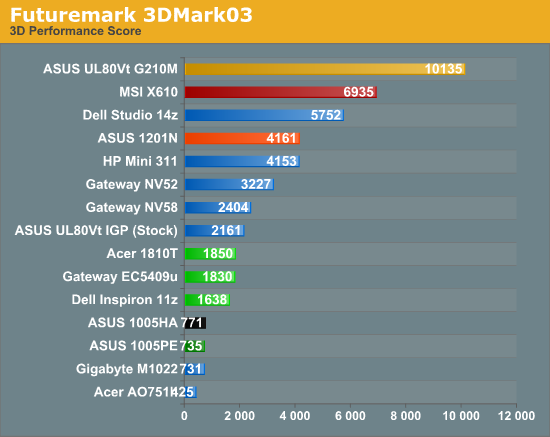 We looked at gaming performance on CULV + GMA 4500MHD already, and there wasn't much point in trying to rerun a bunch of tests where the old Intel IGP comes up short. If you want to play games, you need a more potent GPU. The ASUS 1201N with a slower CPU and ION graphics is a much more capable gaming platform, for example. The new Intel HD Graphics look like they can compete well against AMD and NVIDIA current generation IGPs, but even a lower end GPU like the G210M is a big step up. Adding a discrete GPU will add at least $50 to the total cost, and more likely $100+, but as the UL80Vt demonstrates, you don't necessarily need to give up battery life. Again, we'll have more to say on this next week, so stay tuned if you're interested in mobile gaming.
Windows OS Performance
Some people like to know how fast their system will boot/reboot, or resume from hibernation. RAM size and HDD performance come into play, along with POST speeds. Windows 7 also improves on Windows Vista in most of these tests. We'll dispense with the commentary and simply show the numbers at this point.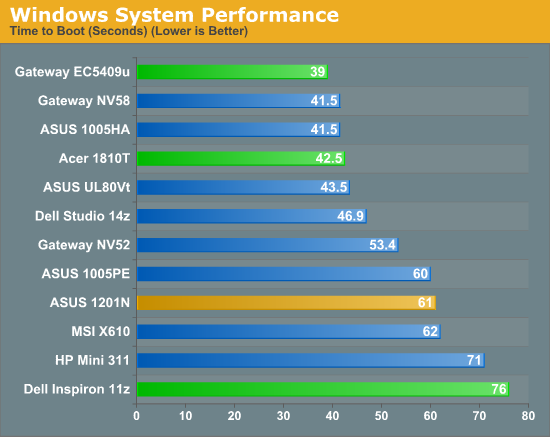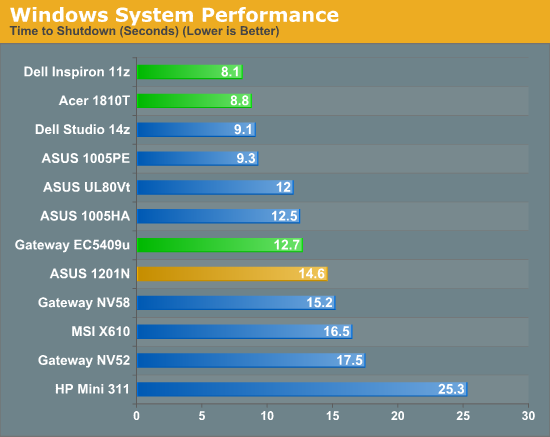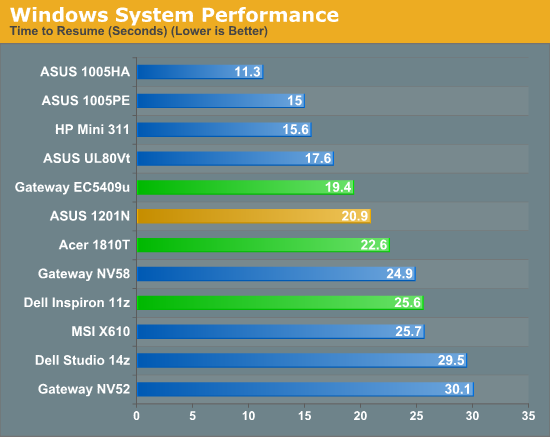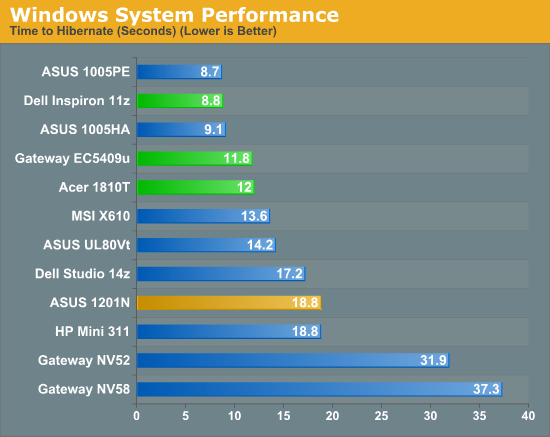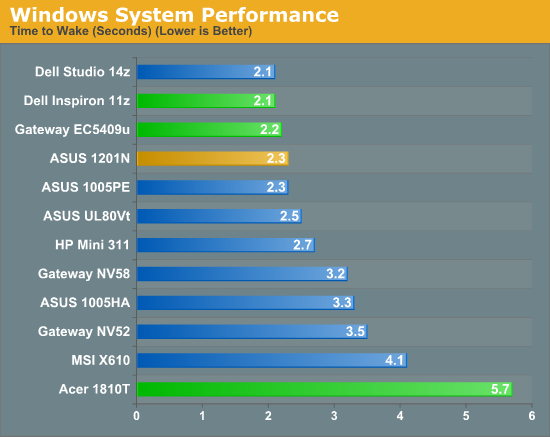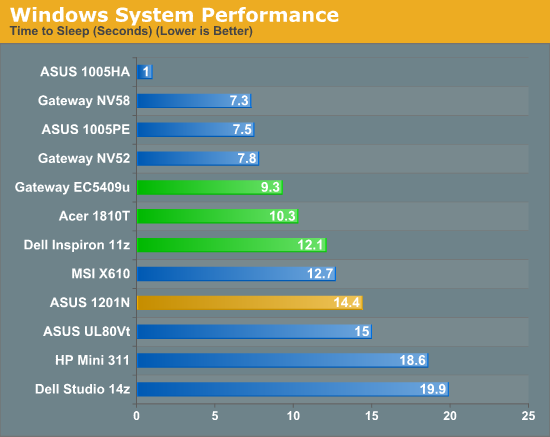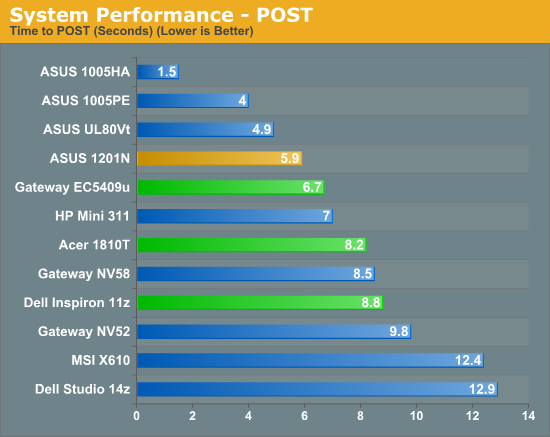 Boot times clearly favor the Acer and Gateway laptops over the Dell 11z (probably because of some driver stalling the Dell system, though we couldn't determine the exact cause). POST times also have the 11z at the back of the CULV pack, with the EC5409u in the lead. ASUS really appears to have spent a good deal of time optimizing their laptops for quick POST times, which is nice to see. One other surprise is that the EC5409u resumes from hibernation so much faster than the other two laptops. It has 4GB RAM compared to 2GB on the Dell, and it does save 1.5 second on the POST time, but we would have expected the 11z to perform better - just as the 11z wins the hibernate test because it only has half as much RAM it needs to save to the HDD.
Inexpensive Laptops Have Cheap LCDs
And now it's time to show some really poor LCD results yet again. Actually, beyond just being bigger, the Gateway EC5409u does have a decent display in terms of color quality. Contrast ratios are all lacking, however, with the best result coming from the AS1810T - and the 11z delivering one of the worst results we've recorded to date.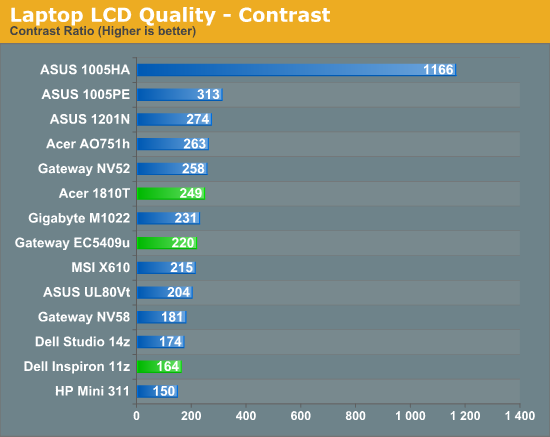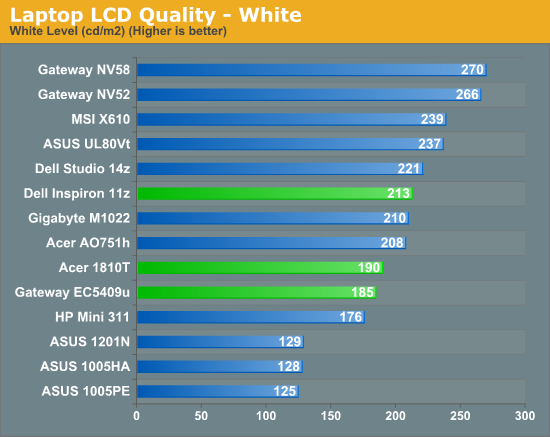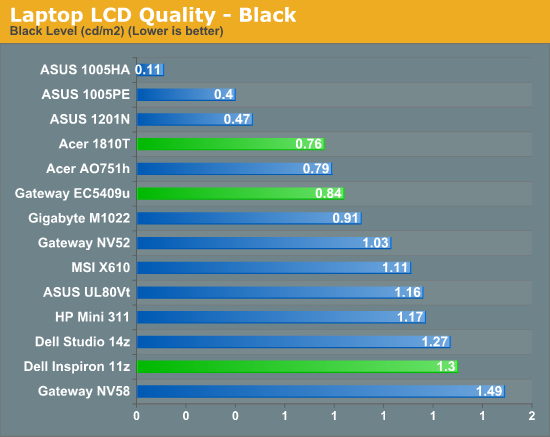 As stated, the contrast ratios are nothing to write home about. The Dell 11z with a black level of 1.3 nits results in more of a gray than black screen, and while the other two laptops are better, none are "good". We'd really like to see contrast ratios above 500:1, at which point black is usually a lot closer to being black. White levels all hover around 200 nits, give or take, which is sufficient for indoor use. With the glossy LCDs, outdoor use is going to be problematic.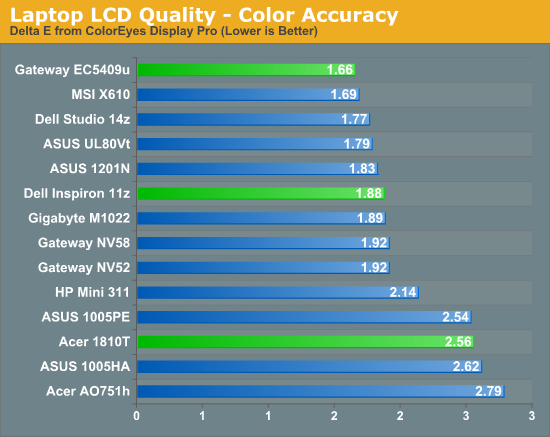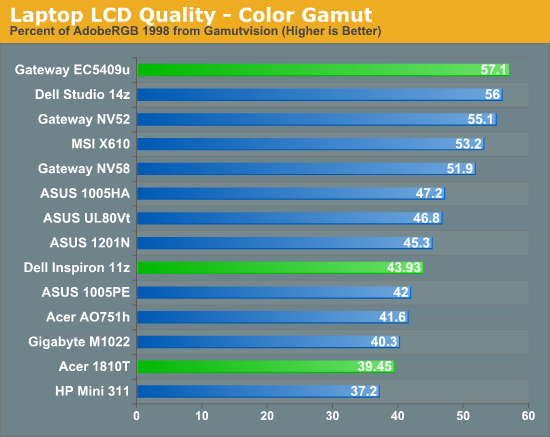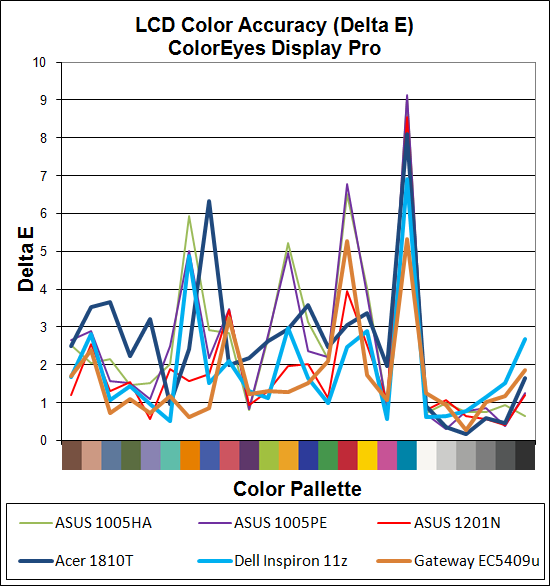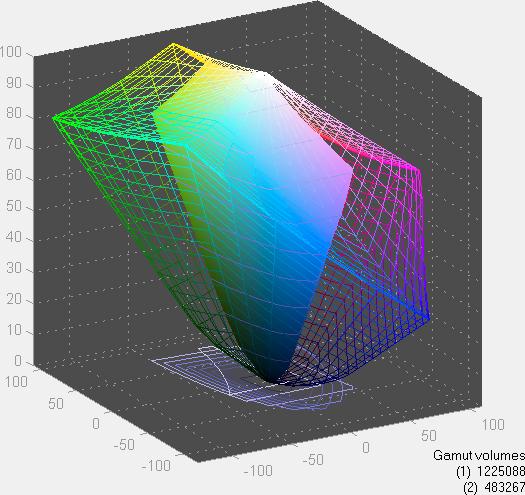 Acer Timeline AS1810T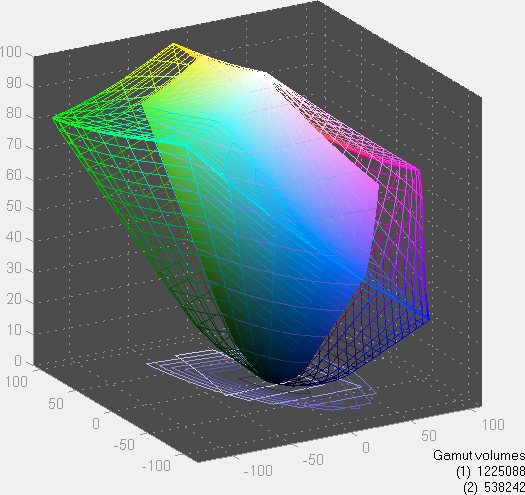 Dell Inspiron 11z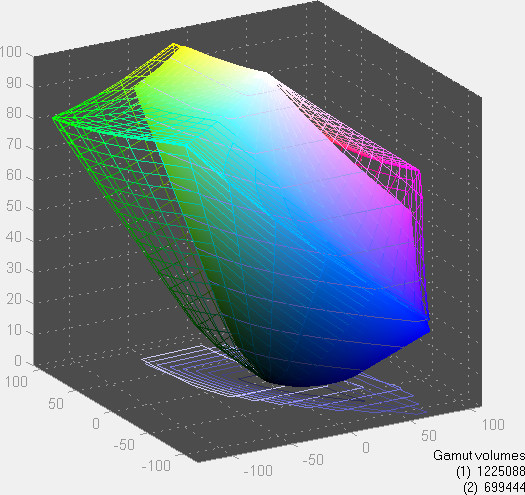 Gateway EC5409u
Color gamut and accuracy show why we felt the EC5409u looked better: because it is better. We're looking at color gamut relative to Adobe RGB 1998, and it scores 57%. If we compare it to sRGB (which some will say is far more important), that value rises to 79%. It's definitely the best of these three LCDs, but there's still plenty of room for improvement.
Market Recap (aka Conclusion Part 1)
We asked at the outset, "Who needs Atom?" It's now time to answer that based on our review today. What we really need to look at are the strengths and weaknesses of the various platforms at the various price categories. We've been over this ground before, but it bears repeating. We'll focus specifically on the entry level laptops and netbooks, with a price ceiling of around $800. Given those parameters, here's how things work out.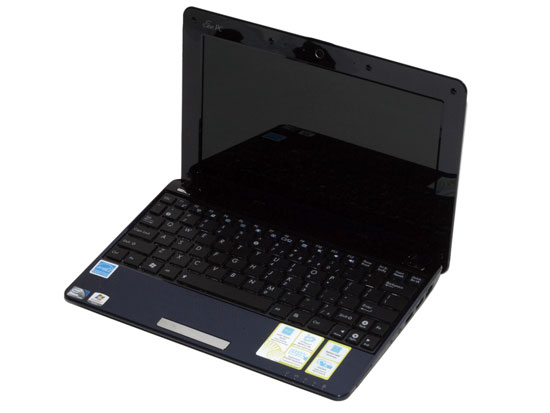 Sub-$350 is clearly the domain of the Atom-based netbooks, so it's definitely not dead. You'll sacrifice a lot in terms of performance, and features are also going to get cut. HD video decoding support generally isn't present, but we may see some netbooks start to ship with Broadcom Crystal HD to handle that. Intel also has their GMA 500 IGP that handles H.264 decoding quite well, but there were a lot of other issues with the drivers that made it a less than perfect solution. At present, look for Atom N450 netbooks for around $300 (give or take), and you can expect great battery life and very small form factors. So yes, Atom does have its uses.
$350-$500 is where things start to get messy. Atom netbooks obviously fall into this price range as well, but Microsoft won't let manufacturers ship Windows XP with more than 1GB RAM or a 160GB HDD. That's fine, but now you can get Windows 7 Starter (or even Home Premium in some cases) netbooks with 2GB RAM and larger HDDs. Battery life for such netbooks remains stellar, but the video decoding support is still lacking, barring a separate video decoder chip.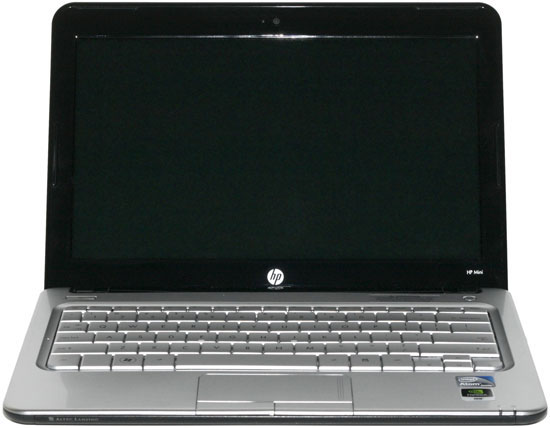 Another option that we encounter in this price range is NVIDIA's ION platform. ION works with the older Atom N270/N280, and battery life isn't as good as the Intel solution. The benefit is that you get full HD video decoding support - including the ability to play Blu-ray movies, assuming you have an external Blu-ray drive. Gaming is theoretically possible, but many games require more CPU power than Atom can deliver. Depending on the netbook features, ION looks to cut battery life by around 25% relative to non-ION N280 netbooks. So you can get better video support and around four hours of HD video playback and six hours of Internet surfing, or you can stick with vanilla Atom and get six hours of 720p (or lower) video playback, no Flash HD support, and up to ten hours of Internet surfing.
Need some more options? There are plenty of choices! CULV makes an entrance at just over $400, with battery life that's a bit better than ION netbooks. You also get 2GB RAM compared to most netbooks that ship with 1GB, and the GS45 chipset is much better than 945GSE so HD video content isn't a problem for the most part. (We're still waiting on full Flash 10.1 video support from Intel's IGPs, though.) Video playback can run for about 4.5 to 5 hours, and Internet battery life can reach seven hours.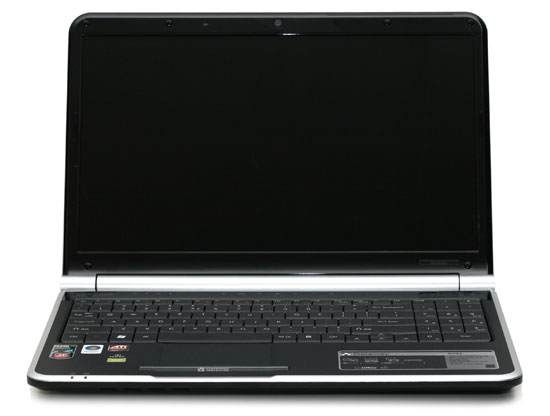 If you prefer more performance and don't care as much about battery life, AMD laptops also make an appearance in this price bracket. You can find HP/Compaq and Acer/Gateway laptops with Athlon II M300/M320, 3GB/4GB RAM, and HD 4200 graphics for just under $500. These will typically be 15.6" notebooks rather than smaller form factors, and the size combined with the component choices will deliver battery life of around 2 hours for video, 2.5 hours Internet, or up to 3.5 hours in lighter loads. If you want to drop back to the older Athlon X2 CPUs and HD 3200 graphics, you can even get such laptops for around $400 (i.e. the Gateway NV52 line). We'd recommend against any of the single-core CPU solutions (AMD or Intel), as the lowered performance isn't backed by significantly improved battery life - CULV will do better in our opinion. Still, if you're okay with the compromise, you can find AMD Neo laptops as small as 11.6" with the MV-40 CPU. (Look at the MSI X610 results to see what sort of performance you'll get.)
Need even more choices? Well, they're there. Standard Intel-based (i.e. non-CULV) laptops are also available for just under $500 now, with CPUs like the Pentium T4300. The Gateway NV58 is representative of this class of laptop. Battery life is going to be around 2.5 hours for video, three hours for Internet, and up to 4.5 hours in light workloads. Basically, you'll get about 25% more battery life and 25% more CPU performance than the competing AMD solutions, but gaming isn't at all practical. (It's at least borderline on many games with the HD 3200/4200, with plenty of slightly older titles that run fine.)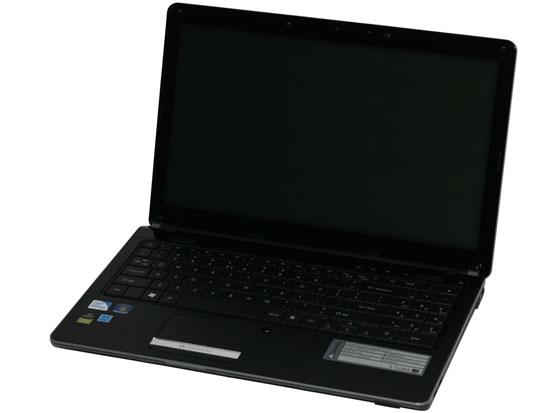 At $500-$650 CULV really starts to show up a lot. Now instead of 2GB RAM, you get 4GB and generally larger hard drives. The Pentium SU4100 solutions are typically the best bang for the buck, with Core 2 Duo SU7300 usually adding $75 and only a small (5% or less) performance increase. SU7300 does add VT-x support, though, if you feel that's important. For battery life without compromising too much on performance, we feel CULV is an excellent choice. Laptops like the models we reviewed today would work great for college students, allowing you the freedom to work on papers and take notes all day at campus without the need to use an AC adapter. You can do the same with Atom, but these are faster and generally more capable. You still have to give up gaming performance, though - you'll need a discrete GPU with CULV if that's what you're after.
If you don't care about battery life and you want gaming performance, you can also turn to regular AMD and Intel laptops with GPUs like the Mobility Radeon HD 4330 or GeForce G210M (or 8200M/9300M). Another option is the new Core i3 laptops, with prices starting at around $600 for the i3-330M complete with 4GB DDR3, 320GB HDD, and the improved Intel HD Graphics. And from here the options begin to open up rapidly. As we've discussed already, the only thing you really need for CULV to handle games is a more capable GPU, and the ASUS UL line provides that as well as switchable graphics, giving you the best of both worlds. The smaller models cost a bit more, but the UL50Vt is currently selling for as little as $700. Don't like NVIDIA's GeForce line but still want CULV? Try the Lenovo U450P 33892GU for $800 (but we'd stick with the ASUS UL50Vt or UL80Vt).
CULV: Great for Mobility
If we just limit ourselves to a discussion of long(er) battery life laptops and netbooks, the rundown simplifies a lot. Your choices are between Atom and CULV, with better battery life and lower performance on the Atom side. NVIDIA's ION platform offers better graphics and video support, but you're still saddled with a slow Atom CPU. Pricing is closer to $500 on most ION netbooks, and opinions on the size are split between those who feel 10.1" is fine and those that feel it's too small - I'm in the latter camp. Battery life, incidentally, is slightly worse with ION than CULV laptops. As an alternative, the ASUS 1201N goes for dual-core Atom 330 and ION, further reducing battery life but improving the form factor if you're not a fan of 10.1" keyboards. CULV is still faster in non-gaming tasks, but gaming and video playback work quite well on the 1201N. CULV is a great way to balance performance, battery life, and cost while keeping a small size. Given the choice, we'd either go with one of the CULV models or we'd move up to CULV with switchable graphics; Atom remains more of a secondary (or tertiary) computer. Sure they cost more, but we feel the cost is justified.
Which is the "best" of the above options we just listed? Honestly, that's a question you need to answer for yourself, and hopefully we've given you enough data to determine where you stand. Right now, I'm going to recommend CULV for most users looking at a decent laptop, simply because it fits my mobile lifestyle. If I were in need of a new laptop and only had $300, I'd skip Atom and save my pennies until I could afford a CULV laptop instead. They may be almost twice the cost, but in my book they're more than twice as good. With CULV I feel I can do everything I need without serious compromises; Atom is just too slow to be my only PC. We're very curious to see if the new Arrandale CULV offerings can improve on current CULV or if they'll be a case of two steps forward, two steps back. We should know some time in the next month or two.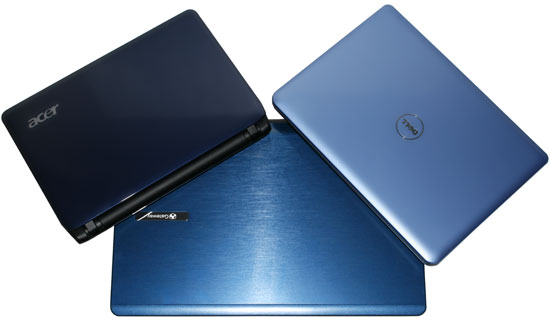 We looked at three CULV laptops today, and unfortunately we had some fundamental complaints with both of the 11.6" units. We didn't like the Acer AS1810T keyboard much, and the Dell 11z touchpad was, in a word, horrible. There's another option that we can recommend for those that want to stay close to netbook sizes: the ASUS UL20a. The chassis is essentially the same as the 1201N, which we liked quite a lot, with battery life listed at 7.5 hours. It includes an SU7300 CPU, but memory is cut to just 2GB compared to 4GB on competing offerings. Still, 12.1" is close enough to 11.6" that few would complain. The only remaining drawback is that you lose HDMI output, which the Dell 11z, Acer Timeline, and Gateway EC5409u all provide. Overall, we feel the best current CULV designs priced at $600 or less all come from Acer and Gateway.

The Gateway EC5409u is an excellent choice if you like the larger keyboard and LCD, and subjectively it's my favorite of the bunch. The Acer Timeline 3810TZ and 4810TZ are close behind, with keyboards that are fine for typing (but unfortunately no aluminum cover unless you buy one of the more expensive models). We've tested the EC5409u, and we've looked at the Timeline 3810, 4810, and 5810 at local stores. Frankly, we're impressed with what Acer and Gateway have put together, and we're happy to award all four models our Bronze Editors' Choice award. The 11.6" Acer and Gateway models have quirks (specifically, the keyboard), but the 13.3", 14.0", and 15.6" offerings are all very good and worth a serious look. The only caveat is that we only recommend the versions with dual-core CPUs, so make sure you order the right model - the Pentium SU4100 or Core 2 Duo SU7300 are both much better than the Pentium SU2700 or Core 2 Solo SU3500.
Why only a bronze? Because there's still room for improvement; think of this as an "A-" award rather than an "A+" - and if you're keeping score, that means the ASUS UL80Vt is still our preferred solution. Give us a better LCD panel and more of the aluminum shell on the EC5409u and we're looking at a Gold award. Now we just need to wait and see what companies can do with Arrandale CULV. It took a couple years for Core 2 CULV to hit its stride, but hopefully the Arrandale laptops will build on the good (low price and great battery life) rather than returning to the CULV of old (underpowered and overpriced).