Original Link: http://www.anandtech.com/show/2931


4 chips in 6 months reaches its end today, with the launch of the final chip in AMD's Evergreen stack: Cedar. Cedar, the baby of the family, will be powering AMD's bottom-tier cards. Today we're seeing the the first of what we expect will be a couple of Cedar cards with the launch of the Radeon 5450.
| | | | | |
| --- | --- | --- | --- | --- |
| | AMD Radeon HD 5670 | AMD Radeon HD 4670 | AMD Radeon HD 5450 | AMD Radeon HD 4550 |
| Stream Processors | 400 | 320 | 80 | 80 |
| Texture Units | 20 | 32 | 8 | 8 |
| ROPs | 8 | 8 | 4 | 4 |
| Core Clock | 775MHz | 750MHz | 650MHz | 600MHz |
| Memory Clock | 1000MHz (4000MHz data rate) GDDR5 | 1000MHz (2000MHz data rate) GDDR3 | 800MHz (1600MHz data rate) DDR3 | 800MHz (1600MHz data rate) DDR3 |
| Memory Bus Width | 128-bit | 128-bit | 64-bit | 64-bit |
| Frame Buffer | 1GB / 512MB | 1GB / 512MB | 1GB / 512MB | 1GB / 512MB |
| Transistor Count | 627M | 514M | 292M | 242M |
| TDP | 61W | 59W | 19.1W | 25W |
| Manufacturing Process | TSMC 40nm | TSMC 55nm | TSMC 40nm | TSMC 55nm |
| Price Point | $99 / $119 | $60-$90 | $49-$59 | $35-$55 |
It should come as little-to-no surprise that Cedar and the Radeon 5450 finally deviate from the rule-of-2 that has marked the difference between the other Evergreen family members. Whereas all of the larger Evergreen chips have effectively been ½ of their bigger sibling, Cedar cuts right to the bone. It's half as many ROPs as the Redwood-powered Radeon 5670, but 40% of the texturing capacity, and a mere 20% of the shader capacity. As has always been the case for video cards, once you drop below $100 you have to start sacrificing a lot of hardware to meet lower price targets, and Cedar is no different.
For throwing all of those functional units out along with GDDR5 capabilities, Cedar comes in at a slender 292M transistors with a die size of 59mm2. This is a little less than half the transistor count of Redwood while being a little more than half the die size. In this case the limited reduction in transistor count in spite of the significant reduction in shader capabilities is an excellent example in what makes cutting a design down to budget-levels such a tricky proposition. AMD won't release a die shot of Cedar (or anything else of Evergreen for that matter) but it's a safe assumption that most of Cedar is occupied by fixed and semi-fixed units such as the PCIe controller, UVD2.2, and AMD's fixed function rendering pipeline. AMD can't scale down any of these units like they can shaders, hence shaders had to take the brunt of the cuts to get a sub-300M transistor chip.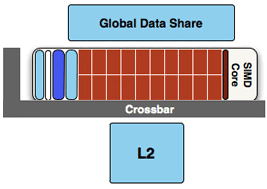 Attached to Cedar is a 64bit memory bus, which as we stated before drops GDDR5 memory support. Instead Cedar will be paired with DDR2 and DDR3 – with today's launch card being a DDR3 variant clocked at 800MHz. This also makes the 5450 the first card to launch with something other than GDDR5, which has otherwise been paired with everything from the 5970 to the 5670.
Compared to the RV710 chip at the core of the Radeon 4350 and 4550, Cedar and the 5450 are virtually identical to those parts. It has the same number of functional units and the same memory interface running at the same speeds, making it the closest thing yet to a 4000-series card with DX11 + Eyefinity functionality. Cedar is even pin-compatible with RV710, so that manufacturers can drop it in to existing Radeon 4350/4550 designs. And just to put things in perspective, in spite of these similarities Cedar is 50M transistors larger than RV710, which means AMD spent most of their gains from moving to the 40nm process on adding Evergreen family features and getting a slightly smaller chip. This also means that it's a safe bet that we'll see AMD double-up on functional units for the next die shrink.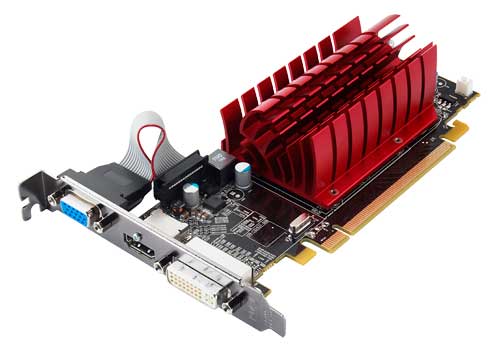 One of the advantages of throwing out so much shader hardware and dropping GDDR5 is that the power usage of the card comes down significantly, playing well in to the low-power nature of budget video cards. AMD specs the 5450 at a mere 19.1W TDP, and an idle power usage of 6.4W. This is more than 2/3rds lower than the 5670. Lower clockspeeds also play a part here, as the 5450 is the lowest clocked 5000-series card yet, at a core clock of 650MHz.
It goes without saying that as a budget card AMD is not targeting hardcore gamers with the 5450, instead the target market is a mix of buyers who need their first real GPU on a tight budget. This means pushing the Radeon 5450's UVD/HTPC capabilities, Eyefinity, GPGPU acceleration, and it's significantly improved gaming performance over IGP solutions. AMD is making sure to tag the 5450 as a DX11 card too, but as we've already established from our 5670 review, cards this slow are too slow to take advantage of any of DX11's wonder features – the tessellator is probably going to be the only DX11 feature to see any action on cards of this performance level.
AMD is framing the 5450 as competition for NVIDIA's bottom-tier GeForce, the GeForce 210. From a power and form factor standpoint this is a good matchup, however the 210 uses an even smaller GPU than Cedar along with DDR2 memory, which means there's certainly a performance difference but also a pricing difference, since NVIDIA should be able to build the 210 for less. Pricing-wise the 5450 is in competition with the DDR2 GeForce GT 220, the Radeon 4550, and the Radeon 4650, all of which can be found for around the same price if not lower in the case of the 4550.
Meet the 5450
As luck would have it, we ran in to a bit of a snafu yesterday morning when wrapping up our test of the 5450. As we stated in our intro, the DDR3 Radeon 5450 is supposed to be clocked at 650MHz core and 800MHz memory, but that's not what we got. Internally AMD has been sampling a 650MHz/900MHz card for one of the OEMs they work with, and a few of those samples made it out with the 650MHz/800MHz review samples for the press. As one of the (un)lucky winners, we received a 650MHz/900MHz sample, meaning our card isn't quite a reference card. Thankfully we have more than one 5450 and we were able to benchmark a stock-clocked Sapphire card, but keep in mind a proper built-to-reference card is going to be equipped with slightly different RAM than our sample is. Besides the RAM chips, everything else about our sample is the same as a reference card.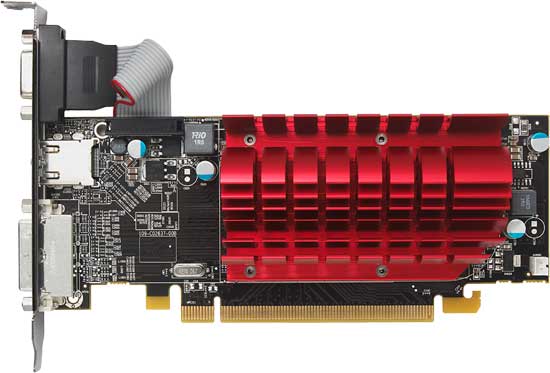 With that out of the way, the 5450 is intended to be a replacement for both the Radeon 4350 and the Radeon 4550. The former was AMD's previous low-profile card, while the latter was the DDR3 equipped version. Thus we have something similar in size and power usage as the 4350, but packing the "complete" abilities of the chip like 4550.
The 5450 AMD is sampling is the 512MB DDR3 version, for which the reference clocks are 650MHz core, 800MHz (1600MHz data rate) memory, and a 64bit bus giving it 12.8GB/sec of memory bandwidth. There will also be 5450s released using DDR2 (which unfortunately will share the 5450 name), and AMD tells us that vendors have the option of equipping their cards with either 512MB or 1GB of memory. So we're potentially going to see 4 different 5450 configurations, with the possibility of 1-2 more if any vendors go ahead and build 900MHz DDR3 cards for public purchase.
The reference 5450 is a low-profile card, measuring 6.61" long (the same as the 5670). The low 19.1 TDP means that it can be passively cooled, and as such AMD has equipped it with a double-wide heatsink. This differs slightly from the 4350, where the reference card was actively cooled and the vendor cards were almost entirely passively cooled. There is a 2pin fan header near the back of the card to allow active cooling, but we aren't immediately expecting anyone to go that route.
The card is equipped with 4 Samsung DDR3 900MHz RAM chips, 2 on the front and 2 on the rear. Note that the 900MHz RAM chips are an artifact due to the fact that this is the wrong sample card. A regular DDR3 5450 such as our Sapphire card would be equipped with 800MHz RAM chips instead.
Anyone hoping to push a bit more out of the 5450 is going to find themselves disappointed when it comes to pure reference cards. AMD has disabled Overdrive by default on these cards, leaving it up to the card vendor to decide if they want to offer it or not.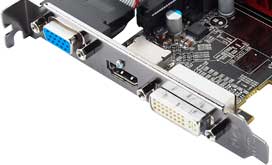 Finally, since the 5450 is a low-profile card, we have yet another variant in the port configuration. Our sample card is equipped with 1 DVI port and 1 DisplayPort directly on the card, and a VGA port on the bracket attached to the card via cable. The 5450 – like all other 5000-series cards – supports 3-monitor Eyefinity, so all 3 ports can be used at once, although the VGA port is obviously going to make it less desirable here.
We should note that only cards with a DisplayPort will support Eyefinity, which means that if a vendor decides to equip the card with an HDMI port instead, they have to give up Eyefinity to do so. We expect to see some cards with HDMI for the HTPC crowd, but at this point we don't have any idea as to how many there will be. DVI-to-HDMI adaptors still work here, so we may see vendors spend a bit more money and go that route instead.
Meet the Sapphire 5450
Along with our reference card from AMD, Sapphire also sent in their near-reference 5450. As it was clocked correctly at 650MHz/800MHz, we were able to use this card to benchmark the 5450 at its proper clocks, so we'd like to thank Sapphire for sending this in.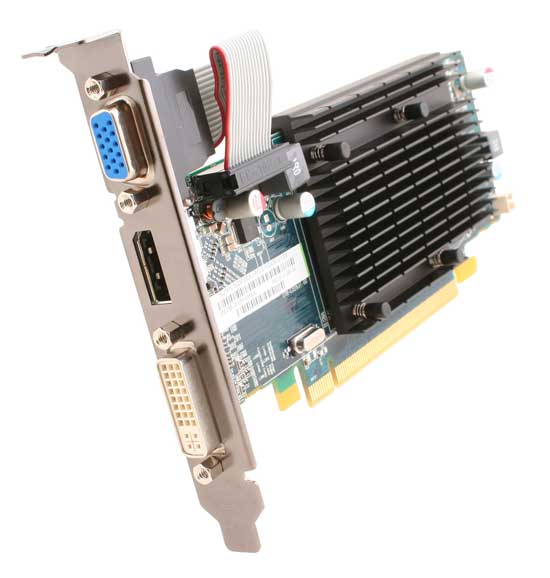 The Sapphire 5450 is nearly identical to AMD's reference card. It uses the same PCB and the same port configuration, and the RAM chips are the appropriate 800MHz Samsung DDR3 chips. The key difference between the two cards is that while AMD is using a double-wide heatsink, the Sapphire 5450 is using a smaller single-wide heatsink. This means that the Sapphire 5450 will fit in to cases where only a single slot's worth of space is available below the card.

However on the flip side (in all senses of the word) Sapphire's heatsink wraps around the card slightly, which results in it sticking up from the back side of the card. Technically speaking the heatsink is encroaching on the space that belongs to the card above it, so the Sapphire card won't fit if there's a card more than 2 inches long in the slot above it, or if there are tall motherboard components there. In our case it encroached on the audio riser card for our Rampage II Extreme Motherboard. This shouldn't be a problem for the vast majority of users and is more compatible than a card with a double-wide heatsink, but nevertheless check your case to make sure there's room for the heatsink on the back side of the card.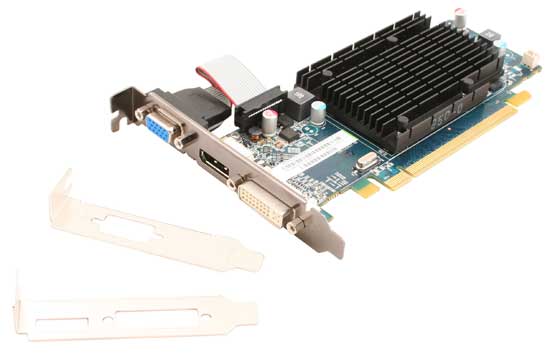 As is usually the case with bottom-tier cards, Sapphire packs the 5450 with very little. It comes with a driver CD, the low-profile brackets for the card (it ships with the full-profile bracket installed), an instruction manual, and ArcSoft's SimHD plugin for upconverting video conferencing feeds. Surprisingly, all of this comes in a full-sized box – this is the first sub-$100 card we've seen in some time to not come in a mini-box.
Sapphire also sent along their entire 5450 product chart. Of note, they will be releasing DDR2 and DDR3 cards with HDMI ports that are otherwise identical to today's DisplayPort card, so HTPC users will not be left out in the cold.
The Almost Perfect HTPC Card
When AMD told us that the Radeon 5000 series would offer bitstreaming audio support, our first thought was "this will make an excellent HTPC card." Unfortunately since AMD started the launch at the high-end, we've had to wait some time for bitstreaming audio to cascade down to the passive cards best suited for an HTPC. With the launch of the 5450, that has finally come to fruition.
This in turn has lead us to reexamine the HTPC situation in order to see if the 5450 is really powerful enough for video-only HTPCs. While the Radeon 4350 and 4550 raised the bar for HTPC cards by offering 8-channel LPCM audio, problems ultimately surfaced with their video capabilities. Since deinterlacing and other AVIVO post-processing actions are done by the shader hardware, the limited shading capabilities of these cards meant that AMD couldn't offer the full suite of AVIVO abilities at once. It was still enough to get perfect scores on the HD HQV test, but these deficiencies became apparently under the wrong situations.
The chief complaint here was that AMD's best and most computationally intensive deinterlacing mode - Vector Adaptive Deinterlacing - wasn't always made available for HD resolution video. This has waffled back and forth depending on the driver version, but right now AMD's drivers lock out this feature (and most of the other AVIVO features) if Smooth Video Playback is enabled. So 4350/4550 owners had to choose between VA and other features without being able to have it all.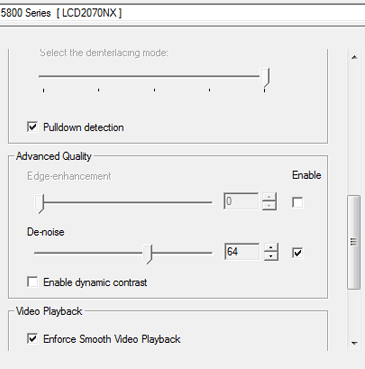 AVIVO Control Panel
When doing the research for this review we came across these complaints, and also a very interesting test for the issue: a specially crafted heavily interlaced 1080i MPEG-2 file called Cheese Slices, made by blaubart of the AV Science Forum. Cheese Slices is what amounts to an stress test that has more noise and interlacing artifacts in it than any real video would have, and is more than deinterlacers today can handle. It's an unfair test – but that's by design – as it does a very good job of highlighting when Vector Adaptive Deinterlacing is in use. With Cheese Slices, we can easily tell if Vector Adaptive mode is being used, or a lesser mode like Motion Adaptive is in use by what happens to the angled lines inside the geometric figures. Smooth lines are Vector Adaptive deinterlaced, jagged lines are deinterlaced with a lesser mode.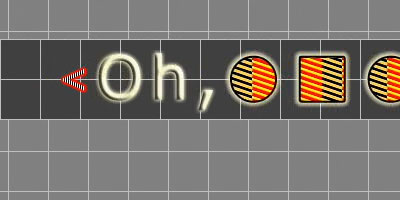 Reference quality: non-interlaced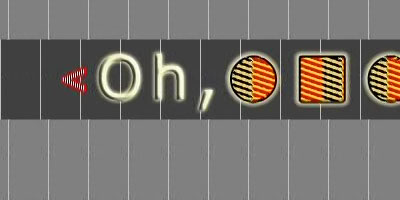 Radeon 5670 Deinterlacing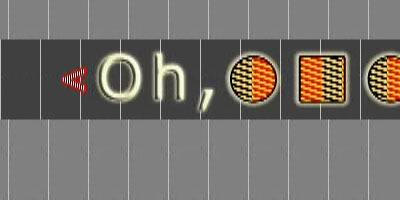 Radeon 5450 Deinterlacing
For the sake of reference, the Radeon 5670 and higher pass this test. Cards at that performance level have more than enough shader power to process all of the AVIVO effects and provide Vector Adaptive Deinterlacing at the same time, and this is the same case for the 4600 series. The 4550 on the other hand fails this test so long as Smooth Video Playback is enabled, as it's outright disabling Vector Adaptive Deinterlacing.
As for the 5450, the results aren't quite what we were hoping for. AMD believes that the 5450 is powerful enough that they allow it to use all of the AVIVO processing features at once, which means the drivers allow us to turn on things like Vector Adaptive Deinterlacing and denoising even when Smooth Video Playback is enabled. However in our tests with Smooth Video Playback enabled, Vector Adaptive Deinterlacing isn't used even when we force it through the drivers. Everything else works with Smooth Video Playback enabled, just not Vector Adaptive Deinterlacing. If we disable Smooth Video Playback, then Vector Adaptive Deinterlacing will kick in.
We've informed AMD of our findings, and they're still looking in to the issue. However we believe that the problem is ultimately a lack of resources on the 5450 to handle all of this, so we'll see what they come up with.
It also wouldn't be fair on our part to harp on this too much, as by no means is the 5450 a bad HTPC card. Everything else works correctly and AMD's Motion Adaptive mode is quite good. In fact the only practical reason that Vector Adaptive mode matters is that it handles one thing better than Motion Adaptive: angled lines. The lines on sports fields suffer badly from interlacing artifacts, and Motion Adaptive mode can't completely reconstruct them correctly; you need Vector Adaptive to accomplish this. So the only issue with the 5450 as an HTPC card is that it's not a great choice for watching sports on a large TV where Motion Adaptive Deinterlacing would result in jagged lines on the field.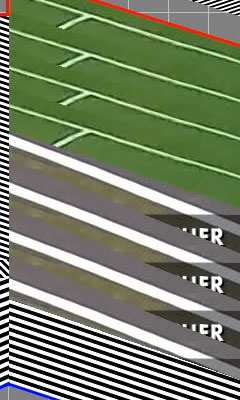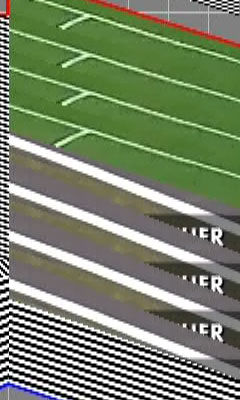 Sports field lines: Non-interlaced on the left, 5450 Deinterlaced on the right
It's a small edge case, but it's something that keeps the 5450 from being the perfect HTPC card. Most people should be fine with Motion Adaptive deinterlacing, but if you need perfect AVIVO performance from an AMD card, you're going to need a Redwood card such as the 5670 at this point in time. This stands as something AMD can improve for videophiles for their next series of low-end cards, similar to how they improved things for audiophiles by adding bitstreaming audio support for the 5000-series.
We also quickly tested NVIDIA's lower-end cards here to see how they fare. NVIDIA doesn't offer as many post-processing controls as AMD does, instead leaving it up to the drivers to decide on most things. NVIDIA's hardware is capable of similar deinterlacing abilities as AMD's hardware, it just isn't user-selectable.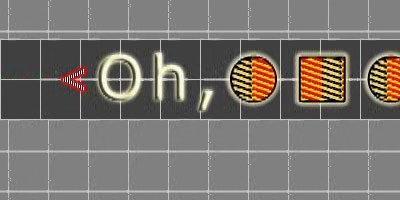 GeForce 210 Deinterlacing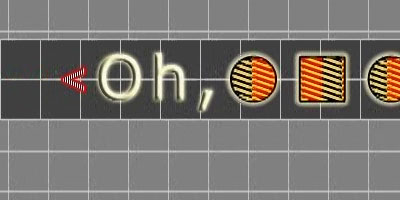 GeForce GT 220 Deinterlacing
The GeForce 210 fares better than the 5450 with Smooth Video Playback here, but it still produces a rough output. Once we move up to the GT220, NVIDIA's deinterlacer fully catches up and perfectly deinterlaces the angled lines on Cheese Slices.
Finally, if you'd like to see the full 1920x1080 resolution screenshots of our tests, you can get them here.
The Test
Due to our improperly clocked reference Radeon HD 5450, all of our performance benchmarks for the 5450 have been taken with our Sapphire 5450 card. As the board is identical to the reference card other than for using the appropriate clock speeds, the results in turn should be identical to a properly clocked reference sample.
We'd also like to thank MSI for sending along one of their GeForce 210 cards, the N210 MD512H. It arrived too late to review it before this article, but we are using it for our GeForce 210 numbers since NVIDIA does not provide reference cards for that series. You'll see a review of that card in the next day or so.
For the Radeon HD 5450 launch, AMD once again provided new drivers that enable support for it. They're version 8.69RC3, the same series as the drivers for the 5670 launch.
CPU:
Intel Core i7-920 @ 3.33GHz
Motherboard:
Intel DX58SO (Intel X58)

Chipset Drivers:
Intel 9.1.1.1015 (Intel)

Hard Disk:
Intel X25-M SSD (80GB)
Memory:
Patriot Viper DDR3-1333 3 x 2GB (7-7-7-20)

Video Cards:
AMD Radeon HD 5970
AMD Radeon HD 5870
AMD Radeon HD 5850
AMD Radeon HD 5770
AMD Radeon HD 5750
AMD Radeon HD 5670 512MB
AMD Radeon HD 5450 512MB
AMD Radeon HD 4890
AMD Radeon HD 4870 1GB
AMD Radeon HD 4850
AMD Radeon HD 3870
AMD Radeon HD 4770
AMD Radeon HD 4670 512MB
AMD Radeon HD 4550 512MB
NVIDIA GeForce GTX 295
NVIDIA GeForce GTX 285
NVIDIA GeForce GTX 275
NVIDIA GeForce GTX 260 Core 216
NVIDIA GeForce GTS 250
NVIDIA GeForce 8800 GT
NVIDIA GeForce 9600 GT
NVIDIA GeForce GT 240
NVIDIA GeForce GT 220
NVIDIA GeForce 210

Video Drivers:
NVIDIA ForceWare 190.62
NVIDIA ForceWare 195.62
AMD Catalyst Beta 8.66
AMD Catalyst Beta 8.66.6
AMD Catalyst 9.9
AMD Catalyst Beta 8.69
OS:
Windows 7 Ultimate 64-bit
Crysis: Warhead
We'll start with Crysis: Warhead, one of our most demanding games.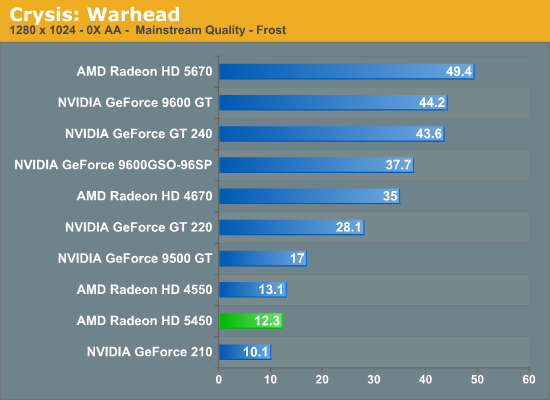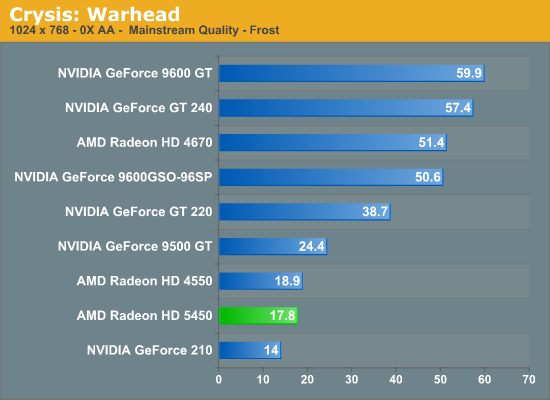 The 80% reduction in shader units from the 5670 becomes apparent quickly here, as the 5450 and comparable cards are all in the teens for a framerate. This puts us at 75% below the 5670, and even compared to the GT220 the 5450 is still less than half as fast. Even with these already lower settings, we're going to have to go lower yet to get playable framerates. This will set the stage for the entire review.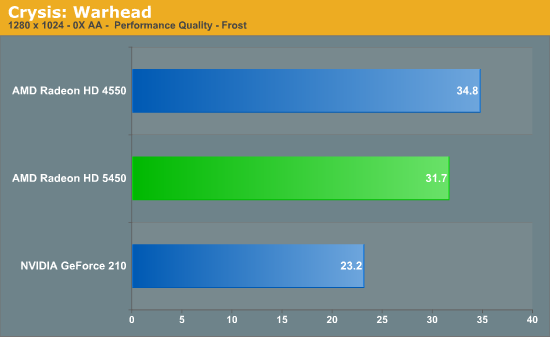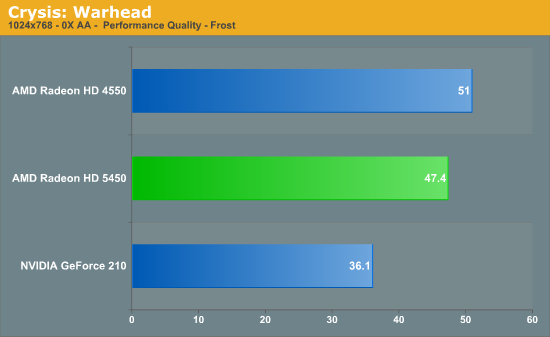 Once we drop down to Performance quality, we hike to up playable framerates at a cost visual fidelity. The 5450 is ahead of the GeForce 210 like we expected, but interestingly it's behind the lower-clocked 4550. We can get just-playable framerates at 1280 here, and more than playable down at 1024.
Far Cry 2
Far Cry 2 is another foliage-heavy game. Normally it's less punishing than Crysis at its higher settings, but as we'll see Crysis scales lower than Far Cry 2 does.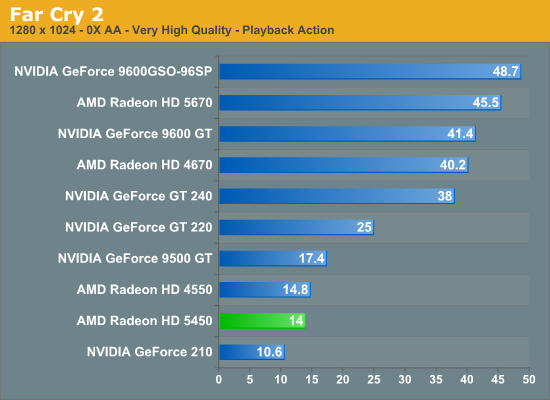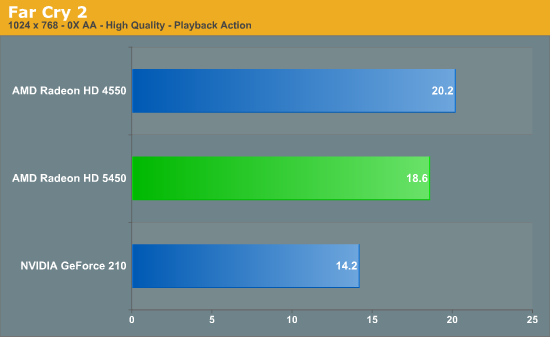 In short, Far Cry 2 is unplayable at any DirectX 10 setting we can use in the benchmark. High quality is as low as it goes, and gives us virtually nothing over Very High quality. Even in-game, the 5450 is going to have trouble here without switching to DX9.
Compared to our other cards, the 5450 is a little over half as fast as the GT 220, and 1/3rd as fast as the 5670. It once again loses by a small amount to the 4550 however
Battleforge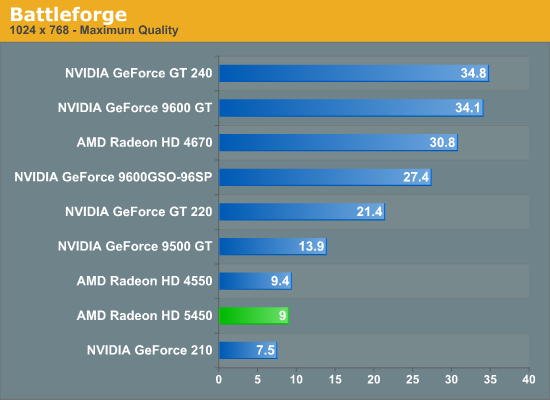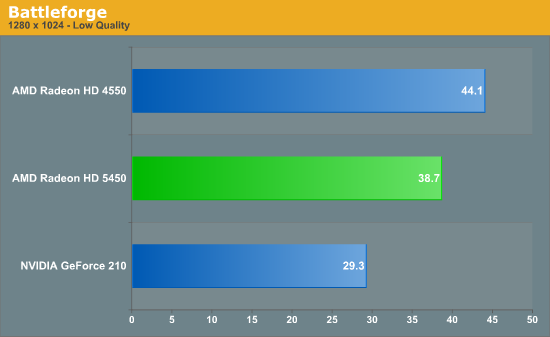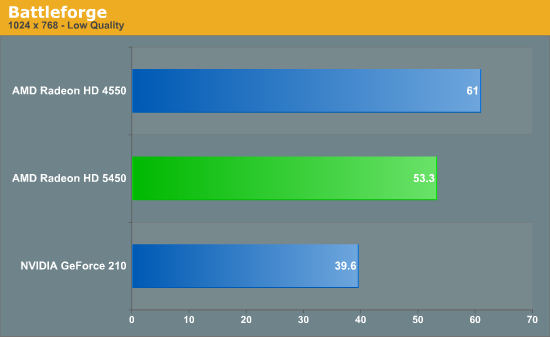 Battleforge is punishing enough for higher-end GPUs, but for anything below the 4670, we have to drop the quality to get playable framerates even at 1024. In this case we had to drop to Low quality to get playable framerates on the 5450.
Once we go Low, the 5450 and associated cards become playable at 1280, and more or less fluid at 1024. The 5450 continues to get around half the performance of the GT220, and once more loses to the 4550.
HAWX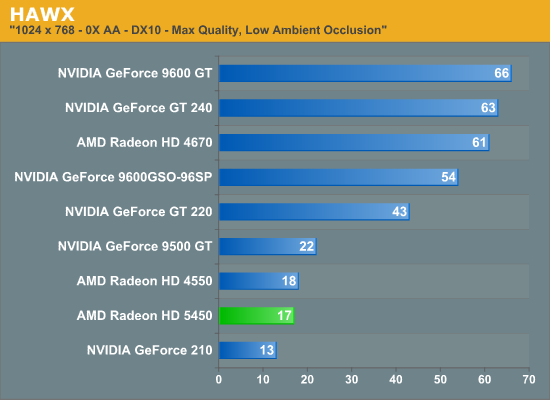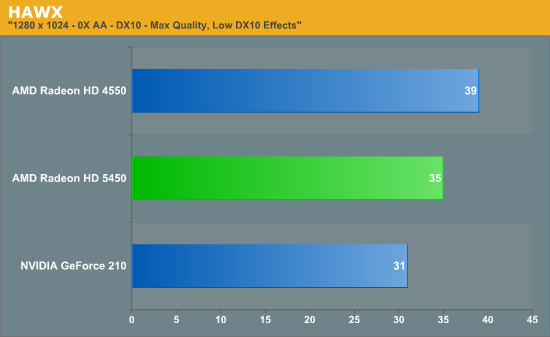 With everything but anti-aliasing and ambient occlusion enabled on HAWX, it's playable at 1024 on everything at the GT 220 or higher level of performance. To get the 5450 to be playable, we needed to turn down the DX10 Sun and Shadow effects , which gave us enough power to be playable at 1280 without hurting the image quality too much more. Here the Radeon 4550 continues to win, while the GeForce 210 comes in a bit closer to the 5450 than it has in previous games.
Dawn of War II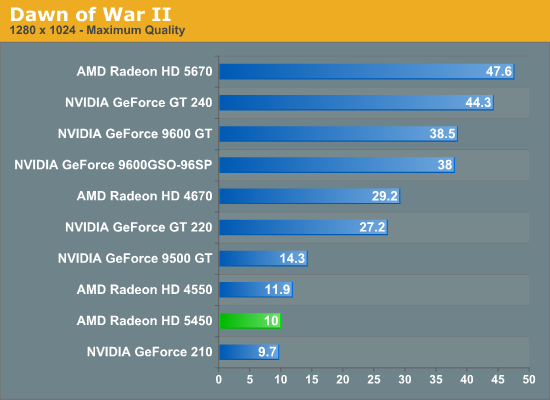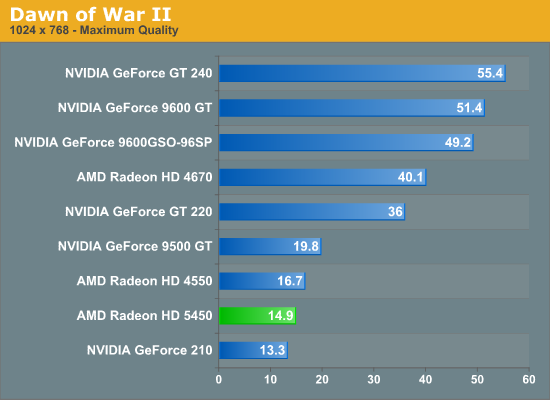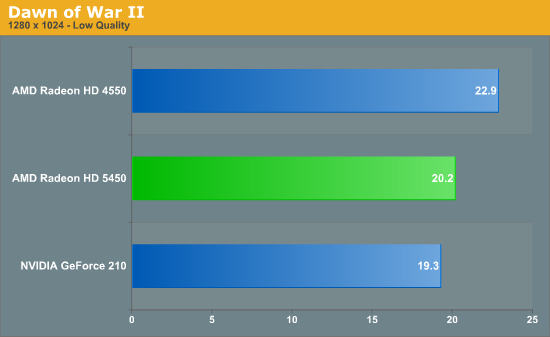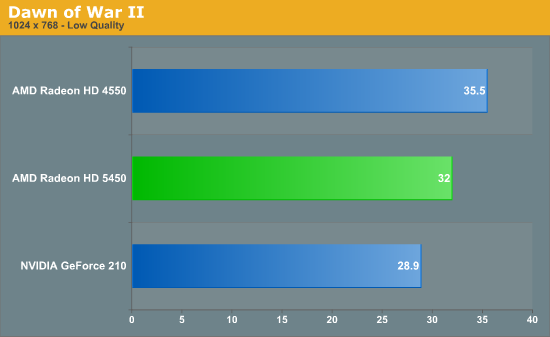 Dawn of War II is much like our other RTS: Battleforge. At maximum quality it's not playable on the 5450 or similar cards, so we have to turn the settings way down to get a playable framerate. Here we had to go to 1024 at the lowest settings to break 30fps on the 5450.
Resident Evil 5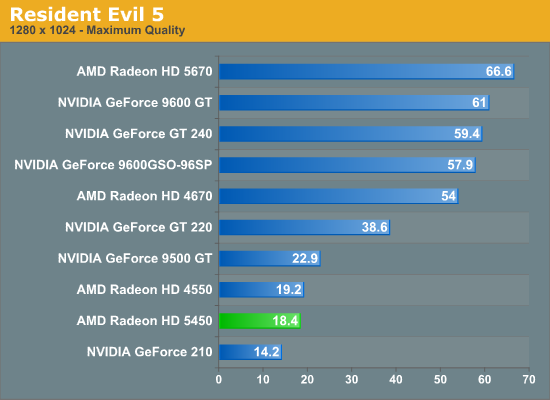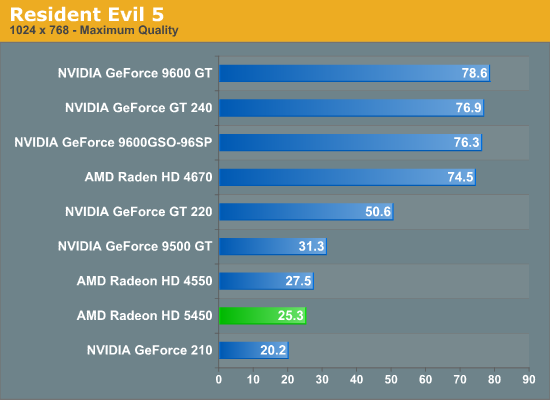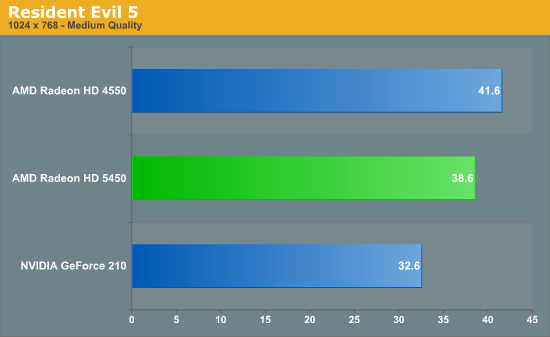 As one of our less intensive games, Resident Evil 5 finally gives us some room to get a respectable framerate without turning down some (or all) settings completely. It's not playable on the 5450 at its highest settings, but if we go down to 1024, we only need to drop the quality to medium to break 30fps on the 5450.
It's worth noting here that while the 4550 is still winning, that gap is a bit smaller than it was for our earlier shader-heavy games.
Batman: Arkham Asylum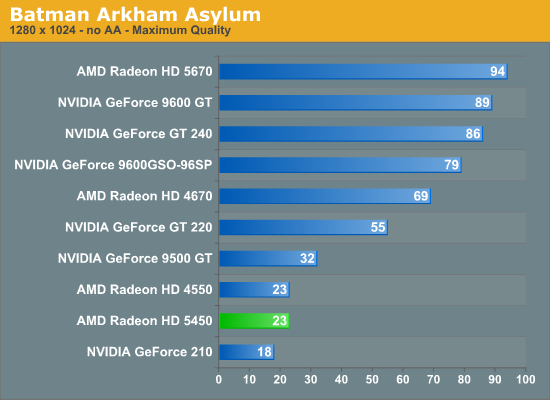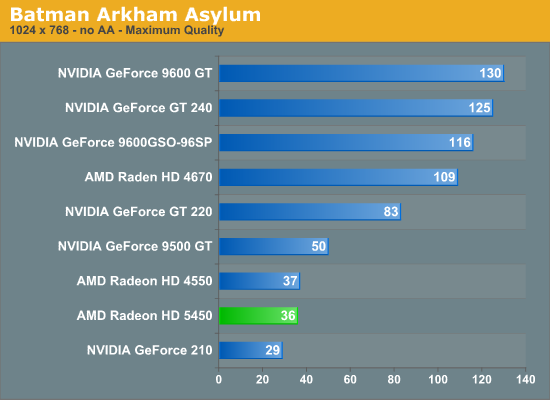 Batman, as one of the least GPU-intensive games in our suite, performs well enough that we can run it above 30fps without turning down any settings. We have to run at 1024 to do it, but it means we can keep all of the visual splendor, just at a lower resolution.
The already small gap between the 5450 and the 4550 particularly narrows here, coming down to 1 frame per second. On the flip side, the 5450 once again underperforms the GT 220 by more than half the GT 220's performance.
Left 4 Dead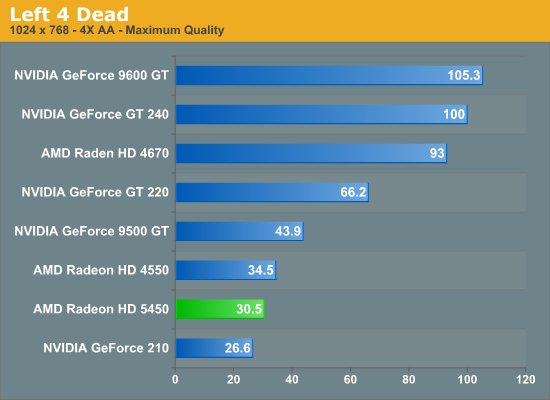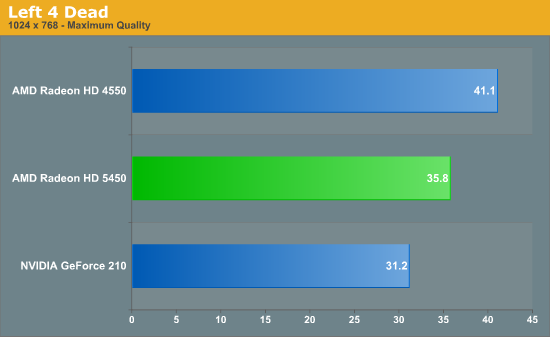 Finally we have Left 4 Dead. Based on the venerable Source engine, it can run well even on the slowest GPUs. In the case of the 5450, it can technically keep above 30fps even with 4x anti-aliasing when we're running at 1024. However it's skirting the line enough that running it without the AA for an 18% performance boost is the better choice.
Among our low-end cards the results have been very consistent, and it doesn't change here. The 4550 comes out on top, followed by the 5450, and then the G210. The 5450 continues to get around half the performance of the GT 220.
Power & Temperatures
While entry-level video cards may not top the performance charts, their low transistor count and low power usage means that they do very well on our power and temperature charts. And by being passively cooled, they are winners by default for noise, as they don't generate any noise to measure.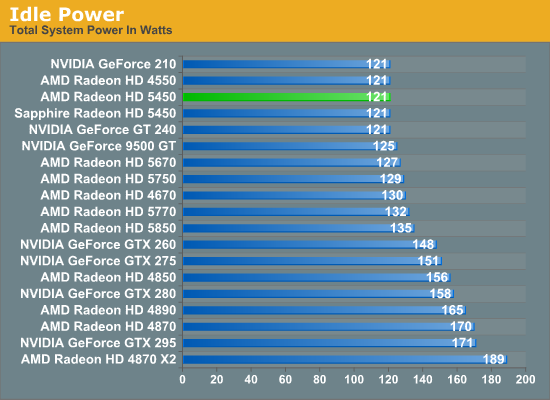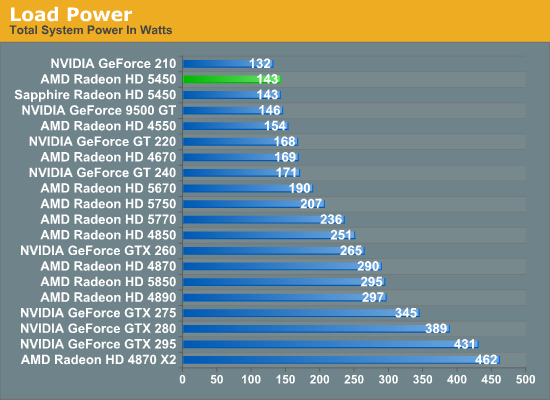 On paper these cards differ by around a few watts when it comes to idle power, but by the time you put them in our i7 test rig, those few watts melt away. The Radeon 5450, the Radeon 4550, and the GeForce 210 all idle at 121W on our test rig, tying with the GeForce GT 240 for the lowest idle power usage we've measured.
Under load this changes some. The 5450 offers the second-lowest load power usage that we've measured, coming in below things like the GT 220 and the 4550. It doesn't quite best the GeForce 210 however, which we believe to be a combination of the 210's smaller-yet GPU and differences to how NVIDIA and AMD go about throttling their cards when we're running FurMark.
At any rate, the 5450 does particularly well against other AMD cards, not only beating the 4000-series, but coming in under the 5670 by a hefty 47W. The 5670 may be the better HTPC card from a deinterlacing standpoint right now, but you pay for it with power.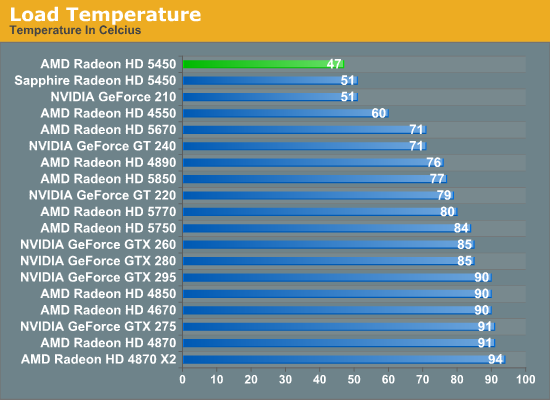 We should note that for our load temperature testing, we use a closed case with all of the fans active on our Thermaltake Spedo case. So the results here are from plenty of airflow being sent towards the first PCIe x16 slot. Since we're looking at passive cards today, they're much more affected by this than actively cooled cards are. In a case with little to no airflow, these passive cards would definitely get hotter.
For load temperatures, the 5450 is the coolest video card we have ever tested, taking the title by 4C over its nearest competitor, the GeForce 210. This is thanks in a large part to the use of a double-wide heatsink for better heat dissipation, and of course the low power consumption of the 5450 in the first place. This also gives us a chance to quantify the differences between the double-wide heatsink on the reference card and the single-wide heatsink on the Sapphire 5450; the smaller Sapphire heatsink is only 4C worse at 51C. The double-wide heatsink in this case looks to be overkill.
At idle things change some. Our coolest cards are the actively cooled cards, which have their own fans to keep them cool. The passively cooled cards on the other hand build up some additional heat, coming in at the mid-40s, similar to several of our mid-range cards.
Conclusion
Compared to AMD's previous generation of bottom-tier cards, the Radeon HD 5450 doesn't offer too many surprises. Cards at this end of the spectrum have to give up a lot of their performance to meet their cost, power, and form-factor needs, and the 5450 is no different. It certainly produces playable framerates for most games (and even at high settings for some of them), and it's going to be a great way to convince IGP users to move up to their first discrete GPU. But for a bottom-tier GPU, spending a little more money has always purchased you a great deal more powerful video card, and this hasn't changed with the 5450.
The concern we have right now is the same concern we've had for most of AMD's other launches, which is the price. The card we tested is a $60 card, smack-dab in the middle of the territory for the Radeon HD 4550, the DDR2 Radeon HD 4650, and the DDR2 GT 220. We don't have the DDR2 cards on hand, but the performance gap between bottom-tier cards like the 5450 and those cards is enough that the DDR2 penalty won't come close to closing the gap. If performance is all you need and you can't spend another dime, then a last-generation card from the next tier up is going to offer more performance for the money. The 5450 does have DX11, but it's not fast enough to make practical use of it.
Things are more in favor of the 5450 however when we move away from gaming performance. For a passively cooled low-profile card, its competition is the slower GeForce 210, and a few Radeon HD 4550s. The 4550 is still a better card from a performance standpoint, but it's not a huge gap. Meanwhile the 5450 is cooler running and less power hungry.
Currently it's HTPC use that puts the 5450 in the most favorable light. As the Cheese Slices test proved, it's not quite the perfect HTPC card, but it's very close. Certainly it's the best passively cooled card we have tested from an image quality perspective, and it's the only passive card with audio bitstreaming. If you specifically want or need Vector Adaptive Deinterlacing, the Radeon HD 5670 is still the cheapest/coolest/quietest card that's going to meet your needs. But for everyone else the 5450 is plenty capable and is as close to being perfect as we've seen any bottom-tier card get.
To that end the Sapphire card looks particularly good, since based on our testing they're able to drop the reference 5450's clumsy double-wide heatsink for a single-wide heatsink without the card warming up too much more. For Small Form Factor PCs in particular, it's going to be a better choice than any card that uses the reference heatsink, so long as there's enough clearance for the part of the heatsink on the back side of the card.

Moving away from the 5450 for a moment, besides the Radeon HD 5770 this is the only other card in the 5000-series that is directly similar to a 4000-series card. In fact it's the most similar, being virtually identical to the 4550 in terms of functional units and memory speeds. With this card we can finally pin down something we couldn't quite do with the 5770: clock-for-clock, the 5000-series is slower than the 4000-series.
This is especially evident on the 5450, where the 5450 has a 50MHz core speed advantage over the 4550, and yet with everything else being held equal it is still losing to the 4550 by upwards of 10%. This seems to the worst in shader-heavy games, which leads us to believe that actual cause is that the move from DX10.1 shader hardware on the 4000-series to DX11 shader hardware on the 5000 series. Or in other words, the shaders in particular seem to be what's slower.
AMD made several changes here, including adding features for DX11 and rearranging the caching system for GPGPU use. We aren't sure whether the slowdown is a hardware issue, or if it's the shader compiler being unable to fully take advantage of the new hardware. It's something that's going to bear keeping an eye on in future driver revisions.
This brings us back to where we are today, with the launch of the 5450. AMD has finally pushed the final Evergreen chip out the door, bringing an end to their 6 month launch plan and bringing DirectX 11 hardware from the top entirely to the bottom – and all before NVIDIA could launch a single DX11 card. AMD is still fighting to get more 40nm production capacity, but the situation is improving daily and even with TSMC's problems it didn't stop AMD from doing this entirely in 6 months. With the first Cedar card launched, now we're going have a chance to see how AMD chooses to fill in the obvious gaps in their pricing structure, and more importantly how NVIDIA will ultimately end up responding to a fully launched 5000-series.