Original Link: http://www.anandtech.com/show/2923


AMD is looking a lot more competitive in 2010 than I expected just a few months ago. Intel finally unveiled Clarkdale and thanks to the high cost of Core i5 ownership AMD hasn't really been threatened. The Core i3 530 is the biggest threat, but it only competes with one member of AMD's lineup at $113.
Thanks to continued improvements in Global Foundries' 45nm process, AMD is delivering slight clock bumps for its dual, triple and quad-core processors while dropping prices of others. This is what AMD is launching today:
| | | | | | |
| --- | --- | --- | --- | --- | --- |
| Processor | Clock Speed | L2 Cache | L3 Cache | TDP | Price |
| AMD Phenom II X4 910e | 2.6GHz | 2MB | 6MB | 65W | $169 |
| AMD Phenom II X2 555 BE | 3.2GHz | 1MB | 6MB | 80W | $99 |
| AMD Athlon II X4 635 | 2.9GHz | 2MB | 0MB | 95W | $119 |
| AMD Athlon II X3 440 | 3.0GHz | 1.5MB | 0MB | 95W | $84 |
| AMD Athlon II X2 255 | 3.1GHz | 2MB | 0MB | 65W | $74 |
It's nothing revolutionary. AMD already delivers good value below $130 and today's launch just improves upon that. What you won't see here is anything on AMD's 8-series chipsets, due out in the March - May timeframe.
| | | |
| --- | --- | --- |
| | AMD 790GX | AMD 890GX |
| CPU | AMD Socket-AM3 | AMD Socket-AM3 |
| Manufacturing Process | 55nm | ?? |
| PCI Express | 22 PCIe 2.0 lanes | ?? |
| Graphics | Radeon HD 3300 (DirectX 10.0) | DirectX 10.1 integrated GPU |
| Core Clock | 700MHz | 700MHz |
| Shader Processors | 8 (5-way) | ?? |
| Full H.264/VC-1/MPEG-2 HW Decode | Yes (UVD) | Yes (UVD2) |
| 8-channel LPCM | No | Yes |
| USB | 12 USB 2.0 ports | 14 USB 2.0 ports |
| SATA | 6 SATA 3Gbps ports | 6 SATA 6Gbps ports |
You also won't see anything about the new Thuban or Zosma cores, AMD's high end 6-core and 4-core products for 2010. We know model numbers but we don't know clock speeds, features or prices. Expect to see them in late Q2.
| | | | | | | |
| --- | --- | --- | --- | --- | --- | --- |
| Processor | Cores | Clock Speed | L2 Cache | L3 Cache | TDP | Price |
| AMD Phenom II X6 1075T | 6 | ?? | ?? | 6MB | 125W | ?? |
| AMD Phenom II X6 1055T | 6 | ?? | ?? | 6MB | 125W/95W | ?? |
| AMD Phenom II X6 1035T | 6 | ?? | ?? | 6MB | 95W | ?? |
| AMD Phenom II X4 960T | 4 | ?? | ?? | 6MB | 95W | ?? |
The Phenom II X4 910e - 65W Quad-Core
I'll start with the least interesting first. The Phenom II X4 910e brings us a 65W full-blown Phenom II quad-core at 2.6GHz. You pay a hefty premium for the lower voltage part; $169 normally buys you 3GHz in the Phenom II X4 lineup.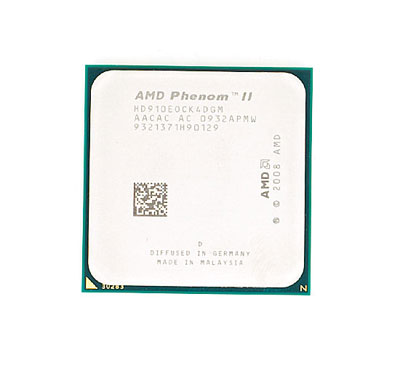 The power savings are measurable though, here we have the 910e at idle and under full load compared to a 125W Phenom II X4 965BE and the rest of today's lineup:
| | | | |
| --- | --- | --- | --- |
| Processor | TDP | Total System Idle Power | Total System Load Power (x264 Encode) |
| AMD Phenom II X4 965 BE | 125W | 89.7W | 174W |
| AMD Phenom II X4 910e | 65W | 84.6W | 134W |
| AMD Phenom II X2 555 BE | 80W | 82.3W | 161W |
| AMD Athlon II X4 635 | 95W | 79.5W | 157W |
| AMD Athlon II X2 255 | 65W | 76.3W | 130W |
Idle power improves a bit vs. the 125W quad-cores, but load power is respectable. The 2.6GHz quad-core 910e draws only 4 more watts than a dual core Athlon II running at 3.1GHz. You pay handsomely for the lower power consumption, but if you're an OEM looking for such a thing without undervolting a standard 125W processor it could be worth it.
The Phenom II X2 555 BE - AMD's Fastest Dual-Core
Remember the Phenom II X2 550 BE? That was a quad-core Phenom II with two cores disabled, but a full 6MB L3 cache. It was a beast of a dual-core CPU but AMD quietly pulled it off its price list months ago. You could still find the chips in retail and priced quite effectivley at $99, but the Core i3 530 manages to offer better performance at nearly the same price.
AMD's response? The Phenom II X2 555 BE. Still an unlocked Black Edition part, the 555 pushes its clock speed up to 3.2GHz. The extra 100MHz won't do much for performance but the price remains at $99. The problem with the Phenom II X2's architecture is that you get relatively small and high latency L2 caches (512KB, 15 cycle) and a large/high latency L3 cache (6MB, ~40 - 50 cycles). It's not ideal for a dual-core chip.With Clarkdale you at least get much lower latency caches (10 cycles and sub-40 cycles for L2 and L3 respectively).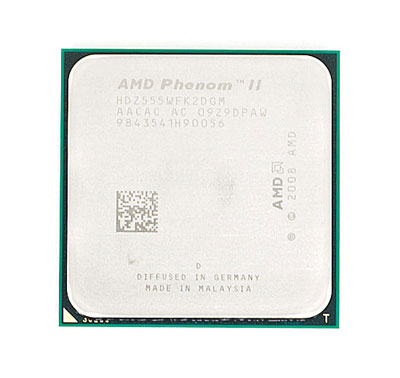 I'm not particularly excited about the Phenom II X2 555 BE, but AMD has sweetened the deal a bit. This chip now supports hardware C1E, like the first Athlon IIs. And no, I haven't encountered any CnQ bugs with it.
The hardware C1E means lower idle power consumption (I explained it in greater detail here) and it's courtesy of the new C3 Phenom II stepping. A side effect of this newer silicon rev is that it should overclock better. Our old Phenom II X2 550 BE hit 3.5 - 3.6GHz on air at stock voltage, and our new chip did 3.8GHz in the same conditions: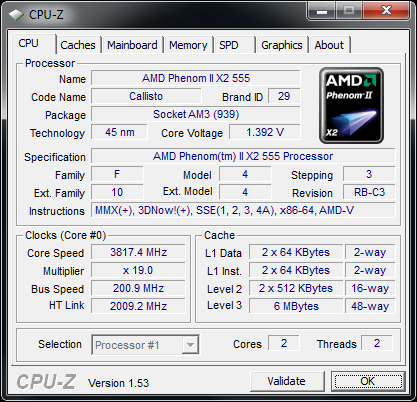 Part of the success of our chip here is due to its nearly 1.4V default voltage. Lower default voltages may only see 3.6GHz without going any further. Pushing beyond 3.8GHz proved to be very difficult on air, at least with any amount of stability under Windows 7 64-bit.
The Athlon II X4 630 & 635 - Even More Affordable Quad-Core
For a thread-junkie, you can't beat the Athlon II X4. You get more cores for $99 than Intel would dream of selling and today AMD is making it even more affordable. The Athlon II X4 630 drops from $122 to $99, and the new 635 enters at $119. The 635 doesn't give you much, just an extra 100MHz for $20 more.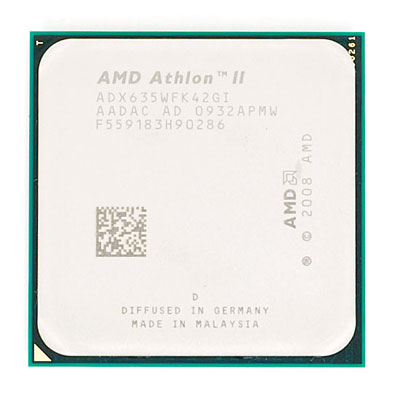 The 620 was my pick for 3D rendering/video encoding on a budget. Now with the price drop, the 630 is the chip to get. The 635 isn't really worth the added dough at stock clock speeds. If you're going to be overclocking though, the news is good.
I got my Athlon II X4 635 up to 3.5GHz without any additional voltage, this is an improvement over the first Athlon II X4s I received. Back in September the best I could do was ~3.3GHz.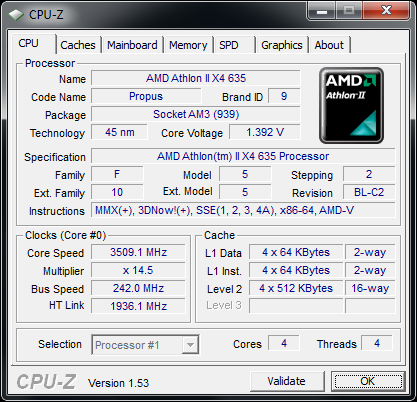 More than anything these new chips are examples of good old fashioned process technology improvements. Yields improve with time (at least they should for a company interested in being profitable) and with that comes improved overclockability over time.
The Athlon II X3 440 & Athlon II X2 255 - Value Speed Bump
The Athlon II X3 440 will set you back $84 and gives you three cores running at 3.0GHz. The best Intel will give you is a pair of cores running at 3.06GHz sharing a 2MB L2 cache - the Pentium E6600. You get more cache per core, but fewer cores than the Athlon II X3. It's the same story as the Core i3 vs. Athlon II X4. If you need more threads, go AMD, if you run lightly threaded apps you'll be faster with Intel at these price points. Interestingly enough, below $100 AMD actually offers more threads per dollar than Intel.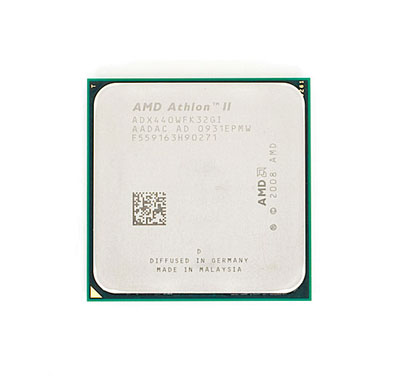 If you want a more even match there's the Athlon II X2 255. At $74 you get a pair of 3.1GHz cores with a 1MB L2 per core. Our 255 hit 3.6GHz without any additional voltage, but with some effort you can be in the 3.7 - 3.8GHz range.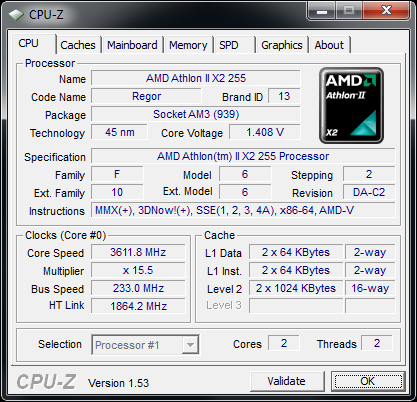 Full Data in Bench & The Test
We're presenting an abridged set of benchmarks here in the review to avoid this turning into too much of a graph-fest. If you want to see data that you don't see here check out all of these CPUs and 95 more in Bench.
Motherboard:
ASUS P7H57DV- EVO (Intel H57)
Intel DX58SO (Intel X58)
Intel DX48BT2 (Intel X48)
Gigabyte GA-MA790FX-UD5P (AMD 790FX)
Chipset Drivers:
Intel 9.1.1.1015 (Intel)
AMD Catalyst 8.12
Hard Disk:
Intel X25-M SSD (80GB)
Memory:
Qimonda DDR3-1066 4 x 1GB (7-7-7-20)
Corsair DDR3-1333 4 x 1GB (7-7-7-20)
Patriot Viper DDR3-1333 2 x 2GB (7-7-7-20)

Video Card:
eVGA GeForce GTX 280
Video Drivers:
NVIDIA ForceWare 180.43 (Vista64)
NVIDIA ForceWare 178.24 (Vista32)
Desktop Resolution:
1920 x 1200
OS:
Windows Vista Ultimate 32-bit (for SYSMark)
Windows Vista Ultimate 64-bit
SYSMark 2007 Performance
Our journey starts with SYSMark 2007, the only all-encompassing performance suite in our review today. The idea here is simple: one benchmark to indicate the overall performance of your machine.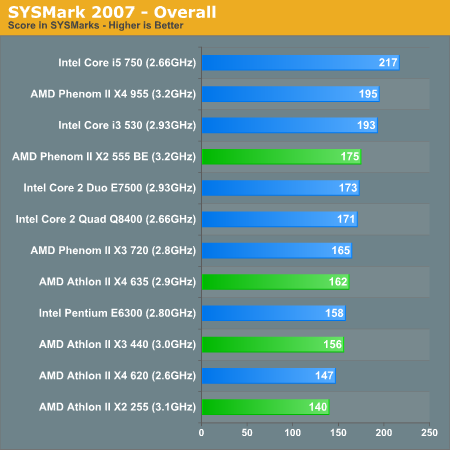 Given its age, SYSMark is more of a lightly threaded benchmark by today's standards. Dual core processors (or quad-core chips with aggressive turbo modes) do quite well here. AMD's Phenom II X2 555 BE does better than anything else in its price range. The Core 2 Duo E7500 is probably a good indicator of the Pentium E6600's performance, and it just equals the perf of the 555 BE.
The triple and quad-core chips don't do that well here, there just aren't enough threads to go around.
Adobe Photoshop CS4 Performance
To measure performance under Photoshop CS4 we turn to the Retouch Artists' Speed Test. The test does basic photo editing; there are a couple of color space conversions, many layer creations, color curve adjustment, image and canvas size adjustment, unsharp mask, and finally a gaussian blur performed on the entire image.
The whole process is timed and thanks to the use of Intel's X25-M SSD as our test bed hard drive, performance is far more predictable than back when we used to test on mechanical disks.
Time is reported in seconds and the lower numbers mean better performance. The test is multithreaded and can hit all four cores in a quad-core machine.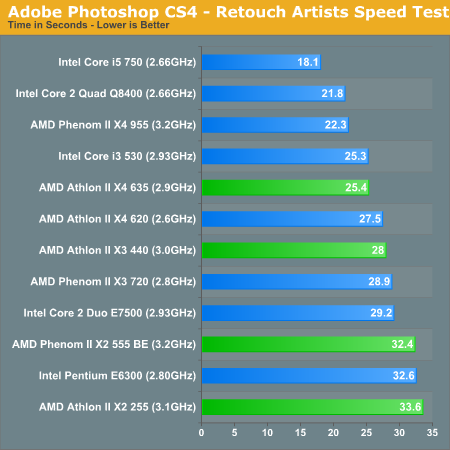 If you have threads and need cores, AMD has the medicine. The $119 Athlon II X4 635 handles our Photoshop test with the same elegance as Intel's Core i3 530. The Phenom II X2 555 BE and the Athlon II X2 255 are on par with the Pentium E6300 and should both be a bit slower than the E6600.
x264 HD Video Encoding Performance
Graysky's x264 HD test uses the publicly available x264 encoder to convert a 4Mbps 720p MPEG-2 source. The focus here is on quality rather than speed, thus the benchmark uses a 2-pass encode and reports the average frame rate in each pass.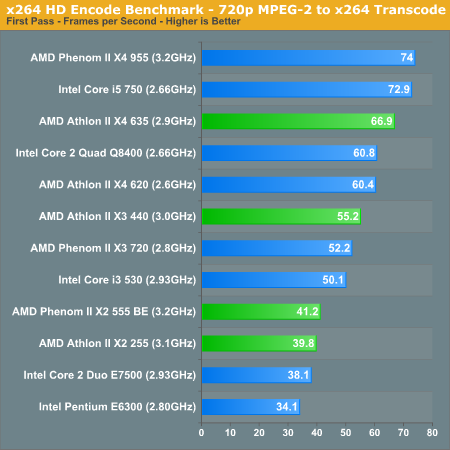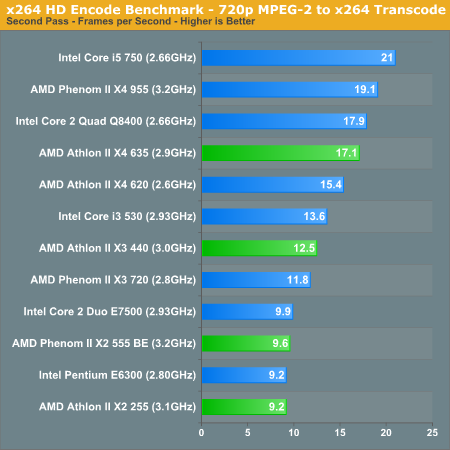 For video-encoding you can't beat the value of the Athlon II X4 635. You get the performance of a quad-core Intel that will set you back another $40. The triple-core Athlon II X3 440 does well here, besting all previous generation dual-core CPUs. Only the Core i3 530 is faster, and more expensive. The Phenom II X2 555 BE and the Athlon II X2 255 perform similarly to their equivalently priced Intel CPUs.
3dsmax Performance
Today's desktop processors are more than fast enough to do professional level 3D rendering at home. To look at performance under 3dsmax we ran the SPECapc 3dsmax 8 benchmark (only the CPU rendering tests) under 3dsmax 9 SP1. The results reported are the rendering composite scores: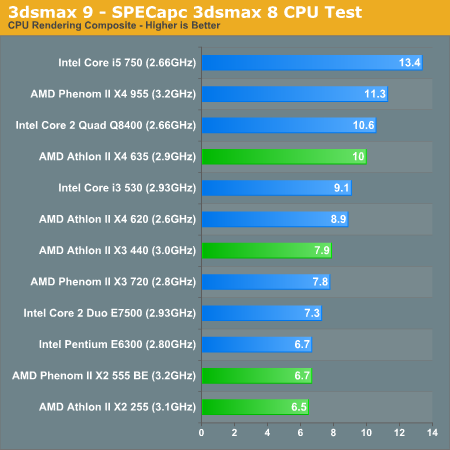 The trend continues under 3dsmax. If you're running a highly threaded workload, there's no better value than the Athlon II X4 635 (although the Core i3 530 does come close). For the price of a dual-core CPU, the Athlon II X3 440 does the same thing.
With the Phenom II X2 555 BE performing similarly to the Pentium E6300, it'll be slower than the equivalently priced E6600. Surprisingly enough, AMD's new dual-core options aren't really that interesting in multithreaded workloads.
Cinebench R10 Performance
Created by the Cinema 4D folks we have Cinebench, a popular 3D rendering benchmark that gives us both single and multi-threaded 3D rendering results.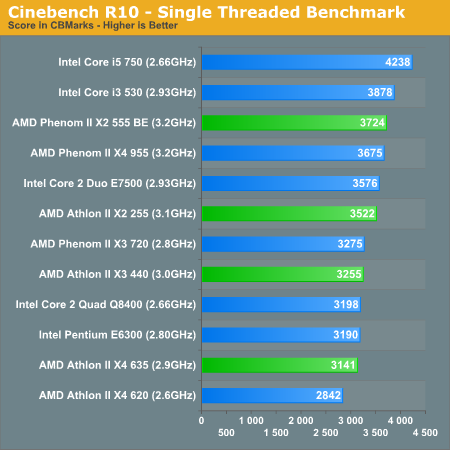 And this is where the tradeoff becomes apparent The Athlon II X4 and X3 have the single threaded performance of a value dual-core Intel CPU. Crank up the thread count and the X3 and X4 do very well, but on more normal tasks they sub-optimal. These chips are for those who know exactly what they want.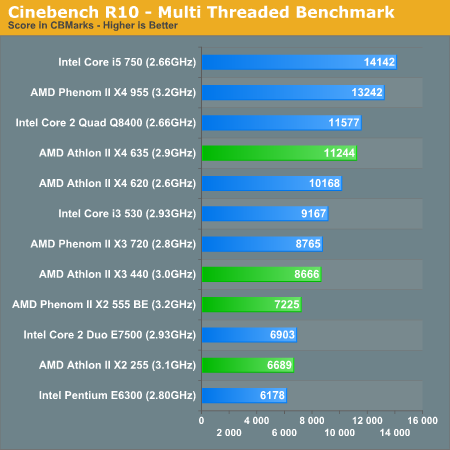 PAR2 Multithreaded Archive Recovery Performance
Par2 is an application used for reconstructing downloaded archives. It can generate parity data from a given archive and later use it to recover the archive
Chuchusoft took the source code of par2cmdline 0.4 and parallelized it using Intel's Threading Building Blocks 2.1. The result is a version of par2cmdline that can spawn multiple threads to repair par2 archives. For this test we took a 708MB archive, corrupted nearly 60MB of it, and used the multithreaded par2cmdline to recover it. The scores reported are the repair and recover time in seconds.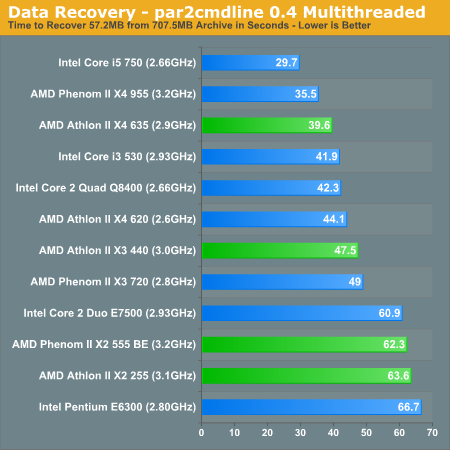 The Athlon II X3 and X4 do very well here thanks to the test being quite parallelized. The dual core options are competitive though.
Sorenson Squeeze: FLV Creation
We're using Sorenson Squeeze to convert regular videos into Flash videos for use on websites.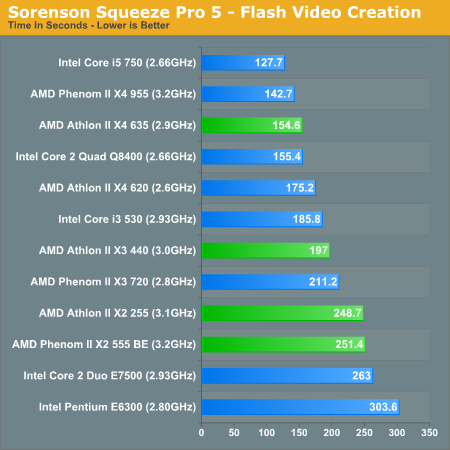 The trend continues given the threaded nature of this test. The dual-core AMD chips are more competitive than usual here, they are significantly faster than the Pentium E6300.
WinRAR - Archive Creation
Our WinRAR test simply takes 300MB of files and compresses them into a single RAR archive using the application's default settings. We're not doing anything exotic here, just looking at the impact of CPU performance on creating an archive: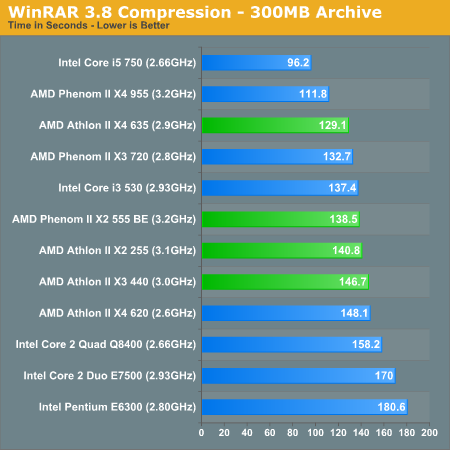 Fallout 3 Game Performance
Bethesda's latest game uses an updated version of the Gamebryo engine (Oblivion). This benchmark takes place immediately outside Vault 101. The character walks away from the vault through the Springvale ruins. The benchmark is measured manually using FRAPS.
The Phenom II X2 555 BE takes the crown here, equalling the performance of the Phenom II X4 955 (as it should since they're the same chip, with a couple cores difference that is).

Left 4 Dead
Zombies? Check. Zombie killing performance: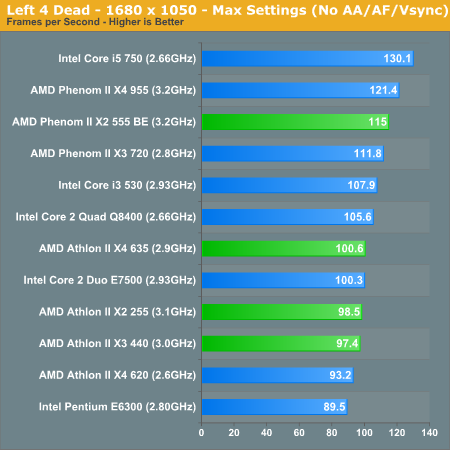 The Phenom II X2 555 BE does very well here again, even besting the Core i3 530. This would appear to be AMD's best gaming CPU thus far. The Athlon II X4 635 does well here since there's not much data sharing among all four cores.
FarCry 2 Multithreaded Game Performance
FarCry 2 ships with the most impressive benchmark tool we've ever seen in a PC game. Part of this is due to the fact that Ubisoft actually tapped a number of hardware sites (AnandTech included) from around the world to aid in the planning for the benchmark.
For our purposes we ran the CPU benchmark included in the latest patch: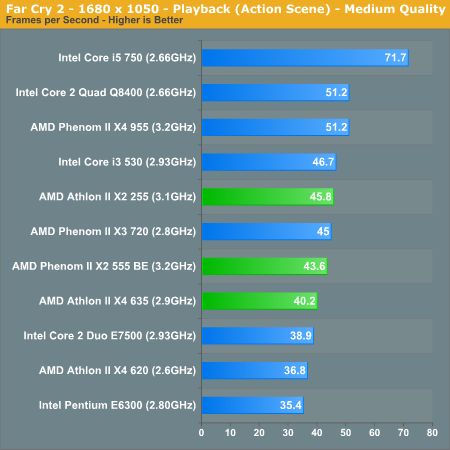 Crysis Warhead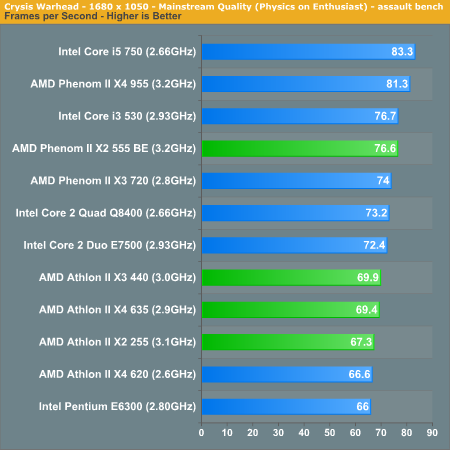 Power Consumption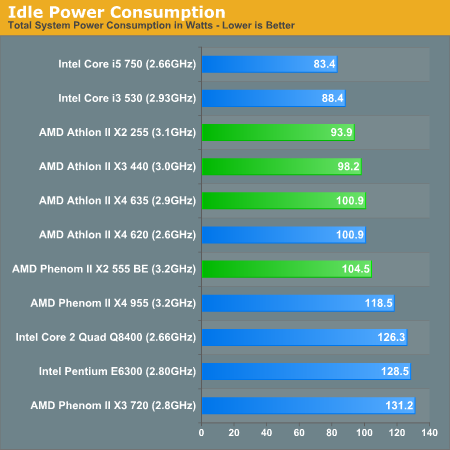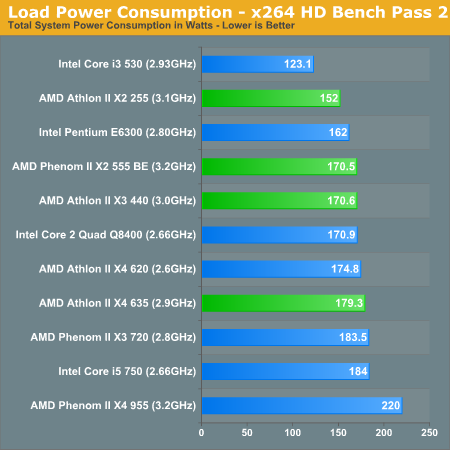 Final Words
Admittedly it's not the most exciting of launches. Simple speed boosts never are. But that does not detract from the value that AMD is delivering here. The Athlon II X4 line continues to be unrivaled in terms of delivering multithreaded performance in an affordable package. The $99 Athlon II X4 630 and $119 Athlon II X4 635 are great values if you're doing a lot of video encoding or any other heavily threaded task. You may even be able to find some great deals on 620s now that they're priced out of the lineup.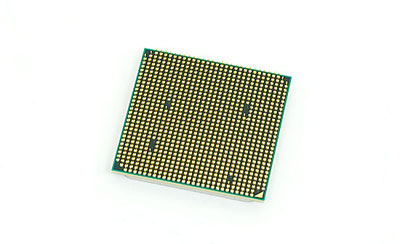 The Athlon II X3 440 can be just as powerful of a sell, once again depending on your workload. Priced at $84 it's going to be better in well threaded workloads than the equivalently priced Intel dual-core. The Pentium G6950 sells for $99, runs at 2.8GHz and could potentially spoil AMD's fun here. Luckily for AMD, Intel disables HT on the Pentium G6950 and thus it's only a two core, two thread chip. We'll have to wait and see how that performs once we get a chip in house.
The new dual-core CPUs are competitive, but they don't dominate. The Phenom II X2 555 BE is priced too close to the Core i3 530 to make sense. The Athlon II X2 255 does well against the Pentium E6300 and has a much stronger upgrade path than anything that sits in the LGA-775 socket. Throughout 2010 Intel won't bring LGA-1156 into the sub-$80 price segment, so AMD has the ability to use Phenom II and Athlon II to compete with older Core 2 based designs there.
And there you have it. Things rarely change with a launch that's just a speed bump.