Original Link: http://www.anandtech.com/show/2922


We haven't had a display review since our desperately seeking quality LCDs article. That doesn't mean there haven't been interesting displays released during that timeframe, but the trends highlighted in that last article have continued. TN panels are everywhere and are by far the cheapest option, although they do have a bit of competition from E-IPS displays. For example, we have 1080p 23" TN LCDs starting at under $200, compared with 1080p 23" E-IPS LCDs for $300. However, E-IPS isn't the highest quality implementation of IPS (in-plane switching) LCD technology; what if you want to go for the real deal?
Despite the preponderance of TN panels, it's still possible to find some good quality IPS displays. The catch is that you need to be prepared to spend two or three times as much money (or more!) to get that quality. Most consumers will look at the 24" TN panels starting at $200 and then they'll look at an IPS or PVA display costing $550 or more and they'll wonder why anyone would spend the extra money. The answer, quite simply, is quality. Dell offers U-series UltraSharp displays that look to satisfy professional users without quite getting into the professional display price range, and they'll provide substantially better quality than any entry-level display. That brings us to today's review.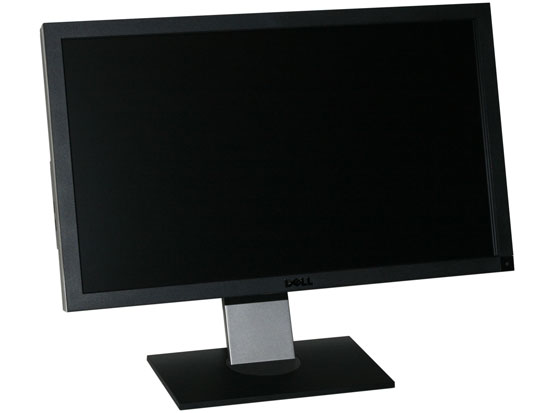 Dell UltraSharp U2711 Specifications
Video Inputs
2 x dual-link DVI with HDCP
HDMI w/HDCP
DisplayPort w/HDCP
VGA
Component
Composite
Panel Type
IPS (Unknown Manufacturer)
Pixel Pitch
0.233mm
Colors
Up to 1.07 billion (10-bit color)
Brightness
350 nits typical
Contrast Ratio
1000:1 advertised
80000:1 Dynamic advertised
Response Time
6ms GTG
12ms TrTf
Viewable Size
27" diagonal
Resolution
2560x1440 (WQHD)
Viewing Angle
178 horizontal/vertical
Power Consumption
113W typical
Power Savings
<2W
Screen Treatment
Matte (anti-glare)
Height-Adjustable
"Yes - 3.5"""
Tilt
Yes
Pivot
No
Swivel
Yes
VESA Wall Mounting
Yes - 100x100mm
Dimensions w/ Base (WxHxD)
25.46" x 16.84-20.38" x 7.87" (WxHxD)
Weight w/ Stand
23.06 lbs.
Additional Features
4 x USB Ports
8-in-1 flash reader
Audio
2-channel headphone/line out
Optional AX510/AY511 Soundbar
Limited Warranty
3-year warranty standard
4-year and 5-year extended available
Accessories
DisplayPort, DVI, USB, VGA, and power cables
Price
$1050 MSRP
The latest offering in the U-series is the U2711, a 27" beauty sporting extremely impressive features. For starters, it has an IPS panel, but this isn't your granddad's IPS panel. The U2711 has an extremely high resolution 2560x1440 panel - similar to the panel that's used in the Apple 27" iMac. Notice that we highlighted the word similar? That's because the two panels aren't identical; the glass might be the same, but there are definitely differences.
For one, Apple uses LED backlighting whereas the U2711 sticks with CCFL technology. But isn't CCFL worse? That depends on what you're after; the iMac 27 offers a 72% color gamut while the U2711 has a 102% color gamut (based on the CIE 1931 standard). Using RGB LEDs, it would be possible to get a similarly high color gamut, but our experience with RGB LEDs to date is that they cost more and consume more power than regular LEDs, so we can understand Dell's interest in sticking with the "older" technology. (We've only seen RGB LEDs in a few laptops so far, and as one example it's a $175 upgrade on the Dell Studio XPS 16 compared to a regular white LED display.)
Since this is a display rather than an all-in-one computer, there are plenty of other differences between the Apple and Dell LCDs. Dell includes just about every input you might want on the back of the LCD - DisplayPort, HDMI, two dual-link DVI connections (all with HDCP support, naturally); and just for good measure they toss in VGA, component, and composite video connections as well - not that we would recommend using those if you can avoid it, though the VGA connection is always good to have "just in case". Like most UltraSharp displays, you also get a couple USB ports on the back, two more on the side, and a handy flash memory reader.
Besides having a higher color gamut and different backlighting technology, Dell uses 12-bit internal color processing with the ability to output 10-bit color. That means you can get 1024 levels of grey instead of just 256, reducing the amount of banding present in certain situations. 24-bit vs. 30-bit color also means you get a color palette of 1.07 billion instead of 16.7 million, though we were unable confirm this in testing. First, you need to have a graphics card with the ability to output 30-bit color, which typically means you need a workstation class GPU. You also need some sort of "special sauce" - specifically, you need an application that knows about deep color support. We connected the U2711 to a Dell Precision M6500 notebook (Quadro FX 3800M GPU) via DisplayPort. NVIDIA tells us that the GPU is aware of the deep color capability of the display at that point, but it requires an appropriate application before 30-bit color output would start. Despite our inability to test this feature, considering the cost of other 30-bit displays (often they are priced upwards of $1800), the U2711 becomes a very interesting option for users that need (and know how to use) "deep color" support.
So what's not to like? As with so many other things in life, all of these lovely features don't come free. The U2711 has an MSRP of $1050, so it costs quite a bit more than lesser 27" displays. Then again, it has a higher resolution, better features, and it's still $200 cheaper than most 30" LCDs. Overall, the U2711 makes a very good impression if you're after a high quality LCD; it's just not intended for users that are merely looking for a decent display at an affordable price. If you're a discerning image professional or just someone fed up with lackluster consumer LCDs, read on to find out if the U2711 is the right display for you.
Impressions of the U2711
If you've used a variety of LCDs, you've undoubtedly encountered some that really impress and others that you'd just as soon avoid. The U2711 belongs squarely in the first group, with bright colors, excellent viewing angles, and good features. If you're after great image quality, the U2711 ranks right up there with the best that we've tested. That said, it's not necessarily perfect, so let's discuss a few areas that you might not be entirely happy with.
First, unlike many 24" LCDs (i.e. the Dell U2410), you don't get pivot functionality so there's no portrait mode… unless you buy a VESA compatible stand that supports the feature - and one that's also tall enough for a 27" portrait LCD. It's a minor concern for most, but it's still worth a mention.
Second, another minor complaint is the aspect ratio. Depending on personal preference, you may like 16:10 widescreen displays, 4:3 standard aspect displays (a dying breed), or you might be one of those that is very happy with the trend towards 16:9 LCDs. The U2711 is in the latter category, which is supposed to make it better for widescreen movie viewing. The problem is that a lot of HD movies are even wider, so 16:9 still doesn't fit a whole bunch of widescreen movies. Does the loss of 160 pixels in vertical real estate really matter much? Probably not, especially when you consider you're still getting 240 more pixels than other 27" 1920x1200 displays, plus being 640 pixels wider.
Third, there's the issue of dot pitch. I personally use a 30" LCD at the native 2560x1600 resolution. That gives the display a dot pitch of 0.251mm. You know what? It's too small for me when I'm working with text, so I ended up setting the Windows DPI to 120 instead of the default 96. That works well for some applications, but there are a few oddities. More to the point, even at 120 DPI I still feel a lot of text is too small, so I end up running Word and my web browser with 125% magnification a lot of the time. On the other hand, working with images is great with the high resolution - there's no beating Photoshop on a 30" LCD in my view (unless you have two 30" displays….) As you can imagine, if a 30" LCD with a .251mm dot pitch can strain my eyes, the U2711 with its .233mm pitch can be even worse. If you've got great eyes, you'll love the U2711; if you're like me and have less than perfect eyesight, you'll probably need to run at a lower resolution (or with magnification).
The final potential drawback with the U2711 that we want to discuss is lag. There are actually two types of lag we noticed during testing, and neither one is likely to be a deal breaker if what you're after is high quality image. Processing lag (a.k.a. "input lag") is definitely present, and it appears to be due in part to the digital scaler. Like the Dell 3008WFP, the U2711 supports a bunch of input options, many of which can't handle the native resolution. That means it needs a hardware scaler to work with lower resolution VGA and analog inputs. The result is slightly more processing lag than what we've measured on 30" IPS displays that don't have a hardware scaler. The other type of lag we noticed is a delay in powering up the LCD and changing resolutions. The LCD takes around 3 seconds to power on, but it can take an additional 3.5 to as much as 15 seconds to sync to the current resolution. It's extremely slow compared to many other LCDs in this regard. Fire up a game that runs at a different resolution than your desktop and you might have a black screen for up to 15 seconds (3.5 to 5 seconds is more common). Depending on how often you switch resolutions, you may or may not be bothered by these delays.
That's all the bad stuff that we have to say about the U2711, and while it might seem like a lot of complaints we really need to emphasize that most of them are very minor. For me, the dot pitch is probably my greatest concern, with the slow change between resolutions being a distant second. I've used LCDs that have very noticeable processing lag (i.e. Dell's own 2408WFP), and the U2711 never bothered me in that regard. (Others may be more sensitive, of course.) The ultra high resolution is very nice for images and movies, and if you've got good eyes it works well with text as well. We also felt that the support for non-native resolutions worked very well, and the fine dot pitch makes it possible to run the LCD at 1080p for example without a lot of blurriness. Finally, we continue to appreciate Dell's flash reader on the side of the LCD; sure, you can buy your own separate reader for $25, but it's very convenient to have the reader integrated into your display bezel.
Overall, we were very impressed with the features and colors on the U2711. It performs as well as any professional monitor that we've tested, with a price tag that's significantly lower than other professional offerings (e.g. Eizo). Professional displays often go through extensive testing, but that doesn't mean the U2711 is just shipped out with little in the way Q&A or testing. The U2711 is the first LCD we've had for review that includes Delta E results from the manufacturer. Granted, the target average Delta E of less than 5.0 wasn't as low as we would have liked, but Dell guarantees that you will get such a result without the need for any hardware calibration. (Our test unit result was also much lower than 5.0; flip to the next page for specifics.) If you're after even better color accuracy, hardware calibration will help (and we do have to note that our final calibrated result wasn't quite as good as some of the 24" to 30" LCDs we've tested), but this is one of the best displays we've seen in terms of acknowledging the importance of color accuracy. And if you want oversaturated videos and games, you can still select a different color mode and get results similar to what you'll see with typical consumer LCDs. In short, there's a whole lot of goodness in this $1000 "pro-sumer" LCD.
Dell U2711 Color Quality
We'll start with a look at the color quality of the U2711, broken down into two areas: Color gamut and color accuracy (i.e. Delta E). We'll start by explaining the former. Color gamut refers to the ability for a display to represent all of the colors in a defined selection of colors. In this case, we use the Adobe RGB standard to define the base gamut, and we measure the percentage of that standard that a display is able to cover - higher being better.
Delta E is the difference between a requested color and the color that actually appears on the display, with lower being better - i.e. the displayed color doesn't have a large delta relative to what was requested. If a display has perfect color accuracy, Delta E will be 0.0; in practice, anything less than 1.0 is nearly perfect and no one will notice the difference. A Delta E of 2.0 or less is the desired result after calibration, meaning no one color measures higher than 2.0 on our standard 24 color palette. Such a result would be fit for use in any professional imaging environment. Finally, while Delta E of around 4.0 is visible to the naked eye, it's really a question of reference points; if you don't have something better nearby and you're not going to print or view content on other media, a result where all colors measure 4.0 or less is very good.
So how does the U2711 do in these areas? First let's look at the charts, and then we'll discuss what they mean. We used the Graphics and Adobe RGB setting on the U2711, with brightness set at 36% (~200nits) and contrast at the default 50%.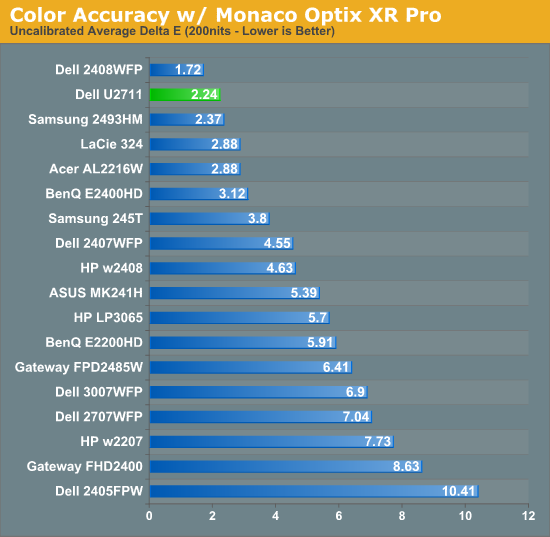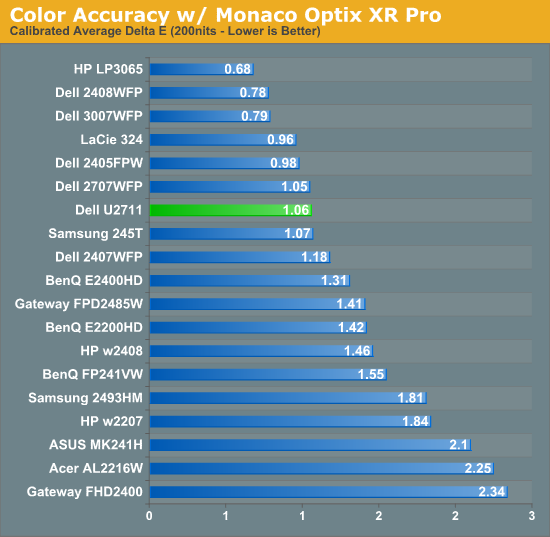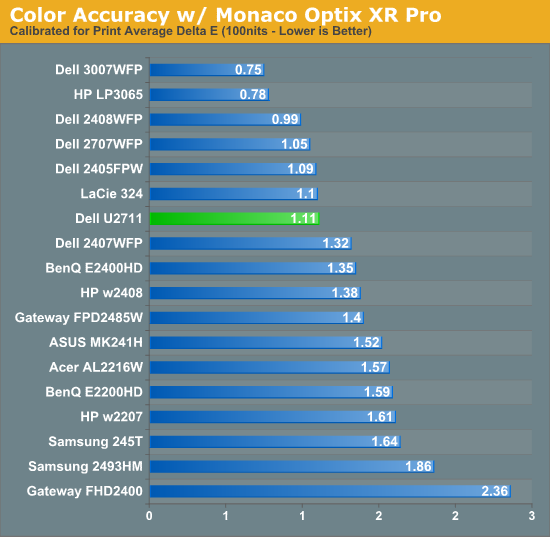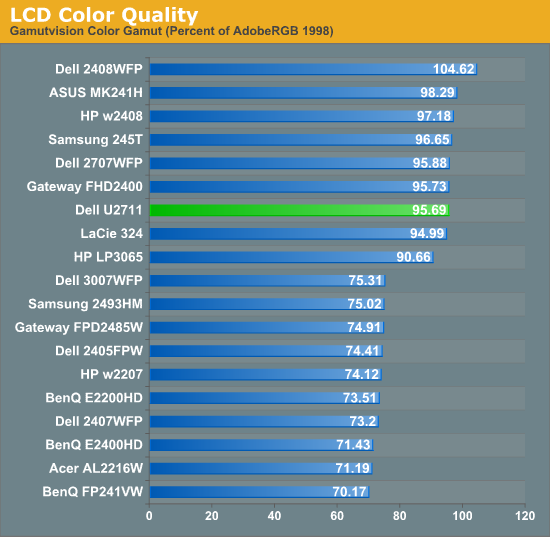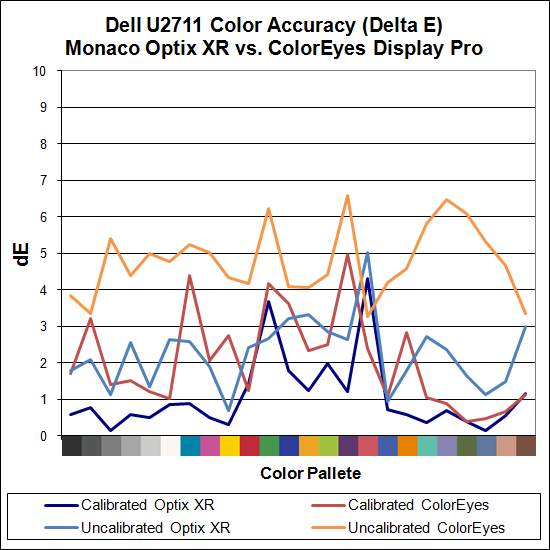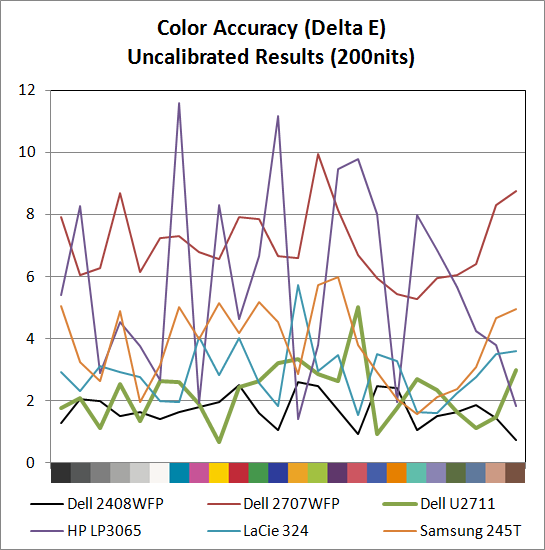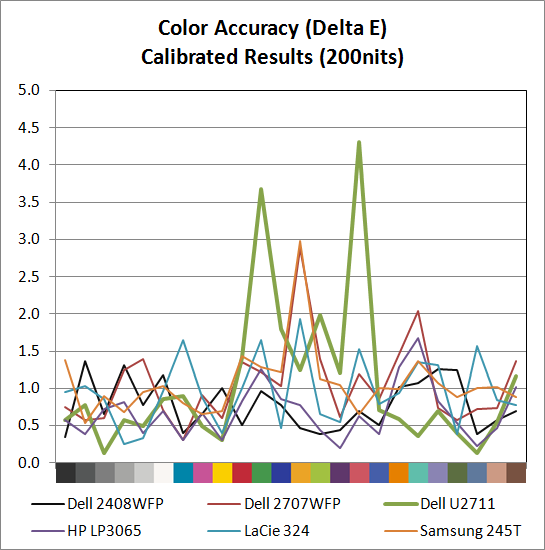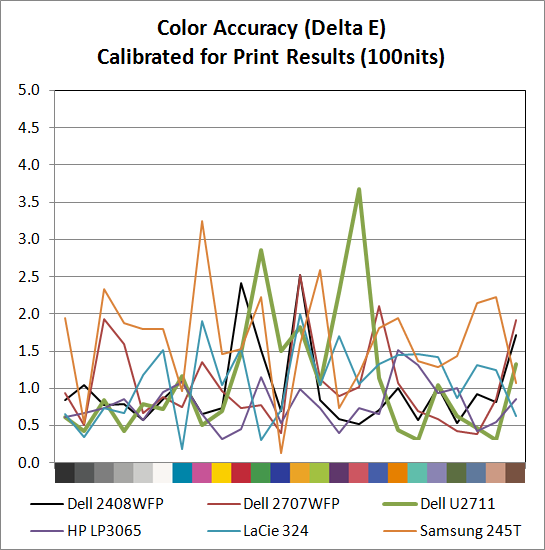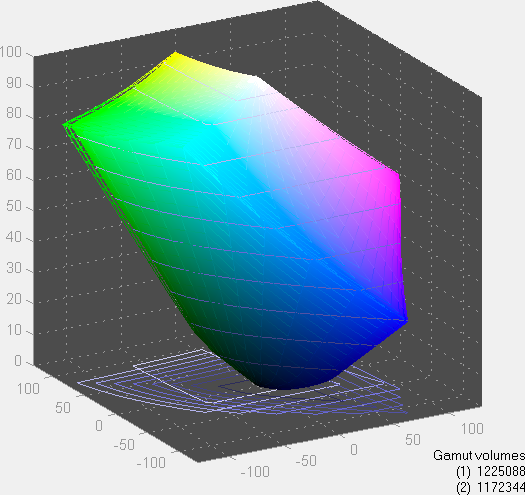 The U2711 scores extremely well in color gamut, and it achieves the 96% of Adobe RGB that Dell claims in their literature (not that most users would really notice the difference between any of the displays rated 90% to 105% - at least not after you eliminate the TN panels). Color accuracy on the other hand is a bit of a mixed bag. Dell ships a paper with test results showing the color calibration of each individual U2711, with the claim that the displays will have an average Delta E of less than 5.0 without any end-user calibration (when using the sRGB and Adobe RGB settings). Dell uses Minolta Color Analyzer CA210 and 32 test colors while we test with ColorEyes Display Pro and Monaco Optix XR Pro and 24 test colors, but our Monaco results confirm their claim. We're not sure why, but we continue to get better results using Optix XR Pro than with ColorEyes Display Pro.
As far as Optix is concerned, the U2711 achieves the rated Delta E of < 5.0 at just 2.24 without calibration, which is an excellent result. In fact the U2711 has no colors in the standard Gretag Macbeth 24 color palette score higher than 5.0 (and only reddish-pink scores a 5.0 measurement). The only LCD we've tested that did better is Dell's own 2408WFP (which also, interestingly enough, had an Adobe RGB color gamut of 105%). ColorEyes also gives an average Delta E of less than 5.0, but at 4.78 the score isn't nearly as remarkable, with nine color measurements well above 5.0. The uncalibrated (Monaco) results put the U2711 ahead of the HP LP3065, Dell 2707WFP, Samsung 245T, and LaCie 324 - and just about every other LCD we've tested.
Switch to the calibrated results and the U2711 doesn't impress quite as much relative to the competition. Monaco gives the U2711 an average Delta E of 1.06, which is great, but there are two results above 3.0 (the worst is reddish-pink again, this time at 4.31) compared to displays like the HP LP3065 where the highest measured Delta E is just 1.68. Dell's own 2707WFP, a three-year-old offering, also delivered a similar average Delta E but with only two colors above 2.0 (and still under 3.0). For a better LCD (i.e. not a TN panel), the results are really only slightly above average. It is possible different calibration software would achieve a better end result, but really we're talking about a "problem" that only the most demanding users are likely to ever notice.
Color Consistency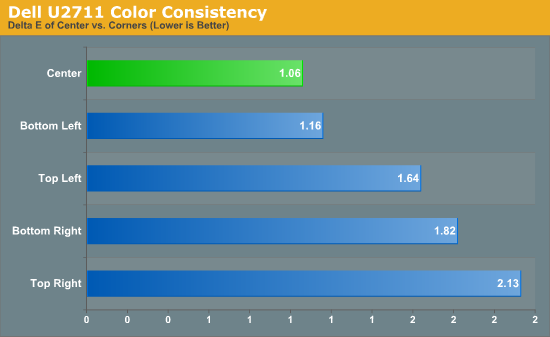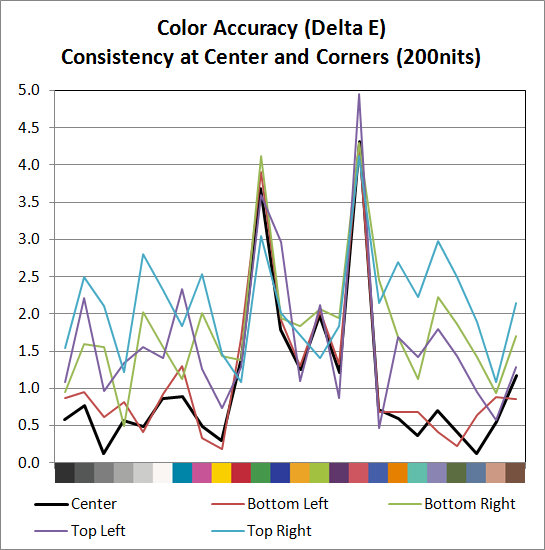 We added another test to try and measure the panel consistency across the entire surface. We measure Delta E at the center of the display, but what happens on the edges? To test this, we used the same profile generated in our best Delta E test result and measured Delta E again at the four corners. Most of the scores are similar, with a slight increase in average Delta E relative to the center measurement. The bottom-left corner is nearly identical to the center measurement, the top-left and bottom-right are a bit worse, and the top-right corner gets the overall worst result. While on the one hand we could say that the Delta E on the top-right is twice that of the center measurement, it's not a case of being "twice as bad". In fact, the color consistency is very good, and we didn't notice any "hot spots" are areas where the colors were clearly off relative to the rest of the LCD.
Dell U2711 Lag and Response Time
Some users are very concerned with display lag and pixel response time. For others, they really don't notice anything unless a particular display is very sluggish. I fall into the latter camp, though I do notice the processing lag when it's above ~40ms (e.g. on the Dell 2408WFP and LaCie 324, my mouse input just felt off.) To test for display lag, we run the Wings of Fury benchmark in 3DMark03, with the output set to the native LCD resolution - in this case 2560x1440. We clone the output to our reference LCD, an HP LP3065, snap a bunch of pictures, toss out any where the time readout isn't clear, and then average the remaining results (at least 10, and usually 20 or more).
As a reminder, the reference HP LP3065 is one of the best LCDs we currently possess in terms of not having display lag. (The lack of a built-in scaler probably has something to do with this.) While we know some of you would like us to compare performance to a CRT, few users have CRTs these days and all we're really interested in measuring is the relative lag. It's possible we will find an LCD that ends up with a negative result, meaning it's faster than the LP3065, but the best we have managed so far is a tie.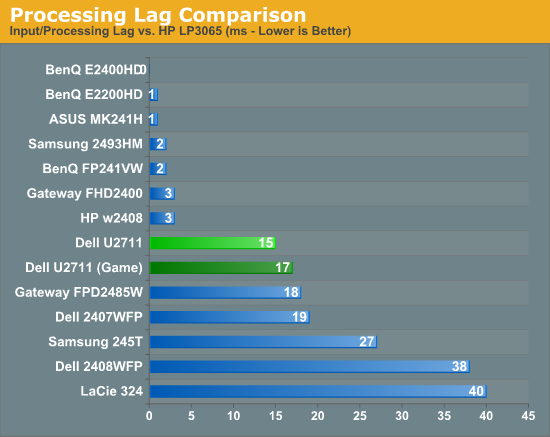 So far, all of the S-PVA panels we have tested show a significant amount of input lag, ranging from 18ms up to 40ms. In contrast, the TN and S-IPS panels show little to no processing lag (relative to the HP LP3065). The BenQ FP241VW with an S-MVA panel performs similarly to the TN and IPS panels, with an average display lag of 2ms - not something you would actually notice compared to other LCDs. What about the new U2711?
We tested with the "Graphics" setting and Adobe RGB as well as "Video" and "Game" - we figured the latter might disable some post-processing and result in less lag. That turned out to be incorrect, as our measured lag actually went up 2ms. However, in practice the settings are pretty much tied. That means the U2711 has around one frame of lag relative to our best LCDs, but it still has a lot less lag than our worst offenders. As stated already, I didn't notice lag in using the U2711 - just like I didn't notice lag on the 2407WFP or the FPD2485W. I did notice slight lag on the Samsung 245T and some clear lag on the 2408WFP and LaCie 324, but the threshold for lag varies and you'll need to determine if 15-17ms is too much or not for you. If you've tried any TN panels and still noticed lag, we would expect every current LCD to be above your "lag threshold".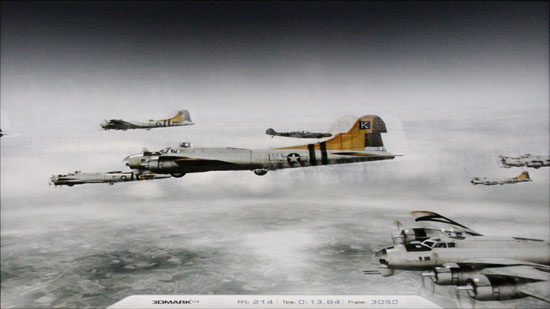 Despite what the manufacturers might advertise as their average pixel response time, we have found most of the LCDs are basically equal in this area - they all show roughly a one frame "lag", which equates to a response time of around 16ms. Some transitions are faster than others, but the above is representative of what we found in a study of numerous photos. If you look at the tail of the center plane, you can see a slight ghost image before and after the dominant frame. Some of that will come from the camera (we use a 1/120s shutter speed), but most of it comes from the LCD panel. In this case, the U2711 panel does outperform most LCDs that we've tested, where it was often possible to see at least three frames more clearly than the two slight ghosts in the above image.
Brightness and Contrast
For the brightness, contrast, and color accuracy tests, we depend on a hardware colorimeter and software to help calibrate the displays. We use a Monaco Optix XR (DTP-94) colorimeter and Monaco Optix XR Pro software. Dell advertises a typical contrast ratio of 1000:1 and a maximum contrast (using dynamic backlight adjustment) of 80000:1. We're not interested in dynamic contrast, so we used the Adobe RGB setting for the results below. For those that are wondering, the reason we don't like dynamic contrast is that CCFL backlights take time to settle in and provide a consistent output, and if a display is constantly modifying the backlight level you won't get accurate colors.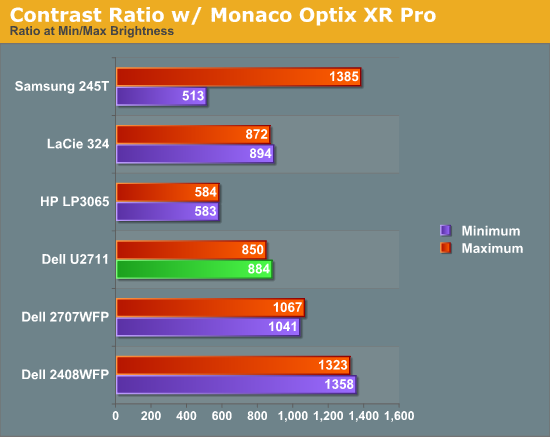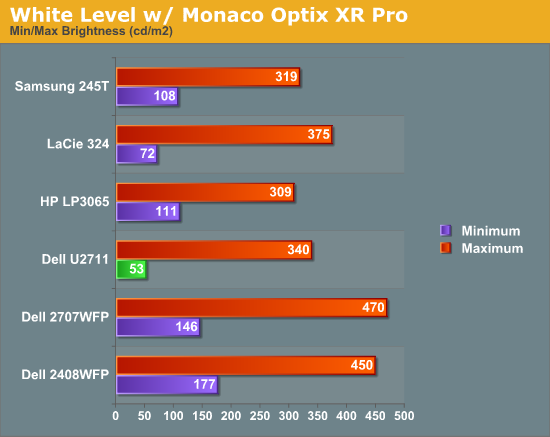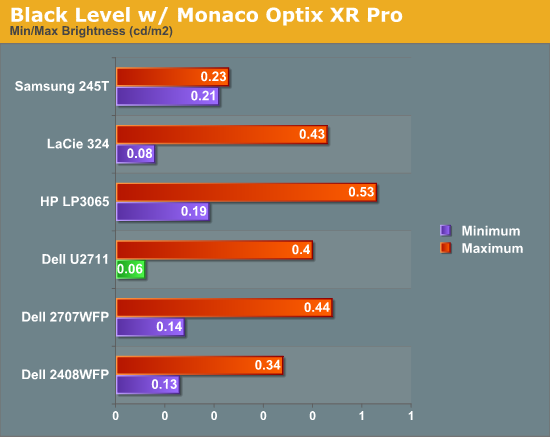 Don't pay too much attention to the white/black graphs, as they are merely reference points for how the displays perform at certain settings. Like many other LCDs, the U2711 has a "normal" brightness level of around 260nits (the Adobe RBS setting defaults to 50% brightness and contrast), which is more than sufficient and is actually brighter than what most users prefer to use in an office environment. You can reach the advertised 350nits (give or take) if you max out brightness and contrast.
We're more interested in the contrast ratio, and here we find that the U2711 doesn't quite reach the advertised 1000:1 but instead comes closer to 850:1. We would have liked to see black levels a bit lower to improve the contrast, but really anywhere above 750:1 is difficult to see the difference, and 500:1 is sufficient for most users. At lower brightness settings, the contrast ratio improves to the point where our 100nits "print" result (~13% brightness) actually reached the advertised 1000:1 contrast ratio.
Power Requirements
Going along with the brightness levels, here are the power requirements we measured at the Windows desktop using the minimum brightness (53nits) setting along with 100nits (13%), 200nits (36%), and maximum brightness (340nits).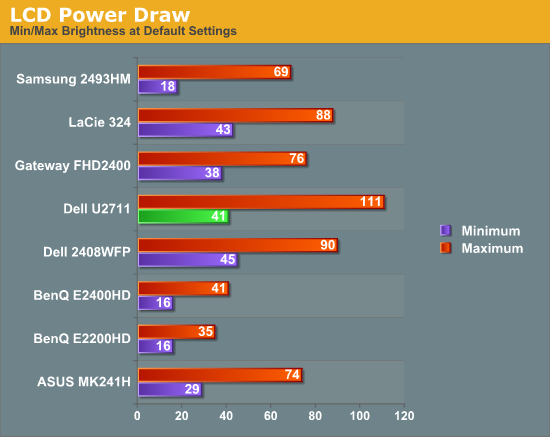 This is another area where we think the U2711 could be improved, but the cost might be too high right now. CCFL backlighting has been the norm since LCDs first came out, and it works but it's not the most power efficient way of lighting up an LCD. LEDs are the new and improved method, but while they can save power they also tend to deliver a lower color gamut. RGB LEDs address that shortcoming but they cost more and appear to use a similar amount of power compared to CCFL (and we've only seen them used in laptops so far). The U2711 draws a minimum of 41W, but a more realistic setting of 200nits will pull 72W. At maximum brightness the display settles down to 111W, but we measured a peak draw of 124W. (When we first cranked up brightness from 36% to 100%, brightness also reached 390nits before declining to 340nits.) We'd like to see LCDs that deliver all the color quality at half the power draw, but right now it's more a question of priorities: if you go green on power, your green colors may end up lacking. And to keep things in perspective, 72W at 200nits for a 27" LCD is still about half the power of your typical 21/22" CRT running at ~200nits!
Resolution Support and OSD
While the ideal solution is to run your LCD at the native resolution, there are times when you might want to use something lower. With the fine 0.233mm dot pitch and 2560x1440 native resolution, running at something lower becomes even more likely. We tested the VGA, HDMI, DisplayPort, and DVI connections to see how the U2711 would handle non-native resolutions (note that we didn't test component or composite video). The OSD provides three aspect ratio options: Fill (use the entire LCD, with stretching), Aspect (fill as much of the LCD as possible but avoid stretching), or 1:1 (no stretching at all).
The vast majority of resolutions work exactly as you would expect. 800x600, 1024x768, 1280x800, 1280x960, 1280x1024, 1440x900, 1600x1200, 1680x1050, 1920x1200, and 2560x1440 showed no problems at all. Also, when using a VGA connection, every resolution we tried worked properly. Shift to the digital connections and we did encounter a few minor issues.
Starting with DVI, both 720p and 1080p filled the whole LCD regardless of the aspect ratio setting. This isn't terrible, since the image will still maintain the correct aspect ratio, but it does mean that the 1:1 setting failed to work in this instance. We also encountered some oddities with 720p and 1080p using an HDMI cable at times, but those problems appear to be more of a laptop driver issue than something in the U2711. On one laptop, 720p output always looked blurry, and the 1:1 setting didn't actually map to 1280x720 pixels as far as we could tell. In general, though, these common widescreen resolutions still worked well.
The resolutions where we had the most problems are all less common resolutions. On DVI, 1280x768 didn't have the correct aspect ratio, with black bars on all sides. 1360x768 stretched horizontally but not vertically on "Fill", making for a very skewed result, "Aspect" left borders on all four sides, but "1:1" worked properly. 1792x1344, 1800x1440, 1856x1392, and 1920x1440 all did an "aspect" stretch, regardless of OSD setting.
HDMI didn't show as many resolutions, probably because we had to use a different computer as the source (a laptop). Again, "odd" resolutions caused some incorrect behavior, but we don't really fault Dell. 1152x648 and 1776x1000 (underscanned 720p and 1080p, respectively) have a black border at all times, and like the DVI connection 1360x768 was squashed vertically unless you use the "1:1" setting. DisplayPort behavior was the same as HDMI. Note also that the HDMI connection didn't allow us to select resolutions above 2048x1152 (a 16:9 resolution). 2048x1152 was also the maximum resolution we could use on a VGA connection. We're not sure if the limitation was with our test laptop or if it's inherent with the U2711, as we don't have any HDMI connections that we're sure will properly handle 2560x1440.

In general, all but a few uncommon resolutions worked well. Something else we really liked was the "Sharpness" setting when we were using something other than the native resolution. The default setting of "50" appears to pass the signal on without molesting it, but as you move towards 0 the display becomes a bit blurrier and increasing towards 100 will apply a mild to moderate sharpening filter. Running at 1680x1050 with sharpness set at 70, you have to look very closely to notice that the LCD isn't running at its native resolution. Other LCDs have a similar feature, but on many displays the sharpness setting is only active if you use an analog connection (i.e. VGA).
The OSD
For the sake of completeness, here's a gallery of all the OSD settings. Yes, there are a ton of options. We like that Dell allows you to customize the "quick jump" buttons, but we wish they had allowed us to make one of the settings "Aspect Ratio" rather than limiting the choices to "Preset Modes", "Brightness/Contrast", "Input Source", or "Mode". There's really not much to say about the OSD: it works as expected.
Dell U2711 - Near Professional Quality at a Pro-Am Price
If you're a professional image or video editor, it's possible that the U2711 will fall a bit short. Specifically, we've seen better color accuracy, especially after calibration. For the price, we'd recommend looking at HP's LP3065, or one of the other 30" S-IPS displays. However, the U2711 does win out in quite a few areas. If you want a fine dot pitch, there's no better desktop LCD right now. The U2711 also supports 30-bit deep color with 12-bit internal processing; most displays with 30-bit color output cost twice as much! Look at the HP DreamColor LP2480zx for example: $1800 online and it's a 24" 1920x1200 LCD. (Note that we haven't tested that particular LCD; for the price we would hope color accuracy is better than the U2711, but we can't say for sure.)
Since the U2711 uses an IPS panel, viewing angles are a non-issue. Off-angle viewing isn't perfect, but it's far better than what you get from any TN panel and as good as any LCD on the market. Color quality and accuracy on IPS panels are also very good, and given the various compromises you can make we feel IPS is the best overall solution for LCDs right now. Very likely we won't get anything better until OLEDs, SEDs, or some other display technology takes over, and right now the cost of larger OLED solutions is prohibitively high.
Another great feature on the U2711 is the large number of video input options. HDMI, DisplayPort, and two dual-link DVI connections will be the preferred method of connecting, but you can also use VGA, component, or composite video. The ability to handle lower resolutions very well is a definite plus, though with a decent GPU you can often let the graphics chip do the scaling and not worry about shortcomings in the LCD's scaler. The problem with LCD scalers is that they also add a bit of latency. We don't know how much, but we do know that the U2711 has about 15ms more latency than other IPS displays that we've tested in the past. The latency may also come from the 12-bit internal color processing, but that would be part of the scaling hardware. Having seven different video inputs is going to be overkill for just about every potential user, but we could certainly see situations where using two or three of the inputs is feasible, e.g. PC, HDTV, and gaming console. The U2711 supports an optional audio bar along with audio out, but in either case you'll be limited to 2-channel audio, so you might want to look somewhere else for an ideal home theater display.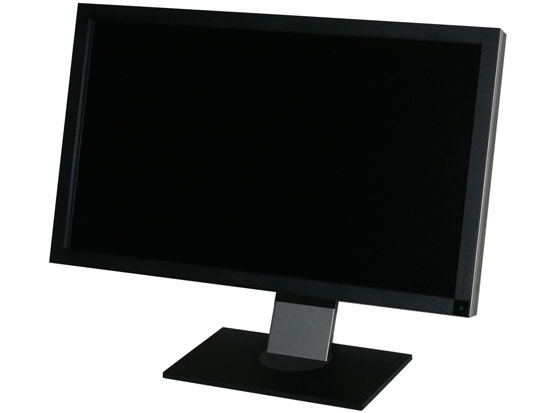 Aspiring imaging or video professional looking for a capable display will find the U2711 is a great option. We've seen better color accuracy, true, but few displays offer out-of-box colors that are anywhere close to this good. Dell guarantees every U2711 will have a Delta E of less than 5.0 without any extra calibration, and our test unit delivered an extremely good result of 2.24 (average Delta E). Buying a separate colorimeter and software will set you back another $200-$300, though you could then use just about any IPS or PVA LCD. The U2711 also delivered very good color uniformity. I still like the larger 30" LCDs, but then I have access to a colorimeter, I only need one video input, and I prefer a larger dot pitch.
We suspect "true" professionals will still prefer more expensive solutions that can achieve a Delta E of less than 2.0 for every color patch, but that's a very small market. If you're wondering if you might notice the colors where the U2711 "only" scores ~4.0, then you likely don't need to worry about it. In fact, we think most professionals would only "see" the problem if they had access to a colorimeter; you really won't notice any problems with the uncalibrated results using your naked eye.

Bottom line is that if you're looking for a large LCD with lots of features, a high resolution, great colors, and what we feel is the best current LCD panel technology, the Dell U2711 should be at the top of your list. $1050 isn't chump change by any stretch of the imagination, but you won't find quality like this in a sub-$500 LCD. In fact, the only real competition right now comes from the 30" S-IPS panels that have been around for several years. If you want something a little smaller, or if you have a need for 30-bit color support, the U2711 is a better buy than anything else currently on the market. This is a great high resolution display that delivers on the quality and features fronts, and we're pleased to award the Dell U2711 our Gold Editors' Choice award.