Original Link: http://www.anandtech.com/show/2890/asus-eee-pc-1005pe-pineview-arrives


ASUS Eee PC 1005PE: Pineview Arrives
Way back in the day (Fall of 2007 to be exact), ASUS launched a little device called the Eee PC. It was very light and portable and it could do basic computing, but that was about it. Some people loved the original Eee PC, but I wasn't one of them.
The Eee PC would eventually grow up to deliver 9.1", 10.1", 11.6", and even 12.1" models. The larger chassis sizes allow for a few additional features, but the core concept remains largely the same: deliver a small laptop that can run the software people need, along with some of the software they want. If your needs include gaming or computationally complex tools, you'll still want to look elsewhere, but for basic office and Internet use a netbook will suffice. What's more, netbooks can achieve all day computing on a single charge, so many are willing to trade performance for battery life.
One of the other changes in the netbook market has been improved CPUs. The original underclocked Celeron found in the Eee PC 2G/4G was very limiting, and for the performance offered it wasn't very efficient. When Intel released the Atom CPUs, netbooks received a dramatic boost in performance and battery life. Today marks the launch of the newest Atom CPUs, previously code-named Pineview.
As we have already discussed, Pineview isn't designed to provide a radical improvement in performance, but instead it focuses on the mobility factor. At the same clock speeds, Pineview should be about 10% faster than the previous Diamondville processors, give or take. The more interesting aspect of Pineview is that the GPU and memory controller are now integrated into the CPU package. Where previously Atom had to get by with outdated chipsets manufactured using a relatively archaic 90nm process technology, now the entire package is manufactured using Intel's latest and greatest high-K 45nm technology. The result as you might imagine is a significant decrease in power requirements, so if nothing else Pineview should improve battery life on netbooks.
The integrated graphics are updated from the old GMA 950, although the upgrade isn't particularly noteworthy. The new part is dubbed GMA 3150, which is similar to the GMA 3100. That makes the 3150 a DX9 part with SM3 provided via software rather than being built into the hardware. The only significant difference between GMA 950 and 3150 appears to be support for OpenGL 1.5 with the 3000 series parts, plus slightly higher clocks. Most of the 10% performance increase with Pineview is going to come from the integrated memory controller (IMC). Gaming and HD video decoding are sadly still neglected.
Inside the ASUS Eee PC 1005PE
As you might guess from the model name, the new ASUS 1005PE bears a striking resemblance to the 1005HA. Our particular test unit is blue instead of black this time, but it's still a fingerprint magnet. Without powering the system up, there is little to distinguish the 1005PE from the 1005HA. The ports and port locations are the same, as is the battery. You also get the bumpy touchpad with a rocker mouse button. We are okay with keeping things the same, provided they work well in the first place. Our only complaint with the 1005PE is the keyboard, which flexes a bit when typing and has a generally cheap feel. This wasn't something we noticed on the 1005HA, but perhaps using better keyboards on 11.6" netbooks has changed our expectations... or it might simply be a case of this being early hardware.
One of the things we wish ASUS would have kept the same is the LCD. It could simply be a case of panel lotteries giving us a good LCD on the 1005HA, but after booting up the 1005PE it was immediately apparent that the high contrast ratio we loved on the 1005HA is gone. Now not only do you get a highly reflective LCD with a low 1024x600 resolution, but the contrast ratio is 300:1 instead of 1150:1.
The only easily accessible expansion option on the 1005PE is the memory slot. Our test system comes equipped with a single 1GB DDR2 SO-DIMM, but other models will ship with a 2GB DIMM. If you wish to upgrade the hard drive, you'll need to go through a lengthier process where you disassemble the chassis in order to reach the HDD.
If you're already a fan of the ASUS Eee PC clamshell design, you'll be happy with the 1005PE. On the other hand, if you were hoping they would address a few of the shortcomings, you'll have to wait for the next revision - or perhaps look at one of the alternative Eee PC models like the ION-based 1201N.
Our full review of the 1201N will be completed shortly, but we can answer a few quick questions right now. First, the 1201N is significantly faster than any single-core Atom netbook thanks to the use of a dual-core Atom 330. Second, graphics are vastly superior to any of the Intel GMA options, including the GMA 4500MHD; the old GMA 950 and the "new" 3150 are less than half as powerful as the 4500MHD, which in turn is about one third as powerful as ION. Finally, dual-core Atom plus 9400M (aka ION) uses substantially more power than single-core Atom and a 945GSE or NM10 chipset.
Do you want more performance and a larger package, or do you prefer longer battery life? Those are the basic choices right now. We should also note that CULV (Core 2 Ultra Low Voltage) laptops like the Acer Timeline series can still achieve 8+ hours of battery life and offer graphics and CPU performance that is a big step up from even the new Atom N450. While 12+ hours of battery life is a lot more than 8 hours, you might decide that CULV lasts "long enough" as opposed to choosing Atom and "fast enough".
Mobile Test Setup
Below are the specifications for the ASUS 1005PE we're testing. We'll include performance results from other similarly priced laptops, with a bit of leeway on total cost. The 1005PE targets a price of $300 to $380, so it's basically filling the same role as previous Atom netbooks. $30 more brings in competition from entry-level laptops and CULV offerings. We'll include ASUS' own UL80Vt as the high-water mark of what you can get for $800 (twice the price for well more than twice the performance), and we'll toss in results from a Gateway EC5409u with SU4100 CULV CPU. Spoiling our future article somewhat, we'll also have preliminary results for the Eee PC 1201N. Test specs of these laptops are included below.
ASUS Eee PC 1005PE Test System
Processor
Intel Atom N450
(1.66GHz + SMT, 45nm, 512KB L2, 533FSB, 5.5W)
Memory
1x1GB DDR2-667 (Max 1x2GB)
Graphics
Intel GMA 3150 (in CPU Package)
Display
10.1" LED Glossy 16:9 WSVGA (1024x600)
Hard Drive(s)
250GB 5400RPM HDD
Optical Drive
N/A
Battery
6-Cell, 10.8V, 5800mAh, 63Wh
Operating System
Windows 7 Starter
Pricing
Available in January @ $379 MSRP as configured
Smaller HDD and 48Wh battery for $299 MSRP
ASUS Eee PC 1201N Test System
Processor
Intel Atom 330
(2x1.6GHz + SMT, 45nm, 2x512KB L2, 533FSB, 8W)
Memory
1x2GB DDR2-667 (Max 1x2GB)
Graphics
NVIDIA ION (16 SPs)
Display
12.1" LED Glossy 16:9 768p (1366x768)
Hard Drive(s)
250GB 5400RPM HDD
Optical Drive
N/A
Battery
6-Cell, 11.25V, 5600mAh, 63Wh
Operating System
Windows 7 Home Premium 32-bit
Pricing
Available Online starting at $471
Gateway EC5409u Test System
Processor
Intel Pentium SU4100
(2x1.3GHz, 45nm, 2MB L2, 800FSB, 10W)
Memory
2x2GB DDR3-1066 (Max 2x4GB)
Graphics
Intel GMA 4500MHD IGP
Display
15.6" LED Glossy 16:9 768p (1366x768)
Hard Drive(s)
320GB 5400RPM HDD
Optical Drive
8x DVDR SuperMulti
Battery
6-Cell, 11.1V, 5600mAh, 62Wh
Operating System
Windows 7 Home Premium 64-bit
Pricing
Available Online starting at $620
Before anyone complains that the EC5409u is substantially more expensive than the Eee PC netbooks, let us again mention the Acer Aspire 1410. It has 2x1GB RAM, a smaller HDD, and an SU2300 CPU, which makes it about 15% slower than the EC5409u. Basically, the two systems should perform roughly the same, and the Aspire 1410 costs $417 (which is already up $20 since we started talking about it two weeks ago).
We'll include the usual assortment of application benchmarks along with a few graphics tests courtesy of 3DMark. If you're wondering, actual gaming performance with the new Atom N450 is still unacceptable on anything but the least demanding titles. Battery life is arguably going to be the most important aspect for these systems, so we'll run our usual assortment of battery drain tests. Given the timing of our receiving the 1005PE and our NDA deadline, we were only able to run one of our battery life tests over the weekend, but we will update with additional battery life tests as we complete them.
General Performance Hits a Speed Bump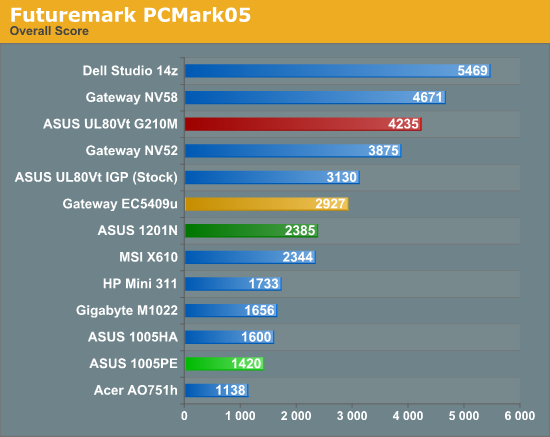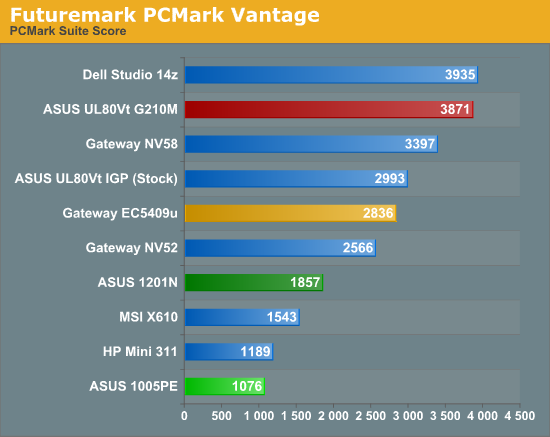 PCMark starts us off with some interesting results: the 1005PE is actually slower than the 1005HA. Wait, is that correct? Well, as we've mentioned in the past, PCMark05 scores are a bit questionable as certain tests favor different OSes; normally Vista and Win7 have a clear advantage, but this is the first time we've tested a computer with Win7 Starter. Let's look at the detailed results before trying to draw any conclusions. We'll limit the detailed comparison to inexpensive long-battery-life laptops.

PCMark05 shows much of what we're interested in seeing. HDD speeds are pretty much all over the place, with some tests favoring one HDD and other tests favoring a different drive - basically, firmware optimizations on the drive come into play. In CPU intensive tests, the SU4100 in the EC5409u is the clear winner among the long battery life options. Conversely, the 1201N ION walks away with the GPU tests. The problem is that other tests show the N450 as slower than the N280; given the difference in OS, it's difficult to know what exactly is going on. The IMC of the N450 ought to make it faster than the N280 in all cases, so we're going to chalk this one up to Windows 7 Starter vs. XP.

We don't have any results for the older netbooks in Vantage since Vista/Win7 is required, so there's not as much to examine. What we do see is that there's some real wonkiness going on. The Memory score for example is about three times faster on the 1201N compared to the 1005PE, even though both laptops use DDR2-667 RAM. So yeah, PCMark Vantage doesn't really explain things any better.
In general use, we can say that the 1005PE feels about the same as other Atom netbooks we've tested, but we do prefer the Win7 interface - even if it is limited to Starter. Basically, you get the dumbed-down UI elements without all the fancy "Aero Glass" extras, but it's no worse than Windows XP in terms of the look.
Let's move on to some of our own tests to see if we can get any better idea of performance from the new Atom N450 relative to the N280.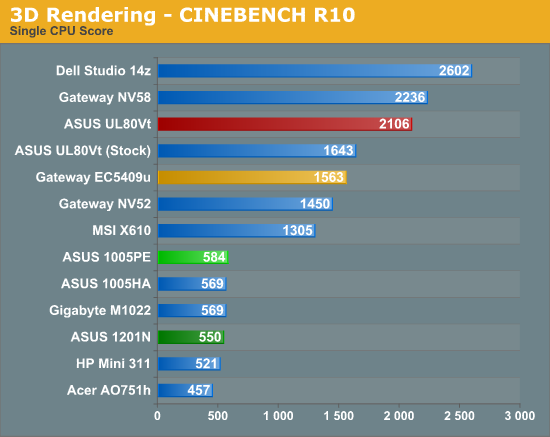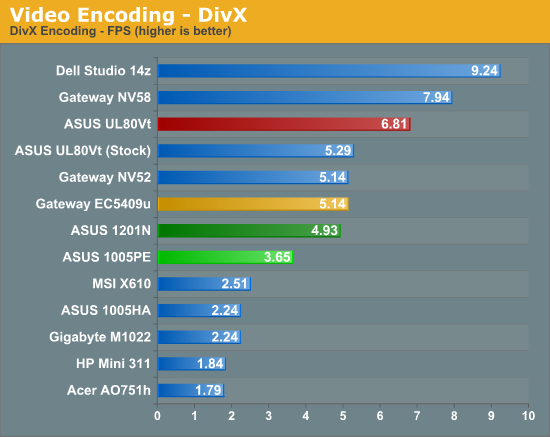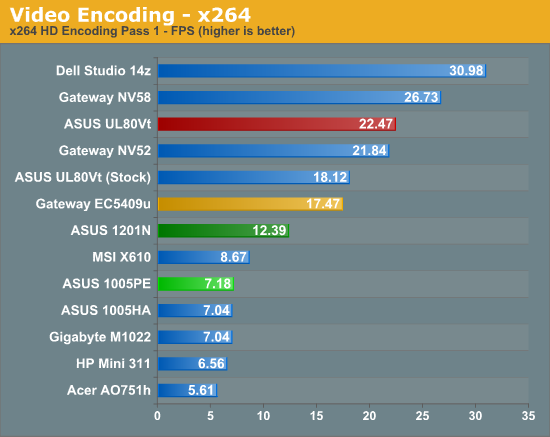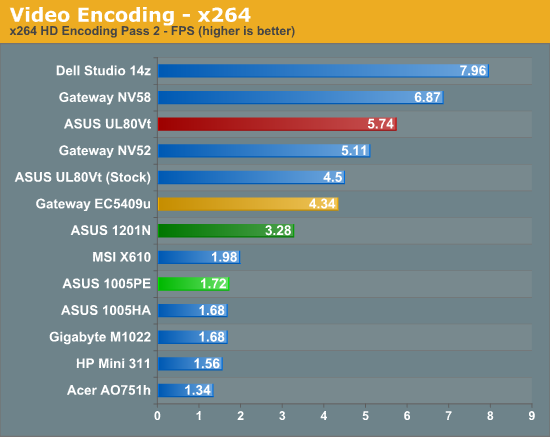 The results in these tests are a lot more sensible: 1005PE is slightly faster than the 1005HA. The difference in most of the tests is hardly worth discussing (1-2%), but in the DivX encoding test we see a whopping 63% increase. This might be another Windows 7 vs. XP difference, as the 1201N performance relative to the 1005HA is a 120% increase, which obviously shouldn't happen if you just double the core count.
So which system would be best? In terms of general performance, CULV is hands-down the winner. Applications load faster and you can multitask better. Though the EC5409u comes with 4GB RAM, the Acer 1410 is still going to be within 20% of the performance offered and it's available for $420, making it a great option in place of Atom netbooks.
As far as Atom goes, ION is again the clear victor, since it can handle video decoding. 720p x264 decoding is possible using just a 1.6GHz Atom CPU, but you could do that with N270 as well; the issue is with other codecs and Internet content. Flash 10.1 (now in Beta 2 with updated beta NVIDIA drivers) works great on the NVIDIA GPUs; on GMA 950 and 3150, there aren't any DXVA hooks and thus Flash falls back to CPU rendering, which struggles at best. In fact, if you're a big Flash video user, particularly for HD content, ION will even beat the experience of CULV laptops. GMA 4500MHD is a big step up from GMA 950/3150, but it still falls short of NVIDIA.
Let's investigate the GPU situation a bit more.
Has Graphics Performance Improved?
The initial results in PCMark look like the GMA 3150 is really no better than the GMA 950, and the tests in 3DMark pretty much confirm that. See for yourselves: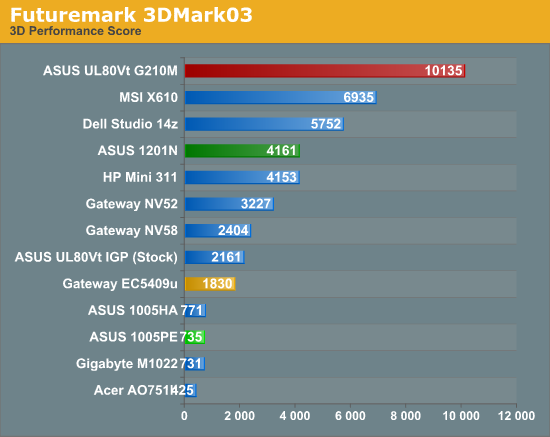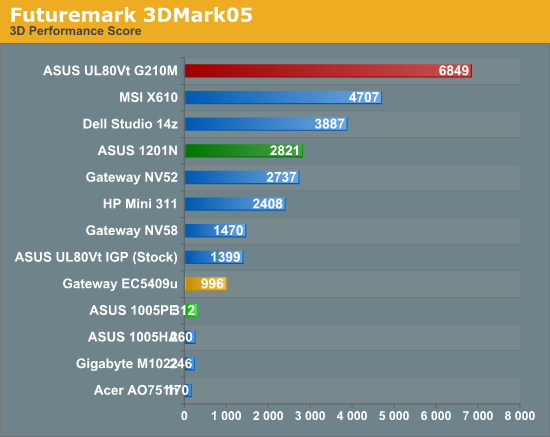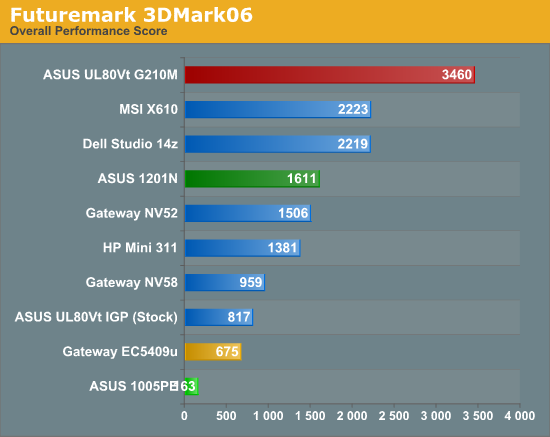 SM3.0 doesn't work on the 3150, so 3DMark06 only generates a partial result, but that's better than what we managed previously with GMA 950. 3DMark03 has the 1005PE tied with the M1022 and trailing the 1005HA slightly, but they're all so slow it doesn't really matter. 3DMark05 does show a 20% improvement for 3150 vs. 950 (1005PE vs. 1005HA), but 20% faster than dirt-slow is still dirt-slow. Meanwhile, the ION LE in the HP Mini 311 is over five times as fast in 3DMark03, nearly eight times as fast in 3DMark05, and pretty much an order of magnitude faster in 3DMark06 (which it manages to run properly, unlike the 3150).
The 1201N ups the ante and improves on the HP Mini 311 by 17% in 3DMark05/06, as well as being able to run Vantage (DX10 is enabled in the ION but not the ION LE, unless you hack the drivers).
Our experience with actual games echoes what we see here, but we can provide a few more details. First, forget 3D gaming on the GMA 950/3150 unless you want to run titles that are from 5+ years back. Second, the GMA 4500MHD is better, but it still has a ways to go. Interestingly enough, we could run more games with the latest Intel drivers, but performance is still less than half what the 9400M (ION) can provide. That's the bad news (for Intel).
As far as ION goes, we have some good news (for NVIDIA). Single-core Atom is still insufficient for most games, but the Atom 330 in the 1201N adds just enough to make gaming borderline possible on some titles. Batman averaged 24FPS on the 1201N at 800x600 and minimum details, but there were areas where Batman would run in slow-mo (around 10FPS) and other areas where performance was closer to 30FPS. You could play the game, but it leaves a lot to be desired. WoW on the other hand isn't as demanding in terms of the CPU, so you should be able to get your MMO fix that way (though large raids are likely to cause problems).
Much Better Battery Life
So far, there really hasn't been any reason for us to recommend the 1005PE over the older 1005HA - and by extension, the new Pineview Atom N450 didn't show any benefit over Diamondville N280. Even Silverthorne Z530 beats N450 in some areas, since it has support for H.264 decoding, though overall we're not very keen on the Atom Z series. Finally, though, with battery life we get to see some improvements.
We need to make a note here that these are very much preliminary results. We like to run multiple battery life tests, but with just two days of testing there wasn't enough time to do more than a single battery life test. We will update this page with additional battery life tests as we complete them, which may take a few days. We also want to rerun the Internet test once as a sanity check - the score below might be slightly lower than normal since we didn't have a chance to condition the battery by doing a full cycle prior to testing. Okay, that said, here are the results of our one battery life test.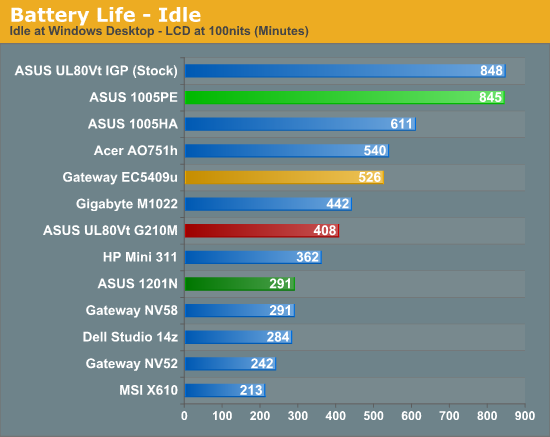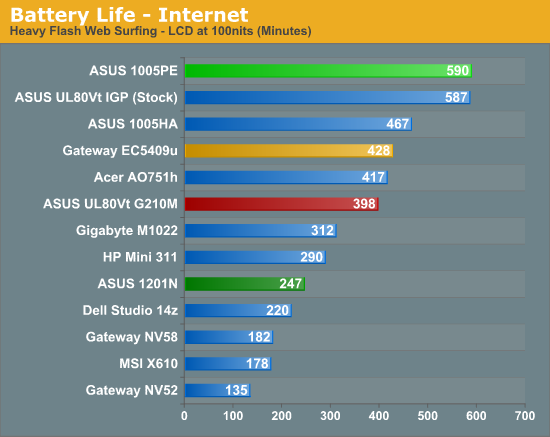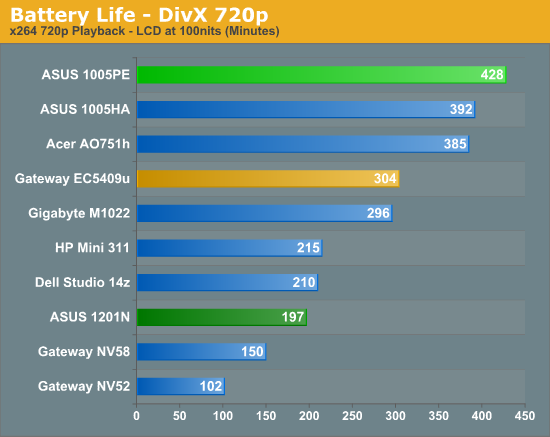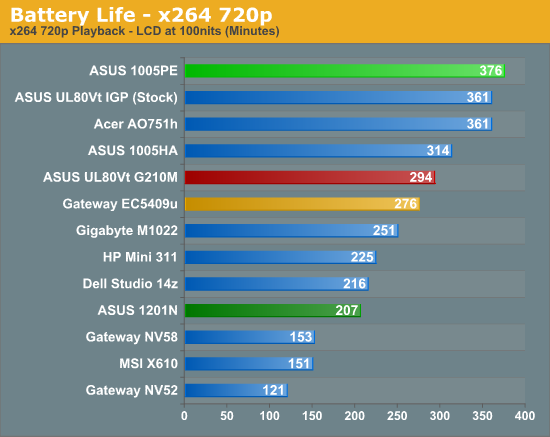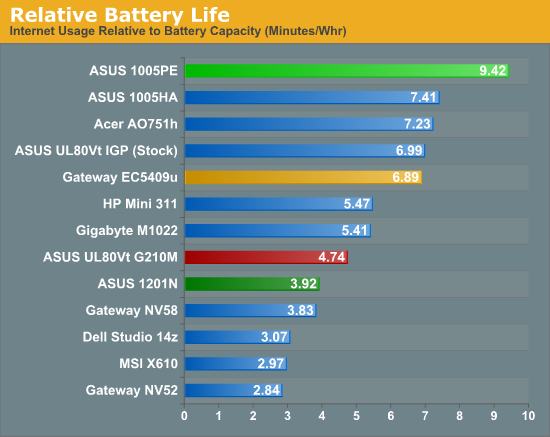 And finally we have a reason to get an N450 system. This is a relatively intense web surfing scenario, as we have multiple Flash ads visible, and yet the 1005PE still lasts nearly 10 hours. Granted, this is with the higher capacity battery (less expensive 1005PE models will ship with a 48Wh battery instead of a 63Wh battery), but the same battery capacity in the 1005HA only managed just shy of eight hours. As you can see in our relative battery life chart, the N450 improves on the closest competitor (the 1005HA) by 27%.
Update #1: We just finished the results for x264 playback, and it continues the pattern of dramatically improved battery life. The 1005PE lasts over 6 hours compared to over 5 hours on the 1005HA, which is a 20% improvement. We had to use the CoreAVC decoder for both systems, naturally, as otherwise x264 decoding is too demanding. Dual-core Atom can handle 720p in software, and with CoreAVC it can likely do 1080p as well; the single-core parts on the other hand struggle at 720p without a highly optimized codec. CPU usage with CoreAVC is still around 75-85%, and we had to run with the Balanced power profile and Active cooling to keep playback smooth. (We're not sure why setting a laptop to Passive cooling makes a difference, but CPU usage was pegged at 100% and we lost A/V synch if we used the Passive setting.)
Update #2: DivX 720p HD playback results are complete as well, and this time the battery life increase isn't quite as substantial: 9% more battery life than the 1005HA. Obviously, DivX decoding isn't quite as stressful as x264, but the real deal is over seven hours of HD video on a single charge. Remember that this is 720p content downscaled to a 600p LCD as well; if you had lower resolution videos (i.e. encoded to 1024x576 for example), the CPU requirements would drop a bit more and thus increase battery life slightly. We're now looking at the ability to watch four typical movies without the need to plug in, so that's definitely nice if you're interested in watching movies on long flights.
Update #3: Wrapping up the battery life results, Idle battery life tops out at just over 14 hours. That's the same as the UL80Vt in ultra-power-friendly mode, but then the UL80Vt has 33% more battery capacity. Compared to the 1005HA, the 1005PE boosts idle battery life by 38%, but biggest gain we've seen. It's not too surprising, as the 45nm process now extends to the "Northbridge" and IGP whereas those two items used to be 65nm parts (and the Southbridge used to be 90nm). It's unlikely you'll reach this lofty 14 hour run time if you're actually using the 1005PE, but you should be able to get 12+ hours doing basic document editing (assuming you're not playing music in the background).
LCD Quality
We didn't have enough time to run our full suite of LCD tests, but we did check the contrast ratios on these laptops. Sadly, none of them are great, though the ASUS 1005PE is still better than most other inexpensive options.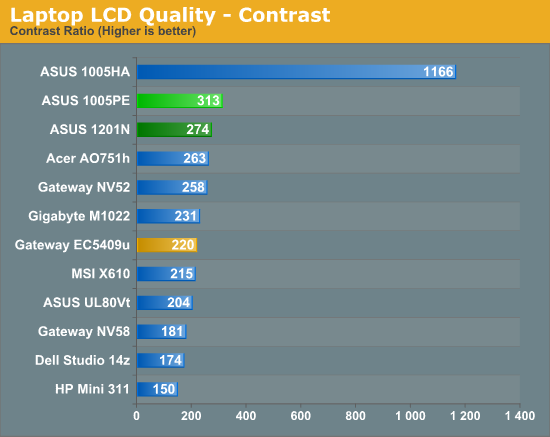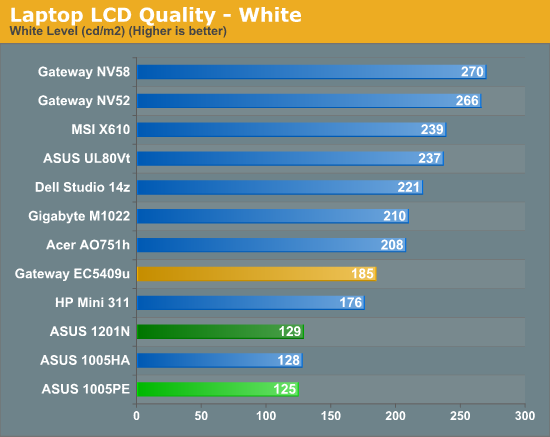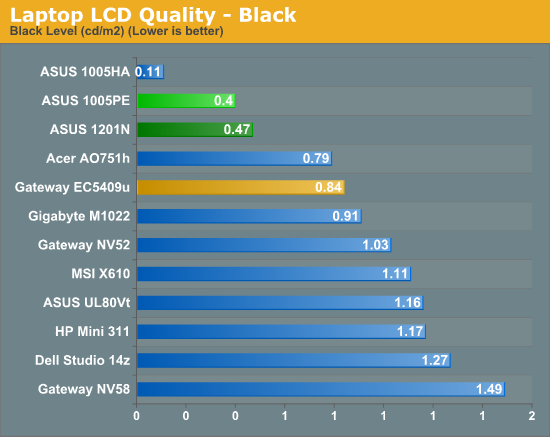 First, contrast ratio has taken a dive relative to the 1005HA. What we don't know is whether there's a panel lottery on all the 10.1" ASUS netbooks; that would seem very likely, since they're all 1024x600 LCDs, which means you might get 1005HA with lesser LCDs or 1005PE with better LCDs. If you can look at a unit in person, the difference between the two panels is very obvious. Blacks look very much like real black on the 1005HA we tested, whereas blacks on most other panels show a lot of backlight bleed.
Maximum brightness on both the 1201N and the 1005PE is relatively limited, and unlike the 1005HA we were unable to boost brightness via EeeCTL. It's likely an updated version of EeeCTL could help, but we're not sure if the utility is still in active development as the old website is down at this time.
So in short, the panels on both the 1201N and 1005PE are a letdown. We'd also like to see ASUS push the maximum brightness up to 200+ nits; we think they limit it in order to improve battery life results, since few sites actually take the time to calibrate LCDs to 100 nits. If you just run at 50%, you might have the LCD set at anywhere from 70 nits to 170 nits, depending on the laptop. For the record, you get ~100 nits on the 1201N at 66% brightness, or 80% brightness on the 100%PE.
Two Steps Forward, One Step Back
We have a couple things to discuss, namely the Pineview Atom N450 and the ASUS Eee PC 1005PE. Let's start with ASUS.
Most of the changes relative to the older 1005HA (and 1008HA) are very minor. The LCD panel may or may not be better, depending on what particular panel you happen to get. That's unfortunate, but it's the only outwardly visible change. We did feel that the keyboard and touchpad buttons were "loose" compared to the 1005HA, but it might simply be a case of getting an early sample. The design doesn't appear to be any different so we can't imagine ASUS making changes to the keyboard that are clearly worse.
Internally, the changes haven't resulted in a system that's significantly faster, but the one change is very noticeable. Our initial tests indicate that Pineview has improved battery life on the 1005 laptops by a whopping 25%. If you want a netbook that can last 10+ hours and you want to spend less than $400, the ASUS Eee PC 1005PE has exactly what you need.
What about the ASUS Eee PC 1201N? We'll have a full review soon, but since we've already shown many of the results we might as well spoil the surprise: the 1201N is significantly faster than anything you're likely to see from Pine Trail netbooks. Dual-core Atom 330 trumps single-core N450, and ION pummels the GMA 3150, takes its lunch money, and sends it crying home to mama. The 330 and ION are a lot hungrier, though, so your lunch money (i.e. battery life) will only last half as long. As for the design, we like the 12.1" 1201N a lot more than the 10.1" 1005PE. The keyboard is roomier and the LCD gets a resolution that's more useful; personally, 11.6" netbooks are about where I draw the line, but some people will like the smaller designs.
The latest release of Atom brings quite a few changes, but the net result isn't quite as impressive as we were hoping. We have an integrated memory controller in the CPU along with a GPU on package. Those are cost saving measures that also provide some benefits in terms of power requirements. What they apparently don't provide is a significant improvement in performance. Anand saw around a 10% improvement in performance relative to Diamondville on the desktop, but the real problem is what we didn't get.
Specifically, Pineview needed a lot more than GMA 3150 to make it attractive. Given a choice between N280 ION and N450 Pineview, ION will offer a better overall experience for the vast majority of users. If you want to do a silent HTPC, Pineview is going to need some form of external graphics, making the GMA 3150 a waste of space. We would have been much happier if Intel had included GMA 4500 instead, and even then it would be underpowered compared to ION.
On the desktop, the launch of Pine Trail/Pineview seems a lot less interesting, since power requirements for nettops are much less of a concern. Shaving off 2W of power draw - or even 10W - really isn't a big deal. 10W would save something like $8 per year, and only if you run a system 24/7. Even 2W on a laptop is meaningful, but it's particularly useful when you're running at less than 10W idle power. Pine Trail is a real benefit for the mobility minded, and like the original Atom it's still "fast enough" for most users. Just stay away from HD Flash videos and forget about 1080p H.264 and you'll be fine.
Pine Trail does create some other concerns. With the GPU now integrated into the CPU package, what chance do we have for ION laptops? Well, obviously ION as a chipset is dead with Pineview, but we will likely see Pine Trail paired up with discrete GPUs. That means hybrid GPU solutions should become more common, allowing users to choose between performance and battery life as needed - like on the ASUS UL80Vt. But then, why even bother with an underperforming Atom when there's something twice as fast that only uses a bit more power? Yes, we're talking about CULV.
What we really want to see at this point is CULV with a 730i chipset (9400M). 730i certainly uses more power than GM45 (4500MHD), but netbooks using such a design should still be able to get 6+ hours of battery life and run the vast majority of games (albeit at low detail). In addition, it could handle all of the important video decode acceleration. The net result is that it would run games and applications a lot better than ION/Atom, and if you cut out the Intel chipset cost it should be possible to make something like the Acer 1410 with 9400M for around $450 - or add a slightly larger battery to get 8+ hours. The ASUS UL80Vt shows what is possible, and we hope to see future laptops learn from that approach. Get close to UL80Vt performance for under $500 and you have a real winner.