Original Link: http://www.anandtech.com/show/2886


ASUS has been making laptops for quite some time; our first review of ASUS laptops was circa 2002, and I got my first hands-on experience three years ago. While there have been many interesting laptops from the company over the years, few have managed to truly set themselves apart from the crowd. (Okay, sure, there's the whole Eee PC netbook market they essentially created, but that's not a traditional laptop.) That changes today with our review of the UL80Vt.
At its heart, the UL80Vt is a thin and light notebook that's capable of delivering stellar battery life while at the same time providing sufficient performance to handle virtually any task - yes, including gaming. It comes with a Core 2 Duo SU7300 Ultra Low Voltage processor - a CULV processor if you prefer. CULV CPUs have gotten a bad rap over the years for a couple of reasons. First, they underperform relative to regular Core 2 processors, outside of battery life metrics. That wouldn't be end of the world, but the bigger problem has always been cost. We looked at the ASUS U2E a little over a year ago, and while it wasn't a bad system it was extremely difficult to recommend at over $2000 ($2600 with an SSD). In contrast, the UL80Vt beats the U2E in every single metric we can come up with, other than size/weight, and it costs less than half as much. Oh what a difference a year makes.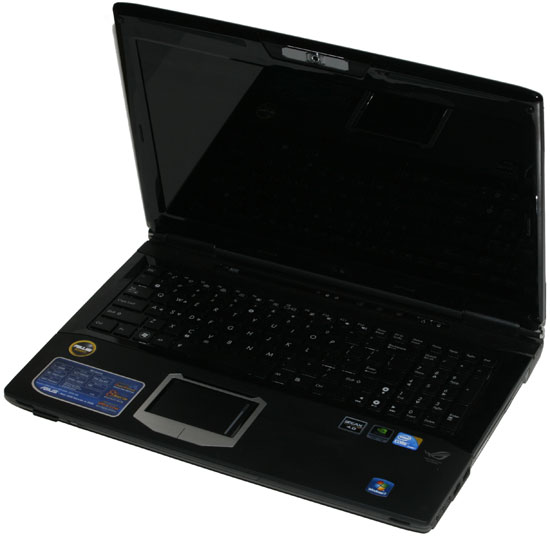 On the other end of the spectrum, we have the ASUS G51 series - we're specifically reviewing the G51J today, but the G51Vx will also get coverage. It's a lot closer to what we've seen from ASUS in the past: a reasonable design, plenty of performance, but the mobility aspect is definitely lacking. What it lacks in battery life it more than makes up in performance and pricing, however, so if you're interested in grabbing a well-balanced laptop that can handle any current game (though not necessarily at maximum details) and provide plenty of CPU power for other computationally intensive tasks, the G51J might be the perfect gift to find under your Christmas tree this year.
If you're looking for other options, we recommend reading our Holiday 2009 Buyers' Guide where we put both of these ASUS notebooks in context relative to the rest of the market. The short summary is that we are hard-pressed to find anything in the midrange laptop category that we prefer to the UL80Vt. The G51J has more competition, but it sets a high bar that can be difficult to compete with.
ASUS UL80Vt: Nearly Perfect
We have already provided a first look at the ASUS UL80Vt. We didn't run all of our benchmarks in time for the initial article, so we will hopefully answer any remaining performance questions in this detailed review. We're going to skip most of the pleasantries and get right to the meat, so start with our first look if you need a primer.
ASUS UL80Vt-A1 Specifications
Processor
Intel Core 2 Duo SU7300
(2x1.3GHz, 45nm, 3MB L2, 800FSB, 10W)
Overclockable to 1.73GHz/1066FSB (Turbo33)
Chipset
Intel GS45 + ICH9M
Memory
2x2GB DDR3-1066 (Max 2x4GB)
Graphics
NVIDIA GeForce G210M 512MB
(16SPs, 606/1468/1580 Core/Shader/RAM clocks)
Intel GMA 4500MHD IGP (Switchable)
Display
14.0" LED Glossy 16:9 768p (1366x768)
Hard Drive(s)
320GB 5400RPM HDD
Optical Drive
8x DVDR SuperMulti
Networking
Gigabit Ethernet
Atheros AR9285 802.11n
Audio
HD Audio (2 stereo speakers with two audio jacks)
Battery
8-Cell, 15V, 5600mAh, 84Wh battery
"Up to 12 Hours"
Front Side
None
Left Side
Headphone/Microphone jacks
2 x USB
HDMI
VGA
Cooling Exhaust
AC Power connection
Right Side
Optical Drive (DVDRW)
Flash reader (MMC/MS/MS Pro/SD/xD)
1 x USB 2.0
Gigabit Ethernet
Back Side
None
Operating System
Windows 7 Home Premium 64-bit
Dimensions
13.5" x 9.6" x 1.1" (WxDxH)
Weight
4.8 lbs (with 8-cell battery)
Extras
Webcam
86-Key keyboard
Flash reader (MMC/MS/MSPro/SD/xD)
Multi-touch touchpad
Brushed aluminum cover (glossy plastic LCD/bezel/palm rest)
ExpressGate OS (8-second boot)
Warranty
2-year global warranty
1-year battery pack warranty
1-year accidental damage
30-day zero bright dot LCD
Pricing
ASUS UL80Vt-A1 starting at $809
There are several standout features for the UL80Vt, each of which contributes significantly to the value of the overall package. First, ASUS includes hybrid graphics, allowing users to switch on the fly between the integrated Intel GMA 4500 MHD and a discrete NVIDIA GeForce G210M GPU. The G210M isn't the fastest graphics card on the block, but it's capable of running all the current games we tested without difficulty, at native LCD resolution, though you will need to reduce the detail settings on most titles. Having that graphics performance is nice, but the discrete GPU does cutting to battery life quite a bit. In our tests, simply enabling the G210M appears to increase power draw by 3 or 4W at idle, and load power draw is up to around 8W higher. That might not seem like a lot, but if you're talking a difference of 10W to 14W, that's a 40% increase in power requirements - or 29% less battery life.
The second noteworthy feature is dubbed Turbo33 by ASUS, and it's a 33% overclock of the CPU when enabled. ASUS uses AC ULV processor, but while such CPUs are certainly fast enough for many tasks, there are still occasions where such a processor would bottleneck the system. For example, gaming and video related tasks are at times a bit sluggish running at the default 1.3 GHz clock speed. Enable Turbo33 in the clock speed jumps up to 1.73 GHz, which makes the CPU fast enough to keep up with the discrete graphics. Even better is that Turbo33 doesn't greatly increase power requirements, at least when you're not doing something that puts a heavy load on the CPU. At idle, Turbo33 only increases power draw by around 1W, although at full load the difference is significantly higher - we measured a 10W increase in power draw running the CINEBENCH 10 SMP test with Turbo33 compared to stock. Our only complaint is that you need to reboot the computer to enable/disable Turbo33; we're not sure why that's the case, considering desktops have had the ability to overclock on the fly for long time. It would be nice to avoid that ~60 second delay, which would make Turbo33 even more useful. Realistically, unless you absolutely need maximum battery life you can just leave Turbo33 enabled.
Finally, while the above two items enable great flexibility, allowing users to switch between reasonable performance and high battery life modes, what really cements the UL80Vt's position as a mobility champion is the inclusion of an 8-cell 84Wh battery. True, the battery does increase the weight of the system slightly, but we will gladly carry the extra ~4 ounces if it means 50% more battery life. We also like the fact that the battery fits well with the chassis; 84Wh is relatively large as far as batteries go, but this battery sits flush with the chassis and it really doesn't seem any bigger than most 6-cell batteries. We've seen larger options (i.e. 12-cell battery is from HP), but they looked cumbersome by comparison. With the high-capacity battery, the UL80Vt is able to provide over 14 (!) hours of mobility - we managed nearly 10 hours of heavy Internet surfing on a single charge.
Of course, 14 hours is a best-case scenario; enable Turbo33 and the G210M and then fire up a demanding 3D game and battery life drops to just 2.5 hours, but even that result is still three times longer than most "gaming laptops" can manage in a similar test. You will also want to use the ASUS Power4Gear utility to extract the most from your battery; you can tweak typical settings like minimum and maximum CPU performance, LCD brightness, and when the display and hard drive go to sleep, but those are all available in the standard Windows power options. What Power4Gear adds is the ability to enable/disable Turbo33, along with options to disable the webcam and DVD. The Power4Gear software is one more step in configuring battery life that we would prefer to avoid, but at least it works well.
In a nutshell, the UL80Vt is all about flexibility. At 14 inches, it's small enough that you can easily carry it but it's large enough that it can still provide a full-sized keyboard. The smaller UL30Vt drops to a 13.3" LCD/chassis, loses the optical drive, and weighs 1 pound less if you're interested in something a little smaller. Just make sure you get the 8-cell battery upgrade, as the UL30Vt can apparently come with either a 4-cell or 8-cell battery. Of course, then you're looking at around $950 versus $810. The remaining features are pretty much what you would expect of any laptop - USB ports, HDMI, VGA, WiFi, Ethernet, and a webcam.
That's the good news; so why is the UL80Vt only "nearly" perfect? Again, there are three areas where we have complaints. First, as we discussed in the preview article, the LCD is less than spectacular. It's plenty bright, but contrast is poor at only 200:1. We also would have liked a higher resolution LCD - 1440x900 would be great on a 14" panel; 1680x1050 might end up with too fine a pixel pitch for a lot of people. Of course, the G210M would struggle a bit more with gaming at 1440x900, so the lower resolution does have its benefits.
Second, the build quality of the UL80Vt has a bit more flex and twist than we would like. It's not bad enough that we have serious concerns, but we aren't convinced the laptop will endure rigorous use for several years without developing a lot of creeks and squeaks. The aluminum cover looks great, and we wish that style had been extended throughout the chassis design.
Finally, while we love the hybrid graphics and have praised NVIDIA in the past, the latest 195.62 mobile reference drivers from NVIDIA don't support hybrid GPUs with Intel IGPs. That means users are stuck running drivers provided by ASUS for the time being, although ASUS has informed us that they are working with NVIDIA to get this corrected in the next driver release. If this were a true gaming laptop, we would be very concerned, but the G210M isn't powerful enough that it needs or benefits from regular driver updates. Batman Arkham Asylum complained about using "out of date" drivers, but we were able to run the game without difficulty.

Detailed benchmarks are available on the following pages, but overall the UL80Vt gets just about everything right when it comes to thin and light laptops. Yes, it could be a bit thinner and lighter, and we mentioned a few areas that could be improved, but these are minor blemishes in comparison to the things that it absolutely nails. Not everyone needs a laptop that can last all day on a single charge, but it's great to finally have the option to get a laptop that can provide acceptable performance in virtually every area while still getting upwards of 10 hours of battery life when you need it. We've seen faster and larger notebooks, or smaller and slower netbooks, but we've never seen anything that can match the overall flexibility of the ASUS UL80Vt. About the closest you can get to this sort of mobility is the Apple MacBook Pro line, the cheapest of which will cost you $1200. Add in the hybrid graphics on a MacBook Pro and you're looking at the $2000 15" model: faster, larger, and over twice as expensive. For providing a truly innovative laptop, we are pleased to present ASUS our Silver Editors' Choice award for the UL80Vt.
ASUS G51: Affordable Midrange Gaming
The ASUS G51J is pretty much on the opposite end of the spectrum compared to the UL80Vt. It packs Intel's latest Core i7-720QM mobile CPU into a 15.6" chassis, and pairs that up with a GeForce GTX 260M. You also get 4GB DDR3 and dual 320GB 7200 RPM hard drives. Where the UL80Vt focused on balancing performance and battery life while keeping costs reasonable, the G51J kicks battery life to the curb and emphasizes performance. The cost is also nearly double that of the UL80Vt, but depending on the task the G51J is 2 to ~4 times as fast. $1450 might sound like a lot for a gaming laptop, but prior to the release of the Gateway FX notebooks most laptops that could actually run games cost closer to $3000. Let's look at the specifications.
ASUS G51J Specifications
Processor
Intel Core i7-720QM
(4x1.6GHz+ HTT, 45nm, 4x256KB L2, 6MB L3, 2.5GT/s QPI, 45W)
Chipset
Intel PM55
Memory
2x2GB DDR3-1066 (Max 2x4GB)
Graphics
NVIDIA GeForce GTX 260M
(112SPs, 500/1250/1598 Core/Shader/RAM clocks)
Display
15.6" Glossy Full HD 1080p (1920x1080)
Hard Drive(s)
2 x 320GB 7200RPM 16MB HDD (Non-RAID)
Optical Drive
8x DVDR SuperMulti
Networking
Gigabit Ethernet
Intel Wifi Link 1000 BGN
Bluetooth v2.1 + EDR
Audio
6-Channel Realtek ALC663 HD Audio
(2.0 speakers with three audio jacks + digital out)
Battery
6-Cell 53.28Whr, 11.1V DC, 4800mAh
Front Side
Flash Reader (MMC, MS, MS Pro, SD, xD)
WiFi On/Off Switch
Left Side
2 x USB 2.0
HDMI
1 x eSATA
1 x Mini FireWire
Optional TV Tuner Input
Heat Exhaust
VGA
Right Side
3 x Audio/Microphone jacks
2 x USB 2.0
Optical Drive (DVDR)
Back Side
Kensington Lock
Power Adapter
Gigabit Ethernet
Operating System
Windows 7 Home Premium 64-bit
Dimensions
14.6" x 10.3" x 1.3-1.6" (WxDxH)
Weight
7.26 lbs (with 6-cell battery)
Extras
Webcam
92-Key Keyboard with 10-Key
5% Overclock via Power4Gear
Warranty
2-year global warranty
1-year battery pack warranty
1-year accidental damage
30-day zero bright dot LCD
Pricing
ASUS G51J-A1 starting at $1450
We have seen other laptops that provide either a Core i7-720QM processor or a GeForce GTX 260M for less money, but if you want both $1450 is about as cheap as you're likely to find. Besides providing a balanced combination of CPU and GPU performance, ASUS adds a few extras that many others don't provide. One of those extras is a 1080p LCD; there are far too many 15.6" laptops shipping with 1366x768 LCDs - or at best 1600x900. We were working on ASUS' own G51Vx when they dropped the G51J on us, only the G51Vx model we had used a 1680x1050 LCD, Core 2 Quad Q9000 CPU, and it cost about $200 more. In our limited testing, it looks as though the G51J is faster in virtually every area, so there's not much reason to consider the older model… well, almost.
While the Core 2 Quad Q9000 G51Vx has been displaced, you can get essentially the same thing as the G51J except with a Core 2 Duo P8700. That's a 2.53 GHz dual-core processor, and while core i7-720QM can Turbo up to 2.8GHz, for tasks that don't utilize more than two cores (i.e. most games) performance will be very similar. The ASUS G51Vx-X3A also omits the second HDD (add your own if you'd like) and costs $200 less while keeping the 1080p LCD. Both are very good gaming laptops; the only question is whether or not you want the number crunching power of the Core i7.
If you do video rendering or 3D work, the i7-720QM is going to be about twice as fast as a P8700 and about 20% faster than a Q9000. The G51Vx will also offer slightly better battery life if that's a concern, though we're still looking at less than two hours. The closest competition is the Gateway P-7908u: it's $1150 instead of $1250 for the G51Vx, but it has a 1440x900 LCD and bulkier 17" chassis.
The UL80Vt is a thin and light sedan design, and the G51J is a large pickup truck by comparison. It tips the scales at over 7 pounds and is noticeably thicker (though not quite as large as 17" notebooks). The benefit of the larger chassis is that you can actually run high-performance parts, and you can also squeeze in two hard drives and a full size keyboard with 10-key. The G51J is much more of a desktop replacement as opposed to a mobility focused laptop, and it fills that niche very well. If you want to upgrade to something faster like an i7 CPU with GTX 280M, expect to pay at least $300 more, and the performance increase is only around 20%. The Clevo W870CU we tested previously sells for over $3000 with the i7-920XM and it's still only 30% faster at best.
ASUS includes the same Power4Gear utility on the G51J, but it doesn't help as much with battery life as there's only so much you can do with an i7 CPU and GTX 260M GPU. CPU overclocking is also supported (on the High Performance profile), but the performance boost is quite small: the maximum overclock is a 140MHz bus instead of the default 133MHz, representing a scant 5% boost in CPU performance. What's more, the overclock actually reduced performance in some of our gaming tests and it never improved performance by more than a couple percent. CPU intensive tasks like CINEBENCH and x264 encoding show the expected 5% performance increase, but most games showed a decrease. Our guess is that the maximum single-core Turbo mode on the CPU doesn't activate as much (or perhaps at all) with the overclock because of power/heat constraints, whereas heavily threaded tasks still get a 5% boost.
We're officially reviewing the G51J, and we like the overall package. It's well-balanced for anyone that wants a fast CPU and GPU. However, since we used the G51Vx for a week or two before sending it back and getting the G51J, we feel we can speak to both laptops. On both designs the build quality is good and we really like the matte surface of the palm rest. The cover art is a little too much for our tastes, but it does fit with the gamer mentality and some will like the design. LCD contrast ratio is poor, like 95% of laptops, and it's a glossy panel (99% of laptops). We ordered an anti-glare cover to see if that will solve our complaints with glossy LCDs, so stay tuned.

Like the UL80Vt, the overall package and pricing is what really gets us. Not only do you get a great gaming laptop for a reasonable price, but ASUS throws in a nice laptop backpack and a Razer Copperhead mouse - about $100 in added value for the package. You don't get those extras with the G51Vx-X3A, making the real price difference more like $100; both laptops pack a lot of performance into a mobile PC. For the price we would have liked to see a better LCD (particularly the contrast ratio), but that and the relatively short battery life - something you get with any gaming laptop - are really the only complaints. For providing one of the best values in gaming laptops, we are pleased to award the ASUS G51J and G51Vx our Bronze Editors' Choice award.
Now on to the benchmarks….
Testing Overview
We're going to separate the performance results of the UL80Vt and G51J as they're not competing laptops. For the UL80Vt, we'll be comparing it against similarly priced notebooks (and a couple netbooks), which you can read about in our previous Studio 14z review. As for the G51J, we'll compare it with high-end offerings, some of which cost over three times as much! You can find the test configurations for the high-end notebooks in our High-End (Clevo) Roundup. Here are the test configurations for the two ASUS notebooks.
ASUS UL80Vt-A1 Test System
Processor
Intel Core 2 Duo SU7300
(2x1.3GHz, 45nm, 3MB L2, 800FSB, 10W)
Turbo33 @ 1.73GHz/1066FSB
Memory
2x2GB DDR3-1066 (Max 2x4GB)
Graphics
NVIDIA GeForce G210M 512MB
Driver Version: 186.88
Intel GMA 4500MHD IGP
Display
14.0" LED Glossy 16:9 768p (1366x768)
Hard Drive(s)
320GB 5400RPM HDD
Optical Drive
8x DVDR SuperMulti
Battery
8-Cell, 15V, 5600mAh, 84Wh
Operating System
Windows 7 Home Premium 64-bit
ASUS G51J Test System
Processor
Intel Core i7-720QM
(4x1.6GHz+ HTT, 45nm, 4x256KB L2, 6MB L3, 2.5GT/s QPI, 45W)
Overclock @ 1680MHz (base speed)
Memory
2x2GB DDR3-1066 (Max 2x4GB)
Graphics
NVIDIA GeForce GTX 260M
Driver Version: 195.62
Display
15.6" Glossy Full HD 1080p (1920x1080)
Hard Drive(s)
2 x 320GB 7200RPM 16MB HDD (Non-RAID)
Optical Drive
8x DVDR SuperMulti
Battery
6-Cell, 11.1V DC, 4800mAh, 53.28Wh
Operating System
Windows 7 Home Premium 64-bit
Our tests will use standardized application benchmark suites like PCMark along with individual application results. Our in-house application tests place more weight on CPU performance, as we look at video encoding and 3D rendering performance. We'll provide any additional commentary related to application performance concerns if necessary. We will provide results from the UL80Vt with and without Turbo33 enabled. On the G51J, we only enabled the maximum overclock for heavily threaded workloads, as otherwise it didn't provide any noteworthy boost and often resulted in lower performance. Unlike the UL80Vt, the overclocking modes on the G51J can be enabled/disabled on-the-fly.
For gaming, our high-end tests standardize on performance at 1680x1050 with maximum detail settings (sans 4xAA) in a variety of games. Since the native resolution of the G51J is 1080p, we will also provide 1080p results. For the UL80Vt, nearly all of the competing notebooks use 1366x768 LCD panels, but many of the laptops are unable to run most games at that resolution, even at minimum detail settings, so we standardize on 800x600 minimum detail performance. With the G210M enabled, the UL80Vt doesn't have any difficulties at those settings, so we will also look at performance at 1366x768 with low, medium, and in a few instances high detail - basically, we'll show where the G210M runs out of steam at the native resolution. We did not perform gaming tests on the UL80Vt with the IGP enabled - why use a candle when you already have a flashlight?
Battery life testing will follow the same pattern, with both laptops set to "ideal" settings for improving battery life. With the launch of Windows 7 we have decided to showcase the best that laptops are able to offer in terms of mobility. If you run using a "Balanced" profile instead of "Power Saver", you can expect 5-15% less battery life, depending on the laptop. We tested the UL80Vt in several configurations: without Turbo33 and running IGP and G210M, and with Turbo33 with IGP and G210M.
Finally, we will combine the results for Windows power on/off and LCD quality, as the differences aren't as large for those tests. We'll also include power requirements on the combined results page.
We'll begin with the UL80Vt results, and we'll try not to get into too much detail on the following pages unless there's something truly noteworthy. By and large the tables tell the performance tale.
ASUS UL80Vt Application Performance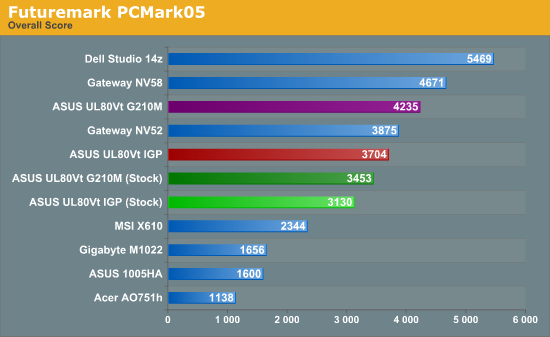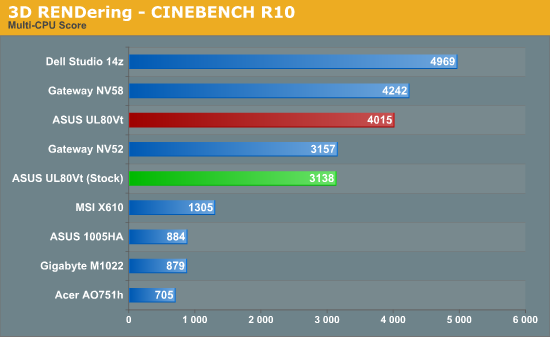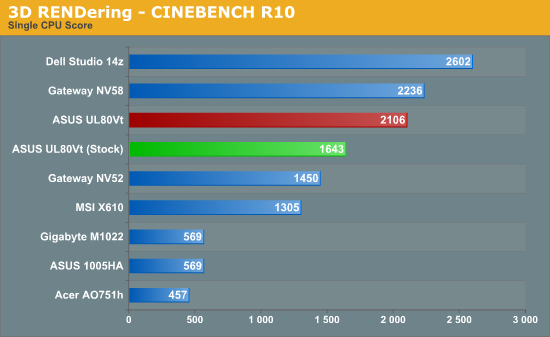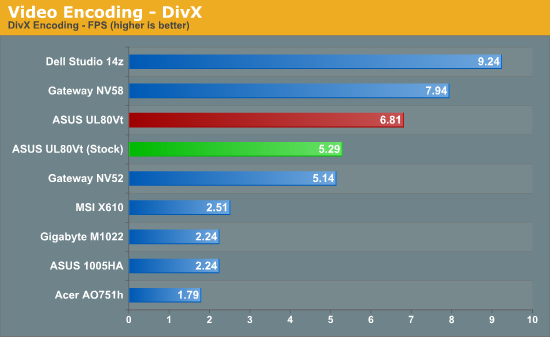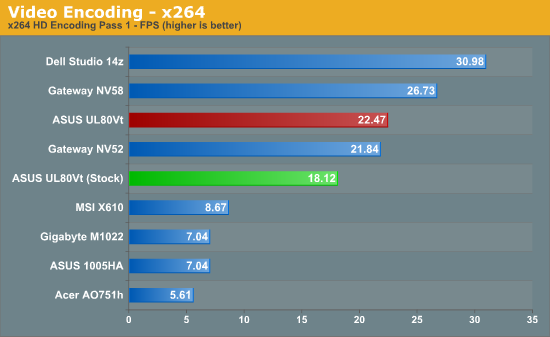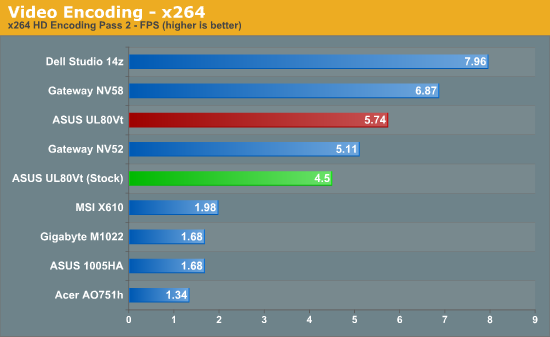 With Turbo33 and the G210M enabled, the UL80Vt is neck-and-neck with the Dell Studio 14z in PCMark Vantage, the most comprehensive picture of general application performance. PCMark05 places more of an emphasis on CPU clocks, so the 14z with P8600 ends up around 30% faster. That ~30% advantage holds when we move to CPU intensive applications like video encoding and 3D rendering where the 14z is 38% and 23% faster, respectively.
If you prefer battery life and want to disable the G210M and run the CPU at stock speed, the gap between the UL80Vt and the 14z grows substantially. PCMark Vantage shows a 31% advantage, PCMark05 75%, CINEBENCH 58%, and video encoding around 75% - not that you're likely to try doing video encoding or 3D rendering while unplugged on this sort of laptop.
If you want a different comparison that shows exactly why we're so keen on CULV laptops, take a look at the stock IGP configuration of the UL80Vt and compare that with any of the netbooks. In that case, the UL80Vt is over twice as fast in PCMark05 and 2.5 to 3.5 times faster in CPU intensive tasks like video encoding and 3D rendering. Sure, the UL80Vt costs over twice as much as a typical Atom-based netbook, but there are plenty of other CULV laptops with prices starting at $400 for the Acer 1410. The PCMark figures are a good indication of our experience: dual-core CULV is dramatically faster than Atom, to the point where if price is similar we wouldn't even consider Atom.
ASUS UL80Vt Gaming Performance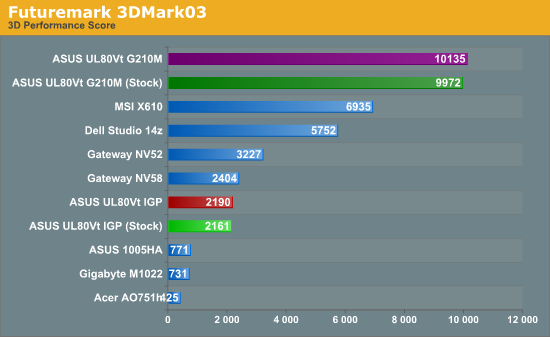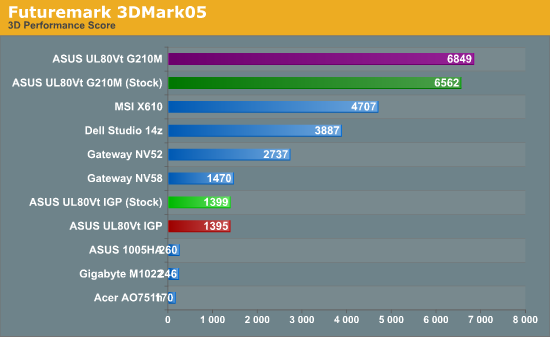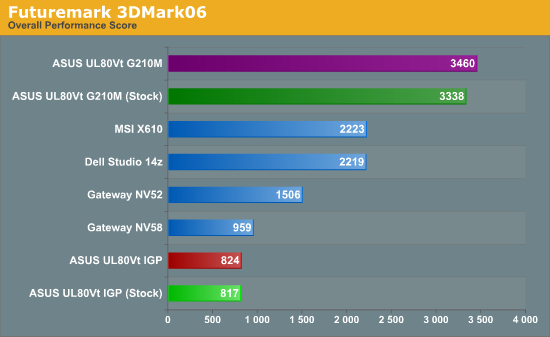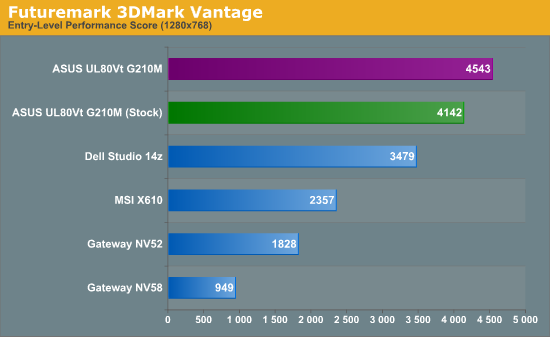 We mentioned in the MSI X610 review that combining a discrete GPU with an underpowered single-core CPU results in lackluster gaming performance. As the 3DMark results show, the HD 4330 has potential, though the G210M is clearly faster. However, where the MV-40 CPU in the X610 isn't fast enough, an overclocked CULV CPU has no problems running games. Take a look at the following game results.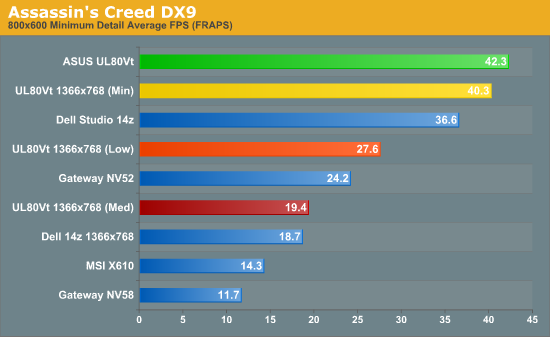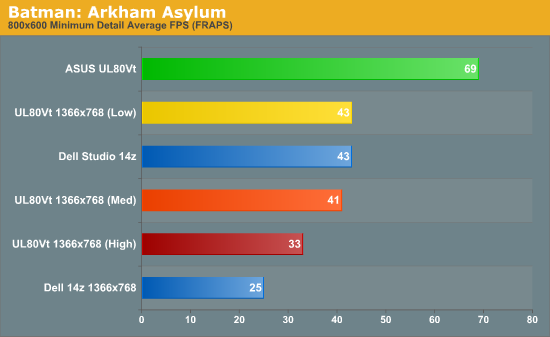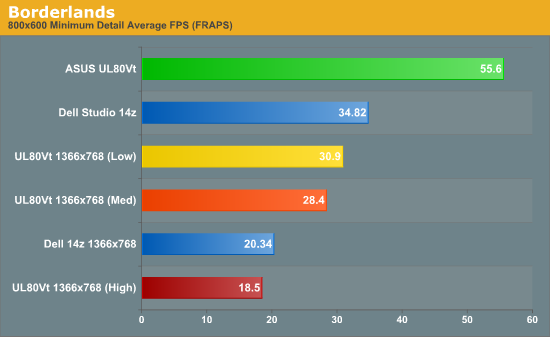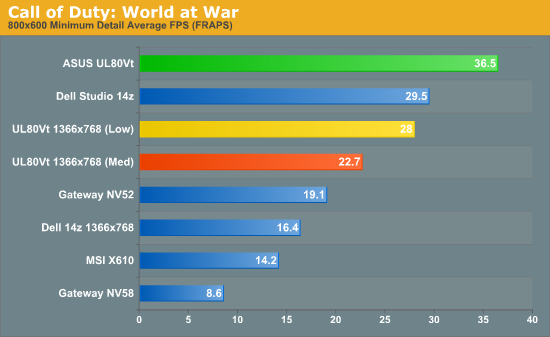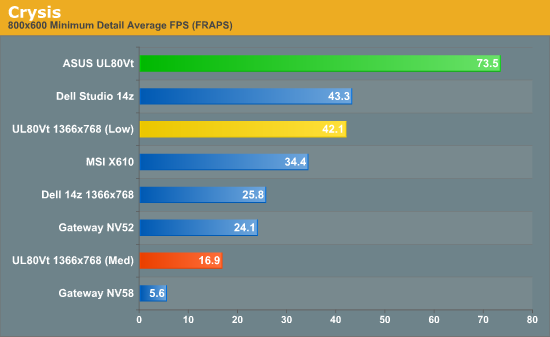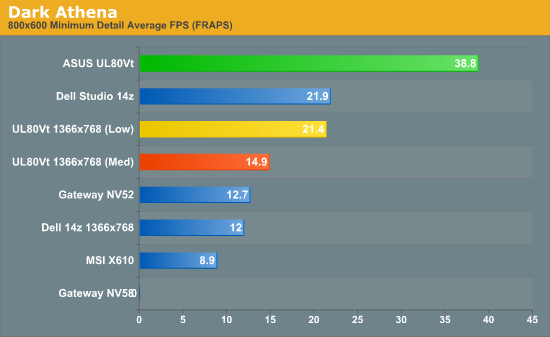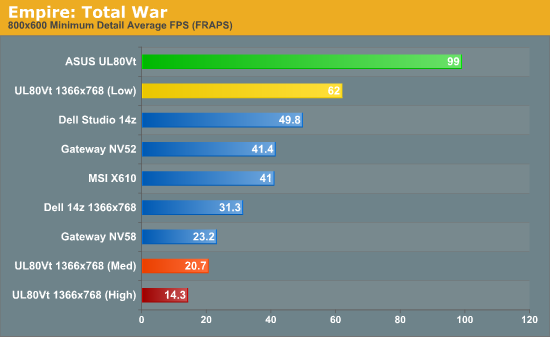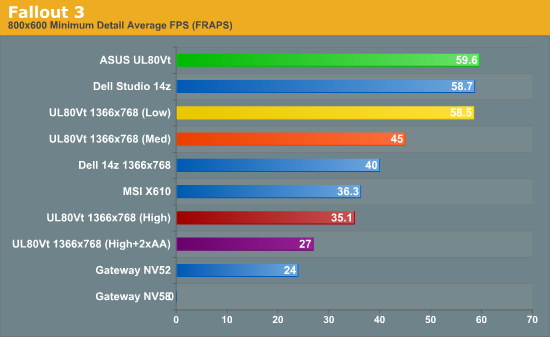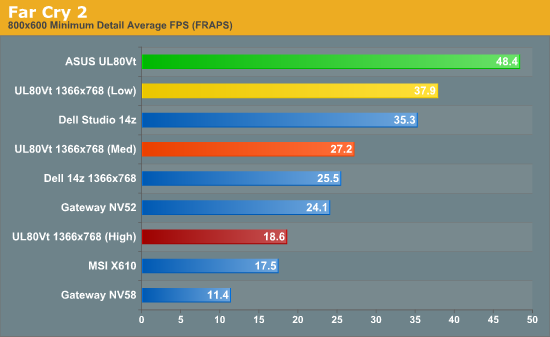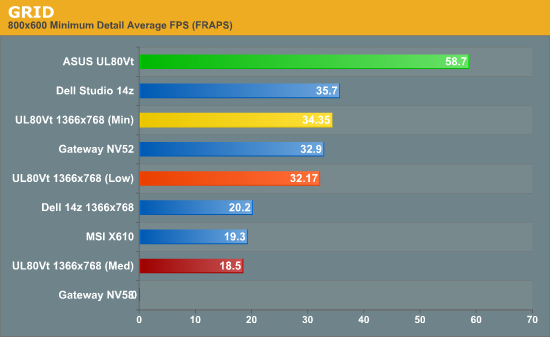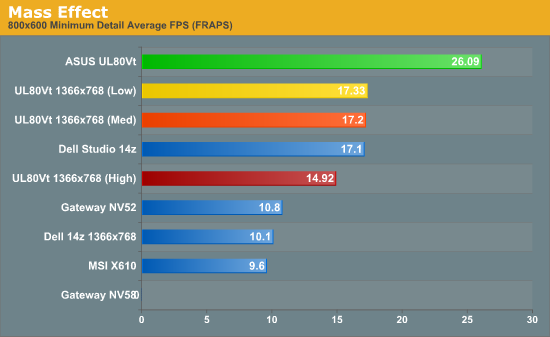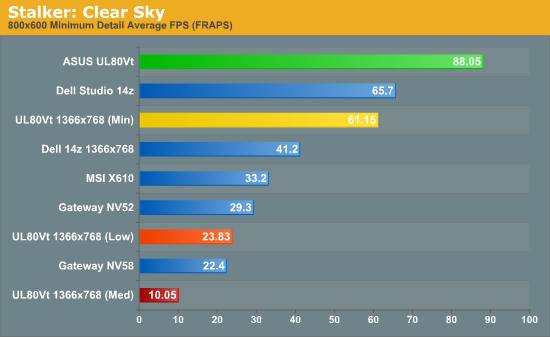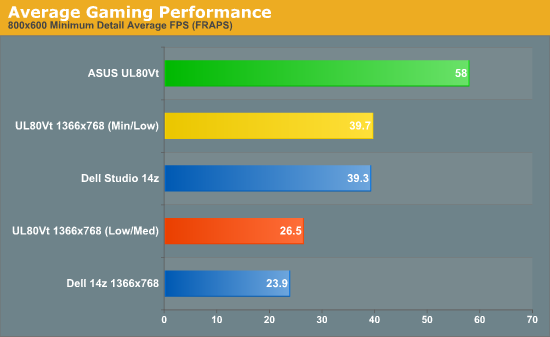 Despite having the best current IGP implementation, the GeForce 9400M, and running a CPU that's around 35% faster, the Studio 14z trails the UL80Vt in every single gaming test. This is all thanks to the discrete G210M graphics, naturally. The 14z is unable to provide smooth gameplay in at least two titles, Dark Athena and Mass Effect, but the ASUS laptop is able to run every current game we tested. In fact, it can handle everything except those same two titles at 1366x768, and average performance across the tested games is higher at 1366x768 Medium detail than the 14z manages at 1366x768 Low detail. There are even a few games where the UL80Vt can handle High detail settings; we played Batman and Fallout 3 at High detail (and even enabled 2xAA in Fallout 3) for several hours each with no complaints.
There's not much point in belaboring the issue: in terms of gaming, the UL80Vt offers extremely compelling performance relative to other $800 laptops. What's more, it does this while still delivering stellar battery life. Speaking of which….
ASUS UL80Vt Battery Life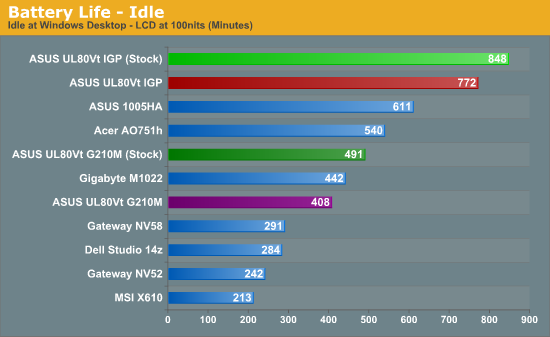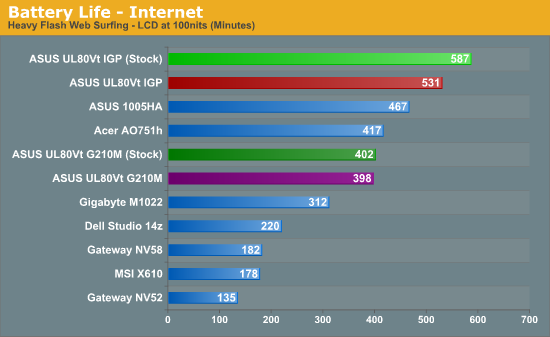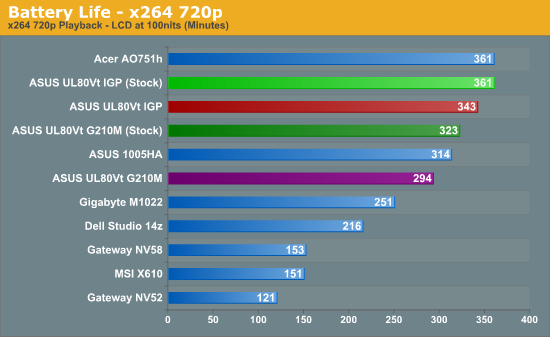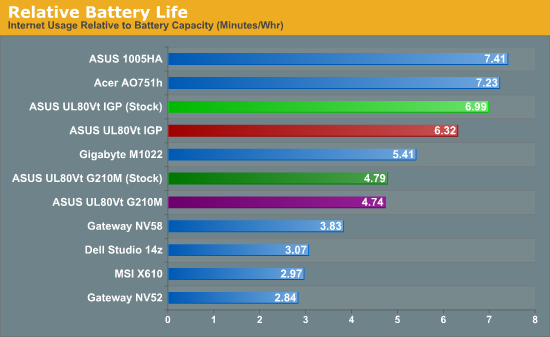 The coup de grace for the UL80Vt is the battery life. Look at those charts and try to find anything else for $800 that can match the ASUS UL80Vt. (Note: the ASUS UL30Vt doesn't count, since it's pretty much the same laptop in a slightly smaller package.) Netbooks are able to offer competitive battery life, sure, but they're less than half as fast. The best-case Idle battery life tops out at just over 14 hours, but even a more demanding test where we load four web pages every 60 seconds - including one page with three Flash ads - still ends up at nearly 10 hours using the IGP and stock CPU speed. What's more, you can run with Turbo33 and the G210M and still get over 6.5 hours of web surfing.
We've dropped the other video playback tests, mostly because they're all very similar to the x264 results. HD DivX will last about 10-15% longer, and lower resolution videos would also improve on the results, but in general you can expect 5 to 6 hours of video playback with the UL80Vt.
The relative battery life is the final element, putting things into perspective. The UL80Vt has a higher capacity battery, so getting more mobility is somewhat expected. In the lowest power mode (IGP + stock CPU) the UL80Vt can provide nearly seven minutes per Wh, which is just slightly less than the ASUS 1005HA netbook. Turn on Turbo33 and battery life drops by about 10%. Running stock with the G210M enabled on the other hand results in a drop of 46%. Internet surfing with Turbo33 + G210M doesn't really change compared to stock with G210M, with only a 1% drop. The results here are in a test that happens to be more demanding than our MacBook testing, so the stellar battery life is even more impressive. Is it any wonder we're impressed with the ASUS UL80Vt? You get awesome battery life with reasonable gaming and application performance, all for just $800.
ASUS G51J Application Performance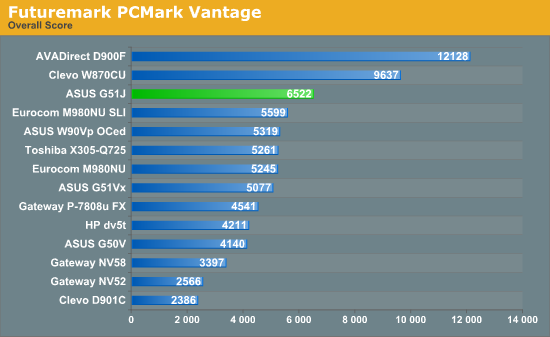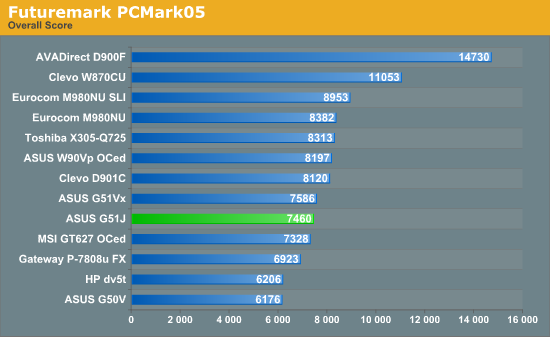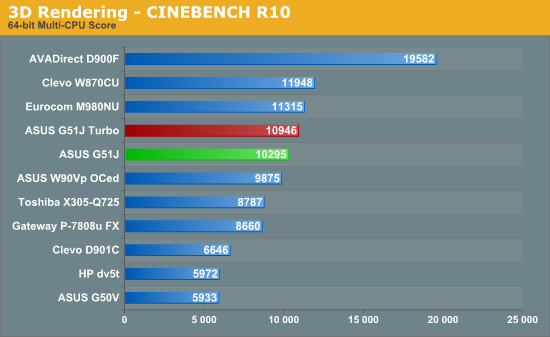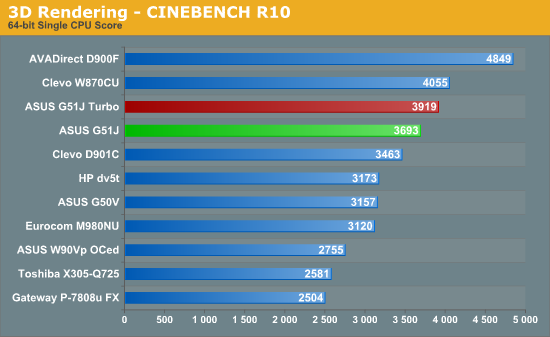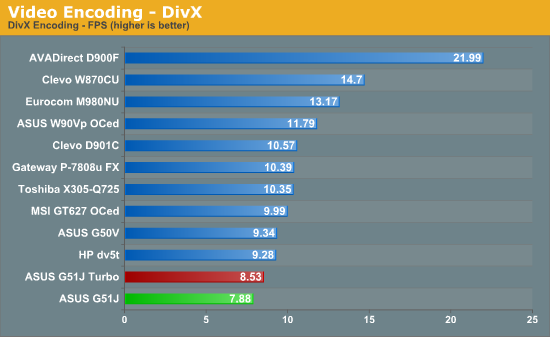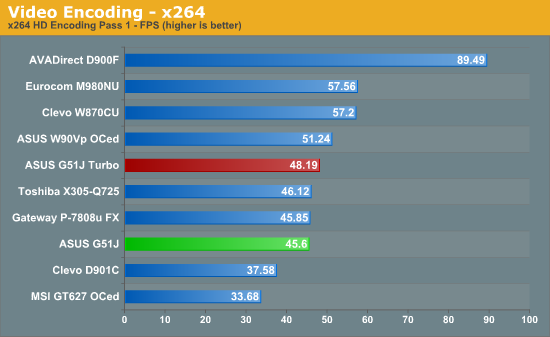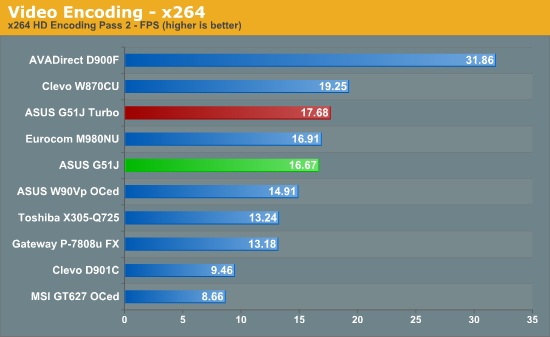 Application performance is basically what you would expect of the Core i7-720QM, with the exception of the DivX encoding result. We're not quite sure why the G51J scored so poorly in that test (possibly a software issue due to the switch to Win7), but the x264 and CINEBENCH results show that the gap shouldn't be that large.
PCMark05/Vantage also show a large advantage to the other high-end notebooks, but the Clevo and AVADirect systems have SSDs and that accounts for a large part of the difference. We've shown in other articles that Win7 tends to improve scores in PCMark Vantage by a noticeable amount, and it's a difference you can feel when using a PC. This results in the G51J actually beating the M980NU by a decent amount, though here the i7-720QM is already on par with the QX9300.
Finally, we have a few results from the ASUS G51Vx-A1 (Q9000 system) in PCMark. The older 2005 version has the G51 laptops essentially tied, while PCMark Vantage gives the G51J a large 28% lead. However, the G51Vx also shipped with Vista, so much of that difference is due to the change in OS.
Overclocking of the G51J shows the expected 5% increase in performance in the multi-threaded tests. As noted elsewhere, we actually saw lower performance in PCMark (and games) with the Turbo mode enabled, so most users will be best to leave that setting off.
If you need a fast mobile computer, the G51J will get the job done, but we can say the same of virtually any high-end laptop with a quad-core CPU. If you're doing tasks that really stress the CPU and can benefit from a ~25% reduction in the amount of time required to render images or process videos, something with an i7-920XM might be a better idea. Then again, upgrading to the D900F with its desktop CPU would be the best bet for maximum performance: it's nearly twice as fast as the G51J in x264 and CINEBENCH.
ASUS G51J Gaming Performance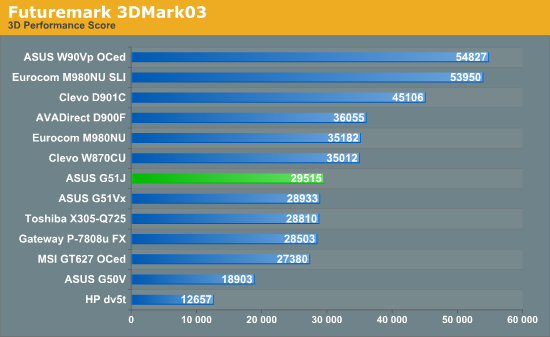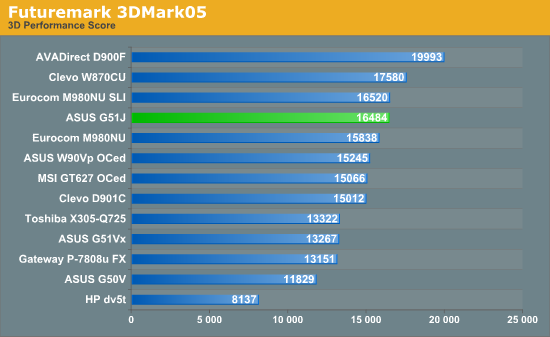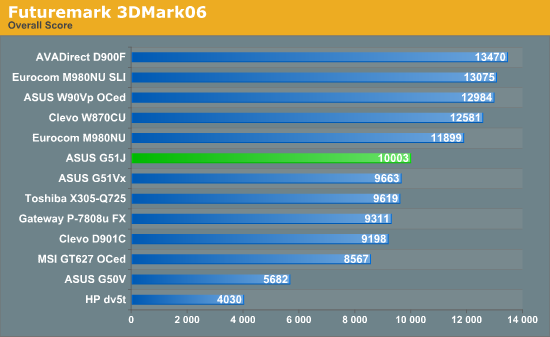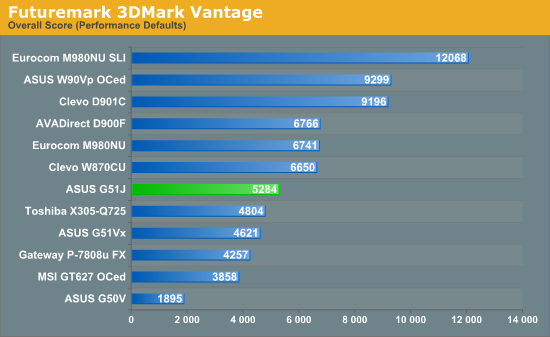 3DMark shows more of a theoretical potential for the various GPUs, before CPU performance becomes a potential bottleneck. Granted, most of these laptops have CPUs that are plenty fast, but just as no two games show identical requirements, 3DMark is at best one additional test to run rather than a replacement for gaming benchmarks.
We do have G51Vx results, which are missing in the gaming tests, and two of the 3DMark versions (03 and 06) show less than a 5% difference between the G51J and G51Vx. 3DMark05 and Vantage on the other hand show the G51J leading the G51Vx-A1 by 24% and 14%, respectively. In our limited gaming tests on the G51Vx, we didn't encounter any performance issues that were different from what we see on the G51J; at 1680x1050 or 1920x1080, the GTX 260M GPU is the major bottleneck on either system.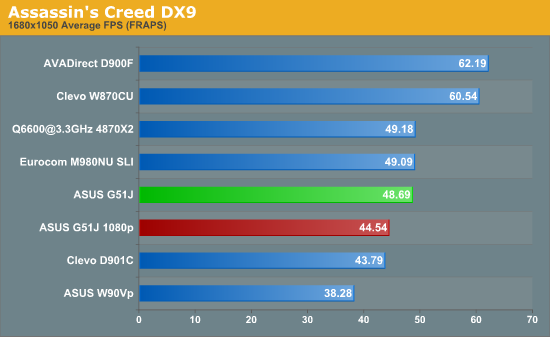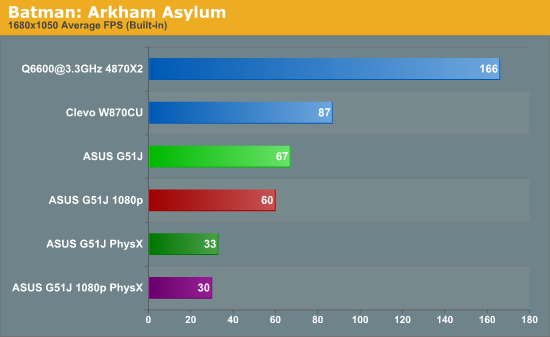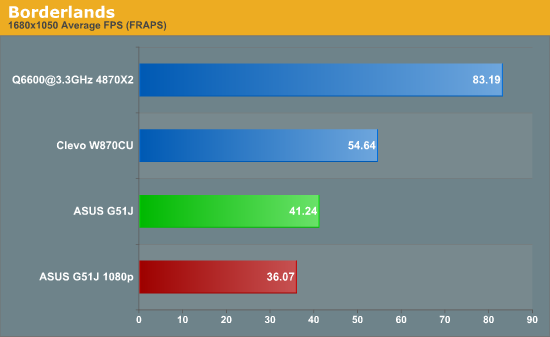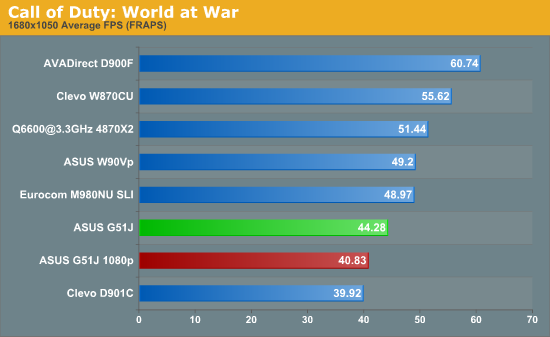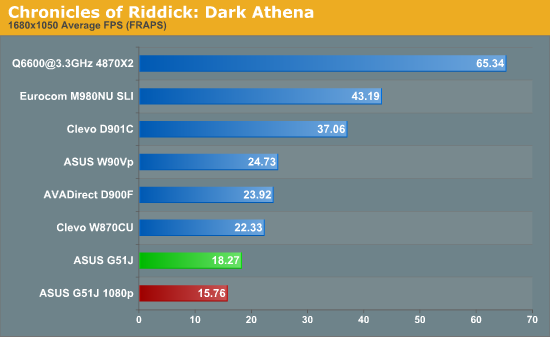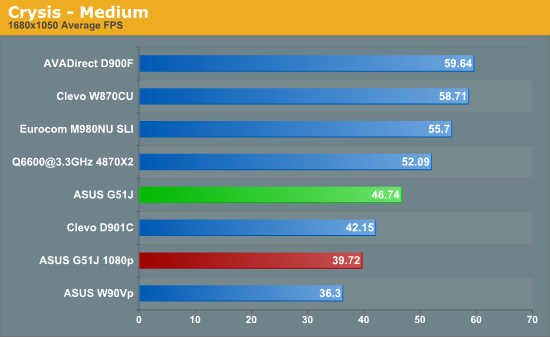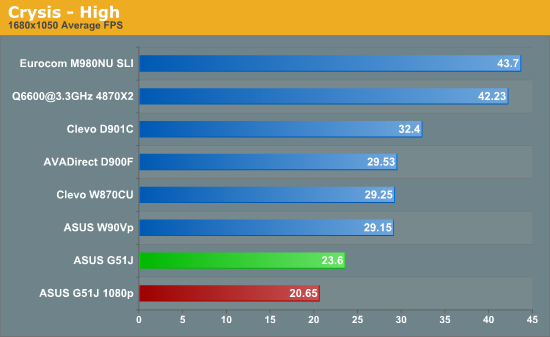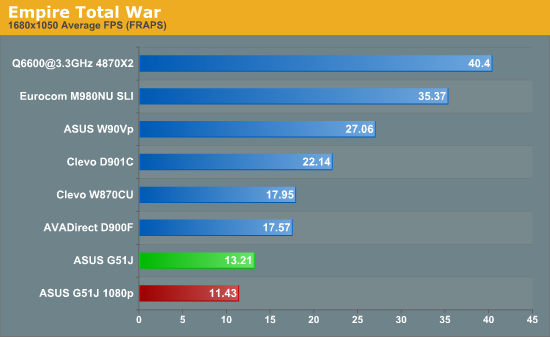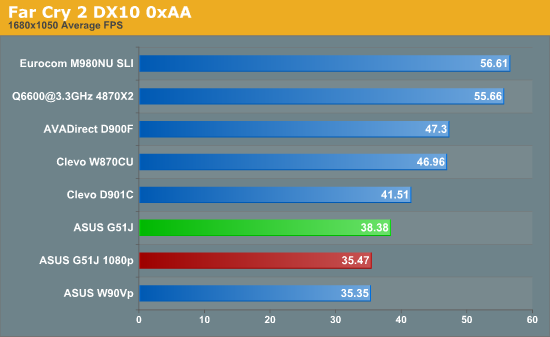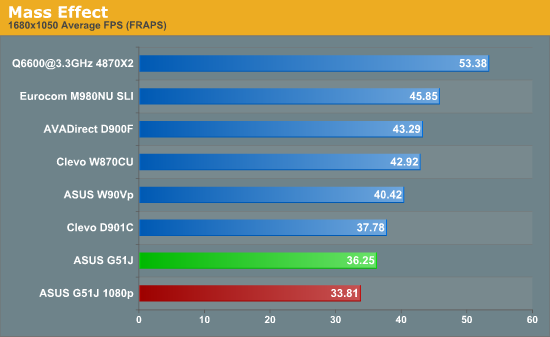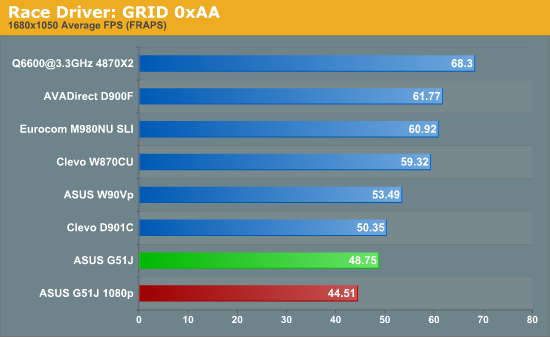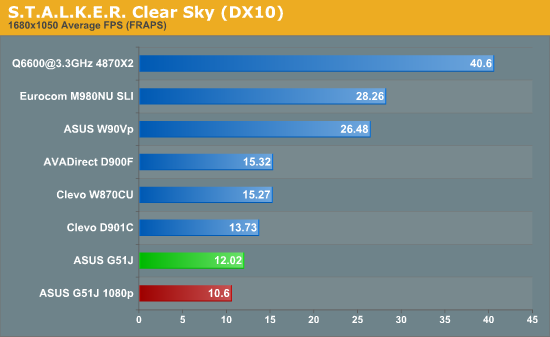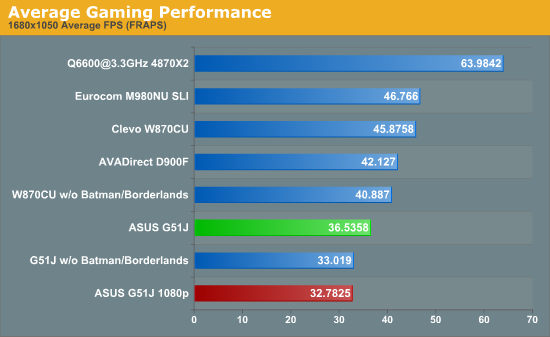 Gaming performance shows just how well the G51J does for the price. The W870CU is about 25% faster, but it's pretty much all from the GPU in these tests. That's about in line with the minimum price difference to upgrade to a notebook with GTX 280M (currently those start at around $1800). In the vast majority of games, either you can run at max detail settings without trouble or you'll need to turn down some settings on both the GTX 260M and the GTX 280M. If that's not acceptable, you could look at SLI GTX 280M solutions, but they're a big step up in price and we're still stuck with Core 2 models in that case.
Outside of antialiasing, we maxed out the settings for all of the games we test. Dark Athena, Crysis, Empire: Total War and STALKER: Clear Sky are too demanding for mobile GPUs at those settings, but Medium to High detail will work fine, even at 1080p. If you're one of those people that feel a need to max out every game setting, perhaps gaming laptops aren't the best idea. For most, the difference between High and Max is going to be relatively small in practice, and there are many titles (i.e. not Crysis) where even maximum detail will work well.
ASUS G51J Battery Life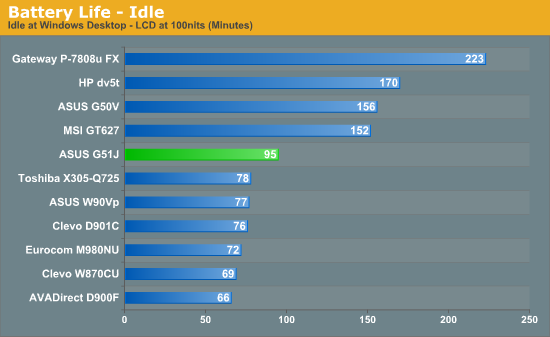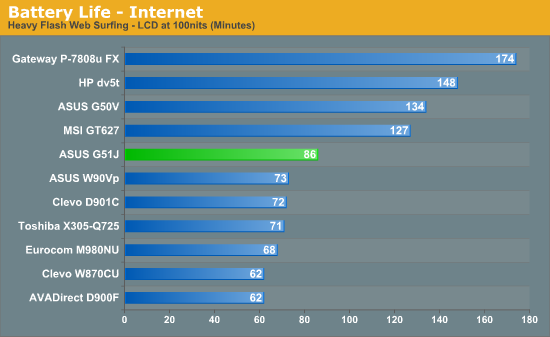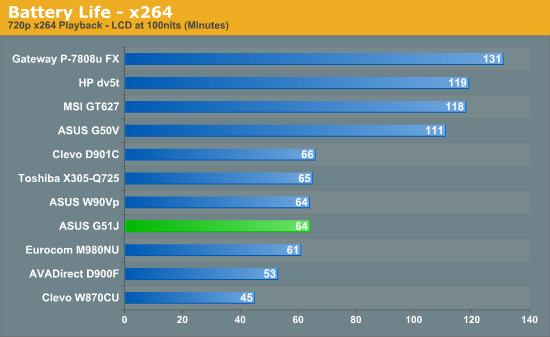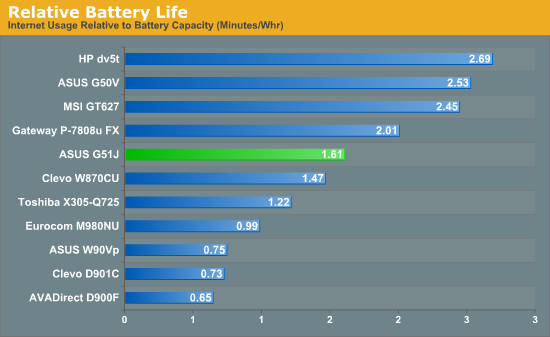 Obviously, battery life on any gaming laptop isn't going to be anything special. The G51J does manage to surpass the W870CU by an average of 40%, but then the G51J also has a higher capacity battery. In our relative battery life metric, the lower performance i7-720QM and GTX 260M look like they improve battery life by around 15%. (Note that the G51J has two hard drives compared to a single SSD in the W870CU, so we're factoring that in.)
Best-case scenario we still only manage 97 minutes of idle battery life with the G51J - and that's with CPU performance set to the most conservative values. If you want to have some fun and play a 3D shooter while on battery power, you're looking at around 40 minutes before you need to plug in. Of course, it's a little ironic that the UL80Vt has a higher capacity battery than the G51J; shouldn't power hungry systems get big batteries as well? We like the 84Wh battery in the UL80Vt, no doubt, but the same battery could have helped the G51J achieve over 2 hours of battery power in the Internet test.
General Windows Performance
Moving to our combined results, we start with general Windows power on/off times. Some of the laptops have less RAM, which can help in the hibernate/resume tests, but most of the newer models now ship with 4GB. We run each test multiple times and take the best result so as to minimize variance.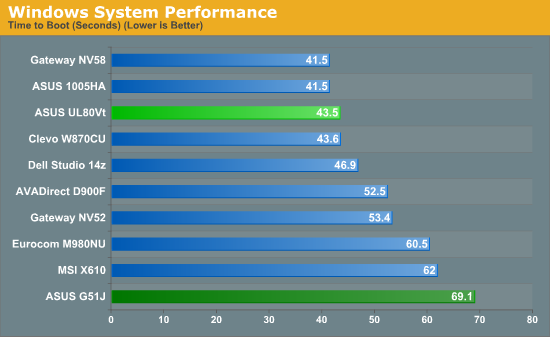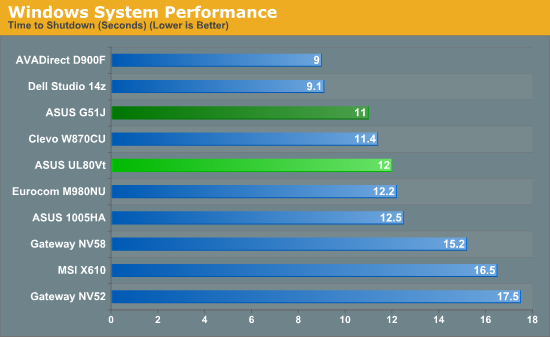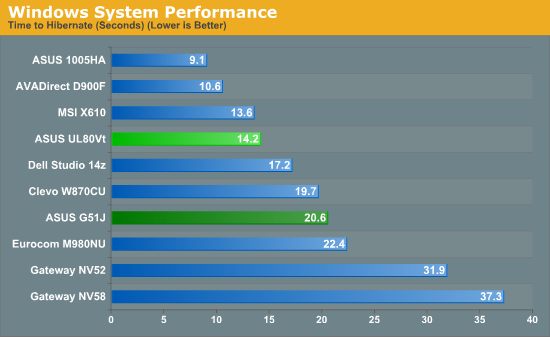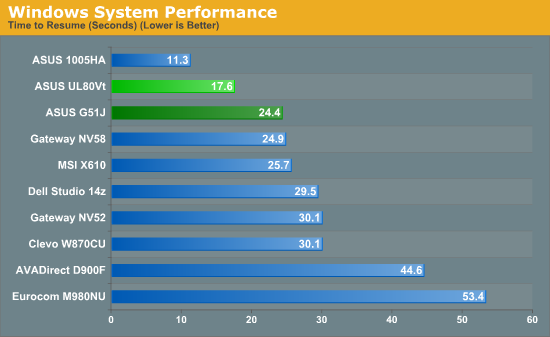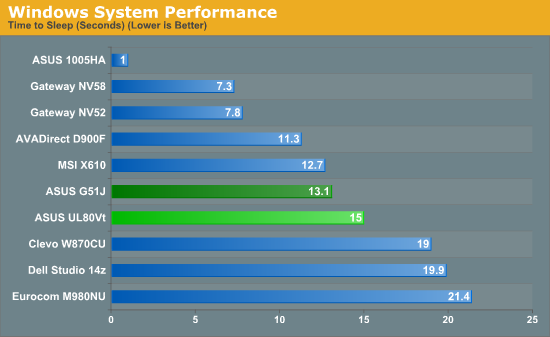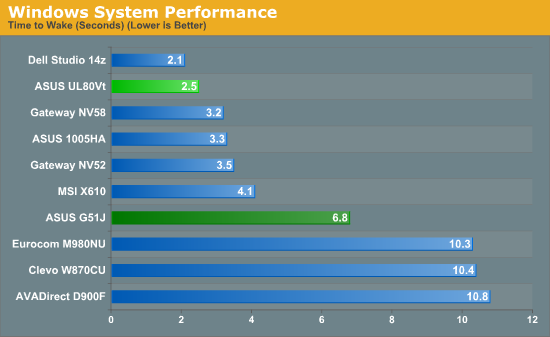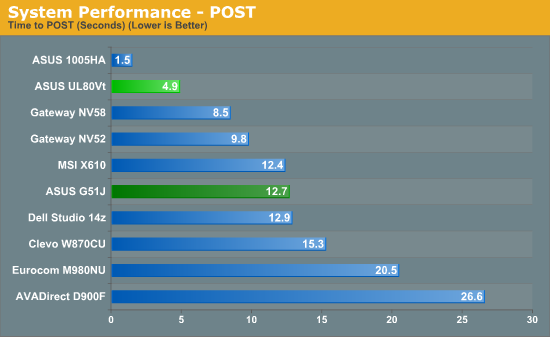 In another ironic twist, the G51J trails the UL80Vt in virtually every test. You'd think with a substantially slower CPU that the G51J would easily take the lead, but that's not the case. Boot time in particular is very slow on the G51J, but it beats out the high-end competition in most of the other results. What we'd really like is to see better POST times; why is it that the UL80Vt can POST in five seconds but the G51J requires more than twice as long? Clearly companies are spending more time optimizing boot times on netbooks and thin and light designs than on larger notebooks.
Power Requirements
As a corollary to the battery life tests, we also performed measurements of power requirements using the AC adapters and a Kill-A-Watt device. These numbers are only accurate to the nearest Watt, so a difference of 1W (i.e. from rounding) could obscure up to a 12% actual difference in power requirements. Also note that power requirements change when you switch to DC power, and power supply (power brick) efficiency comes into play when using the AC adapter, so the battery life tests are a better indication of true power requirements.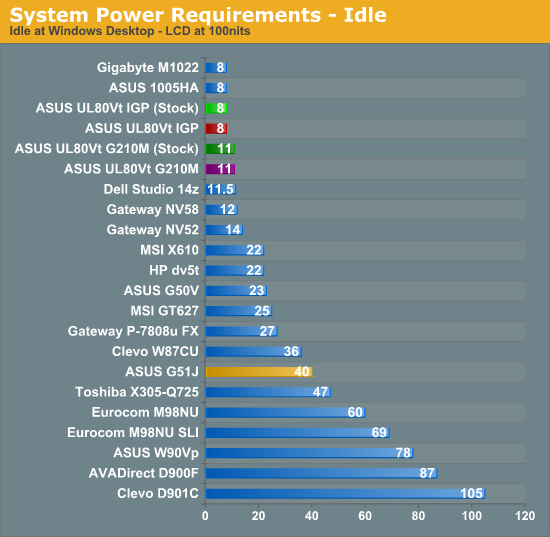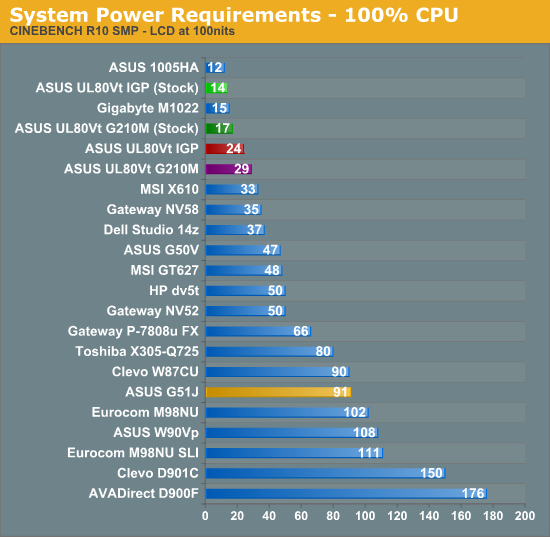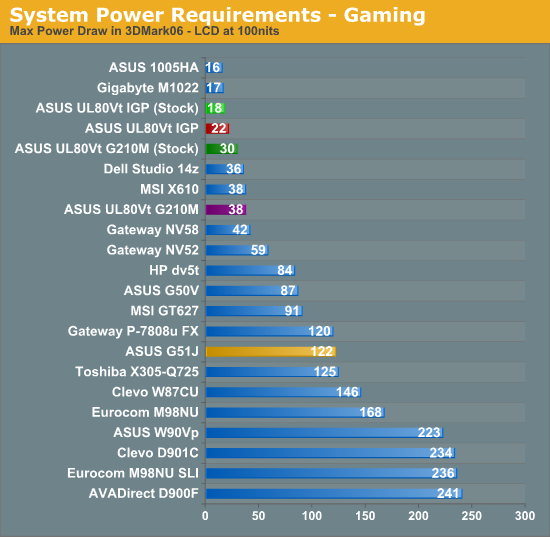 How's that for a nice exponential scale of power requirements? It's sort of fun to see the huge discrepancy in power requirements between desktop replacement notebooks and thin and light laptops. The most interesting aspect of the above graphs for most people will be the various power states of the UL80Vt. It looks like the CPU power requirements from Turbo33 are negligible at idle but can add up to 12W at full load. Meanwhile, the G210M GPU looks like it adds 3W at idle and somewhere around 10W at full load. (We can't be precise since the faster GPU also allows the CPU to work harder, contributing to the overall power draw.)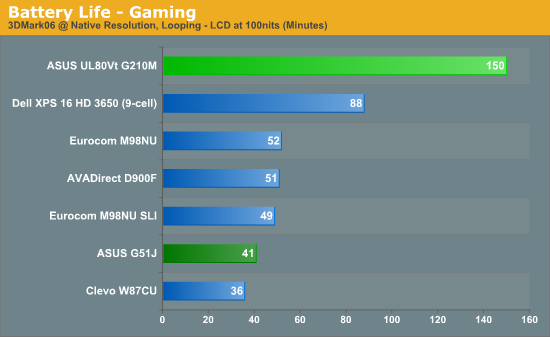 As a point of reference, we also added battery life while "gaming" (looping 3DMark06 at native LCD resolution). The only difficulty is that the laptops provide different GPU performance levels on battery power; for example, all of the Clevo designs force the GPU into a "limp mode" where it runs at significantly lower performance (around the level of the G210M, actually). The two ASUS laptops we're looking at today both allow you to run at full performance while on battery power, so keep that in mind when you look at the last chart.
LCD Quality (Stinks)
Wrapping things up, we have the one disappointment from both ASUS laptops. We ran our standard LCD quality tests using ColorEyes Display Pro and found both panels offer poor contrast ratios - in a large part due to the backlight bleed visible on dark colors/black.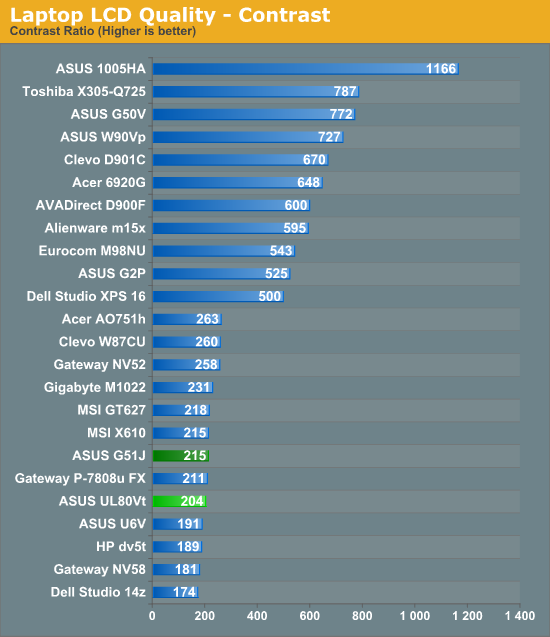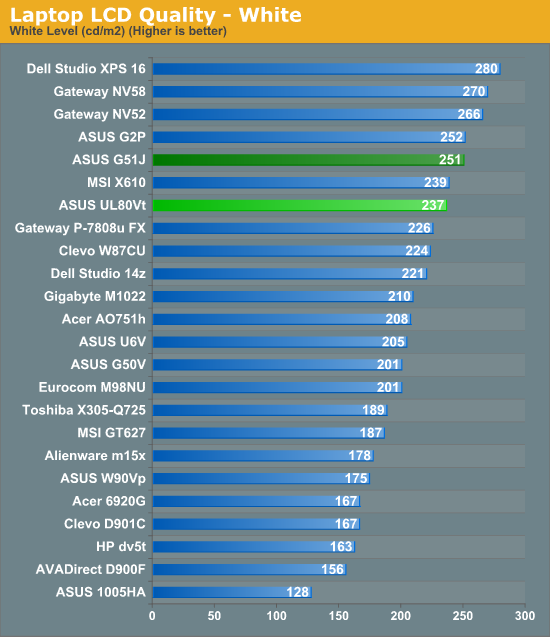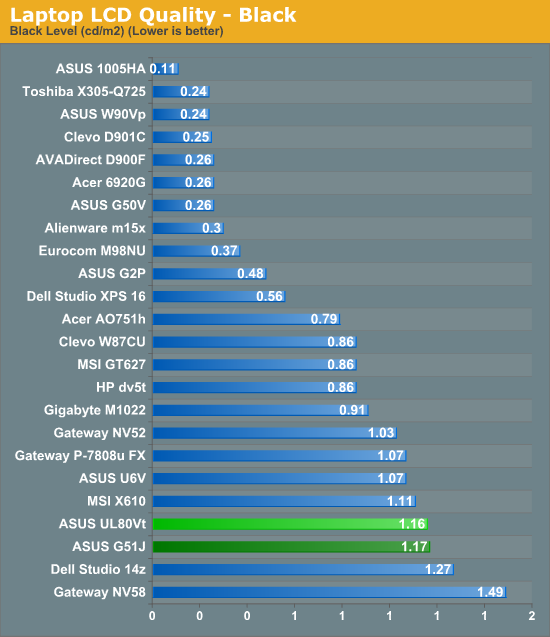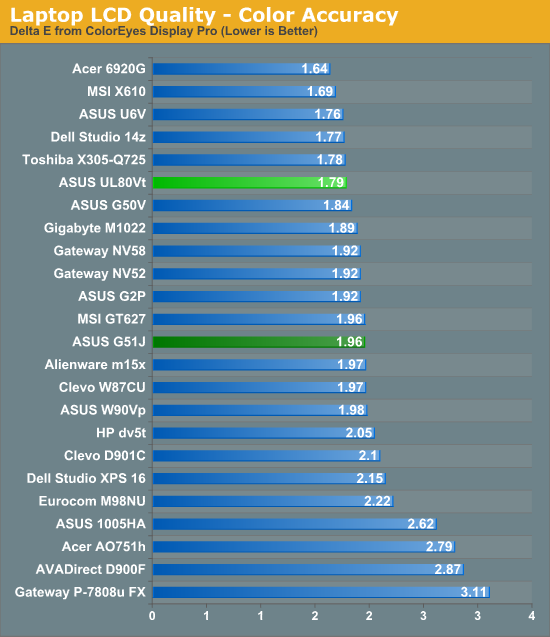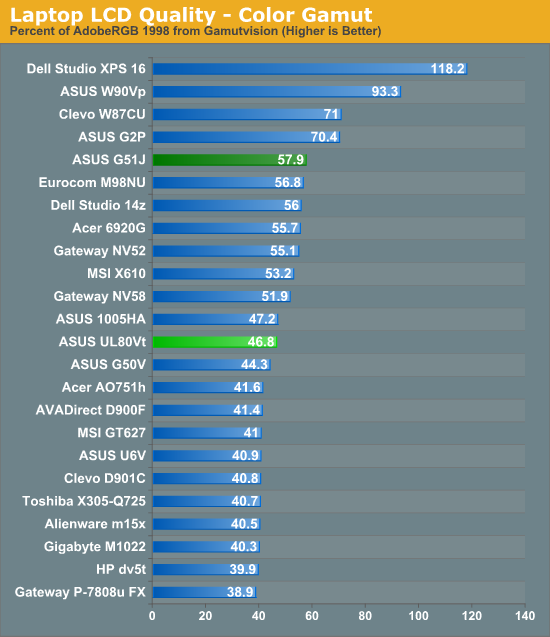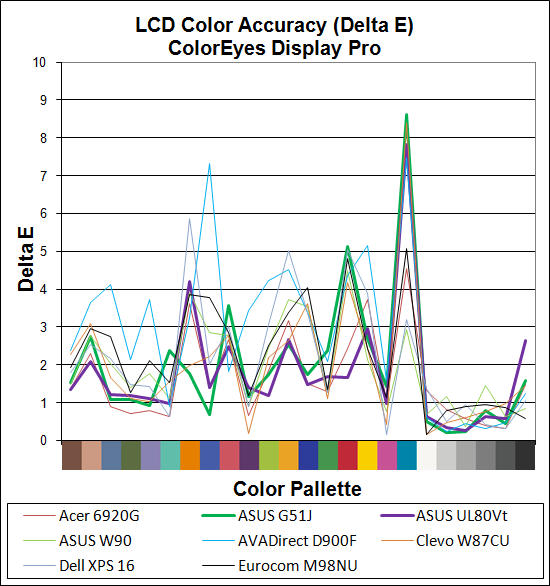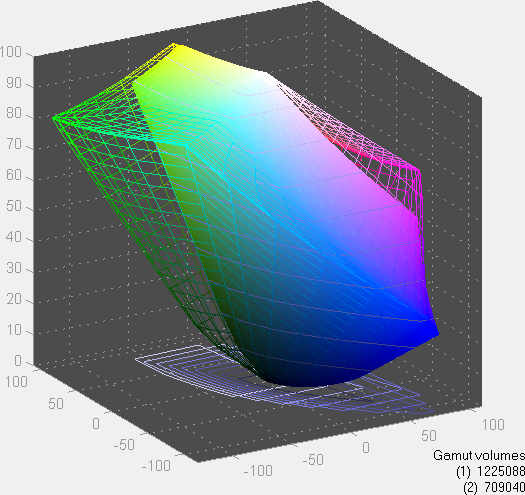 ASUS G51J Gamut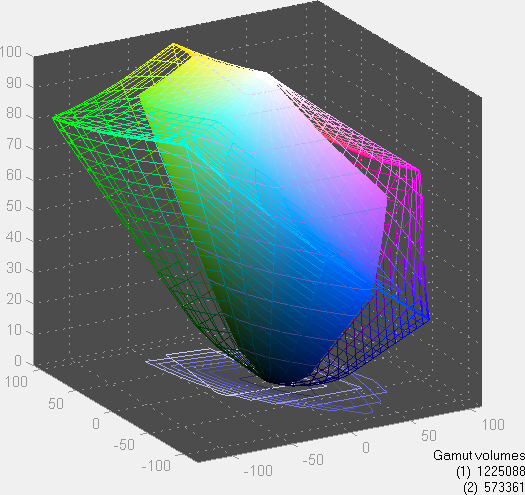 ASUS UL80Vt Gamut
While color accuracy is decent on both laptops, this is overshadowed by the washed out appearance. ASUS managed to provide an excellent 1100+:1 contrast on the Eee 1005HA, but the G51J and UL80Vt (and the G51Vx-A1) all have a contrast ratio down around 200:1. Yuck. As we've said in the past, higher contrast options exist, and the first thing that LCD panels need to provide is at least a 500:1 contrast ratio - real contrast ratio, not some marketing figure or "dynamic" contrast. Only when an LCD can deliver that is it worth looking at ways to improve color accuracy and color gamut.
We've seen complaints online about limited viewing angles with the UL80Vt, but in our experience it's not worse than your typical TN display. Some users may be coming from older laptops which, amazingly, often had better displays than current laptops - although they're usually nowhere near as bright. Still, if you want a good LCD, neither laptop is going to impress. The G51J is better, if only because it has a 1080p resolution, but otherwise the performance characteristics are similarly poor.
Closing Thoughts
We've already discussed our thoughts on the UL80Vt and G51J - you can read the details on pages two and three. Both are great laptops, and while we didn't give either the coveted Gold award they are closer than we've come in quite some time. For those that are wondering, anything earning a Bronze Editors' Choice is (at least in my mind) a 90% score; Silver means 93%, and Gold means 95% or higher. Basically, Gold awards are reserved for unequivocal recommendations, and we do have a few minor complaints with both of these laptops, mostly oriented around the LCDs.
The LCD situation continues to disappoint, and not just from ASUS. In browsing through laptops at the local Best Buy, Costco, Wal-Mart, and Target stores, we found exactly one laptop - out of more than 100 - where the LCD was clearly higher than a 500:1 contrast ratio. What's worse, most laptop manufacturers source LCDs from all of the major panel manufacturers (AU Optronics, Chi Mei, LG Philips, Samsung, and Seiko Epson/Sony), and it's not uncommon to have a single laptop using panels from two or three vendors. If you are truly concerned with LCD quality, you may need to shop locally or purchase a higher-end laptop (i.e. Dell Studio XPS) where they only use one LCD brand… and you can expect to pay quite a bit extra!
Besides LCDs, let's talk for a moment about a few other irritations we've noticed over the past year. One big complaint we have is that every Windows Vista and Win7 laptop we have tested has difficulty "remembering" the detailed power settings we configure. We've seen this on every laptop (unless it was an XP based netbook), some more frequently than others, but Win7 and Vista have a penchant for restoring many of the "default" power options on a regular basis. Specifically, the systems will restore HDD/LCD/system timeouts, prompt for password on resume, and a few other settings.
Maybe I'm more OCD than the average Joe, but when I tell a laptop not to enter sleep mode EVER (unless I press the sleep button on the keyboard), I'd like that setting to stick. This can be particularly frustrating when it happens during testing and you realize that the battery drain test is now invalidated because the system went to sleep. It's also annoying when your LCD turns off while you're watching a movie with friends.
Software like ASUS' Power4Gear might be partly to blame, but we've experienced the same issues without custom power utilities. Windows XP never changed our power settings "automagically", and we wish Vista and Win7 would stop mucking with areas where we modified the default configuration. Until we can prove otherwise, we're going to go off the assumption that this is a Microsoft issue; the fact that it was present in Vista and continues to occur in Win7 doesn't make us feel it will be fixed any time soon.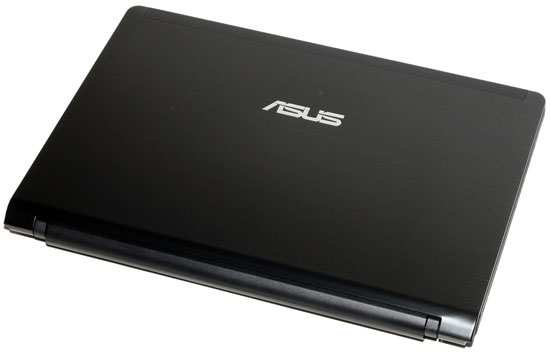 Outside of complaints, we've got a few interesting items due for release in the very near future - around CES 2010. Intel has the next generation Atom platform (Pine Trial with Pineview CPU) ready for liftoff, and they're likewise getting set to release Arrandale. The power requirements of current mobile i7 CPUs are clearly not fit for anything targeting longer run times, and we're hopeful that Arrandale will improve the situation. Looking at what you can get out of current CULV designs sets the target we want to see mobile i7 eventually reach, but we're doubtful any of the currently planned Arrandale parts are going to come anywhere near matching the 10W TDP of CULV processors.
Arrandale and Pineview also have something else in common: they integrate a GPU into the CPU package. That means things like NVIDIA's GeForce 9400M chipset are no longer an option, which is unfortunate considering the part is about four times as fast as current Intel GMA 4500MHD designs. However, the UL80Vt shows one real solution to the problem: if you need faster graphics, you can get a hybrid GPU setup. It's not necessarily ideal (especially if you're Apple), but on Windows 7 the switch between IGP and dGPU is quick and relatively painless - about a 5 second delay.
Right now, the ASUS UL80Vt is the high water mark for a do-everything laptop: office, gaming, and mobility are all handled with aplomb. If you don't need the Turbo33 overclocking for a performance boost and you're not interested in gaming, you can find dual-core CULV laptops (Celeron SU2300) for as little as $400, complete with Windows 7 Home Premium and 2GB RAM. We are very curious to see if Intel can beat such laptops with Pine Trail; right now it looks like Intel's only serious competition in terms of mobility is Intel. AMD has some lower power 45nm CPUs (the Athlon and Turion "II" models) now shipping but we're still trying to get one for review. We haven't seen anyone claim more than 6 hours of battery life with such a design, though, which means we expect closer to 4 hours in Internet surfing. As long as the price is right, such designs remain a viable alternative.