Original Link: http://www.anandtech.com/show/2878


When you spend time reviewing mobile computers, you need to address the question of what sort of laptop/mobile device you are reviewing. Simply stated, there is no one-size-fits-all solution for laptops/netbooks/notebooks (or MIDs/cell phones/PDAs/etc.) Instead, most devices have a target audience. If you happen to be among the target audience for a particular device, you'll probably appreciate what it offers a lot more than someone with different wants/needs.
Take the netbook. Frankly, anyone looking for a laptop that can do everything they need is almost bound to be severely disappointed by what current netbooks offer. Yes, they're small, light, and generally deliver great battery life. They are also slow — painfully slow. If you have used any reasonable computer built in the past four years, a netbook will typically be half as fast (or less). You definitely shouldn't plan on doing anything computationally intensive. That limitation precludes gaming, video encoding, 3D rendering, and often HD video decoding. It's still possible to do some of those tasks, but the overall experience is frequently far from ideal.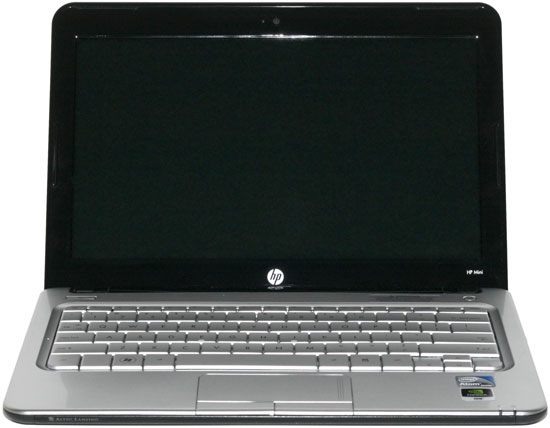 NVIDIA's ION attempts to mix things up in the netbook market by introducing much faster integrated graphics. ION is essentially GeForce 9400M for Intel Atom processors. In the case of the HP Mini 311 we received, it uses ION LE, the difference being that the LE version doesn't support DirectX 10. While gaming is now more feasible than other netbooks using GMA 950 graphics, the Intel Atom processor is slow enough that a huge number of games are still unplayable, so losing DirectX 10 support isn't a huge issue. If you feel otherwise, there are other netbooks (i.e. the Lenovo S12 and Samsung N510) that include the full ION with DX10.
Gaming performance doesn't appear to be a huge concern on any Intel Atom netbook right now, but the video playback acceleration is definitely a benefit for a lot of users. A single-core Atom N270 is generally able to handle 720p x264 decoding (using CoreAVC), but CPU utilization is well above 50%. With more demanding video files (1080p for example), Atom will need help. If it were just x264 videos, the case for ION netbooks might only be moderately interesting, but with the recent release of the Flash 10.1 Beta we finally have GPU accelerated video playback for Flash videos. If you're a frequent YouTube or Hulu user, the case for ION just became a lot more compelling.
Besides gaming, graphics, and video decoding, ION also supports NVIDIA's CUDA technologies. NVIDIA is big on touting the benefits of CUDA, with a few notable applications that leverage the technology to provide improved performance on tasks such as video transcoding. We'll take a look at a few of those applications as well to see if the argument for CUDA applications is compelling.
HP Mini 311 — Specifications
We begin as usual with a look at the specifications and design of the HP Mini 311. Most of the features found on current netbooks are standardized, but the Mini 311 does bring a few extras to the table. There are also different Mini 311 models, ranging from 1GB of RAM to 3GB RAM, Windows XP or Win7, and HDD size as well as an SSD option. Here's the rundown.
HP Mini 311 Specifications
Processor
Intel Atom N270
(1.60GHz, 512KB L2, 45nm, 667FSB)
Intel Atom N280
(1.66GHz, 512KB L2, 45nm, 667FSB)
Chipset
NVIDIA ION LE
Memory
1x1024MB DDR3-1066 onboard
1 x SO-DIMM slot supporting up to 2GB RAM
(Max 3GB total)
Graphics
Integrated NVIDIA ION LE
(~GeForce 9400M without DX10)
Display
11.6" Glossy LED-Backlit 16:9 WXGA (1366x768)
Hard Drive
2.5" 160GB 5400RPM 8MB
2.5" 250GB 5400RPM 8MB
2.5" 320GB 5400RPM 8MB
2.5" 80GB SSD (Intel)
Networking
Wireless 802.11g or
Wireless 802.11n
Bluetooth (Optional)
Audio
Realtek 2-Channel HD Audio
(2.0 Speakers with headphone/microphone jacks)
Battery
6-Cell 10.8V, 4910 mAhr, 53.028 Whr
Front Side
None
Left Side
HDMI
1 x USB 2.0
Heat exhaust
AC Power connection
Kensington Lock
Right Side
SD/MMC/MS Pro/xD reader
Microphone/Headphone combo jack
2 x USB 2.0
VGA
Ethernet
Back Side
None
Operating System
Windows XP Home SP3
Windows 7 Home Premium 32-bit
Dimensions
11.4" x 8.03" x 0.78-1.20" (WxDxH)
Weight
3.22 lbs (with 6-cell battery)
Extras
Webcam
Optional External USB DVD or Blu-ray drive
Warranty
1-year standard HP warranty
Price
Base configuration starting at $399
Test system priced at $635
The mini 311 uses an 11.6" chassis and LCD, similar to the Acer 751h. There are some nice upgrades to your typical netbook, however, like an HDMI output. We've seen HDMI on other netbooks in the past (like the ASUS N10Jc for example); is it a coincidence that both netbooks had graphics from NVIDIA? Nope. Without a faster GPU to help with video decoding tasks, 1080p video output would be difficult at best.
The N10JC is actually an interesting point of reference; it uses the same N270 CPU and it was available for $650 about a year ago. The HP Mini 311 should offer similar performance without the need to switch between discrete and integrated graphics (with a required reboot in between). Pricing has also dropped relative to the N10JC; the base model Mini 311 costs $400, and you also get a 1366x768 LCD and an 11.6" chassis. LCD quality (contrast ratio) is unfortunately not as good as the N10JC, but battery life is similar. If you liked the idea of the ASUS N10JC last year but didn't want to spend $650, $400 today will get you a similar configuration. We mention this because we liked the N10JC so much that it garnered our Gold Editors' Choice award; can the HP Mini 311 do the same?
Going along with the HDMI port and video decode acceleration, HP offers an external USB Blu-ray/DVDR combo drive. The drive is actually quite nice and matches the shiny exterior of the Mini 311 (which means it attracts fingerprints as well as anything). It draws power over the USB cable, so you don't need an external adapter, and what's more it only costs an extra $130. Certainly that isn't cheap, but getting an internal Blu-ray combo drive on most laptops will cost that much if not more.
The remaining features on the Mini 311 are pretty standard: three USB ports, VGA output, and a flash reader. HP also uses a combination headphone/microphone jack, which means you can't connect both at the same time. The base model includes 802.11g networking (802.11n is an upgrade, as is Bluetooth support), and while the NVIDIA ION chipset includes gigabit Ethernet support, HP goes with a 100 Mb PHY. (Boo! Am I the only one that likes gigabit Ethernet even with netbooks?) The battery is a 6-cell 53Wh unit, which should provide decent battery life. HP claims up to six hours, and we were able to match that claim albeit only in the idle battery life test.
NVIDIA was kind enough to provide the Blu-ray drive along with the Mini 311, so we can take a look at performance and battery life with Blu-ray playback later. NVIDIA also provided a few upgrades relative to the base model. Our test system also came with Windows 7 Home Premium and 2GB RAM (1GB onboard and a 1GB SO-DIMM). The minimum cost for the Mini 311 is $400, but our test system comes priced at $630. Along with the extras just mentioned, we got the N270 CPU, 2GB DDR3, 160GB HDD. That price is basically the same as the ASUS N10JC, but the lion's share of the added cost of course goes to the external Blu-ray drive.
HP Mini 311 — Design
Moving on to our pictorial overview, here's our gallery of the HP Mini 311 along with the included accessories.

The HP Mini 311 is available in either a black or white swirl pattern. We received the black version, and the white casing is an extra $20. If we were purchasing this for ourselves, we'd be inclined to go with the white model, simply because it's not as likely to show fingerprints as the black casing — and the black model definitely picks up fingerprints, with the typical glossy plastic finish found on many laptops these days. Thankfully, the palm rest and keyboard are silver instead of black and they don't have a glossy finish, so they don't show smudges very much at all by comparison. The LCD is also glossy (reflective), but we really didn't expect anything else considering the last time we saw a matte LCD in a laptop was several years back. (Yes, I know, a few companies like Apple still offer it as an option on higher end notebooks.) The LCD also has a low contrast ratio, similar to most other budget laptops/netbooks.
While the overall appearance is good, the design and construction warrant a few criticisms. For one, the placement of the touchpad with the buttons on the edge of the chassis is not something we like. Others may disagree, but the button placement in particular just wasn't something that we got used to during the course of testing. It's not a horrible touchpad by any means, but we've seen better. The touchpad also lacks gestures/multi-touch support, though it does include a vertical scrollbar along the right.
Like the touchpad, we also had concerns with the keyboard. The feel of the keys just isn't very good, with several wobbly keys on our test unit. (And this is actually the second test unit; the first one had a space bar that didn't work properly to the point where I asked NVIDIA to send a different unit!) The buttons on the keyboard and touchpad just don't have a precise fit in the casing. Over time, we expect that the keys would become even looser. I ran through some typing tests and definitely couldn't reach my normal ~60 WPM on the Mini 311; I managed 53 WPM and accuracy dropped from nearly 100% to around 95%. That's not a huge decrease, but comfort also comes into play; simply put, if you care about keyboard quality you should definitely think twice before purchasing the HP Mini 311 — or at least try it out in person.
Our overall impression of the HP Mini 311 is that it has a very good set of features, but the design and construction are lacking. If it were priced lower, we would be more forgiving, but the base model is priced about $100 higher than competing netbooks that don't use the NVIDIA ION chipset. The improved performance in certain tasks is good, but for this price we would like to see a better LCD (higher contrast ratio if nothing else), and the keyboard definitely needs some reworking. With a few minor upgrades, the price is very close to laptops like the Acer Timeline series with CULV processors and GMA 4500MHD graphics. Unlike the GMA 950 in most netbooks, the 4500MHD has video decoding support and the CPUs are generally more than twice as fast as the Atom offerings.
Test Setup
You can read about our testing setup and the other laptops used in our previous Gigabyte M1022 review. We'll have a few additional tests specific to the HP Mini 311, but we'll start with the comparison to other netbooks. Here are the specs of the test HP Mini 311.
HP Mini 311 Test System
Processor
Intel Atom N270
(1.60GHz, 512KB L2, 45nm, 667FSB)
Memory
2x1024MB DDR2-667 CL5
(1GB onboard + 1GB SO-DIMM)
Graphics
Integrated NVIDIA ION LE
Display
11.6" Glossy LED-Backlit 16:9 WXGA (1366x768)
LG Philips LP116WH2
Hard Drive
2.5" 160GB 5400RPM 8MB
Fujitsu MJA2160BH
Battery
6-Cell 10.8V, 4910 mAhr, 53.028 Whr
Operating System
Windows 7 Home Premium 32-bit
Extras
External USB Blu-ray combo drive
Price
Test system priced at $635
For our performance tests, we mentioned earlier that an interesting point of comparison is the ASUS N10JC that we reviewed about a year ago. We'll color the ASUS results Gold where applicable, with the Mini results in Green.
HP Mini 311 — Application Performance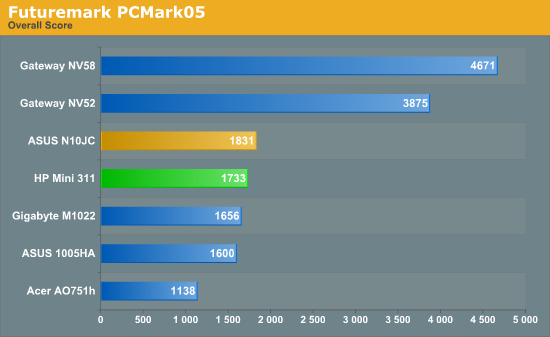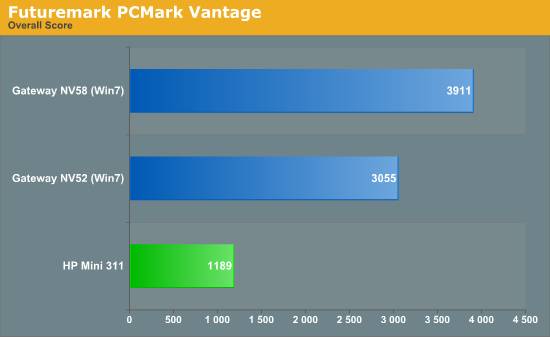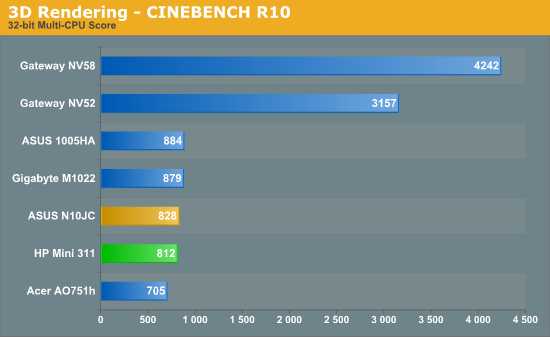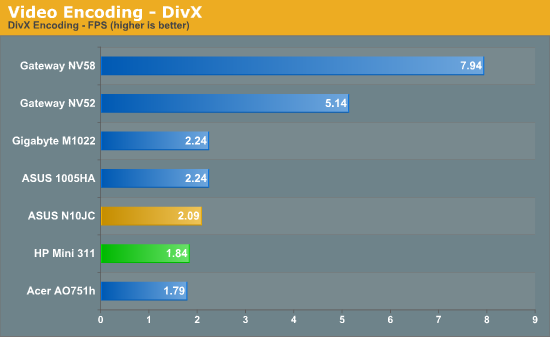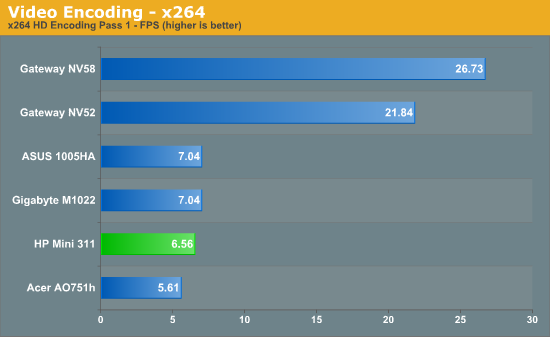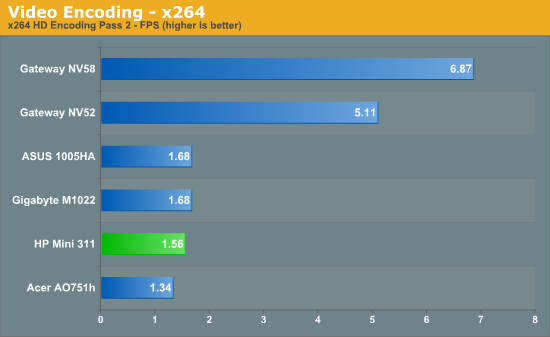 We were unable to run PCMark Vantage on the XP-based netbooks, and as we've discussed previously PCMark05 has a few areas (2D transparency) where performance is a couple orders of magnitude higher on Windows Vista/Win7 than Windows XP. The basic summary is that for typical applications, NVIDIA's ion platform is no faster — or slower — than other Atom-based netbooks.
In other benchmarks stressing overall system and CPU performance, the HP Mini 311 does appear to slightly trail competing netbooks. The ASUS 1005HA and Gigabyte M1022 both utilize Atom N280 processors while our Mini 311 uses the N270, but that should only account for a 5% performance difference at most. Those two netbooks end up outpacing the Mini 311 by 7% to 9%, which isn't necessarily something you would notice, but it suggests that perhaps the Intel chipset is slightly better optimized.
Put simply, it's not likely you would notice the difference between any of the netbooks using N270/N280 processors and Intel or NVIDIA chipsets — at least if you confine your usage to general applications that don't stress graphics/video performance. You should be far more concerned with the netbook design and features than minor performance variations.
HP Mini 311 — Windows Performance
We also ran tests to measure Windows boot/shutdown, hibernate/resume, and sleep/wake times. These can vary quite a bit between runs, but we ran these from an empty Windows desktop and used the best-case result for each system. We're going to limit the results to netbooks and low power/high battery life laptops in order to avoid polluting the graphs with data from other market segments. Our test HP Mini 311 comes equipped with 2GB RAM instead of 1GB, so performance in hibernate/resume tests should be slightly lower than competing netbooks with half the memory. The Gateway laptops are similarly equipped with 4GB, again making them slower in those tests.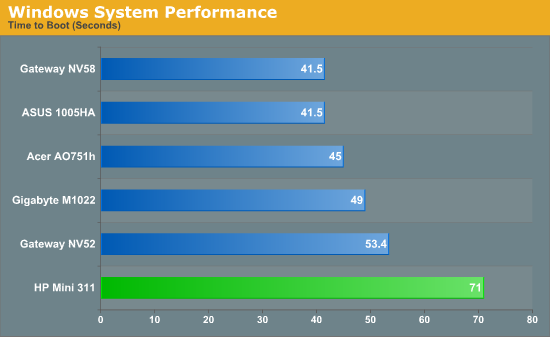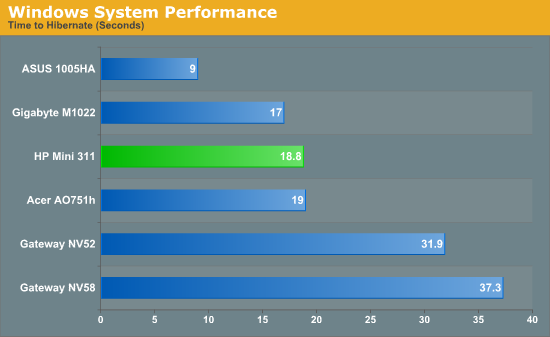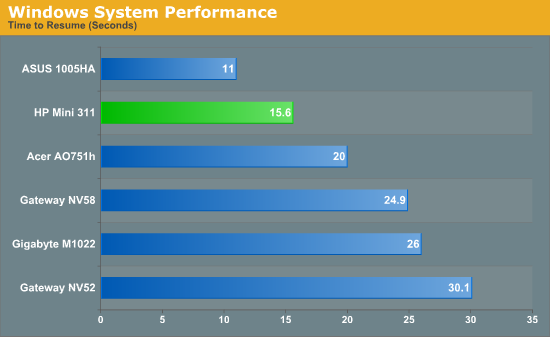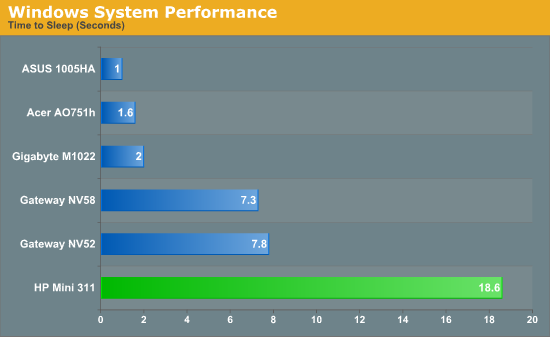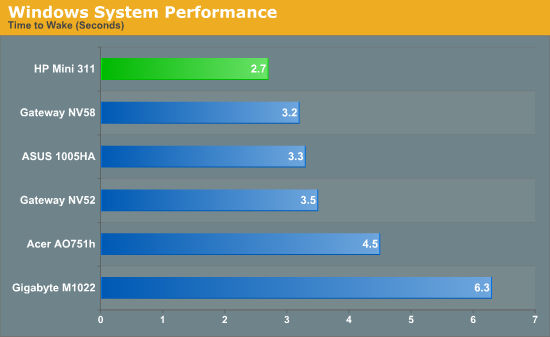 Boot and shutdown times are longer than most of the competing laptops, but considering the other netbooks are running Windows XP — a noticeably lighter operating system — the times are about what we would expect. Hibernate/resume times are good, considering the extra memory. The system won't hibernate or resume instantly, but a delay of less than 20 seconds isn't bad at all. Finally, sleep and wake times are a mixed bag. No matter what we tried, the Mini 311 consistently took around 20 seconds (sometimes substantially more) to go to sleep. On the other hand, the system wakes up almost instantly. POST time on the Mini 311, incidentally, is moderately fast at 7.0 seconds. We've seen better, but we've also seen a lot worse.
HP Mini 311 — Graphics and Gaming
Normally, we wouldn't even worry much about gaming/graphics performance, but with the ION LE we figured it would be worthwhile to run some gaming tests. We'll start with the ubiquitous 3DMark runs. Note that we tested 3DMark06 at 1280x768 instead of 1280x1024 because of the native LCD resolution. We couldn't run 3DMark Vantage because ION LE lacks DX10 support (unlike the full ION).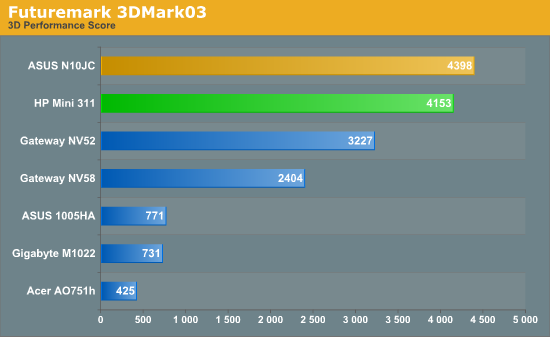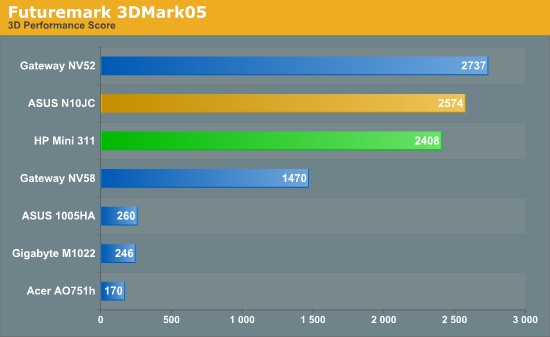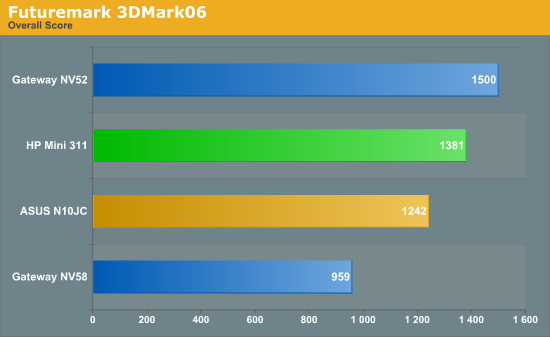 The picture with 3DMark already sets the stage: yes, the ION LE (i.e. GeForce 9400M for Atom) platform is going to beat the pants off of GMA 950 solutions, but as we shift to newer versions of 3DMark we see the more powerful CPU on the NV52 (with slower graphics based on performance of the Dell Studio 14z) move past the Mini 311. Shift to real games and the 3DMark results become meaningless.
We ran a few games at 800x600 and minimum detail. Half-Life 2: Episode 2 averaged 17 FPS (and 16 FPS at 1366x768), which is hardly playable. Batman Arkham Asylum (without PhysX) averaged 17 FPS as well, with lows of 1 FPS. Even Unreal Tournament 3 couldn't surpass 18 FPS (which is odd since we managed to get 30 FPS on the N10JC last year — perhaps it's a driver update issue, or maybe the shared system RAM is a bottleneck). About the best showing for the Mini 311 was in Plants vs. Zombies, which averaged 26 FPS during an intense survival level; the GMA 950 falls into the low teens and even single digits in similar testing.
Are there games where the ION LE provides acceptable performance? Absolutely. From the 3D gaming genre, though, you'll want to stick to very undemanding games in terms of CPU requirements — mostly stuff from 5+ years back. Deus Ex or Doom 3 should work fine if you have a copy floating around…. (Note: If you have a particular game request you'd like to have me test, leave a note in the comments and I'll see what I can do.)
HP Mini 311 — Flash Video Meets ION
We discussed recently the new 10.1 Beta of Flash, which adds DXVA acceleration for videos. We tested everything from standard YouTube and Hulu videos up through 1080p YouTube videos on the HP Mini 311. We even connected an external 1080p LCD to see how the system would handle scaling to such a high resolution. The results are shown in the following table (repeated from our Flash 10.1 article).
HP Mini 311 (ION LE)
Full Screen 1366x768 Performance
Flash 10.0.32.18
Flash 10.1.51.45
Hulu HD 720p - LOTS - Avg. CPU
98%
66%
Hulu HD 720p - LOTS - FPS
1.1
24.2
Hulu 480p - The Office - Avg. CPU
92%
66%
Hulu 480p - The Office - FPS
7.1
27.6
YouTube HD 720p - PoP - Avg. CPU
90%
69%
YouTube HD 720p - PoP - FPS (Dropped)
10.5 (1519)
24.0 (0)
While Flash 10.0 struggled with quite a few videos, 10.1 enables ION netbooks (and nettops) to work without skipping. Presumably this will also help out any laptop/netbook with the necessary hardware to handle HD video decoding offload. That means that netbooks using the GMA 500 IGP ought to work (we couldn't confirm this yet), but most netbooks currently use GMA 950. The 945GSE chipset in this case can't help with DXVA, which means that fullscreen HD Flash video isn't going to run on such netbooks. If you like HD YouTube/Hulu/etc., that could be the killer app that makes the ION a must have compared to other netbooks.
Sounds great, right? Let's take a moment to look at the bigger picture, though. GMA 950 is old news… very old news. It's only still around because ASUS decided to make a slow laptop and sell it for $300, kicking off the netbook era. While we like the idea of smaller laptops with good battery life, Atom still leaves a lot to be desired, and the platform as a whole has plenty of shortcomings.
If you can manage to spend a bit more money, laptops like the Acer Timeline series include the much improved GS45 chipset (GMA 4500MHD) and Core 2 Ultra Low Voltage (CULV) CPUs. That combination is able to handle DXVA as well, and even the lower end dual-core Pentium SU4100 (1.30GHz 2MB cache) and Celeron SU2300 (1.20GHz 1MB cache) are significantly faster than the Atom N270/N280.
You can find such laptops starting at $400 (e.g. the Gateway EC1435u), and they make a very compelling argument against Atom netbooks. In terms of video decoding — be it Flash, x264, or something else — ION clearly leads other Atom netbooks but ends up tying the CULV solutions. Gaming would still be in favor of ION, perhaps, though it lacks the CPU power to make that matter. What about CUDA?
HP Mini 311 — CUDA on ION
NVIDIA always likes to tout the advantages of their GPUs and CUDA. In theory, if you have a highly parallelizable task like video encoding/decoding/processing, you can accomplish that task a lot faster on a GPU than on a traditional CPU. When you add in the fact that Atom is already a very slow in-order architecture (albeit with Hyper-Threading), boosting performance of certain tasks could be very beneficial.
One of the applications NVIDIA talks about a lot with relation to CUDA is Badaboom. We haven't looked at in quite some time, and with the low performance of Atom CPUs it might be a viable option. We ran a test encode using Badaboom and a 720p source video, targeting the default "YouTube" output: 640x360 with 1000kbit VBR video and 128kbit MP3 audio. We also tweaked the Badaboom settings to enable auto key frame insertion for improved image quality and performance, which we'll see in a moment.
We can't run Badaboom on CPUs, unfortunately, so we used TMPGEnc 4.0 Xpress and similar settings: MPEG4 1000kbit video with 128kbit AAC audio. Interestingly, TMPGEnc also supports CUDA. However, the encoding is all done on the CPU, so the main benefit of CUDA for TMPGEnc is if you use some of the complex filters like noise reduction and smart sharpen. If you're just doing a straight video encode, CUDA doesn't appear to help TMPGEnc right now.
First up, here are the results, with CPU encoding time on an Acer Timeline 1810 as well as a desktop Core 2 Quad 3.2GHz thrown in for reference.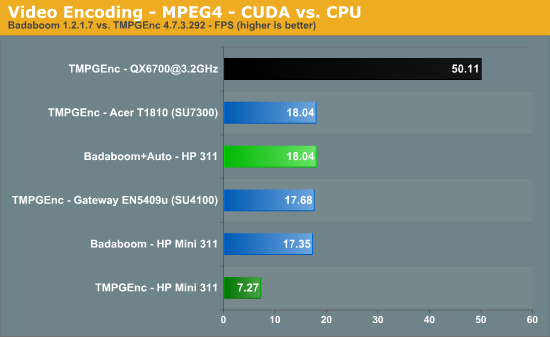 Badaboom ends up being about 2.5 times faster than doing the video encoding on the Atom N270. Hooray! It's also about the same speed as a Pentium SU4300, but an overclocked Kentsfield 3.2GHz CPU is still 2.8 times as fast. Can you do basic video encoding on the ION LE with Badaboom? Yes, but now let's discuss quality for a moment.
The highest quality encodes will always require multiple passes in order to provide a better analysis of how to best use the available file size. Badaboom doesn't support multiple passes, so we did a single-pass encode in TMPGEnc for comparison. File sizes are similar (4213KB TMPGEnc vs. 4205KB Badaboom). Below are the image captures of the encoded video.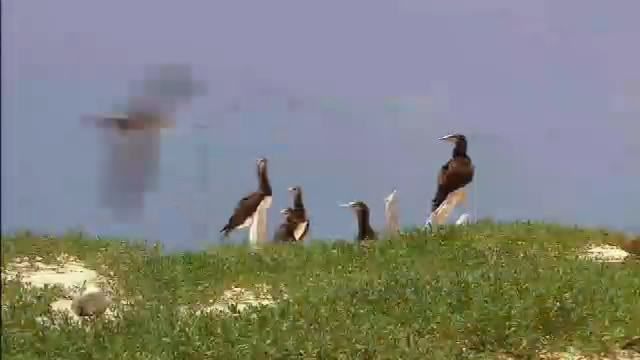 Default Badaboom YouTube setting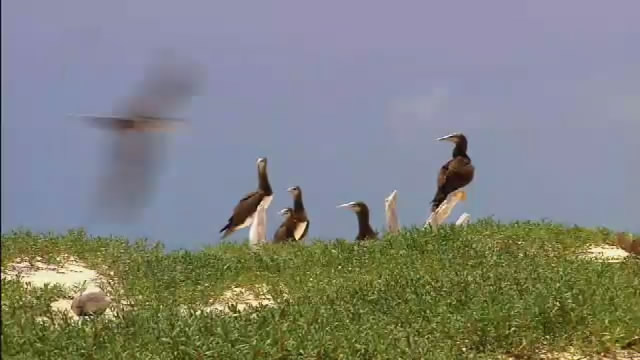 Badaboom YouTube setting with Auto Key Frames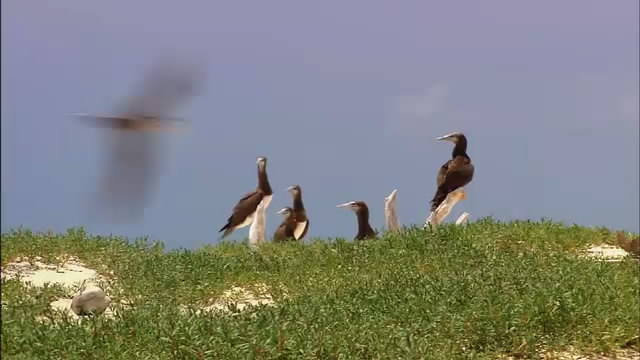 TMPGEnc 4.0 Express — Single pass MPEG4 AVC 1000kbit VBR (3000kbit max)
The initial encodes using the Badaboom YouTube defaults are, at times, horrific. The content of the source video (and the scene in particular) can make a big difference, but overall the default settings fail to produce optimal results. Fast motion content is the worst offender, but then doing a good compression of fast action content has always been a lot more difficult. Luckily, we determined that making one change — setting the Key Frame Mode to "Auto" instead of "Fixed" (with the default "Baseline" and not "Main" mode) — results in a much better image. We still give the quality lead to TMPGEnc — and if you do multiple passes, the gap widens — but as a compromise the CUDA-based Badaboom encoder can achieve some decent results. As for ION, it's not really fast enough to make CUDA compelling; a moderate CPU can easily produce better results. Move to a faster GPU (NVIDIA's GTX 260M does the same encode at around 82 FPS and GTX 280M is at 100 FPS) and CUDA can flex its muscles.
There are other concerns with Badaboom, however. We had quite a few sample videos that it wouldn't accept (including a standard MPEG2 video). We also had some issues with audio glitches — our test encoded video has a couple small gaps in the audio, and they're there every single time on multiple systems. It's a relatively easy to use tool, but ultimately it can provide encoding performance at the cost of flexibility and quality.
There are other CUDA applications, of course. We'll look at SimHD DVD up-sampling in our battery life tests for example. Another potentially useful tool is called vReveal, which can remove noise, improve contrast/lighting, and reduce shakiness in recorded videos. If you make videos with your cell phone or inexpensive digicam and you want to upload them to YouTube, vReveal might be worth a purchase. A better video recorder would be an even better purchase, of course.
Most of the CUDA tools at present focus on video (and to a lesser extent image) related activities, since these tend to be highly parallelizable. Anyone doing video editing/encoding work will want something far more powerful than an Atom-based netbook, even if it does have ION to help out. Ultimately, while CUDA is certainly interesting, we prefer a vendor-agnostic approach, and DirectCompute will hopefully provide that in the coming months (or years). We also need to maintain a balanced system — certain tasks still rely heavily on the CPU and aren't candidates for GPU acceleration — and Atom is nowhere near fast enough for a modern computer.
HP Mini 311 — Battery Life
We run many scenarios for our battery life tests. Most netbooks don't include optical drives, but since we had the external Blu-ray drive we were able to run our DVD and Blu-ray tests… sort of. We couldn't get DVD playback to work in Windows Media Player (or Media Player Classic - Home Cinema) due to "copy protection errors" (aka DRM rearing its ugly head — probably some codec or software we installed), but DVD playback worked fine with the included Arcsoft TotalMedia Theater 3.
TMT3 also supports a DVD up-sampling technology dubbed SimHD that's supposed to improve DVDs to "HD quality". Don't let that fool you! It's essentially a sharpening (sometimes over-sharpening) filter applied to every frame from the movie. It can look good in some scenes while adding noise to others, but some users might prefer the experience. SimHD isn't without its drawbacks, as it resulted in significantly lower battery life.
As a point of reference we ran the DVD playback tests with files copied to the HDD as well as from the external DVD; as you might expect, spinning a disc results in lower battery life — worse even than SimHD from the HDD. Honestly, DVD playback is so pre-2005, and this is the last you'll see of it in our testing of laptops. Rip a disc to your HDD and you won't have to worry about scratches or DRM issues, and you'll get better battery life to boot — a win-win-win scenario. Don't tell the MPAA and Media Conglomerate lawyers….
In addition to the above, we tested DivX HD, x264, Internet, Idle and even Gaming battery life. GPU decode acceleration is used where possible (and it's required for the Blu-ray test). DivX is also supported natively within Windows Media Player now, and a quick sanity check shows that it improved battery life slightly compared to decoding within MPC-HC (using ffdshow).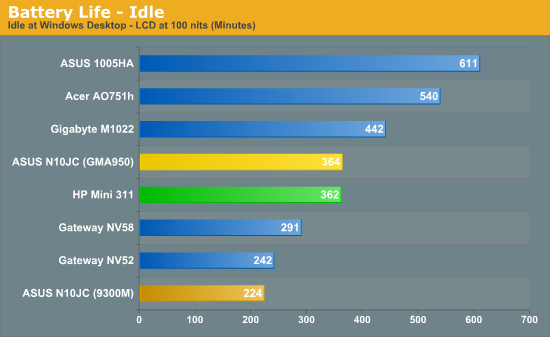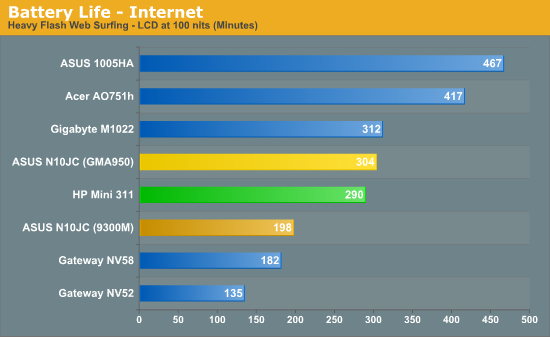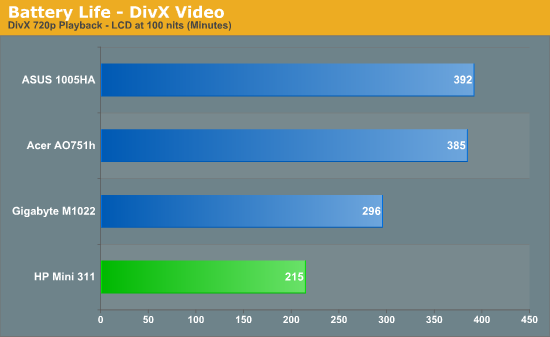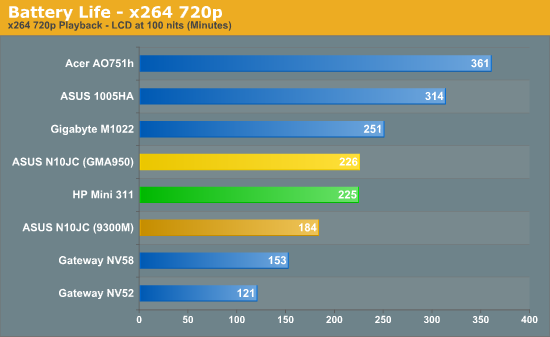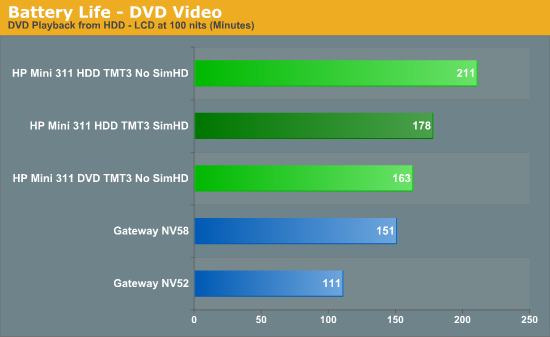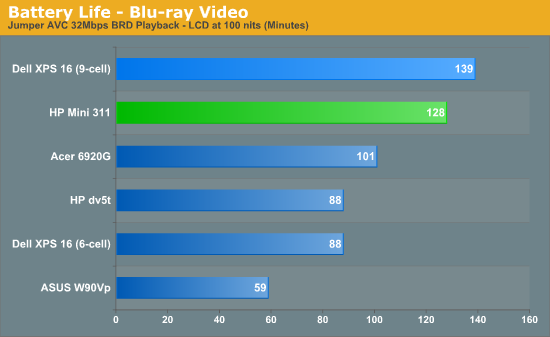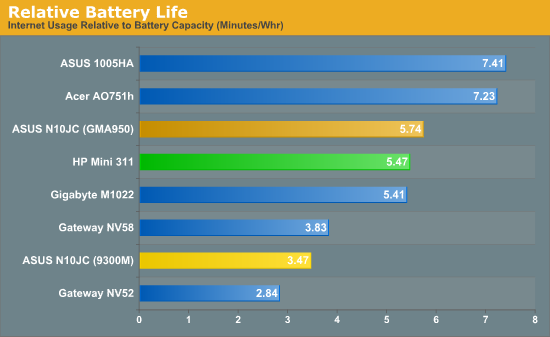 The battery life results are rather interesting. You can now get 9400M graphics performance (slightly slower than 9300M since it shares system memory bandwidth) with battery life that's at least close to some GMA 950 netbooks. The Mini 311 trades blows with the M1022 in our battery life tests, and it's very close to the old ASUS N10JC running in GMA 950 mode. In 9300M mode the Mini 311 offers clearly superior battery life compared to the N10JC. Unfortunately, that's only looking at half the picture.
The ASUS 1005HA still offers significantly better battery life in all tasks. The closest result is in x264 decoding, where the ION LE can help out, and the 1005HA still offers 40% better battery life. In other tests, the gap is as high as 80%, with the average advantage being closer to 60%. The 1005HA does have a larger batter (63Wh vs. 53Wh), though, so the real power advantage is 17% to 50%, depending on task.
As a whole, battery is generally good, but clearly certain tasks put a major load on the system. Blu-ray is still a killer, even with GPU acceleration, resulting in just over two hours of battery life. We don't have a chart (since we don't have results from most of the other laptops), but simulated gaming battery life (looping 3DMark at native resolution) lasted 160 minutes, actually surpassing Blu-ray playback time. However, as we discussed on the gaming performance page, that result should be taken with context: despite the ION graphics being plenty fast for low detail gaming, the Atom CPU just can't manage to run the majority of current 3D games. You'll want to stick to 2D games (a la Popcap) or titles from the early Pentium 4 era to get acceptable performance on the Mini 311.
HP Mini 311 — Power Requirements
As a corollary to the battery life tests, we also performed measurements of power requirements using the AC adapters and a Kill-A-Watt device. These numbers are only accurate to the nearest Watt, so a difference of 1W (i.e. from rounding) could obscure more than a 10% actual difference in power requirements. Also note that things change somewhat when you switch to DC power, so the battery life tests are a better indication of true power requirements.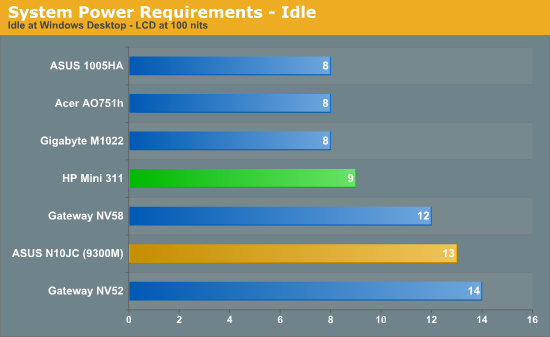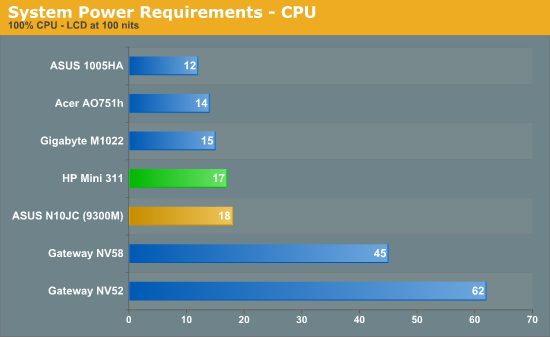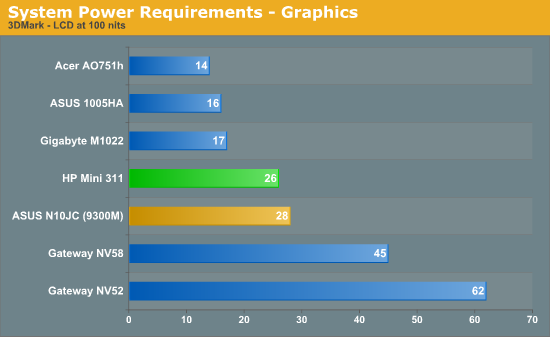 As usual, we see most of the battery life results reflected in our power measurements. At idle the Mini 311 uses 9W compared to 8W for the other recent netbooks. With the CPU under full load, the power draw increases to 17W while the other netbooks range from 12W for the ASUS 1005HA up to 15W for the M1022. The ASUS is obviously more effective at conserving power with the CPU under load. In our graphics test (essentially full load as 3DMark will stress both the CPU and GPU), the Mini 311 consumes substantially more power than most other netbooks, but that's due in large part to the fact that the ION LE (9400M) graphics are pretty much an order of magnitude faster than the GMA 950.
HP Mini 311 — LCD Quality
We ran our standard LCD quality tests using ColorEyes Display Pro to see how well this 11.6" LCD panel (from LG Philips — the LP116WH2) performs. LED backlighting? Check. 6-bit color with interpolation on a TN panel? You betcha! >500:1 contrast ratios? You wish. LG Philips lists a contrast ratio of 300:1 on the LP116WH1, but as you can see we only managed half of that.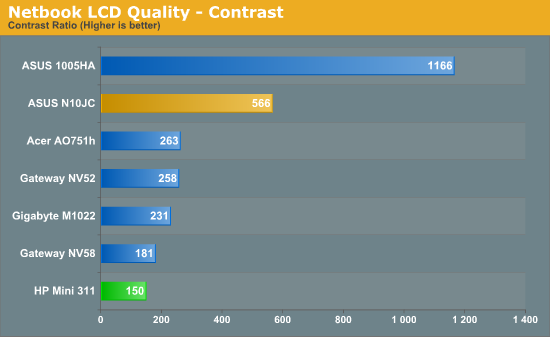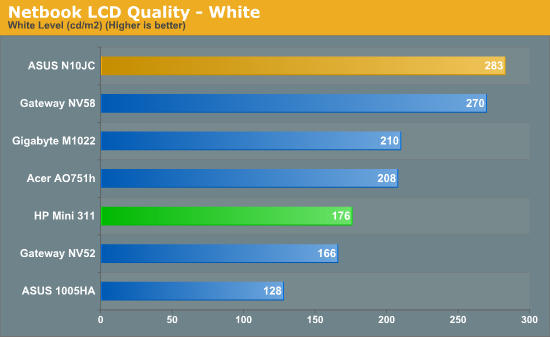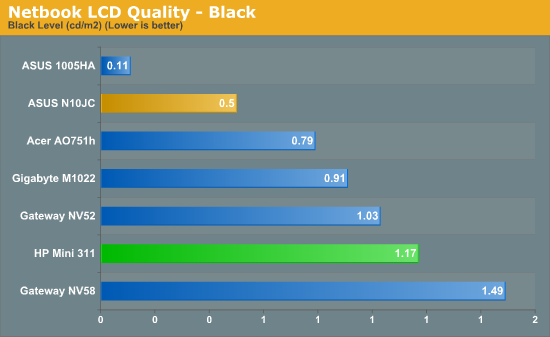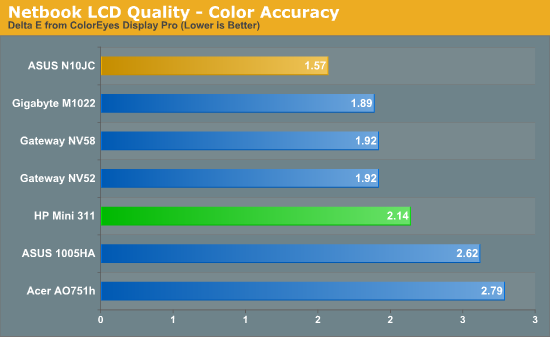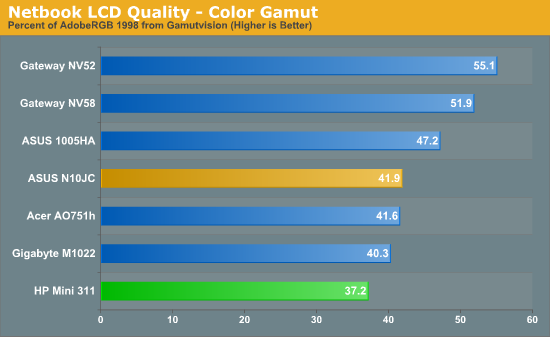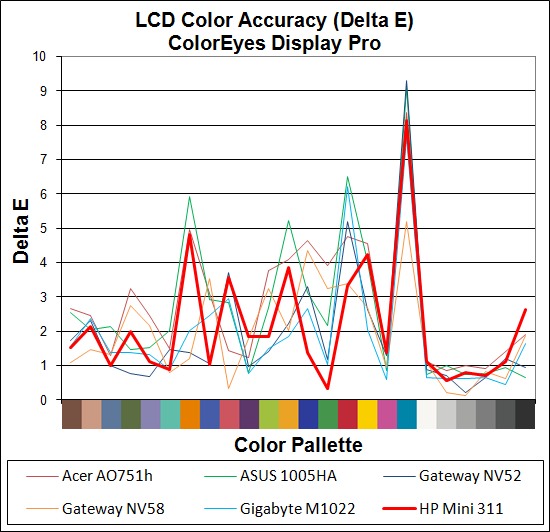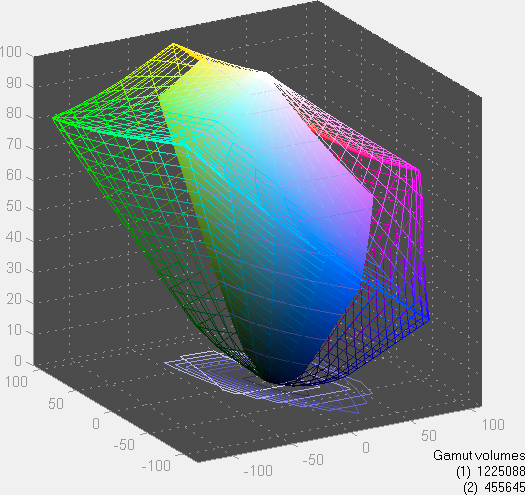 We definitely like the 11.6" panel compared to 10.1" (and smaller netbooks), and the native 1366x768 resolution helps immensely compared to 1024x600. However, the contrast ratio and color gamut are extremely poor. For an inexpensive netbook it's not the end of the world, but the HP Mini 311 is pushing the boundaries of what we'd term "inexpensive". If you're an LCD snob, this panel just isn't going to cut it. Moving on….
ION for Netbooks — is it enough?
NVIDIA's ION platform for netbooks has a lot of interesting concepts. With the use of GPUs for more tasks — especially video decoding and editing — is it possible to pair a faster integrated GPU with an Atom processor and create a compelling system? Comparing the HP Mini 311 with other Atom-based netbooks, we would be inclined to answer in the affirmative. However, Atom netbooks aren't the only game in town.
We've dropped several references to Acer's Timeline series, and plenty of other vendors are launching similar CULV products. The Core 2 Duo SU9000 series is too expensive to compete in the same market, but the dual-core Celeron SU2000 and Pentium SU4000 chips aren't quite so expensive — in fact, the Celeron SU2300 is about half the cost of the Core 2 Duo SU9400. The loss of 2MB cache (3MB down to 1MB) and 200MHz will certainly reduced performance, but compared to Atom it should still be quite a bit faster. The question really comes down to how much you want to spend.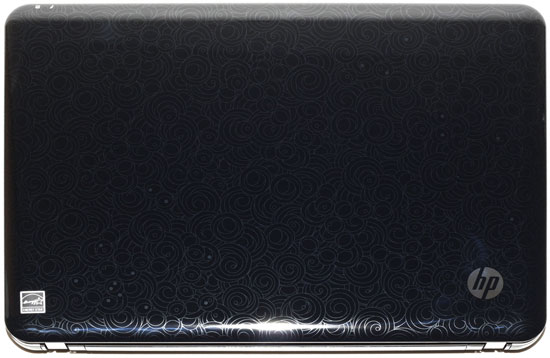 We really aren't too fond of the HP Mini 311 keyboard, touchpad, or LCD, and while the ION LE chipset certainly helps with video decoding, the same can be said for GMA 4500MHD. Modern games really aren't a viable option on either ION LE + N270 or CULV + 4500MHD, and older titles should work on both solutions. We wouldn't call either option perfect, but which is better?
We've begun testing of an Acer Timeline 1810, which is the same size as the Mini 311. The price of a Timeline 1810 starts at around $550, which is a full $150 more than the base Mini 311. However, that gets you Windows 7 Home Premium, 3GB RAM, a 320GB HDD, a Pentium SU4100 CPU, and around six to eight hours of battery life. Configure a Mini 311 with similar specs in the RAM, OS, and HDD areas and you're looking at $565 (without the external Blu-ray drive).
Similarly, we have the Acer Timeline's larger step-brother in the house, the Gateway EC5409u, priced at around $650. It includes 4GB RAM, a 15.6" LCD, and a DVDR. If you prefer a $400 price cap, consider the Gateway EC1435u we mentioned earlier. It has 2GB RAM, 160GB HDD, Win7, and a dual-core Celeron SU2300 (dual-core 1.2GHz, 1MB shared cache). Yes, even a Celeron SU2300 is still going to be a lot faster than Atom in terms of CPU performance.
We like the idea of NVIDIA's ION platform a lot more than we like the Intel Atom 945GSE platform, but we like CULV laptops even more. If we had to choose between the HP Mini 311 for $400 and the Acer Timeline 1810 at $550, it would be a tough decision even if the 311 had 3GB RAM and a 320GB HDD. Once we factor in the keyboard (we prefer the AS1810T), general performance, and battery life, the HP Mini 311 simply costs too much for what it offers. We'd also take the Gateway EC1425u as a great $400 alternative.
Looking towards the future, Intel's Pine Trail/Pineview should improve performance and battery life on Atom. What we don't know is how good the new IGP solution inside Pineview is going to be. Our understanding is that in 3D performance it will be similar to GMA 950 hardware, but it should also add the necessary features for DXVA and HD video decoding. We also know that ION won't be an option with Pineview, but vendors could still use other discrete NVIDIA GPUs (i.e. the G100M/G200M series). Unless Pineview really perks up in the CPU performance arena, though, solutions using CULV processors would continue to lead in many areas.
One of the best solutions we've seen of late is the ASUS UL80Vt, with GMA 4500MHD and the ability to enable/disable a GeForce G210M on the fly. Our full review is still coming, but consider this a recommendation if you have the $800 to spend. If all you have is $400 to $600, for the long battery life enthusiasts we recommend the Acer Timeline series (or similar products like the Gateway EC models). Those more interested in graphics performance at the expense of battery life can continue to turn to AMD CPU+IGP solutions like the Gateway NV52 with ATI HD 3200 — we've seen that particular notebook on sale for as little as $400 of late, which is a great deal considering we thought it was a decent notebook when it was selling for $500.
With so many other viable options, ultimately the HP Mini 311 is an interesting product that doesn't do enough to get our full attention. Last year the ASUS N10JC offered similar specs in many ways (albeit with a smaller LCD), and it garnered our Gold Editors' Choice award. A lot has changed in one year. Intel's Atom has always been about keeping costs low and reducing power requirements; spending $400 on any Atom netbook is tough to recommend, and the HP Mini 311 will usually cost closer to $500 once you add a few extras. The most likely buyer for the 311 is users that want a netbook with an external Blu-ray drive and software, in which case $630 for the Mini 311 is a fair deal. Ultimately it's not a bad netbook, but neither is it Editors' Choice material.