Original Link: http://www.anandtech.com/show/2863


Thursday marked the official launch of Windows 7, so perhaps we can finally put those Mac versus PC commercials behind us. Whatever your feelings towards Vista, the fact remains that it garnered a less than stellar reputation. As we discussed in our Windows 7 RC1 article, many people have the impression that Windows Vista is awful but they can't tell you why. Microsoft hopes to change things with the launch of Windows 7, a.k.a. Windows Vista 2.0.
One of the sore spots for Windows, and Vista in particular, has always been battery life. We have discussed this previously, but the simple fact of the matter is that Mac OS X on a MacBook is easily putting any Windows laptop to shame when it comes to mobility. There are many potential contributing factors, including better optimization of the hardware/software combination, tweaks to perhaps enable lower voltages by default on Intel CPUs, and the ability to keep the CPUs running in deeper sleep states more of the time. We will have an updated comparison with OS X in the near future, but to date everything appears to be in favor of Apple MacBook; Windows 7 improves the situation.
Microsoft has a white paper detailing some of the changes in Windows 7 that should result in improved battery life. We have already explored this topic previously, but those are only preliminary results. Moving forward, the laptops we review are going to shift to Windows 7 instead of Windows Vista, and today marks the onslaught of the Windows 7 laptop releases. One of the first Windows 7-based laptops to arrive in our labs for testing comes from ASUS.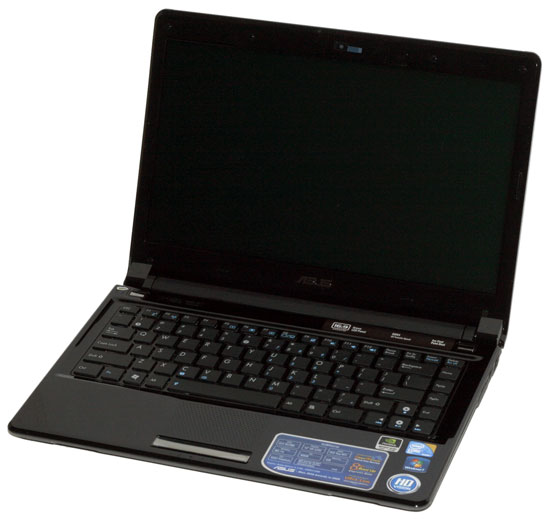 We looked at the ASUS UL50Vt running on Windows 7 Home Basic and found that ASUS could deliver nearly 7 hours of battery life while surfing the Internet -- and that's using our heavy Flash-based tests. One of the more interesting aspects of the ASUS UL series is that they allow overclocking of the ULV processors -- typically 1.73GHz instead of the default 1.30GHz, though in low-power states it's also overclocked from 800MHz to 1066MHz. The overclocking is achieved by simply raising the FSB from 800MHz to 1066MHz; since the chipset and other components can all run a 1066FSB already, the only component that's truly overclocked is the CPU, and it has no difficulty running at 1.73GHz.
We have the final release version of the ASUS UL80Vt in our hands, and we have begun testing. Today we provide a quick look at what the laptop offers and our initial impressions.
ASUS UL80Vt Overview
The ASUS UL80Vt slots in between the 13.3" UL30Vt and the 15.6" UL50Vt. It includes a 14.0" LED backlit display, although unfortunately it still runs at 1366x768; we would have liked at least a 1440x900 LCD instead (or 1600x900 if you insist on a 16:9 aspect ratio -- and we don't). The smaller chassis means that it doesn't weigh as much as the UL50Vt, and ASUS has increased the battery capacity to 84Wh, resulting in battery life claims of "up to 12 hours". Sound improbable? You might just be surprised. Here are the detailed specifications for the UL80Vt.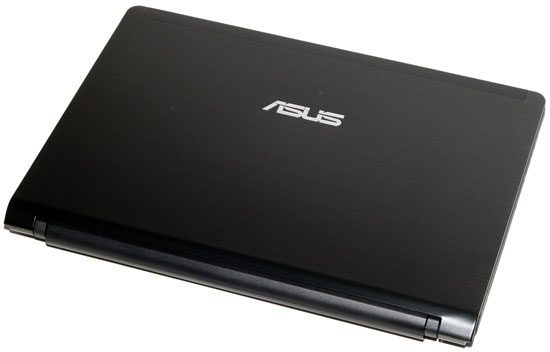 ASUS UL80Vt-A1 Specifications
Processor
Intel Core 2 Duo SU7300
(1.3GHz, 45nm, 3MB L2 cache, 800MHz FSB, 10W)
Overclockable to 1.73GHz
Chipset
Intel GS45 + ICH9M
Memory
2x2GB DDR3-1066
Graphics
NVIDIA GeForce G210M 512MB
(16SPs, 606/1468/1580 Core/Shader/RAM clocks)
Intel GMA 4500MHD (Switchable)
Display
14.0" LED Glossy 16:9 768p (1366x768)
Hard Drive(s)
320GB 5400RPM HDD
Optical Drive
8x DVDR SuperMulti
Networking
Gigabit Ethernet
Intel Wifi Link 5100 AGN (5738/DG/PG)
Acer InviLink 802.11n (5738Z)
56K Modem
Audio
HD Audio (2 stereo speakers with two audio jacks)
Battery
8-Cell, 15V, 5600mAh, 84Wh battery
Up to 12 Hours
Front Side
None
Left Side
Headphone/Microphone jacks
2 x USB
HDMI
VGA
Cooling Exhaust
AC Power connection
Right Side
Optical Drive (DVDRW)
Flash reader (MMC/MS/MS Pro/SD/xD)
1 x USB 2.0
Gigabit Ethernet
Back Side
None
Operating System
Windows 7 Home Premium
Dimensions
13.5" x 9.6" x 1.1" (WxDxH)
Weight
4.8 lbs (with 8-cell battery)
Extras
Webcam
86-Key keyboard
Flash reader (MMC/MS/MSPro/SD/xD)
Multi-touch touchpad
Brushed aluminum cover (glossy plastic LCD/bezel/palm rest)
ExpressGate OS (8-second boot)
Warranty
2-year global warranty
1-year battery pack warranty
1-year accidental damage
30-day zero bright dot LCD
Pricing
ASUS UL80Vt-A1 starting at $819
Obviously, this laptop isn't going to compete with the Dell Studio 14z in terms of raw performance, at least when it comes to CPU power. Running at the default clock speed of 1.30GHz, the Core 2 Duo SU7300 is going to be substantially slower than the P8600 we tested in the Dell 14z. However, the story doesn't end there. First, ASUS overclocks the SU7300 33% by default, so the 85% clock speed advantage of the P8600 is reduced to only 39%. Here's where things get interesting.
ASUS is one of the few companies to support hybrid GPU technologies that allow users to switch between discrete graphics and integrated graphics -- on the fly! We first saw this in the ASUS N10JC (though Sony was the first to actually offer the feature, I believe), but that required a reboot to enable/disable the discrete graphics. It also used a substantially slower Intel Atom N270 CPU; do we even need to explain how much faster the SU7300 is -- without overclocking? Needless to say, Core 2 plus dual cores running at a higher clock speed will end up providing substantially more processing power than any current Intel Atom solution. But let's get back to the GPUs.
The integrated graphics are Intel's GMA 4500MHD, which are adequate for most users, particularly if they don't plan to run any games. The discrete graphics solution is NVIDIA's GeForce G210M, essentially an updated version of the GeForce 9500M G (or a discrete version of the 9400M G if you prefer, with higher clocks). The 9400M performed quite well in our testing of the Dell Studio 14z, coming in roughly 50% faster than the HD 3200 (paired with an AMD Athlon QL-64). The G210M is clocked ~35% higher on the core and shaders, and it has 12.6GB/s of dedicated memory bandwidth. In contrast, the 9400M shares memory bandwidth with the CPU/system (17GB/s on the 14z -- note that the UL80Vt also has 17GB/s of system memory bandwidth). Certainly the P8600 wasn't a bottleneck for the 9400M, and we suspect the overclocked SU7300 will work well with the G210M. We'll have complete performance results later, but we do have a few preliminary scores to report today. The most important aspect of the graphics setup is that users can decide between improved battery life (GMA 4500MHD) or better 3D/video performance (G210M) -- it's a win/win scenario.
Going along with the ULV CPU and hybrid graphics, ASUS ships the UL80Vt with 4GB of DDR3-1066 memory. Performance may not be substantially better than DDR2-667 since CAS latency and other timings are higher (slower), but in DDR3 does require less voltage than DDR2 and that will help battery life. It's also nice to see that 4GB laptops have become ubiquitous; only netbooks and the cheapest laptops offer something other than 2x2GB these days, and the vast majority of new laptops also ship with 64-bit Windows. We have finally reached the inflection point in terms of 64-bit adoption, so hopefully we will see more applications begin to leverage the possibilities a 64-bit environment provides.
The remaining features on the ASUS UL80Vt are pretty much what you would expect from ASUS. The size and weight are good for a 14" laptop -- just slightly larger than the Dell Studio 14z. Battery capacity is 17% greater, users get an optical drive, and like most ASUS laptops the UL80Vt comes with a two-year global warranty. Performance should be more than adequate for most users (the overclocked SU7300 should match any current AMD mobile CPU), but the big selling point is going to be size and mobility. The overclocked CPU might not be quite as fast as the latest MacBook, but we finally have a contender when it comes to battery life.
ASUS UL80Vt Design
Okay, we've covered the specifications and features, so let's see what the laptop actually looks like.
As good as the features and specifications are on the UL80Vt, ASUS also made sure that they didn't skimp on the design elements. Here it's not quite as clear of a victory, but there's plenty to like with the UL80Vt aesthetics. For one, ASUS has added a brushed aluminum cover on the top of the chassis. That alone is enough to make us drool, but unfortunately the aluminum surfaces end there. Open up the laptop, and you'll find that the LCD bezel and palm rest are still glossy plastic -- a double whammy considering the black color scheme. Fingerprints? Yes, we have those in abundance.
As usual, the LCD is also of the glossy variety. We haven't conducted in-depth testing of the LCD, but we did run a quick test of brightness and contrast ratio. Maximum brightness is good at nearly 240 nits, but the black level is an equally high 1.16 nits resulting in a poor contrast ratio of only 204:1. After we were so impressed by the 1200:1 contrast ratio of the $400 ASUS Eee 1005HA, it's disappointing to see a laptop that costs twice as much get the short shrift when it comes to LCD panels. We are continually baffled by the way companies choose to cut corners on such an important component for laptops; after all, the LCD is what you actually look at the whole time you're using the computer.
We can't blame ASUS too much, though, since virtually all companies are using the same sort of LCD panels. The common explanation is that margins are so low on LCD panels and laptops that they don't have the ability to use a more expensive display. Personally, I'd happily spend significantly more money on a laptop (at least $100) if it meant I could get a high quality display. And for the record: high quality means it needs a high contrast ratio along with a good color gamut; I'd love something other than a TN panel in a laptop, but I'm beginning to think that hope is in vain.
Besides the glossiness, we have few complaints with the design of the UL80Vt. It has a nice, slim form factor and a sleek, businesslike aesthetic. This is definitely the type of laptop you could take into a board meeting and not feel out of place. The touchpad is a bit unusual, in that ASUS has a bumpy area on the palm rest rather than the normal recessed touchpad. This is similar to the touchpad they used on the ASUS 1005HA, only it's larger and subjectively it works better. The touchpad also supports multi-touch, so you can use two fingers and swipe to quickly scroll through documents, right-click, etc. We definitely like the multi-touch aspect of the touchpad, and it's nice to see more companies going that route.
ASUS UL80Vt Benchmarked - General Performance
This is a first look and we have not yet had a chance to run all of our performance tests. Battery life testing in particular is going to take a long time -- which is a good thing, outside of the testing aspect. We have only had the UL80Vt for two days now, but we have been duly impressed with its features, design, and performance. It may not be the best-looking laptop on the planet, it may not have every feature under the sun, and it certainly isn't the fastest laptop. However, it does everything a typical laptop user could need, it does it at an affordable price point, and it truly manages to redefine what we can expect in terms of mobility from Windows laptops. Here are a few preliminary benchmarks we've run.
We conducted tests using the "moderate battery saving" and "maximum performance" profiles in ASUS' Power4Gear software. Turbo mode (overclocking) was enabled in all testing so far; honestly, we don't see much point in disabling it (which requires a reboot), but we'll test battery life without Turbo mode for the full review; that may add another 5-10% battery life, although the laptop already lasts a full day so it's not a critical concern. The SU7300 CPU has two P-states, 800MHz and 1300MHz; the overclocked FSB results in the SU7300 running at 1066MHz or 1733MHz (using a 4X or 6.5X multiplier). CPU-Z does not report clock speeds correctly (it always showed an 8X multiplier for some reason), but ASUS provided an updated version of Intel's Thermal Analysis Tool that reports the correct speed.
After a few initial tests, we discovered that the only way to get the CPU to run at the 6.5X multiplier is to select "Maximum Performance" in the Power4Gear software, with the maximum CPU speed set to at least 62%; otherwise the CPU will always run at the 4X multiplier. Since we already had a bunch of results for 1066MHz, we decided to report those -- it will make for an interesting comparison with the Intel Atom at least. The 1733MHz results will be in bright green and the 1066MHz results are in dark green in the following charts. We'll start with general performance results using PCMark as well as a few CPU intensive tasks like video encoding and 3D rendering.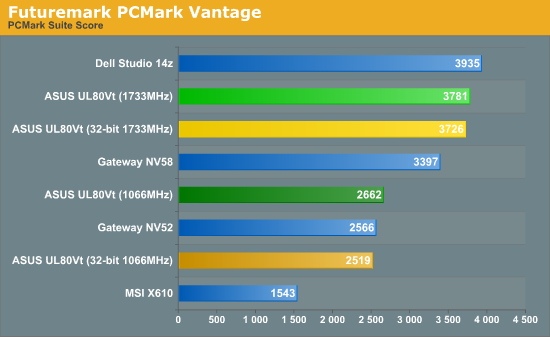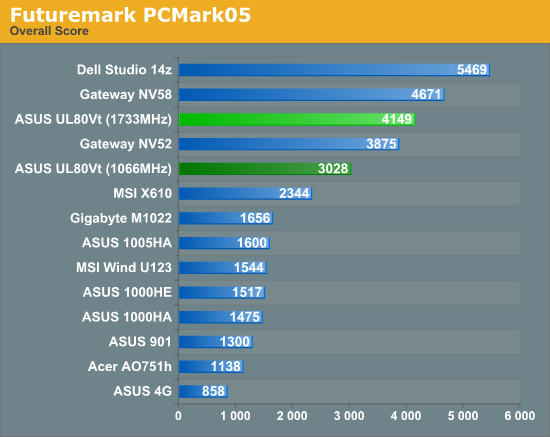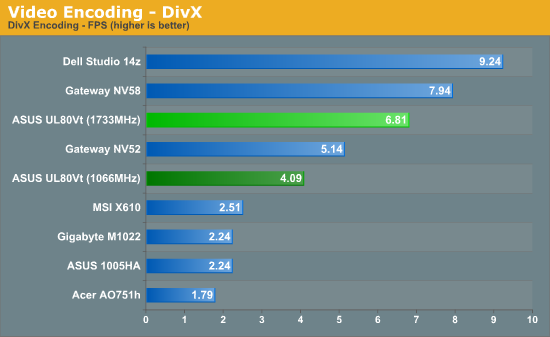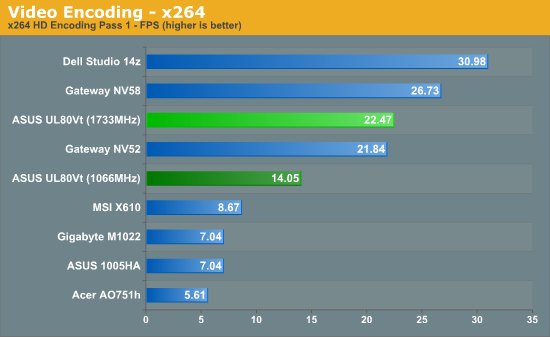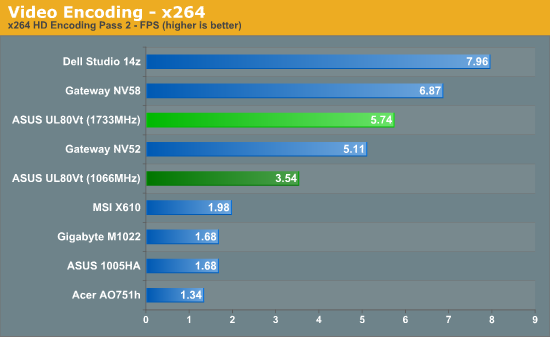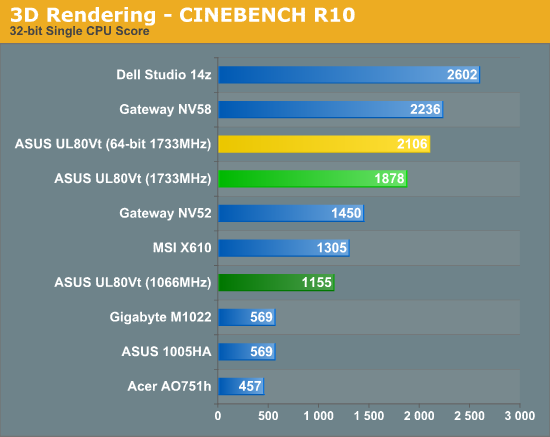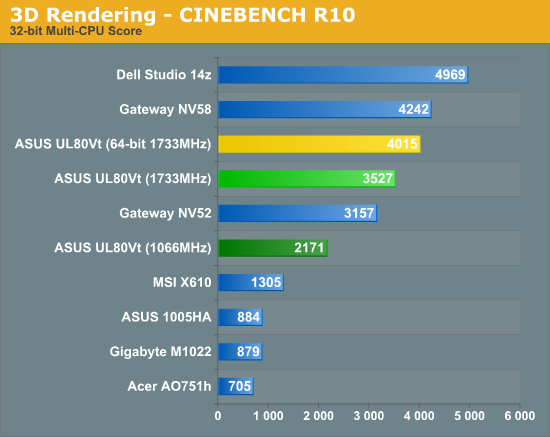 The general performance delivered by the UL80Vt is certainly impressive. It's not the fastest laptop on the market by any means, but application performance is better than the majority of AMD-based laptops currently available. The overclocked SU7300 outperforms the Athlon QL-64 (2.1GHz) by 7% in PCMark05, 47% in PCMark Vantage, 12% in the second x264 encoding pass (the first pass is relatively simple by comparison, depending more on the hard drive and platform than on the CPU), 32% in DivX encoding, and 12% in CINEBENCH R10. The latest 45nm AMD parts like the Turion II Ultra M640 will regain the lead, certainly, but we still have to account for power draw. We'll get to that in a moment, but suffice it to say that it's going to be difficult to beat the overclocked SU7300.
Comparing the UL80Vt to netbooks shows just how slow the Intel Atom is. Even at 1066MHz, the UL80Vt is typically at least twice as fast as the ASUS 1005HA, and at 1733MHz it's 150-250% faster. Sure, it also costs twice as much, but we would make a strong argument that netbooks are only "fast enough" if your demands are low. The bigger selling point for netbooks is their small size and weight, and 14" laptops costing close to $800 certainly encroach on that territory. Netbooks work far better as a second (or third…) PC than as your primary system, while something like the UL80Vt can fill all roles reasonably well. If the general application performance makes netbooks look bad, wait until we look at graphics performance.
ASUS UL80Vt Benchmarked - Graphics Performance
Our testing for now is confined to the use of the discrete GeForce G210M graphics on the UL80Vt. When we deliver our full review, we will include additional results using the integrated GMA 4500MHD. You can get a good idea of the 4500 MHD performance by looking at the Gateway NV58 results; the NV58 has a faster CPU, but for 3DMark and gaming performance the GPU is going to be a huge bottleneck.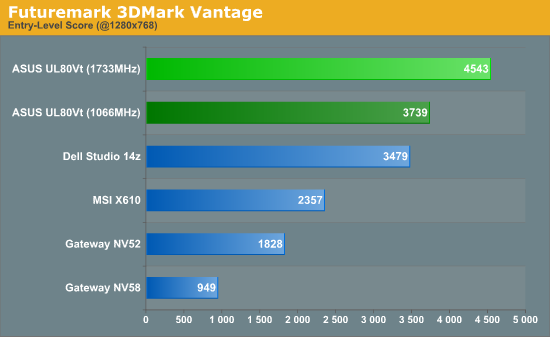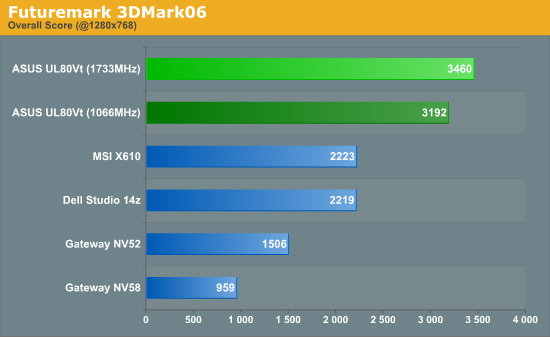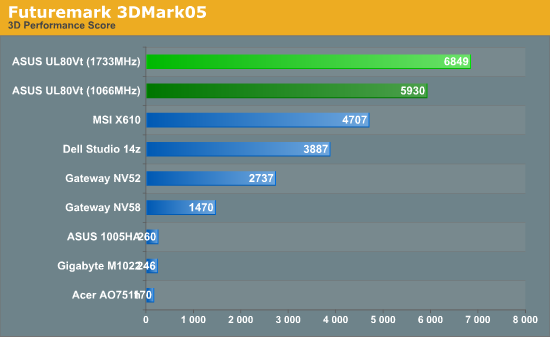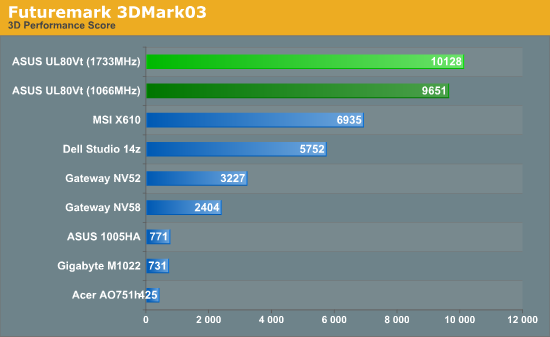 Looking at 3DMark graphics performance, the G210M combined with the overclocked SU7300 delivers respectable performance. The G210M is clearly faster than the 9400M G integrated solution, with the advantage ranging from a low of 30% in 3DMark Vantage up to a high of 76% in 3DMark03. We realize 3DMark isn't true gaming performance, but most games correlate well with one of the versions. 3DMark06 and Vantage include CPU performance into the final score, which is why the gap between the 14z and UL80Vt isn't quite as large -- the P8600 should be at least 39% faster than the overclocked SU7300, and the detailed results confirm that. The CPU score in 3DMark06 is 1571 for the UL80 compared to 2117 with the 14z (a 35% advantage to the 14z), while the CPU score in Vantage is 3344 vs. 4284 for the 14z (28% faster). Meanwhile the 3D scores favor the UL80 by 58% in Vantage and 69% in 3DMark06. For reference, the Gateway NV52 with HD 3200 isn't even close in 3DMark; the UL80Vt is 130% to 214% faster!
Even at 1066MHz, the SU7300 with the G210M puts up a fight. The lead drops to 7.5% in Vantage (due primarily to the low CPU score), but it's still 44% in 06, 53% in 05, and 68% in 03. The comparison to the NV52 continues to be a landslide in favor of the SU7300+G210M: it's 105% faster in Vantage and up to 200% faster in 3DMark03.
We recognize that 3DMark isn't the be-all, end-all indicator of gaming performance, but as a quick test we can see that UL80Vt with the G210M enabled should never be slower than laptops with integrated graphics when it comes to gaming (i.e. the Dell 14z with 9400M G and the Gateway NV52 with HD 3200). It's also worth noting that the UL80Vt supports NVIDIA's reference drivers, just like other laptops with GeForce graphics (although you'll need to wait for updated drivers from NVIDIA if you want something newer than the 186.88 drivers the laptop ships with). At present, for graphics in notebooks the pecking order is roughly as follows:
High-end and midrange discrete solutions (GeForce GTX 280M/260M and Mobility Radeon HD 4670 and 4870)
Lower end discrete solution (Radeon HD 4330 and HD 3670, or GeForce 210M and 9600M, etc.)
NVIDIA's current integrated graphics (GeForce 9400M G -- represented by the Dell Studio 14z).
ATI's current integrated graphics (Radeon HD 3200 -- i.e. the Gateway NV52).
Intel GMA 4500MHD and older NVIDIA/ATI IGP solutions (X1260 or GeForce 7000 or earlier).
Intel's GMA 950 and earlier (typically seen in netbooks now).
The corollary to the above is pricing and power, and generally speaking the higher you go on the list, the more expensive the parts become and the worse battery life you get. That's the great benefit of designs like the UL80Vt: you can get reasonable graphics performance when you need/want it, but you can still switch off the graphics and run on the IGP for improved battery life. The G210M is designed to use a maximum of 8W, but when the rest of the laptop averages less than 10W of power, that's a potential 80% increase in power requirements. The slower IGP solutions -- especially from Intel -- do manage to keep power requirements low while offering dismal gaming performance. The HD 3200 and 9400M are much more palatable in terms of overall performance and video offloading features, with power requirements that are about the same as the GMA 4500.
ASUS UL80Vt Benchmarked - Battery and LCD
Finally, we have perhaps the most interesting aspect of the UL80Vt. Decent performance and a reasonable size are nice, but there are plenty of laptops to offer those amenities. What truly sets the UL80Vt apart from most other Windows-based laptops is the battery life. ASUS claims "up to 12 hours", and we decided to check their claim.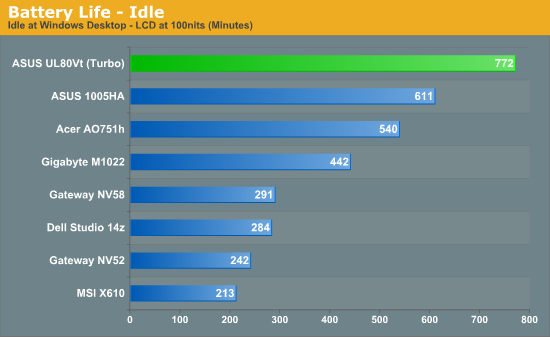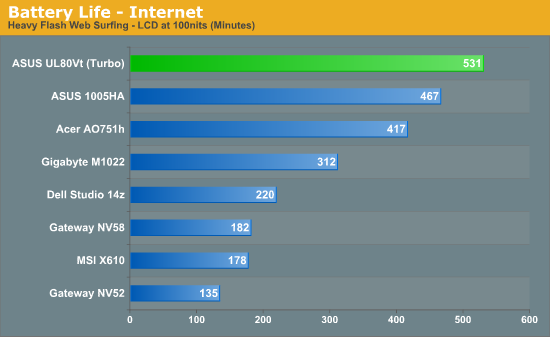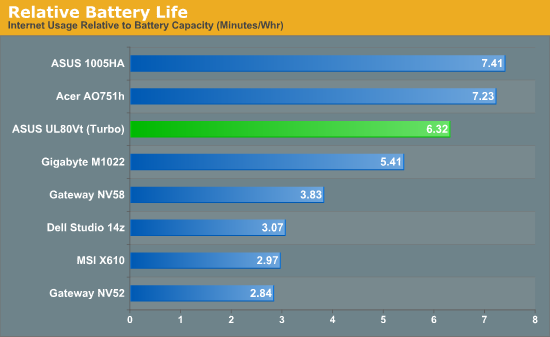 Idle battery life reached nearly 13 hours… and that's what Turbo mode (overclocking) enabled. Granted, the system was sitting idle -- hardly a realistic usage scenario for most users. However, light office use isn't going to be much more taxing than our idle battery life test, and if you decide to disable Turbo mode battery life can only improve. In the far more pertinent Internet battery life, ASUS still achieves record-setting performance. Our initial test (we haven't had time for multiple test runs) came just shy of nine hours of continuous Web surfing. That's with several flash ads on be active website page, which again should be a bit more taxing than what many users view.
Looking at battery capacity and relative battery life, we finally have a true laptop that can actually trade blows with Apple's MacBook line. We never have been able to determine exactly what Apple does in order to achieve their high battery life, but clearly part of it has to be using lower voltage CPUs. ASUS follow suit by using the Core 2 Duo SU7300, which actually surpasses Apple by going with a 10W TDP CPU. Apple currently uses the 25W TDP SP9300, while some previous models used the 17W Core 2 Duo SL9000 series.
Even overclocked the SU7300 practically sips power in comparison to many other CPUs. We measured average power use of 9.5W for the UL80Vt in our internet test compared to 21.1W for the Gateway NV52 and 15.6W for the Gateway NV58. 10.1" and 11.6" netbooks only get down to 8.0-8.5W in the same test, and performance is obviously substantially higher with Core 2 Duo. What's truly impressive is that laptops like the UL80Vt previously sold for nearly $2000 -- sometimes more. With the boom in netbooks sales, manufacturers have apparently realized there's a real market for smaller laptops that get extremely good battery life.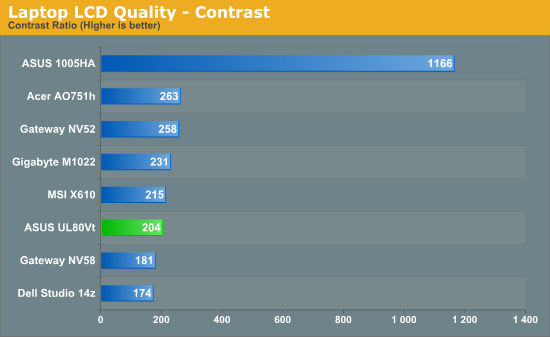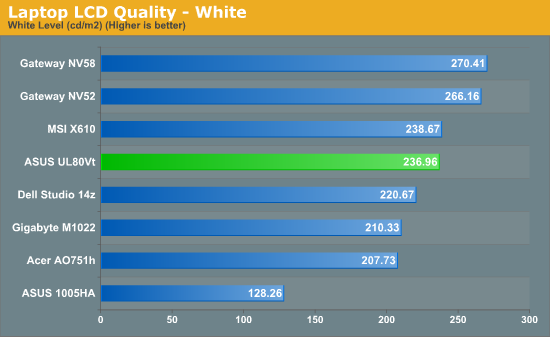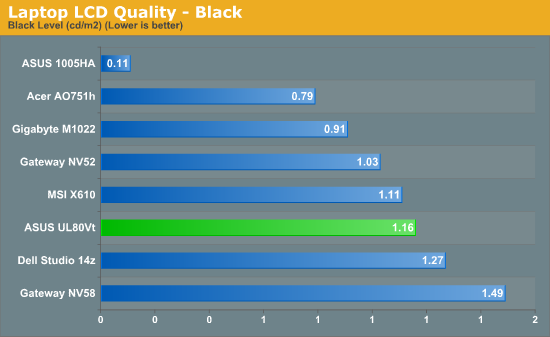 About the only fly in the ointment with the UL80Vt is the LCD panel. Here you can see our contrast ratio test results, and the results are down in the dumps with many other laptops. Sometimes I feel like a lone voice crying in the wilderness telling manufacturers that laptop LCD quality is a serious concern. I know from responses to previous articles that many of you agree, but unfortunately it's something that's difficult to quantify because many reviews don't ever look at LCD quality with quantitative results. ASUS has used very nice LCD panels on lesser offerings (i.e. the Eee 1005HA has an excellent LCD), and we have seen decent displays on other laptops and notebooks as well. If the system cost $25-$50 more but it had a 1000:1 contrast ratio (with an LCD that could still run at 250 nits), I wouldn't hesitate to give the UL80Vt an unequivocal recommendation. As it stands, it's a great laptop but it isn't quite perfect.
ASUS UL80Vt Thoughts
At this point, you should probably already have a good idea of whether the ASUS UL80Vt is going to be the sort of laptop you want to purchase. Provided that raw computational or graphics performance are not your primary concern, the UL80Vt is one of the best laptops we've looked at in a long time. If you've ever considered buying a netbook simply because they're small and get good battery life, the UL80Vt is like a netbook on steroids. It will easily provide twice the performance of your typical Intel Atom-based netbook, and it can do that while still going toe to toe in terms of battery life. The only catch is that it weighs slightly more… and it costs about twice as much as most netbooks.
What you get is a laptop that can run all day on a single charge, it won't weigh you down, and it comes with pretty much every feature you would actually need. Many 14" and smaller laptops (like the Dell Studio 14z for example) omit optical drives in order to keep size down. ASUS keeps the optical drive, adds a discrete graphics card with the ability to switch to integrated graphics, gives you an overclocked ULV processor, and a large 84Wh battery. The result is a package that's extremely easy to like.
Whether you need a lightweight laptop, something you can use on a business trip without constantly worrying about plugging in, or even a system that can run most games (albeit at lower detail settings), the ASUS UL80Vt has you covered. It's possible to equal the battery life of the UL80Vt, but it's very difficult to do while still matching the performance and features ASUS offers. We've seen ULV processors before, but we've never seen one overclocked 33% -- and it's not likely to be something Sony or other large OEMs even consider.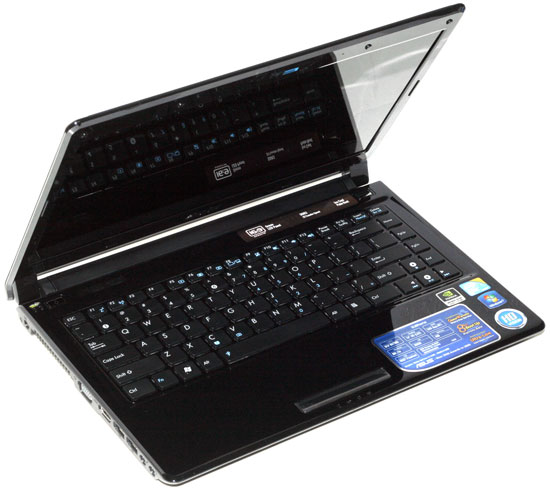 Has the MacBook finally met its match? That depends on whether or not you love/hate OS X. Windows 7 addresses many of the concerns users have with Windows Vista, and it does appear to improve battery life. ASUS has gone one step further and offered utilities (Power4Gear) that allow users to tweak performance and battery life settings even further. It's the combination of the right hardware with the right software that enables the UL80Vt to truly deliver on the long battery life promise.
The latest MacBook still has a faster CPU (the SP9300 is clocked at 2.26GHz -- 30% higher than the overclocked SU7300). However, it only has a 60Wh battery, and while the GeForce 9400M G integrated graphics are better than any other current IGP, the G210M appears to be at least 50% faster. When you don't need graphics performance, you can also shut off the G210M and used the GMA 4500MHD. It's a design that simply works. The MacBook also costs $1000 -- about $180 more. People that love all things Apple aren't likely to make a switch, but if you're a Windows user that has been looking for a decent alternative, it has finally arrived.
We'll have additional test results in the near future, including battery life tests with the G210M enabled, performance results with overclocking disabled, gaming, and anything else we can think of. If there's anything in particular you'd like to see in the follow up article, let us know. In the meantime, we've seen enough to give the ASUS UL80Vt a very strong recommendation. We'd love to see them ditch the glossy plastic bezel, LCD, and palm rest, and we'd like a higher contrast LCD panel as well. Those are the only complaints we have with an extremely well designed laptop. Kudos, ASUS: you've just raised the bar for what we expect from laptops.
Update: ASUS has informed us that the Best Buy model of the UL80Vt will have a rubberized palm rest. That's one complaint down. They also said that they don't have any data to support the assertion that people would be willing to pay more for a laptop with a better LCD; let them know if you disagree in the comments section. Unfortunately, I would guess they're probably right when it comes to most users: they may not actually pay attention to the LCD. If you were to put a good laptop LCD next to a poor LCD and explain the difference and show users what it looks like, they would be much more likely to opt for a better display, but that's probably not something most retail outlets bother explaining.