Original Link: http://www.anandtech.com/show/2835


Wow, what's with all the CULV hate? I've never seen a quietly introduced, low volume, mobile Intel CPU get so much negative press before.
CULV stands for Consumer Ultra Low Voltage. It's a badge affixed to certain mobile Core 2 Duos that run at lower clocks and lower voltages than standard mobile Core 2 Duos. Just as some CPUs can overclock higher than others, some CPUs can run at lower voltages than others. It all has to do with the bell curve for CPU yield; while the majority will run at a normal frequency/voltage range, some will turn out to be exceptional parts.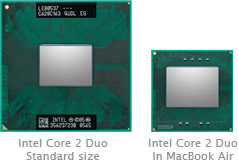 The CULV parts also use the smaller packaging Intel first debuted in the MacBook Air. The bottom line is that these chips will enable smaller, thinner laptops but without dropping down to Atom-level performance. Intel has traditionally always done an ultra low voltage mobile CPU, this time it's just getting marketed a bit stronger - partially because of the smaller packaging, and additionally because of the stronger market for ultra portable notebooks now.
| | | | |
| --- | --- | --- | --- |
| Processor | Clock Speed | L2 Cache | TDP |
| Intel Core 2 Duo SU7300 | 1.30GHz | 3MB | 10W |
The max TDP for the CULV line tops out at 10W, with the lowest end single core chips dissipating a maximum of 5.5W. That's not much more than an Atom processor.
In contrast, standard voltage mobile Core 2s have TDPs ranging from 17 - 35W.
It's not all about dropping the voltage though, clock speed unfortunately suffers. Most CULV chips run in the 1.2 - 1.4GHz range. While that'll still be much faster than an Atom, it's roughly half the frequency of a standard mobile Core 2. You can argue that clock speed doesn't matter, but you'll notice the difference between a 1.2GHz Core 2 and one running at 2.4GHz.
And that's ultimately why OEMs view CULV as a failure in North America: performance. Or at least that's what they've been going around telling everyone.
To a certain extent even Apple has recognized the poor performance of ultra low voltage chips. When it introduced the MacBook Air, instead of going with a 1.2GHz ultra low voltage Core 2 Apple used a low voltage 1.6/1.8GHz Core 2 Duo. The difference in clock speed is one of the things I pointed out as a reason why the MacBook Air didn't suck.
ASUS must've come to the same conclusion, because although its new UL line use a 1.3GHz CULV Core 2 Duo the chip ships overclocked. Yep.
The ASUS UL50Vt: Overclocked CULV
I'm going to preface this next section with an apology. I spent most of last week meeting with AMD about its next-gen GPU (part of the time on an aircraft carrier rented out by AMD to demonstrate the, uh, awesomeness of its new GPU). I ended up only having around two days with the ASUS notebook before this preview had to go live. We'll have more detailed coverage in the future, but please accept my apologies as this is a very brief preview.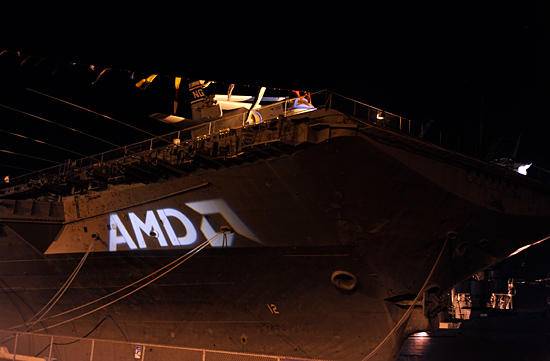 More about what I did on the USS Hornet next week
This is the ASUS UL50Vt, it's a 15.6" notebook with a 1366 x 768 display.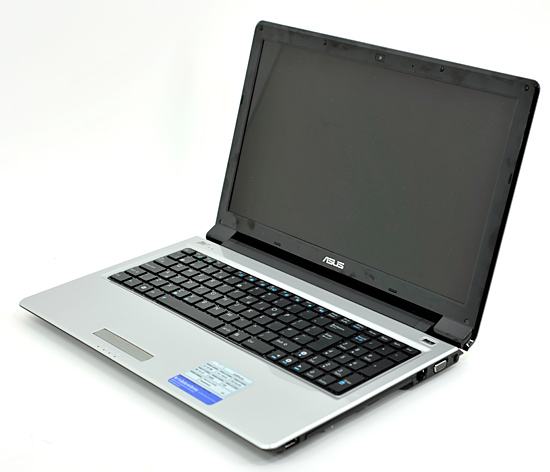 The 50V is the largest in the UL series, there will also be a 13.3" and a 14" model that are more fitting of the CULV CPU.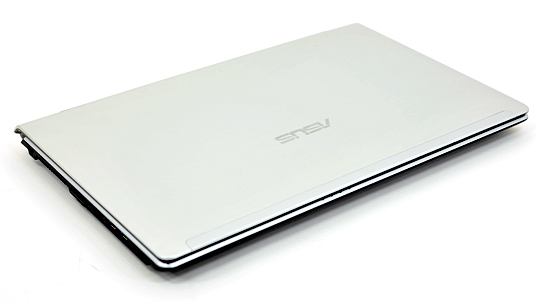 The chip used in the UL50Vt is an Intel Core 2 Duo SU7300. A 45nm Penryn derivative the SU7300 has a 3MB L3 cache and runs at 1.3GHz, blech. It's like a really slow Core 2 Duo E7200. But ASUS does have an ace up its sleeve: Turbo33.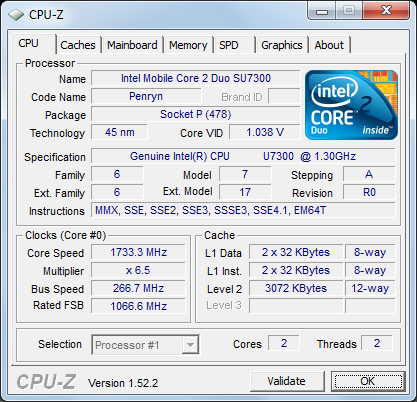 1.73GHz and still lower voltage than most Core 2 Duos
The 33 stands for percent, as in the percent increase in CPU frequency when running in Turbo33 mode. The 1.3GHz SU7300 runs at 200MHz x 6.5 but in Turbo33 mode the FSB gets bumped up to 266MHz and the chip runs at 1.73GHz (266MHz x 6.5).
The performance difference is noticeable, it takes the CULV from slow to an acceptable level of performance. All of the ULxxt notebooks will ship with Turbo33.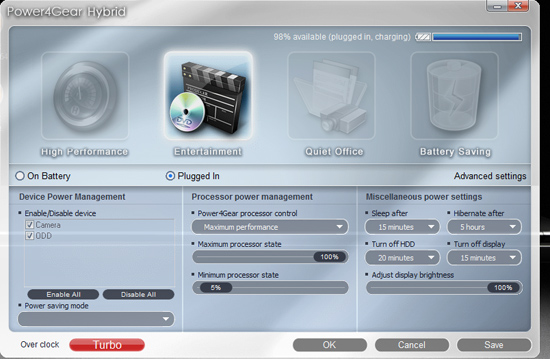 Turbo33 is controlled through ASUS' PowerGear4 utility. By default the systems ships with it on; very cool.
But what about the impact on battery life? Overclocking is generally frowned upon in notebooks since it, you know, draws more power.
Thankfully the CULV chips start at a lower than normal voltage already, so when overclocked (even while overvolted) they still end up at a reasonable voltage level.
The UL50Vt has a big honking 84Wh battery thanks to the width of the system. The UL30Vt and UL80Vt (13.3" and 14" models) will also have an 84Wh battery, although some models may come with a 63Wh battery.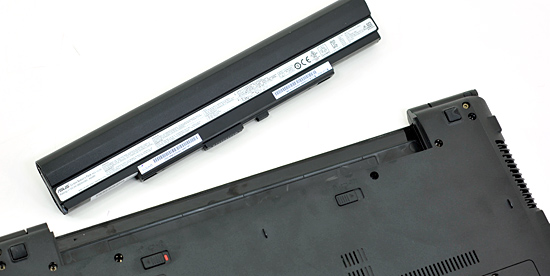 I only had the UL50Vt for a couple of days so I didn't have much opportunity to do anything with the system other than use it and run a few numbers. The relevant details are below: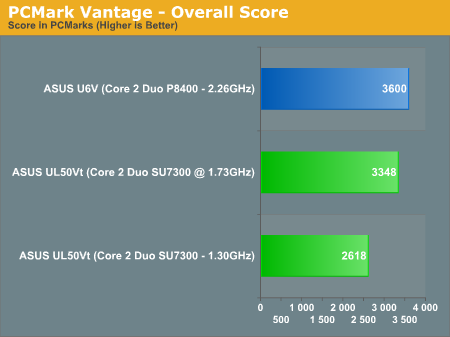 ASUS estimates that with the Intel integrated graphics active the UL50V can last for up to 12 hours. I ran our heavy Flash web browsing test and came up with just under 7 hours of battery life on the UL50V.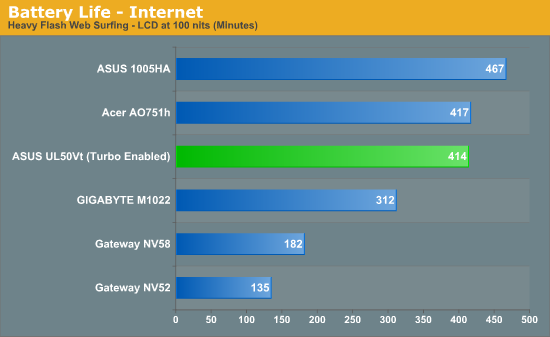 Netbook battery life, but notebook performance
This sort of battery life from an overclocked CULV is impressive. With the same sized battery in the smaller models, I'd expect the same sort of battery life out of them.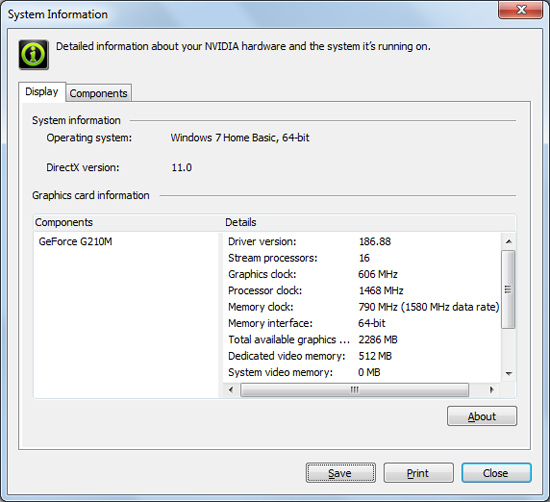 The UL50Vt also ships with a GeForce G210M as its discrete GPU. Much faster (and power hungry) than the integrated graphics, ASUS estimates that it'll knock off about an hour off the battery life. I didn't get the chance to drain the battery using the G210M but leave your comments below and we'll address everything you'd like in a full review of the platform.
The notebook looks and feels pretty good. ASUS went with an aluminum top to at least distract you from the plastic elsewhere.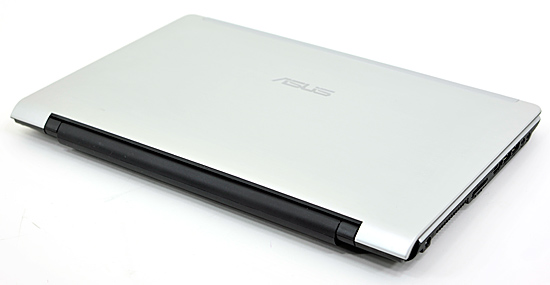 The keyboard looks like Apple's chiclet keyboard, but the feel is unfortunately not as nice. The tactile response just isn't as solid as on the Apple.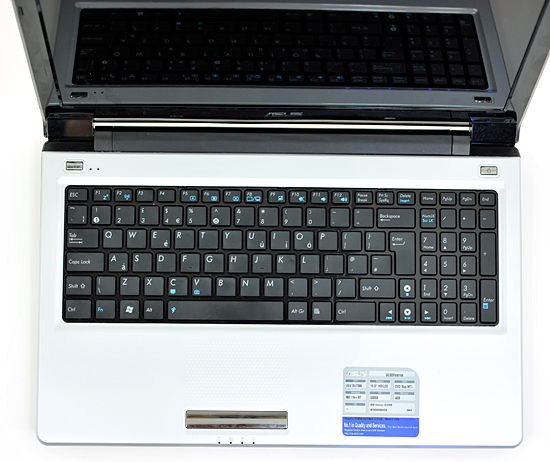 I'd also take this opportunity to talk about the textured trackpad on the UL50Vt. I've seen this used before and while it's different, I don't believe it's ideal. Personally, I'd prefer my trackpad to be as smooth as possible.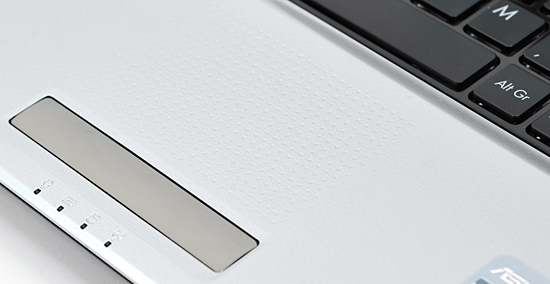 The 1366 x 768 resolution is definitely too low for the 15.6" model in my opinion, but it should be fine on the smaller models. Weight is around 2.1 kg (4.63 lbs); the 13" UL30Vt should be under 3 lbs.
The 15.6" UL50Vt and the 13.3" UL30Vt will retail for $849 once they start shipping at the end of this month. I don't have full specs on the UL30Vt but this is how the UL50Vt will be configured: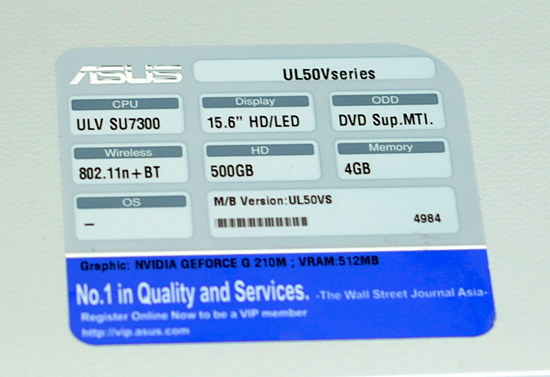 The battery life is the most attractive thing about the UL50Vt, at nearly 7 hours of web browsing (and more if you're just writing) I can't complain. Again, the more interesting models will be the 13.3" and 14" CULV systems since they'll actually exploit the portability offered by the processor.
ASUS' take on CULV is very interesting and I will say that as long as battery life stays high, I don't care if it takes overclocking to get there.