Original Link: http://www.anandtech.com/show/2828


The first companies to support non-Intel products are those that have the weakest relationships with Intel. How Intel is able to ensure this is the crux of the AMD v. Intel antitrust suit, but that's not the point of today's story.
NVIDIA's Ion platform, at least when first introduced, combined Intel's Atom CPU with NVIDIA's GeForce 9300/9400M integrated graphics chipset. This offered better performance and modern features compared to Intel's 945G chipset, what Intel was bundling with Atom. Intel still sold the CPUs but it lost the chipset sale and got upstaged by NVIDIA. Intel doesn't like being upstaged by anyone.
Intel's partners are very cautious when supporting a product like Ion. They don't want to appear too eager and thus Intel's closest partners wait to see if a product like Ion succeeds before attempting to jump on the bandwagon.
Zotac built the first mini-ITX Ion motherboard. While Zotac builds several Intel motherboards, they are hardly considered a tier 1 motherboard manufacturer. Zotac doesn't get preferential treatment by Intel and thus Zotac doesn't have to worry about ruffling any feathers by releasing an Ion motherboard.
I can't tell you how well the Zotac Ion has sold, but reading our review and user experiences with the board I can tell you that customers are pleased. It's a good product and it fills a niche that Intel currently has no answer to. I'm not even sure if Pine Trail will address that market either.
ASUS was Intel's launch partner for Atom. The first place you found the Atom processor was in ASUS' Eee PC and Eee Box. The rest of the OEMs followed. It's no surprise that ASUS didn't build an Ion motherboard or an Ion netbook for that matter.
ASUS tested the waters with its value manufacturing brand earlier this year. ASRock put out an Ion system based on the Intel Atom 330 processor; note the use of the word system. The ASRock Ion differed from the Zotac Ion motherboard in that it was a barebones system complete with mini-ITX chassis, external power supply, 2GB of RAM, slim optical drive and 320GB hard drive. All you needed to add was an OS.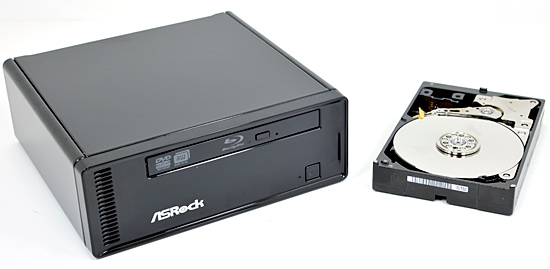 The ASRock Ion 330 (left) vs. a 3.5" HDD (right). We're not too far away from having P4-class PCs in the space of a hard drive.
The whole package sets you back $379.99 (ASRock does charge a slight premium for building the thing).
A couple of weeks ago we got word that the second mini-ITX Ion motherboard was coming our way. The manufacturer? ASUS. Ballsy.
Unlike the ASRock and Zotac Ion solutions, ASUS gave its Ion board a real and unnecessarily complex name. This is the AT3N7A-I: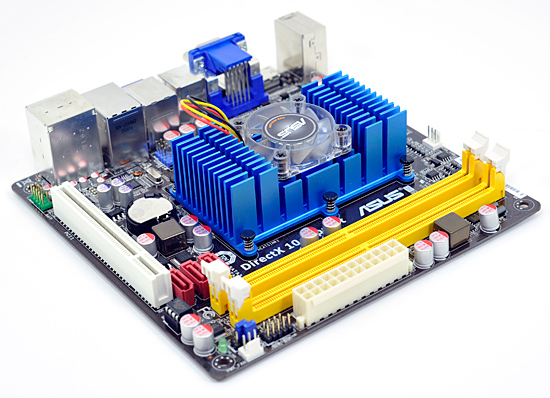 Also gone is the North American favorite "Rock Solid, Heart Touching" phrase on the box. Instead we're given two new slogans: Inspiring Innovation, Persistent Perfection (hooray for alliteration) and Perfectly suit your digital lifestyle.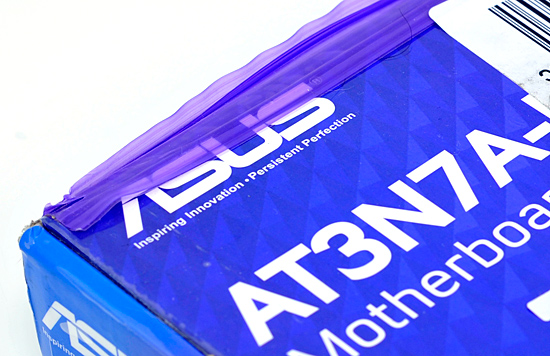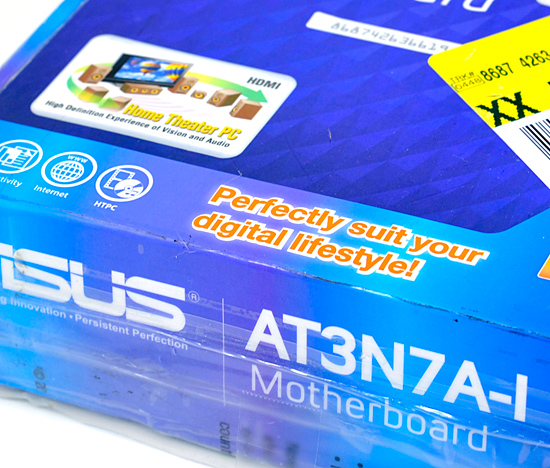 A Closer Look at the ASUS AT3N7A-I
ASUS' Ion board doesn't come with a power supply, it instead has a 24-pin ATX power supply connector and a 4-pin 12V connector for CPU power. The ASUS Ion is eerily similar to the Zotac board but with poorer color choices.

Zotac's board has on-board WiFi, while ASUS' board has on-board Bluetooth.


ASUS (left) vs. Zotac (right)
ASUS adds a ton more USB ports on the rear of the AT3N7A-I. You get a total of 8 USB ports (+2 more via an internal header), a single PS2 port, HDMI out, VGA out, coax/optical out, eSATA, Ethernet and the standard array of six 1/8" jacks for analog audio out.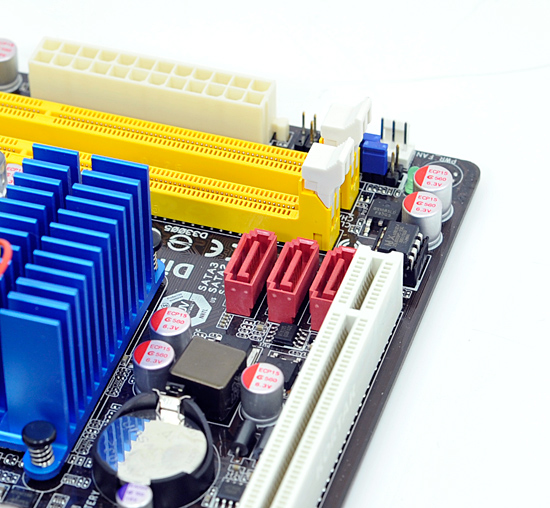 On the board itself there are three SATA ports, like the Zotac board, but ASUS also adds a standard 32-bit PCI slot (not PCIe).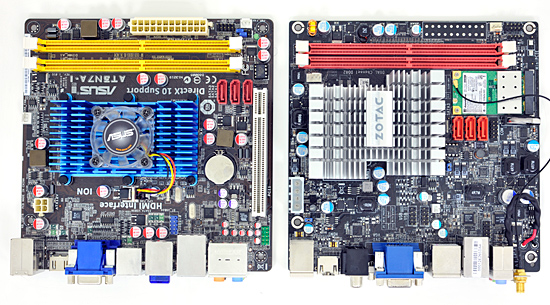 ASUS (left) vs. Zotac (right)
Two DIMM slots round out the package.
The Fan, oh the Fan
Gary was the first to get this board and he called me one night around 12:30AM and said "can you hear it?". I, of course, could not hear "it" but he shipped me the motherboard and I heard what he was talking about.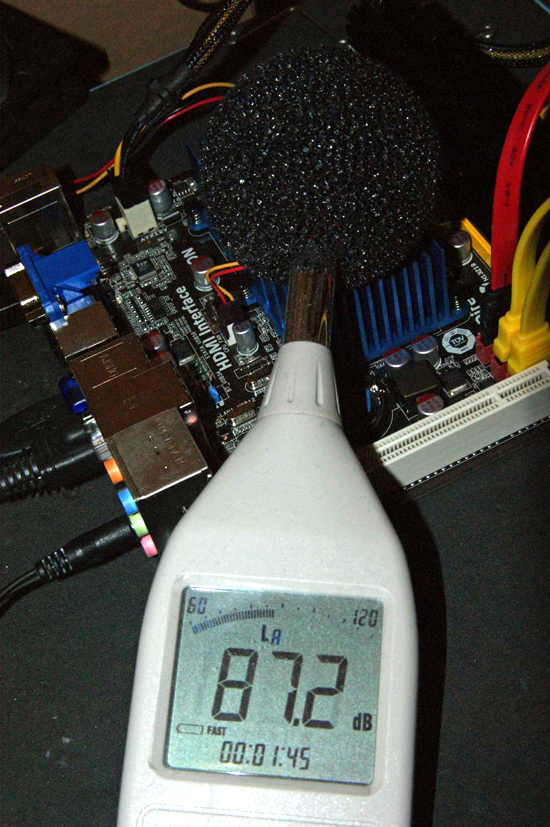 ASUS uses a smaller heatsink and much smaller fan than Zotac: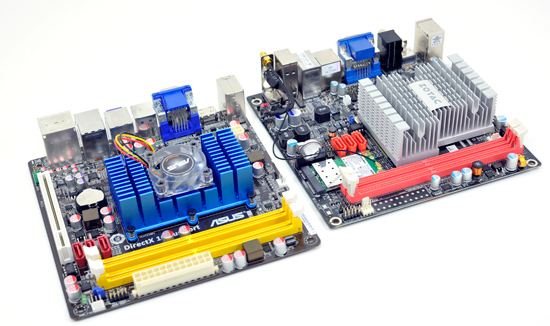 The fan spins at nearly 6000RPM and is annoyingly loud. The first fan we had on the board would make an annoying high pitched sound at times, enough to drive Gary's dogs crazy. I duplicated his results in my lab. NVIDIA sent us a replacement fan that didn't exhibit the same behavior. While the new fan didn't whine/moan/groan, it still spun very fast and it was still quite loud.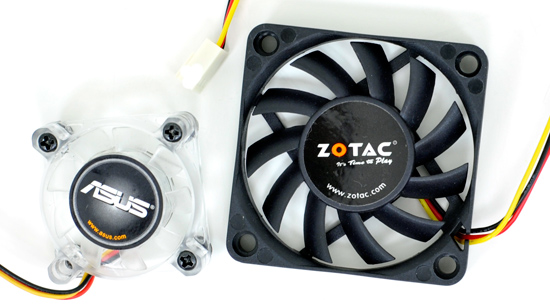 The ASUS fan (left) vs. the Zotac fan (right)
We went to ASUS with our complaints and got the following response:
"We currently have implemented a running change of the fan, the fan will be replaced with another fan that is a quieter. I am currently attempting to get part information for your reference. Although I do agree with Gary's statement that in many cases 40mm fans tend to have a shorter life I have asked HQ to please ensure we try and place a fan that has been validated to not only operate quietly but ensure the best lifespan ( hopefully by ensuring a high quality bearing is present )"
Don't ever say we're not looking out for you :)
At 3AM this morning, just 6 hours before this article was due to be published, ASUS sent us the specs of the new fan that they will be installing on all AT3N7A-I motherboards. The new fan is still a 40mm unit but it should run at 3500RPM instead of 6000. Cooling efficiency will go down, but so should noise.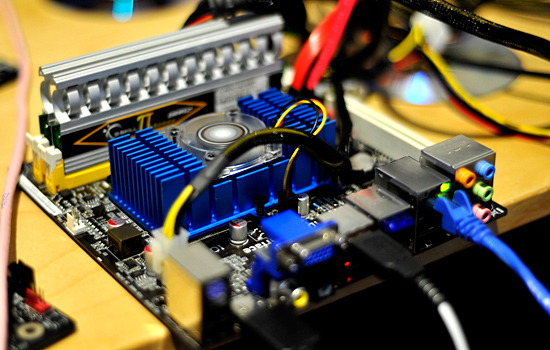 Doesn't it just look loud?
ASUS insists that the fan we tested won't make it onto production boards. We'll have to wait and see what the new fan sounds like, because what we tested was unacceptable for an HTPC.
Sidebar: ASRock Ion 330
Although today is all about ASUS' entry into the Ion world with the AT3N7A-I, it's also about picking your perfect Ion platform. I decided to round up the three Ion boards/systems currently on the market and compare them all as we evaluate the ASUS.
The Zotac Ion you already know about, we've covered it extensively and more recently looked at its latest PCB revision. The Ion platform you haven't seen on AnandTech is ASRock's Ion 330.
Unlike the ASUS and Zotac solutions, the ASRock Ion 330 is a complete system. For $379.99 you get a mini-ITX case, power supply, 2GB of memory, DVD drive and a 320GB hard drive - in addition to the ASRock Ion board. To give you an idea of scale I set the ASRock Ion 330 next to a standard 3.5" hard drive: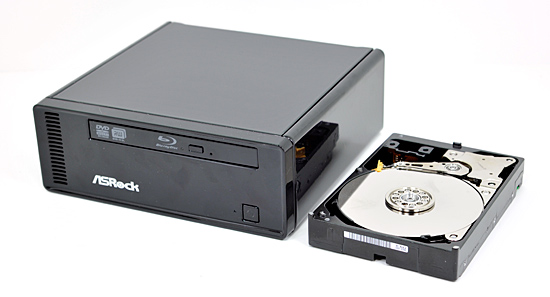 So, so sweet and small.
On the back of the ASRock Ion you get a healthy serving of 6 USB ports, VGA out, HDMI out, an Ethernet jack, three 1/8" audio jacks and optical audio out. There's also a connector for the external 65W DC power supply. Despite this being 2009, there are no ports on the front of the chassis; it does keep things clean, but slightly inconvenient at the same time.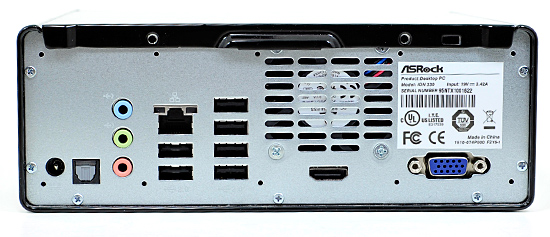 Inside there's not much to see at first glance. Two screws hold the top cover on, removing them and sliding the cover back reveals the removable carrier that holds the slimline DVD drive and 2.5" HDD: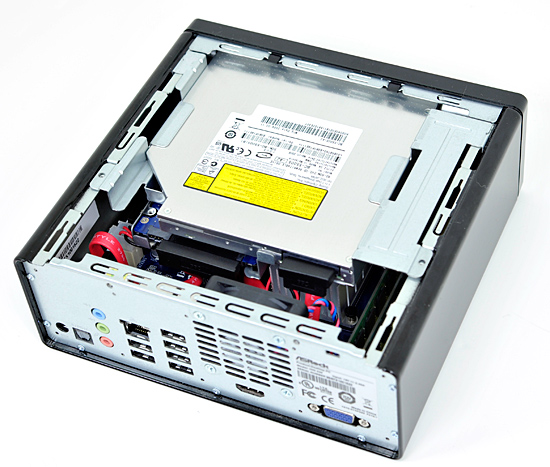 ASRock sent us the significantly more baller Ion 330-BD model, which forgoes the DVD drive for a slimline Blu-ray drive. The impact on price shouldn't go unnoticed as the drive costs around $200 more than the standard DVD drive.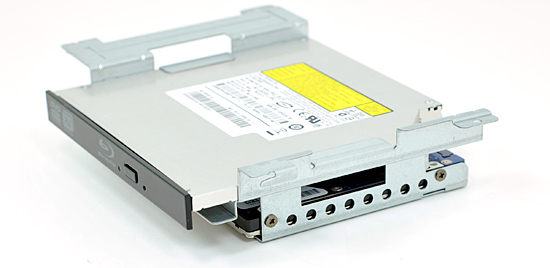 The slimline drive uses a mini-SATA power connector instead of standard SATA power. It's supplied power somewhat crudely by a 4-pin 5V header on the motherboard that splits off and feeds both the optical drive and HDD.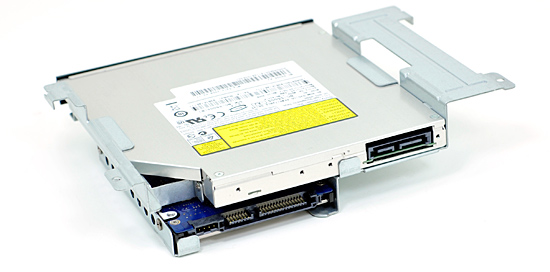 The hard drive is a standard 2.5" notebook drive. In this case it's a 320GB Seagate Momentus 5400.6.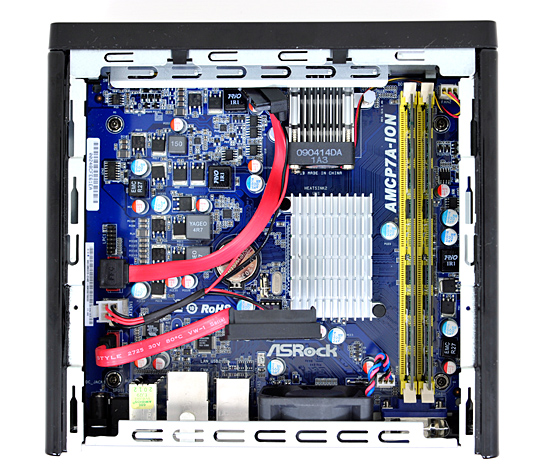 Below the drive carrier lies the motherboard itself and its two-fan cooling solution. A very small fan up front keeps the Atom processor cool. A larger fan in the back moves air around the rest of the chassis. The NVIDIA GPU doesn't have a fan directly mounted to its heatsink and instead relies on the two fans to move heat off of its fins.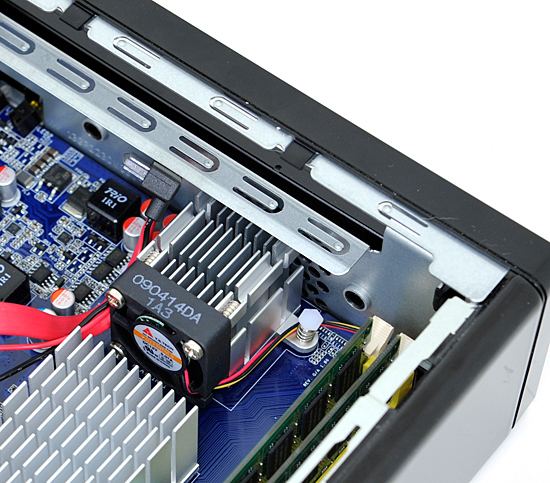 The smaller, and quieter CPU fan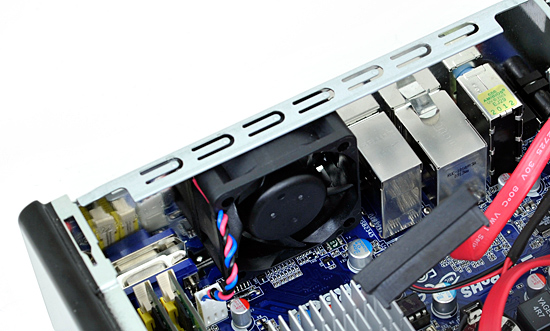 The larger, and louder chassis fan
I hate to spoil the surprise, but the ASRock Ion 330 is built off of the same hardware as the ASUS and Zotac boards. You get a 1.6GHz dual-core Atom 330 combined with a NVIDIA GeForce 9300/9400M chipset. The result? Nearly identical performance.
The ASRock is nice from a convenience standpoint, all you do is buy the machine and load an OS on it. The major issues with it are a fan that isn't silent (more on this later), and the fact that if you want to use an SSD in the machine you're out $70 since it comes with a non-optional 2.5" HDD.
The Price Showdown
ASUS was very clever with the pricing of the A3TB7A-I. These days a Zotac Ion with an Atom 330 will set you back $169.99 without a power supply or $189.99 with the external DC power adapter. ASUS decided to undercut Zotac by $10 and is coming in at $159.99:
The third option, the ASRock Ion, is more difficult to compare as you get a lot more in the bundle. To see what the most affordable way into an Ion would be (assuming you don't already have any components) I priced out barebones systems using the ASRock, ASUS and Zotac routes:
| | | | |
| --- | --- | --- | --- |
| | ASUS AT3B7A-I | ASRock Ion 330 | Zotac IONITX-A-U |
| Base Price (Motherboard + Accessories) | $159.99 | $379.99 | $189.99 |
| 2x1GB DDR2-800 | $29.98 | Included | $29.98 |
| Mini ITX Case + PSU | $38.99 - $49.99 | Included | $38.99 - $49.99 |
| Seagate 320GB 5400.6 2.5" HDD | $69.99 | Included | $69.99 |
| Internal DVD Slim Drive | $34.99 | Included | $34.99 |
| Total | $333.94 - $344.94 | $379.99 | $363.94 - $374.94 |
Curious. The Zotac would win the price comparison if it weren't for one thing: even the cheapest mini-ITX case at Newegg comes with a power supply. So the $189.99 Zotac board with power supply doesn't save you any money, you just end up with an extra mini-ITX PSU after you're done with your build. Naturally you could opt for the PSU-less $169.99 model, but then ASUS has already got you beat on price by $10. The one thing I didn't include is the cost of a WiFi dongle, because you do get WiFi with Zotac but not with ASUS.
Depending on how much you spend on a mini-ITX case, the ASUS AT3N7A-I will get you into an Ion system for around $40 less than the ASRock Ion 330. That's not an insignificant amount of money, and something you could use to beef up some of the components. Ahem, SSD.
Who wins the price comparison? The newcomer ASUS, unless you want WiFi in which case the $169.99 Zotac IONITX-D-E is a better deal. The cheapest USB 802.11n dongle will set you back around $20, making the ASUS solution $10 more expensive.
Determining the Speed of an Atom
In case you missed it, I'm providing some comparison numbers between the ASUS Ion and the systems I tested in the Zotac Ion review. This accomplishes two things: 1) it shows you that the ASUS Ion performs identically to the Zotac Ion, and 2) it puts the Atom 330's performance in perspective compared to other non-Atom based platforms. If you want more detail on how the Atom 330 compares to an older platform like a Pentium 4, check out the Zotac review.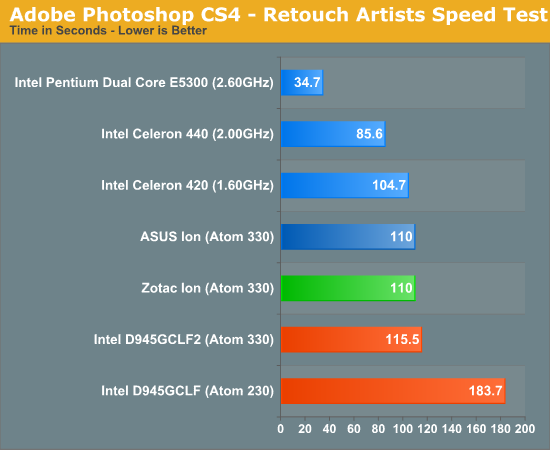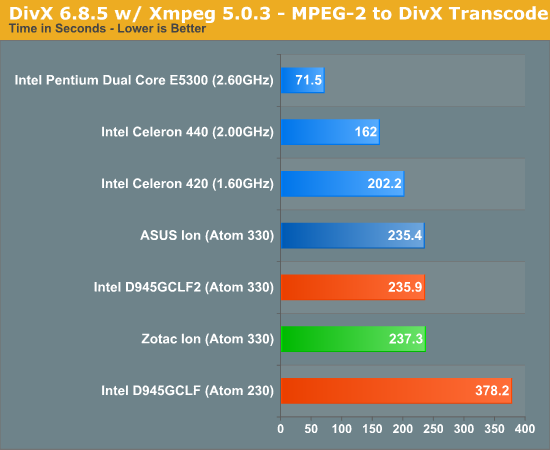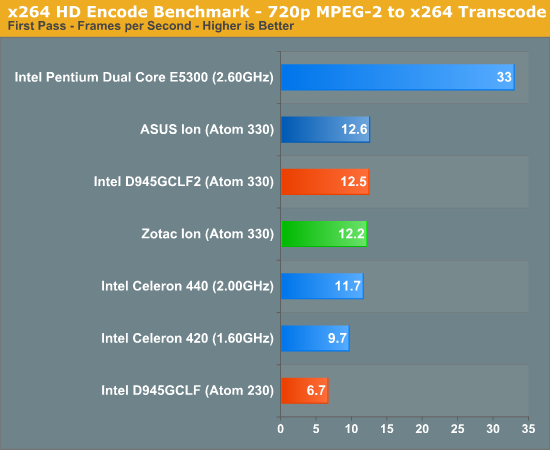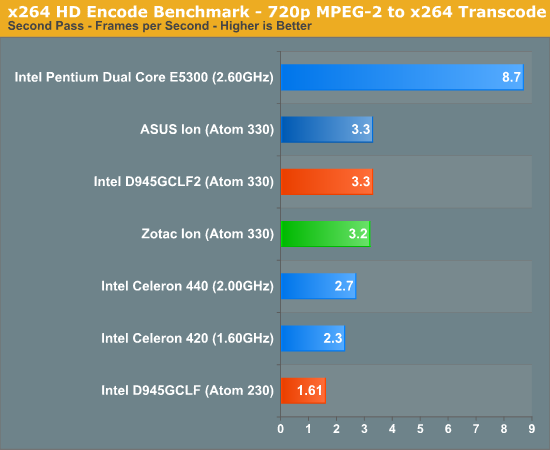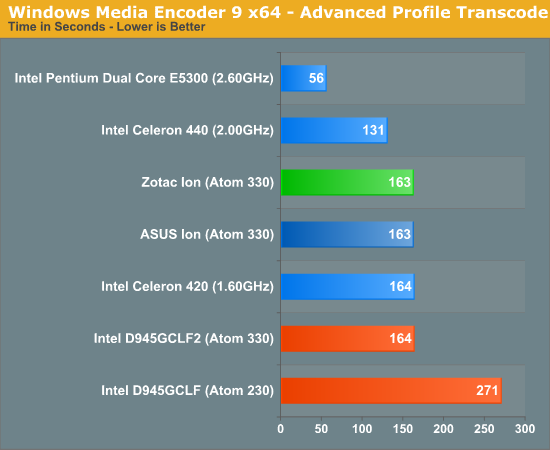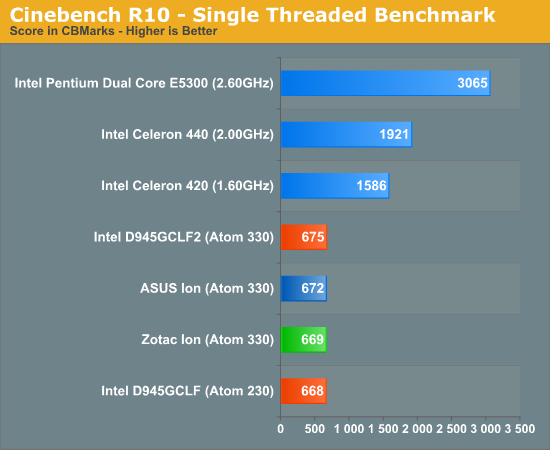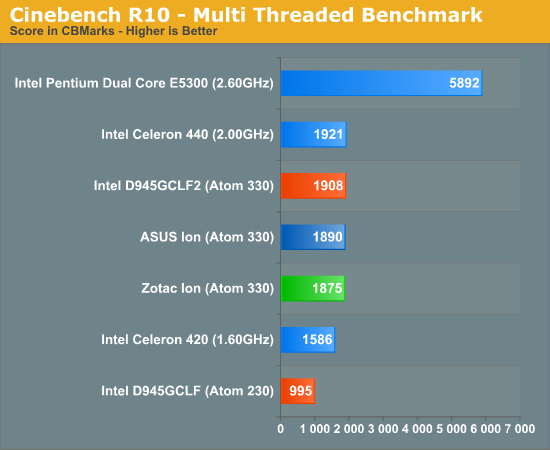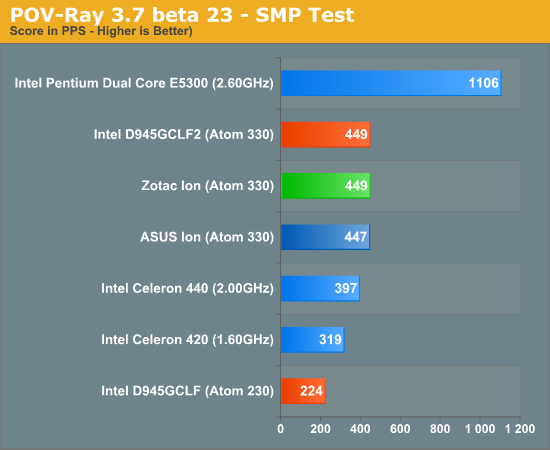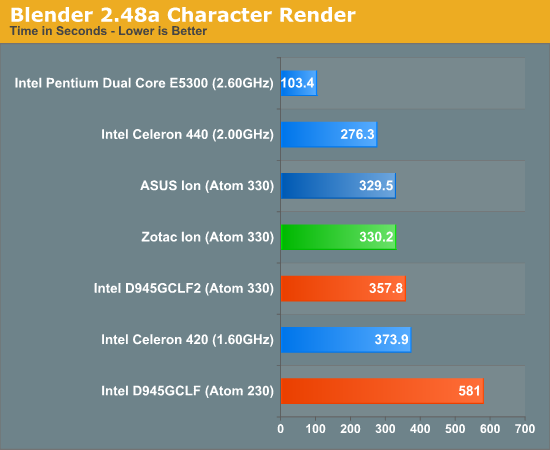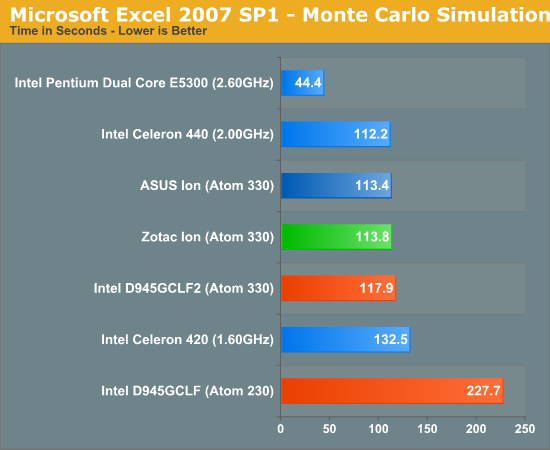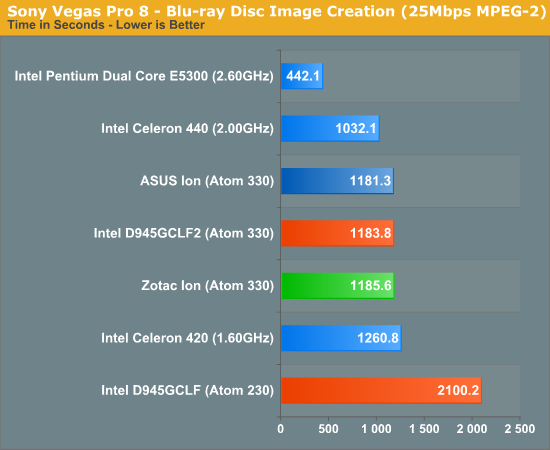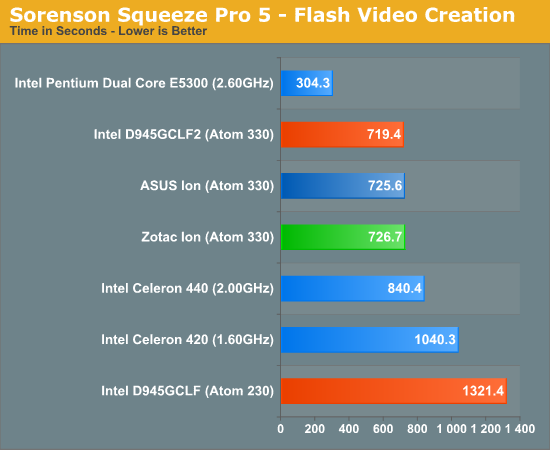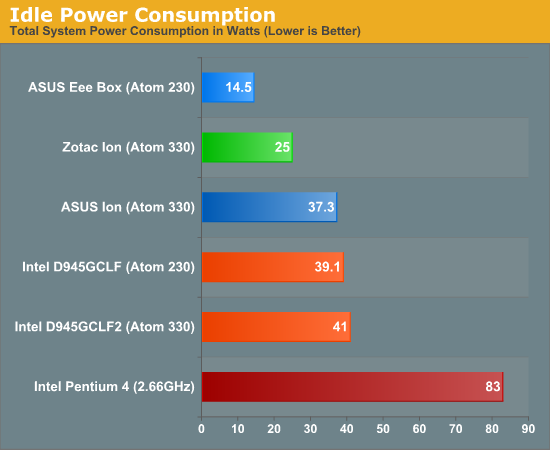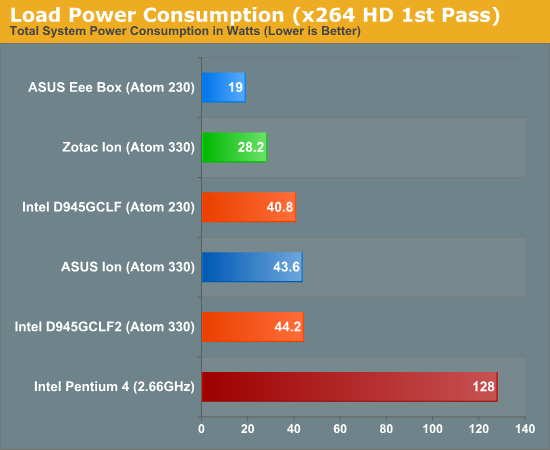 Gaming and CUDA Performance
I already went through this in the Zotac review, allow me to quote:
The gaming performance of Intel's basic Atom platform is a joke. I'll put aside debates of whether or not you would want to game on an Atom for a moment. World of Warcraft does a great job of straddling the line between casual and hardcore gaming and thus makes a good candidate for looking at gaming performance of Ion vs. Intel's standard Atom platform.

I tested by running through a small outdoor section at 800 x 600 (24-bit color, no AA) using WoW's built in "Good" visual quality settings. This is the same chart from the Pentium 4 section but I'm repeating it here so you have something to look at while we discuss the gaming potential of Ion:

The Ion platform managed just under 18 fps, which wasn't incredibly smooth to play on but it was close. If I dropped the settings even lower I could easily get a smooth experience. The Intel D945GCLF2 managed a whopping 3 fps. I didn't even bother benchmarking the single core version; I'm not that fond of single digits.

Most modern FPS games will show worse performance than what we just saw under WoW. Far Cry 2 and Crysis Warhead will give you under 7 fps for Zotac's Ion platform, but other, more mainstream titles will perform similarly if not better.

I still maintain that the Atom CPU is not fast enough for a good gaming experience on far too many modern titles, but to NVIDIA's credit, the Ion platform does make it fast enough in games that it otherwise wouldn't be.
CUDA performance is a bit similar. The GPU can definitely help Atom in some situations if there's proper support, but don't expect to really ever make an Ion "fast" by today's standards. Gary had a particularly great experience with transcoding using Cyberlink's Media Espresso. Using one of our standard transcoding test files Gary made a high quality YouTube video with just the Atom 330 CPU in 405 seconds. Turning on GPU acceleration dropped the time to 261 seconds.
Overclocking the CPU to 2GHz brought the encode time down to 318 seconds; doing the same to the GPU (600MHz core, 1.4GHz shader clock) and turning on CUDA support brought the total time down to 203 seconds.
The Ion Performance Showdown
All of the benchmarks on the previous page were run under Windows Vista, but I actually spent most of my time using these Ions under Windows 7. As a quick sanity check I compared all three using PCMark Vantage to see if there were any performance differences at all. All three systems used the same 2 x 2GB DDR2-800 sticks, a 120GB Super Talent UltraDrive GX SSD and the same install of Windows 7 x64. We used NVIDIA's 15.41 chipset drivers, 190.62 GPU drivers and 10.000.55 HDMI drivers.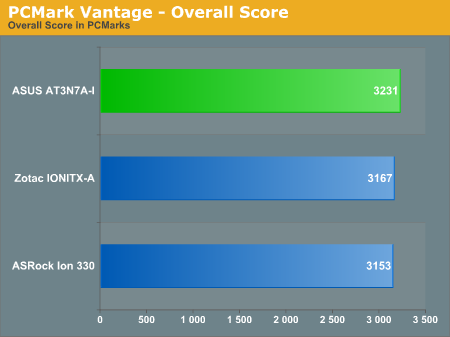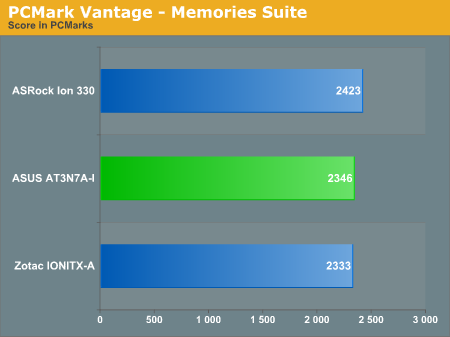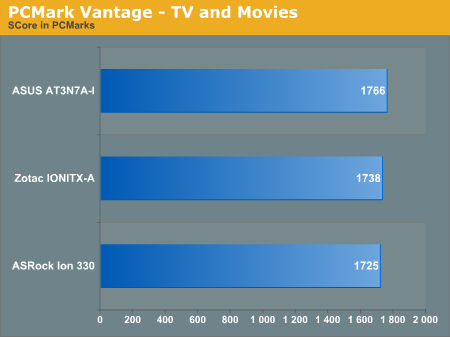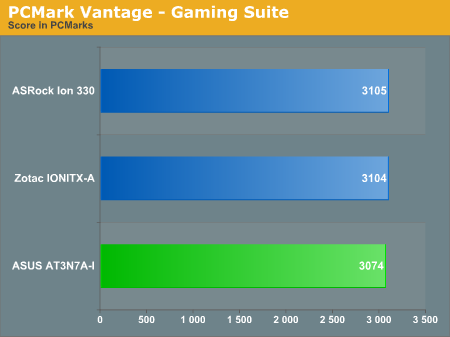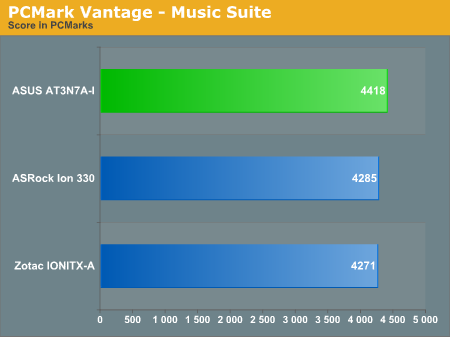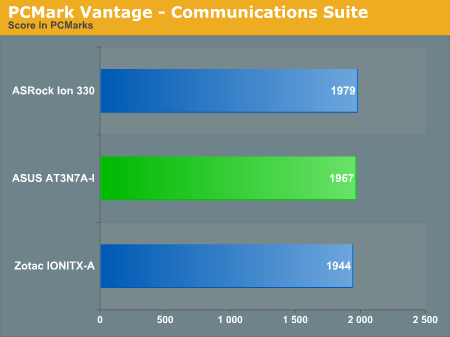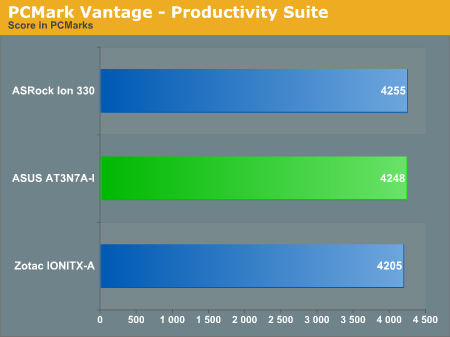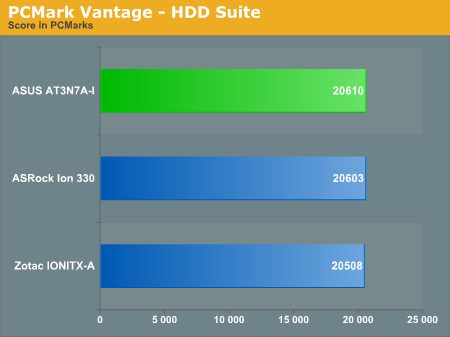 With the same CPU, same graphics and after I swapped in the same SSD into all three builds, the performance is obviously: the same. If we're going to separate these things it's going to be along some other vector.
I measured how long each of these machines took to boot: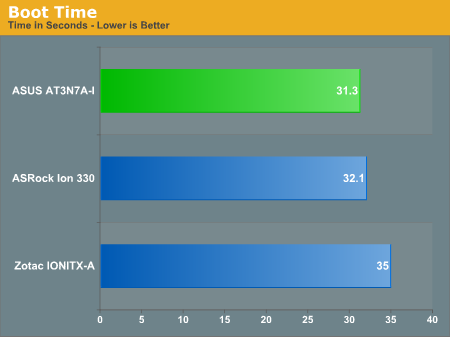 The ASUS was the quickest, although only the Zotac was noticeably slower here. Disabling ASUS' Express Gate pre-boot environment is absolutely necessary for a fast boot time. Before I disabled EG the board spent around 25 seconds POSTing before it started to launch Windows.
The Temperature and Noise Showdown
Under load (playing Quantum of Solace, full screen) the temperatures between the systems varied by a large margin. As expected, the Zotac board with a fan was the coolest. The ASRock in its silent mode ran the hottest and the ASUS with its noisy fan was a bit warmer than the Zotac.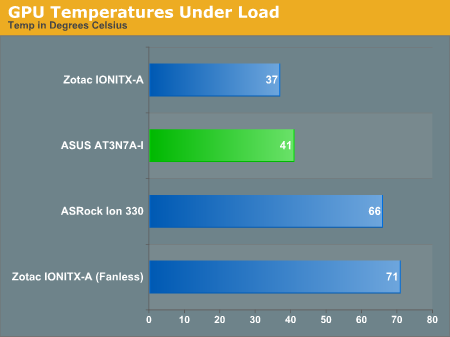 The Zotac fan is optional although removing it sent temperatures up above 70C. While the system never crashed or dropped frames without a fan directly on the heatsink, I would recommend having a case fan moving air over the heatsink to preserve the system's lifespan.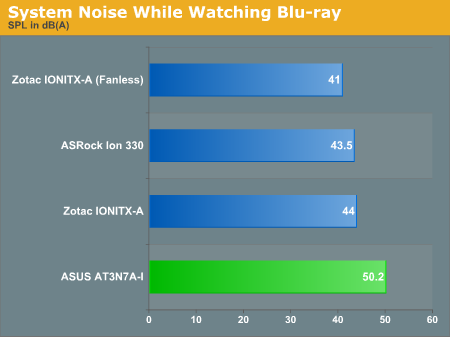 I measured sound 7" above the motherboards. Without any fan, ambient noise in the room gave us a floor of 41 dBA. The quietest solution was the ASRock at 43.5 dB, followed by the Zotac at 44 dB and finally the ASUS at just over 50 dB. While the ASRock system was technically quieter than the Zotac, the noise it did emit was more noticeable. The rear case fan in the ASRock Ion had a repeating drone to it, whereas the Zotac fan just sounded like it was moving air. Honestly, I'd say Zotac wins it here.
Power Consumption
Comparing power between these systems is a difficult task since none of them use the same power supply. The ASRock and Zotac systems use their own external DC power supplies, while the ASUS relies on our standard testbed ATX PSU. The Zotac PSU is a 90W unit while ASRock uses a 65W adapter. The higher wattage Zotac PSU actually ends up being more efficient than the ASRock unit, drawing 23.8W at idle and 30.2W under load. The ASRock system draws nearly as much at idle as the Zotac does under load, but both are well under 40W.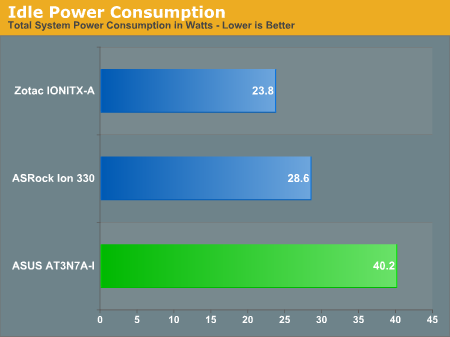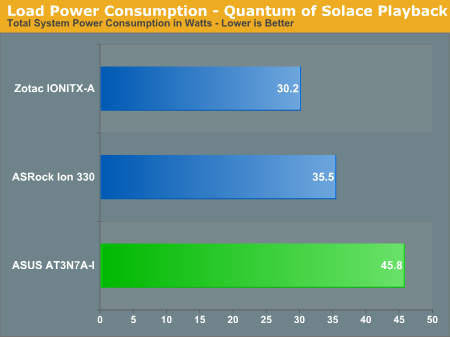 Since we're stuck using a traditional desktop PSU, the ASUS board draws significantly more power. Even when we went down to a 300W unit we still saw power consumption above 40W. Without any specific low wattage mini-ITX PSUs on hand, this was the best we could muster.
Technically Zotac wins here as well, although things could change if we had a very efficient low wattage mini-ITX PSU.
Overclocking
When I first tested the Zotac Ion board I managed to overclock the 1.6GHz Atom 330 CPU to 1.92GHz, using a 160MHz FSB.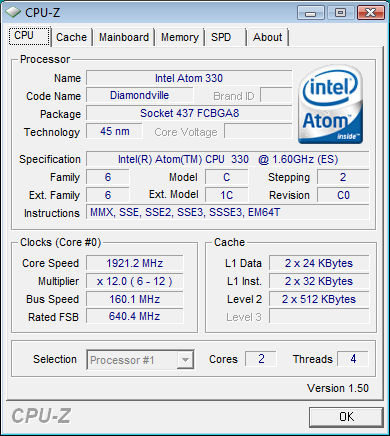 The ASUS board boasts slightly better overclocking. Our 1.6GHz Atom 330 managed to hit 2.0GHz using a 167MHz FSB.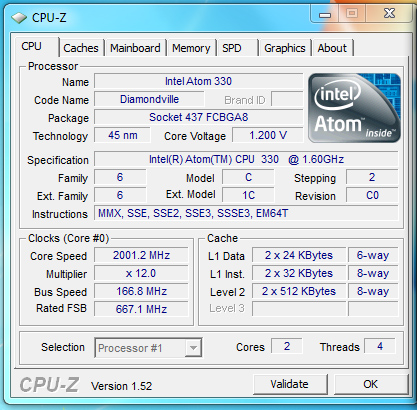 The ASRock was the overclocking champ. While I could get the machine to POST at 2.15GHz, it was the most stable at 2.04GHz (170MHz x 12). It's tough to say whether the better overclocking was due to motherboard design or simply better yields on the later Atom CPUs compared to what was on the Zotac.
At 2.04GHz the performance improvement over the stock Atom was noticeable:
| | |
| --- | --- |
| | PCMark Vantage - Productivity |
| Intel Atom 330 (1.6GHz) | 4255 |
| Intel Atom 330 2.04GHz (170MHz x 12) | 4817 |
| Performance Improvement | 13.2% |
The ASUS A3TB7A-I: Does it Work?
I decided to add this section after the issues with Zotac's Ion board and not supporting wake on USB. There are several features which any reader would assume work on this board but I thought I'd go through and confirm that they do indeed work as prescribed.
H.264 GPU Acceleration
Yes. This one works and works well. Just like the Zotac board, I had no problems using the ASUS Ion motherboard in a real home theater environment. The lack of an external DC power supply is less convenient when transporting the motherboard around, but the board decoded 1080p H.264 without an issue.
Both original Blu-ray discs and Blu-ray rips worked without a problem. See our Zotac review for instructions on enabling H.264 decode acceleration under Media Player Classic - Home Cinema.
8-channel LPCM
Sort of. One of the core features of NVIDIA's GeForce 9300/9400 chipset is its support for 8-channel LPCM audio output over HDMI. Don't know what this is? Read up on it here.
I list this one as sort of because both Gary and I experienced a strange problem with this ASUS board. While we could both get video/audio output when connected directly to a display via HDMI, as soon as we stuck a receiver/preprocessor in between we got no signal at all. My Integra DTC-9.8 would see a signal while the system was POSTing/booting, but as soon as it got into Windows the signal died. Gary saw the same thing with his Denon AVR-3808, Pioneer VSX-94TXH and Yamaha RX-Z11BL.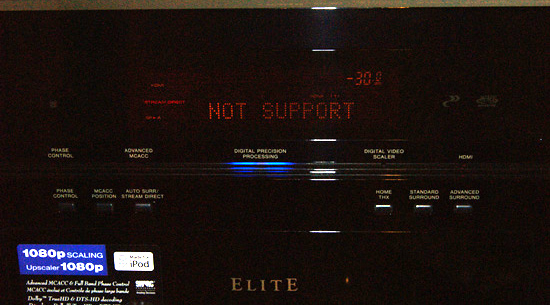 Gary tried rolling back to an older version of the NVIDIA HDMI driver (1.0.0.42) and was able to get both 5.1/7.1 audio and video working across his receivers, but the latest HDMI drivers would not allow it.
We've fed this information back to NVIDIA and hope to see it resolved soon.
Wake on USB
Yes. Unlike the first PCB version of Zotac's Ion board, ASUS's Ion will properly come out of sleep whenever there's a USB event (e.g. mouse click, key/button press).
Bluetooth
Sort of. Unfortunately the Bluetooth controller used on ASUS' board has no driver support under Windows 7, and the supplied Windows Vista drivers don't exactly work. If you fool the driver installer into thinking that you're running Vista then the drivers will install. Unfortunately I wasn't able to actually use any Bluetooth devices with the PC after pairing; even my Blueant headset wouldn't work as either a microphone or speaker.
We've fed this information back to ASUS and NVIDIA.
Quick Usage Notes: Ion in Windows 7 and SSDs
Most of my Atom experience has happened under Windows XP, Vista and Linux in that order. Until the ASUS Ion board, I'd spent very little time with an Atom platform under Windows 7.
When I reviewed the Zotac board I ran all of my tests with an Intel SSD so I could compare the results to other CPUs in Bench. The SSD made the experience a lot more bearable since the only thing I ended up waiting on was the CPU, rather than the CPU and a slow hard drive. Under Windows 7, the combination is even more impressive.
I'm not sure if it's just that the UI is snappier or the core parking and other threading enhancements in Windows 7 really shine on such a low performing processor, but the whole system is a lot more usable now.
I'm even using a slower Indilinx SSD this time around and the system actually feels decent. The only time you realize that you are very CPU bound is when installing or using an application that you've used previously on a modern desktop/notebook. Everything takes longer to run, but with a good SSD the system doesn't feel nearly as slow as it actually is.
The worst combination is a slow hard disk that's thrashing like crazy and a slow CPU that takes forever to do anything with the data its pulling off the disk. With these Ion platforms you're stuck with the slow CPU, but fixing the disk problem seriously improves the overall experience. It won't turn the Ion into a high end gaming machine, but it'll make it a lot more bearable.
Ion Meets Linux: XBMC
My favorite thing about the first generation Microsoft Xbox? Xbox Media Player. Microsoft, like virtually all console makers, sold the Xbox at a loss in order to create a large install base. At the time, it meant you were getting a full fledged PC for under $300. Remember that this was in the time before netbooks and nettops, so you were getting a pretty good deal.
A community of smart folks realized that you could modify the original Xbox to run homebrew code. And it wasn't too much longer before Xbox Media Player (XBMP) was born. Back then there weren't many great ways of getting content on your PC to your TV; if you had an Xbox it was already hooked up to your TV, you just needed a way to stream videos. Xbox Media Player did that.
XBMP evolved into Xbox Media Center (XBMC) but the requirements of playing higher quality videos quickly outpaced what the Xbox's 700MHz Celeron could muster. Today, the XBMC community is thriving and the software has been ported to Windows, OS X as well as Linux.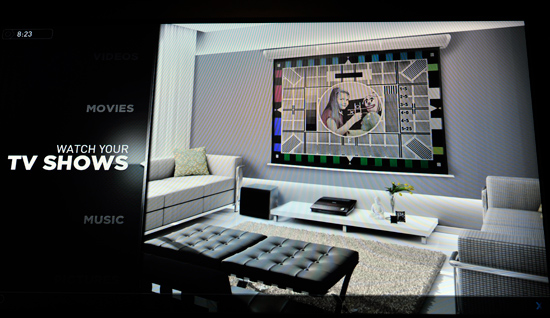 One of the default XBMC skins
NVIDIA enjoys particularly good driver support for Ion under Linux, including full support for hardware H.264 acceleration through VDAPU. I'd never tried XBMC on an Ion so I thought I'd give it a try on the ASUS board.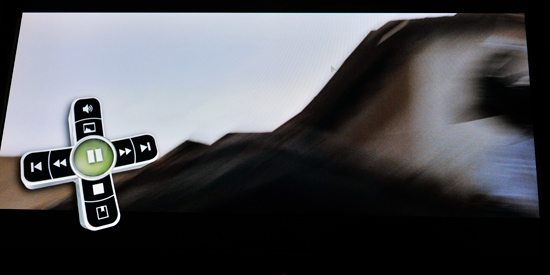 On screen controls while playing movies
Like most of these projects, XBMC is largely supported through a very active forum. This thread shows you how to install XBMC on the Acer Aspire Revo (an OEM Ion system). Thankfully the hardware is similar enough that the same methods also apply to the ASRock, ASUS and Zotac Ion boards as well.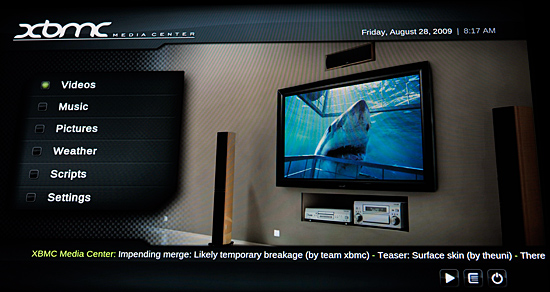 Another default XBMC skin
I downloaded the XBMC Live image from here. That particular image already has NVIDIA drivers that properly recognize the Ion and enable hardware H.264 acceleration. It's a Live image so you can boot from it directly without even touching your hard drive if you just want to try it out. Following the instructions in that thread, I had a fully usable XBMC setup in minutes. And to be honest, it was pretty sweet.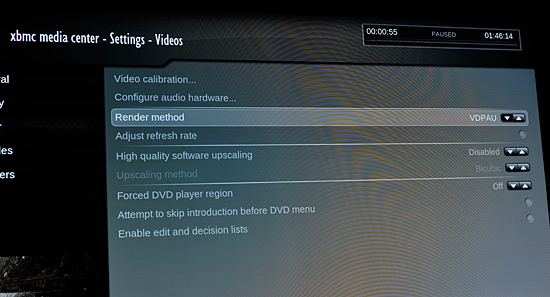 Hardware acceleration baby
The XBMC interface is great and skinnable. The default skin is clean and easy to use, but there are even more impressive options available on the web.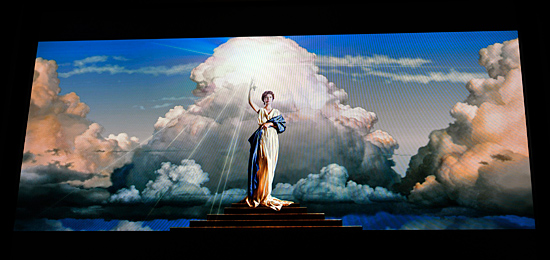 It works!
What impressed me most about the XBMC experience on Ion was how easy it was to setup and how fast the interface was. Obviously we're still quite limited by the Atom processor, but this thing felt much quicker than when I tried MCE Video Browser on the Ion earlier this year. It didn't actually feel sluggish; I saw some choppy transitions at times but it was totally usable. Not to mention much better than most UIs on traditional CE devices.
If you're looking for a way to stream content to your TV, I'd strongly recommend giving XBMC a try on the Ion. It works very well and delivers a clean, easy to setup, easy to use HTPC experience that's fully hardware accelerated by NVIDIA's Ion.
Final Words
With projects like XBMC that can harness the power of NVIDIA's GPU in Ion, we're starting to see real usage models for these systems. While I could build a faster HTPC, I'm not sure I could build a more efficient one than what I get from Ion. And let this serve as a warning to Intel: Pine Trail needs to be just as easy to setup and use as Ion. I don't want to see another G45 launch repeat in 2010.
At the start of this year I expected to see more Ion platforms than three for the DIY market. There have been a handful of significant releases in the netbook and nettop category from OEMs like Acer and Samsung, but for the most part Ion has been quieter than expected.
That being said, with three real competitors in the DIY market we do actually have a decent set of options to choose from.
If you want a pre-built system and have no components of your own that you'd like to re-use, the ASRock Ion 330 is your only option. While Acer offers the Aspire Revo, it only comes with a single-core Atom 230, a far less desirable option. The ASRock is well built and my only complaint is the distinct noise of the rear fan. Although the fan is quiet, you do hear the motor if you're close to the machine. Stick it in a closet or play a movie and it won't really matter.
Then there's the issue of price, you do pay a premium (around $40) for ASRock to assemble this thing for you. And you get no flexibility in the components chosen. As I wrote earlier in the review, a good SSD really helps mask the poor performance of the Atom. You'd have to ebay (or repurpose) the 320GB HDD that ships with the ASRock Ion in order to make the jump to an SSD without wasting money.
If you want to build your own, until ASUS gets us a sample with a quieter fan, it looks like Zotac is the way to go. It's clear that the ASUS board was an early sample and hopefully the shipping product will be significantly quieter. I'd prefer if ASUS went to a larger, slower spinning fan but as long as it can get quieter I'll be happy. As soon as ASUS can get us a sample with the final fan design we'll retest and follow up as necessary.
I took for granted much of what made Zotac's design work, but it's clear that effort was made to make that board what it is. If you're buying today and just want a motherboard, Zotac is the way to go. In the near future? If the fan issues get sorted out, it looks like you'll have another option with ASUS.