Original Link: http://www.anandtech.com/show/2819


I've found myself in between two product launches. From AMD we have today's announcement: the 3.4GHz Phenom II X4 965 Black Edition.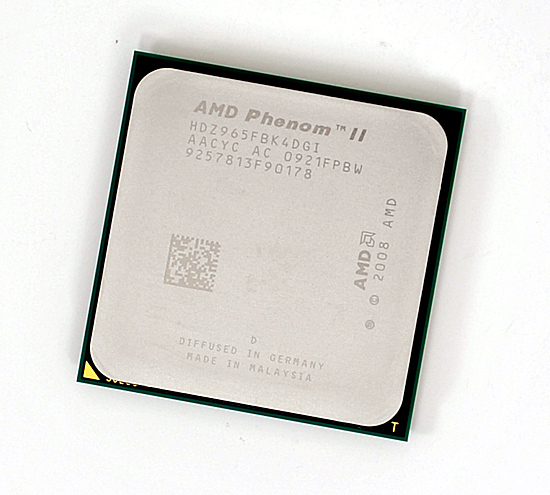 Priced at $245, the 965 is a mere clock speed bump, but an important one. It comes at the same price as this spring's Phenom II X4 955 Black Edition; you get more performance at the same price.
| | | | | | | |
| --- | --- | --- | --- | --- | --- | --- |
| Processor | Clock Speed | un-core Clock | L2 Cache | L3 Cache | TDP | Price |
| AMD Phenom II X4 965 BE | 3.4GHz | 2.0GHz | 2MB | 6MB | 140W | $245 |
| AMD Phenom II X4 955 BE | 3.2GHz | 2.0GHz | 2MB | 6MB | 125W | $245 |
| AMD Phenom II X4 945 | 3.0GHz | 2.0GHz | 2MB | 6MB | 125W | $225 |
| AMD Phenom II X3 720 BE | 2.8GHz | 2.0GHz | 1.5MB | 6MB | 95W | $145 |
| AMD Phenom II X2 550 BE | 3.1GHz | 2.0GHz | 1MB | 6MB | 80W | $105 |
It is also the highest clocked processor AMD has ever shipped; K8 topped out at 3.2GHz and the original Phenom never went beyond 2.6GHz. We're also back up to a 140W TDP, something we haven't seen since the old Phenom 9950 went away.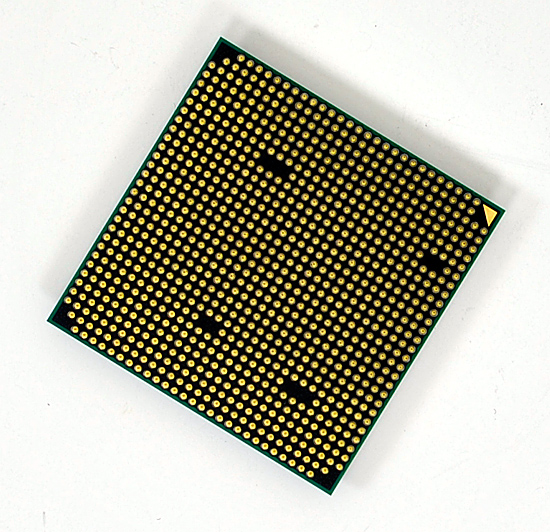 With the 965 BE, AMD has simplified its product lineup. The 800 series Phenom II X4 is gone, as are the DDR2-only Phenom II X4 940 and 920. Most of the 700 series is also done with. Yields are clearly improving and much of the die harvesting is clearly no longer necessary. AMD ought to get rid of the Xn suffix and just use simple model numbers at this point. For more information on the Phenom II architecture, see our launch article.
The second product launch is rumored to happen next month. It's the introduction of Intel's Lynnfield processor. The affordable Nehalem, available in both Core i5 and Core i7 flavors, promises to start at just $199 with motherboards in the low $100s.
The Problem at 245
The problem with the $245 price point that AMD's flagship sells at is one of positioning. It is dangerously close to the $284 price of a Core i7 920, which is generally a faster chip.
| | |
| --- | --- |
| CPU | Price |
| Intel Core i7 920 | $280 |
| Intel Core 2 Quad Q9650 | $320 |
| AMD Phenom II X4 965 Black Edition | $245 |
| Intel Core 2 Quad Q9550 | $220 |
| Intel Core i5 750 (Unreleased) | $199 |
The Core 2 Quad Q9650 simply doesn't make any sense, it's a wonder that Intel still sells it. The Q9550 can be had for around $220 and is generally slower than the 965 Black Edition. The i5 750 is the wildcard; if it does debut next month at $199 and is as competitive as we're expecting, it could force AMD to compress its upper end pricing.
Until Lynnfield arrives, the only things AMD has to worry about are the Core 2 Quad at the low end and the i7 at the high end. The more expensive Core 2 Quads don't really seem to matter, the Phenom II dispatches with them fairly easily. To fight off the i7, instead of lowering profit margins, AMD is going to be offering a number of bundles to help reduce total ownership cost.
While AMD wasn't specific as to what bundles will be available, starting today Newegg, Tiger Direct, ZipZoomFly, NCIX and MWAVE will all be offering bundles on the Phenom II X4 965 and certain motherboards. AMD is estimating the bundles to knock off around $40 from the total combined price. There will also be Corsair memory and AMD GPU bundles, but AMD was even more vague on what we should expect there.
A quick look at Newegg shows that currently you can save about $30 if you're buying a Phenom II X4 945 and a Gigabyte 790FX motherboard. Unfortunately it looks like the bundles don't kick in if you're buying any of the cheaper motherboards. It remains to be seen what sort of 965 bundles will be available.
Pressure from above with the i7 920 is relieved by lower prices, but next month pressure from below with the i5 750 is sure to make things difficult. AMD sweetens the pot by making its flagship part a multiplier unlocked Black Edition. Like the 955 before it, our 965 easily hit 3.8GHz without so much as an added millivolt. We just increased the clock multiplier and off we went.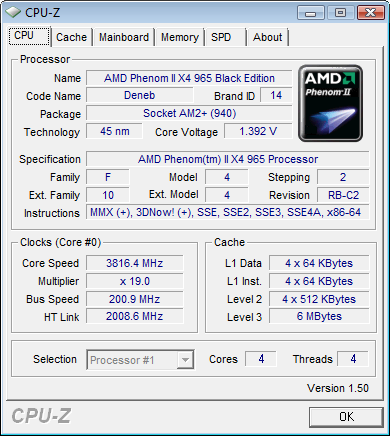 The Test
Motherboard:
Intel DX58SO (Intel X58)
Intel DX48BT2 (Intel X48)
MSI DKA790GX Platinum (AMD 790GX)
Gigabyte GA-MA790GP-DS4H (AMD 790GX)
Gigabyte GA-MA790FX-UD5P (AMD 790FX)
Chipset:
Intel X48
Intel X58
AMD 790GX
AMD 790FX
Chipset Drivers:
Intel 9.1.1.1010 (Intel)
AMD Catalyst 8.12
Hard Disk:
Intel X25-M SSD (80GB)
Memory:
G.Skill DDR2-800 2 x 2GB (4-4-4-12)
G.Skill DDR2-1066 2 x 2GB (5-5-5-15)
Qimonda DDR3-1066 4 x 1GB (7-7-7-20)
Corsair DDR3-1333 4 x 1GB (7-7-7-20)

Video Card:
eVGA GeForce GTX 280
Video Drivers:
NVIDIA ForceWare 180.43 (Vista64)
NVIDIA ForceWare 178.24 (Vista32)
Desktop Resolution:
1920 x 1200
OS:
Windows Vista Ultimate 32-bit (for SYSMark)
Windows Vista Ultimate 64-bit
SYSMark 2007 Performance
Our journey starts with SYSMark 2007, the only all-encompassing performance suite in our review today. The idea here is simple: one benchmark to indicate the overall performance of your machine.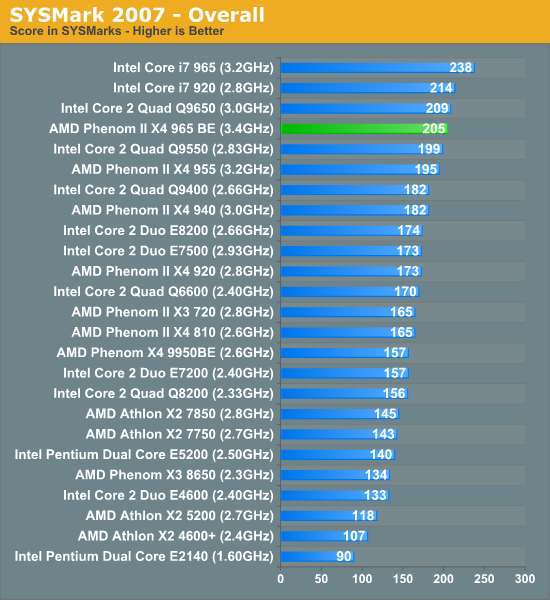 The Phenom II X4 965 does very well, inching ahead of the Q9550 and basically performing the same as the Core i7 920. Not bad at all.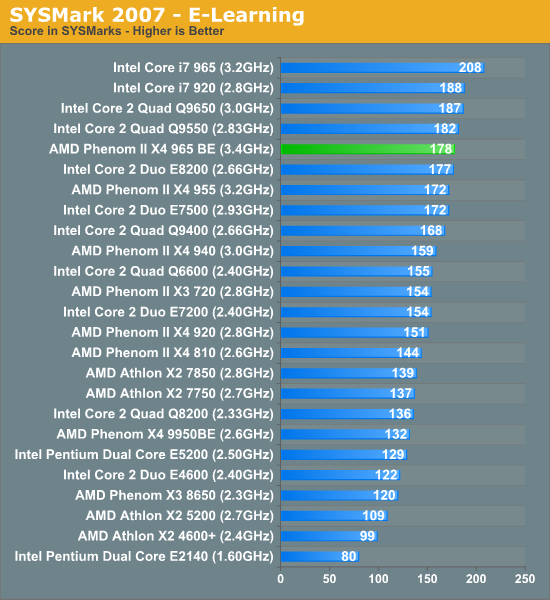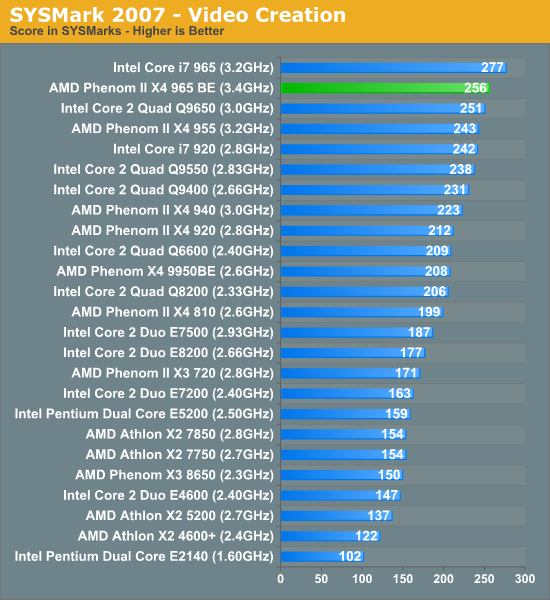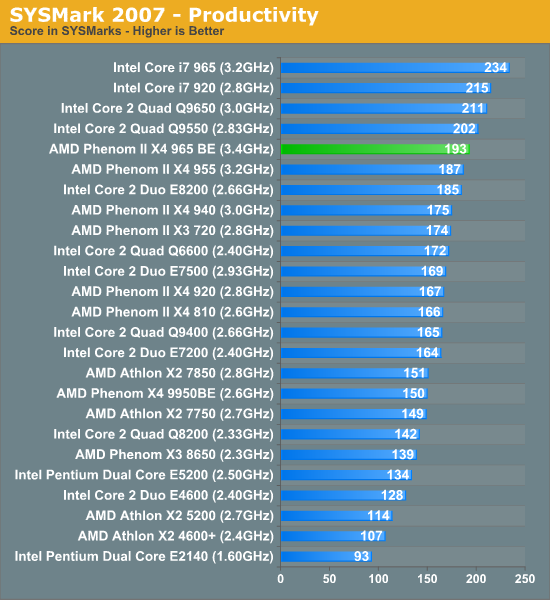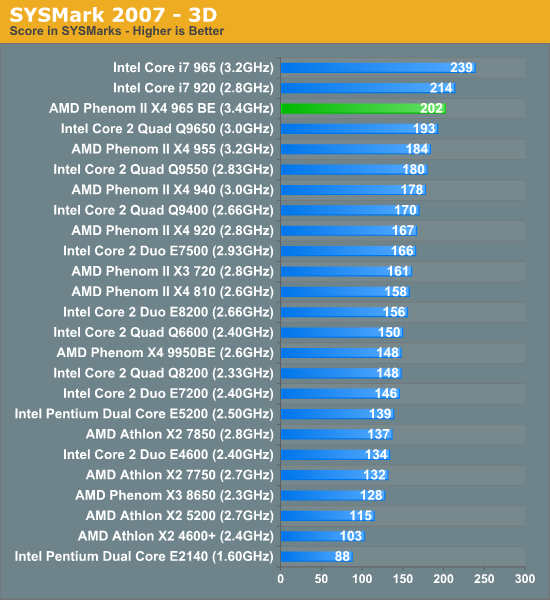 Adobe Photoshop CS4 Performance
To measure performance under Photoshop CS4 we turn to the Retouch Artists' Speed Test. The test does basic photo editing; there are a couple of color space conversions, many layer creations, color curve adjustment, image and canvas size adjustment, unsharp mask, and finally a gaussian blur performed on the entire image.
The whole process is timed and thanks to the use of Intel's X25-M SSD as our test bed hard drive, performance is far more predictable than back when we used to test on mechanical disks.
Time is reported in seconds and the lower numbers mean better performance. The test is multithreaded and can hit all four cores in a quad-core machine.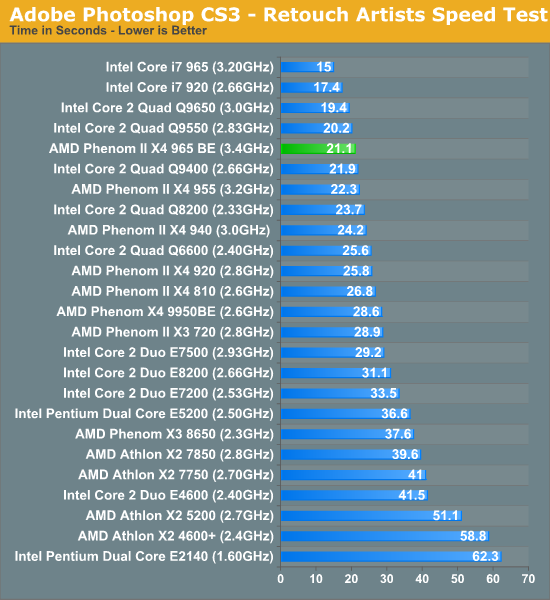 Intel's architectures are definitely favored in our Photoshop test; the 965 BE can't outperform the cheaper Q9550.


DivX 8.5.3 with Xmpeg 5.0.3
Our DivX test is the same DivX / XMpeg 5.03 test we've run for the past few years now, the 1080p source file is encoded using the unconstrained DivX profile, quality/performance is set balanced at 5 and enhanced multithreading is enabled: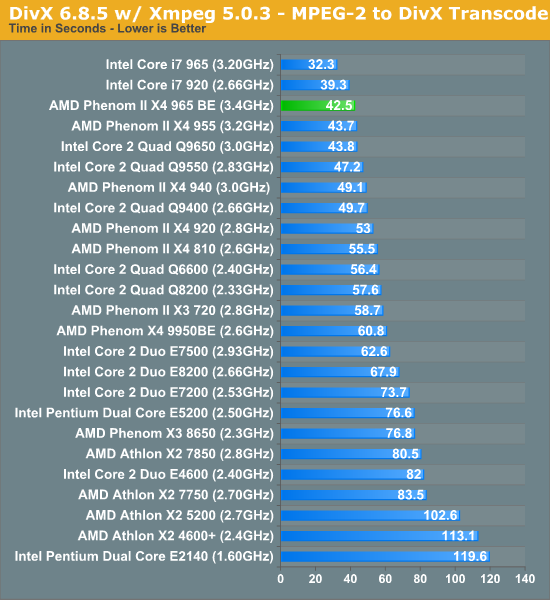 Our lighter encoding test puts the 965 BE above all of the Core 2 Quads and just behind the i7 920.


x264 HD Video Encoding Performance
Graysky's x264 HD test uses the publicly available x264 codec (open source alternative to H.264) to encode a 4Mbps 720p MPEG-2 source. The focus here is on quality rather than speed, thus the benchmark uses a 2-pass encode and reports the average frame rate in each pass.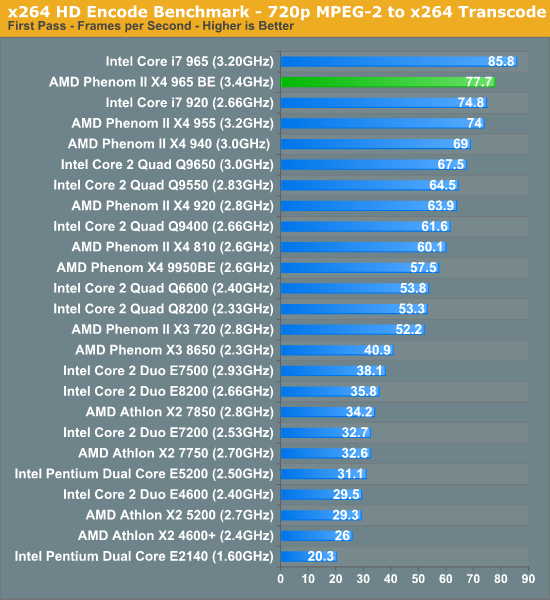 The 965 BE manages to pull ahead of the i7 920 in the first pass of our test, however the second more strenuous pass clearly goes to the i7. Compared to the Core 2 Quads however, the 965 is without an equal - it's better than the Q9650.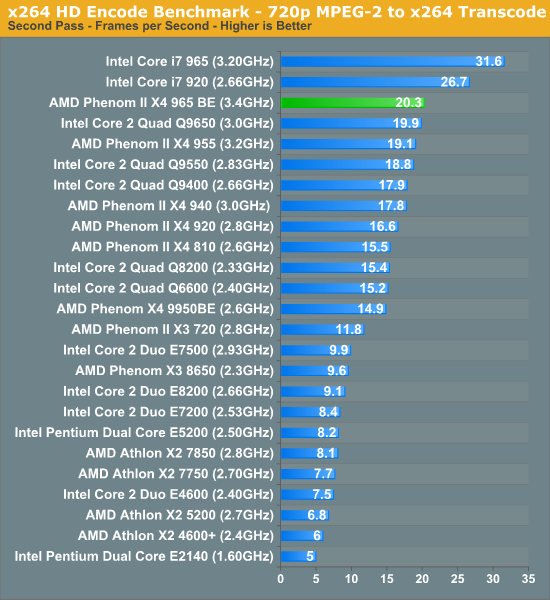 Windows Media Encoder 9 x64 Advanced Profile
In order to be codec agnostic we've got a Windows Media Encoder benchmark looking at the same sort of thing we've been doing in the DivX and x264 tests, but using WME instead.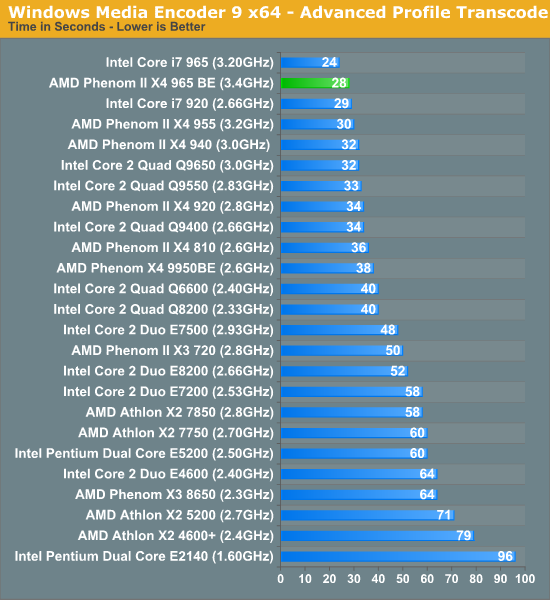 Slightly faster than the i7 920 again? Hooray for AMD.
3dsmax 9 - SPECapc 3dsmax CPU Rendering Test
Today's desktop processors are more than fast enough to do professional level 3D rendering at home. To look at performance under 3dsmax we ran the SPECapc 3dsmax 8 benchmark (only the CPU rendering tests) under 3dsmax 9 SP1. The results reported are the rendering composite scores: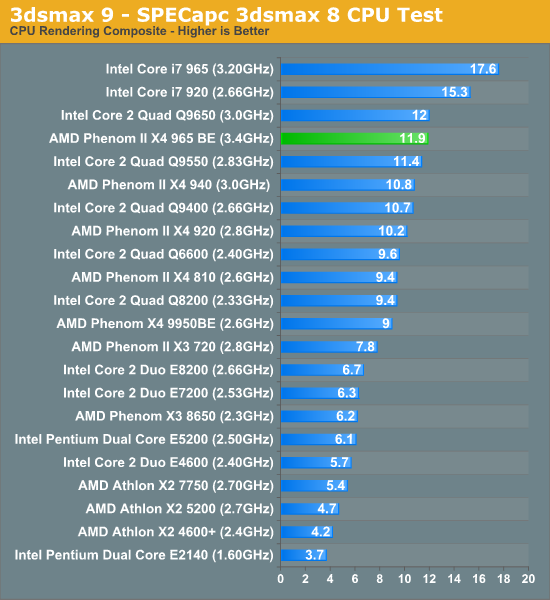 While the Phenom II X4 965 BE is able to roughly equal the Q9650 in performance, it's unable to come close to any of the i7s. In our Lynnfield preview we found that without Lynnfield's aggressive turbo modes, a 2.66GHz i5 750 would still be faster than the Q9650 so it doesn't look like Lynnfield will tip things in AMD's favor here either.
Cinebench R10
Created by the Cinema 4D folks we have Cinebench, a popular 3D rendering benchmark that gives us both single and multi-threaded 3D rendering results.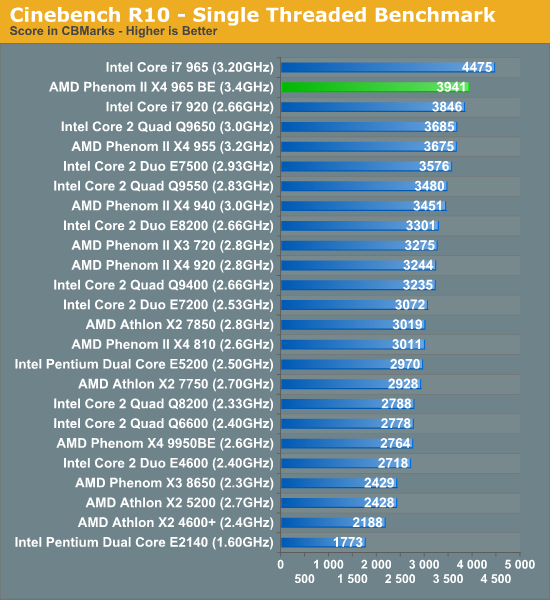 Single threaded performance is clearly an area where the i7 920 can't use Hyper Threading to its advantage. The 965 BE is second only to the i7 965.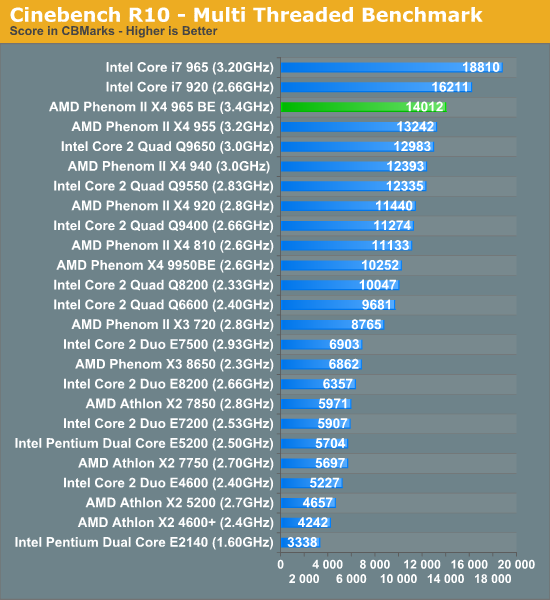 Once more, other than the i7 processors you can't touch the 965 BE. Depending on how well Lynnfield's turbo works, AMD could even be competitive against the entry level Core i5.
POV-Ray 3.73 beta 23 Ray Tracing Performance
POV-Ray is a popular, open-source ray tracing application that also doubles as a great tool to measure CPU floating point performance.
I ran the SMP benchmark in beta 23 of POV-Ray 3.73. The numbers reported are the final score in pixels per second.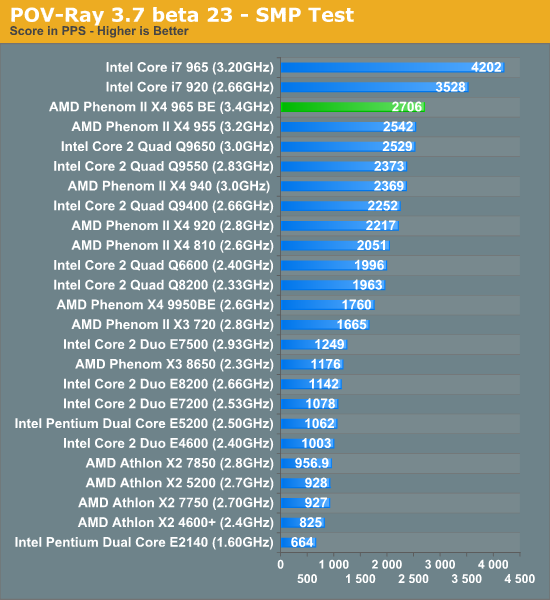 More of the same, the 965 BE is the fastest non i7 processor on the block. Even Lynnfield may find it difficult to significantly outperform the Phenom II flagship here.
Blender 2.48a
Blender is an open source 3D modeling application. Our benchmark here simply times how long it takes to render a character that comes with the application.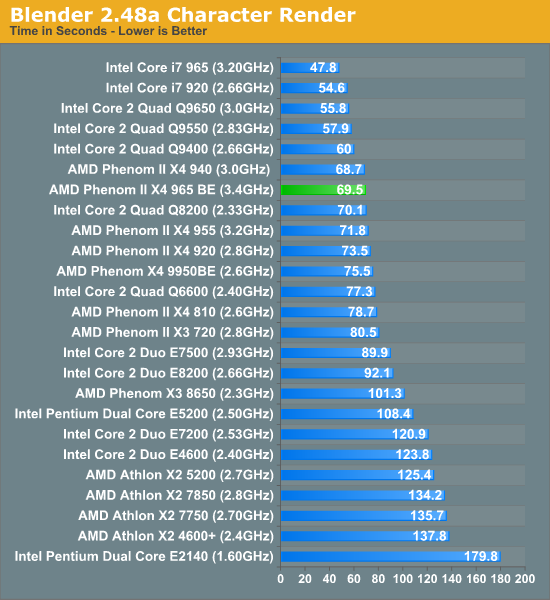 All of the DDR3 Phenom IIs are actually slower in our Blender test, but it doesn't matter since the app seems to heavily favor Intel CPUs.
PAR2 Multithreaded Archive Recovery Performance
Par2 is an application used for reconstructing downloaded archives. It can generate parity data from a given archive and later use it to recover the archive
Chuchusoft took the source code of par2cmdline 0.4 and parallelized it using Intel's Threading Building Blocks 2.1. The result is a version of par2cmdline that can spawn multiple threads to repair par2 archives. For this test we took a 708MB archive, corrupted nearly 60MB of it, and used the multithreaded par2cmdline to recover it. The scores reported are the repair and recover time in seconds.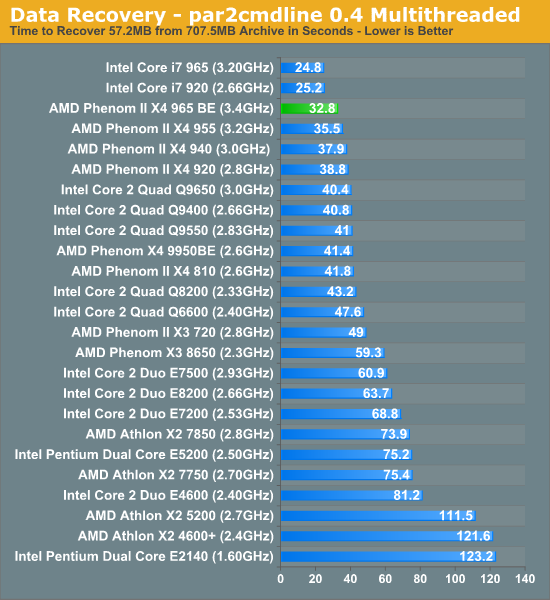 Microsoft Excel 2007
Excel can be a very powerful mathematical tool. In this benchmark we're running a Monte Carlo simulation on a very large spreadsheet of stock pricing data.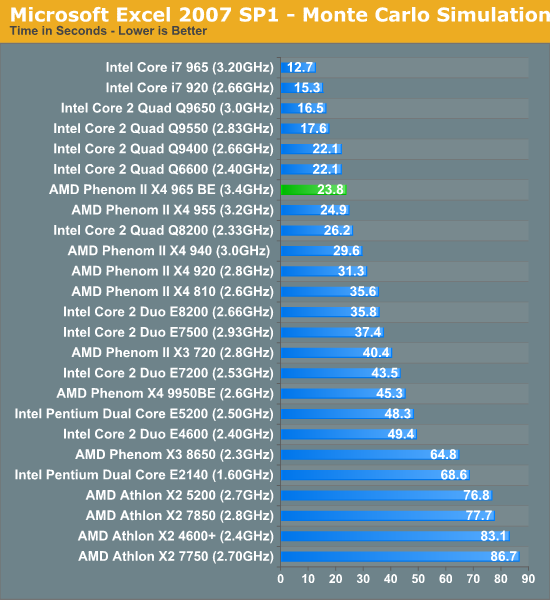 The same is true for our Excel Monte Carlo simulation - where there's an Intel optimization, the performance is predictable.


Sony Vegas Pro 8: Blu-ray Disc Creation
Although technically a test simulating the creation of a Blu-ray disc, the majority of the time in our Sony Vegas Pro benchmark is spend encoding the 25Mbps MPEG-2 video stream and not actually creating the Blu-ray disc itself.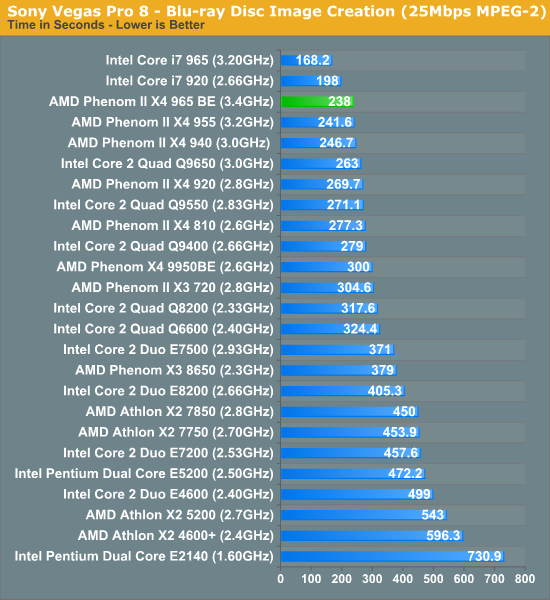 More of the same here - the 965 BE is faster than any LGA-775 Intel CPU here, but compared to i7 it's noticeably slower.


Sorenson Squeeze: FLV Creation
Another video related benchmark, we're using Sorenson Squeeze to convert regular videos into Flash videos for use on websites.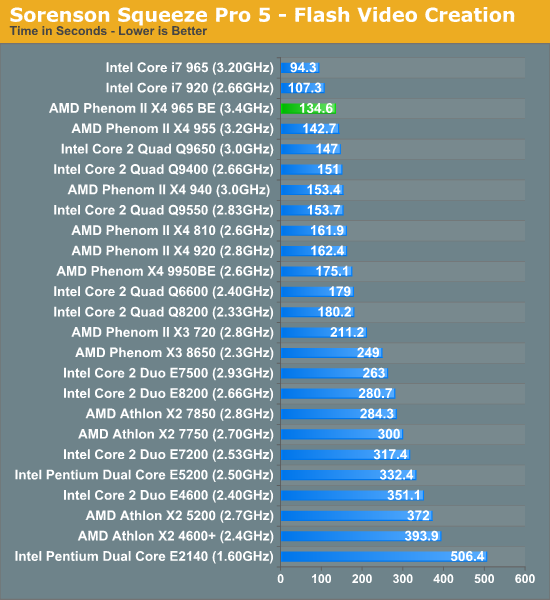 I'm running out of ways to say that the standings remain unchanged.


WinRAR - Archive Creation
Our WinRAR test simply takes 300MB of files and compresses them into a single RAR archive using the application's default settings. We're not doing anything exotic here, just looking at the impact of CPU performance on creating an archive: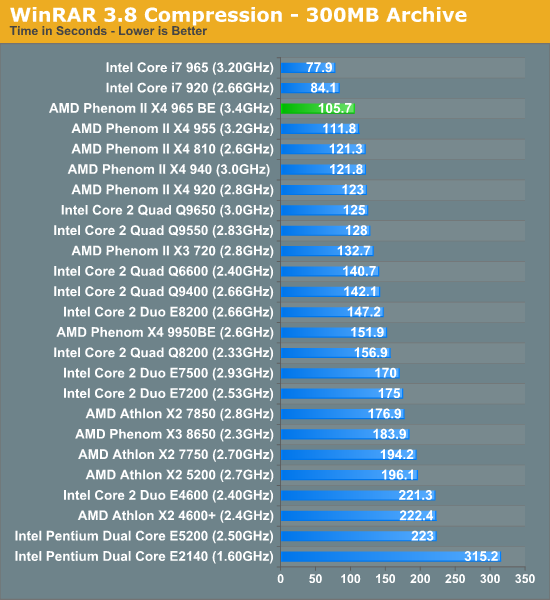 The standings remain unchanged.
Fallout 3 Game Performance
Bethesda's latest game uses an updated version of the Gamebryo engine (Oblivion). This benchmark takes place immediately outside Vault 101. The character walks away from the vault through the Springvale ruins. The benchmark is measured manually using FRAPS.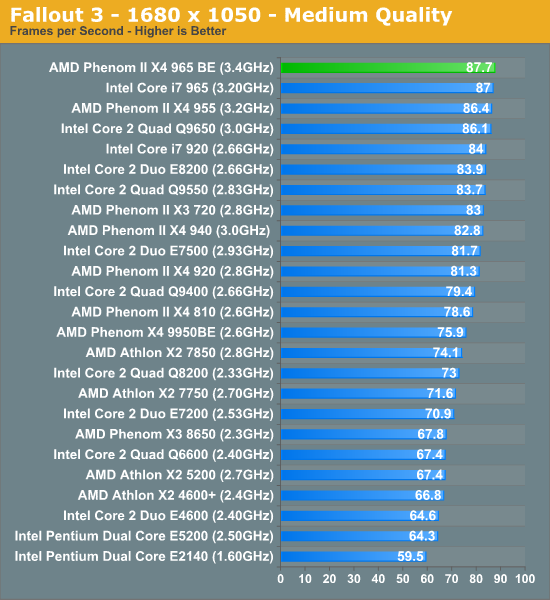 The gaming performance of the 965 BE is excellent, it actually managed to outperform even the i7 965 in our Fallout 3 test.


Left 4 Dead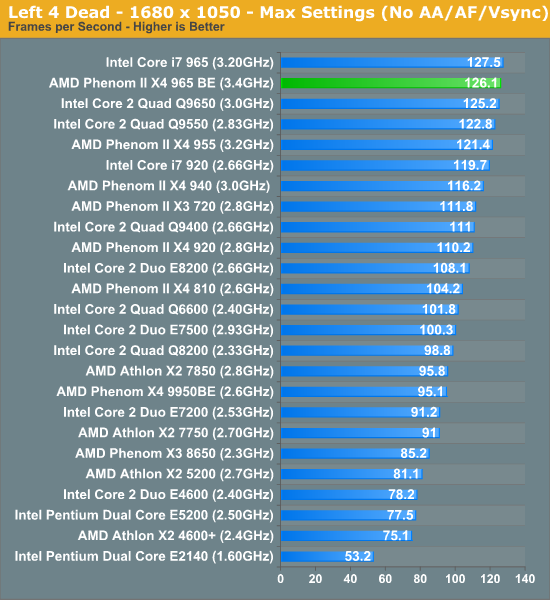 In lightly threaded titles, clock speed and larger caches seem to be the biggest boons to performance. The 965BE is second only to the Core i7 965.


FarCry 2 Multithreaded Game Performance
FarCry 2 ships with the most impressive benchmark tool we've ever seen in a PC game. Part of this is due to the fact that Ubisoft actually tapped a number of hardware sites (AnandTech included) from around the world to aid in the planning for the benchmark.
For our purposes we ran the CPU benchmark included in the latest patch: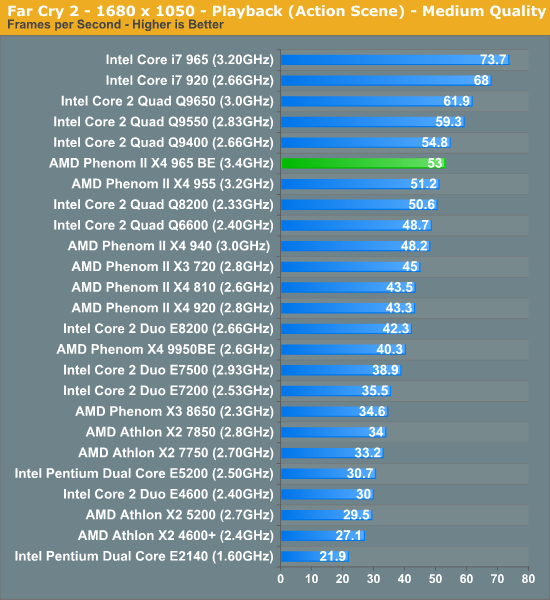 FarCry 2 is another example of a title well optimized for Intel's architectures and thus we see that the 965BE can't even win against its Q9550 competition. Thankfully for AMD, I do not believe FarCry 2 is representative of the majority of titles on the market.


Crysis Warhead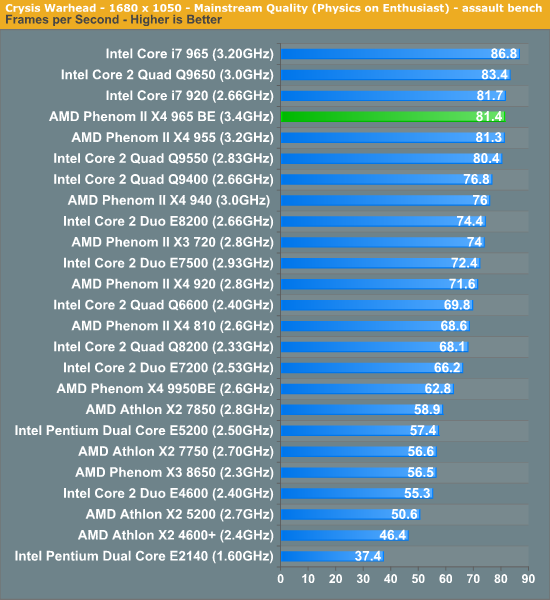 Crysis performance is virtually tied between the i7 920 and the 965BE.
Power Consumption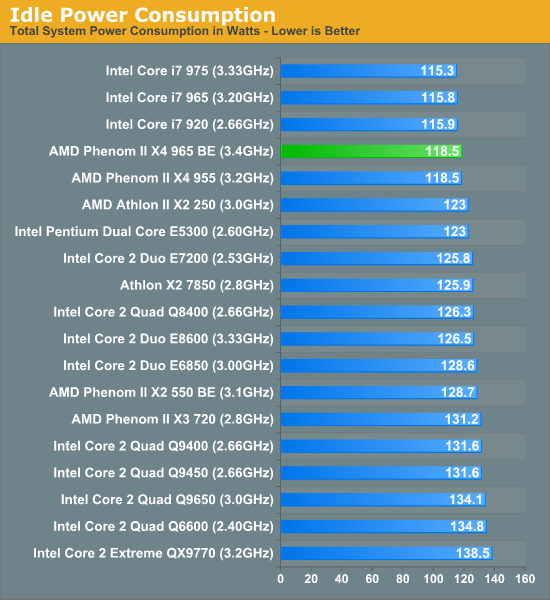 Idle power consumption is a strong point of the Phenom II architecture, only the i7s manage to draw less power. Under load, the 965 draws the most power of anything on the chart - there's its 140W TDP hard at work.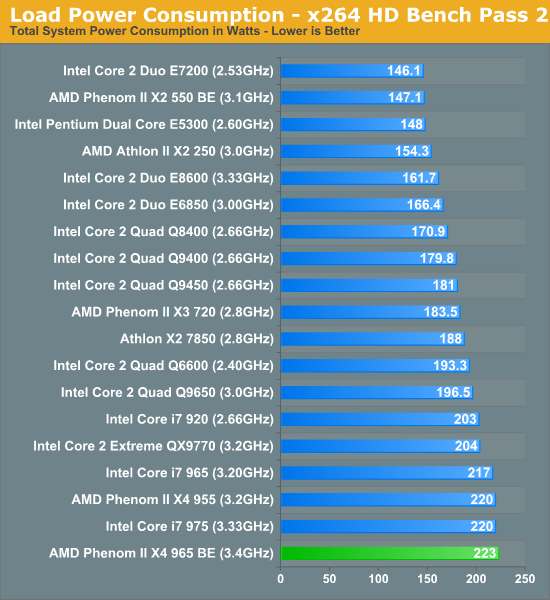 And so it ends at 4GHz, again.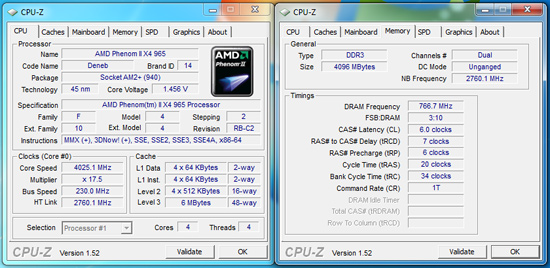 A 625MHz overclock is nothing to sneeze at, but it certainly does not come near those 6GHz~7GHz clock speeds we see on a regular basis with the Phenom II series. Granted, reaching those high clock speeds requires LN2 cooling but there is another important reason. We have discussed it several times and still do not have an acceptable answer from AMD about the inability of the Phenom II to clock much past 4GHz with a 64-bit operating system. Even with LN2 cooling we have not successfully benched past 4.4GHz with a 64-bit OS.
Once again, we tried XP 64-bit, Vista 64-bit, and Windows 7 64-bit and the results are always the same. As we near 4GHz, the voltage requirements increase dramatically and the clocking ability of the processor decreases in much the same manner. This does not occur in a 32-bit operating system, which happens to be the recommendation for any sort of benchmarking activities with the Phenom II.
That said, running this particular processor in the 3.8GHz~4GHz range offers performance that should satisfy just about any desktop user. Moreover, it is easy to do, in fact, much easier than our collection of 955BE samples scattered about the labs.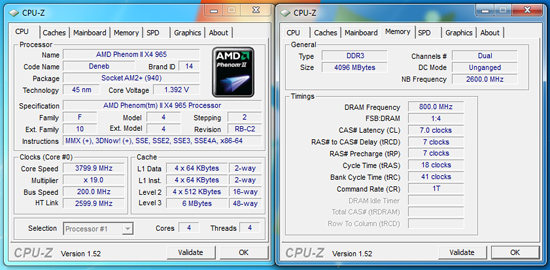 Windows 7 Ultimate x64 - Stock Voltage Overclock

The stock Core VDDC (VCore) is 1.4V as delivered from AMD. At this stock voltage and a slight bump in NB Core voltage to 1.250V, we hit 3.8GHz with a 2.6GHz Northbridge speed on our MSI 790FX-GD70 motherboard. The AMD specific 4GB DDR3-1600 kit from OCZ was set at 1.65V with 7-7-7-18 1T timings. We used the retail air cooler and load temperatures stayed around 58C~62C with Windows 7 Ultimate x64 as the operating system of choice.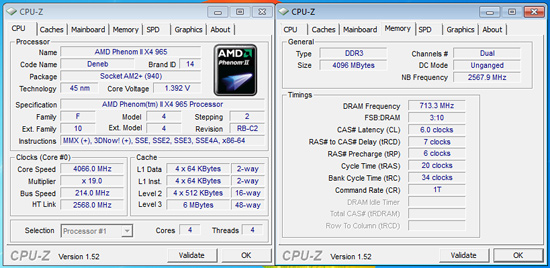 Windows 7 Ultimate x86 - Stock Voltage Overclock

At the same voltages but utilizing Windows 7 Ultimate x86 we end at a final core speed of 4.066GHz (19x214). Northbridge speed is set to 2.567GHz and memory at DDR3-1426 with 6-7-6-20 timings. This is a similar pattern when testing the Phenom II cpus on air-cooling; we typically can clock the processor about 200MHz higher at similar voltages and settings when using a 32-bit OS in place of a 64-bit OS. Our particular sample made it to 4.2GHz on 1.50V with a NB speed of 2.4GHz using our Vigor Monsoon III LT air cooler. We almost hit 4.3GHz at 1.52V with a 2.7GHz NB speed on water cooling before temperatures spiraled out of control.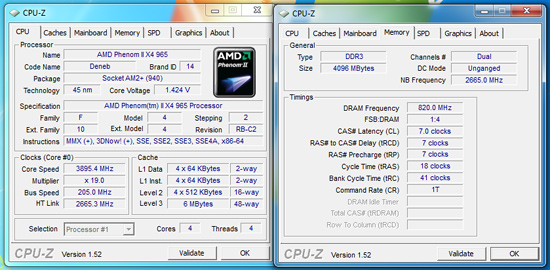 We swapped out our retail air cooler for the Corsair Hydro H50 to hit our top two overclocks. We reached 3.89GHz on 1.45V with the NB speed of 2.66GHz and memory running at DDR3-1640 on 7-7-7-18 timings. When running higher NB speeds, it is a requirement to keep the core as cool as possible to guarantee stability under load conditions. This was our preferred setting as temperatures stayed below 54C under load and the system was very responsive in a variety of applications, especially gaming.
Our best core clock reached 4.025GHz on 1.475V (shown at the top of the page) with a 2.76GHz NB speed and memory operating at DDR3-1532 on 6-7-6-20 timings. Temperatures crept back up to the 58C range under full load conditions.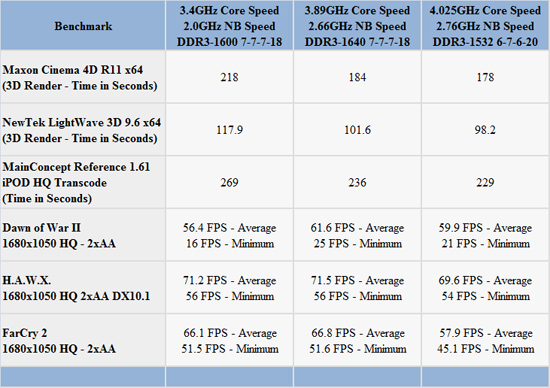 The 4.025GHz setting offered the best results in several video/audio transcoding benchmarks due to pure processor speed, it was actually slower in gaming than the 3.89GHz setting thanks to improved memory bandwidth and internal latencies.
Final Words
Without a doubt the Phenom II X4 965 Black Edition is faster than anything you can get that fits into an LGA-775 socket at a remotely similar price point. AMD has done its duty well there, the 965 is clearly a better option than the Q9550 or Q9650 for that matter.
As a gaming CPU, it's actually competitive with the i7s. If you exclude the FarCry 2 results, which I hardly believe are representative of most games, the Phenom II X4 965 is easily just as good of a gaming CPU as an i7 in today's titles. Now once you start throwing in background tasks and look at future titles being more threaded then the picture becomes a little more muddy.
Overall application performance is very good from the 965's perspective. It's only in a handful of 3D or well threaded apps where we see the i7 really pull away. The 965 BE is competitive, just not faster.
All in all, I like the Phenom II X4 965 BE. It is a good performer and if you can get the price right then it makes sense. The problem is that AMD is defending a hotly contested segment with this processor at $245.
When it comes down to it, between the 965 BE and an i7 920, I still opt for the 920. The 965BE does have a lower total cost of ownership so the real question is how well does it stack up against the Lynnfield chips. Based on our preliminary results, I'd expect the race to be reasonably close between the 965 BE and the Core i5 750 but the i7 850 may prove to be the sweet spot at only $40 more.
The clear response would then for AMD to drop prices - I believe at $199 the 965 BE would easily remain competitive. The situation we find ourselves in today is that AMD has a good enough architecture to remain competitive, albeit at more affordable price points. Thankfully for AMD's sake, regardless of what Intel does, there's always a price point where Phenom II seems to make sense.
The question is will this be enough to last AMD throughout 2010 before we see a real change in architecture?