Original Link: http://www.anandtech.com/show/2783/apple-s-2009-macbook-pro-battery-life-to-die-for


I was so focused on the iPhone 3GS and Snow Leopard announcements from this year's WWDC that I almost missed the gravity of the MacBook Pro announcements.
Apple announced price drops on nearly all of its laptops. The new lineup looks like this:
| | | | | |
| --- | --- | --- | --- | --- |
| | MacBook | MacBook Pro 13-inch | MacBook Pro 15-inch | MacBook Pro 17-inch |
| CPU | Core 2 Duo 2.13GHz | Core 2 Duo 2.26GHz | Core 2 Duo 2.53GHz | Core 2 Duo 2.8GHz |
| GPU | NVIDIA GeForce 9400M | NVIDIA GeForce 9400M | NVIDIA GeForce 9400M | NVIDIA GeForce 9400M + 9600M |
| Memory | 2GB DDR2 | 2GB DDR3 | 4GB DDR3 | 4GB DDR3 |
| HDD | 160GB | 160GB | 250GB | 500GB |
| Battery Life | Up to 5 hours | Up to 7 hours | Up to 7 hours | Up to 8 hours |
| Price | $999 | $1199 | $1699 | $2499 |
If you want an all aluminum body, you have to buy a MacBook Pro. There's only a single MacBook model and it's the white chassis that's been around for a while now.
Apple added a 13" MacBook Pro to the lineup to fill in the gap, although it's not clear to me whether this 13" MacBook Pro uses the same LCD panel as the old 13" aluminum MacBook or a derivative of the 15" MacBook Pro's panel, which is superior.

Of course there are different models within each one of these categories that you can purchase, but they are irrelevant to the discussion we're about to have. Look at the battery life row in the table above; Apple is claiming up to 7 hours of battery on the new MacBook Pros. The old specs used to be up to 5 hours.
Apple did some clever work on its own here. Standard lithium ion batteries are made up of cylindrical cells, similar to AA batteries. The problem with these batteries is that they waste a lot of space within a notebook (try cramming a lot of cylinders into a box, you end up with wasted space). This wasted space translates into larger batteries than are necessary, which makes for larger notebooks.
In order to continue to drive laptop thinness down, Apple started experimenting with using custom lithium polymer batteries instead of the industry standard lithium ion parts. Lithium polymer cells aren't made of cylindrical cells (they're rectangular), so there's no wasted space. Not only does this make the batteries more compact, but it also gives you greater capacity since you're using all available chassis volume for the battery.

Makes sense. Courtesy, Apple.
Apple also found that it was wasting space in the removable enclosure for the batteries as well, so its lithium polymer offerings are no longer user removable. I suspect this part of the equation has more to do with cutting costs than saving space though.
Apple first used this lithium polymer battery technology in its MacBook Air. It gave Apple a very thin battery that allowed it to create the MacBook Air's sweet form factor. Then came the new 17" MacBook Pro, without a removable battery. Apple claimed that this battery would last for five years before it needed replacing and resulted in up to an 8 hour battery life.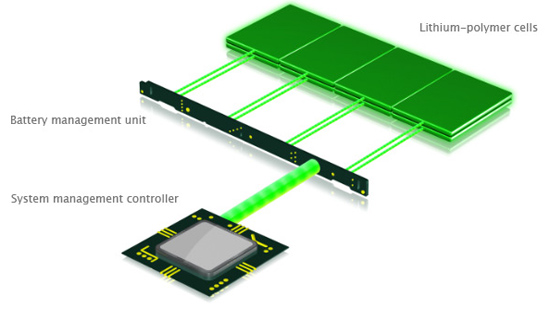 The extended life is supposedly due to an on-battery sensor that communicates with the system's management controller that can dynamically sense the needs of each lithium polymer cell and feed that info back to the charging circuitry. The result is slight variations in charging current designed to optimally charge each and every cell; apparently reducing wasted charge cycles significantly. Apple claims that most cells will hit 80% of their life after 200 - 300 charge cycles, but its special lithium polymer batteries will hit the 80% mark after as many as 1000 charge cycles. Apple claims its unique battery chemistry and microprocessor managed charging (Adaptive Charging) is responsible for these gains but it's a difficult statement to prove; we'll have to wait and see what happens after a few years of use.
Lithium Polymer: 46% More Capacity, 0% More Weight
Today Apple is shipping lithium polymer batteries in all of its MacBook Pros. Only the original, white MacBook is offered with a removable battery. Most impressive are the capacities Apple is able to offer thanks to these new batteries.
The table below shows the old and new battery capacities:
| | | | |
| --- | --- | --- | --- |
| | New Lithium Polymer Battery (Integrated) | Old Lithium Ion Battery (Removable) | Increase in Capacity |
| MacBook Pro 13-inch | 58WHr | 45WHr | 29% |
| MacBook Pro 15-inch | 73WHr | 50WHr | 46% |
| MacBook Pro 17-inch | 95WHr | 68WHr | 40% |
Now there was no 13" MacBook Pro before, so I'm comparing to the old aluminum 13" MacBook. Also, the 17" MacBook Pro was the first and only unibody 17" MacBook Pro so the old battery I'm comparing it to was the previous generation 17" MBP battery.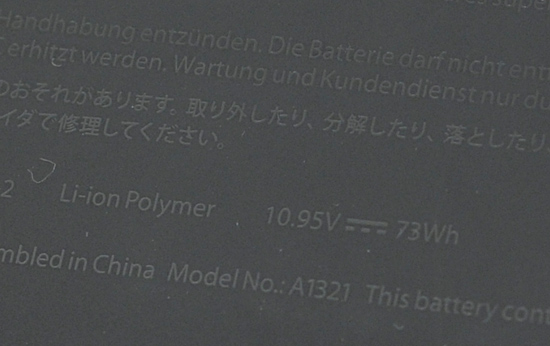 73Whr?!? Holy crap
The biggest winner is the 15" MacBook Pro, it gains a 46% increase in battery capacity with zero increase in size or weight. The new 15" MacBook Pro is the same size and weight (5.5lbs) as the previous model, it just has a 46% larger battery. Did I mention it's cheaper too?
Other Hardware Changes
I was excited when Apple finally introduced an easily accessible drive bay for the MacBook Pro. Apparently that was short lived because it's no longer there on the new unibody MacBook Pros.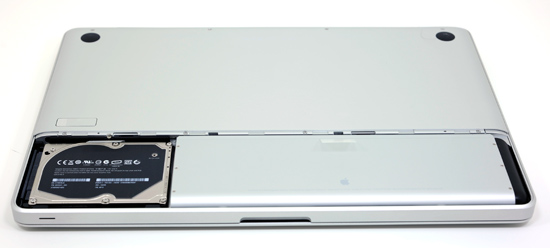 The old removable battery and HDD bay, both gone
While the lack of any screwless removable panels makes the new MacBook Pro even more sturdy than its already herculean predecessor, it does mean that to swap hard drives you need to remove ten screws to get the bottom cover off then another two to get the hard drive out.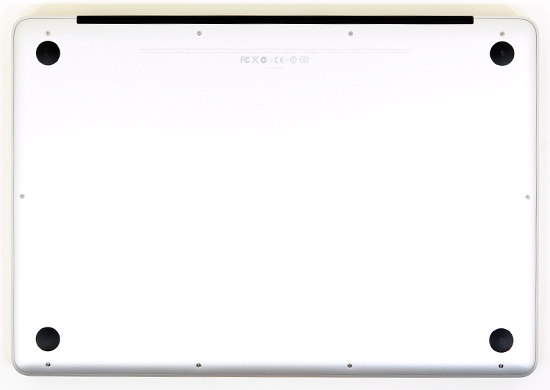 The base of the new MacBook Pro...just like the old MacBook Pro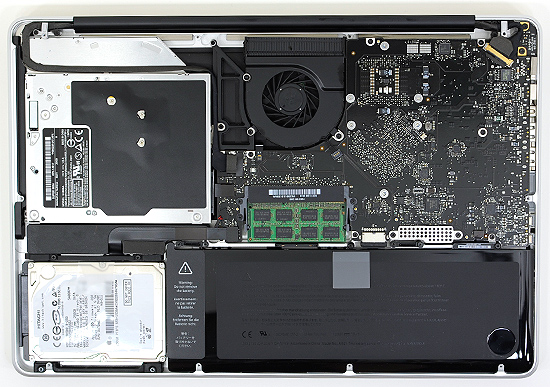 The new MacBook Pro. Remove 10 screws and you can access everything. HDD (lower left), memory (center) and battery (lower right)
The integrated battery is actually very easy to remove, provided you have the right screwdriver. After you remove the bottom cover there are just two screws between you and removing the battery. There's a big sticker telling you not to and doing so would probably void your warranty, but you can at least get to it if you'd like to. According to Apple, you wouldn't have to for around 5 years though.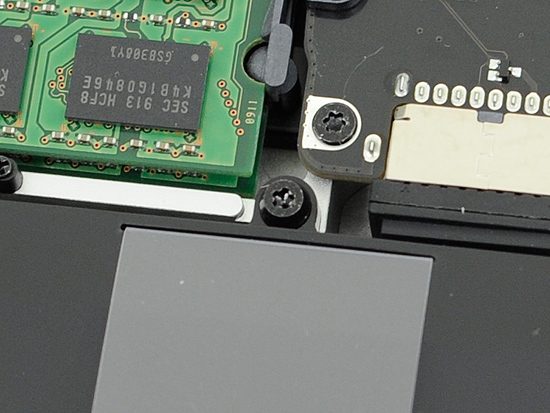 Two of these 5 tipped star screws hold the battery in place
The hardware hasn't changed much since the Fall 2008 MacBook Pros. Apple ditched the ExpressCard/34 slot and replaced it with a SD card slot. The SD slot is nice but I do most of my shooting with a CF based DSLR, so I still need an external reader for my CF cards.

The old MacBook Pro


The new MacBook Pro, note the SD card slot.
All of the CPUs got a speed bump. The Core 2 Duo 2.4GHz used to be in the entry level 15-inch MacBook Pro, now it's a 2.53GHz Core 2 Duo. It's barely more than a 5% increase in clock speed, so I wouldn't expect anything more than a couple percentage points of a performance boost in apps. A quick sanity check on performance confirmed that; the new model is in the same league of performance as the old one. If you'd like to see how it stacks up to much older hardware, check out our review of the unibody MacBook Pro from last fall.
Apple did a number on its pricing. The cheapest 15-inch MacBook Pro dropped from $1999 down to $1699, and Apple only sacrificed two things: 1) the ExpressCard slot and 2) the GeForce 9600M.
The missing ExpressCard slot was mostly to make room for the SD card slot, but the 9600M was most definitely a cost saving omission. All of Apple's unibody MacBook Pros use NVIDIA's GeForce 9400M chipset; the chipset also has a GeForce 9400M graphics core in it. This was a significant upgrade over the Intel integrated graphics that had previously been used across Apple's line.
The original unibody MacBook Pro had two GPUs, the 9400M integrated in the chipset and a GeForce 9600M. The latter was a separate GPU linked off of the PCIe bus and designed to be used if/when you needed the horsepower. The 9600M had its own frame buffer (either 256MB or 512MB of memory dedicated to the GPU) and was easily 2x the speed of the integrated 9400M. You could switch between GPUs in software under OS X.
For the most part, the 9600M was useless on the MacBook Pro unless you were gaming under Vista or did any heavy 3D accelerated work under OS X. I'm guessing the majority of MacBook Pro users didn't do either and thus Apple canned the 9600M in the $1699 MBP. The 9600M is still present in the more expensive 15" models and is standard on the 17" MBP.
Summer 2009 MacBook Pro 15"

Fall 2008 MacBook Pro 15"

Spring 2008 Penryn MacBook Pro 15"
2007 Merom MacBook Pro 15"
Dimensions
H: 0.95"
W: 14.35"
D: 9.82"
H: 0.95"
W: 14.35"
D: 9.82"
H: 1.0"
W: 14.1"
D: 9.6"
H: 1.0"
W: 14.1"
D: 9.6"
Weight
5.5 lbs
5.5 lbs
5.4 lbs
5.4 lbs
Screen Size/Resolution
15.4" / 1440 x 900 (LED backlit)
15.4" / 1440 x 900 (LED backlit)
15.4" / 1440 x 900
(LED backlit)
15.4" / 1440 x 900
(LED backlit)
CPU
Intel Core 2 Duo 2.53GHz (3MB L2)
2.66GHz (3MB L2)
2.80GHz (6MB L2)
3.06GHz (6MB L2)
45nm Penryn, 1066MHz FSB
Intel Core 2 Duo 2.4GHz, 2.53GHz or 2.80GHz (45nm Penryn, 1066MHz FSB)
Intel Core 2 Duo 2.4GHz - 2.6GHz (45nm Penryn, 800MHz FSB)
Intel Core 2 Duo 2.2GHz - 2.6GHz (65nm Merom, 800MHz FSB)
GPU
NVIDIA GeForce 9400M (mGPU) + optional GeForce 9600M GT dGPU (256MB or 512MB GDDR3)
NVIDIA GeForce 9400M (mGPU) + GeForce 9600M GT dGPU (256MB or 512MB GDDR3)
NVIDIA GeForce 8600M GT (256MB - 512MB)
NVIDIA GeForce 8600M GT (128MB - 256MB)
Memory
4GB DDR3 1066 (up to 8GB supported)
2GB - 4GB DDR3 1066
2GB - 4GB DDR2-667
2GB - 4GB DDR2-667
HDD
250GB - 500GB 2.5" 5400RPM SATA
320/500GB 7200RPM SATA
128/256GB SSD

250GB - 320GB 2.5" 5400RPM SATA
320GB 7200RPM SATA
128GB SSD

200 - 250GB 2.5" 5400RPM SATA
200GB 7200RPM SATA
120 - 250GB 2.5" 5400RPM SATA
200GB 7200RPM SATA
Optical Drive
Integrated SuperDrive
Integrated SuperDrive
Integrated SuperDrive
Integrated SuperDrive
Networking
802.11a/b/g/n
10/100/1000 Ethernet
802.11a/b/g/n
10/100/1000 Ethernet
802.11a/b/g/n
10/100/1000 Ethernet
802.11a/b/g/n
10/100/1000 Ethernet
Built in iSight
Yes
Yes
Yes
Yes
Inputs
2 x USB 2.0
1 x FireWire 800
1 x SD Card
1 x Audio in
1 x Integrated mic
2 x USB 2.0
1 x FireWire 800
1 x ExpressCard/34
1 x Audio in
1 x Integrated mic
2 x USB 2.0
1 x FireWire 400
1 x FireWire 800
1 x ExpressCard/34
1 x Audio in
1 x Integrated mic
2 x USB 2.0
1 x FireWire 400
1 x FireWire 800
1 x ExpressCard/34
1 x Audio in
1 x Integrated mic
Outputs
1 x Audio
1 x Mini DisplayPort
1 x Audio
1 x Mini DisplayPort
1 x Audio
1 x dual-link DVI
1 x Audio
1 x dual-link DVI
Battery
73WHr
50WHr
60WHr
60WHr
Price
$1699
$1999
$1999
$1999
The Best Battery Life I've Ever Seen
To find out how well the new lithium polymer battery does I ran my usual suite of Mac battery life tests. First up was my wireless web browsing test:
The wireless web browsing test uses the 802.11n connection to browse a series of 20 web pages varying in size, spending 20 seconds on each page (I timed how long it takes me to read a page on Digg and came up with 36 seconds; I standardized on 20 seconds for the test to make things a little more stressful). The test continues to loop all while playing MP3s in iTunes.
This is an extremely light test as none of the web pages have any flash ads, but it's a valid test of very light wireless usage.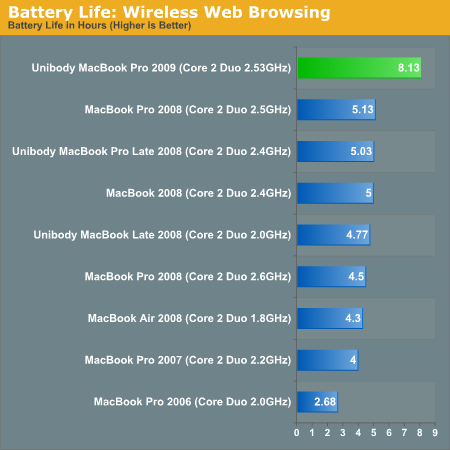 Eight, freakin, hours. I couldn't believe it. In my lightest test, the new 15-inch MacBook Pro lasted eight hours and eight minutes. That's with the screen at half brightness (completely usable) and no funny optimizations. The notebook is just playing music and surfing through a lot of my old reviews. There's no way this could be right. Maybe my test was too light?
I threw together another test just to make sure. The key flaw in my initial wireless web browsing test is that it none of web pages have any Flash on them. While constantly loading web pages will ensure the CPU can't go into deep sleep, Flash on the pages would make sure that the CPU utilization remains higher at all times. The next test I put together was this:
I strung together 8 reviews on AnandTech and put them each on a single page, images and all. I then scoured the web for big, animated Flash ads and added anywhere from 1 - 4 ads per page; all Flash. Each page is designed to forward to the next after 10 seconds and the loop continues indefinitely. On each machine I opened three Safari windows and pointed them at the first page in the sequence. In the background, once more, I had iTunes playing MP3s.
I found that CPU utilization varied from 5 - 35% during this test, which is about what I saw when I was actually surfing the web myself. The addition of Flash should make it more stressful, but it's still a fairly light usage test. My original web browsing test got us 8 hours, so what about this new one?
| | | |
| --- | --- | --- |
| | MacBook Pro 2009 | MacBook Pro Late 2008 |
| Wireless Web Browsing w/ Flash | 6.48 hours | 3.28 hours |
Six and a half hours, out of a 5.5 lbs notebook. For comparison, the older MacBook Pro could only manage 3 hours and 17 minutes in the same test. The new notebook lasted almost twice as long. Mathematically, this doesn't make sense. There's only a 46% increase in battery capacity, there shouldn't be a ~100% increase in battery life...ever.
While the original web browsing test was using data from my original unibody MacBook Pro review, this second web test used a brand new MacBook Pro (purchased just weeks before this week's MacBook Pro announcement). The two notebooks had the same amount of memory (4GB), the older MacBook Pro had a slower CPU (2.4GHz vs. 2.53GHz) and a 7200RPM hard drive but the differences shouldn't account for an extra 54% increase in battery life.
Apple must have done more than just increase battery capacity in the new MacBook Pro. My third test continues to support my findings. This is my heavy workload benchmark.
For this benchmark I'm downloading 10GB worth of files from the net (constant writes to the drive), browsing the web (same test as the first one) and watching the first two episodes of Firefly encoded in a 480p XviD format (Quicktime is set to loop the content until the system dies).
The older MacBook Pro managed 3.25 hours in this test. The new one? Just under 5: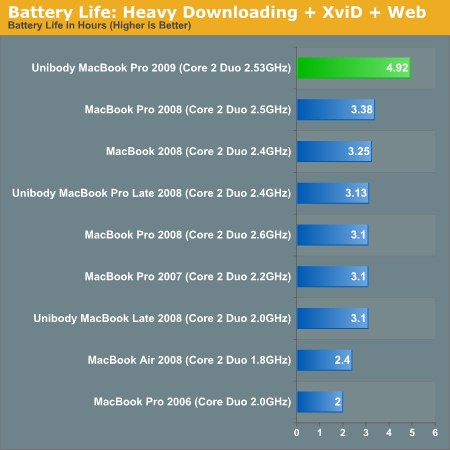 That's a 51% improvement in battery life. It's close enough to the max theoretical 46% improvement for me to think that the significant gains in wireless web browsing are due to improvements in idle power optimizations. It's possible that all of the components in the new MacBook Pro have been optimized for lower voltages at idle.
The battery tests are repeatable however. I saw anywhere from a 50 - 100% improvement in battery life over the old MacBook Pro. Given the increase in battery capacity alone, you should see no less than a 46% increase in battery life. Exactly what is accounting for the expanded life above and beyond that, I'm not sure.
Either way, Apple's 7 hour claim is well within reason. For light workloads, even on WiFi, you can easily expect 6.5 - 8 hours out of the new 15-inch MBP. As I write this article on that very system I'm told that I have nearly 8.5 hours left on my charge. If you do a lot of writing on your notebook, the new MBP is exactly what you'll want; it will easily last you on a cross-country flight if you need to get work done.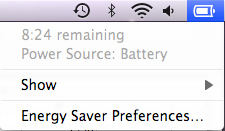 I think I've just found my new writer's companion
My heaviest workload delivered just under 5 hours of battery life, a figure that the old MBP could only attain while running my lightest workload. This thing rocks.
I also have to commend Apple for delivering realistic battery life specs on its laptop. While 7 hours definitely involves a light workload, it is more than attainable as I've shown in the tests above.
A quick search shows that even Dell's Studio 15 only offers a battery rating of up to 5.5 hours. It looks like, once again, other notebook makers will have to play catch up to Apple in this department.
Lower Power Consumption = Smaller Power Bricks
Total system power consumption must have gone down since the entry level 15-inch MacBook Pro now ships with a 60W power brick instead of an 85W brick: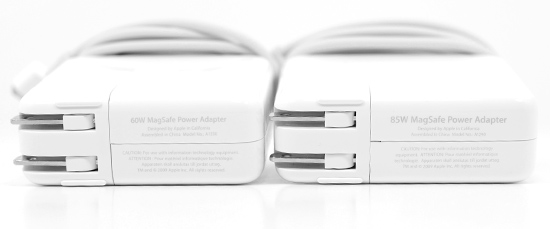 The new 60W adapter (left) vs. the old 85W adapter (right)
The difference could simply be because of the missing GeForce 9600M or because Apple indeed worked to reduce power consumption of the Macbook Pro as a whole.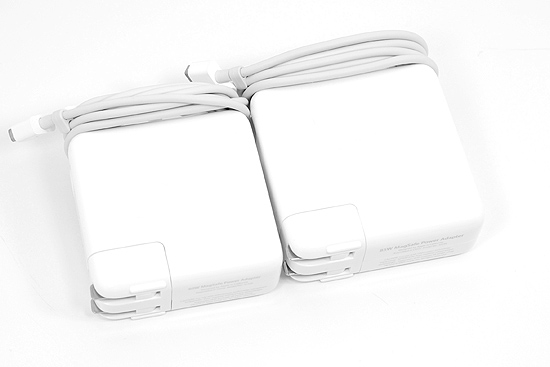 The new 60W adapter (left) vs. the old 85W adapter (right)
SSD: Optional and Non-Intel
My only major complaint about the MacBook Pro is, once again, that it does not come with a SSD standard. I understand, however, to cut costs and do such a thing would be impossible today. For $350 Apple will upgrade your hard drive to the latest 128GB Samsung MLC SSD; for $800 you'll get 256GB. I can't stress how much you shouldn't buy the 256GB drive; prices are dropping too quickly for that to be a good deal. If you can hold out until next year you'll be able to get that capacity at half the price.
My other major complaint is Apple's refusal to offer Intel's X25-M as an option on its MacBook Pro line. The Samsung drive Apple uses is the same drive Corsair is selling right now. It's a decent drive, offers good compatibility and reliability, but in terms of worst case scenario performance I haven't found it nearly as good as the Intel drive.
I'm not saying that Apple should only offer the Intel drive, but it should at least be an option. For a company obviously concerned with the overall package, it seems odd to leave out one of the strongest SSDs on the market. Especially given how close Apple and Intel are already.
A good, standard SSD is the only thing separating this MacBook Pro from perfection.
Update on Build Quality and Trackpad
The build quality of the new MacBook Pro remains unchanged and unparalleled. This thing is solid, and it looks pretty sweet too.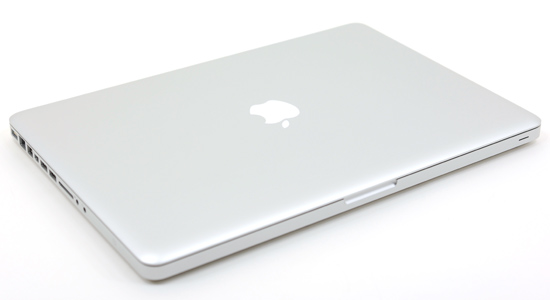 The glass covered trackpad that I had issues with in my original review now works totally fine. I no longer have any problems with clicks not registering under OS X. Within a month of the first unibody MacBook Pro release Apple put out an update designed to address those issues, so I believe this has been fixed for a while.
Thanks to the cool running Penryn core, the MacBook Pro doesn't really get more than warm at its base. The glass covered display is still quite glare happy, but indoors it looks great and in certain situations outdoors it's acceptable.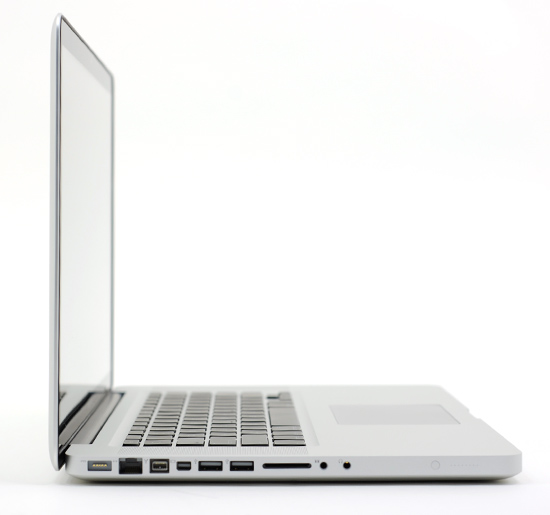 I won't go too much further into the displays or other features of the unibody MacBook Pro, I already did that in our original coverage of the machine.
Final Words
There's no other way to say this. If you care about battery life and portability at all, buy the new MacBook Pro. Go to the Apple store and buy one. While I only tested the 15" model, I'm guessing the 13" model should leave a similar lasting impression.
Ever since I first looked at the power consumption specs of Nehalem I thought it didn't make any sense to buy a new, expensive notebook before Arrandale's launch in Q4 2009/Q1 2010. While performance will definitely increase considerably with Arrandale, Apple just threw a huge wrench in my recommendation. The new MacBook Pro is near perfect today. If you need a new laptop now, thanks to its incredible battery life, I have no qualms recommending the new MBP.
The only thing you have to come to terms with is knowing that if the roadmaps still hold, that in 6 - 9 months there will be a much faster version of your notebook on the market; most likely at the same price. Combine the performance and power efficiency of Arrandale with the battery advancements in this new MacBook Pro and you'll have one beast of a notebook.
Today I am more than comfortable saying that this is the best Apple notebook I've ever laid my hands on. The build quality is excellent, the base specs are solid and of course, the battery life. There's no doubt that it could be better; toss in an SSD or drop the price even further, but as it stands the new MBP is an excellent choice if you're looking for a Mac laptop.
Obviously, you can attain the same battery life with a cheaper notebook and one or two spare batteries. But there's something to be said for increasing battery life by at least 50% without increasing the bulk or weight of the system.
I'm not sure there's much else I can add other than Good Job, Apple.