Original Link: http://www.anandtech.com/show/2777


Seven months have passed since Intel officially launched its Core i7 processors, and for seven months they have remained at the top of our performance charts. Albeit pricey, Nehalem can't be beat; it is the world's fastest desktop microprocessor.
Just last week we previewed Intel's upcoming more mainstream Nehalem, codenamed Lynnfield. Based on our early results and leaked Intel roadmaps, I'm expecting Lynnfield to pretty much negate the need for low end LGA-1366 Core i7 parts. Rather than allow Lynnfield to cannibalize Intel's high-end LGA-1366 Core i7 platform, Intel is raising the performance bar with two new i7 CPUs: the Core i7 975 Extreme and the Core i7 950.
| | | | | | |
| --- | --- | --- | --- | --- | --- |
| Processor | Clock Speed | Cores / Threads | Maximum Single Core Turbo Frequency | TDP | Price |
| Intel Core i7-975 Extreme | 3.33GHz | 4 / 8 | 3.60GHz | 130W | $999 |
| Intel Core i7-965 Extreme | 3.20GHz | 4 / 8 | 3.46GHz | 130W | $999 |
| Intel Core i7-950 | 3.06GHz | 4 / 8 | 3.33GHz | 130W | $562 |
| Intel Core i7-940 | 2.93GHz | 4 / 8 | 3.20GHz | 130W | $562 |
| Intel Lynnfield 2.93GHz | 2.93GHz | 4 / 8 | 3.60GHz | 95W | $562 |
| Intel Core i7-920 | 2.66GHz | 4 / 8 | 2.93GHz | 130W | $284 |
| Intel Lynnfield 2.80GHz | 2.80GHz | 4 / 8 | 3.46GHz | 95W | $284 |
| Intel Lynnfield 2.66GHz | 2.66GHz | 4 / 4 | 3.20GHz | 95W | $196 |
The 975 replaces the 965 and is priced at $999 while the 950 replaces the i7-940 and is priced at $562. The chips run at 3.33GHz and 3.06GHz, respectively, with maximum turbo frequencies topping out at 3.6GHz and 3.33GHz. Intel really has no other external motivation to push for higher frequency parts, so we only see a bare minimum increase in specs here.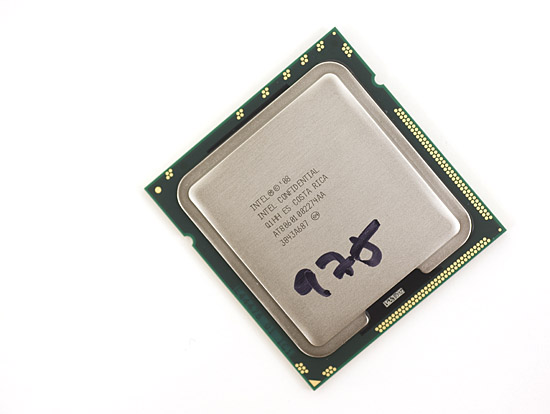 The Core i7 Extreme part, like its predecessor, ships unlocked so you can easily overclock it. Its un-core (L3 cache + memory controller) operates at 2.66GHz, just like the i7-965. The i7-950 is locked and runs its uncore at 2.13GHz, just like all other non-Extreme i7s.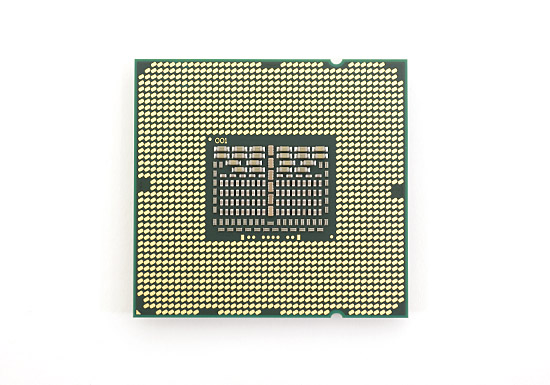 Both of these chips use Intel's new D0 stepping so they should clock up a bit higher than the original i7s.
The Fastest Processor for Single Threaded Tasks
In the past we've had to make concessions for single-threaded application performance on modern day quad-core processors. For example, $266 will buy you two 3.33GHz cores or four 2.83GHz cores from Intel. I generally recommend going the quad-core option but there's no getting around the fact that you do give up some performance when an application can't take advantage of more than two threads.
With the Core i7 Extreme 975 the CPU can run at up to 3.60GHz when only one core is active (3.46GHz if more than one core is active). In my testing I found that the CPU almost always ran at its maximum turbo frequencies.
The graph below shows single-threaded performance in Cinebench R10. Note that while the Core 2 Duo E8600 (3.33GHz) was the top performer in this test for quite some time, the Core i7's Turbo Mode has ensured that it's no longer true.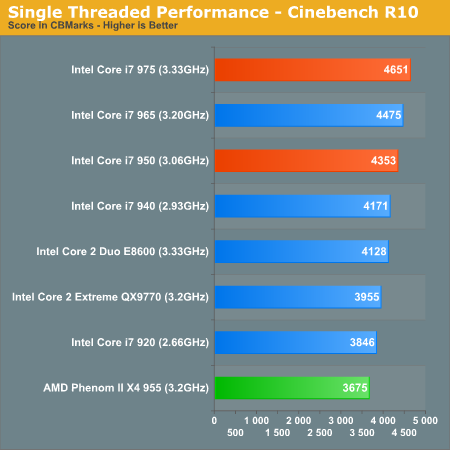 The fastest single-threaded processors are now Intel's quad-core, eight-thread Core i7s
The biggest issue I see with the i7's Turbo Mode today is that you only get one speed bin improvement (+133MHz) if 2 or more cores are active. The biggest boost (+266MHz) only comes when only a single core is active. Perhaps we'll have to wait for Lynnfield for that.
The Test
Motherboard:
Intel DX58SO (Intel X58)
Intel DX48BT2 (Intel X48)
MSI DKA790GX Platinum (AMD 790GX)
Gigabyte GA-MA790GP-DS4H (AMD 790GX)
Gigabyte GA-MA790FX-UD5P (AMD 790FX)
Chipset:
Intel X48
Intel X58
AMD 790GX
AMD 790FX
Chipset Drivers:
Intel 9.1.1.1010 (Intel)
AMD Catalyst 8.12
Hard Disk:
Intel X25-M SSD (80GB)
Memory:
G.Skill DDR2-800 2 x 2GB (4-4-4-12)
G.Skill DDR2-1066 2 x 2GB (5-5-5-15)
Qimonda DDR3-1066 4 x 1GB (7-7-7-20)
Corsair DDR3-1333 4 x 1GB (7-7-7-20)

Video Card:
eVGA GeForce GTX 280
Video Drivers:
NVIDIA ForceWare 180.43 (Vista64)
NVIDIA ForceWare 178.24 (Vista32)
Desktop Resolution:
1920 x 1200
OS:
Windows Vista Ultimate 32-bit (for SYSMark)
Windows Vista Ultimate 64-bit
SYSMark 2007 Performance
Our journey starts with SYSMark 2007, the only all-encompassing performance suite in our review today. The idea here is simple: one benchmark to indicate the overall performance of your machine.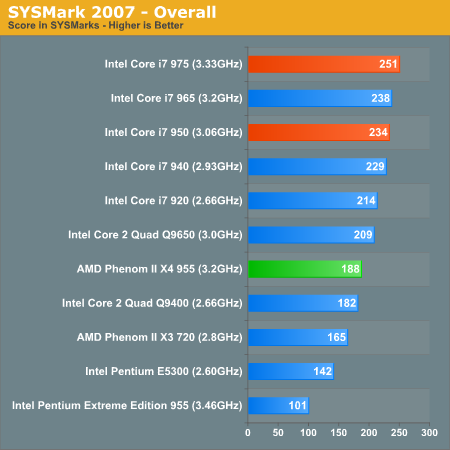 Given that this is just a normal speed bump, expect to see fairly predictable results. The Core i7 975 Extreme is the new king of the hill. A good 34% faster than AMD's fastest and around 2.5x the speed of one of Intel's fastest dual-core Pentium 4 processors.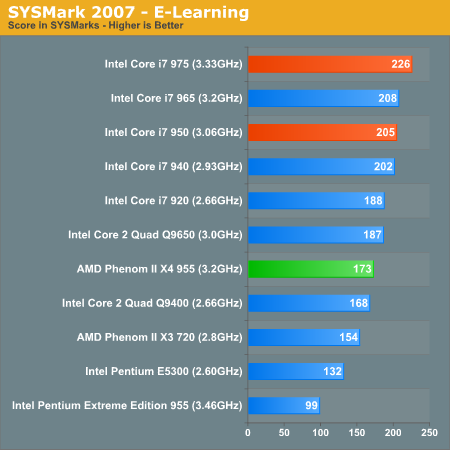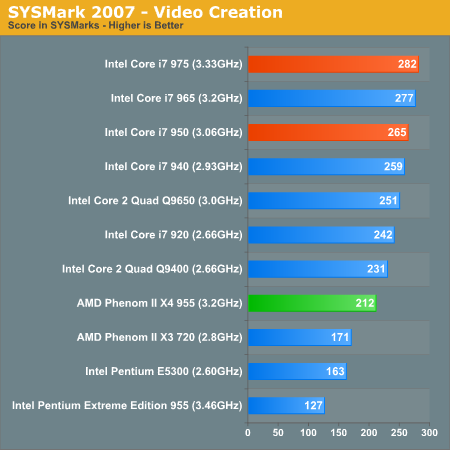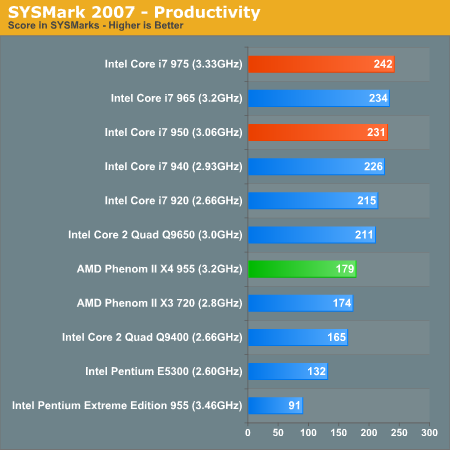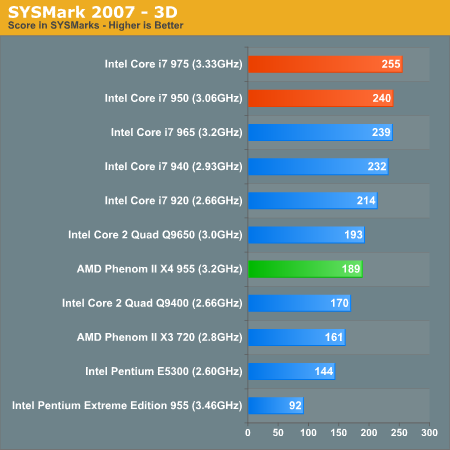 Adobe Photoshop CS4 Performance
To measure performance under Photoshop CS4 we turn to the Retouch Artists' Speed Test. The test does basic photo editing; there are a couple of color space conversions, many layer creations, color curve adjustment, image and canvas size adjustment, unsharp mask, and finally a gaussian blur performed on the entire image.
The whole process is timed and thanks to the use of Intel's X25-M SSD as our test bed hard drive, performance is far more predictable than back when we used to test on mechanical disks.
Time is reported in seconds and the lower numbers mean better performance. The test is multithreaded and can hit all four cores in a quad-core machine.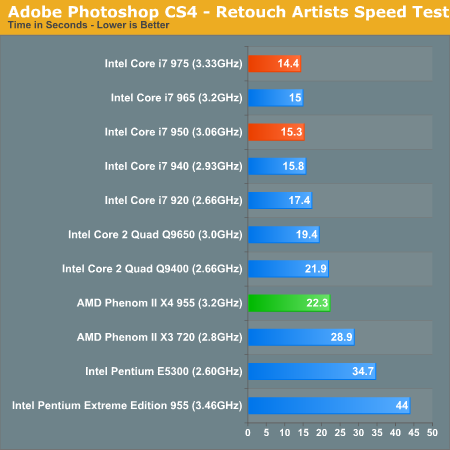 Whoever said there's no room for CPU performance improvements anymore would be very wrong. While the Pentium E5300 is more than sufficient for most tasks, there's nearly a 60% difference between its performance and the class leading Core i7-975. Even the Phenom II X4 955 takes 55% longer to complete this test.
The performance advantage is there, but it's one that you definitely pay for. The i7-975 is around 4x the price of the Phenom II X4 955.
DivX 8.5.3 with Xmpeg 5.0.3
Our DivX test is the same DivX / XMpeg 5.03 test we've run for the past few years now, the 1080p source file is encoded using the unconstrained DivX profile, quality/performance is set balanced at 5 and enhanced multithreading is enabled: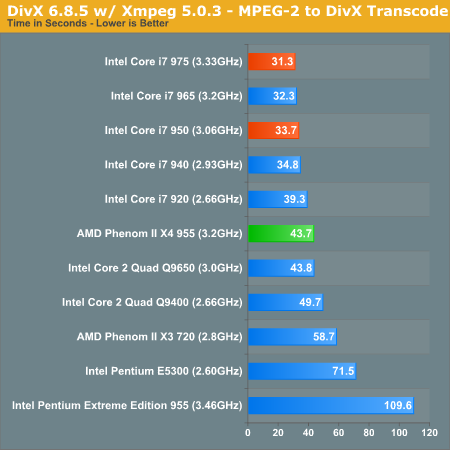 x264 HD Video Encoding Performance
Graysky's x264 HD test uses the publicly available x264 codec (open source alternative to H.264) to encode a 4Mbps 720p MPEG-2 source. The focus here is on quality rather than speed, thus the benchmark uses a 2-pass encode and reports the average frame rate in each pass.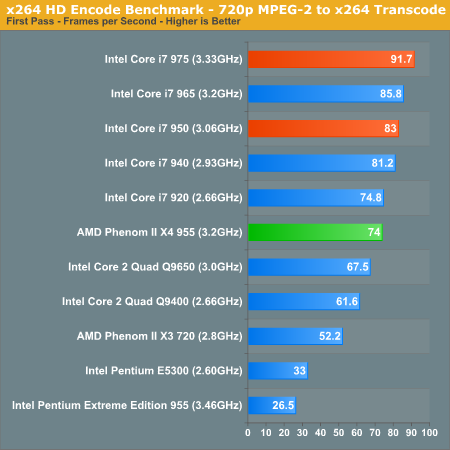 The i7-975 is over 70% faster than AMD's fastest in our x264 encode test, and 3.85x the speed of the old Pentium EE 955. Even compared to the Core i7-920, the 975 is ~24% faster.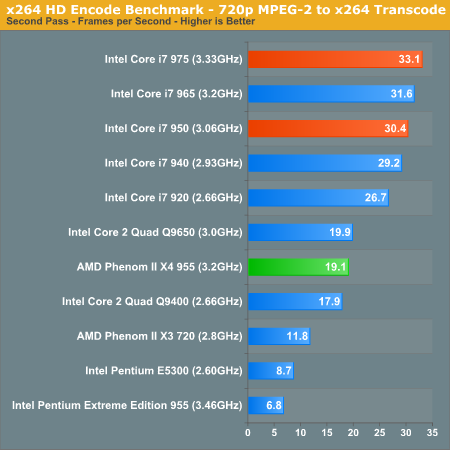 Windows Media Encoder 9 x64 Advanced Profile
In order to be codec agnostic we've got a Windows Media Encoder benchmark looking at the same sort of thing we've been doing in the DivX and x264 tests, but using WME instead.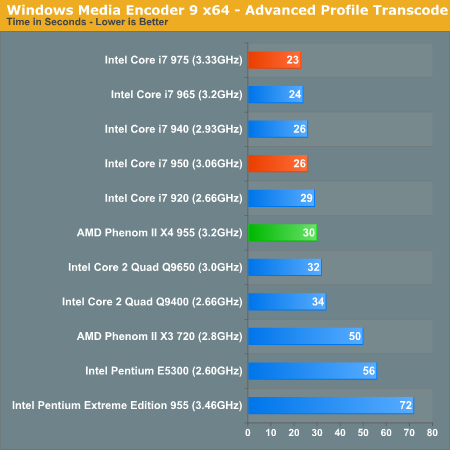 3dsmax 9 - SPECapc 3dsmax CPU Rendering Test
Today's desktop processors are more than fast enough to do professional level 3D rendering at home. To look at performance under 3dsmax we ran the SPECapc 3dsmax 8 benchmark (only the CPU rendering tests) under 3dsmax 9 SP1. The results reported are the rendering composite scores: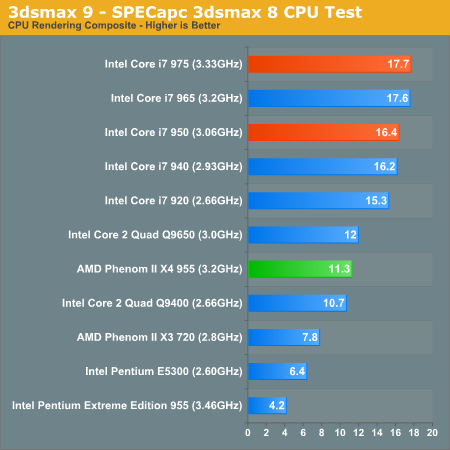 There's hardly any performance difference between the 975 and the 965 here, but given their price parity it makes sense for the 965 to go away. Nehalem's performance here is just astonishing.

Cinebench R10
Created by the Cinema 4D folks we have Cinebench, a popular 3D rendering benchmark that gives us both single and multi-threaded 3D rendering results.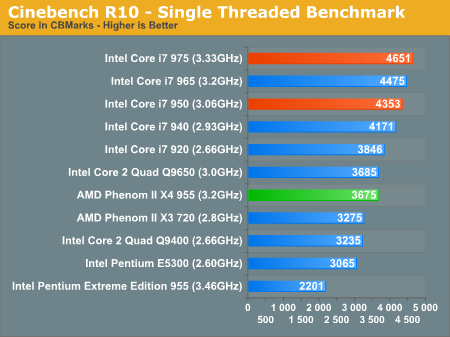 In the single threaded results we already saw the benefits of Intel's Turbo Mode come to light. The higher end i7s are faster at single threaded tasks than even the fastest dual-core processors.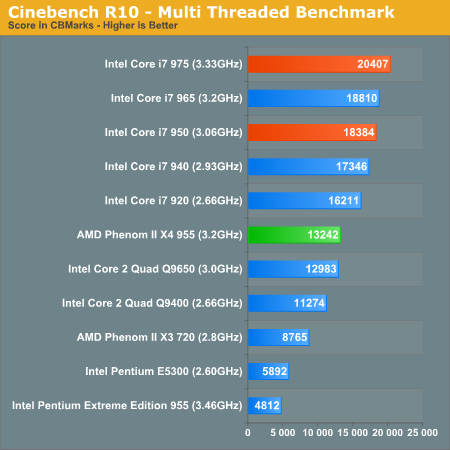 Execute eight threads in parallel and now the i7 has no equal. Even the slowest i7-920 is 22% faster than the Phenom II X4 955.
POV-Ray 3.73 beta 23 Ray Tracing Performance
POV-Ray is a popular, open-source raytracing application that also doubles as a great tool to measure CPU floating point performance.
I ran the SMP benchmark in beta 23 of POV-Ray 3.73. The numbers reported are the final score in pixels per second.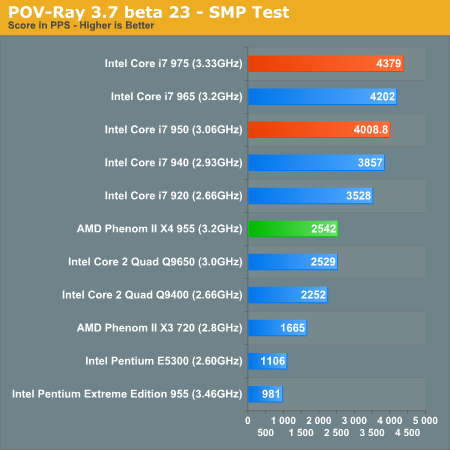 Blender 2.48a
Blender is an open source 3D modeling application. Our benchmark here simply times how long it takes to render a character that comes with the application.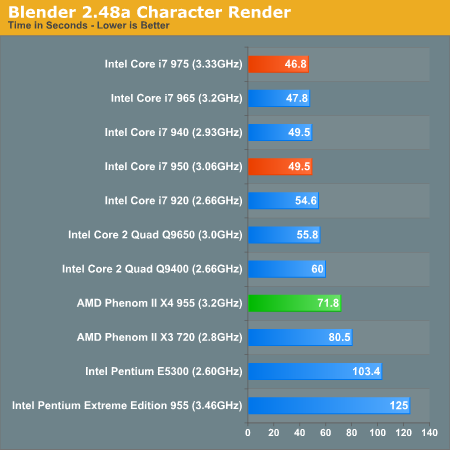 PAR2 Multithreaded Archive Recovery Performance
Par2 is an application used for reconstructing downloaded archives. It can generate parity data from a given archive and later use it to recover the archive
Chuchusoft took the source code of par2cmdline 0.4 and parallelized it using Intel's Threading Building Blocks 2.1. The result is a version of par2cmdline that can spawn multiple threads to repair par2 archives. For this test we took a 708MB archive, corrupted nearly 60MB of it, and used the multithreaded par2cmdline to recover it. The scores reported are the repair and recover time in seconds.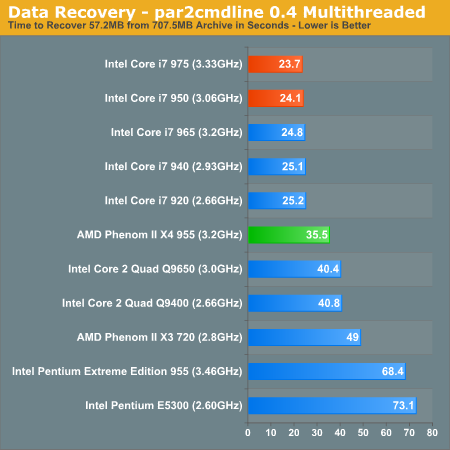 Well threaded applications love the Core i7's Hyper Threading; 8 threads isn't just for servers anymore.
Microsoft Excel 2007
Excel can be a very powerful mathematical tool. In this benchmark we're running a Monte Carlo simulation on a very large spreadsheet of stock pricing data.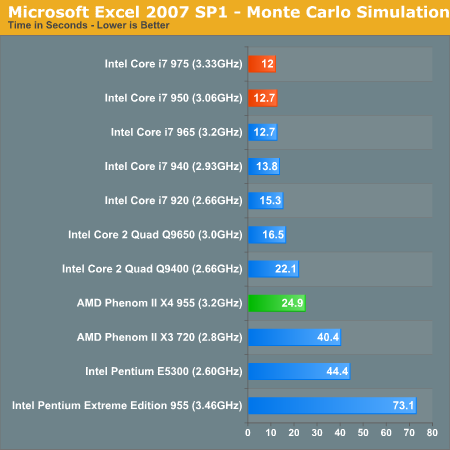 Sony Vegas Pro 8: Blu-ray Disc Creation
Although technically a test simulating the creation of a Blu-ray disc, the majority of the time in our Sony Vegas Pro benchmark is spend encoding the 25Mbps MPEG-2 video stream and not actually creating the Blu-ray disc itself.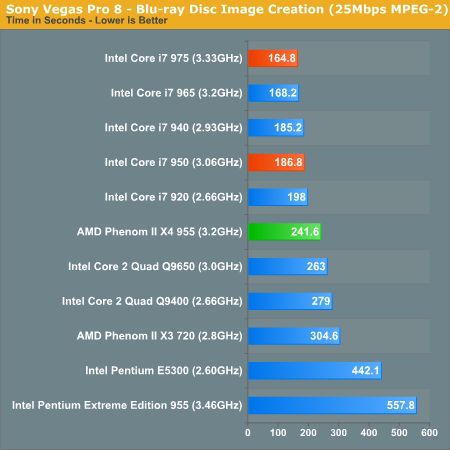 Sorenson Squeeze: FLV Creation
Another video related benchmark, we're using Sorenson Squeeze to convert regular videos into Flash videos for use on websites.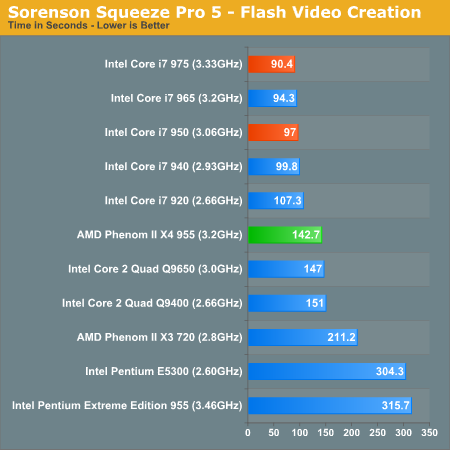 WinRAR - Archive Creation
Our WinRAR test simply takes 300MB of files and compresses them into a single RAR archive using the application's default settings. We're not doing anything exotic here, just looking at the impact of CPU performance on creating an archive: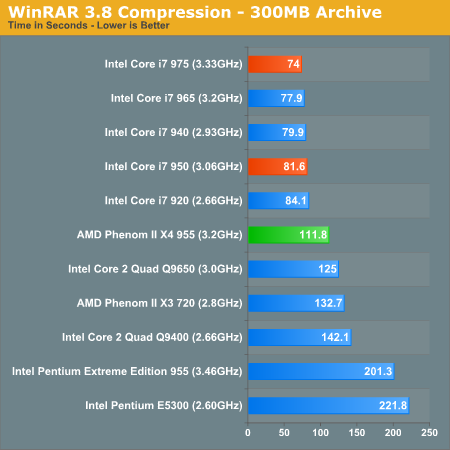 Fallout 3 Game Performance
Bethesda's latest game uses an updated version of the Gamebryo engine (Oblivion). This benchmark takes place immediately outside Vault 101. The character walks away from the vault through the Springvale ruins. The benchmark is measured manually using FRAPS.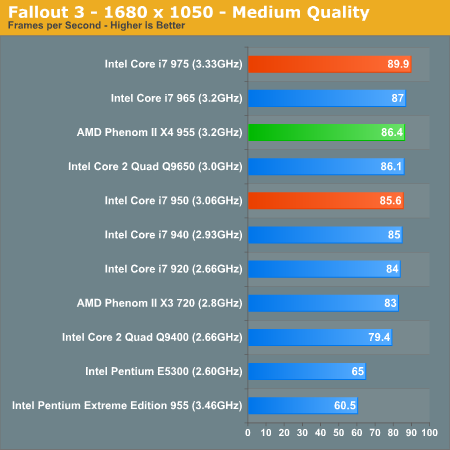 It looks like we're finally hitting a real bottleneck with our Fallout 3 benchmark, the i7-975 is the fastest thing here but performance is slowly creeping up to 90 fps. Note that the Phenom II X4 955 is about the same speed as the i7-965.
Left 4 Dead
FarCry 2 Multithreaded Game Performance
FarCry 2 ships with the most impressive benchmark tool we've ever seen in a PC game. Part of this is due to the fact that Ubisoft actually tapped a number of hardware sites (AnandTech included) from around the world to aid in the planning for the benchmark.
For our purposes we ran the CPU benchmark included in the latest patch: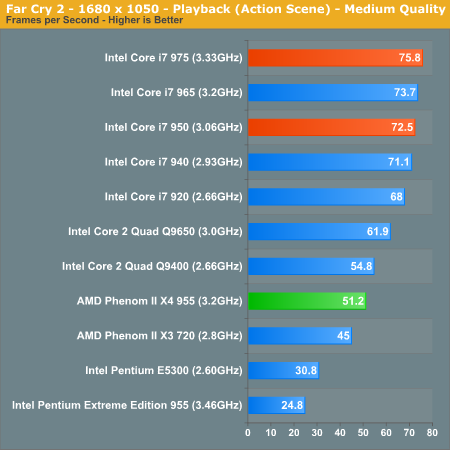 Crysis Warhead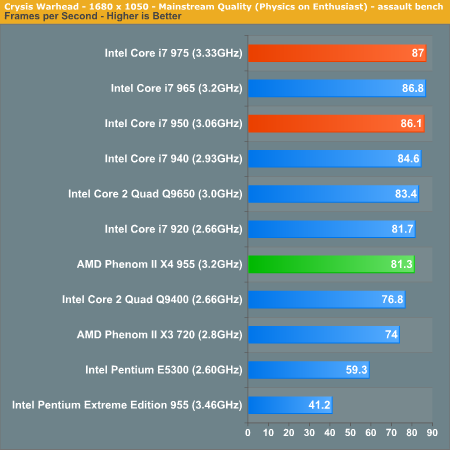 Power Consumption
The new i7-975 draws a little more power than its predecessor. I measured 220W under load for the entire system. Note that Intel's top end dual-core Pentium 4 Extreme Edition 955 actually draws more power than the Core i7-975. That's ridiculous.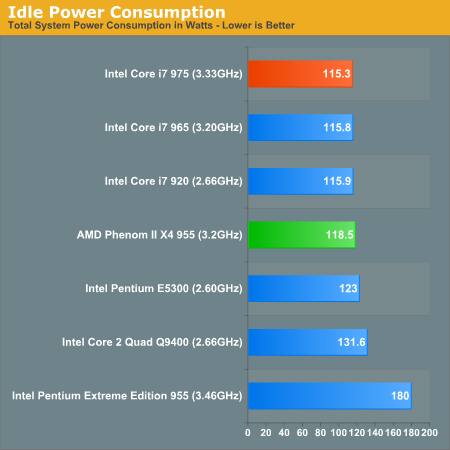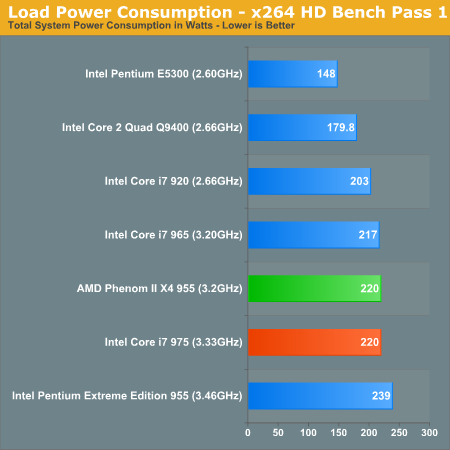 Overclocking
Without increasing the core voltage on the 975, and using the retail cooler the highest stable overclock I was able to achieve was 3.73GHz: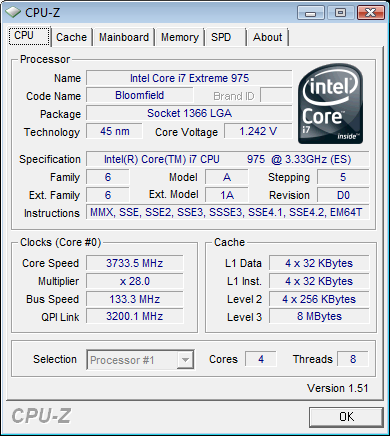 Boosting core voltage by 16% I was able to hit 4.13GHz with the retail air cooler, but I could not get the system fully stable at any higher frequencies: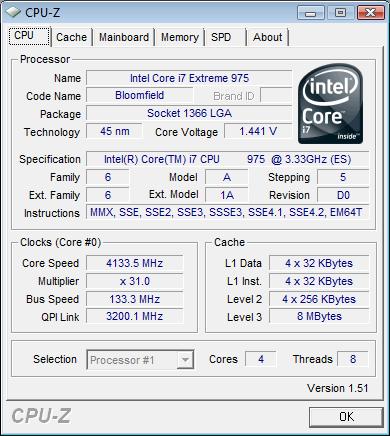 Gary was able to squeeze a 24/7 stable 4.4GHz out of his 975 on aftermarket air cooling with the EVGA X58 Classified and Gigabyte EX58-Extreme motherboards at 1.4V Core Vid, 1.375V VTT, 1.62V VDimm, and memory set to 7-8-7-20 at DDR3-1704 (new OCZ Blade PC17000). However, he admitted that if the retail Core i7-975 chips clock anything like the ES samples we were provided with that buying one would be a huge waste of money (actually his exact words were quite explicit but not printable). All of his retail D0 stepping Core i7-920 processors are easily hitting 4.4GHz~4.6GHz on high-end air coolers when installed in a variety of X58 motherboards. We have a retail Core i7-975 arriving later this week and will provide an update in the near future. As is always the case with overclocking: your mileage may vary.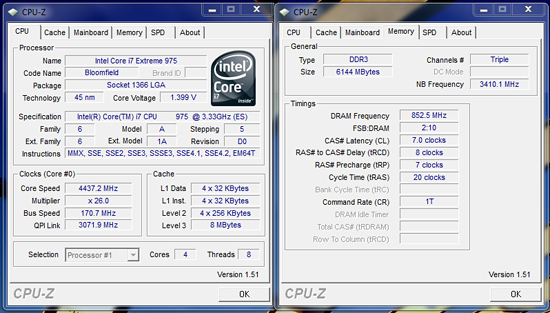 | | | | |
| --- | --- | --- | --- |
| Processor | Highest Overclock (Stock Voltage) | Highest Overclock (Overvolted) | % Increase over stock |
| AMD Phenom II X4 955 | 3.8GHz | 3.9GHz | 22% |
| Intel Core i7 975 | 3.73GHz | 4.13GHz | 24% |
With relatively similar transistor counts, similar starting clock speeds, it's wonderful to see that AMD is able to offer virtually identical overclocking headroom to Intel's flagship Core i7 in a 64-bit operating system.
Final Words
There's really not much to say here. Intel's Core i7 975 is the absolute fastest processor you can buy regardless of workload. Its single threaded results are particularly impressive because we have a CPU that behaves as a 3.6GHz single-core processor when it needs to, and as such it delivers extremely powerful single-threaded performance. If anything I would like to see Intel bring some of the Xeon's Turbo Modes to the Core i7; a two-bin boost when two cores are active would be a nice addition, but perhaps the desktop i7's TDP is still too high at this point.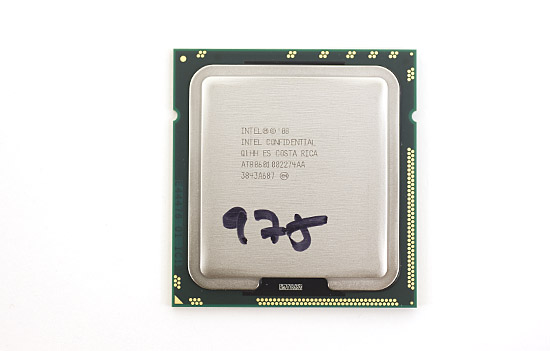 Our major issue with the i7-975 is the same problem we have with all Extreme parts: price. At $999 the added benefit over the $562 Core i7-950 or even the $266 i7-920 does not nearly justify its price. If performance is all that matters, then by all means go for it - there's no faster alternative. Enthusiasts will much prefer going with an i7-920 or 950 or even a Xeon W3540 and overclocking it, easily reaching stock or overclocked 975 speeds. More patient users may even end up waiting for Lynnfield.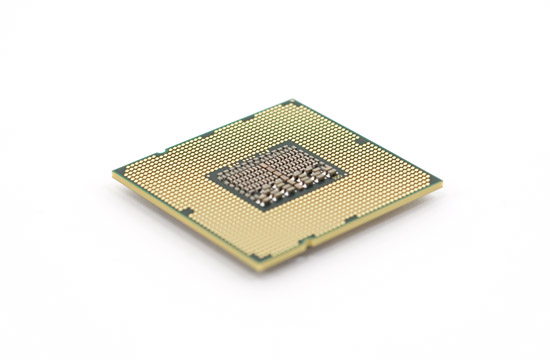 AMD doesn't really compete in this space so there's not much to be said for competition to the i7-975 or the 950; outside of Intel, there is none. Nehalem's biggest competitors are itself and the upcoming Lynnfield processors right now.