Original Link: http://www.anandtech.com/show/2772


For better or for worse, most of the notebook manufacturers seem to be most interested in sending us their top-end gaming laptops for review. We hope to have a roundup of several "normal" laptops in the near future -- you know, laptops that weigh less than five pounds and hopefully get over three hours of battery life. In the meantime, we do have several monster notebooks to review, starting with the ASUS W90Vp-A1.
ASUS has a couple variants of the W90Vp; the A1 version we're looking at today is essentially identical to the X2 version, except for the fact that it has dual 320GB hard drives. Considering the difference in price, you might want to pick up the X2 if you can find it and add a second hard drive yourself. As for the rest of the components, this is one behemoth of a "laptop".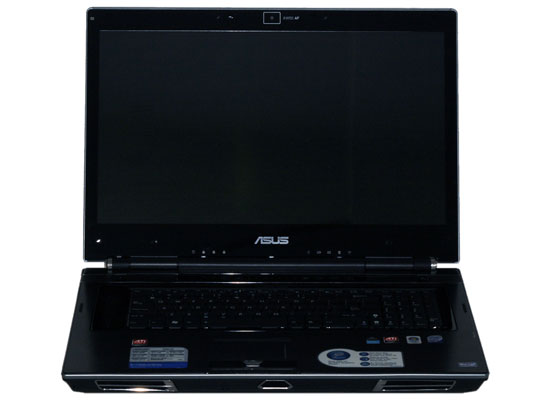 Several companies are now shipping 18.4" notebook chassis, generally loaded with high-end components. In the case of the W90Vp, you get a quad-core Q9000 processor, dual 320GB 7200 RPM hard drives, and 6GB (3x2GB) of DDR2-800 memory running at DDR2-667. The LCD is a high quality 1080p display, and although it uses standard CCFL backlighting it looks better than the vast majority of laptop displays we've used.
Obviously, the stars of the show are the dual ATI Mobility Radeon HD 4870 graphics cards in CrossFire. (Note that there are two GPUs on separate PCBs; this is not a mobile variant of the 4870X2.) This is the first high-end gaming laptop we've reviewed in a very long time that utilizes an ATI graphics solution, and as such we are very interested to see how it performs. On the desktop, NVIDIA still holds the crown for the fastest GPUs, but ATI is managing to compete very well in terms of overall price and performance. One of the main ideas in ATI's current GPU lineup is the use of multiple reasonably sized GPUs instead of a single monolithic GPU core.
What's interesting is that NVIDIA is sort of following that same approach for notebooks; the current top-end GTX 200M NVIDIA solutions do not stem from the desktop GT 200 series but instead build upon an enhanced G92M core. The new core is a 55nm part instead of 65nm, with up to 128 SPs. That should give it a similar die size relative to ATI's Mobility HD 4870 -- perhaps even slightly smaller. The desktop 9800M GTX+ has 754 million transistors, which should be relatively close to the GTX 280M. Needless to say, that's a far cry from the 1.4 billion transistors utilized in the desktop GTX 280! How will the GTX 280M compared to the Mobility HD 4870? Unfortunately, we can't conclusively answer that question yet, but we should have NVIDIA's competing solution in-house for testing soon. In the meantime, we do have an (aging) 8800M GTX SLI solution, with updated drivers. That brings us to the next topic.
NVIDIA Achieves Holy Grail of Drivers
Okay, it's time for a short tangent. Gary mentioned recently that NVIDIA posted new Windows 7 compatible drivers on their website. What he neglected to mention is that new drivers are also available for Windows Vista and XP. Note that all of these are "beta" drivers, so there may be a few bugs left to work out, but we often feel that way about official drivers as well. So what makes these new drivers so special that they deserve a second mention? What exactly is the "Holy Grail" of this driver release?
Given this is a laptop article, you've probably already guessed, but the new drivers are available for notebooks as well. That's right, NVIDIA managed to release updated drivers for all major platforms on the same day! The drivers are available for all users whether they run the latest Windows 7 Release Candidate, Windows Vista, or Windows XP -- in both 32-bit and 64-bit flavors. If that's not enough, NVIDIA updated their drivers again one week later with the 185.85 WHQL release, once again available for all the major platforms and cards.
If you're running an older laptop, we do have to curb our enthusiasm. Users of GeForce Go 7 series hardware will have to continue using the last 179.48 beta drivers. Of course, it's also very unlikely that the latest drivers will contain any optimizations for older DirectX 9 hardware, so the 179.48 release should continue to work fine for the time being. (It's interesting to note that in quite a few titles we test with, performance has actually dropped somewhat over the past six months of mobile driver releases, so GeForce Go 7 users have even less incentive to want to upgrade.) Everyone else that runs a laptop with NVIDIA graphics will probably want to update... well, almost everyone.
As in the past, NVIDIA's mobile reference drivers only work with laptops from participating vendors. That covers the vast majority of users that have laptops, but some vendors/models are not supported:
Hybrid SLI notebooks:


Acer Aspire 7530

BenQ Joybook S42

Fujitsu Siemens Amilo Xi 3650

MSI EX630

Qosmio X305-Q706

Qosmio X305-Q708



Fujitsu notebooks -- (please contact the notebook OEM for driver support for these notebooks). Note: Fujitsu Siemens (FSC) notebooks are supported in this release

Lenovo ThinkPad notebooks (please contact the notebook OEM for driver support for these notebooks)

Sony VAIO notebooks (please contact the notebook OEM for driver support for these notebooks)

Any notebook that is launched after the release date of this driver (Ed: naturally)
If you've been following NVIDIA's mobile driver releases, you may notice that Dell's Vostro line is no longer on the unsupported list -- most likely Dell heard your complaints. We're not sure why the Hybrid SLI notebooks aren't supported, but a far bigger concern is that several major vendors are apparently unwilling to participate in NVIDIA's mobile driver program. So let's make this clear: Lenovo, Sony, and Fujitsu, get with the program! Granted, none of those companies focuses on gaming laptops, but updated drivers are still important for other reasons -- for example, if you want to run the release candidate for Windows 7 with optimal performance. For reference, the latest driver currently available from Sony appears to be the 176 series, Lenovo offers the 178 series, and Fujitsu is still serving up 174 series drivers.
Is this going to be the way of all driver releases from the green team going forward? We certainly hope so, and if that's the case their competitors are in a difficult bind. It's absolutely great that notebook users won't have to wait several extra months before they get updated drivers for once. Put another way: NVIDIA has just moved all-in with pocket aces and there's another ace on the flop. ATI has their work cut out for them if they want to match that high standard, and that goes double for gaming laptops where driver updates are even more crucial. We can basically state that any game launched after a driver release is not likely to have any specific optimizations. Sometimes that will matter and other times it won't, but newer drivers are particularly helpful for multi-GPU configurations running new titles, which brings us back to the ASUS W90Vp.
ATI's Mobile Driver Program -- or Lack Thereof
ATI unfortunately hasn't done much to improve their mobile driver program as far as we can tell. Manufacturers can request a new driver drop, but there may be a delay in getting that out to the users. Let's assume for example that you're running a high-end gaming laptop and a brand new game comes out. What if, similar to Far Cry 2 or Fallout 3, and your drivers are too old? As we saw late last year, ATI had to go through several driver revisions and hot fixes before CrossFire worked properly with both of those titles... and that was for desktop ATI graphics users.
What happens if a similar situation occurs and you're running the ASUS W90Vp or some similar "gaming" ATI laptop? Titles such as F.E.A.R. 2: Project Origin, Call of Duty: World at War, Warhammer 40K: Dawn of War II, or Empire: Total War -- to name just a few recent releases -- very likely will not fully utilize the capabilities of your notebook. You would probably still need to wait a few weeks for a hot fix on a desktop PC, but on notebooks you could literally end up waiting months -- and that's assuming your notebook manufacturer actually releases an updated driver.
Is this a problem? We certainly think so, and ATI needs to do better in this area. We talked about this issue with NVIDIA a lot around the launch of the 8800M, and 18 months later we've gone from haphazard mobile driver updates from manufacturers, to quarterly driver updates, to what appears to be an all-in-one integrated driver program. It would have been nice if ATI had done the same thing during that time, but it's not too late to turn over a new leaf. Looking at the desktop GPUs, ATI is able to compete fairly well with NVIDIA, particularly in the price/performance category. With ATI apparently showing interest in reentering the high-end mobile GPU market, they need to develop a program similar to NVIDIA's mobile driver program if gamers are ever going to take them seriously.
With the availability of new mobile drivers from NVIDIA comes the question of performance. For this review, we updated the drivers on our Clevo D901C notebook to check for performance improvements. Much of what we test doesn't appear to have benefitted, and in fact several titles showed reduced performance relative to the drivers from last year. However, many recent games have benefited, and it's likely many other newer titles will see increased performance. We are including several new titles in this review, and going forward we will use these results. That means we will also remove results from previously tested laptops where we haven't used a recent driver. You can of course refer back to previous notebook reviews to see those scores.
NVIDIA isn't the only one who gave us new drivers, however. We spoke with ASUS after initial testing showed subpar performance in several titles. They in turn spoke with ATI, and we received a special driver drop from ATI a couple of days later. We tested with the new drivers, and not surprisingly performance improved in many of the latest games. There are still titles that appear to lack CrossFire support, and we encountered other issues that we will discuss later. The biggest problem unfortunately is that regular users don't have the ability to speak with their press contacts and get a new driver. The updated driver is not publicly available, so while we will look at how it affects performance we will also include results from the original driver.
Back to the ASUS W90Vp
We've already discussed many of the features found on the ASUS W90Vp. Here's the complete system summary:
ASUS W90Vp-A1 Specifications
Processor
Core 2 Quad Q9000 (2.00GHz 1066FSB 2x3MB L2)
Overclocking to 2.29GHz (1221FSB)
Chipset
Intel X38 + ICH10R
Memory
3x2048MB DDR2-800
Graphics
2 x ATI Mobility Radeon 4870 (CrossFire)
Display
18.4" Color-Shine CCFL Full HD 1080p (1920x1080)
Hard Drive
2 x 320GB 7200RPM 16MB
Optical Drive
8x DVDR/BD-ROM Combo (4x DVDRW)

Networking
Realtek Gigabit Ethernet (RTL8168B/8111B PCI-E)
Atheros AR928X 802.11n WiFi
Bluetooth v2.1 + EDR
56K Modem
Audio
6-Channel Realtek ALC888 HD Audio (5.1 Speakers with Mic/Headphone jacks or Digital out)
Battery/Adapter
12-Cell 97.7Whr
19.5V DC, 11.8A, 230W Power Brick
Front Side
None (Speaker grilles)
Left Side
Heat Exhaust
Two audio jacks (Mic and Headphone/SPDIF out)
1 x USB 2.0
Kensington Lock
Right Side
BDROM/DVDR Combo Drive
ExpressCard/54
SD/MMC/MS/MS Pro/xD reader
WiFi On/Off Switch
1 x Mini FireWire
1 x eSATA
3 x USB 2.0
Optional TV Tuner Input (?)
Back Side
2 x Heat Exhaust
56K Modem
Gigabit Ethernet
HDMI
VGA
Power Adapter
Operating System
Windows Vista Home Premium 64-bit
Dimensions
17.44" x 12.91" x 2.48" (WxDxH)
Weight
11.44 lbs (with 12-cell battery)
Extras
2.0MP Webcam
102-Key Keyboard with 10-Key
16 additional touch-sensitive multimedia keys
Fingerprint Scanner
Up to 15% Overclocking (via ASUS Windows utility)
Norton Internet Security 2008
Warranty
2-year standard ASUS Global Limited Warranty (varies by location)
1-year battery pack warranty
Razer optical mouse
Carrying backpack
Price
Starting at ~$2500 online
Like the recently reviewed MSI GT627, ASUS support overclocking on the W90Vp. You can configure the amount of overclocking from 3% to 15%; honestly, anything less than 10% probably isn't even worth discussing, and we had no instability or other issues setting the maximum 15% overclock. We will include overclocked performance results in our performance rundown. It's good that ASUS includes overclocking, since the base clock speed of the Q9000 is only 2.0GHz. For gaming, the dual graphics cards will almost certainly outpace the CPU. Previously, ASUS offered a version of the W90 with a dual-core processor, and honestly that's a better choice than the Q9000. There are a few multithreaded games, but to date only a few games (Left 4 Dead and Far Cry 2) appear to benefit from having more than two cores.
There are couple other interesting aspects of this notebook. First, check out the chipset: X38 and ICH10R. That's right, ASUS is using a full desktop chipsets on this notebook. Clearly, this is intended far more as a portable desktop replacement as opposed to your typical mobile laptop. It shouldn't be a surprise considering the size and weight, but the choice of chipset may further reduce what should already be poor battery life. The second interesting point is that ASUS provides 6GB of memory, with three SO-DIMM slots. No, this isn't a Core i7 system with triple-channel memory; ASUS just felt getting more than 4GB of memory into their laptop would be useful, and the X38 chipset supports that. We think they should have taken things a step further and include four SO-DIMM slots, but that would have necessitated rearranging a few things.
Design and Appearance
If we were to summarize the ASUS W90Vp in a few short words: it's big, it's bad, and it's beautiful. And we really do mean big! The Clevo D901C is one of the largest notebooks we've ever tested, and the W90Vp dwarfs it. However, despite the size disadvantage, power requirements are actually quite similar in the two notebooks are relatively close to the same 11.5 pound weight. You can see a few comparison shots between the Clevo D901C (Sager NP9262) in the ASUS W90Vp below.
As a bonus, ASUS also includes a large carrying case for the W90Vp. This is not your standard notebook bag, but is instead a rather large backpack. If you ever had to load this thing around, say for instance at a LAN party, we actually think the backpack will prove far more convenient. It's also large enough to carry the gigantic power brick, the included Razer mouse (another nice bonus), and there's still plenty of room for any other accessories you might want to bring along.
The design and appearance of the W90Vp is very attractive, assuming you go for the "giant laptop" look. It has a brushed aluminum cover with the ASUS logo, a reasonable selection of expansion options, a great LCD (relative to other notebooks), Blu-ray support, and an HDMI port to highlight a few areas. We really only have two complaints with the design. First, there's no latching mechanism on the LCD panel, relying instead on magnets to hold the display closed. They seem to work well enough, but some users might prefer actual latches instead. The other issue also involves the top panel. As you might expect, it's heavy, and after several past experiences with notebooks we have to wonder about the ability of the hinges to hold up over the long haul. It's not something we can review directly, as any problems in that area will likely take months or longer to manifest, and they appear relatively durable. However, we recommend users exercise some care when they open or close any laptop display, and that goes double for large 17" and 18.4" notebooks.
If you want to access the internal components on the W90Vp, the only thing you should need to remove is the bottom cover. ASUS uses one large cover instead of several smaller covers, secured surprisingly by just four small screws. After removing the screws, the whole bottom panel slides towards the rear of the system, at which point you can lift it away. Numerous plastic prongs help hold the cover in place, but these small prongs are also somewhat fragile so exercise caution if you ever remove/replace the cover.
Inside you can see the two large GPU heatsinks/heatpipes, another HSF/heatpipe for the CPU, the three fans, and other components. You can see that one of the screws on the GPU heatsinks is missing its spring, but a bigger concern for many users is going to be the "warranty void if removed" sticker on the CPU heatsink. Yes, like several other vendors we looked at, ASUS doesn't want you to upgrade your CPU. We've heard that it's technically not something they can enforce, but nevertheless it's not something we enjoy seeing. Make sure you're willing to live with that limitation before purchasing a W90 with the intent to upgrade the CPU.
Test Setup
We've removed many of the previously tested notebooks, in particular many of the lower end notebooks that aren't designed to compete with a high-end gaming system. We did keep a few midrange systems and some of the charts as a reference point, but even then we have to caution that driver updates may have changed performance. You want to focus more on the Clevo D901C results if you're interested in seeing a comparable notebook.
ASUS W90Vp-A1 Test System
Processor
Core 2 Quad Q9000 (2.00GHz 1066FSB 2x3MB L2)
Overclocking to 2.29GHz (1221FSB)
Memory
3x2048MB Transcend PC2-6400 @ DDR2-667 5-5-5-15
(Hyundai Electronics HYMP125S64CP8-S6)
Graphics
2 x ATI Mobility Radeon 4870 (CrossFire) 512MB
GPU/RAM Clocks: 550/1700 MHz (256-bit), 350/400 MHz Low Power
Driver version 8.055.1.2
Beta ATI Drivers 8.612
Display
18.4" Glossy Full HD 1080p (1920x1080)
Samsung 184HT01-A01
Hard Drive
2 x Seagate Momentus 7200.3 320GB 7200RPM 16MB (ST9320421AS)
Optical Drive
8x SATA DVDR/BDROM (Optiarc BC-5500S)
Battery
12-Cell 97.7Whr
Operating System
Windows Vista Home Premium SP1 64-bit
Price
Starting at ~$2500 online
As mentioned earlier, we received a beta driver from ATI that affected the results in numerous titles. We will include results from both drivers so that you can see what you're missing if you have to wait for new drivers. Even if ASUS/ATI updates the drivers on their website to offer this beta driver, that's only a short-term solution. What happens in six months when there are many more new titles launching? We shall see shortly that CrossFire support is still MIA in a few titles, and that will be the case with every new release between now and the next driver update.
Since we only have one competitive gaming laptop available for testing right now, we also wanted to look at how performance compares to a desktop 4870X2. There are a few noteworthy differences between the desktop and notebook systems, starting with the CPU. This is my own personal gaming machine, with an overclocked 3.30GHz Q6600 (yup, it's still chugging along nicely). The desktop HD 4870X2 runs at higher clock speeds than the Mobility Radeon HD 4870, and it comes with 2GB of RAM (1GB per GPU). Furthermore, the desktop parts utilize GDDR5, which is quad-pumped so the 900MHz memory results in an effective clock speed of 3600MHz. Here's a quick rundown of the desktop system specifications.
Desktop Test System
Processor
Core 2 Quad Q6600 Overclocked (3.30GHz 1468FSB 2x4MB L2)
Memory
2x2048MB OCZ PC2-6400 @ DDR2-734 4-4-4-12
Graphics
ATI Radeon 4870X2 2GB
GPU/RAM Clocks: 750/3600 MHz (256-bit)
9.5 Catalyst Drivers
Hard Drive
Samsung F1 750GB 7200RPM 32MB
Operating System
Windows Vista Ultimate SP1 64-bit
Having a faster CPU means that there's less potential for a CPU bottleneck, so CPU limited benchmarks will be up to 43% faster than the overclocked W90Vp. Some benchmarks will also be limited by GPU memory bandwidth, where the HD 4870X2 is potentially 112% faster than the Mobility 4870 -- please note that very few titles are actually memory bandwidth constrained. Finally, the clock speed of the desktop card is 36% higher than the mobile part. In short, whether we are CPU or GPU limited, we expect the desktop system to be up to 40% faster than the W90Vp, unless there's some other problem (i.e. drivers). In order to help remove the CPU bottleneck as much as possible, we will focus on performance at 1080p and maximum quality settings for comparing the two systems.
Notebook configurations for the other laptops are at the following pages:
Acer 6920G
Alienware m15x
ASUS G50V
ASUS U6V
AVADirect FL-92
Clevo D901C (Note: upgraded to 2x2GB DDR2-667)
Dell Studio XPS 16
Gateway P-7808u FX
Gateway P-7811 FX
HP dv5t
MSI GT627
Toshiba X305-Q725
HD Gaming Comparison
We'll start out with a comparison of performance at 1920x1080 in order to focus squarely on the intended use of these notebooks. We will have performance results at 1680x1050 later, as well as detailed results on the next page. The easiest way to look at things is to look at the relative performance in terms of percentages. We have several charts that break things down, starting with the comparison of NVIDIA's 8800M GTX SLI and ATI's Mobility Radeon HD 4870 CrossFire.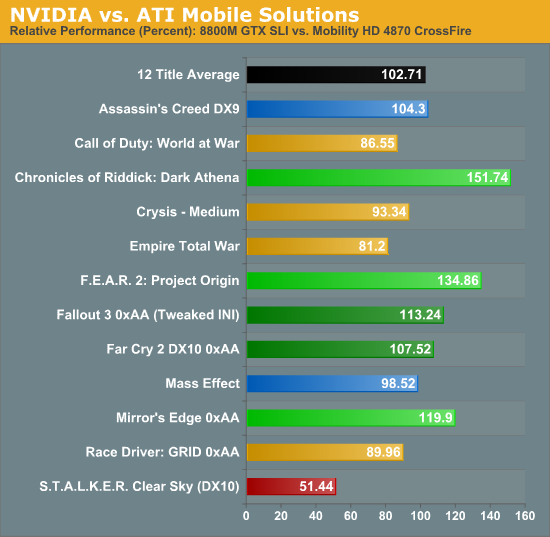 If we look at average performance, this is actually a very close match up. We suspect that with a faster dual-core processor, the ATI solution would take the lead as we are CPU limited in many of these titles. However, there are definitely games where NVIDIA excels and other titles where ATI holds a clear lead. The Chronicles of Riddick: Dark Athena, FEAR 2: Project Origin, and Mirror's Edge all clearly favor NVIDIA -- and that's not even taking PhysX support in Mirror's Edge into account. On the other hand, Call of Duty: World at War, Empire: Total War, STALKER: Clear Sky, and to a lesser extent Race Driver: GRID and Crysis (at medium detail) all favor the ATI solution. It's worth noting that this is the best-case scenario for ATI, since we are using the optimal driver configuration with the beta ATI driver. Let's see what the beta driver does for performance relative to the original driver.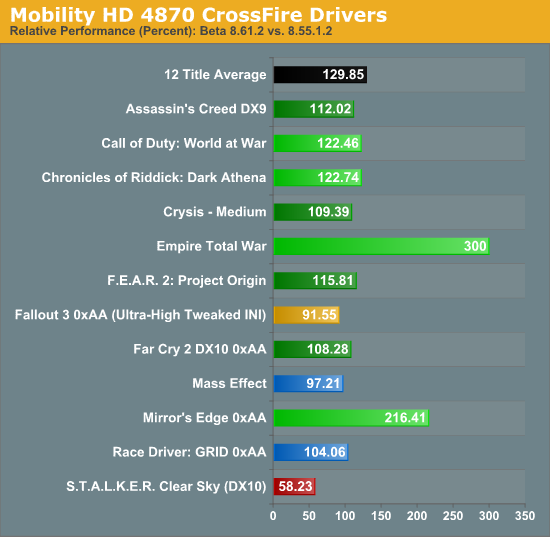 Obviously, the newer titles stand to benefit most from the updated driver. Despite not being as recent as some of the other titles are, Mirror's Edge sees the biggest performance boost, indicating CrossFire support is now present in the beta driver. Empire: Total War illustrates another important point. We capped the "percent improvement" at 300%, but the reality is that the game was unplayable with the earlier driver. CrossFire mode -- which can't be disabled on the ASUS W90Vp -- causes severe rendering errors, so that most of the objects in the game are not visible. The newer driver fixes the situation, but we are left to wonder how many other games might suffer from similar incompatibilities. A couple games also see small performance drops (Fallout 3 and Mass Effect), and STALKER: Clear Sky performance is cut nearly in half. Many of the remaining titles show improvements on the order of 10% to 20%.
Before we continue, we must again point out that NVIDIA is severely handicapped in this comparison since we are using the bleeding edge, brand-new ATI Mobility Radeon 4870 CrossFire and comparing it to GeForce 8800M GTX SLI, which is over a year old. The 9800M GTX has 112 SPs, potentially improving performance by 17%, while the GTX 260M and 280M increase the gap even more. The GTX 280M has 128 SPs running at 585/1463MHz core/shader, compared to 96 SPs at 500/1250MHz. Core and performance are therefore up to 56% higher, with almost 19% more memory bandwidth. We will be providing our best apples-to-apples comparison between the Mobility 4870 CrossFire and GTX 280M SLI in the near future. ATI currently trades blows with the 8800M GTX, depending on the title, but the driver situation still greatly concerns us. Let's investigate a little more to show why.
Gaming Redux: Drivers, Drivers, Drivers
As luck would have it, we "uninstalled" the new drivers at one point, only to find that the drivers remained but Catalyst Control Center was gone. A quick test revealed that STALKER: Clear Sky performance was back to where it started, and so we performed another comparison of the beta drivers with and without CCC. Here are the results.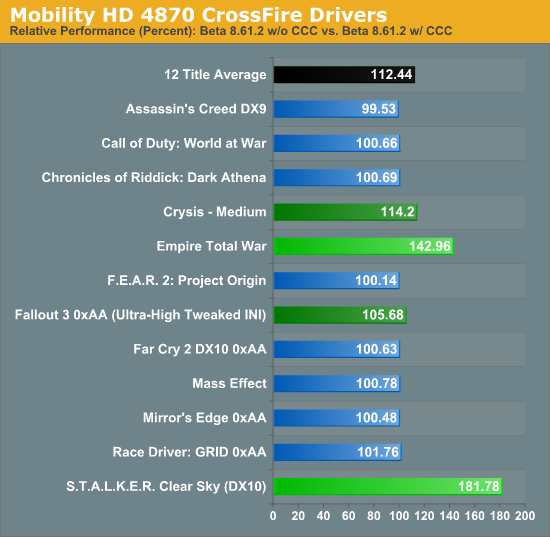 Out of 12 titles, only one shows even a tiny drop in performance. What's surprising is that two games (Crysis and Fallout 3) show moderate performance improvements, while two other games improve substantially. Empire: Total War jumps up 43%, and STALKER: Clear Sky almost doubles at 82%. This is something we just happened to stumble upon, and it brings up some severe concerns.
When the Catalyst Control Center first launched, there were many complaints about how slow it was and how much memory it consumed. Over time, ATI improved things to the point where most people stopped bellyaching, but we've never been truly happy with CCC and its use of bloated .Net programming. Now we're left to wonder if CCC handicaps other titles, and if so what will be done to fix it. Perhaps the situation only occurred because we were using beta drivers, but we've had our complaints with ATI's desktop drivers in the past as well.
Again, we can't emphasize enough the importance of getting a unified driver program for laptops and desktops, preferably with enough testing that performance doesn't degrade over time in older titles. When you couple that with a desktop driver program that already has problems, NVIDIA is definitely in the "drivers" seat [Ed: Sorry, bad pun] for mobile gaming solutions. Whether that's actually an interesting topic for most of you is a different matter, naturally....
As a final point of comparison, we wanted to show how our desktop system compares to the laptop. You might be surprised how close things are in most of the titles, considering all of the performance advantages that the desktop holds (faster CPU, twice as much GPU memory, and faster GPU core/memory speeds).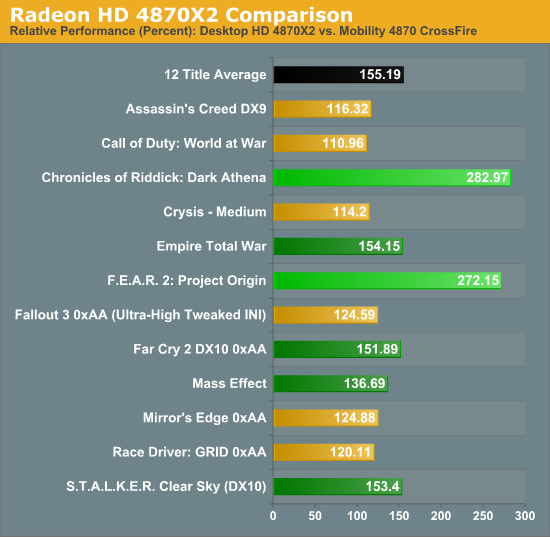 Fully half of the titles are only 10% to 25% faster on the desktop system, which we didn't expect at all. We figured on something close to a 40% improvement across the board, and we're not sure what bottlenecks are holding back performance in these six titles. Empire: Total War, Far Cry 2, Mass Effect, and STALKER: Clear Sky are all 35 to 55% faster, which is more in line with what we expected to see. The remaining two titles, Chronicles of Riddick: Dark Athena and FEAR 2: Project Origin, actually didn't surprise us very much. Both of these titles are almost three times as fast on the desktop, which is almost certainly caused by a lack of CrossFire profiles. Remember that virtually every new game released after these drivers will not have a valid CrossFire profile. You can try renaming the executable in hopes of getting CrossFire to work, but that can be hit or miss and isn't an ideal solution by any means.
ASUS W90Vp Overclocking
What about the 15% overclocking option on the ASUS W90Vp? We gathered results from all 17 titles that we tested to find average performance boost from the CPU overclock. Note that for these results, we used the initial driver except for Empire: Total War. We are overclocking the CPU and memory 15% (technically 14.5%, but who's counting?), so unless something else comes into play we shouldn't see performance increases above that amount. And yet….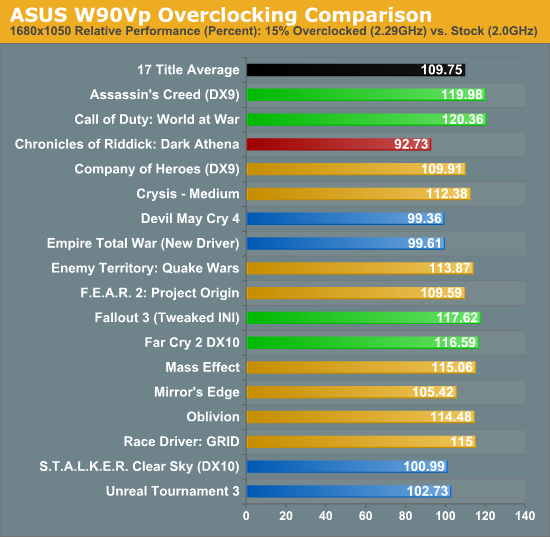 Riddick: Dark Athena is the one title where we actually see a performance drop. Considering the driver issues in that title, we're not entirely sure what's going on. Performance in our benchmarks is very consistent, and it simply ran slower when overclocked. (If we get a minute, we may see about rerunning the test with the updated driver.) The more surprising result is that four of the titles show greater than 15% performance increases. FRAPS testing can be more variable than other canned benchmarks, but again our results are extremely consistent for the titles in question. For more titles show little to no benefit from overclocking the CPU, indicating they are completely bottleneck by the GPU. The remaining eight titles improvement in performance between 5% and 15%, with the majority falling closer to 15% and only Mirror's Edge showing a 5% improvement.
Keep this information in mind, as it shows that the majority of the titles we test with are performance limited because of the slower clocked quad-core CPU. Then again, three of the newest titles that we test are bottlenecked by the graphics cards.
Detailed 1080p Performance
We've already provided the analysis, but for those that are curious here are the individual results for the various games.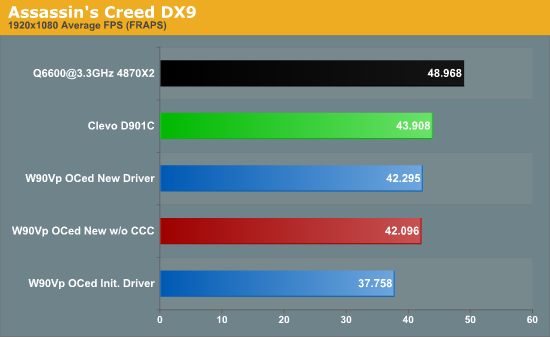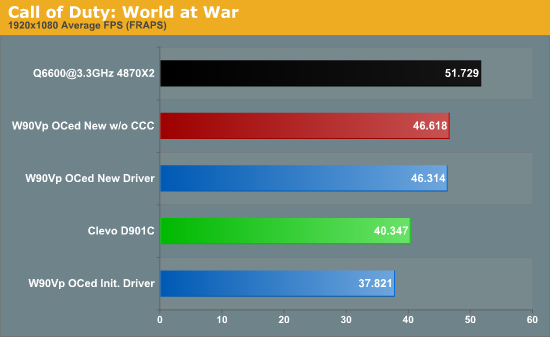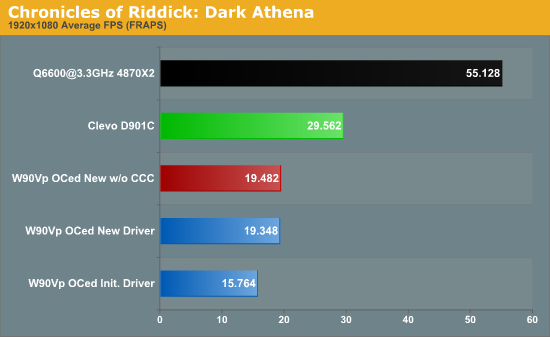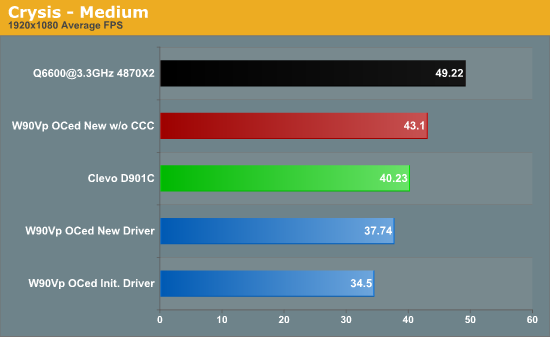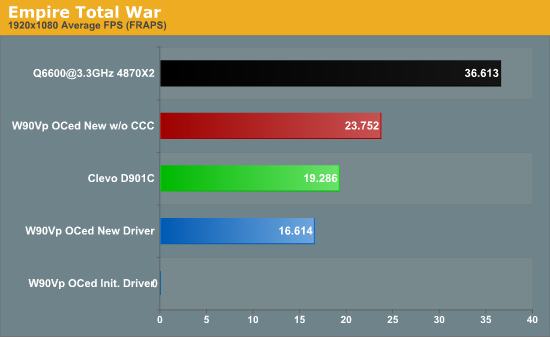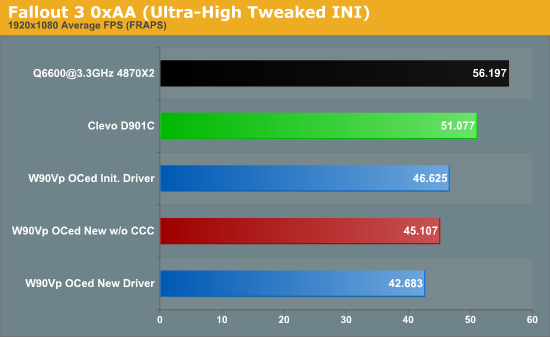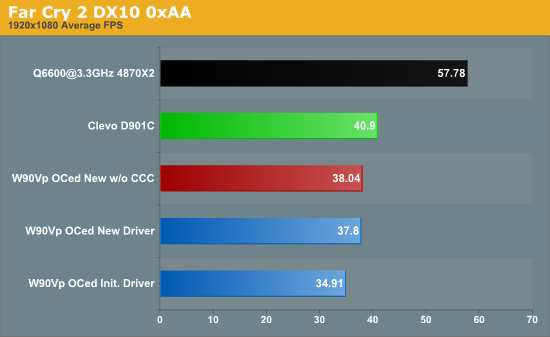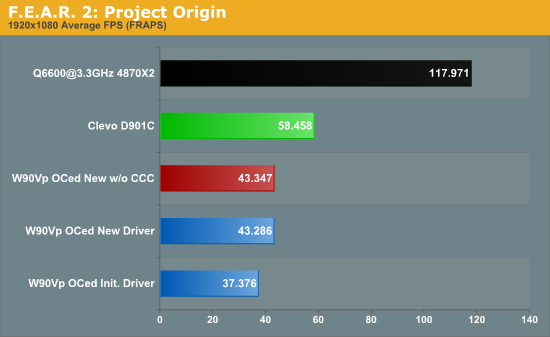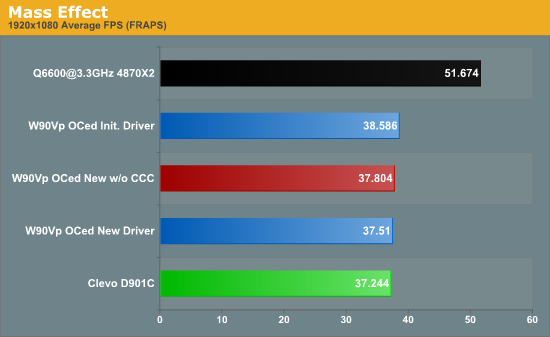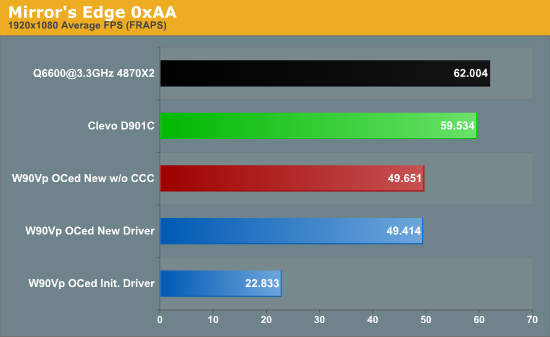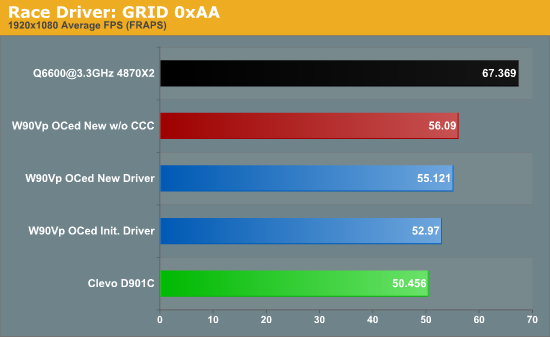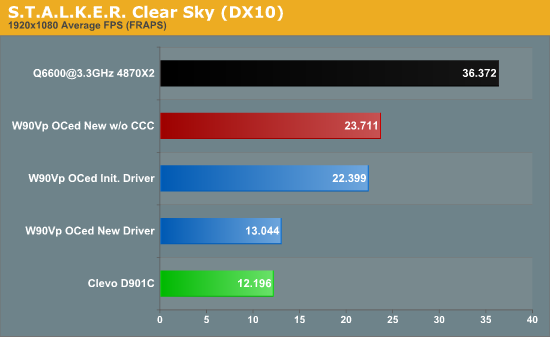 Standard Gaming Performance
For those that want to see the "big picture", here are the results of our tests at 1680x1050 with other recently tested laptops. Once again, we included the desktop system as a point of reference. Many of these systems are using older driver versions, so updated drivers may help in some areas, but since these aren't dual GPU solutions driver updates don't tend to help quite as much. Note that in some cases we changed the way we tested or we added a new game, in which case we only have results from the ASUS W90Vp, Clevo D901C, and our desktop reference platform.
We'll start with the older titles; note that on the ASUS W90Vp, all of these results are with the initial drivers. It's worth noting that in many titles, the faster notebooks -- especially the W90Vp and the D901C -- are largely CPU limited. Titles where overclocking shows the greatest performance increase are indicative of CPU bottlenecks, and we've included the 1080p results as well to show CPU limitations. For reference, OC'ed 1080p results are gold, standard 1680x1050 results are red, and 1680x1050 OC'ed results are orange.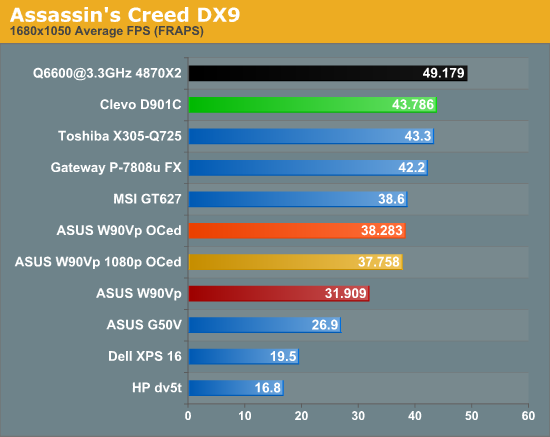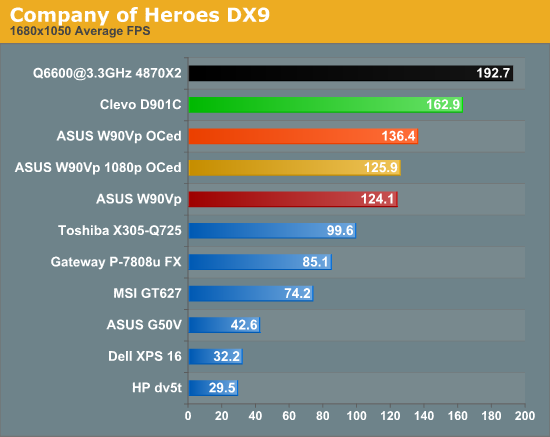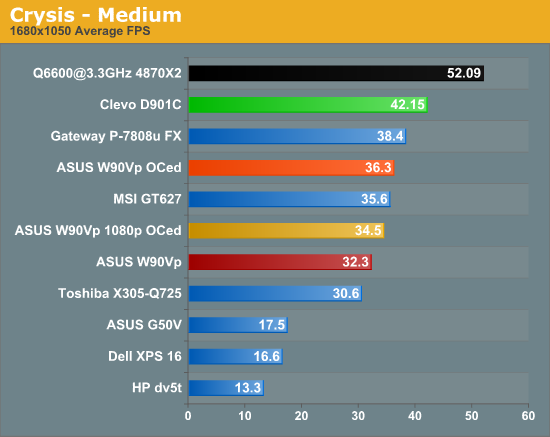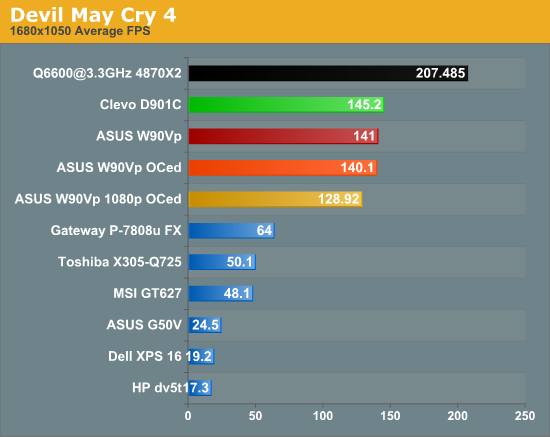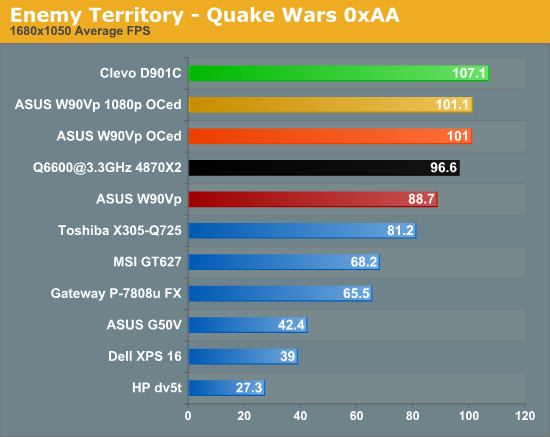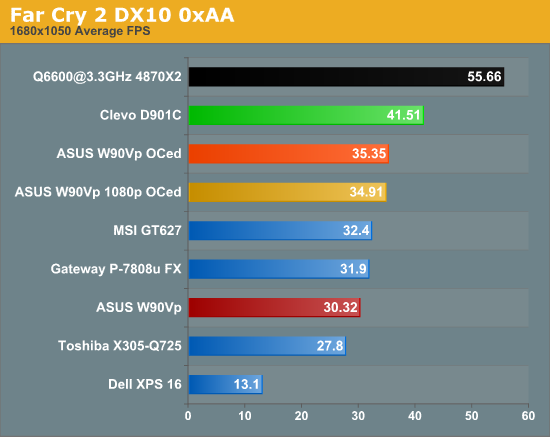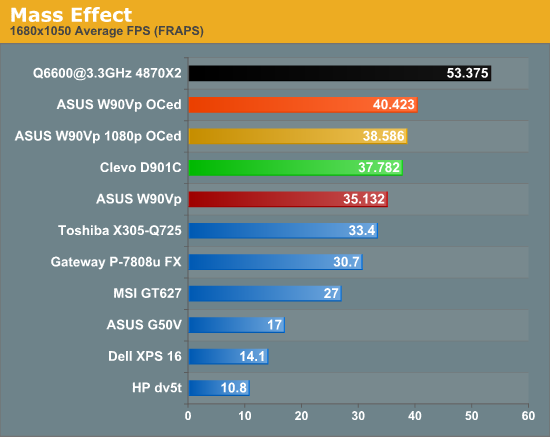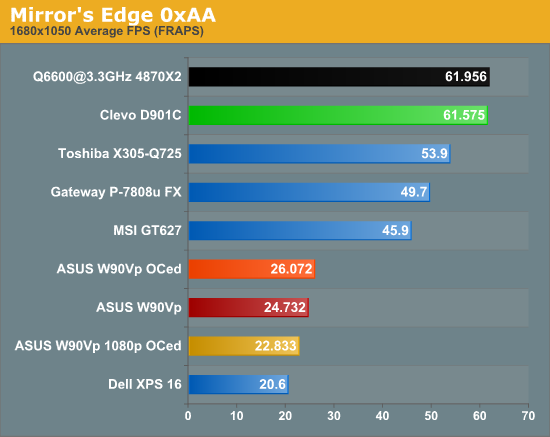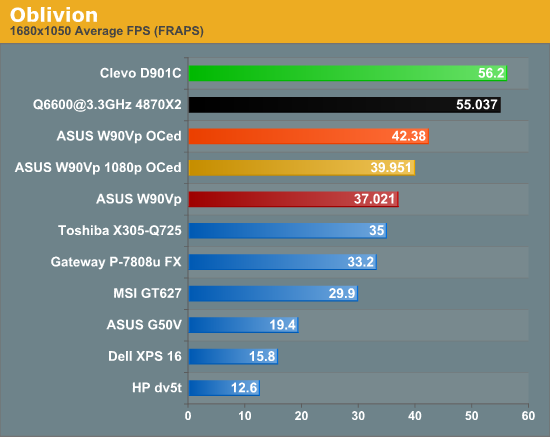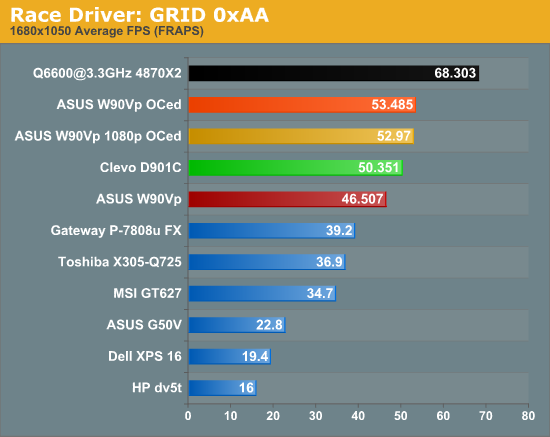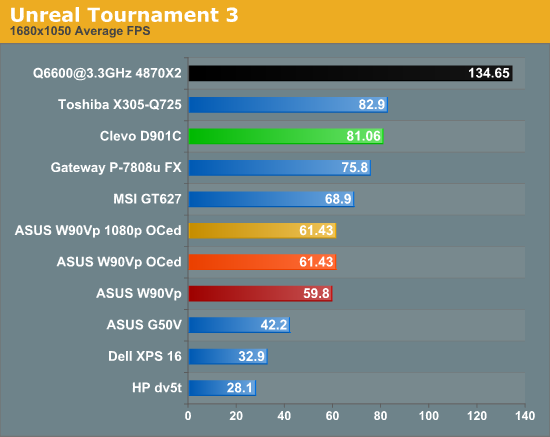 For the newer titles (or in the case of Fallout 3, a title where we changed the settings relative to previous articles), we tested with the same settings as the 1080p results. In other words, we used the initial driver, overclocked CPU with the initial driver, overclocked CPU with the new driver, and in a couple instances where it made a difference (Empire: Total War and STALKER: Clear Sky) we also tested the new driver without the Catalyst Control Center. In these charts, we highlighted the optimal W90Vp result in red -- as mentioned on the previous page, running without the CCC in most cases will offer equal or better performance.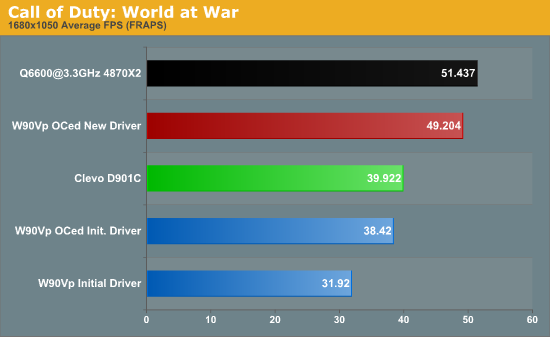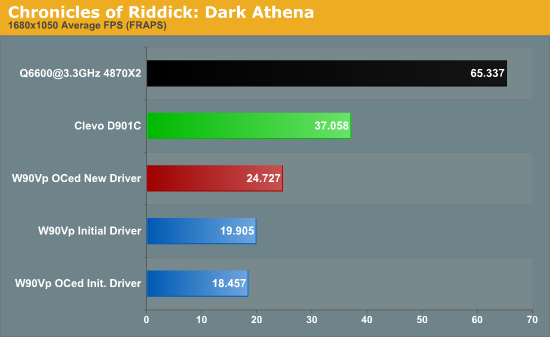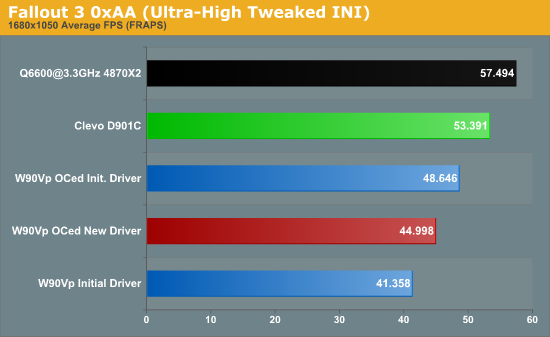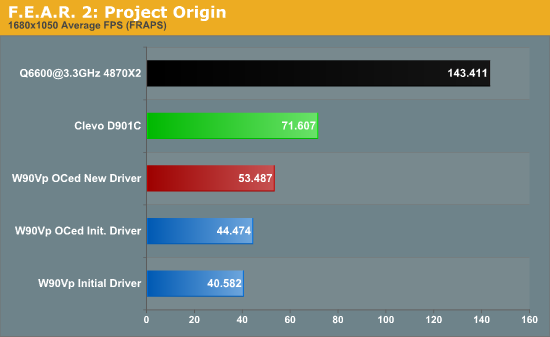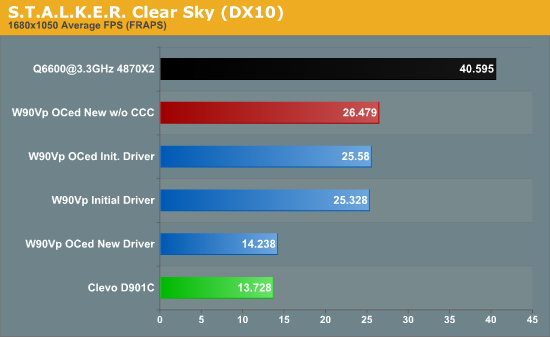 Application and Futuremark Performance
This is also a review of the ASUS W90Vp-A1, and we wanted to check out performance in other applications. We have stock and overclocked results.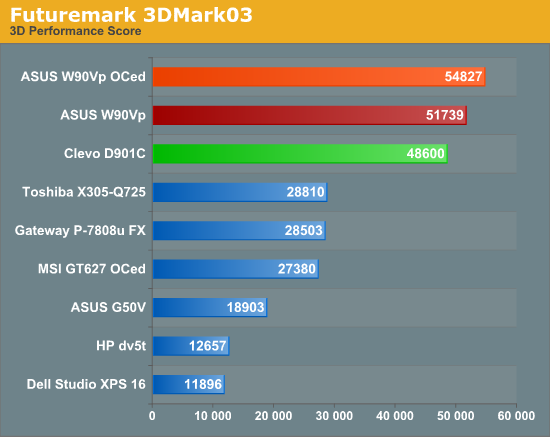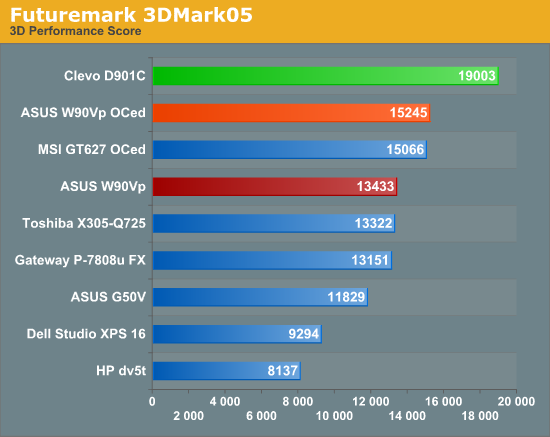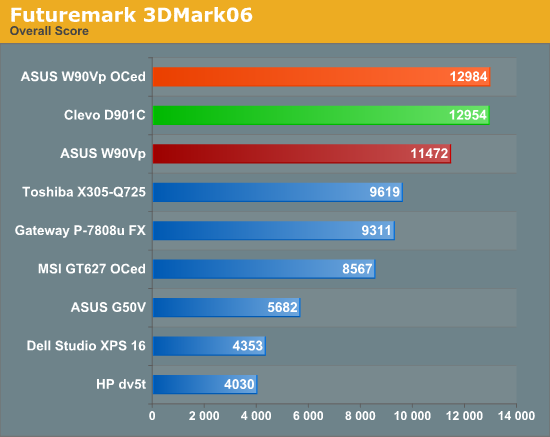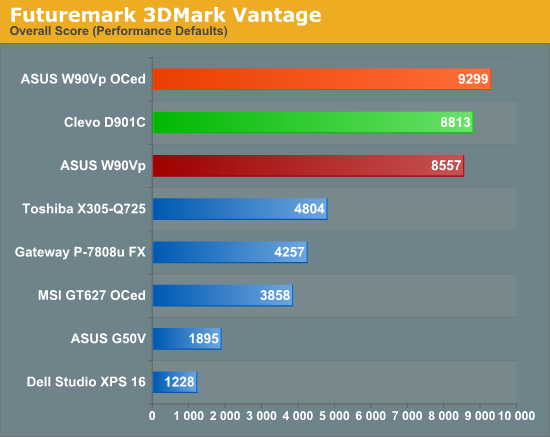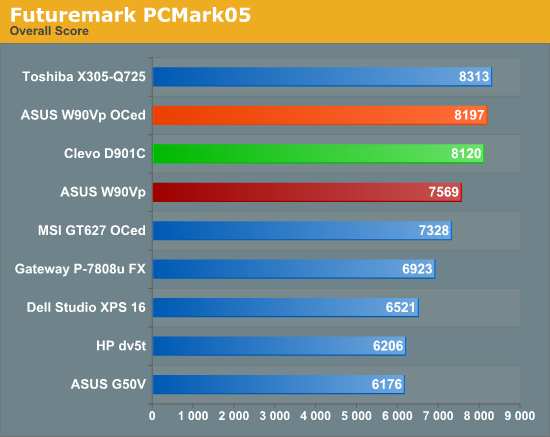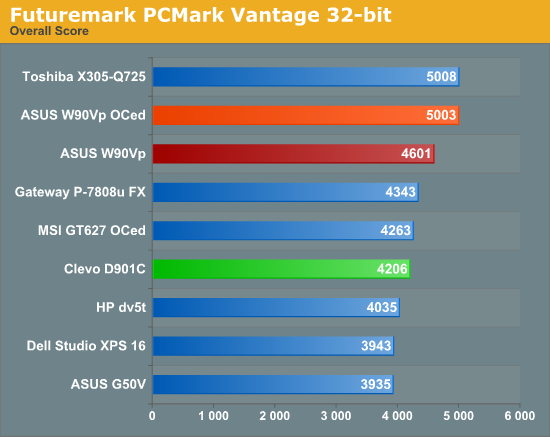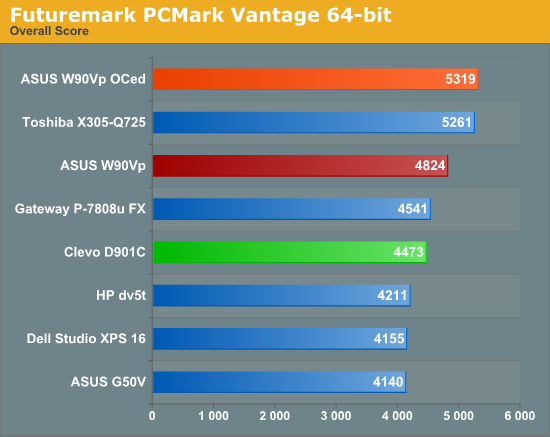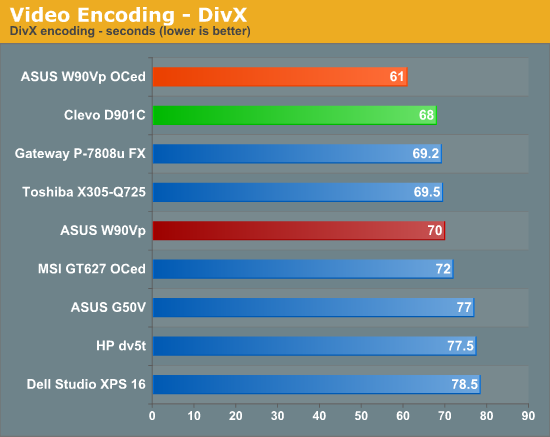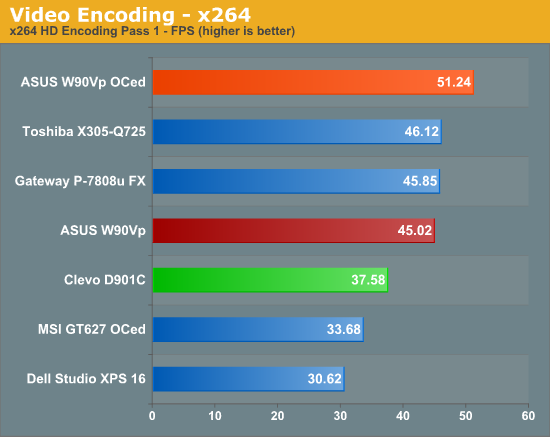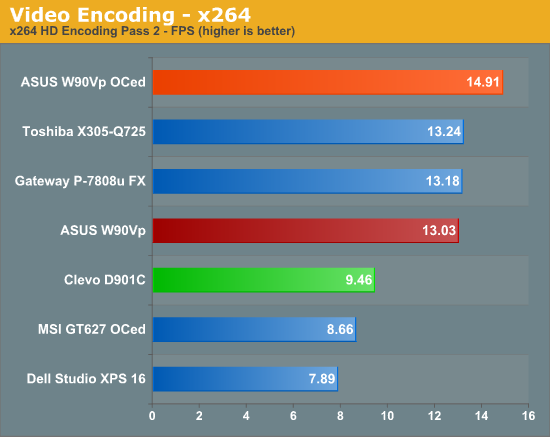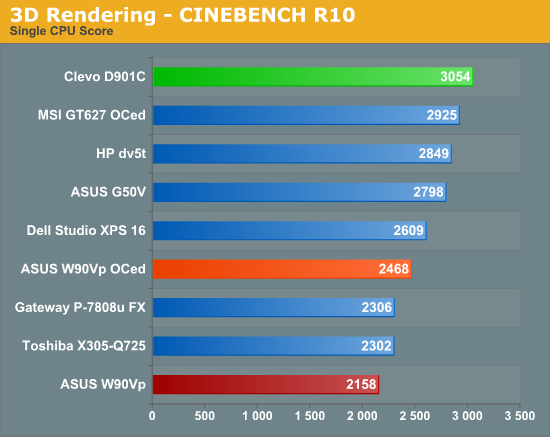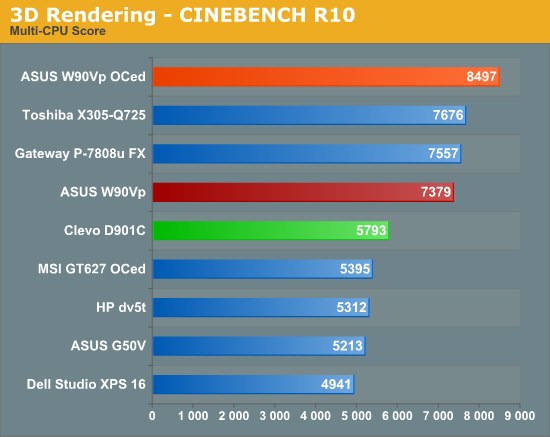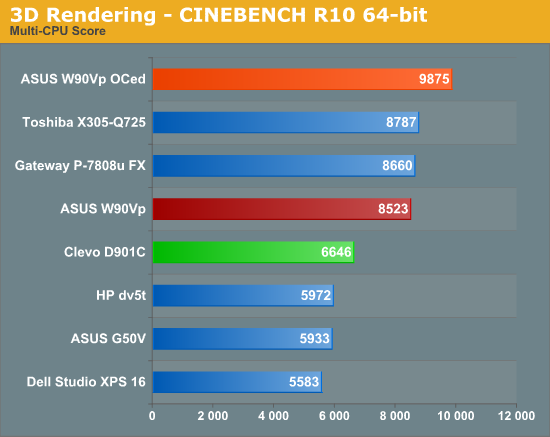 Unlike the gaming tests where the ASUS W90Vp trades blows with the Clevo D901C, in application performance it pretty much sweeps all of the tests. Keep in mind that these are more tests of the CPU performance rather than the graphics chip, however, so any laptop with a similar (or faster) processor could do the same. In benchmarks like PCMark, adding an SSD can also result in a dramatically improved score, as seen with the Toshiba X305.
It's also interesting to note that since our original testing, Futuremark scores have dropped dramatically on the Clevo D901C. We're not sure if it's the updated drivers or something else that we've done to the system, or perhaps a combination of both. Looking at the detailed results, every test in PCMark Vantage dropped substantially. We are leaving the original scores and in the near future we will replace the Clevo D901C up with an updated model.
Congratulations: the LCD Is a Winner!
We performed our standard display tests as usual, which you can read about in previous reviews. While the ASUS W90Vp still uses a TN panel, the overall quality is quite a bit better than most other laptops. We understand that most (if not all) of the 18.4" notebooks are using the same Samsung panel, so at least you know you're getting a decent display if you buy one of these monster DTR systems. Here are the results.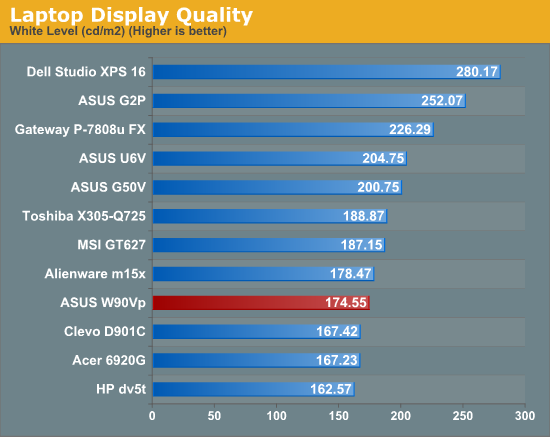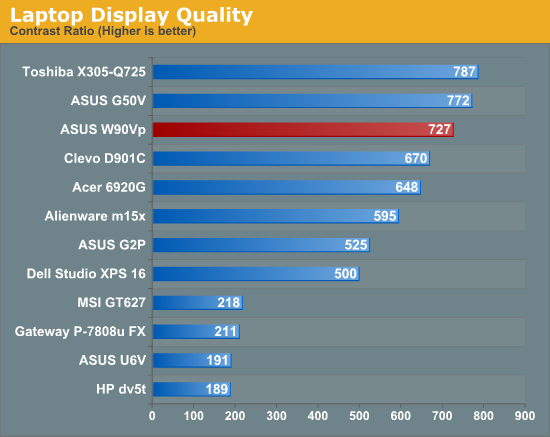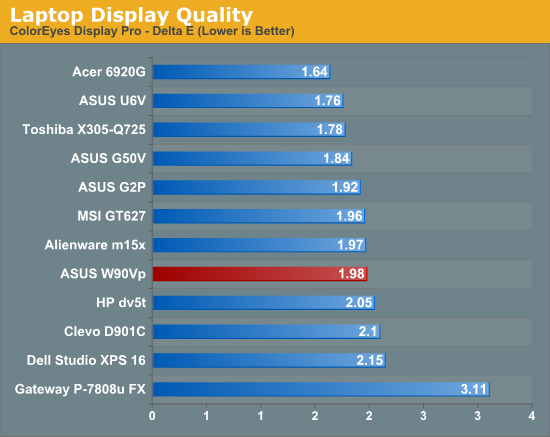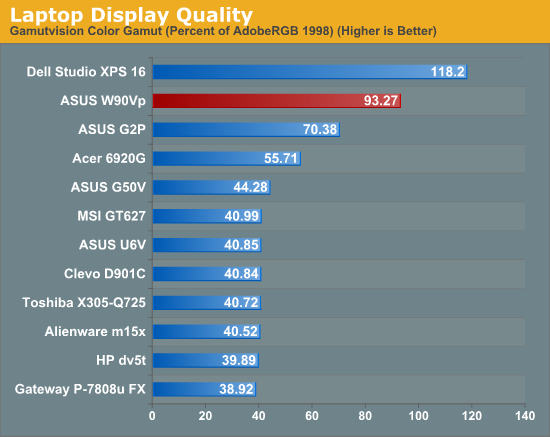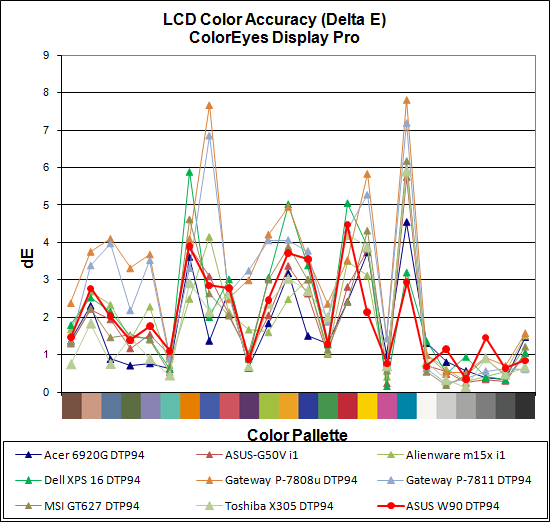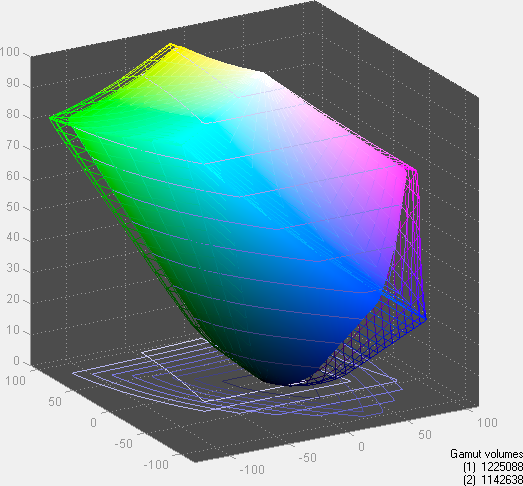 The display isn't overly bright, with a maximum brightness that's still under 200 nits, but good black levels help to provide a high contrast ratio. Color accuracy is pretty typical for a notebook, but the high 93% color gamut is once again clearly visible as soon as you start using the notebook. It's also worth noting that an 18.4" LCD sitting a few feet away can provide the same relative viewing experience as a large 50" HDTV sitting 10 to 15 feet away. Most people would still probably prefer having a large HDTV in their living room, but if you're in a crowded dorm room the ASUS W90Vp could certainly suffice as part of your entertainment center.
Battery Life? Surely you jest!
Again, you can read about our battery life testing procedures in previous articles. We ran all of the standard tests, although once you see the results you'll wonder why we even bothered. We're not sure why, but the ASUS W90Vp does not seem to properly enable low-power modes. Our best-case scenario pegs battery life at just over an hour. Considering the multiple graphics cards, quad-core CPU, dual hard drives, and desktop X38 chipset... well, we certainly weren't expecting much, and the W90Vp lived up to those expectations.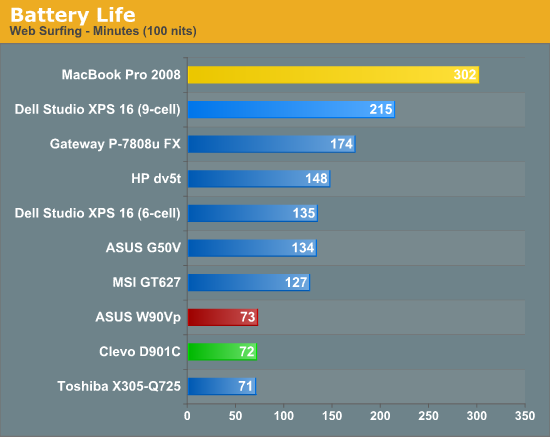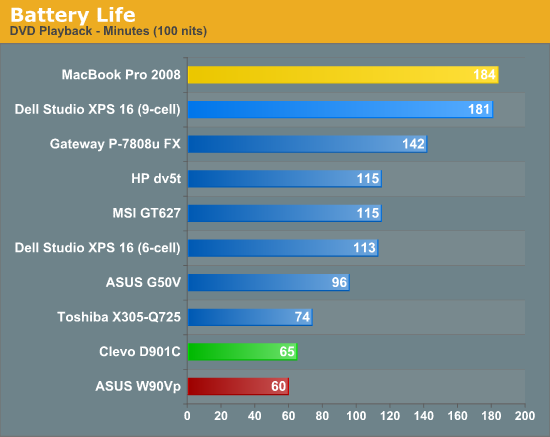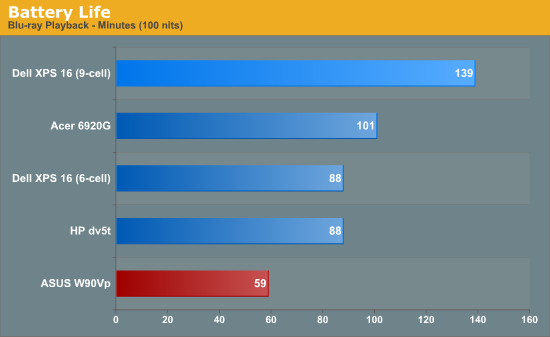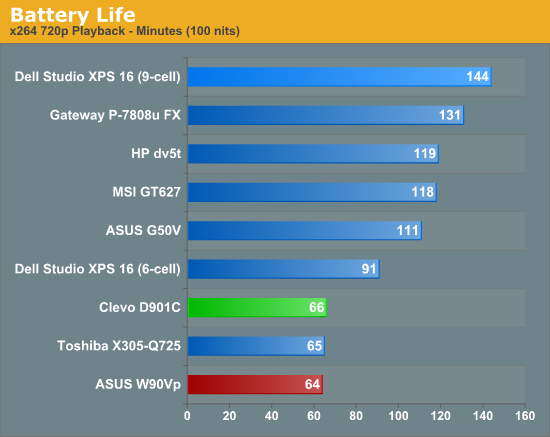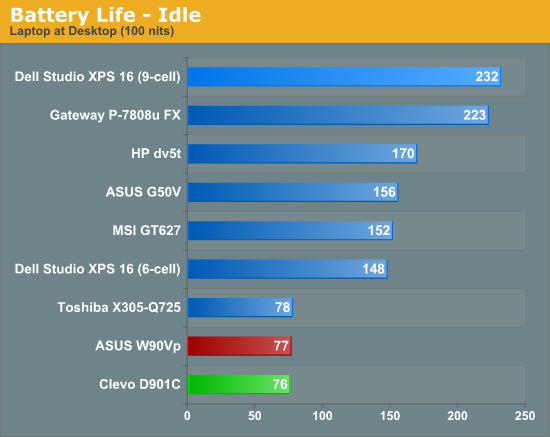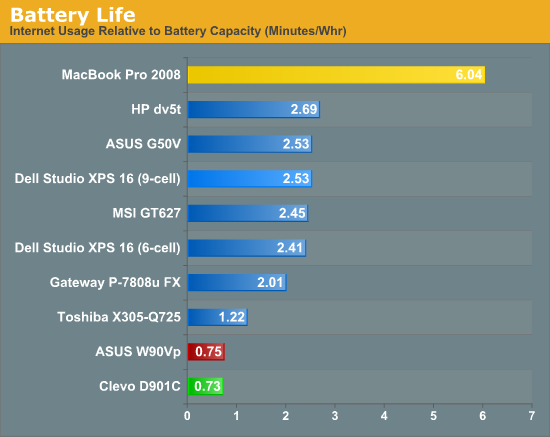 It would be nice if you could trade some of the raw performance for decent battery life, at least when you want to go mobile. As it stands, this notebook is definitely not intended for use away from a power outlet for any extended length of time. That means in addition to the 11.5 pound notebook, you need to plan on carrying around a power brick that weighs several pounds. Thankfully, the backpack has plenty of room for just such occasions. For what it's worth, the Clevo D901C doesn't fare any better in the battery life department -- both of these are DTR notebooks with very little if any consideration given to optimizing battery life.
Power, Noise Levels, and Temperatures
For the interested, you can read the details on how we test power and noise levels. As you might expect, this is W90Vp consumes quite a bit of power, but it's not particularly noisy -- certainly it's a lot quieter than most gaming desktops. Temperatures on the other hand can get quite high, so you'll want to keep this notebook away from your lap if possible. The size of the chassis does help with dissipating heat, however, so it doesn't get quite as hot as some smaller notebooks.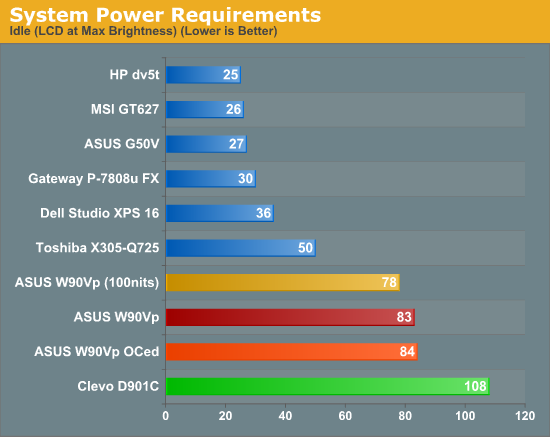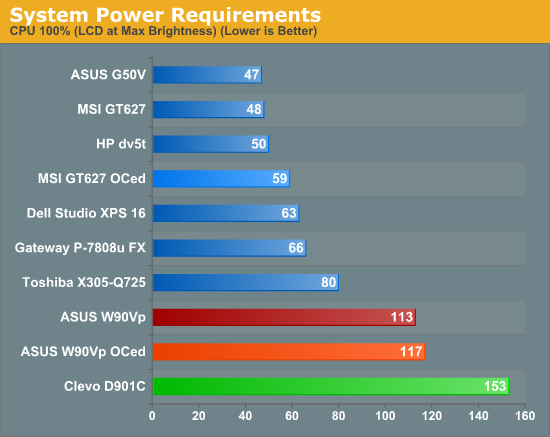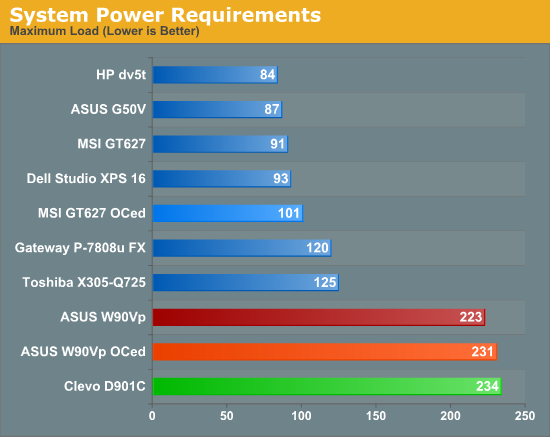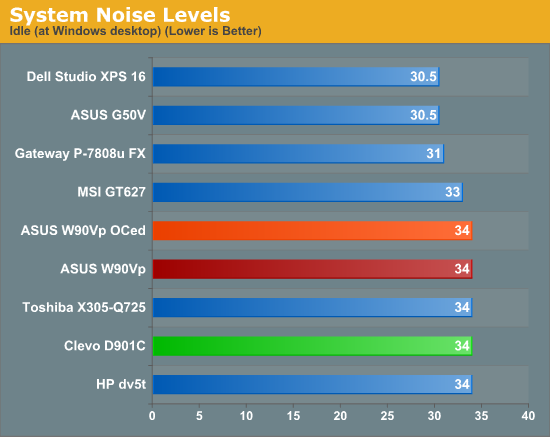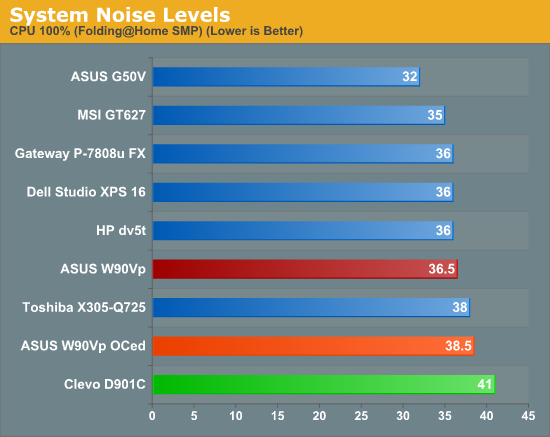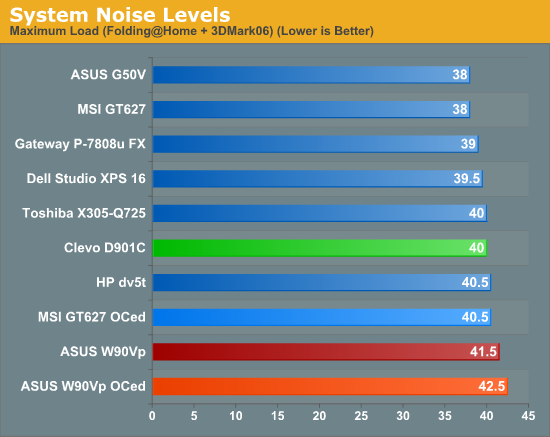 Under full load, the keyboard surface ranged from 28°C up to 34°C, with most of the surface averaging around 30°C. The back of the keyboard (near the LCD) tended to be hotter than the rest, which makes sense considering the two GPUs, chipset, and CPU are located in that section. The left palm rest also tends to be a bit warmer, as the hard drives are underneath it. Temperatures on the bottom of the laptop range from 26°C all the way up to 43°C, with most of the surface averaging around 33°C. Again, the hotspots tend to be near the rear as well as near the hard drives. Exhaust temperatures reached 50°C on the rear and side. You will want to assure there's proper ventilation for the bottom of the laptop if you're planning an extended gaming session.
Closing Thoughts
After extensive testing, the ASUS W90Vp leaves us with a lot of mixed emotions. Some aspects of the design we absolutely love, others are fine, and a few things we really dislike. When it comes to the ATI Mobility Radeon HD 4870, it's not too surprising that we have similar emotions. Let's start with a discussion of the laptop.
On the good side, we really like the LCD. If you're going to purchase a large desktop replacement system, getting an LCD that can actually compete with desktop displays is a definite plus. The size and native resolution even compete well with desktop systems; only users of 30" LCDs will have to give up anything in the resolution department. ASUS also includes some nice extras, like the Razer mouse and large backpack. Perhaps most impressive is that you can get all this for "only" $2400 -- or $2200 if you purchase the W90Vp-X2 and skip out on the second hard drive. That's still a lot of money, but we need to put that in perspective. The cheapest quad-core Q9000 notebook we can find comes from HP and starts at around $1400. Needless to say, you don't get anywhere near the same level of graphics performance in that system. On the subject of performance, this W90Vp trades blows with a Clevo D901C using 8800M GTX SLI. A current version of the D901C should surpass the W90Vp in the majority of benchmarks, but such systems start at over $3000 for 9800M GTX SLI, puts them in a different price category. Throw in the free overclocking, and ASUS W90Vp is actually one of the better values when it comes to high-end mobile gaming -- provided you want to lug around a 15 pound "laptop leviathan".
Overall performance is generally good, but the driver situation gives us pause. If ASUS or ATI could provide some guarantee of regular driver updates, we would be far more willing to recommend the W90Vp. As it stands, with the beta drivers ATI sent us performance is about where expected in most titles, but at least two games that we tested (Riddick: Dark Athena and FEAR 2: Project Origin) do not have currently functional CrossFire profiles. Come December, we expect the number of games that lack CrossFire profiles to increase rapidly. This is an area we plan to keep an eye on, and if we hear of any improvements or changes will make sure to keep you updated.

Besides the driver situation, we encountered a few other oddities during testing of the W90Vp. First, the fingerprint scanner tended to be a little schizophrenic, particularly when resuming from hibernation or sleep mode. Sometimes it would take a few minutes before the scanner would start working, sometimes it wouldn't ever start working, and other times it worked fine. Most of the time, we would just type in our password manually, but that sort of defeats the purpose of the fingerprint scanner. The other major gripe we have is with the touch sensitive multimedia buttons. We lost track of the number of times we accidentally brushed the volume control area to the left of the keyboard while playing a game. Having the volume suddenly jump to ear splitting levels is not something we enjoy, and there didn't appear to be any good way to disable this feature short of uninstalling/disabling the ASUS keyboard control utility -- which provides, among other things, the on-screen indicators for brightness, volume, and other functions (not a huge loss, but still...). We also had several occasions where we must have inadvertently bumped one of the keys across the top of the keyboard, resulting in the ASUS media center loading and taking control away from whatever we happen to be doing. In short, while touch sensitive keys might look cool, we actually dislike them. If you want to include extra keys, give us keys that require you to actually press them instead of just brush over them.
Overall, the ASUS W90Vp is a good package, and if you want a high-end gaming notebook without dropping $3000 or more, it's definitely worth a closer look. It's very likely you will encounter driver issues during the life of your system, but that's been the case with most gaming laptops up until NVIDIA's latest mobile driver updates. It's good to see some competition in the mobile GPU sector again, and it looks like ATI is ready to offer good performance at substantially lower prices -- just like they've been doing on the desktop. However, if ATI wants to be taken seriously in the mobile gaming sector, they will need to address the driver shortcomings.
In the meantime, hopefully ASUS will do a good job of providing at least quarterly driver updates for any of their CrossFire notebooks. So far, all of the ATI notebook drivers on the ASUS website failed to support the W90Vp, but then it's only been available for a couple months. Even if worse comes to worst and you don't get updated drivers, the W90Vp can still function as a decent portable workstation or multimedia device. Just don't forget the power brick!