Original Link: http://www.anandtech.com/show/2765


Of all of the technologies VIA introduced over the years, I never expected a form factor to be its lasting legacy on the PC industry. The most ubiquitous of VIA's technologies were its chipsets which are all but gone now - used only by VIA for the most part. VIA's form factor however, lives on.
The form factor is ITX. Originally introduced by VIA to accompany its line of low-power microprocessors, long before Atom, ITX was designed to deliver much smaller computers than what was defined by the micro-ATX spec.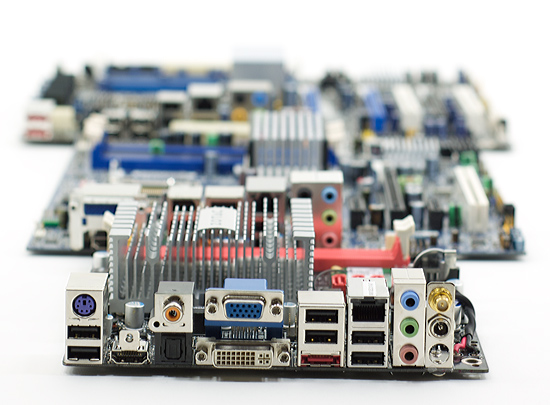 From front to back: Mini-ITX, micro-ATX, ATX
Intel was actually first to market a mini-ITX Atom based motherboard: the D945GCLF. Based on a single-core Atom 230 running at 1.6GHz, the D945GCLF is a relatively simple motherboard.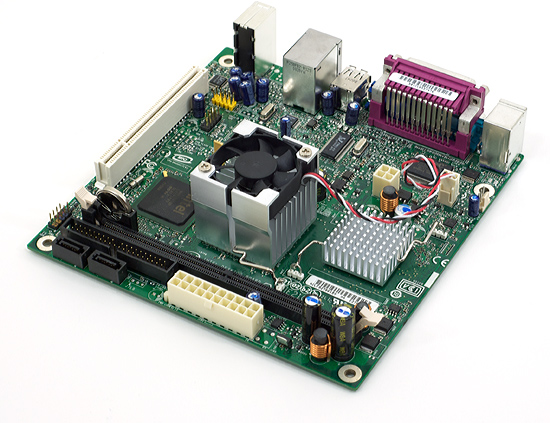 Intel's first desktop Atom board
It has a single DDR2 DIMM slot supporting up to 2GB of memory (DDR2-400 or 533 only). There's no support for a modern day GPU, there's only an old 32-bit PCI slot on the motherboard. You get two SATA and one PATA connector on board, four USB, no DVI/HDMI output (only VGA) and a standard set of three analog audio ports.


The tall heatsink in the back is for the chipset, the small one is all you need for the CPU

As its name implies the D945GCLF uses Intel's 945G chipset and correspondingly slow graphics. However if you don't need a ton of performance, Intel's desktop Atom solution is quite attractive as it sells for under $70 - CPU included (it's soldered onto the board).

With the quiet introduction of the dual-core Atom, Intel released the D945GCLF2. Nearly identical to its single core predecessor, the D945GCLF2 uses a larger heatsink on the CPU and a smaller one on the GMCH (although it is still cooled by a fan). The board also uses a 24-pin ATX power connector instead of a 20-pin connector, adds S-Video out and a Gigabit Ethernet port (the D945GCLF only has a 10/100 port).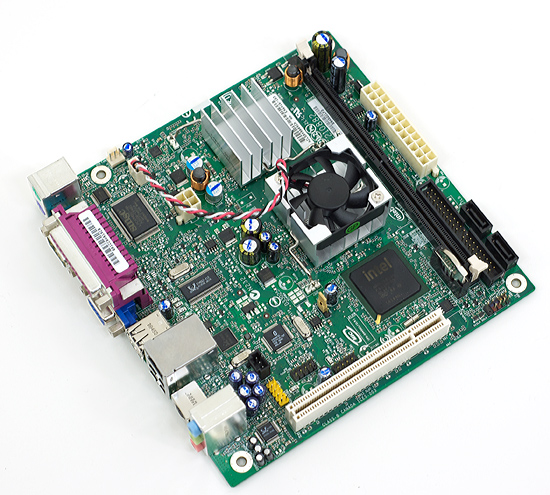 The dual core D945GCLF2 adds a second core to the Atom platform.


Bland ports on the D945GCLF2
The biggest difference is obviously the inclusion of the Atom 330 processor, which is simply two Atom 230 die on a single package - both running at 1.6GHz: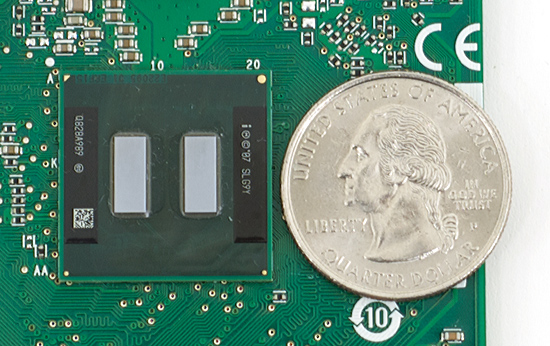 A dual core Atom 330
The faster CPU raises the total price up to $80, still very affordable.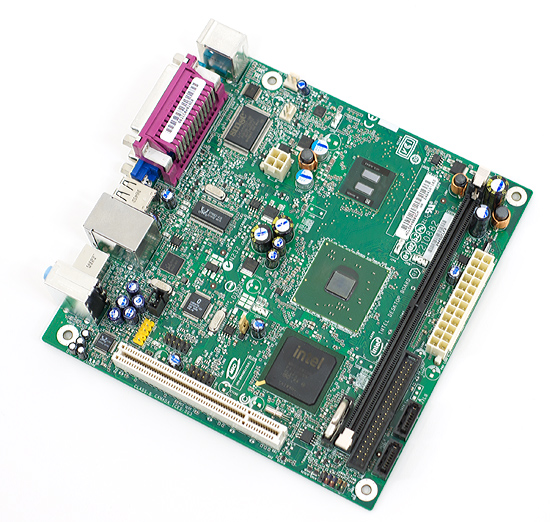 The 45nm Atom processor runs significantly cooler than the 945 GMCH on the board (center chip).
The Intel desktop Atom boards both work just fine but they're a bit boring. They are reminiscent of Intel's older motherboards, before it took competition from the tweakable Taiwanese motherboards seriously.
Zotac is the first manufacturer to produce a mini-ITX motherboard based on NVIDIA's Ion platform. Take Intel's Atom processor, pair it up with NVIDIA's Ion chipset (which is basically a GeForce 9300 chipset) and you have the Ion platform.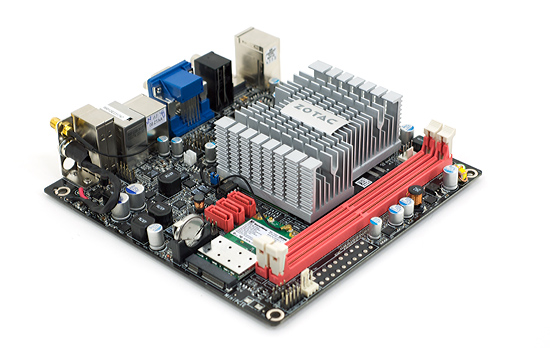 The Zotac Ion is available as a mini-ITX motherboard alone. Mini-ITX will work in ATX, micro-ATX, and mini-ITX cases.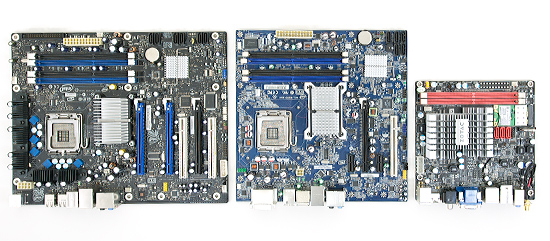 From left to right (ATX, micro-ATX and mini-ITX)
There are two versions of Zotac's Ion, the ION-ITX-A-U and the ION-ITX-B-E. The more expensive "A" model ships with a dual-core Atom 330 processor, a mini-PCIe WiFi card and an external DC power supply. The "B" model comes with a single-core Atom 230 processor, no WiFi and requires a standard power supply. They are priced at $189 and $139, respectively, from etailers. Add another $10 for retail pricing. Update: Zotac just informed me of two additional versions coming: a C and a D version. The C version will be a single-core product with the DC power supply and the D version will be a dual-core product with no power supply.
Availability will be in limited quantities starting this week. Zotac hopes to have more widespread availability by June.
The first change compared to Intel's desktop Atom boards is that the Zotac board is entirely passively cooled. While Zotac ships a fan in the box, it's optional to use. Granted the heatsink on the Zotac Ion is huge, inevitably adding more cost to the board but I'd take that over a spinning fan; the Zotac Ion is completely silent.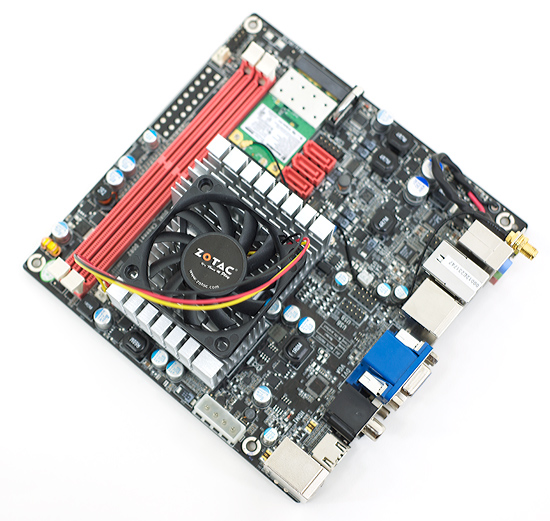 The optional fan
Zotac gives us two DDR2 DIMM slots (4GB max total memory) instead of one on the Intel boards, and it supports up to DDR2-800 memory. While Zotac could've opted for DDR3 slots, DDR2 seems like a safer bet since you're more likely to have spare DDR2 memory laying around these days (especially after you make that upgrade to Phenom II or Core i7).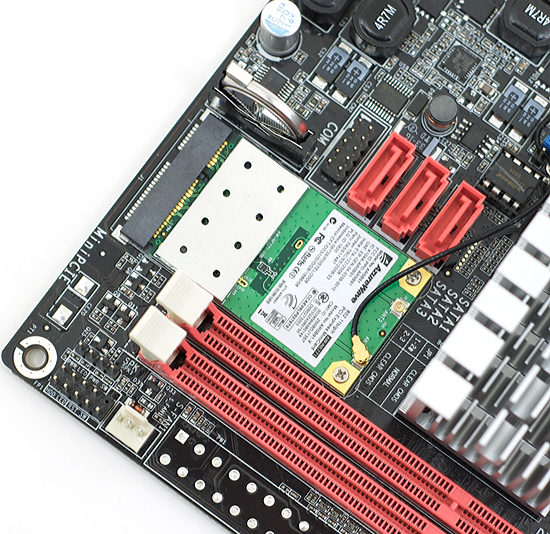 Oooo, expansion
We get three SATA ports instead of two, but no PATA ports. There's no PCI slot but you do get a mini-PCIe slot for an optional WiFi card.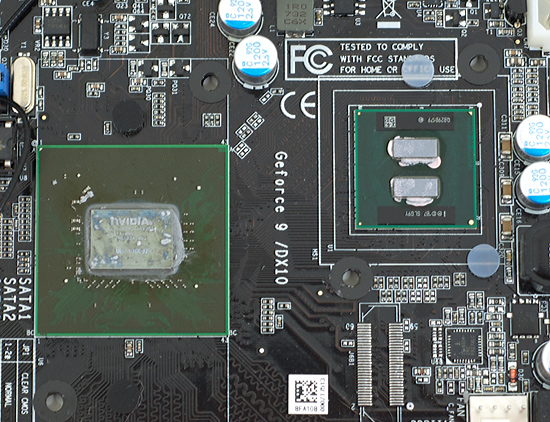 The GeForce 9300, the heart of NVIDIA's Ion platform
On the rear Zotac outfitted the world's first mini-ITX board with every port you could possibly want. For display output you get everything that matters: VGA, DVI and HDMI. You've got three ways of getting audio out of the board: analog, optical or coaxial digital.


Now that's more like it
There are six, count em, six USB 2.0 ports - up from the four on the Intel boards, a single Gigabit Ethernet port (just like on the Intel D945GCLF2), eSATA and a PS2 port. I believe the only feature advantage Intel holds is that its Atom boards have two PS2 ports, one for keyboard and one for a mouse, while the Zotac board only has a keyboard port.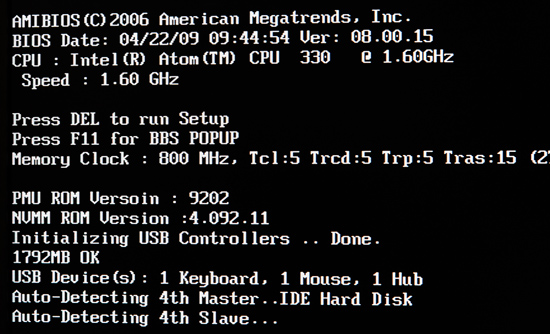 Zotac's POST screen. Spot the spelling error and embarrass Zotac for 15 points.
Assuming you have a USB mouse, Zotac wins hands down in the feature comparison and that's without giving it extra points for having a way more capable graphics core than the D945GCLF2. I don't think I'd change a single thing on the Zotac Ion; it's possibly the manliest Atom motherboard on the market. *grunt*
Unique to the dual-core model I tested is an external DC power supply. The board has no ATX power supply connector on it, instead it relies on an external 90W power brick similar to what you'd get with a large notebook.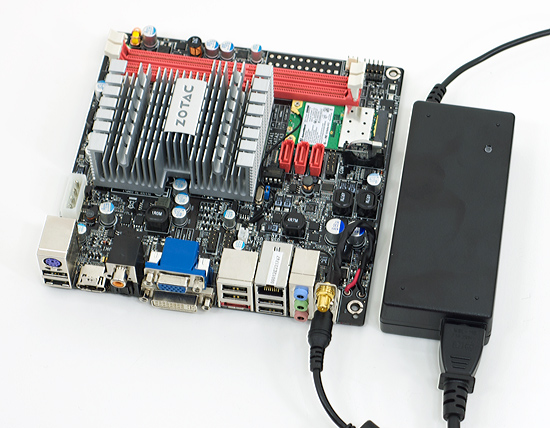 Powah
Just plug the power brick into the I/O panel of the motherboard and you're good to go. Zotac was careful to put the DC input on the rear of the motherboard so it can still be used in any ITX case, even ones with an internal power supply.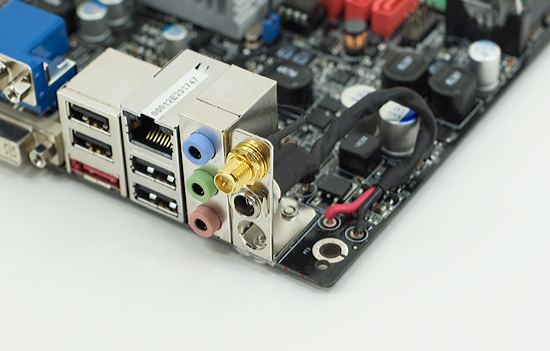 Plug the power brick into the rear panel underneath the WiFi antenna.
There's a single 5-pin molex connector on the motherboard that can be used to power your SATA drives. Zotac ships the motherboard with a cable that provides three SATA power connectors off of the one on-board molex connector. Given that the board only has 3 SATA ports on it, the 3 power connectors should suffice. Note that they are only SATA power connectors, if you have older drives you'll need a different cable.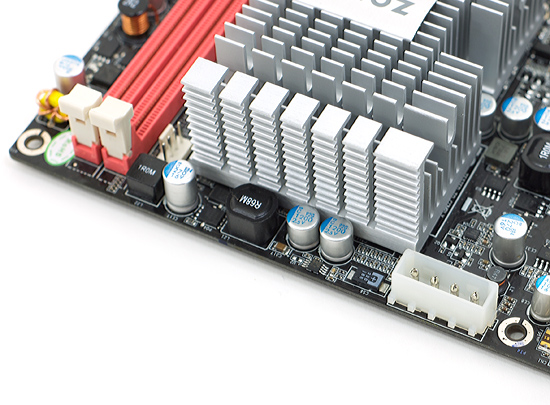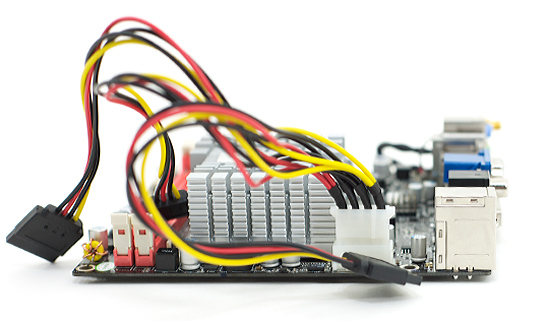 The external power supply is nice to have. It simplifies the construction of your system greatly. You can take the board and pretty much just set it anywhere you want. It's passively cooled so you don't need to worry about dust, just don't put it on anything that conducts electricity.
The only issue I have with the external power supply is that it's not as easy to replace as a standard ATX power supply. The brick is made by Delta and you might be able to find something with similar specs online, otherwise you're left asking Zotac for another should something happen to yours.
Blu-ray Playback: It Works Quite Well
I tried using the Zotac Ion to watch Blu-ray movies, after all, that's one of the major reasons to get this thing over the much cheaper Intel alternative. NVIDIA's Ion chipset (aka GeForce 9300) can fully decode H.264 and thus make high definition movies watchable on the otherwise incapable Atom CPU.
Anything that supports NVIDIA's PureVideo HD will work on the Ion board, in this case I used Cyberlink's PowerDVD 9 Ultra - the latest version off of Cyberlink's website. I fired up Casino Royale and watched, the CPU utilization across all four virtual cores (two physical cores) ranged between 19 - 27% on average. At times I saw steady peaks at 36% and the highest I ever saw was 50% in an unexpectedly stressful scene. With the dual-core Atom, I never saw any dropped frames.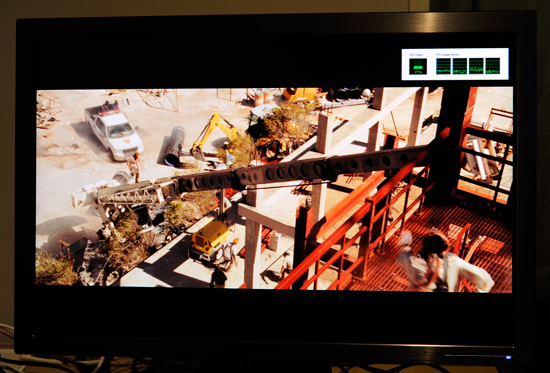 The high CPU utilization is simply due to the content decryption required by every copy protected Blu-ray disc, the actual decode is being done completely in hardware. If you playback an unencrypted Blu-ray disc you get CPU utilization in the 10 - 14% range.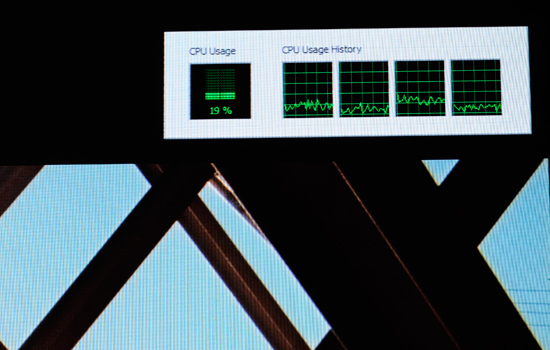 Earlier versions of PowerDVD were not well optimized for Atom, but the latest updates to PowerDVD 8 and PowerDVD 9 ensure smooth playback on even a single-core Atom/Ion system (I used an older version of PowerDVD in my short lived Ion Blu-ray Investigation which was the cause for poor performance in those tests). Note that at one point in my testing I saw the CPU usage hit 50% on the Atom 330, which means it would be at 100% with an Atom 230. The spike only lasted for a second or two but it's possible for a single-core Atom setup to stutter in situations like that if you have a background task running at the same time.
You can even get hardware acceleration using the Ion board under Media Player Classic - Home Cinema. Using the latest stable build of MPC-HC you simply need to go to the Options menu (View -> Options) and configure a few items. Click on Output then select EVR or EVR Pres. if you want to enable subtitles.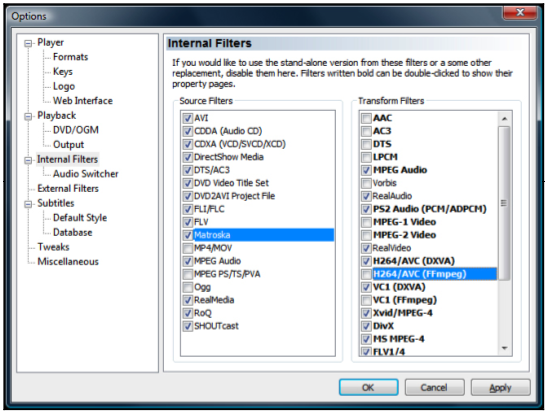 Then click on the Internal Filters option and disable all FFmpeg transform filters, enable all DXVA transform filters and enable the Matroska source filter (for playing back MKVs).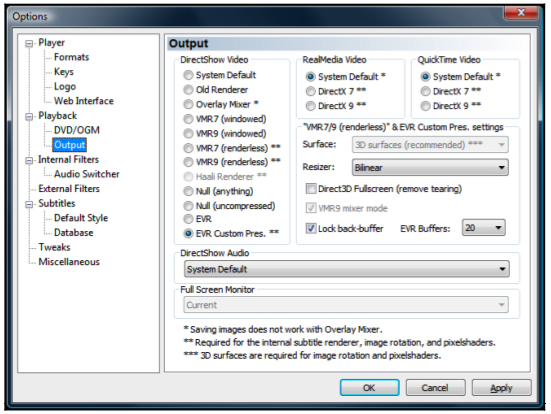 If you configure MPC-HC as I described above you'll get full hardware acceleration on the Ion board. This is a great way of watching your own ripped content. Without encryption CPU utilization ends up being in the 10 - 14% range, allowing you to even do things in the background while you're watching a video. I would caution you against doing too much however, so much as scrolling the volume slider up/down will cause the video playback to stutter. You're probably better off just being happy that you're not dropping any frames and not touch anything while you enjoy your movie.
Zotac's Ion in My Theater
Last year I spent a lot of time building a home theater. All content is played back on my HTPC running Windows Vista Media Center along with MyMovies (to catalog my library) and VMC Media Browser to tidy up the interface. The hardware is composed of an ATI Radeon HD 4550 as well as an Intel Core 2 Quad Q9650. The result works pretty well. I wanted to see how close the Zotac Ion could get to my setup.
With an external power supply I didn't have to do much, I just grabbed the Zotac board and the power brick, set the two on top of my equipment rack and plugged it in. I immediately appreciated the silence of the Zotac, as quiet as I've made my HTPC, it's still not totally silent. That doesn't usually matter while I'm watching a movie, but whenever I pick the seat closest to the equipment rack it irks me a bit (similar to how you can always notice even the most minor scratches on your car).
Actual video playback wasn't an issue, the Zotac board already passed all of my Blu-ray tests if you'd remember. And I rip all of my content so CPU usage never even went beyond 20%. What I wanted to know was how well the Zotac board could handle navigating through my library, the VMC menus, etc...
I for sure thought that the Atom was too slow to serve as a real HTPC. Sure you could watch movies on it, but actually navigating through your library using a pretty UI - no way.
I must admit, I was pleasantly surprised.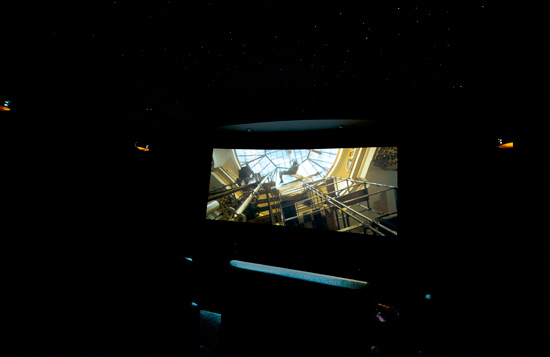 Quantum of Solace - 1080p - 11' screen - all powered by Zotac's Ion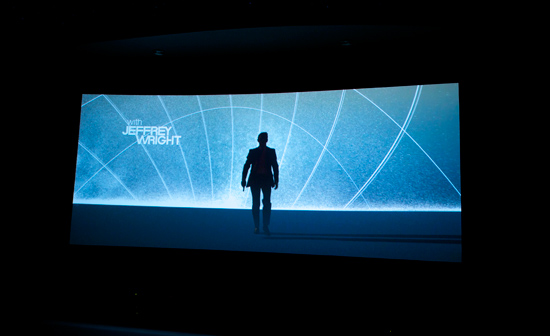 The Zotac Ion was by no means fast at navigating through the Media Browser interface, but it was acceptable. Scrolling through tens of movies is a bit painful, make it hundreds and you may want to consider a faster CPU, but it wasn't nearly as bad as I expected.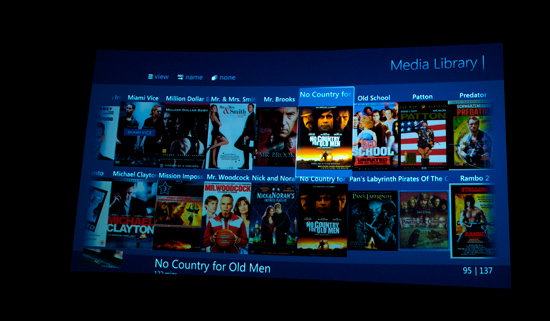 The VMC Media Browser interface, slow, but usable on the Ion
During playback I could pause, skip forward and adjust volume without dropping any frames. The Ion worked as a real HTPC doing real duty. I was impressed. Pair it up with a TB hard drive and you have a great way of watching your content on your TV or projector. Use a NAS and you can even keep all the noise out of your theater room.
Performance aside, remember that this is a GeForce 9300 we're talking about here. I had a single HDMI cable going to my receiver which carried 1080p video, DD or DTS 5.1 audio or 8-channel LPCM if I decided to let my machine do all of the decoding. I didn't test CPU utilization on the latter due to time constraints but I plan to in the near future.
Putting It in Perspective: The Atom Takes on a Single-Core Pentium 4
When the Atom first appeared I immediately did my best to characterize its performance. Intel always referred to it as having the performance of a 90nm Pentium M but never really got as specific as I would like. In my subsequent testing I found that at 1.6GHz, Intel's Atom performed like a 1.2GHz 90nm Pentium M (Dothan). If you had a Pentium M notebook back then, the comparison makes sense to you. If you didn't, however, then you'd need another reference point.
I realized I had no idea how Atom compared to an old Pentium 4. To remedy the situation I dug up an old Dell based on a single-core, Northwood based (130nm) Pentium 4 running at 2.66GHz. These chips used a 533MHz FSB and had a 512KB on-die L2 cache. The system had an ATI Radeon X800 XT and 2GB of DDR memory. This Pentium 4 did not have Hyper-Threading, this was before HT made its official desktop debut.
For my first test I turned to Adobe Photoshop CS4: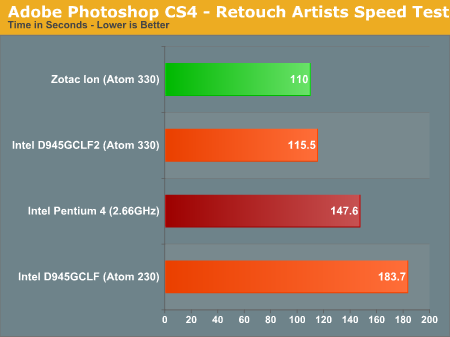 Wow. This is huge. Intel's dual-core Atom 330 is 25% faster than the 2.66GHz Pentium 4. The advantage is all in the extra core though. If you look at the Atom 230 the Pentium 4 beats it by almost 20%.
Next I wanted to look at video encoding performance, one of the Pentium 4's strongpoints. If you remember back then, even the Athlon 64 had difficulty competing with the P4's encoding prowess. We'll start with Windows Media Encoder: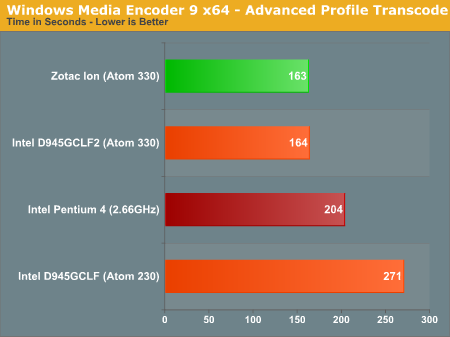 Again, the Atom 330 is faster than the Pentium 4 and again it's due to the extra core. The Atom 230 is noticeably slower.
x264 encode performance is even more embarrassing for the Pentium 4; the Atom 330 is 62% faster in the first pass and 94% faster in the 2nd pass of the encode. The P4 system was 15% faster than the Atom 230 in the first pass and around 5% faster in the second pass.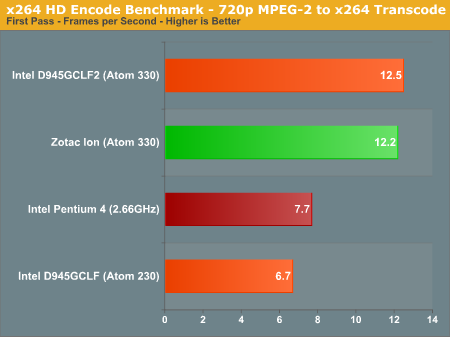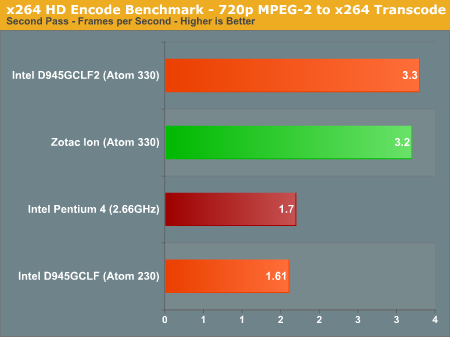 Next up was Cinebench. This is an interesting benchmark to look at because it offers both a single-threaded and multi-threaded benchmark. The Pentium 4 without Hyper-Threading can only execute a single thread, so the multi-threaded test can't run. I've combined the meaningful results in a single chart: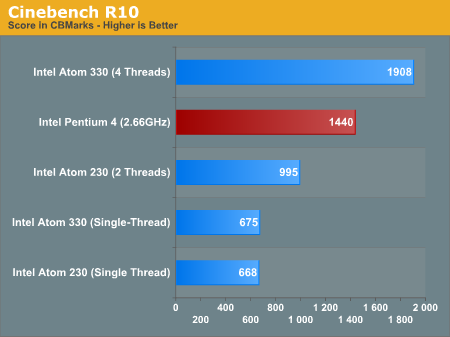 If we look at single-threaded performance, the Pentium 4 destroys the Atom - offering more than twice the performance of the svelte Atom core. Enable the multi-threaded render and the Atom 330 pulls ahead by 33%. This is the strength of the Atom; it's clearly not faster than the Pentium 4 when working on a single thread, but exploit its ability to work on four threads simultaneously and it can actually be faster than a much larger, much more power hungry Pentium 4. This is a very important point to remember because despite losing to the Atom 330 in nearly all of the benchmarks, the Pentium 4 system it felt much faster than the Atom system in normal usage.
Simple things like opening up Control Panel or switching between windows felt faster on the old Pentium 4 system, which makes sense given that those tasks only spawn a single thread. In Cinebench we saw that the single-threaded performance of the old Pentium 4 was over twice as fast as the Atom - you tend to notice performance differences of that magnitude.
The final application test I ran was our WinRAR compression benchmark: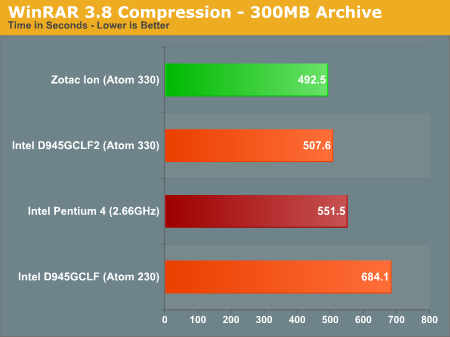 Once more, the Pentium 4 gets beat by the Atom 330 but turns the tables on the Atom 230. Even file compression is multi-threaded these days, and that is the Atom's saving grace.
I wanted to know how well the GeForce 9300 could stand up against the old Dell's Radeon X800 XT so I ran my WoW test on both systems. This is less of a CPU test and more of a CPU + GPU test obviously, but the results are interesting: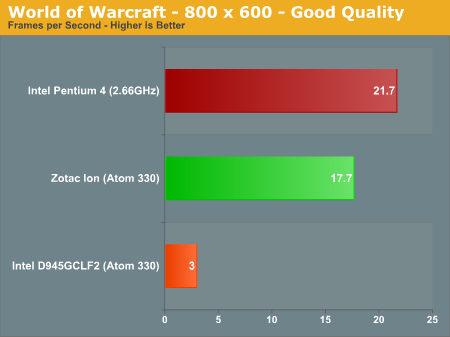 The Pentium 4 + X800 XT system is clearly faster, but not by as much as I expected. The advantage amounts to 22.5%, which is very noticeable, but close enough that if you had an even older system (or one with a lesser video card) you might not notice the performance difference between it and the Zotac Ion.
The last benchmark I ran comparing the Atom to a Pentium 4 was Futuremark's Peacekeeper - a benchmark for measuring web browser performance. The benchmark is unaffected by internet connection and simply measures, once loaded, how fast your PC can work with various forms of commonly used javascript. I ran all of the Peacekeeper tests using Google Chrome: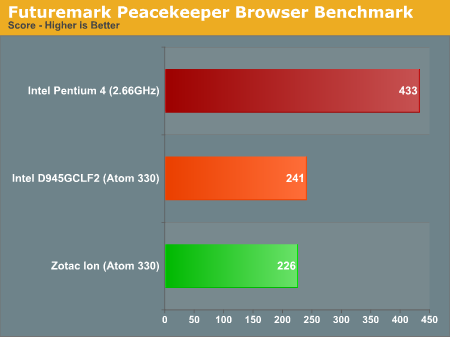 The Pentium 4 absolutely demolished the Atom here. Once again it's almost twice as fast as the Atom 330. In a multi-threaded environment the Atom 330 can pull ahead, but in most typical day-to-day tasks the Pentium 4 is going to be a much faster solution.
Power efficiency is obviously where the Atom based Zotac Ion wins out. AMD and Intel both viewed the move to multiple cores as a performance and power efficiency win, and the results below help show that. Granted Atom is built on a 45nm process and we're looking at a 130nm desktop Pentium 4 system, which is where much of the difference really comes from. But the results do show you that if you don't need top bin performance you can build a very capable PC these days with significantly better power consumption characteristics.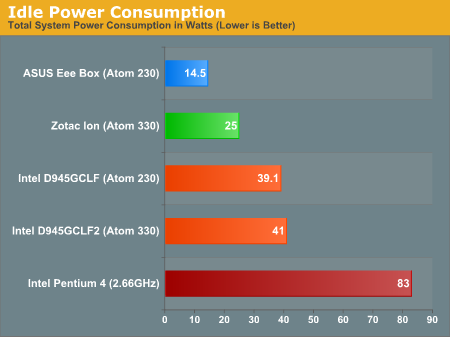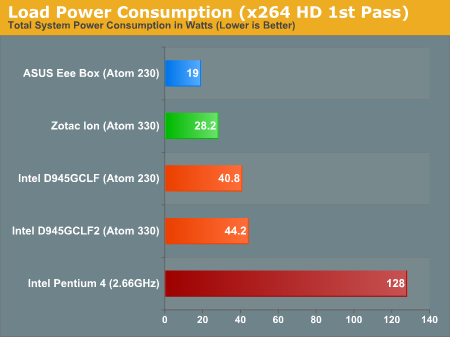 NVIDIA is forever arguing with me about how Atom and its Ion platform is a significant upgrade to PCs that are a few years old. My Pentium 4 results show that unfortunately, that's not exactly the case. The Pentium 4 system I compared Zotac's Ion to could never function as a modern-day HTPC and it won't play Blu-ray discs. In those senses, Zotac's Ion would be a tremendous upgrade. Even in multi-threaded CPU bound scenarios such as video encoding or 3D rendering, a dual-core Atom 330 is appreciably faster than the old Pentium 4 based Dell system. However, in normal web browsing and simply interacting with Windows, the Pentium 4 is significantly faster. The benchmarks show a nearly 2x performance advantage in single-threaded applications and I'd say they are accurately reflected in the usage experience.
Zotac's Ion vs. Intel's D945GCLF2 in Application Performance
Up to now I focused on Zotac's strengths but how does the platform compare across the board to the far cheaper Intel D945GCLF2? Zotac's Ion supports faster memory (DDR2-800 vs. DDR2-533), more memory (4GB vs. 2GB), has a much faster GPU and uses a newer SATA controller. What does that translate to in the real world? The next few pages of benchmarks will show us just that.
I ran through my benchmarks with both 4GB and 2GB of memory installed in the Zotac Ion to see if there was any difference. Most of my benchmarks showed no performance difference so I performed all of the Ion tests with 4GB of memory while the Intel based Atom boards used 2GB, the maximum that you can use in those systems.
I compared performance between the Zotac Ion, the Intel D945GCLF and the D945GCLF2. For reference I included a 1.6GHz Intel Celeron 420 and a 2.0GHz Intel Celeron 440 as well as the recently released Pentium E5300. All of these chips sell for between $30 - $70 but they are all based on modern day out-of-order, speculative execution cores. Remember that the Atom is an in-order processor, long proven not to be the fastest design for absolute performance.
All benchmarks were run under Windows Vista. The rest of the systems use the same configuration as our normal CPU reviews.
Motherboard:
Intel DX48BT2 (Intel X48)
MSI DKA790GX Platinum (AMD 790GX)
Chipset:
Intel X48
AMD 790GX
Chipset Drivers:
Intel 9.1.1.1010 (Intel)
AMD Catalyst 8.12
Hard Disk:
Intel X25-M SSD (80GB)
Memory:
G.Skill DDR2-800 2 x 2GB (4-4-4-12)
G.Skill DDR2-1066 2 x 2GB (5-5-5-15)
Qimonda DDR3-1066 4 x 1GB (7-7-7-20)

Video Card:
eVGA GeForce GTX 280
Video Drivers:
NVIDIA ForceWare 180.43 (Vista64)


NVIDIA ForceWare 178.24 (Vista32)

NVIDIA ForceWare 185.85 (Ion)

Desktop Resolution:
1920 x 1200
OS:
Windows Vista Ultimate 32-bit (for SYSMark)
Windows Vista Ultimate 64-bit
SYSMark 2007 Performance
Our journey starts with SYSMark 2007, the only all-encompassing performance suite in our review today. The idea here is simple: one benchmark to indicate the overall performance of your machine.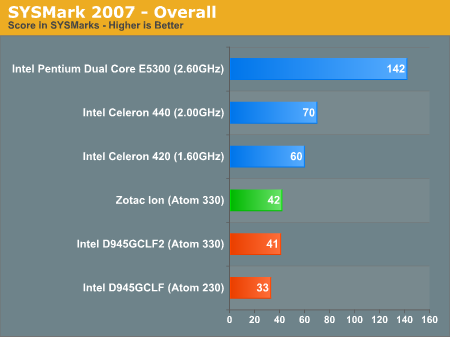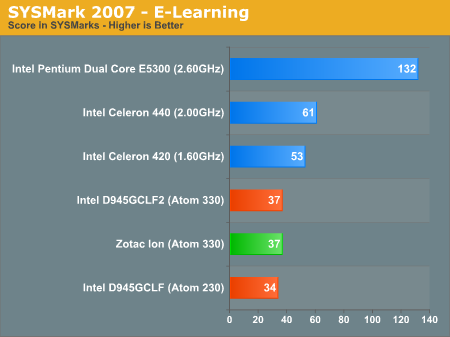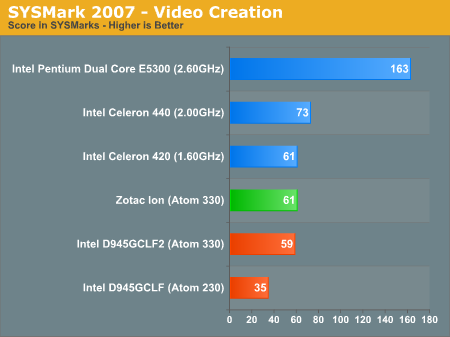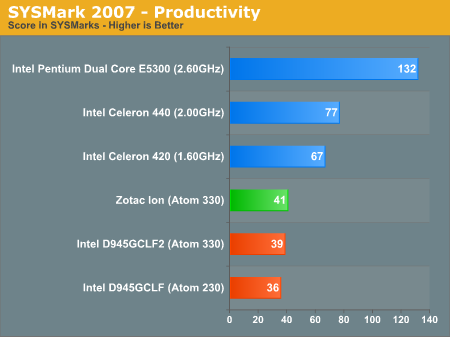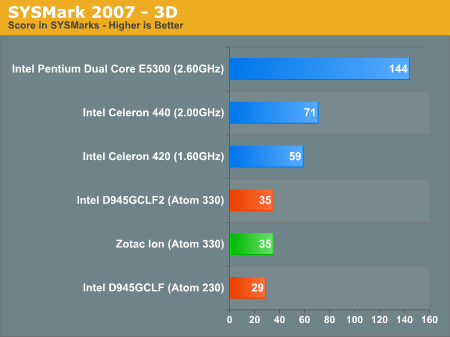 There's a 27% performance improvement realized in SYSMark 2007 when going from the single-core Atom 230 to the dual-core Atom 330. Even the Atom 330 is outperformed by the lowest end Celeron 420 by 43% however.
Note that in general application usage there's no significant performance difference between the Zotac Ion and the Intel D945GCLF2.
And before you get any ideas of replacing a modern day, low-end system with an Ion look at the E5300 score. The E5300 offers 3.4x the speed of the Atom 330. Granted you need a more expensive motherboard but compared to the Zotac Ion, it's not that much more expensive.
Adobe Photoshop CS4 Performance
To measure performance under Photoshop CS4 we turn to the Retouch Artists' Speed Test. The test does basic photo editing; there are a couple of color space conversions, many layer creations, color curve adjustment, image and canvas size adjustment, unsharp mask, and finally a gaussian blur performed on the entire image.
The whole process is timed and thanks to the use of Intel's X25-M SSD as our test bed hard drive, performance is far more predictable than back when we used to test on mechanical disks.
Time is reported in seconds and the lower numbers mean better performance. The test is multithreaded and can hit all four cores in a quad-core machine.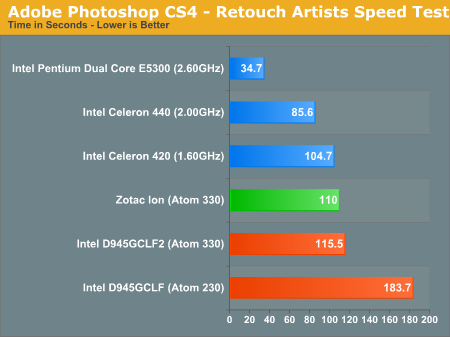 This test was particularly surprising, because with four threads the Atom 330 is able to actually come within striking distance of the Celeron 420's performance - at a considerably lower power consumption. Once we transition to an even more multi-threaded environment where multi-core processors can always maintain a significant performance advantage over their single core brethren then it may be more efficient to toss a few Atom-cores at a problem than something like the Celeron 420. Hmm, perhaps Larrabee will be more useful than we thought...
The single-core Atom 230 is horrendously slow in this test. While the 330 could masquerade as a very low end microprocessor from the modern era, the 230 takes significantly longer to complete our test. No thanks.
The difference between Ion and the D945GCLF2 is negligible.
DivX 8.5.3 with Xmpeg 5.0.3
Our DivX test is the same DivX / XMpeg 5.03 test we've run for the past few years now, the 1080p source file is encoded using the unconstrained DivX profile, quality/performance is set balanced at 5 and enhanced multithreading is enabled: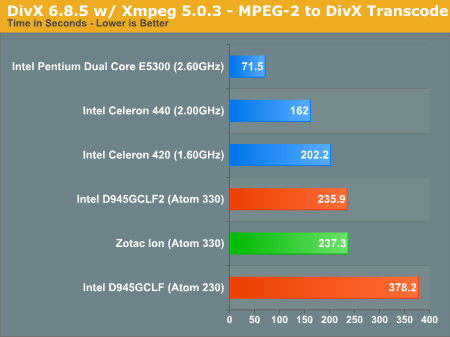 The DivX encoding performance of the Atom 330 is a bit behind that of the Celeron 420, but somewhat respectable thanks to its ability to work on four threads at once. The Atom 230 is noticeably slower however.
x264 HD Video Encoding Performance
Graysky's x264 HD test uses the publicly available x264 codec (open source alternative to H.264) to encode a 4Mbps 720p MPEG-2 source. The focus here is on quality rather than speed, thus the benchmark uses a 2-pass encode and reports the average frame rate in each pass.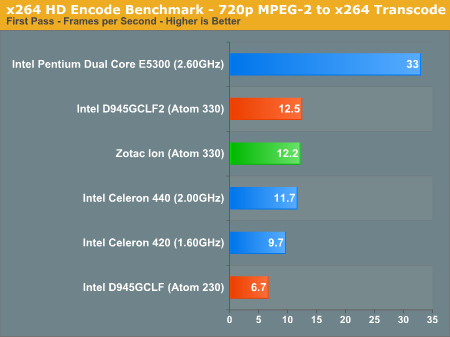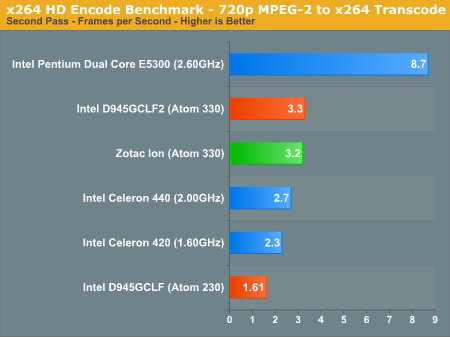 Under the x264 encoding test Intel's Atom 330 is actually faster than both single core Celerons. The single core version is much slower and there's no real performance advantage afforded by the Ion.
Windows Media Encoder 9 x64 Advanced Profile
In order to be codec agnostic we've got a Windows Media Encoder benchmark looking at the same sort of thing we've been doing in the DivX and x264 tests, but using WME instead.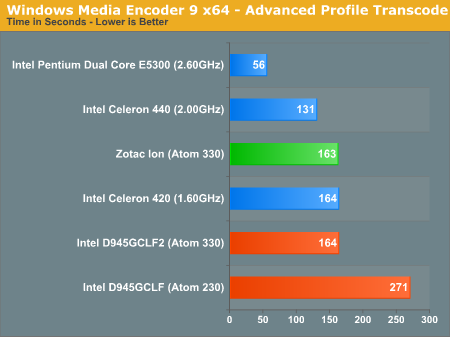 Our encoding results are echoed in Windows Media Encoder 9.
3dsmax 9 - SPECapc 3dsmax CPU Rendering Test
Today's desktop processors are more than fast enough to do professional level 3D rendering at home. To look at performance under 3dsmax we ran the SPECapc 3dsmax 8 benchmark (only the CPU rendering tests) under 3dsmax 9 SP1. The results reported are the rendering composite scores: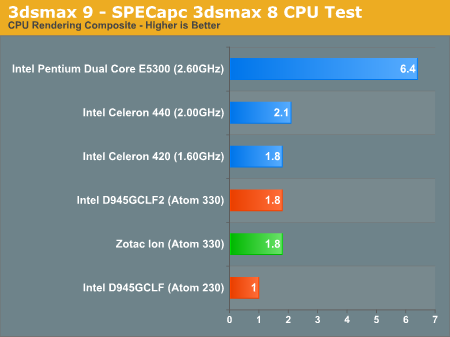 Once again the Atom 330 is able to equal the performance of the Celeron 420 in our 3dsmax test thanks to its multi-threaded nature and the Atom 330's ability to work on four threads at once. Ion isn't any faster than a conventional Atom platform in this case either.
Blender 2.48a
Blender is an open source 3D modeling application. Our benchmark here simply times how long it takes to render a character that comes with the application.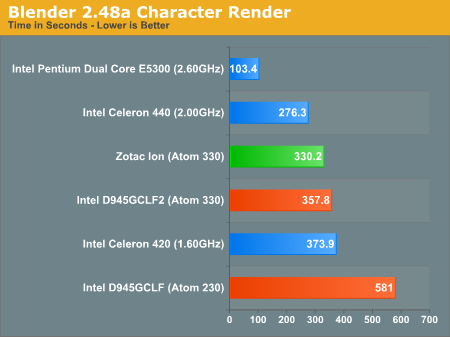 Blender gains an advantage on Ion thanks to its faster GPU (Blender seems to be impacted by GPU as well as CPU speed). The advantage amounts to 7.5% but it's there nonetheless.
Cinebench R10
Created by the Cinema 4D folks we have Cinebench, a popular 3D rendering benchmark that gives us both single and multi-threaded 3D rendering results.
Our Cinebench results sum up the Atom vs. Celeron debate pretty well. When working on a single thread, the Celeron is significantly faster; in this case over 2x the speed of the Atom processor. Throw more threads at the CPUs and the Atom's threading advantage works in its favor, the 330 can deliver performance greater than a Celeron 420.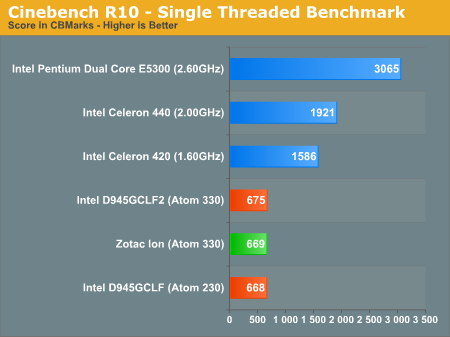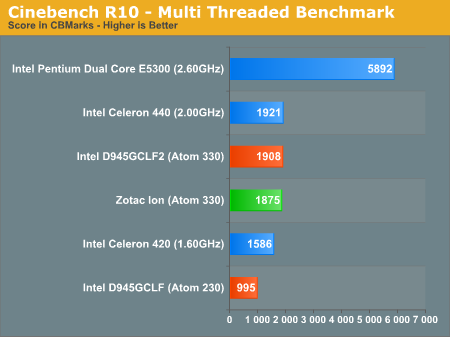 POV-Ray 3.73 beta 23 Ray Tracing Performance
POV-Ray is a popular, open-source raytracing application that also doubles as a great tool to measure CPU floating point performance.
I ran the SMP benchmark in beta 23 of POV-Ray 3.73. The numbers reported are the final score in pixels per second.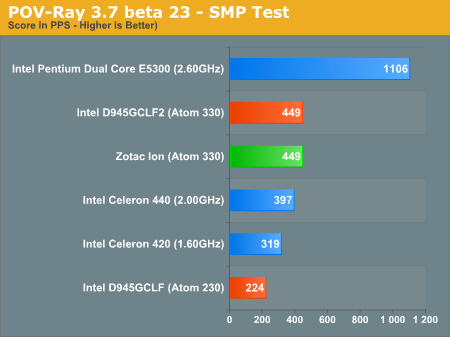 PAR2 Multithreaded Archive Recovery Performance
Par2 is an application used for reconstructing downloaded archives. It can generate parity data from a given archive and later use it to recover the archive
Chuchusoft took the source code of par2cmdline 0.4 and parallelized it using Intel's Threading Building Blocks 2.1. The result is a version of par2cmdline that can spawn multiple threads to repair par2 archives. For this test we took a 708MB archive, corrupted nearly 60MB of it, and used the multithreaded par2cmdline to recover it. The scores reported are the repair and recover time in seconds.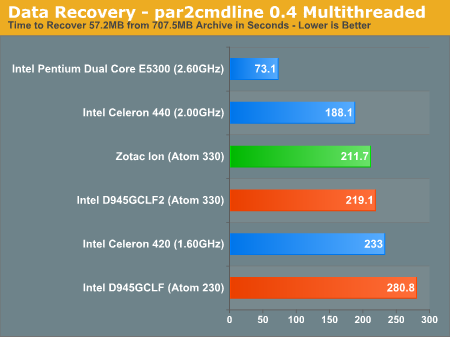 Microsoft Excel 2007
Excel can be a very powerful mathematical tool. In this benchmark we're running a Monte Carlo simulation on a very large spreadsheet of stock pricing data.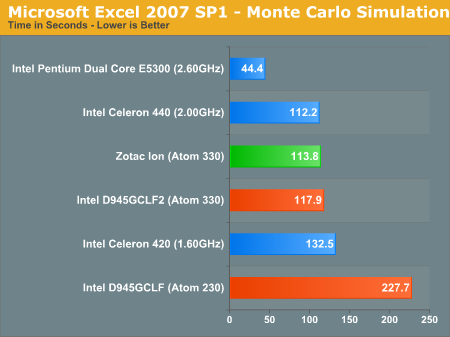 Sony Vegas Pro 8: Blu-ray Disc Creation
Although technically a test simulating the creation of a Blu-ray disc, the majority of the time in our Sony Vegas Pro benchmark is spend encoding the 25Mbps MPEG-2 video stream and not actually creating the Blu-ray disc itself.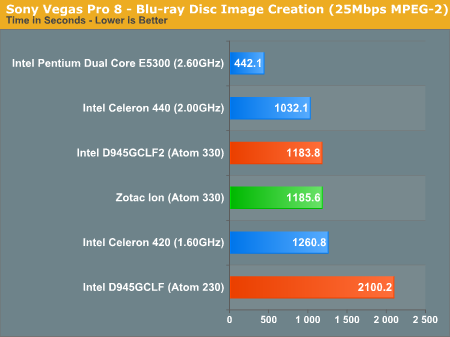 Sorenson Squeeze: FLV Creation
Another video related benchmark, we're using Sorenson Squeeze to convert regular videos into Flash videos for use on websites.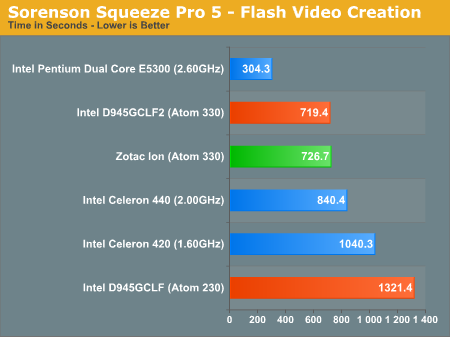 WinRAR - Archive Creation
Our WinRAR test simply takes 300MB of files and compresses them into a single RAR archive using the application's default settings. We're not doing anything exotic here, just looking at the impact of CPU performance on creating an archive: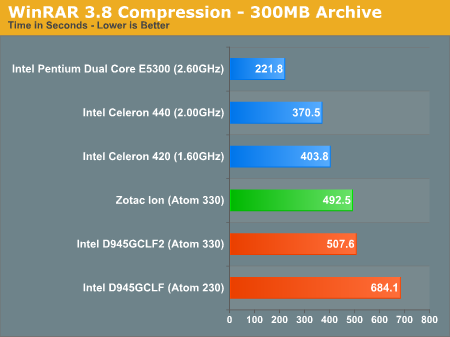 Gaming Performance
The gaming performance of Intel's basic Atom platform is a joke. I'll put aside debates of whether or not you would want to game on an Atom for a moment. World of Warcraft does a great job of straddling the line between casual and hardcore gaming and thus makes a good candidate for looking at gaming performance of Ion vs. Intel's standard Atom platform.
I tested by running through a small outdoor section at 800 x 600 (24-bit color, no AA) using WoW's built in "Good" visual quality settings. This is the same chart from the Pentium 4 section but I'm repeating it here so you have something to look at while we discuss the gaming potential of Ion: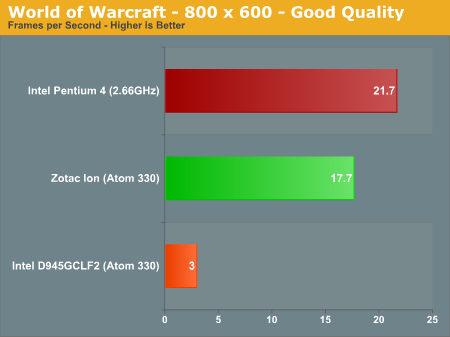 The Ion platform managed just under 18 fps, which wasn't incredibly smooth to play on but it was close. If I dropped the settings even lower I could easily get a smooth experience. The Intel D945GCLF2 managed a whopping 3 fps. I didn't even bother benchmarking the single core version; I'm not that fond of single digits.
Most modern FPS games will show worse performance than what we just saw under WoW. Far Cry 2 and Crysis Warhead will give you under 7 fps for Zotac's Ion platform, but other, more mainstream titles will perform similarly if not better.
I still maintain that the Atom CPU is not fast enough for a good gaming experience on far too many modern titles, but to NVIDIA's credit, the Ion platform does make it fast enough in games that it otherwise wouldn't be.
Power Consumption
Compared to the Intel Atom boards, the Zotac wins out - it doesn't have to use a bulky desktop power supply which isn't as efficient at these low power draws. Compared to something more similar however, like the Atom 230 based ASUS Eee Box with its own external DC power supply, we see that the Zotac Ion does draw more power than Intel's Atom platform. I'm not sure how much more this could be cut down when used in a netbook/notebook, but that could be a deal breaker for more mobile versions of Ion.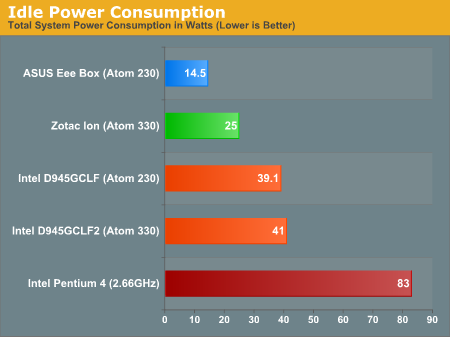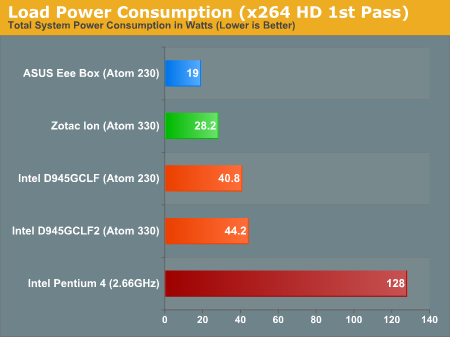 Final Words
What do I think of the world's first mini-ITX Atom Ion motherboard? I like it. Zotac did a good job of delivering pretty much everything I'd want in a board like this, going even further than expected and offering a solution with an external power brick. I don't like the external power option from a long-term replacement standpoint, but I do appreciate its convenience. My only complaint is the price, at $189 it's a bit expensive for the performance you get but I do concede that there are some benefits in the convenience department. All you need to add is memory and some sort of storage and you're good to go, you'll have a system that's easily capable of playing back high definition content (not to mention very power efficient while doing it).
The general application performance of the Zotac Ion isn't actually any better than the Intel D945GCLF2. It's when you look at GPU-enabled applications that the Ion holds any real performance benefit. Blu-ray playback or 3D gaming are its real performance strengths; if you plan on doing neither then the platform isn't very useful.
I did try some CUDA applications on the Zotac Ion board and they were definitely faster than using the CPU alone. While our x264 test managed around 12 fps on the Zotac Ion, using Badaboom I was able to encode at just under 20 fps.
When it comes to the Atom processor, at least on the desktop, there's simply no reason to opt for the single-core model. Most tasks are so completely CPU bound on Atom that any increase in processing power is instantly noticeable. The Atom 330 ends up being faster than even a 1.6GHz single-core Celeron 420 in many tests, particularly video encoding and 3D rendering, while falling behind in other applications like WinRAR and even our general SYSMark tests. With enough cores, the Atom architecture is efficient in delivering good floating point performance it seems. Branchy integer code however favors the speculative execution engines of more conventional desktop microprocessors. The only reason I see the single-core Atom being of any use is if you're building a cheap file server, but otherwise the Atom 330 is so much faster across the board that it's more than worth it. Hyper-Threading definitely helps the Atom 230, but there's no replacement for another fully functional core. The added power consumption is nothing serious.
If you do need more CPU power, Zotac actually offers an LGA-775 version of the board but it of course requires a standard power supply: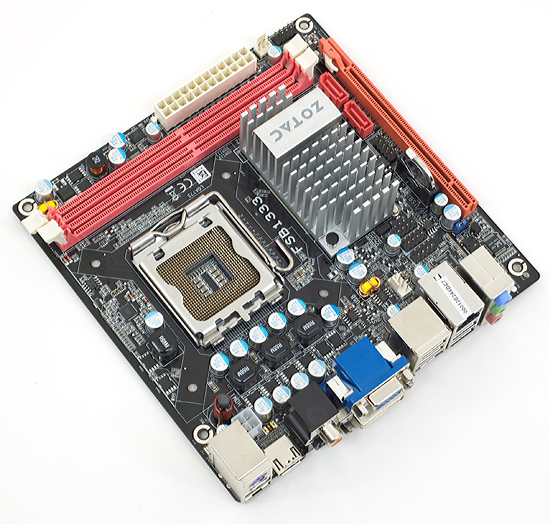 Power consumption on the Zotac Ion is appreciably low, thanks in part to its 90W DC power supply. Compared to ASUS' Eee Box however, the Ion system does use nearly 50% more power under load.
Everyone seemed to want an Ion based motherboard after NVIDIA first showed off its reference platform. Acer delivered the first Ion system, but it looks like Zotac is delivering what we all wanted from the start. Now it's time to see how people start using these things....