Original Link: http://www.anandtech.com/show/2757


AMD celebrates its 40 year anniversary next month, and the Athlon brand turns ten shortly thereafter. What better way to celebrate than by releasing a rebadged 65nm Phenom processor with two cores disabled at $69? Er, or, I guess they could've sent a cake.
It's called the Athlon X2 7850 and it actually has very little in common with the old Athlon 64 X2s. As I mentioned, these are rebadged 65nm Phenom processors with two cores disabled. The table below should give you a good comparison between the die size and transistor count of the original Phenom compared to the new Athlon X2:
| | | | |
| --- | --- | --- | --- |
| Processor | Manufacturing Process | Die Size | Transistor Count |
| AMD Phenom X4 9950 | 65nm | 285 mm2 | 450M |
| AMD Athlon X2 7850 | 65nm | 285 mm2 | 450M |
There's no surprise that the specs are identical, because the processors are identical. AMD simply disables two of the Phenom's four cores in production before shipping the parts.
In its heyday the original Phenom never broke 2.6GHz, but with a fully mature 65nm process and only two functional cores AMD is able to clock these parts higher. The first dual-core Phenom derivative was the Athlon X2 7750 and it ran at 2.7GHz. In AMD's tradition of introducing far too many CPUs, today AMD expands the list with a 2.8GHz Athlon X2 7850.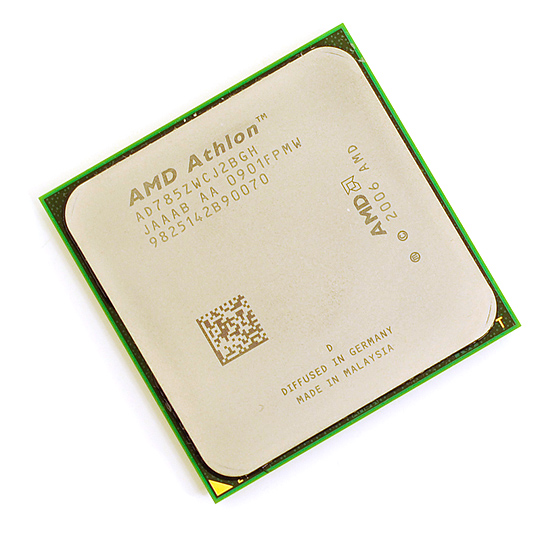 Once again this is the original Phenom processor; none of the advancements found in the Phenom II are included - it also means that the architecture doesn't make quite as much sense.

It's a Socket-AM2+ Processor
The original Phenom architecture was designed to be used for quad-core processor designs, hence the use of a large shared L3 cache alongside private L2 caches. With only two cores, many of the benefits of this architecture are lost. Intel discovered that the ideal dual-core architecture featured two levels of cache with a large, fast, L2 shared by both cores. AMD and Intel came to the conclusion that the ideal quad-core architecture had private L2 caches (one per core) with a large, shared L3 cache. The Athlon X2 7850 takes the cache hierarchy of the ideal quad-core design and uses it on a dual-core processor.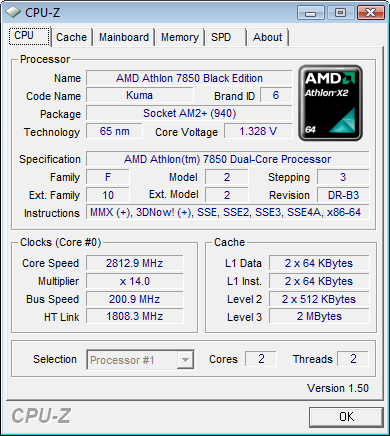 To make matters worse, it does so with an incredibly small L3. Intel found that on its Nehalem processor each core needed a minimum of 2MB of L3 cache for optimal performance. With Phenom II AMD settled on 1.5MB L3 per core. The original Phenom gave each core 512KB of L3, or in the case of a dual-core derivative 1MB of L3 cache. Again, not ideal.
But it only costs $69.
And things should be easier for AMD at the $69 price point - there's no Nehalem to worry about down here, only cache starved Core 2 processors. Priced at $74 we have Intel's Pentium E5300.
It's a Difference of Cache
The Athlon X2 7850 is based on the original 65nm Phenom core, but with only two cores enabled. That means we've got a 64KB L1 data cache, 64KB L1 instruction cache and a 512KB L2 cache per core. There's also this catch-all 2MB L3 cache, but it's unfortunately very high latency by comparison.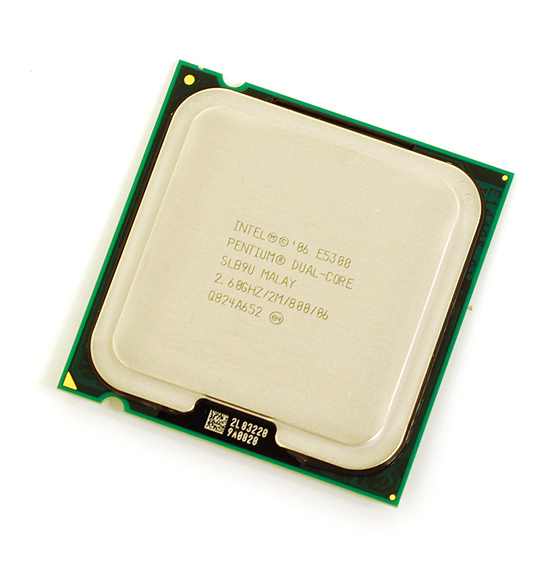 The Pentium E5300
The Pentium E5300 is a trimmed down version of Intel's 45nm Wolfdale core. Each core has a 32KB L1 data cache and a 32KB L1 instruction cache, smaller than the Athlon X2. The L2 cache is shared between the cores and is 2MB in size. It takes just as long to access data from Intel's 2MB shared L2 as it does to get data from AMD's 512KB L2. Intel does not have an L3 cache but it also doesn't have an on-die memory controller, so final accesses to memory are a lot slower on Intel's hardware.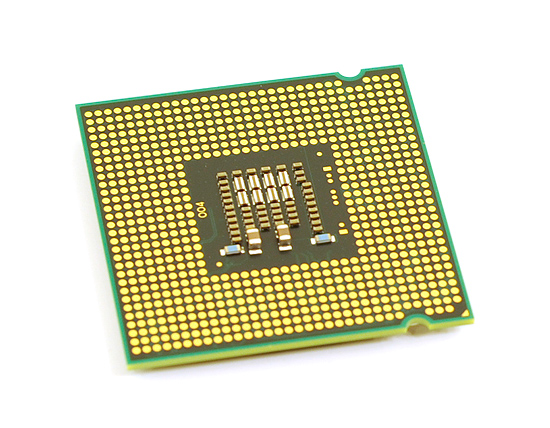 It's all LGA-775
AMD has more cache but it's slower than Intel's, once you get out to main memory the Athlon X2 can get to data quicker but the E5300 has the benefit of more advanced prefetchers.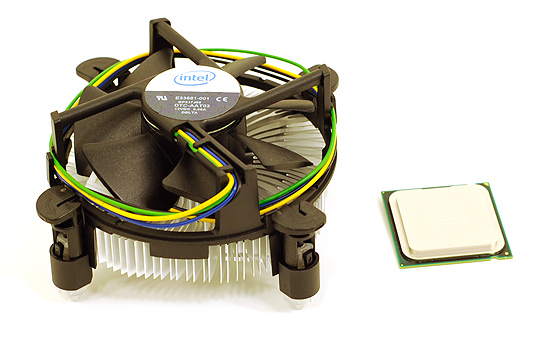 The E5300 is a 45nm chip meaning it can be cooled by Intel's low profile boxed heatsink
Intel's architecture also has a wider 4-issue front end compared to the Athlon X2. The execution advantage should go to Intel. With a higher IPC, Intel doesn't need to run at the same clock speeds to outperform AMD. However with an on-die memory controller, the Athlon X2 could pull ahead in applications that don't fit nicely within the E5300's L2 cache.
While the Phenom II has been enjoying clear victories over Intel's equivalently priced processors in the higher end space, it looks like crowning a winner at $70 will take a little more work.
$74 Gets You Faster than any Pentium 4 Ever Made
The Pentium E5300 is very similar in clock speed and cache size to some of the original Core 2 Duos that launched in the summer of 2006. You may recall that Intel offered both 2MB and 4MB L2 variants of the Core 2 at launch. The E6300 and E6400 both had a 2MB L2, while the E6600, E6700 and X6800 all had a 4MB L2.
The Pentium E5300 is based on the Wolfdale core, which is faster than the original Conroe based Core 2s - but it only has a 2MB L2 like the old E6400. The E6400 however ran at 2.16GHz, the E5300 runs at 2.60GHz. In other words, today's $74 Pentium E5300 is faster than the original Core 2 Duo E6400.
But the comparison gets even more interesting. Remember that the E6400, at launch, was faster than even the fastest Pentium 4 - the dual core, four thread Pentium Extreme Edition 965 running at 3.73GHz. The charts below from my original Core 2 Duo review show just that: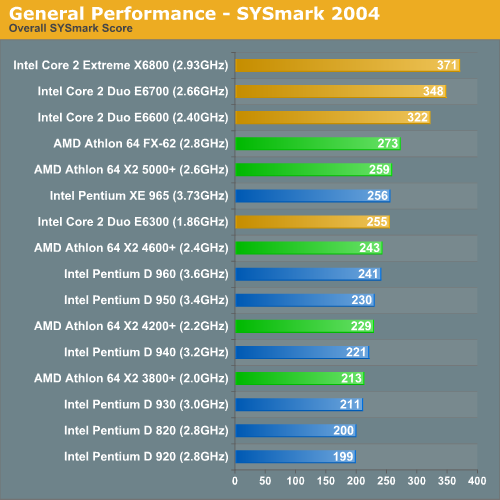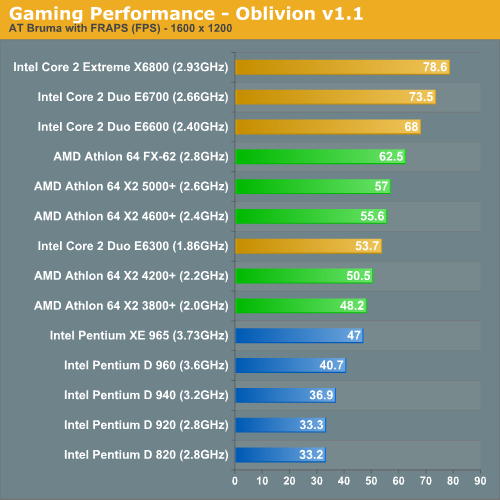 Do you see where I'm going with this? While the data above is old, it shows that the E6400 was faster than the fastest Pentium 4 ever released. And the $74 E5300 is faster than the E6400, therefore the Pentium E5300 is faster than any Pentium 4 ever released.
Most people didn't have 3.73GHz Pentium Extreme Editions in their systems - they had lower clocked versions, in which case the E5300 should be even faster. If you had a 2.8GHz Pentium D, I'd expect the Pentium E5300 to be anywhere between 20 - 40% faster regardless of application. Mmm Moore's Law.
The Test
Motherboard:
Intel DX48BT2 (Intel X48)
MSI DKA790GX Platinum (AMD 790GX)
Chipset:
Intel X48
AMD 790GX
Chipset Drivers:
Intel 9.1.1.1010 (Intel)
AMD Catalyst 8.12
Hard Disk:
Intel X25-M SSD (80GB)
Memory:
G.Skill DDR2-800 2 x 2GB (4-4-4-12)
G.Skill DDR2-1066 2 x 2GB (5-5-5-15)
Qimonda DDR3-1066 4 x 1GB (7-7-7-20)

Video Card:
eVGA GeForce GTX 280
Video Drivers:
NVIDIA ForceWare 180.43 (Vista64)
NVIDIA ForceWare 178.24 (Vista32)
Desktop Resolution:
1920 x 1200
OS:
Windows Vista Ultimate 32-bit (for SYSMark)
Windows Vista Ultimate 64-bit
SYSMark 2007 Performance
Our journey starts with SYSMark 2007, the only all-encompassing performance suite in our review today. The idea here is simple: one benchmark to indicate the overall performance of your machine.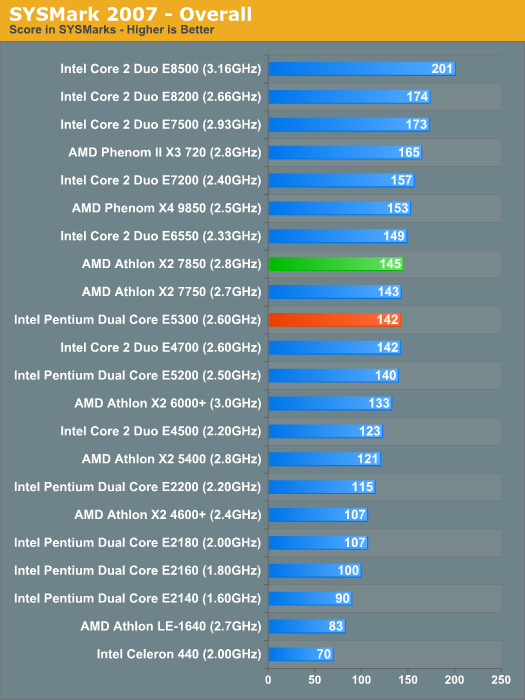 The SYSMark results show that we're in for a close race. The overall score has the 7850 in the lead by 3 points but that's about a 2% advantage over the E5300 - most definitely within the benchmark's margin of error.
In the individual suites the Athlon X2 and Pentium trade blows with AMD pulling ahead in E-Learning and Productivity while Intel holds the lead in Video Creation and 3D rendering tests. The first results are basically a wash, regardless of which chip you get you'll see virtually equal performance.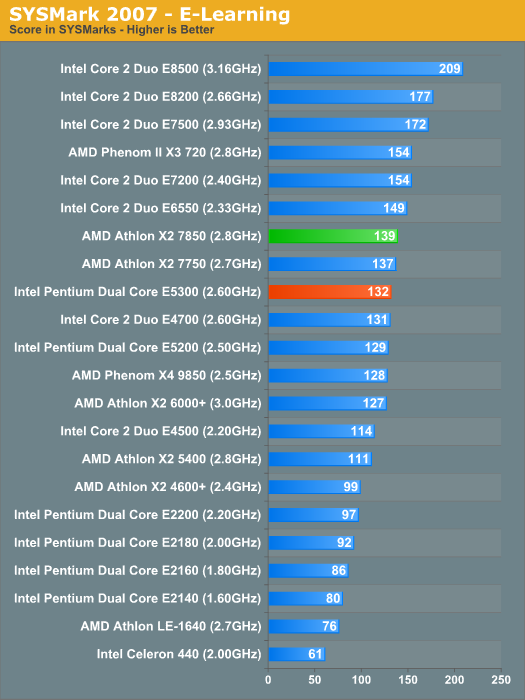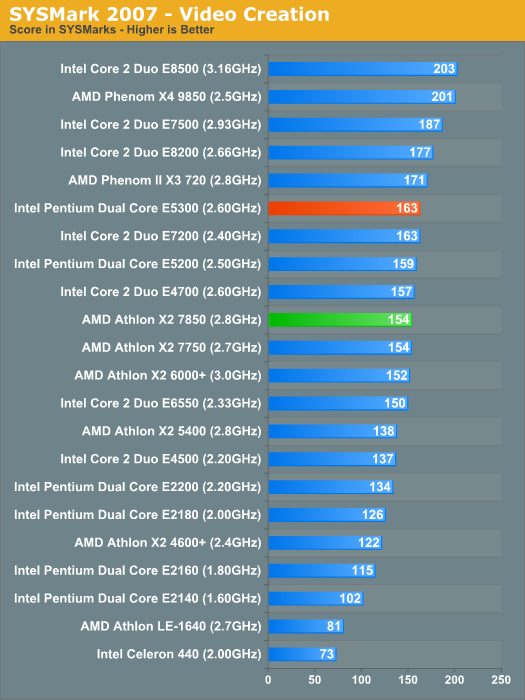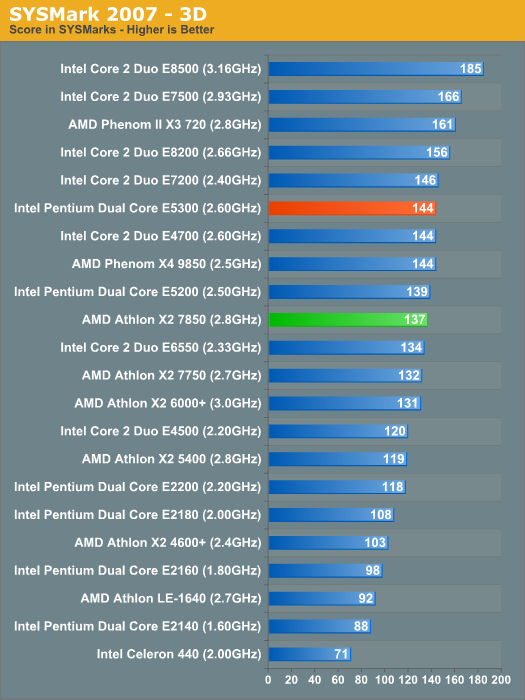 Adobe Photoshop CS4 Performance
To measure performance under Photoshop CS4 we turn to the Retouch Artists' Speed Test. The test does basic photo editing; there are a couple of color space conversions, many layer creations, color curve adjustment, image and canvas size adjustment, unsharp mask, and finally a gaussian blur performed on the entire image.
The whole process is timed and thanks to the use of Intel's X25-M SSD as our test bed hard drive, performance is far more predictable than back when we used to test on mechanical disks.
Time is reported in seconds and the lower numbers mean better performance. The test is multithreaded and can hit all four cores in a quad-core machine.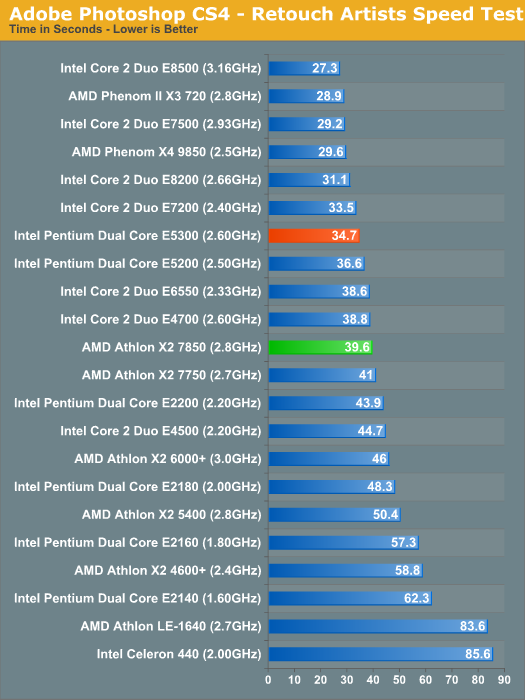 The Retouch Artists' Photoshop Speed Test has traditionally favored Intel's Core architecture and since the E5300 is based on that architecture we see a significant performance advantage over the Athlon X2. The E5300 finishes this test in around 12% less time than the X2 7850. Even the E5200 is faster, but only by a 7.5% margin.
DivX 8.5.3 with Xmpeg 5.0.3
Our DivX test is the same DivX / XMpeg 5.03 test we've run for the past few years now, the 1080p source file is encoded using the unconstrained DivX profile, quality/performance is set balanced at 5 and enhanced multithreading is enabled: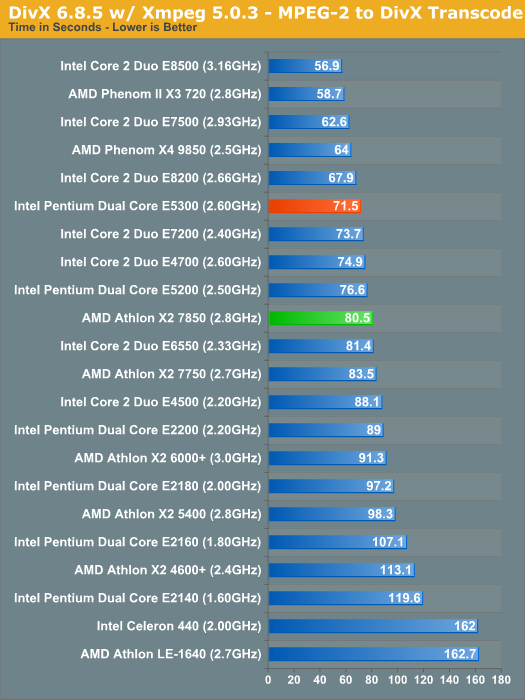 The original Phenom was significantly weaker than Intel's Core 2 at DivX encoding, thus the Athlon X2 vs. Pentium comparison here isn't very favorable for AMD. The E5300 is 11% faster than the 7850 here. Even the E5200 is a better choice for DivX encoding.
x264 HD Video Encoding Performance
Graysky's x264 HD test uses the publicly available x264 codec (open source alternative to H.264) to encode a 4Mbps 720p MPEG-2 source. The focus here is on quality rather than speed, thus the benchmark uses a 2-pass encode and reports the average frame rate in each pass.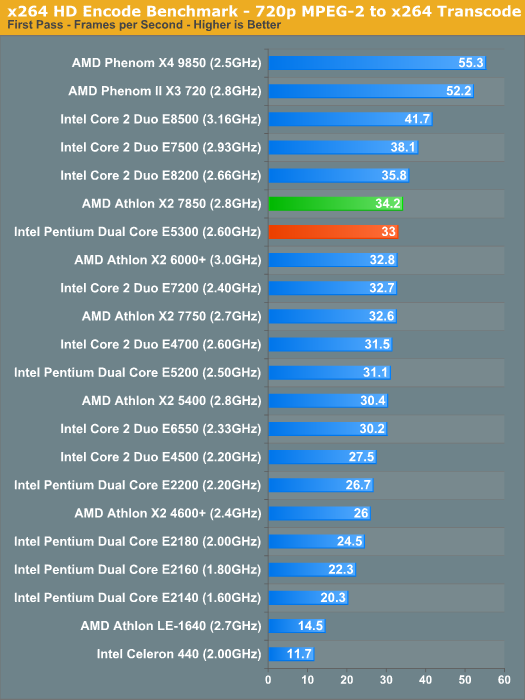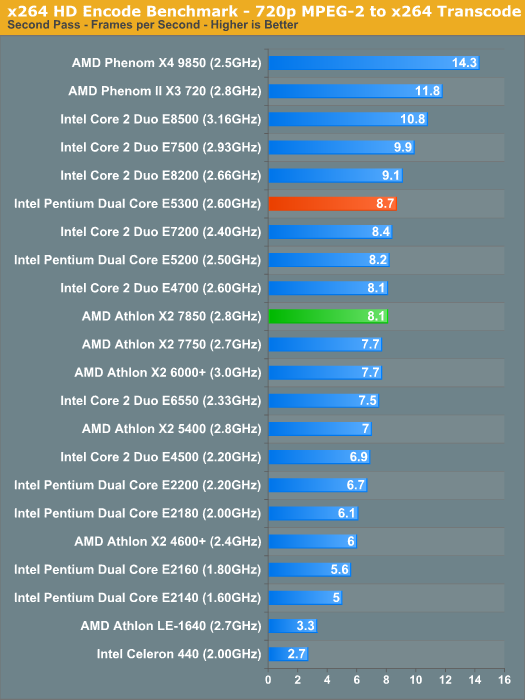 The x264 HD encode test is slightly different depending on what pass you look at. The first pass of the x264 HD encode actually has a number of unaligned loads, which penalizes Intel's Core architecture - something fixed in Nehalem. The second and more CPU intensive pass is where Intel sees a 7.4% performance advantage over AMD. Despite the small advantage in the first pass of the encode, the win goes to Intel for a larger and more meaningful advantage in the second pass.
Windows Media Encoder 9 x64 Advanced Profile
In order to be codec agnostic we've got a Windows Media Encoder benchmark looking at the same sort of thing we've been doing in the DivX and x264 tests, but using WME instead.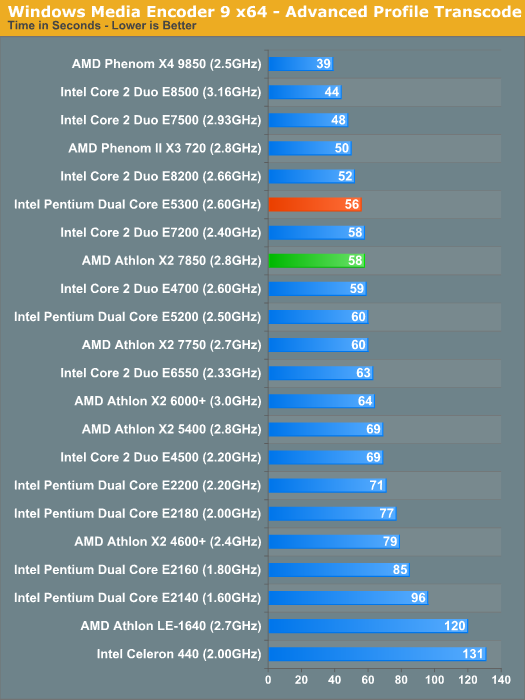 Our final pure encode test once again has the E5300 ahead of the Athlon X2 7850, but by only a 3.4% margin.
3dsmax 9 - SPECapc 3dsmax CPU Rendering Test
Today's desktop processors are more than fast enough to do professional level 3D rendering at home. To look at performance under 3dsmax we ran the SPECapc 3dsmax 8 benchmark (only the CPU rendering tests) under 3dsmax 9 SP1. The results reported are the rendering composite scores: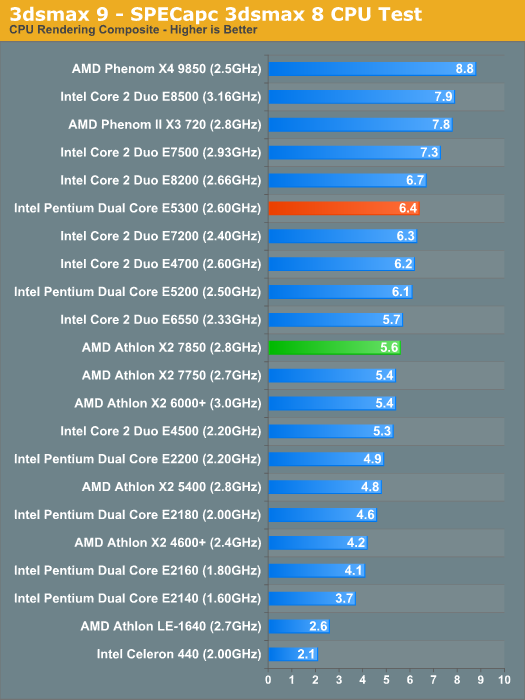 Performance under 3dsmax has the E5300 and E5200 at a significant advantage over the Athlon X2 7850. The E5300 is 14% quicker than the X2.
Cinebench R10
Created by the Cinema 4D folks we have Cinebench, a popular 3D rendering benchmark that gives us both single and multi-threaded 3D rendering results.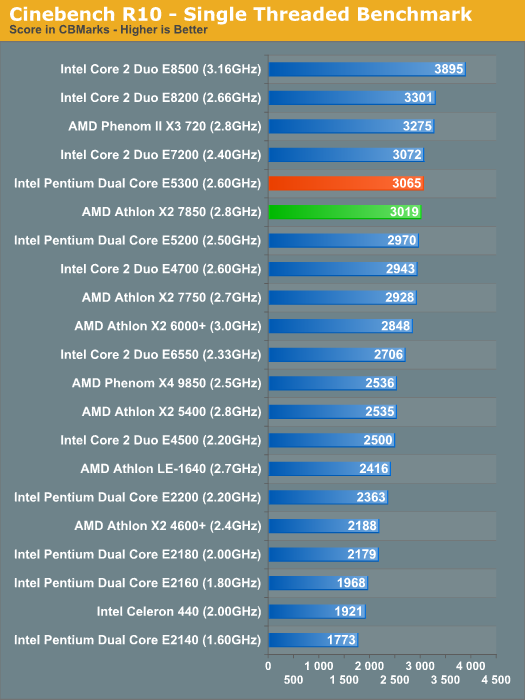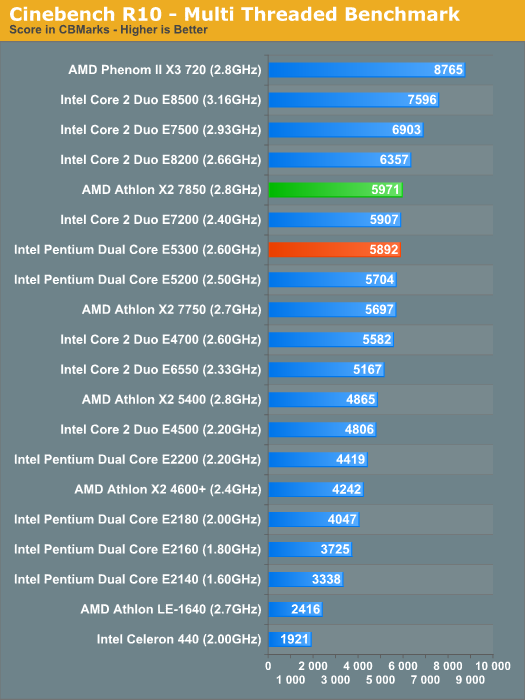 Cinebench performance ends up being a wash between the two parts, performance in both single and multithreaded versions of the test are virtually identical.
POV-Ray 3.73 beta 23 Ray Tracing Performance
POV-Ray is a popular, open-source raytracing application that also doubles as a great tool to measure CPU floating point performance.
I ran the SMP benchmark in beta 23 of POV-Ray 3.73. The numbers reported are the final score in pixels per second.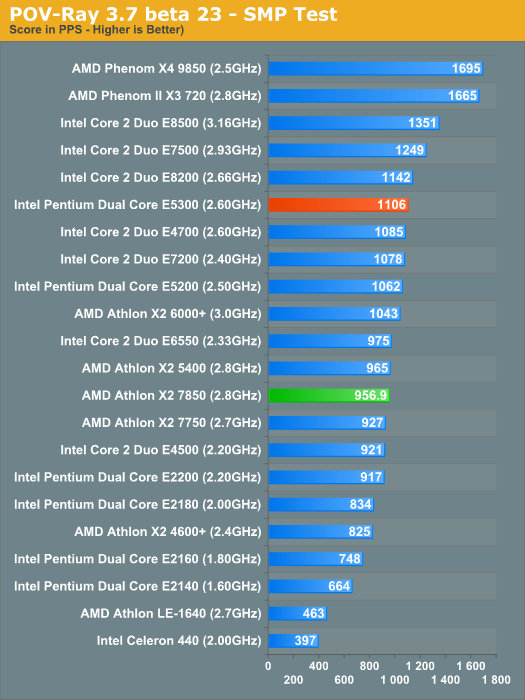 POV-Ray shows a nearly 16% performance advantage for Intel's architecture over the Athlon X2.
Blender 2.48a
Blender is an open source 3D modeling application. Our benchmark here simply times how long it takes to render a character that comes with the application.
The performance advantage extends to over 20% under Blender. It looks like for video encoding or 3D rendering tasks, the Pentium E5300 is a much better option than the Athlon X2 7850.
Sony Vegas Pro 8: Blu-ray Disc Creation
Although technically a test simulating the creation of a Blu-ray disc, the majority of the time in our Sony Vegas Pro benchmark is spent encoding the 25Mbps MPEG-2 video stream and not actually creating the Blu-ray disc itself.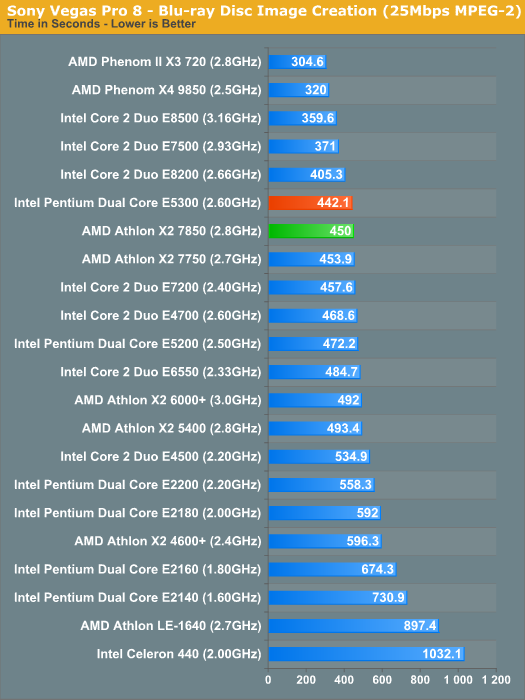 Intel ends up slightly ahead in our Blu-ray creation test, once again an encoding benchmark but using the MPEG-2 codec rather than DivX, x264 or WMV.
Sorenson Squeeze: FLV Creation
Another video related benchmark, we're using Sorenson Squeeze to convert regular videos into Flash videos for use on websites.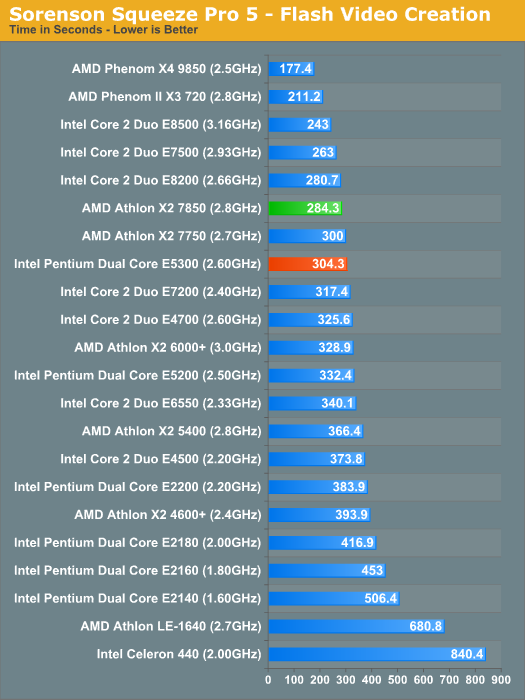 The roles reverse and AMD pulls ahead in our Flash Video creation test but by only 5%.
Microsoft Excel 2007
Excel can be a very powerful mathematical tool. In this benchmark we're running a Monte Carlo simulation on a very large spreadsheet of stock pricing data.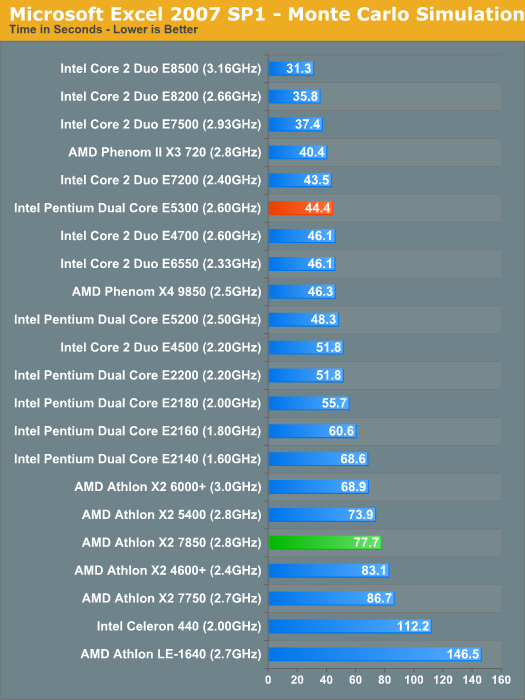 PAR2 Multithreaded Archive Recovery Performance
Par2 is an application used for reconstructing downloaded archives. It can generate parity data from a given archive and later use it to recover the archive.
Chuchusoft took the source code of par2cmdline 0.4 and parallelized it using Intel's Threading Building Blocks 2.1. The result is a version of par2cmdline that can spawn multiple threads to repair par2 archives. For this test we took a 708MB archive, corrupted nearly 60MB of it, and used the multithreaded par2cmdline to recover it. The scores reported are the repair and recover time in seconds.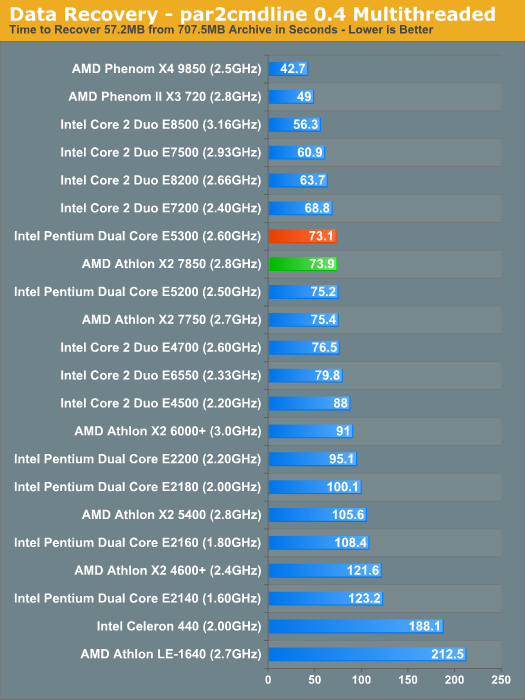 WinRAR - Archive Creation
Our WinRAR test simply takes 300MB of files and compresses them into a single RAR archive using the application's default settings. We're not doing anything exotic here, just looking at the impact of CPU performance on creating an archive:
In its first major win of the day the Athlon X2 7850 is 20% faster than the E5300 in our WinRAR compression test.
Fallout 3 Performance
Bethesda's latest game uses an updated version of the Gamebryo engine (Oblivion). This benchmark takes place immediately outside Vault 101. The character walks away from the vault through the Springvale ruins. The benchmark is measured manually using FRAPS.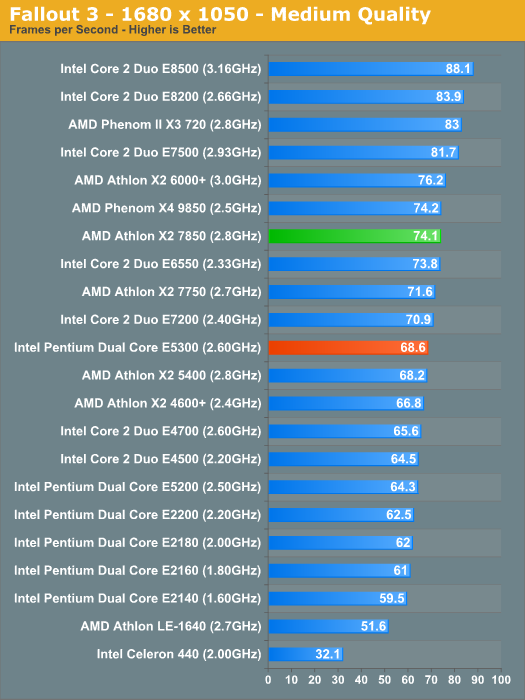 While Intel held the lead for video encoding, 3D rendering and nearly all other performance tests - AMD manages over a 7% advantage under Fallout 3.
Left 4 Dead Performance
AMD's gaming advantage continues as it outperforms the E5300 by nearly 24% in Left 4 Dead. Intel has the cache advantage but the X2's lower memory latency helps it out in our gaming tests.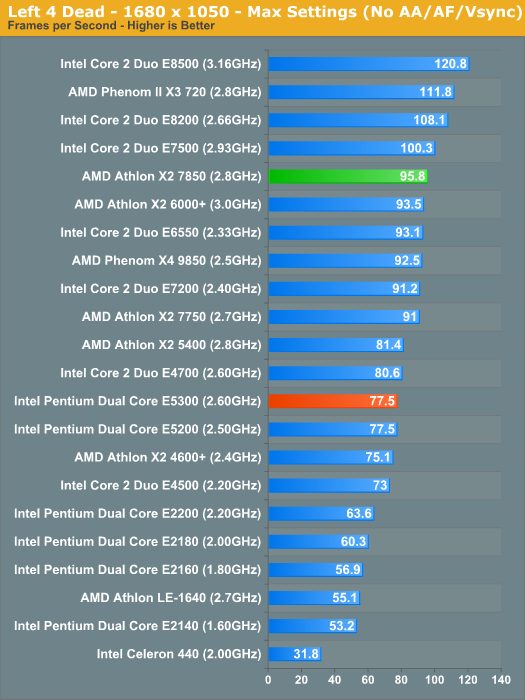 FarCry 2 Multithreaded Game Performance
FarCry 2 ships with the most impressive benchmark tool we've ever seen in a PC game. Part of this is due to the fact that Ubisoft actually tapped a number of hardware sites (AnandTech included) from around the world to aid in the planning for the benchmark.
For our purposes we ran the CPU benchmark included in the latest patch: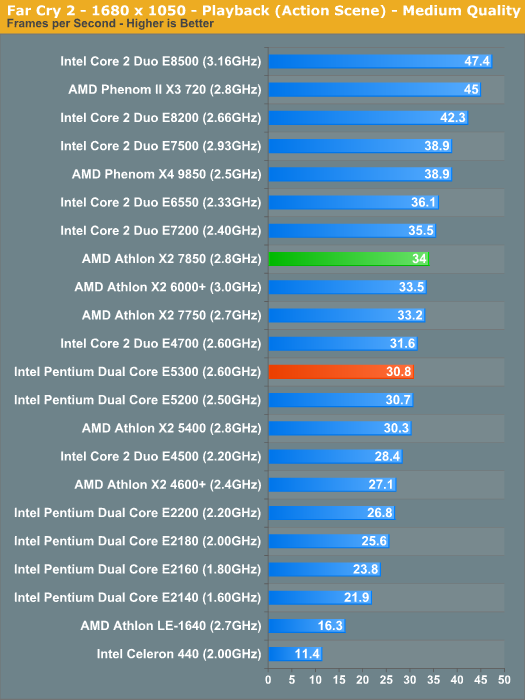 AMD continues to lead in gaming performance in Far Cry 2; this time by 10%.
Crysis Warhead Performance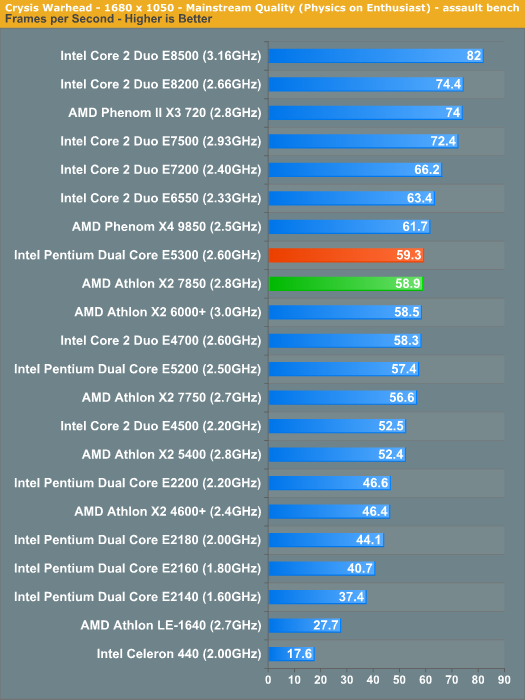 In its only gaming performance lead of this comparison, the E5300 is barely faster than the X2 7850. The overall verdict though is if you're strictly gaming, the Athlon X2 7580 is a better buy.
Power Consumption
The original Phenom was hardly power efficient. Especially in a dual-core configuration the 7850 has a fairly wasteful L3 cache built on a 65nm manufacturing process; if you care about thermal output or power consumption the Athlon X2 7850 is no match for the Pentium E5300. The latter is built on the same 45nm process as Intel's Core i7 and is incredibly mature at this point.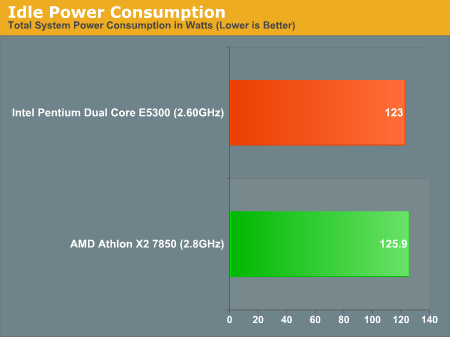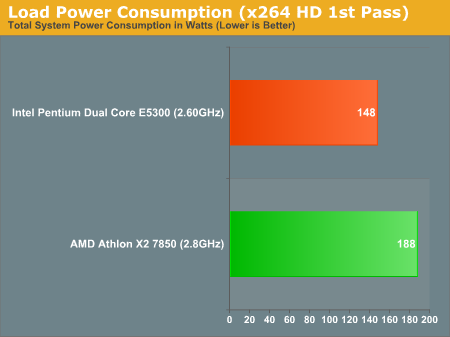 At idle our Athlon X2 7850 and Pentium E5300 systems consumed the same amount of power, but under load the 7850 needed an extra 40W.

Final Words
Sometimes the comparisons you think may be most difficult are the easiest to call. The competition at $70 is actually pretty well defined. Intel has the advantage in nearly all of our non-gaming tests; the E5300 is anywhere from 0 - 20% faster in most cases than the Athlon X2 7850. On top of the actual performance advantage, there's a power advantage too. With the E5300 you're getting a 45nm chip that can be cooled by a very low profile heatsink or kept nearly silent with a larger one. In either case you'll have a cooler running computer, slightly lower power bill, and a more pleasant experience come summer.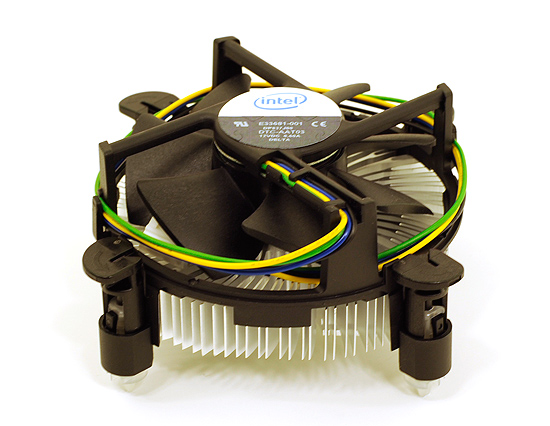 If you're building a gaming box however, the recommendation shifts entirely the other way. The Athlon X2 7850 is the clear winner in gaming performance, significantly outperforming the E5300. In gaming tests the E5300 is simply too cache starved and without an on-die memory controller, each trip to main memory is too costly to compete with the 7850.
The only difficulty comes in if you do both of these things - if you're building a machine that will be used for demanding 3D games and other CPU intensive work. In that case it boils down to which you care about more and whether or not power consumption matters.
Quite possibly the most interesting take away from this review is that with the Pentium E5300 Intel delivers, at $74, a CPU that is faster than the original Core 2 Duo E6400. And as such, it's also faster than every single Pentium 4 ever made. If you're looking to upgrade from an older Pentium 4 system, it'll cost a lot less than you might guess.