Original Link: http://www.anandtech.com/show/2704


Coming into this year's CES, we knew things would be different.
With many large companies having no presence on the show floor, and estimated attendance down, we expected a different feeling from the show. After attending press conferences from LG, Toshiba, Samsung, Panasonic, and Sony, we can certainly confirm our thoughts. With the world's economy in recession, CE companies have had to change their marketing approach from those flashy, obscenely large screens that nobody could afford (remember all those "World's Largest TV" claims?).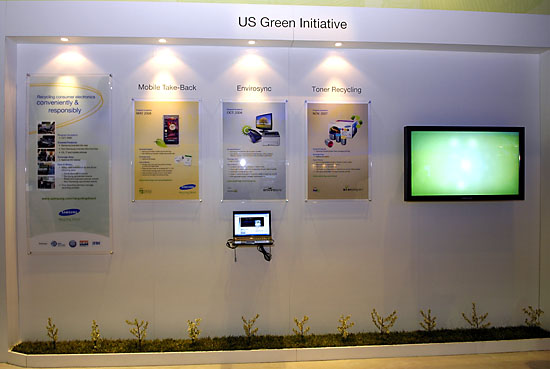 Photography for this and other AT CES articles provided by Laura Johnston
Companies are still showing off their fancy new gadgets, they're just more affordable. Netbooks like Sony's P Series Lifestyle PC are quite popular on the show floor; however there is now a new emphasis placed on being eco-friendly.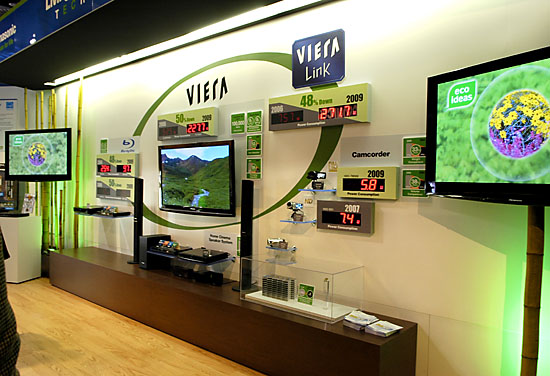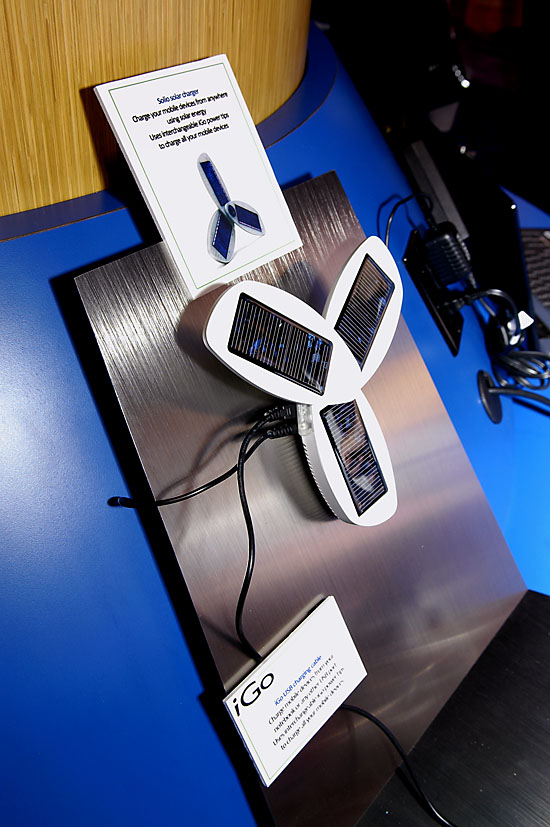 A solar powered battery charger? Green is in.
Every company this year took a significant portion of their allotted 45 min of time during the pre-CES press conferences to talk about the environmental impact of their products. From Energy Star 3.0 and ROHS compliance, to CO2 emissions reductions from factories, these companies are definitely starting to take the environment into consideration for their products.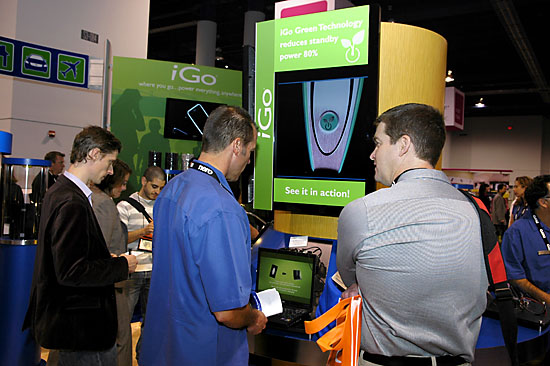 More green
The Year of the Netbook
The popularity of netbooks have grown tremendously over the past year and on the show floor this year there was definitely buzz about some of the new models.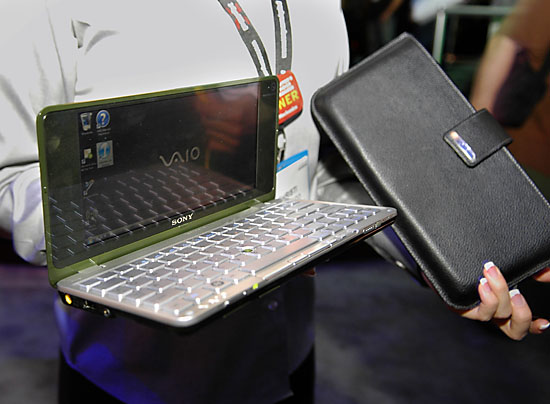 The Sony P Series launched as a "Lifestyle PC" however it's basically a more stylish netbook. From a design standpoint, the device works well. At 1.4 lbs and 8" wide, it can fit into a large coat pocket or purse. The keyboard is roughly 90% the size of a full sized keyboard which is a huge plus. It's also available in 5 "fashion-forward" colors.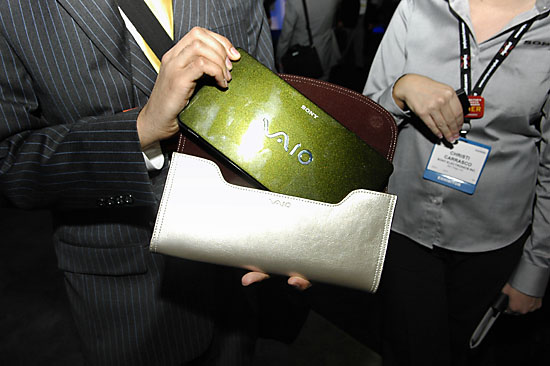 However the internals are definitely lacking compared to other netbooks. With a 1.33 Ghz Intel Z520 Atom processor and Windows Vista pre-installed, even navigating the desktop is sluggish. It took over a minute just to get to Device Manager from the desktop.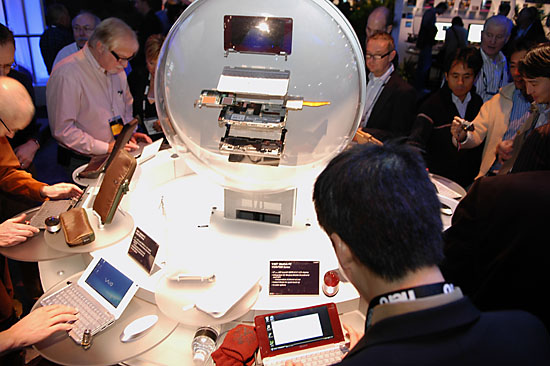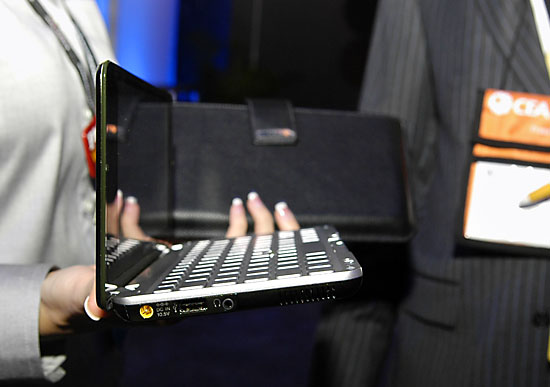 And at an outrageous price point of $900, you're not anything more than style for your money. For $500 you can get a HP Mini 1000 with a 1.6Ghz Atom N270 in a 2.5 lbs package.
Speaking of the Mini, HP unveiled their new HP Mini 2140 aimed at the commercial market.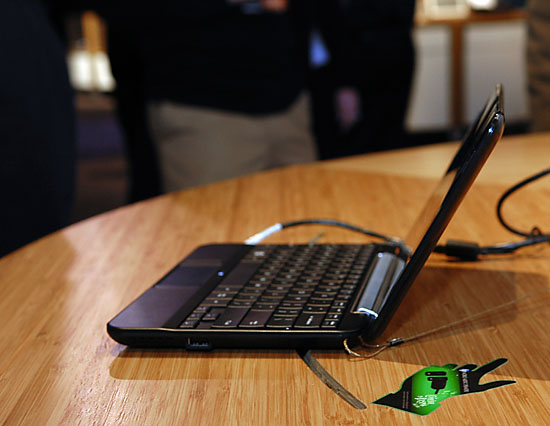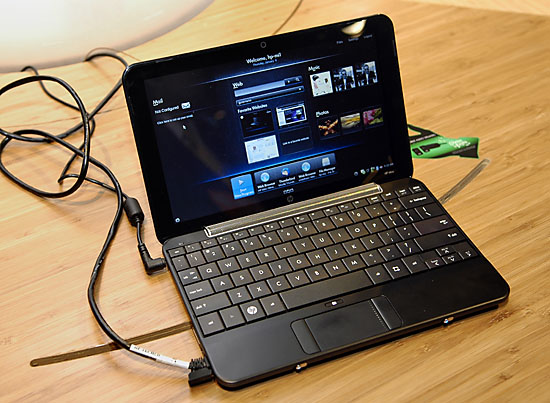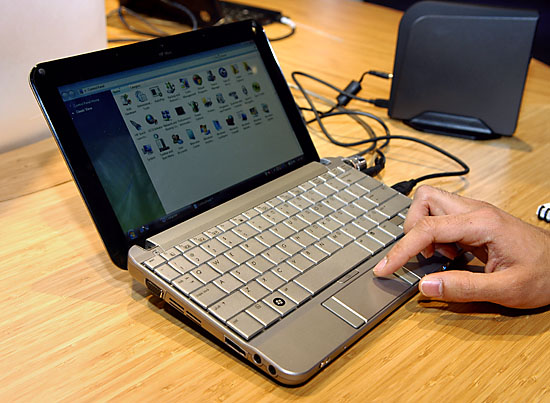 Improvements over the 1000 include an aluminum case design and available SSD drive upgrade options. Starting at $499, the Mini has a 1.6Ghz Atom N270, 1GB of ram (max 2GB), and a 10.1" LCD display. Compared to the Sony P Series, this netbook is much more useable, it just doesn't look as cool.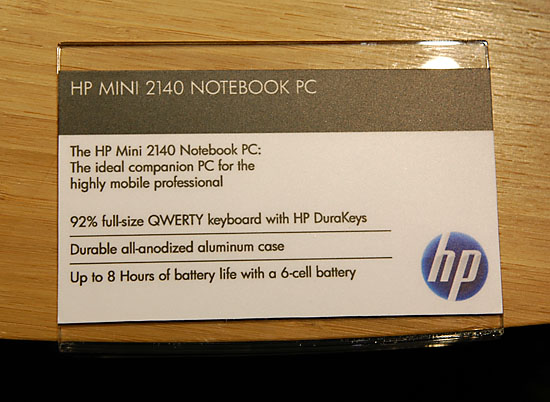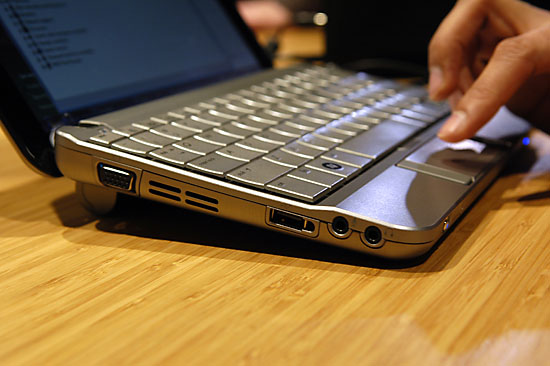 Intel Demonstrates "Talking" Cars
An interesting demo at Intel's booth was an LED based communications system for cars. Intel demonstrated the idea of sending data via the LED lights currently used by cars for headlights and taillights. By modulating the frequency of the LED light, data can be sent to a basic receiver located either on a car or other device. Since modulating the LED frequencies and capturing it remotely are all technologies that are currently available off the shelf, the cost of implementing the system is low.
Intel gave a few examples of how this system could be used. Say the car in front of yours with this system in place applied its breaks (hence illuminating the LED brake lights), data embedded in those lights can be sent to your car and processed by an onboard computer (powered by an Intel Atom, of course). The computer could then either warn you that the car in front of you is slowing down or even apply the brakes for you.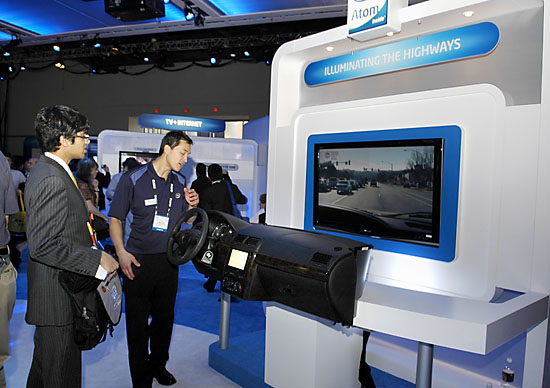 Another example given was your car communicating with a drive-through window at a fast food restaurant. As you approach the drive through, you car's computer can pull up the menu and you can order your items directly from your car.
Intel says they are currently working out some of the kinks and talking to automotive manufacturers to gain support for the system.
deepViewer: Picture Catalog & Search Engine
There's this ridiculously smart Intel guy I meet with on a regular basis named Francois. He's a big car guy, currently favoring the Nissan GTR, and also happens to be incredible knowledgeable about all things SSE and video related. For the past couple of years Francois has been showing me a little application called deepViewer pretty much every time I meet with him.
deepViewer is a photo organizing application, it allows you to quickly navigate through all of your photos. The pictures are organized in a large calendar, you can zoom in and out very quickly (assuming you have a fast hard drive, or SSD, and fast CPU); the whole thing is very movie like.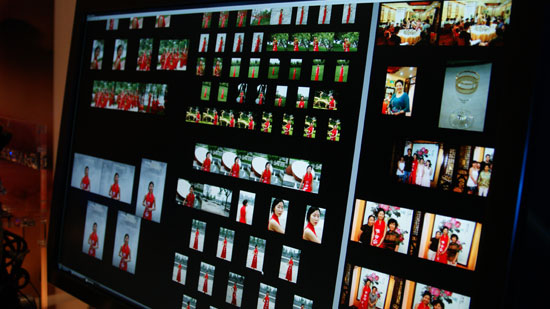 I've never written about deepViewer before because the application isn't out yet (although it will be soon). While navigating through your pictures quickly is a cool feature, it's not enough to get excited about. Today in my Intel meeting Francois showed me something a little more interesting.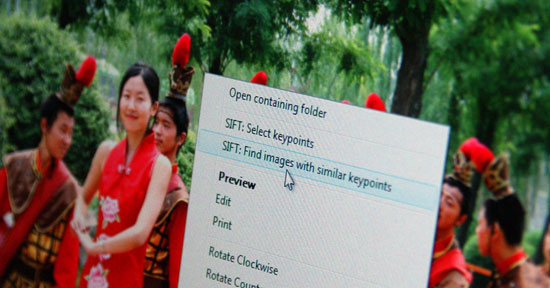 deepViewer got an upgrade, it can now find all similar pictures in your library. Simply right click on your photo and then tell the software to find similar images.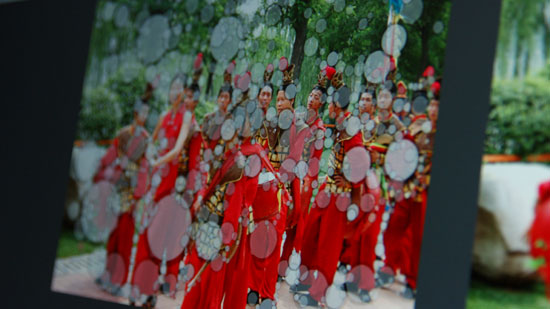 The circles in the image above are the portions of the image deepViewer looks to match in its database. The larger the circle, the higher the weight of that part of the image.
Internally, the application samples a number of points from the image and searches for similar elements in all other images. The search works according to elements of the image like faces or backgrounds and colors. The search isn't exactly live, all of this data is sampled when you index your images and it's simply updated as you add more photos to your library.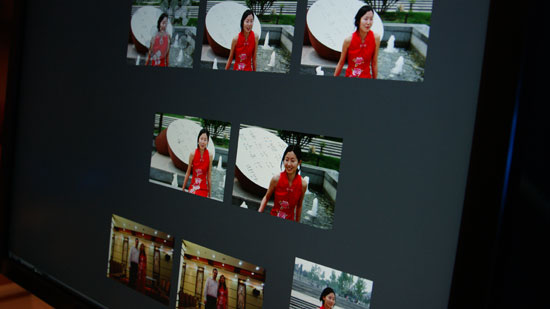 The process of searching isn't very CPU intensive, it's the indexing that needs a fast CPU. Naturally, Francois demonstrated deepViewer on a Core i7 (it was overclocked to 4.6GHz using water).
Portable Wireless Access Points: Intel's My WiFi
We usually run into this problem at hotel rooms: multiple people in the same room with notebooks, but the hotel charges per MAC address for wireless internet access. The only real solution today is to either pay for each notebook you connect or somehow share your internet connection through one of the notebooks.
Intel's My WiFi is a software application that will turn any Centrino 2 notebook into a wireless access point, without interrupting your wireless internet connection. Using the software (that will be available for free through OEMs over the coming months) your Centrino 2 notebook can allow up to 8 WiFi devices to connect to it and have access to the internet.
Intel demoed My WiFi for me, it just worked. The demo consisted of a camera with WiFi SD card connecting to a Centrino 2 laptop and uploading pictures to the computer, all over WiFi.
While technically My WiFi will only be provided by your OEM, as long as you have any of the Centrino 2 WiFi cards (WiFi Link 5100 or 5300) in your notebook it should work - you'll just need the application.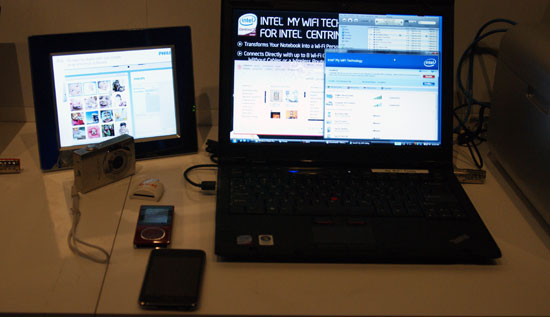 I could not confirm whether multiple devices could access the internet at the same time while connected to your notebook. My WiFi will work in both 32-bit and 64-bit versions of Vista.
Crucial Offers SSD Upgrades for Netbooks
Seeing a need that must be fulfilled, Crucial will be offering a mini PCIe card with MLC NAND Flash memory on it as a storage upgrade for both ASUS' Eee PC and Dell's Inspiron Mini 9. The drives aren't any faster than what comes in the Eee PC and Mini 9 to begin with, this is simply for those users who want more storage.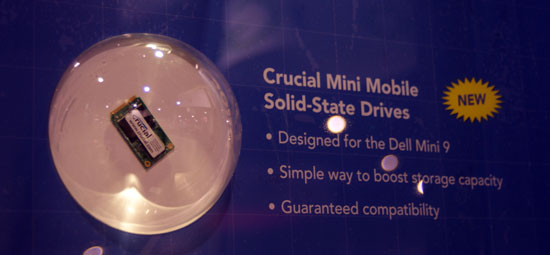 The upgrades are available in both a 32GB and 64GB version, priced at $79 and $149 respectively.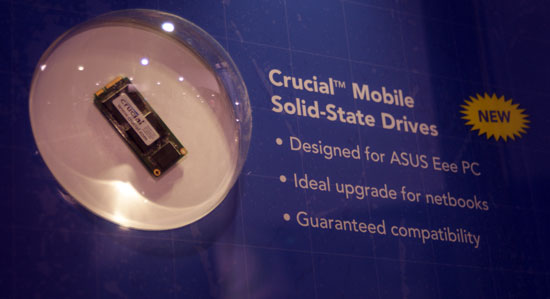 BFG Gets Into the Gaming PC Market with Phobos
BFG showed off its Phobos gaming PCs at NVIDIA's booth: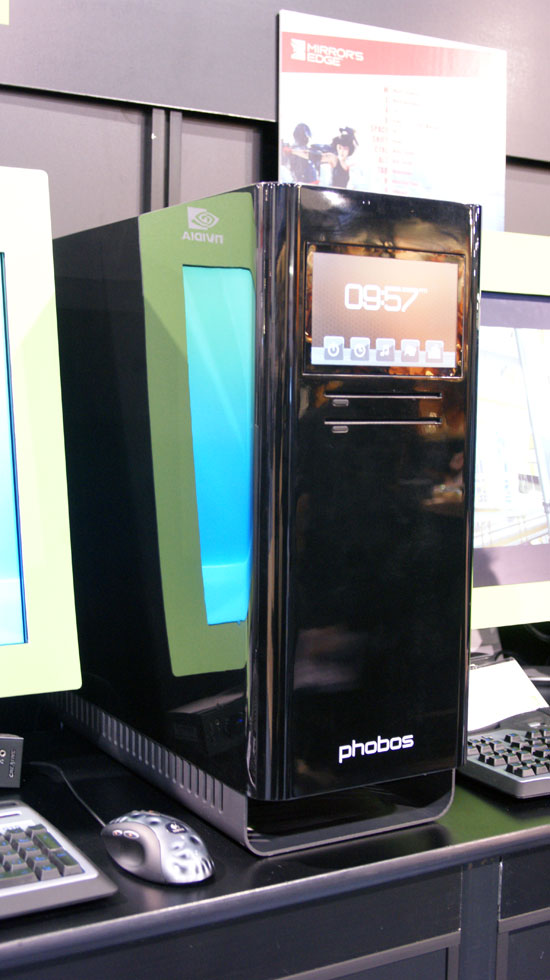 The chassis looked cool, two slot loading drive bays at the front, iPod dock at the top and a big touch screen LCD screen: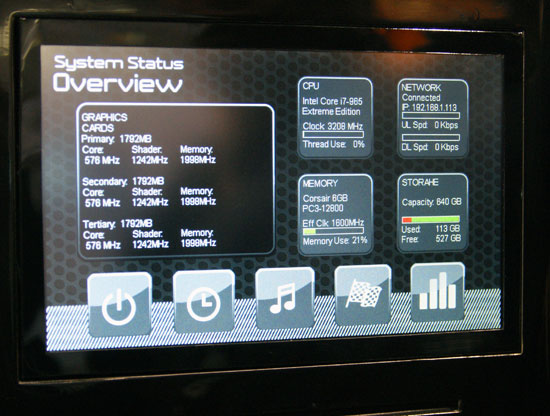 The LCD screen is powered by an ARM processor and has information about current temperatures, CPU/disk/memory utilization and you can even play music from it.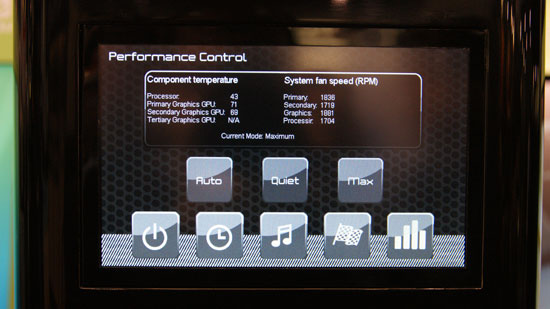 The graphics options are obviously BFG/NVIDIA-only, SLI will be available. The system I saw ran on MSI's X58 motherboard with a water cooled Core i7 CPU.
These systems will be pretty pricey; starting at $3000 and going up to $8000 the Phobos machines will come with a "free" concierge service. You'll get in-home installation and setup of your machine as well as the option of in-home upgrades. A tech will come out to your house to swap out any components you want to upgrade.
You're obviously paying for the concierge service in the initial cost of the machine, and the number of in-house visits are limited (two visits with the initial purchase), but it's an interesting angle used to get into a competitive market.
The Phobos web configurator will launch in the next month with systems shipping some time later.
Imagination Technologies: Atom-based Netbooks With Poulsbo
I met up with Imagination Technologies, makers of the PowerVR SGX graphics core that's used in Intel's Poulsbo chipset - the ideal companion for the Atom processor. Most netbooks to date have shipped with Intel's 945G chipset, but we're finally starting to see models come out with Poulsbo. The biggest advantages to Poulsbo are much lower power consumption as well as hardware video decode acceleration for all of the major codecs (MPEG-2, VC-1, H.264).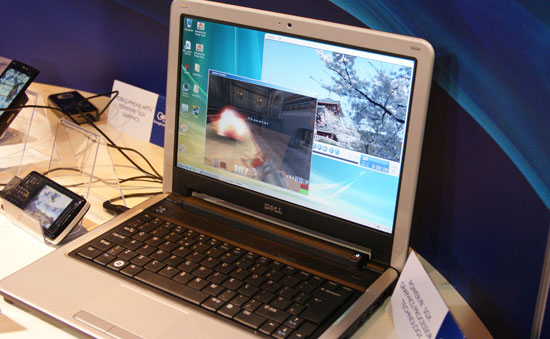 Quake III Arena + Cyberlink PowerDVD playing Blu-ray quality content, all on a netbook
I got a quick demo of a Dell Inspiron Mini 12 decoding a 1080p H.264 Blu-ray rip (20 - 35Mbps) while running through a Quake III timedemo. The video clip didn't drop any frames and the Quake III demo ran at above 30 fps. The engineers on hand indicated that a real concern in these sorts of situations isn't the GPU horsepower, the PowerVR SGX core can easily handle the two tasks, but rather memory bandwidth. Poulsbo only supports a single channel of DDR2-533 memory, barely enough bandwidth by today's standards.
The Imagination Technologies staff also ran a dual stream video decode demo where they had a Atom/Poulsbo netbook playing one 8Mbps H.264 video and a 1080p H.264 video on an external display, simultaneously. Again, memory bandwidth is the only limitation here - the Atom never peaked above 29% CPU utilization.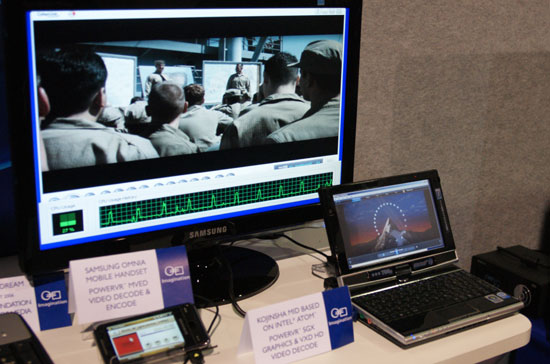 Imagination Technologies also announced the PowerVR SGX543 at the show, a much faster (up to 40%) graphics core than what's in Poulsbo. The SGX543 will probably show up in designs in about 2 years.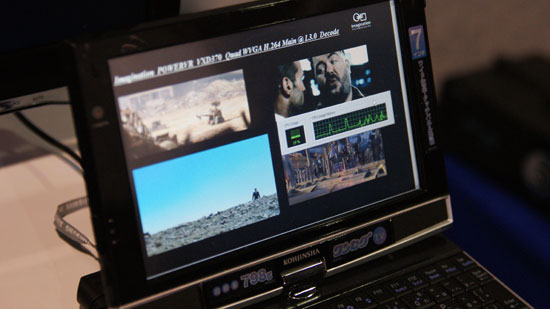 Four H.264 streams from Apple's Trailers website, all playing at the same time, without so much as a hiccup on Atom/Poulso