Original Link: http://www.anandtech.com/show/2688


Intel has been shipping its Atom processor for months now, although it has been talking about the CPU for much longer. Earlier this year I went through the architecture and unique design approach behind Intel's first foray into a new approach to chip design since the original Centrino.
While Atom isn't setting any performance records, it is amazingly powerful for its size and power consumption. In making Atom, Intel made sure to give it an equally impressive chipset: Poulsbo. The combination of Atom and Poulsbo unfortunately uses too much power and is too big to be used in the most attractive of devices: smart phones, relegating them to MIDs (Mobile Internet Devices). MIDs aren't terribly successful, mostly because they are bulky, plagued by terrible UIs and too expensive for what they are. In a couple of years Atom will surely find its way into smart phones thanks to Intel's push for integration, but thanks to the Netbook segment Atom hasn't gone unappreciated.
Largely pioneered by the efforts of ASUS and obsession with the letter E, the Netbook market is almost entirely dominated by Intel's Atom CPU. In order to keep costs down, Netbook manufacturers have paired Atom with a desktop chipset instead of Poulsbo: the Intel 945G. Since Atom's FSB can work in GTL+ mode, it is compatible with Pentium 4/Core 2 chipsets.
Atom is honestly fast enough for many tasks, delivering the performance of a mainstream notebook from 4 years ago. The problem is that there are some applications that are commonplace today that can't run on Atom. HD video playback isn't possible on Atom + 945G platforms because the CPU isn't fast enough to decode high bitrate video (much less H.264) and the chipset doesn't support HD video decode acceleration. 
NVIDIA saw an opportunity with Atom. Intel had a very popular CPU, that could be used in many more environments if it could only be paired with a more powerful chipset. Enter the GeForce 9400M.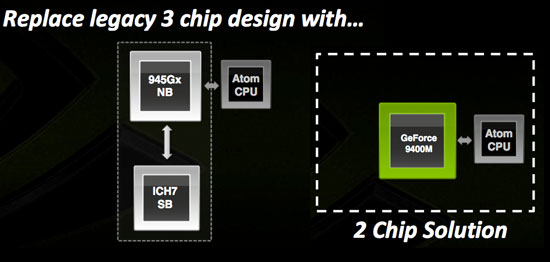 This is the same GeForce 9400M that's used in desktops and notebooks, the very same GeForce 9400M that's in the new MacBook, MacBook Pro and MacBook Air...and NVIDIA is pairing it up with Intel's Atom processor.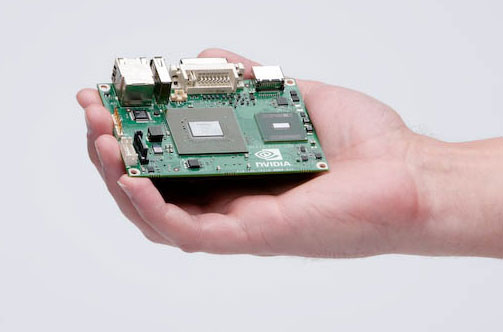 Introducing NVIDIA's Ion Platform
The combination of two is called the Ion platform and the reference design fits into a pico-ITX form factor: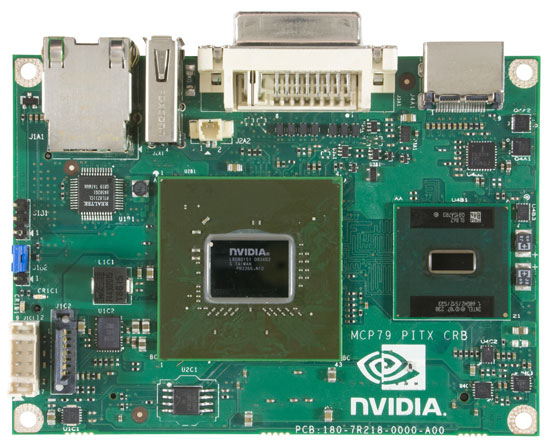 A Pico-ITX motherboard measures 10 cm x 7.2 cm (3.94" x 2.83"), by comparison a standard ATX motherboard measures 30.5 cm x 24.4 cm (12" x 9.6"). If you're bad at visualizing dimensions, perhaps this picture will help: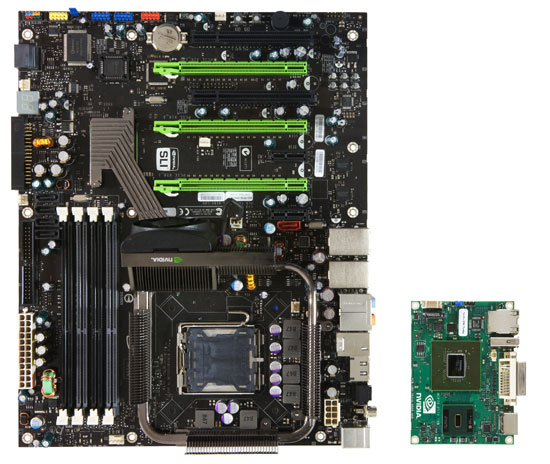 An ATX motherboard (left) vs. a Pico ITX Ion board (right)
The reference motherboard is very simple; you've got an Intel Atom CPU and a GeForce 9400M next to each other, a single SATA connector and a DDR3 SO-DIMM slot on the other side of the board. And this little thing is powerful enough to play HD video (8 - 25Mbps H.264):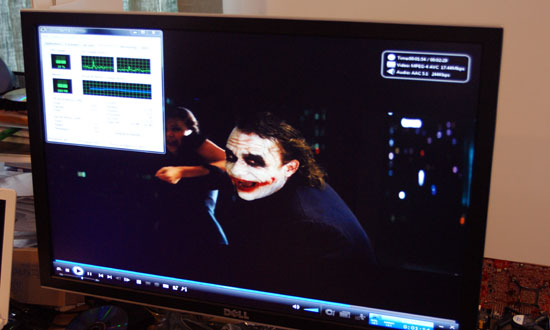 Click to Enlarge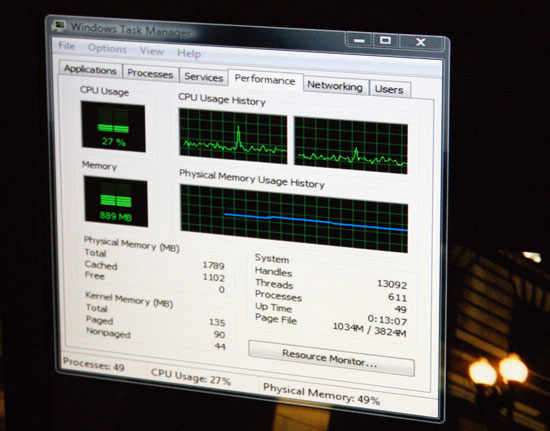 That's 27% CPU utilization on an Intel Atom processor when playing back a 18Mbps 1080p H.264 scene
Note that this is the very same 9400M that's in the new Apple notebooks, not a watered down version, the clocks, features and performance are the same (although presumably OEMs could choose to underclock the graphics core for particularly power/heat sensitive applications).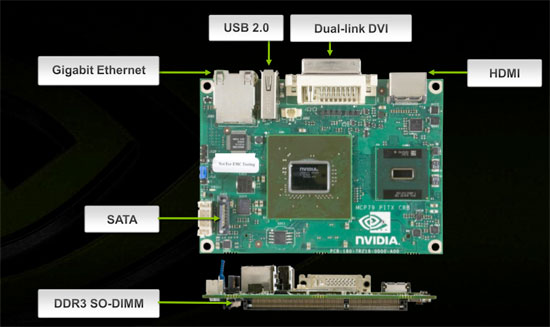 NVIDIA even built an ugly looking reference machine to show you what was possible with Ion: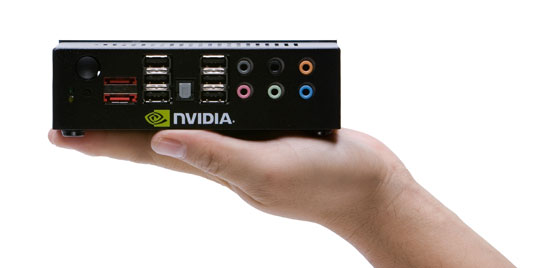 It's the Ion reference design, OEMs will build prettier looking devices
That's an entire PC, along with a 2.5" HDD, it ran Windows Vista just fine and had no problems playing HD video. It can even play games although we didn't get a chance to see any run on it.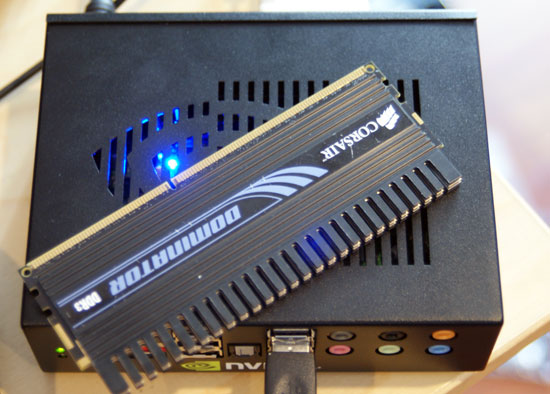 It's that small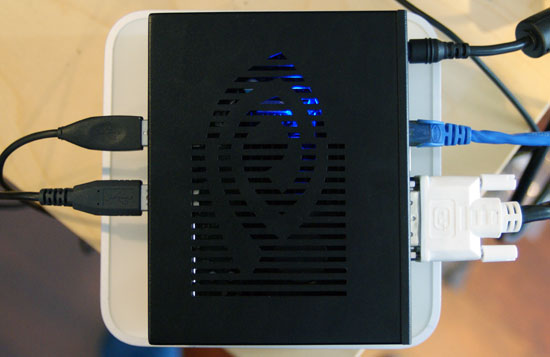 Ion on top of a Mac mini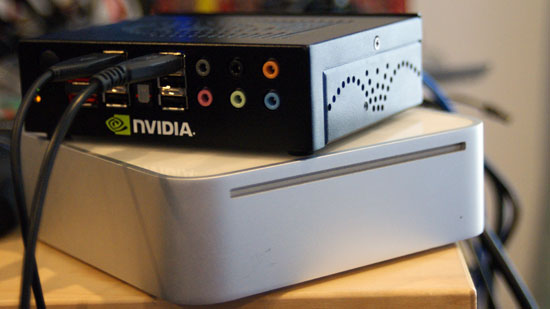 Ion vs. Mac mini once more
NVIDIA claims that a netbook running with the Ion platform should have the same battery life as one running on the conventional Atom + 945G setup.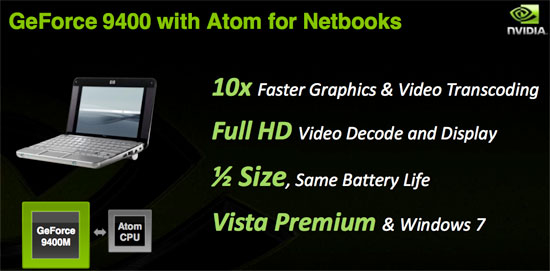 NVIDIA wasn't able to leave us with an Ion system to test before today's announcement, but we have seen it operational - it works and it's tiny. NVIDIA's vision for Ion extends far beyond netbooks and cheap PCs, systems based on Ion could easily be powerful HTPC front ends connecting to networked storage.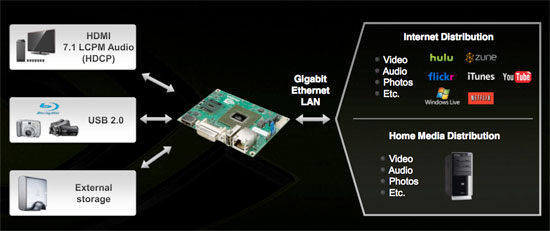 Let me also point out that since this is the same 9400M chipset we've reviewed, Ion has full support for 8-channel LPCM over HDMI. That's even more capable than most ATX HTPCs. If you tossed a 500GB 2.5" HDD in one of these things, you could carry your HTPC with you. That's probably a silly usage model but it highlights the power and versatility of this platform. Ion is cool.
Final Words
NVIDIA expects designs based on the Ion platform to debut in the first half of 2009, but I'd be surprised if we didn't see something in the first quarter. Not only can Ion make netbooks a lot better, but the design is small enough that it can be used elsewhere.
NVIDIA has been arguing that the GPU is more important than the CPU and with Ion is the chance to prove its case. Intel's slowest CPU paired with a more expensive graphics solution than what Intel would rather you buy with Atom. My opinion has always been that you need a balanced approach, but the Ion platform should open up some interesting usage models: netbooks that can transcode and play HD video?
It's an interesting move, one that simply makes sense.  If the prices of SSDs would drop to where they could be an affordable alternative to a regular hard disk you could actually build a very quick and quite portable PC out of Ion.  One thing is for sure: NVIDIA just raised the bar for the minimum level of performance you can expect from PCs in 2009, regardless of price point.
Between NVIDIA's most recent coup pushing Intel's chipsets out of Apple's new notebook lineup, constant PR offensive against Larrabee and now the Ion platform that capitalizes on an Intel CPU at the expense of an Intel chipset, I wonder how many times you can poke a resting lion before it gets up.