Original Link: http://www.anandtech.com/show/2667


Today is AMD's Financial Analyst Day at AMD's campus in Sunnyvale, CA. I'm not a financial analyst but there are some useful tidbits that are coming out of the presentations today. Obviously the focus at AMD these days is returning to profitability and with the planned spinoff of its manufacturing business, this should be possible.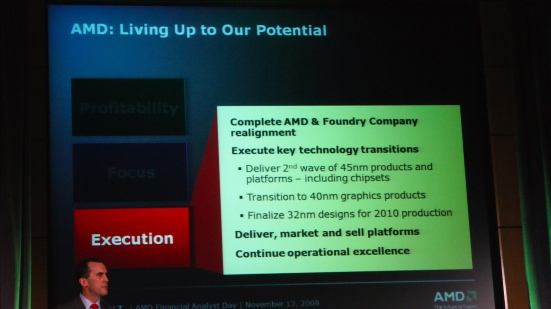 AMD was quick to point out that it only has one competitor in the CPU space and one competitor in the GPU space. There are very few markets where there are only two competitors, which led to the following statement: "We ought to be able to make money, and we can make money".
Manufacturing is going to be an important topic today and AMD plainly laid out its manufacturing transitions for next year: AMD is going to move chipsets to 45nm in 2009, graphics will be pushed down to 40nm, and we'll see 32nm designs completed for production in 2010.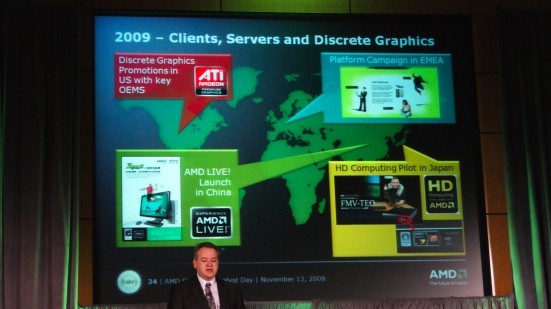 I'm not sure if I'm reading this correctly but it appears to say that AMD's marketing strategy for North America is graphics-exclusive, with no real Phenom focus. The important disclosures thus far have been in the roadmaps however.
The Server Roadmap
Today AMD launched its Shanghai processor, the 45nm follow-on to last year's Barcelona. We also got a brief update on its server roadmap: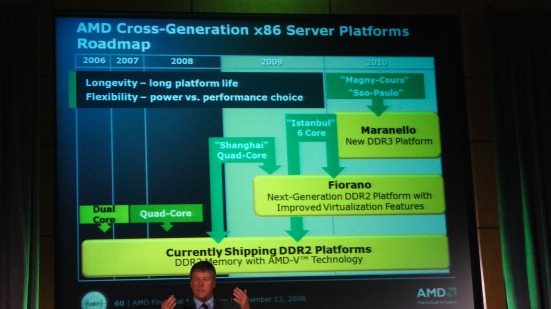 In the 2nd half of 2009 we'll see Istanbul, a 6-core 45nm product that will work in current sockets for Barcelona/Shanghai. In 2010 we'll see 8-core and 12-core solutions with up to four DDR3 memory channels and four Hyper Transport links.
45nm Phenom? It's called the Phenom II and you Get It Next Year
Phenom II will be available in a couple of versions. The Phenom II X4 is a quad-core part initially released for the Socket-AM2+ platform, but eventually it will be a Socket-AM3 part with DDR3 support. The Deneb core is a Phenom II X4 with 8MB of L3 cache and the Propos version has a 2MB cache. Both of these cores have integrated DDR2 memory controllers, with a transition to DDR3 sometime in 2010.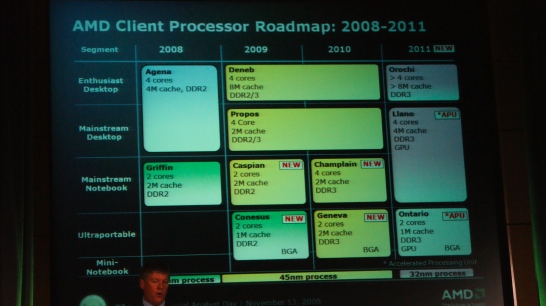 Caspian is a dual-core version of the 45nm Phenom II with a 2MB cache, Champlain hits in 2010 and is a quad-core Phenom II with DDR3 for the mainstream notebook market. Geneva is a lower powered 45nm dual-core product, presumably Phenom II as well, due out in 2010 for ultra portables.
AMD also revealed a bit of its 2011 roadmap; these products are based on the first new architecture since Phenom - called Bulldozer. I talked about Bulldozer a while ago but details have been scarce since then.
In 2011 AMD expects to be at 32nm with its Orochi, Llano, and Ontario cores. Orochi will be the new high-end enthusiast desktop product with more than four cores, more than 8MB of cache, and an integrated DDR3 memory controller. Remember from the server roadmap that in 2011 AMD will have four DDR3 memory channels on its server products so I'd expect at least a 3-channel DDR3 controller here.
Llano is the mainstream 32nm part with four cores, 4MB of cache, DDR3 memory controllers, and an on-die GPU. Note that this is a delayed introduction of the first CPU/GPU fusion product, originally scheduled for 2009. AMD stated that the plans for the first CPU/GPU products got pushed back simply because the 45nm designs weren't compelling enough. The dies get small enough at 32nm that you can actually offer tangible benefits. Note that this also means that the first single-package CPU/GPU will actually come from Intel in 2009 with a Nehalem derived part and not from AMD.
Finally we've got Ontario, which is a very low power core based on AMD's upcoming Bobcat core. It's a dual-core product with 1MB of cache, on-die GPU, and a DDR3 memory controller. We know even less about Bobcat, but I did write about it over a year ago.
The New Consumer Platforms
AMD outlined all of the new platforms we'd see in 2009 and they are as follows: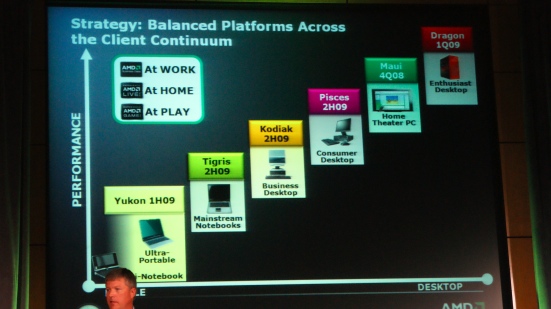 4Q 08 - Maui platform, HTPC with integrated 3.1 and 7.1 pre-amp or 5.1 amplified audio out.
1Q 09 - Dragon platform, 45nm Phenom II X4 processors
1H 2009 - Yukon platform, ultra portable and mini notebook space, sub-25W TDPs. These won't be Atom competitors, as they should be higher performance but also higher power consumption. These things will be targeted at netbooks and low-end notebooks.
2H 09 - Tigris platform, 45nm mainstream notebooks
2H 09 - Kodiak platform, 45nm business class notebooks
2H 09 - Pisces platform, 45nm quad and triple-core processors, consumer desktop
The Graphics Update
There's nothing new about GPU architectures, but here's the short recap. GPU revenues are understandably up since last year: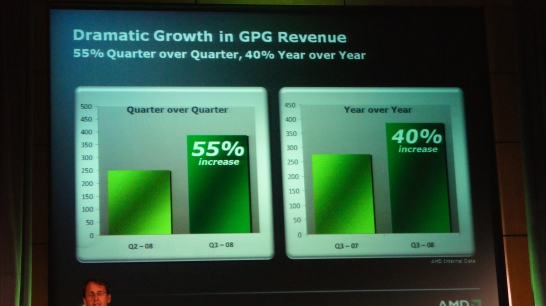 Market share has gone up as well: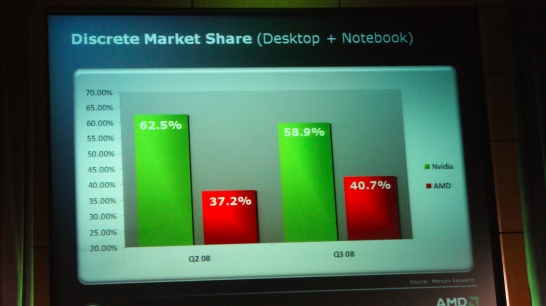 If you want to look at console + PC market share, AMD's GPUs look very good thanks to the Wii and Xbox 360, but this is stretching it a bit: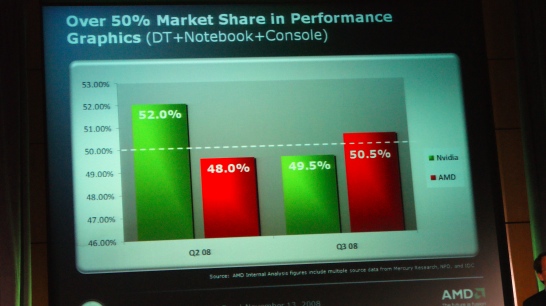 On December 10 AMD will release Catalyst 8.12, and alongside the normal driver updates AMD will be releasing its own GPU-accelerated H.264 transcoder. The AVIVO Video Converter (AVC) is AMD's own Badaboom-like application but for Radeon GPUs, which AMD promises will be much faster.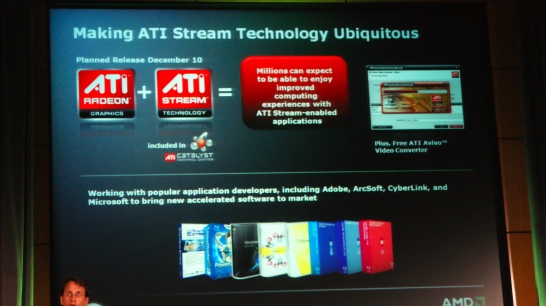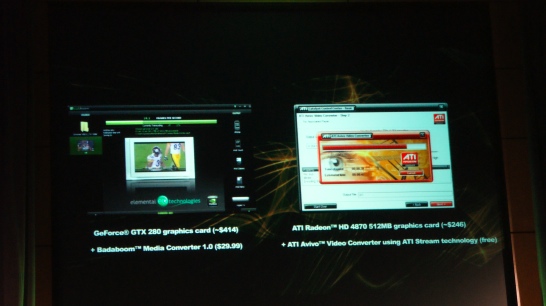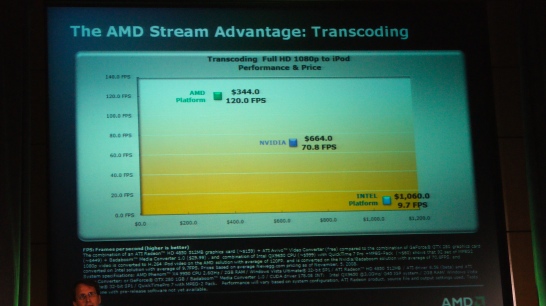 I'm trying to get my hands on a copy and as soon as I do I'll work on a head-to-head with the latest version of Badaboom.
The Foundry Update
AMD is hard at work on spinning off its manufacturing business to the newly formed Foundry Company. Here are a couple of updates on the manufacturing front: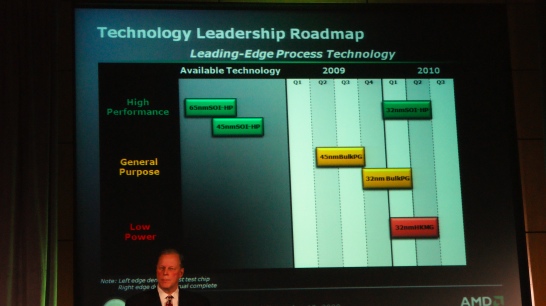 By the end of 2009 The Foundry Company hopes to be fully transitioned to 45nm as well as have completed the development of the 32nm process.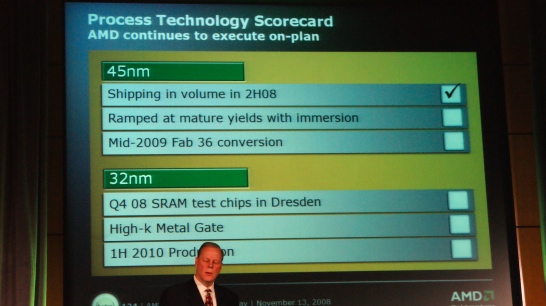 The Foundry Company will also be working on bulk as well as SOI technology development so that it can satisfy the needs of both AMD's CPU and GPU divisions.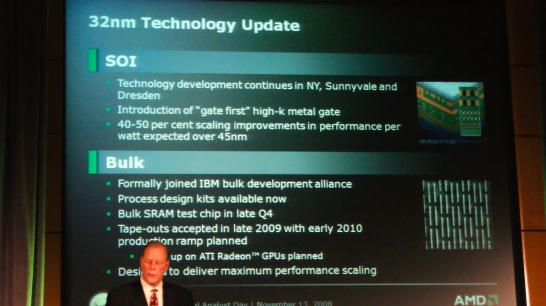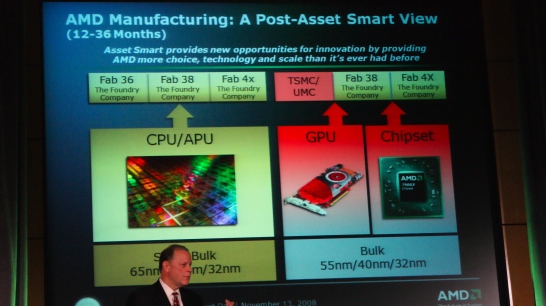 More coming...