Original Link: http://www.anandtech.com/show/2647



Update: AMD has confirmed to us that there were some issues with the BIOS on our sample board. Rather than 2 disabled SIMD units, our review sample 4830 had 3 disabled SIMD units. AMD has assured us that no retail boards will be affected and this is only a problem that affected reference boards built as review samples. We are working on resolving the issue with our review sample and will complete updated tests as soon as we can. This will affect our performance results, but until we run the tests we can't be sure how much more performance we will get out of retail 4830 hardware.



Update 2: We have updated all the performance graphs in the article with data re-run on a card that actually has all the SIMD's available. There was a difference, but it hasn't changed the overall conclusion of the article. For more information, see our update article with details on the problem, the situation, and performance differences.


Since the launch of the RV7xx GPU, AMD has been steadily filling out a top to bottom Radeon HD 4000 series lineup. The first markets addressed were gamer centric with the 4850 and 4870. Next in line was the hardcore enthusiast class with the dual-GPU 4870 X2. Since then we've seen the 4670, the 4550 and the 4350 filling out the bottom end value and mainstream segments. But there was a bit of a performance and price gap between the 4670 and the 4850. This gap has now been filled.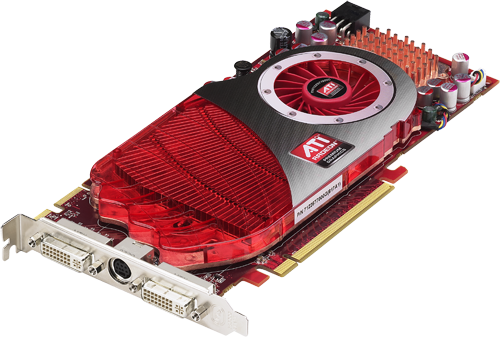 Today we see the introduction of the Radeon HD 4830 which is to be priced at or below $130. This part is poised to split the difference between the 4670 and 4850, and filling in this market segment should finish rounding out AMD's line up of RV7xx based cards for now. At least we hope.
In the past both ATI and NVIDIA have flooded the market with way too many different models that overlap in price and performance in ways that just confuse their customers. While AMD has been releasing cards at a fairly steady pace, all these parts have been well positioned and have served to disseminate their new architecture. We have been really happy to see how quickly AMD has gotten their new GPU out into the world.
By now, we've covered the architecture and other versions of the hardware quite a bit. The really interesting bit about this launch is the price and the prices of competitive hardware.
All About Price and Rebates
The past few months have been terrific for those in the market for a new video card, and it just keeps getting better. It all started with AMD's initial Radeon HD 4000 series launch. They set prices not just at reasonable levels, but at really aggressive levels compared to their competition. AMD could likely have charged a lot more for their hardware at launch and gotten away with it, but they made a much larger splash than they might have (because they didn't flat out beat NVIDIA) by going the route they did.
And every new part AMD has introduced since has been a terrific value. Their low end hardware really stirred things up by bringing cards you could actually play games on (even if limited to lower resolutions) to very low prices. Now we have an affordable part that will be really attractive to gamers looking to save money without compromising on performance and quality.
But, as we all know, AMD is only half the story. While NVIDIA did create the top of the line single GPU this time around, they haven't brought out GT200 parts positioned lower than the the GTX 260 since the launch. But the real story is what that has done to the prices of the rest of their lineup. The 9 series is still current for NVIDIA, even if many of the parts are just renamed 8 series cards. While we have taken issue with this in past articles, the fact is that NVIDIA is responding very aggressively with pricing on their hardware. We would love to see newer architectures make their way into lower end market segments from NVIDIA, but we are quite impressed with what we are seeing instead.
The prices on NVIDIA's G9x based hardware have fallen dramatically. The 9800 GTX+ can be had for $150-$160 and the 9800 GT is now priced at about $120. Mail in rebates can be found that push the price on the 9800 GT to as low as $100. And these prices aren't just for the stock version but for overlocked variants as well.
Honestly, it would be good if lower end GT200 parts were available. The rebalancing of texture and compute hardware and additional changes are nice, but the GT200 really is a tweaked and polished G9x. The basic features are there and the GPU will work well for current and near term games. For the prices NVIDIA is selling them for, the GeForce 9 series cards are viable options.
And like we mentioned, there are rebates. Rebates are everywhere. It's raining freaking rebates. Sure, they've always been around here and there, but rather than just a marketing tool, the past few months have shown rebates to be a quick fix price adjustment tool. When a new launch comes out, rebates will be offered all over the place, sometimes for a few weeks and sometimes for a few days. NVIDIA and AMD are both playing the rebate game, but NVIDIA has certainly been more aggressive about it from what we've seen. This time around is no different.
AMD has stated that there might be some rebates available for those who look around on launch day for the 4830. We don't know the details as of yet, as the parts aren't on sale as of this writing. But this should certainly benefit the consumer (even if it makes recommending a part more difficult for us).
We've complained about using rebates as tool in recommending hardware in the past. Rebates are not permanent, predictable, or offered by all vendors or manufacturers. In writing articles, we tend to recommend based on suggested pricing or prevailing street price, as these are more reliable. But the fact is that rebates do benefit consumers who take advantage of them. And that's a plus in our book. (Provided of course that you remember to send in the rebate and don't mind waiting a few weeks or even months.) With the competition heating up like it hasn't in quite a while, it seems rebates are the weapon of choice in the battle ground for graphics hardware superiority.
On a side note, we see a lot of gamers and graphics enthusiasts sell their old hardware when they upgrade. Generally, gamers that prefer high end hardware can sustain their upgrade habit a little easier this way. But from the launch of the 9800 GTX about 6 months ago, the price for a new card has been cut in half. With this sort of a price drop on new retail parts, the impact on used hardware will certainly be significant. While not as important to current purchasing decisions, the impact of these market fluctuations on consumers is definitely interesting to consider.
The Card and The Test
The Radeon HD 4830 reference board we tested is based on a revised design put together for this part, but AMD built this chip to be able to fit into existing 4850 board designs as well. The maximum power envelope is the same, but actual power usage will be lower. AMD has informed us that initial boards based on the 4830 will be using 4850 boards, but that down the line we should start seeing boards based on the more compact 4830 reference design.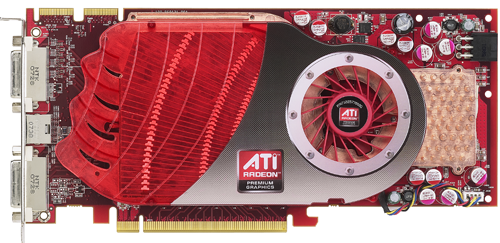 As for how the GPU stacks up against some of the other offerings from AMD, here's a handy chart:
| | | | | |
| --- | --- | --- | --- | --- |
| | ATI Radeon HD 4870 | ATI Radeon HD 4850 | ATI Radeon HD 4830 | ATI Radeon HD 4670 |
| Stream Processors | 800 | 800 | 640 | 320 |
| Texture Units | 40 | 40 | 32 | 32 |
| ROPs | 16 | 16 | 16 | 8 |
| Core Clock | 750MHz | 625MHz | 575MHz | 750MHz |
| Memory Clock | 900MHz (3600MHz data rate) GDDR5 | 993MHz (1986MHz data rate) GDDR3 | 900MHz (1800MHz data rate) GDDR3 | 1000MHz (2000MHz data rate) GDDR3 |
| Memory Bus Width | 256-bit | 256-bit | 256-bit | 128-bit |
| Frame Buffer | 512MB/1GB | 512MB | 512MB | 512MB |
| Transistor Count | 956M | 956M | 956M | 514M |
| Manufacturing Process | TSMC 55nm | TSMC 55nm | TSMC 55nm | TSMC 55nm |
Based on the information we know about the GPU, the 4830 is clearly just an RV770 with two SIMDs disabled. While AMD does have safeguards built into their GPUs to help improve yield, nothing is perfect. There will be ICs that come off the line that simply can't function properly at the desired speed or with all the hardware enabled to make it onto a higher end card. Chip makers will save these parts and bin them for possible use in lower end products later. We also sometimes see higher end binned chips released as special editions overclocked models, so it does work both ways.
The price of the 4830 means that it will see higher volume sales than either the 4850 or the 4870. That's just how it works: more people buy cheaper parts. The interesting twist here is that the RV770 is being used in 3 different parts ranging from $130 to $300 with very little time lapse between the initial release and the current situation.
While we still would really love to see a top to bottom launch on day one of a new architecture some time, this is very impressive in it's own right. The delay between the launch of the 4870 and the 4830 is likely due to the fact that AMD needed to maintain enough supply to meet demand for it's two higher end parts while steadily building up a supply of chips for use in the 4830. As demand will be higher, stockpiling chips that can't run at 4830 specification for a few months will certainly help meet the needs of the market.
Now that we know what we're testing, let's take a look at our test platform.
Test Setup
CPU
Intel Core 2 Extreme QX9770 @ 3.20GHz

Motherboard
EVGA nForce 790i SLI

Video Cards
ATI Radeon HD 4870
ATI Radeon HD 4850
ATI Radeon HD 4830
ATI Radeon HD 4670
NVIDIA GeForce GTX 260 core 216
NVIDIA GeForce GTX 260
NVIDIA GeForce 9800 GTX+
NVIDIA GeForce 9800 GT
Video Drivers
Catalyst 8.11 Beta
ForceWare 178.24
Hard Drive
Seagate 7200.9 120GB 8MB 7200RPM
RAM
4 x 1GB Corsair DDR3-1333 7-7-7-20
Operating System
Windows Vista Ultimate 64-bit SP1

PSU
PC Power & Cooling Turbo Cool 1200W
Age of Conan Performance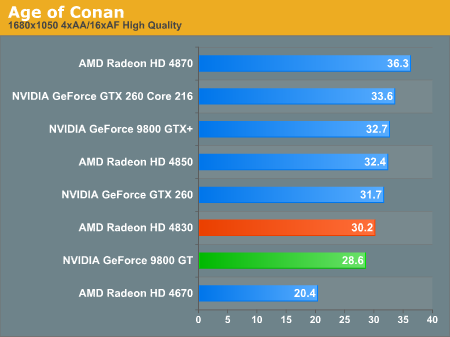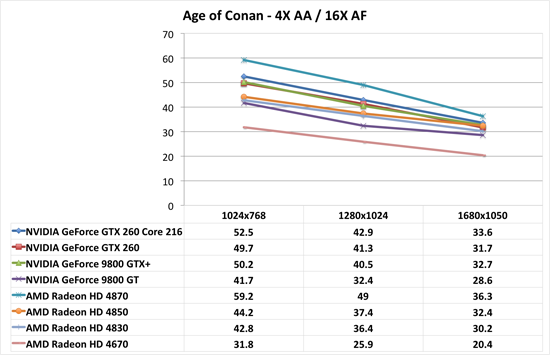 Crysis Performance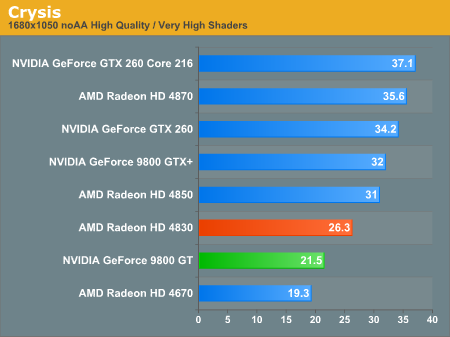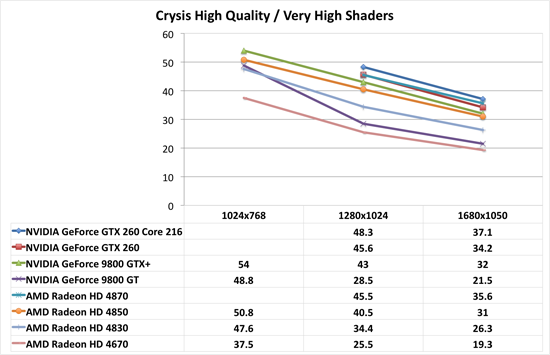 The Elder Scrolls IV: Oblivion Performance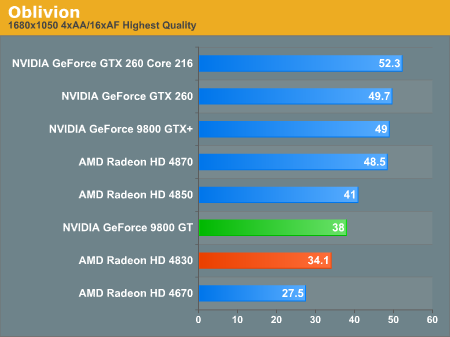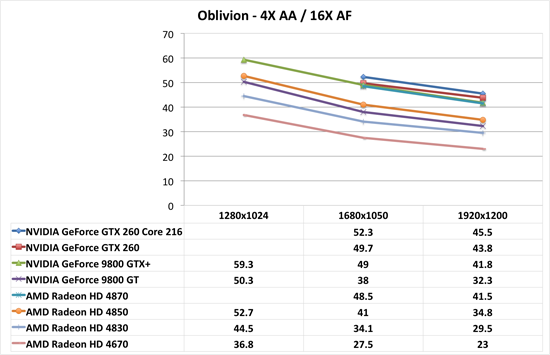 Enemy Territory: Quake Wars Performance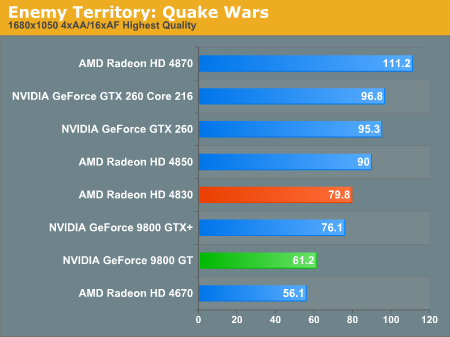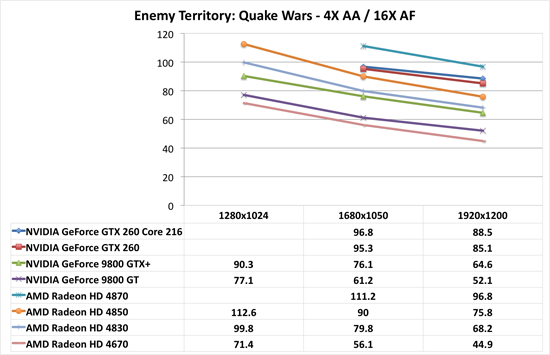 Race Driver GRID Performance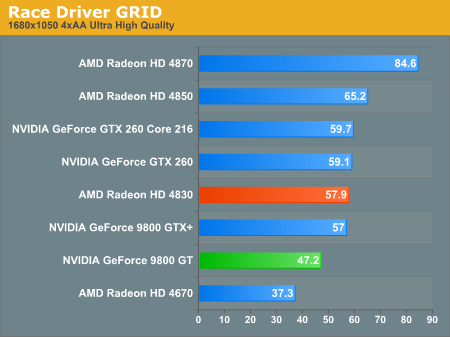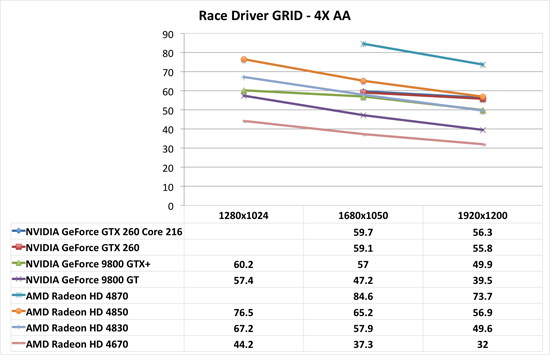 Assassin's Creed and The Witcher Performance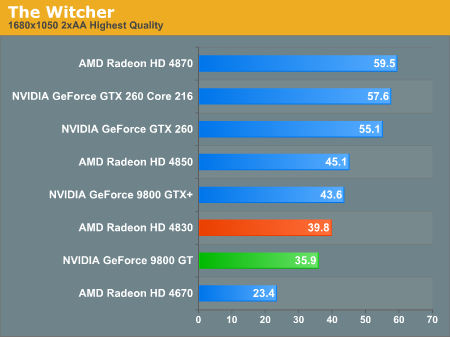 Power Consumption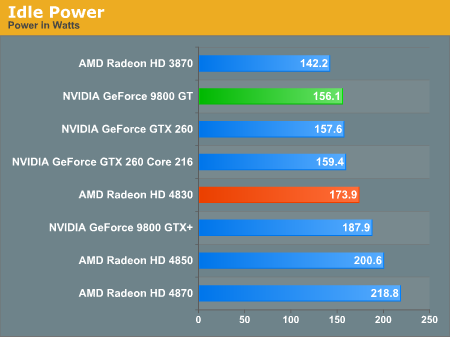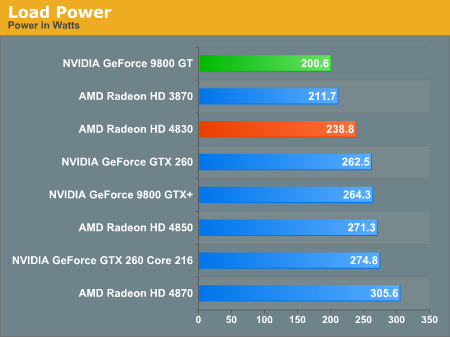 Final Words
After all the benchmarks and details, we really aren't sure how to conclude this article; this is a really tough one.
The performance gap at the $120-$130 price range for a target resolution of 1680x1050 between the 9800 GT and the 4830, in practical terms, isn't that much. Both are playable in the majority of games we tested. The exceptions are Age of Conan and Crysis which can get by at 1280x1024 (or with decreased quality settings). While you may get a smoother experience on the AMD card in general, you won't get a significantly more playable experience in most cases in the games we tested.
If the rebates trail off and/or don't favor the NVIDIA part, we've got to lean toward recommending the Radeon HD 4830. AMD's card also supports 8-channel LPCM over HDMI and can handle some games at 1920x1200, making it the cheapest viable option capable of dual purpose use for games and movies on an HDTV and 7.1 surround sound setup. But it's a really close call here.
With RebateFest '08 going on and the possibility to pick up a 9800 GT for about $100, even though it's lower performance, the card is compelling. But being that this is a rebate offer and not the actual street price of the card, that deal may or may not last. If you need to spend $100 on a part, the GeForce 9800 GT is not a bad option, especially if you can find an overclocked part at that price to help close the performance gap.
However, with AMD saying we should expect rebates on their parts as well, that's not even a lock. Honestly, as we always recommend, shop around and look for the best prices. Use our performance data as a guide and the prices you find to make the final decision. Things are changing fast and rebates, sales and other offers can change daily. This time more than any other we've seen has been hugely volatile.
Honestly, now is an amazing time for the consumer. The competition is incredibly fierce and it is entirely possible we'll see the fight heat up even more into the holiday season. It's terrific to see hardware at this price point that can really deliver a great gaming experience at 1680x1050. The fact that AMD and NVIDIA are battling so hard just makes it that much more exciting. Deals, specials and rebates will really need to be your deciding factor for the next couple months. Happy shopping!