Original Link: http://www.anandtech.com/show/2645


Several years ago I was privy to a conversation that didn't make much sense to me. The topic was whether or not PCs could be sold like cars, by model year instead of focusing on specs. The holy grail of PC sales has always been distilling the myriad of system specifications down to a simple, easy to understand number. Intel used to offer its iCOMP rating for microprocessors on PCs sold in stores, benchmarks like 3DMark have attempted to do the same thing as well. It'd be far easier however if consumers simply purchased based on model year; buying a 2008 model year PC would be better and faster than a 2007. The idea obviously didn't go anywhere and it didn't make a whole lot of sense to me given that, unlike cars, computers are generally not as emotional of a purchase.
I think Apple has managed to change that. Nearly every year or so we get a redesigned Mac, iMac or MacBook, and in many cases while they are no faster than their predecessor - they introduce one or two new features or a new design that makes you want them, with all logic cast aside. It's a lot like buying a car.
Apple sells its computers not only based on functionality, but largely based on the form and design. Now all manufacturers do this to an extent, it's just that none of the mainstream PC OEMs do it as much or as well as Apple. Apple's focus on design makes a lot of sense. All PCs can be created equal, these days Apple and Dell use the same components, so the only differences that Apple has to play with are the OS and the design. Thus investing more money into the OS and system design is the right move for a company like Apple.


The MacBook, MacBook Air and MacBook Pro
Last week Apple announced its updated MacBook, MacBook Air and MacBook Pro lineup. As expected the changes were largely aesthetic and the new machines look great. But there were also some pretty significant departures under the hood, thus giving me something to do here other than comment on how the curved corners are nice to pet. There are benchmarks to be run, battery life to be tested and something very unexpected to uncover about OS X vs. Vista at the end. I won't dilly dally for too long here, so let's get right to it.
Design Changes/Build Quality
It turns out that all of the extra money Apple is spending on its notebooks goes into materials and build quality. It looks like there are two areas where that money is used: the aluminum chassis and the glass display cover.
The MacBook and MacBook Pro are now made like the MacBook Air: carved out of a single piece of aluminum. That's actually a bit misleading, there are multiple pieces of aluminum that go into the construction of these things, but looking at the keyboard from above you see a single block of aluminum that has been shaped to look like a MacBook.
The PowerBook G4 and the first MacBooks had the keyboard built into a piece of aluminum that sat on top and there was another piece of aluminum that made up the bottom half of the notebook. The two screwed/snapped together and what you had was an aluminum notebook.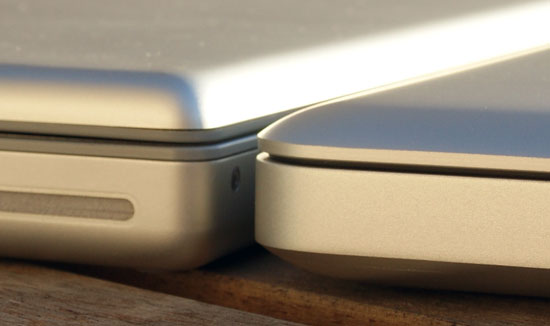 The old MacBook Pro (left) vs. the new MacBook Pro (right), note how the old MBP doesn't fit together nearly as well as the new one
With the new MacBook/MacBook Pro, Apple has effectively flipped its manufacturing process upside down. Instead of having a bottom that curves upwards and is capped off with a keyboard, the new models have a top that curves downwards with two plates that cover the bottom. The distinction is subtle but the difference is noticeable.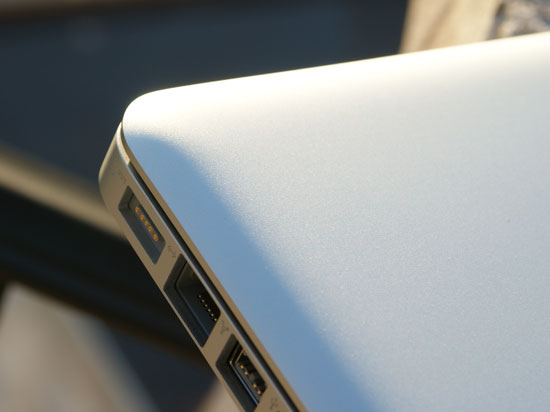 Rounded corners, it's like a big MacBook Air. Cute.
Rigidity is one of the biggest factors in making a notebook feel like it's well built. This is one of the things that IBM got very right with its Thinkpads early on, and something that Apple honestly did an incredible job with on the MacBook Air. The problem with building light notebooks is that the lighter you go, the flimsier the materials and the worse they hold up over time. By making sure the part you come in contact with the most is made out of a single piece of aluminum, Apple helps convey a sturdier built product.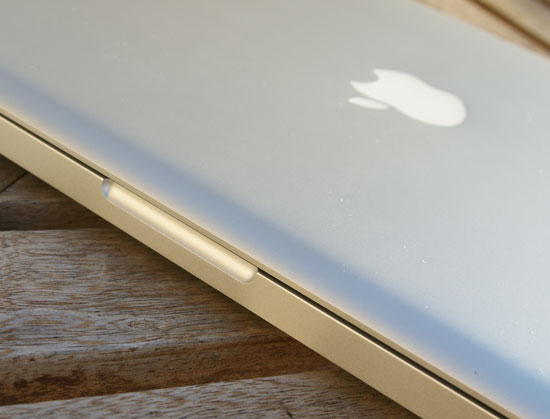 Look ma, no latches!
Also gone is the bothersome latch from the MacBook Pro, the screen magnetically attaches to the keyboard surface when you close it. The latch on the old MBP was the cheapest feeling part of the machine, so I'm glad they fixed it.

The old latch, ugh.
Apple also made it easier to access the hard drive on these things, there's a nifty removable panel underneath the notebook that unlatches without a single screw. With the cover removed you can replace the battery or, after removing a single screw, remove the hard drive (you'll need to take out four more screws to actually swap out the drive though). This isn't quite as easy as the removable HDD trays you'd find in a Dell, but it does look better.
The design is far from perfect however, the new battery/HDD cover tends to rattle and definitely reduces the solid feeling of the notebook. Thankfully the parts of the notebook you interact with the most feel the most solid, it's just worth pointing out the imperfections.
The NVIDIA Move: The GeForce 9400M
Every now and then some interesting hardware stuff happens in the Apple world and I get all excited because I get to merge Apple coverage with PC hardware coverage; yippee.
For the uninitiated here's a quick rundown of the basic silicon in a computer: you've got a CPU, a GPU, I/O and main memory, and they all need to talk to one another. The role of the chipset is to provide some basic logic for all of these parts to communicate with one another: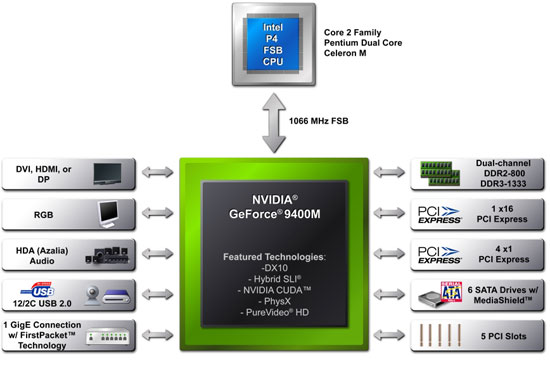 Over time, more and more functionality got integrated into the chipset. Sound, video and ethernet are all part of any modern day chipset. In some cases the chipset is a combination of two chips and in others it's all one single chip.
NVIDIA used to brand its chipsets nForce and its graphics processors GeForce. When AMD bought ATI, NVIDIA realized it needed to strengthen its chipset brand so it began calling both its chipsets and graphics processors GeForce. Starting at the beginning of 2008, all NVIDIA chipsets included integrated graphics so the GeForce brand was justified.
The GeForce 9400M is the mobile variant of the GeForce 9400 chipset, which just launched last week. It's a single chip chipset with integrated graphics, giving it an inherent advantage over Intel's solution: it requires less motherboard real estate.

Intel's G35, which was used in the previous generation MacBook and MacBook Pro is composed of the G35 GMCH and the ICH9M. The GMCH was built on a 90nm process while the ICH was actually built on a 130nm process. The chips worked just fine but they consumed too much power and took up much more real estate on the motherboard. In a desktop that's not a problem, but in a notebook you're more space constrained.
NVIDIA's chipset reduces the size of the motherboard but it also reduces power consumption. Intel's G35 was built on a 90nm and 130nm process as I just mentioned; while G45 is built on 65nm for the GMCH, the ICH is still 130nm (not 90nm as I originally assumed). NVIDIA's GeForce 9400M is a 65nm chip; with good power management it should be similar in power consumption to G45 if not lower.
NVIDIA's GeForce 9400M is smaller, consumes less power than G35 and at worst the same amount of power as G45, but on top of all of that it's a lot faster than anything Intel has to offer. Take a look at this chart from last week's GeForce 9300 review: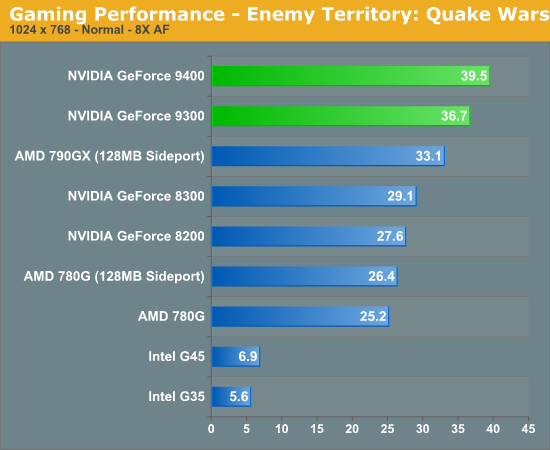 The GeForce 9400M is far from a hardcore gaming GPU; you can't run most new games at high quality settings and get smooth frame rates, but older games will actually run relatively well on this thing. A bunch of us still play Command & Conquer 3, and instead of setting up a bunch of systems we just game on laptops. The system requirements aren't tremendous but playing on anything with G35/G45 isn't exactly satisfying; the GeForce 9400M is enough to make that game look decent and play okay. And herein lies the biggest upgrade to the new MacBook and MacBook Pro: if you happen to have Windows loaded on these machines, the gaming performance of the integrated graphics is much improved. These aren't gaming machines but they are much better than before for less stressful titles. I'd suggest looking at the GeForce 9300 review for a good idea of where NVIDIA's gaming performance stands but you're basically looking at playability at 800 x 600 or 1024 x 768 depending on the detail settings of whatever title you're playing.
Faster Exposé and Coverflow?
The GeForce 9400M, like Intel's GMA X3100 (the graphics core used in the previous generation MacBook), has no local framebuffer - instead it relies on carving out a portion of your system memory to use for its own needs. The GeForce 9400M uses the chipset's dual-channel DDR3-1066 memory controller, yielding around 17.1GB/s of memory bandwidth compared to the 10.7GB/s offered by the previous generation's dual-channel DDR2-667 memory controller.
GPU accelerated features of OS X such as Exposé and Coverflow aren't particularly processing power constrained as they ran just fine on the GMA X3100 used in the older MacBooks; memory bandwidth actually matters more here. Exposé feels slightly faster with 20 open windows on the new MacBook than on the old one; the animation is a tad smoother. The issue here is that the MacBook's resolution hasn't gone up, it's still stuck at 1280 x 800 - meaning the memory bandwidth requirements for smooth Exposé and Coverflow haven't changed. The same is true for things like Coverflow; at best it's marginally faster on the new MacBook.
Moving up to 40 windows, the gap between the GMA X3100 and the GeForce 9400M remains small but noticeable. But crank it up to 60 open windows and Exposé stutters on the GMA X3100 while it's still fairly smooth on the GeForce 9400M. I suspect this may be due to the 9400M having 256MB of system memory set aside for it compared to 144MB by the GMA X3100, although both should be able to grow their memory partition as needed without incurring a terrible penalty.
At 80 windows the GMA X3100 is unbearable when activating Exposé and both the MacBook's GeForce 9400M and the Pro's GeForce 9600M get choppy, but nowhere near as bad as the Intel solution. The 512MB GeForce 9600M will probably do a bit better with 80 windows but at 60 or less both of the NVIDIA solutions do well. With only a few windows open it's tough to tell the difference between the NVIDIA GPUs and the previous generation Intel offering, but keep a bunch of things open and you'll quickly appreciate the new mGPU.
Two GPUs
While the MacBook relies on the integrated GeForce 9400M, the MacBook Pro includes a discrete GPU as well (NVIDIA calls this a dGPU and the integrated one the mGPU): a GeForce 9600M. The 9600M features 32 SPs up from 16 in the 9400M, giving it more shader power and it's got its own dedicated frame buffer off of a 128-bit memory bus. The dedicated frame buffer is quite possibly the most important but the usefulness here is pretty much limited to games (which are mostly going to be Windows-only) and the high end professional applications that are GPU accelerated.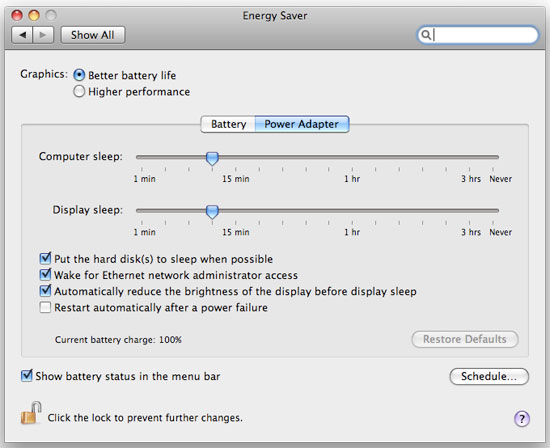 Apple gives you the option of switching between the two GPUs in the Energy Saver preference pane; unfortunately you have to log out and log back in to switch between the dGPU and mGPU. Other PC implementations of Hybrid Power (what NVIDIA calls the ability to turn off the dGPU and rely on just the mGPU) aren't so clumsy and can be done from within Windows, but for whatever reason Apple requires a logout/login.

The mGPU is preferable for battery life as you'll see in the section on battery life shortly.
Pulling an Apple out of a Hat: DisplayPort Standard
Apple has a tendency of doing this thing where it adopts new standards and gets rid of old ones well before their time is up. It's admirable and it allows Apple to pull off some neat tricks, but as Apple is a much larger manufacturer today than it was in the past we're starting to see examples of why companies like Dell don't take a similar approach.
Case in point is the video output on these two notebooks we're looking at today. Apple had a DVI output on its MacBook Pro but the connector itself was a little too big for the form factor changes that Apple wanted to implement. On the MacBook Air Apple used a mini DVI output, but on the new MacBook and MacBook Pro we have a mini DisplayPort connector.


The mini DisplayPort connector is to the left of the mic-input
Unfortunately only Apple uses mini DisplayPort on its recently introduced 24" display; Dell still uses the full sized DisplayPort connector on its monitors - not to mention the many more that use standard DVI or VGA.
Apple's solution is to offer mini-DP to DVI, DVI, or DL-DVI adapters, which is acceptable; unfortunately neither notebook ships with a single adapter. In the long term this will hopefully be a non-issue, but until then be prepared to spend another $30 or $100 (dual-link DVI) to support an external display.
Baby Steps: The New Trackpad
With the MacBook Air, Apple introduced its first oversized trackpad: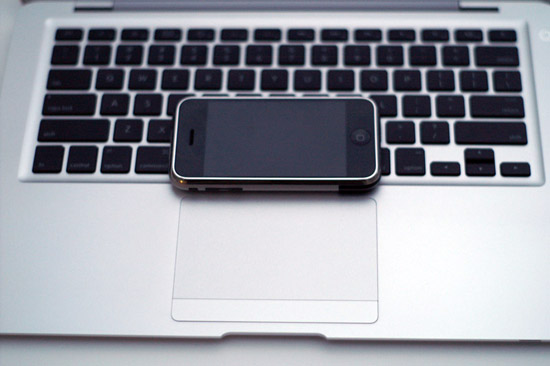 The MacBook Air's trackpad
The size was necessary to enable more complex gestures; you could now rotate pictures just using two fingers and the trackpad. Neat. The MacBook Pro got the same functionality with its update earlier this year, and now with this last redesign both the MacBook and MacBook Pro have support for even more gestures.

The old MBP trackpad (left) vs. the new MBP trackpad (right)
Slide four fingers from top to bottom and you'll activate Exposé, slide them from left to right and you can switch between apps. The gestures are nice but are still gimmicky in my opinion; they aren't integrated well enough into OS X as the OS wasn't designed with them in mind. The usage experience I'm looking for is more Star Trek tablet - or iPhone like if you want a more realistic reference. I think we're getting there, and Apple is planting the seeds for such a transition, especially if you look at the sort of trackpad used on the new notebooks.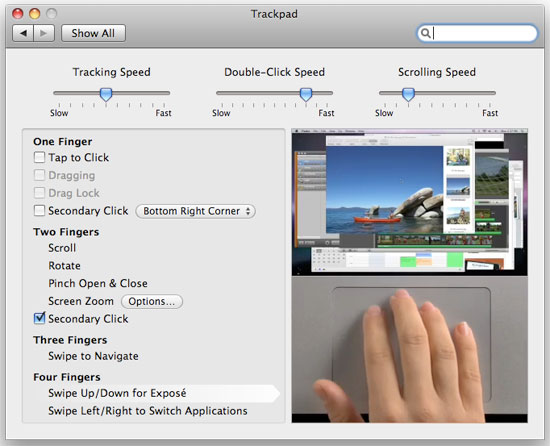 The new trackpad lacks any discrete buttons; instead, the entire pad can be depressed and acts as a physical mouse button. Keep one finger on the pad and push down on it for a single click, have two fingers on the pad and it's a right click. Scrolling is the best implementation I've seen on a trackpad; just take two fingers and move them up/down/left/right to scroll.
The pad is also covered with a thin piece of glass that makes gliding your finger on it much smoother, which is admittedly very nice. None of this is necessary for the current gestures but it gives us a good indication of where Apple is going with this. It won't be this year, it may not even be next year, but real multi-touch is coming to OS X. Wake me up when that day comes, because until then this bandaid of gestures isn't going to win me over.
While I wasn't won over by the gestures, I would be fine with the new trackpad if it didn't have so many problems. I have had some issues with clicks not registering; I'm not sure if this is a hardware problem or a software one. The trackpad would physically click but the click wouldn't register in OS X. This problem appeared more on the MacBook Pro than the MacBook, and it didn't matter where I clicked on the pad, it just wouldn't register. Eventually it would sort itself out and everything would be back to normal. It seems like other users are running into this same problem and Apple appears to be replacing notebooks, but there's no indication that it's actually a hardware issue. I'd suspect it's a software problem but it's honestly too early to tell. So far it seems like if you take your finger off of the pad before you click, then put it back on to click you're more likely to make the click register. Or simply enable tap-to-click and you'll avoid the problems altogether - not a real solution in my opinion but a workaround.
The trackpad is even worse under Windows for some reason. If you try pushing down on the pad to make it click under Windows, the cursor has a tendency to jump while it is very well behaved under OS X. Again, I have a feeling this is more of a software problem but who knows if/when it will be fixed.
Hooray for being an early adopter of Apple's finicky product.
Oh No, It's Glossy
Glossy screens are in, unfortunately. They look cooler and can improve contrast ratio in normal lighting conditions, but they are extremely reflective. Apple offered a matte option on the previous generation MacBook Pro, but both the base MacBook and the Air came with glossy screens standard. With the new MacBook and MacBook Pro Apple switched to a thin glass covering in front of the display, giving the system a more updated look. I'm not sure functionally if there's any benefit to the glass exterior but it looks cool. Both the MacBook and MacBook Pro have this glass outer layer, although the two notebooks use different physical LCD panels (more on that later).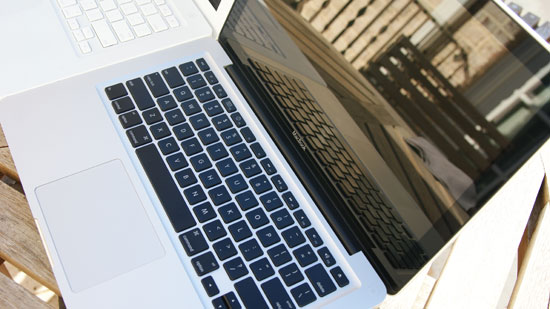 That's not a mirror baby, it's a display
People have complained about the new glossy screens a lot, but let's see how bad they really are. While the obvious comparison would be between the old and new MacBooks I want to start by comparing the new MacBook to the first generation matte MacBook Pro to put the glossiness into perspective for those of you who don't have a previous generation MacBook: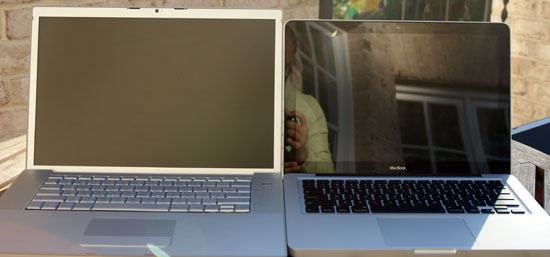 MacBook Pro matte (left) vs. the new MacBook (right)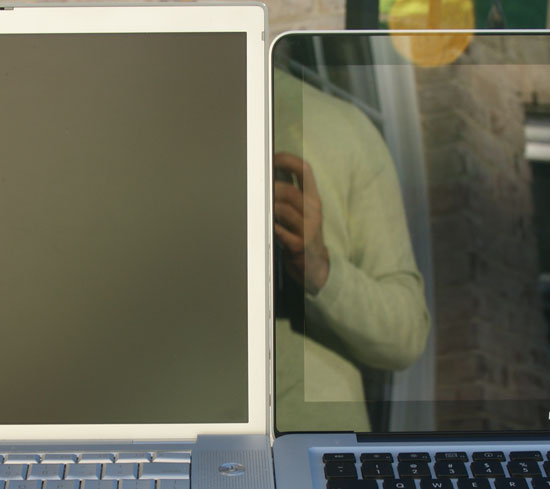 MacBook Pro matte (left) vs. the new MacBook (right)
Hello reflections! If you're used to a matte screen, this thing is going to bug the hell out of you. Now let's toss the old MacBook Pro's glossy option into the mix: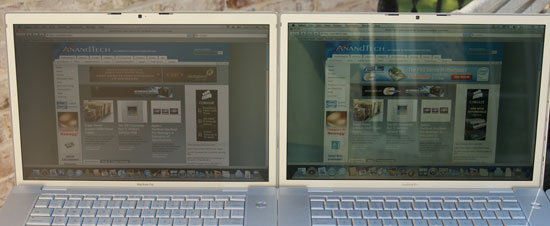 The old MacBook Pro matte (left) vs. the old MacBook Pro glossy (right)
The older glossy screen is definitely harder to read outdoors, but indoors (or in the shade) I actually prefer it to the matte screen. Let's look at how the old glossy display compares to the new glass covered glossy one: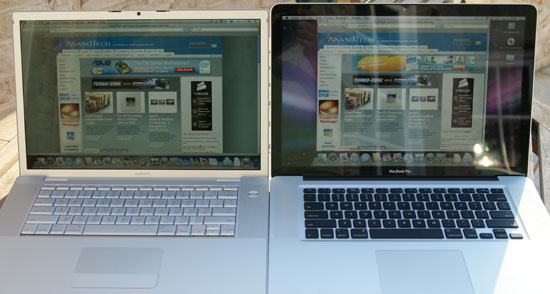 The old MacBook Pro glossy (left) vs. the new MacBook Pro on the right (do I even need to call it glossy?)
Reflections-a-plenty on the new display; while the brightness somewhat makes up for it the display is still more distracting than not when outside. I still prefer the glossy displays indoors thus in my opinion the best balance was actually the previous generation MacBook Pro's glossy display. The new one is just a little too nuts - unfortunately you don't really have a choice.
Compared to the previous generation MacBook we have the same problem: the new display is extremely reflective: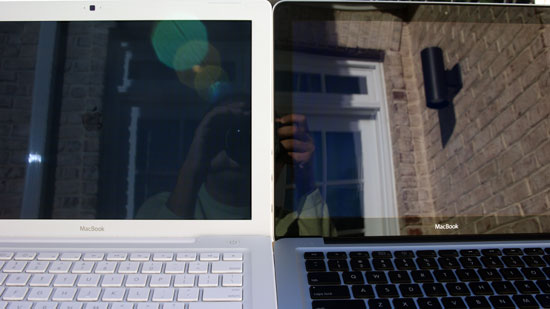 MacBook old (left) vs. MacBook new (right)
There are definitely situations where the new displays are unusable outside, especially compared to a notebook with a matte display. Note that these pictures were taken with the sun behind the screens, not in front, so simply turning your torso won't fix these problems. The best solution is to find some shade to work in, or to pick a laptop without a glossy screen. My MacBook Air has a glossy screen that pretty much guarantees writing in direct sunlight is impossible, so I'm used to working in the shade but it is a valid concern.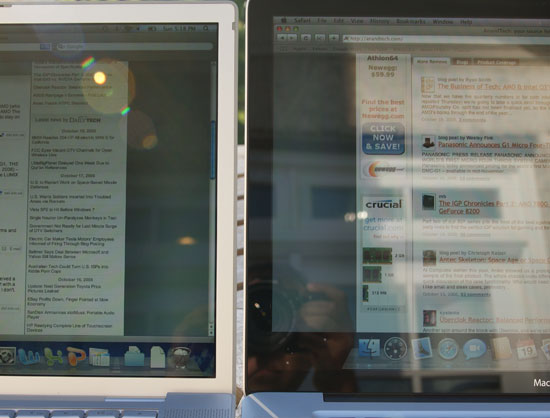 MacBook old (left) vs. MacBook new (right)
Note that there are also situations where even the older MacBooks aren't usable outside: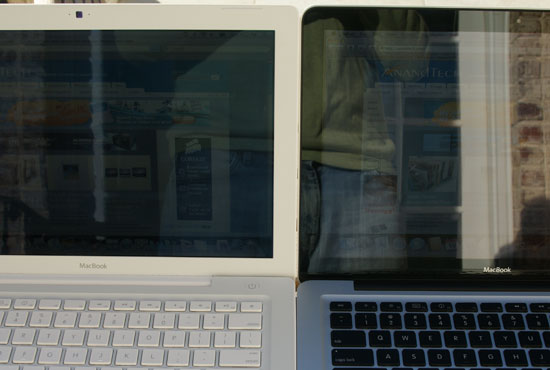 Part of the problem is the black border around the display. This part is also covered in glass but it's not backlit, making reflections even more visible there. Compared to the aluminum or plastic border in the previous MBP/MB notebooks, this border looks great but makes reflections seem worse.
I tend to do most of my writing indoors, but if I were still in school and writing on campus the glossy screens would be a definite issue. I saw a quote from Apple saying that the new displays are bright enough to make up for the additional glare; as the pictures above show there are definitely situations where this isn't true.
Display Analysis Indoors
The glossy issues don't apply nearly as much indoors since you don't usually have a sun in your room, thus our focus turns to viewing angle. With the previous generation MacBook the poor viewing angle of the panel kept me from really recommending the notebook. You couldn't tilt the screen far back enough to get a good viewing angle with the laptop in a plane for example.
The first noticeable change is that you can tilt the screen back a lot more on the new MacBook and MacBook Pro, helping to alleviate some of the viewing angle issues on the MacBook (the Pro still uses a much better panel with significantly better viewing angle).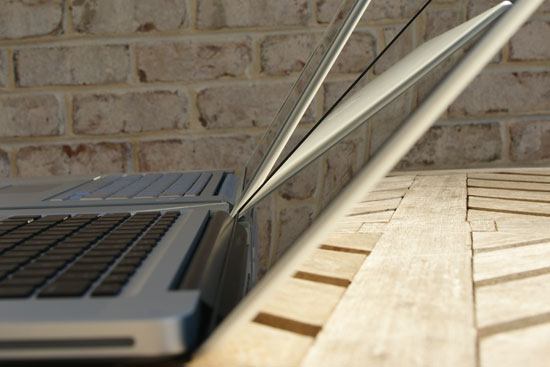 The old MacBook Pro (back) vs. the new Macbook Pro (front)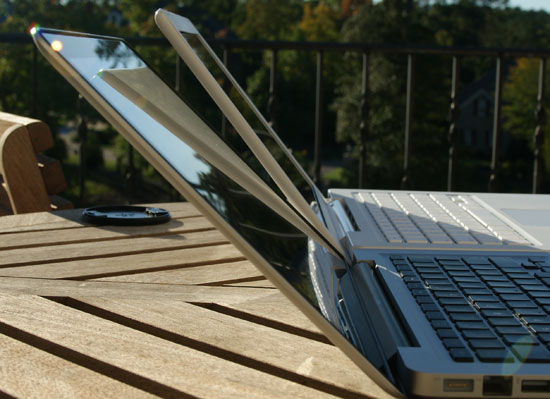 The old MacBook (back) vs. the new MacBook (front)
The new MacBook panel is definitely improved in general; while it's not perfect the LED backlight helps a ton. Here's a comparison between the new MacBook and the old one:


The new MacBook (right) doesn't look as washed out as the old MacBook (left)

The old MacBook (left) isn't as bright as the new MacBook (right)
Now here's an interesting comparison, let's look at the old MacBook vs. the old MacBook Pro: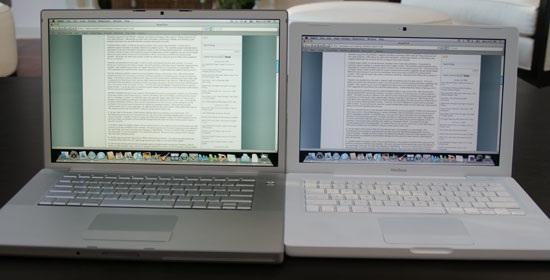 The old MacBook Pro (left) vs. the old MacBook (right)
Straight on we see warmer colors on the MacBook Pro (left) but at this angle everything looks fine. At a more ridiculous angle you can get an amplified picture of the problem with the old MacBook: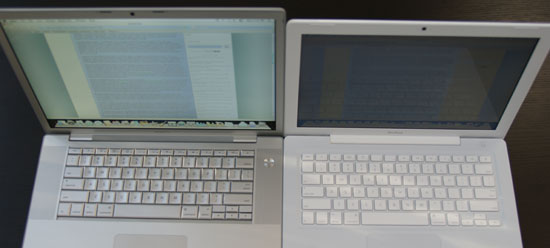 The old MacBook Pro (left) vs. the old MacBook (right)
Both of these displays are at full brightness, but the MacBook (right) is hardly visible. This is clearly an extreme case but even at smaller angles you still notice a lot of washout on the old MacBook's display. Now let's do the same comparison with the new MBP and MacBook: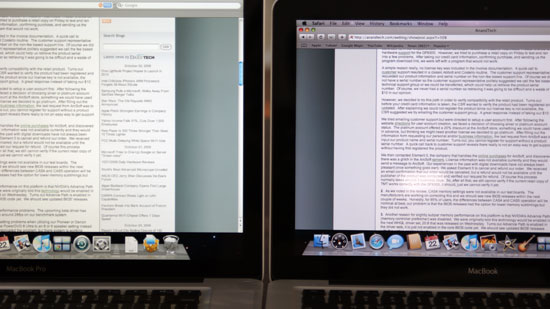 The new MacBook Pro (left) vs. the new MacBook (right)
Head on we see the same differences in panels, the MacBook Pro has much warmer colors than the MacBook. Let's see what happens if we go to a more extreme viewing angle though: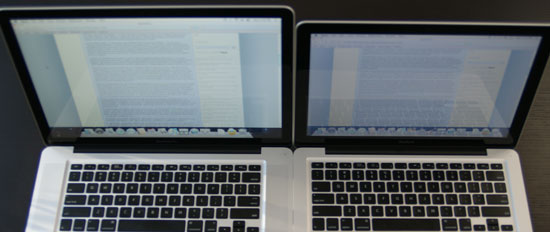 The new MacBook Pro (left) vs. the new MacBook (right)
The MacBook gets a bit darker but nothing near as bad as what we saw with the old MacBook, showing the sort of improvement that Apple has made this generation. The new MacBook finally has an acceptable display. While I wouldn't consider the old MacBook because of the display, the new one is improved enough that I'd actually be ok with it. I've written most of this review on the new MacBook and while the old one would've frustrated me by this point, the new one was just fine.
The MacBook Pro does offer some definite benefits in low light viewing however, let's take a look at black levels when watching a movie: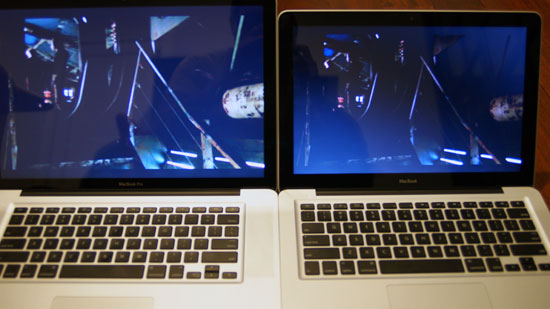 The new MacBook Pro (left) vs. the new MacBook (right)
Here everything looks ok, but let's go to a more extreme angle and cut the lights off: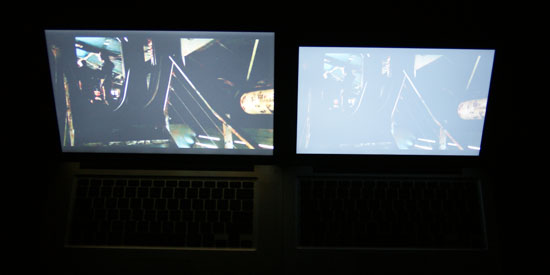 The new MacBook Pro (left) vs. the new MacBook (right)
Both screens are quite visible in reality at a normal viewing angle, but the MacBook Pro is definitely better.
My Biggest Gripe: No Standard SSDs
A few months back Apple announced that the profit margins on its notebooks would be reduced as a result of increased materials and production costs. The result of these lower margins would make Apple's notebooks tougher to compete with. Given that Apple uses off the shelf PC components for its notebooks I figured the areas for innovation were limited to design or spending more on the individual components. Apple has historically outspent the competition when it comes to design, and it's one area where most PC OEMs have failed to follow in its footsteps. Logically, it would make sense for Apple to spend more here to widen the gap between itself and encroaching PC OEMs.
Spending more on components is a losing race for Apple. Companies like Dell and HP ship many more systems than Apple and could just as easily match any spending Apple does on additional components. Putting more money into design however requires that you have a team capable of creating visionary, leading designs. While the Dells of the world have made significant strides in closing the style gap, Apple continues to lead here.
Despite what makes sense, what I was honestly hoping for was for Apple to make the transition to SSDs on its notebooks. Apple has been inching closer with each new notebook launch; the MacBook Air was its first notebook to ship with a SSD option and both the new MacBook and MacBook Pro offer optional SSDs (although it's unclear what drives they're using; at $600 for 128GB I'm guessing it's a MLC drive, but I have no idea what controller).
I've been using a SuperTalent JMicron based MLC SSD in my Mac Pro as a boot/application drive for the past few months, and while there are definite issues with this drive (pausing and serious performance problems as you near full capacity, something I'll be talking about in my next article or two) the areas where it does improve performance completely change the way my machine feels. Applications launch in half the time of a normal hard disk and running a bunch of disk intensive applications at the same time doesn't bring the system to a crawl.
Economically there's no way Apple could ship a SSD standard in a $1299 MacBook, at least not at any reasonable capacity. But I assure you this: more than any upgrade Apple has put into the new machines, an SSD is very important if you want to have a machine that feels fast.
Let me put it this way. Normally whenever I snag a new Mac to review, the thing feels fast. It's got a clean install, nothing loaded, a fast processor, and using it feels very much like I'm watching a Jobs keynote. Everything is just so very snappy. For the first time ever, using these two new notebooks actually felt slow. Not because they are slow, but because I'm so used to an SSD on my main machine. I've already begun switching over my testbeds to SSDs as well.
My biggest gripe with these notebooks is that they don't ship with an SSD standard. I would bet that within a year that will change, at least at the high end. If anyone has an idea of what SSD Apple is shipping with the MacBook/MacBook Pro, I'd like to know; I would assume that Apple would have done its due diligence and offer something better than a JMicron MLC drive but at $600 for 128GB it's tough to tell what else it could be....
The New MacBook
Size-wise, the new MacBook is perfect. It's a full half pound lighter than the previous generation MacBook and it's much more solidly built. The beveled edges are nice, it looks great, it feels like you're getting what you paid for, and aesthetically I have no complaints. It feels like a modern MacBook.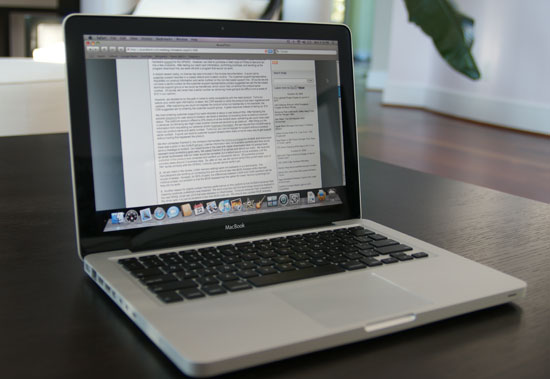 Yep. I like it.
New MacBook
2008 Penryn MacBook
2007 Merom MacBook
Dimensions
H: 0.95"
W: 12.78"
D: 8.94"
H: 1.08"
W: 12.78"
D: 8.92"
H: 1.08"
W: 12.78"
D: 8.92"
Weight
4.5 lbs
5.0 lbs
5.0 lbs
Screen Size/Resolution
13.3" / 1280 x 800 (LED backlit)
13.3" / 1280 x 800
13.3" / 1280 x 800
CPU
Intel Core 2 Duo 2.0GHz or 2.4GHz (45nm Penryn, 1066MHz FSB)
Intel Core 2 Duo 2.1 - 2.4GHz (45nm Penryn, 800MHz FSB)
Intel Core 2 Duo 2.0 - 2.2GHz (65nm Merom)
GPU
NVIDIA GeForce 9400M (256MB UMA)
Intel GMA X3100
(144MB UMA)
Intel GMA X3100
(144MB UMA)
Memory
2GB - 4GB DDR3 1066
1GB - 4GB DDR2-667
1GB - 4GB DDR2-667
HDD
160GB - 320GB 2.5" 5400RPM SATA HDD
128GB SSD optional
120 - 250GB 2.5" 5400RPM SATA HDD
80 - 160GB 2.5" 5400RPM SATA HDD
Optical Drive
Integrated SuperDrive
Integrated Combo drive or SuperDrive
Integrated Combo drive or SuperDrive
Networking
802.11a/b/g/n
10/100/1000 Ethernet
802.11a/b/g/n
10/100/1000 Ethernet
802.11a/b/g/n
10/100/1000 Ethernet
Built in iSight
Yes
Yes
Yes
Inputs
2 x USB 2.0
1 x Audio in
1 x Integrated mic
2 x USB 2.0
1 x FireWire 400
1 x Audio in
1 x Integrated mic
2 x USB 2.0
1 x FireWire 400
1 x Audio in
1 x Integrated mic
Outputs
1 x Audio
1 x mini DisplayPort
1 x Audio
1 x mini-DVI
1 x Audio
1 x mini-DVI
Battery
45WHr
55WHr
55WHr
Price
$1299
$999
$1099
My biggest complaint about the old MacBook was that its display was clearly inferior to the MacBook Pro and Air. The issues were two-fold: 1) Apple used a cheaper panel with the MacBook (both it and the Pro use a TN panel it seems, unlike what I had originally assumed), and 2) the MacBook used a CCFL backlight instead of the LED backlight on the Pro.
The combination of those two issues meant that the MacBook's screen was horribly washed out at anything but perfect viewing angles, and honestly distracting enough that I wouldn't want to spend money on the machine; I'd opt for the MacBook Pro. Unfortunately, MacBook Pros are expensive and the MacBook is the "affordable" Apple notebook so my solution only really works in a world where government bailouts also apply to notebook purchases. `
Apple's solution was to create a $1299 upgraded MacBook. It still has a 13.3" display and still uses a cheaper panel than the MacBook Pro, but it's LED backlit. LED backlights give you better color reproduction and viewing angles than CCFL backlights, and thus we have a much better looking display.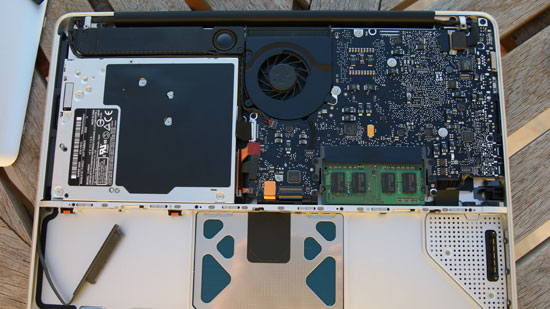 Inside the MacBook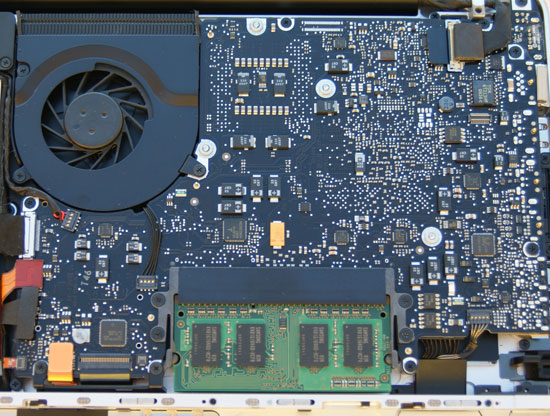 It's a tiny motherboard thanks to the single chip GeForce 9600M
The 13.3" widescreen display is perfect for writing, chatting and web browsing. It's the same size and resolution screen as what's on my MacBook Air, which is perfect for what I use it for. If you start doing a lot of image editing or heavy multitasking, despite the benefits features like Exposé offer you'd be much better off with a 15" display. But for a writer or student, I like the 13.3" MacBook form factor.
The keyboard is the same thing I've got on my Air, and I already love it there so there are no complaints here. Apple continues to refuse to outfit the MacBook with a backlit keyboard, which I continue to believe is a big mistake as it could be a small but significant advantage over the competition. The backlit keyboard on the MacBook Pro continues to be one of my favorite features. Thankfully the keyboard is well spaced enough that you honestly don't need a backlight in most situations, but it's still nice to have for those dark nights or on an airplane. Update: As many have pointed out, the $1599 2.4GHz MacBook does ship with a backlit keyboard which is a good move by Apple. I would like to see that on the $1299 model as well however.

There are no surface mounted speakers on the MacBook; like the MacBook Air the speakers are located beneath the keyboard but an improvement over the air is the fact that the new MacBook has two speakers instead of just one. Overall sound quality is a bit better but the more noticeable improvement is the stereo sound; welcome to the 1980s.


Power, Ethernet, two USB, mini DisplayPort, audio in, audio out, Kensington security slot.
Highly controversial in the Mac community is Apple's complete abandonment of Firewire from the MacBook; all that's left are two USB 2.0 ports. If you remember the first iPod had Firewire before Apple eventually gave it up in favor of USB as well. With the loss of FireWire you do lose the ability to connect two Macs together and use one of them in target disk mode, and you do lose a preferred method of connecting many camcorders, but the number of times I've used FireWire on my notebooks, much less desktops, has been minimal at best.
The new MacBook is honestly perfect for those who want the MacBook Air but would be put off by its hardware limitations. I find it to be the perfect Air-replacement if you need a bit more functionality. While I would recommend the older MacBook over the Air for those who needed practicality, I did so with hesitation as the display was a bit too bothersome for me. The new MacBook offers the build quality and improved display that make it a good, more level headed alternative to the Air if you don't need the weight reduction.
My complaints still stand about the MacBook - it could use a higher quality LCD panel and lacks a couple of key features that the Pro adds (ExpressCard slot, backlit keyboard), but this time the difference between the base and Pro models is close enough where I'm comfortable recommending the MacBook. Its added portability and fairly light weight are both additional advantages over the Pro. When it comes down to it, if you need something smaller, the MacBook works; if you need something larger and a bit more flexible then the Pro is a good option.
Compare the MacBook to what's available in the PC space and you'll see that the Apple-premium is on the high side these days. The Dell Inspiron 13 can be had, similarly configured to the MacBook, for $1024 compared to $1299 for the MacBook. While that comparison doesn't take into account the value of OS X and the MacBook's aesthetic/build quality advantages, the Dell Inspiron 13 ships with 4GB of memory by default compared to 2GB on the MacBook. Apple is using more expensive DDR3 memory with the MacBook but when all of the major PC OEMs are shipping systems with 3GB or 4GB of memory and Apple is still stuck at 2GB there's cause for complaint.
For the most part OS X behaves quite well with 2GB, but for heavier multitasking the more memory the better. Even the $1999 MacBook Pro configuration ships with only 2GB, which is just plainly unacceptable. You have to spend $2499 to get a default configuration with 4GB of memory from Apple; thankfully Apple charges an unusually reasonable $150 for an upgrade to 4GB which is not too far off the $120 it'd cost you to buy a similar amount from Newegg. You're still better off taking the 2GB from Apple and buying more memory from Newegg since you're already paying for the 2GB in the base system price.
Price concerns aside though, if you want OS X (legally) the only way you're going to get it is by buying a Mac. Thankfully Apple has made the new MacBook good enough for me to recommend, and all it took were some minor tweaks.
The New MacBook Pro
The new MacBook Pro looks larger than the older one thanks to its increased size in width and depth. The thickness of the system went down thanks to the mini DisplayPort output, cooler chipset and thinner aluminum chassis, which makes it feel better in your hands. Build quality is much improved from the previous generation, and just like the new MacBook, this thing feels like you're getting what you paid for.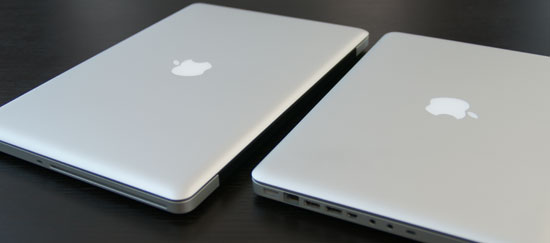 The MacBook Pro (left) vs. the MacBook (right)
New MacBook Pro 15"
2008 Penryn MacBook Pro 15"
2007 Merom MacBook Pro 15"
Dimensions
H: 0.95"
W: 14.35"
D: 9.82"
H: 1.0"
W: 14.1"
D: 9.6"
H: 1.0"
W: 14.1"
D: 9.6"
Weight
5.5 lbs
5.4 lbs
5.4 lbs
Screen Size/Resolution
15.4" / 1440 x 900 (LED backlit)
15.4" / 1440 x 900
(LED backlit)
15.4" / 1440 x 900
(LED backlit)
CPU
Intel Core 2 Duo 2.4GHz, 2.53GHz or 2.80GHz (45nm Penryn, 1066MHz FSB)
Intel Core 2 Duo 2.4GHz - 2.6GHz (45nm Penryn, 800MHz FSB)
Intel Core 2 Duo 2.2GHz - 2.6GHz (65nm Merom, 800MHz FSB)
GPU
NVIDIA GeForce 9400M (mGPU) + GeForce 9600M GT dGPU (256MB or 512MB GDDR3)
NVIDIA GeForce 8600M GT (256MB - 512MB)
NVIDIA GeForce 8600M GT (128MB - 256MB)
Memory
2GB - 4GB DDR3 1066
2GB - 4GB DDR2-667
2GB - 4GB DDR2-667
HDD

250GB - 320GB 2.5" 5400RPM SATA
320GB 7200RPM SATA
128GB SSD

200 - 250GB 2.5" 5400RPM SATA
200GB 7200RPM SATA
120 - 250GB 2.5" 5400RPM SATA
200GB 7200RPM SATA
Optical Drive
Integrated SuperDrive
Integrated SuperDrive
Integrated SuperDrive
Networking
802.11a/b/g/n
10/100/1000 Ethernet
802.11a/b/g/n
10/100/1000 Ethernet
802.11a/b/g/n
10/100/1000 Ethernet
Built in iSight
Yes
Yes
Yes
Inputs
2 x USB 2.0
1 x FireWire 800
1 x ExpressCard/34
1 x Audio in
1 x Integrated mic
2 x USB 2.0
1 x FireWire 400
1 x FireWire 800
1 x ExpressCard/34
1 x Audio in
1 x Integrated mic
2 x USB 2.0
1 x FireWire 400
1 x FireWire 800
1 x ExpressCard/34
1 x Audio in
1 x Integrated mic
Outputs
1 x Audio
1 x Mini DisplayPort
1 x Audio
1 x dual-link DVI
1 x Audio
1 x dual-link DVI
Battery
50WHr
60WHr
60WHr
Price
$1999
$1999
$1999
With the MacBook Pro you get something that looks like a larger MacBook. Thanks to the 15.4" screen there's enough keyboard real estate to provide two external speakers responsible for a better sound than what you get from the base MacBook. Then there's the backlit keyboard, which you don't get with the MacBook. There's an ExpressCard/34 slot and a faster Core 2 CPU by default (2.4GHz vs. 2.0GHz in the MacBook). And finally you get the GeForce 9600M dGPU in addition to the GeForce 9400M, driving a higher quality, higher resolution 15.4" panel.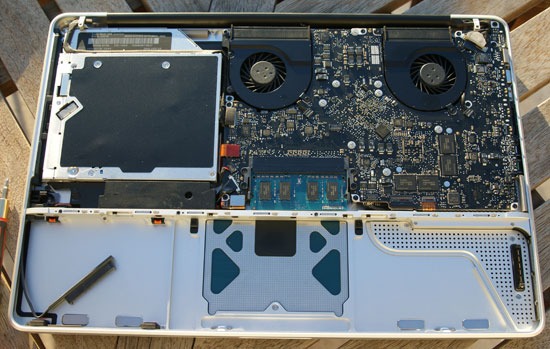 The MacBook Pro motherboard, note the two fans - one for the CPU and one for the GeForce 9600M
The differences between the MacBook and MacBook Pro actually haven't changed all that much; you get more ports, faster hardware and a better display. The difference here is that the $1299 MacBook is closer to the Pro than the old one ever was. I'd say the biggest reasons to move to the MacBook Pro are if you need the additional screen real estate, ExpressCard port or the GeForce 9600M. The majority of users will probably be well served by the new MacBook.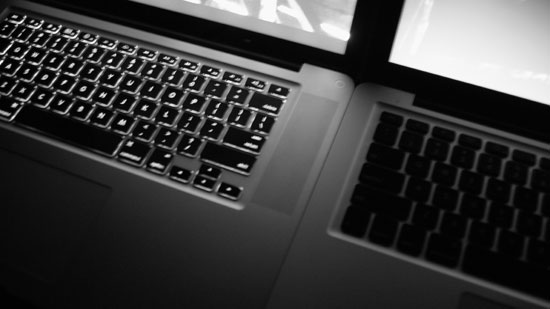 The MacBook Pro (left) vs. the MacBook (right)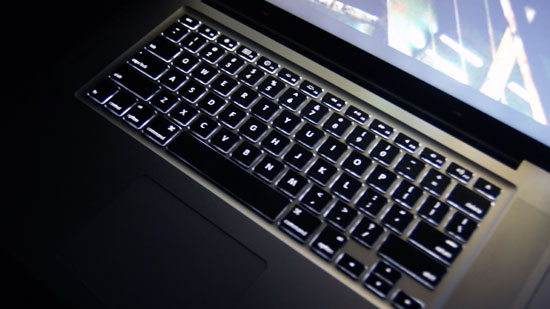 Performance
Outside of gaming performance, there shouldn't be any tangible improvement in system performance from these new notebooks compared to the previous generation. To test that theory I ran some of the same real world tests I did in my last Apple notebook review, comparing the new MacBook and MacBook Pro to the previous generation:
With the exception of the Pages test, the numbers show very little difference between the old and new systems. The new 2.0GHz MacBook is slower than the old 2.4GHz model as you'd expect, and the new 2.4GHz MacBook Pro is in line with the older MacBook Pro performance.
I suspect the Pages test favors the new machines as it is a bit more disk-bound and the newer machines have faster drives. But if you want to know, the new notebooks aren't any faster in normal usage than the old ones. These changes are far more aesthetic.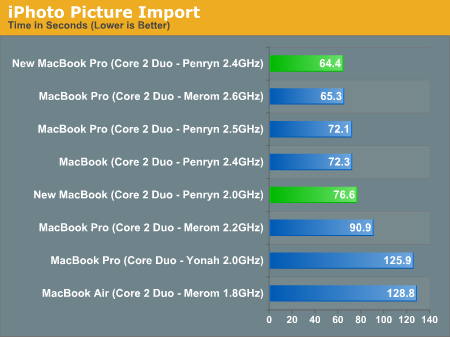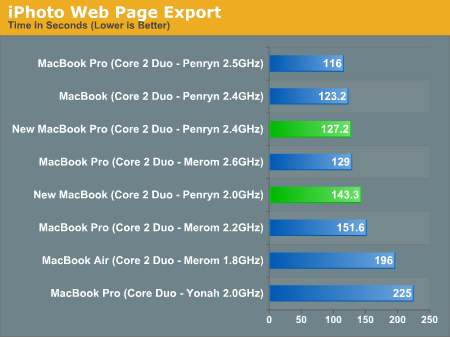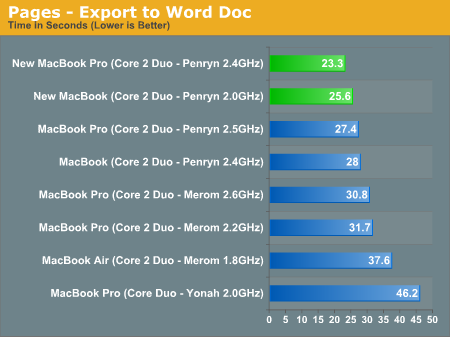 GPU Accelerated H.264 Decode
Both AMD and NVIDIA have fully accelerated H.264 decode on their GPUs and chipsets with integrated graphics, something Intel just recently added with G45. Apple has historically done a terrible job of taking advantage of GPU accelerated video decode features in its OS, which is partly why it took us so long to get somewhat acceptable deinterlacing in Apple's DVD app, despite solid deinterlacing support by the GPU vendors.
Part of the problem is that unlike on the PC platforms, companies like ATI and NVIDIA don't write the entire driver for Mac OS X. The GPU vendors provide the hardware interface portion of the driver but Apple handles much of the rest. It's up to Apple to take advantage of the various features supported by the GPU, and most of them aren't high on Apple's priority list.
With Apple heavily pushing H.264 as the codec of choice and offering high bitrate HD H.264 movie trailers at www.apple.com, the move to NVIDIA's GeForce 9400M appeared to be the perfect time to take advantage of GPU accelerated H.264 decode. For the first time ever, Quicktime will use the GPU for the majority of the decode pipeline when playing back H.264 content.
To test the impact of the GPU offload I measured CPU utilization while playing back the 160MB 1080p trailer of The Spirit from Apple's movie trailers website:
| | | |
| --- | --- | --- |
| | New MacBook Pro 15" | Old MacBook Pro 15" |
| CPU Utilization | 10% | 30 - 50% |
The old MacBook Pro saw 30 - 50% of its dual core Core 2 Duo 2.5GHz CPU used up to decode the trailer, while the new MacBook Pro only needed 10% as the rest was done on the GPU. The GPU is also a more efficient place to perform H.264 decoding so you'll actually see an increase in battery life when playing back hardware accelerated content.
As OS X still lacks any official Blu-ray support, the H.264 decode acceleration isn't very useful beyond playing these sorts of files, but it's a definite start. It's also unclear how easy it will be for 3rd party developers to tie into the GPU acceleration hooks or if Quicktime will be your only hope for that.
Battery Life: Take Two Steps Forward, and Two Steps Back
If we look at the power consumption comparison we did in our GeForce 9300 review you'll see that the NVIDIA chipset pulls around 10W less power than G35 at idle, extending up to 15W under gaming loads. NVIDIA's 65nm GeForce 9400M used in the new MacBook and MacBook Pro is effectively the same chipset and thus it's safe to assume that there's a healthy reduction in platform power consumption afforded by the new hardware.
Apple reduced the capacity of both the MacBook and MacBook Pro batteries by 10W (60WHr down to 50WHr for the Pro and 55WHr down to 45WHr for the standard MB). Given that total platform power consumption should go down by around 10W, Apple's efforts here seem to make perfect sense. Smaller batteries mean lighter and potentially thinner notebooks; unfortunately it also means that battery life won't improve at all.
To test this theory I ran two of the battery tests I did back when the first Penryn MacBooks launched: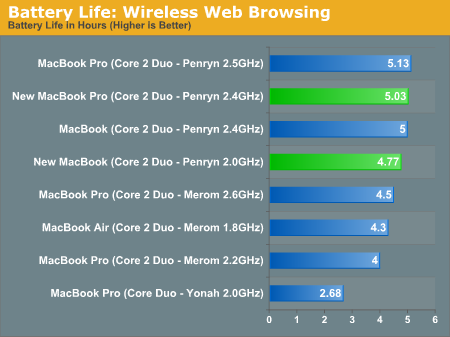 The web browsing test shows that the MacBook Pro battery life remains basically unchanged, while the MacBook takes a slight hit compared to its predecessor. For all intents and purposes, these notebooks won't last any longer than the old ones.
The same thing is true about the heavy usage scenario: battery life basically remains unchanged: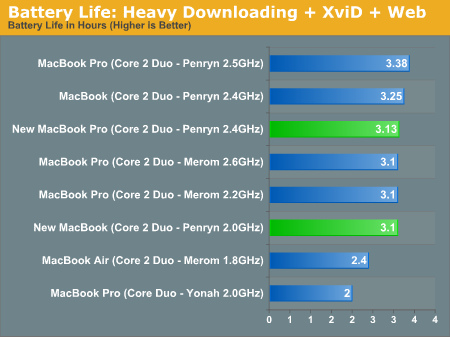 Note that in both of these tests the MacBook Pro's GeForce 9600M GPU was disabled and only the chipset's internal GeForce 9400M was used. Apple indicates that you lose 20% of your battery life if you use the 9600M on the MacBook Pro; to test this I ran the heavy usage scenario benchmark but with the 9600M enabled:
| | | |
| --- | --- | --- |
| | GeForce 9600M Disabled | GeForce 9600M Enabled |
| Battery Life (Heavy Usage Test) | 3.13 hours | 2.37 hours |
Using the dGPU dropped battery life by 24%, which is close enough to Apple's numbers to call them relatively honest. I also appreciate that Apple's 5 hour battery life is about what I got with the MacBook Pro in my web browsing test. Honesty is very important in any relationship, even if it's one between a manufacturer and a consumer.
The Unexpected: Battery Life in OS X vs. Windows Vista
A while ago I started testing the Lenovo X300 with hopes of comparing it to Apple's MacBook Air. The review never saw the light of day but the testing was mostly complete. Obviously the X300 doesn't run OS X, but the MacBook Air can run Windows so I compared battery life between the two under Vista, which yielded some unexpected results.
There are no scripted battery life tests under OS X, while under Vista we have things like MobileMark - luckily, the tests I've put together for OS X can easily be reproduced under Vista. Let's take a look at my tests under OS X:
The wireless web browsing test uses the 802.11n connection to browse a series of 20 web pages varying in size, spending 20 seconds on each page (I timed how long it takes me to read a page on Digg and came up with 36 seconds; I standardized on 20 seconds for the test to make things a little more stressful). The test continues to loop all while playing MP3s in iTunes.

The DVD playback test is simple: I play Blood Diamond in a loop from an image on the hard drive until the battery runs out.

The final test is the multitasking workload. For this benchmark I'm downloading 10GB worth of files from the net (constant writes to the drive), browsing the web (same test as the first one) and watching the first two episodes of Firefly encoded in a 480p XviD format (Quicktime is set to loop the content until the system dies).

The system was set to never shut off the display and never go to sleep, although the hard drive was allowed to spin down when possible. The display brightness was set at 9 blocks (just over 50%), which I felt was comfortable for both day and night viewing.
The first test was easy to duplicate under Vista; web browsing is ubiquitous across platforms and iTunes has been cross platform for a while now. The same goes for the DVD playback test; instead of using Apple's DVD app I just used Windows Media Player 11 under Vista. And the final test also translates flawlessly to Vista.
Below are the results I got when I first ran the MacBook Air under both OS X and Vista:
| | | | |
| --- | --- | --- | --- |
| | Wireless Internet Browsing | DVD Playback | Heavy Usage |
| MacBook Air (OS X) | 4.98 hours | 3.93 hours | 2.7 hours |
| MacBook Air (Vista) | 2.55 hours | 2.05 hours | 1.75 hours |
Note that this is the same hardware and with the same brightness settings under both OSes. Vista's power management was set to Balanced and the display was set to never turn off under both OSes; the hard drives were free to spin down if possible.
The results are pretty staggering. The same usage model under both OSes results in a significant advantage for OS X. I basically got twice the battery life under OS X as I did under Vista. Now it is possible that Apple's power management is simply more sophisticated under OS X and not optimized for Vista, but what inspired me to include this in today's review was actually something AnandTech's own Jarred Walton brought up in a meeting earlier this week.
In testing the first batch of Centrino 2 notebooks that Jarred received he noted that he can't seem to find a mainstream notebook with a 50 - 60WHr battery that can come close to offering the sort of battery life you get out of the Macs. Even in his idle tests (just leave the computer at the desktop without doing anything or putting it to sleep) Jarred has been finding many mainstream notebooks only seem to last 3 or 4 hours at best. He asked me to run a simple test on the latest MacBook Pro just to confirm his findings: play a DVD under OS X then Windows Vista and see how battery life is impacted by the OS change.
Now I'd already ran this test on the MacBook Air earlier this year, but I had assumed that there was something wrong with my data. Repeating the DVD test (this time using an actual DVD of Sin City in the drive) I measured battery life for looping the entire movie (minus credits) on the new MacBook Pro:
| | |
| --- | --- |
| | DVD Playback |
| New MacBook Pro (OS X) | 3.07 hours |
| New MacBook Pro (Vista) | 1.5 hours |
Under OS X the new MacBook Pro lasted just over 3 hours while playing the DVD, but under Windows Vista I got a total of 1.5 hours. All of the bootcamp drivers were installed and the OS was as clean as could be with no additional background tasks other than what loads by default with a standard Vista Ultimate 32-bit install.
Now it's possible that Apple's notebooks may be at a battery life disadvantage under Vista vs. OS X. To find out here are the results for the Lenovo X300 compared to the MacBook Air under Vista:
| | | | |
| --- | --- | --- | --- |
| | Wireless Internet Browsing | DVD Playback | Heavy Usage |
| MacBook Air (OS X) | 4.98 hours | 3.93 hours | 2.7 hours |
| MacBook Air (Vista) | 2.55 hours | 2.05 hours | 1.75 hours |
| Lenovo X300 (Vista) | 2.82 hours | 2.18 hours | 1.68 hours |
The Lenovo X300 actually offers similar battery life to the MBA under Vista, despite shipping with a 27WHr battery vs. the 37WHr unit in the MacBook Air. The comparison isn't that cut and dry however; the X300 uses a Core 2 Duo L7100 with a 12W TDP compared to the 1.6/1.8GHz 20W TDP processor in the MBA. Overall platform power consumption is lower on the X300 than on the MBA and thus the numbers here seem to support my point. The X300 manages to last a bit over 2 hours during the DVD playback test under Vista, while the MacBook Air can pull nearly 4 hours under OS X (despite also staying alive for ~2 hours under Vista).
Figuring out why OS X seems to be better for battery life is nearly impossible, at least without the aid of both Apple and Microsoft. I've brought up this topic with a handful of PC OEMs in the past and they haven't been able to shed any more light on things, other than to confirm that Vista is a strange beast. It's quite possible that Vista's constant performance optimizations are preventing CPU and platform power management techniques from being effective, but that seems a little too simplistic of a view.
All I can do for now is report the numbers as is. An unexpected benefit of OS X appears to be better battery life. Go figure.
Final Words
In terms of aesthetics and build quality, the new MacBook and MacBook Pro are absolutely excellent. When Apple introduced the iPhone I called it a phone that looked like it was made in 2007, and the same is true about the new notebooks.
Apple walks a fine line between balancing form and function and with this latest update it seems have to gone further on the form side. The glossy screens look great but will be problematic for those who use their notebooks outdoors a lot without shade or other shelter from the ultra bouncy rays of light from the sun. And the new trackpads offer a bit more functionality but are far too tempermental for me to be too happy about them.
Despite the hardware updates to the new machines they are no faster than the ones they are replacing. The GeForce 9400M is a nice change from the Intel integrated graphics in the older MacBook and hopefully it will send a clear message to Intel: the days of delivering mediocre integrated graphics are over. But in terms of actual performance, if you've already got a Penryn based MacBook or MacBook Pro, there's no reason to upgrade. You'd be much better off waiting until Apple adopts Nehalem in these things a year from now.
The winner of the group is the new MacBook, which finally closed the gap between it and its Pro sibling. I've said it throughout this article but the new $1299 MacBook is finally good enough for me to be happy recommending. It's not to say that the MacBook Pro isn't a good solution, it's just a bit pricey. Let me also take this time to once again point out that Apple needs to move to 4GB memory configurations, at least on the MacBook Pro, by default. The competition is offering more for less and memory isn't exactly very expensive.
It's a difficult conclusion to make because I genuinely enjoy the improvements in build quality Apple introduced with these new notebooks, but the quirks (ahem, trackpad) are too much for me to make a glowing recommendation here. If you need an Apple notebook today and aren't upgrading from an existing Intel MacBook or MacBook Pro obviously these two are fine, but go in knowing that you're being an early adopter of a platform that already has some issues.
I hate making this recommendation because the notebooks are probably at least 9 months away, but the Nehalem versions will have all of the build quality improvements of these notebooks, probably offer affordable SSD options (and maybe even one standard), and be significantly faster as a whole. In other words, buy the 2009 model year.