Original Link: http://www.anandtech.com/show/2642


The importance of GPU performance is increasing; if it weren't, Intel wouldn't be so feverishly working to bring Larrabee to market and Apple wouldn't have announced a switch away from Intel chipsets two years after adopting them. GPU accelerated applications are finally beginning to get some exposure; Adobe's recent Photoshop CS4 introduction is the perfect example. If more big-name developers deliver GPU accelerated applications that matter, having a higher performance integrated graphics solution becomes more interesting.
Things have been amazingly quiet on the Intel chipset front. Once the AMD-ATI acquisition was announced, development on ATI Intel chipsets all but halted as did shipments of ATI's chipsets to motherboard makers - no one was looking to touch that beast with a 10 foot pole. That left Intel and NVIDIA as the only providers for Intel chipsets.
We finally got G45 a couple of months ago, but in many ways it was a mild upgrade to G35 rather than the platform we'd all been waiting for. NVIDIA has had its gloves on and eyes set on causing Intel trouble wherever possible, so it's not a surprise that NVIDIA's G45 killer is set up to look even stronger on paper.
The GeForce 9300 and 9400 are similar in many ways to the GeForce 8200/8300 from the AMD world, but obviously since we're talking about non-Nehalem Intel platforms they do have a few changes like the inclusion of a memory controller. Like their AMD counterparts however, the GeForce 9300/9400 are single-chip solutions and unlike the 8200/8300 they are built on a smaller 65nm manufacturing process.
AMD 780G
Intel G45
NVIDIA GeForce 9400
NVIDIA GeForce 9300
NVIDIA GeForce 8200
CPU
AMD Socket-AM2
Intel LGA-775
Intel LGA-775
Intel LGA-775
AMD Socket-AM2
Manufacturing Process
55nm
65nm
65nm
65nm
80nm
FSB
N/A
800 / 1066 / 1333MHz
800 / 1066 / 1333MHz
800 / 1066 / 1333MHz
N/A
Memory Controller
N/A
2 x 64-bit DDR2/DDR3 channels
2 x 64-bit DDR2/DDR3 channels
2 x 64-bit DDR2/DDR3 channels
N/A
Memory Speeds Supported
N/A
DDR2-800/667
DDR3-1066/800
DDR2-800
DDR3-1333
DDR2-800
DDR3-1333
N/A
PCI Express
22 PCIe 2.0 lanes
16 PCIe 2.0 lanes
20 PCIe 2.0 lanes
20 PCIe 2.0 lanes
19 PCIe 2.0 lanes
Graphics
Radeon HD 3200
GMA X4500
GeForce 9400 mGPU
GeForce 9300 mGPU
GeForce 8200 mGPU
Core Clock
500MHz
800MHz
580MHz Core / 1.4GHz Shader
450MHz Core / 1.2GHz Shader
500MHz Core / 1.2GHz Shader
Shader Processors
8 (5-way)
10
16
16
8
Full H.264/VC-1/MPEG-2 HW Decode
Yes
Yes
Yes
Yes
Yes
8-channel LPCM
No
Yes
Yes
Yes
Yes
The single-chip design does help enable small form factors as you can get a little more compact with your motherboard layout, but this is mainly an advantage on the mobile side (or with non-standard desktop form factors, e.g. iMac). Built on a 65nm process we should actually see power consumption fairly competitive with Intel's G45, especially given that Intel's ICH10 is built on a 130nm process while the G45 is 65nm.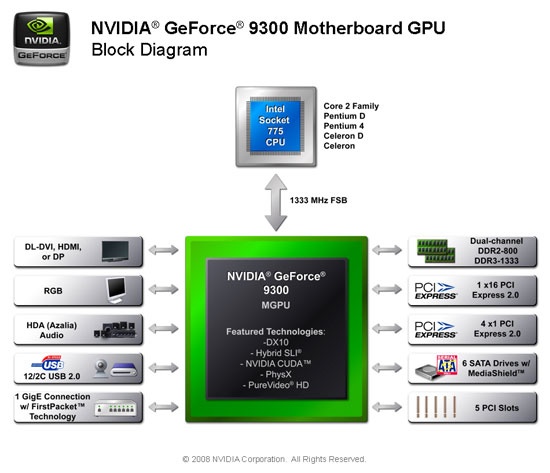 Feature-wise we do get some upgrades over NVIDIA's previous chipsets, exclusively in the graphics department, which we'll get to shortly. Finally, GeForce 9300 boards should be selling for around $100 on average with availability shortly.
The Apple Story
NVIDIA is dedicated to competing with Intel on all fronts and it just took the battle to Intel's most prized OEM: Apple.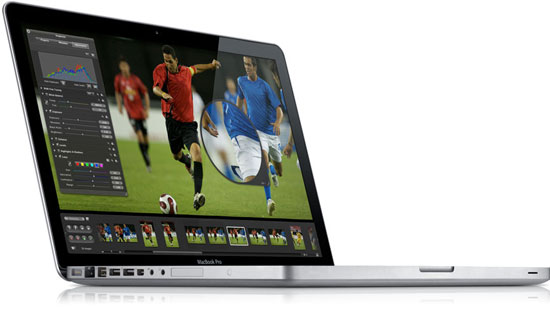 Yesterday Apple announced that instead of moving to G45M for the MacBook, MacBook Pro and MacBook Air, it would be using NVIDIA's GeForce 9400M - a mobile variant of the desktop chipset we're talking about today. Not only did Apple shun G45, but it also pointed out that the GeForce 9400M is up to 5x faster than Intel's integrated graphics - a line that's straight from NVIDIA: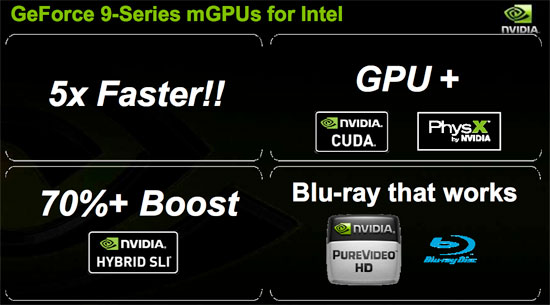 We'll deal with whether or not those claims are true momentarily, but make no mistake - this needs to be a wakeup call for Intel. Apple is often looked to as an OEM that the PC OEMs emulate, and abandoning G45 in favor of NVIDIA's chipset can't bode well for the example Apple is setting for its competition. As we mentioned in our G45 review, it's simply not enough. Intel should be doing a lot better, and kudos to NVIDIA for capitalizing on Intel's errors.
Apple did a tremendous amount of marketing for NVIDIA at its launch yesterday and continues to do so on its own website:

NVIDIA could not have timed the launch of its GeForce 9300/9400 chipsets any better, and without a doubt Apple played a huge role in determining when to launch this chipset. Apple tends to like exclusives and as the first to showcase a GeForce 9400M, it's quite happy.

The repercussions of Apple's NVIDIA switch have yet to be seen but it's a bold move by NVIDIA.
A New Graphics Core
With a smaller manufacturing process, NVIDIA could cram more into the GeForce 9300. While the 80nm GeForce 8200 and 8300 featured 8 SPs, the GeForce 9300 and 9400 have twice that: 16 stream processors. Compared to discrete cards this isn't much of course; the table below shows how the GeForce 9300 stacks up to NVIDIA's own discrete solutions:
| | | | | | | |
| --- | --- | --- | --- | --- | --- | --- |
| | NVIDIA GeForce 9300 | NVIDIA GeForce GTX 260 | NVIDIA GeForce 9800 GT | NVIDIA GeForce 9600 GSO | NVIDIA GeForce 9500 GT | NVIDIA GeForce 9400 GT |
| Shader Processors | 16 | 192 | 112 | 96 | 32 | 16 |
| Core Clock | 450MHz | 576MHz | 600MHz | 550MHz | 550MHz | 550MHz |
| Shader Clock | 1.2GHz | 1.242GHz | 1.5GHz | 1.375GHz | 1.4GHz | 1.35GHz |
Yeah, integrated graphics still pretty much sucks for any real gaming. What we want is at least 9500 GT class of performance, and what we're getting is something below a 9400 GT (once you factor in memory bandwidth limitations). Compared to other IGPs however, NVIDIA has finally closed the gap between itself and AMD's 780G. Look at the specs:
AMD 790GX
AMD 780G
Intel G45
Intel G35
NVIDIA GeForce 9400
NVIDIA GeForce 9300
NVIDIA GeForce 8300
NVIDIA GeForce 8200
Graphics
Radeon HD 3300
Radeon HD 3200
GMA X4500

GMA X3500

GeForce 9400 mGPU
GeForce 9300 mGPU
GeForce 8300 mGPU
GeForce 8200 mGPU
Core Clock
700MHz
500MHz
800MHz
667MHz
580MHz Core / 1.4GHz Shader
450MHz Core / 1.2GHz Shader
500MHz Core /
1.5GHz Shader
500MHz Core / 1.2GHz Shader
Shader Processors
8 (5-way)
8 (5-way)
10

8

16
16
8
8
Full H.264/VC-1/MPEG-2 HW Decode
Yes
Yes
Yes
No
Yes
Yes
Yes
Yes
While AMD can crank through a peak of 40 instructions per clock, that's very much a best case scenario figure. NVIDIA should have no problems retiring 16 instructions per clock and with its SPs running at 2.4x the speed of AMD's in the 780G, NVIDIA should not only be able to equal AMD's performance but surpass it in most games.
As we saw with the GeForce 8200 and 8300 series, the only difference between the 9300 and 9400 are clock speeds (450MHz/1.2GHz vs. 580MHz/1.4GHz). And just as we saw with the GeForce 8200/8300, we had no problems overclocking our GeForce 9300 to 9400 clock speeds. The 9300 will be the chipset to look at; the 9400 is simply a way of getting more money out of the consumer.
Dual-Link DVI is supported so 2560x1600 is available... but only if the board manufacturer supports it. The ASUS board we tested with does not support DL DVI unfortunately. DisplayPort and standard VGA are also supported, making for a very nice array of output options on the I/O plane:

Gaming Performance
As expected, NVIDIA can finally offer 780G-like performance with the GeForce 9300, and in some cases significantly outperform it. The G45 comparison doesn't even make sense to mention here; NVIDIA is beyond significantly faster in most cases. We finally have a reasonable integrated graphics solution for Intel processors.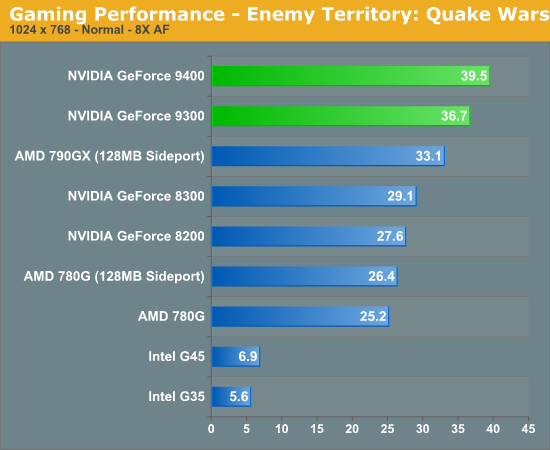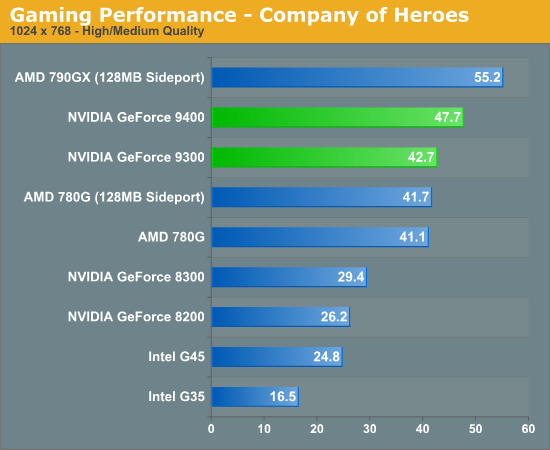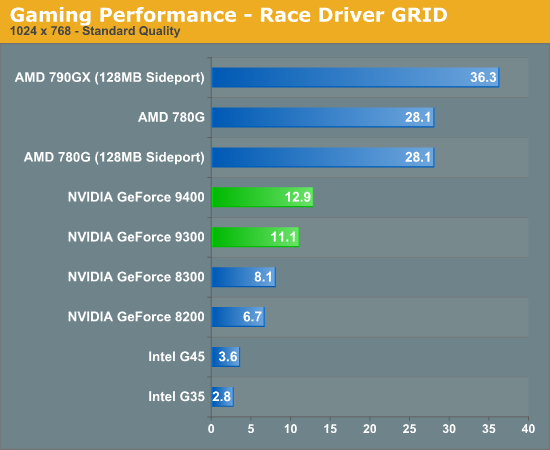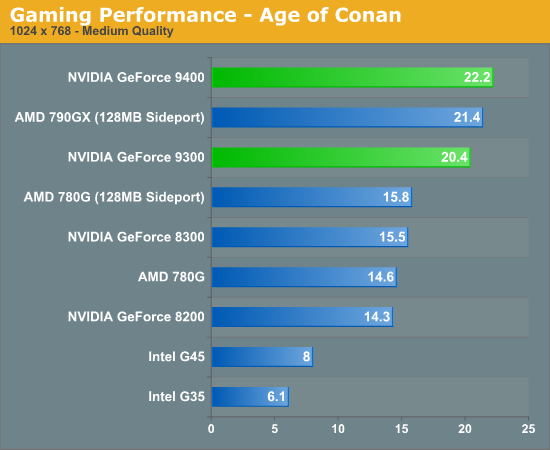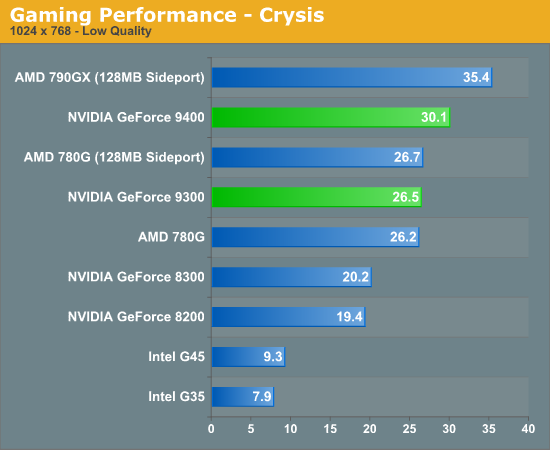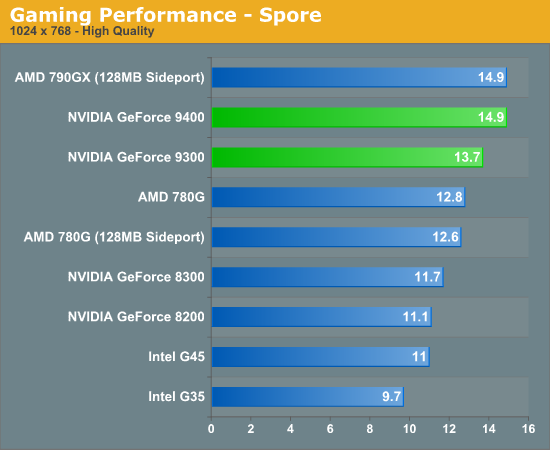 The Motherboards: Available Today
Motherboards based on the GeForce 9300 chipset are available starting today. We tested two boards in-house: the ASUS P5NA-VM and the MSI P7NGM.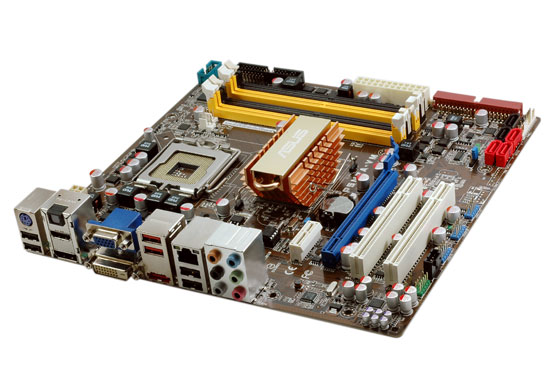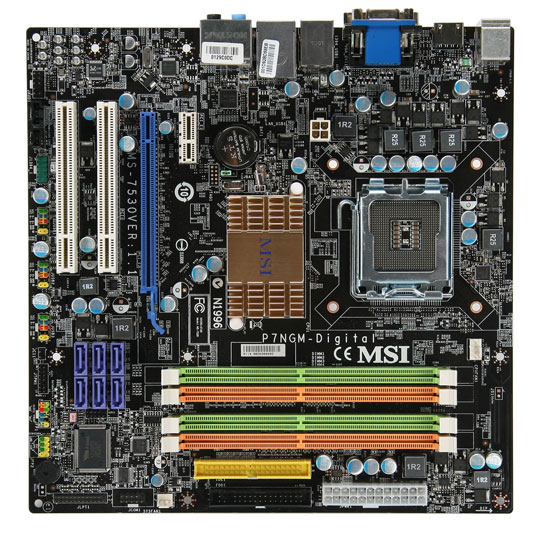 We didn't have much time with either board unfortunately, so we'll save full comments on the boards until we've got more experience under our belts. The rest of our testbeds are identical to what we used in Part 2 of this series: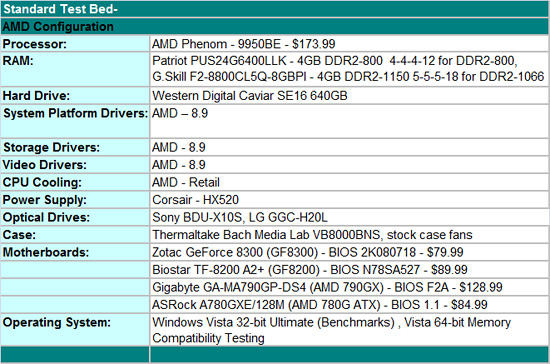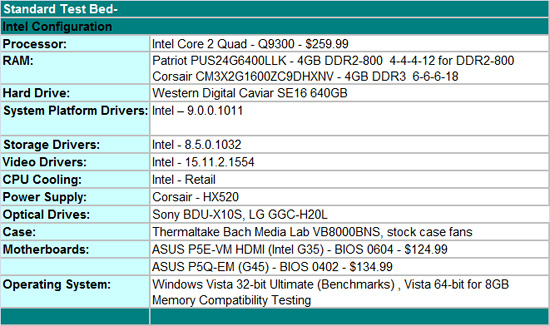 Blu-ray Playback Quality and Performance
We expected Intel's G45 to be the holy grail of HTPC chipsets; unfortunately, driver limitations kept it from fulfilling that role. While the verdict is still out on what G45 may become, Intel's track record with taking care of the HTPC space with its chipsets hasn't been great, as Intel's own blogger will readily admit. (Who, by the way, is an excellent addition to Intel. While the message he carries may not be the most popular within Intel, his understanding of the market is top notch - promote this guy!)
Thus we turn to NVIDIA's GeForce 9300 for hope. Prior to today, your best bet for a solid HTPC solution was to buy an Intel G45 or P45 based motherboard and stick a Radeon HD 4550 in a vacant PCIe slot for proper HDMI, HDCP and 8-channel LPCM support without any issues. Does NVIDIA's GeForce 9300 change that?
An astounding yes.
The Blu-ray decode quality of the GeForce 9300 is identical to the GeForce 8200, which in turn is identical to the G45 and AMD's 780G - as you'd expect. The comparison below is the one we used from Part 2 of the IGP Chronicles:
We've also got full hardware decode for MPEG-2, VC-1 and H.264 on the GPU itself, which results in very low CPU utilization numbers while playing back Blu-ray and other supported HD content: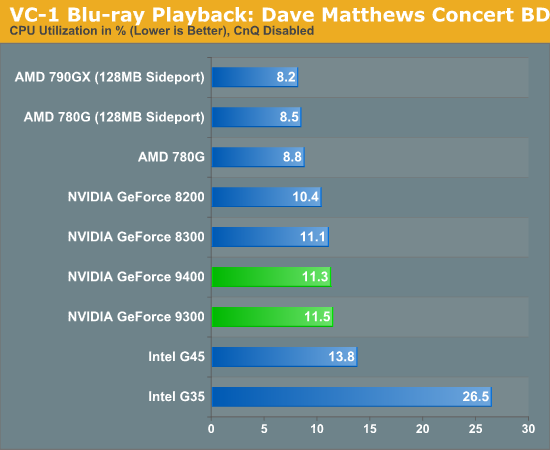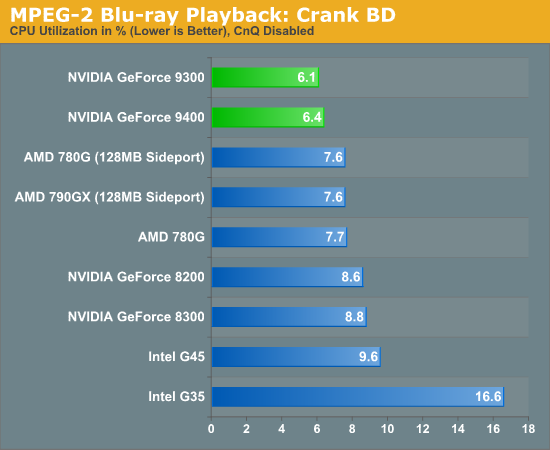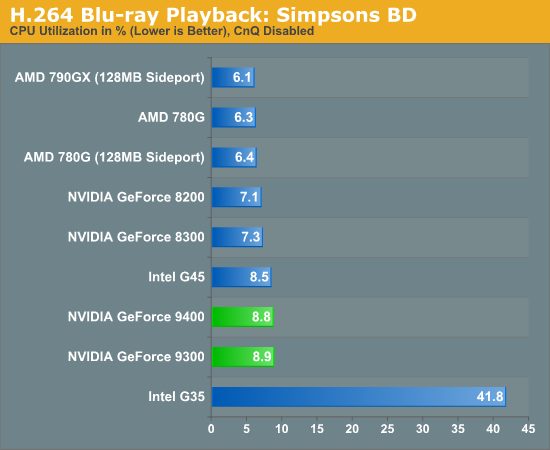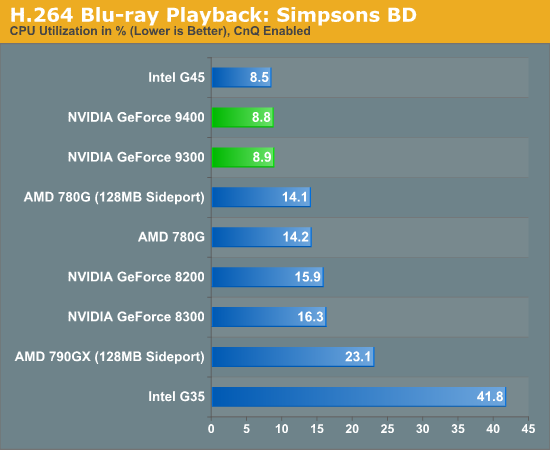 Blu-ray Power Consumption
Since we're dealing with an Intel platform from NVIDIA, the Cool'n'Quiet issues we mentioned in our previous article don't apply here. You simply get the best combination of low CPU utilization and very low power consumption when watching HD content: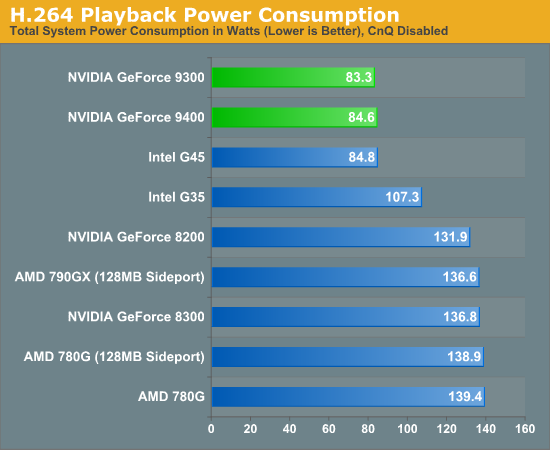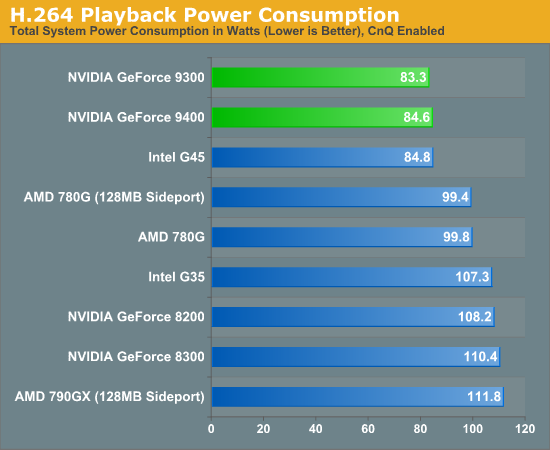 So far so good; we don't have any HDMI incompatibilities, no repeater issues to report, the GeForce 9300 just worked in all of our home theater setups. But how about the more niche features?
8-channel LPCM support comes natively with the GeForce 9300 and like on the Radeon HD 4xxx series, it just works. NVIDIA's platform drivers include an HDMI audio driver that, once installed, allows you to configure your audio output as 2, 6 or 8 channels. Of course bitstreaming both Dolby Digital and DTS audio is supported. Unfortunately, as we've mentioned before, there is no support for bitstreaming Dolby TrueHD or DTS-HD MA; you'll need to wait until sometime next year before you get full support there.
As we mentioned in our last article, proper 24Hz refresh rate support is particularly useful for playing back 24 fps content (which happens to be most movie content). Intel offers no support for 24Hz/24fps playback, AMD's implementation is a bit flaky, but NVIDIA's works flawlessly (at least with our test subjects). When connected to a display that supports a 24Hz input signal the option appears in the driver; just select it and you're good to go. The result is silky smooth playback of video content and it's nice.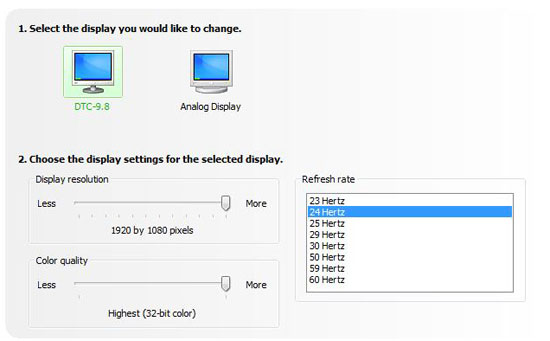 Short of TrueHD/DTS-HD MA support, NVIDIA's GeForce 9300 is the perfect HTPC chipset. The NVIDIA control panel even offers more post processing customization options than both AMD and Intel, although we're thankful that NVIDIA disables all of the features by default. Honestly the only other complaint we have is that we need to have a monitor hooked up to the system to first get it installed in our home theater setup; once properly configured it worked flawlessly with our Integra DTC-9.8 pre-processor and JVC DLA-RS2 projector setup. There is still need for improvement on the software side to enable users to build a computer and simply plug it into a HT setup without a monitor and have it work.
Good job NVIDIA, here's your crown. (Care for a service plan with that?)
Memory Performance - Any Sacrifices Compared to G45?
The first thing we've got to find out is if you give up anything at all in normal, day to day usage if you opt for NVIDIA's GeForce 9300 compared to Intel's G45. We'll start at the purely synthetic tests looking at memory controller performance.
Until Nehalem permeates all segments of Intel's product lineup, the memory controller on the Northbridge/GMCH is still very important. Advancements in chipset memory controller design seem to have plateaued and thus for the past couple of generations we've seen no real improvements in memory performance. There also seems to be a performance parity between designs from Intel and NVIDIA, but does this hold true with the GeForce 9300? To find out we ran a quick set of memory bandwidth and latency tests:
| | | |
| --- | --- | --- |
| | Intel G45 | NVIDIA GeForce 9300 |
| Everest Memory Latency (Lower is Better) | 68.7 ns | 89.8 ns |
What? Are you kidding me? Let me get this straight, NVIDIA saw Intel fall flat on its face and suffer with G45 and we have this sort of a problem at launch? Sigh.
The issue here is that NVIDIA's Advance Path is disabled in the WHQL driver that's being launched alongside the GeForce 9300/9400. Advance Path is NVIDIA's own prefetcher in its memory controller and apparently there weren't enough engineering resources to get this done in time for today's launch. Everyone is playing the finger pointing game at this point, and we're hearing that the problem may be fixed as early as Friday. While it's unlikely that NVIDIA wouldn't fix it, we'd caution against hopping on this bandwagon until it is fixed. Unlike the problems that plagued G45 at launch, this is one that does impact everyone. Thankfully, despite the poor memory latency, real world performance doesn't appear to be impacted too negatively. In the majority of our tests, as you'll soon see, NVIDIA is able to deliver performance on-par or better than Intel's G45.
There's another somewhat related issue: CAS4 timings are not supported by the current BIOS implementations at this point; they are available in the BIOS, just not working. Regardless of memory type or voltage, you won't be able to run your memory at CAS4, only CAS5. NVIDIA is going to work with the motherboard guys to enable it in the future, but for some reason support just isn't there today.
This is actually no better than Intel's own G45 board which won't work with CAS4 timings, although 3rd party G45 boards work just fine. It's not a huge deal but sort of silly given that CAS4 support has been around on every single DDR2 chipset NVIDIA has ever released for AMD or Intel platforms.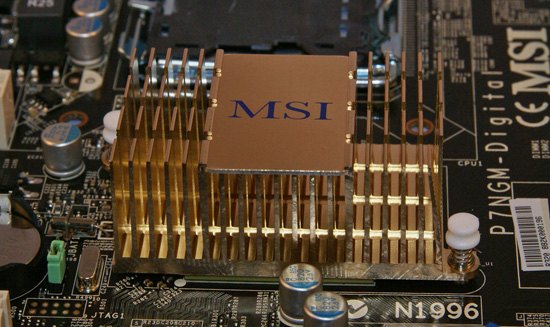 A Rushed Launch
As if the memory controller issues weren't proof enough of a rushed launch, we've encountered a handful of issues with these first boards that are worth reporting. Both Gary and I were doing testing for this review and he actually ran into the bulk of the problems with his setups.
The first non-memory-performance-related bug report we sent to NVIDIA (to be fair it was at 3:56am today) was this:
I am having a real problem tonight with AHCI and BD Playback off our optical drives. The standard test system we utilize is located here . I am utilizing the 20.07 platform drivers and 178.13 (tried 178.15 also) GPU drivers. The problem is that the BD title (any of them) will start playing and the image playing will start to slow down and then just freeze. This occurs with PDVD 8 Ultra (2021a) or WDVD 9 Plus at the same point in each movie. I switch to RAID mode, no problems; switched to a new image with SATA settings, no problem; switched back to AHCI settings, the movies refuse to play properly. Also, I noticed several slowdowns and locks when doing file transfer tests with AHCI enabled. Those are random, but I have yet to see a problem with RAID or SATA configurations. This occurs on either the MSI or ASUS board.
I didn't run into Gary's AHCI problems but I was using a slightly different testbed (my system was set up with an Intel SSD instead of the standard testbed hard drive). The worrisome part of Gary's AHCI problems is that we've seen them before:
A follow up after doing some additional regression testing on the new AHCI image. I still get slight hitching in AHCI mode on the Sony drive during heavy scenes, but the LG drive seems fine. I ran a battery of transfers tests and the slowdowns have disappeared. I am still testing, but most of the problems I experienced are gone now. The problem I have is that this is the same pattern I noticed back at the 780i/790i launch where weird things would start occurring and eventually I experienced data corruption.
Now it's impossible to say for sure what these problems will eventually result in, or if they are as severe as what we encountered with the 780i/790i at launch, but one thing is for sure: these motherboards or drivers aren't ready for prime time. (10/15/08 Update - The AHCI BD playback problem appears to be limited to the Sony BDU-X10S; our LG and Plextor BD drives are working properly. Also, file transfers still have an occasional and random pause with AHCI enabled; no data corruption is evident after transferring close to 8TB of data to each of our GF9300 boards this morning. (11/06/08 Update - Our AHCI BD playback problem was solved with the 1.3 Firmware update from Sony and BIOS 0404 from ASUS. We still have not experienced any, nor do we expect to, data corruption problems with this chipset. We are continuing testing and will provide a final update in our motherboard roundup.)
I did some Home Theater testing separate from Gary and while my results were mostly flawless, he ran into a strange problem:
I loaded the 20.07 platform drivers and 178.13 GPU drivers with the .35 HDMI drivers. I selected the NVIDIA HDMI output device as the default in Vista. I am utilizing a Pioneer Elite AVR for pass through to my monitor and have a 7.1 setup. When using PDVD 8 Deluxe (2021a), if I set speaker environment to HDMI/PCM, PDVD will lock up at the same point in each BD title after a brief slowdown. If I set PDVD speaker environment to 6 or 8 speaker (depends on the title) then playback is perfect (as directed in the Reviewer's Guide). (11-06-08 Update - Utilizing the retail version of PowerDVD 8 Ultra, build 2021a, and the released .37 HDMI drivers from NVIDIA corrected our previous audio out problems on the ASUS board.)
Now for me, all I needed to do was set PowerDVD to HDMI/PCM and I got my 8-channel LPCM output, but on Gary's setup doing so resulted in the issues above. This is actually how we tested on Intel and AMD offerings, so it's strange that NVIDIA would have issues (design change?) here. Obviously there are differences between my setup and Gary's (Integra DTC-9.8 vs. a Pioneer Elite VSX-94THX AVR) but my worry is that if our experiences vary this much between two fairly uncomplicated setups, then what sort of problems will users run into in the wild?
General Performance
Despite the poor memory latency performance, overall performance is chart topping - the GeForce 9300 ends up being the fastest platform in the majority of our tests here. We can only guess that if the latency issues are resolved we will see even better performance (though probably only a few percent higher).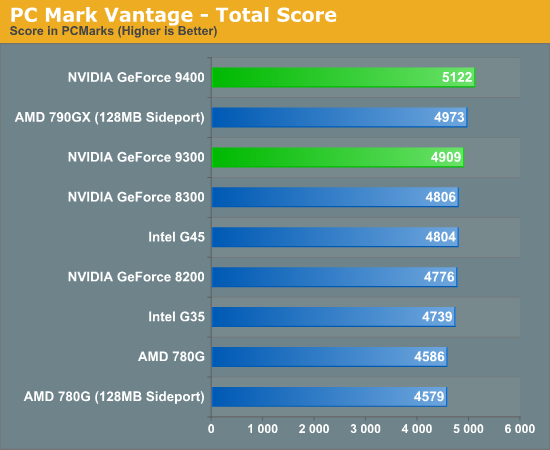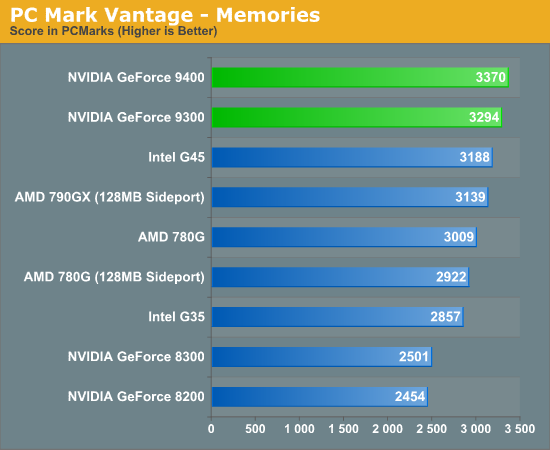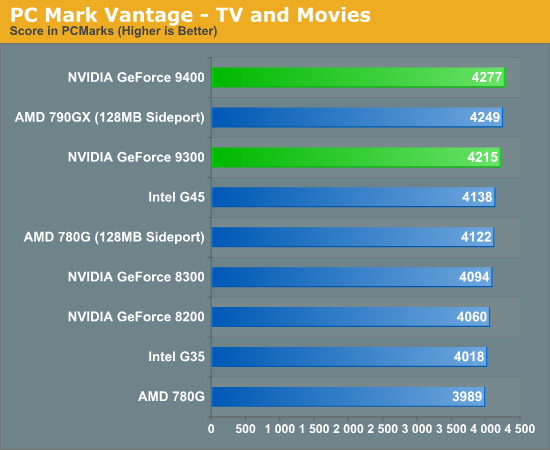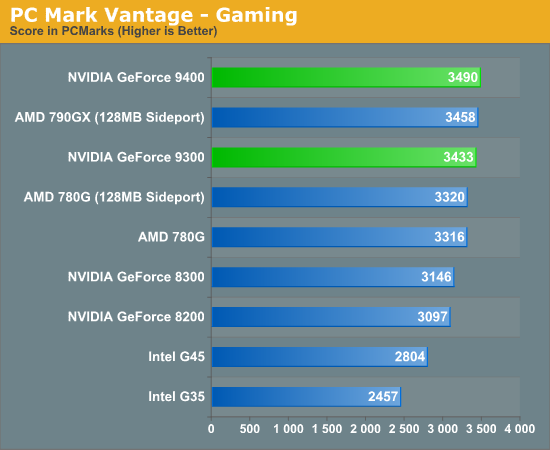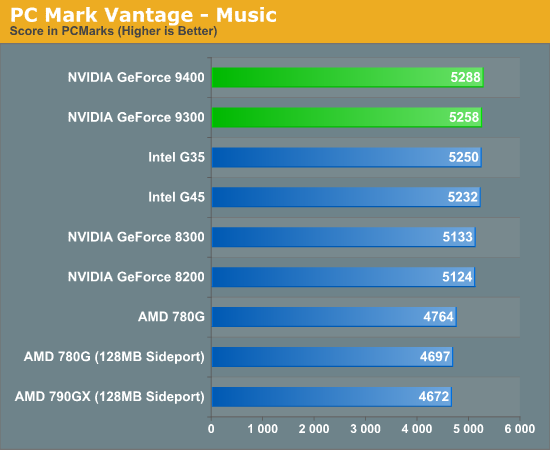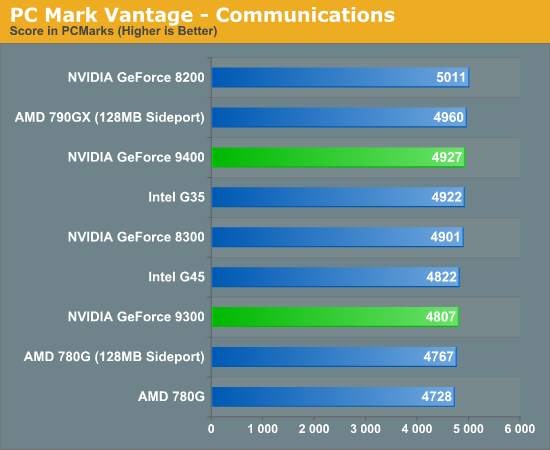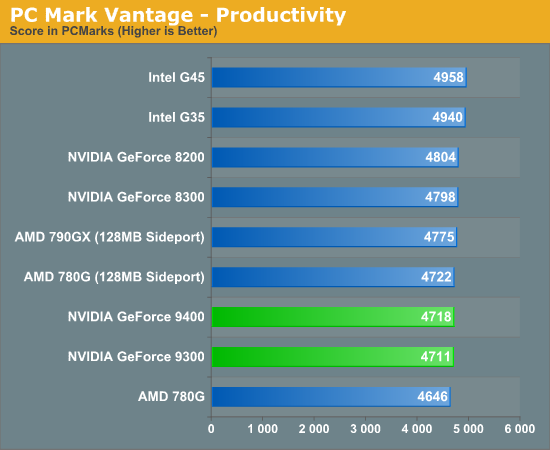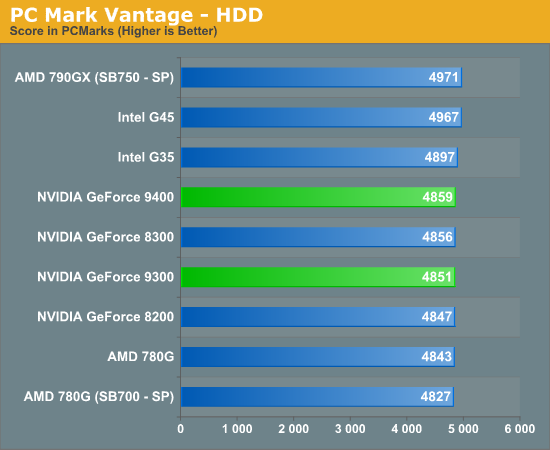 USB, Networking and Storage Performance
Our USB transfer speed tests were conducted with an OCZ Rally 2 Turbo 4GB Flash Drive and USB 2.0/FireWire based Maxtor OneTouch II external hard drive. In our first test, we transfer a 602MB file folder containing 444 files of various sizes. In our second test, we transfer a 1.90GB file folder containing 17 different files.
USB Performance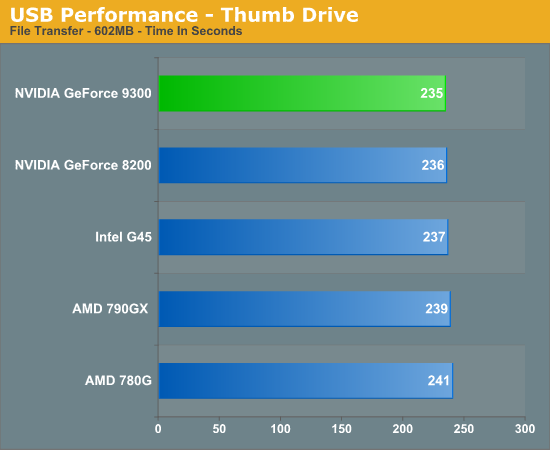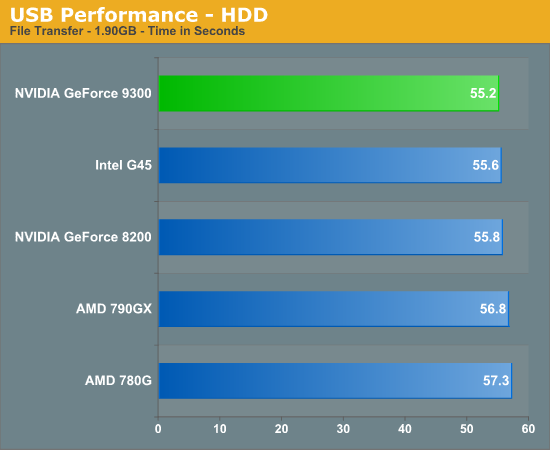 NVIDIA chipsets have always performed well in our USB tests and once again hold a slight edge over the Intel and AMD offerings. The improved USB performance from the AMD SB700/750 Southbridges almost close the gap with the NVIDIA and Intel offerings.
Ethernet Performance
The current motherboard test suite includes LAN performance measurements. All of these boards utilize PCI or PCI Express based Gigabit controllers with the only difference being the supplier of the core logic. The Windows 2000 Driver Development Kit (DDK) includes a useful LAN testing utility called NTttcp. We used the NTttcp tool to test Ethernet throughput and the CPU utilization of the various Ethernet Controllers used on the Intel motherboards.
We set up one machine as the server; in this test, an Intel system with an Intel CSA Gigabit LAN connection. Intel CSA has a reputation for providing fast throughput and is a logical choice for our Gigabit LAN server.
On the server side, we used the following Command Line as suggested by the VIA whitepaper on LAN testing:
Ntttcpr -m 4,0,‹server IP› -a 4 -l 256000 -n 30000
On the client side (the motherboard under test), we used the following Command Line:
Ntttcps -m 4,0,‹client IP› -a 4 -l 256000 -n 30000
At the conclusion of the test, we captured the throughput and CPU utilization figures from the client screen.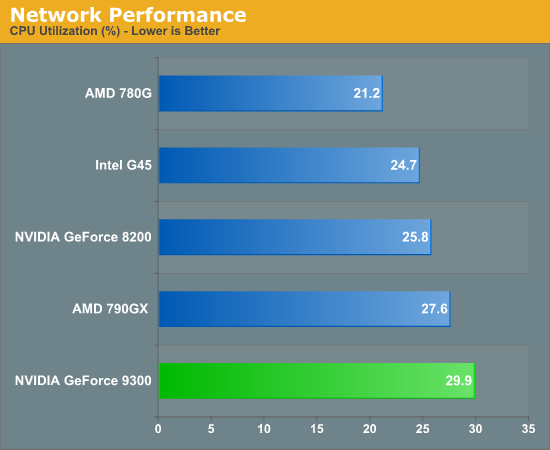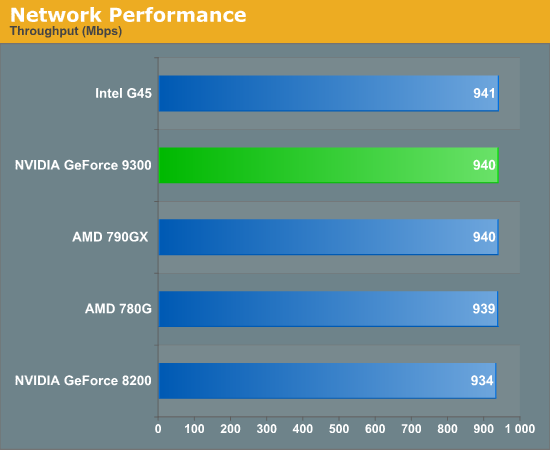 Our network throughput test indicates how well a particular controller design from Realtek, Marvell, NVIDIA, or Intel performs instead of being indicative of true chipset performance. This also holds true for the CPU utilization results, though this test can also be influenced to certain degree by the BIOS code and chipset interconnect design.
PCMark Vantage
PCMark Vantage is the latest benchmark available from Futuremark, and it is only for use with Windows Vista. Similar to the venerable PCMark05 in its makeup, Vantage modernizes the criteria and test methodology to reflect what users may encounter when running the new Windows OS and current applications. The total benchmark is roughly 87% reads and 13% writes in nature. We run each test five times per drive, producing a median score that we use for comparison in our charts. We utilize AHCI settings for each board.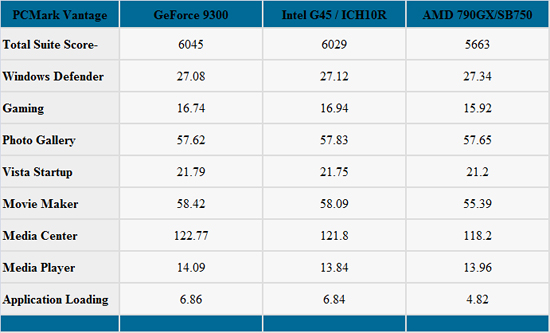 NVIDIA chipsets generally provide excellent performance, albeit at the cost of stability at times, and our tests reveal a controller that is slightly better in performance than the Intel ICH10R. Really, it is a toss-up between the two controllers. The AMD SB750 trails slightly due to an AHCI implementation that is not as robust as the current NVIDIA or Intel offerings. However, it would be very difficult to discern any performance differences between these controllers in actual application work.
As we noted earlier, we had a few issues with AHCI settings and our Sony BDU-X10S BD drive along with some random slowdowns when transferring large amounts of data (Update- Latest BIOS/Firmware/Drives solved this problem). We have not and do not expect to notice any data corruption problems that crept up during the 780i/790i launch, which were eventually fixed by NVIDIA. Our Intel G45 board also had difficulties with the same Sony BD drive but the AMD SB700/750 have not been affected.
Power Consumption
As expected, NVIDIA's GeForce 9300 power consumption is competitive with G45. Gaming power consumption is particularly impressive; NVIDIA delivers better performance and lower power consumption than G45. We provided results with both Cool'n'Quiet enabled and disabled for the AMD platforms given the issues we mentioned in our last article.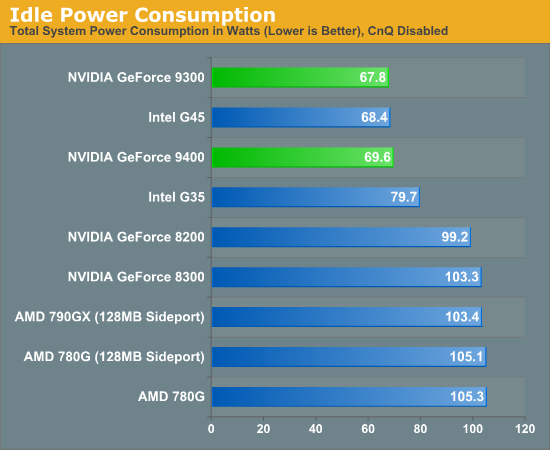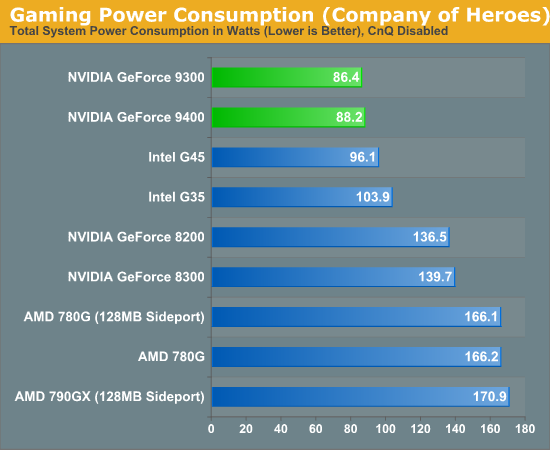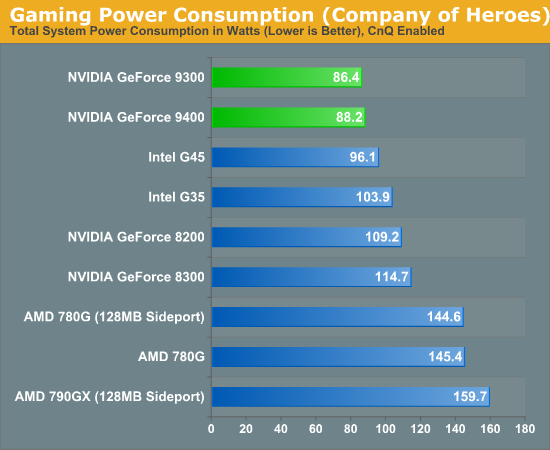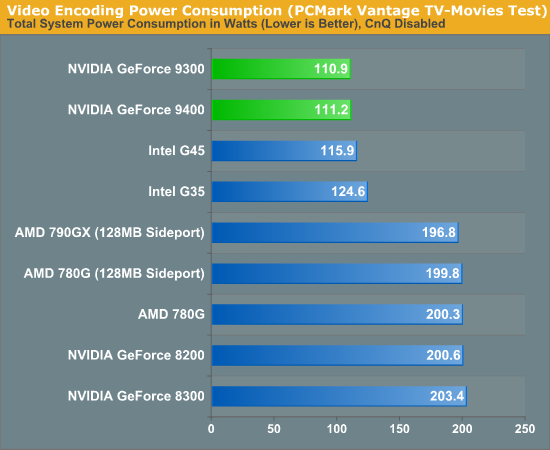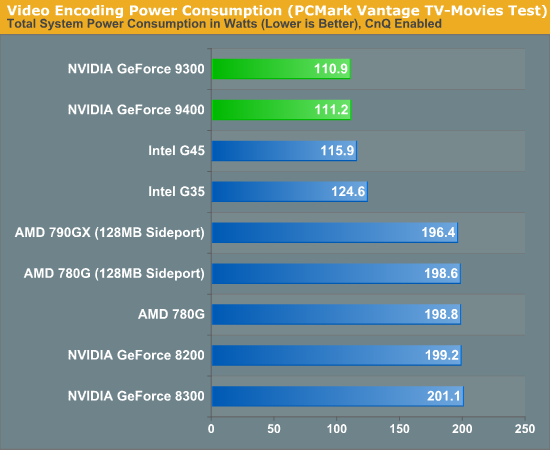 Final Words
Everyone likes a clean victory; while NVIDIA has the opportunity to obtain just that with the GeForce 9300, there are a handful of lingering issues that cause them to hit just wide of the bullseye. It's a tough conclusion to make; while my HTPC experiences with the GeForce 9300 were fairly flawless, Gary had several issues, and both of us experienced poor memory performance with the platform. Being an early adopter in any case usually means dealing with the lion's share of problems, but with a product that's ready we don't normally have a long list of issues at launch; they generally crop up over time. We knew about the G45 issues and many of them are still unaddressed.
At least the GeForce 9300 issues don't fundamentally cause the platform not to work in a home theater setup, but they are bothersome nonetheless. Given the maturity of the GeForce 8200 as a platform on the AMD side we hoped for more from NVIDIA here, but at least it gives us a glimmer of hope that what we're talking about today will soon fade and we'll be left with an easily recommendable HTPC platform. Because honestly, if these problems are quickly addressed, the GeForce 9300 is as close to perfect as you're going to get for now.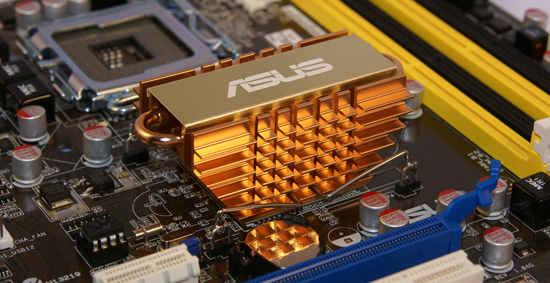 Gaming performance is good enough to compete with what's out there today. The GeForce 9300 is leaps and bounds ahead of Intel's G45, but that's not really a tremendous accomplishment. What NVIDIA has done however is effectively bring 780G-class performance to the Intel platform, which is better than nothing. It's still short of what we want in terms of integrated graphics performance but it's a big step in the right direction.
The HTPC feature set is nearly complete; the only thing we're lacking is the ability to bitstream Dolby TrueHD and DTS-HD MA (both of which no chipset currently supports). Flawless HDMI/HDCP repeater compatibility? Check. Fully functional hardware acceleration? Yep. 8-channel LPCM? Of course. Stutter-free 24p playback? It seems so.
It would be nice to see some more effort put in on the software side, as I mentioned before, to enable configuration of your HTPC without needing a regular computer monitor. I've also been dying to see AMD, Intel or NVIDIA incorporate a real color management system in their drivers to easily enable HTPCs to function as true video processors and not just expensive Blu-ray players.
As far as chipsets with integrated graphics go, NVIDIA's GeForce 9300 won our hearts, I would just hold off on that first date until the kinks get worked out.