Original Link: http://www.anandtech.com/show/2640


After nearly a month of struggling with problems, we finally published our review of Intel's G45 in the first part of this series we hastily called the IGP Chronicles. Part I looked at Intel's G45 and compared it to its predecessor, G35. Initially touted as the holy grail of HTPC chipsets, G45's advantages on paper were plagued by too many real issues for us to get excited about it. Not that we were totally disappointed with the chipset as an HTPC platform, we just knew Intel could have done better and in the end they did not. Of course, as we alluded to in our Radeon HD 4550 review, all you really need is one of AMD's lower end cards and you can use any chipset you want for a decent HTPC.
As a business platform, G45 works just as well as G35 or any other Intel chipset so there are no complaints there. Besides less than desirable HTPC attributes we discovered casual gaming performance is a big disappointment considering the chipset specifications. Paper specifications aside, gaming performance - casual or otherwise - is just dismal even on popular titles that are several years old.
We fully understand that casual gaming is not the be all end all measurement of an IGP solution, but a vast majority of systems sold to home users are designed, marketed, and sold as an all purpose solution for the household utilizing an IGP design. As such, we do think it is an important attribute to consider, along with video/audio capabilities, graphic design, and general application performance.
With Intel commanding the lion's share of the IGP market for years and mindlessly rolling out product that met the lowest common denominator in performance for the corporate market, any real hope for improved integrated graphics solutions slid off into oblivion. This is not to say that AMD, VIA, and NVIDIA solutions were not better at the time; they were, but just enough so they could market and advertise superior performance. However, their platform solutions were still underwhelming.
AMD in particular is responsible for bringing the integrated graphics platform back to respectability. The 690G chipset was an excellent first step over a year ago and then AMD released the 780G chipset earlier this year. The 780G chipset release brought the integrated graphics market back to the limelight. Utilizing a graphics core directly out of their current discrete GPU lineup, AMD provided us with a platform that easily handled Blu-ray playback, offered adequate game performance, made a snap out of spreadsheet and digital imaging work, and wrapped all of this in a very energy efficient package. The only real problem we had with the 780G was the lack of multi-channel LPCM HDMI audio output for HTPC users.
NVIDIA followed suit with their GeForce 8200/8300 series, but gaming performance fell between the AMD and Intel solutions in most cases. However, application performance equaled that of the 780G and NVIDIA provided the elusive multi-channel LPCM HDMI output that was sorely missing on the 780G platform. We have grown fond of the GF8200 as an HTPC solution, particularly after a series of driver updates that really let this chipset shine in BD playback. We expect to see a generational improvement in the GeForce 9300/9400 series, something akin to the leap AMD took from the 690G to the 780G and finally to the 790GX.
Finally, there is no perfect IGP solution at this time. Intel's G45 offers decent HTPC capabilities and leverages off Intel's excellent Core 2 series of processors, but gaming performance is flawed, BD playback abilities are hindered by drivers, and the chipset is expensive. AMD's 780G is nearly perfect for the current market but the lack of multi-channel LPCM really eliminates it from most HTPC configurations and gaming performance could still be better. NVIDIA's GeForce 8200 is the best current HTPC solution as of this article date but casual gaming performance is somewhere between the G45 and 780G. The other issue is that the stronger IGPs are both Socket-AM2 platforms, when the more desirable CPUs are from Intel. We will discuss what our requirements are for the ideal integrated graphics platform later on.
So today, we widen our perspective as we compare G45 not only to G35, but also to its current Socket-AM2 counterparts from AMD and NVIDIA. We will follow up this article with a full roundup of motherboards featuring the AMD 780G, AMD 790GX, and NVIDIA 8200/750a chipsets. Our final article in this series will focus on budget to midrange discrete video card performance on these products along with processor suggestions for each platform.
The Lay of the Land
While Part I focused exclusively on Intel's G35 and G45, today we've got contenders from both AMD and NVIDIA. First up we have the AMD 780G, quite possibly the best chipset AMD has ever made. The more recent addition to the integrated graphics family is the 790GX, bringing an updated Southbridge and faster graphics clock.
From NVIDIA we have the only two single-chip solutions in today's roundup: the GeForce 8300 and 8200. Sometime last year NVIDIA decided that it needed a renewed focus on its chipsets, and part of that strategy was to strengthen its chipset brands. The nForce brand would eventually be phased out and replaced by the name GeForce. We've got two chipsets from NVIDIA and both of these carry the GeForce brand name: the GeForce 8200 and GeForce 8300 aren't graphics cards, they are chipsets. Technically they have nForce names as well but just as Intel's latest IGP chipset is called the G45, NVIDIA's is called the GeForce 8300. Simple enough.
AMD 790GX
AMD 780G
Intel G45
Intel G35
NVIDIA GeForce 8300
NVIDIA GeForce 8200
CPU
AMD Socket-AM2
AMD Socket-AM2
Intel LGA-775
Intel LGA-775
AMD Socket-AM2
AMD Socket-AM2
Manufacturing Process
55nm
55nm
65nm
90nm
80nm
80nm
FSB
N/A
N/A
800 / 1066 / 1333MHz
800 / 1066 / 1333MHz
N/A
N/A
Memory Controller
N/A
N/A
2 x 64-bit DDR2/DDR3 channels
2 x 64-bit DDR2/DDR3 channels
N/A
N/A
Memory Speeds Supported
N/A
N/A
DDR2-800/667
DDR3-1066/800
DDR2-800/667
DDR3-1066/800
N/A
N/A
PCI Express
22 PCIe 2.0 lanes
22 PCIe 2.0 lanes
16 PCIe 2.0 lanes
16 PCIe 1.1 lanes
19 PCIe 2.0 lanes
19 PCIe 2.0 lanes
Graphics
Radeon HD 3300
Radeon HD 3200
GMA X4500

GMA X3500

GeForce 8300 mGPU
GeForce 8200 mGPU
Core Clock
700MHz
500MHz
800MHz
667MHz
500MHz Core /
1.5GHz Shader
500MHz Core / 1.2GHz Shader
Shader Processors
8 (5-way)
8 (5-way)
10

8

8
8
Full H.264/VC-1/MPEG-2 HW Decode
Yes
Yes
Yes
No
Yes
Yes
Pin-out
528-pin
528-pin
1254-pin
1226-pin
?
?
Looking at the Southbridges, you'll find that they are all fairly evenly matched. Remember that NVIDIA's GeForce 8300/8200 are single-chip solutions so some of the items in the list don't apply. Both AMD and NVIDIA keep their additional PCIe lanes in the Northbridge while Intel keeps them in the Southbridge/ICH. Both the AMD and NVIDIA solutions still give you at least one PATA channel, which is useful for older HDDs and optical drives.
| | | | | |
| --- | --- | --- | --- | --- |
| | AMD SB750 | AMD SB700 | Intel ICH10 | NVIDIA GeForce 8300/8200 |
| Additional PCI Express | None | None | 6 x1 PCIe 1.1 | None |
| USB | 12 ports | 12 ports | 12 ports | 12 ports |
| SATA (300MB/s) | 6 ports | 6 ports | 6 ports | 6 ports |
| PATA | 2 channels | 2 channels | None | 1 channel |
| RAID* | RAID 0/1/10 | RAID 0/1/5/10 | RAID 0/1/5/10 | RAID 0/1/5/10 |
| HD Audio Interface | Yes | Yes | Yes | Yes |
| Ethernet | Not Integrated | Not Integrated | Intel Gigabit LAN | NVIDIA Gigabit LAN |
| Northbridge Interface | 4 lane PCIe 1.1 | 4 lane PCIe 1.1 | DMI 10Gb/s each direction, full duplex | N/A, Single Chip Solution |
AMD vs. Intel vs. NVIDIA: Fight
At the heart of AMD's 780G we have what AMD is calling a Radeon HD 3200 graphics core, providing the most powerful (on paper) integrated graphics on the market today. The table below should shed some light on the balance of power:
AMD 790GX
AMD 780G
Intel G45
Intel G35
NVIDIA GeForce 8300
NVIDIA GeForce 8200
Graphics
Radeon HD 3300
Radeon HD 3200
GMA X4500

GMA X3500

GeForce 8300 mGPU
GeForce 8200 mGPU
Core Clock
700MHz
500MHz
800MHz
667MHz
500MHz Core /
1.5GHz Shader
500MHz Core / 1.2GHz Shader
Shader Processors
8 (5-way)
8 (5-way)
10

8

8
8
Full H.264/VC-1/MPEG-2 HW Decode
Yes
Yes
Yes
No
Yes
Yes
While Intel's G35, NVIDIA's GeForce 8200, and AMD's 780G all have 8 of what we're calling "SPs" or stream processors, their clock speeds and capabilities vary greatly from one to the next. Intel and NVIDIA are closest in this regard, as each SP has a peak throughput of a single instruction per clock. AMD's architecture is a bit more capable in the sense that each SP can have a maximum throughput of 5 instructions per clock. It gets a bit more complicated as NVIDIA has separate hardware for transcendental operations, which occupy one of the five "slots" in each AMD SP.
If you multiply it all out that gives Intel a throughput of 8 instructions per clock for G35, 10 for G45, 10 for NVIDIA's GeForce 8200 (where two are transcendental operations) and 40 for AMD. In terms of worst case throughput however, AMD falls down to 8 per clock (assuming the compiler can't feed the hardware 4 shader ops + 1 transcendental per SP) as does NVIDIA. This worst case rarely happens, but it is definitely worth noting.
Taking clock speeds into account, Intel really falls behind here. While G45 has a similar instruction throughput to NVIDIA's architecture, it runs its SPs at 800MHz while NVIDIA runs its at 1.4GHz giving NVIDIA a 75% raw performance advantage. AMD's core runs much slower at 500MHz, but the SPs are far more complex, so we end up with the following scenarios:
In the best case for AMD, the 780G is 43% more powerful than the GeForce 8200, but in the worst case NVIDIA's hardware is 1.8x faster than AMD's thanks to the clock speed advantage and AMD's dependency on ILP within an instruction stream. The integrated graphics race then becomes even more variable than how AMD/NVIDIA stack up with discrete GPUs; the swing from an AMD advantage to an NVIDIA advantage is much wilder than what we see with the GeForce GTX 260 vs. Radeon HD 4850.
The Test
Our Intel test bed today features the Q9300 quad-core processor and the AMD/NVIDIA platform features the Phenom X4 9950BE. Both of theses processor offers terrific performance with decent power consumption and thermals for the cost. Our Patriot DDR2-800 Viper 4GB memory kit has served us well for the past few months and we highly recommend it. We chose Corsair for our HX-520W power supply that has served us well in testing a variety of IGP solutions. Our favorite midrange HDD continues to be the Western Digital SE16 640GB that provides the near perfect balance of price, performance, and capacity.
Our motherboard selection represents a small cross section of IGP products based on the Intel G35/45, AMD 780G, and NVIDIA GeForce 8200/8300 products. While we tested over fourteen motherboards for this article, we're using the results from the best of the best for each chipset.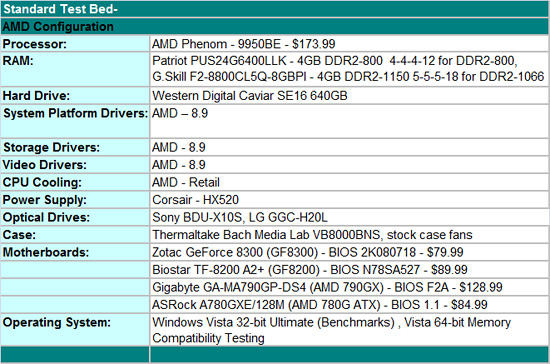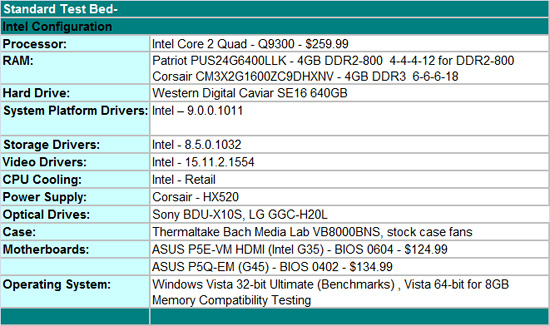 Binning the Chipsets
Both AMD and NVIDIA offer higher speed versions of their integrated graphics; AMD has the 790GX and NVIDIA has the GeForce 8300. Let's start with the GeForce 8300 because it's the easiest to deal with: this is nothing more than an overclocked GeForce 8200.
The 8200 runs its SPs at 1.2GHz while the 8300 runs them at 1.5GHz. In our tests we had no problems taking any of our GeForce 8200 boards up to 1.5GHz; they all offered the clock speed option in the BIOS. On top of that, the performance benefit wasn't really worth it - have a look:
| | | | |
| --- | --- | --- | --- |
| Game (1024x768) | NVIDIA GeForce 8200 | NVIDIA GeForce 8300 | GeForce 8300 Advantage |
| Quake Wars | 27.6 | 29.1 | 5% |
| Company of Heroes | 26.2 | 29.4 | 12% |
| Race Driver GRID | 6.7 | 8.1 | 21% |
| Age of Conan | 14.3 | 15.5 | 8% |
| Crysis | 19.4 | 20.2 | 4% |
| Spore | 11.1 | 11.7 | 5% |
With the exception of Company of Heroes and GRID, the GeForce 8300 didn't offer any tangible performance benefits. The average performance increase was 9%, but if you take out GRID you get an average boost of 7%. It's just a quick way to make you part with another $15 as the boards are more expensive than the 8200 versions.
AMD 790GX vs. 780G
AMD's 790GX is a little more difficult to distill. You get a faster graphics core (700MHz vs. 500MHz), but you also get a newer Southbridge (SB750 vs. SB700) that adds RAID 5 support and the new ACC interface to Phenom CPUs that can increase overclocking potential. AMD 790GX boards are also more likely to have some dedicated "Sideport" memory, meaning a small amount of local memory only for use by the GPU to improve performance. With enough processing power, integrated graphics is often constrained by memory bandwidth. Given how potentially powerful AMD's IGP cores are, it makes sense to have an option for more memory bandwidth.
Obviously all of these features drive 790GX prices up higher than their 780G counterparts. 780G boards range in price from $60~$99 while the 790GX boards range in price from $99 to $155 on average. The performance breaks down as follows:
| | | | | |
| --- | --- | --- | --- | --- |
| Game (1024x768) | AMD 780G | AMD 780G + Sideport | AMD 790GX w/ Sideport | 790GX Advantage |
| Quake Wars | 25.2 | 26.4 | 33.1 | 25% |
| Company of Heroes | 41.1 | 41.7 | 55.2 | 32% |
| Race Driver GRID | 28.1 | 28.1 | 36.3 | 29% |
| Age of Conan | 14.6 | 15.8 | 21.4 | 35% |
| Crysis | 26.2 | 26.7 | 35.4 | 33% |
| Spore | 12.8 | 12.6 | 14.9 | 18% |
Both the 790GX and the 780G + Sideport options here have a 128MB local frame buffer in addition to using a portion of system memory for the total frame buffer. Sideport is rare on 780G but much more common on 790GX boards. As you can see, the Sideport memory doesn't do anything for 780G so the real advantage of 790GX is its faster core clock. As for the 790GX itself, the performance advantage over the 780G is nothing short of significant - at 1024x768 we measured an average increase of 29%.
The Gaming Performance Showdown
In our gaming tests the 790GX is the clear winner, which is not a surprise given its clock speed advantage over the 780G. The GeForce 8200/8300 hold their own in Enemy Territory: Quake Wars due to a better OpenGL implementation in their drivers. Race Driver GRID heavily favors the AMD solutions. We have also noticed this pattern in discrete GPU card testing. Age of Conan responds well to the 790GX mGPU core clock speeds and Sideport memory running at 1333MHz. Without SP enabled, the Gigabyte board scores 17.9 FPS in this game. The AMD solutions also hold an advantage in the Cyrsis test where GPU speed and shader throughput are important. Finally, in Spore, we see Intel providing something close to a decent score compared to the other solutions.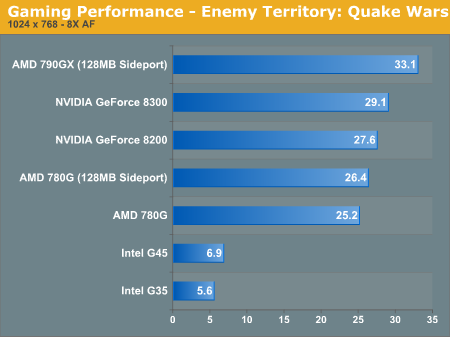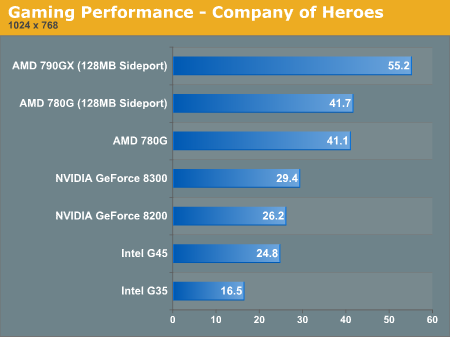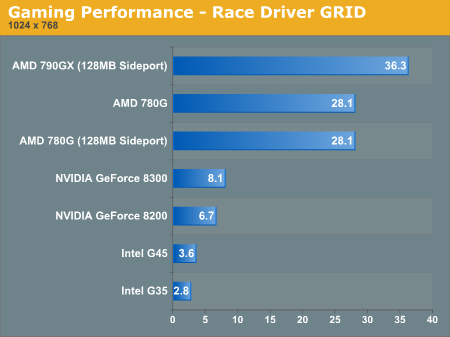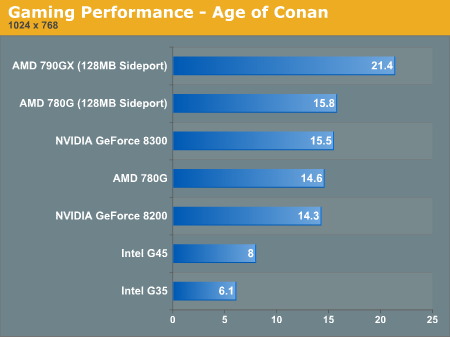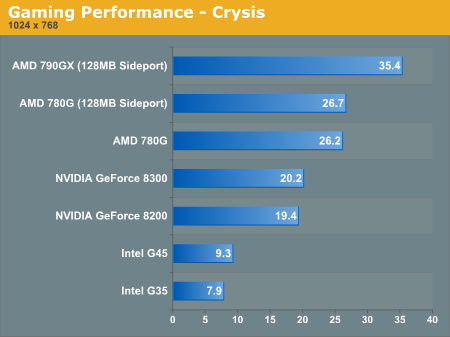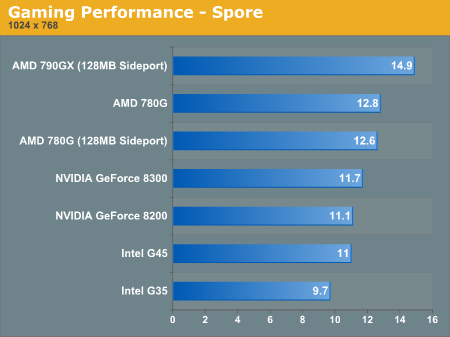 Hardware Blu-ray Decode Acceleration
Many of the first Blu-ray titles simply had their video encoded in MPEG-2, something that has been accelerated on GPUs for years. What made decoding these MPEG-2 based Blu-ray movies so processor intensive was the sheer amount of data that had to be decoded. While MPEG-2 DVDs ran from 3 - 9Mbps, MPEG-2 Blu-ray discs were in the 20 - 40Mbps range. Pushing more than 10x the bitrate of DVDs made decoding a much more difficult task, regardless of the relative simplicity of the MPEG-2 codec. Things got worse when discs started being authored with H.264 or VC1 for the video stream.
Let's make this very clear: the 1080p video decode quality between all GPUs should be the same. The hardware accelerated side of the decode is simply letting the GPU do the calculations required to reconstruct an individual frame rather than sending them to the CPU, the resulting frame should be the same regardless of what GPU you run it on. It's like how you can guarantee that calculating 2 + 4 on an AMD system will give you the same result as 2 + 4 on an Intel system. That being said, each vendor has its own video optimizations that will try to make the picture look "better", but thankfully most of these optimizations can be disabled.
We used to see differences in video decode quality with interlaced sources because the GPUs would handle the reconstruction of progressive frames differently, but with Blu-ray content stored progressively, de-interlacing is only an issue for watching certain broadcast sources. That being said, while video decode quality should be the same, video offload performance and features will help differentiate these GPUs.
In order to make sure our assumptions were correct we took a few screengrabs from Casino Royale on Blu-ray. Click on the links under the image to compare the outputs from the various chipsets:
All of the drivers disable any of the features that oversaturate colors or perform any additional postprocessing on the decoded stream, which is preferable especially when your source content is a Blu-ray disc. Because of this, the video output looks nearly identical between all three platforms as expected. Of the three, NVIDIA offers the most control over post processing features in its driver.
24 fps Playback: Perfect on NVIDIA
Most movies are recorded at 24 frames per second, however most displays and graphics cards refresh the screen 60 times per second (60Hz). Enter the home theater space and you'll find a number of displays that can properly output a 24 fps signal, but with an HTPC you'll need a video card that can properly output a 24Hz signal. Support for 24 fps playback isn't necessary, but you'll find that without it wide panning shots won't be smooth as the camera moves from one point to the next. The reason is that it's impossible to evenly divide 24 frames into 60, so some frames end up being displayed more than others (the infamous 3:2 pulldown).
On one end of the spectrum we have Intel's G45 which absolutely does not support proper 24p playback. The G45 still does not have official support for it in the drivers and although 24 fps playback is possible in the hardware, we seriously doubt the software group will implement it (that's a dare).
The AMD 780G/790GX results were very choppy at times; even when they seemed smooth we experienced audio sync problems.
The only platform that can properly handle 24 fps output is NVIDIA's GeForce 8200/8300. It just works.
8-channel LPCM
We've been talking about 8-channel LPCM for quite a while now, if you want to know what this is consult our article on the topic. Currently the Intel G35/G45 and NVIDIA GeForce 8200/8300 chipsets support 8-channel LPCM output via HDMI. AMD continues to trail with 2-channel LPCM output on their chipsets. However, they are offering 8-channel LPCM support on the HD 4xxx series of video cards. Of course that option comes with an additional cost and potential problems such as incompatibility with AVR receivers (i.e. those from Yamaha). NVIDIA removed the option for selecting 5.1 channel support in their HDMI drivers, instead offering only 7.1 for multi-channel setups, but this option returns in a soon to be released audio driver set.
AMD's Cool'n'Quiet: Disable it
One interesting phenomenon that we encountered during testing on the AMD/NVIDIA platforms with the Phenom series of processors is the effect of Cool'n'Quiet (CnQ) on our BD playback results. We utilized a Phenom 9950BE in our test results today along with the 780G/GF8200/790GX chipsets. When playing back our H.264 title, The Simpsons Movie, with CnQ disabled we noticed an average CPU utilization of 6%~7% with platform power averaging anywhere from 132W to 140W depending on the chipset and motherboard. Video playback was smooth and stutter free on this title and many others regardless of the encoding format utilized.

One of the prime objectives for our HTPC systems is energy saving, especially during playback operation - the idea being that lower power use produces less heat and should therefore also result in a quieter system. The quickest way to reduce platform power on an AMD based system is to enable CnQ. After enabling CnQ in the BIOS and setting our Vista power management profile to balanced or power saver, we noticed our platform power requirements dropped to 99W~112W. This is a 25% or so improvement in power savings so we were naturally pleased with the results.
We fired up Power DVD 8 Ultra, popped The Simpsons Movie back in and decided to see how well the system operated. Our CPU utilization numbers increased to 16%~23%, but considering our processor and lack of background activities, this increase was perfectly acceptable. At least until we sat through this movie and others. We started to notice slight stutters, pauses, and even some judder at various times during the movie. At times, it was very pronounced but other times it was very subtle, but it was not so subtle that we did not notice.

The most frustrating part is that it never occurred in the same section of a title or at the same time. We would notice stuttering in the first 30 seconds of a title at times and other times it would not occur at all. In every case with CnQ enabled, we eventually noticed this behavior, regardless of chipset on the AMD platform. Turning off CnQ resulted in an immediate improvement in our viewing experience. We are investigating this problem (actually it has occurred in the past on the Athlons but not to this extent), but until then our suggestion is leave CnQ off and suffer the consequences of increased power usage. (Or at least, leave it off if you're putting together an HTPC.)
Hardware Accelerated Blu-ray Playback Comparison
All three platforms we're talking about here support hardware Blu-ray acceleration, but how much of an offload do they provide? To find out we looked at CPU utilization while playing all three types of content (MPEG-2, VC-1, H.264) with a Core 2 Quad Q9450 on the Intel chipsets and a Phenom X4 9950 BE on the AMD/NVIDIA platforms. Because of our CnQ issues we've provided data with it both enabled and disabled. Intel's EIST is always enabled.
The breakdown of video decode offload is as follows: AMD offers the best in terms of CPU offload, followed by NVIDIA, then Intel with the G45. Remember that the G35 has no hardware decode support, so that's the reference point.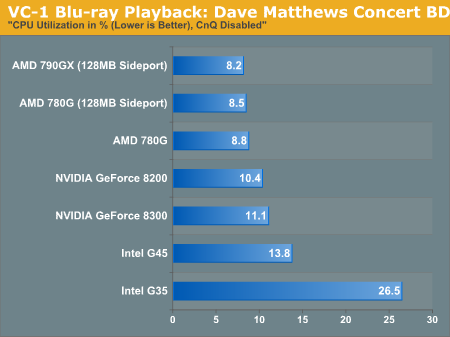 With CnQ enabled Intel takes the lead; however, this isn't a recommended configuration.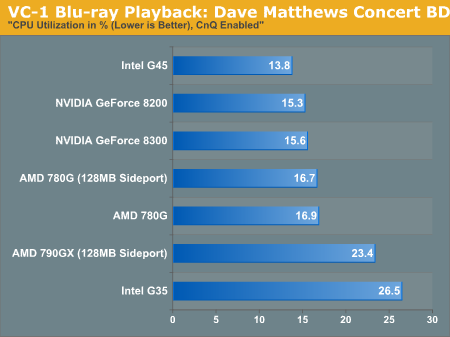 The same holds true for MPEG-2 and H.264 playback: AMD's 780/790GX offer the most CPU offload, followed by the GeForce 8200/8300 and then G45. Turn on CnQ and Intel takes the lead.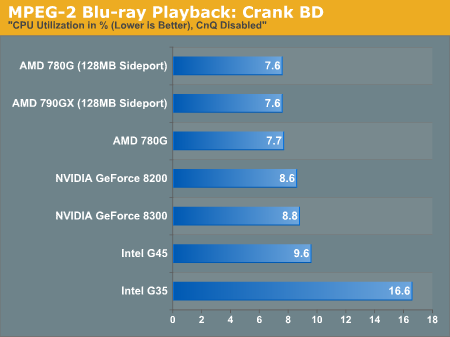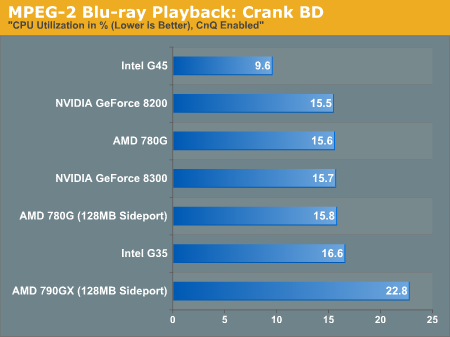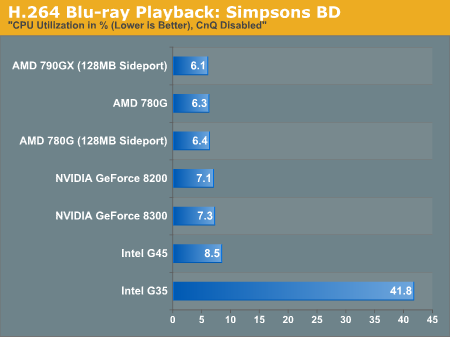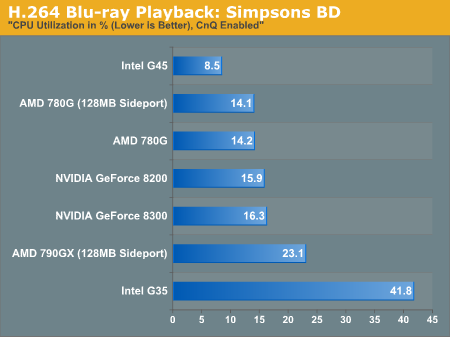 All of these numbers are low enough that the chipset you pick shouldn't matter - as long as you have hardware acceleration you're golden, but let's look at power consumption to see the impact of the CnQ issues on the AMD platforms.
Blu-ray Power Consumption
We took the H.264 test and looked at total system power consumption with CnQ enabled vs. disabled. EIST was enabled for both Intel platforms: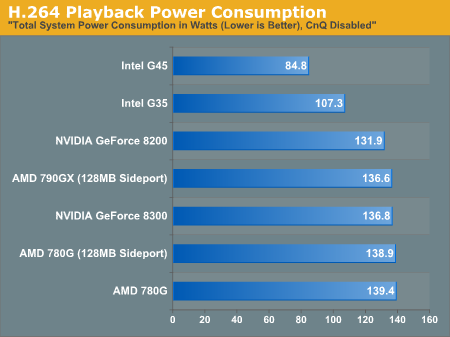 With CnQ disabled, Intel has a huge power consumption advantage. It's big enough that we'd almost recommend staying away from the AMD platforms; unfortunately, the issues that plagued Intel's G45 in our first article keep it from being the ideal HTPC solution. You're either better off with G45 + a Radeon HD 4550 or one of these AMD platforms.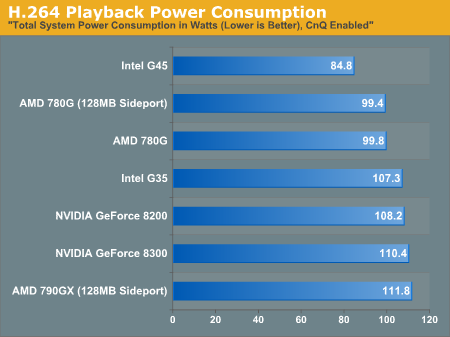 With CnQ enabled the Intel power consumption advantage is significantly reduced; however, the sacrifice is the occasional stutter during Blu-ray playback. Ugh, we hate tradeoffs. Hopefully AMD can work with their partners to address this issue, but for the time being it remains a significant concern.

General Performance Showdown
We've already compared the two most important aspects of these chipsets. Now it's time to look at the general usage performance of the platforms to make sure you're not sacrificing anything in going with one over another.
PC Mark Vantage does a very good job of testing actual application throughput in various categories and providing consistent platform results. We can see that our Intel G45 and AMD 790GX/NVIDIA GF8300 platforms are an even match with each leading in a variety of test suites. The 780G platform trails slightly thanks to lower than average scores in the Communication and Music test suites. However, the average user will never notice the difference in performance on these platform configurations, unless you realize that our Intel system configuration costs about $90~$120 more than their AMD/NVIDIA counterparts.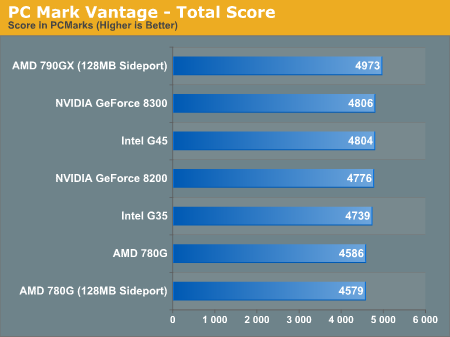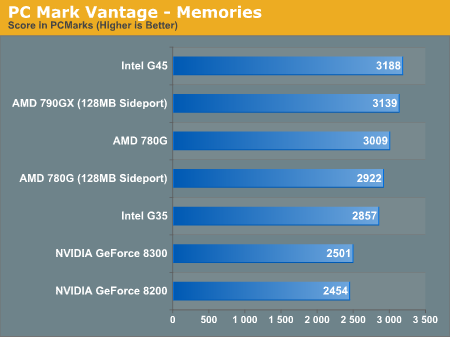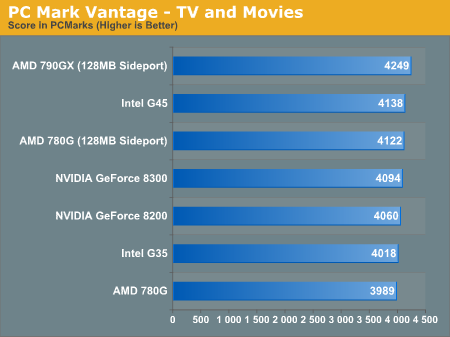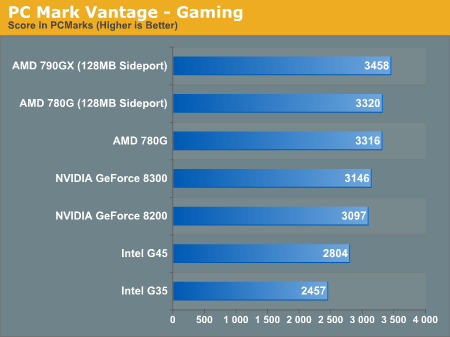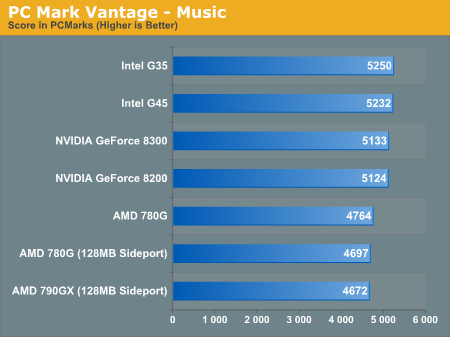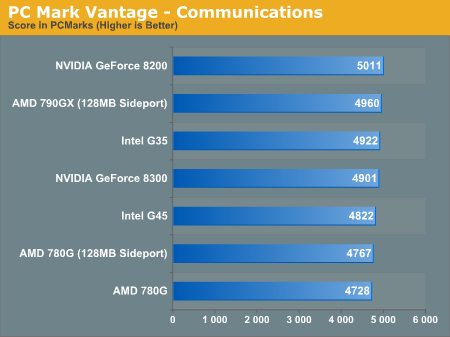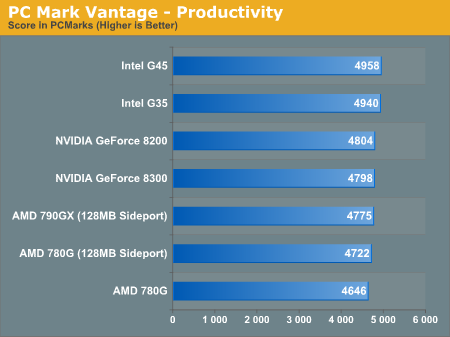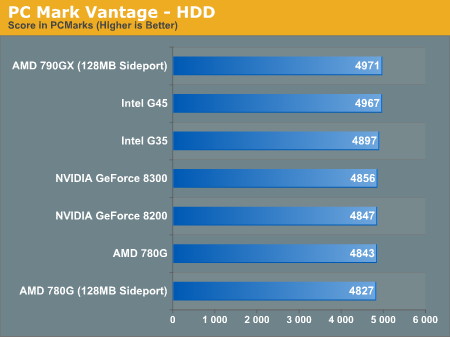 Power Consumption
The power consumption breakdown is as expected: Intel is in the lead thanks to its lower power 45nm process and if you decide to disable CnQ to get around the performance anomalies then the difference is even bigger.
There are a few items worth pointing out in the following results. First, remember that gaming power requirements will scale with the frame rates, so if you are GPU limited (which we are in all cases here) you won't use as much power from the CPU and other components. Taking that a step further, if you are limited to half (or one fourth) the frame rate, direct comparisons between competing solutions become rather meaningless - most people playing games would be more than happy to increase power use during games in order to achieve acceptable frame rates.
That said, games frequently don't let the CPU idle when they're waiting for the GPU, and you can clearly see in the gaming and video encoding benchmarks that the Phenom setup uses significantly more power than the Core 2 Quad. What we really need is for NVIDIA to make a good chipset for LGA-775....











The Motherboards
We've got a quick spotlight here on the boards we used to represent the AMD and NVIDIA chipsets included in this article.

NVIDIA GeForce 8200 from Biostar
Representing the GF8200 product family today is the Biostar TF-8200 A2+, which is part of Biostar's T-Series family that offers a blend of performance features at a near value price point. This board features an ATX layout, support for NVIDIA Hybrid SLI, a feature rich BIOS, and a price of $89.99. Major competitors in the GF8200 arena include the ASUS M3N78-VM HDMI, MSI K9N2GM-FD, ECS GF8200A, and Zotac GF8200.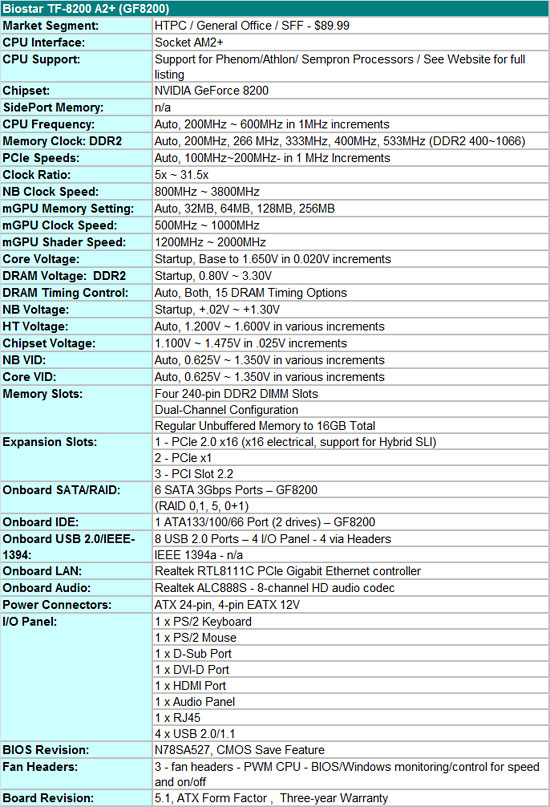 The TF-8200 A2+ is a feature rich GF8200 board with an OC friendly BIOS, Gigabit LAN via the almost universal Realtek RTL8111C, full RAID support along with six SATA ports via the GF8200, PATA support from the GF8200, and HD audio via the Realtek ALC888S. One interesting fact about SATA support from the GF8200/8300 series is that ports five and six only support AHCI or RAID mode; otherwise you are limited to four SATA ports.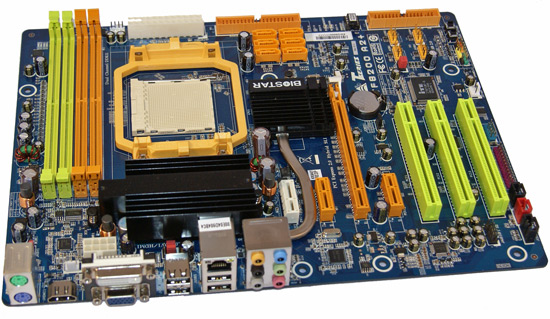 In our opinion, Biostar provided an excellent layout with an old school AMD memory slot configuration. When utilizing a dual slot video card, the user is still left with with two free PCIe x1 and three PCI slots. The chipset heatsink designs did not interfere with a variety of peripherals that we installed including several popular heatsinks and video cards. Our only complaint would be the GF8200 runs slightly hot under load so we recommend active cooling (case fan or radial CPU fan design) in order to keep the chipset and PWM components cool.
Biostar utilizes an excellent 4-phase power delivery system along with quality capacitors throughout the board that resulted in very stable operation with everything from a 9950BE down to a BE-2400. The inclusion of PS/2 ports for a keyboard or mouse is a nice touch as is output support for VGA, HDMI, or DVI-D along with power and restart buttons. DVI-D support is limited to single link, so 1920x1200 is going to be the maximum desktop resolution. This is a limitation of the NVIDIA GF8200 chipset.
Pros/Cons
We had an interesting time with this board. Up until the latest NVIDIA platform and driver set, our interest in the GF8200 has never been that great. Besides the exclusion of a 5.1 channel HDMI audio setting, things are finally looking up for this chipset. As such, our opinion of the board changed slightly.
All of our AMD based boards today were limited in overclocking to around 250HTT with integrated graphics enabled. We were able to run the GPU shader clock to 1650MHz and the mGPU core clock to 630MHz. Increasing the core clock provided very little benefit, and increasing the shader clocks raised performance anywhere from 2% to 4% on average.
The Biostar board was extremely stable when clocking our 9950BE up to 234HTT, 8750 at 240HTT, and the 4850e at 245HTT with base memory clock set to DDR2-800 with 5-4-4-15 settings. We will delve into additional overclocking with our discrete GPUs shortly, but for those needing a IGP solution with overclocking, this board is recommended.
We had a couple of minor problems that a BIOS update should cure. The keyboard is not available after drive recognition until the Windows startup routine and HTT clocking with the 9350e was difficult. In addition, HDMI video out no longer works with the latest PowerDVD 8 Ultra update 2021a and the 178.13 driver set on this board. Either the EDID information or AACS key update is creating a conflict with the current BIOS. We rolled back to an earlier version and all was fine again for BD playback. Overall, this board did not inspire us but neither did it create any negative feelings during use. Biostar has provided a solid board with a very good feature set that we find hard to fault.
NVIDIA GeForce 8300 by Zotac
Our second board is the Zotac GF8300 and it represents one of their first forays into the motherboard market. This board is a no-frills affair from the BIOS options down to the feature set. However, sometimes this is the best course to take in the low-end market; providing a high quality board that just gets the job done is a plus in our book. That also means that you need to get it right the first time.
Did Zotac get it right the first time? Not exactly, as this board has a couple of layout nuisances in our book. The placement of the 24-pin ATX power connector is in the wrong spot for most case designs and interferes with both airflow and cable management around the CPU area. It is something you can live with but we have seen better on other uATX boards. If you do utilize a dual slot GPU card (a rare event on these boards) then expect to lose the only PCIe x1 slot on the board and two SATA ports. Otherwise, the placement and design of the GF8300 heatsink scores points with us.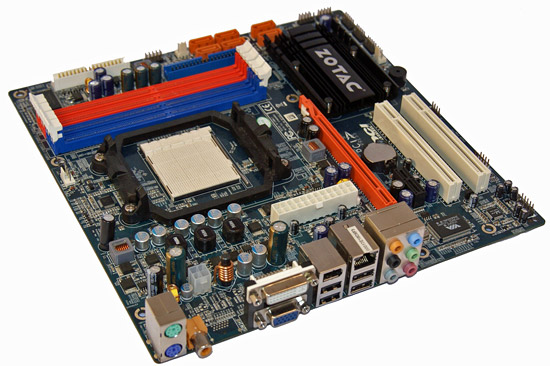 The BIOS design and options are minimalistic but do provide base functionality and the ability to overclock slightly. The BIOS is missing Core Voltage settings, something that we expect on all boards in this category - not just for the ability to overclock but also to undervolt the CPU when using the board in an HTPC setup.
The options on the board are decent, ranging from IEEE 1394a support from the VIA VT6307 to HD audio from the Realtek ALC888 (no real-time DTS or DD support) along with RAID 0, 1, 0+1, and 5 support. Zotac provides VGA and DVI-D outputs but notably missing is native HDMI. However, we did not have any problems utilizing the included DVI to HDMI adapter when running 7.1 channel HDMI audio out to our receiver. Zotac does offer decent CPU fan controls and monitoring; system fan control is missing but the BIOS does monitor fan speeds.

Zotac utilizes an excellent 3-phase power delivery system along with quality capacitors throughout the board that resulted in very good stability throughout our testing regimen. This board does not support the 140W TDP processors, although Zotac rates it for the 125W TDP processors provided there is good airflow across the PWM area. We have not had any problems with either the 9850BE or 9950BE in several hundred hours of testing, though the MOSFETs like squeal at times when under heavy loads. We recommend sticking to the Tri-Core Phenoms on this board; they also happen to be an excellent value/choice for HTPC or gaming at this time.

Without an overclocking friendly BIOS, we still managed to get our 8750e up to 235HTT and our 4850e to 232HTT before requiring core voltage for stability. We did not overclock our 9950BE in the hopes of saving the board from an early grave. The GF8300 is nothing more than a binned GF8200 and it shows on this board with mGPU shader clocks hitting 1750 MHz and mGPU core clock hitting 710 MHz.
Pros/Cons
We can sum this up quickly. The GF8300 is a good first try for Zotac in the AMD motherboard market. We hope that they will learn from a couple of layout mistakes on the next board. The BIOS needs core voltage settings and we would like to see native HDMI output along with an eSATA option. These boards will likely find their way into HTPC or SOHO setups and these options are important; in fact, a better audio solution would be nice also. Otherwise, the board was extremely stable during testing and we never once had a compatibility problem or a blue screen. Not too many boards can say that and for this reason, we placed the Zotac GF8300 high on our list, as stability is paramount in a system.
AMD 780G: ASRock A780GXE/128M
The third board in today's chipset overview is from ASRock. ASRock is typically associated with the low-end market and for offering products based on previous generation chipsets. ASRock has changed considerably over the past year and now offers current generation chipsets, premium features, unique designs, and they are starting to open up to overclocking.
While their marketing (visit the website link above) might be a little over the top for some, their product designs are starting to really impress us based on value/performance criteria. In fact, expect to see a slew of ASRock products reviewed over the coming weeks as we concentrate on the under $150 market space.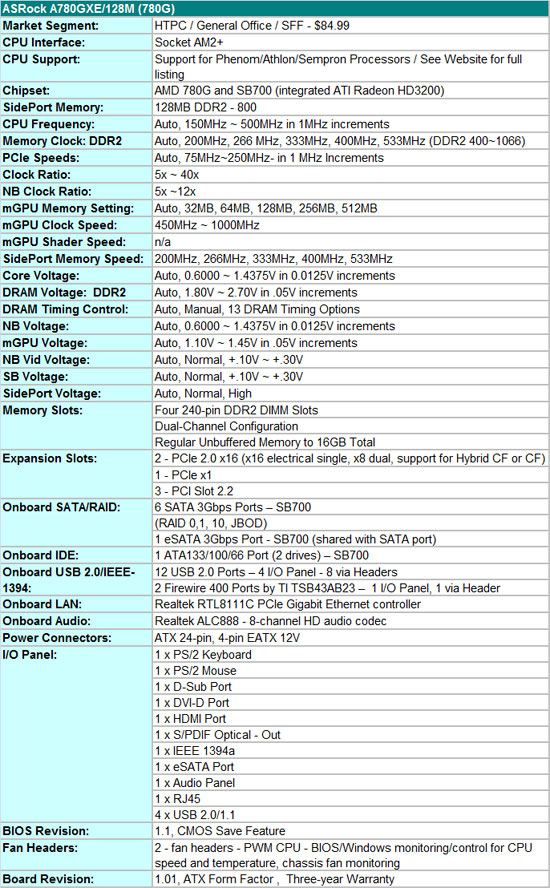 The board we are looking at today is the ASRock A780GXE/128M that features the AMD 780G chipset, SB700 Southbridge, and is paired with 128MB of DDR2 Sideport memory. Offered in an ATX format, the A780GXE/128M provides 2 physical x16 PCIe slots (x8 in dual-slot configuration or single x16 operation only), three PCI slots, and a single x1 PCIe connector. Due to the configuration, you can run x8 CF or Hybrid CF on the board. In fact, up the mGPU core clock to 700MHz and you have a 790GX board for $85.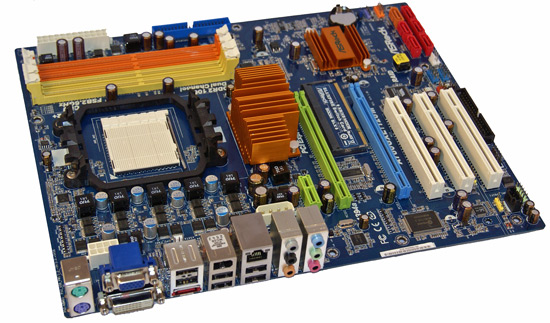 The board also features the Realtek 8111C for Gigabit LAN, Realtek ALC888 for HD audio, TI based IEEE 1394a support, and RAID 0, 1, 10, and JBOD operation. An eSATA port is offered but it means sharing with another SATA port off the SB700. Two video selections are available, VGA or DVI-D output (with HDMI coming via a dongle).

The overclocking options in the BIOS are extensive for a 780G board and nearly match those of the Gigabyte MA780PM-D2SH. We had no problems overclocking a variety of processors on this board and the results matched those of more expensive boards as we will see shortly. The AMD 780G chipset also topped out around 250HTT when utilizing the IGP unit.
The board features an excellent 5-phase power system along with quality capacitors. We clocked our 9950BE up to 236HTT, 8750 at 243HTT, and the 4850e at 245HTT with base memory clock set to DDR2-800 with 5-4-4-15 settings. The mGPU clock reached 750 MHz before we noticed graphical corruption in several game titles. In addition, when overclocking via HTT, we dropped our Sideport memory clock to 400MHz to ensure stability. We had some luck setting Sideport voltage to high and leaving the SP memory speed at 533MHz (1066) up to 225 HTT.
CrossFire operation worked perfectly with two of our Sapphire HD4670 cards and matched the performance of the 790GX boards. We did not need to utilize the additional Molex power connector until we connected two HD4850 cards. Hybrid CF worked fine with an HD3450 card.

Pros/Cons
This is a unique board from ASRock as the features and options place it in direct competition with the 790GX boards for a budget level price of $85. We are still completing overclock testing with the 9950BE and HD4850 setup, but so far the board has held up for over a 100-hour period without a problem. Performance is equal to most of the 790GX boards with a discrete GPU and the same for the IGP unit when it is clocked to 700 MHz.
We did find a couple of drawbacks on this board. The color scheme is just not for us and it eerily reminds of a Gigabyte board. However, color does not equate to performance pitfalls. The PCIe x1 slot only works with half-length cards. A native HDMI port is missing although the DVI-D port fully supports HDCP. We had hoped that ASRock would have utilized their ALC890 HD audio chipset, but that and a DVI-HDMI converter is what basically separates this board and their upper market 790GX product. Finally, only two fan headers on an ATX board designed for the home market is unacceptable today.
Overall, the A780GXE/128M is a unique product offering in the 780G market and an excellent value at $85. This is a board that is a little quirky at times and might not be perfect, but maybe that is the reason why we like it so much. As such, we highly recommend this board for those looking for 790GX performance at a 780G price.
Final Words
There is not a perfect IGP at this time. Maybe the upcoming NVIDIA Intel chipsets will change our opinion - though not completely, as the product is evolutionary rather revolutionary. This is not to slight the product before the official announcement; it's just we think something revolutionary should contain features or provide performance that is not available in today's chipsets. When thinking about the perfect IGP solution, we have several ideas.
We would like AMD HD 4670 video performance along with 8-channel HDMI audio output that not only offers LPCM capability but the ability to bitstream Dolby True HD and DTS-MA HD audio formats. 1080P/24 fps playback that just works would be exciting, as would not having to utilize third party programs to configure EDID information to get various monitors and chipsets to work together. A single chip solution in a low-power design that supports quad-core (for video/audio encoding duties) processors and is ITX friendly is something we would drool over. Of course, we want it today.
While there are numerous ideas on the hardware side, we think an even more important aspect of our perfect IGP solution is stable, bug-free, and optimized driver support to bring all of this together. We have had our fill of half-baked driver sets, features promised but never delivered, and enough incompatibilities at launch to make one wonder if anyone remembered to check if the hardware and software actually work together before shipment.
As for the chipsets we looked at today, it is difficult to declare a true winner at this time, especially given the fact that the new NVIDIA chipsets are launching shortly. However, if we had to choose one chipset for primary HTPC usage, it would be the NVIDIA GeForce 8200. The GF8200 offers 8-channel LPCM output, no hassle 1080P/24 fps playback capabilities, modest pricing, and a relatively low power envelope when paired with an appropriate processor such as the Phenom X3 8750 or Phenom X4 9350e.
This is a difficult decision as the AMD 780G is a better balanced chipset offering improved casual gaming performance, equal video quality, similiar power requirements, greater availability, and better pricing. The performance of certain 780G motherboards can equal or nearly match those of the 790GX with some creative mGPU overclocking, and most models come in a space saving uATX form factor. Also, depending on the motherboard, DVI-D dual-link is supported with resolutions going to 2560x1600, something the GF8200 and G45 do not support.
The drawback for us is the lack of multi-channel LPCM HDMI audio output and not so great 1080P/24 fps playback capabilities. If these items are not important to you, then the 780G would probably be at the top of our list. Of course, these problems can be solved with an inexpensive HD 4550 or HD 4670 video card but that completely throws off the price advantage over the Intel platform; however, you end up with a significantly improved platform offering balanced performance for the HTPC, casual gamer, or SOHO user.
That leaves the Intel G45. If you are an Intel fan, this is your only real IGP choice... for the next few days at least. The G45 is acceptable for an HTPC platform as it offers excellent video quality and 8-channel LPCM output. However, we have no idea if implementation of 1080P/24 fps support will occur. Speaking of driver quality and features, this is one area where Intel is behind AMD and NVIDIA. In addition, platform cost is a problem when looking at the mid to lower range processor market compared to AMD. This is something we will look at shortly as it pertains to the IGP market.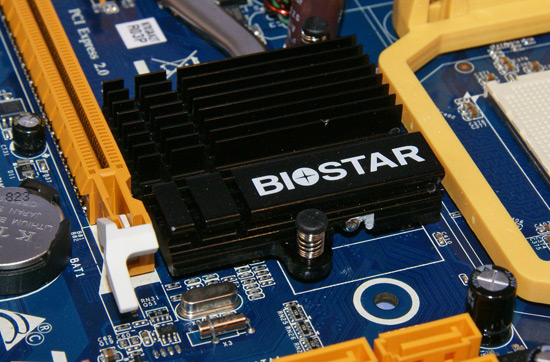 As for the motherboards we tested for this overview article, the Zotac GF8300 offered very good stock performance but is a no-frills board with a layout that we would like to see improved. Their GF8200 version of this board just hit the retail market for under $70 and we suggest you take a look at it if the items we discussed are not a deal breaker. Zotac builds a high quality budget board with excellent stability; it's just not flashy or exciting.
The Biostar TF-8200 A2+ is a feature rich ATX board that offers excellent stability, compatibility, and performance for the price. There are a couple of minor problems that are BIOS related and we hope Biostar offers a new BIOS soon. Otherwise, consider this board when looking at other GF8200 alternatives.
The ASRock A780GXE/128M is a unique product offering. Based on an ATX form factor this board offers a BIOS designed for overclocking and a feature set that puts it in direct competition with the more expensive 790GX motherboards. To date, the board has provided very good performance, stability, and compatibility with a wide range of peripherals.
There is stiff competition in the IGP sector between ASUS, MSI, Gigabyte, Biostar, ASRock, Jetway, ECS, and others. We will be back shortly to look at further 780G/GF8200/790GX offerings along with budget discrete GPU comparisons. We might even have time after that to show the performance differences between 10 different CPUs on these platforms. Before then, we have a new chipset in the market that NVIDIA will be offering shortly....