Original Link: http://www.anandtech.com/show/2630


Oooh, new GPUs from AMD - however these ones aren't going to be breaking any performance records, they are both priced below $60.
The Radeon HD 4350 and 4550 are slotted in between integrated graphics and the set of hardware we took a look at recently in our Radeon 4670 review. The Radeon HD 4550 will run you around $45 - $55, while the Radeon HD 4350 will be priced at $39. Generally speaking, if you're a gamer you're not spending any less than $150 for a graphics card - so these GPUs are mostly for enabling hardware Blu-ray acceleration or providing a boost in performance over games running on integrated graphics.
ATI Radeon HD 4870
ATI Radeon HD 4850
ATI Radeon HD 4670
ATI Radeon HD 4650
ATI Radeon HD 4550
ATI Radeon HD 4350
ATI Radeon HD 3870
Stream Processors
800
800
320
320
80
80
320
Texture Units
40
40
32
32
8
8
16
ROPs
16
16
8
8
4
4
16
Core Clock
750MHz
625MHz
750MHz
600MHz
600MHz
600MHz
775MHz+
Memory Clock
900MHz (3600MHz data rate) GDDR5
993MHz (1986MHz data rate) GDDR3

1000MHz (2000MHz data rate) GDDR3

or

900MHz (1800MHz data rate) DDR3

500MHz (1000MHz data rate) DDR2
800MHz (1600MHz data rate) DDR3
500MHz (1000MHz data rate) DDR2
1125MHz (2250MHz data rate) GDDR3
Memory Bus Width
256-bit
256-bit
128-bit
128-bit
64-bit
64-bit
256-bit
Frame Buffer
512MB
512MB
512MB GDDR3 or 1GB DDR3
512MB
512MB or 256MB
256MB
512MB
Transistor Count
956M
956M
514M
514M
242M
242M
666M
Die Size
260 mm2
260 mm2
146 mm2
146 mm2
?
?
118 mm2
Manufacturing Process
TSMC 55nm
TSMC 55nm
TSMC 55nm
TSMC 55nm
TSMC 55nm
TSMC 55nm
TSMC 55nm
Price Point
$299
$199
$79
$69
$45 - $55
$39
$199
While the Radeon HD 4670 was quite impressive with 320 stream processors, the same number that was in last year's Radeon HD 3870, the 4350 and 4550 only have 80 SPs. That's twice the number of SPs in AMD's 780G, the current highest performing IGP solution on the market. In our Radeon HD 4670 review we found that the GPU was fast enough for pretty much all current generation games at resolutions up to 1280 x 1024, but with only 1/4 the shader power of its $75 brother we don't have high gaming expectations from these cards.
Both the 4550 and 4350 are mated with a 64-bit memory interface and either a DDR2 or DDR3 frame buffer. With very little memory bandwidth, and very little processing power you need to have good expectations for these cards.
The competition from NVIDIA is a little blurrier; while the GeForce 9400 GT is priced more in line with where we expect these cards to end up, NVIDIA does have one trick up its sleeve. The GeForce 9500 GT, paired with 256MB of DDR2 memory (the same type you'd get on your desktop) is priced at around $65 - $70 but is currently available with a $15 - $20 mail in rebate, bringing it down to the about same pricepoint as the Radeon HD 4550.
The Perfect HTPC Cards
Like the rest of the Radeon HD 4000 series (4870, 4850, 4670 and 4650) the new Radeon HD 4550 and 4350 both support 8-channel LPCM over HDMI. This makes these two cards the perfect addition to any HTPC for use in a 6 or 8 channel home theater setup. The Radeon HD 4550 reference design is a full height PCI Express x16 card but it's completely passively cooled, making it an even better HTPC solution than the 4670 and cheaper. If you don't care about gaming performance but want a good way of upgrading your PC to full hardware H.264/VC-1/MPEG-2 acceleration, the 4550 is perfect, especially if the multi-channel LPCM over HDMI output matters to you.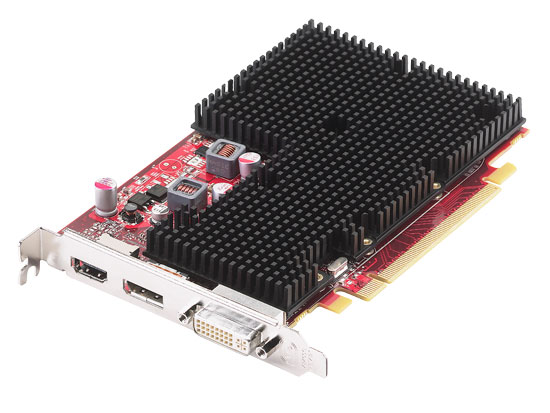 Radeon HD 4550
We tested the 4550's 8-channel LPCM output and it worked just as advertised, no different than the more expensive ATI cards. And honestly, compared to integrated graphics solutions, getting 8-channel LPCM and hardware decode working is just as easy if not easier.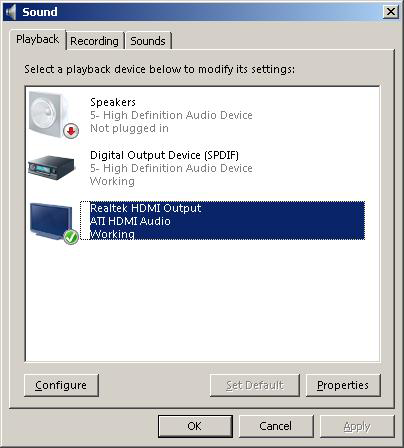 The only requirement is that you install the Realtek HDMI Audio driver from Realtek's site, once that's done you'll get the option to enable 8-channel audio output in Vista's speaker configuration settings.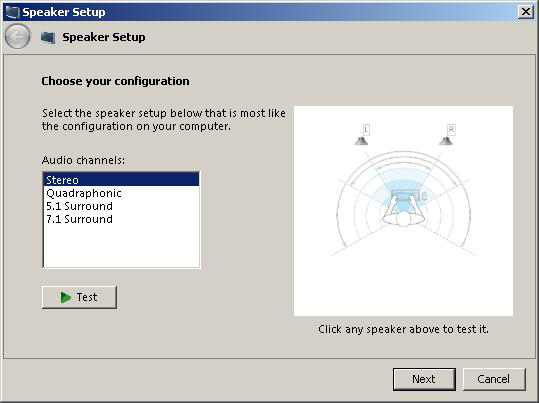 The Radeon HD 4350 is an even cheaper alternative to adding 8-channel LPCM output and hardware Blu-ray acceleration, however the half-height reference design does require a fan by default. While add in board partners will undoubtedly produce passively cooled versions, the default 4350 includes a fan; it's small and reasonably quiet, but it's still a fan.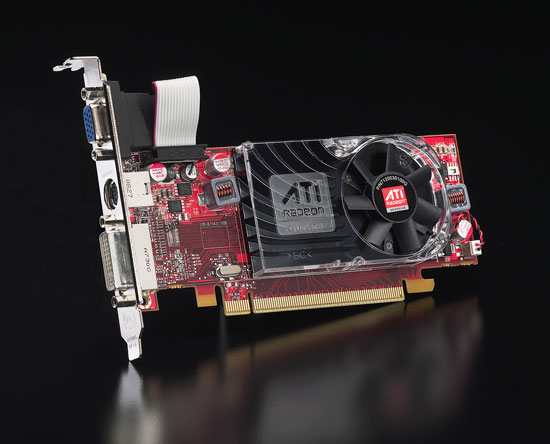 Radeon HD 4350
AMD states that while both the 4550 and 4350 support full hardware Blu-ray decode acceleration, the 4350 may not be able to fully accelerate a high bitrate 2nd stream for picture in picture scenarios. We didn't have the opportunity to test this on our 4350 but we'll be following up with more HD decode tests in a future HTPC article. Both GPUs should decode a single stream 1080p Blu-ray movie without any issues, offloading 100% of the decode pipeline to the GPU; we confirmed that the 4550 works as expected and we're assuming the 4350 is the same given that the hardware is identical.
The Test
Test Setup
CPU
Intel Core 2 Extreme QX9770 @ 3.20GHz

Motherboard
EVGA nForce 790i SLI

Video Cards

ATI Radeon HD 4670 (512MB GDDR3)
ATI Radeon HD 4550
ATI Radeon HD 4350
ATI Radeon HD 3650
NVIDIA GeForce 9500 GT
NVIDIA GeForce 9500 GT DDR2

Video Drivers
Catalyst Press Driver 8.9 Beta
ForceWare 178.13
Hard Drive
Seagate 7200.9 120GB 8MB 7200RPM
RAM
4 x 1GB Corsair DDR3-1333 7-7-7-20
Operating System
Windows Vista Ultimate 64-bit SP1

PSU
PC Power & Cooling Turbo Cool 1200W
The Benefits Over Integrated Graphics
For our comparison to integrated graphics, we looked at two games: Crysis and Oblivion. These games tend to cover the spectrum fairly well from DX9 to DX10, and they tell the same story: integrated graphics suck.
First up is Crysis. For integrated graphics, we needed to test everything at the absolute lowest setting, and even that was painful. It is too bad we couldn't test 640x480, as that might have given some of this hardware a chance at playability. But with the tests we did run, none of our integrated solutions were really playable at 1024x768, and only the AMD 780G did anything useful at 800x600. By contrast, the 4350 and the 4550 both we very playable at this very low quality setting. Pushing up to 1280x1024 wasn't really as effective, but the 4550 did still hang on to playable framerates at that resolution.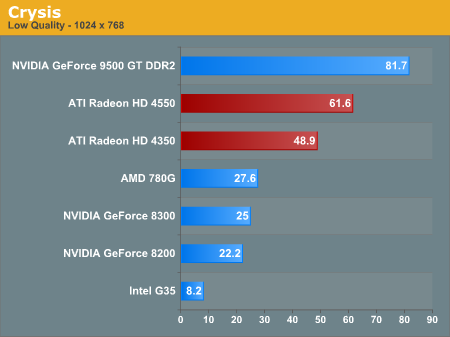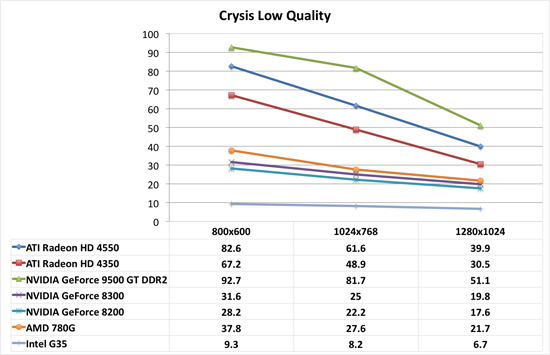 As for Oblivion, we see nearly the same behavior as with Crysis. There is a huge performance gap between integrated graphics and even the lowest end of add-in cards we are testing today. And these settings with Oblivion are insanely ugly. We would never recommend playing with very low settings ever. It's a horrendous experience.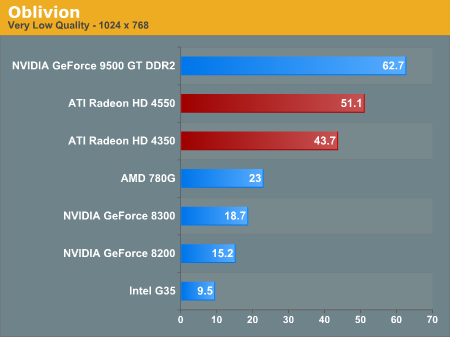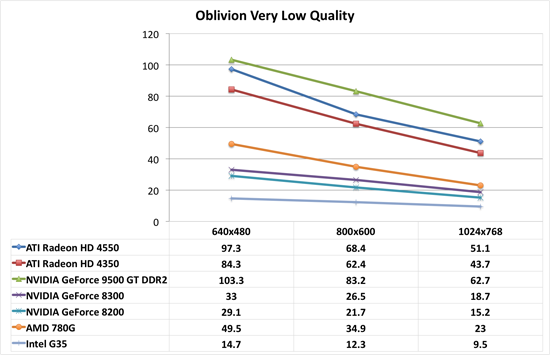 As usual, Intel's integrated graphics are the biggest joke of the bunch. But that's not any sort of feather in AMD or NVIDIA's cap here: Intel's G35 is just really horrible hardware for 3D.
So, with the benefit over integrated graphics well established, how do these parts compare to the slightly higher price bracket right next door? Let's take a look at how they compare to NVIDIA's 9500 GT DDR2 and AMD's 4670.
But Can You Really Game on Them?
So the short answer to this quesiton is not really. If you want to play casual games or older games, you'll be fine. Generally, you don't even have to run on the absolute worst settings. But you can't get near the quality even the 9500 GT is capable of delivering (let alone the 4670 which can deliver AA in some cases to low resolution gaming).
With our Crysis test, this time around we looked at everything set to medium quality. While the 4350 and 4550 performed alright at low quality settings, they really can't keep up when it comes to this step up. The 4670 really sticks it to all the other options here.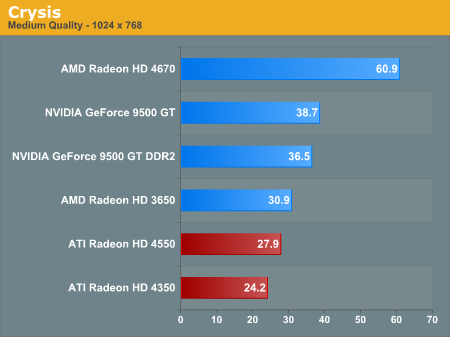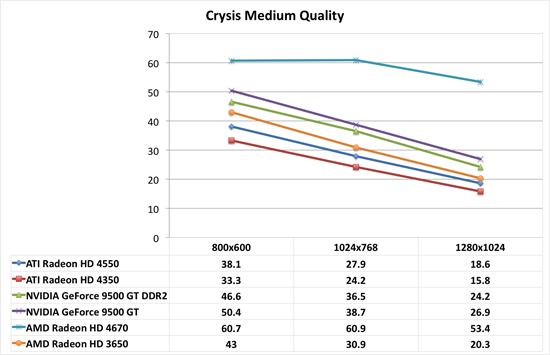 With the way the 4670 pegs the 60fps limit, we wanted to demonstrate just what the advantage can be. Running at our standard High Quality / Very High Shaders settings, it's clear that there is a fundamental difference in the type of performance you get from something like the 4670 and the 4550.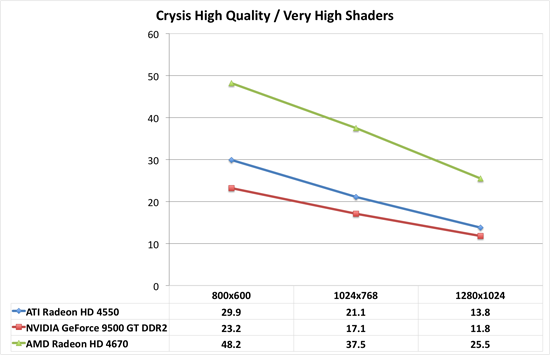 Under Enemy Territory we were actually able to run at the highest quality settings with 4xAA and still get playable performance at 800x600. This isn't that bad, but keep in mind this game is based on an older OpenGL Doom 3 engine. Above 800x600 and we would really need to dial back the settings. Disabling AA goes a long way to boosting framerate, but at these low resolutions it is a shame to lose that feature.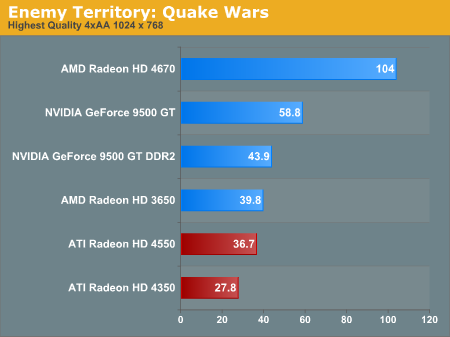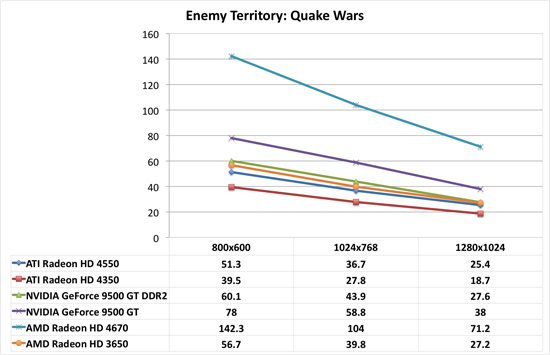 Finally, with Oblivion at our Ultra High defaults setting, we aren't really able to get above 800x600 and remain playable. We would really like to see north of 25fps for a playable experience in Oblivion, and we just can't pull that out at 10x7. Again, even with the advantage the 9500 GT cards have, the gap there pales in comparison to the performance increase shown by when moving to the 4670.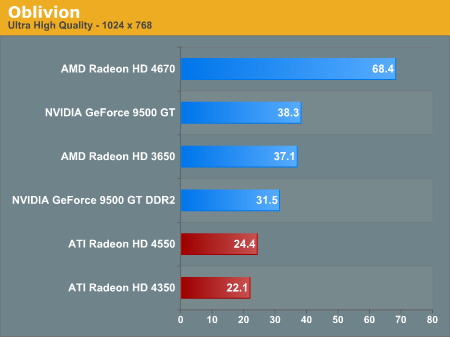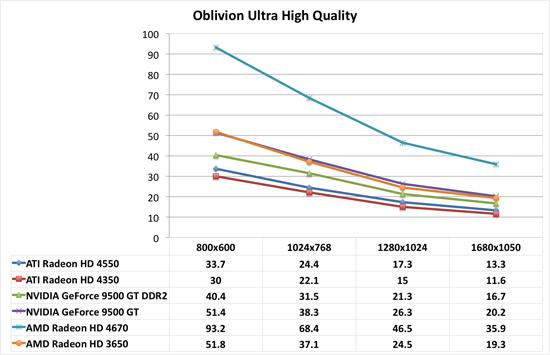 So while these really aren't gaming cards, they do reach up and touch the ability to enable high end settings at the lowest resolution in some cases. On modern games, higher powered options are needed for getting decent quality. But either way, these cards are quite a bit faster than current integrated graphics solutions.
Power Consumption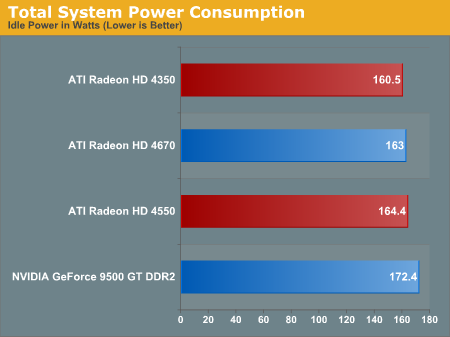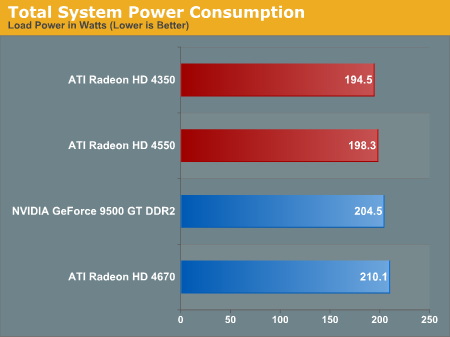 Final Words
We generally complain endlessly about graphics cards that purport to bring 3D capability to the masses, as they more often than not just bring frustration and dissatisfaction to end users who expect to be able to play the latest games without feeling like they're viewing a bad mosaic or some impressionist paintings. And these cards are not cards for gaming, but each does have its uses when chosen for the strengths of the card.
This hardware is currently where it's at for HTPCs. Both the 4550 and 4350 support 8-channel LPCM over HDMI. For the HTPC user, this makes these cards a great combination audio and video solution that is cheap, flexible, quiet/silent, and fully capable of accelerating video playback and passing high quality audio out to your sound system. Honestly, getting a $40 sound card isn't something some people think twice about, but with the added benefit of video decode acceleration these new parts should be fairly attractive to the HTPC crowd.
While some integrated solutions can offer the above, choice and flexibility are great things to have in a system. Now HTPC builders have the option of a passively cooled 4550 that can meet their audio and video needs, or a low profile 4350 that is very quiet even if it isn't completely silent. Without the need for onboard audio or video (for a strictly HTPC system using HDMI), we could see a lot more interesting options come available to end users looking to hook something up to their television.
Honestly, we wish the 4350 was an integrated part on current motherboards (and we would really prefer to see it passively cooled, but we'll have to wait and see if any manufacturers alter the reference design on this one). While it isn't a card designed for gaming, it is capable of showing gamers what they are missing. The 4350 offers performance that, while lack luster, wouldn't be a horrendous chain on the neck of game developers. Offering settings that enable playable frame rates at 800x600 or 1024x768 at a bare minimum on the 4350 would really raise the bar in some cases and allow developers to focus on making their games look better and play better. End users who wanted to try one of the more hard core games could see if it was for them with out the added headache that the current group of horribly underpowered integrated solutions offer.
As for the 4550, it really isn't enough faster than the 4350 to put it into another class of product in terms of 3D. The larger PCB and passive cooling solution make it a better fit for some specific situations, but if we are making the choice for one of these cards on game performance, at this level its really not going to make a big difference. Both cards kind of suck for any real gaming. If you need a card that can really give you a taste of what PC gaming can be, you still want the option to use it as an HTPC card (with 8 channel LPCM), and you don't care about silence, the 4670 is where its at. It still won't get you all the way to gaming nirvana, but for low resolutions it can offer some satisfaction.
The NVIDIA 9500 GT is priced between the 4550 and the 4670, but it doesn't offer all the features we want to see on an HTPC card. Performance does fall between the 4550 and the 4670, but as these numbers (and the rest of the numbers in our 4670 article show), the 4670 is really in another class. If we are going to recommend that you spend more money on a part to get game performance, our recommendation isn't going to be to spend an extra $15 on an NVIDIA card that only offers a little bit of a boost over something that is already under powered. Our recommendation would be to spend the extra $30 and get the 4670 that offers the capability of playing games with all the options turned on and up at low resolution (well, except for Cyrsis, but not even high end parts can do that).
Anyway, the point is that with cards in this class, you can't expect gaming performance. And even still we have cards that absolutely blow away integrated graphics. This really does highlight just how how horrible the performance of integrated solutions really is in comparison to any modern add-in graphics part. But that doesn't mean these cards don't have some value. Not everyone needs 3D, and these cards are priced very well. And more importantly, these cards offer a real solution to a problem HTPC builders have been faced with for a long time. The Radeon 4350 and 4550 offer quiet or silent video acceleration for full resolution blu-ray playback with the option of enabling 8 channel LPCM audio playback over HDMI. If you want to build an HTPC, one of these cards would be a very good fit.