Original Link: http://www.anandtech.com/show/2622


In several recent reviews I've talked about the importance of supporting 8-channel LPCM over HDMI. More specifically, you'll see this as a feature listed with AMD's Radeon HD 4800 series and more recently the 4600 series. Intel has quietly toted 8-channel LPCM support as a feature of its integrated graphics chipsets since the G965, yet I've never done a good job explaining what this feature is and why you should even care.
Honestly, it took my recent endeavors into the home theater world to really get an understanding for what it is and why it's important. So without further ado, I present you with a "quick" (in Anand-terms) explanation of what 8-channel LPCM over HDMI is and why it matters.
Grab some popcorn.
The Necessity: Enabling 8-channel Audio on Blu-ray Discs
Movies ship with multi-channel audio tracks so that users with more than two speakers can enjoy what ultimately boils down to surround sound. Audio takes up a lot of space and studios keep trying to pack more data onto discs so most multi-channel movie audio is stored in a compressed format.
In the days of DVDs the studios used either Dolby Digital or DTS encoding for their audio tracks, but with Blu-ray (and HD-DVD) the stakes went up. Just as video encoding got an overhaul with the use of H.264 as a compression codec, audio on Blu-ray discs got a facelift of its own. Dolby Digital and DTS were both still supported, but now there were three more options: Dolby Digital TrueHD, DTS-HD Master Audio and uncompressed LPCM.
Dolby Digital and DTS, as implemented with the original DVD standard, had two flaws: 1) They were lossy codecs (you didn't get a bit for bit duplicate on disc of the audio the studio originally mastered when making the movie), and 2) they only supported a maximum of 6-channels of audio (aka 5.1 surround sound: right, left, center, left surround, right surround and LFE/sub channel).
DVDs could store 4.5GB or 9GB of data on a single disc, so using lossy audio codecs made sense. Blu-ray discs are either 25GB or 50GB in size meaning we can store more data and higher quality data at that, for both audio and video.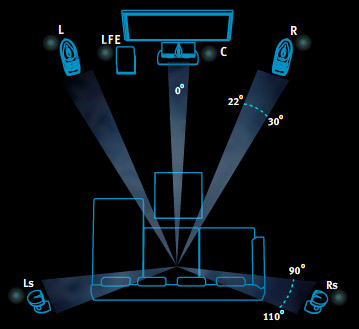 A standard 5.1 channel audio setup. Copyright Dolby Laboratories.
Both Dolby Digital TrueHD and DTS-HD MA improve upon their DVD counterparts by: 1) being lossless (when decoded properly, you get a bit for bit identical copy of the audio the studio originally mastered for the movie), and 2) currently supporting up to 8-channels of audio (aka 7.1 surround sound: right, left, center, left surround, left rear, right surround, right rear, and LFE/subwoofer channel; both specs actually support greater than 8-channels but current implementations are only limited to 8).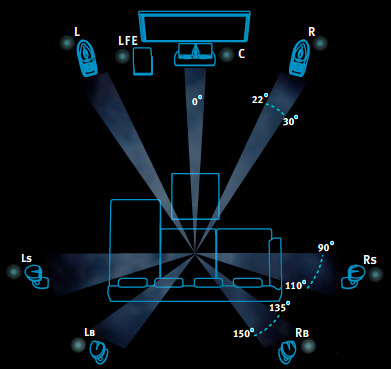 A standard 7.1 channel audio setup. Copyright Dolby Laboratories.
These standards are lossless, which is great. While we're not quite there on the video side, the fact that we can store and playback the original audio track from a movie is an incredible feat and a feather in the cap of technology in general.
The support for 8-channel speaker setups is also a boon, because currently the way people with 8-channel audio setups get those extra two channels is by some form of matrixed audio. Dolby ProLogic IIx and DTS Neo6 generate one or more additional channels of audio from existing surround sound channels; the downside is that these methods never sound good. While they make audio come out of all speakers, generally the original 5.1 audio track produces better sound in that it is less muffled and more distinct.
Now we have these wonderful audio codecs to give us the benefits of fully uncompressed audio without the incredible space requirements, but there is indeed a problem: decoding them on a PC.
The Invention: The Protected Audio/Video Path
Remember all of the garbage the PC industry went through with trying to enable HD-DVD/Blu-ray playback? Unfortunately, most of those efforts were spent on enabling protected video playback, and most of the companies involved didn't spend much energy on enabling protected audio playback.
There are two forms of content protection that help secure both audio and video when playing back a Blu-ray disc: HDCP and AACS. HDCP protects the data as it leaves the PC; it's why you need an HDCP compliant graphics card, graphics driver and monitor if you want to play an HDCP enabled Blu-ray disc on your PC with a digital video output (DVI or HDMI). The idea behind HDCP is that a user should not be able to easily intercept the decoded signal and make a bit-for-bit copy of the audio and video before it reaches the display.
AACS protects the data on the disc itself, much like CSS did in the days of DVDs. In order to play back an AACS encoded Blu-ray, you have to decrypt the content coming off of the disc and hand off the decrypted content to the application so it can be decoded and sent to your graphics driver, and from there to the graphics card for display.
The problem is that the movie studios wanted a way of securing the content between the time the AACS was decrypted and the HDCP encryption took over. Once the AACS was decrypted the encoded movie was sitting in main memory and could be intercepted by any other application, so something had to be done.
The solution was to re-encrypt the data once it was pulled off the disc (I'm not kidding). This time the encryption would be done by the application and decrypted by the GPU itself, creating a protected path that couldn't easily be compromised.
The graphics driver would be able to pass along the encrypted data to the GPU, which would then decrypt and decode it in hardware and then the entire framebuffer would be HDCP encrypted by the GPU before sending it out over DVI/HDMI. Again, I'm not kidding.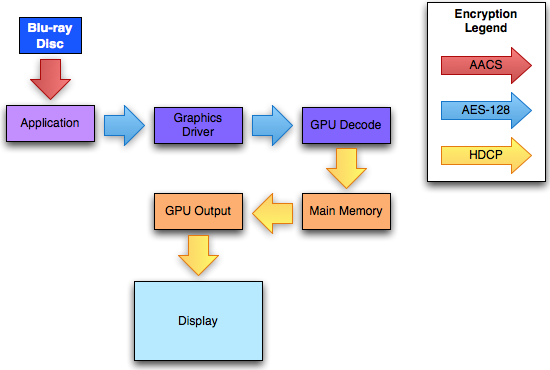 A simplified encryption/decryption diagram for Blu-ray playback on a PC.
This intermediate stage of encryption/decryption is called a protected path, and two such paths need to exist: a Protected Video Path, and a Protected Audio Path.
The Protected Video Path needed to exist in order to get any sort of HD playback out of a Blu-ray disc, so it was enabled right away. The Protected Audio Path was only necessary if you wanted to use any of these lossless audio formats (Dolby TrueHD/DTS-HD MA), so none of the companies involved actually spent any time on enabling it (not to mention that the HDMI 1.3a spec, which enabled the streaming of these codecs over HDMI wasn't completed at the time that these GPUs were created). I should mention that there doesn't appear to be a problem with passing a lossy version of TrueHD/DTS-HD MA (48kHz 16-bit vs. 48kHz 24-bit), but most content is authored with lossless audio so this is a moot point.
Every single modern day GPU today lacks support for a Protected Audio Path; that's true for the Radeon HD 4800 series, NVIDIA's GeForce GTX 200 series, and Intel's G45 GMCH. What this means is that there's absolutely no way to output a compressed Dolby Digital TrueHD or DTS-HD MA signal over HDMI from any PC today.
The Fix: 8-Channel LPCM over HDMI
But, Wait! There is a solution. It's ok to send uncompressed audio over HDMI, so in theory you could decode TrueHD/DTS-HD audio tracks in software and send them out as decoded, uncompressed LPCM without a Protected Audio Path.
Cyberlink, everyone's favorite player software manufacturer, supports decoding both TrueHD and DTS-HD MA in software (although it appears that Cyberlink does downsample the 24-bit 48kHz LPCM output to 16-bit 48kHz, but at least you get 8 discrete channels even if you lose the bit-for-bit lossless accuracy of the original signal).
With software support and no protection requirements to worry about, all we need is basic hardware support - and here's where most companies have failed miserably over the past couple of years.
It takes a lot of bandwidth to send 8-channels of uncompressed, 24-bit, 48kHz audio to the HDMI display engine. In the early days, GPU makers simply passed along SPDIF, which only offered 1.5Mbps - enough for 5.1 Dolby Digital, 5.1 DTS, or 2-channel LPCM to be sent over HDMI.
Intel guessed right enough to include a wide enough bus on its chipsets between the audio codec and the HDMI output engine to support up to 8-channel LPCM. NVIDIA eventually followed suit with its GeForce 8200 series of IGPs, while AMD is still lacking support for anything above 2-channel LPCM (although all three platforms can give you 5.1-channel DD/DTS over HDMI).
AMD has redeemed itself by being the first standalone GPU maker to offer 8-channel LPCM output over HDMI on discrete graphics cards with the RV7xx series of GPUs.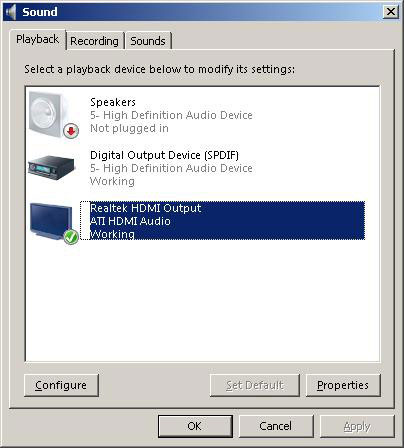 The Realtek codec in the Radeon HD 4800 series GPUs supports 8-channel LPCM over HDMI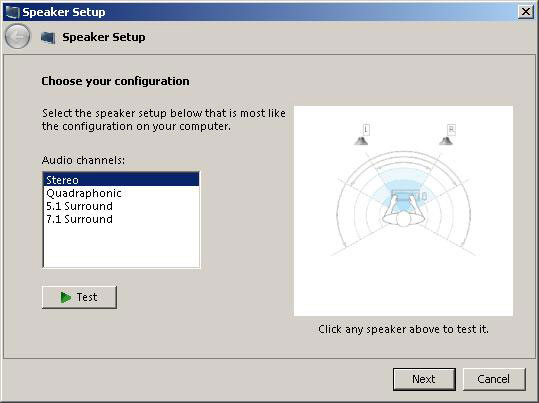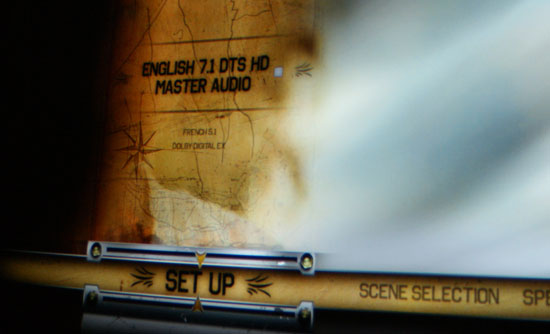 Selecting 8-channel DTS HD MA in Rambo on Blu-ray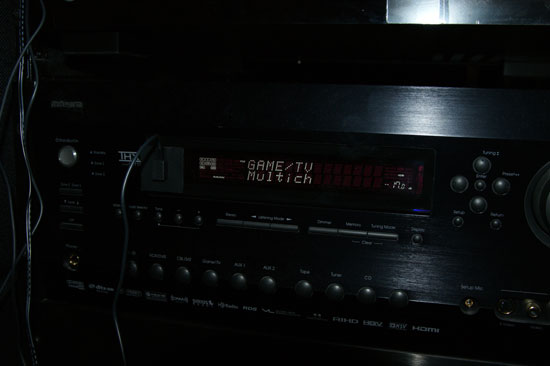 8-channel LPCM from the Radeon HD 4850 to an Integra DTC-9.8


It works!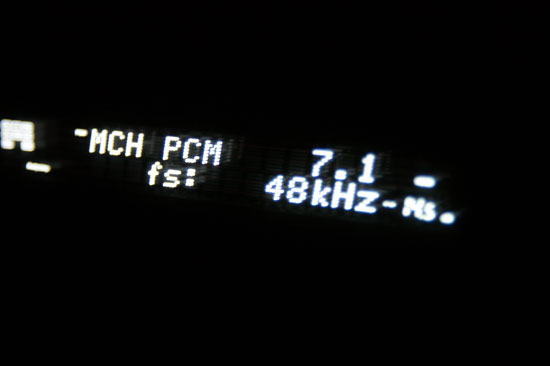 Despite supporting 8-channel LPCM, the G45 still lacks a truly protected audio path and thus will never be able to send an encoded Dolby Digital TrueHD or DTS-HD MA signal over HDMI. I suspect that its successor in 2009 will finally add this functionality.
AMD's Radeon HD 4800 series was the first add-in graphics card to offer 8-channel LPCM over HDMI, but Intel was the first to support it on G965 back in 2006.
Whew. There you go, that's what all of this 8-channel LPCM talk is all about. It's supported on NVIDIA's GeForce 8200/8300 chipsets, Intel's G965/G35/G45, and AMD's Radeon HD 4800 and 4600 series. Done.
The Bandaid: The HDMI Sound Card
Ha! I lied; there's more.
No GPUs released in 2008 will support this protected audio path and thus we won't be able to get TrueHD/DTS-HD MA support from a GPU anytime soon. There is another option however: HDMI sound cards.
A couple of companies are working on sound cards with a built-in HDMI repeater, meaning there's an HDMI input, some logic to add data to the HDCP encrypted signal, and an HDMI output.
Your GPU would handle all video decoding and it would send its decoded but HDCP encrypted signal over HDMI, but instead of going to your display (or receiver or pre-processor) it would go next door to your sound card over HDMI (3dfx dongles anyone? At least these are lossless since they are digital signals... oh, hush, Monster).
The sound card would have an audio codec capable of ensuring a protected audio path and would handle all of the audio decoding/bitstreaming in the system. The audio from the sound card and the video from the HDMI input on the sound card would be combined, the HDCP repeated, and the new combined signal sent over HDMI to your receiver/display.
The HDMI spec allows for repeater support (as in devices that add something to an HDCP encrypted HDMI signal and pass along the new combined signal), so the HDMI sound card is really no different than sending HDMI to a receiver and then to your display. There should be no loss in quality or any other negative side effects if implemented properly.
ASUS and Auzentech are both working on these HDMI sound cards that should solve all of our HTPC problems. While both were supposed to be available over the summer, driver and software delays have pushed back both release dates to the last few months of 2008.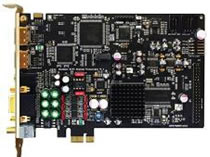 The Auzentech card
We have proof that the ASUS card was fully functional at Computex 2008; below are shots of the Xonar HDAV bitstreaming DTS-HD MA to an Onkyo receiver:

The test system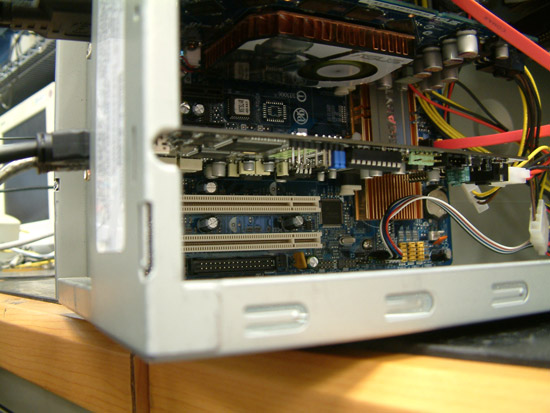 The Card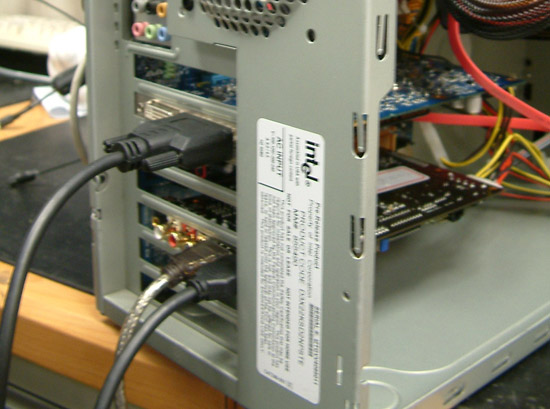 DVI to HDMI input, then HDMI output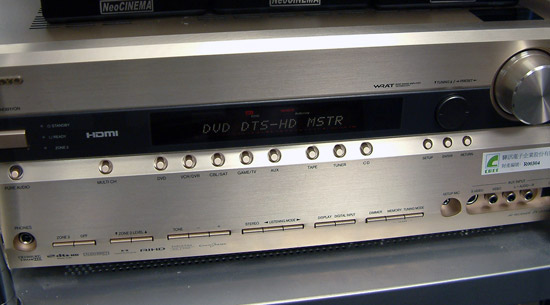 It works!

We've got the ASUS card in house and are simply waiting for final drivers before testing it, so expect a review in the not too distant future.
I mainly wrote this quick guide to have something to link back to whenever I list 8-channel LPCM audio over HDMI as a feature. It's not a typical PC feature like DirectX 10.1 or supporting SSE4, so it needed a little more of an explanation. And there you have it.