Original Link: http://www.anandtech.com/show/2613


Introduction
Cooler Master already showed their new Silent Pro series at CES and CeBIT, and now we finally have the shipping product in our hands. However, so far only a few models are available, and with the lawsuit initiated by Ultra Products regarding modular power supply patents, Cooler Master unfortunately is not yet able to sell this series in the U.S. market. Rumors say that most of the affected companies have begun appeals against the patent, but they still await further court rulings on this case. Until that happens, folks over in Europe are the only ones that can enjoy this new product, which we will review today. (It's somewhat interesting to mention that before we could even publish this review, Cooler Master wanted to talk to their legal department first; luckily, we were able to talk them into letting us go forward.)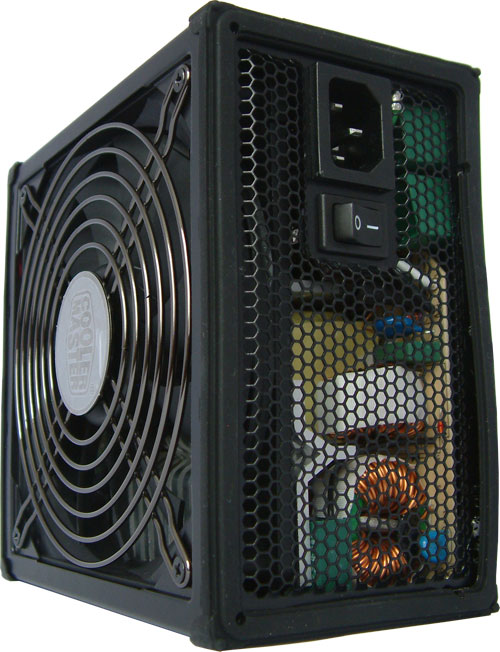 If you've followed our PSU reviews over the previous year, you can probably guess the ODM of the Silent Pro from this first image. Enhance has a deserved reputation of building high-end units, and they provide that service for quite a few companies. This time we are greeted by low to medium range 500W and 600W power supplies built by Enhance, and the performance has almost resulted in feelings of ecstasy during testing. The overall look is nice with rubber protection on the back and the front, and a large 140mm fan does the rest. We received both the 500W and 600W models, but we will focus primarily on the 500W unit for testing.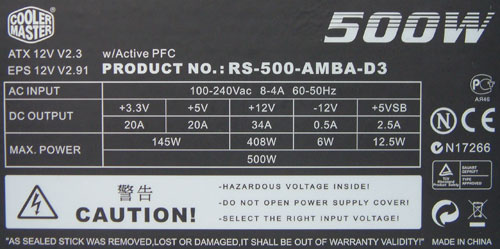 The label shows a single 12V rail with 34A and the 3.3V and 5V rails at 20A. This might seem a little low, but most systems don't need much power from the lower voltage rails anymore.
Package and Appearance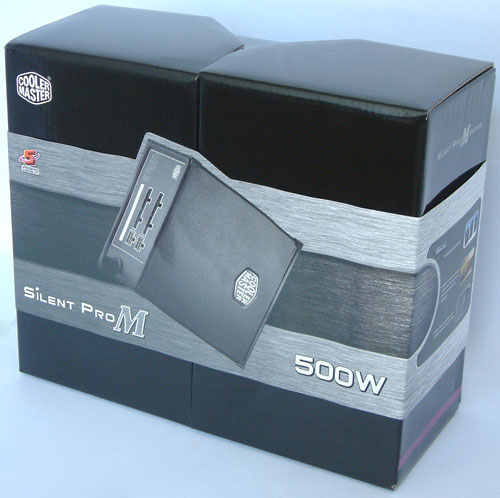 Cooler Master decided to mix things up a bit with the packaging, resulting in a look that's a bit different from other power supplies. As usual, this is just a gimmick and not necessary, but every company feels the need to come up with something "special" to attract the attention of potential buyers. The two sides of the package swing open to reveal the power supply within. Cooler Master lists all the important information on the slip around the package, which allows them to reuse the main box and simply change the paper slip for each different model.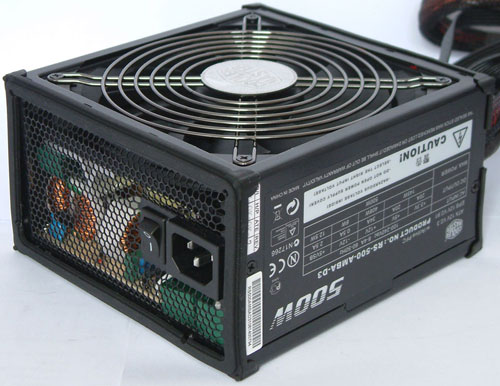 The power supply looks cool with a gigantic 140mm fan that covers the whole bottom area. The front and rear of the power supply have a rubber frame that helps to dampen vibrations during operation. This is another marketing bullet point, but in this case it actually does some useful work. Like most other power supplies, once again we have a black housing with a perforated back that lets the air exhaust from the housing.
Cables and Connectors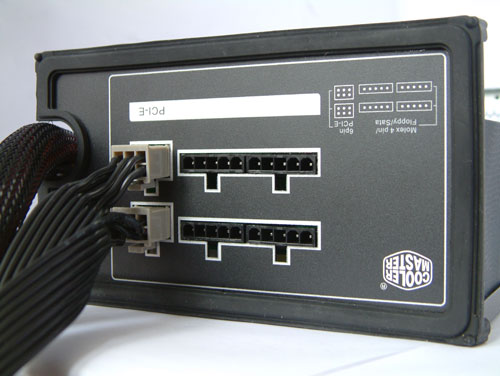 The cable management system is at the front of the power supply, as usual. There are two jacks for 6/8-pin PEG connectors (6+2 pins), providing support for up to two moderate graphics cards or a single high-end GPU. In addition there are four jacks that support flat 5-pin connectors used for the peripherals, supporting both SATA and Molex harnesses.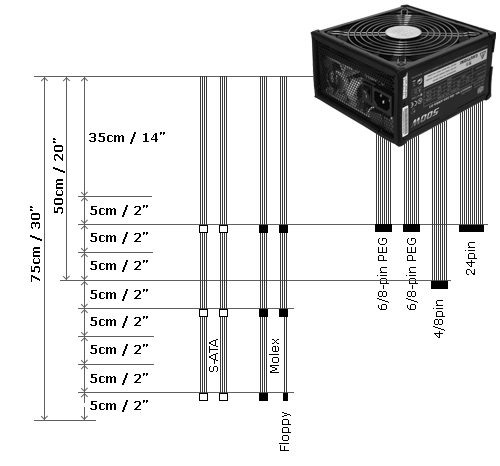 The maximum cable length of 70cm may not be long enough to reach all of the corners in larger cases, but the 500W rating suggests this is more for mid-towers where longer cable lengths aren't usually necessary. In particular, the main 24-pin ATX cable is only 40cm long, which could work either really well or not at all depending on the chassis. This power supply is a traditional design for top-mounted chassis, and it will definitely have problems if the PSU mounts at the bottom of the case. With six SATA, five Molex, and one floppy connector there are plenty of connectors for a normal midrange to high-end setup. If you need additional connections, you could always purchase splitter cables, but he might be better off simply purchasing a larger power supply in that case.
The Fan
Young-Lin makes the fan, a sleeve bearing fan with the model number DFS132512M. Noise levels as we will see later are quite good.
Internals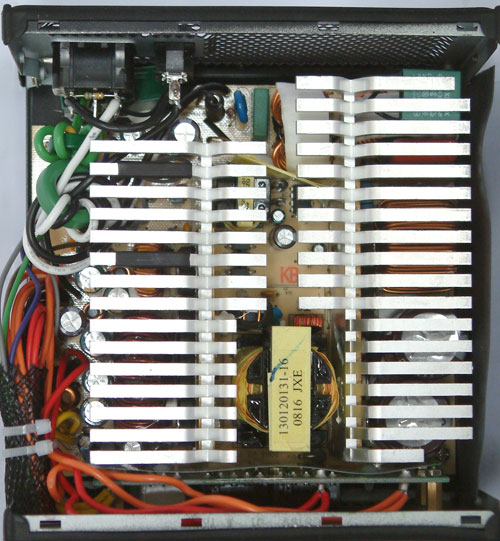 We knew before even cracking the casing that this power supply is from Enhance, which is fine since we like their craftsmanship. We have seen many different models made by this ODM, but they are usually 850W to 1000W. These are the first 500W-600W models we've seen from Enhance, and we were eager to begin testing. As you will see shortly, they don't let us down.
The heatsinks are large and occupy almost all of the free space in the casing. Cooler Master advertises their use of small copper plates on the heatsinks as a means of increasing heat dissipation, since copper transfers heat faster than aluminum. Aluminum still dissipates the heat faster to the surrounding air, which is one reason the whole cooler isn't made of copper. The second reason is of course the much higher price of copper. In fact looking a little bit closer at the "copper" plates, we don't actually think they are made of pure copper - more likely a copper alloy (i.e. bronze). That is again cheaper than pure copper since there is a higher percentage of zinc in the alloy. This keeps most of the good features of copper and only decreases the outcome slightly.
The layout is another good Enhance feature. The input filtering stage reaches from the AC input over the whole upper side of the PCB to the right side. After that comes the PFC stage with a large coil. There are two main capacitors made by Nippon Chemi-Con (450V, 180µF, 105°C). In the secondary, we find mostly Teapo capacitors and two made by Su'scon.
Testing with the Chroma ATE Programmable Load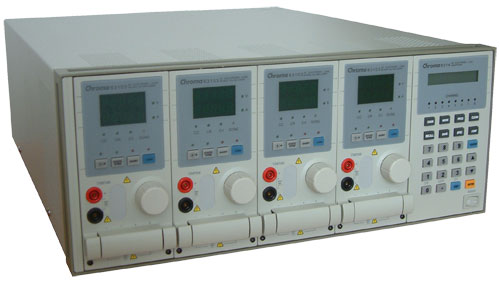 Our test equipment consists of two Chroma programmable DC Loads that enable us to test power supplies with an output of up to 1500W. The biggest advantage of the Chroma DC Loads is simply the high precision it provides. It can measure differences as small as 0.001V and 0.0001A, which will provide us with best-in-class results.
When programming the Chroma with specific amounts of load calculated according to the ATX norm, we are able to load power supplies to an exact percentage. We can now show results at every specific percentage needed. To get the best overview of a power supply, we load each unit with 10%, 20%, 50%, 80%, 100%, and 110% of the specified output. This is easy to calculate for a 1000W power supply: the 10% load is 100W and 110% load is 1100W. Remember that this is the amount of power the PSU delivers; due to inefficiencies, a power supply will actually draw more power from the wall.
Note: If you would like to know more about our testing methodology, equipment, and environment, please read our PSU testing overview.
We have added an additional 10% on the highest load to see how the units perform with overload. This test will be performed in all future reviews. The overload test is performed at room temperature as well as under more stressful conditions; to ensure we are not too cruel to the power supplies, we will keep the ambient temperature at 50°C in the stress test. Experience shows that many units can stand the overload at room temperature but will experience problems with higher temperature and overload together. Only the best-built units will survive this.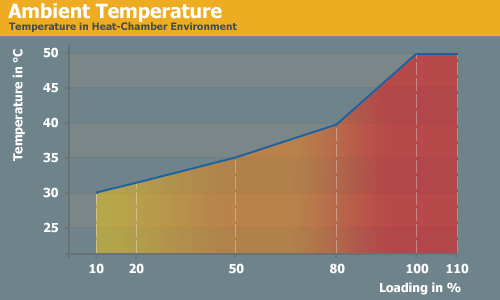 The Testing Environment
There is one flaw in testing power supplies with programmable loads while trying to measure the sound pressure levels at the same time. Because the programmable loads get very loud, there is no chance of hearing the power supply on the test stand. In order to make accurate measurements of the noise levels we needed a way to separate the test unit and the programmable loads. Our solution was to build a very thick box around the unit.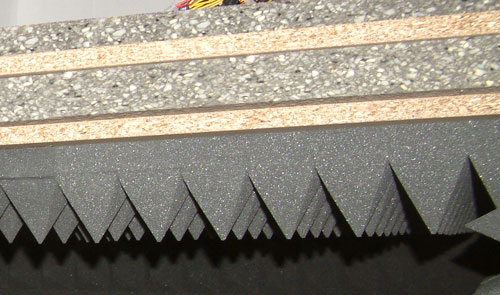 We concluded that a five-layer box with a total thickness of 6" (15cm) containing two layers of wood and three layers of special foam would suffice. It is designed as a box within a box. The inner box does not touch any part of the outer box, making it difficult for acoustic noise to pass through in the form of vibration. Each box is isolated on both sides with a layer of heavy foam that is normally used to insulate engines. On the inside we have an additional layer of 4" (10cm) thick pyramidal foam on every side of the box to eliminate the acoustic waves coming from the test object as well as we can.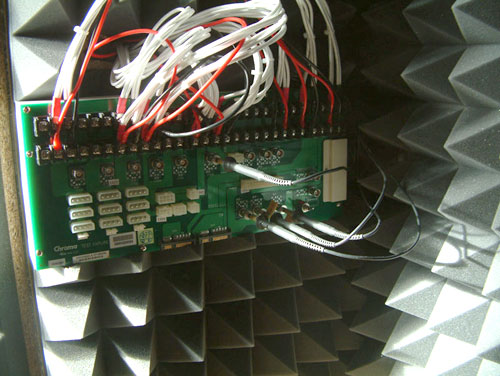 To ensure a completely closed system we installed the printed circuit board that the connectors of the power supply are attached to inside the anechoic room/box. In other box designs, you would need to put all the cables through the wall. Unfortunately, that would result in the inside of the box not being fully isolated anymore. Our design keeps everything that needs to be connected inside of the box and maintains isolation.
DC Output, Stability, and Quality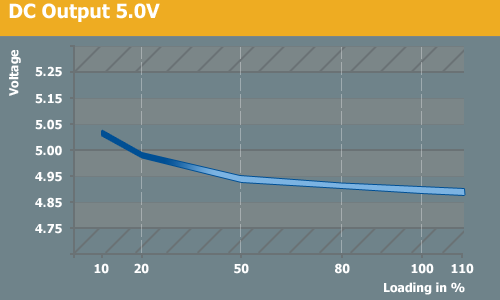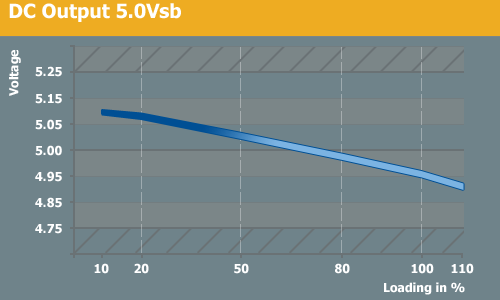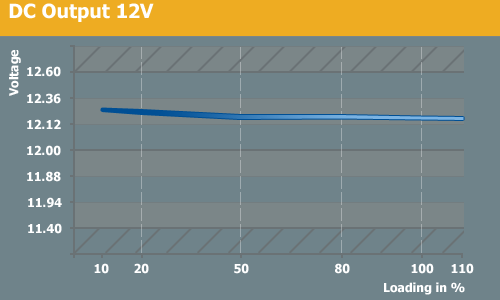 The lower voltage rails do not perform as well as the more important 12V rail. The 3.3V rail drops pretty steadily as load increases, while the 5V rail experiences a large drop during the initial load ramp-up. From 50% load onwards the 5V rail does better and holds steady at around 4.95V. The 12V rail on the other hand is rock-solid stable and holds nicely at around 12.14V, with almost no drop at all during the load testing.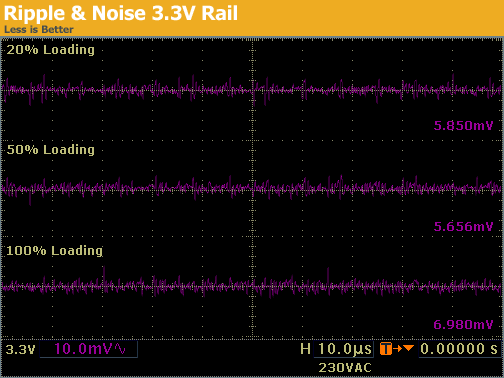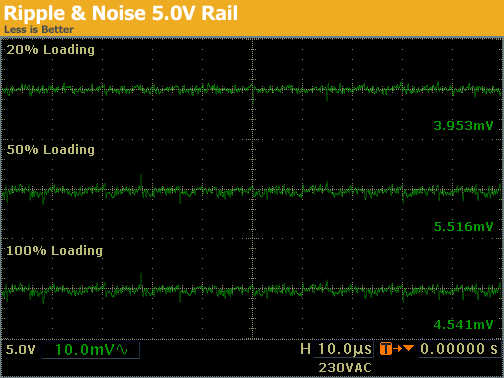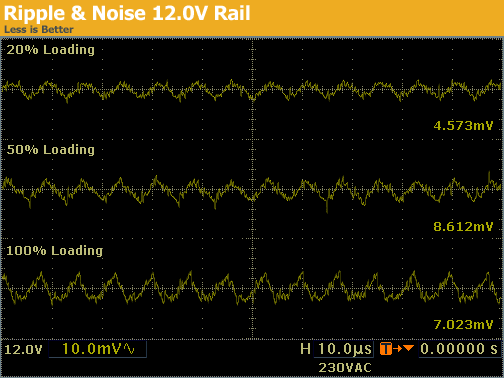 The output quality is well within specs on all rails. In fact, the output quality is exceptional, measuring only 9mV of ripple.
Efficiency and PFC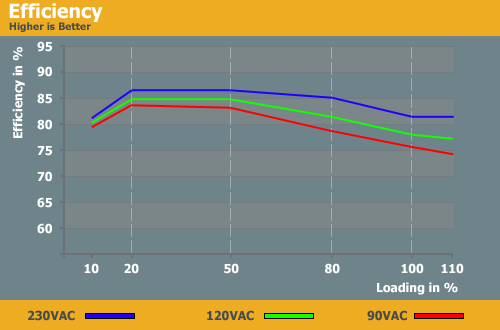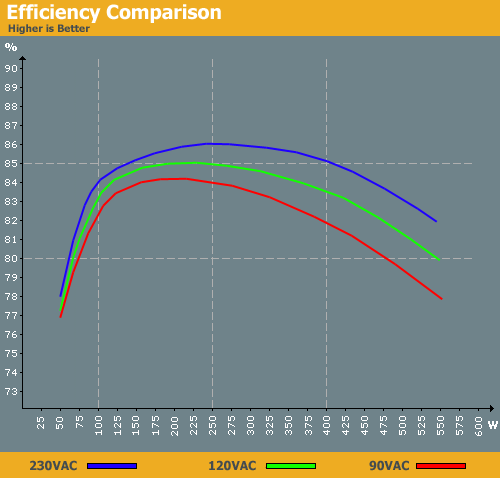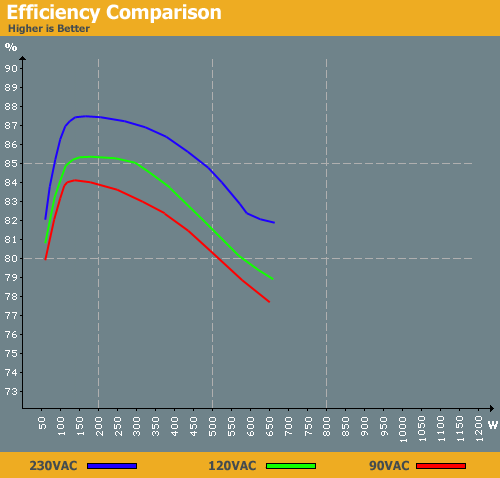 The efficiency is good, and with 230VAC it stays above 82% throughout testing. The maximum of 87% efficiency of the 600W unit is better than the 500W model, which only makes it up to 86%. Given the nearly identical design, we were a little surprised to see any differences at all in the efficiency curves. The 500W curves look similar to what we normally see, but the 600W unit is a little odd. It performs extremely well in the first half of the output curve, from a low input of 130W to 400W, but then it drops rapidly and eventually falls into the sub-80% range with 120VAC/90VAC. Normally, we don't see efficiency drop much lower than the initial values. The 600W model still performs better than the 500W unit overall, but it runs optimally in the 130W to ~350W range.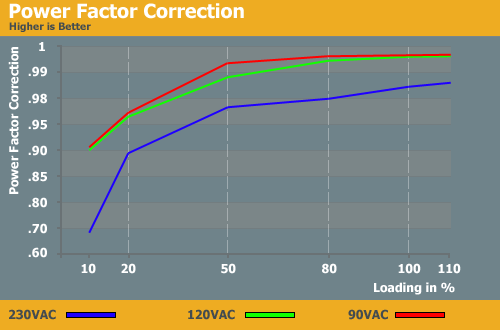 The power factor correction is also a little strange, since it starts at a really low value and stays lower than normal with 230VAC. Lower input voltage means better PFC and the result improves, getting close to .994 which is not bad.
Temperatures, Acoustics, and Fan Speed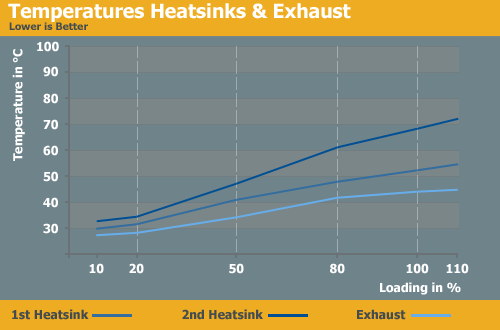 The temperatures shouldn't get very high with only 500W or 600W of output power and a 140mm fan, but there are two factors at play. We have seen higher results but the Silent Pro does get relatively warm at 70°C. The exhaust temperature stops increasing with higher loads, indicating heat dissipation isn't as high as it could be. However, fan speeds are relatively low even at maximum load and temperature, indicating Cooler Master has sacrificed temperatures in exchange for lower noise levels.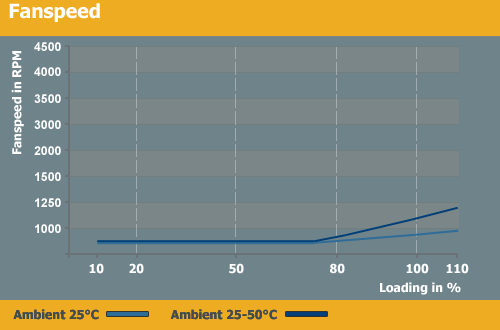 You can see what we were just discussing when looking at the fan speed graph. All the way up to almost 80% load, the fan spins at its minimum speed of only 620RPM, and even then it only increases RPMs slightly up to a maximum 900RPM. Those results are for 30°C ambient temperature, but increasing the ambient temperature up to 50°C again only affects fan speed above 80% load.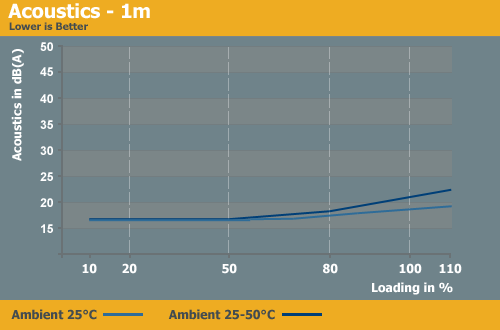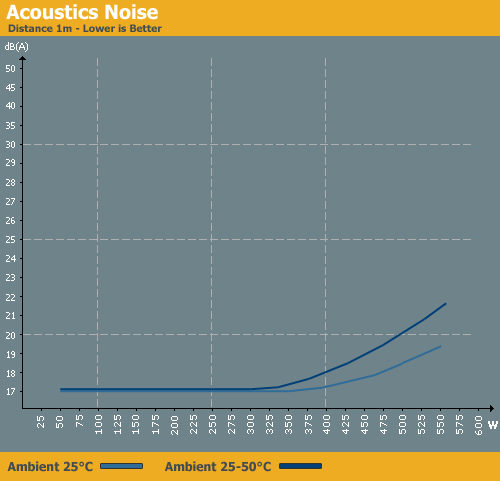 With the fan staying under 1000RPM throughout testing - only exceeding that level under higher ambient temperature stress conditions - the acoustics remain very low. Some companies prefer higher fan speed and lower temperatures, but Cooler Master appears to prefer less noise. Considering most PSUs will never run at anywhere near 80% let alone 100% load, the fan speed and temperatures should be acceptable to many users - particularly those that only intend to run ~300W max power draw systems. However, lower fan RPMs mean less airflow, resulting in higher PSU and likely case temperatures, which can all contribute to earlier component failure. If you can live with that, noise levels reach a maximum of only 20dB(A) with good ambient temperature, or 23dB(A) under stress conditions. That makes this power supply a great fit for HTPCs and users looking to build "silent" PCs. We also noticed some "flickering" noise at higher RPMs, and though it didn't show up on our SPL meter it was audible when we put our ear closer to the unit.
Conclusion
The Cooler Master Silent Pro series is not available in the U.S. yet, but we do hope that the legal issues over cable management will be settled soon. That would allow this great product to find its way to the states as well Europe. The overall performance is great, it looks good, and it comes with some nice features. Packaging might influence some people when it comes to buying parts, but the build quality is where this product really shines. This Enhance unit shows a good choice of components like the Nippon Chemi-Con capacitors.
The cables are a little short but should be fine for most medium towers with the PSU mounted in the top section. For a moderate setup with up to two midrange GPUs or a single high-end GPU, this power supply will be a good choice. You can connect any card with one or two PEG jacks on it, since both 6-pin and 8-pin PEG connections are supported. Dual GPUs can only require a single PEG connector, but that makes sense for a 500W or 600W PSU.
In the important performance area, there were a few surprises. The difference between the two otherwise identical seeming models was one surprise, as we expected only minor variations. The real difference between the two units is not really the maximum efficiency but rather the difference in the efficiency curves. While the 500W version performs similar to what we've seen in the past, the 600W version is very efficient at low to medium loads after which it goes quickly downhill. With either unit, optimal performance will come with loads of 130W to 300W - perfect for systems with a single high-end graphics card or a couple midrange cards. As for the DC output stability, the 12V rail is exceptionally stable, but the lower voltage rails showed moderate drops - around 5% regulation on the 3.3V and 3% on the 5V rails. The quality in terms of ripple and noise is well within spec, so there's no concern there. The acoustic levels have been phenomenal and stayed well below 20dB(A) even at the highest loads. However, temperatures were increasing quickly and we don't actually recommend using these units in hot environments combined with high loads.
Pricing is often the critical factor, and we see prices of €80 for the 500W version and €90 for the 600W model. That might soon be $116 and $130 for US customers, provided Cooler Master can overcome the legal obstacles. In addition, Cooler Master also has a 700W model priced at €110/$160. If you want good performance and a quiet computer, we're happy to report that the Cooler Master Silent Pro series manages to live up to its name. These PSUs are definitely worth a look if you live in Europe.