Original Link: http://www.anandtech.com/show/2547


If you talk to any of the major PC OEMs off the record about Microsoft you'll get the same response: they are frustrated. They are frustrated that the Vista launch went the way it did, they are frustrated with Microsoft's lack of action in addressing major issues that exist today and they are frustrated that the most innovative player in the PC space right now happens to be Apple.
Microsoft's answer to any present day complaints from the major OEMs about Vista is to wait for Windows 7, but by now these manufacturers have heard this before. After all, when the OEMs first started to feel the heat from Apple and OS X, Microsoft said to wait for Vista.
When the major players first started asking me what they should be doing from a design standpoint I kept pointing them to Apple. Apple had the blueprints to successful product design available for purchase; anyone at Dell, HP or Gateway could easily pickup a MacBook and figure out a way to make something at least remotely competitive. The problem that plagues the Dells of the world however is that they don't control the software stack the way Apple does, they are still at Microsoft's mercy.
These PC OEMs could either wait for Microsoft to deliver with Windows 7 and hope that it will be enough to compete with Apple, or begin to try and solve the problem themselves. ASUS is actually a great example of where these OEMs are headed; while the Eee PC and Eee Box are available with Windows XP, Linux is also offered at a lower price point. Going one step further, before you ever boot into Windows on many ASUS motherboards you have the option of launching Splashtop for quicker access to IM, the web or Skype. While these are mostly unpolished attempts at freeing OEMs from being Microsoft dependent, this is just a starting point. I'm not suggesting that PCs in the future will be completely devoid of Microsoft software, there will simply be another option.
HP noticed this same Microsoft dependency issue, just like the rest of the PC OEMs and over the coming years you're going to see companies like HP and Dell become more like Apple, offering systems as complete packages of hardware and software solutions. We'll see broader adoption of Linux and open source software and finally some out of the box thinking.
HP held an event last month in San Francisco to demonstrate a myriad of new products, some of which are clear indications of this new Apple-like focus.
The New Voodoo
Under two years ago HP acquired Voodoo PC, a boutique PC manufacturer that built mostly high end gaming PCs. A few days ago, the existing Voodoo PC site started burning down - signifying a dramatic change in the HP/Voodoo relationship.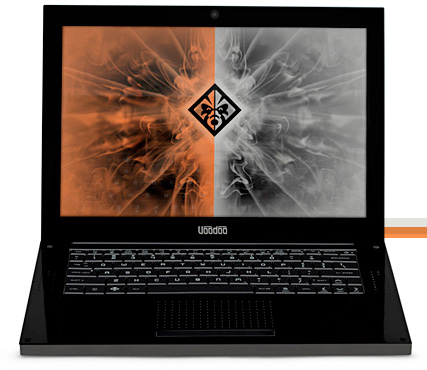 It's the new Voodoo
Many were worried that after the acquisition, HP would simply corporatize Voodoo and the brand would be lost forever. If anything, Voodoo has had more of an impact on HP than the opposite. While we still get the impression that Voodoo must fight to continue to operate the way it wants to (which is to be expected in any large corporation), so far the results aren't anything to complain about.
Going forward, the HP/Voodoo relationship is going to work as follows:
Gaming PCs will be built by HP under the brand "HP with Voodoo DNA". The first of these machines was the Blackbird 002 and I'm told that we can expect much more with the Voodoo DNA brand in the coming months and years. One eventual goal being to bring some of the Blackbird experience down to much more reasonable price points.

The Voodoo brand will stop servicing gamers specifically and turn into much more of a lifestyle brand. The focus of Voodoo will be building the sort of out of the box designs that we commonly look to Apple for. The fact that the most innovative PC maker is Apple spells trouble for the Dells and HPs of the world; Voodoo is attempting to change that, at least a little.
The first products out of the new Voodoo are the Envy 133 and the new Omen.
The Most Mac-Like PC Notebook Ever Made: The Envy 133
First, the most interesting one, the Voodoo Envy 133: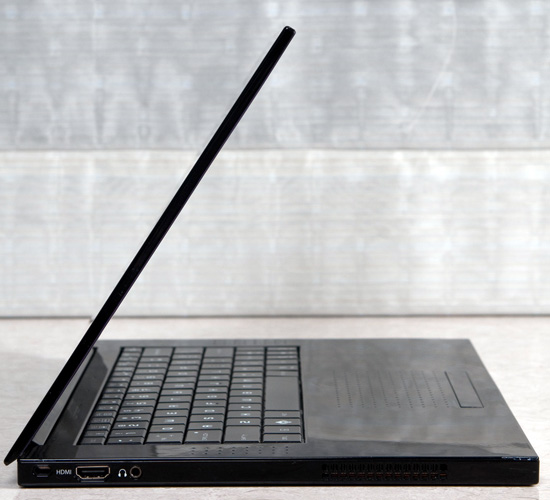 Built on an all carbon-fiber chassis (Rahul Sood, founder of Voodoo, is a car nut) the Envy 133 is the closest thing we've seen to an Apple-designed notebook that didn't have fruit on its lid.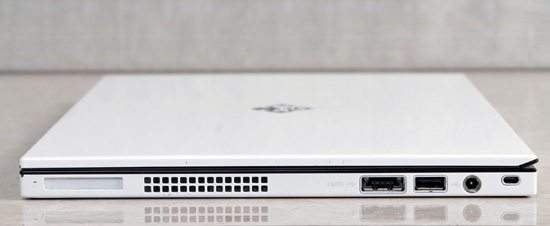 HP will say that it's thinner than the MacBook Air, but that's only true at the Air's thickest point. The Envy 133 is a constant 0.70" thick whereas the MacBook Air goes from 0.16" at its thinnest point to 0.76" at its thickest. Arguing about thickness is entirely missing the point, the new Envy is a very cleanly designed machine with a constant thickness, clean lines and very elegant design. Honestly, the only detractor from its elegance is the Voodoo logo which is still a bit more gamer and less "lifestyle PC".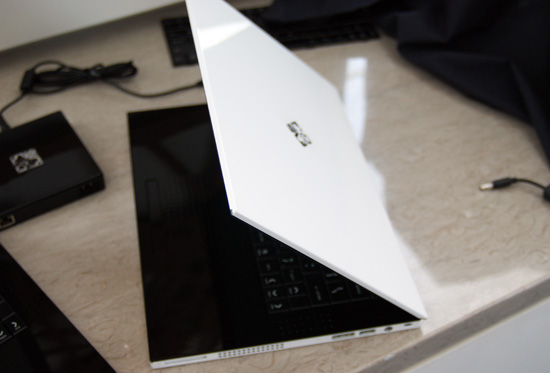 The internals are virtually identical to the MacBook Air; it uses the same 1.8" 4200RPM PATA HDD (a 64GB SSD is optional, just like on the Air) and there is no internal optical drive (the system ships with an external eSATA DVDRW drive). The Envy also uses the same CPU as the MacBook Air - a 1.6GHz or 1.8GHz Merom based Core 2 Duo built on a smaller package.
Also like the MacBook Air, the Envy lacks a built in Ethernet port - but here's one area where Voodoo actually out-innovated Apple: the Ethernet port is built into the power brick. If you have the power adapter plugged in, you can plug in an Ethernet cable into a port on the brick and it will communicate wirelessly with the Envy; the power adapter acts as a wireless access point. You can't use the wired Ethernet and the built in 802.11a/g/n at the same time since the integrated wireless is used to communicate with the external Ethernet, but in most cases you wouldn't want to. Voodoo tells us that the efficiency of the external 10/100 Ethernet is around 80 - 85% over wireless, which is about right given normal OS and network stack overhead.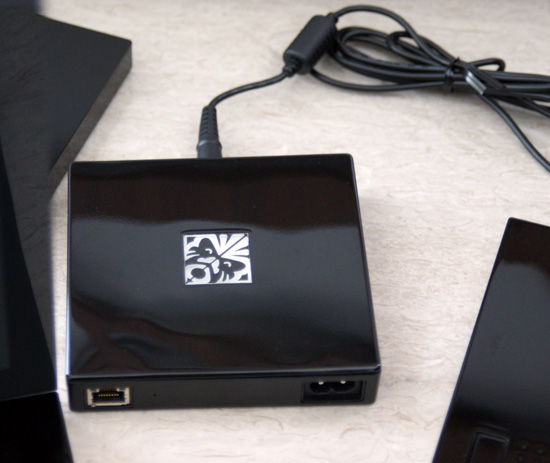 There's a LED backlit keyboard and integrated webcam like the Air, but Voodoo goes on to add an ExpressCard 34 slot and a HDMI output. There's obviously an eSATA port but it's actually powered via USB.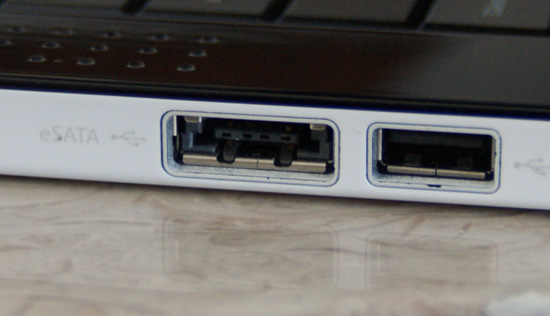 The 13.3" screen is LED backlit and has the same 1280 x 800 resolution as the panel in the MacBook Air and Voodoo also built in an ambient light sensor, presumably to control the brightness of the display and keyboard.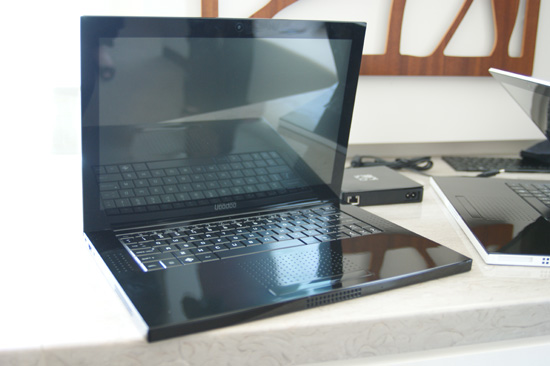 The battery is removable but it is a lower power unit than what is in the Air (33Whr vs. 37Whr), so battery life should actually be lower than what you'd get on a MacBook Air.
The feature list is damn impressive, not only was Voodoo able to virtually clone the MacBook Air but there are also improvements. On paper, it's the most impressive notebook design we've seen from a Windows-PC vendor.
Priced at $2099 with a PATA drive, it's a bit more expensive than the MacBook Air. It ships with a custom Voodoo version of the Splashtop pre-boot OS similar to the ASUS Eee Box or some ASUS motherboards. Availability is scheduled for later this summer.
The New Voodoo Omen
An all aluminum chassis, integrated 7" LCD display (800 x 480), slot loading optical drives and liquid cooling: it's the new Omen.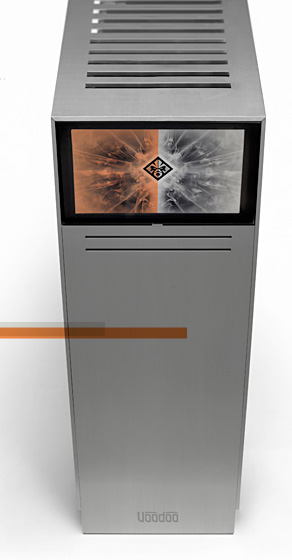 This thing looks good and targets an entirely different market than the Envy 133. Prices will start at around $7000 for the Omen, with average configurations expected to be around $10,000. Think that's too much? It doesn't matter, you have to be invited to purchase the Omen. Voodoo is building this thing, at least at first, for its long term customer base. It is limited production but we have no idea exactly what sort of production numbers that will end up being.
The system will ship with an ASUS Striker Extreme II based on the nForce 790i chipset, you can pick either a Core 2 Extreme QX9770 or QX9650 (3.2GHz or 3.0GHz) and 2GB, 4GB or 8GB of memory is offered.
Both SLI and CrossFire are supported using the 8800 Ultra or Radeon HD 3870, but we expect that it won't be long before the GPU list is upgraded to include some upcoming GPUs that will launch before these things ship.
The Omen features six completely tool-less drive bays, just open the cover and pop in a drive.
The internals of the machine are pretty unique, the motherboard tray has been rotated 90 degrees clockwise in order to promote better cooling (heat rises out of the top of the machine). All of the water cooling tubes in the machine feature quick release connectors that make emptying fluid or removing your motherboard a lot easier.
We weren't allowed to take pictures of the prototype Omen, its release will be a little while from now compared to the Envy.
A Factory-Calibrated LCD Display?
HP also showed off its new DreamColor LP2480zx professional LCD monitor at the event: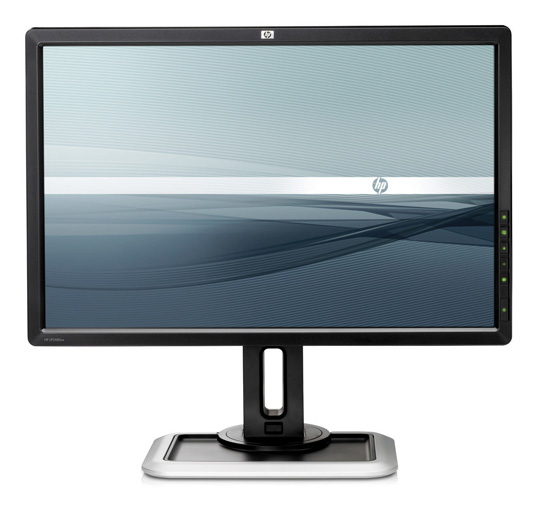 Based on a 24" 30-bit 1920 x 1200 S-IPS panel, the most interesting feature of the display was that it shipped with factory calibrated color space options: sRGB, Adobe RGB, Rec. 601, Rec. 709, DCI-P3 emulation and full gamut.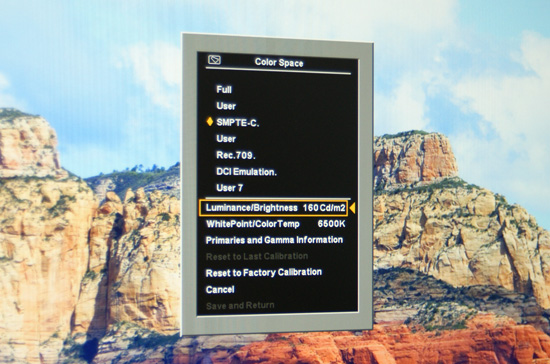 You can change between color spaces using the monitor's OSD.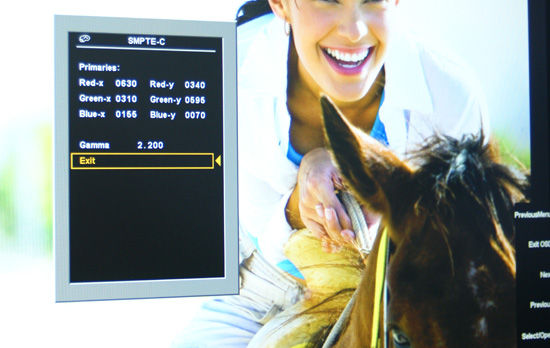 The LP2480zx has a single DisplayPort input, one HDMI input, two DVI, analog, component, S-video and composite. There is also a four port USB hub.
The downside to the LP2480zx is its pricetag at $3,499. HP will argue that the pricetag is reasonable compared to other professional displays, however I would like to see these features available in consumer level displays. Take it one step further - I'd like to see proper factory calibrated color space options on all displays, including TVs. Display makers have gotten too far from displaying accurate colors and simply promote overboosted colors to stand out in a crowded market.
The New HP TouchSmart
Last year saw the introduction of all-in-one machines similar to Apple's very successful iMac, this year those all-in-ones are getting a bit more sophisticated. HP's new TouchSmart IQ504 looks very much like an updated iMac from a few years ago, but it offers a 22" touchscreen and a custom interface that lays on top of Windows Vista.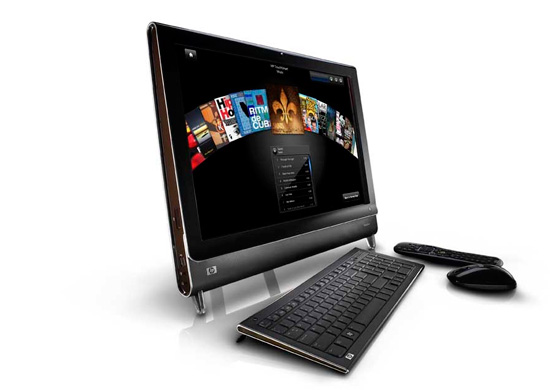 The touchscreen can be used to navigate through Vista itself but the HP TouchSmart software features a far more usable UI. As you'd expect, all of the icons and UI elements are oversized so you can hit them with your finger instead of a mouse pointer.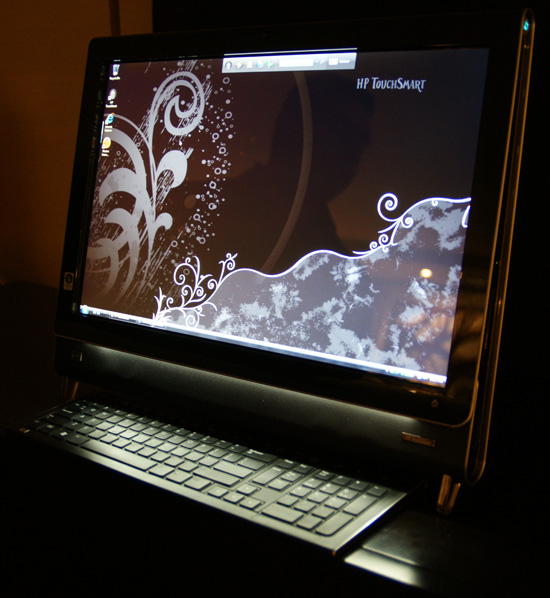 While the interface isn't as smooth and seamless as the multi-touch on the iPhone, it is surprisingly advanced for something that has no integrated OS support.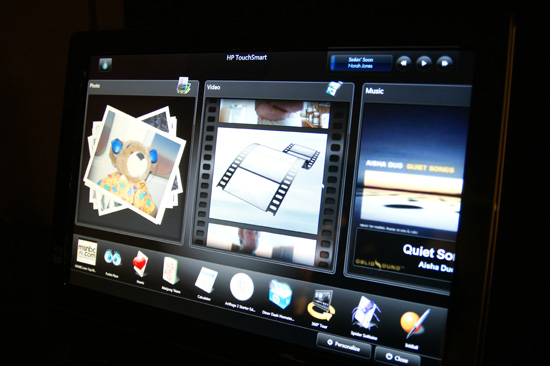 The TouchSmart suite allows you to browse through music, videos and pictures using your fingers - and the navigation actually works reasonably well. Once again, it's not iPhone-perfect, but it's far closer than I expected. The TouchSmart software even lets you perform basic editing on your images without even picking up a mouse.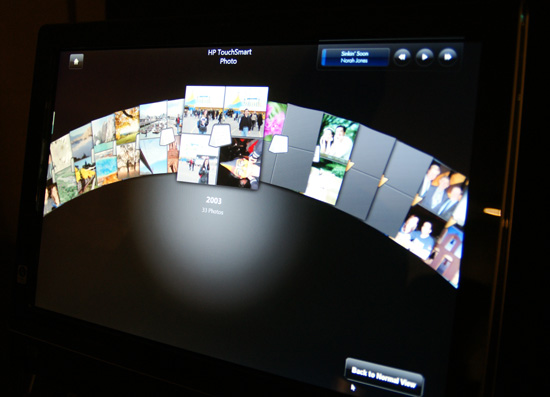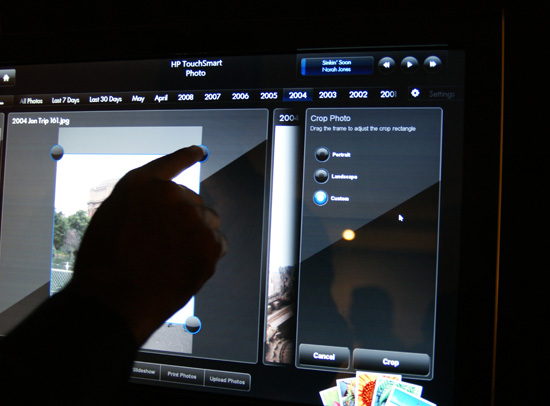 I expected touch technology to make its way to desktop PCs over the next couple of years but it looks like the transition may be already happening. With "touch" included in Windows 7, it makes sense that companies would be working out the kinks in their own approaches before then. After all, as we mentioned before, sometimes relying on Microsoft may not be the best option.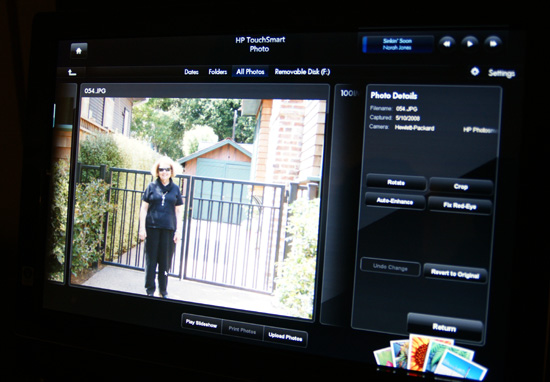 Like the iMac, the TouchSmart uses a mobile Core 2 Duo processor - it's effectively a larger notebook designed to be used as a desktop.