Original Link: http://www.anandtech.com/show/2527


We are seeing the SSD market mature quickly from the performance, pricing, and capacity viewpoints. Just over a year ago, the first generation SSD drives had average capacities in the 16GB range with read/write performance around 45/25 MB/s. Pricing for these drives was around the $100 per-GB range and most suppliers explicitly stated the drives were meant for industrial, military, medical, or commercial use.
Last fall, second generation controller technology became available and performance jumped to 60/40 MB/s read/write speeds for the mainstream market along with specialized manufacturers like Mtron and Memoright offering drives in the 100/80 MB/s read/write range. The new capacity standard became 32GB with 64GB performance oriented drives available. Pricing for the mainstream also dropped with costs averaging around $48 per-GB for the performance-oriented drives and around $33 per-GB for the mainstream drives.
These particular drives now had the capacity range to become an alternative in the consumer notebook market or for those enthusiasts on the desktop wanting the absolute best synthetic benchmark performance. While prices were very high, the security of a drive in a portable system not having any moving parts, offering silent operation, greatly reduced thermals, and depending on the situation, improved battery life meant the SSD had arrived as a viable if expensive storage option.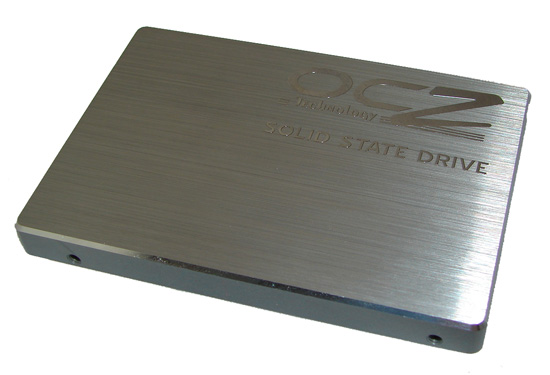 Now, with the latest controller technology we are seeing the new mainstream drives offering performance equal to the best mechanical desktop drives in most cases. The sustained read/write rates have increased to the 100/80 MB/s range. Capacities are now standardizing at 64GB with average pricing dropping to around $16 per-GB for the mainstream sector. The highest performing drives feature 120/120 MB/s read/write speeds with capacities up to 128GB, but pricing is around $29~$32 per-GB. In the high performance sector, we expect to see 150/100+ MB/s read/write performance shortly along with capacities up to 128GB around the current price range.
With that in mind, we are taking our first look at the new "mainstream" SSD technology from Samsung today that also features its fraternal twin from OCZ Technology. From a performance viewpoint, the drives are identical - as they should be since both drives share the same hardware. The only differences are in the front casing design; both feature a brushed aluminum case with the respective corporate names etched on the case. The other difference is availability as you can find the OCZ drive at leading e-tailors with pricing around $1049 for the 64GB model, while the Samsung drive is generally available as an option from leading PC manufacturers with limited retail availability.
Regardless of availability, both drives perform the same on the desktop, as we will see today. We have several other SSD drives arriving in the near future, including the new MLC based units with third generation controllers from SuperTalent, Crucial, and others that might set a new price/performance standard for SSD technology. However, we will test those drives and our samples today in a notebook platform to see how well they compare to the new mechanical drives from Seagate, Western Digital, and Hitachi.
Specifications
Specification
Samsung MCCOE64G5MPP
OCZ Technology OCZSSD2-1S64G
WD VelociRaptor WD3000BLFS
Unformatted Capacity
64GB
64GB
300GB
Interface
SATA 3 Gb/s
SATA 3 Gb/s
SATA 3 Gb/s
Rotational Speed
n/a
n/a
10,000 RPM
Buffer Size
n/a
n/a
16 MB
Average Latency
n/a
n/a
2.99 ms (nominal)
Read Seek Time
0.3 ms
0.3 ms
4.2 ms
Write Seek Time
0.2 ms
0.2 ms
4.7 ms
Transfer Rate - Buffer to Disk
100 MB/s (sustained)
100 MB/s (sustained)
120 MB/s (sustained)
Number of Heads
n/a
n/a
4
Number of Platters
n/a
n/a
2
Command Queuing
n/a
n/a
Native Command Queuing
Acoustics - Spec
Idle - 0dBA
Seek Mode 0 - 0dBA
Idle - 0dBA
Seek Mode 0 - 0dBA
Idle - 29dBA
Seek Mode 0 - 36dBA
Warranty
Variable
1 - Year
5 - Years
Power Dissipation
Read/Write
0.41 Watts
0.41 Watts
6.08 Watts
Idle
0.32 Watts
0.32 Watts
4.53 Watts
Standby
0.24 Watts
0.24 Watts
0.42 Watts
.
The Samsung/OCZ drives feature identical hardware no surprise in the specifications being essentially identical. Current Mtron and Memoright drives feature read and write seek times at 0.1ms but their power numbers are generally a few watts higher than the Samsung design. The power dissipation numbers are quoted from Samsung and in our testing we found the idle and standby numbers were accurate but read/write load numbers were around 1.8W, still excellent by any standard. Since the Samsung drive is primarily available in OEM systems, the warranty terms are variable between suppliers. Samsung quotes a MTBF of 2,000,000 hours, which is significantly higher than mechanical drives. We have not received information on the number of times data can be written to each bit or the wear leveling algorithms utilized.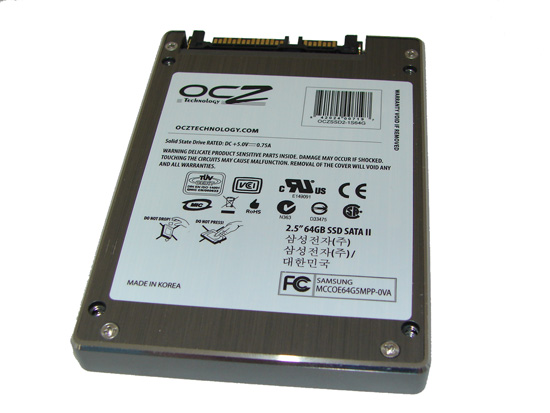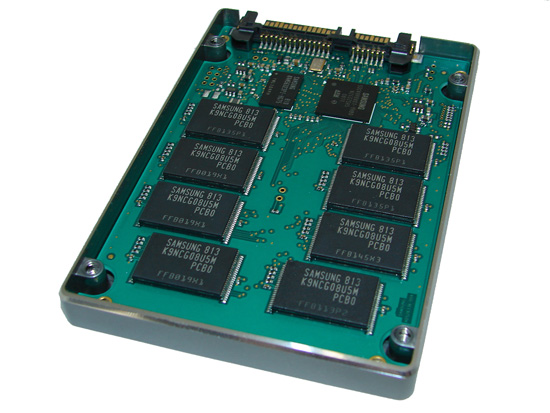 The 2.5" form factor that Samsung/OCZ utilizes is the standard 9mm option found in a majority of notebooks. Our review samples have the right mounting pattern for standard 2.5" platform designs. The circuit board features the NAND flash and controller on a single side along with the SATA power and cable connectors.
Test Setup
Standard Test Bed
Performance Test Configuration
Processor
Phenom 9850BE
RAM
GSkill PC2-8500 (2x2GB) - 4GB
OS Hard Drive
Western Digital Caviar SE16 640GB SATA 3Gb/s
System Platform Drivers
ATI - 8.4
Video Cards
MSI HD 3870x2
Video Drivers
ATI - 8.4
CPU Cooling
Thermalright Ultra-120 eXtreme
Power Supply
Corsair CMPSU-520HX
Optical Drive
LG GGCH20L - Blu-ray / HD-DVD Combo
Case
Cooler Master CM Stacker 830
Motherboards
MSI K9A2 Platinum
Operating System
Windows Vista-64 Ultimate SP1
.
DVNation provided the latest Memoright MR25.2-032S GT drive for comparison in our HD Tune tests. This drive features 120/120 MB/s read/write specifications and with a total of eight of these drives on-hand, we will have a special RAID performance article shortly. We will also update this article with results from this drive in the near future; in the meantime, we are using the Mtron 32GB SSD for application benchmark comparisons as it features specifications near the Samsung/OCZ offerings.
Our testbed uses an MSI HD 3870 video card to ensure that our graphics benchmarks are not GPU bound. Our video tests are run at 1280x1024 at High Quality settings. All of our tests run in an enclosed case with a dual optical/hard drive setup to reflect a moderately loaded system platform. We fully patch the OS and load a clean drive image for each platform in order to make sure that driver conflicts are minimal.
We format before each test run and complete five tests on each drive in order to ensure consistency in the benchmark results. We remove the high and low scores and report the remaining score. The Vista swap file is set to a static 2048MB and we clear the prefetch folder after each benchmark.
Software Test Suite
With the variety of disk drive benchmarks available, we need a means of comparing the true performance of the hard drives in real world applications. Our abbreviated benchmark suite for today's article will include:
HD Tune

Thermals

WinRAR

Nero Recode

Company of Heroes: Opposing Fronts

Crysis

PCMark Vantage
Our benchmark suite is suited for desktop applications. Our next installment will feature a notebook-oriented suite.
Acoustics and Thermals
Our acoustic tests measure the decibel levels while the system is at idle and under load while running the Hard Disk test suite within PCMark Vantage. We take measurements at a distance of 5mm from the rear and front of the drive in a separate enclosure and report the highest reading. The test room has a base acoustical level of 20dB(A).
Since there are not any moving parts, the Solid State Drives are virtually silent and so we will bypass the results charts for this particular test.
Our thermal tests utilize sensor readings via the S.M.A.R.T. (Self-Monitoring, Analysis and Reporting Technology) capability of the drives as reported by utilizing the Active SMART 2.6 utility. We also utilize thermal sensors and infrared measurement devices to verify our utility results. We test our drives in an enclosed case environment. Our base temperature level in the room at the time of testing is 25C.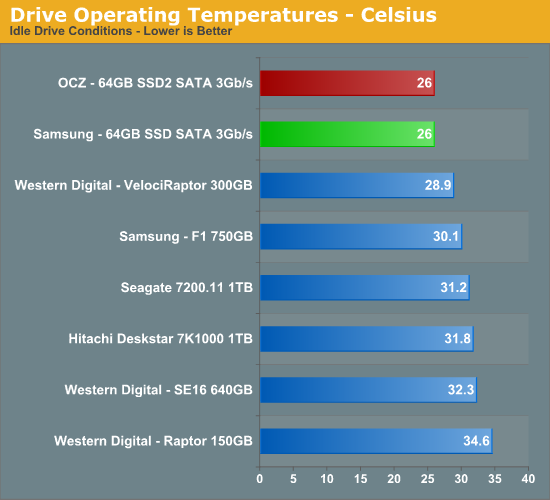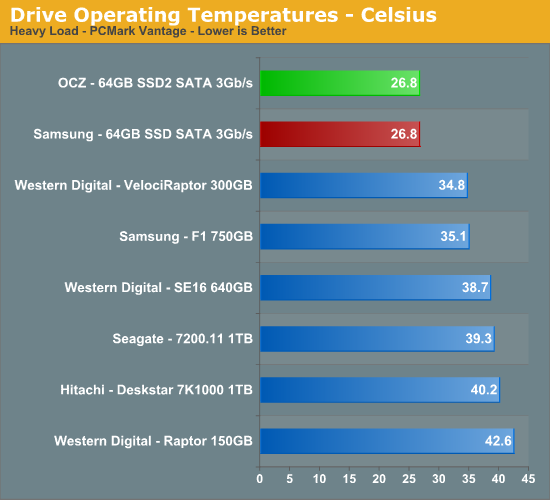 By way of its greatly reduced power dissipation, the Samsung/OCZ 64GB SSD leads our test group in both idle and load thermals thanks to the lack of mechanical parts.
HD Tune Pro 3.00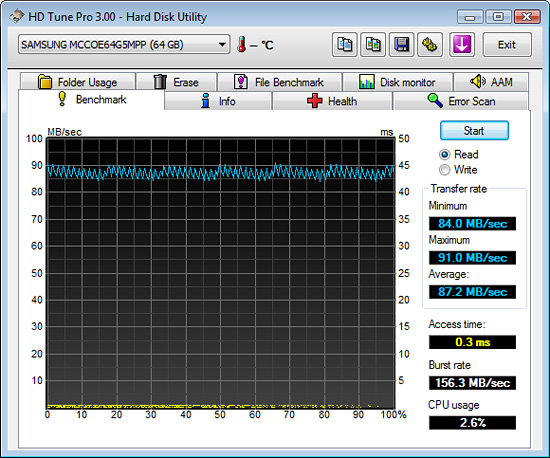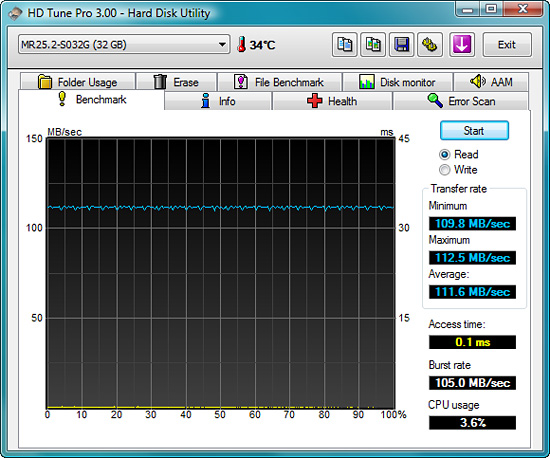 In our read tests, the Samsung/OCZ drive is within striking range of the lightning quick drive from Memoright. The average read rate of 87.2 MB/s is about 27% slower than the Memoright drive, but is around 45% faster than the previous drive from Samsung. On a side note, the WD VelociRaptor has an average read rate of 101.6 MB/s.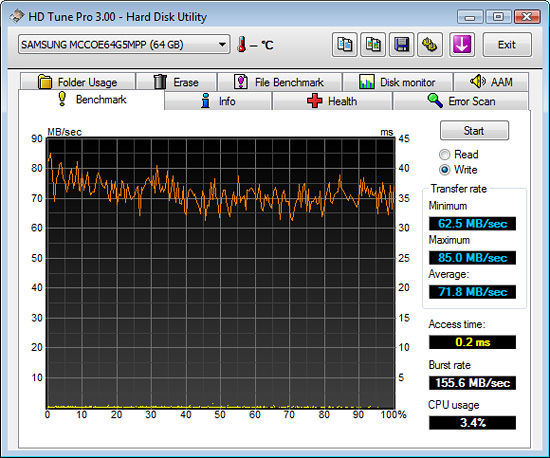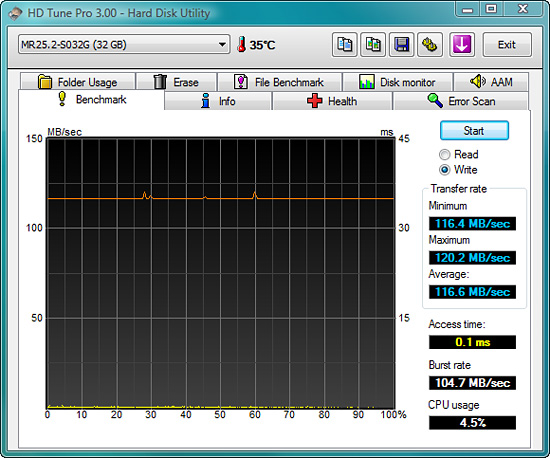 In our write speed tests, the Memoright drive offers a maximum write speed that is 41% faster, average write speed is 63% quicker, and burst rates are about 49% lower, something we are still investigating. As a comparison, average write speeds on the WD VelociRaptor are 101.4 MB/s with maximum speed at 122.1 MB/s and access time of 7.0ms. However, for the most part, the new Samsung/OCZ drives have write speeds that are now comparable with the majority of the latest 7200RPM mechanical drives. This is a significant improvement over the previous 64GB SSD drive from Samsung that featured average write rates near 36 MB/s.
We have included a selection of results from our HD Tune benchmarks in image galleries for those that are interested in comparing the Samsung/OCZ 64GB SSD against the latest 32GB SSD from Memoright. Our test results are at 32kb, 512kb, 8MB, and 128MB file sizes. Of note, in the 32kb test, the Samsung/OCZ drive performs exceptionally well in the 64/128 range and like most SSD drives, we see a significant decrease in write throughput at the 64 range on the Memoright drive.
PCMark Vantage
PCMark Vantage is the latest system benchmark available from Futuremark, and is only for use on Windows Vista. Similar to the venerable PCMark05 in its makeup, Vantage modernizes the criteria and test methodology to reflect what users may encounter when running the new Windows OS and current applications. For the HD test suite, the white paper breaks the tests down as:
Windows Defender: Windows Defender performs a scan operation, resulting in a read-intensive (99.5% read, 0.5% write) benchmark reflecting a common task in Windows Vista.

Gaming Performance: Streaming performance is measured using actual game mechanics found in Alan Wake. This test is nearly all read (99.95% read, 0.05% write) in nature.

Windows Photo Gallery: A large collection of images is imported into Windows Photo Gallery. This is the first of the tests which bring write performance into account in a meaningful way, with a roughly 84% read, 16% write ratio.

Windows Vista Startup: Simulates Windows Vista start-up operations, producing a test that breaks down to roughly 85% read and 15% write operations.

Windows Movie Maker: The first of the Vantage tests which comes close to equally dividing read and write operations (54% read, 46% write), concurrent video performance is tested both for video read and skip performance, as well as video write operations.

Windows Media Center: Performing three distinct tasks:


SDTV video playback

SDTV video streaming to Extender for Windows Media Center

SDTV video recording



Windows Media Player: Adds music to Windows Media Player. This test reverts to favoring read operations (78% read, 22% write).

Application Loading: The following applications are loaded:


Microsoft Word 2007

Adobe Photoshop CS2

Internet Explorer 7

Outlook 2007
The total benchmark is roughly 87% reads and 13% writes in nature. We run each test five times per drive, producing a median score that we use for comparison in our charts.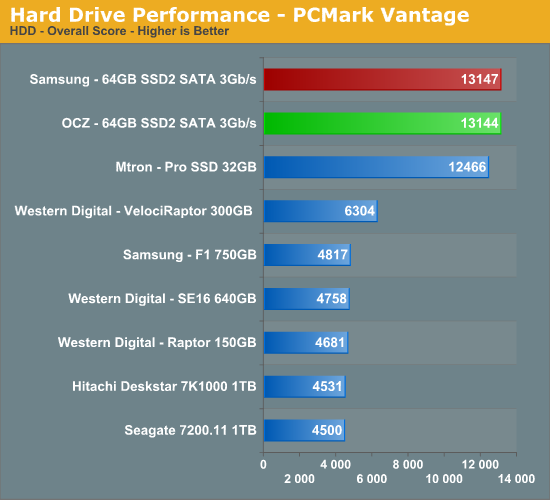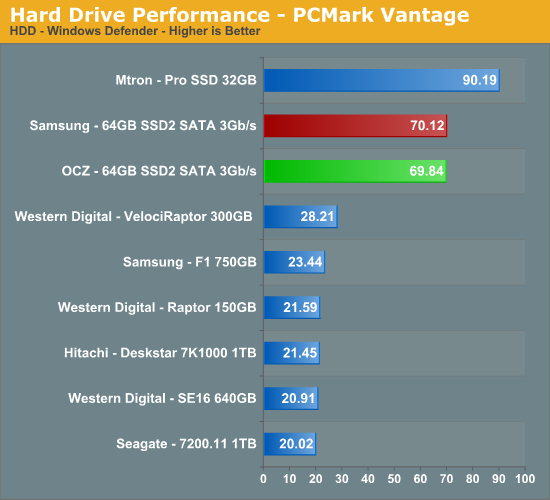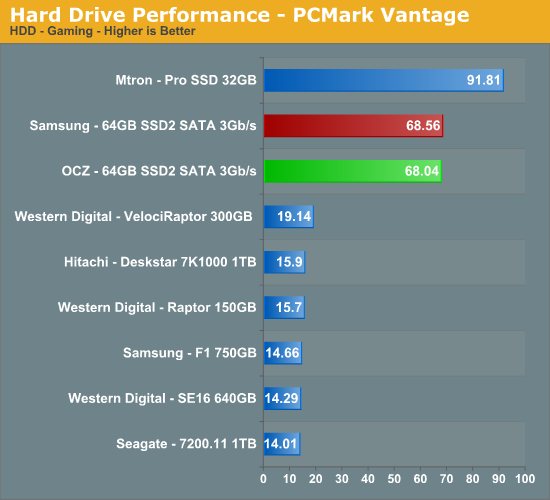 One advantage that SSD technology holds over mechanical drives is in access times that typically range from 0.1ms~0.3ms compared to 7.0ms~13ms on average for current mechanical drives. That alone almost ensures total dominance in benchmarks based on Intel's IPEAK program that looks at the pure speed of the drive or controller tested.
Vantage Testing, Cont'd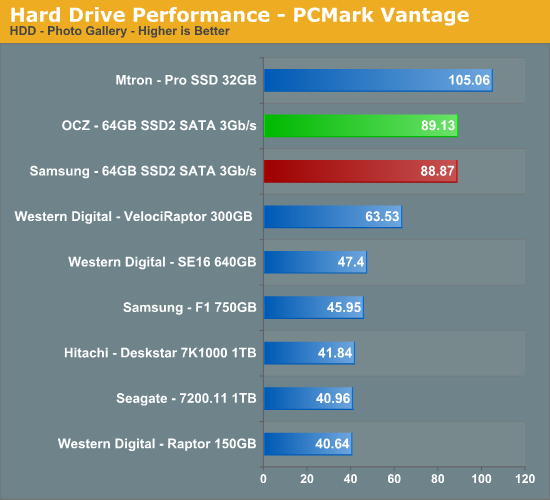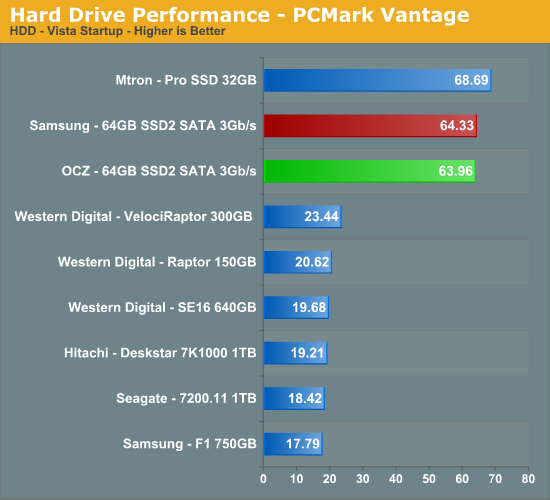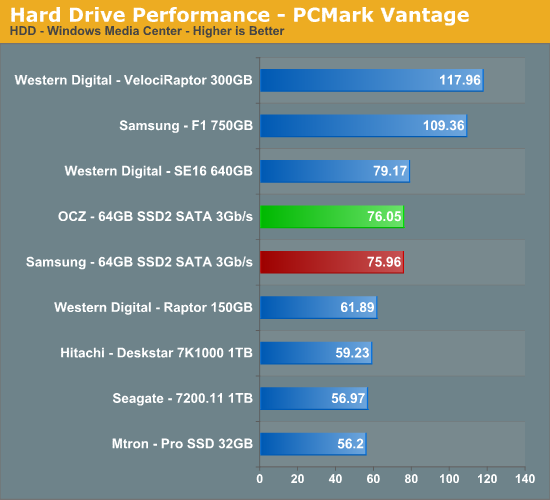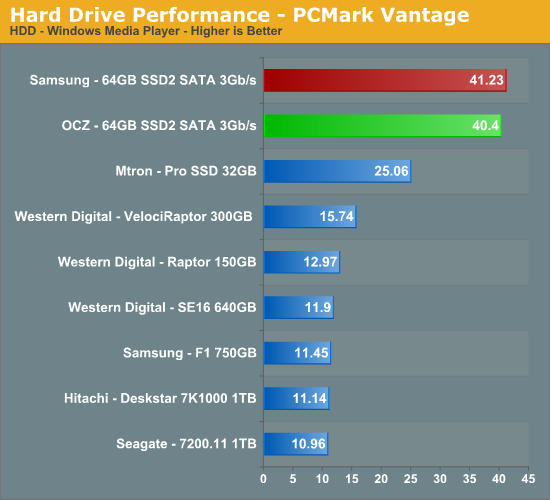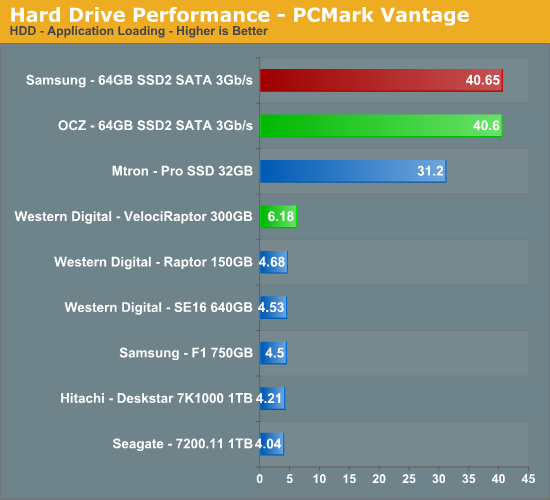 The Samsung/OCZ drive generates incredible scores in the PCMark Vantage tests that simulate real-world performance patterns utilizing a variety of actual applications. We added in our Mtron Pro SSD 32GB drive as a comparison to another high performance SSD drive. While PCMark Vantage utilizes actual applications for testing, the HD test provides a pure performance look at the hard drive or controller tested.
Like our previous testing with IPEAK, the results show the capabilities of the hard drive without the platform penalty. In other words, these tests will indicate the true performance capability of the hard disk and should provide an indication to the drive's performance potential within the platform.
In our tests, the Samsung/OCZ drive outperforms even the speedy Mtron Pro SSD thanks to strong results in the media benchmark tests. While the results with the Samsung/OCZ 64GB SSD drive are extremely impressive, they need to be tempered once the platform as a whole is tested with these applications.
Game Level Load
This test centers on the actual loading of a playable level within our game selections. Our application timer begins when initiating the level load process and ends when the game play screen is visible.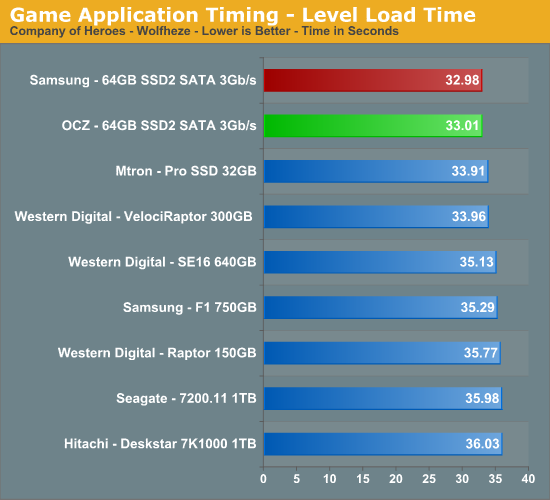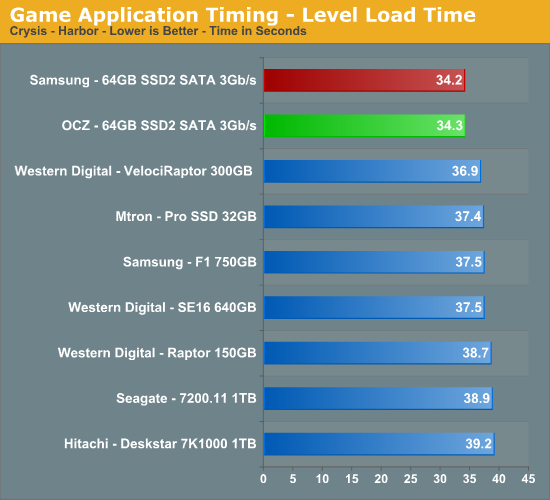 In Company of Heroes, the separation between the test group is around 3 seconds. Our VelociRaptor is the quickest mechanical drive in this test but loses out to the SSD drives. In Crysis, we see a separation of five seconds between the drives with the Samsung/OCZ drives once again scoring a win. Subjectively, the SSD drives seemed to offer quicker transitions between levels as we extended the game play length. Also, the Crysis level load dropped to 28.37 seconds on the Samsung/OCZ drives on subsequent loads if we did not clear the pre-fetch folder; comparatively, the WD VelociRaptor dropped to 33.09 seconds.
Nero Recode
Our encoding test is quite easy - we take our original Office Space DVD and use AnyDVD to copy the full DVD to the hard drive without compression, thus providing an almost exact duplicate of the DVD. We then fire up Nero Recode 2, select our Office Space copy on the hard drive, and perform a shrink operation to allow the entire movie along with extras to fit on a single 4.5GB DVD disc. We leave all options on their defaults except we turn off the advanced analysis option. The scores reported include the full encoding process and is listed in seconds, with lower numbers indicating better performance. We delete each image after use.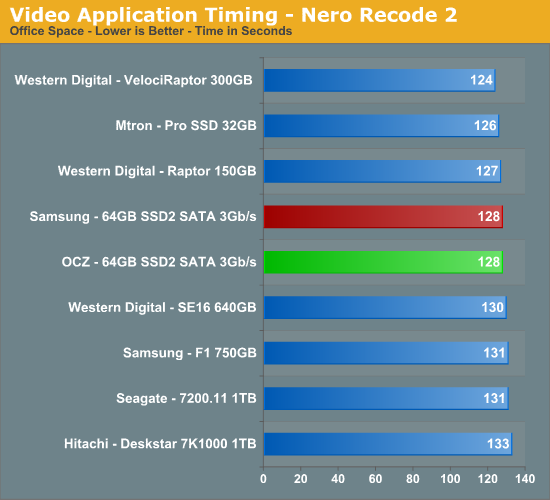 The superior write speeds of the VelociRaptor and Mtron drives are indicative of a test that features large data blocks in a sequential pattern. The Samsung/OCZ drive performs very well and is around 21 seconds faster than the previous generation Samsung 64GB drive.
WinRAR 3.71
Our WinRAR test measures the time it takes to compress our test folder that contains 444 files, 10 folders, and 602MB of data. While the benchmark is CPU intensive for the compression tests, it still requires a fast storage system to keep pace with the CPU. A drive that offers excellent write performance can make a difference in this benchmark.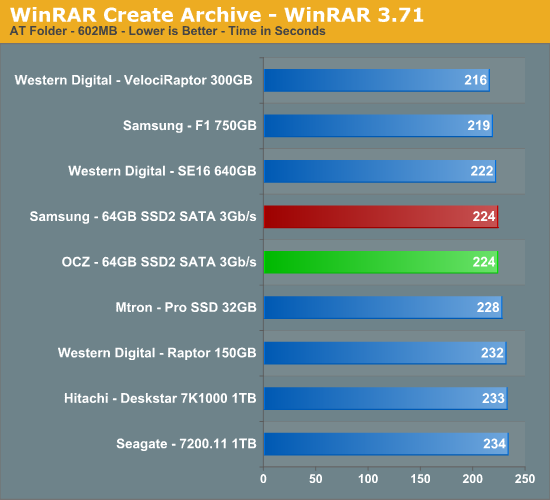 This test relies on the CPU and the burst rate of the storage system. The results in this test surprised us; we fully expected the drive to score even or slightly worse than the Mtron drive due to slower write speeds. We ran the test several times and even tried a new image but the results stayed the same.
File Copy Performance
Our file copy test measures the time it takes to transfer our first test folder that contains 29 files, 1 folder, and has 7.55GB of data from our source drive to the target test drive. The second test folder contains 444 files, 10 folders, and 602MB of data. These benchmarks are disk write intensive and require a fast storage system.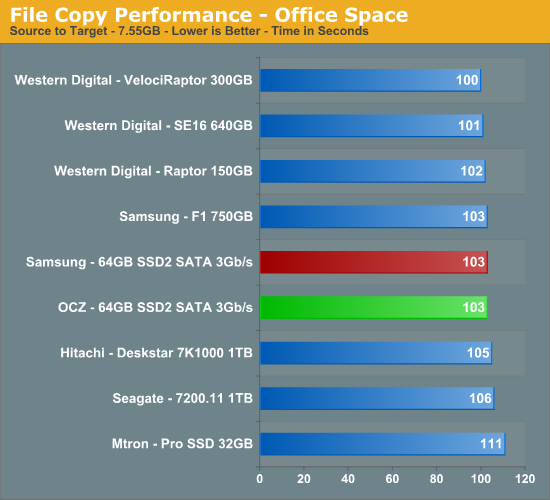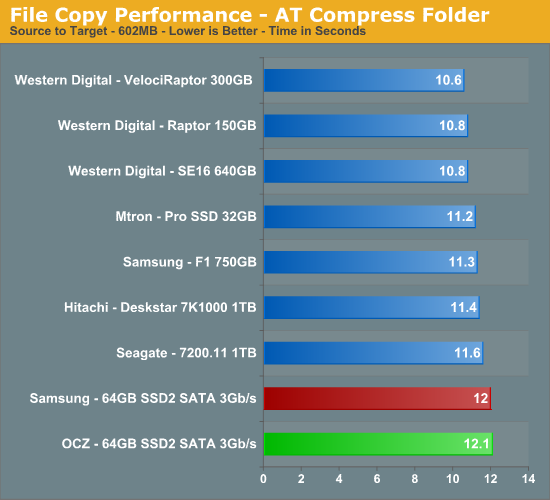 Our file copy tests show a definite advantage for the mechanical drives although the Samsung/OCZ drives were competitive in the Office Space test and scored about 7% better than the Mtron drive thanks to better controller optimizations for large sequential data blocks. However, the copy speeds for the Compress folder that features small files in a non-sequential order hamper the Samsung/OCZ drives. Even though the sequential write speeds of these drives are around 72 MB/s, the random write speeds in offline testing is around 33 MB/s in our test system.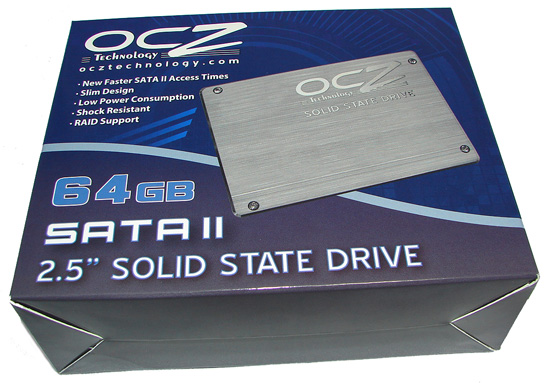 First Thoughts
The latest "mainstream" SSD technology from Samsung has finally arrived. We now have 64GB capacities featuring 100/80 MB/s read/write rates, an ultra low-power envelope, and pricing around $16 per-GB. All right, it is hard to get excited or even speak with a straight face about the per-GB costs when mechanical drives offering the same level of performance go for 50 cents to one dollar per-GB. However, the biggest advantages of the Samsung/OCZ SSD drives is not just class leading performance, but also reliability due to the lack of moving parts, small form factor, excellent thermals/acoustics, and low power use. The target market is obviously the power notebook user, but considering the 64GB of storage, this drive would make any desktop enthusiast with deep pockets valuing top-flight performance happy.
Compared to where we were just over a year ago, it appears Moore's Law is severely behind the curve with this particular technology now. In fact, we are starting to see MLC based SSD products shipping with third generation controller technology that might change the price to performance expectations for the market. In the meantime, Samsung is offering a new level of performance at a price point that was unheard of for SLC based products last year.

We wavered about presenting either drive an award. After all, cost is a significant issue when purchasing any computer component, especially one that costs as much or more than most entry to mid-range desktop systems. However, we must consider this particular SSD technology represents a true shift in this market by offering excellent performance, greatly improved capacities, and class leading thermals/acoustics/power at a price per-GB unimaginable just a few months ago. As such, we offer our Silver Editor's Award to Samsung for the product's technological merits and to OCZ Technology for ensuring this product is widely available at a reasonable cost.
(Ed: Reasonable Cost for similar performing SSD products.)