Original Link: http://www.anandtech.com/show/2503


Introduction
Over the past couple of years, we have reviewed a few laptops that qualify as ultraportables. With a name like that, it's little surprise that in terms of size and weight, these laptops often set themselves apart from the rest of the market. The problem is that getting all of the functionality people want into a package this small generally requires compromises. There is definitely a market for small, highly portable laptops that offer good battery life. Just don't expect to get all of that with performance that can come anywhere near matching larger notebooks - let alone desktops.
Several factors frequently limit the performance we find in ultraportables. First, heat is obviously going to be a problem, and for this reason we usually find much slower processors and a complete lack of discrete graphics. Space is also at a premium, which ties into the first point by making it difficult if not impossible to fit the necessary heat sinks and fans into a small chassis. The reduced size often means that other features are cut, and it's not unusual to see ultraportables that lack optical drives.
In the quest to reduce component footprints, companies have created smaller standards over time, one of the latest being 1.8" hard drives. The problem with such a small physical hard drive size is twofold: storage capacity is obviously lower, but performance suffers as well. Finally, tying up all of the above points is the topic of battery life. What's the point of making a small notebook if you still have to lug around a large battery in order to get reasonable battery life? Thus, performance is often further reduced in order to keep power requirements in check.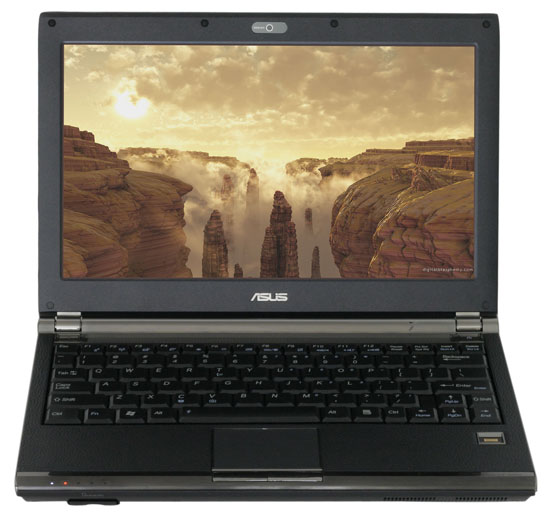 All of the above means that ultraportables often disappoint users who don't know what to expect. A good example of this is the MacBook Air, which at first blush looks like a very sleek, sexy laptop.Dig a little deeper, however, and many people will discover that the missing features are just too important. Small keyboards, lack of integrated optical drives, and lackluster performance all play a role, and then you still end up having to pay a price premium for the privilege of owning an ultraportable. Still reading? Good. Let's see how ASUS tries to avoid some of these pitfalls and whether or not they can succeed.
ASUS U2E Overview
ASUS U2E Specifications
Processor
Core 2 Duo U7500 (1.067GHz 2MB 533FSB)
Chipset
Intel GM965 + ICH8-ME
Memory
1x1024MB + 1x2048MB DDR2-667
Maximum 4GB Supported
Graphics
Intel GMA X3100 (Integrated)
Display
11.1" WXGA (1366x768) with LED Backlighting
Hard Drive
120GB 1.8" 4800RPM 8MB Cache (A1B)
32GB 1.8" SSD (A2B)
Optical Drive
Ultra Slim 8X SuperMulti DVD+/-RW
Networking
Integrated Gigabit Ethernet
Intel 4965AGN WiFi
Bluetooth v2.0
Audio
Realtek ALC660 2-Channel HD Audio
Battery
3-Cell 29WHr
6-cell 53 WHr
9-cell 86WHr
Front Side
4-in-1 Flash Reader (SM, SD, MS/Pro)
Left Side
2 x USB 2.0
WiFi On/Off Switch
VGA
Micro-DVI
ExpressCard/34
Headphone/Mic
GPU Cooling Exhaust
Right Side
Optical Drive (DVDRW)
Gigabit Ethernet
1 x USB 2.0
56K Modem
Back Side
Kensington Lock
Operating System
Windows Vista Business 32-bit
Dimensions
277mm x 194mm x 24.9-29 mm (WxDxH)
10.91" x 7.64" x 0.98-1.14" (WxDxH)
Weight
2.75 lbs (A2B with 3-cell Battery)
Extras
Fingerprint scanner
0.3MP webcam
BlueTooth Mouse
Leather palm-rests and top
Carrying Bag
Warranty
2-year standard
1-year Battery pack warranty
30-day Zero Bright Dot guarantee
Free 2-way FedEx overnight shipping
24/7 phone support
ASUS is offering two different versions of the U2E. The A1B model is a more typical ultraportable notebook, equipped with a 1.8" 120GB hard drive. The A2B is identical in all areas except for the choice of mass storage. Instead of a traditional hard drive, ASUS includes a 32GB solid-state drive (SSD). That should certainly improve performance in disk intensive applications, but with the size of Windows Vista and modern applications 32GB can fill up very quickly.
The solid-state drive in our A2B comes from Samsung, and it offers very good read/write performance in comparison to 1.8" platter-based drives (57MB/s read, 38MB/s write). Unfortunately, besides the lack of space the drive also increases the price of the U2E substantially. The base model A1B carries an MSRP of $2000, while the A2B ups the ante to $2600. A quick search on the Internet however reveals that the A2B can be found for $2500. The A2B is also supposed to include an external 160GB USB hard drive - or at least that's our understanding; we didn't receive one with our review sample and it's not entirely clear looking online whether all A2B models include the extra drive or not.
Beyond the hard drive considerations, the U2E does offer some very interesting features. One of our complaints with ASUS' earlier U1E ultraportable - and a complaint we also have with the MacBook Air - is the lack of an optical drive, and ASUS has managed to remedy that. It's really nice to get a DVD+RW in an 11.1" chassis; the inclusion of the optical drive almost certainly increased the overall size and weight of the U2E, but we're more than happy to deal with a few extra millimeters thickness for the added flexibility.
The video options are also very good, providing users with both VGA and Micro-DVI outputs. Many other ultraportables provide only one or the other. It might have been nice to get HDMI rather than just Micro-DVI (the difference being HDMI supports audio), but most people won't care. We tested both outputs and found they worked well; being able to run 1920x1200 over a digital interface is definitely preferable to VGA.
Related to the video options is the display, which is one of the better LCDs we've used on a laptop. ASUS uses LED backlighting, which allows for a brighter display while reducing weight and power requirements. For an 11.1" LCD, the 1366x768 resolution works quite well; we have been spoiled by our use of large 24" and 30" desktop LCDs, but it's unreasonable to expect such high resolutions in an ultraportable - and we're not sure our eyes would be able to cope with such a fine dot pitch even if they were available.
The remaining features include all the usual stuff: Gigabit Ethernet (with no silly USB dongle), 802.11N networking, Bluetooth - even a modem, just to be safe. You also get three USB ports, a flash memory reader, and an ExpressCard/34 slot. The list of features isn't going to compete with larger notebooks, but in comparison to other ultraportables and the MacBook Air, the ASUS U2E does very well. The default battery is somewhat small (2600 mAh), but ASUS offers two upgraded battery capacities (4800 mAh and 7800 mAh). We received both the stock and XXL batteries for testing. ASUS also does an exceptional job with the packaging, as you can see in the following gallery.
One feature that might be easy to overlook is the very good warranty that ASUS provides. Users get a standard two-year warranty - one year on the battery pack - and a 30-day Zero Bright Dot Guarantee for the LCD. That should ensure that everyone is happy with their laptop when it arrives, but just in case things go wrong the warranty coverage includes free overnight shipping both ways if you need to send the notebook in for repairs. While not as convenient as on-site service, free overnight shipping is definitely better than what you get with most laptop warranties. ASUS states that the warranty is a $250 value, and that seems reasonable. Of course, many ultraportable business notebooks include three-year warranties, and if you purchase from a larger OEM you can even get next day on-site service. Regardless, the ASUS standard warranty is much better than the one-year warranty many laptops provide.
Genuine Bovine Beauty
The ASUS U2E definitely sits apart from other notebooks when it comes to external appearance. Fundamentally, you're still using a laptop, but as companies like Apple have proven repeatedly, appearance can be the difference between an average consumer electronics device and the next great must-have item. So what does ASUS do that people haven't seen a thousand times before? It's quite simple: they surface the top of the laptop and the wrist pads with genuine leather.
Is that enough to grab the attention of potential customers? Perhaps not, but it's not difficult to imagine an executive with a nice leather office taking one look at the U2E and deciding that it's the perfect new laptop. It's also available in brown or black leather, so it should have no problem blending in with most conservative offices (or perhaps car interiors). The leather inlays are not just a quick hack job either. ASUS states that they hand select the leather pieces that will be used on their notebooks.
ASUS continues the executive motif with polished stainless steel accents. They even go so far as to state that the hinge between the LCD and the main laptop is "inspired by a masterpiece cufflink". Mere hyperbole or can they back up these lofty claims? We'll let you be the judge, but we personally think this is a very nice looking laptop.
One of the big problems with small laptops is the keyboard. Some people are able to adapt easier to laptop keyboards than others, but there's definitely a limit to how small you can make a keyboard before you sacrifice maximum typing speed. ASUS definitely passed that boundary with their Eee PC; personally, I found my typing speed cut in half on the Eee PC. It's amazing what a big difference a few extra inches makes. (Ed: Despite claims to the contrary, size does matter!)
The U2E doesn't quite have a full-size keyboard, but the key size and spacing is so close to normal that it's difficult to tell the difference. After a short time spent with the laptop on a regular basis, I was able to type at 80 to 90% of my normal speed. Users who are happy with ergonomic "natural" keyboards (like myself) will still likely experience some discomfort using the keyboard for extended periods of time, but in trying to strike a balance between size and usability, the 11.1" chassis is about as small as you can comfortably go before you encounter serious difficulties with keyboard size.
Besides the size and spacing of the keys, the overall keyboard layout is very good. All of the keys are exactly where I like them to be on a laptop, although opinions differ on where exactly the Fn key belongs relative to the control key. You will need to use an Fn key combination in order to access the Home/End/PgUp/PgDn keys, but short of making all of the keys smaller or increasing the size of the chassis there's no good way around that requirement.
Scalpel Please
Considering the small size of this laptop, taking it apart isn't likely to prove particularly beneficial. It's not as if you're going to be able to upgrade the CPU, since that's soldered onto the motherboard. But when have we let practical considerations stand in our way?
The first step is to remove the keyboard, which requires you to locate the four small catches along the top edge of the keyboard and pressed them in using a small screwdriver. Then disconnect the ribbon cable and you now have access to the memory socket. If you want to continue dissecting a laptop, you will need to remove six screws on the bottom and seven more screws underneath the keyboard before you can remove the rest of the top cover. You also need to unplug the brown ribbon cable (both ends), two cables in the top-left, one cable in the top-right, and three cables in the bottom-center.
With the top panel out of the way, you gain access to the optical drive and the 1.8" hard drive. You could conceivably upgrade either of these components in the future should the need arise, though it's unlikely you would need to swap out the optical drive anytime soon. (Blu-ray support doesn't make sense in a device of the size, plus you need an appropriately sized Blu-ray drive.)
It did require a decent amount of patience and careful prying before we could separate the top panel from the rest of the laptop. If you're not careful, you could easily break one (or more) of the small plastic latches that help secure the panel. In particular, the plastic clips on the left side and the back of the chassis are difficult to disengage. There are two memory sockets in the laptop, but the second is not easily accessible. On the test laptop, the top socket contained a 2GB DIMM and the second was a 512MB SO-DIMM. Getting to the other socket requires a lot more effort….
Handle With Care
With the laptop partially disassembled, if you want to get the second memory socket you're only about halfway there. The next step is to remove both storage devices. One screw secures the hard drive, two screws on the bottom of the case keep the optical drive from sliding out, and two more screws hold the gray plastic optical drive bay in place. There are also two ribbon cables attached to the optical drive and hard drive. Remove all of those and you're left with just the motherboard sitting in the case.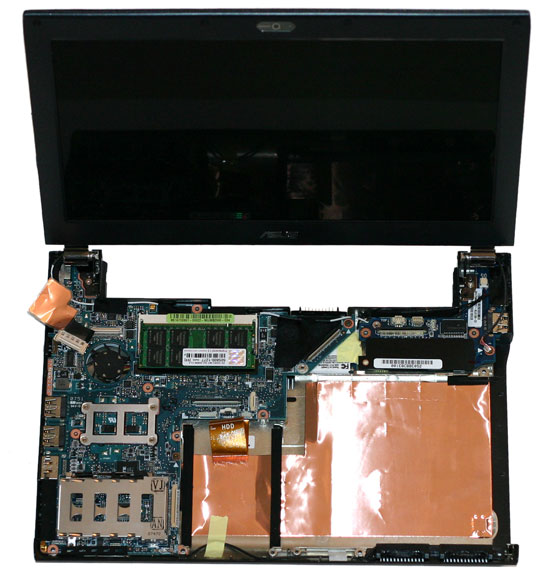 To remove the motherboard from the chassis, you will next need to disconnect the display. Two screws hold the LCD in place, plus there are wires for the video signal, wireless networking, and mic/webcam. You need to take the next step in stages, however, because you can't disconnect the WiFi wires without first unscrewing the LCD. First, unplug the mic/webcam cables in the top right corner and the video cable in the top left corner. Remove the other screw holding the daughterboard in-place, and then you can remove the small daughterboard from the top right area of the chassis.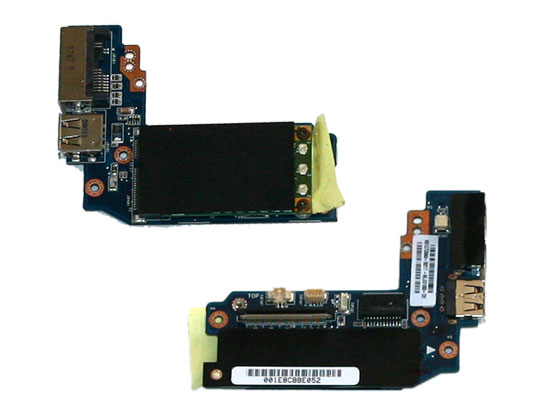 This board has a mini-PCI slot on the bottom that is occupied by the Intel 4965AGN WiFi adapter. Tape holds two wires in place, so you'll need to peel back the tape in order to disconnect these wires. The above picture shows both the top and bottom of this daughterboard; the mini-PCI card is under the black plastic rectangle in the upper view of the above image (which actually shows the bottom of the daughterboard).
Two additional small screws (indicated by small white triangles) still secure the motherboard to the chassis. Remove those, plus the little plastic "strap" above the battery power connector, and with a bit more effort you should now be able to remove the motherboard from the remains of the case. Once again, exercise caution during this step; if it feels like things aren't coming apart easily, don't force it.
Hooray! It's an empty laptop chassis. You're probably more interested in the other parts, however…
Here you can see the top and bottom of the motherboard, with the LCD still attached. One of the wireless antenna cables is taped onto the motherboard, and we didn't feel like peeling off all of the tape. A second mini-PCI slot holds the Bluetooth module. (You can see this at the bottom edge of the motherboard in the upper picture, or in the top left of the lower picture.) Quite frankly, it's amazing how much stuff to ASUS still manages to cram into such a small chassis.
The second SO-DIMM slot is under a protective plastic layer. You can also see the heatpipe cooling used for the CPU and chipset - the chipset sits right next to the memory sockets, making signal routing less complex. The only active cooling in the entire laptop is the tiny fan you can see in the above images. It doesn't provide a lot of airflow, but then this laptop doesn't generate nearly as much heat as other systems. Unfortunately, the fans still tends to make more noise than we would like.
While we had everything taken apart, we also took the time to swap the 512MB and 2GB SO-DIMMs. Considering how much effort it takes to get to the bottom memory socket, users definitely won't want to go through all of these extra steps should they choose to upgrade their memory. ASUS informed us that the retail versions of the laptop will be shipping with the 2GB SO-DIMM in the bottom memory socket. The upper memory socket will also be occupied by 1GB DIMM instead of a 512MB DIMM. We still think that it would have been nice if ASUS could have managed to provide easier access to the bottom memory socket.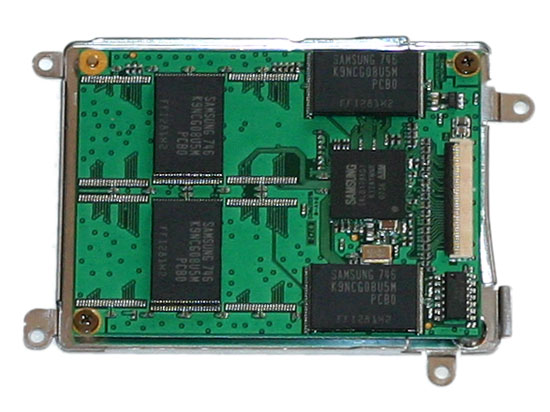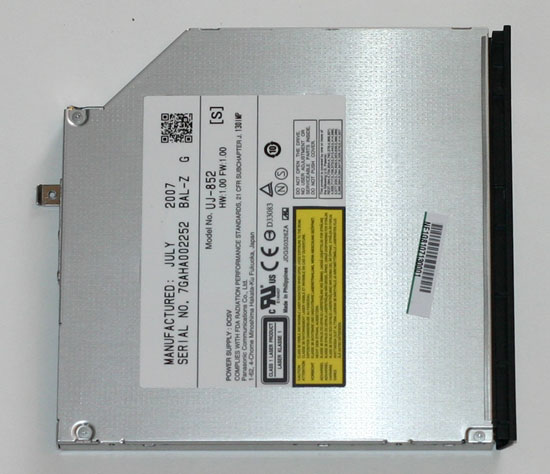 Just for the sake of completeness, here are a couple more shots showing the optical drive and solid-state hard drive. The SSD comes from Samsung, and 64GB versions are available. Whether or not a future U2E revision will come standard with a 64MB solid-state drive remains to be seen, but it seems like a logical upgrade. After all, if you're willing to spend $600 extra for 32GB drive, an additional $300 to double your storage capacity seems reasonable.
Day to Day Use
Back in January, most of the AnandTech editors had a unique opportunity to get up close and personal with the predecessor of the ASUS U2E, the U1E. To help us out with the coverage of CES 2008, ASUS loaned us four U1E laptops. The idea was that we would be able to run around the show floor, take pictures, and then using a mobile broadband service we would upload images and text from the show floor. It all sounded great on paper, but unfortunately we ran into a major difficulty. Thankfully, the problem had nothing to do with the laptops; rather, it was the mobile broadband service. Try as we might, we simply could not get the five Verizon mobile broadband cards to function properly.
That didn't mean that we scrapped the idea of using the U1E laptops, of course. For CES week, plus some time before and after CES, we had a chance to put the U1E through its paces. Opinions varied somewhat, but at least for purposes of running around Las Vegas, visiting with our industry contacts, and wandering the floor of the Las Vegas Convention Center our appreciation for the ultraportable market - and the U1E in particular - was very good. We were able to leave the hotel room in the morning with a full battery charge, work throughout the day (with periods where the laptop was in hibernation mode), and return to our rooms, frequently with more than a third of the battery capacity remaining.
A couple of our major complaints about the U1E have been addressed with the U2E. The first complaint was the lack of an optical drive, which the U2E corrects. The second major issue we had with the U1E was the performance in certain tasks. Specifically, installing applications - especially larger application suites - was at times painfully slow. The additional 1GB of memory helps (the U1E had 1.5GB of memory), and a solid-state drive on the A2B model greatly improves application load times and general hard drive performance. Whether that's enough to counterbalance the reduced hard drive capacity and increased cost is a different matter.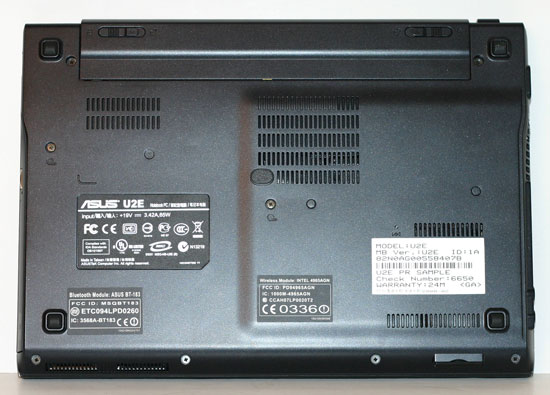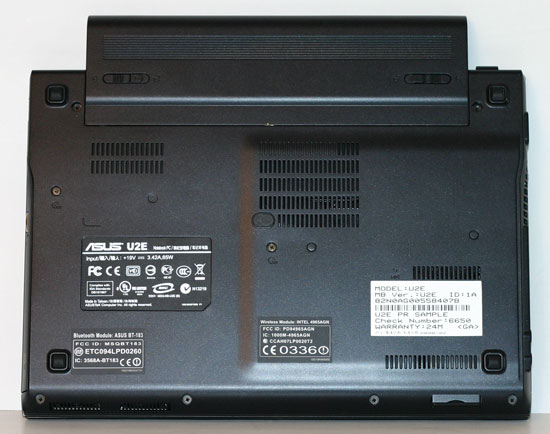 While the U1E and U2E might look very similar at first glance, several of the modifications do make a difference. First, the inclusion of an optical drive ends up making the U2E slightly thicker and heavier than the U1E. The other difference that we noticed almost immediately was in the battery sizes, although here we have to put in a disclaimer that we received the 6-cell 4800 mAh battery with the U1E whereas we received the 3-cell and 9-cell batteries with the U2E. We also didn't have both laptops simultaneously, but our recollection is that the 6-cell battery didn't protrude from the back of the laptop nearly as much as the 9-cell battery does. Since the laptops use the same battery style, however, that shouldn't make too much of a difference.
The default 3-cell battery is all about reducing size and weight. With the battery, the laptop weighs 3 pounds, but battery life is rather poor (just under two hours during light use) despite the ultra mobile components. The flip side is that the 9-cell battery offers terrific battery life but at the cost of the heavier laptop (around 3.5 pounds) and a potentially inconvenient protrusion on the rear of the laptop. If you want a very light and easily transportable laptop, the U2E with the default 3-cell battery will suffice. On the other hand, if you want a laptop that you can unplug and use for an entire day, grab the large 9-cell battery.
I tend to fall into the category of user that appreciates long battery life on an ultraportable, so I'm more inclined to recommend the 9-cell battery. That being the case, I'd almost prefer a slightly larger chassis that would better accommodate the added battery length… say, something like a 13.3" MacBook Air chassis might sound nice. However, I'm not specifically saying I would prefer the MacBook Air as there are other concerns there - like the lack of an integrated optical drive and the non-removable battery.
The other major sticking point is the hard drive, and it's difficult to decide which is more important: performance or capacity. The cost of the 32GB SSD is prohibitively expensive, but the performance of most 1.8" conventional HDDs leaves much to be desired. The core set of applications I use on a computer is relatively small: besides the operating system, all I really need is Microsoft Office and Photoshop. Images fill up hard drive space quickly, as do games, movies, and audio files, but I don't actually need to have all of those on a laptop I'm using for work. If I were to archive data onto a separate system - or an external hard drive - I could easily live with the 32GB solid-state drive. That's likely similar to how most business PC users function, and provided you're willing to pack along a USB hard drive on longer trips and you don't need to work with large data files (i.e. movie editing), the extra money for the SSD might be worthwhile. Still, it's amazing how quickly you can fill up 32GB; regular monitoring of your hard drive usage will definitely be required.
Overall, I enjoyed using the U2E laptop as a secondary computer. It would never be my first computer to use around the house or office, but the U2E is a great laptop to take on business trips or to meetings. You can definitely tell it's substantially slower than a modern desktop system - especially the quad-core overclocked monster I use on a daily basis - but when you focus on typical office tasks the reality is that few people need anything faster than a system that was state-of-the-art four or five years ago. A 1GHz Core 2 Duo is one third as fast in the CPU department as today's midrange desktops - perhaps not even that - but given sufficient memory it can still run Microsoft Office, surf the Internet, send email, and even handle moderate multimedia tasks without difficulty. Just don't even think about firing up the latest 3D games on this type of system.
LCD Quality - Brightness, Contrast, and Color Gamut
We were unable to determine exactly who manufacturers the LCD panel for the U2E. ASTRA32 reports a manufacturing date of January 2002, which is likely incorrect, and it gives a model name of "MS_004C". We can't give any manufacturer specifications for the display, but we did run it through our display tests. As usual, we are dealing with a TN panel, which means worse viewing angles and 6-bit colors. However, ASUS uses LED backlighting which provides better luminance (brightness) without using more power. Let's begin with a look at the brightness level and contrast ratio.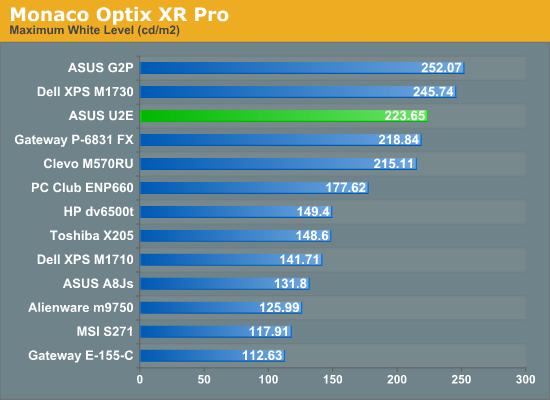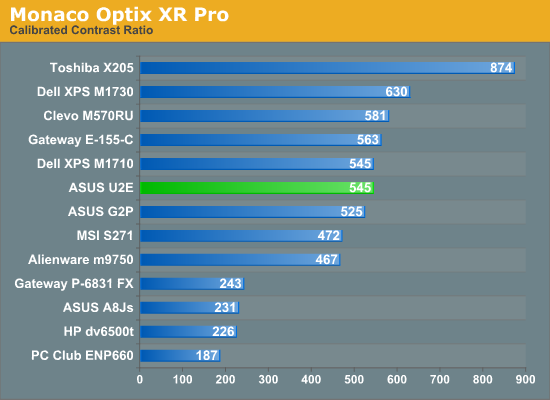 Considering we are dealing with an ultraportable 11.1" laptop, it's amazing to see white levels reach over 200 nits. The display is very pleasing to use, and easily competes with the best laptop LCDs we've used up to this point. Of course, that's not saying a lot, since laptop LCDs still seem to be second-class citizens when compared with desktop LCDs. However, we're happy that we finally have what we consider to be ideal brightness levels. The contrast ratio is also quite good - really, we don't have any problem with contrast ratio as long as it's above 500:1.
Starting with our last notebook review, we have begun to include color gamut results. We use Gamutvision, a utility developed by Imatest LLC. We compare the calibrated color profile to the Adobe RGB 1998 color profile. Below is a comparison of the gamut volume for the ASUS U2E, along with a chart showing the percentage of the Adobe RGB 1998 gamut from the various laptops.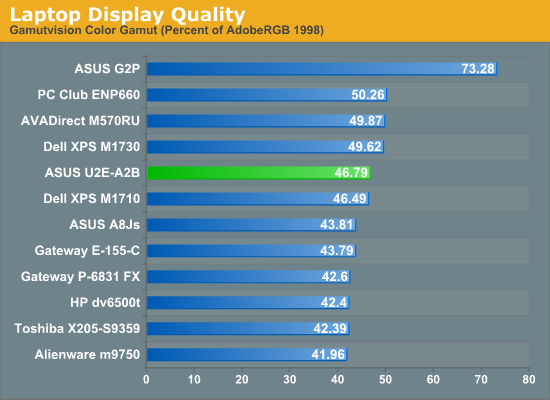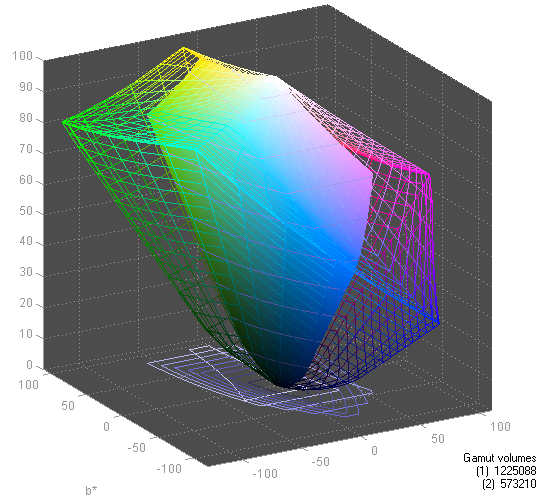 As we just stated, laptop LCDs tend to seem like second-class citizens relative to desktop LCDs. The best laptop LCD in terms of color gamut is the ASUS G2P, which has a color gamut of close to 75%. The worst desktop LCD we've tested in the past two years has a 75% color gamut as well, and nearly all of the new LCDs produced in the last year have a color gamut of 90% or more. Meanwhile, the vast majority of laptops have a color gamut of around 50%, give or take. We had hoped that the LED backlighting would also improve the color gamut on the ASUS U2E, but unfortunately that's not the case.
LCD Quality – Color Accuracy
Besides contrast ratio, brightness levels, and color gamuts, the other metric we like to compare on displays is color accuracy. As always, we use a DTP-94/Monaco Optix XR colorimeter with Monaco Optix XR Pro and ColorEyes Display Pro software. ColorEyes Display Pro almost always generates a better score on laptop LCDs than Monaco Optix XR Pro. Worth noting however is that the color gamut generated by Monaco Optix is usually larger. It seems that Monaco Optix requires a certain color gamut level before it functions optimally, which may be why the ASUS G2P is the only laptop we've tested so far that scores better under Monaco Optix.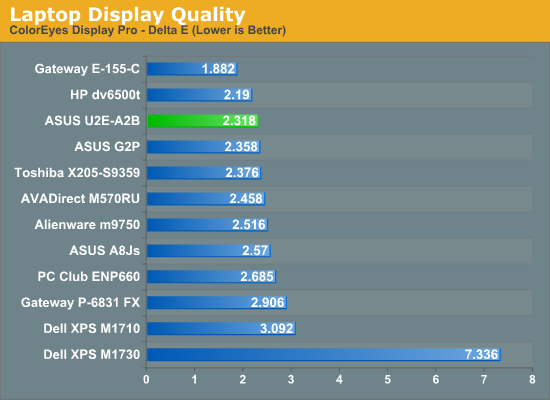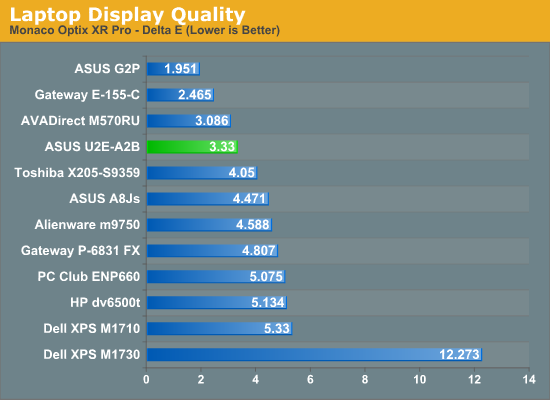 The performance generated by the ASUS U2E LCD panel is decent, placing near the top of the charts for laptop LCD color accuracy. The only other ultraportable laptop we've reviewed recently is the Gateway E-155-C, which does achieve better color accuracy. However, we would take the higher luminance levels of the ASUS U2E over the slightly better color accuracy without hesitation.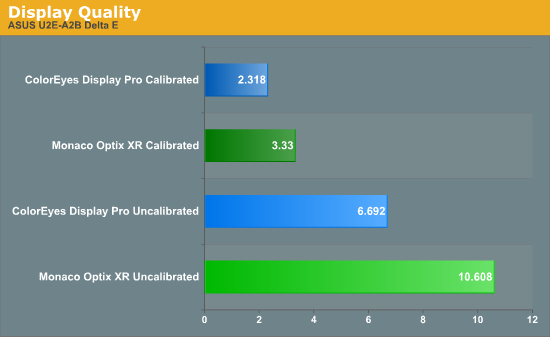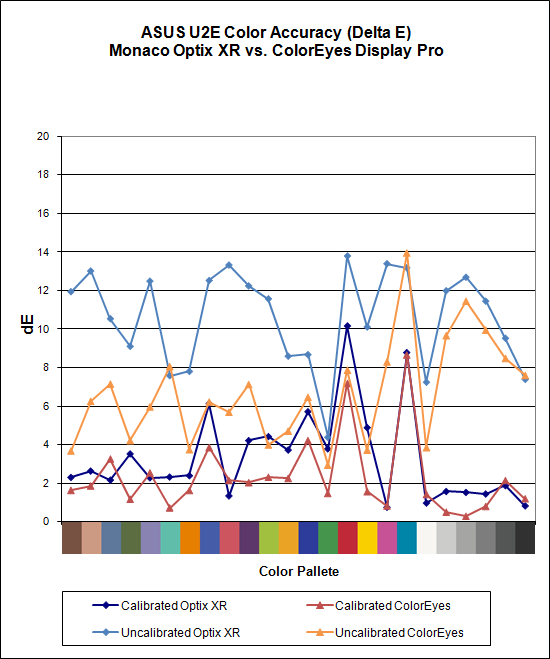 While the first results compare color accuracy after calibration, it's important to remember that scores are much lower across the board prior to calibration. Here are the pre-and post-calibration detailed results for the ASUS U2E. Again, pretty much all of these results are surpassed by even the worst of the desktop LCDs we have tested. The ASUS U2E score slightly better than many other laptops prior to calibration, but with Delta E scores of 6.7 or higher that's something of a hollow victory.
Benchmark Setup
Since this is an ultraportable, we dispensed with testing performance in any games. Besides, most of the games we now test with won't even run on the Intel GMA X3100 integrated graphics. We did run 3DMark03, 05, and 06 for those that want some basic indication of graphics performance. That's not to say that you can't play games on this laptop; crank down the detail levels to low and run at a low resolution, and a fair number of games may approach playable frame rates. Our primary focus will be on the mobility aspects, but we'll include some other general performance tests just for good measure.
ASUS U2E-A2B Test System
Processor
Core 2 Duo U7500 (1.067GHz 2MB 533FSB)
Memory
1x512MB (Nanya NT512T64UH8B0FN-3C)
1x2048MB (Transcend JM667QSU-2G)
DDR2-667 5-5-5-15 @ DDR2-533 4-4-4-12
Graphics
Intel GMA X3100
Intel Vista 32-bit 15.8 Drivers
Display
11.1" WXGA (1366x768) with LED Backlighting
Unknown manufacturer: "MS_004C"
Hard Drive
32GB 1.8" SSD (Samsung MCCOE32GQMPQ)
Optical Drive
Matshita DVD-RAM UJ-852S SuperMulti 8X DVD+/-RW
Battery
9-Cell 86WHr, 3-cell 29WHr
Operating System
Windows Vista Ultimate 32-bit
Note that the test system we received for review comes equipped with 2.5GB of memory. Final shipping versions will apparently include 3GB of RAM, though we don't expect that would actually improve performance in any of our benchmarks. Also, the test laptop came with Vista Ultimate 32-bit installed, while the shipping laptops include Vista Business 32-bit. Again, that should not affect performance in any of our tests; you merely lose a few features relative to Ultimate... features that 99.9% of users never need.
General Application Performance
We'll start with a look at general system performance. We've said in the past that most systems are now fast enough to easily run most modern applications, and that's true of the ASUS U2E. While it will be clearly slower in CPU intensive applications, for office work it performs well enough.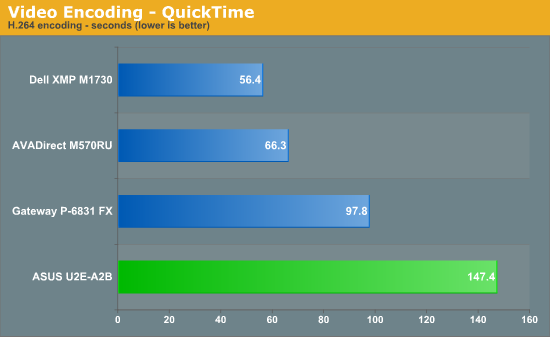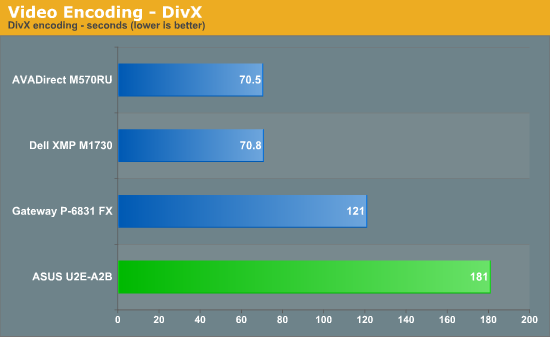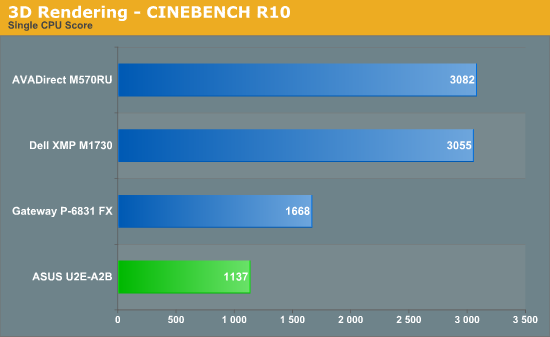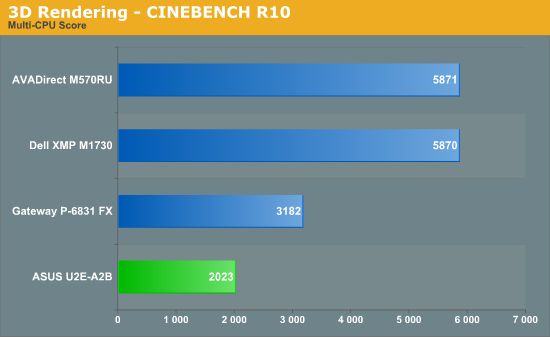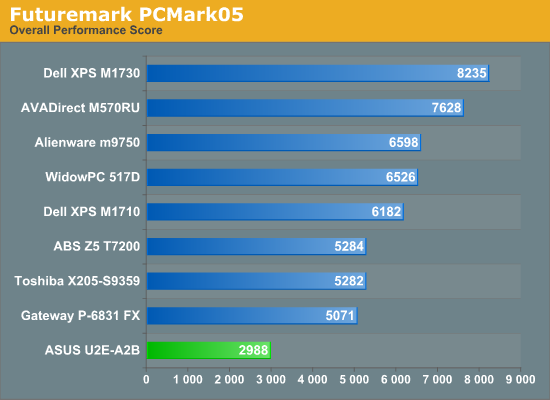 The ASUS U2E pales in comparison to the slowest of the other laptops we've tested in the above applications. The Gateway P-6831 FX includes a relatively slow Core 2 Duo T5450, but it's still at least 50% faster. None of this makes the U2E "too slow", though we certainly wouldn't recommend an ultraportable for doing 3D rendering or video encoding. We were able to watch a 720p movie encoded with x264 without dropping any frames. (1080p x264 proved to be too much, however, with constant frame drops and audio dropout.)
PCMark Vantage could not run to completion. The Memories test suite consistently failed, as did the Gaming suite. Looking at the tests that did complete, we find performance that is consistently lower than the other notebooks with one exception. The tests that depend on hard drive performance run very well, helped by the solid-state drive. The Productivity suite outscores the Gateway P-6831, and the HDD suite has the ASUS U2E placing at the top of the charts. PCMark05 show similar results for the hard drive, which is to be expected considering the access times can be measured in microseconds rather than milliseconds and the drive delivers high sustained transfer rates.
3D Graphics Performance
Those that would like to get some idea of how fast the integrated Intel graphics perform will hopefully be satisfied by the 3DMark results. No, these results don't necessarily correlate with real world games in every case, and people don't actually "play" 3DMark. Still, it does serve as a quick reference for what a graphics chip can and cannot handle.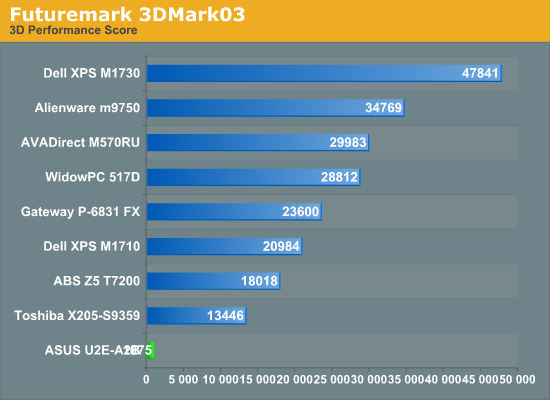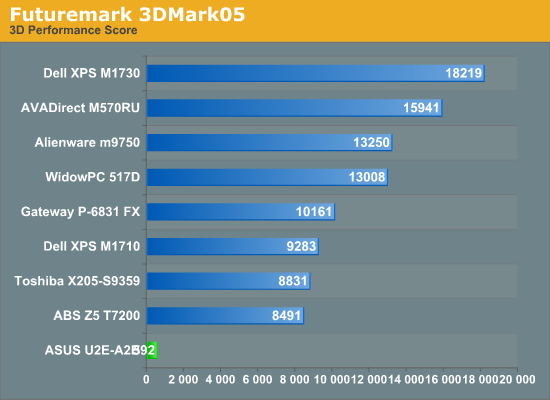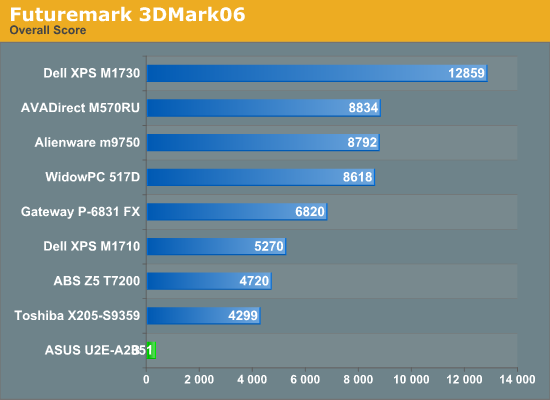 The GMA X3100 is sufficient for casual gaming, and it will run most three or four year old titles at low to medium detail, but if you actually want acceptable gaming performance you will need to look elsewhere.That's perfectly okay, since the ASUS U2E isn't even intended to pass as a gaming system. It will run Windows Vista (or windows XP if you prefer) quite well, and it's very compact and lightweight.
Note that the 3DMark scores are not actually zero - they're just so low relative to the other systems that the labels get pushed into the system name. The actual scores are 3DMark03: 1075, 3DMark05: 592, and 3DMark06: 351.
Battery Life, Power Use, and Noise
For battery life testing, we ran our standard three in-house tests. The first consists of surfing the internet until the battery runs down. We set Internet Explorer to load three web pages (including AnandTech.com), pause for 60 seconds, exit, and then reload those pages. The second test simply plays a DVD until the battery runs dead; in this case, we actually had to restart our 2.5 hour movie twice before the larger battery ran out of power. For the third test, we loop the four gaming tests in 3DMark06. In all cases, we set the power profile to "Balanced" and set the display brightness at maximum brightness. Related to battery life are the power requirements. We measure with the system plugged in, so not all of the power saving features are active. The numbers below will still give you an idea of how much relative power various tasks require.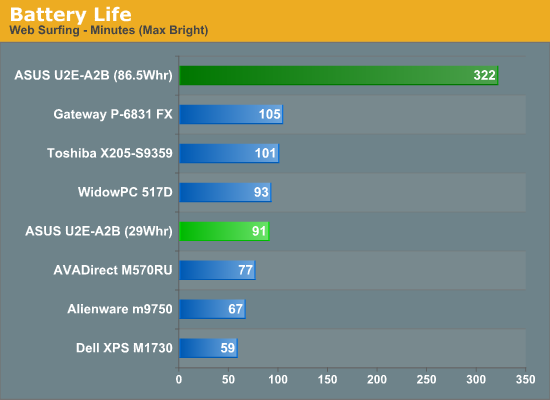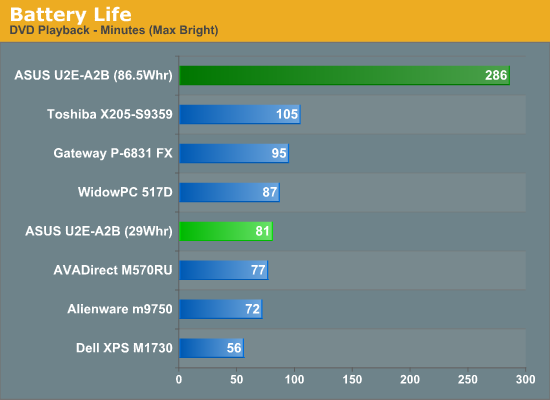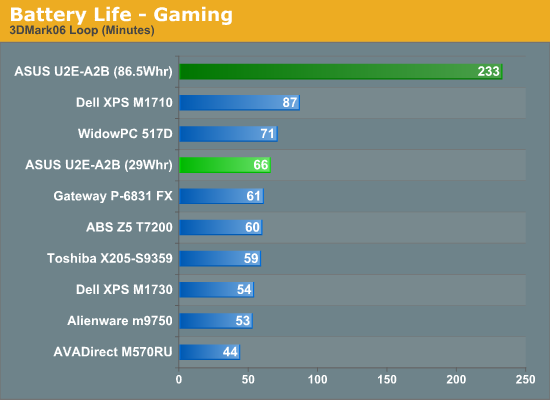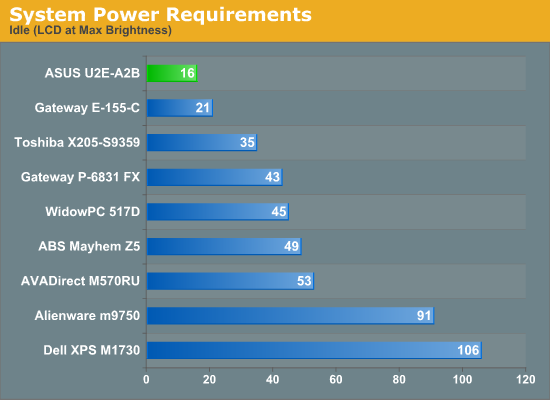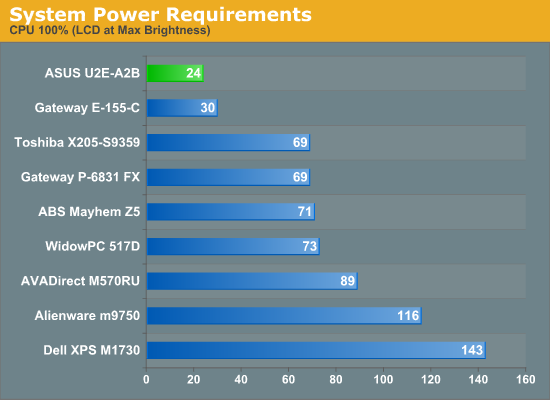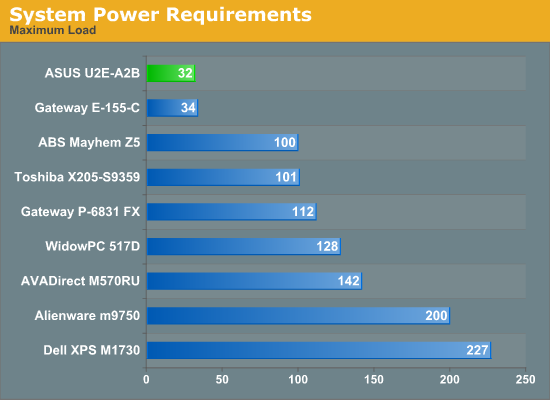 At the normal "balanced" power settings, the ASUS U2E delivers either mediocre battery life or exceptional battery life - depending on which battery you happen to be using. One thing that we found odd is that despite the fact that the 9-cell battery is in theory three times the capacity of the 3-cell battery, battery life improved by 3.5X with the larger battery. Whether that's merely a case of battery quality, use and abuse that the battery has previously been subjected to, or something else we can't say. It's also interesting to note that playing back a 720p x264 movie delivered battery life roughly equal to the DVD playback test - 83 minutes with the small battery and 289 minutes with the large battery.
The above charts don't tell the whole story, however, as you can increase battery life a bit more if you're willing to turn down the brightness levels and use the "Power4Gear Mobile" power profile - which limits the maximum CPU performance to 60%. With those settings, battery life improves an additional ~15%, so for example the large battery gives up to 357 minutes in our web browsing test or 310 minutes of DVD playback. All of the above battery life tests are relatively strenuous compared to doing something like typing in a word document, so to give an idea of the best-case scenario we also tested battery life in pure idle mode with the LCD at medium brightness. The small battery was able to run for 167 minutes and the large battery delivered a whopping 578 minutes - nearly 10 hours before the battery ran down. It is not unreasonable to expect around eight hours of continuous battery life if all you're doing is typing in a Word document or an Excel spreadsheet - more than enough to get you through a full day of work.
The power requirement charts reflect the information contained in the battery life graphs. Since most of the laptops in our charts are in a completely different performance bracket, the best comparison we can make is what the Gateway E-155-C we looked at last summer. Performance should be very similar, outside of the increase in hard drive performance and added memory. Power requirements appear to have dropped around 3W (and as much as 6W), helped by the slightly smaller chassis/LCD, LED backlighting, and the solid-state hard drive. 3W might not seem like a lot, but when we're already dealing with very low power requirements (20W idle), 3W represents a 17% drop in power requirements.
Finally, let's take a moment to discuss noise levels. At idle, the laptop is very nearly silent, but the tiny fan in our test unit did seem to have a slight "rumbling" noise. The noise was not always present, and a faulty fan very well could have caused it, but it did add several decibels to the noise output. At idle, we measured the noise level of 33 dB from 2 feet away. Putting a full load on the CPU kicked the noise output up to 36 dB. The laptop is still relatively quiet at that point, and it's only when you put a heavy load on the 3D graphics chip that noise levels reach their maximum. Looping 3DMark06, noise levels would alternate between 40 dB and 45 dB for the first 15 minutes or so, depending on the fan speed. After 15 minutes looping the game tests, the fan would then stay at its maximum RPMs on the noise level would top out at 45 dB. We also noticed a bit of electronic noise that appeared to correspond to hard drive activity, although these noises were not loud enough to register on the SPL meter. Overall, the noise levels are disappointing; for a tiny laptop with such low power requirements, we really would like things to be nearly silent most of the time. These tiny fans also tend to wear out rather quickly, so we wouldn't be surprised if many users need to have the fan replaced before the 2-year warranty expires.
Closing Thoughts
It's been some time since we looked at our last true ultraportable laptop. Since then, the market has been shaken up a bit by some of the new product launches. The question that many people might end up having is whether a typical Windows Vista ultraportable can compete with the MacBook Air. Before you even bother asking that question, however, need to make sure that an ultraportable laptop is the right type of system for you. Paraphrasing our MacBook Air review: Users who are considering the U2E could end up sorely disappointed by it, if all they really want is a smaller notebook - not an ultraportable. If this is going to be your only notebook and you plan to use it as your main computer, chances are the U2E isn't for you.
That's a simplification of things, as the ASUS U2E does address several of the shortcomings present with the MacBook Air. It has a user upgradable battery, so you can always pack along extra batteries if you want to have even more battery life. It also includes an optical drive; it might seem like a small thing, and transferring files over a network often gets around that requirement, but if you ever want to watch a movie on an airplane and you don't already have a copy ripped to your hard drive, the ability to watch a DVD is very useful. Finally, you get a few extra features - more memory (upgradable to 4GB), VGA and micro-DVI video outputs, integrated Gigabit Ethernet, and more USB ports. And you get all of that in a chassis that is slightly smaller - but also thicker - then the MacBook Air.
Score a win for the ASUS U2E, right? Well, perhaps not. The MacBook Air comes with the ability to run OS X and Windows, it's sleeker looking (depending on opinion), and it comes with a faster processor. Pricing might actually be in Apple's favor as well, although with the extra features on the U2E we're willing to call it a draw. Apple's other MacBook offerings are another good alternative, and Dell's XPS M1330 with most of the performance upgrades carries a similar price tag to the ASUS U2E-A2B. If you're looking for a single notebook that can do everything, we would definitely choose something like the Apple MacBook Pro or Dell XPS M1330 over any ultraportable.
What about other ultraportable notebooks? Outside of the various tablet PCs that are on the market - which tend to be thicker, slightly larger, heavier, and whose only real selling point is the tablet feature - the Sony VAIO TZ series seems to be one of the few direct competitors. The Sony VAIO ultraportables look very similar to the ASUS U2E, which isn't surprising since they both use an 11.1" chassis. Outside of the leather inlays on the ASUS and a few minor differences in features and specifications, there's little difference between the two brands. ASUS prices appear to be slightly lower and you get a better warranty, so unless you can find a good price on a Sony VAIO TZ we would give the nod to the ASUS U2E. We would also take the ASUS U2E over any of the tablet PCs we've tried, although some people might feel the tablet interface is more useful than we do.
The ASUS U2E may very well be the best ultraportable currently available - it's certainly the best that we've ever used. If you're in the market for such a laptop, it certainly warrants a closer look. Don't forget to pay attention to the A1B/A2B designation, as you need to figure out whether you want better hard drive performance or nearly 4x as much internal storage. We like the SSD, but as a $500 upgrade it can be a difficult pill to swallow. This is definitely a niche market, and we think that many users would actually be happier long-term with a slightly larger, more versatile laptop. On the other hand, if you already have a desktop system - and most of us do - adding an ultraportable as a second or third computer might be just what you need, and the U2E fills that role nicely.