Original Link: http://www.anandtech.com/show/2502


Introduction
It was only one day after we released the Enermax Pro82+ and Modu82+ review that we received an e-mail from Silverstone Taiwan telling us we were wrong about the assumption that Enermax offers the quietest power supplies at the moment. Silverstone told us about their new Decathlon DA700 that is supposed to be even quieter. Our reply was naturally that Silverstone could only prove this matter by sending us a sample for review. A few days later, we had the DA700 delivered and we started testing immediately. We could tell immediately that Silverstone actually beat out Enermax, but let's get to know the power supply a little better first.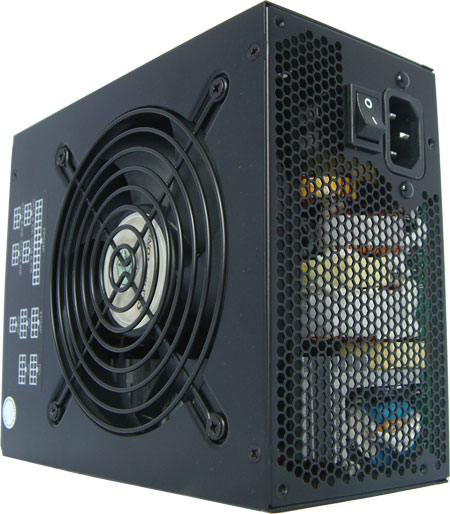 We have already tested several Silverstone PSUs, and until now they could never reach the highest efficiency levels. The build quality was and is superb and nothing to be worried about, but efficiency always tended to trail competitors - granted only by a few percent, but when you're spending a large chunk of change why not go for the best?
Silverstone is producing this unit with Impervio as the ODM, and we would have said it would be a cold day in hell before those companies would have anything to do with each other. However, with this new Decathlon Silverstone is trying a different approach from what we have previously. This unit is a fully modular power supply, which means that the user can detach all of the cables. This may not make sense at first, but this gives Silverstone at least one advantage over competitors. The company is now able to offer cable packages of different lengths. If you are running an HTPC, you will often find that cables on typical PSUs are far too long for this kind of small form factor case. Silverstone now offers a package with very short cables that can easily be used in place of the longer ones. No more bulky, long 24-pin ATX cable taking up space!

The label gives minimal information, which we are used to from Silverstone. The rail specification is rather obfuscated, requiring several perusals and the use of a calculator before you actually understand what you're reading. We have no idea why Silverstone makes it so complicated, but that's how the company does it, dating back to their beginnings. The 3.3V and 5V rails offer 24A and 30A with a combined power of 180W. That's average, similar to what we see with most other power supplies today. The DA700 comes with a 12V rail rated for up to 58A which is almost 700W already. Obviously, that load is not possible with the combined power of all three main rails; doing the necessary math, if you put a load of 180W on the 3.3V and 5V rails, that leaves 520W for the 12V rail, or 43A. Reading between the lines, then, the maximum load on the 12V rail will be somewhere between 43A and 58A, depending on the 3.3V + 5V load.
Package and Appearance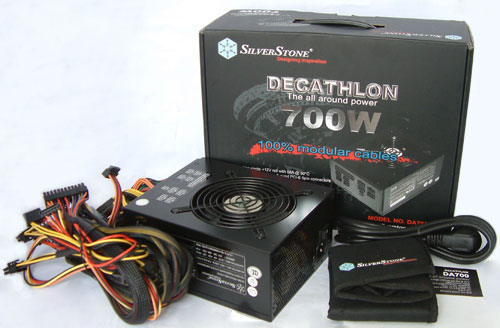 Silverstone's package design and the power supply itself always come in black. We would not expect to get a red power supply soon, similar to those from PC Power & Cooling for example. In the box we found the standard stuff like screws, a manual, power cord, and a high quality bag in which the user can store unused cables.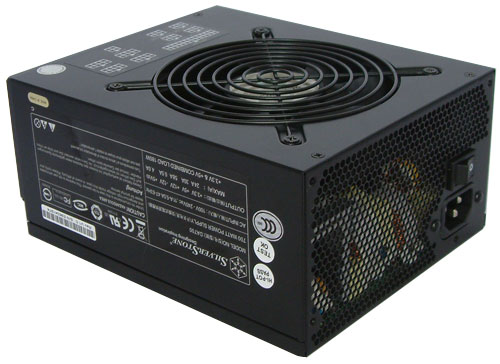 The power supply is quite long for a 700W unit and after opening it up we will see why this is the case. The fan is located quite close to the back, which is unusual for power supplies as now there is a big part of the power supply inside that will not get as much direct airflow. The installed fan is 120mm, which is also common with Silverstone even though many of the competitors have changed to larger fans. The problem is that there are quite a lot of patents on larger fans and Silverstone might not want to pay royalties, especially when a 120mm fan is doing just fine.
The whole rear is covered with small holes which allows for very good air circulation as the exhausted air has plenty of space to get out of the power supply. On the other side - which will be inside of the PC case once the power supply is installed - we find the modular cable system. It sticks out a bit since Silverstone designed it with a small box there. We will see later that the jacks for the cable management are very long, so Silverstone chose to cover the jacks with this small box. A detailed description of the jacks is visible on the bottom of the power, and it will remain visible after installation. This makes sense of course; nobody would be able to see the sticker if it were on top of the casing (except for in cases with a bottom-mounted PSU).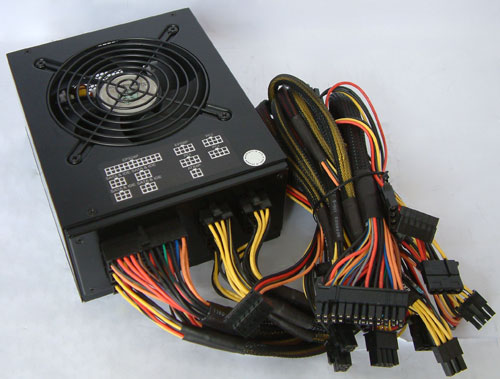 The harnesses are partly sleeved with a black mesh that keeps the mess of cables tidy. All of the cables are detachable, but we have to mention a flaw we noticed at the connection between PSU and cables. The jacks feel quite loose and move around when you attempt to detach cables. You will need to press down on the little lever at the connector, which is not always easily accessible, and this makes it difficult to unplug a harness. Silverstone should try to improve this area in the next version.
There are sufficient connectors on the harnesses, but there could have been maybe one more on each. There are currently three connectors on each SATA and Molex. The distance between the connectors might work in some cases, but normal systems have their hard drives much closer than 10" apart. We cannot see a benefit in having such a large gap between the connectors. There are four 6-pin PEG connectors for a decent SLI/CF setup and an additional 8-pin PEG connector. Only a 3-way 8800 Ultra setup would require additional PEG connectors at present.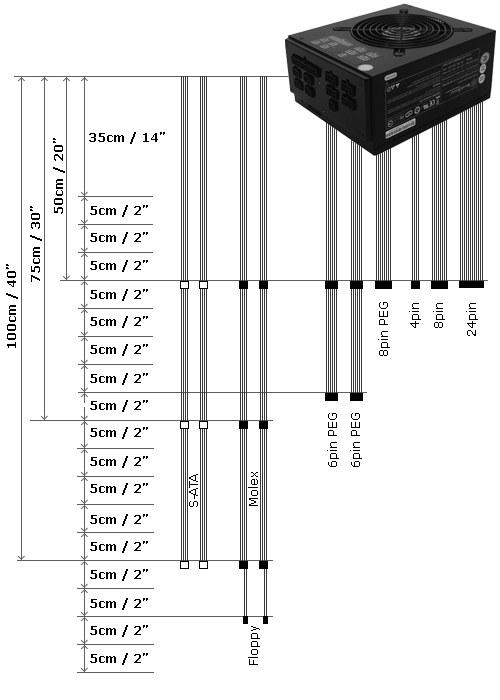 The Fan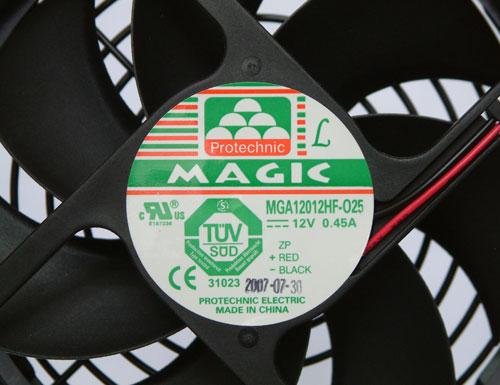 The installed fan responsible for cooling this unit is a 120mm so called rifle bearing fan from Protechnic with the part number MGA12012HF-025. The fan control keeps this fan at a nice maximum of 1600RPM during operation. Even at maximum speed, the noise from this PSU will be quite low.
Internals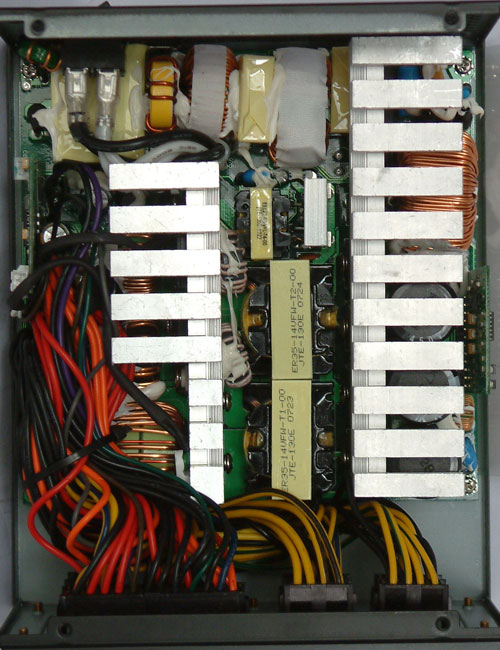 We had a look inside of the unit as we do with every PSU we review. Comparing this layout to former Silverstone models shows only slight differences. An X-cap is missing and an extra coil is present in the filtering stage, but otherwise the design is essentially the same. Silverstone includes a very complete filtering stage. There are three main capacitors installed, which actually allows for a very large heatsink right above them. Whether the larger heatsink was installed because the caps were smaller or the other way around is not easy to answer. Regardless, the three caps do a better job than a single cap would do in their place.
The capacitors are made by Japanese manufacturer Toshin Kyogo and rated at 150µF and 450V each. We have seen this brand in other high-quality power supplies as well already. In the middle are two main transformers and a third smaller one responsible for the standby voltage. The heatsinks are very large and thick. The fins are cut out of the aluminum with enough space between them to let air pass to the parts below them. The other side features Teapo electrolyte capacitors which are in many of the previously tested power supplies.
Looking at the cable management jacks from behind now reveals why they are so unstable. They are not attached to the power supply case very well, so it's possible to move them when you're trying to remove some cables. Silverstone left a lot of space between the PCB and the jacks since there are a lot of cables that need to find their way to the back. Normally companies use PCBs for the cable management, and the approach Silverstone takes here is new to us. In this case, newer does not strike us as better. We can see flaws with this connection system as the jacks wiggle around and don't feel as secure as other designs. Resistance might be higher than necessary because of badly attached connectors.
DC Output Stability and Quality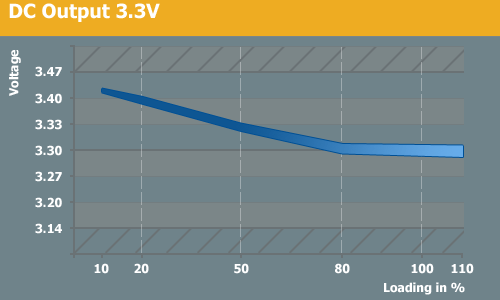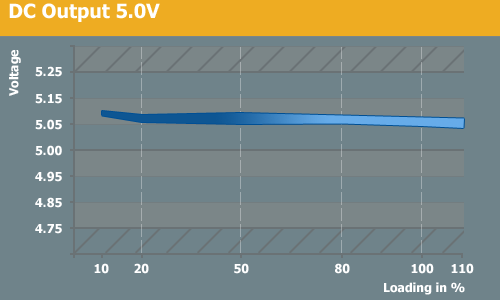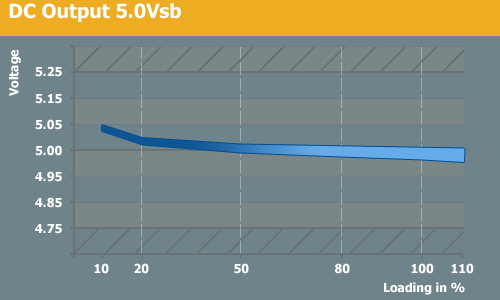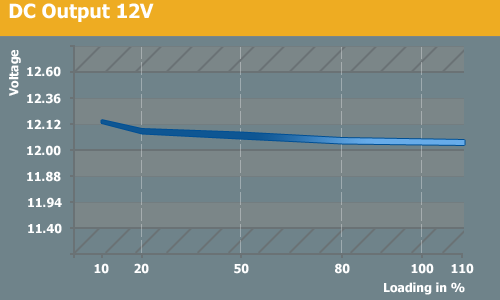 The voltage regulation works quite well with the DA700 as we can see above. We see some larger drops with the 3.3V rail but it drops from being somewhat high to the ideal 3.30V which is better in our opinion than starting at 3.30V and ending up low. The 5V rail is nearly flat, staying in the 5.05V to 5.1V range throughout the tests - slightly high, but well within spec. The more important 12V rail, which was actually designed with four separated rails, has similar good readings and always stays just above the specified 12.00V. The fluctuations are so small that the graph shows a very thin line. As for the output quality, we can say the Silverstone DA700 has very clean results as well. All of the rails performed within specification and the 12V rail had just a little over 20mV ripple at higher loads.
Efficiency and PFC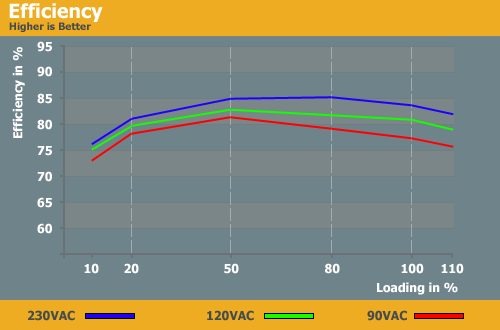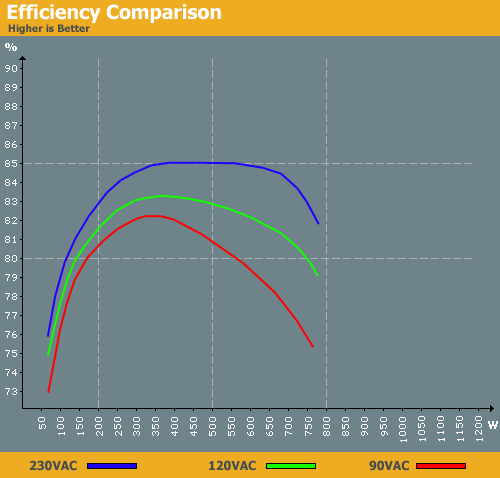 The efficiency didn't get above 85%, which is strange as we expected a little more than that. However, we don't want to make a big deal out of it since 85% is a very good result, even if it's common with today's high-end power supplies. The good thing is that the efficiency stays high for a long period under 230VAC, but as the graph also shows you need to pull at least 200W to reach 83% or higher efficiency. The DA700 also works well from 250 to 650W with a minimum input voltage of 120VAC. With 90VAC this power supply doesn't work as well, peaking at82% and 350W and staying above 80% for about half of the rated output range.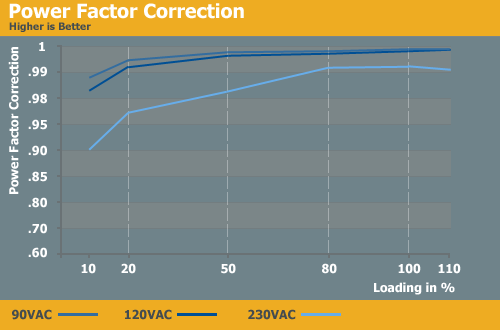 The power factor correction once again performs best with lower input voltages. People in Europe might need to accept much lower grades, though the results here are normal for an active PFC unit.
Fan Speed and Acoustic Noise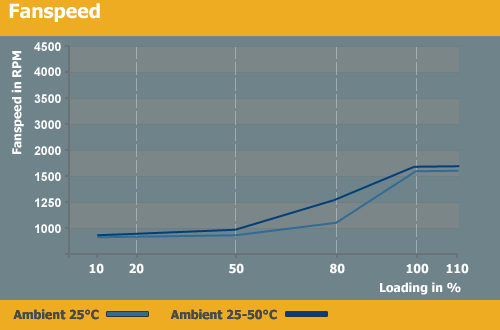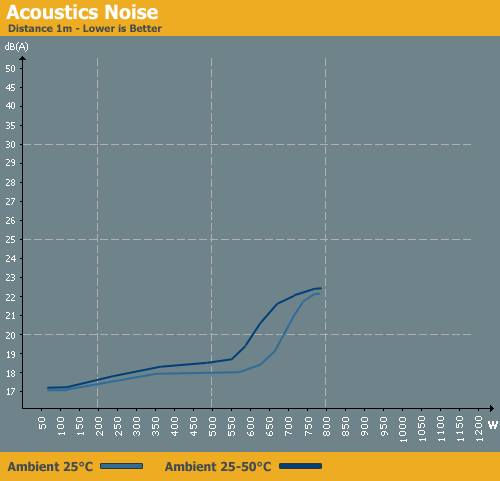 Now we finally come to the most important reason for testing this unit in the first place. Silverstone mentioned their results should be much better than the new Modu82+ and Pro82+ series from Enermax. After looking at the charts, we can definitely say Silverstone is telling the truth and not just blowing hot air. The fan spins at very low RPMs until the unit reaches 350W of load. It then increases its rotational speed but still maintains a low noise environment. It is only at around 1200RPM - a load of 550W - that the fan starts to produce more noise, which is clearly visible on the acoustic chart above.
The highest spin we measured is 1600RPM which produces acoustic noise of up to 23dB(A). This might sound like almost nothing, but as we have mentioned in past reviews the sound pressure levels do not necessarily show the perceived loudness by human ears. A fan can have low SPL but still sound loud to human ears. The fact is that the DA700 power supply will be audible while running with full load, but if you mount it in a PC case the noise will be much less noticeable. Given most users are not likely to draw more than 350W from their power supply - even with SLI or CrossFire - and many users probably won't hear this PSU over the noise of the rest of the system.
Conclusion
Silverstone wanted to prove that their power supplies are also silent and sent us the DA700 for testing. The power supply is based on the already tested Decathlon and Olympia series, which were good but not great when we tested them last year. A few things have changed inside the latest Silverstone offering, and that affects the performance. The overall quality was again superb as we are used to from the Decathlon series, but the overall look is pretty mundane. (Ed: Not that there's anything wrong with that; we don't all need flashy systems with lights and bright colors!)
The idea of a 100% modular cable system is great, but already we can hear voices of resistance. Of course the additional connection means we have added resistance, but this resistance is so low that there does not appear to be any real handicap to this approach. Giving users the option to change all of the cables for shorter ones, which are
already available
, is something that will appeal to a certain market segment. Short cables in an HTPC sounds like a great fit, but we also have to caution that the length of this power supply might be a problem for smaller cases, as it is 190mm long. We installed this power supply in a Silverstone TJ08 and it fit fine
(Ed: good thing!)
. If you have a case that will work with this PSU and you want short cables, it's a great match.
The performance is better than we expected compared to our former results from Silverstone units. The voltage regulation works exceptionally well, rarely dropping below the ideal output level on the various rails. The important 12V rail stays strong even when loaded with 50A. Silverstone also worked on the ripple and noise and we had best results in this field as well. 20mV on the 12V rail at max is a good achievement. Efficiency was also improved over previous models, where we formerly topped out at ~83% 230VAC, and now we see an additional 2%. Perhaps more useful than an 85% efficiency is the long range where the high efficiency is available. Maximum efficiency comes at the 350W mark, which reflects a loaded SLI gaming system these days, but loads of 150W to the maximum 700W stay above 80% with 120VAC or higher. Efficiency with 90VAC was not as impressive, but the 90VAC market is quite a bit smaller than 120VAC/230VAC.
The DA700 truly shines is in the noise department. Maximum noise levels are still in the "quiet-but-not-silent" category, but with a relatively high-end system drawing 350W we can pretty much assure you that power supply noise won't be a problem. Reaching 350W of load will require a fair amount of powerful components in the first place, like dual graphics cards, and those should easily drown out the noise from the DA700.
As for prices, this unit is on sale in the US for about $180. For that price you could get an Antec TruePower Quattro 850W - more power but also more potential for noise. In Europe the price will be around 140EUR which is also higher than the competition. Silverstone might want to reconsider the pricing of the DA700 if they want to sell these power supplies in larger quantities. However, when it comes to silence this unit is truly one of the best offerings available right now.