Original Link: http://www.anandtech.com/show/2496


For a bright-eyed teenager in 1976 that had high hopes of becoming a journalist one day, the satirical film Network was a revelation suggesting maybe choosing another profession would be a wise move. (Ed: Look at where that got you.) After years of intense investigative coverage of Watergate and the resulting rise in credibility of the journalistic profession, it seemed the right - maybe even honorable - field of study during the college years... until that fateful New Year's Day in 1976.
In 1976, the country was celebrating its bicentennial, trying to put Watergate and the Vietnam War out of our minds, and looking forward to an election that would chart a new direction in American politics. (These subjects sound familiar 32 years later.) Top films of that year really did represent what we were going through, and to some degree what we would become in the near future.
Rocky found us in love with the underdog who never gave up. All the President's Men gave us a short synopsis of the Watergate scandal from the perspective of the journalistic team (Bernstein/Woodward) that broke the story and proved that journalists were sexy, provided you resembled a young Robert Redford. The Bad News Bears allowed us to take a humorous look at sports obsessed parents realizing that winning at any cost had taken the joy out of playing the game for many kids (kids who would become today's Soccer Moms and Dads).
I enjoyed many other movies that year with my friends, which more or less fit in with our very sarcastic yet humorous personalities. Some were dark like Taxi Driver, Marathon Man, The Omen, Obsession, and Carrie, while others were on the lighter side such as Silent Movie, The Pink Panther Strikes Again, Silver Streak, and Mother, Jugs & Speed. Of course, we also had the breakout science fiction films, Logan's Run and Futureworld. (Told you we were sarcastic.) All told, it was a decent year for film, and some thirty years later we still have Rocky, Pink Panther, and King Kong remakes.
However, there was one film that year that left a lasting impression on us; that film was the aforementioned and critically acclaimed Network. What All the President's Men did to glorify the journalistic profession; Network succeeded in displaying the dark and seedy side of media. In retrospect, it also provided a fairly accurate glimpse of where TV/Print media was headed along with society. Sensationalism - some would say yellow journalism - sells and is what a large cross-section of society enjoys, whether they openly admit it or not.
In Network, Peter Finch played the aging news anchor, Howard Beale, who at one point in the film makes an impassioned speech that resulted in an extremely popular catch phrase of the time. He persuaded his watching audience to step outside and shout, "I'm mad as hell, and I'm not going to take this anymore!" This phrase struck a chord with mainstream America during that year and with us now.

It has been a couple of rough weeks for the motherboard team. Our best laid plans have been thwarted for a variety of reasons, most of which have us shouting the above phrase, and we are sure some of you feel the same way. Since the news and review sections are fairly quiet over the weekend, we thought it would be a good time to discuss those items that put a burr under our saddle - to address issues that our readership is having with the technology and companies that we cover on a periodic basis. Believe it or not, we rarely get to rant (and for very good reasons as you will see), but sometimes it's necessary to say what one thinks. So here is Rant Session #1 for your weekend enjoyment.
AMD 780G Motherboards
It has been an agonizingly slow process dissecting seven boards and trying to devise a set of benchmarks that satisfy the home theater, casual gaming, and home office crowds all at once. We think our roundup will come close but there are sure to be a few bumps in the road. We await your comments on the upcoming video analysis and roundup articles over the coming days.
However, we almost did not finish our testing (we actually still have some Phenom benchmarks to complete) as we lost four of our seven boards during final benchmark sessions this past week. It very easily could have been seven out of seven, but we stopped the killing spree after verifying why our boards seemed content to go to digital heaven without Kevorkian assistance. We could stop here and say wait for the article, but that would be sensationalist journalism, right?
Our normal course of testing has us installing a wide variety of processors in each board, regardless of the target market. We do this to ensure compatibility, and at times (like now) we wish this was not the case. This week, we tested the 780G boards with the LE1600, 4400+ X2, 4850e X2, 6400+ X2, Phenom 9600BE, Phenom 9900, and now the 9850BE.
We discovered quickly that running the 9900/9850BE or 6400+ X2 on these products resulted in the loss of the board, in a matter of a few seconds to a few minutes. Granted, it will probably be rare that a user will purchase a 9850BE to run on this platform, but in case you were considering that course of action, we highly suggest you do not. Let's get this out of the way quickly; it is not a 780G chipset problem. In fact, it is not strictly a board problem either, but rather a design issue.
This design issue can just as easily occur on NVIDIA or Intel chipset boards, so while we are talking about the 780G product line, just be aware that it can happen on any board with any chipset. In fact, our last GeForce 8200 has already experienced a painful demise. The design issue comes down to the manufacturer trying to balance performance requirements and costs when providing a product in this market sector. The budget sector is very price sensitive, and for the most part users will typically use a lower-end processor.
The vast majority of the 780G boards have a three-phase or four-phase PWM circuitry design. These designs are completely acceptable for the 45W, 65W, 89W, and 95W TDP rated processors; however, drop in a 125W TDP processor such as the Phenom 9850e or 6400+ X2 and you are asking for trouble. Trouble is exactly we found, as each board we tested eventually succumbed to the greater power requirements of these 125W TDP processors.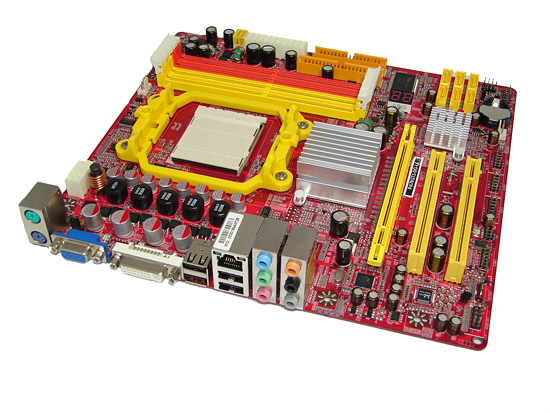 The four-phase motherboards held out longer and seemed to run fine at stock speeds for a short period. Trying to overclock these boards even slightly resulted in almost immediate board failure. The three-phase boards did not fare as well since we blew MOSFETS on power-up, or they failed after a short OCCT load. We have returned the failed boards for analysis. However, we are comfortable with our statements after spending the past two days on the phone with the board manufacturers and AMD.
Now for the kicker. Although we were testing with a Phenom processor, that does not mean the manufacturer had qualified the board with this particular CPU. So while those front page ads and marketing information list all the processor families that will theoretically run on a board, users need to read the fine print or search for the suppliers' QVL/CPU support lists to ensure the desired processor has been qualified. We also plan to provide this information in the review process.

We searched each vendor's website to find out if we were "running" the board out of spec with the 9850BE/9900 processors. What we found was very interesting, and we are having spirited discussions with the motherboard companies and AMD at this time.
Pop goes the MOSFET
Our top performance board in the roundup - thanks to its SidePort memory and optimum layout - is the JW-RS780UVD-AM2+ from J&W. They have a note at the bottom of the product page stating this board does not support 125W TDP processors, and again in the specifications section. We consider this acceptable and for the record, their board failed on power-up with the 9850E. J&W informed us that they will be producing a new five-phase PWM board in an ATX form factor for the performance oriented crowd in May. In the meantime, they have shipped us a new board to complete testing. For a "new" player in the market, we have to admit their customer service and support has been impressive.
The next board up is our all-around feature favorite product from Gigabyte, featuring a four-phase PWM design. The GA-MA78GM-S2H product page does not mention support issues with the 125W TDP processors. It actually states that the board supports the Phenom FX/Phenom processors, leading one to believe all is well. The specification page does not mention any support problems with the 125W TDP Phenoms. It is not until you get to the CPU Support List page that you find out the 9850E has not been qualified on this board, and the same goes for the other quad-core B3 stepping processors. This leaves the user in a quandary as to actual support for the new Phenoms, and hopefully Gigabyte will update the product pages quickly. The board actually runs the B3 stepping fine with the F3E BIOS or higher. However, this board failed after a short overclocking session with the 9900/9850BE processors. It lasted the longest of the boards we tested with either processor and will still power on, but it will no longer POST. Interestingly enough, Gigabyte has qualified the 125W TDP 6400/6000+ X2 processors on this board. We had a new board arrive today and will complete testing on it over the weekend before we subject it to any further overclocking tests with these processors.
We moved to the ASUS M3A78-EMH HDMI board that features a three-phase PWM design. The product page states that the board supports the latest AMD Phenom quad-core processors. Well, guess what: it lasted a mere two seconds with the latest and greatest Phenom processor and about 10 minutes with the 6400+ X2. The specification page is blank so we moved on to the QVL page and found it only contained qualified memory modules. We thought to ourselves, "What would Nancy Drew do?" Low and behold, we went to the download page for the board and off to the left was a box that featured links to CPU Support, Specifications, Product Comparisons, FAQ, and Forum. Sure enough, we clicked on the CPU Support link and found the information we were searching for earlier. Turns out that the Phenom 9100e, 9500, and 9600 are the only qualified Phenom models, and the 125W TDP 6400+ X2 is missing in action as well. This is a long way from the marketing slogan proclaiming support for the latest Phenom quad-core processors.
Next up is the ECS A780GM series of boards that feature ATX and uATX form factors with a three-phase power design. The product and specification pages list AMD Phenom support. Clicking on the CPU support link off to the left brings up one of the more detailed CPU support pages we discovered. However, the 9850BE and 6400+ X2 are both missing. You can guess the outcome by now; while our board is not completely dead, it is on life support and pretty much circling the drain. We were able to shut it down before a complete black out, but the board is no longer stable at any setting.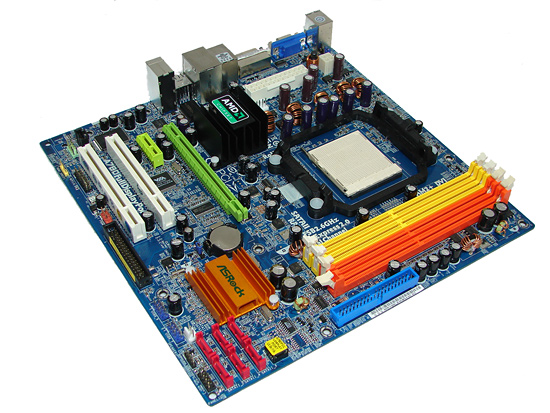 We stopped testing the 125W TDP processors at this point, although we could have continued with the boards from ASRock, Jetway, and Biostar. Based on their PWM designs, we are sure that each board had a high probability of failure with the 125W TDP processors. In each case, the product pages list support for the full Phenom or X2 processor series and it is not until you go to the CPU support pages that you realize 125W TDP processors are not supported.
AMD also has a very useful tool that provides information about Phenom compatibility across a wide range of motherboards that AMD has tested. None of our test subjects has been formally approved by AMD for use with the 125W TDP processors in the X2 or Phenom product families. We found this interesting as Gigabyte qualified the board for use with the 6400+ X2 but the Athlon X2 compatibility tool does not agree. So who is right? We will find out shortly.

What did we learn? Do not trust the product information and specification pages in the vast majority of cases. The CPU support pages tell the real story - some better than others, but in all cases the 125W TDP processors are not officially supported by current 780G motherboards (4/25/08 update - Finishing 100 hour test results with the 9850BE and three vendor qualified boards have passed to date with proper cooling of the PWM area). It just takes some effort to find that information (except for J&W) and this is something we do not think the user should have to do. In our opinion, the product pages lead the user down one path while the CPU support pages (which are sometimes difficult to find) tell another story. At this point, it pays to read the fine print or hope your favorite review site is able to provide this information.
Personally, I was very disappointed in the type of information available on the websites and in the product manuals. Sure, a manufacturer can hide behind the CPU support lists, but the information provided on the product description and specification pages would lead the majority of users to think using any Phenom or X2 processor is perfectly acceptable when it is not. One would think the manufacturers would be especially sensitive to this problem unless they just enjoy the RMA process and pissed off customers. This especially holds true when purchasing the board from an e-tailor or local shop. Unless the user does some research, the current information available in a product ad or on the box does not tell the rest of the story.
Our stand at this time with the manufacturers is they need to ensure the CPU support page is clearly identified, readily available on the product information page, and it needs to be updated on a regular basis. We also request the CPU support page be linked from the processor support information described in the overview section. If this is not possible then the processor information should be asterisked with a note to check the CPU support page or state what processors are not supported in the short term. Trying to address the channel and retail markets is another can of worms that we will look at later.
We are hoping the short-term fixes occur quickly over the next thirty days; if they do not, well, the product will not be eligible for an Editors' Choice award and you can be certain we will mention processor support in the review. In fact, if a processor is missing from the list we will assume it is not supported and will report it as such from this point forward.
Data Corruption - not Political Corruption - with NVIDIA's Latest Boards
Our performance board roundups ended up delayed for a variety of reasons, but we will be back on track next week. Every conceivable problem has hit us from shoddy BIOS releases to repeated problems getting Crysis to benchmark correctly under 64-bit Vista. We are still not sure about the latter problem, as one image works and another does not on identical hardware and software setups. We finally got to the point of being able to benchmark, but it is not a process we would wish upon our worst enemies.
However, none of that compares to the data corruption problems we are seeing intermittently on the 790i and 780i platforms. We honestly thought NVIDIA had solved these problems back in 2006 on the 680i platform. Since the MCP has not changed, it is disconcerting to us that this problem seems to be rearing its ugly head again. This time, the data corruption problems appear contained to memory overclocking, especially on the 790i boards. We are not talking massive overclocks here, but apparently hitting the right combination of FSB rates around 400 and memory speeds above DDR3-1600 seem to trigger our problems. Also, we have been able to reach higher DDR3 speeds with absolute stability on the 790i than on the X48 during extreme overclocking, so this problem is even more perplexing to us.
On the 780i boards, the magical combination is right above 400MHz FSB (1600 QDR) and memory unlinked anywhere from DDR2-900~1200. Our 780i problems have been minor for the most part, but the underlying problem is that after the systems recover from a BSOD, we typically have stability problems or gremlin behaviors until we reload the system. This same problem can occur on Intel or AMD chipset boards, but it is extremely rare in our experiences to date unless we absolutely pushed the memory beyond reasonable settings.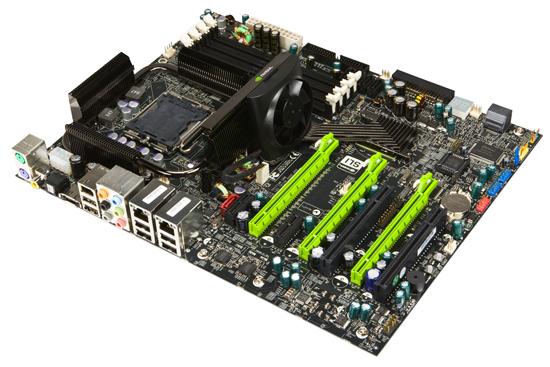 Back to the 790i boards; the data corruption problems have occurred more frequently as the boards (and their early BIOS revisions) seem more susceptible to faulty behavior when pushing the memory above DDR3-1600 with low latencies. We have not nailed downed exact settings at this point, as they tend to fluctuate between test sessions and boards. What we do know is that we are tired of constantly reloading our images after making minor changes to our settings.
It is possibly coincidence only, but over the past couple of months we have lost two WD Raptors, a couple of Samsung 500GB drives, and a WD 250GB drive while benchmarking the 790/780i boards. It may have just been time for these drives to meet their maker, as our particular samples have spent significant time running benchmarks almost 24/7 over the past year or so (it might not sound like a long time, but we totally abuse the drives to some degree when testing in this manner). We have certainly had hard drive failures when testing other chipsets, ranging from complete mechanical breakdowns to index tables being so corrupted that we could not fully recover the disk. It could just be bad luck on our part.
However, we think it goes deeper than that. After the first roundups this coming week, we plan to delve into it. The reason is that we have not had any data corruption problems testing our 650i/750i, GeForce 6100/6150, or GeForce 7050 boards, none of which utilize the MCP in the 680/780/790i boards. Of course, this could be tied to the fact that we do not push the boards as hard, but knowing about the previous 680i problems makes us think the current BIOS code or Vista drivers need to be revised again.

Other problems
We share test notes on an almost continual basis with each other when testing boards. We thought some of the test notes from our upcoming roundup would be interesting. In all fairness to NVIDIA, we are including our X48 thoughts as we wrap up testing.
790i test notes:
a) CPU multiplier likes to changes at will, causing an inability to POST after changing BIOS options. (Problem is likely linked to bad NVIDIA base code).
b) Poor memory read performance above 475FSB unless you enable "P1" and "P2" which NVIDIA refuses to document operation of or provide information about.
c) EVGA/XFX (NVIDIA reference design) lacks support for tRFC tuning - high density DDR3 configurations often refuse to work unless the module SPDs are tuned from the manufacturer. (This makes them needlessly slow in low-density configurations.)
d) The chipset does not do a very good job of balancing read vs. write priorities with respect to memory access - copy scores lower than X38/X48.
e) Regardless of what NVIDIA says, we think PCI-E 2.0 (and 1.x) implementation is still better on Intel's Express chipsets - give us SLI on Intel to prove it!!!
f) Possible problem with NVIDIA reference design: sustained overclocked operation at >~1.9V for VDIMM may cause critical failure of 790i (Ultra) SPP. This does not seem to affect ASUS S2E design and is the most critical issue facing the board; we need to verify before making recommendations.
g) Possible HDD corruption issues. (We lost the two 74GB WD Raptors so far…)
X48 test notes:
a) Chipset defaults to tRD values that are excessively loose and are not competitive with NVIDIA's new 790i. The problem is most MB manufacturers do not allow this to be specifically tuned in the BIOS.
b) DMI interface (x4 PCI-E link) is sloooow….X38/X48 should have been paired with ICH10(R), which will be PCI-E 2.0 compliant on the link interface.
c) Haven't found an Intel X48 board yet that will handle 8GB of DDR3 properly, even though this is a major bullet for chipset support - board or memory makers? (We need to test this on the Intel DX48BT2 that just arrived.)
d) Chipset runs HOT…might even be hotter than 790i. Intel should have shrunk this thing long ago!
That is it for now and we will have additional information in the first roundup. Now a take on Gigabyte.
Shiver me timbers! Walking the plank with Gigabyte…
The NVIDIA 680i board had a brilliant launch, followed by a flame out as problem after problem was discovered and then fixed, and afterwards it held a steady course as being a serious performance alternative to the Intel 975X, P965, and P35 chipsets. Of course, the real selling point is that the 680i was the only performance-oriented chipset (650i on the low-end) offering SLI capability for the Intel platform.
After the initial launch of reference board designs, manufacturers like Gigabyte, ASUS, DFI, and MSI started launching their own designs based on the 680i and 650i chipsets. While NVIDIA appeared supportive of these designs, privately reference and non-reference partners told us that competition was alive and well between NVIDIA and the "outsiders".
It was sort like bringing a knife to a gunfight; true, the "outsiders" had solid designs and great feature sets, but the boards just always seemed to be a step behind the reference designs when it came to performance or bug fixes. The major reason for this is the fact that NVIDIA controls the base microcode for the BIOS, not to mention the advantages they have when it comes to tuning and optimizing the chipset.
We remember distinct conversations with several of the partners talking about their code seemingly being a step or two behind the reference board. Right or wrong, this is the price you pay as a manufacturer when stepping outside of NVIDIA's reference board program. It continues to this day with the 790i boards, as optimized settings (the mysterious P1/P2 switches) for the reference board design are not available yet on the third party boards as one example. We are sure there will be more as time progresses but it is up to NVIDIA to run their business as they see fit.
That provides some background information to the public relations disaster surrounding the Gigabyte GA-N680SLI-DQ6. When launched, this product was one of the most feature rich boards ever released to the public and its performance was very good at the time. In fact, we thought Gigabyte had placed a little too much emphasis on the bling and not enough on ensuring everything worked well together. A few BIOS releases solved most of the outstanding items - except for those that were driver related, especially under Vista as NVIDIA took their sweet time getting decent drivers.
All was well for the most part until Intel launched the 1333MHz FSB quad-core processors. This is the point in the story where things went south in a hurry, not only for Gigabyte but also for other board manufacturers. It turns out that the QX6850 not only required significant BIOS code changes, but also capacitor, chokes, and electrical layout changes as most boards could not handle the new processor requirements.
This board had a very robust design and the 1333MHz FSB Core 2 dual-core CPUs worked fine. In fact, Gigabyte honestly thought they could get the QX6850 working correctly with a BIOS update since the QX6700 could operate at 1333 when overclocked with a revised BIOS. We were able to get the board to POST and enter the OS, but it was never stable with the QX6850 at stock settings. The QX6700 worked fine but it was nearly impossible to overclock past 335FSB with any success, so it was on the bleeding edge already with a mild overclock from 266 to 333. We had our doubts, but after speaking with the engineers we passed along the same information in our forum updates.
Gigabyte continued working on the BIOS, but each beta that was released really did not improve the situation and it got to the point where the CPU Support List was finally updated to remove the QX6850. We are still putting the timeline and discussions together for a follow up, but at this point it is evident that departments within Gigabyte were fractured on exactly what was going on and what was being told to the owners of this board from technical support, customer support, websites, and public relations.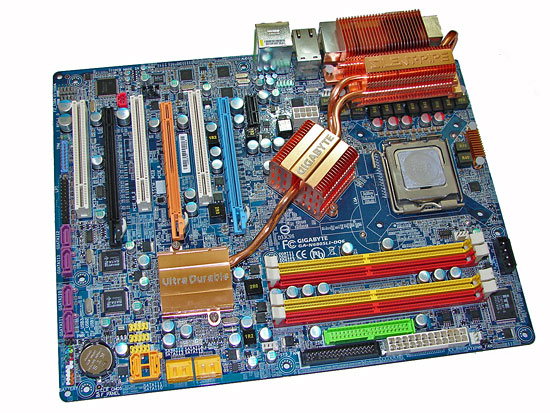 Remember our complaints about the CPU support list and the marketing information provided on the product description pages with the 780G boards? Well, here we are again with the same problem, only it occurred as early as June of 2007. The original website information discussed support and capability for 1333MHz processors, while quietly the CPU support list page told another story. The product packaging clearly states 1333MHz support while advising the customer to check the website for proper memory support, not CPU support. This is one of many mishaps that happened in the summer to fall time frame last year.
Gigabyte made a decision not to revise the board to ensure 1333MHz quad-core support, as NVIDIA had done the same thing with the reference boards. This turned out to be a critical mistake in our opinion, and we privately let Gigabyte know about it. Gigabyte personnel had told us the 780i was right around the corner and they were concentrating on getting that board out quickly to address not only the current CPU support problems but also the upcoming Penryn based CPUs that required yet another series of changes to the capacitors, chokes, and electrical layout on the revised 680i/650i boards. (Trying to figure out what happened between NVIDIA and Intel is difficult.) It sounded reasonable and we inquired about a trade up program or something similar for owners of the board. Our ideas were taken under advisement and I really believed at this point that Gigabyte would figure out a way to support owners who wanted to move up to the latest and greatest processors.
During the fall, we found out that Gigabyte might or might not produce a 780i board. By this time, NVIDIA had already delayed the launch several times and we had just received word that the 780i was little more than a 680i plus the NV200 bridge chip for PCI-E 2.0 operation. This did not bode well in our opinion, and we asked Gigabyte for a solution. The decision about the 780i was still up in the air but Gigabyte was also discussing the 790i as a possible replacement.
After the holidays, we pressed Gigabyte at CES to do something immediately about this situation. It was obvious from our forum members that their patience was wearing thin (we're being nice here). Whether it was a trade-up program, rebates, or replacement with an Intel board did not matter, but something had to be done. The personnel I spoke with at Gigabyte were cognizant of this request. Believe me; they were just as concerned and worried about it as we were, as you are.
We sailed through February without any responses, and honestly I took my hands off the wheel for a couple weeks when dealing with Gigabyte on this subject. I want to thank the forum members who contacted me about reviving this subject in March. This controversy had turned into a firestorm by mid-March and we approached Gigabyte again about ideas on how to provide a fair resolution for owners of this board.
This time we were excited to hear that Gigabyte was developing a program and it would be available in early April. We heard several different ideas and most seemed perfectly acceptable to us. Sadly, once again, it appears the left hand does not know what the right hand is doing at Gigabyte. We have viewed several posts in our forums about a response from Gigabyte stating that a replacement program is in place for people who own the 680i board and a QX6850 only. We do not have confirmation if this is an actual replacement program or not; we certainly hope not as it is not right or fair in our opinion.
Our problem at this point is that Gigabyte Taiwan and China have been on holiday the last few days and we have not been able to confirm the details of this program or others. It will be Monday before we have an update. In the meantime, we have to wait - a wait that has been going on way too long. Quite frankly, we are surprised with the situation as it stands. Gigabyte has been one of the bright spots in this industry for the past couple of years. They have improved their quality and breadth of products tremendously while focusing on customer support and service. How or why this situation with the 680i has occurred is beyond us. Hopefully it is a one time incident and Gigabyte will make good on their promises to support the loyal customers of this board. It would be a shame if this did not happen as products like their 780G board are class leading in just about every way.
Wrapping it up
These are just a few of the hot topics around the lab. We will go into more details in our next article. One of the biggest items is how well the P35 chipset handles the Penryn based processors. Are the problems facing users right now chipset related or something in the BIOS? We will have some answers for you along with our take on the state of the audio market. In addition, we will look at what we despise about the new releases of PowerDVD 8 and WinDVD 9 - maybe it's not their fault, but whose is it?
In the meantime, we would like to pass along a nugget of information that might assist our readers in getting the ASUS Xonar or Auzentech X-FI Prelude 7.1 working correctly on your new 780/790i board. If you are receiving the dreaded Code 12 or Code 31 message pertaining to the device not finding enough free resources or does not work properly, please visit this page for instructions on getting these cards or others to work.