Original Link: http://www.anandtech.com/show/2490


Introduction
It's a given fact that computers have been getting smaller since the days of vacuum tubes and ENIAC. What was once a glorified calculator that took up a space the size of a football field can now fit in something the size of your watch. Tasks that used to take months to compute on a mainframe can now be calculated in minutes on a midrange desktop system. Even in a relatively short period of time, we still see progression so that your top-end desktop gaming powerhouse from two or three years ago can be surpassed by a modern laptop.
That's all well and good, but a big problem a lot of people have with gaming notebooks is that their size relative to typical laptops is rather large, making them less convenient to carry around. Relatively short battery life is another drawback. But perhaps the biggest drawback is a very simple one: price.
We recently looked at the Dell XPS M1730, which is arguably the fastest gaming notebook currently available. With its 8800M GTX SLI graphics chips and overclockable Penryn X9000 CPU, you get performance that surpasses most desktops from 18 months ago, or if you prefer performance that will match a reasonably configured midrange desktop system. If you put together a Core 2 Duo E8400 system with something between GeForce 9600 GT 512 SLI and 8800 GT 512 SLI graphics, you should have roughly comparable performance. The problem is that such a desktop system can be assembled for less than $1500, whereas the powerful XPS M1730 costs about three times as much.
What would be really nice is if we had a viable midrange gaming laptop alternative — something that offers reasonable performance for under $1500. We're not talking about any of the junk shipping with integrated graphics, or low-end stuff like GeForce 8400 or even 8700M GT. And while they're reasonably fast, even single GPU 8800M GTX notebooks like the AVADirect (Clevo) M570RU start at over $2000. How about a laptop with graphics performance that can at least match the GeForce 9600 GT? After all, the 9600 GT can be had for a mere $150 and it doesn't seem to consume that much power; how hard can it be to put something like that into a laptop?
In fact, it's not really all that difficult, and NVIDIA launched exactly that sort of chip in late 2007 with the GeForce 8800M GTS. It has 64 Stream Processors, just like the 9600 GT. Most of the gaming laptops have opted for the more powerful (and more expensive) 8800M GTX with its 96 SPs, so we were quite interested to see exactly how much performance you give up by going with the 8800M GTS. Unfortunately, we can't really do an apples-to-apples comparison here, because Gateway didn't stop at cutting down the GPU. In the system we received, they also trimmed the CPU performance quite a bit, dropping all the way to a 1.66GHz Core 2 Duo T5450. That certainly means CPU performance isn't going to match up well against something like a 2.8GHz X9000; what we want to find out is whether it can still provide adequate performance.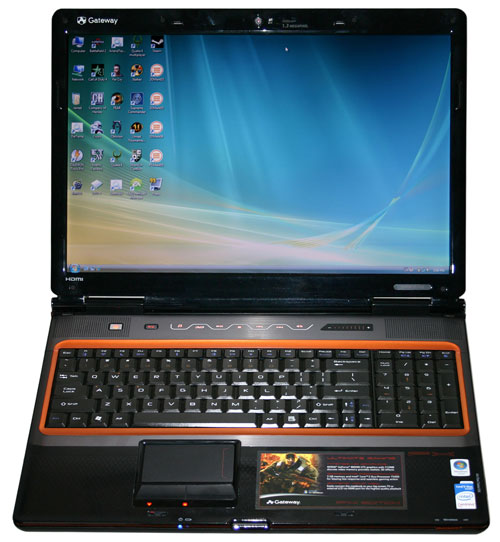 If you've ever looked at buying a gaming notebook, you have likely been very disappointed in the offerings that cost less than $2000. In fact, up until Gateway dropped the P-6831 FX on the mobile gaming market, we honestly haven't seen anything that would even qualify as a good midrange gaming notebook. Gateway didn't just break a $2000 price barrier, however. Available at locations like Best Buy for a mere $1350 (and currently with a $100 rebate), the P-6831 FX completely redefines the midrange gaming notebook. Let's look at how they managed to do this.
Gateway P-6831 FX Overview
Okay, so Gateway cut down the graphics card a bit and they went with one of the cheapest Core 2 Duo processors available. What else did they trim in order to that price point? As amazing as it may seem, there really weren't any other serious compromises:
Gateway P-6831 FX Specifications
Processor
Core 2 Duo T5450 (1.67GHz 2MB 667FSB)
Note: New versions are shipping with the T5550 (1.83GHz 2MB 667FSB)
Chipset
Intel GM965 + ICH8-M
Memory
1x1024MB + 1x2048MB DDR2-667
Graphics
NVIDIA GeForce 8800M GTS 512MB
Display
17" WXGA+ (1440x900) UltraBright
Hard Drive
250GB 5400RPM 8MB Cache
Optical Drive
8X SuperMulti DVD+/-RW
Networking
Integrated Gigabit Ethernet
Intel 4965AGN WiFi
Bluetooth v2.0
Audio
Intel 2-Channel HD Audio
Battery
9-Cell 86WHr
Front Side
Front LCD Latch
WiFi On/Off switch
Left Side
2 x USB 2.0
Optical Drive (DVDRW)
Kensington Lock
GPU Cooling Exhaust
Right Side
VGA
HDMI
eSATA
Gigabit Ethernet
1 x USB 2.0
Mini FireWire
Headphone/Mic Jacks
ExpressCard/54
5-in-1 Flash Reader (MS, MS Pro, MMC, SD, xD)
Back Side
Power Connector
56K Modem
CPU Cooling Exhaust
Operating System
Windows Vista Home Premium 32-bit
Dimensions
15.75" x 11.75" x 1.3"-1.70" (WxDxH)
Weight
9.2 lbs (single HDD)
Extras
Fingerprint scanner
1.3MP webcam
1 x 2.5" HDD bay available
Warranty
1-year standard
You get everything that you would expect to find in a reasonably high-end notebook. First, Gateway equips the notebook with a whopping 3GB of memory. Why use 3GB rather than 2GB or 4GB? Since the system is running Windows Vista 32-bit, going beyond 3GB won't really help. We would have been content with 2GB, but we see no reason to complain about the extra 1GB. Should you choose, you can of course remove the 1GB SO-DIMM and try upgrading the laptop to 4GB of memory — and a 64-bit OS if you're willing to install it on your own. The specs say the laptop only supports up to 3GB of RAM, but we can't think of any reason why that should be the case.

For communications, you get Gigabit and 802.11N networking, plus Bluetooth support; heck, you even get a modem. On the storage side, you get a DVD burner plus 250GB of hard drive storage. There's even a second empty hard drive slot (populated on higher-end FX notebooks). USB ports, HDMI and VGA video connections, a flash memory reader, and ExpressCard/54 slot are all par for the course. All of this is put into a 17" chassis.
There are a few other compromises made, of course. First, the hard drive is a slower 5400RPM model, but considering the capacity even that isn't much of a compromise. The only larger 2.5" notebook drive currently available is a 320GB model, which also runs at 5400RPM but costs quite a bit more. Still, a 200GB 7200RPM Drive would be slightly faster. The only remaining compromise we can see is their use of a 1440x900 LCD panel. The higher-end FX notebooks include 1920x1200 LCDs, but their prices start at $2000.
Perhaps one of the biggest drawbacks to Gateway notebooks is that there are no customization options in terms of components. On the Gateway website, there are currently five versions of the Gateway FX P-series available, and each one comes with a specific memory, storage, graphics, and CPU configuration. Perhaps you don't need high performance graphics but would like a faster processor? Too bad — that's not an option unless you want to do the upgrade on your own. More shocking is that the P-6831 isn't even for sale directly from Gateway — it's only available at retail outlets. So in total, there are six notebook configurations that use the same chassis, but unlike Dell and other competing OEMs, you can't custom build a laptop to your specifications. If that's the price we have to pay, we're okay with making the sacrifice. The P-6831 is undoubtedly the most interesting of the six models anyway... though we really would have liked the option to get a 1920x1200 LCD for a few hundred dollars more.
Note: Several readers have written and mentioned that Gateway is now shipping some P-6831 laptops with T5550 CPUs. Over time, we expect this transition to extend to all new laptops, so performance will be up to 10% faster than the system we tested. The T5450 works well for gaming already, so a faster CPU for free is merely icing on the cake.
Exterior Overview
The Gateway FX chassis is pretty similar to what you see in most other 17" notebooks, with a few noteworthy exceptions. Besides the exterior styling, the most interesting difference is that the entire unit is "flatter" and perhaps slimmer than most of the other 17" notebooks we've looked at recently. Understandably, notebooks like the Dell XPS M1730 are quite large — they need to be in order to provide adequate cooling for the dual GPUs. The Clevo M570RU chassis is smaller than the Dell, but it has a sloped design so that the back is quite a bit thicker than the front (22mm vs. 44mm). In contrast, the Gateway FX chassis is much flatter: 33 mm thick at the front and 43 mm thick at the back. It also doesn't have any thick "feet" to raise the bottom of the laptop above a flat surface. We generally like the flatter feel of the Gateway chassis, though other opinions may vary.
There's an unfortunate drawback to the design, however. The battery protrudes quite a bit from the back of the notebook, as you can see in the images below. This can make it more than a little difficult to fit in standard 17" notebook carrying cases. What we weren't able to confirm is whether our battery is the standard size, but judging from the other pictures we've seen there's only one battery available. Despite what the website says (Gateway lists a 2600 mAh battery), the actual battery is a 7800 mAh (86.5 Whr) 9-cell design.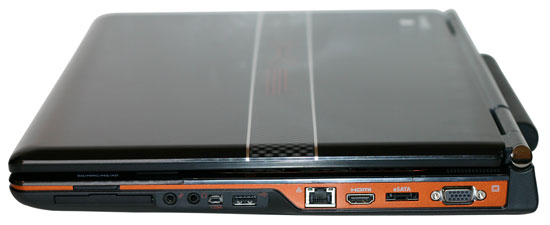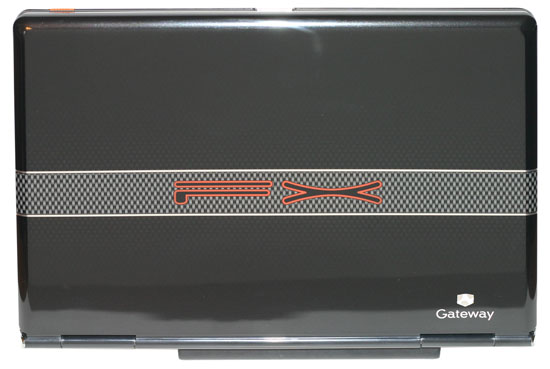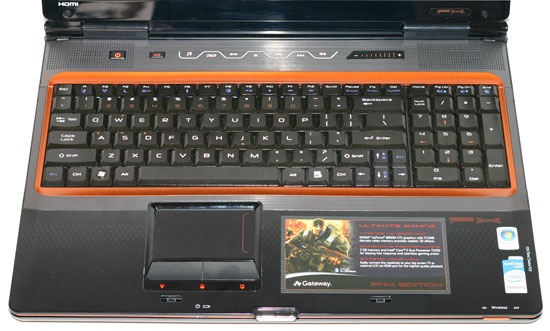 We also want to take a moment to comment on the keyboard layout. Gateway got this aspect almost exactly right. You get a full-size number keypad, and all the keys are where you would expect them to be, including large enter and zero keys. The Home/End/PgUp/PgDn keys are above the number keypad, which is not necessarily ideal, but we had no problems adapting to this location after a few hours. (If you try to use multiple notebooks, it can get confusing at times remembering where some of the keys are.) Some people might argue about the placement of the Fn key in the lower left corner. I personally prefer to have my Ctrl key in that location, so I would dock points from the keyboard layout; Anand on the other hand gets upset if the Fn key is not in the bottom left corner. You also get a second Fn key located near the cursor keys, which is unusual but not necessarily bad.
The keyboard on the Dell XPS M1730 is still the gold standard by which I judge all other keyboards. It does everything right, and the LED backlighting option is an added bonus. If the XPS M1730 keyboard earns an A+ grade, the Gateway FX is not far behind, garnering an A or an A- depending on how you feel about the Ctrl/Fn key positioning.
No Disassemble!
For those of you who like seeing the innards of the various notebooks we review, the following might disappoint you slightly. You see, we didn't really feel it was necessary to completely disassemble the Gateway FX chassis. The reasoning behind this should be quite obvious, however: there are two access panels on the bottom of the laptop, which provide you the ability to upgrade all the critical components — including the CPU!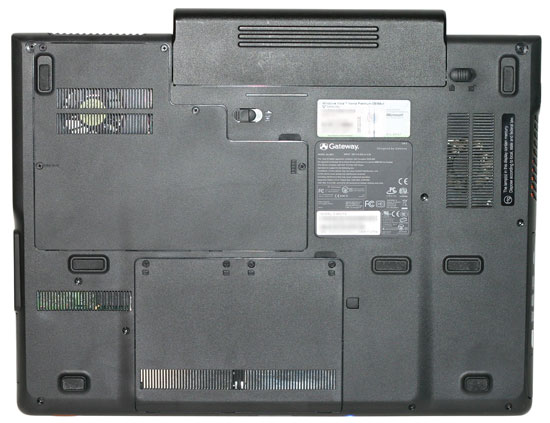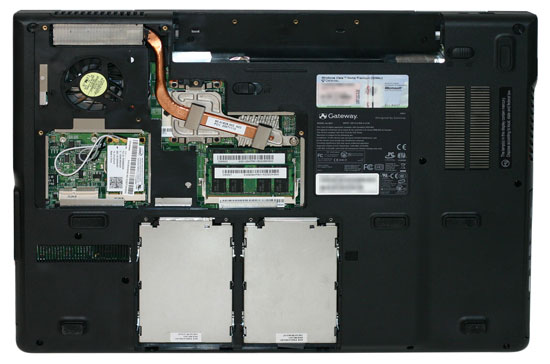 Normally, you need to go to great lengths to access a notebook CPU socket. Generally speaking, you will need to remove 15 to 20 screws from the top and bottom of the notebook, take off the keyboard, and sometimes even remove the LCD panel. Only then can you gain access to the CPU socket. On the Gateway FX, five small screws are all that stand between you and a new CPU (not counting the six or so additional screws on the heatsink/heatpipe). It's almost as though Gateway is expecting some users will want to upgrade the CPU, so they made it easier, or maybe they're just being nice to the assembly workers. Also under the main panel are the SO-DIMM sockets and a couple of mini-PCI slots (one of which is occupied by the wireless networking card).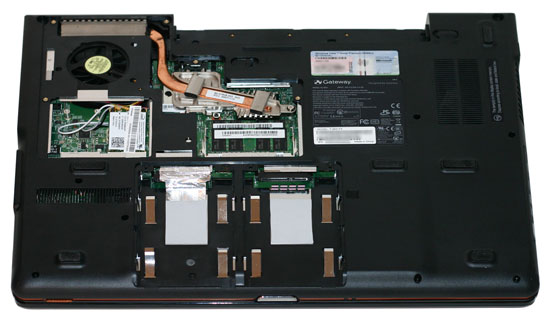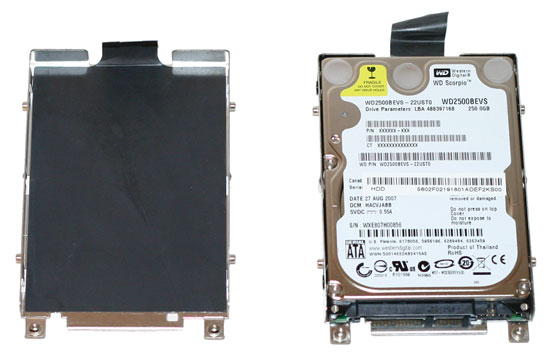 The second access panel hides the two hard drive bays. On the lower-end models, only one of the hard drive bays is occupied, but end-users could easily add a second hard drive should they so desire. The hard drives are installed in metal trays that slide into the chassis.
Benchmark Setup
As usual, we ran our standard battery of gaming notebook benchmarks on the P-6831 FX. This includes testing no fewer than 17 games, three battery life rundown tests, and a few other miscellaneous applications and benchmarking suites just for good measure. Normally, we only test at the laptop's native resolution and any other reasonable lower resolutions. In this case, however, we really wanted to see how the GeForce 8800M GTS manages higher resolutions, particularly when compared to the 8800M GTX. Since some of the more expensive models of the Gateway FX notebooks include a higher resolution display, we attached an external monitor in order to also test at 1680x1050 and 1920x1200.
Gateway P-6831 FX Test System
Processor
Core 2 Duo T5450 (1.67GHz 2MB 667FSB)
Memory
1x1024MB + 1x2048MB Samsung DDR2-667 5-5-5-15
Graphics
NVIDIA GeForce 8800M GTS 512MB
NVIDIA drivers: 167.46
Display
17" WXGA+ (1440x900) UltraBright
Samsung LTN170X2-L02
Hard Drive
250GB 5400RPM Western Digital
(Scorpio WD2500BEVS-22UST0)
Optical Drive
Optiarc AD-7563A SuperMulti DVD+/-RW
Battery
9-Cell 86WHr
Operating System
Windows Vista Home Premium 32-bit
Again, note that newer versions of the P-6831 FX laptop now appear to include T5550 processors, which could improve performance by up to 10%. However, we are not aware of any way to determine whether a laptop includes the faster CPU; at least one reader has written to inform us that they received the faster CPU but the sticker and the packaging both reference the T5450. If you want to make sure you get the upgraded CPU, you may want to power up the laptop before you purchase it.
1440x900 Gaming Performance
For most users, the native resolution of 1440x900 on this midrange notebook is going to be the critical factor. Given that this is a somewhat low resolution, especially on some of the older titles we are going to run into situations where we are CPU limited. Even with a relatively slow T5450, however, the P-6831 frequently manages to outperform older offerings like the Dell XPS M1710. Many of the titles are still GPU limited even at 1440x900.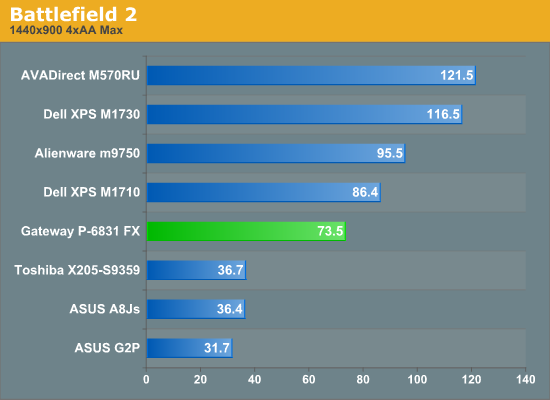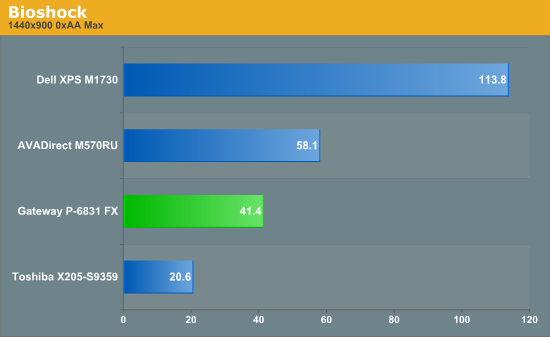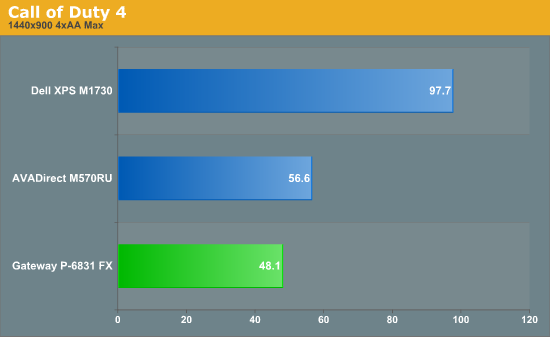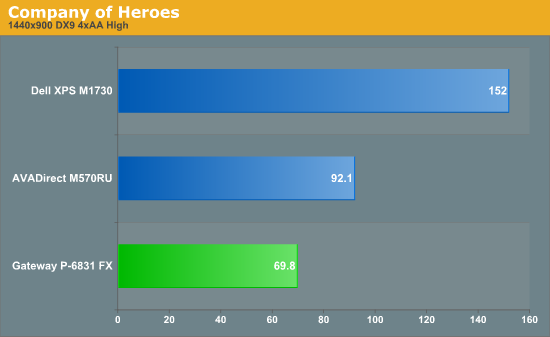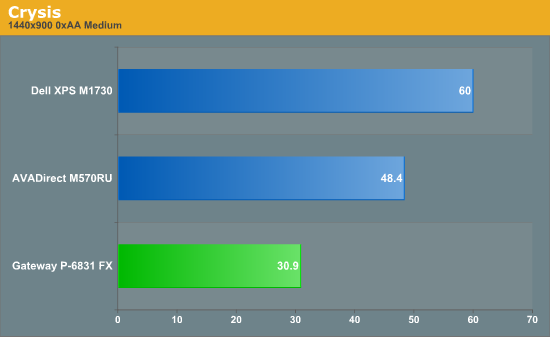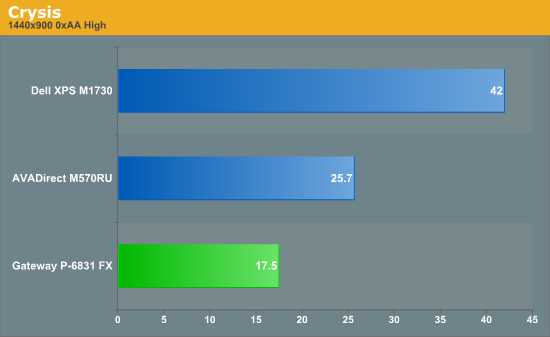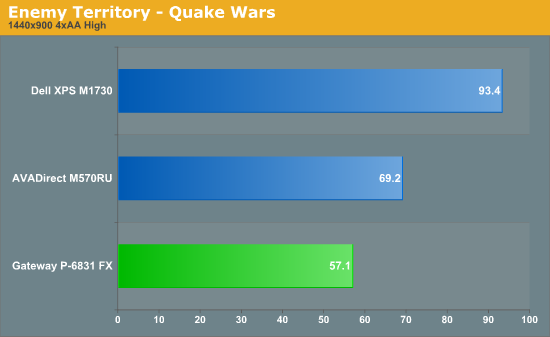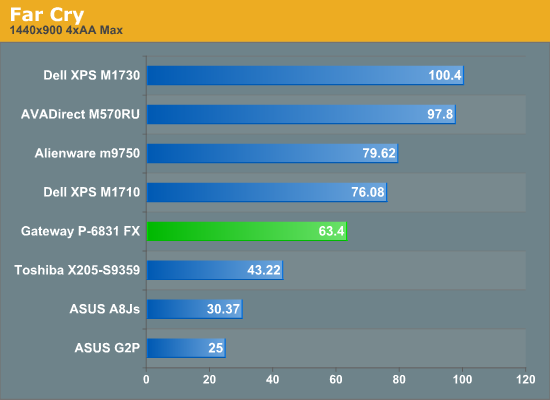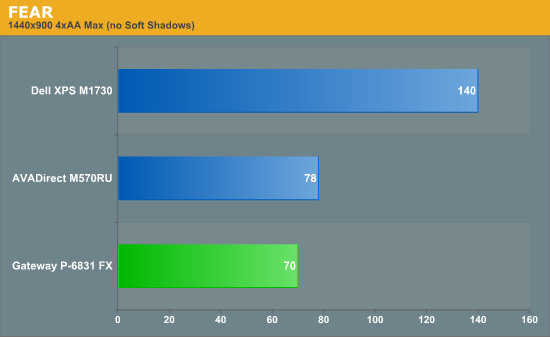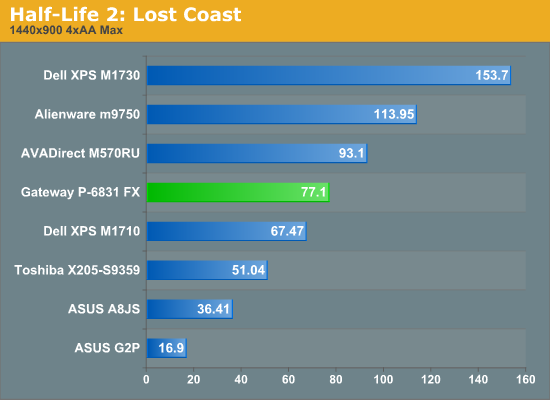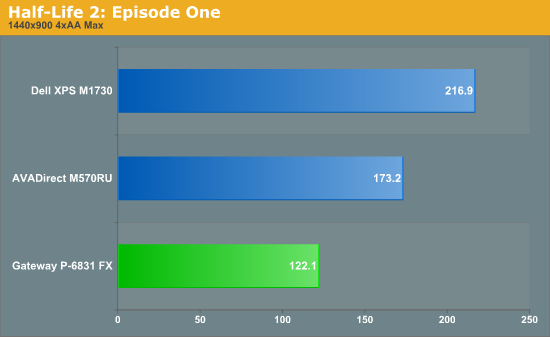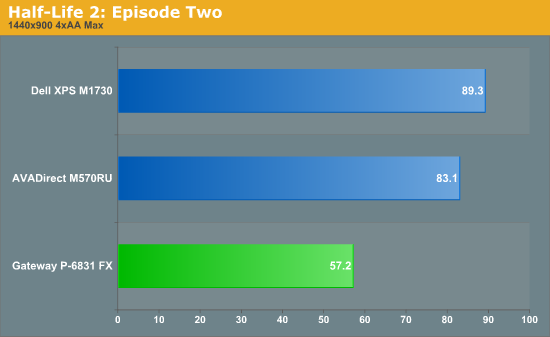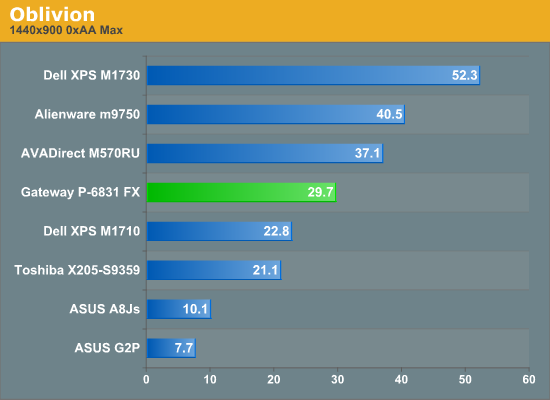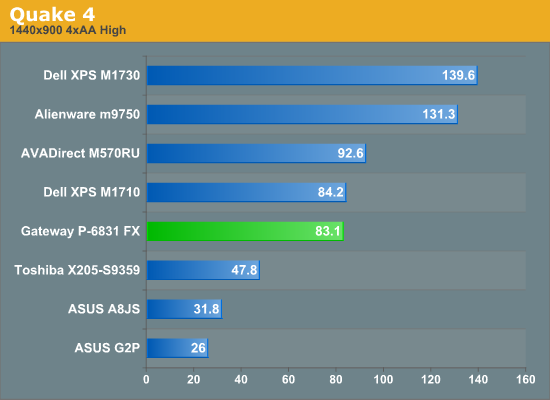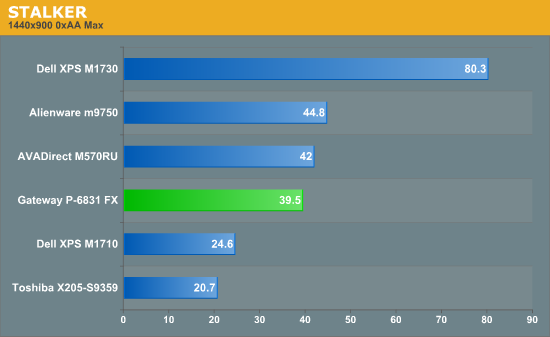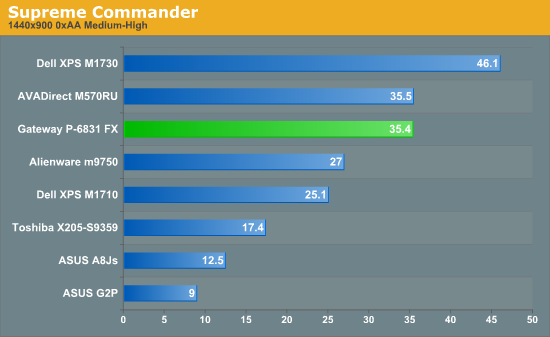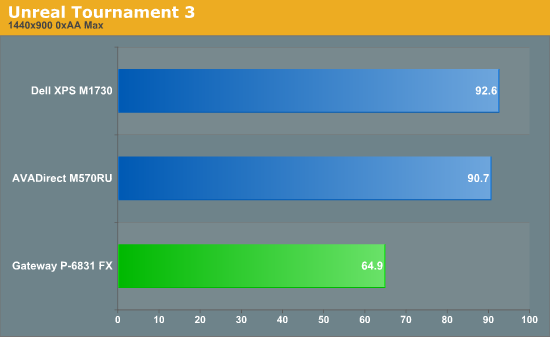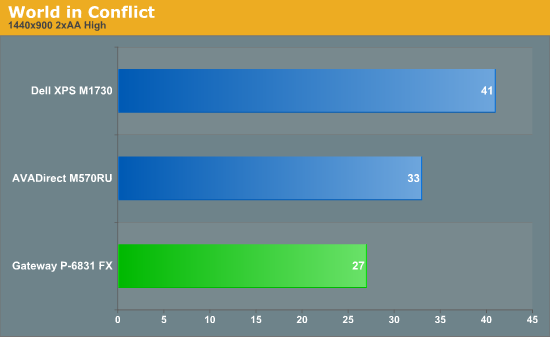 We've been tempted to drop some of the older titles from our testing, but we figure some users might still be playing certain titles (i.e. Battlefield 2) and it's nice to provide at least some idea of how modern notebooks compare to last generation notebooks. Since we obviously didn't benchmark some of the most recent games on older hardware, we continue to provide results from older titles. Note also that some of the older hardware is not capable of running DirectX 10 graphics, which can of course make a difference on the latest games.
Looking at the results, we can't help but be impressed with the value that the Gateway P-6831 offers. It's never going to beat the XPS M1730 in a head-to-head match, but that's not the point. The point is that you can get extremely good performance at the native LCD resolution for what amounts to a very reasonable price. Typical entry-level notebooks already cost around $1000; that you can pay a couple hundred dollars more and actually end up with very good gaming performance makes this the first truly viable midrange gaming notebook.
If you doubt that last statement, look at the results from previous "midrange" notebooks in the above charts. The ASUS A8Js and G2P both launched at prices close to $2000, and though they became more affordable over time, they were never great gaming notebooks even when they were brand-new. The Toshiba X205 isn't much better; that should make it very clear why we say there is very little reason to consider purchasing a GeForce 8700M GT notebook these days. Even with a slower CPU, the P-6831 is frequently up to twice as fast as the X205... a laptop that still sports a higher price tag!
Gaming Performance — Resolution Scaling
Considering the rather low-end CPU, you might expect that there are many situations where the GPU is held back. With the initial native resolution benchmarks out of the way, let's look at performance scaling at higher resolutions. Since we become more GPU limited, the Gateway P-6831 FX actually closes the gap with some of its more expensive competitors.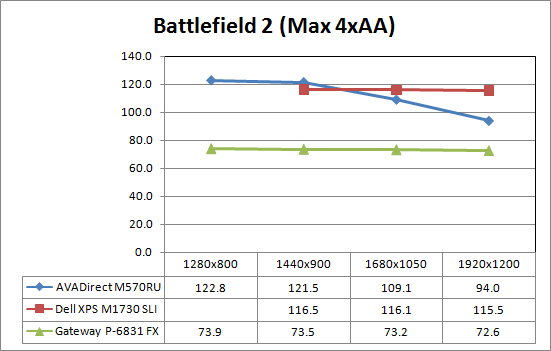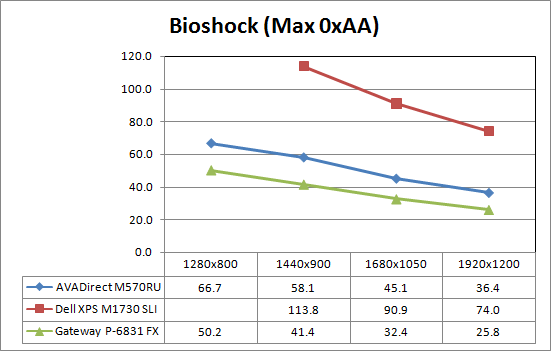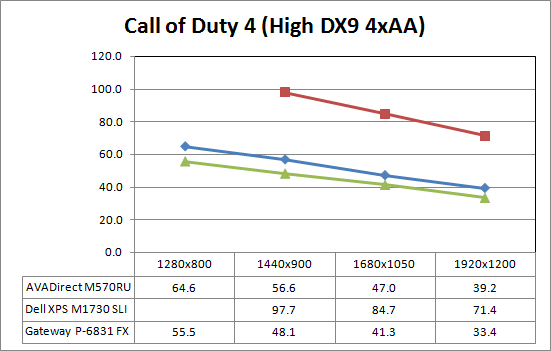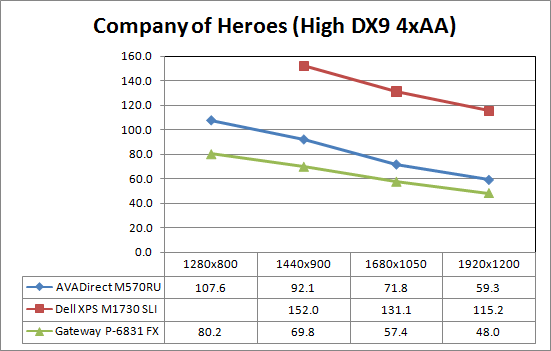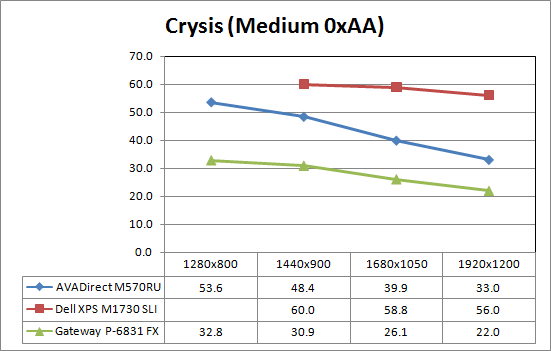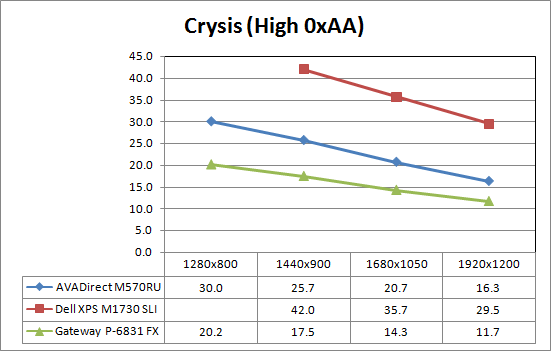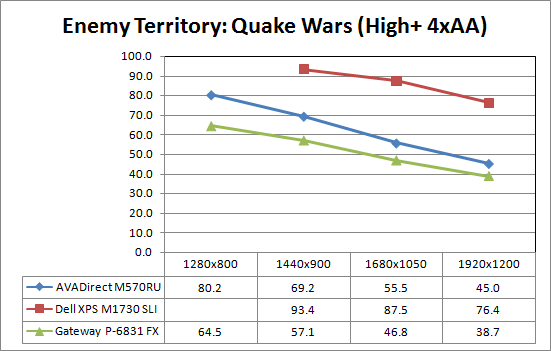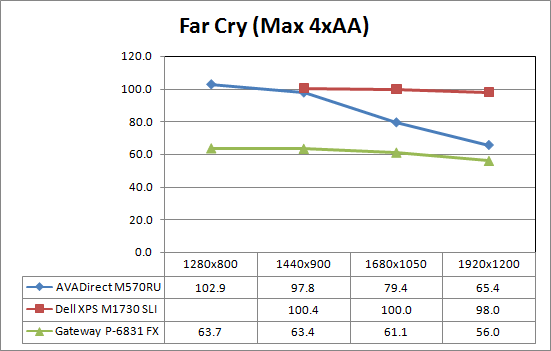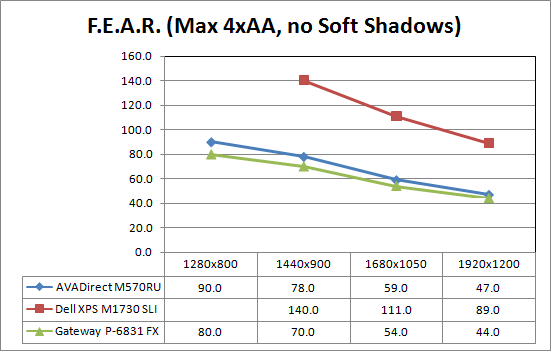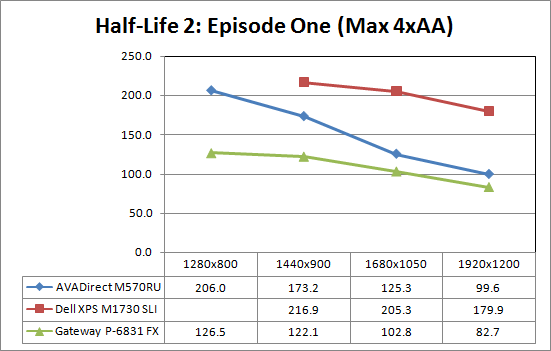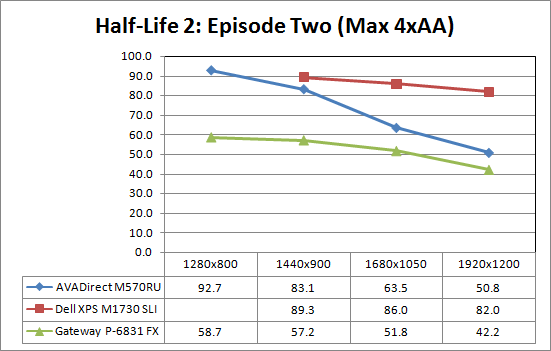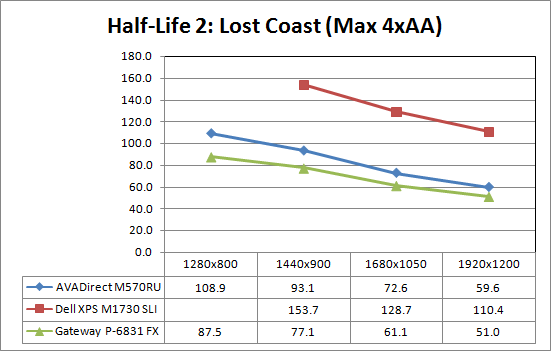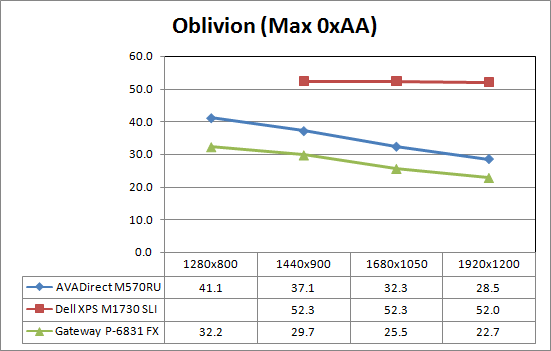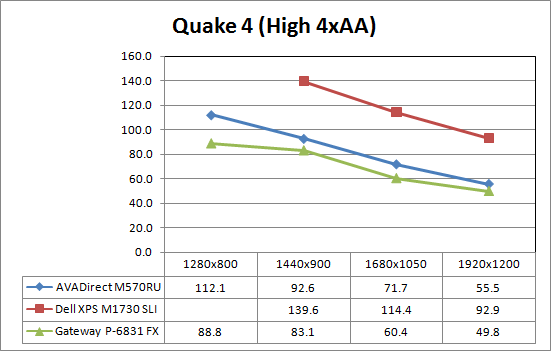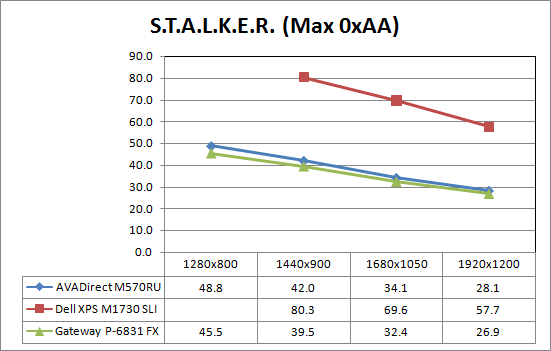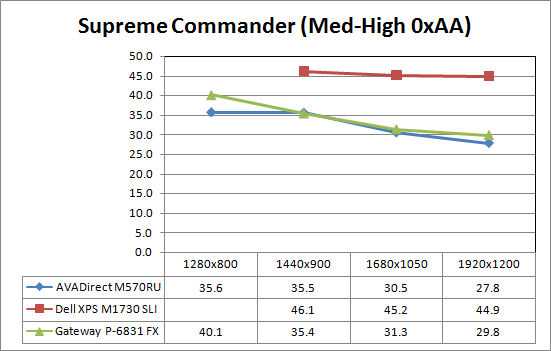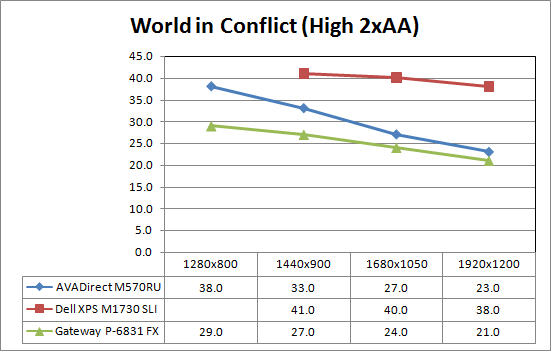 There are obviously a few titles where we are still CPU limited even at 1920x1200. Battlefield 2 and Far Cry for example have virtually flat resolution scaling curves. Other titles — Bioshock, Crysis, Oblivion, and Unreal Tournament 3 — show a pretty sizable gap between the 8800M GTS in the Gateway and the 8800M GTX in the AVADirect notebook. However, it's not entirely clear whether that gap exists primarily because of the discrepancy in CPU performance or if the added Stream Processors are the culprit. While it certainly would have been interesting to test with an upgraded CPU, we didn't have any Core 2 Duo processors readily available (nor the time to rerun all the tests).
Regardless, the net result is that we can't help but be impressed by the Gateway system. In some of the titles, the difference between the 8800M GTS and the GTX is virtually nil, particularly at higher resolutions. Since the GTS and GTX both have the same amount of memory, the same memory bandwidth, and the same number of ROPs, it's not all that surprising that some games hardly show a difference between the two graphics chips. It's unfortunate that we haven't seen any manufacturers giving customers the choice between the GTS and the GTX; we wouldn't be surprised if more than a few people would be happy to sacrifice a bit of performance in order to save a couple hundred dollars. Since that isn't an option, we recommend the Gateway P-6831 FX as a very reasonable alternative.
More Information on NVIDIA Drivers
As mentioned previously, one of the big problems we often have with gaming notebooks is driver support. If you go out and buy a desktop system, you can be relatively sure that you will always be able to get graphics card driver updates from NVIDIA or AMD. Outside of truly exotic systems, users are usually assured that they won't have to wait on an OEM to update drivers. Unfortunately, the same doesn't apply to notebooks.
NVIDIA is working to rectify this situation with their "rapid driver update" program. Yes, we did indeed use the word "rapid", and in speaking with NVIDIA they are fully aware that their mobile driver updates have been anything but. Think of it more as a goal rather than a current state, and hopefully you won't get too upset about lack of driver updates for your current gaming notebook. The plan is for NVIDIA to release updated mobile drivers quarterly. The next update is scheduled for late April 2008 (give or take a couple weeks), and we should see a fair number of supported gaming laptops.
We do know for sure that (most or all) Dell XPS notebooks and Clevo ODM notebooks are part of the program, and NVIDIA is working with Gateway to add them to the rapid driver program now. Whether that means you'll get updated drivers for XP, Vista, or both is not yet clear, and the Gateway FX notebooks might not make this next driver update. That said, outside of SLI systems we have not encountered any issues with the current GeForce 8800M Windows Vista drivers.
The long-term ideal would be for NVIDIA to provide updated drivers for all the major operating systems and all of the gaming notebooks, but that's a lot of permutations to test. It also sounds like at least a couple major companies do not like the idea of NVIDIA providing updated drivers for notebooks and prefer to provide their own driver updates (or not as the case may be). Whether or not NVIDIA actually has the manpower to support more companies is difficult to say, but we strongly encourage all notebook manufacturers that use NVIDIA graphics chips — particularly on notebooks that are "gaming" notebooks — to work with NVIDIA and become a part of their rapid driver update program. If you don't care about gaming on notebooks, perhaps the drivers don't matter, but any company offering an 8700M or higher GPU either needs to get on this program or forget about the gaming notebook market. It really is that simple.
Something else that's coming down the pipe from NVIDIA is greater support for their CUDA initiative. We commented that the Core 2 Duo T5450 is rather anemic compared to other current CPUs, but for certain applications that could become a moot point in the near future. NVIDIA is working with partners on CUDA accelerated applications that cover such areas as video transcoding, photo manipulation, and 3D rendering. In some instances they are realizing speed ups of over 18x compared to doing the work on the CPU. We should start to see some applications and plug-ins with CUDA support before the end of 2008 — and perhaps as early as this summer. H.264 encoding at better than real-time speeds on a laptop? Why yes thank you, we're very interested in that!
P-6831 LCD Quality
Given that we know there are at least two different LCD models available with the Gateway FX P-series notebooks, it's important to make it clear that we are reviewing the 1440x900 WXGA+ LCD. The LCD on our particular notebook comes from Samsung, the LTN170X2. As usual, we are dealing with a TN panel, which means worse viewing angles and 6-bit colors. The good news is that the pixel response time is better than older notebook panels (16ms vs. 25ms), and the backlight is rated at 200 nits.
While Samsung states that the contrast ratio is 500:1, it seemed much worse in person and testing confirmed that at least on our particular model the contrast ratio was much lower. Images appeared to be washed out in comparison to other recent notebooks, although we did notice the improvement in brightness. Let's start with a look at brightness levels and contrast ratio.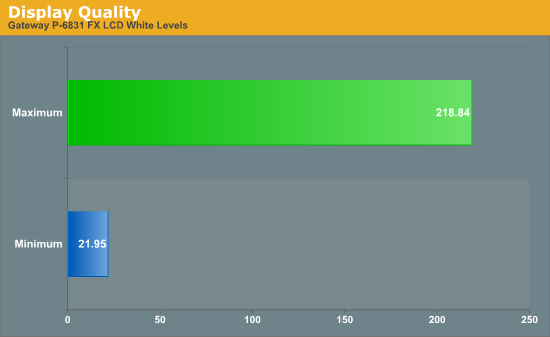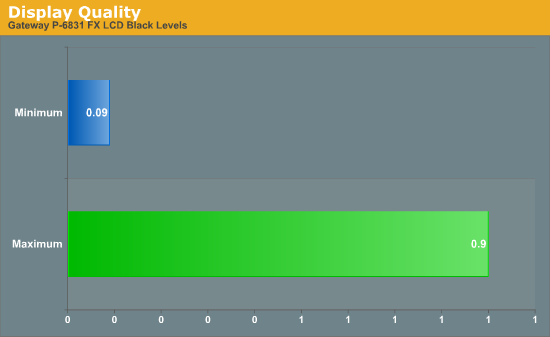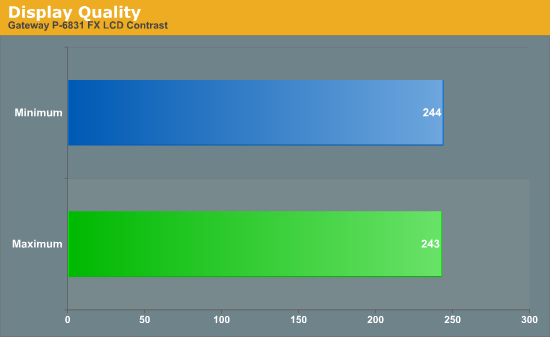 The white levels are good for a laptop, coming in at over 200 nits. Unfortunately, black levels scale proportionately, and the result is a relatively poor final contrast ratio of around 250:1. We've mentioned in the past that marketing has gotten a bit carried away with the importance of certain specifications, contrast ratio and response time being two of the biggest culprits. The thing is, such specifications are important when they fall below a certain point. It's difficult to tell the difference between a 2000:1 and a 1000:1 contrast ratio, but the difference between 500:1 and 250:1 is very blatant. We're not quite sure why our test results and the LCD specifications differ so much; it could be that Gateway cut some other costs related to the LCD and that's why the contrast ratio is much lower than expected. It's not enough to make us actually recommend against purchasing the P-6831, although if you demand a high-quality LCD you might want to look elsewhere or use an external display.
A new addition to our LCD testing is a look at color gamut. This is something we have wanted to add previously, but we hadn't found any good utilities for generating the appropriate charts and data. We recently found out about Gamutvision, a utility developed by Imatest LLC. They were kind enough to provide us with a copy of their software, and it does exactly what we need. We compared the color profiles of all previously tested laptops to the Adobe RGB 1998 color profile. Below is a chart of the gamut volume for the Gateway P-6831 FX, along with a graph showing the percentage of the Adobe RGB 1998 gamut from the various laptops. Prepare to be disappointed….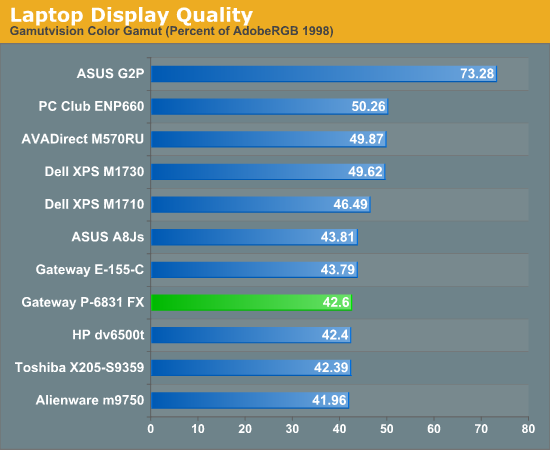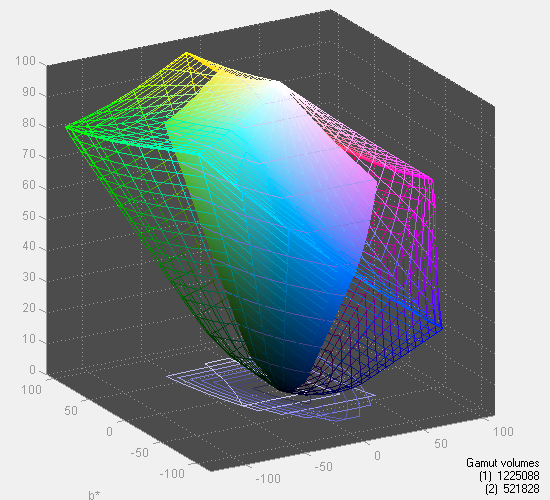 We commented in the past about how great the LCD on the ASUS G2P looks in comparison to other laptop LCDs. We now have some more detail as to why it looks better. Nearly all of the laptop LCDs we have tested provide less than 50% of the Adobe RGB color gamut — and note that there are more exacting standards than Adobe RGB 1998. The G2P sets the high water mark at 73.28%, while the vast majority of the other notebooks fall under 50%.
Display Quality, Continued
Besides contrast ratio, brightness levels, and color gamuts, the other metric we like to compare on displays is color accuracy. As always, we use a DTP-94/Monaco Optix XR colorimeter with Monaco Optix XR Pro and ColorEyes Display Pro software. ColorEyes Display Pro almost always generates a better score on laptop LCDs than Monaco Optix XR Pro. Worth noting however is that the color gamut generated by Monaco Optix is usually larger. It seems that Monaco Optix requires a certain color gamut level before it functions optimally, which may be why the ASUS G2P is the only laptop we've tested so far that scores better under Monaco Optix.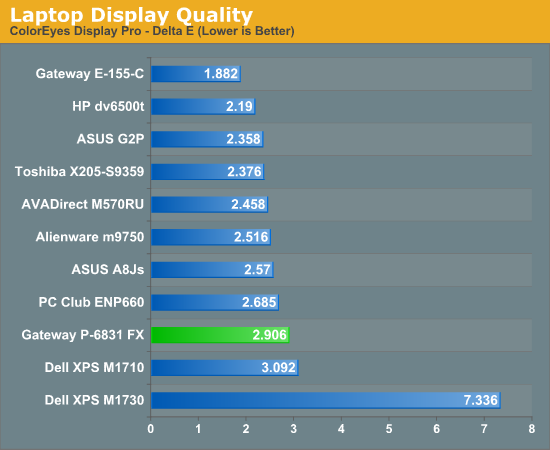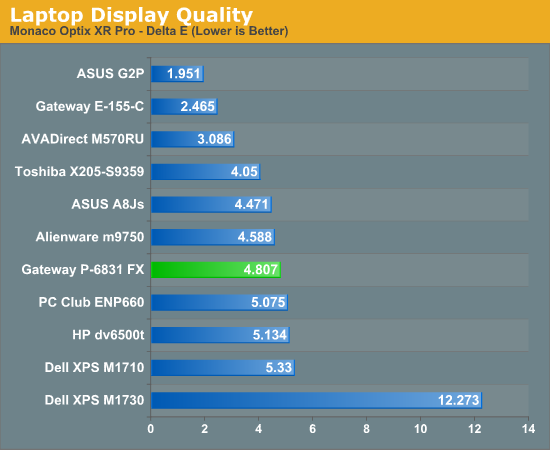 The performance generated by the Samsung LCD used in the P-6831 is lackluster, although it's not dramatically worse (or better) than most of the other laptop LCDs we've tested. What's particularly odd is how poorly the Dell XPS M1730 scores in color accuracy. Our best guess is that there might be some sort of dynamic contrast or software causing the conflict, but we never could generate anything approaching an acceptable result on the M1730.
The above results only compare color accuracy after calibration, however. Scores are much lower across the board prior to calibration. Here are the pre- and post-calibration detailed results for the P-6831 FX.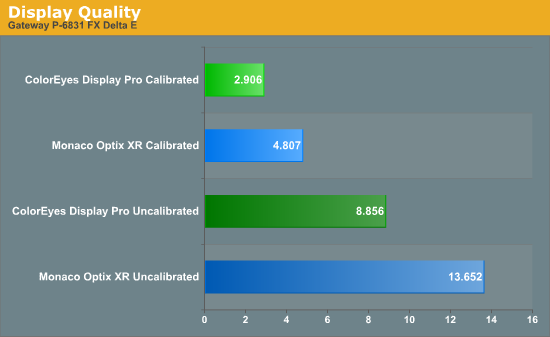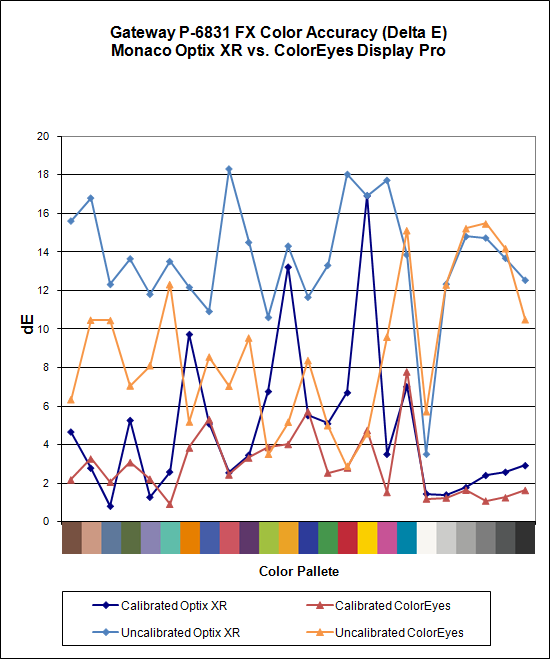 Pretty much all of these results are surpassed by even the worst of the desktop LCDs we have tested in the past 18 months. We would really love to see better laptop LCDs; manufacturers, please see to it!
Other Application Performance
Finally, we ran several other performance benchmarks, including the popular Futuremark 3DMark and PCMark test suites. Since this is primarily a gaming notebook, we aren't as concerned with performance in general applications. Besides, just about any modern computer is more than sufficient for your typical office and Internet work. Because of the slower CPU, the Gateway P-6831 scores much lower in many of these benchmarks — excepting 3DMark, of course.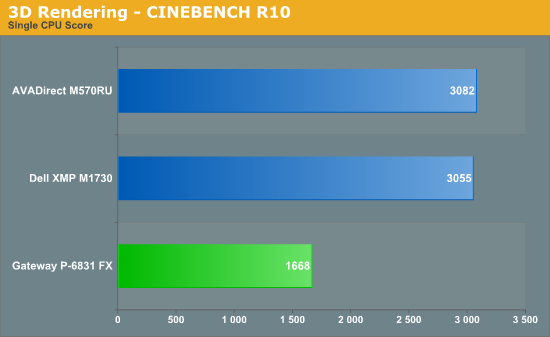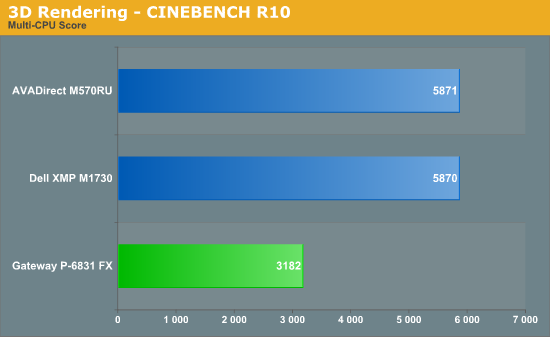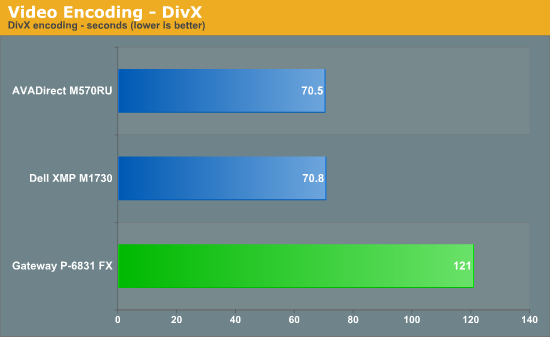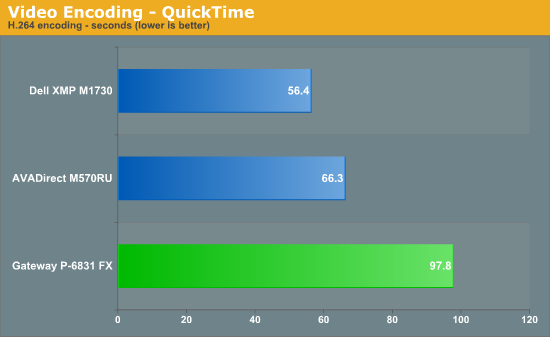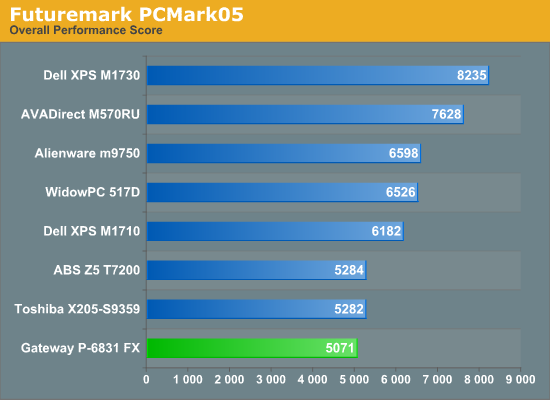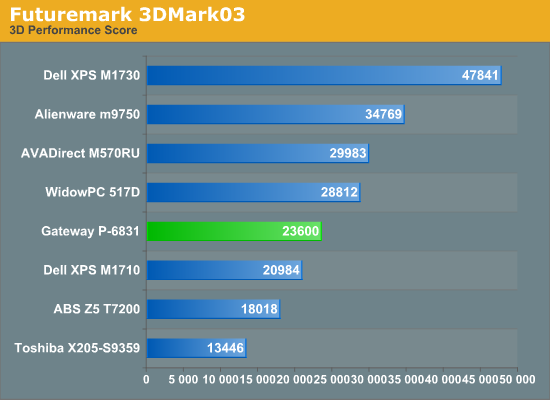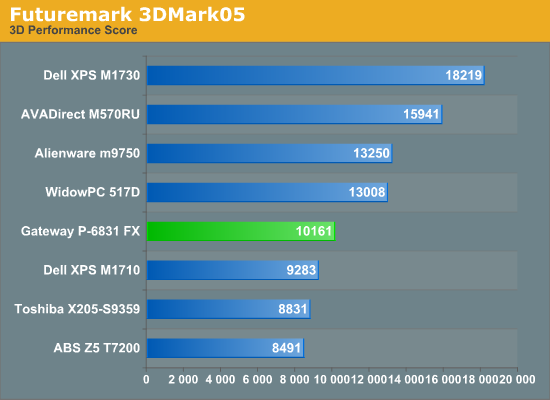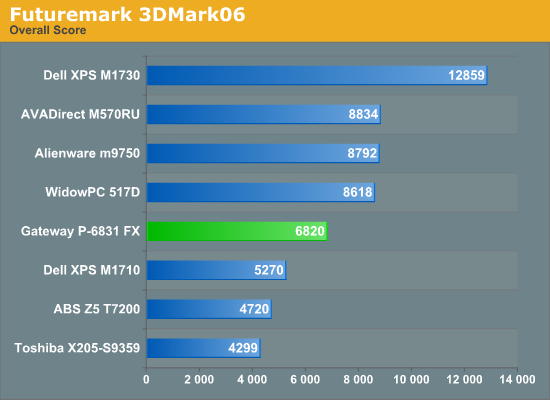 The Gateway P-6831 places right where we would expect it to in these tests. In the 3DMark benchmarks, it falls below all of the 8800M GTX notebooks as well as the SLI notebooks we've tested, but it bests everything else. In PCMark05, it places at the bottom of the pack, helped by the 5400RPM hard drive and the T5450 CPU. Note that for 3DMark06, you need to use an extrenal LCD capable of 1280x1024 resolution to generate comparable results. (At the default 1280x800 use the 1440x900 laptop LCD, our score improved to 7005.)
We're also including full PCMark Vantage results starting with this review. Most of the scores should be similar to PCMark05, but for now we only have results from the AVADirect M570RU, Dell M1730, and Gateway P-6831 laptops, and variation between benchmark runs seems to be a bit higher than other tests (around 5%). Our results are summarized in the following table:
PCMark Vantage Performance Breakdown
AVADirect
(Clevo) M570RU
Dell XPS M1730
Gateway
P-6831 FX
PCMark Suite
3995
4496
2946
Memories Suite
3127
3559
2293
TV and Movies Suite
2585
2853
2140
Gaming Suite
4429
4015
2687
Music Suite
3808
4390
2988
Commincations Suite
3558
3907
2852
Productivity Suite
3954
4189
2041
HDD Test Suite
3137
4139
2585
In video encoding and 3D rendering, the CPU is almost the sole determinant of performance. We only have results from Penryn X9000 systems for these tests, and outside of QuickTime (where the RAID 0 hard drive array helps the XPS system), we see better than linear clock speed scaling from the X9000. The 2.8GHz chip is clocked 68% faster than the T5450, and it performs up to 85% faster. Having three times as much L2 cache certainly helps.
Again, keep in mind as we see CUDA enabled applications in the future, raw CPU performance may turn out to be less important for these highly parallelizable tasks.
Battery Life, Power Use, Temperatures, and Noise
For battery life testing, we ran our standard three in-house tests. The first consists of surfing the internet until the battery runs down. We set Internet Explorer to load three web pages (including AnandTech.com), pause for 60 seconds, exit, and then reload those pages. The second test simply plays a DVD until the battery runs dead. For the third test, we loop the four gaming tests in 3DMark06. In all cases, we set the power profile to "Balanced" and set the display brightness at maximum brightness. The GPU on the P-6831 still consumes quite a bit of power, so turning down the backlight for the LCD won't help too much. However, you might be able to improve battery life by 20-25 minutes with a bit of effort (i.e. use the max power saving profile and turn down LCD brightness).
Related to battery life are the power requirements. We measure with the system plugged in, so some of the power saving features are not active. The numbers below will still give you an idea of how much relative power various tasks require.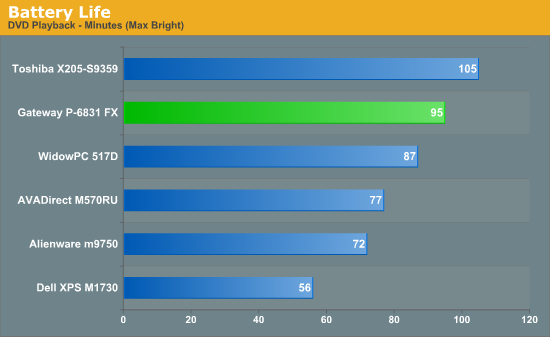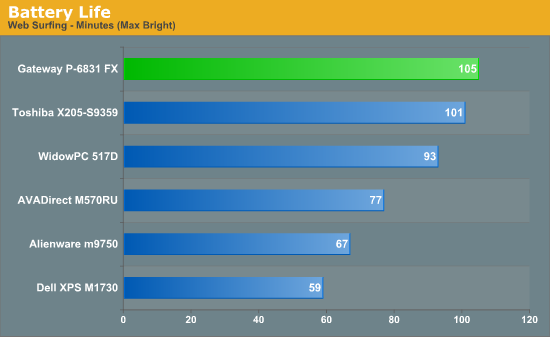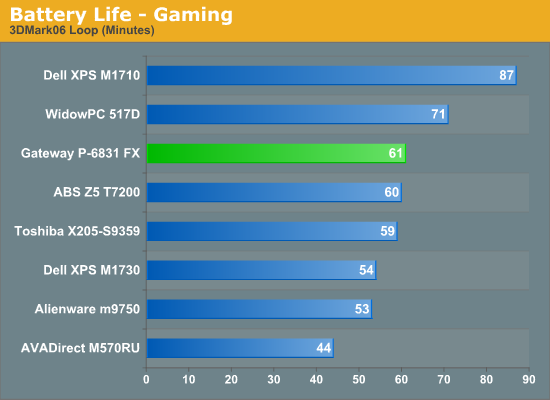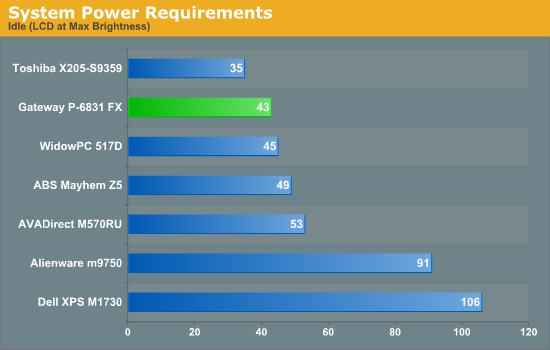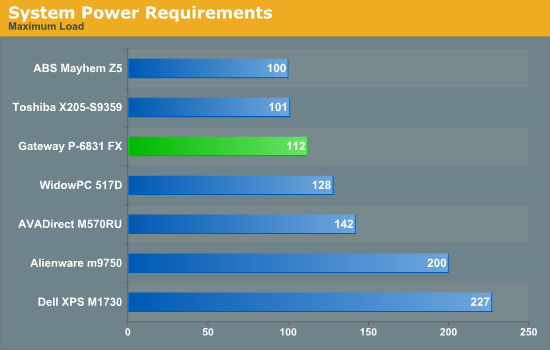 The Gateway system comes with an 86 Whr battery, in comparison to 95 Whr batteries on several of the other 17" systems and 65 Whr on the AVADirect and WidowPC laptops. The P-6831 places near the top of the battery life benchmarks, at least when compared to other gaming notebooks. Reducing the display brightness and performance mode should easily allow over two hours of battery life for web surfing. DVD playback is just over an hour and a half, so you could watch some shorter movies on a single charge. The gaming battery life falls behind several of the other notebooks, but then it appears that the GPU clock speeds don't throttle as far on the P-6831 FX. That's likely because the CPU isn't using a lot of power, relatively speaking.
Those worried about extremely high temperatures should be pleasantly surprised. While we won't go so far as to call the P-6831 a cool-running laptop, it doesn't get all that hot. After looping 3DMark06 for over an hour, we measured the following temperatures. The exhaust on the back left of the laptop was by far the hottest area, measuring 46-48C. While that seems high, all of that heat comes from the GPU, and the bottom of the laptop is nowhere near that hot. The bottom ranges in temperature from 26C to 36C, with most of the surface around 31C-33C; only a few hotpoints (right near the center under the Gateway label, presumably where the actual GPU sits) reach 35-36C. The palm rest stays at a cool 26-30C, and the keyboard is mostly in the 30-32C range, with a few areas (around RTY/FGH - again just above the GPU core) reaching up to 35C. Note that all of the testing was conducted in a ~21C environment; temperatures would naturally be higher if the ambient temperature increases.
One last item we would like to comment on is the noise levels of this notebook. Given the slightly less powerful GPU and the slower CPU, we figured the noise levels would be lower than other gaming notebooks. Compared to the Clevo M570RU, that's certainly the case; the maximum noise level of 42dB is about the same as the minimum noise level (41dB) of the Clevo. The GPU and CPU still require decent airflow, though, so even at idle noise levels never reach the point where we would call this notebook "silent". It fluctuates between 34dB and 36dB at idle, with the difference coming from the CPU fan spinning faster for short periods of time. At 100% CPU load, the noise stays at a constant 36dB. As soon as you load up any game, noise increases to 40dB initially and then usually reaches the maximum 42dB after a few minutes. Again, we have to give Dell credit, as even with SLI their XPS M1730 is nearly silent when idle (31dB).
Closing Thoughts
We always enjoy reviewing top-end notebooks, as it's exciting to see just how much performance can be packed into a (reasonably) portable package. It's a lot like eyeballing a sports car that you probably won't buy but you can still lust after, or perhaps being lucky enough to take one for a test drive. Who among us doesn't relish the thought of burning rubber Need for Speed style in an exotic sports car? At the end of the day, however, most of us drive home in our Honda Accords, Toyota Camrys, or — gasp! — minivans. (I myself drive around in a Chrysler Sebring.)
Just because you drive a midrange, midsize sedan doesn't necessarily mean you have to sacrifice in all areas, however. It's possible to get a V6, leather interior, and other upgrades, and even if you will never be able to keep pace with the exotic cars of the world you can at least be reasonably content. If gaming laptops were cars, the Gateway P-6831 FX would manage to attract a lot of attention — and deservedly so. Imagine being able to buy a very nice sports car that could compete with the Dodge Viper at one third the cost, and that's what Gateway has released on the market.
If you've ever been interested in a gaming notebook but have decided that the price/performance just can't be justified, now might be a good time to rethink things. Oh sure, there are compromises made — your gas mileage is going to go down, the car may be a bit bulkier and noisier than you'd like, and in a flat-out drag race you will probably get smoked. But as long as you're only competing against the average business notebook, feel free to rev up your 8800M GTS engine and make some people jealous.
When we first saw Gateway's new FX notebook at CES, we were intrigued. Then they told us the expected price and our jaws hit the floor. We have never seen this much relative graphics performance in a notebook for such a low price. If you're into the LAN party scene and you're thinking it's about time to upgrade your aging desktop, it might be time to finally ditch desktops entirely.
The Gateway P-6831 FX isn't perfect by any means. We don't like the fact that the battery juts out from the rear of the notebook, we really would have liked a 1920x1200 LCD option on some of the less expensive models, the one-year warranty is short, and the LCD contrast ratio isn't very good. Like many OEM systems, it also comes preloaded with a ton of bloatware — that's easy enough to uninstall, thankfully. And would it be too much to ask for four audio jacks so we could use 5.1 headphones with a microphone? But that's just us being greedy.

As far as affordable mobile gaming is concerned, there is nothing else out there that can even come close to the Gateway P-6831 FX. PC design — particularly in the midrange market — needs to be optimized for specific uses. Do you want a powerful CPU in order to handle tasks like video encoding, image manipulation, etc. or do you want a more well-rounded design with the ability to play modern games well? In the case of the latter, balance is especially important in regards to the CPU and GPU; a top-end CPU with a lower-end GPU is not going to provide a great gaming experience, but a good GPU with a less expensive CPU could be the perfect combination. More than any other notebook we have tested, Gateway
gets
the balancing act required to achieve maximum performance at a minimum price. In recognition of this, we present the P-6831 FX with our Gold Editors' Choice Award. Gateway has seriously raised the bar for what can be achieved in a sub-$1500 notebook, and we're excited to see what they come up with next.