Original Link: http://www.anandtech.com/show/2469


Day 2 of CeBIT started much like yesterday, the weather was cold but the German countryside was beautiful on our way in to Hannover.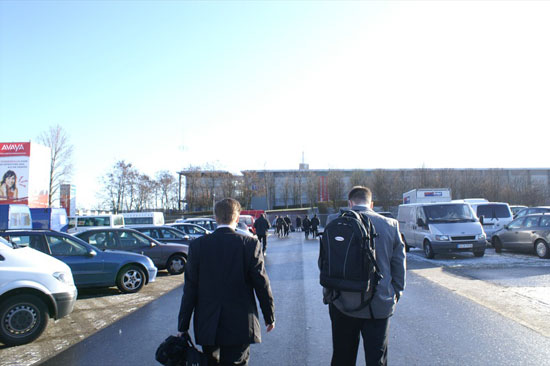 Christoph and Jens sleepily walk towards Hall 21
The second day of CeBIT, as we were warned, was far more crowded than yesterday. Apparently as the week goes on, more and more people will crowd the halls and remind us of our days at CES just two months ago.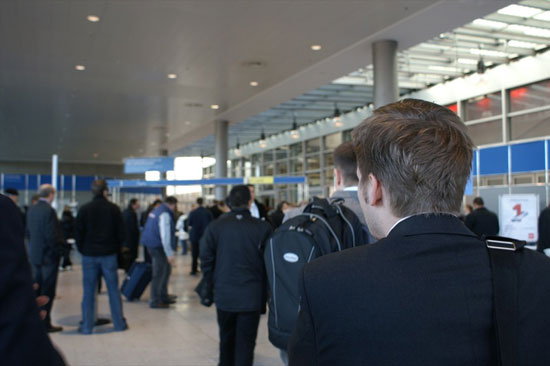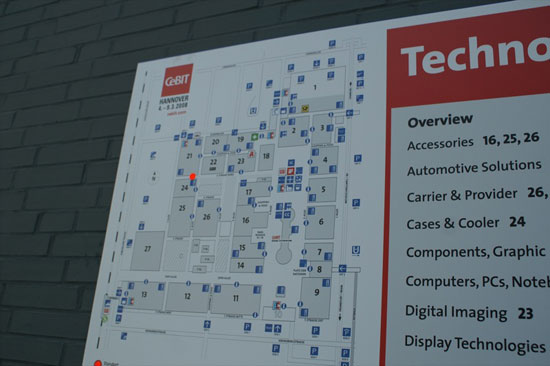 Each one of those boxes is a hall at CeBIT, and they are huge

Entering CeBIT today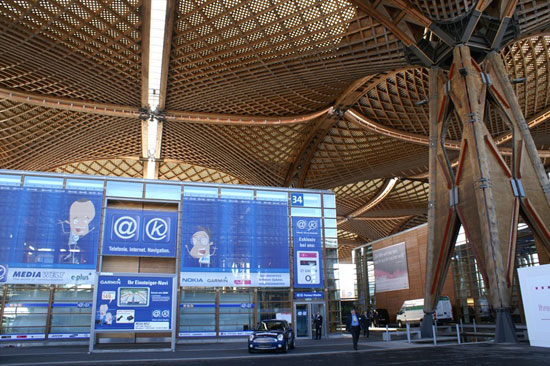 Pavillion Hall 34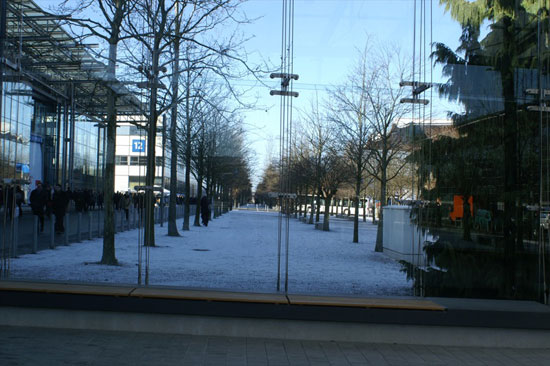 CeBIT is like a small city, halls on the left and right of this image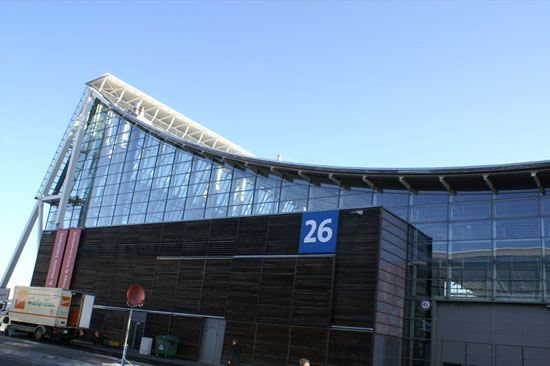 Hall 26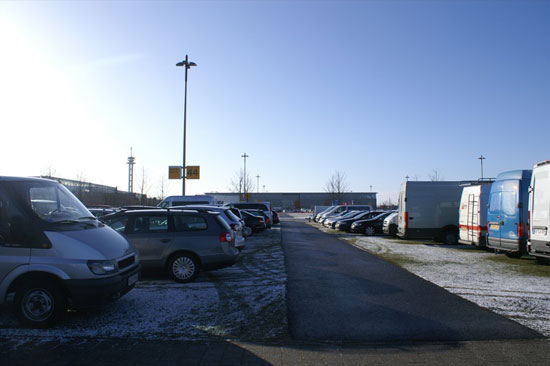 Light snow on the ground
I continue to be amazed at how well organized CeBIT is, each hall is very specific and even as it becomes more crowded it's no where near as painful to navigate as CES. I am told that this will change come Friday when end-users and school kids drop by the show looking for freebees, but until then I'm enjoying it.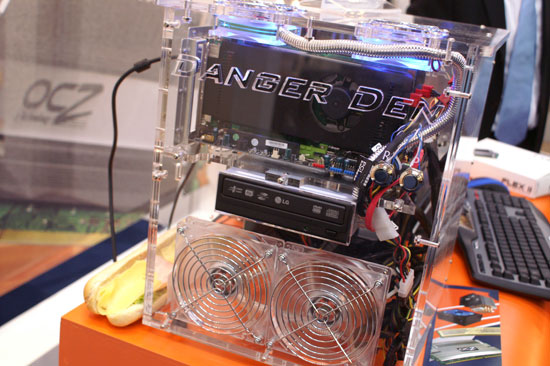 Our Internet access, once again, sponsored by OCZ.

OCZ's "Brain Mouse" Officially Launched
For as long as I can remember, OCZ has been showing off its "brain mouse", now much more professionally titled the Neural Impulse Actuator (NIA). The NIA can measure brain waves and respond to triggers from muscles in your face, translating them into mouse movements and button presses. The end result is a device that lets you play first person shooters with minimal use of your hands.
The NIA demoed at CeBIT is as close to final as it's going to get and we had a try at it.
First off, the air in Hall 21 is particularly dry so you need to lotion up a bit: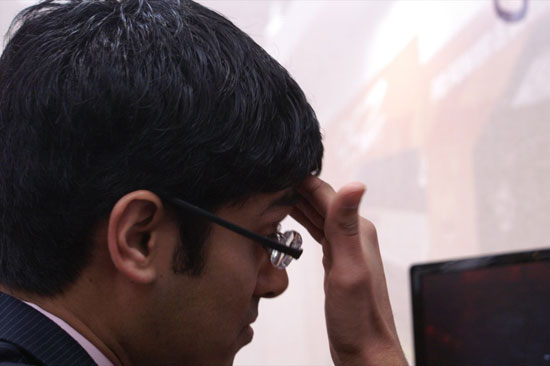 Manny lotions up his forehead
Next, you simply place the NIA around your head and tighten the lanyard: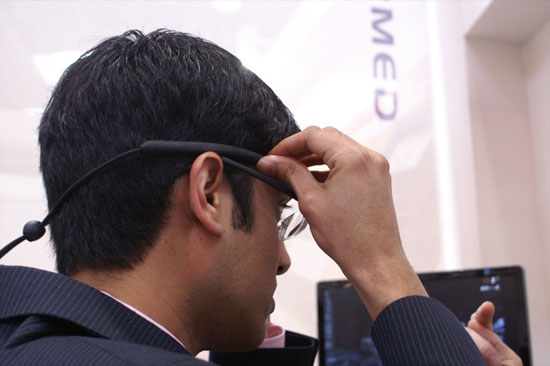 Manny dons the NIA
OCZ rep Dr. Michael Schutte just threw us into a game of Unreal Tournament 3 without any additional training or configuration, he just told us to play and within seconds we were at least moving around and shooting.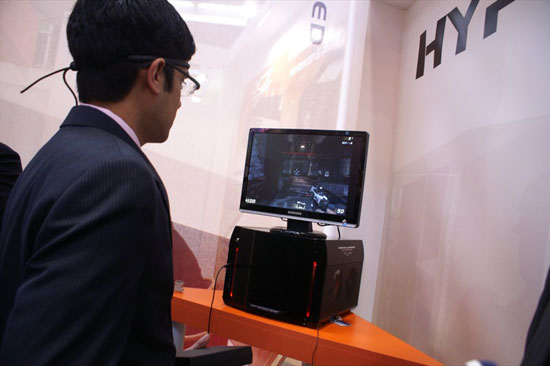 Manny is arguably just as good at UT3 with the NIA as he is without it
Initially it's tough to get a hang of exactly what you need to do to control your character. You still use a mouse to look around, but all movement including shooting and jumping is controlled using your head. I found that blinking tended to make me move forward, while raising my eyebrows would make me jump and shoot.
Watching Dr. Schutte use the NIA was a far more seamless experience: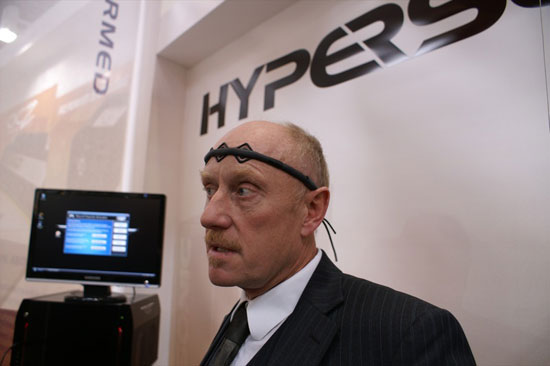 The more novice you are the more you have to use exaggerated facial expressions to get the NIA to react, but Dr. Schutte manages to play UT3 with a stoic look on his face. We only spent a few minutes with the NIA but it performed far better than expected.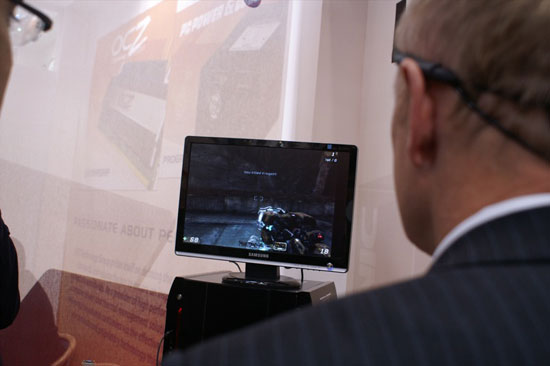 Dr. Schutte frags with his mind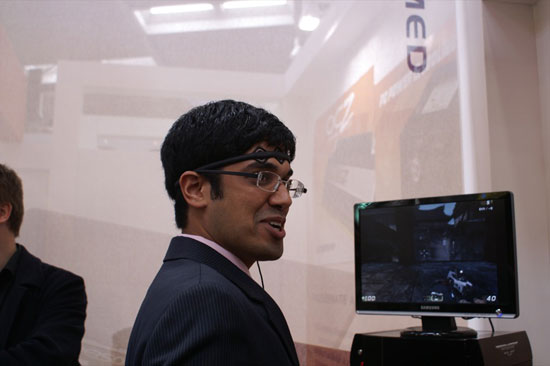 This is how Manny fires
OCZ lists the MSRP as $199 and the NIA does admittedly work far better than expected, although it may be a tough sell for those who are too used to a keyboard and mouse.
ASUS' Intel Atom based UMPCs
Given that ASUS was in a separate hall from the rest of the motherboard makers, we missed its Atom based UMPCs in our Day 1 coverage.
ASUS had two models on display, the R50 and R70: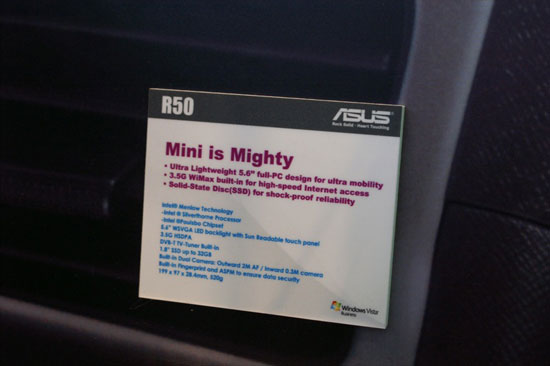 The R50 is the smaller of the two devices while the R70 is more of a small Tablet PC form factor.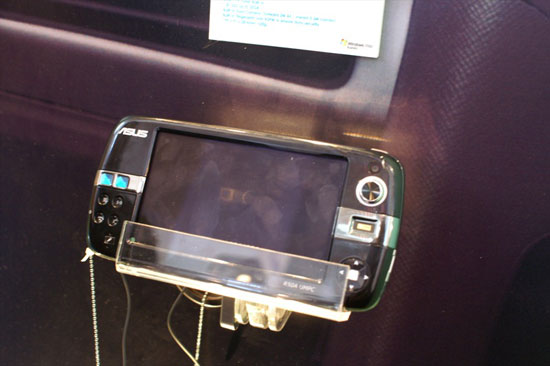 The ASUS R50, using the new Intel Atom processor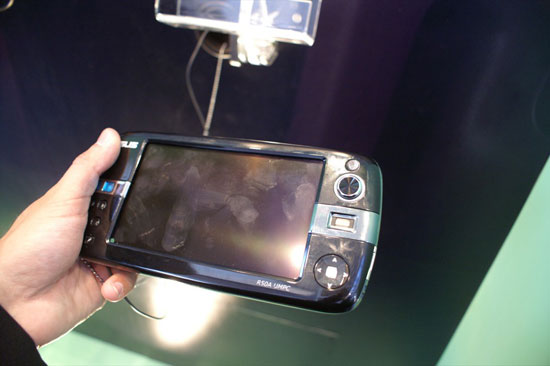 Unfortunately both the R50 and R70 ran Windows Vista, which even on a 1.6GHz Intel Atom is sluggish.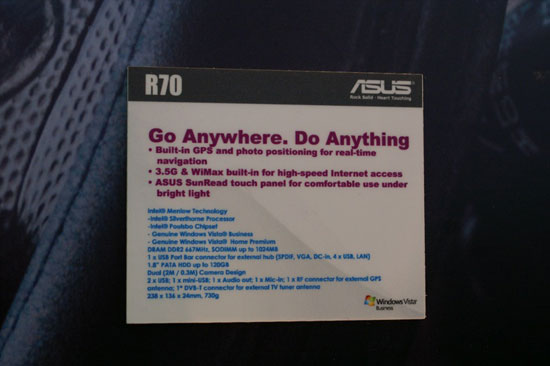 The ASUS R70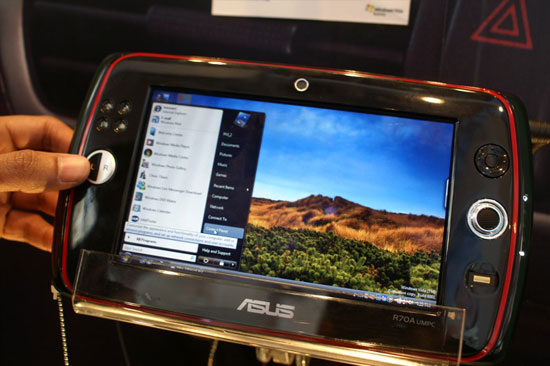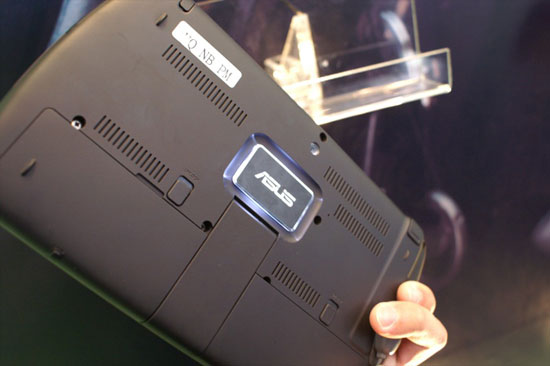 ASUS has a very Apple-like backlit logo on the rear of the R70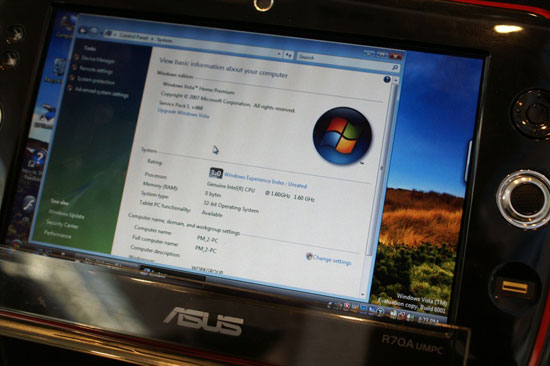 Intel Atom running at 1.60GHz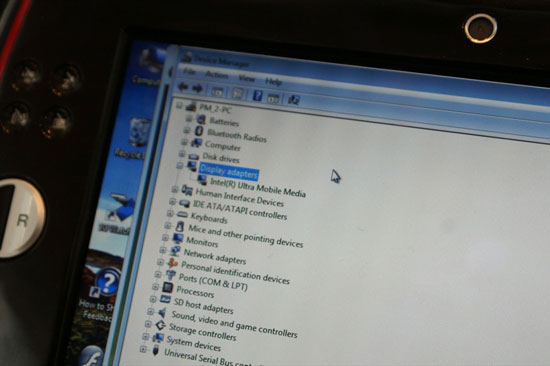 The graphics driver lists the GPU as being Intel Ultra Mobile Media

ASUS: Computing With Bamboo
ASUS had an entire wall dedicated to Bamboo computing - basically PCs, cases and monitors that used Bamboo in their design: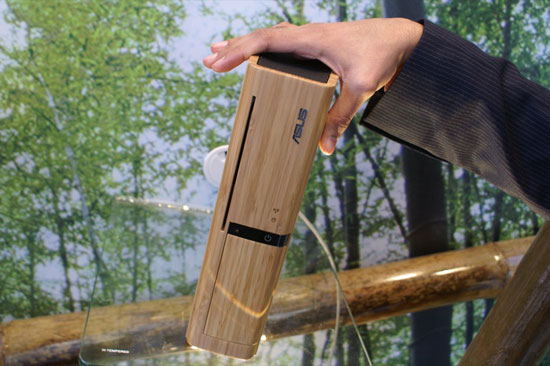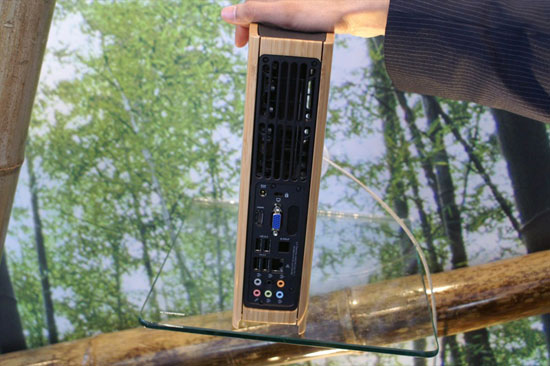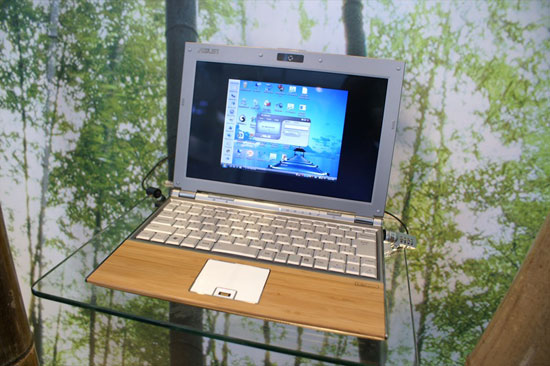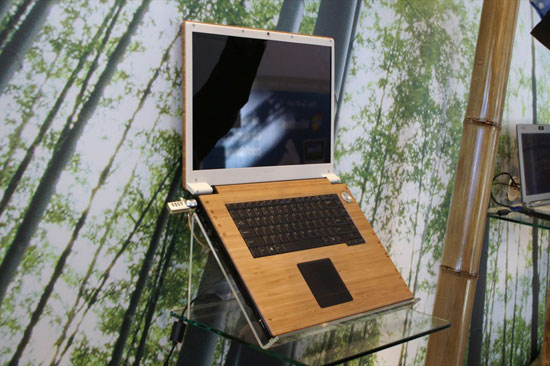 ASUS' 4-series Motherboards
ASUS had a number of 4-series based motherboards at its booth: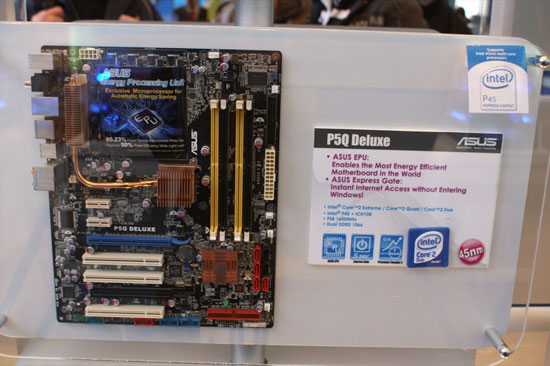 Most of ASUS' P45 based motherboards thankfully used DDR2, expect this to be commonplace with P45 boards.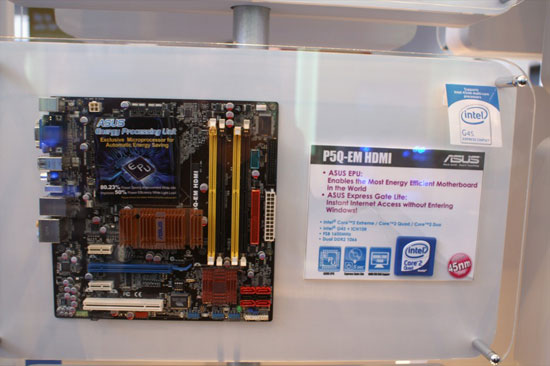 G45 makes Intel competitive with AMD and NVIDIA's latest integrated graphics solutions.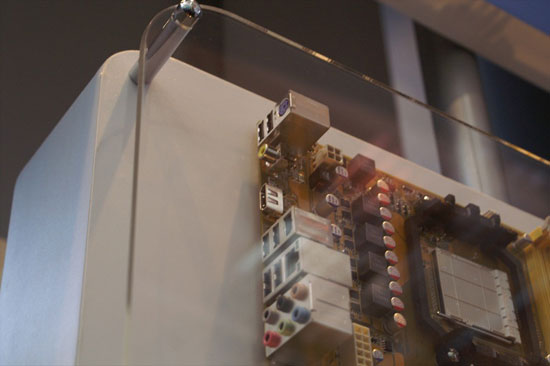 HDMI is going to become very popular on integrated graphics motherboards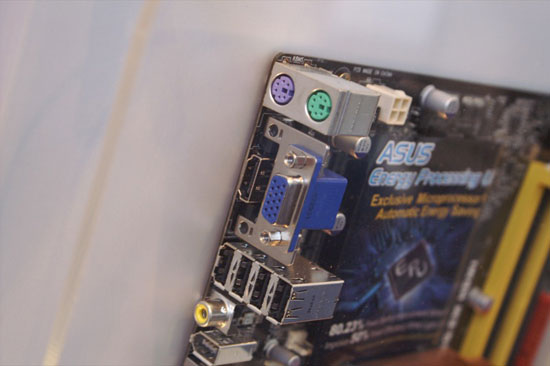 More HDMI
ASUS also had Socket-AM2 motherboards based on the AMD 780G and AMD 770 chipsets: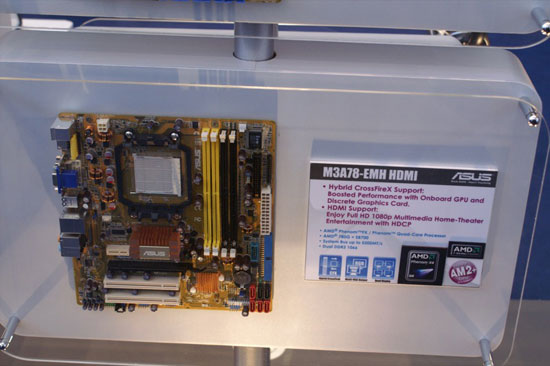 The ASUS AMD 780G based M3A78-EMH HDMI, with HDMI of course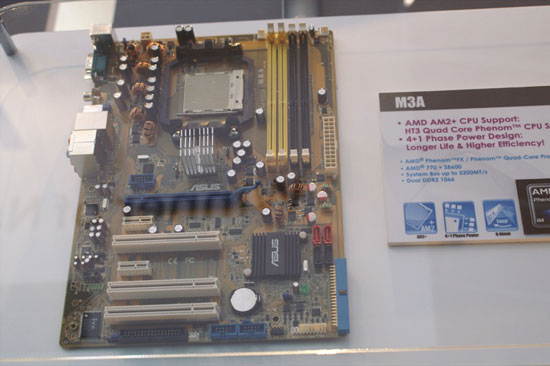 The ASUS M3A based on the AMD 770 chipset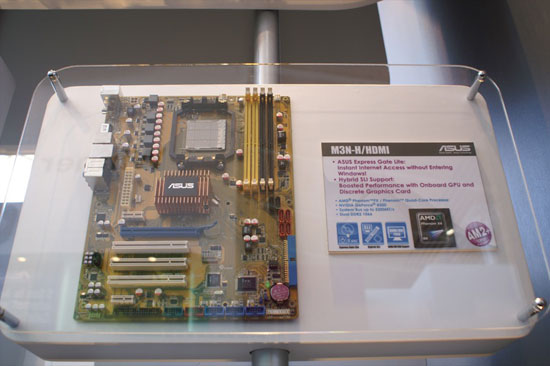 ASUS' M3N-H, the data card lists the chipset as the GeForce 8300
ASUS Sound Card Outputs HD Audio Codecs over HDMI
Here's an interesting product from ASUS, it's a HDMI-equipped sound card: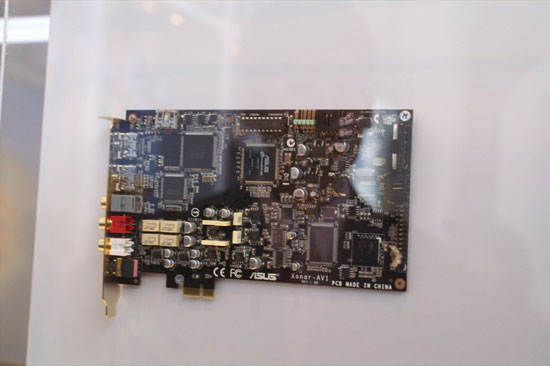 The sound card accepts a HDMI input from your graphics card, then outputs video combined with audio over a second HDMI port. The benefit of this approach is that you can enable passthrough of high definition codecs such as Dolby TrueHD, although it is a somewhat clumsy way of doing it. We would much prefer for the GPU to properly handle it in the first place but we'll have to wait for a while for that to happen.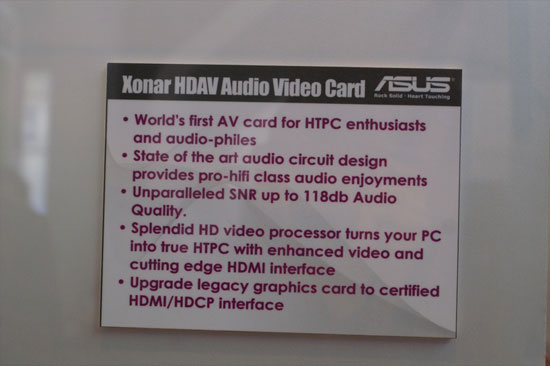 ASUS will release the Xonar HDAV in late Q2 of this year.
Continuing on its HDMI kick, ASUS also demonstrated a PCIe x1 card that could accept a DVI input and output it as HDMI: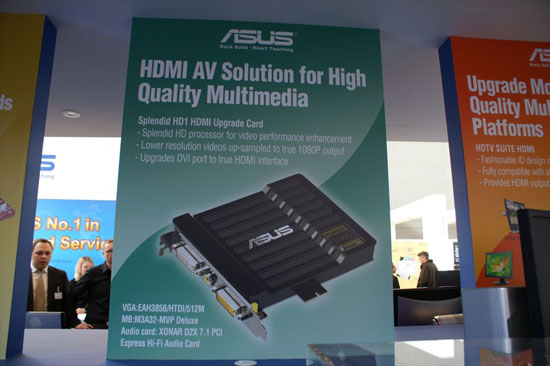 ASUS does some video processing and upscaling on the signal for 1080p output over HDMI.
Sandisk SSDs and Notebook Flash
Sandisk's booth had a number of SSDs on display as expected: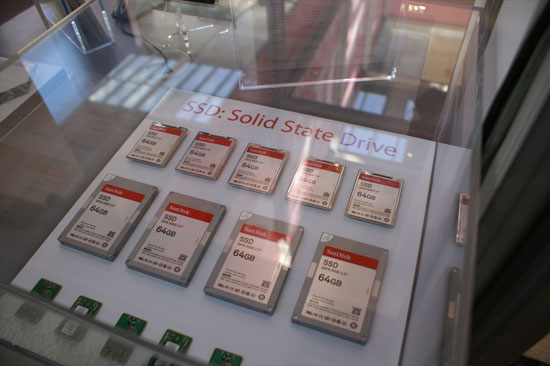 Sandisk's SSDs are used in Intel's Classmate PC: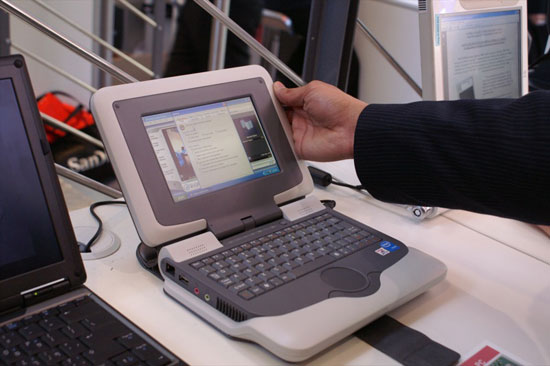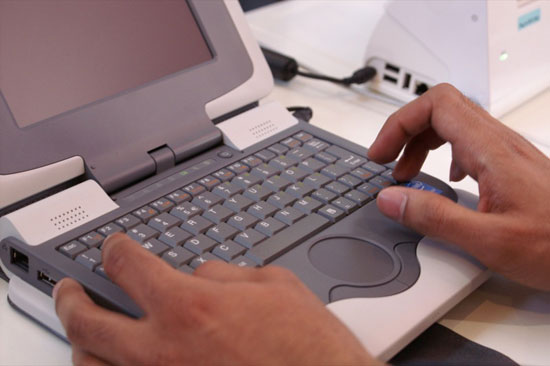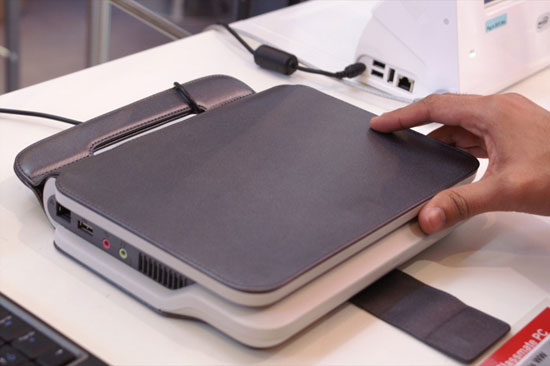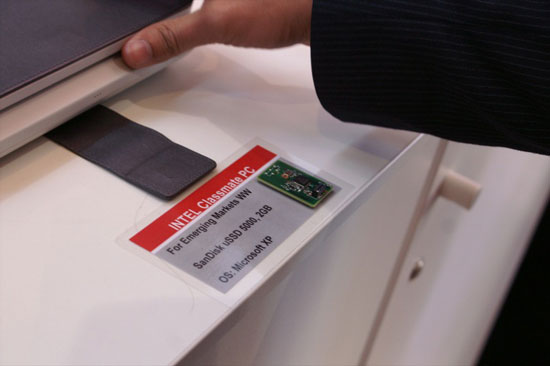 The 2GB uSSD used in the Classmate PC
Sandisk also had a mini PCI card with 16GB of Flash on it for use with Vista's ReadyDrive technology (caching frequently used data on local flash memory so that the hard disk may spin down to conserve power):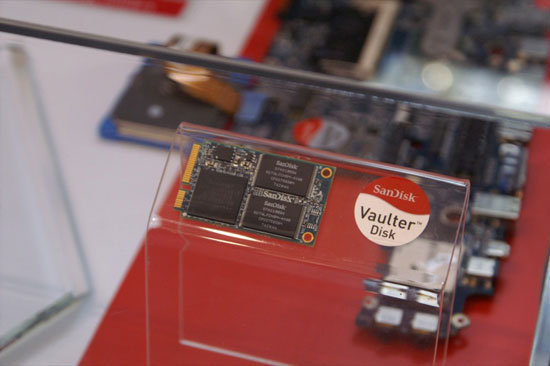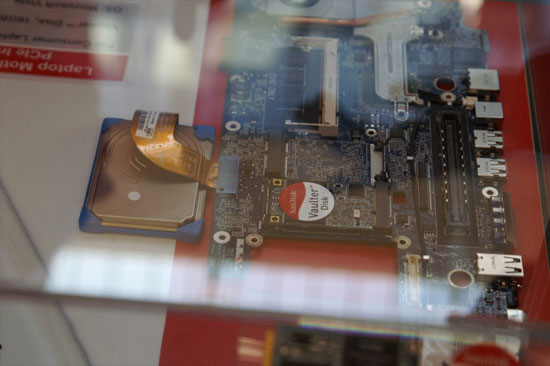 Intel's Wall of 4
Intel had an entire pavillion hall dedicated to itself, P33: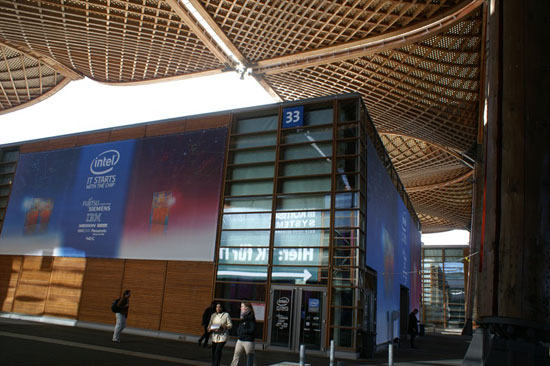 Despite the large display area, there wasn't anything new at the Intel pavillion, even Silverthorne/Atom had a surprisingly small showing: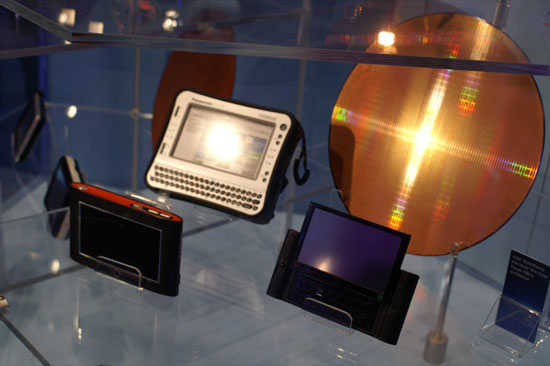 This is all the Silverthorne Intel had at the show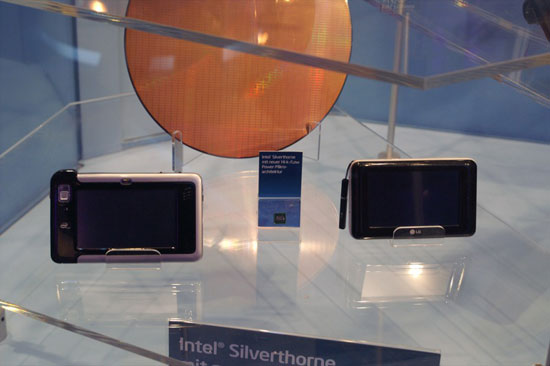 Given the impressive showing of 4-series based motherboards at the show, it's no surprise that Intel had its typical wall-of-motherboards on display: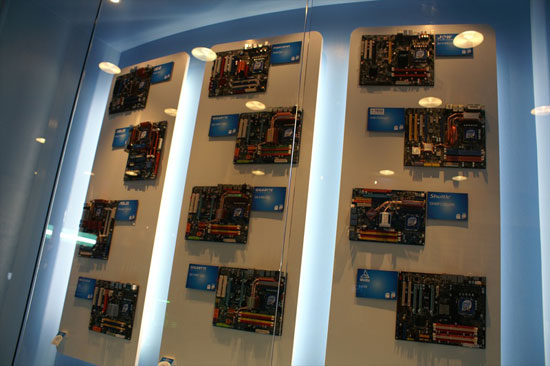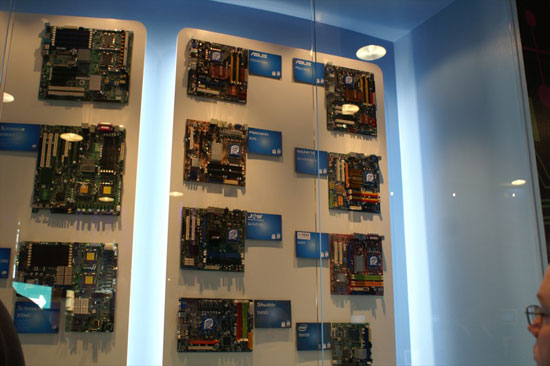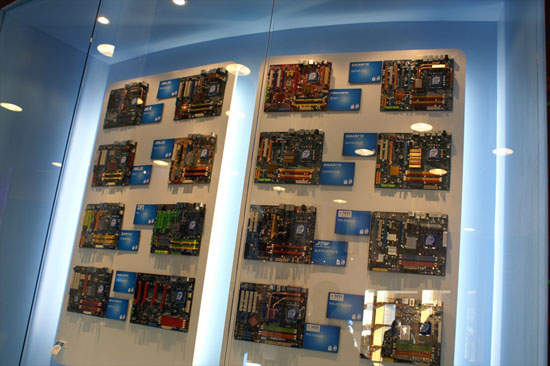 Intel had P45, G45 and X48 motherboards all on display.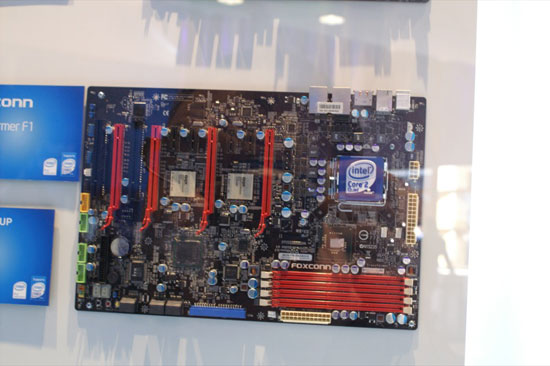 This Foxconn motherboard has four x16 slots, four x1 slots and 2 32-bit PCI slots. It's wider than normal ATX.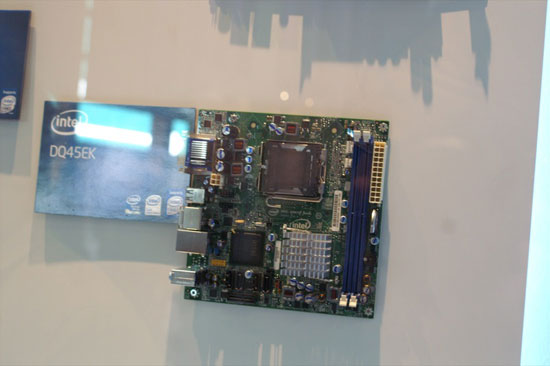 Intel had a mini-ITX board on display as well
Sun Brings up a Valid Point
The most expensive hall at CeBIT is Hall 2, home of companies such as Sun Microsystems and IBM. We strolled by Sun's booth and saw this interesting demo: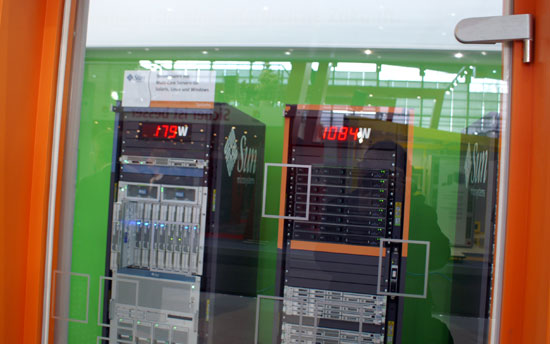 On the left we've got a rack of Niagara 2 servers, on the right a rack of 4-year old Intel Xeon servers (16 CPUs total). Both systems are at idle and the difference in power consumption is tremendous: 180W for the Sun rack and nearly 1100W for the NetBurst Xeon rack.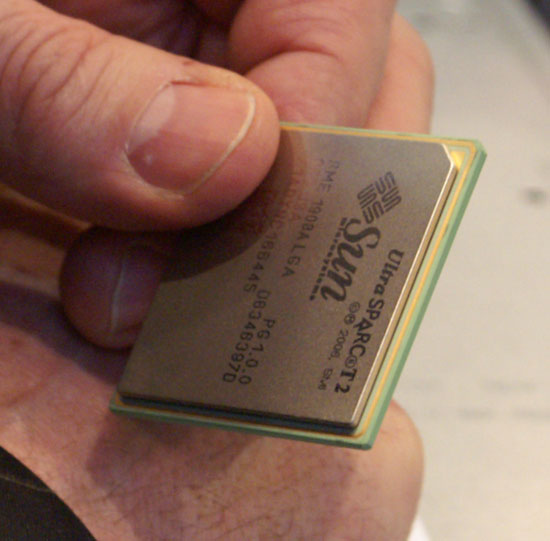 Obviously the comparison would be far less skewed if we looked at Core 2 based products but the point is still valid: these old NetBurst based servers are power hogs and upgrading them would definitely help reduce datacenter power bills. Despite the Pentium 4's NetBurst architecture being our least favorite Intel creation, it still sold very well and these old Xeons continue to litter datacenters today.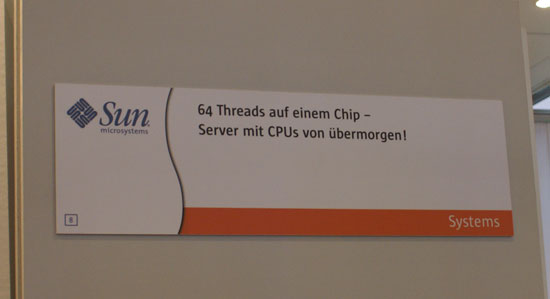 Whether you replace them with Core 2 based Xeons or Niagara 2 based products, you'll still end up significantly reducing your power bill.
North Carolina at CeBIT?
My home state, North Carolina, actually had a booth at this year's CeBIT: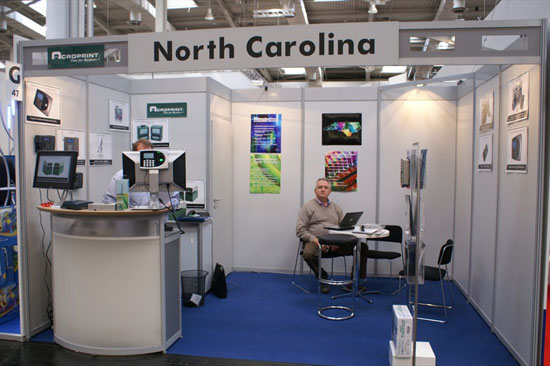 The NC government brings local companies and European companies together at tradeshows like CeBIT. It's an odd combination but it does show you the incredible breadth of the tradeshow.