Original Link: http://www.anandtech.com/show/2467


April 26, 1997. That's when I started AnandTech, and since then I have been to countless Comdexes, Computexes, E3s, and CESes. Yet in the past ten years I've only traveled to Europe on a handful of occasions and absolutely never for CeBIT.
I've always been scared away from CeBIT for a handful of reasons. I've been told that it's cold, and the living situation is difficult since Hannover itself is a small city and the show itself is huge, attracting close to 500,000 attendees (CES only brings in around 140,000). Despite the warnings, this year I felt adventurous and shortly after returning from CES with the flu I booked tickets to Hannover, Germany for this year's CeBIT.
Most attendees don't stay in Hannover where the show is held; instead they usually stay anywhere from 20 - 60 minutes away and commute into the city. Accommodations range from regular hotels to renting rooms in local houses; the latter was our choice of poison. Internet access is unfortunately not as ubiquitous as we'd like it to be, and I've resorted to roaming on my iPhone far too much in order to get email access.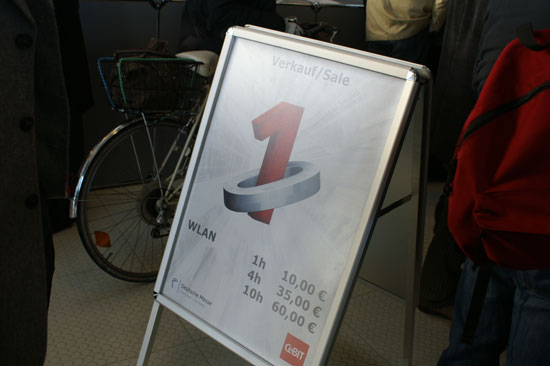 CeBIT offers wireless Internet access at a "low" fee of 10 Euros for an hour ($15.18). Thankfully OCZ was kind enough to let us use their Internet connection at their booth for free.
The weather in Germany this time of year isn't exactly the best, but when it's sunny outside the German countryside is nothing short of beautiful. The area is full of quaint towns that you often read about in books or see depicted in films, and it's a sight to take in. My previous two trips to Germany were straight to airports and hotels, with little time to really soak in the German experience. That's changed with this trip to CeBIT and it's something that, despite being difficult at times, is a good experience.
We arrived at the show by car, parking in a lot a decent distance away from the exhibition calls. While CES is spread over 4 halls and two convention centers, CeBIT is made up of 26 halls - occupying the space of a small town.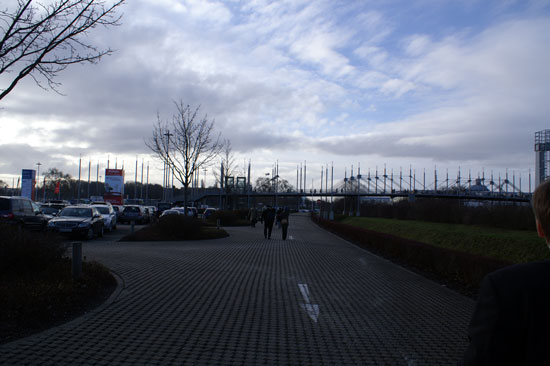 To get to CeBIT we must first walk through the parkinglot and across the bridge you see in the distance.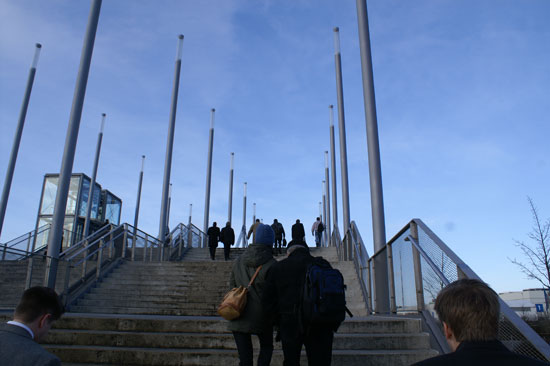 Up the stairs and over the bridge.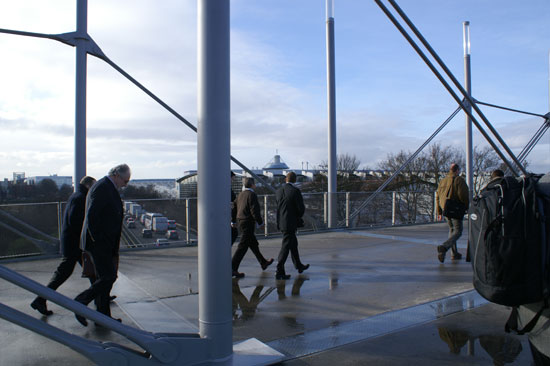 The traffic below is all CeBIT traffic, as we cross over to the exhibition halls.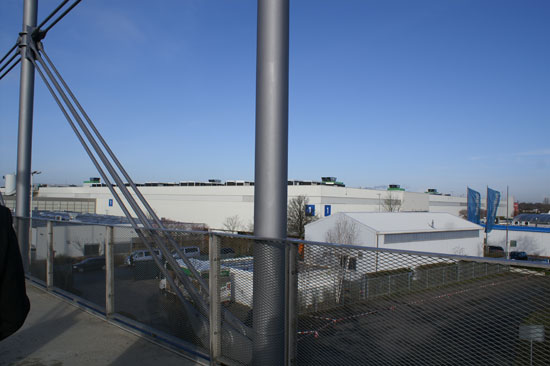 Hall 1 is over to the right side of the bridge into CeBIT.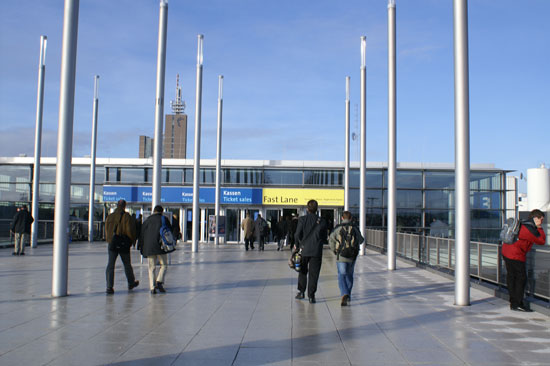 Done with the bridge we see the end in sight; we're almost at CeBIT.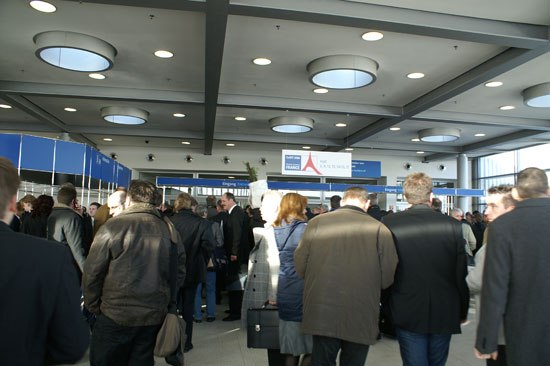 The crowds are intense but not terrible for such a large show. Typical tradeshow badges aren't worn; you simply scan in your pass and you're allowed into the CeBIT area. It's a far more efficient system than your typical tradeshow where badge flashing and scanning is necessary.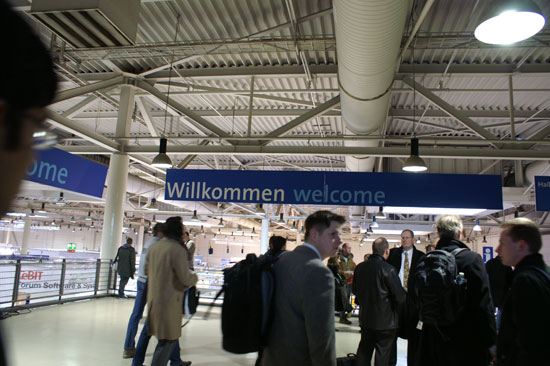 Once inside we're greeted by a bilingual welcome sign; taking 5 years of German has proved marginally useful. It turns out there's a difference between taking German and actually learning the language.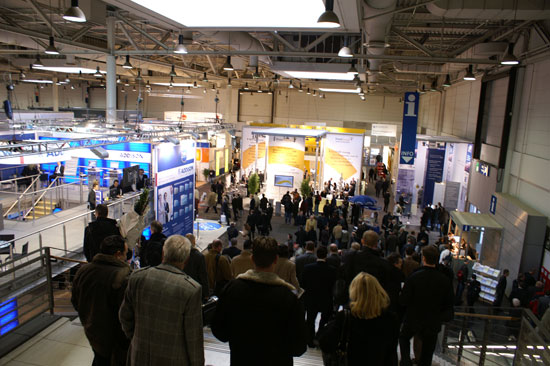 The show floor in Hall 3 is typical tradeshow fare; this hall wasn't particularly interesting for us so we headed over to Hall 2.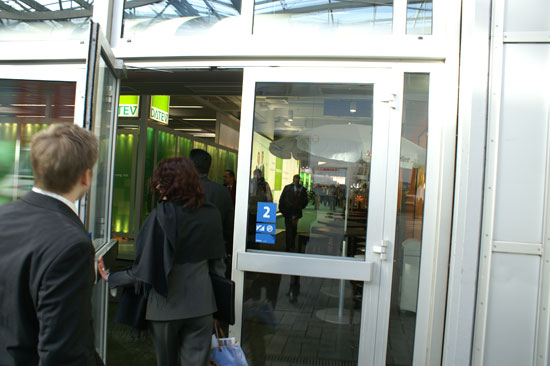 Hall 2 wasn't terribly interesting but was one of the most expensive Halls at CeBIT.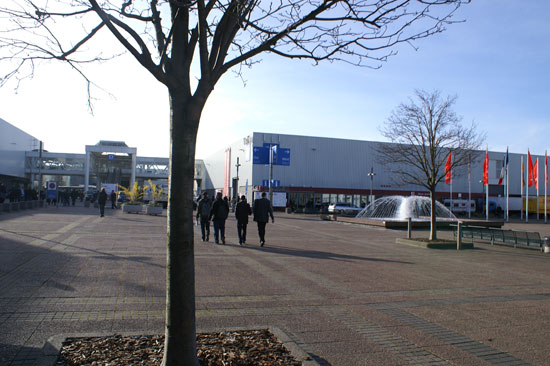 Hall 1 to the right...you get an idea of the scale of these halls from this picture, and there are 26 of them at CeBIT.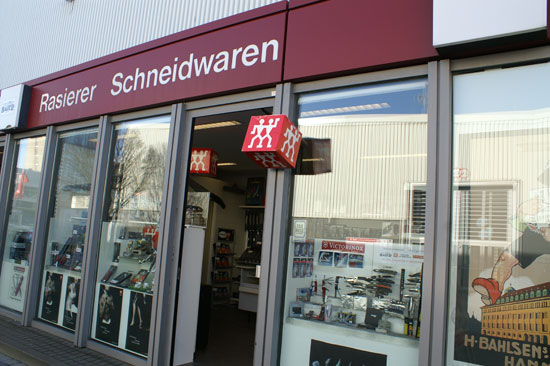 If you need a knife between meetings, CeBIT has you covered. In between exhibition halls we found this useful little store.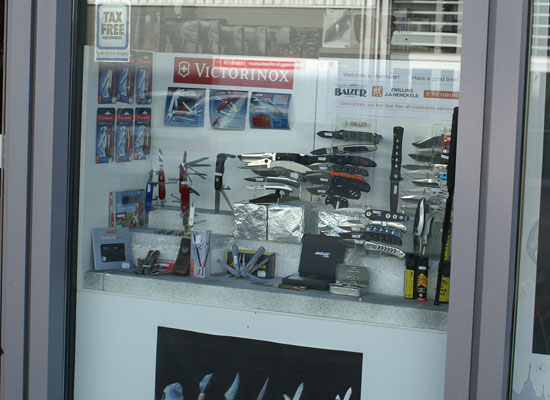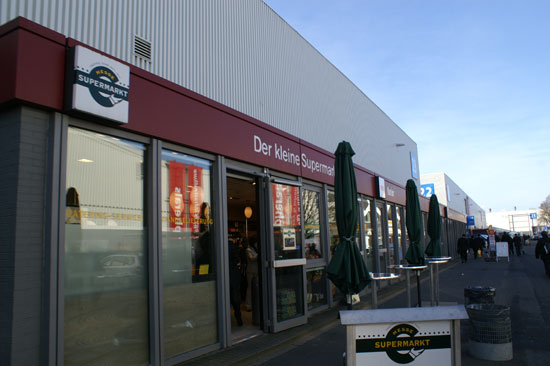 Need food? CeBIT has you covered. It's really like a small town in here.
You know you're in Europe when you'll find literally naked booth girls walking around the show floor. Be-Quiet had a girl walking around the show wearing nothing but paint.
With our CeBIT backstory out of the way, let's take a look at what we've seen thus far at the show.
Intel's 4-Series Chipsets: Everywhere
Despite lacking an official launch, Intel gave motherboard vendors the green light to display motherboards based on its upcoming 4-series chipsets due out in Q2 of this year.
The chipsets are P45, G45, G43, and X48. The G45 chipset includes the new Intel GMA X4500 HD graphics core which adds support for H.264 decode acceleration, something that has been absent from all previous Intel integrated graphics solutions. Hardware H.264 decode acceleration is not included in G43 (the G43 only uses the X4500 GPU, without the HD suffix).
Both the G45 and G43 support HDMI/DVI/Display Port and have dual channel memory controllers, but the G43 only allows 1 DIMM per channel vs. 2 on the G45.
All of these chipsets support 1333MHz FSB and DDR3 up to 1333MHz (except the G43 only supports up to 1066MHz DDR3).
The big feature is that all of these new chipsets are built on Intel's 65nm process for the MCH vs. 90nm for the older 3-series generation. The smaller manufacturing process should mean that they draw much less power.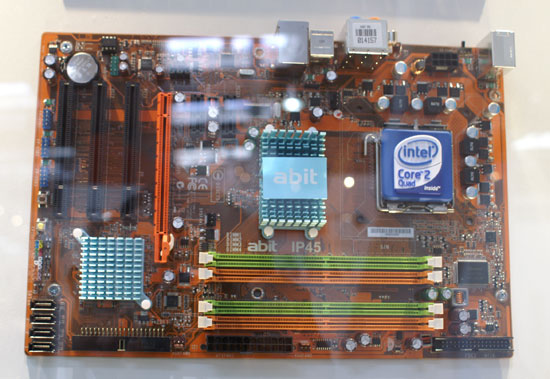 abit's IP45 based on the P45 chipset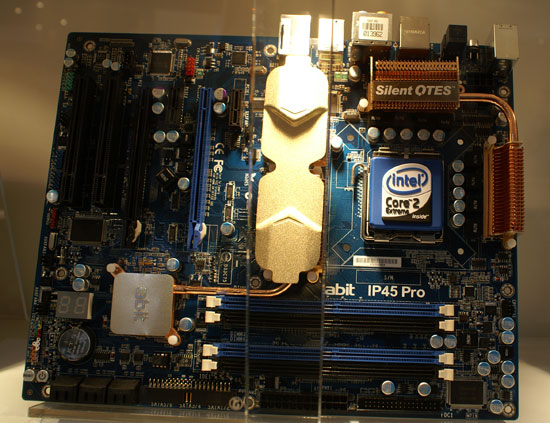 abit's IP45 Pro, also based on the P45 chipset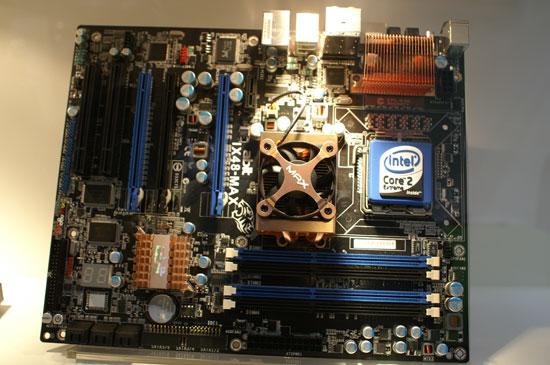 abit's IX48-MAX based on the Intel X48 chipset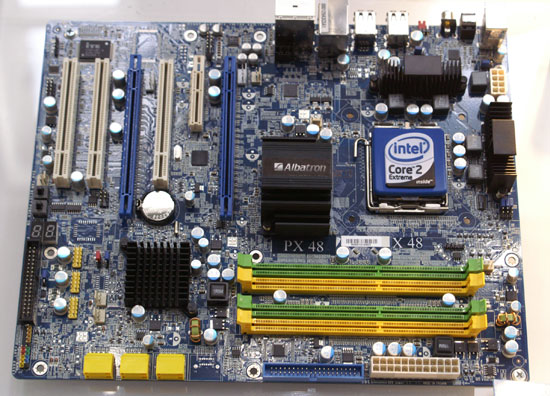 Albatron's PX48 motherboard based on the Intel X48 chipset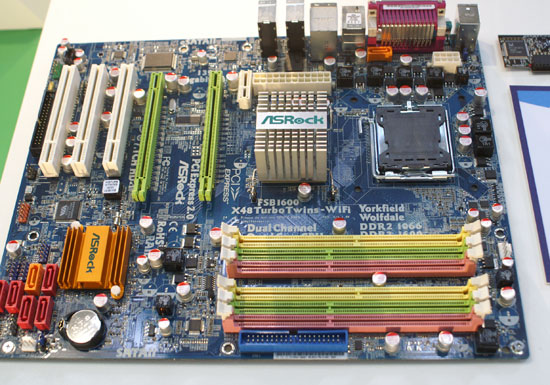 ASRock's X48 motherboard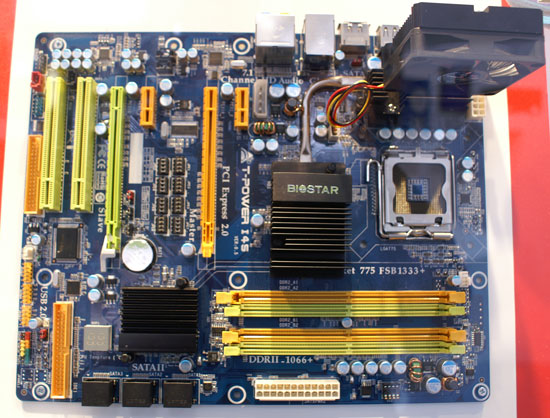 Biostar's T-Power I45 based on the P45 chipset; note the jumpers used to switch between a single PCIe x16 slot and two x8s, all Gen2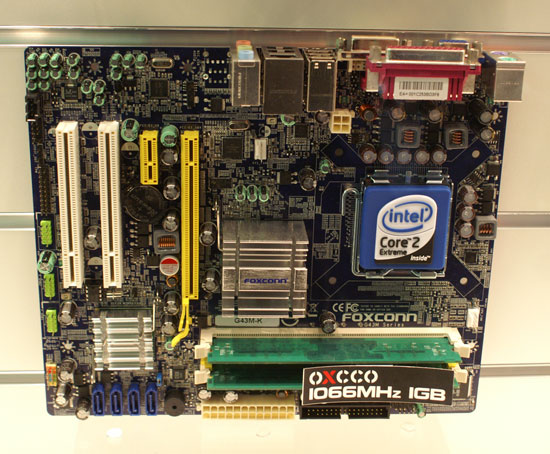 Foxconn's G43 based motherboard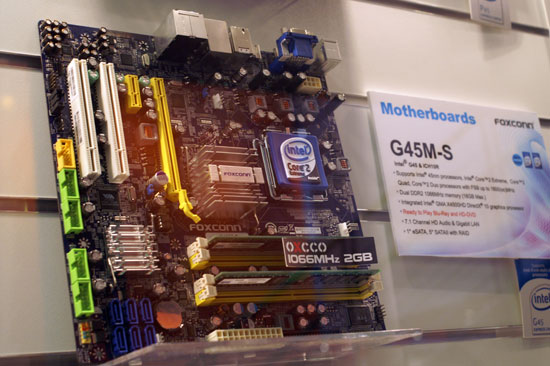 And G45 from Foxconn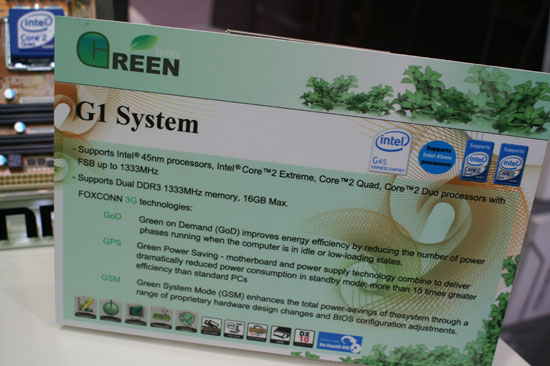 Foxconn's motherboards are "Green" in that they include power saving techniques such as reducing the number of phases used in their power delivery system during idle periods.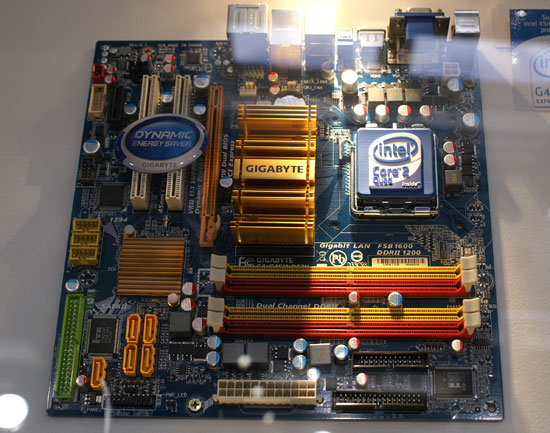 Gigabyte's G45 motherboard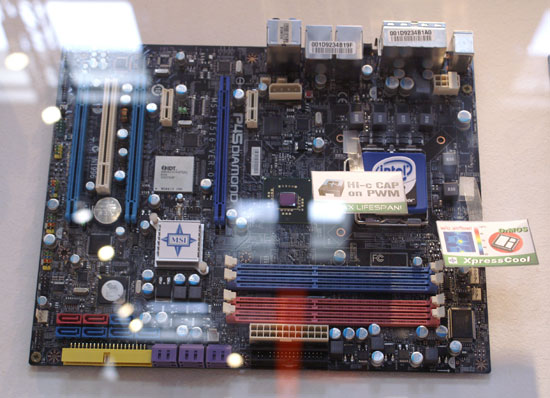 MSI's P45 based P45 Diamond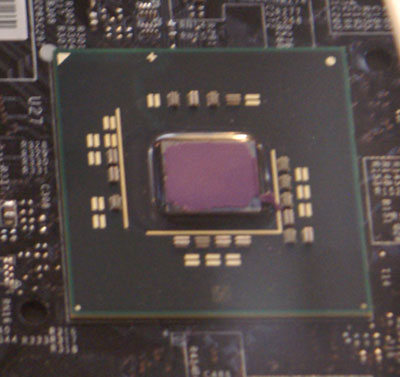 A closer look at the P45 MCH
We've only shown off a handful of 4-series motherboards here, but their presence at CeBIT was nothing short of impressive. It reminds us of the old days of chipset launches. Intel is definitely looking to migrate quickly to the new 4-series.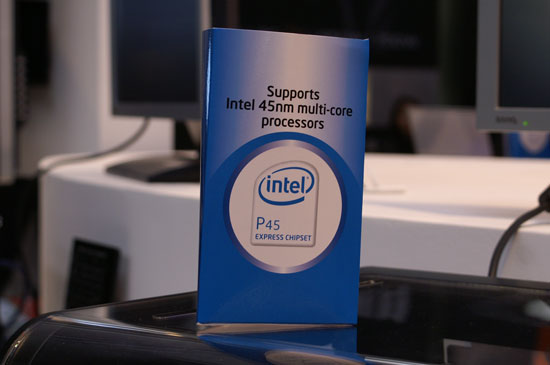 AMD and NVIDIA both show off Hybrid Multi-GPU Chipsets
AMD finally released its 780G chipset with support for Hybrid CrossFire. Although NVIDIA's competitor, the GeForce 8200, is yet to be released it was all over the show.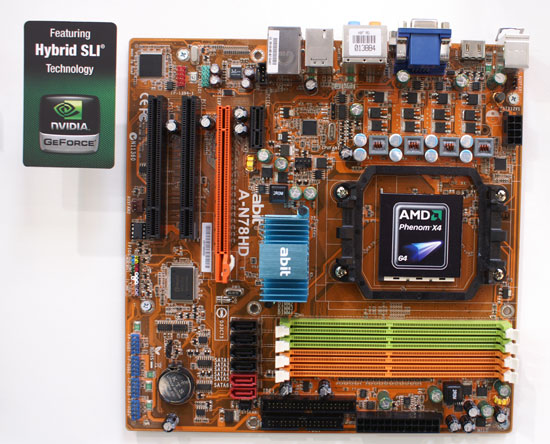 abit's GeForce 8200 based A-N78HD motherboard.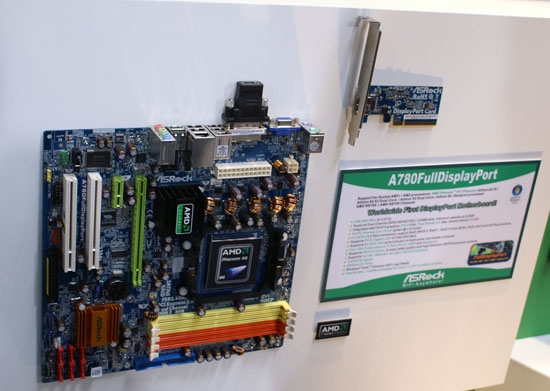 ASRock's AMD 780G based motherboard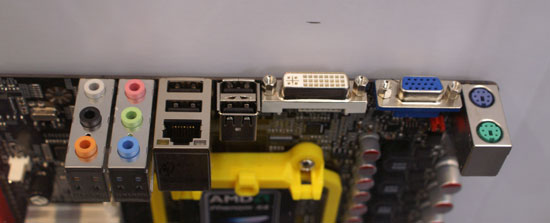 Not all AMD 780G boards have HDMI on board; in this case you have to use AMD's DVI-to-HDMI adapter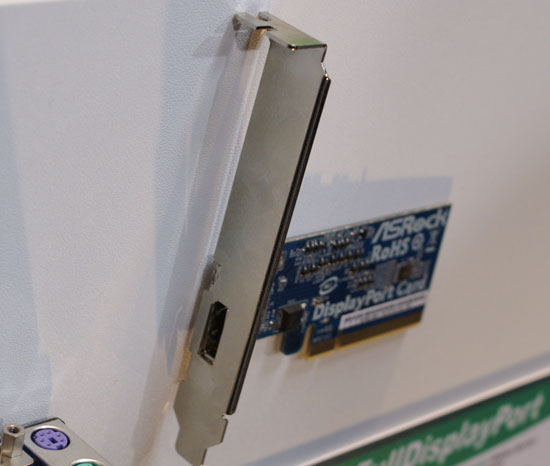 The ASRock 780G supports DisplayPort using an external card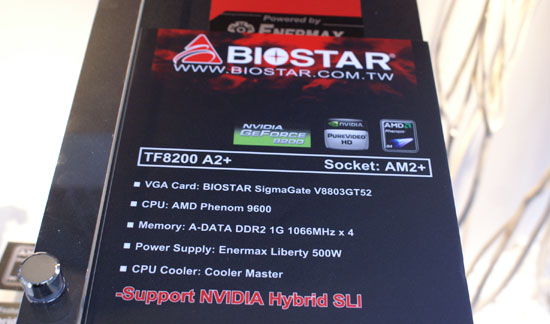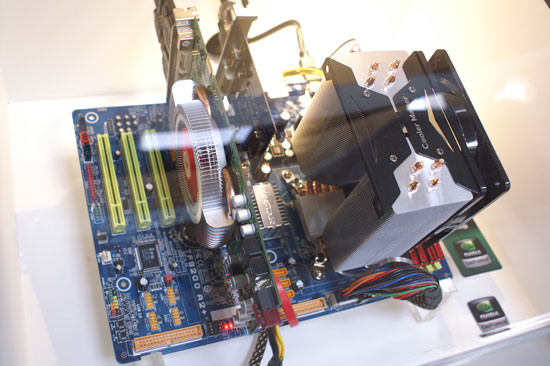 Biostar's GeForce 8200 motherboard running in Hybrid SLI mode. The chipset's integrated GPU and the external graphics card work together to offer increased performance.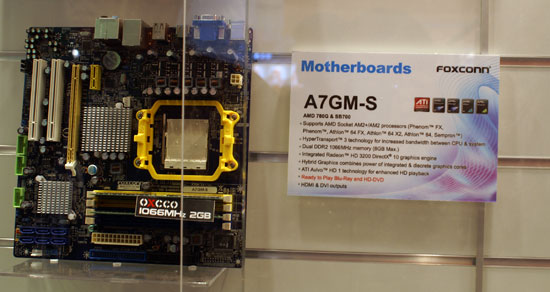 Foxconn's AMD 780G motherboard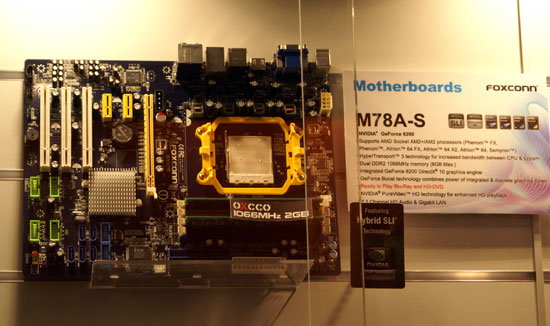 Foxconn's GeForce 8200 motherboard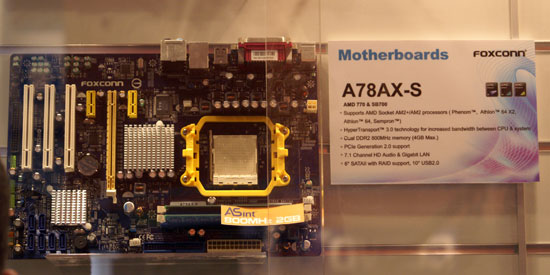 Foxconn even had an AMD 770 based motherboard on display; this chipset is not yet launched.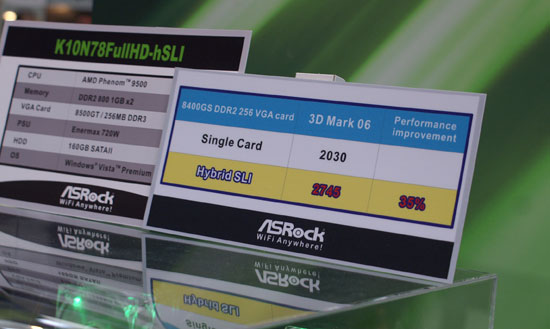 Performance gains from Hybrid SLI; they are impressive but still not for the hardcore gamer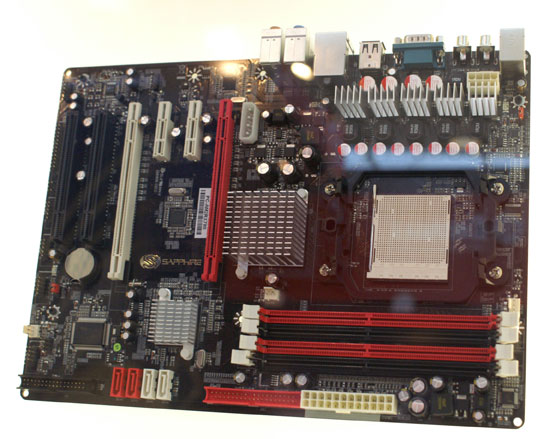 Sapphire also had an AMD 770 motherboard on display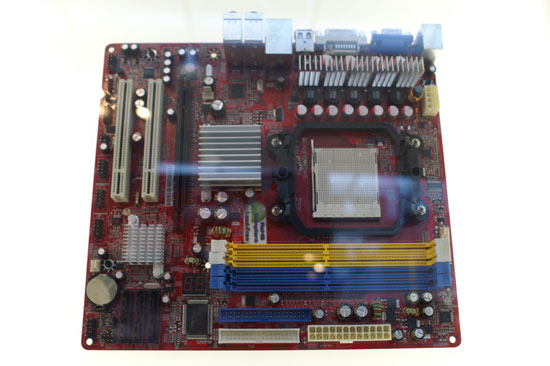 As well as a 780G motherboard
MSI brings 2GB of memory to the GeForce 9600 GT
MSI had a special GeForce 9600 GT on display with a full 2GB of GDDR3 memory on board. It was also cooled by a Zalman heatsink/fan.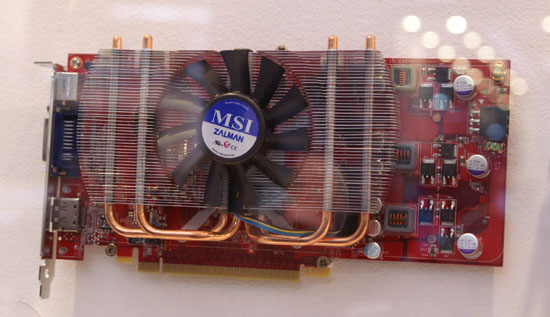 The 2GB frame buffer is undoubtedly useless for any real world gaming performance, but technology for technology's sake is always fun.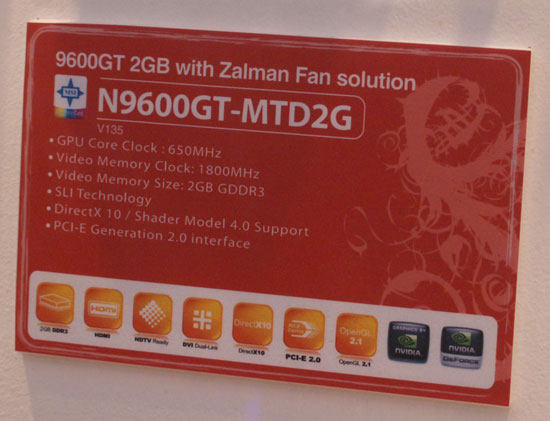 Gainward's 1GB 8800 GT
MSI wasn't the only company pushing memory sizes at the show. Gainward also had its 1GB 8800GT on display: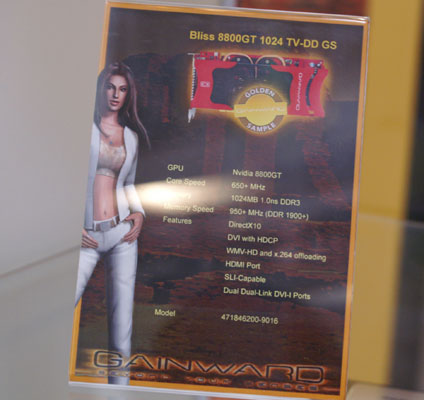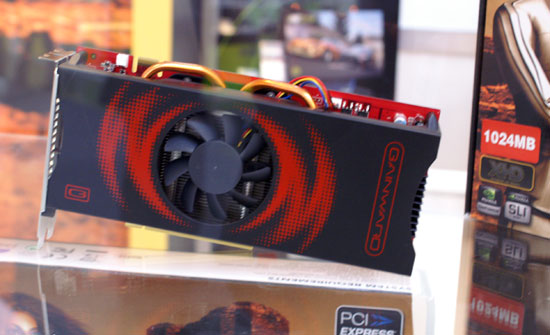 This is also a useless memory size, as 512MB is really the sweet spot for the 8800GT's processing abilities.
Intel's Atom Processor at CeBIT
Although the official name was just announced two days ago and its architecture detailed shortly before that, we saw a few examples of Atom running at the show.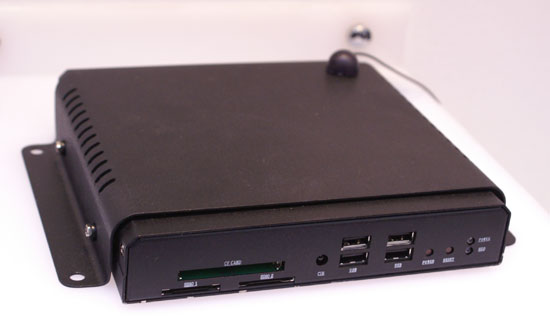 MSI's Silverthorne (Intel Atom) based ultra small form factor PC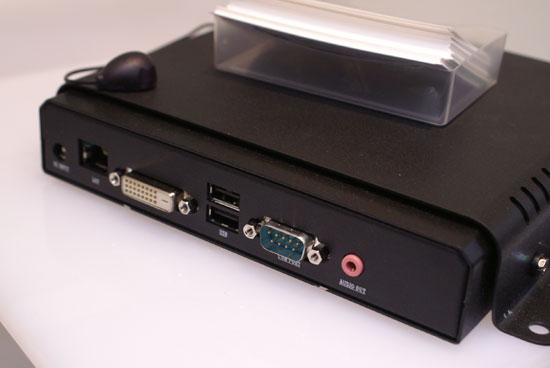 And from the back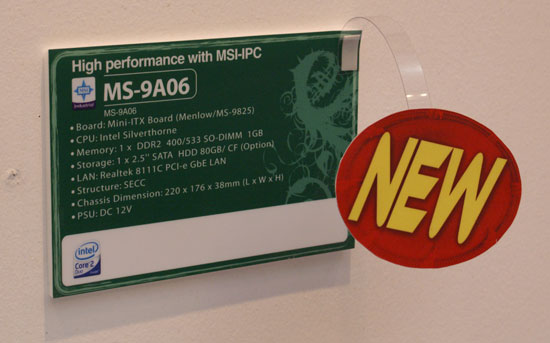 Gigabyte had a couple of Atom based MIDs (Mobile Internet Devices) on display: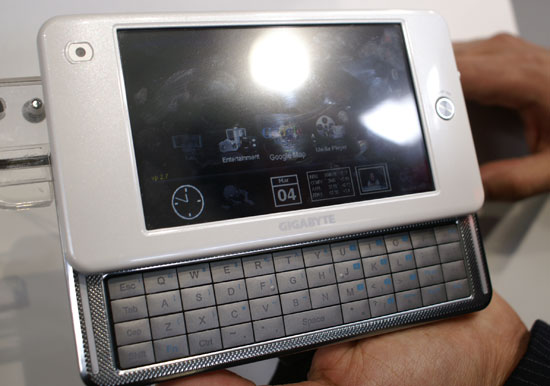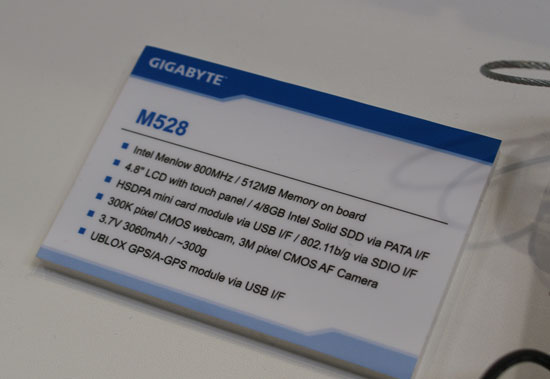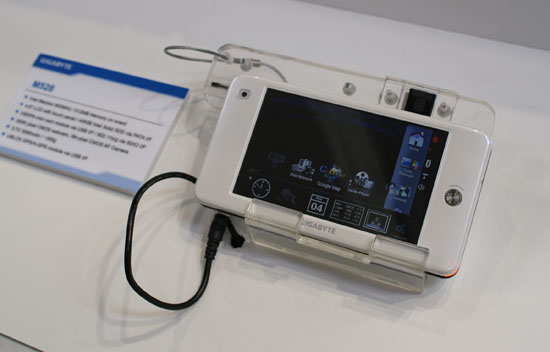 VIA C7 based UMPCs at CeBIT
Near its Atom based MIDs, Gigabyte showed off its UMPCs based on VIA's C7 microprocessor: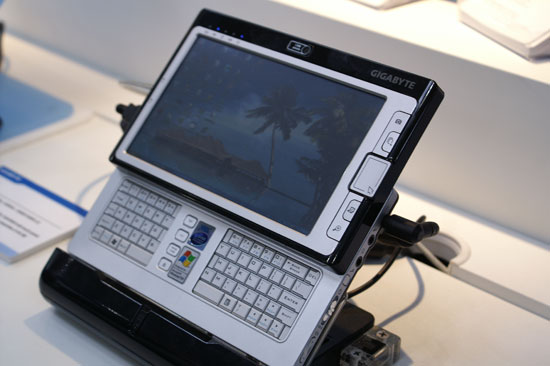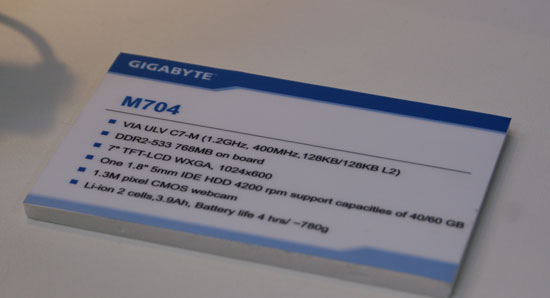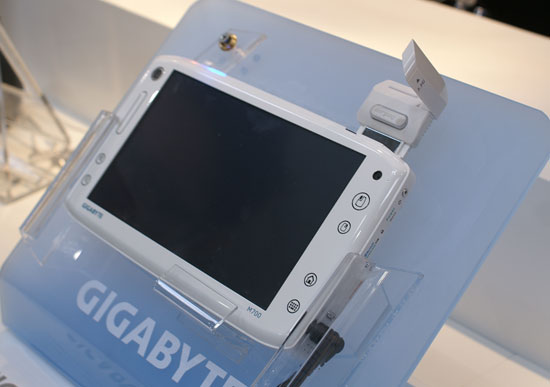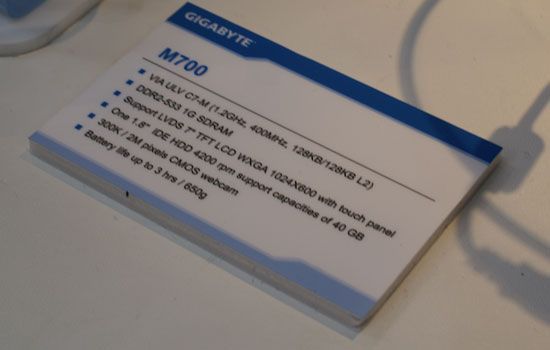 Jetway's VIA C7 Motherboard
Jetway had a wall full of C7 compatible motherboards, the most interesting one had a 2GHz C7 on board: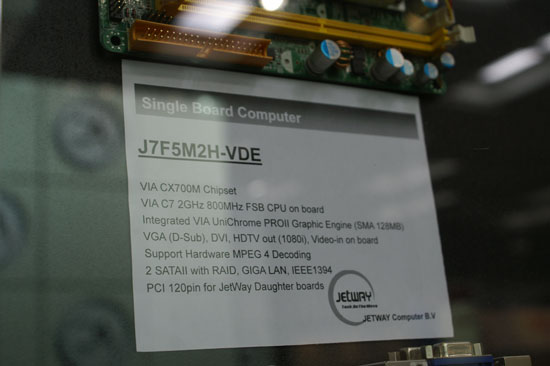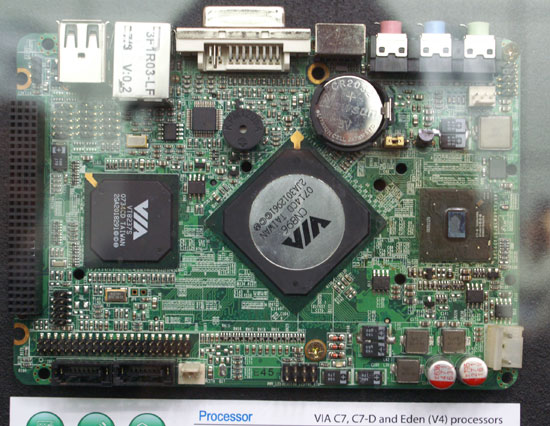 Jetway's array of mini-ITX motherboards are useful for applications like Car PCs: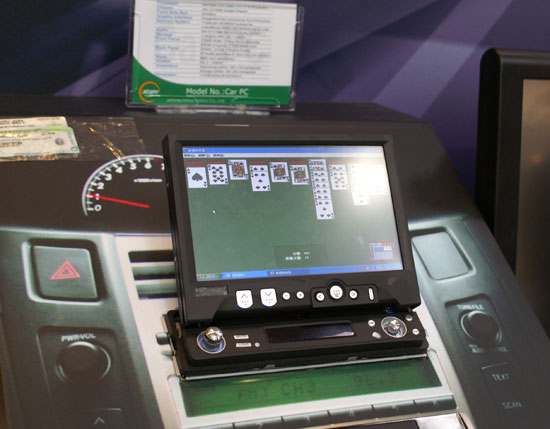 We expect Intel's Atom processor to do quite well in these sorts of applications.
EVGA Shows off NVIDIA's 790i and GeForce 9800 GX2
While the embargo hasn't lifted on NVIDIA's 790i chipset or the GeForce 9800 GX2, EVGA is showing both off at this year's CeBIT: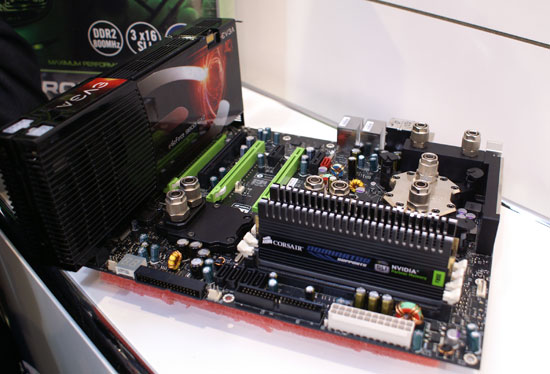 The 790i motherboard with a single 9800 GX2 graphics card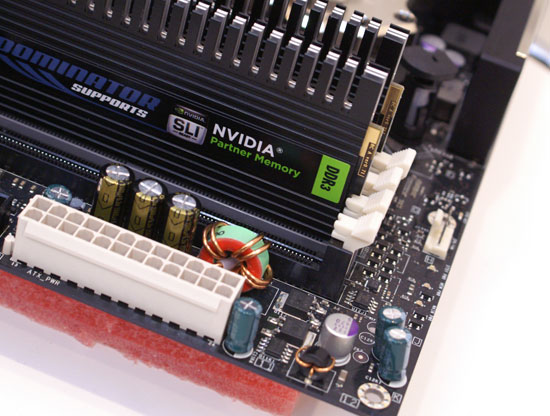 See anything special about the memory? That's the 790i's defining characteristic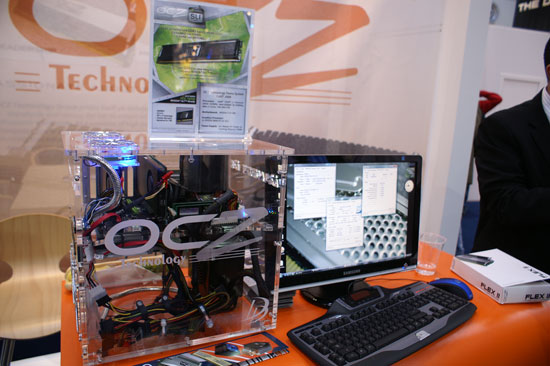 OCZ also had a 790i system on display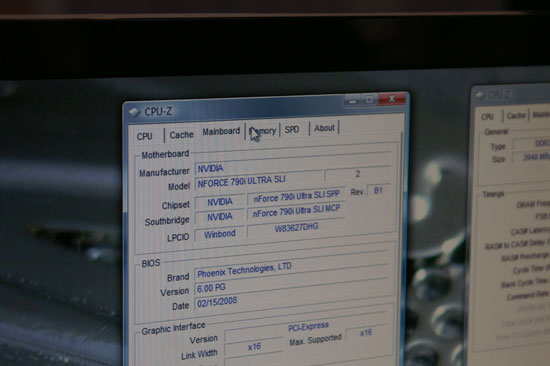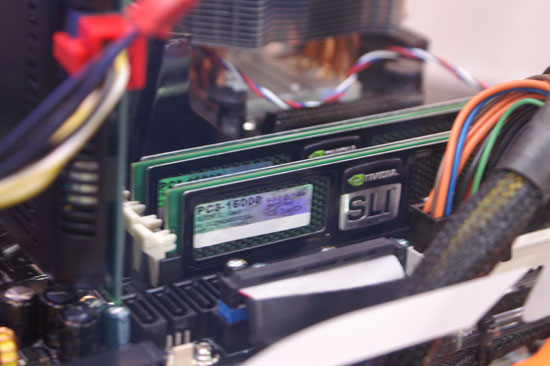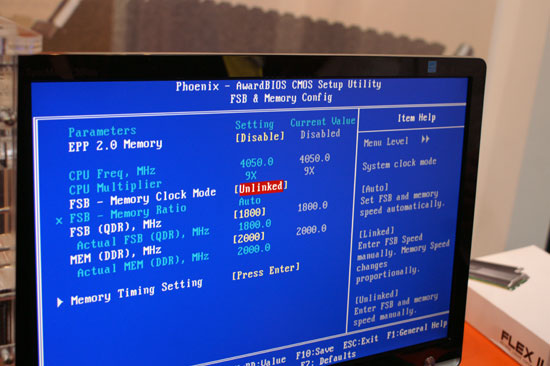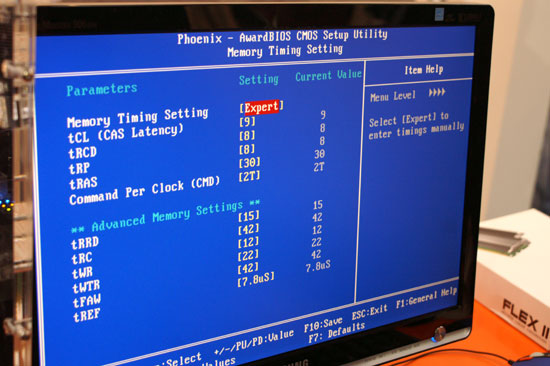 DDR3-2000 running at 9-8-8-8 with OCZ's memory

The 9800 GX2 itself is NVIDIA's dual-GPU answer to AMD's Radeon HD 3870 X2: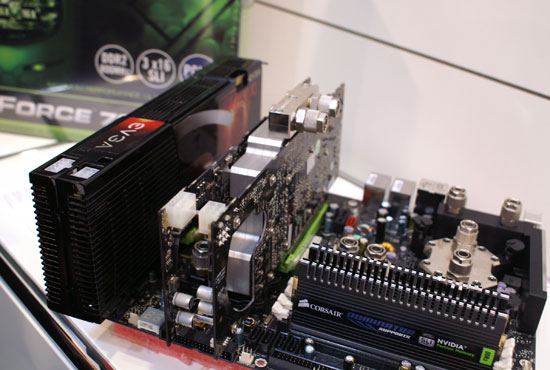 Both of these are GX2 cards, the one on the right shows off EVGA's new water-cooling solution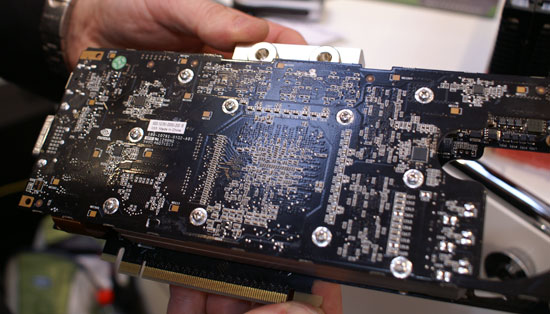 Naked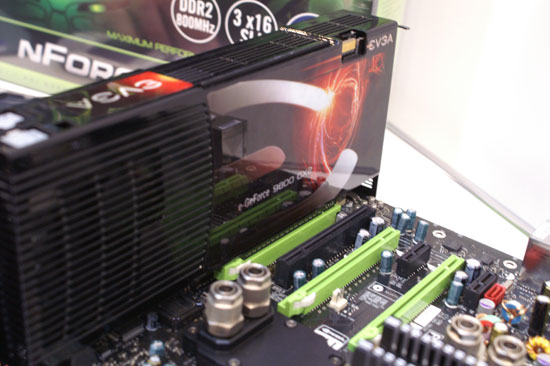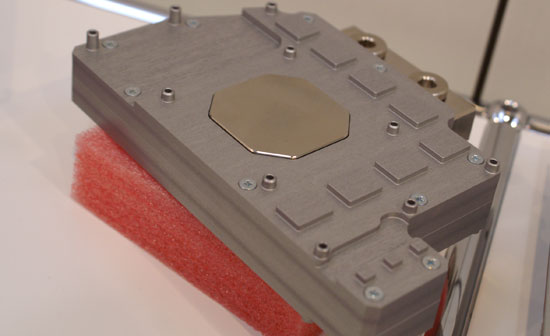 The waterblock itself
Sapphire's single-slot Radeon HD 3870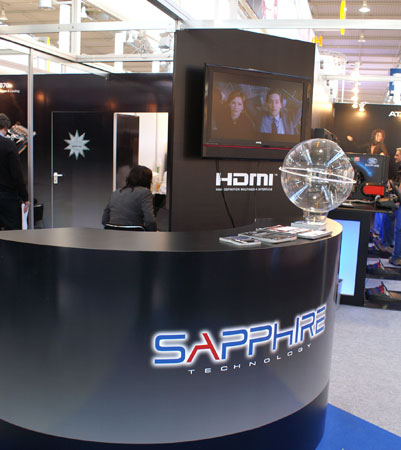 Unique cooling solutions were all over the show, including Sapphire's single-slot Radeon HD 3870: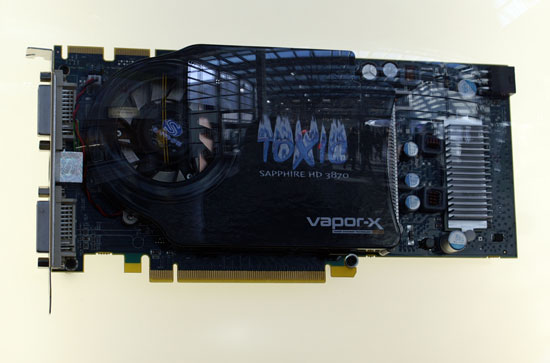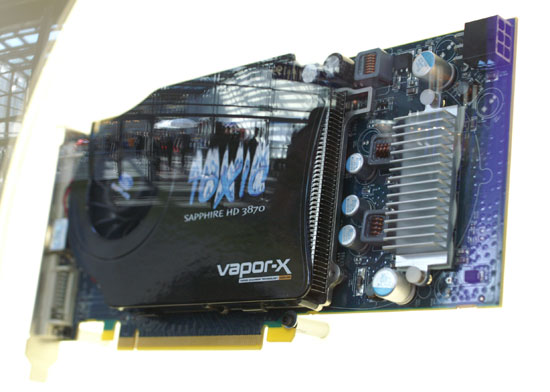 Cooled using a technique similar to that used by heatpipes, Sapphire's Vapor-X heatsink allows for a slimmer-than single-slot design to be implemented on the Radeon HD 3870. With such a low profile cooler, sticking four of these on a motherboard is possible.
Sapphire also had a passively cooled Radeon HD 3870 on display: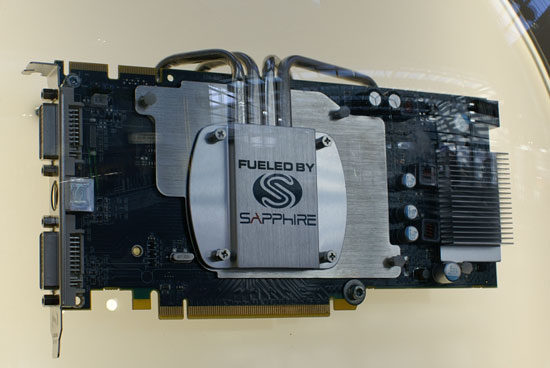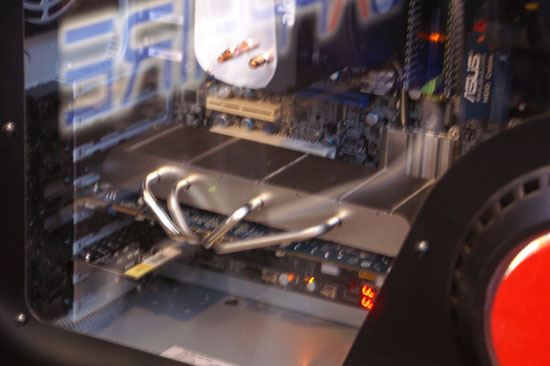 The passively cooled 3870 in action
Zalman's Gun-inspired FPS Gaming Mouse
Zalman had a new mouse on display that sat upright with a pair of triggers for FPS gamers: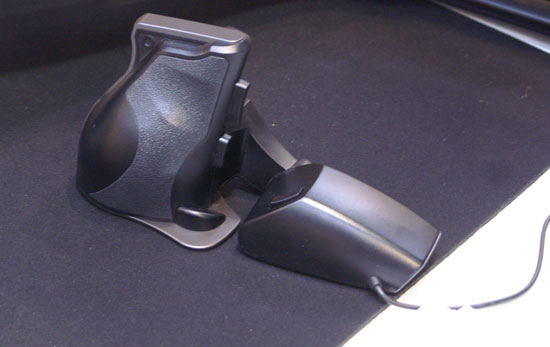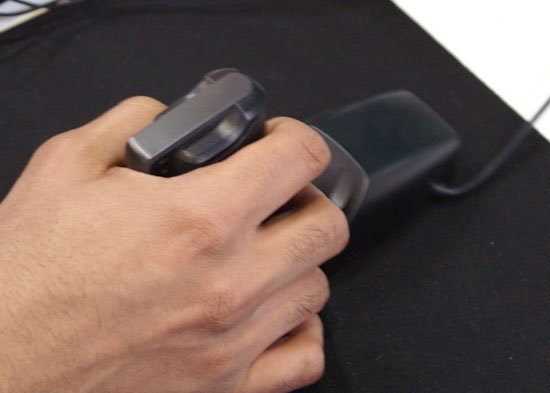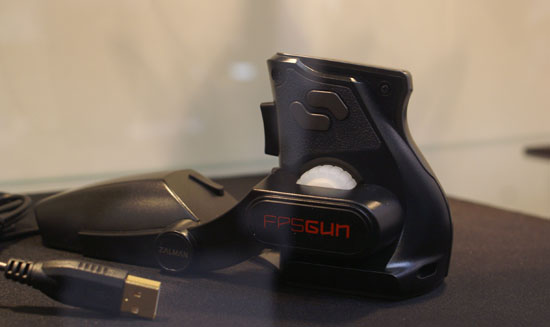 The FPSGUN works reasonably well, although you have to increase the mouse sensitivity in order to compensate for the extra distance between your hand and the optical sensor on its base.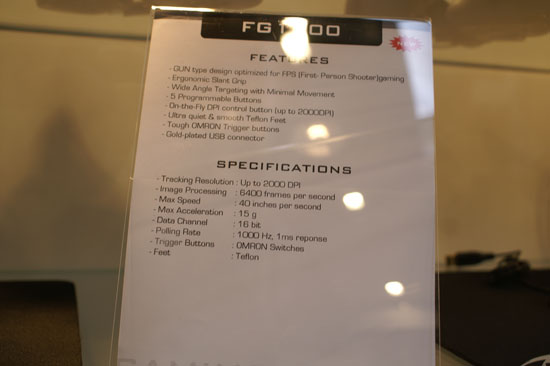 While the mouse worked well and could conceivably reduce fatigue for long play sessions, it wasn't revolutionary enough to really separate us from our standard mice.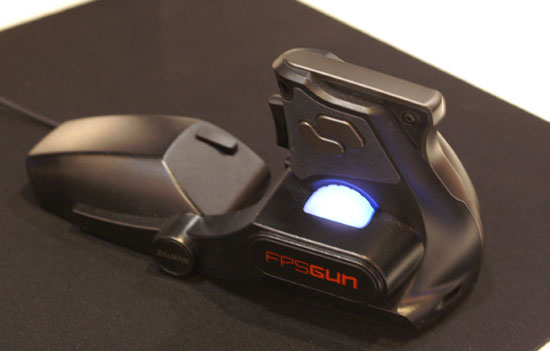 Lian-Li Gives the Xbox 360 a New Case
If you agree that the Xbox 360's Red Ring of Death (RRoD) failures are related to cooling, maybe a better case with better cooling might help solve the problem. Lian-Li offers such an alternative: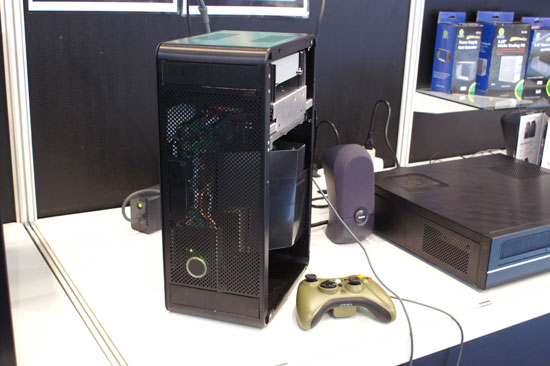 You've got to transplant the Xbox 360 yourself, but it fits nicely in this not-quite-as-nice-as-the-original case: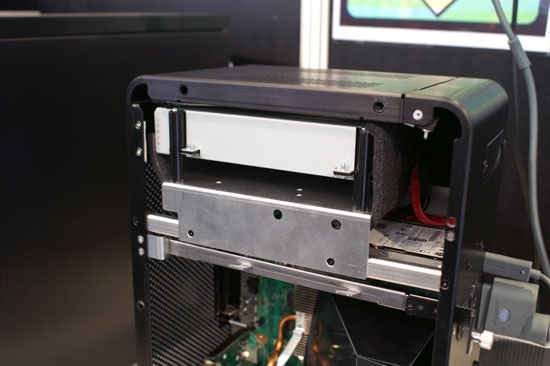 Now if they could only build an easy DIY Xbox 360 portable...
Supertalent: Taking SSD Seriously
In one of the strongest showings of Solid State Disk drives at CeBIT, Supertalent had much to share.
Supertalent had a 1.8" SSD on display with a 40-pin PATA ZIF connector: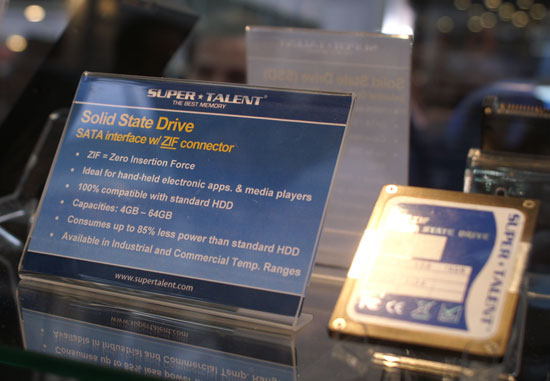 This particular drive is important as it is the exact drive needed by the new MacBook Air and most likely the upcoming Lenovo X300: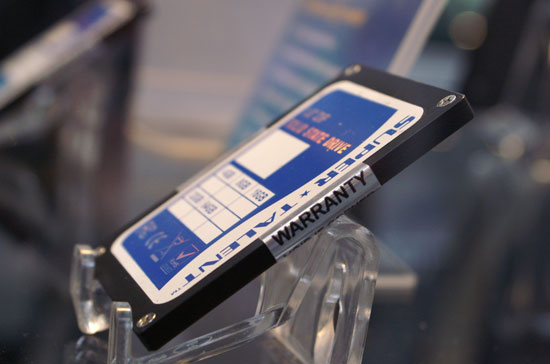 Also on display was Supertalent's 256GB 3.5" SSD: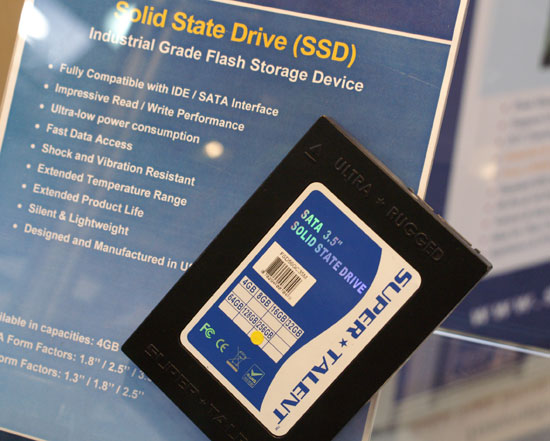 Supertalent had a 1.8" SSD with micro-SATA connectors: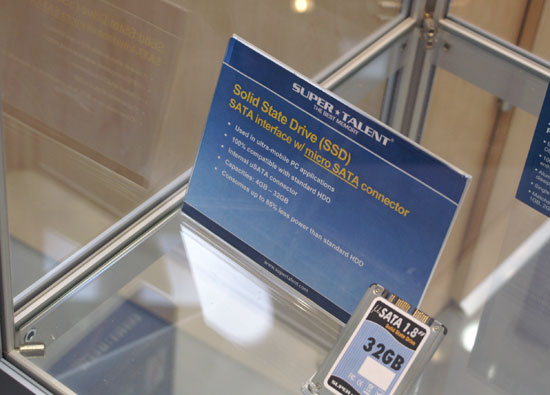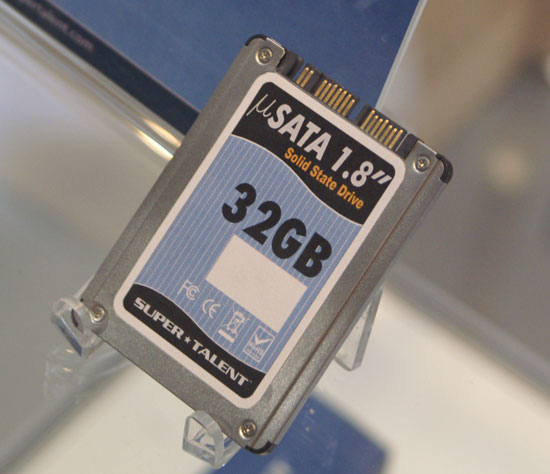 The micro SATA connector is important for ultra small form factor devices, if you'll remember the MacBook Air still resorted to using a PATA based ZIF connector for form factor reasons among others.