Original Link: http://www.anandtech.com/show/2442


Introduction
There are quite a few manufacturers on the market selling "gaming" PCs. Of these, a number offer "factory-overclocked" configurations, usually at the upper end of the price scale. Überclok is a new company that offers overclocked systems at a relatively low entry price. First, let's look at the company and the ordering experience, and then we'll delve into a review of their entry-level Ion system.
Überclok Overview
Starting with their PR:
"Überclok is a new player in the Gaming PC Market, based in Chicago. We use hardware overclocking to produce faster, more powerful computers than those sold for the same price by other gaming PC companies. By the same token, an Überclok PC costs significantly less than a competing product of equal capability. Every Überclok Gaming PC is overclocked by default and is covered by a three-year parts and labor warranty. If a component fails in those three years, Überclok will replace it free of charge."
Overclocking is the underlying core of Überclok's business model. Particularly in the midrange price segment, overclocking does provide a big performance boost over stock systems, and Überclok is filling in the role of the enthusiast tweaking the system for performance. The question is, can they do it at a reasonable price premium?
Website Layout and Ordering
First off, when looking for the webpage, it's helpful to know the URL, www.uberclok.com. Searching by company name doesn't show their site in the top 10 hits, and it's even more likely users will misspell the name as "uberclock" and get hits for a software utility. Once at the webpage, we find a fairly clean and straightforward layout, with generally good information. There are currently two models, the Ion and the Reaktor. The Ion was "designed" to run up to 1680x1050, while the Reaktor model is recommended for anything above that.
Clicking on "Buy" will direct you to a separate website with the ordering options. Configuration options are available for each model, but the options are limited compared to some other vendors that offer vast arrays of choices. In general, we agree with Überclok's approach of providing only a few quality choices for each item. This avoids confusing the average gaming consumer, who likely is relying on the PC vendor's opinion of what is "the best" considering they are skipping the DIY option. We also appreciate their honesty on several of the options, particularly the Killer NIC ("Cost conscious? You don't need a Killer NIC.") and antivirus solution (AVG Free is recommended). One thing we disliked is that you cannot view shipping and handling charges until after creating a profile.
Summing up the website layout and content:
Pros
Quality component choices

Simplified ordering options and honest explanations of choices

Reasonable OS and hardware upgrade pricing

Dual-boot options
Cons
Cannot view "final" cost with shipping and handling without creating a profile

Portions of the ordering page seem very new (i.e. About our Site in the Help area is presently blank)
Support
As mentioned previously, Überclok warranties their systems for three years parts and labor. Should a component fail, Überclok covers shipping both ways, which is a nice addition. If the consumer wants to ship the entire system for diagnosis or repair, they must pay for shipping, but Überclok will pay for return shipping. This is slightly unfortunate, but reasonable for a smaller vendor. They also offer a 30-day money back guarantee if the buyer is not satisfied, excluding shipping and handling fees. This is a great option for peace of mind.
The Support page definitely has a personal small-company feel, which could be viewed as a plus or a minus. A quote from the Customer Support page:
"Speak to an actual human being! Our hours are 9-5 Central Time, Monday - Friday. We also answer the phones whenever we are putting in extra hours (which is all the time!), so go ahead and try us evenings and weekends too."
The number is toll-free but as noted above is not 24 hours, unless the guys at the office happen to be hopped up on Red Bull.
Now that we're acquainted with the company, how do their systems perform?
Specifications
The system under review is the Ion, the lesser of the two configurations priced at around $1600. The base price is $1629 but as configured the system costs $1734 plus shipping. FedEx Ground is reasonably priced (~$45 to CA, across the country from IL). Ion specs as listed on the website are as follows:
Uberclock Ion Test Setup and Options
Processor
Intel Core 2 Duo E4500 running at 3.0 GHz
Motherboard
680i SLI - Lifetime warranty
Memory Type
Corsair XMS2 DDR2-800
Video Card
EVGA 8800 GT - 650MHz/1.625GHz/1.9GHz Core/Shader/RAM
or EVGA 8800 GTX - 630MHz/1.4GHz/2GHz Core/Shader/RAM
Lifetime warranty on all cards.
SLI (dual cards) available.
Power Supply
Thermaltake Purepower 600-Watt
or Thermaltake Toughpower 850-Watt (with 8800 GTX)
or Thermaltake Toughpower 1000-Watt (with 8800 Ultra)
Case
Antec Nine Hundred
Hard Drive
Seagate Barracuda 7200.10 500GB 7200 RPM SATA 3Gb/sec
or Hitachi Deskstar 7K1000 1TB 7200 rpm SATA 3Gb/sec
or Western Digital RaptorX 150GB 10k rpm SATA 3Gb/sec
Multi-drive & RAID configurations available.
OS
XP Professional
Vista Home Premium
Vista Business
Vista Ultimate
Dual-boot XP/Vista available
32-bit or 64-bit
Removables
Floppy Drive + Card Reader: CF (I/II), Microdrive, SM, SD, MMC, Memory Stick & Memory Stick Pro
DVD Burner
Lite-On 20x DVD burner with LightScribe
DVD Reader
Lite-On DVD reader
CPU Cooler
Tuniq Tower 120
Overall, these are all solid component choices, though some are slightly different from the options available on the ordering webpage. The review system came with a BFG 8800 GT at 600/1800MHz core/RAM, a Seagate 7200.10 500GB drive, and a Thermaltake Toughpower 650W, with Windows XP Pro. The inclusion of a high capacity, good quality, SLI certified power supply is definitely appreciated; this allows the buyer a great upgrade path to quad-core processors and/or SLI video cards as the desire arises. Überclok also informs us that the E4500 will be replaced shortly by the E4700 at the same price.
System Overview
The system arrived in a plain cardboard box with the Überclok logo on the side.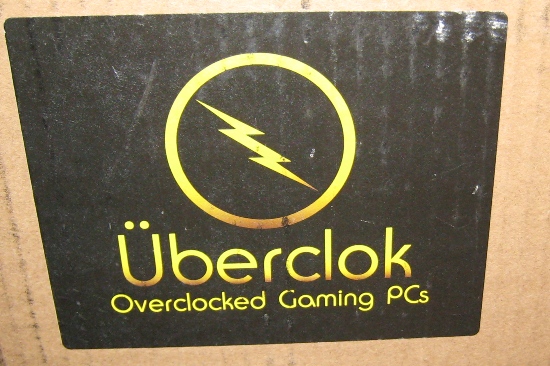 Inside, the case was well-packed, along with an accessories bag, keyboard, mouse, an owner's binder, and some good advice. The accessories bag carries extra cables, DVI-VGA adapters, and the like.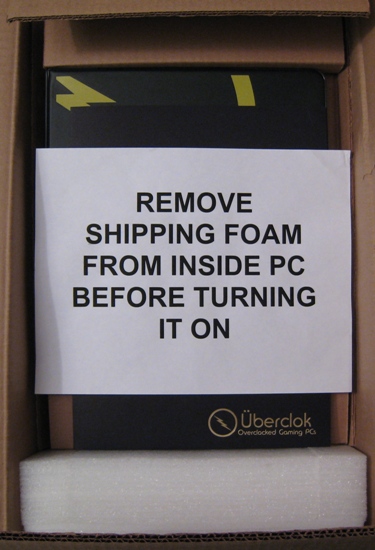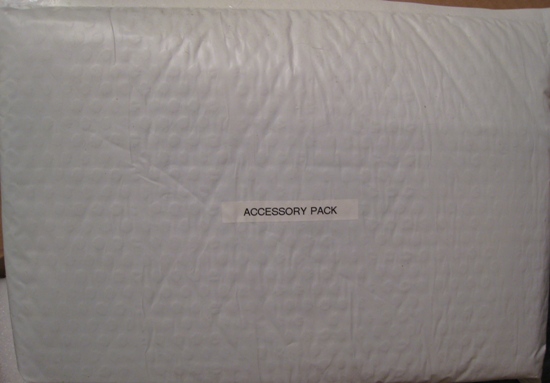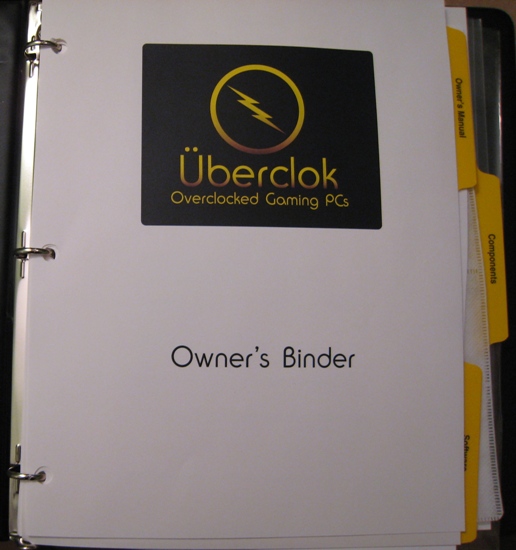 The owner's binder is well done. It includes all of the personal information on the system, such as product keys, serial numbers, etc., and manuals and CDs for all components. It also has additional information about the system itself, loaded software, and some basic troubleshooting steps.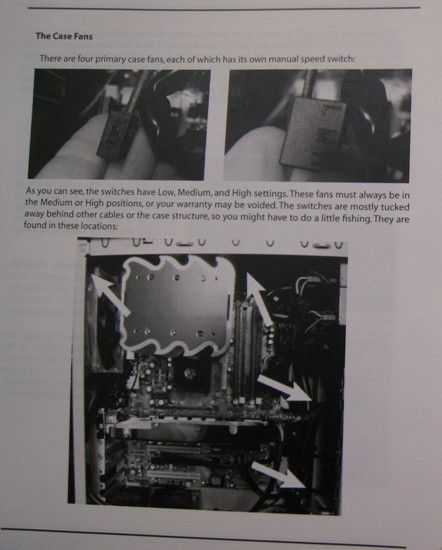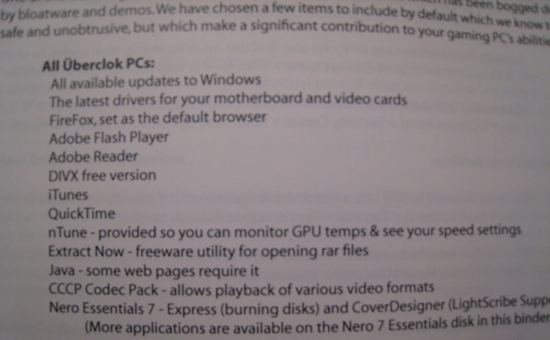 Labeled pictures of the actual case interior are included throughout. This is a very nice touch. As also seen above, Überclok warns you that overclocking beyond their limits will void your warranty. Finally, some additional installed programs are documented that actually are good additions and would not generally be considered "bloatware" (DivX, iTunes, Firefox, etc.). One thing notably missing from the Software section is a restore disk - only the O/S disk is included. Überclok informed us that they are currently working on a solution to this; once complete, they do plan to include restore disks at no extra charge. With a system of this type, we might also expect to see a few benchmark scores up front, just to give us a warm fuzzy feeling as a consumer that it has been powered up and tested prior to shipment.
Build Quality
As advised, our first step before use is to remove the protective shipping foam that prevents the extremely large Tuniq Tower from moving during shipping.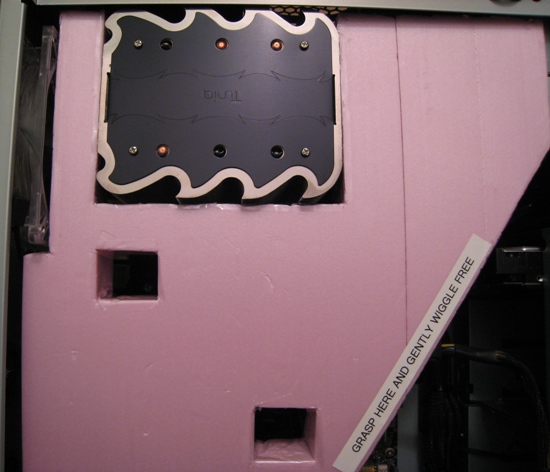 So far, so good. Here are some shots of the interior and exterior.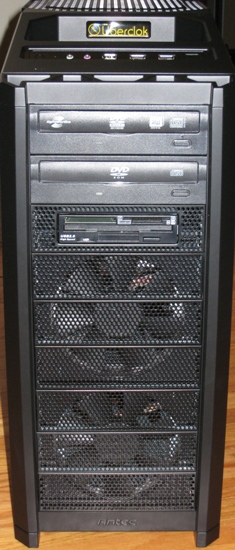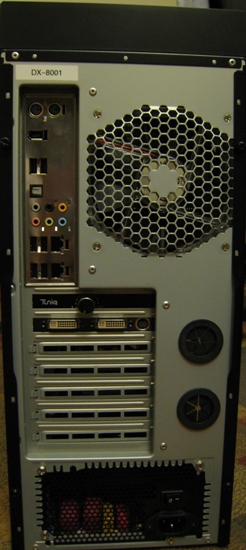 For those who haven't seen the Antec Nine Hundred before, it has two 120mm fans in the front, one 120mm fan in the rear, and an enormous 200mm fan that draws air out the top. It even has an additional 120mm mounting location on the windowed side panel. We took a shot of the top fan with some items placed for scale - it really is large. Tastes will differ somewhat on computer cases, but the Antec Nine Hundred is certainly a reasonable option and one we have personally used and recommended.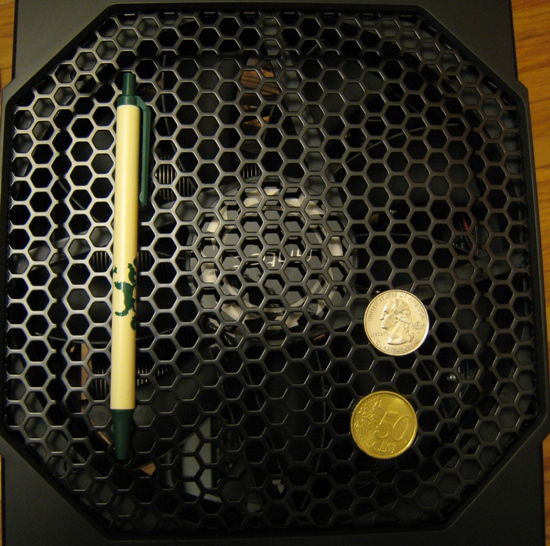 As seen in the interior shot, attention to cable routing is good, and all unused cables on the modular power supply are removed. The use of all Serial ATA components aids in the clean look, and the system had excellent airflow; system temperatures remained low throughout testing.
Setup and Startup
The Ion comes overclocked to 3.0 GHz out of the box. With the E4500 (2.2GHz stock, 11x multiplier), this means a 273 MHz front side bus (1091 quad-pumped).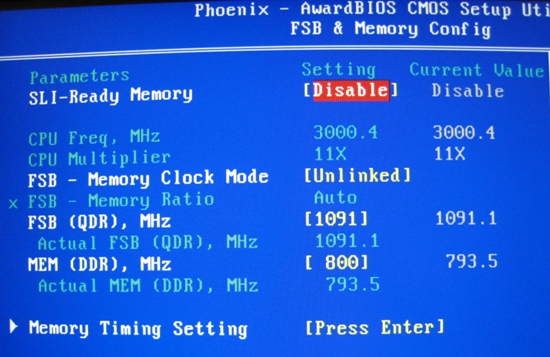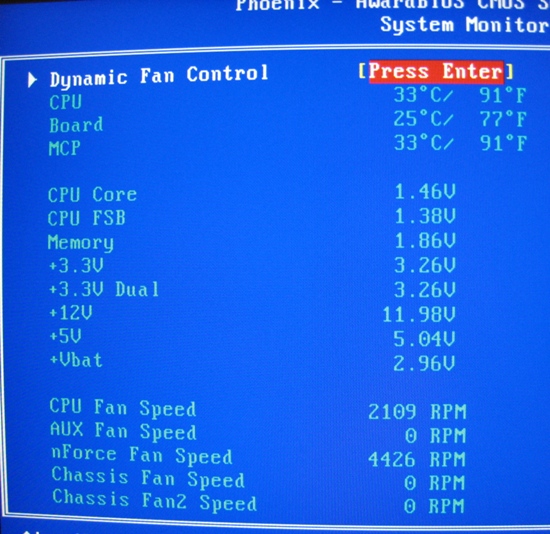 They've turned up the core voltage close to the reasonable limit (1.5V), but with the Tuniq and ample airflow this is no problem, and as seen the CPU is sitting at about 33 degrees Celsius at idle.
And what do we find at first boot?
A totally clean desktop - just My Computer and the Recycle Bin. This is a welcome change, compared to some prebuilt systems that are loaded with junk. How about background processes, another area typically bogged down?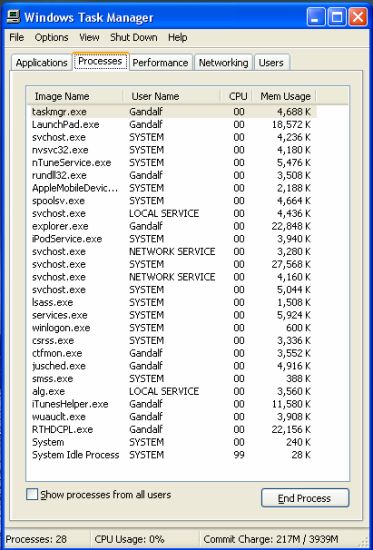 There are just 27 processes (minus Task Manager itself), including iTunes and nTune. This is very good, and about as close to a "clean slate" as you can get. All of the programs listed in the owner's binder come preinstalled, along with typical Windows components. MSN could be removed, but this is a great example overall of giving a clean Windows desktop experience with only a few truly value-added programs. Perhaps the best sign of attention to detail, Überclok holds true to their claim in the binder - the system did indeed have the very latest beta Detonator drivers, 169.28.
General Performance
CINEBENCH R10
CINEBENCH places a heavy load on the CPU during the rendering tests, and can utilize a single CPU or multiple cores. The video subsystem has no bearing on the CPU rendering portion of this benchmark. Results from a previous review of the Shuttle SG33G5, configured with a Q6600, are included for reference.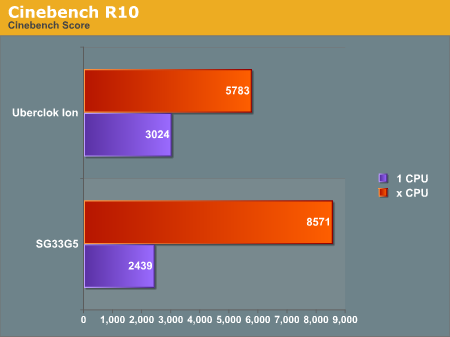 The 3.0 GHz speed of the Ion edges out the 2.66GHz Q6600 in the single-core test, despite having less cache, but the extra two cores are apparent in the multi-CPU test. This is essentially a best-case scenario for multiple cores, as most games and many applications do not yet effectively utilize multiple cores.
PCMark 2005
PCMark 2005 uses a number of applications to simulate real-world system usage and provide a performance measurement. Some of these tests focus solely on the CPU (file compression and decompression, encryption, etc.), while others utilize the video subsystem (e.g. 3D Fill Rate, Pixel Shader).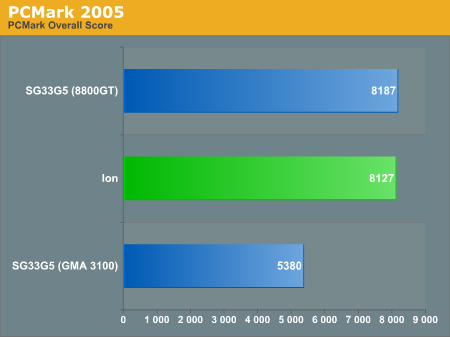 PCMark indicates that performance of the Ion should be very close to the Shuttle system - we'll see if that holds true or not for gaming.
Encoding
We used DVD Shrink 3.2 at default settings to test general encoding performance. We ripped the test file (The Matrix) to the hard drive, with the 2.1 audio tracks removed to improve video quality.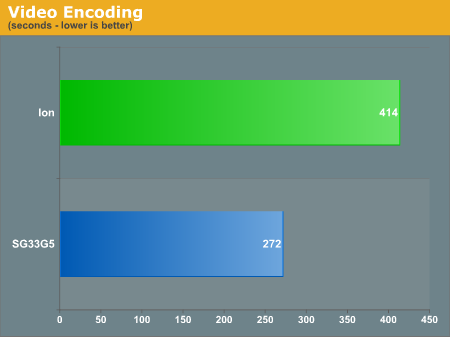 Encoding is another area where multiple cores really shine, and the Ion gets smoked by the Q6600 in the Shuttle. Still, just under 7 minutes is a good time for the E4500; the overclock gives it a nice boost.
Now let's see how this gaming machine performs in that role.
Gaming/3D Performance
3DMark 2006
Let's start with the classic synthetic 3D benchmark, run with default options.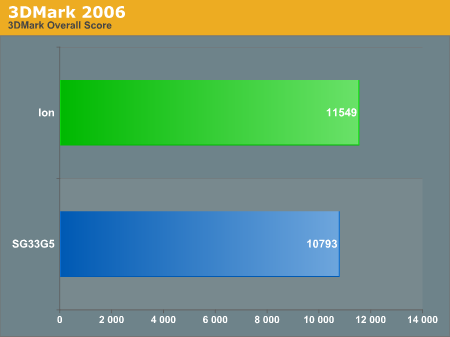 Once we venture into the realm of 3D, we see clock speed begins to matter more than the number of cores present. This is not universally true as some new games are multi-threaded, but in general speed still reigns supreme. The added cache (per core) of the Q6600 will help alleviate the clock speed deficit somewhat, but in most games an overclocked E4500 can beat a stock Q6600. (Overclocking the Q6600 would of course change matters.)
FEAR
The FEAR multiplayer demo, now showing its age (particularly since the full version was released for free), includes a short benchmark with AI and weapon usage. We run all tests at Maximum detail (with Soft Shadows disabled).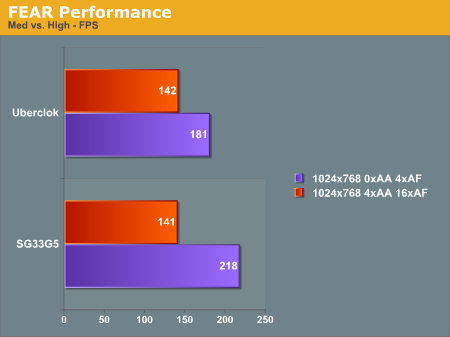 With antialiasing enabled, these two systems are virtually identical on this older title.
Unreal Tournament 3
We run the UT3 Demo flybys with details set to maximum (-compatscale=5 switch) in all cases. These flybys are part of the demo, run by copying the executable shortcut and modifying it with command line parameters. Bots are enabled for these runs, which decreases reproducibility but is more indicative of gameplay with active weapons and AI.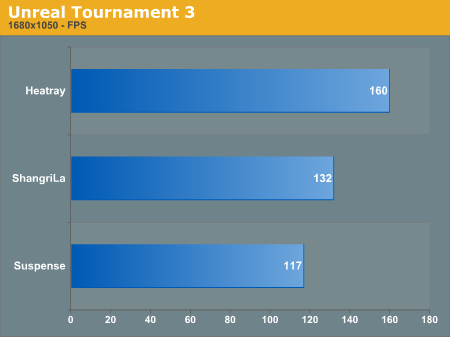 Crysis
Crysis is punishing to even the most recent PC hardware. This game also has two built-in benchmarks in the "bin32" folder, one "CPU" and the other "GPU". We ran several configurations to show the scalability of this game. We ran all benchmarks three times, discarding the first result and averaging the other two. We ran all tests at "High" quality unless otherwise specified.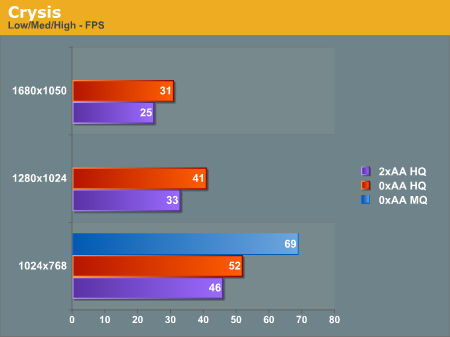 The Ion does well here, beating the Shuttle by 4-8 frames per second across all resolutions.
World in Conflict
World in Conflict is a strategy war-game where the Cold War has erupted into a full-scale conflict between the U.S. and the Soviet Union. The game has a built-in benchmark under Options->Graphics. Quality settings in the game also modify anti-aliasing and anisotropic filtering; however, these were controlled independently while all other settings were left at the default for that quality.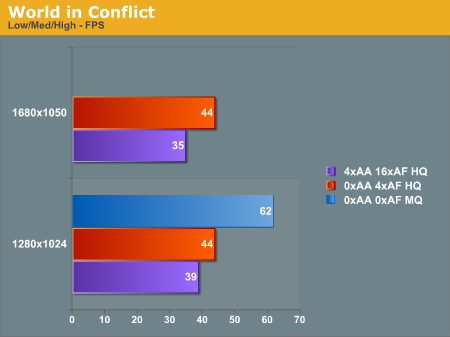 This game has a number of large explosions that can really drag down the framerate at times. 1280x1024 was comfortably playable at Medium Quality, while anything above that experiences major slowdowns from time to time.
Power
We measure power consumption using a Kill-A-Watt device at the wall outlet. Idle indicates a measurement taken in Windows with no applications running. Max indicates the maximum power draw with the system fully loaded (running Prime95 Blend, Cinebench x-CPU render, and 3DMark06 simultaneously).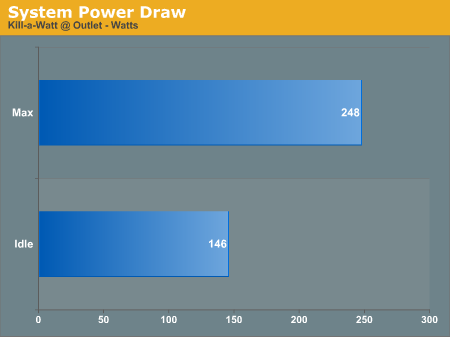 Clearly, the 650W power supply still has a large amount of overhead. Estimating at 80% efficiency, at full load the Ion is still only using around 200W. This is good news for both stability and expansion.
Noise
We measure noise with a sound level meter, in this case at a distance of 24". In the Ion, all of the case fans are manually set to Low by switches inside the case. The Tuniq's CPU fan can be individually controlled by a knob on the back panel. Speeds range from 1200 RPM at the "Low" or 0% setting up to 2100 RPM from ~45% - 100%. The owner's binder recommends setting this at just under halfway (45%); however, since the fan maxes out at 2100 RPM at this point, anywhere from halfway to maximum is the same.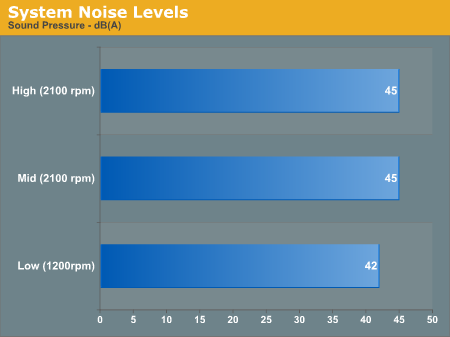 These noise levels are quite low, the advantage of having 120mm case fans. With the CPU fan at 1200 RPM, the system is very quiet.
Temperature
As this system uses an NVIDIA motherboard, nTune can read information not only from the GPU, but also from the CPU and case temperature as well. For the maximum CPU temperature, we ran Prime95 and the UT3 Shangri-La benchmark continuously for 1 hour prior to measurement, and the ambient temperature was approximately 20C. However, the maximum GPU temp recorded during this interval (69C) was lower than that observed during the Crysis GPU benchmark, which is a more grueling test for the GPU.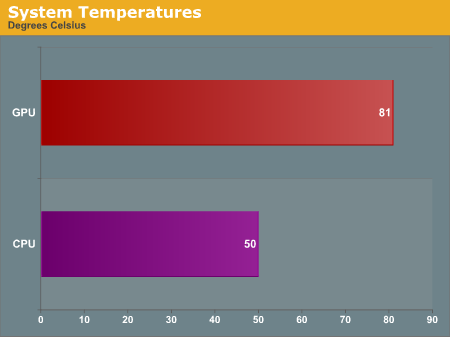 Even overclocked and running at the lowest possible fan setting, the CPU never climbs above 50 degrees. This shows plenty of headroom for a processor upgrade in the future, which is no surprise considering the use of the Tuniq 120.
Overclocking (higher) and SLI
We've seen what the Ion can do as configured out of the box, but what about pushing it even farther? Where would upgrades be most effective? To answer these questions, we examined two possible paths to increasing performance: a faster processor and the addition of another 8800 GT for SLI.
Overclocking (higher)
Ok, so we voided the warranty - but with the Tuniq, airflow, and thermal protection, odds are extremely unlikely that a little experimentation will hurt. We opted to stay conservative, pushing the E4500 up another 300 MHz to 3.3GHz. Does this provide any gains at all?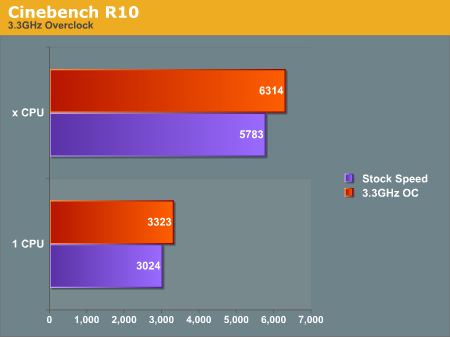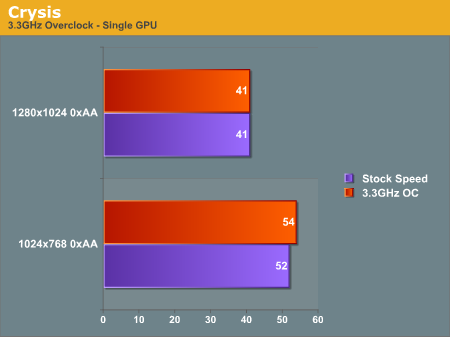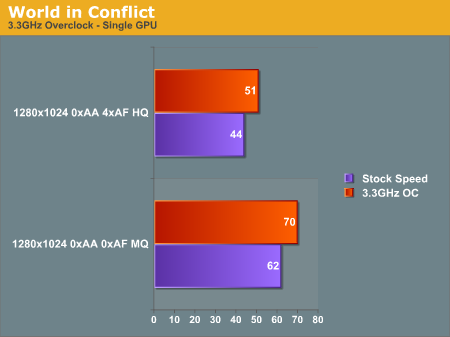 What do the above tell us? In our Cinebench CPU benchmark, a 10% increase in clock speed gives us about a 10% increase in score. With a control test established, we move on to gaming performance. At 1280x1024, we see large gains in performance in World in Conflict. Clearly, a faster CPU will aid greatly in this strategy game. In Crysis however, we see a clear hinge point, with a noticeable increase at 1024x768 and almost zero change at 1280x1024. As we found in our Shuttle review, the 8800 GT becomes completely GPU-bound at resolutions of 1280x1024 and higher.
8800 GT SLI
Now that we've looked at overclocking, what kind of a performance increase would we obtain if opted for another 8800 GT instead? We lowered the clocks of the Ion system back down to 3.0 GHz ("stock") and added another 8800 GT. The expandability of the system is really what facilitated this test; because the motherboard is SLI and the power supply is readily able to handle another video card (with an included PCIe power cable), installation was a 5-minute affair. What kind of numbers do we see now?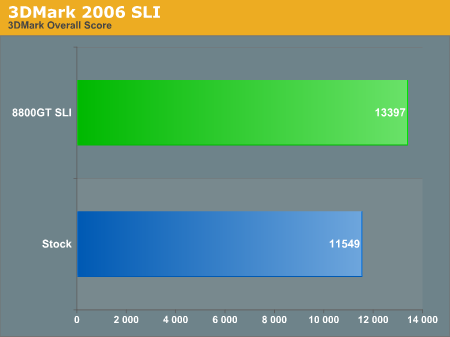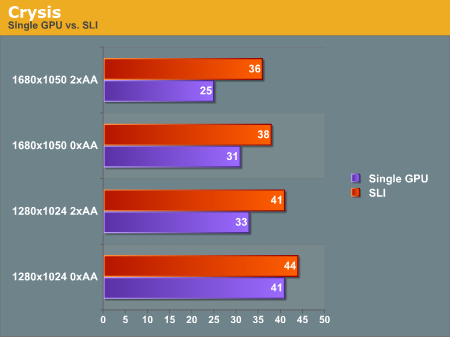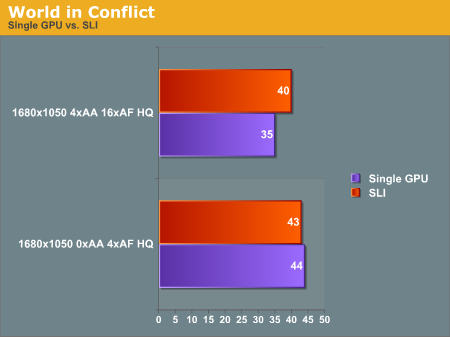 The synthetic benchmark shows a 16% performance gain at 1280x1024. Is this indicative of what we see in games? Not really - we have different constraints coming into play. World in Conflict is CPU hungry, as we showed in the overclocking section, and no increase at all is seen at up to 1680x1050 without antialiasing. Once we enable 4xAA, we do indeed see an increase, but it's still not tremendous. Crysis is a completely different story; while a CPU increase had little effect at 1280x1024 and above, the SLI configuration yields gains of up to 44%.
Which upgrade makes more sense? The above graphs are just a snapshot of performance, but depending on your monitor (i.e. the resolution you play games at) and the games you play, either upgrade could provide a reasonable performance boost. A CPU upgrade will help in many strategy games that tend to tax that area more, as well as Flight Simulator X; an E8400 at 4.0 GHz is an available upgrade on the Ion for $160, vs. a $290 upgrade for dual 8800 GTs, also making it an attractive choice cost-wise.
Crysis is somewhat unique in how much it relies upon a blazing fast graphics subsystem. If you intend to play Crysis at higher detail settings, then clearly you'll want to pony up for more GPU power as a CPU upgrade buys you nothing at higher resolutions. However, other games also demand a fast graphics subsystem, and more will likely come out in the near future. Obviously, if you want better performance in all situations, a faster CPU and a second GPU is the way to go, though at $400+ that's certainly not a cheap upgrade to make. One final thought is that you can always add a second GPU later and lose nothing; if you decide to upgrade CPUs down the road, you'll end up with a spare CPU. Thus, we'd recommend spending a bit more in the processor area if you can manage it.
Pricing and Final Thoughts
We've already covered how much the Ion costs as configured: about $1780 shipped. What are you getting for this price? A custom overclocked system built-to-order, with a 3-year warranty, 30-day guarantee, and tech support. We're sure there are enthusiasts out there thinking, "Yeah, but I can buy the same stuff on Newegg and do it myself." That's certainly true, so let's look at that.
Since all of the parts are listed and available, it's a simple matter to put everything into a cart and check out. We matched everything in the system, including Windows XP Pro, with the exception of the video card. We used an EVGA Superclocked 8800 GT priced at $259, which Überclok noted is one of their standard choices. The tally with shipping comes to around $1,350.
As mentioned at the beginning of the review, it's up to the consumer to decide if that ~$400 is a reasonable price premium for what you're getting. Prebuilt systems are not for everyone, but a system of this nature is about as close as you can get to a quality midrange enthusiast's build without doing it yourself. Factor that together with labor, support, and warranty, and that's really what you're paying for. We think many will find that $400 for a good 3-year warranty plus the convenience of getting a prebuilt, overclocked system is definitely reasonable.
Overall, we are very impressed with the Überclok Ion. Every component is a quality item, and the selections make sense in this price range. The system is designed to be upgradeable: adding a new CPU, video card or hard drive is a breeze. The desktop install is very clean and includes some standard useful programs. It provides good performance and is rock-solid in terms of stability - we didn't encounter one issue in the course of testing. The one big unknown is simply that Überclok is a new company that hasn't proven itself. Warranty and tech support are two big areas where people buying gaming machines demand excellence and stability. If Überclok establishes themselves in these areas, we expect them to gain in popularity quickly, and we look forward to seeing what they can do in the future.