Original Link: http://www.anandtech.com/show/2440


Introduction
We review many LCDs, but the reality is that we don't review very many different LCD panels. The reason is simple: there aren't very many LCD panel manufacturers. Most LCD panels come from one of the top three panel manufacturers: AU Optronics, LG Philips, and Samsung Electronics. While there are minor variations in panel quality, if you choose a particular panel model and put it in two different LCDs, overall performance is likely to be very similar. Differences between panel models can be much greater, however, especially if the underlying technologies are not the same.
Besides the panel manufacturer, there are three panel technologies in widespread use: TN (Twisted Nematic), PVA (Patterned Vertical Alignment), and IPS (In-Plane Switching). MVA (Multi-domain Vertical Alignment) is also around, but without getting into the details we'll just say it's somewhat similar to PVA. All of these technologies can also have an "S-" prefix, which stands for "Super" -- indicating the use of an upgraded version of the original technology. (Nearly all modern panels are S-TN, S-PVA, or S-IPS, but we won't worry about that.)
Given the above two pieces of information -- the panel manufacturer and the panel technology -- we can come up with a pretty good idea of how a display will perform when it comes to benchmarking. More important than the panel manufacturer, however, is the technology. TN has been around the longest, and while it is inexpensive to manufacture there are certain performance characteristics that we dislike, specifically the more limited viewing angles. If you're sitting directly in front of your display -- which most of us are -- it doesn't make a huge difference, but because these panels also tend to target the budget markets, overall quality is usually lower as well. PVA and IPS are both better technologies in terms of quality and viewing angles, but they cost more to produce and they usually have slightly slower response times. Since we're at the point now where response times really don't bother us, the net result is that we strongly prefer LCD panels that use S-PVA or S-IPS technology.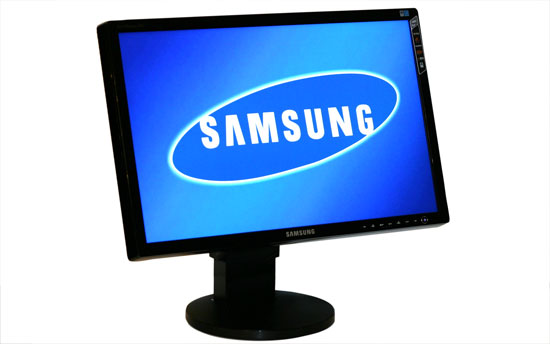 That brings us to today's review of the Samsung 245T. Not surprisingly, the LCD panel is also from Samsung and features S-PVA technology. After being disappointed by the HP w2408 last month (which uses a TN panel), we're looking for a return to form. Is the latest Samsung offering significantly better than previously reviewed 24" LCDs? Let's find out.
Features and Specifications
As always, we'll start with a disclaimer: Those who are unfamiliar with display technology may wish to consult our short glossary of terms that we use in our display reviews before continuing. Specifications are prone for abuse, though, so just because one display rates higher in terms of contrast ratio or brightness doesn't mean it's actually a better display. (You'll get a prime example of this in a moment.) As usual, we will do our best to separate the reality from the hype in our reviews.
Samsung 245T Specifications
Video Inputs
Analog (VGA)
DVI with HDCP support
HDMI
Component
S-Video
Composite
Panel Type
S-PVA (Samsung SAM02F5)
Pixel Pitch
0.270mm
Colors
16.7 million (8-bit)
Brightness
300 cd/m2
Contrast Ratio
1000:1 Static
1500:1 Dynamic
Response Time
6ms GTG
Viewable Size
24" diagonal
Resolution
1920x1200
Viewing Angle
178 vertical/horizontal
Power Consumption
<130W max stated
92W max measured
Power Savings
<2W
Power Supply
Built-in
Screen Treatment
Matte (non-glossy)
Height-Adjustable
Yes - 3.75 inches
Tilt
Yes - 25 degrees back/5 degrees forward
Pivot
Yes
Swivel
Yes
VESA Wall Mounting
200mmx100mm
Dimensions w/ Base (WxHxD)
22.1"x17.1"x9.8" (lowered)
22.1"x20.8"x9.8" (raised)
Weight w/ Stand
19.4 lbs.
Additional Features
(4) USB 2.0 - left
(USB connection to PC required)
Audio
Audio out connection (for HDMI)
Limited Warranty
3 year parts and labor (original owner only)
Price
MSRP $799
Online starting at ~$635
Like many of the latest high-end LCDs, the 245T comes with a backlight that offers an improved color gamut. Whether your eye can actually see the difference is a bit more difficult to say; even with an older 24" LCD sitting next to the 245T, it would be difficult for us to say that one of them looks clearly better/worse than the other. The backlight is also not quite as bright as other models on the market that are capable of 400 or even 500 nits, but we almost never run our LCDs at that brightness level; 200-250 nits is where we prefer to set are LCDs.
In the features department, the Samsung 245T compares favorably with the best 24" LCDs on the market. You get the typical four USB ports as well as a variety of video input options. How useful stuff like S-Video and composite input are varies by individual; we generally don't use either connection anymore. The VGA, DVI, HDMI, and component connections are more important, and you get one port for each. Whether or not the second digital port needed to be HDMI is another topic for debate; it's unlikely you would actually use the audio pass-through capabilities, in which case a second DVI port would have sufficed -- especially since the audio output jack only provides stereo audio. Since you can still use a DVI to HDMI cable, however, this isn't a major concern, and we're happy to have two digital connections.
Samsung provides a three-year manufacturer warranty on the 245T (in the US), which is much better than you get with most other brands. Technical support is available online or through the telephone, though telephone operating hours are not 24/7. You need to call during regular business hours, which is 9 a.m. to 6 p.m. M-F (Pacific Time). We were unable to get any specific answer as to pixel defect policies, though it sounds like if we made enough noise they would repair/replace the monitor even if there was only a single dead pixel. Since we did not experience any actual problems with our LCD (dead pixels or otherwise), we'll leave it at that. Note that the warranty only applies for the original purchaser; it is nontransferable.
Appearance and Design
The Samsung 245T takes the traditional approach when it comes to appearance. The frame is a glossy black plastic with a matte black stand. Some might go as far as calling the stand clunky looking -- it reminds us of the original Dell 2405FPW stand -- but it does everything that's required. The only truly noteworthy omission is that there is no cable management system at all, so the cables just hang loose off the back of the monitor -- nothing a few zip-ties won't fix, if that's a serious concern.
| | |
| --- | --- |
| | |
At the bottom right of the LCD, there are six buttons for accessing the on-screen display (OSD). Skipping the power button at the far right, which functions exactly as you would expect, the left button is a shortcut for enabling/disabling MPA. MPA stands for "Motion Picture Acceleration" and enabling it hopes to improve pixel response times. We'll find out later if it actually makes any noticeable difference in gaming as well. The second button brings up the main menu, and the next two buttons navigate through the menus. Pressing the menu button also exits out of submenus, while the fifth button (Source) acts as an enter button. When no other menus are active, the third button is a shortcut to cycle through the seven available color modes: Custom, Text, Internet, Game, Sports, Movie, and Dynamic CR. The fourth button also functions as a quick access to brightness levels, and the source button switches between available inputs -- note that if nothing is connected to an input, you can't switch to it without going through the full OSD menu. The Auto button is only useful in analog modes, where it will auto-adjust the screen size and centering, and the final PIP button turns on/off picture-in-picture.
| | |
| --- | --- |
| | |
| | |
| --- | --- |
| | |
As mentioned earlier, the 245T supports the usual assortment of tilt, pivot, rotate, and height adjustment functions. You can see the range of motion available in the above images.
Most of the input ports all face downwards on the back of the display. The exception is the component input ports, which are on the left side of the display next to the four USB ports.
One nice feature of the stand is that it does allow you to raise the panel high enough that it can easily rotate into portrait mode. With some LCDs, we have found that you have to tilt the panel backwards as well as raising it to maximum height before you can rotate the display. If you find yourself frequently using portrait mode, the Samsung 245T would be a very good choice. Note also that the lack of cable management makes it easier to pivot the display.
We created a gallery showing all of the OSD menus and submenus, which you can access below. Most of the OSD functions are straightforward, but there are a few items worth pointing out.
First, there are multitudes of color adjustment options available. Not only can you adjust RGB levels, but you can also tweak hue and saturation via six color controls. We tend to find that amount of control more overwhelming than anything, but it's easy enough to ignore it and if you actually need such functionality it's there. Unfortunately, the second noteworthy item is a black mark; panel resolution scaling only offers two options: Wide or 4:3. "Wide" would be more appropriately named "stretch", as it will attempt to stretch any resolution to fill the entire screen -- without regards to aspect ratio. 4:3 on the other hand will fit any resolution into a 4:3 aspect ratio -- including 16:9 and 16:10 aspect ratios, even digital ones. What this all means is that sticklers who want 16:9 films not stretched vertically will be out of luck; similarly, people who connect an Xbox 360 or PS3 may be disappointed with the slightly stretched widescreen resolutions. What's missing from the scaling options are 1:1 (i.e. no stretch at all, giving black borders on all sides at lower resolutions) and proportional scaling (i.e. a 720p input would scale to fill 1920x1080, leaving black borders on the top and bottom edges) -- both of which are found on competing LCDs.
Update: The aspect ratio options are similar to what we found on the Samsung 2493HM when using the other input sources. In other words, 1:1 stretch is available on VGA connections. We no longer have the LCD, so we can't test the other inputs, but you can read the Samsung 2493HM review for more details.
Subjective Evaluation
As usual, we spent some time using the display both before and after calibration. Many users don't have access to color calibration tools, while for imaging professionals some form of hardware calibration is standard procedure. We will start with our subjective evaluation before getting to the actual quantitative results.
After our last review, we actually heard from a reader who said he was a big fan of glossy LCDs. We actually preferred non-reflective finishes on our LCD panels, so we prefer displays like the Samsung 245T to glossy options like the HP w2408 -- and that's before we take into account other performance aspects. Hopefully, we've made it clear that we are not fans of TN LCDs, and switching from the HP w2408 to the Samsung 245T once again reinforces that opinion. With the two LCDs sitting next to each other, besides the better viewing angles on the 245T we also felt that it had better overall color quality and vibrancy. Some might prefer the industrial design of the HP display, but in all other areas we would rate the Samsung 245T higher.
Comparing the 245T to other LCDs that we've reviewed, the differences are not as dramatic. The Gateway FPD2485W and Dell 2407WFB are both quite similar in features and functionality, and to the naked eye we would be hard-pressed to tell the difference between any of these three LCDs. That should come as no surprise, however, since all three LCDs appear to use Samsung S-PVA panels. Pricing is also similar on all three offerings, although the FPD2485W has been discontinued and the 2407WFP is due for replacement in the near future. (Yes, we will be reviewing the replacement as soon as the NDA expires.) The major difference would be the inclusion of an HDMI port on the Samsung, or the flash media ports on the Dell LCD.
We did test out the other extra features that the Samsung 245T advertises, specifically the MPA (Motion Picture Acceleration) and the dynamic contrast setting. The difference between enabling and disabling MPA is quite small, but to our eyes the display did look a bit better with the function enabled. Except where otherwise noted, we left MPA on for the rest of our testing. The dynamic contrast did not make as good of an impression; as we will see in a moment, contrast ratios are indeed higher, but it comes primarily from increased maximum brightness and lower color fidelity. When you enable Dynamic CR, you also lose control over the color levels, contrast, and brightness -- all of these apparently get set to "automatic". So score one for faster response times, but forget about dynamic contrast ratios.
One other question that has come up is whether there is any sort of internal image lag - i.e. processing that can add a frame or two delay to the output. This is something that exists to varying degrees on all LCDs, but for the most part it's not an issue. There may be a 0.02s lag, but the vast majority of users won't notice it. During testing, we didn't feel that the 245T was any different than other LCDs we've used, but then we've never complained about input lag on any LCD we've tested. Considering double-buffering and SLI/CrossFire also add a couple frames of delay, and no one appears concerned about that, we're not too worried about LCD input lag. If we do notice it on future reviews, though, we will be sure to make a note of it.
Unless otherwise noted, we ran the remaining tests after calibrating the displays using Monaco Optix XR, both the professional version of the software as well as an XR (DTP-94) colorimeter. In some of the tests, calibration can have a dramatic impact on the result, but viewing angles and response times remain largely unchanged. We also performed testing with ColorEyes Display Pro, although the overall results were better using Monaco Optix XR.
Viewing Angles
Viewing angles are one of the specifications where manufacturers' claims bear scrutiny. The basic requirement is that a display has to maintain a 10:1 contrast ratio in order to qualify as "viewable". The reality is that most LCDs are unfit for viewing beyond a 45° angle. The good news is we doubt that most people will view a display from anything more than a 45° angle, and typically a lot less. For that reason, we used our camera to take shots from head-on as well as from the left and right sides at ~30° angles, showing how brightness and contrast ratios change in off-angle viewing. We also took pictures from above and below at ~30° angles. Links to the viewing angle images of previously reviewed LCDs are available for comparison below:
Acer AL2216W
Dell 2405FPW
Dell 2407WFP
Dell 2707WFP
Dell 3007WFP
Gateway FPD2485W
HP LP3065
HP w2207
HP w2408
All it takes is a quick look through the above images to see why we prefer S-IPS and S-PVA over TN panels. Note that we did adjust our camera settings at one point, so some of the earlier pictures may look better than they actually are. The main thing is to look at the drastic difference between TN panels and the other panels. Viewing angles can also become more important with larger display sizes, which is one of the reasons why we see the highest quality panels (S-IPS) used in 30" displays.
Response Times
A topic that usually comes up as a problem with LCDs is their slower response times relative to CRTs. While there's no doubt that even the best LCDs still exhibit some slight pixel smearing, the vast majority of users are okay with the level of performance we have available now. We also find it extremely difficult to tell the difference between various LCDs with response times ranging from as low as 2ms all the way up to 16ms. As with other specifications, there appears to be marketing influence on the final reported numbers.
To try to illustrate response times, we use our camera set to 1/80s shutter speed and a 2.5 F-stop at ISO-400. However, taking a picture of a display using a high shutter speed still isn't the same as looking at the display in person. LCDs run at a refresh rate of 60 Hz, and we use a shutter speed of 1/80s, so the net result is that we will capture an image of the display as it appears over a short period as opposed to an instantaneous look at the state of the various pixels. Image retention on your retinas also occurs, so even if you can eliminate the smearing effect at the display level you won't necessarily "see" a perfectly crisp transition. Then you have to consider some of the latest games are adding motion blur back in using DirectX 9/10 in order to make things look more realistic... but in that case, it's an artistic effect rather than a technological defect, right?
Links to previous response time images are below, taken during the Game 1 demo in 3DMark03.
Acer AL2216W #1 Acer AL2216W #2
Dell 2405FPW #1 Dell 2405FPW #2
Dell 2707WFP #1 Dell 2707WFP #2
Dell 3007WFP #1 Dell 3007WFP #2
Gateway FPD2485W
HP LP3065 #1 HP LP3065 #2
HP w2207
HP w2408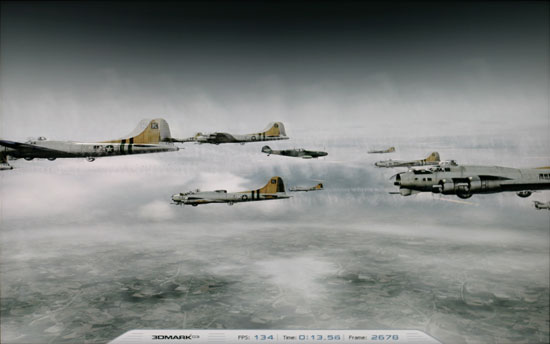 MPA Off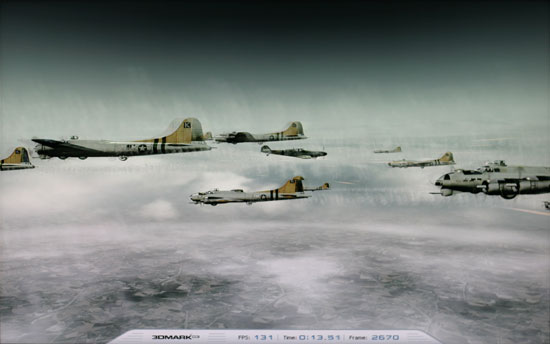 MPA On
Samsung advertises a 5 ms gray-to-gray (GTG) response time, although it's not entirely clear whether that figure is with MPA enabled or disabled. We tested response times and configurations, and we would be hard-pressed to tell the difference. In our best-case images, the 245T does appear to have slightly better response times than other 24" LCDs that we've reviewed, but the actual difference is probably less than a couple milliseconds. We're not sure about the rest of you, but our eyes just aren't sensitive enough to tell the difference between 6/1000s and 8/1000s, even if the first is theoretically 33% less time.
Uncalibrated Results
Brightness and Contrast Ratio
For the brightness, contrast, and color accuracy tests, we depend on the hardware colorimeter and software to help calibrate the displays. As previously stated, we use a Monaco Optix XR (DTP-94) colorimeter and Monaco Optix XR Pro software. The software and hardware help users to get color that is more accurate from their displays. Before we get to the calibrated results, we took a quick look at the range of brightness and contrast at stock settings while changing just the brightness level.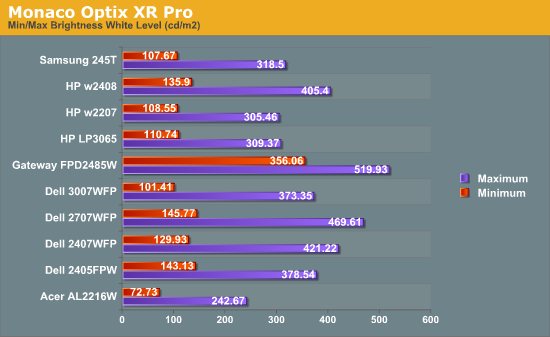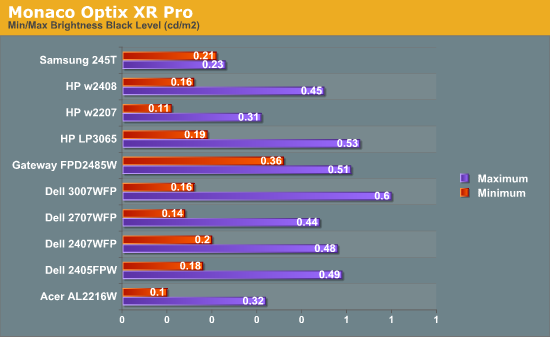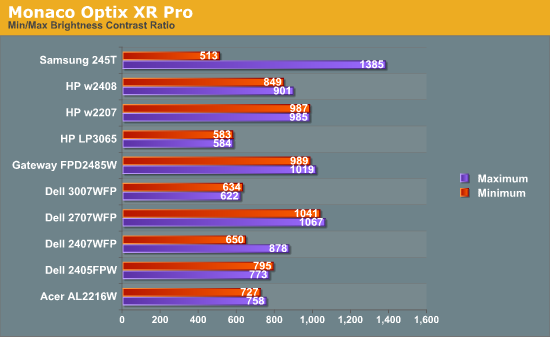 Without adjusting any of the default settings other than brightness, the maximum brightness level of the Samsung 245T reaches almost 320 nits -- as usual, more than most people need. At minimum brightness, we measure just over 100 nits. Further tuning of the color levels allows us to reach slightly lower/higher brightness levels, but the default range is sufficient. At maximum brightness, we measure a contrast ratio of nearly 1400:1 -- even without the dynamic contrast setting enabled. Reducing the brightness also reduces the contrast ratio, and it's interesting to note that black levels are reasonably stable at around 0.22 nits.
What happens when we enable Dynamic CR? Maximum brightness jumps to 350 nits while the black level went up slightly to 0.24 nits, resulting in a final contrast ratio of 1460:1. That's pretty close to the advertised 1500:1 contrast ratio, but the impact on Delta E is quite severe. Even after calibration -- which appears to get confused by Dynamic CR -- we measured an average Delta E of 7.029. That's worse than the uncalibrated Delta E we'll see below, so we recommend turning off the dynamic contrast.
Color Accuracy
The problem with calibrating a display is that it doesn't help all applications. Specifically, the video overlay used when watching DVDs or other movies completely bypasses any color profiles, so you are stuck with the uncalibrated colors. Playing games also uses the default color options. It is possible to tweak things using the OSD, but the amount of color correction that can be done via the OSD pales in comparison to color correction tables. Ideally, we would like to see video drivers begin to apply color profiles to all output -- office applications, movies, games, or anything else.
For uncalibrated color accuracy, we adjust the brightness as well as the contrast and colors (where applicable) using a "calibrate by eye" chart and the OSD controls. Also remember that color accuracy can vary from panel to panel even within the same model, and the results we are reporting are only from testing a single LCD. During testing, Monaco Optix XR Pro sends 24 color patches to the display with the colorimeter measuring the resulting values. The difference between what the requested and actual colors shown on the LCD is Delta E, with lower values being better. Any score less than one is "perfect" -- the naked eye is not going to be able to tell the difference -- and scores less than 2.0 are nearly perfect.
Ideally, you would want all of the tested colors to have a Delta E of less than 1.0, but almost no one is likely to have problems with anything scoring below 2.0. From 2.0 to 4.0, most people still won't notice the slight inaccuracies in the color palette, but when comparing displays side-by-side, differences may be apparent -- multimedia professionals in particular would prefer better colors. Anything above 4.0 begins to represent a more significant deviance, and numerous scores above 6.0 will almost certainly be noticeable by anyone using the display. Consistency is also important, so a display that has very good scores overall but with high spikes on some colors may actually be less desirable than a display with a slightly higher but more consistent average Delta E. Note also that fluctuations of as much as one point in Delta E are possible during a short amount of time. It generally takes 30 minutes for a display to warm up, and we perform all of our calibration and testing after the displays have been running for at least one hour with the screensaver disabled.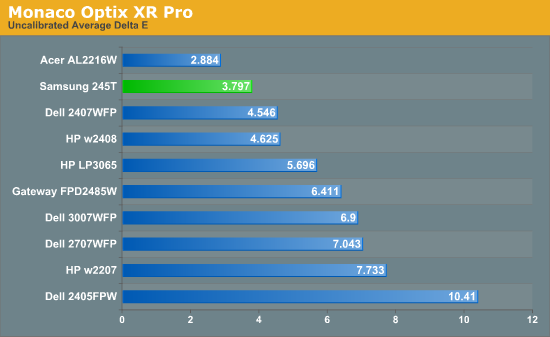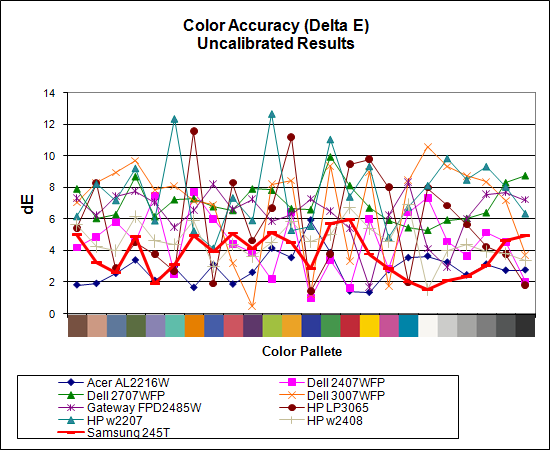 Without any form of color correction, the Samsung 245T rates a very good -- especially relative to the competition -- 3.80, ranking second overall with a relatively large gap between it and the nearest competitors. The Acer still scored better, but with that display had other concerns. The individual color scores are also very good, with the worst still only 6.0 and many others are below 3.0. So far, this is the best overall display when it comes to color accuracy -- provided of course that you stay away from the Dynamic CR setting. It's not perfect, but after seeing so many LCDs with uncalibrated Delta E of over 6.0 this is definitely a noteworthy achievement.
Calibrated Results
Brightness and Contrast Ratio
For those that need accurate colors, you really need hardware color calibration. Here, we report scores for the same areas as we did on the previous page, only this time we gather the results after we calibrate the display with Monaco Optix XR Pro.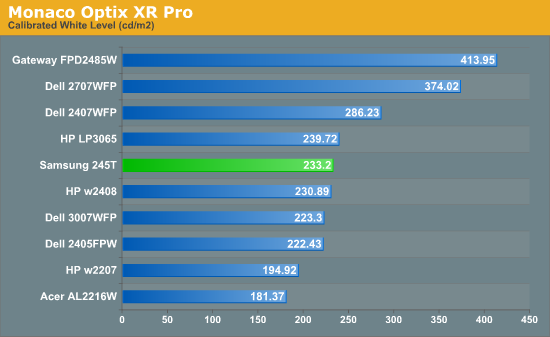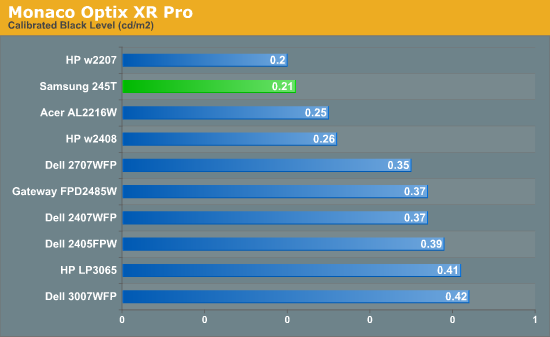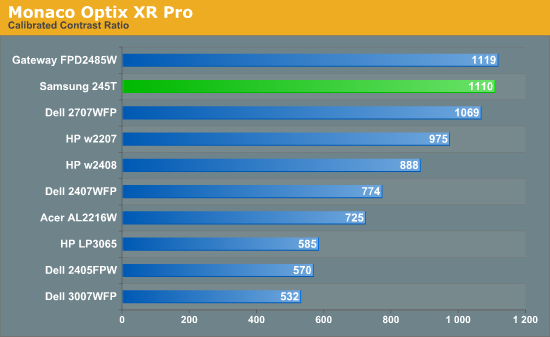 Color Accuracy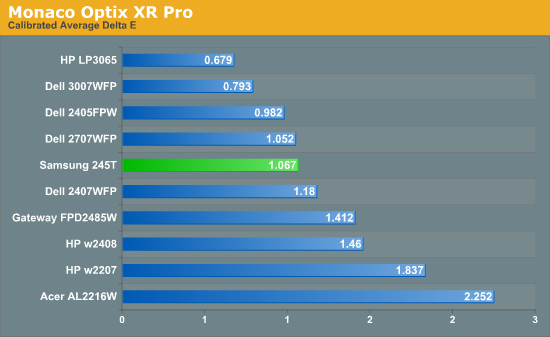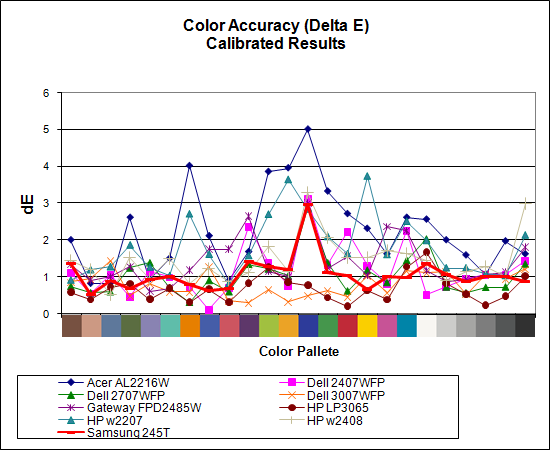 Calibration is usually best at decreased brightness levels, and we found dropping the 245T from its default settings down to 30% brightness (and keeping the default 75% contrast) with RGB settings of 36/50/50 resulted in the best scores. (Note that the red by default seems to be brighter than necessary.) We test indoors with a moderate amount of lighting, and adjust the displays according to directions. The Samsung 245T ends up ranking as one of the best LCDs we've tested, post-calibration, with a score of 1.07. Nearly all of the scores are close to 1.0, and only one color as a Delta E above 2.0.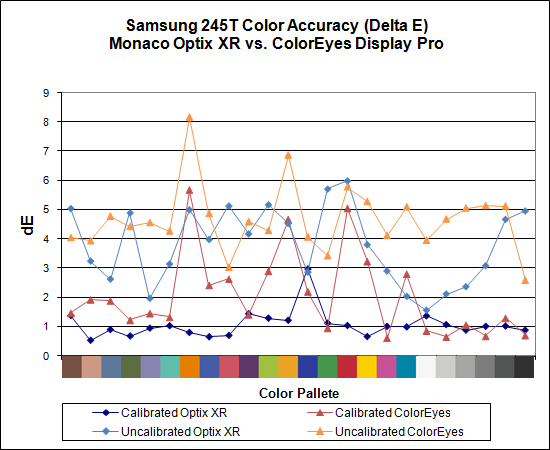 We also tested with ColorEyes Display Pro to see if we could achieve better results. So far, we have yet to encounter a desktop LCD that scores better using ColorEyes Display Pro, which is actually surprising to us -- it seems more robust in many areas and generates newer ICCv4 profiles, but the final reported scores continue to be lower on desktop displays.
While we cannot make any sort of guarantee that the color profiles we created are anywhere near representative of all 245T panels, we frequently get requests from readers for these color profiles. If you want truly accurate colors, your best bet is to go out and invest $300 in a colorimeter and software calibration package. If you're still interested in trying out our profiles, however, we are happy to make them available. Again, your mileage may (re: will!) vary.
Printing Results
Brightness and Contrast Ratio
For those who have a need to match colors between their computer displays, cameras, and printers, what works well for computing purposes often isn't the best suited for doing other image related work. To help people who work in such areas match their computer colors to their paper colors better, standards were established. For print work, the standard is a gamma of 2.2, a black point of 0.60 nits, and a white point of 100 nits. We attempt to calibrate all the monitors for these settings.
Finding the appropriate settings to reach these levels can be a time-consuming process for some of the displays. It may require numerous iterations through the calibration process to end up with the desired white point, and on some LCDs it might not even be possible to reach a satisfactory result (though that hasn't occurred yet). The nature of LCDs is such that we are unable to get both an accurate white point and an accurate black point according to printing requirements (our black levels always ended up darker than they are supposed to be), but we did manage to get near the desired 100 nits white point on all of the tested displays. For the Samsung 245T, we used brightness/contrast settings of 13/75, with RGB at 16/21/36. We tried several other settings, but all others scored worse so we settled on these values.
For reference, we have included the target value in the following graphs, so the greater the deviance of a display from the targeted value, the less suitable (in theory) a display becomes for print work.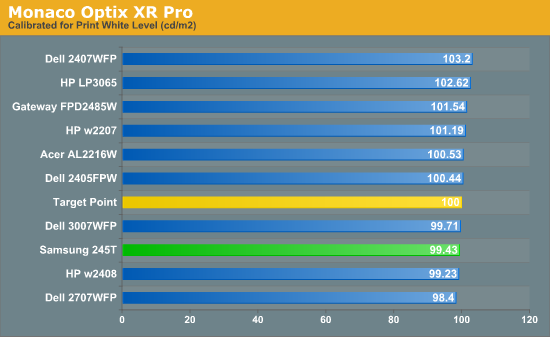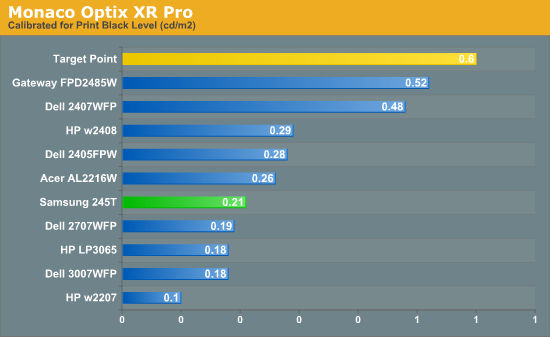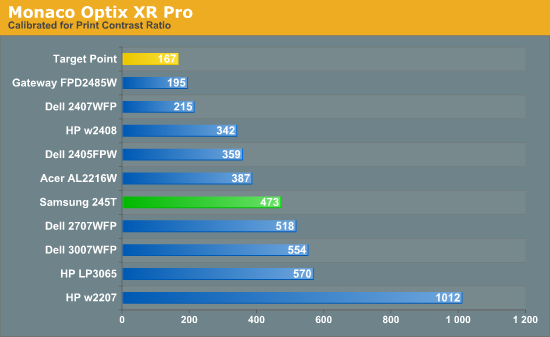 Since very slight differences in brightness are not a huge deal, we did not attempt to get 100% accuracy on the white point, but further tuning of the various displays would have made it possible to get closer to 100 nits. The primary goal was to get the white point near 100 nits. The target black point is impossible to achieve once we have reached the target white point with any LCD that we have tested to date - and we expect that trend to continue. Due to the reduced brightness, contrast ratios are often lower, but that is inherent with the target settings. The Samsung 245T is pretty average when it comes to "calibrate for print" brightness and contrast ratio.
Color Accuracy
Given the importance of accurate colors for printing work, we need to adjust the desired Delta E scale. A Delta E of less than 1.0 is definitely the goal here, and 1.0 to 2.0 is merely acceptable. Scores above 2.0 generally mean a display is not fit for printing professionals.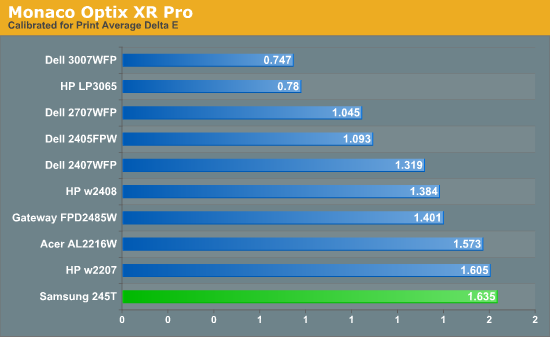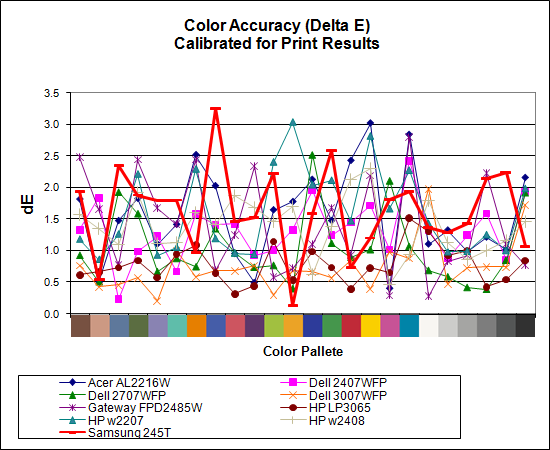 At the reduced brightness setting used in this test, the Samsung 245T doesn't score as well as it does in other areas. In fact, it's technically the worst LCD we've tested so far -- at least in terms of raw score -- when it comes to calibrating the display for print work. Considering that all of the displays do reasonably well in this test, however, this probably isn't a big enough concern that we would strongly recommend a different display, other than one of the 30" LCDs on the market. Whether it's their use of S-IPS panels or something else, we can't say, but the 30" LCDs that we've tested have the lowest Delta E scores of any of the monitors.
Closing Thoughts
We like to think that after spending over $600 on a 24" LCD, users will get a high-quality experience. That may not always be the case, but at least with the Samsung 245T we have no qualms with recommending it as a very good 24" LCD. Perhaps a better recommendation however would be to try and purchase a 24" LCD that comes with a Samsung S-PVA panel; all of the LCDs we've tested that have Samsung panels perform admirably, with the deciding factors generally being a personal preference -- external appearance, extra features, or more likely price.
The Samsung 245T has an MSRP of $799. At that price, we have to admit that it would be very difficult for us to recommend this particular LCD over some of the competition. Thankfully, a quick look online shows that prices are much more reasonable, and quite a few resellers carry the LCD for under $700 -- some as low as $630. That price is definitely higher than what we see on some of the budget 24" LCDs, but then many of those LCDs use TN panels
There are a few areas where the 245T falls short. Perhaps the biggest flaw is the support for resolution scaling. If you predominantly use 16:10 or 4:3 aspect ratios, you should be okay, but any 16:9 sources will end up slightly distorted when using the digital inputs; however, analog inputs are better on aspect ratio support. This isn't a big enough problem that we would go so far as recommending against using the 245T, and truthfully there are plenty of users that will never know the difference; still, there are other LCDs that offer better scaling options. Dell's 2407WFP and Gateway's FPD2485W are two examples, and there are certainly others.
There are many people that seem to think 24" LCDs are "too large", but after purchasing a 2405FPW three years ago I have never regretted the decision. In fact, I even took the next step and upgraded to a 30" LCD 18 months later. The cost of 30" LCDs is still relatively prohibitive, but when you think about how many hours you spend a day staring at your computer screen, we definitely wouldn't skimp on this important peripheral. We feel 24" LCDs are now the sweet spot for computer displays, and with prices ranging from $300-$700, they're more affordable than ever before. The Samsung 245T comes in at the higher end of that range, and it's still not perfect, but if quality is a primary consideration, you could do far worse.
If you're not in a big hurry to upgrade your display right now, we should also mention that there are a few other companies launching new displays in the near future. We can't talk performance or features yet, and we're not expecting any quantum leaps in overall quality to occur; still, waiting to see what other companies come out with won't hurt. One thing is certain: this isn't the only LCD we're going to see released this year with this particular Samsung S-PVA panel.