Original Link: http://www.anandtech.com/show/2431


We've already looked at quite a few X48 motherboards, all due to arrive in the latter part of February. Those who are willing to spend a hefty sum are going to come out with some of the fastest systems ever seen to date. If this isn't you, don't worry as we've got a tip on the solution you've be looking for - MSI's most recently announced motherboard, the X48 Platinum. Targeted at the enthusiast audience that wants top performance without breaking the bank, this board brings with it all the goodness of Intel's latest X48 chipset with a price that is sure to delight. Although the board is certainly cheaper than the other X48 offerings we've looked at so far (at least, going by estimated MSRP), the X48 Platinum makes use of the more expensive DDR3 technology so in the end saving $100 on the board only to spend three times that much on memory makes price discussions rather pointless (at least until DDR3 becomes affordable).
We just managed to get our hands on Intel's brand new 45nm dual-core E8500 processor; unfortunately, this did not happen in time to include this beast in our early look at MSI X48 Platinum performance. Of course, "settling" for quad-core performance results when testing the board wasn't a difficult choice, but we know there are many out there that like to see what a motherboard can do when pushed to the limit with a high-clocking dual-core CPU. These results, including maximum FSB results for those of you that can't seem to live without this information, will be included in a follow-up review of our X48 collection prior to Intel's launch of this seemingly old but new chipset.
We also tried our hand at 4GB memory overclocking but ran into a couple of problems that prevented us from finishing all of our testing. At this time the X48 Platinum is much better at overclocking 2GB of memory, but there is no reason to think this won't change very soon. (We believe the problem is being created by a small discrepancy in a couple of bank-to-bank memory timings that can easily be corrected in the BIOS before release.)
If appearance is any indication of performance, we expect the X48 Platinum to do quite well when it comes to operating two or more ATI/AMD Radeon 3000-series graphics cards in CrossFire. Again, we have chosen to hold off reporting these results until we have had a chance to work with all of the major motherboard vendors. This way we can concentrate on bringing you an accelerated first-hand look at all of the products coming down the pipeline before we get into the specific details.
Both the Intel X48 Express chipset and NVIDIA's 790i release are just a few weeks away. It is quite probable that the decision on which platform to go with in the high-end market will rest entirely upon which multi-GPU solution ends up being better. On the other hand, if NVIDIA 790i fails to perform when it comes to overclocking 45nm quad-core CPUs then AMD/ATI could gain some traction in the multi-GPU arena in the first half of 2008, especially if CrossFire X drivers are ever released. We can't wait to see what NVIDIA has in store for us, but for now let's look at what MSI has managed to create using Intel's X48.
Specifications
MSI X48 Platinum
Market Segment
Performance - $259 (estimated)
CPU Interface
Socket T (LGA-775)
CPU Support
LGA775-based Core2 Duo, Core2 Extreme, or Core2 Quad recommended, Pentium and Celeron including next-generation 45nm compatibility
Chipset
Intel X48 Express Northbridge (MCH) and ICH9R Southbridge, supports Intel Viiv Technology, optional TPM (Trusted Platform Module) support
CPU Clock Multiplier
6x ~ 11x, downward adjustable for Core2, upward unlocked for Extreme, half-multiplier support for 45nm processors
Front Side Bus Speeds
Auto, 200 ~ 800 in 1MHz increments
System Bus Speeds
1600/1333/1066/800 (MHz) with official DDR3-1600 support
DDR3 Memory Dividers
1:1, 6:5, 4:3, 3:2, 8:5, 5:3 and 2:1
PCIe Speeds
Auto, 100MHz ~ 200MHz
PCI Speeds
33.3, 33.6, 37.3 and 42MHz
DRAM Timing Control
Auto (by SPD), Manual - tCL, tRCD, tRP, tRAS plus tRAP, tRFC, tWR, tWTR, tRRD, tRTP
DRAM Command Rate
Auto, 1N, 2N
CPU Voltage
Auto, Default VID ~ Default VID + 0.7875V
Memory (DRAM) Voltage
Auto, 1.50V ~ 2.75V
FSB Termination Voltage
Auto, 1.20V ~ 1.44V
North Bridge (NB) Voltage
Auto, 1.25V ~ 1.83V
SB (1.5V) Voltage
Auto, 1.50V ~ 1.80V
CPU Reference Voltage (GTL)
Auto, 0.74V ~ 1.07V
Memory Reference Voltage
Auto, 0.90V ~ 1.25V
Memory Slots
Four 240-pin DDR3 DIMM Slots - DDR3-1600 (XMP)/1333/1066/800
Dual-Channel Configuration
Regular Unbuffered, non-ECC DDR3 Memory to 8GB total
Expansion Slots
2 - PCIe 2.0 x16 Slots (blue), supports ATI CrossFire Technology
2 - PCIe (1.x) x4 Slots (yellow)
2 - PCIe (1.x) x1 Slots
1 - PCI 2.2 Slot
Onboard SATA RAID
4 SATA 3Gbps Ports - ICH9R (ACHI + RAID 0, 1, 5, 10)
2 eSata Ports - ICH9R (AHCI + RAID 0, 1, 5, 10)
2 SATA Ports - Silicon Image 5723 (non-bootable RAID 0, 1 and JBOD)
Onboard IDE (PATA)
Marvell 88SE6111 PATA Controller (up to two PIO/UDMA 133/100/66MHz devices)
Onboard USB 2.0/IEEE-1394
12 USB 2.0 Ports - (8) via I/O panel - (4) via headers
2 IEEE-1394(a) Ports by VIA VT6308P - (1) via I/O panel, (1) via header
Onboard LAN (with Teaming)
Realtek RTL8111B - PCI Gigabit Ethernet contoller
Intel 83566DC PCI Express Gigabit Ethernet controller
Onboard Audio
Realtek ALC888 - 8-channel HD Audio CODEC (Azalia 1.0/Vista Premium ready)
Power Connectors
ATX 24-pin, 8-pin ATX 12V
I/O Panel
1 x PS/2 Mouse port
1 x PS/2 Keyboard port
2 x eSATA portd (supports command-based port multipliers)
1 x SPDIF Optical Out, 6 Analog Audio jacks
1 x IEEE-1394a
2 x RJ-45 (LAN)
8 x USB 2.0/1.1
1 Reset CMOS Button
Fan Headers
6 - (1) CPU, (2) Programmable System Fans, (3) Chassis/Optional/Misc.
Fan Control
System Fan 1 and 2 manual settings for 100/75/50% by BIOS
BIOS Revision
VP.2B4 (01/10/08)
Board Revision
v1.00
MSI tells us they plan on introducing the board in the mid $200 range, but given the market's propensity to inflate costs close to launch we have quoted a slightly higher estimated cost. Even so, this board will do a fine job filling the low-cost alternative market segment void that will be left when some of the tier one giants release their more expensive X48 elite motherboards in the $330~$350 range.
Along with the use of the Intel X48 Express chipset comes official support for 400MHz FSB and DDR3-1600 memory speed. We also see the inclusion of many features that are normally reserved for more expensive offerings: dual Gigabit LAN ports, onboard 8-channel HD Audio (including an S/PDIF optical port), ICH9R RAID-enabled back panel eSATA ports, and a rich hardware monitoring page by BIOS.
The MSI X48 Platinum comes with a nice balance of features and controls. All the standard voltages, CPU, memory, Northbridge, Southbridge, and a couple of reference voltages are available for manipulation. With CPU voltage support to around 2V (depending on the installed processor's default VID) and DDR3 voltage to 2.75V, even the most demanding overclockers should not be left wanting. We will cover some of these options and our findings in more detail when we look at some of the BIOS screens.

The back plane includes legacy PS/2 ports for keyboard and a mouse, a total of eight (8) USB 2.0/1.1 ports, a IEEE-1394(a) port, two (2) eSATA ports, two (2) RJ-45 Gigabit ports, a single optical S/PDIF port, and jacks for analog audio connections. MSI also includes a mini button for manually resetting the BIOS should the settings become completely unworkable.
Board Features and Layout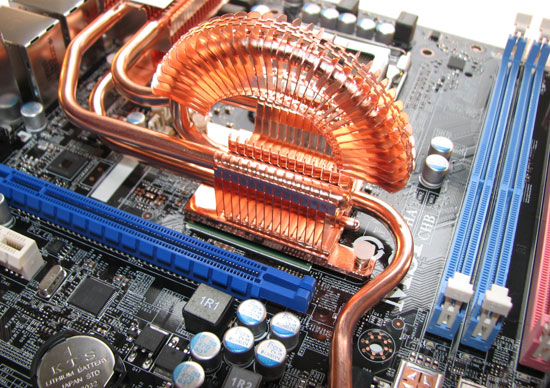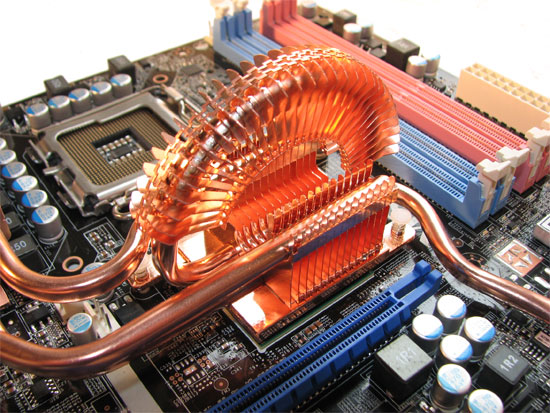 MSI's "Circupipe" Northbridge heatsink design will make yet another appearance, this time atop an X48 MCH. Our past experience with this particular cooling implementation left us thinking aesthetics must have been a bigger concern for MSI's thermal engineers than performance. Once again, we cannot help but feel as though form has been improperly placed ahead of function. We believe this may be the reason the board is somewhat resistant to maintaining stable operation with an MCH voltage above 1.4V. In addition, we would really like to see MSI take advantage of the through-hole mounting they have built into the X48 Platinum - the plastic pushpins and thin springs used for mounting the Circupipe are nowhere near capable of providing sufficient pressure to support optimal heat transfer. In summary, we applaud the use of copper and high-quality heat pipes for wicking heat from the MCH, but it's not hard to identify a few simple things that MSI could do to make overall thermal performance a lot better. In any case, we would almost always recommend replacing the thermal interface material (TIM) with some of your favorite thermal compound and this time is no different.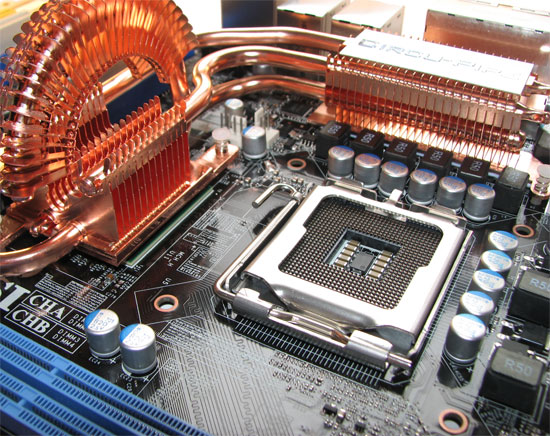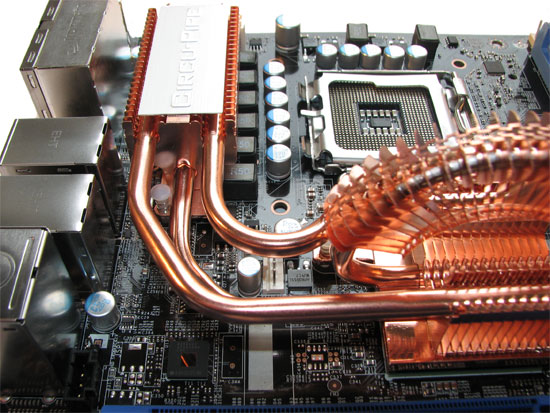 The X48 Platinum makes use of a VRM 11.1 compliant PWM (pulse-width modulator) IC from Intersil and an 8-phase power delivery design. We had no problems supplying our QX9650 processor with the power needed for stable 4GHz operation. The solid capacitors and beefy inductors used on the board scream quality - MSI has done an excellent job selecting superior components for use in this board's power circuit. Given a choice, we always prefer the application of engineering effort which focuses on design decisions that result in credible improvements over marketing hype and the extravagant use of worthless feature sets. There is a big difference between producing a well-balanced platform and one which attempts to offer too much.
We also found that the high-side MOSFETS stayed quite cool even under heavy load. In fact, we have noticed that vendors that use MOSFETS based on the older, larger body packages in general deliver boards that run much cooler in this respect. A manufacturer's decision to move to the smaller package is mainly influenced by the need for a smaller form factor with a footprint that allows them to pack more MOSFETS into an equivalent space. In turn, not only does this increase the circuit's overall power density but it also negatively impacts each component's ability to efficiently dissipate conversion losses to the surrounding environment - the result of which is a hotter running system.
For this reason, it is not uncommon for some users to believe that heatsinks attached to the MOSFETS are located where they are for the principle purpose of cooling these components. In actuality, this is rarely the case. A lot of the time this turns out to be a good place to position additional masses of copper and aluminum, and these are thermally coupled to the MCH (and sometimes the Southbridge) through one or more heatpipes. MOSFETS are generally capable of withstanding extremely elevated operating temperatures and additional cooling often provides little to no actual benefit. For this reason we urge you to ignore any fault you may have found with MSI for not covering the MOSFETS along the top edge of the board.
One small detail that we really appreciated was the decision to reinforce the CPU heatsink mounting holes with rings of strengthening material. Little improvements such as these serve to consistently remind us of MSI's new commitment to detail. The area around the CPU socket is well clear of interference, meaning the installation of even the most massive air cooling solutions should not be a problem. The fan headers for the CPU and any fan connected to the back of our case were a little oddly positioned - be sure to seat these first before mounting your heatsink if you plan to use a large HSF.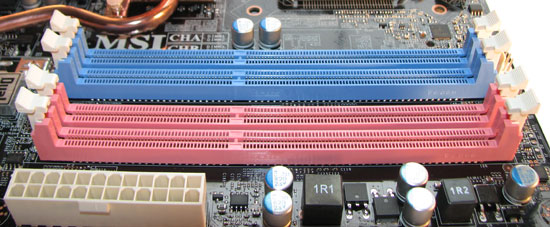 While pink and light blue certainly would not be our first choice or any choice in colors, colors aren't usually a major problem if the board performs well. Where we do find actual fault with MSI's choice in color coding is the memory slots. Traditionally, same colored slots are used to indicate the appropriate installation locations when running a kit of dual-channel memory. MSI has instead chosen to segment the slots by color based on which channel they belong to (pink being Channel A and light blue being Channel B). In the end this matters very little as long as the user understand where the modules should be placed. Which ones are the right ones, you may ask? We found our greatest overclocking was accomplished when using Slot 2 of Channel A and Slot 2 of Channel B.
Board Features and Layout (Continued)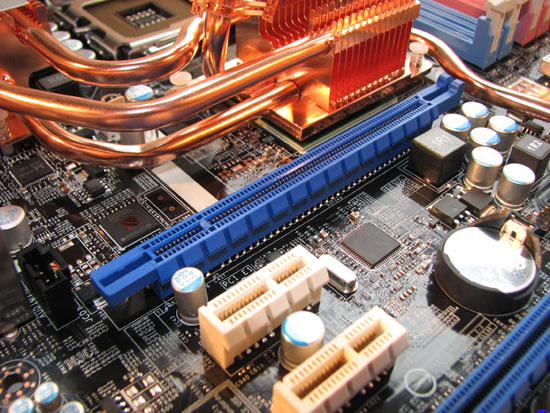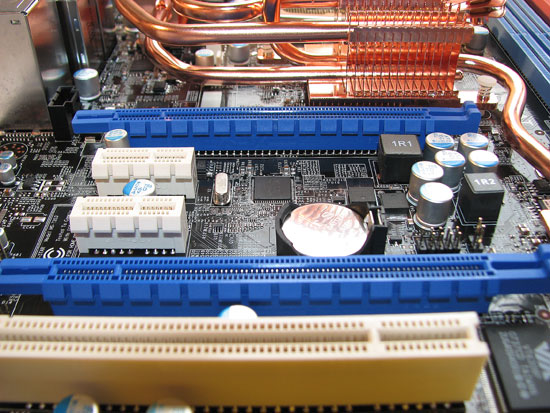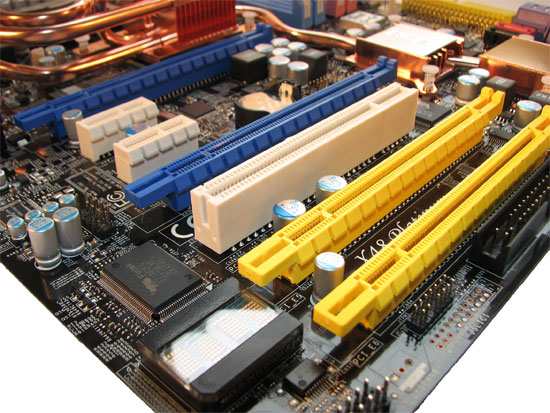 In a surprising twist of events MSI has opted to design the X48 Platinum to allow for a total of four x16 PCI-Express cards to be installed simultaneously, making this board rather unique in this respect. The blue slots are directly connected to the X48 MCH, making them PCI-E 2.0 compatible and the right choice when configuring the system for standard CrossFire operation. The bottom two yellow slots are able to accept x16 cards mechanically, but each only provides for x4 link speeds from the installed device to the Southbridge.
This particular PCI Express expansion topology is different than some other X48 boards with only one additional PCI-E x16 (x4 electrical) slot hanging off of the ICH9R. MSI does this by adding a third-party chip to the X48 Platinum which bridges one of the available PCI-E x1 lanes offered by the ICH to an x4 electrical link state which is seen by the lower yellow PCI-E slot. One could argue that the performance potential of such a setup is marginal at best seeing as how the device installed in the last PCI Express slot is seriously bottlenecked by this configuration. Although the slot device is configured for x4 operation, the bridge chip is only able to communicate with the ICH at x1 speeds. Furthermore, this downstream device must contend with all other PCI Express traffic passing through the ICH to the MCH over a single x4 link, which would most likely include another x4 device residing in the first yellow slot. However, regardless of the shortcomings we may note, the additional capabilities provided by this setup are clear: many x16 devices are only capable of down-training to speeds of x4 or x8 and without this bridge chip the last x1 lane would be otherwise useless.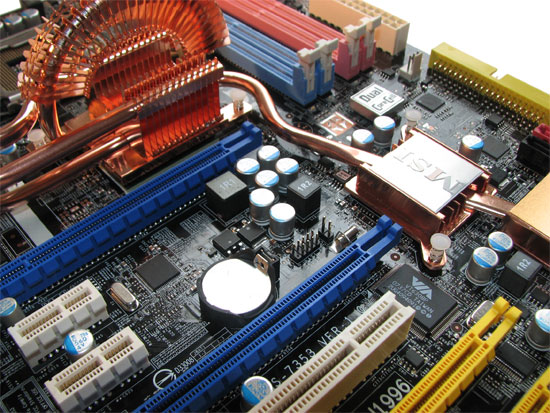 Seeing as how MSI has managed to provide this extra feature while still keeping the overall board cost low, we can hardly fault them for trying to do right. The dual PCI-E 2.0 x16 lanes by themselves provide more than enough transfer bandwidth for even the most data-hungry video cards. ATI's newly release Radeon 3870X2 is already a dual-CrossFire setup on one card - adding a second card to the other primary graphics slot brings the potential of quad-CrossFire action (drivers pending). Because of this we believe it is safe to assume that any cards that find home in the yellow slots will most likely be more forgiving when it comes to interrupts in maximum throughput or associated latencies. For example, this board makes possible the option to install an additional card for physics as well as a PCI-E disk controller card that requires more than a single x1 link to operate. This alone is almost enough for us to consider the X48 Platinum as a strong candidate for a workstation motherboard.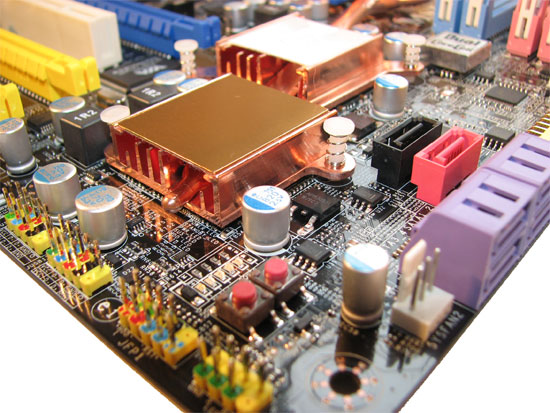 Here is a better look at the heatsink covering the third-party bridge chip we previously mentioned. We can also see four of the six SATA ports attached to the Intel ICH9R Southbridge. The remaining two ports provided by the ICH are located on the motherboard's back panel as eSATA connections, giving the user the ability to run an external RAID array without the need for any additional hardware. The last two remaining ports - one black, one red - are attached to the add-on Marvell controller and support JBOD and RAID 0/1 configurations.
Onboard power and reset buttons are provided for the user than wants to control their board without the use of a chassis, and an array of status lights can be seen just to these left of these, removing the need for a case altogether.
Interesting and Unusual BIOS Settings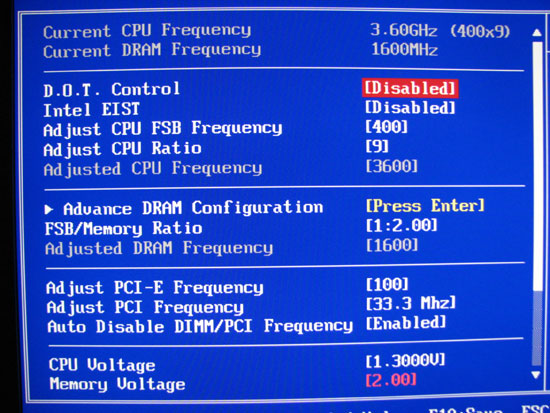 The MSI X48 Platinum allows for a certain degree of automatic overclocking. The D.O.T. (Dynamic Overclocking Technology) setting provides a means for setting the upper limit of this feature, either a 1, 3, or 5% increase in CPU frequency during periods of higher loading. Disabling this setting permits manual overclocking via Front Side Bus (FSB) and multiplier modifications. Half-multiplier support is included for Intel's newest 45nm processors.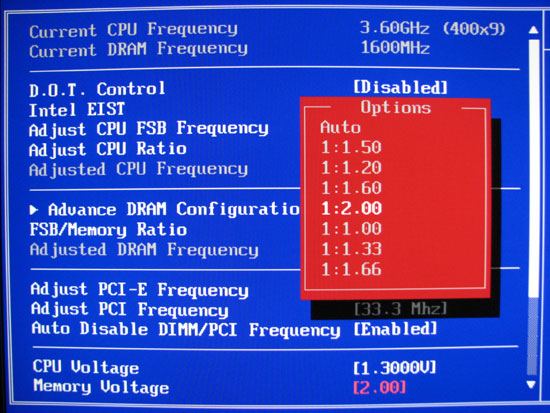 Available memory dividers are displayed in a slightly different manner than usual. These numbers correlate to 1:1, 6:5, 4:3, 3:2, 8:5, 5:3 and 2:1. Unfortunately, the only missing divider (5:4) is one of our favorites; hopefully MSI can work this into a future BIOS release.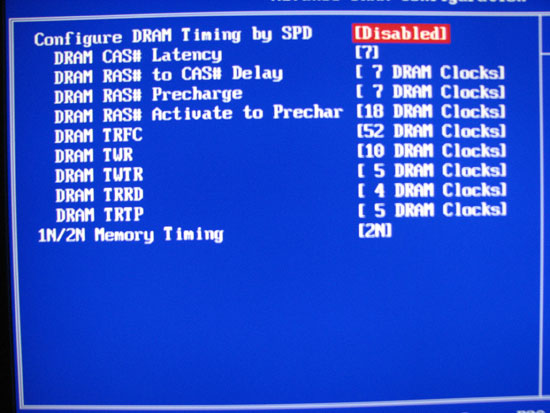 Selecting "Advanced DRAM Configuration" leads to a page where manual values can be entered, overriding the memory's SPD settings. Command Rate is also selectable at 1N or 2N - we have found that DDR3 is much more forgiving than DDR2 when it comes to selecting 1N at higher speeds. We would like to see a few more of the most common memory timings available for adjustment - tRC (Row Cycle Time) for example. MSI assures us that customer satisfaction is an important aspect of their business model, and they are constantly working to improve their products. We are also told that this BIOS is very early and we can expect some substantial enhancements in the next release.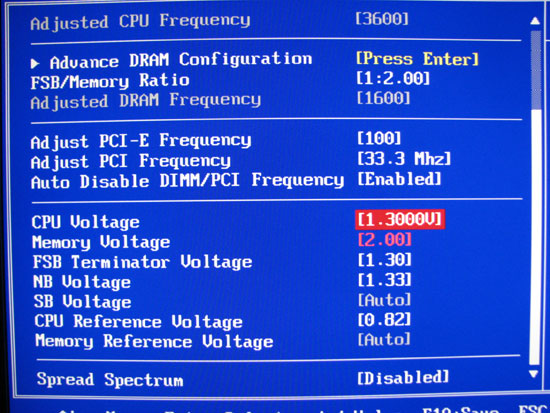 The X48 Platinum's use of a less traditional voltage monitor chip rendered CPU-Z incapable of reading actual CPU voltages in Windows. We did however check our processor's load voltages the old fashioned way, with a steady hand and a digital multimeter. Droop was not excessive and we found we could run just about the same VID settings with our QX9650 test processor as we could on any other board.
We were able to get away with leaving our "Memory Reference Voltage" on Auto (nominally one-half of memory voltage) but were forced to manually set the "CPU Reference Voltage" when working with our quad-core CPU. It appears as though the BIOS properly sets this voltage automatically when a dual-core CPU is installed, but it needs a little help with the QX9650. We used 0.82V with an "FSB Terminator Voltage" (VTT) of 1.30V - this being 63% of VTT. As you can see, the "CPU Reference Voltage" is really a single GTL setting in disguise. Without this change we were unable to press above about 360MHz FSB; afterwards we had no problems running 400MHz FSB.
As we mentioned before, higher "NB Voltage" settings has the effect of quickly causing instability. Switching to a more robust form of MCH cooling may help to alleviate this affect.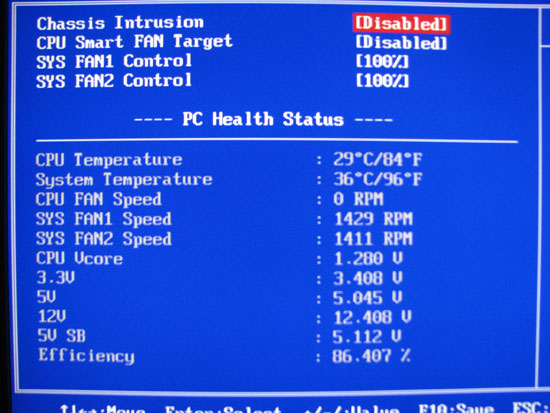 The in-BIOS hardware monitoring page is surprisingly good, although we would like to see NB voltage and memory voltage reported here. Those that do not have the ability to check these voltages on their own are usually comforted by the ability to easily verify these are where they think they should be. "System Temperature" is read out from somewhere near the PWM circuit and "CPU Temperature" is a reading from the processor's onboard temperature diode. Of these settings we were most intrigued by the one labeled "Efficiency". No doubt this refers to PWM efficiency but we have never seen this in a BIOS before.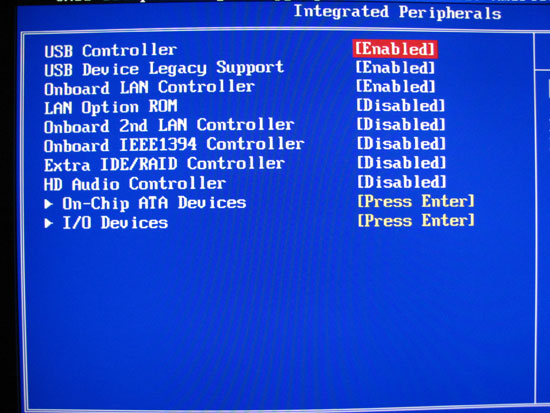 The last page we want to showcase contains options for enabling or alternately disabling some of the onboard controllers. "Extra IDE/RAID Controller" is a reference to the Marvell RAID controller with RAID 0/1 support; settings for the ICH9R are contained under "On-Chip ATA Devices".
A Preliminary Look at Overclocking Results
Once we were able to overcome our initial difficultly clocking our quad-core QX9650 by manually adjusting the CPU's GTL voltages, we found that the board responded well to our demands for more speed. Our focus was on achieving a balanced, stable overclock at 400MHz FSB, using the highest multiplier that the board's power circuitry and our processor could reasonably handle. In the end we settled on 10x for an even 4GHz - this placed our memory at DDR3-1600 using the 2:1 divider. Although not reported by CPU-Z, our full-load CPU voltage at this speed was about 1.28V and the X48 Platinum had no issues supplying the necessary current in a stable fashion.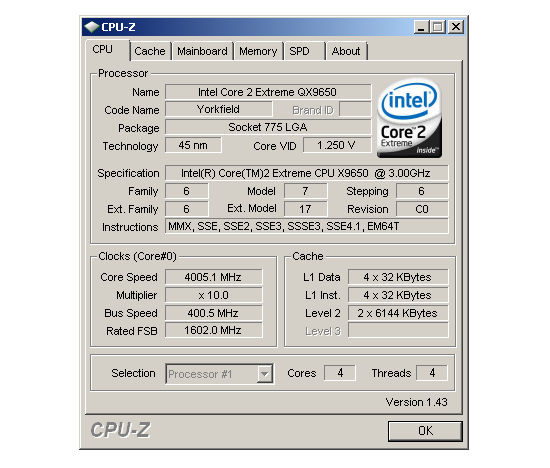 Our memory timings ended up being a little looser than we would have liked. After 2.00V the board's next higher memory voltage setting was 2.17V, a little more than we were willing to give our expensive DDR3 memory simply for the purpose of setting CAS 6 instead of CAS 7. We have already discussed with MSI the need for finer fidelity when setting a DRAM voltage above 2V.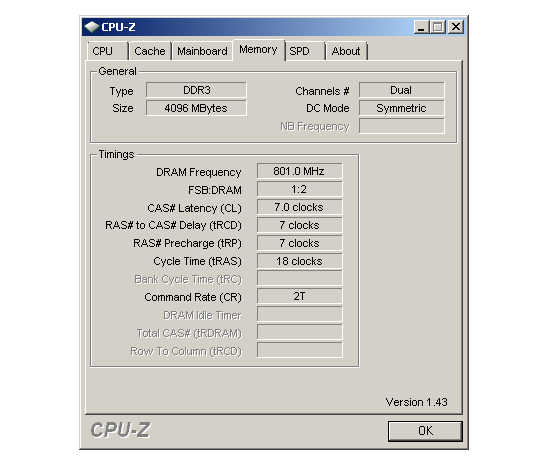 Memory read performance is certainly on par with what we expect for our settings. We are able to determine that tRD is being set to 7 by the board at an FSB of 400MHz, two whole clicks looser than we would have liked when it comes to X48. This along with setting 1N would help the memory read performance to easily eclipse 10GB/s. Write speeds are also a little low; later we were able to determine that the write recovery time (tWR) we set in BIOS at 10 clocks was being ignored and the board was defaulting to 21T. Rest assured minor problems like these will be corrected before a shipping BIOS is released.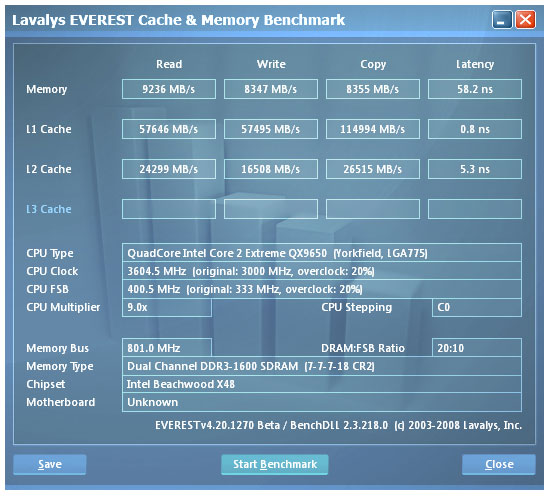 Adding options for tRD (MCH Read Delay) and a couple other key memory timings will go a long way improving the already good memory latency time. It should be possible with a little tuning to take this number below 50ns. This is where Intel systems start to feel truly fast. We look forward to working closely with MSI in making this possible.
Today's results are not intended as anything more than an early look at how MSI's X48 offering is shaping up on the clocking front. In early application testing, the board performs on par with current X38/X48 DDR3 offerings. In fact, at this point there are not any real performance differences between the P35/X38/X48/680i/780i boards at stock speeds. Any differences we have noticed come down to memory sub-timing settings and resulting performance increases that show up in benchmarks. For the most part, buyers in this market segment are usually more concerned about features and overclocking abilities rather that Office 2007 performance.

That said, we will report complete testing results in our upcoming X38/X48/780i motherboard round-up, which will be available right before Intel's official chipset launch in the latter part of February. We will bring you all the information needed in order to decide just which platform deserves your hard earned money.
Initial Thoughts
Out testing was certainly not without problems, and the X48 Platinum is still far from perfect, but even in the face of this we really enjoyed our time working with this board. MSI has done a very good job of engineering a relatively low-cost X48 motherboard that shows it has the potential to hang with some of the big dogs. A few refinements here and a couple of BIOS tweaks there should allow the X48 Platinum to be a really good alternative for those who need a gaming or multi-GPU solution without the higher prices that will prevail at the top end of the X48 market. In our minds, MSI is headed in the right direction with this board; you would be foolish to make your next motherboard purchase without giving them due consideration. Of course, we state this based on our conversations with MSI getting the BIOS in order before the launch date.
The use of four separate PCI-E x16 slots is certainly something we don't see that often. Like we mentioned before, assuming these slots are all intended for graphics cards alone is a little off kilt. MSI's use of the PCI-E bridge chip is really meant to allow for the use of more than one add-on card that needs a minimum x4 link state. Features like this will become more and more important as the industry continues to accelerate away from the aging PCI interface on its way to full support for the newer PCI Express architecture.
The latest reports from Intel place the X48 launch in mid- to late February. Picking up a new motherboard after the big Q1 refresh, as well as currently un-launched 45nm budget quad-core CPUs or the elusive E8500 dual-core CPU, will be the focus of enthusiasts worldwide. Keep your eyes on this board (hard not too with that heatsink solution or pink memory slots), with a few more tweaks, we see no reason why MSI will not be able to deliver a compelling DDR3 alternative at an attractive price. A price that would be even more attractive if DDR3 memory prices continue to fall.