Original Link: http://www.anandtech.com/show/2428


Last May, AMD introduced its much delayed Radeon HD 2900 XT at $399. In a highly unexpected move, AMD indicated that it would not be introducing any higher end graphics cards. We discussed this in our original 2900 XT review:
"In another unique move, there is no high end part in AMD's R600 lineup. The Radeon HD 2900 XT is the highest end graphics card in the lineup and it's priced at $399. While we appreciate AMD's intent to keep prices in check, the justification is what we have an issue with. According to AMD, it loses money on high end parts which is why we won't see anything more expensive than the 2900 XT this time around. The real story is that AMD would lose money on a high end part if it wasn't competitive, which is why we feel that there's nothing more expensive than the 2900 XT. It's not a huge deal because the number of people buying > $399 graphics cards is limited, but before we've started the review AMD is already giving up ground to NVIDIA, which isn't a good sign."
AMD has since released even more graphics cards, including the competitive Radeon HD 3870 and 3850, but it still lacked a high end offering. The end of 2007 saw a slew of graphics cards released that brought GeForce 8800 GTX performance to the masses at lower price points, but nothing any faster. Considering we have yet to achieve visual perfection in PC games, there's still a need for even faster hardware.
At the end of last year both AMD and NVIDIA hinted at bringing back multi-GPU cards to help round out the high end. The idea is simple: take two fast GPUs, put them together on a single card and sell them as a single faster video card.
These dual GPU designs are even more important today because of the SLI/CrossFire limitations that exist on various chipsets. With few exceptions, you can't run SLI on anything other than a NVIDIA chipset; and unless you're running an AMD or Intel chipset, you can't run CrossFire. These self-contained SLI/CrossFire graphics cards will work on anything however.
AMD is the first out of the gates with the Radeon HD 3870 X2, based on what AMD is calling its R680 GPU. Despite the codename, the product name tells the entire story: the Radeon HD 3870 X2 is made up of two 3870s on a single card.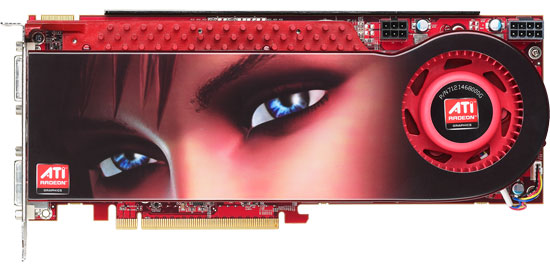 Click to Enlarge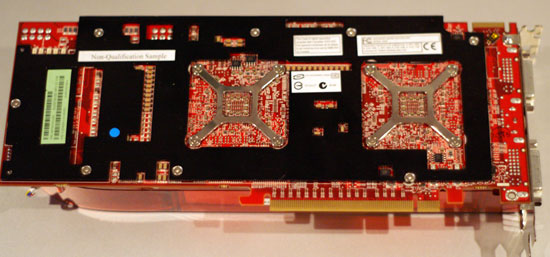 The card is long, measuring 10.5" it's the same length as a GeForce 8800 GTX or Ultra. AMD is particularly proud of its PCB design which is admittedly quite compact despite featuring more than twice the silicon of a single Radeon HD 3870.
On the board we've got two 3870 GPUs, separated by a 48-lane PCIe 1.1 bridge (no 2.0 support here guys). Each GPU has 16 lanes going to it, and then the final 16 lanes head directly to the PCIe connector and out to the motherboard's chipset.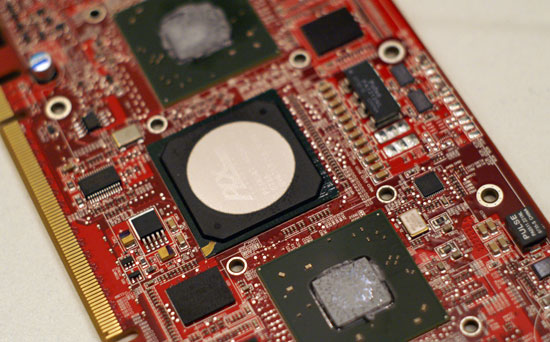 Two RV670 GPUs surround the PCIe bridge chip - Click to Enlarge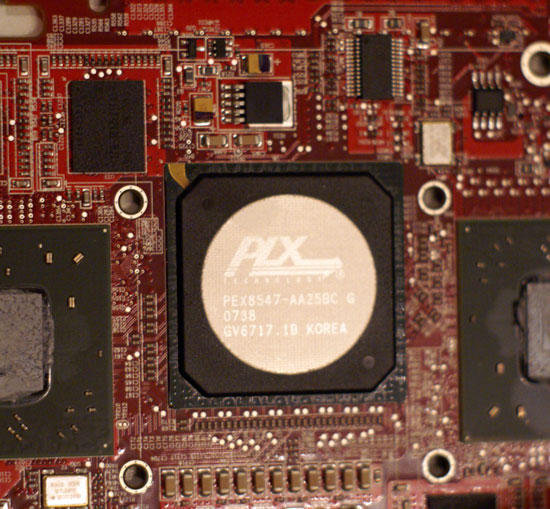 Click to Enlarge
Thanks to the point-to-point nature of the PCI Express interface, that's all you need for this elegant design to work.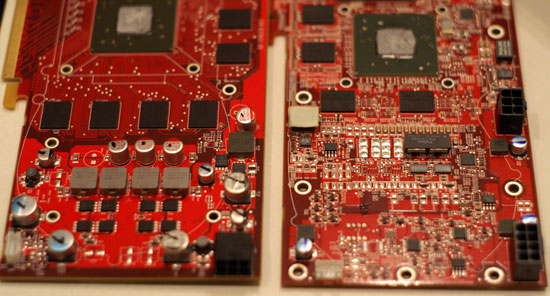 The 3870's board layout is far simpler (left) than the X2's (right) thanks to less stringent power requirements and lack of a bridge chip + 2nd GPU - Click to Enlarge
Each GPU has its own 512MB frame buffer, but the power delivery on the board has been reworked to deal with supplying two 3870 GPUs.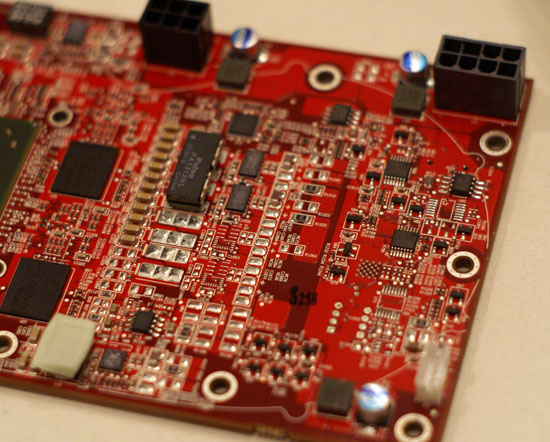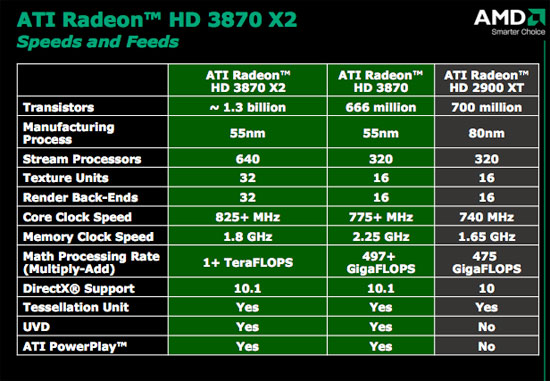 The Radeon HD 3870 X2 is built on a 12-layer PCB, compared to the 8-layer design used by the standard 3870. The more layers you have on a PCB the easier routing and ground/power isolation becomes, AMD says that this is the reason it is able to run the GPUs on the X2 faster than on the single GPU board. A standard 3870 runs its GPU at 775MHz, while both GPUs on the X2 run at 825MHz.
Memory speed is reduced however; the Radeon HD 3870 X2 uses slower, more available GDDR3 in order to keep board cost under control. While the standard 3870 uses 2.25GHz data rate GDDR4, the X2 runs its GDDR3 at a 1.8GHz data rate.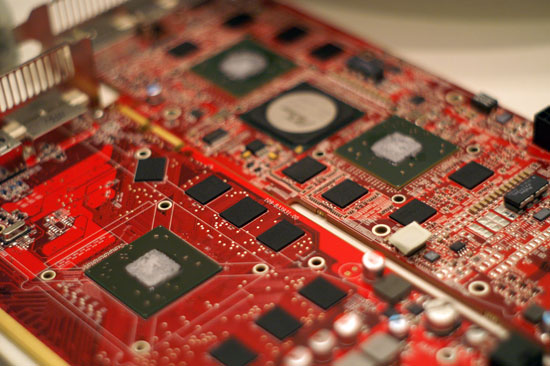 The 3870 has 8 x 64MB GDDR4 memory devices on one side of the PCB, the X2 has 4 x 32MB GDDR3 per GPU on each side of the PCB for a total of 16 GDDR3 memory devices, or 1GB of memory total - Click to Enlarge
AMD expects the Radeon HD 3870 X2 to be priced at $449, which is actually cheaper than a pair of 3870s - making it sort of a bargain high end product. We reviewed so many sub-$300 cards at the end of last year that we were a bit put off by the $500 pricetag at first; then we remembered how things used to be, and it seems that the 3870 X2 will be the beginning of a return to normalcy in the graphics industry.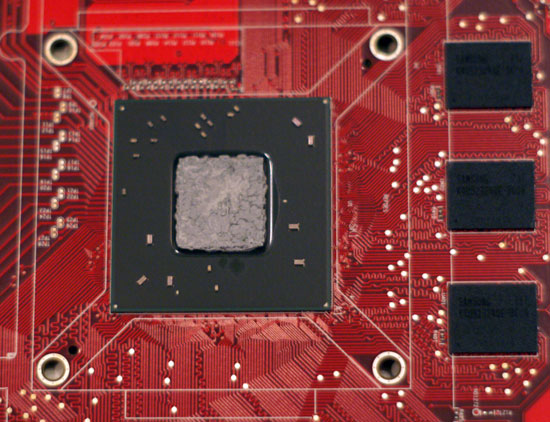 One GPU on the Radeon HD 3870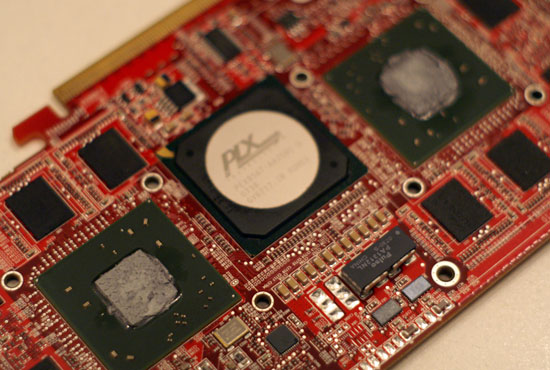 Two GPUs on the Radeon HD 3870 X2 - Click to Enlarge
Single-board CrossFire
The Radeon HD 3870 X2 features a single CrossFire connector at the top of the PCB, meaning you'll eventually be able to add a second card to it to enable 3X or 4X CrossFire modes (depending on whether you add another 3870 X2 or just a single 3870).
Unfortunately driver support for the ATI CrossFireX technology isn't quite there yet, although AMD tells us to expect something in the March timeframe. Given that CeBIT is at the beginning of March we're guessing we'll see it at the show.
As we alluded to earlier, the fact that the 3870 X2 features two GPUs on a single board means that it doesn't rely on chipset support to enable its multi-GPU functionality: it'll work in any motherboard that would support a standard 3870.
Driver support is also seamless; you don't have to enable CrossFire or fiddle with any settings, the card just works. AMD's Catalyst drivers attempt to force an Alternate Frame Render (AFR) mode whenever possible, but be warned that if there are issues with the 3870 X2's multi-GPU rendering modes and a game you may only get single-GPU performance until AMD can fix the problem. In our testing we didn't encounter any such issues but as new games and OS revisions come out, as we saw with the GeForce 7950 GX2, there's always the chance.
AMD insists that by releasing a multi-GPU card it will encourage developers to take CrossFire more seriously. It is also committed to releasing future single-card, multi-GPU solutions but we'll just have to wait and see how true that is.
Last Minute Driver Drop: Competitive Crysis Performance
Today's launch was actually supposed to happen last week, on January 23rd. At the last minute we got an email from AMD stating that the embargo on 3870 X2 reviews had been pushed back to the 28th and we'd receive more information soon enough.
The reason for the delay was that over the weekend, before the launch on the 23rd, AMD was able to fix a number of driver issues that significantly impacted performance with the 3870 X2. The laundry list of fixes are as follows:
• Company of Heroes DX10 – AA now working on R680. Up to 70% faster at 2560x1600 4xAA
• Crysis DX10 – Improves up to ~60% on R680 and up to ~9% on RV670 on Island GPU test up to 1920x1200.
• Lost Planet DX10 – 16xAF scores on R680 improved ~20% and more. AF scores were horribly low before and should have been very close to no AF scores
• Oblivion – fixed random texture flashing
• COJ – no longer randomly goes to blackscreen after the DX10 benchmark run
• World in Conflict - 2560x1600x32 0xAA 16xAF quality=high we get 77% increase
• Fixed random WIC random crashing to desktop
• Fixed CF scaling for Colin McRae Dirt, Tiger Woods 08, and Blazing Angels2
• Fixed WIC DX9 having smearable text
With a list like that, we can understand why AMD pushed the NDA back - but most importantly, the Radeon HD 3870 X2 went from not scaling at all in Crysis to actually being competitive.
The Radeon 3800 series has always lagged behind NVIDIA when it came to performance under Crysis, and with the old driver Crysis was a black eye on an otherwise healthy track record for the 3870 X2. The new driver improved performance in Crysis by around 44 - 54% at high quality defaults depending on resolution. The driver update doesn't make Crysis any more playable at very high detail settings, but it makes the X2's launch a lot smoother than it would've been.
According to AMD, the fix in the driver that so positively impacted Crysis performance had to do with the resource management code. Apparently some overhead in the Vista memory manager had to be compensated for, and without the fix AMD was seeing quite poor scaling going to the 3870 X2.
The Test
Test Setup
CPU
Intel Core 2 Extreme QX9650 @ 3.00GHz

Motherboard
EVGA nForce 780i SLI
Power Measurements done on ASUS P5E3 Deluxe
Video Cards
ATI Radeon HD 3870 X2
ATI Radeon HD 3870
NVIDIA GeForce 8800 GTX
NVIDIA GeForce 8800 GTS 512
NVIDIA GeForce 8800 GT (512MB)
Video Drivers
ATI: 8-451-2-080123a
NVIDIA: 169.28
Hard Drive
Seagate 7200.9 300GB 8MB 7200RPM
RAM
4x1GB Corsair XMS2 DDR2-800 4-4-4-12
Operating System
Windows Vista Ultimate 32-bit
Bioshock
Our Bioshock test involves a quick run through a section of the Medical Pavillion. Since the game has no built-in benchmark, our runthrough is manual and we rely on FRAPS to measure the average frame rate. All of the enemies are already dead in the area so we don't run the risk of running into one of them during our test.
The Radeon HD 3870 X2 manages to outperform every other single card solution in our tests, being bested only by the 8800 GT SLI which is a good $150 more expensive than the ATI solution. It's worth noting that it looks like AMD had finally solved its DirectX 10 performance issues under Bioshock; it's not just that the 3870 X2 performs well, but AMD's driver team seems to have done some good work over the last few driver revisions.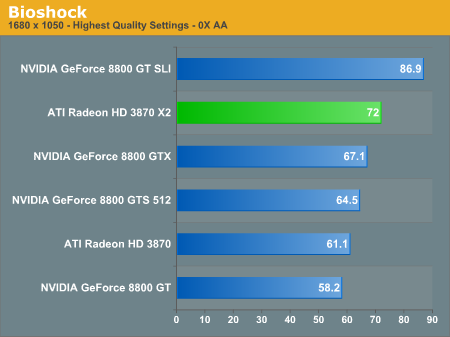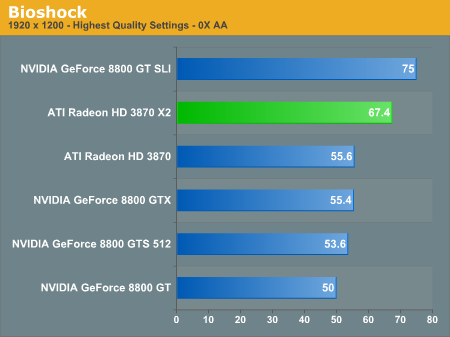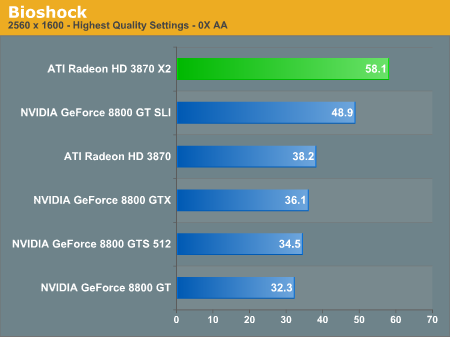 Call of Duty 4
A surprisingly successful FPS on the PC, Call of Duty 4 also lacks any sort of in-game benchmark so we benchmark the cut scene at the beginning of the first mission. We start the frame rate counter as soon as we're in the helicopter and stop once the man in the chair gets shot.
The Radeon HD 3870 X2 does extremely well here, performing around 30% faster than NVIDIA's GeForce 8800 GTS.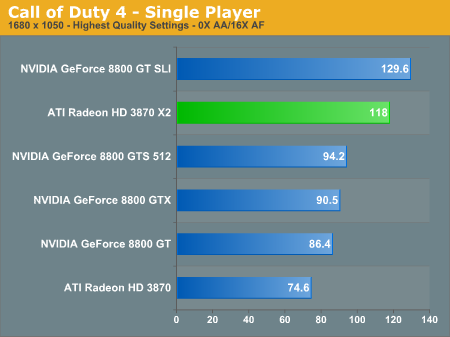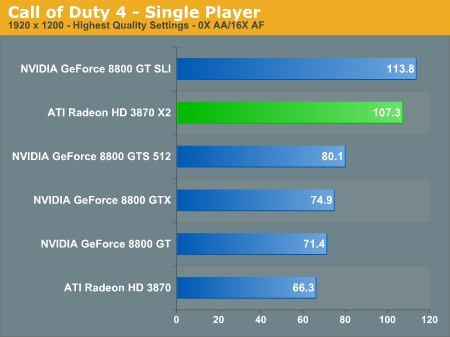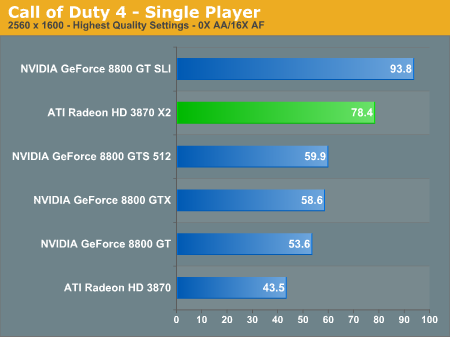 With 4X AA enabled, the performance gap remains about the same; at 1920 x 1200, the 3870 X2 manages a 32% lead over the 8800 GTS 512.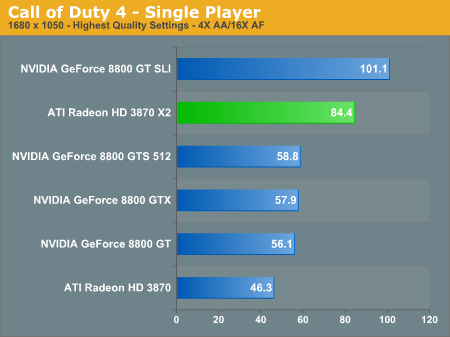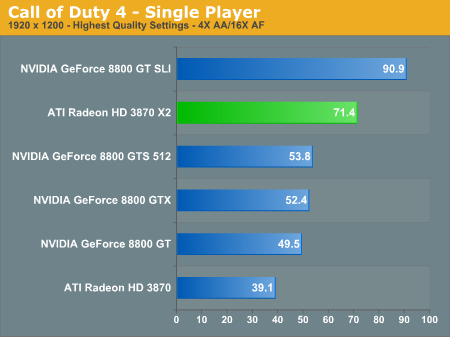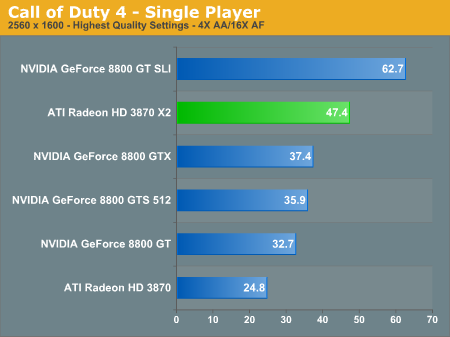 Crysis
Crysis ships with a built-in GPU benchmark, unfortunately the game is still too stressful to run at the highest quality settings so we're left running at the "high" defaults with no AA and at only two resolutions.
The last driver drop ensured that the 3870 X2 was actually faster than any single NVIDIA card in our lineup. At 1920 x 1200, the X2 is around 18% faster than the 8800 GTS 512. You'd need a pair of these X2s or faster in order to actually run at smooth frame rates at these settings unfortunately. It looks like the perfect card for Crysis still doesn't exist.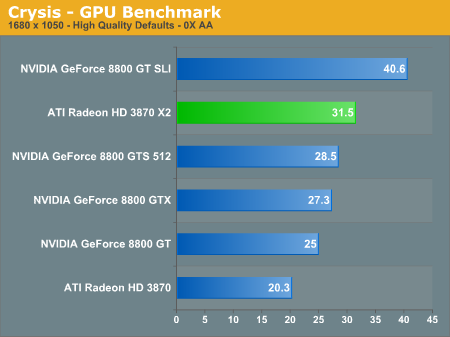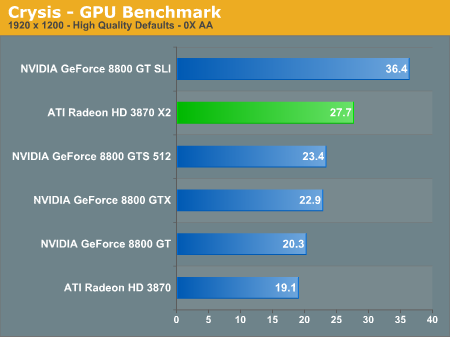 Enemy Territory: Quake Wars
We used our island benchmark for ET: Quake Wars as always, unfortunately for AMD the Radeon HD 3870 X2 doesn't seem to do as well here. We asked AMD for an explanation and it seems as if there's a driver issue at work here causing lower performance in Quake Wars, unfortunately there's no word as to when a fix may be available. Needless to say, if you're a Quake Wars fanatic, you may want to wait until these driver issues get worked out.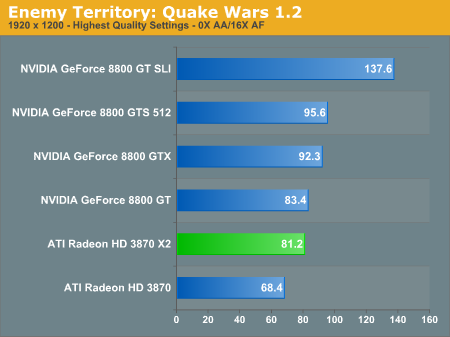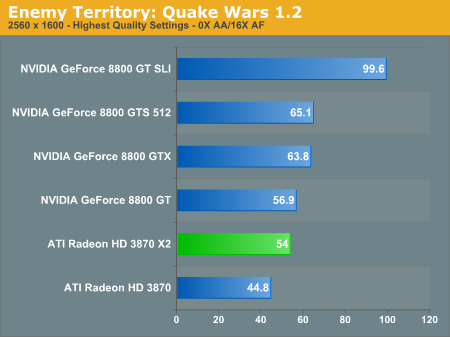 Half Life 2: Episode Two
Performance under Valve's Source Engine is high for all of these contenders, but the 3870 X2 continues to be the fastest "single-card" solution in our lineup. The X2 bests the 8800 GTX by around 17% at 2560 x 1600.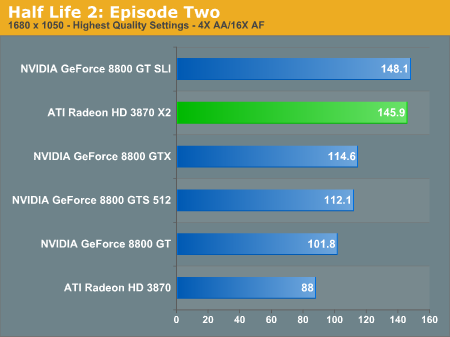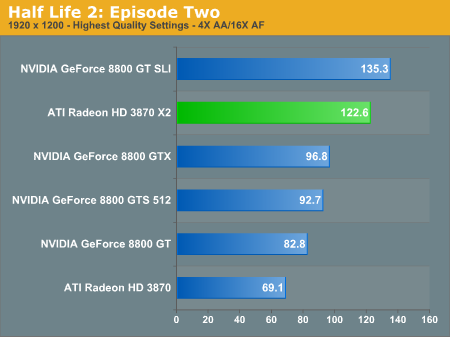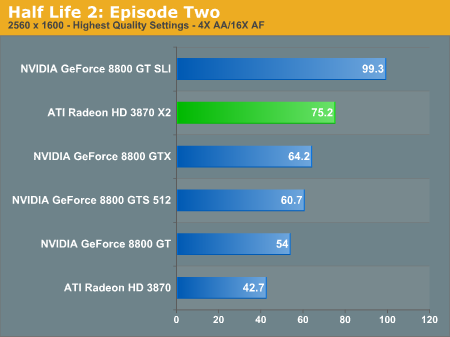 Oblivion: Shivering Isles
Oblivion is no different from what we've seen for the most part today: the Radeon HD 3870 X2 is 19% faster than the 8800 GTS 512, the closest single-card competitor from NVIDIA.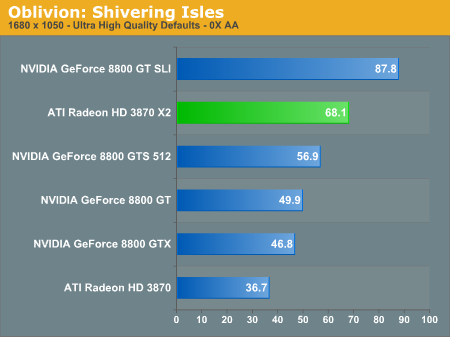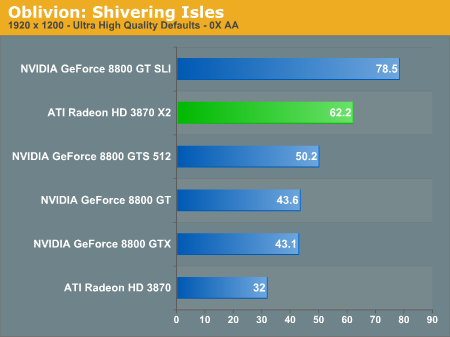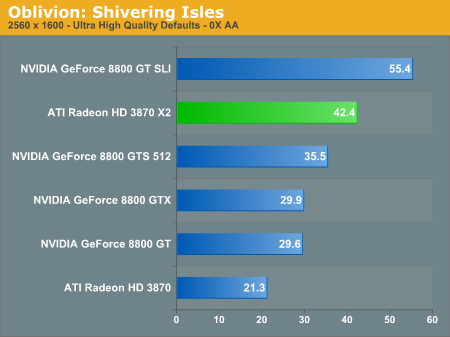 The added memory bandwidth thanks to having two GPUs on a single board gives the 3870 X2 a huge advantage once we turn on 4X AA, here we're looking at almost 2x the performance gap between it and the GTS 512 as we saw with AA disabled.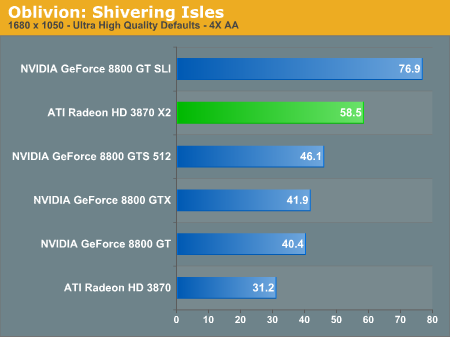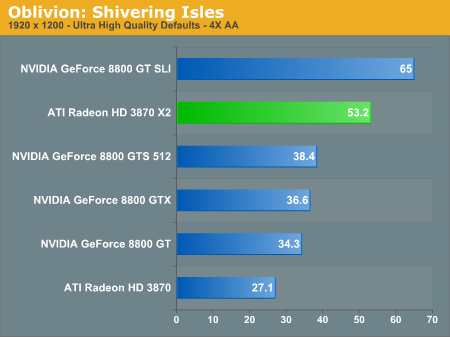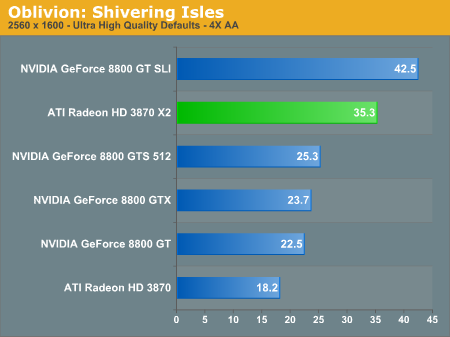 Unreal Tournament 3
We used the built-in vCTF flyby in Unreal Tournament 3, using the -compatscale=5 switch to ensure the highest in-game quality settings were used. We ran each flyby for 90 seconds and are reporting the average frame rates.
There are obvious strengths to having two GPUs and they're very visible here in our UT3 scores, compared to the single-card NVIDIA solutions we're looking at a 50%+ performance advantage. Not bad at all.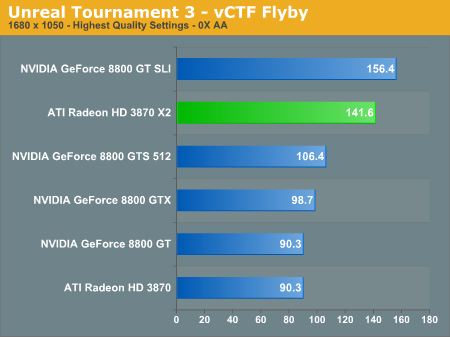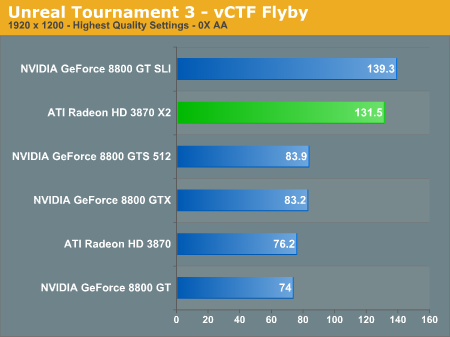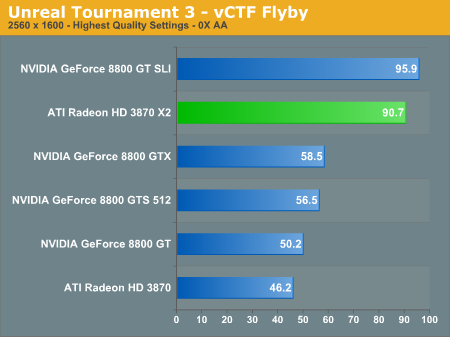 The Witcher
To measure performance when playing The Witcher we ran FRAPS during the game's first major cutscene at the start of play. We started recording frame rates as the cutscene faded in and stopped right before Geralt grabs his sword.
The Witcher really likes the Radeon HD 3870 X2, as it was faster than even a pair of 8800 GTs running in SLI except at 2560 x 1600. Once again, we're talking about a 40%+ performance advantage over the closest single-card NVIDIA solution.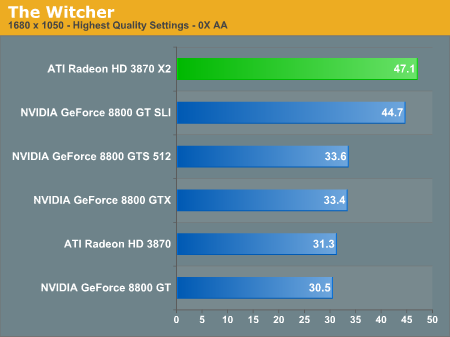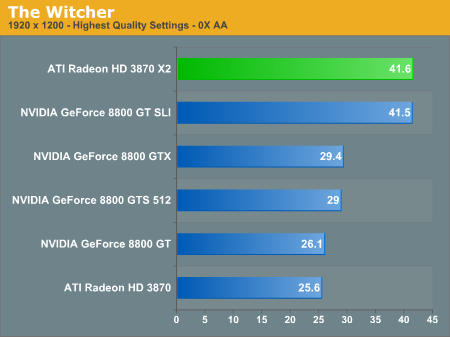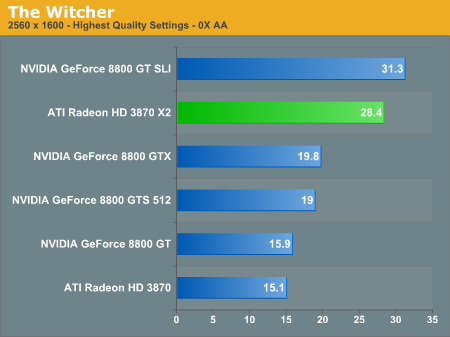 World in Conflict
Much like Crysis, World in Conflict just doesn't run well on anything. We had to resort to High Quality defaults without any AA, and even then the frame rates we saw were hardly consistently smooth. The X2 stays ahead of the 8800 GTS 512, but not by much: the performance difference is only a few percentage points.
The X2's advantage does grow at 2560 x 1600 to 25%, but at lower resolutions it's hardly noticeable.
If WIC is on your favorites list, you're going to have to wait for something faster from NVIDIA to really push higher frame rates.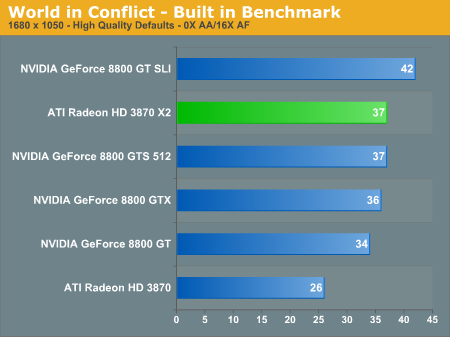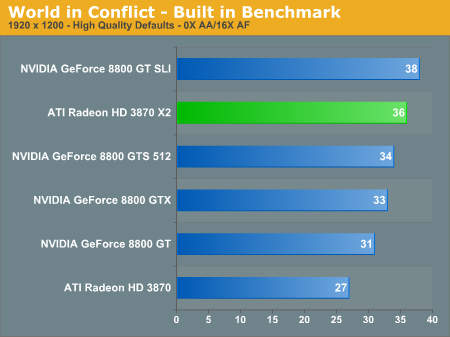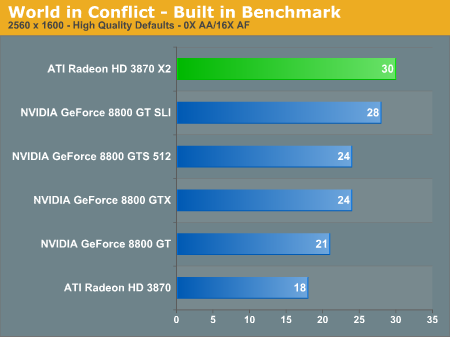 Power Consumption
A single Radeon HD 3870 is quite power efficient, but putting two on a board inevitably is going to draw a bit of current. It's no surprise that the X2 is not only the hottest card out of the bunch, but it also makes the most noise; there's simply a lot of heat to expel from an admittedly well designed card.
If cool and quiet are your goals, the 3870 X2 is not a good answer.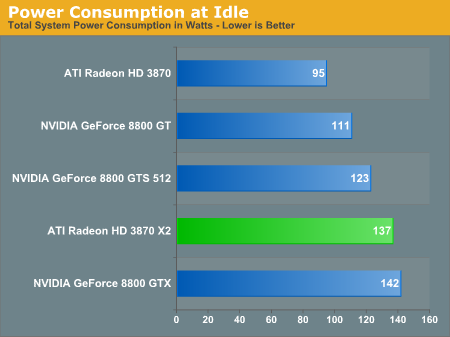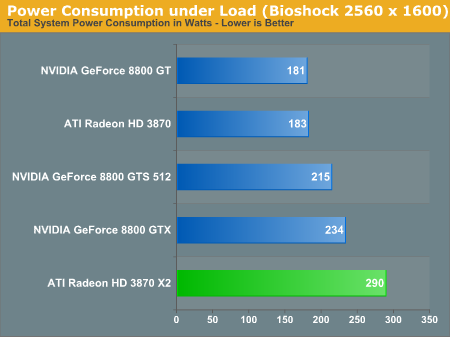 Final Words
It has been far too long since AMD/ATI have been at the top of the performance charts; the crown had been lost on both CPU and GPU fronts, but today's Radeon HD 3870 X2 introduction begins to change that. The Radeon HD 3870 X2 is the most elegant single-card, multi-GPU design we've seen to date and the performance is indeed higher than any competing single-card NVIDIA solution out today.
AMD is also promising the X2 at a fairly attractive price point; at $449 it is more expensive than NVIDIA's GeForce 8800 GTS 512, but it's also consistently faster in the majority of titles we tested. If you're looking for something in between the performance of an 8800 GTS 512 and a 8800 GT 512 SLI setup, the Radeon HD 3870 X2 is perfect.
Even more appealing is the fact that the 3870 X2 will work in all motherboards: CrossFire support is not required. In fact, during our testing it was very easy to forget that we were dealing with a multi-GPU board since we didn't run into any CrossFire scaling or driver issues. We're hoping that this is a sign of things to come, but we can't help but worry about the future of these multi-GPU cards.
The fact that both AMD and NVIDIA are committed to them is promising, and hopefully that means an even better experience when it comes to compatibility and performance with CrossFire and SLI (single-card or not), but we've got no crystal ball - only time will tell how the driver support evolves in the future.
But today, we have a victory for AMD. The past few months have shown a very different graphics division of AMD than we've seen since the first talks of the acquisition. The Radeon HD 2900 XT was a failure and now AMD has arguably the fastest single-card graphics card on the market. The only worry we'd have if we were in AMD's shoes is that the 3870 X2 was made by putting a couple of 3870s onto a single board; if AMD can do it, NVIDIA can as well. And we all know how the 3870 vs. 8800 GT matchup turned out.
What AMD really needs is its next-generation high end GPU, the 3870 X2 will buy the top performance spot for a little while but it's R700 that we really need to see.