Original Link: http://www.anandtech.com/show/2411


Introduction
The ASUS Eee PC has seen its share of both praise and criticism. Today we're looking at the recently released 2G Surf model. This is a continuation of our earlier coverage of the Eee PC 4G.
The box of the 2G Surf is well packed. A support CD is included with Windows XP drivers, along with a Windows XP Installation Guide. There is also a Linux recovery CD. Naturally, to use the CD (or install XP), you'll need a USB optical drive.
This is the Galaxy Black model, but the 2G Surf is also available in Pure White, Sky Blue, Lush Green, and fetching Blush Pink. The DVD case shown for scale - the Eee is small. The unit comes with simple key and screen protectors for shipping.
Specifications
The box itself actually has a fairly descriptive label:
The Eee itself tells us the basics, with additional clarification on the Celeron M processor in the BIOS.
It's also useful to look at ASUS' comparison chart of the four Eee models. We've included pricing for the models.
ASUS Eee PC Model Comparison
Eee PC 8G
Eee PC 4G
Eee PC 4G Surf
Eee PC 2G Surf
Display
7"
7"
7"
7"
Intel CPU & Chipset
Yes
Yes
Yes
Yes
Operating System
Linux
Windows XP compatible
Linux
Windows XP compatible
Linux
Windows XP compatible
Linux
Windows XP compatible
Ethernet Communication
Yes
Yes
Yes
Yes
WLAN
Yes
Yes
Yes
Yes
Memory
1G (DDR2)
512MB (DDR2)
512MB (DDR2)
512MB (DDR2)
S.S.D. Storage (Solid-State Disk)
8G
4G
4G
2G
Camera
Yes
Yes
No
No
Audio
Hi-Definition audio
Stereo speaker
Microphone
Hi-Definition audio
Stereo speaker
Microphone
Hi-Definition audio
Stereo speaker
Microphone
Hi-Definition audio
Stereo speaker
Microphone
Battery
4 Cells: 5200 mAh, 3.5hrs*
4 Cells: 5200 mAh, 3.5hrs*
4 Cells: 4400 mAh, 2.8hrs*
4 Cells: 4400 mAh, 2.8hrs*
Weight
0.92 kg
0.92 kg
0.92 kg
0.92 kg
Current Price
Not yet released ($499 Est.)
$400
$350
$300
One feature that should stand out is the amount of memory. Previous reports stated the 2G Surf model would have only 256MB of memory when released. In fact, the 2G Surf models are shipping with 512MB of memory. This is great news, especially if you're considering a Windows XP install. The 2G Surf does not have the built-in webcam of its 4G brother, but does retain the microphone.
Drive Space and Memory Utilization
The "512MB" sticker on the box looks as if it was added as an afterthought, so perhaps ASUS decided to upgrade the unit after initial feedback.
There's nothing sinister underneath, though. Also, note the 2G Surf does not have an access panel for the memory.
Drive Space
One question that has been asked repeatedly is: How much of the 2GB storage space is left for the user?
The answer is, not much. There are ways around the storage constraints, of course, based on your type of usage. Flash drives, online storage, and even external hard drives are all possibilities. For a more permanent solution, many users have been leaving high capacity (8GB and up) SDHC cards installed in the unit's memory card reader.
Memory Usage
A quick look at memory usage in Task Manager makes it apparent why 512MB is important, even for the Linux distro. Close to 256MB is being consumed just at the desktop.
So how does it do when loaded?
This screenshot was taken while running Firefox (3 tabs), Skype, Pidgin (Messenger), OpenOffice Spreadsheets, File Manager, and Media Player playing back an Xvid file. The usability of each application was marginal, with significant slowdowns noticeable. Closing Media Player was enough to alleviate the problem and allow reasonable use.
Features
The user interface of the Eee has been covered previously in our 4G model review. However, there are some differences in the applications.
A comparison between the 4G/4G Surf models and the 2G shows that several applications are not present on the 2G Surf model.
2G Surf vs. 4G - Missing Software
Location
Application
Internet
eBook and World Clock
Work
Mail and Notes
Learn
Science
Play
Webcam (not present) and Sound Recorder
Games
Crack Attack, Sudoku, LTris
Settings
Voice Command
Likely all of these except the Webcam link (which lacks supporting hardware) were omitted to save space on the 2GB drive.
User Experience - Typing, Internet
As mentioned in our look at the 4G, user experience will vary widely depending on your expectations of what this system is. Some general categories are broken out below.
Typing
Yes, the keyboard, like the unit, is very small. How small is too small? That's a difficult question to answer, as it's different for each user. I have medium-sized hands, and wrote this whole article on the Eee. The keyboard is fatiguing, and breaks are necessary more often than normal, but touch-typing is possible. I took an online typing test with my standard keyboard and the Eee just after receiving the unit.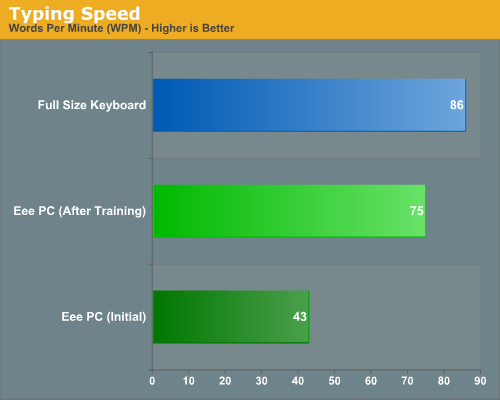 I initially took the test twice, and both times my results were about the same: the Eee cut my typing speed in half. This is a worst-case scenario, as I took the test before using the Eee for any length of time. With prolonged use, the keyboard has become somewhat easier to type on. I managed 72 wpm on the same test the following day, but this rate would not be sustainable for long: the keyboard will definitely slow you down. We have confirmed this with several other users, with the general consensus being that you will average between 50% to 75% of your regular typing speed when using the Eee.
Internet
Surfing results are mixed. At the native resolution (800x480), most websites required both a horizontal and a vertical scroll. Several only required a vertical scroll, which made navigation much easier.
The Java plug-in is not installed in Firefox, which made using certain websites impossible. Also, the wireless connection is not set to automatically connect at startup; it defaults to manual. Once changed to "At Boot" it works fine. We experienced no issues logging into a corporate VPN and accessing shared files and internal programs.
Given the size of the Eee, in general the Internet usability is quite good.
User Experience - Media, Work, Other Devices
Media
Media on the Eee worked well, within constraints. Basic items like YouTube videos all work fine, as do mp3s. The onboard speakers do an adequate job and there's sufficient volume. A sample Xvid video experienced an audio sync drift problem several times; a brief seeking of the video corrected it. The video looks good in full-screen mode and is quite watchable (the key benchmark for us being that we actually start to enjoy watching the show, and forget about the device it's on).
The Eee is "good enough" for music playback and the occasional video. However, it remains limited by the inability for the average user to install additional or missing codecs. If you know your way around Linux, it's possible to correct the codec problem, but the majority of video codecs work already.
Work
The Eee Linux package comes with Openoffice installed, which will handle a variety of tasks. You can create/edit documents, spreadsheets, and presentations. Google Docs is also a direct link from the Internet tab, which performs the same tasks at a very basic level. This article was written in Google Docs (but was imported to Word for final cleanup). The dictionary is really only useful if away from an internet connection, and as with the 4G it's still in Chinese by default. The calculator has trigonometry functions and other features that might help a student get by in a pinch if they didn't have an alternative.
Overall, there are a number of business applications that can be used on the Eee, but MS Office is not one of those without a Windows XP install. Even if you do install XP, on the 2G Surf model you're going to have severe storage constraints. If you're planning on running XP, you're best off spending more money for the 4G model.
Other Devices
As with the 4G, both a USB Flash Drive and an external hard drive connected without issue. Each displays a window upon connection, prompting the opening of the File Manager, Music Manager, or Photo Manager.
Noise/Heat
When it comes to noise, the Eee is very quiet. Obviously all hard drive access noise is absent, given the flash storage. Once the system fan engages, it is audible but still low, and not irritating or "whiny". The unit does get warm, but is usable on a lap if you really want to keep it there (remember, it's small - pinching your knees together constantly is not that comfortable).
Conclusion
So, what is the Eee PC, and does the 2G Surf change any of our impressions concerning the system? It is easier to address this question by stating what it is not. It is not all things to all people, as it is too specialized a device. It is not a machine for mass local storage. It is not a machine for video editing or hardcore gaming. It is not a machine for those who need to install a large variety of specialized applications. If your usage falls outside of the above, then the ASUS Eee 2G Surf might work for you.
Opinions vary widely on this device, and people have arguments for and against, even for the same uses. We think the 2G Surf can be great as a secondary PC for business travelers or salespeople who only need to access corporate email, surf the web, take notes at meetings, and give presentations (external VGA output at 1024x768). Blackberries can only go so far. It can also be a great choice for a student who has a desktop, but wants a light portable device on campus to surf the web, edit reports, and so on. Using the 2G Surf as a primary PC demands some serious attention to its limitations; it will not be suitable in that role for a large amount of users.
The ASUS Eee 2G Surf is the right tool for the right job. The hard part is defining that job. We also recommend careful consideration of whether or not you can live with the 2GB total storage space, most of which is already in use. An extra $50 to upgrade to the 4G Surf so that you don't need to worry about running out of space on the primary Linux partition might also be a good idea. Adding flash memory via the SD slot is another option that may be less expensive, but sometimes it's just easier to have a single storage partition with all your major applications and data files.