Original Link: http://www.anandtech.com/show/2408


Introduction
Try as we might, it's often difficult to get all of the products that we would like to review sent our way. Case in point: LCDs. There are dozens of good quality LCDs available that we have not reviewed -- and plenty more low quality LCDs. It's not too surprising that some companies don't want to send us review samples. If you have a low quality product that can't compete anywhere but price, in-depth reviews might do more harm than good in terms of sales. This is not to say that the HP w2408 is a low quality product, but it does stand out from previously reviewed 24" LCDs in several areas.
Looking at the display market from the buyers perspective, there are several different types of users. On the one hand, you have people that simply want a display that will show them the usual computer stuff. It won't really matter whether a display is slightly brighter, offers better contrast, has extra inputs, or anything else; if it works with their computer and doesn't break, they will be content. For such people, looking at the least expensive LCDs in a particular size range makes a lot of sense. Somewhat similar to this group are those who don't care about the technical aspects of a display so much as the outward appearance. If a product fits in better with their office environment and decor, that may be reason enough to purchase it. Then there are the gaming enthusiasts that want better response times and higher refresh rates, home theater enthusiasts who want a better movie viewing experience, and imaging professionals that require the most accurate colors possible.
There's often overlap between the target markets, but it's rare to find a display that can meet the requirements for all areas. Displays with the best color accuracy are often much more expensive, as are those that target home theater enthusiasts. A display targeting gamers on the other hand may sacrifice color accuracy in order to improve response time -- many users will actually prefer displays that have less accurate colors.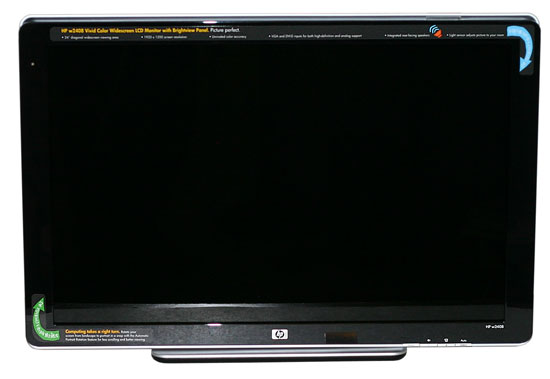 So where does the HP w2408 fit in the above list? With a price of $570, it's less expensive than many competing models, but at the same time it's hardly inexpensive. One of the reasons we like many of the 24" LCDs on the market is that they offer a great selection of features, and many have higher quality LCD panel technology than what's available in 22" LCDs. The w2408 appears to be a step backward in this respect, as feature wise it's simply an inflated HP w2207. Where Dell, Gateway, Samsung, and others use (or at least used) S-PVA panels, the w2408 is one of a growing number of 24" LCDs that uses a TN (S-TN) panel - it might be the best-looking TN panel to enter our test lab to date, but it's still a TN panel.
24" LCDs with TN panels definitely have a place in the market, but many of these models cost $400 or less where higher-quality S-PVA panels start around $600. That puts the HP w2408 in a difficult position, and the primary selling point appears to be an industrial design that sets it apart from other offerings. Is that enough, or are there other selling points for the w2408? Let's take a closer look and see exactly what it things to the table.
Features and Specifications
Those who are unfamiliar with display technology may wish to consult our short glossary of terms that we use in our display reviews before continuing. However, specifications are prone for abuse, so just because one display rates higher in terms of contrast ratio or brightness doesn't mean it's actually a better display. As usual, we will do our best to separate the reality from the hype in our reviews.
HP w2207 Specifications
Video Inputs
Analog (VGA)
DVI with HDCP support
Panel Type
LCD Active Matrix TFT TN+film
Pixel Pitch
0.270mm
Colors
16.2 million (6-bit)
Brightness
400 cd/m2
Contrast Ratio
1000:1 (typical)
Response Time
5ms TrTf
Viewable Size
24" diagonal
Resolution
1920x1200
Viewing Angle
160 vertical/horizontal
Power Consumption
<130W max stated
82W max measured
Power Savings
<2W
Power Supply
Built-in
Screen Treatment
BrightView (Glossy)
Height-Adjustable
Yes - 4.25 inches
Tilt
Yes - 25 degrees back/5 degrees forward
Pivot
Yes
Swivel
No
VESA Wall Mounting
100mmx100mm
Dimensions w/ Base (WxHxD)
23.1"x16.3"x11.4" (lowered)
23.1"x19.7"x11.4" (raised)
Weight w/ Stand
21.6 lbs.
Additional Features
(4) USB 2.0 - (2) left, (2) rear
(USB connection to PC required)
Audio
Two 2W rear-facing speakers
Limited Warranty
1 year parts/labor warranty standard
3 year extended warranty optional ($110)
Pixel Defect Policy
0 bright dot standard
60 day 100% satisfaction guarantee
MSRP
$570
If you compare the above specifications table to the one in our HP w2207 review, you will find many similarities. Besides a larger display size and an increase in native resolution, the only other major difference is that the w2408 has an "improved" backlight. 400 nits compared to 300 nits might sound good on paper, but the reality is anything beyond 300 nits is usually superfluous. Once calibrated, we run most of our LCDs at closer to 200 nits. The backlight is supposed to offer an improved color gamut, but that's another one of those terms that gets thrown around by professionals that often doesn't make a difference to typical end-users.
Compared to 24" LCDs from Gateway, Dell, Samsung, and others, it's clear that HP has chosen to cut some features. If you're interested in an LCD that offers multiple inputs, you will want to look elsewhere. The w2408 only includes VGA and DVI (with HDCP support) connections, but many users rarely if ever use the other connections on LCDs that include them, so it's not the end of the world. If you want/need component, HDMI, S-Video, or composite video inputs, the w2408 will not suffice. If you only plan to hook up your LCD to a single computer, all those extra connections serve no real purpose -- though keep in mind that future needs may make them useful.
We have previously covered HP's warranty and support options, and our experience when reviewing the w2408 was similar to what we encountered in our review of the LP3065. HP informed us that all of their products come with a 60-day satisfaction guarantee, so at least in terms of pixel defects customers should not have any difficulties. As one of the largest computer equipment manufacturers in the world, you also get the benefit of 24/7 technical support, although it can sometimes take a bit of effort to get to the right department if you don't buy the display as part of a computer package.
The w2408 comes with a standard one-year warranty, and you can purchase a three-year extended warranty for an additional $110. At that price, we would recommend looking at some of the 24" offerings on the market that include three-year warranties. Outside of specific performance characteristics, what you get here than is a 2" increase in screen size and 30% more pixels than the w2207... for almost twice the price.
Appearance and Design
Where the HP w2408 really makes a statement is in its external appearance. This is more or less identical to what we saw on the w2207, but we still like the design. The w2408 comes with 4.5" of height adjustment, and in the lowered state the bottom of the LCD panel rests on the thin base stand. The LCD panel and the surrounding border come with a glossy finish, with matte silver and black surfaces on the remainder of the display.
| | |
| --- | --- |
| | |
At the bottom right of the LCD, we get the usual buttons for accessing the on-screen display (OSD). The left button brings up the OSD, and then the other buttons become active for navigating the menus. Prior to entering the menu, the right button executes the auto adjustment function (for use with analog connections), the second button brings up volume control, and the third button cycles between five display modes (movie, photos, games, text, and user defined). You can customize these five display modes individually, should you so desire, providing a quick shortcut to various settings; the names are mostly there for the default settings. The power button is on the top of the chassis and glows a faint orange/blue depending on whether the display is on or in standby mode.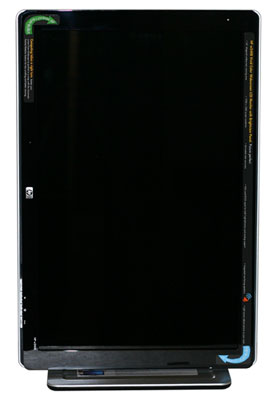 Unlike many of the less expensive 24" LCDs, you can pivot the w2408 into portrait mode, which some people find useful for reading long web pages or documents. When in portrait mode, you have to raise the panel to its maximum height.
The input ports all face downwards on the back of the display. As mentioned, the w2408 comes with DVI and VGA inputs. Additionally, there is a USB input port, an audio jack, and two USB output ports. All of the necessary cables come with the LCD, though you should probably ditch the audio cord if fidelity is of any concern - the sound quality is bad at best, and not very loud even at maximum volume.
Looking at the profile of the LCD, we see the range of motion that the base stand offers. Two more USB ports are on the left side, with no noteworthy features on the right side. Like other HP LCDs, the w2408 supports HP's Easy Clip accessories. HP sent us a webcam that attaches to the top of the display, and this time the drivers worked with Vista. Quality was fine though not noticeably better than the other webcams; unfortunately, the drivers under Windows Vista still appear to be immature -- attempting to adjust settings frequently caused video chat applications to crash.
We will and this section with screenshots of the various OSD (On-Screen Display) menus. The various options should be self-explanatory.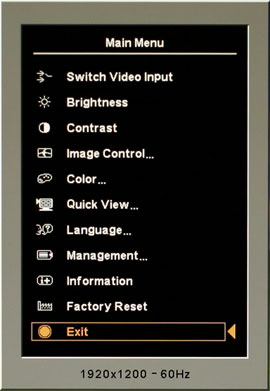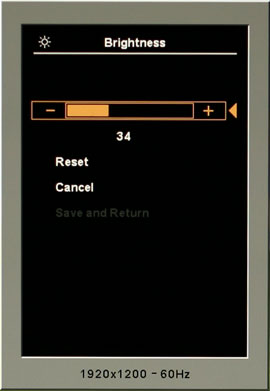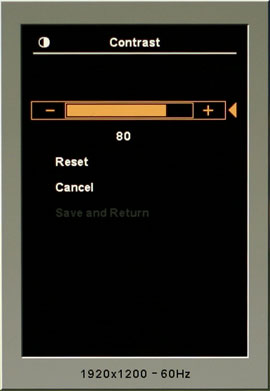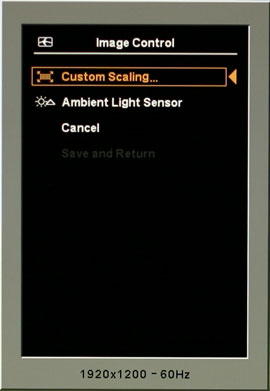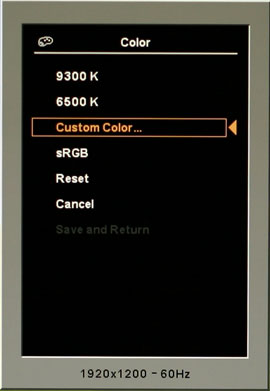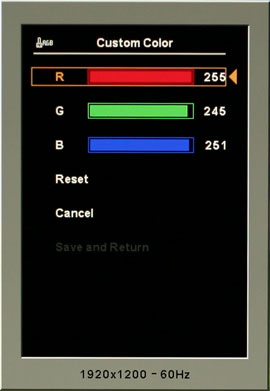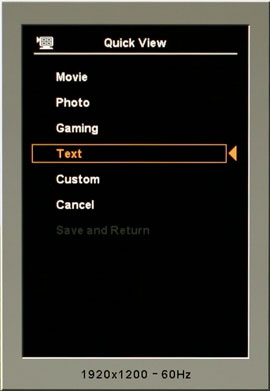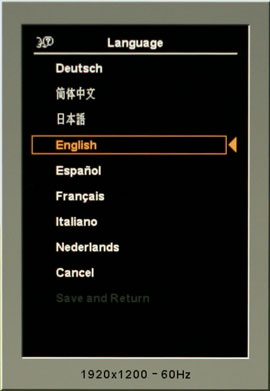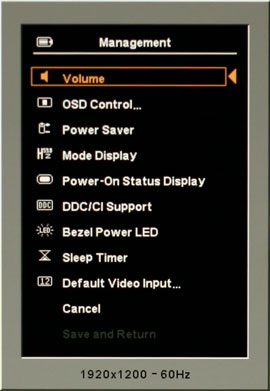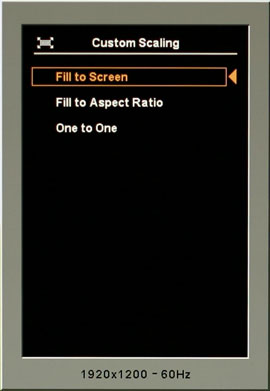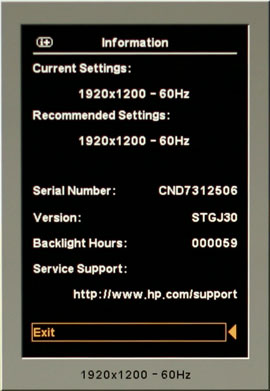 Subjective Evaluation
As usual, we spent some time using the display both before and after calibration. Many users don't have access to color calibration tools, while for imaging professionals some form of hardware calibration is standard procedure. We will start with our subjective evaluation before getting to the actual quantitative results.
Not surprisingly, something we noticed almost immediately is that the viewing angles on the HP w2408 are not as good as other 24" LCDs we've tested. Even without specific knowledge of what LCD panel HP uses, we could tell that this was a TN panel. However, while the viewing angles clearly aren't as good as what you might see on S-PVA or S-IPS, you won't normally notice when you're actually sitting in front of the display and using it. The viewing angles also appear to be better than what we've seen in previous TN panels, so there are improvements relative to older TN panels.
Running at the native 1920x1200 resolution, text and images look crisp and the colors are nice and vibrant. We tend to prefer LCDs that don't have a glossy finish, as the reflection can sometimes be distracting. However, glossy finishes can help to improve apparent contrast and color quality. Opinions differ as to which option is best -- glossy or matte finish -- and there are benefits and drawbacks to both options. Just try to avoid leaving fingerprints on your glossy screen.
One issue that we did notice with the design is that rotating the display into portrait mode can be a bit clumsy. First, you need to raise the stand to its maximum height; and you need to tilt the display back in rotate the panel. Only after doing this can you tilt the display back to its normal position. What's more, while we found that the integrated cable management system generally works well, if you're not careful you will dislodge the power cord (and possibly other chords) when rotating the panel -- the cable management tends to "grip" the cables a bit too much.
Functions for tuning the display output using the OSD are good, allowing you to adjust contrast, brightness, as well as individual color levels. The default settings are very bright, as usual, and we quickly turned down the brightness to 40%. Tested power draw was also substantially lower than the stated maximum of 130W; even at maximum brightness we never measured more than 85W peak power draw, and typically the display used less than 80W.
One final interesting addition is the ambient light sensor, located in the top-right corner on the front of the display. If you activate the ambient light function inside the OSD, the display will adapt its brightness levels dynamically. That might sound somewhat useful, but considering brightness affects color accuracy, the only reason to use it appears to be laziness - or if you just like new features. If you're in a dark room and someone turns on the light while you're working at the computer, it's also a bit disconcerting to see the brightness suddenly increase slowly for a couple seconds. Ultimately, we rank this feature in the same category as HDTVs with "ambi-light" - where the sides of the TV project colors to "enhance the ambience".
Unless otherwise noted, we ran the remaining tests after calibrating the displays using Monaco Optix XR, both the professional version of the software as well as an XR (DTP-94) colorimeter. In some of the tests calibration can have a dramatic impact on the result, but viewing angles and response times remain largely unchanged. We also performed testing with ColorEyes Display Pro, although the overall results were better using Monaco Optix XR.
Viewing Angles
Viewing angles are one of the specifications where manufacturers' claims bear scrutiny. The basic requirement is that a display has to maintain a 10:1 contrast ratio in order to qualify as "viewable". The reality is that most LCDs are unfit for viewing beyond a 45° angle. The good news is we doubt that most people will view a display from anything more than a 45° angle, and typically a lot less. For that reason, we used our camera to take shots from head-on as well as from the left and right sides at ~30° angles, showing how brightness and contrast ratios change in off-angle viewing. We also took pictures from above and below at ~30° angles. Links to the viewing angle images of previously reviewed LCDs are available for comparison below:
Acer AL2216W
Dell 2405FPW
Dell 2407WFP
Dell 2707WFP
Dell 3007WFP
Gateway FPD2485W
HP LP3065
HP w2207
Within our 60° viewing arc, the colors and image quality of the w2408 clearly indicate the use of a TN panel. From the left, right, and above the w2408 maintains reasonable colors, but from lower angles the display quickly becomes unusable. If you have any short people (or children) around and you don't want them seeing what's on your computer display, then this might prove useful. Sitting directly in front of the LCD, or slightly above center, issues with viewing angles should not be a major concern. Still, it's difficult to justify the purchase of the w2408 over similarly priced models that use S-PVA panels.
Response Times
A topic that usually comes up as a problem with LCDs is their slower response times relative to CRTs. While there's no doubt that even the best LCDs still exhibit some slight pixel smearing, the vast majority of users are okay with the level of performance we have available now. We also find it extremely difficult to tell the difference between various LCDs with response times ranging from as low as 3ms all the way up to 16ms. As with other specifications, there appears to be marketing influence on the final reported numbers.
To try to illustrate response times, we use our camera set to 1/80s shutter speed and a 2.5 F-stop at ISO-400. However, taking a picture of a display using a high shutter speed still isn't the same as looking at the display in person. LCDs run at a refresh rate of 60 Hz, and we use a shutter speed of 1/80s, so the net result is that we will capture an image of the display as it appears over a short period as opposed to an instantaneous look at the state of the various pixels. Image retention on your retinas also occurs, so even if you can eliminate the smearing effect at the display level you won't necessarily "see" a perfectly crisp transition. Then you have to consider some of the latest games are adding motion blur back in using DirectX 9/10 in order to make things look more realistic... but in that case, it's an artistic effect rather than a technological defect, right?
Links to previous response time images are below, taken during the Game 1 demo in 3DMark03.
Acer AL2216W #1 Acer AL2216W #2
Dell 2405FPW #1 Dell 2405FPW #2
Dell 2707WFP #1 Dell 2707WFP #2
Dell 3007WFP #1 Dell 3007WFP #2
Gateway FPD2485W
HP LP3065 #1 HP LP3065 #2
HP w2207
The advertised response time of the HP w2408 is "5ms on/off", or if you prefer 10ms TrTf (Time rising/Time falling). HP doesn't specifically list a gray to gray response time, but as the figure is more marketing than anything we might as well call it 5ms GTG. Judging by the pictures, we can as usual see portions of at least three frames. Accounting for shutter lag and pixel lag, the actual pixel response time is somewhere in the neighborhood of 16-25ms - the same as virtually every other LCD we have reviewed in the past 18 months. While that might sound like a lot, for the vast majority of people it won't present any problem. As always, if you're more likely to notice image lag, you might want to check out the display in person at a retailer store before making a purchase.
Uncalibrated Results
Brightness and Contrast Ratio
For the brightness, contrast, and color accuracy tests, we depend on the hardware colorimeter and software to help calibrate the displays. As previously stated, we use a Monaco Optix XR (DTP-94) colorimeter and Monaco Optix XR Pro software. The software and hardware help users to get color that is more accurate from their displays. Before we get to the calibrated results, we took a quick look at the range of brightness and contrast at stock settings while changing just the brightness level.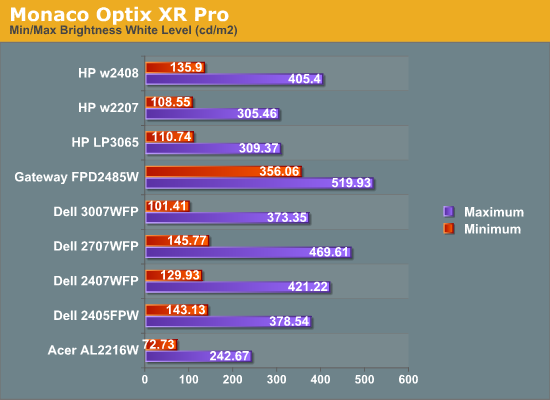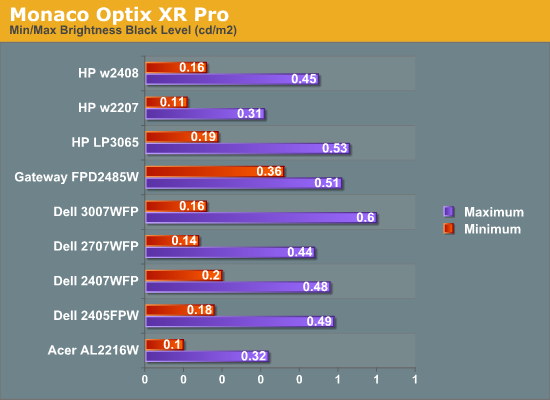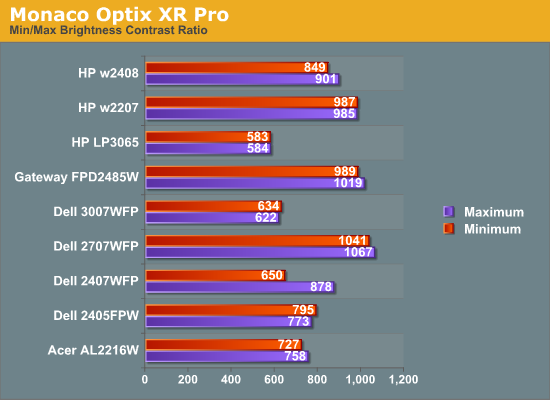 The maximum brightness level of just over 400 nits is more than most people need, though prior to calibration we fall just short of the stated 1000:1 contrast ratio. With further tuning of the color levels, the HP w2408 can accommodate any reasonable brightness setting while maintaining between an 800:1 and 1000:1 contrast ratio. Getting optimal settings at lower brightness levels may require more work, however.
Color Accuracy
The problem with calibrating a display is that it doesn't help all applications. Specifically, the video overlay used when watching DVDs or other movies completely bypasses any color profiles, so you are stuck with the uncalibrated colors. Playing games also uses the default color options. It is possible to tweak things using the OSD, but the amount of color correction that can be done via the OSD pales in comparison to color correction tables, and some LCDs (the Dell 3007WFP and HP LP3065 for example) are unable to adjust anything but brightness outside of software. Ideally, we would like to see video drivers begin to apply color profiles to all output - office applications, movies, games, or anything else.
For uncalibrated color accuracy, we adjust the brightness as well as the contrast and colors (where applicable) using a "calibrate by eye" chart and the OSD controls. Also remember that color accuracy can vary from panel to panel even within the same model, and the results we are reporting are only from testing a single LCD. During testing, Monaco Optix XR Pro sends 24 color patches to the display with the colorimeter measuring the resulting values. The difference between what the requested and actual colors shown on the LCD is Delta E, with lower values being better. Any score less than one is basically "perfect" - the naked eye is not going to be able to tell the difference - and scores less than 2.0 are nearly perfect.
Ideally, you would want all of the tested colors to have a Delta E of less than 1.0, but almost no one is likely to have problems with anything scoring below 2.0. From 2.0 to 4.0, most people still won't notice the slight inaccuracies in the color palette, but when comparing displays side-by-side, differences may be apparent - multimedia professionals in particular would prefer better colors. Anything above 4.0 begins to represent a more significant deviance, and numerous scores above 6.0 will almost certainly be noticeable by anyone using the display. Consistency is also important, so a display that has very good scores overall but with high spikes on some colors may actually be less desirable than a display with a slightly higher but more consistent average Delta E. Note also that fluctuations of as much as one point in Delta E are possible during a short amount of time. It generally takes 30 minutes for a display to warm up, and we perform all of our calibration and testing after the displays have been running for at least one hour with the screensaver disabled.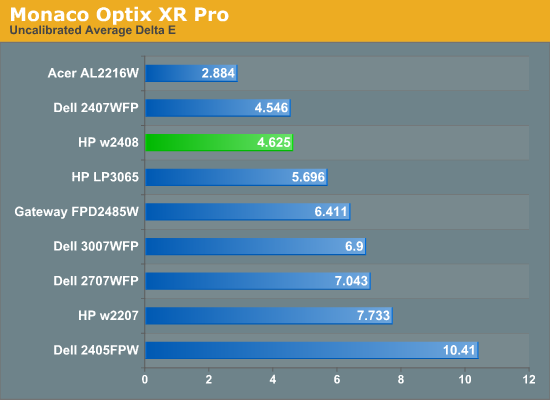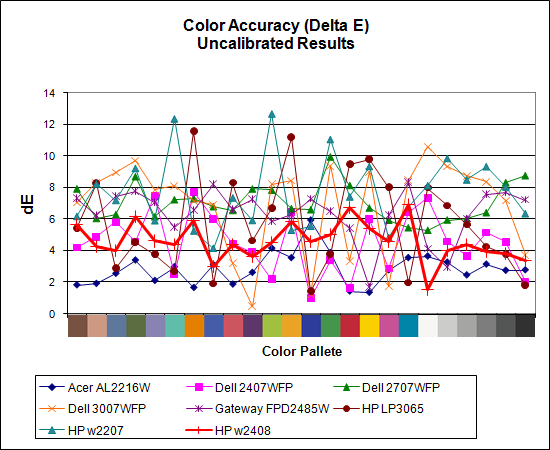 Without any form of color correction, the HP w2408 rates a decent (relative to the competition) 4.6, ranking third just slightly behind the 2407WFP. We continue our quest for an LCD that can generate nearly perfect colors without any user calibration, but that quest appears to be in pain. Still, at least the w2408 is mostly consistent -- all of the scores are below 7.0, and most are between 4.0 and 6.0.
Calibrated Results
Brightness and Contrast Ratio
For those that need accurate colors, you really need hardware color calibration. Here, we report scores for the same areas as we did on the previous page, only this time we gather the results after we calibrate the display with Monaco Optix XR Pro.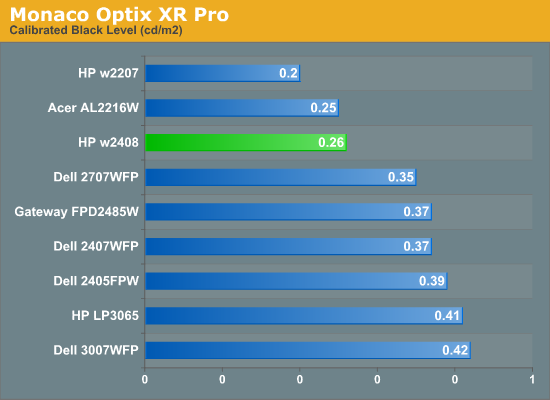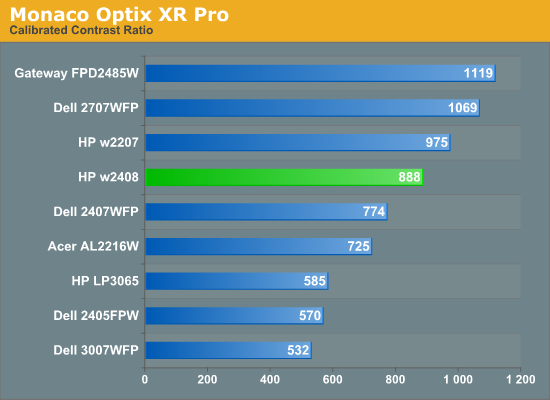 Color Accuracy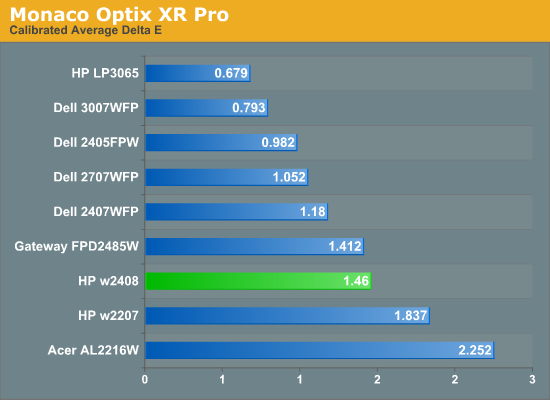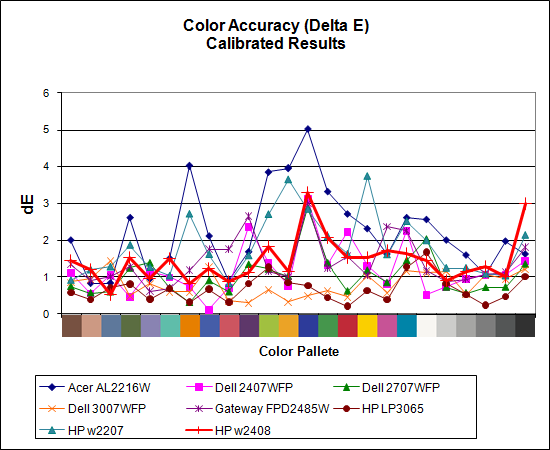 Calibration is usually best at decreased brightness levels, and we found dropping the w2408 from its default settings down to 34% brightness/80% contrast with RGB settings of 255/245/251 resulted in the best scores. (66/91 brightness/contrast with 255 on all RGB channels resulted in a score of 2.106 for reference.) We test indoors with a moderate amount of lighting, and adjust the displays according to directions. The HP w2408 ends up placing in the bottom half of the LCDs we've tested in terms of color accuracy, but overall result is still quite good at 1.46.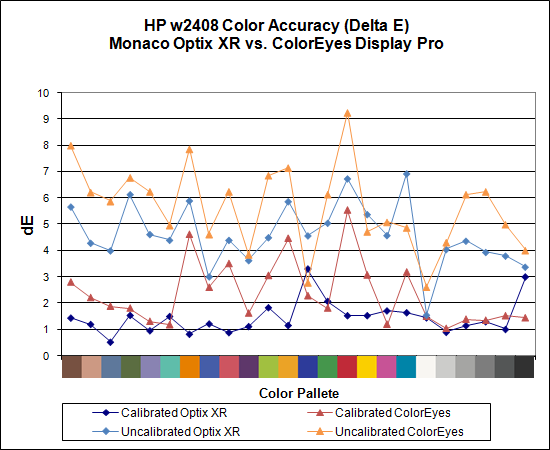 We also tested with ColorEyes Display Pro to see if we could achieve better results. So far, we have yet to encounter a desktop LCD that scores better using ColorEyes Display Pro, which is actually surprising to us - it seems more robust in many areas and generates newer ICCv4 profiles, but the final reported scores continue to be lower on desktop displays.
While we cannot make any sort of guarantee that the color profiles we created are anywhere near representative of all w2408 panels, we frequently get requests from readers for these color profiles. If you want truly accurate colors, your best bet is to go out and invest $300 in a colorimeter and software calibration package. If you're still interested in trying out our profiles, however, we are happy to make them available. Again, your mileage may (re: will!) vary.
Printing Results
Brightness and Contrast Ratio
For those who have a need to match colors between their computer displays, cameras, and printers, what works well for computing purposes often isn't the best suited for doing other image related work. To help people who work in such areas match their computer colors to their paper colors better, standards were established. For print work, the standard is a gamma of 2.2, a black point of 0.60 nits, and a white point of 100 nits. We attempt to calibrate all the monitors for these settings.
Finding the appropriate settings to reach these levels can be a time-consuming process for some of the displays. It may require numerous iterations through the calibration process to end up with the desired white point, and on some LCDs it might not even be possible to reach a satisfactory result (though that hasn't occurred yet). The nature of LCDs is such that we are unable to get both an accurate white point and an accurate black point according to printing requirements (our black levels always ended up darker than they are supposed to be), but we did manage to get near the desired 100 nits white point on all of the tested displays. We used brightness/contrast settings of 42/80 on the w2408, with RGB at 169/162/175.
For reference, we have included the target value in the following graphs, so the greater the deviance of a display from the targeted value, the less suitable (in theory) a display becomes for print work.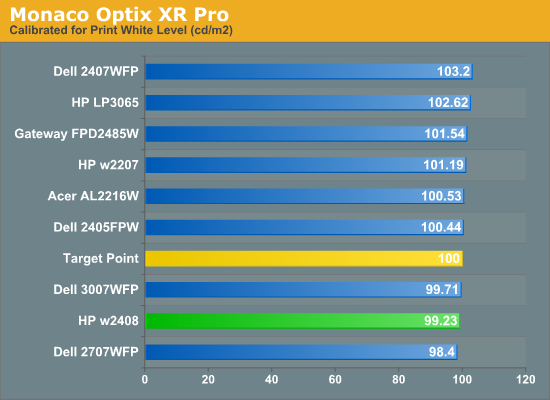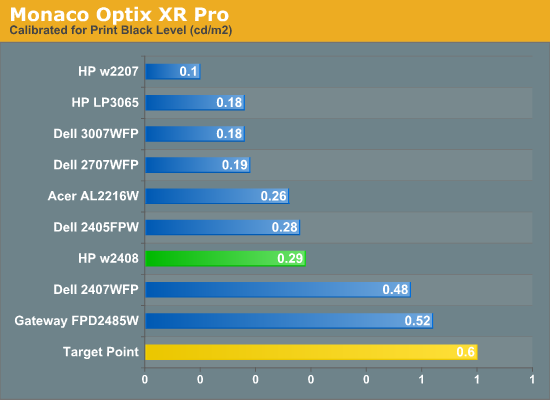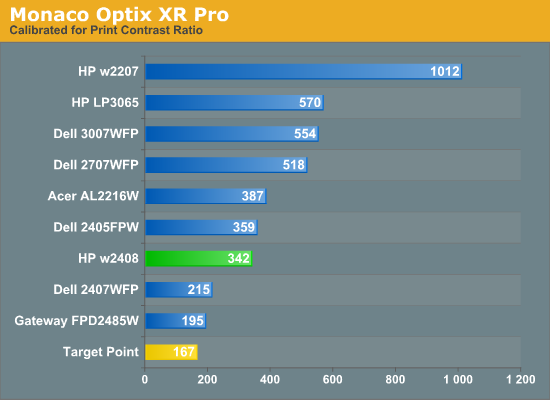 Since very slight differences in brightness are not a huge deal, we did not attempt to get 100% accuracy on the white point, but further tuning of the various displays would have made it possible to get closer to 100 nits. The primary goal was to get the white point near 100 nits. The target black point is nearly impossible to achieve once we have reached the target white point with any LCD that we have used. Due to the reduced brightness, contrast ratios are often lower, but that is inherent with the target settings. Interesting to note, we get higher black levels on many of the 24" LCDs than on other options when attempting to calibrate for print. The HP w2408 ranks third in terms of closeness to the print ideal.
Color Accuracy
Given the importance of accurate colors for printing work, we need to adjust the desired Delta E scale. A Delta E of less than 1.0 is definitely the goal here, and 1.0 to 2.0 is merely acceptable. Scores above 2.0 generally mean a display is not fit for printing professionals.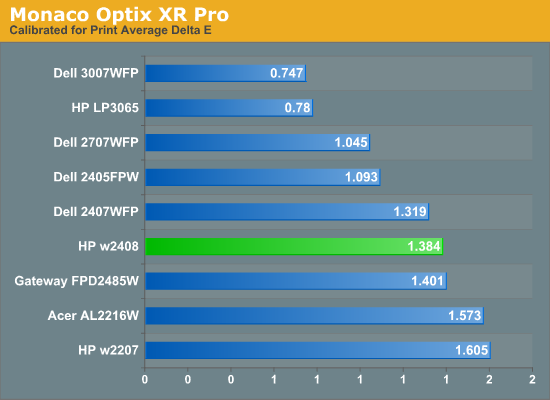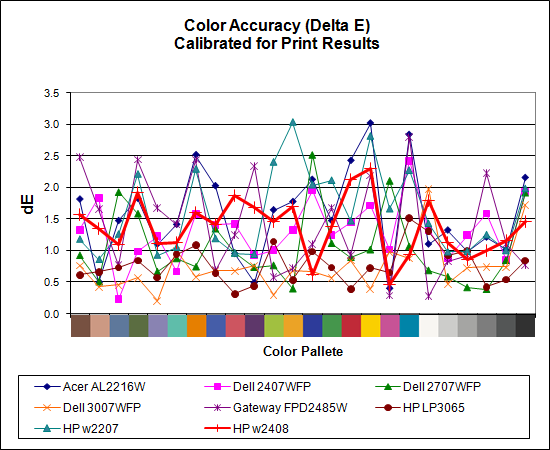 The two 30" displays clearly take the lead in this test, while the w2408 falls in the middle of the pack. Most of the scores fall below 2.0, which is better than the w2207. If you want 100/0.60 white/black settings for print work, this is one of the better options, though the Gateway FPD2485w and Dell 2407WFP still rated better.
Closing Thoughts
Frankly, considering the price, it's difficult to justify the HP w2408. It looks nice and performs reasonably well, but there other similarly priced LCDs have better features and higher-quality panels. We like the idea of seeing 24" LCDs come down in price, but we would prefer to keep most of the features and quality intact. Dell's 2405FPW offered numerous video inputs back in 2005 with an S-PVA panel; while we might rate the modern S-TN panel used in the w2408 as being slightly better and the design is more attractive, in other ways the 2405FPW is still superior.
At the end of the day, we don't review products in a vacuum. Casual users would be more than happy running the HP w2408, and they might not care how it compares with other LCDs. We are working on getting additional display products reviewed, but the only major attraction of the w2408 seems to be the appearance/design. You get the basic features, a silly (at least in this reviewer's opinion) auto-brightness sensor, and that's about it.
Still, let's not discount the importance of appearance. People can spend thousands of dollars on office furniture, simply because they think it looks nicer or is more comfortable to use. If you just need a computer monitor and you think the w2408 looks great, go for it. If on the other hand you prefer more accurate colors, more video input options, and/or better viewing angles, there are definitely better 24" LCDs. HP's own LP2465 is one alternative, provided you can live without extra video inputs. You get a different stand and an S-PVA panel, all for a slightly slower price with the current $75 mail-in rebate (from Newegg). Another newer LCD is the Gateway FHD2400; like the w2408, it uses an S-TN panel, but it seems to offer better overall quality and many more input options.
If you want choice, there are presently over 25 different 24" LCDs listed at Newegg. You have everything from budget models looking to get into the sweet spot of $300 or less, up through many in the $600-$8700 range. The only difficulty now is figuring out which option is best; unfortunately, not one of the current 24" displays offers an S-IPS panel. If you're an LCD snob, the 30" panels are still they way to go, and luckily there will be some new options in that realms early next year.