Original Link: http://www.anandtech.com/show/2382


Introduction
Inevitably, around this time of year people repeat two questions like a daily mantra. What do you want for Christmas? What should I ask "Santa" to bring me? (Feel free to insert your own appropriately politically correct holiday references.) We won't try to say that it's better to give than to receive, but assuming the giving and/or receiving involves a computer geek, we can at least try to provide some good advice on what sort of packages might bring the most joy to this holiday season.
We try to do regular Buyers' Guides that put together several variants of a complete computer system at various price points, and we've recently covered the entry-level and midrange segments. For the holidays, we're going to scrap putting together complete systems and instead focus on a "best of" list of components for the various price ranges. By the time we're finished, you can also use the recommendations to put together a complete system if you so desire; just make sure everything is compatible and you should be fine. (In other words, don't grab that el-cheapo power supply and plan on running a tricked out CrossFire or SLI setup.)
Before you begin down the dark path of upgrading, however, it helps to take a step back and try to determine exactly why you're upgrading in the first place. If you have a three or four year old computer, it might be best to start from scratch rather than attempting any piecemeal upgrades. By the time you've added a new motherboard to accommodate that new processor, you probably also had to grab some new memory, an upgraded power supply, and a PCI Express graphics card. Add the optical drive, hard drive, and case and you have a new system!
If your computer is only a year or two old, wholesale upgrades might be more than you really need. Yes, you can easily find faster processors if you want, but if you already have a dual-core socket 939 Athlon/Opteron you might be able to wait a little longer. If you have a PCI Express compatible motherboard and are mostly concerned with gaming performance, you can probably get by with a new graphics card, some extra memory, and perhaps Windows Vista - what's DX10 hardware good for if you don't have an appropriate OS, right? Similarly, if you've been storing tons of videos and are running out of space, all you really need is a new hard drive. That's an easier and cheaper solution than adding a bunch of hardware you might not need.
We're going to break this Buyers' Guide into a couple parts, in order to keep things manageable. We'll start today with the major system components: processors, graphics cards, motherboards, and memory. The second installment will cover the remaining components and accessories. So let's get to the heart of the computer: the CPU.
A Plethora of Processors
For the past year, AMD simply hasn't been able to compete with Intel's Core 2 Duo on performance alone. AMD tried to recover from the initial Core 2 beating by competing mostly on price, and an aggressive price war followed with several major altercations in late 2006 and 2007. The war may not have done any favors for AMD - or even Intel - but the public has been rather pleased with the slew of cheap and high performance AMD and Intel processors. In the meantime, both companies have been hard at work on the second phase of the battle. Intel has their 45nm process technology primed to up the stakes, and AMD "Barcelona Project" hoped to lead a counterattack and regain lost ground. With the release of AMD's Phenom architecture, many hoped (us included) for a successful return of AMD as a player in the enthusiast/high-end market. Sadly, the first salvo appears to have fallen short.
What remains is a processor landscape that isn't very different from what we've covered in our most recent Buyers' Guides. If you already have an AM2 platform, or if you're looking at something for the budget sector, AMD has some processors that are worth a closer look. For pure performance and/or overclocking, Intel continues to be the leader. Even in the entry-level market, Intel competes quite well with Pentium Dual-Core processors priced well under $100. Less expensive motherboards are the saving grace for AMD's budget-conscious offerings.
Entry-Level
AMD Athlon 64 X2 4000+
: $65
(Brisbane 2.1GHz 2x512K socket AM2 65W)
This is not the cheapest AMD processor, but AMD's X2 4000+ represents fantastic value for those looking for a basic entry-level workstation or home office PC. If you measure heavy usage in terms of how many emails you send in one day rather than your highest 3DMark06 or Crysis timedemo scores, there's no need for anything faster. Even for an entry-level PC, there is always the option to slap in a video card and fire up a game, and the X2 4000+ is no slouch there. Manufactured on the 65nm die process, the Brisbane 4000+ has a lower TDP of 65W than its 90nm predecessors. Running at 2.1GHz, it provides more than enough power for day-to-day activities, while giving users who wish to dabble in overclocking a nice, cheap alternative to an upgrade.
Intel Pentium Dual-Core E2140
: $75
(Allendale 1.6GHz 800FSB 1MB socket LGA775)
The Allendale-based E2140 is the lowest CPU based on Intel's Core 2 Duo architecture, running at 1.6GHz with an FSB of 800MHz and utilizing just 1MB of shared L2 cache. Don't be fooled by the low specs, however, as reports of users attaining a 100% overclock (3.2GHz, 1600FSB) are common, putting this processor firmly into the top spot for those who don't want to spend insane amounts on PCs, but instead want the absolute best bang-for-buck. Who wouldn't, when an E2140 at 3.2GHz is only ~10% slower than the $280 3GHz E6850? People who don't mind spending an extra $10-$15 can upgrade to the E2160 or E2180 (1.8GHz and 2.0GHz respectively) which both come with higher FSB multipliers.
Lower-Midrange/Overclocking
Intel Core 2 Duo E4500
: $128
(Allendale 2.2GHz 2M socket LGA775 65W)
The E4500 at stock is faster than the X2 5000+, and is a great processor for those wanting to overclock on a budget. Based on the Allendale core with 2MB of shared L2 cache, this is a minor step up from the 2.0GHz E4400, but with prices often favoring the E4500 these days there's no reason to pick up one of the lower E4x00 models. The added cache relative to the Pentium Dual-Core offerings accounts for about 10% more performance at the same clock speed, and while you can try to increase clock speed, there's no way to add cache without spending a bit more money. With default voltages of 1.185V, the E4xxx series are renowned for running very cool. Users are reporting overclocks of 3.2GHz with ease; just be sure to pair it up with a good motherboard/DDR2 combination if overclocking is the goal.
AMD Athlon 64 X2 5000+ Black Edition
: $125
(Brisbane 2.6GHz 2x512K socket AM2 65W)
For those needing an entirely new PC, we'd go the Intel route on this one. The Core 2 Duo is simply superior to K8; even with Phenom now available, we still recommend Intel's LGA775 over AM2. Penryn processor support (on the appropriate motherboard) only makes the platform more attractive for enthusiasts. That said, we've included the X2 5000+ Black Edition for users with an existing AM2 motherboard and who are looking to upgrade. The Black Edition's hallmark is its unlocked multiplier; effectively making this CPU one of the bargain buys of the year. Why? By simply dialing up the multiplier and keeping the HyperTransport bus at stock, overclocking is an effortless task. Reports of users hitting 3.4GHz are common, and even at stock speed the Black Edition is still competitive to its nearest Intel rival, the E4500. You'll need to purchase an aftermarket CPU heatsink as the Black Edition does not include one, but for anyone remotely interested in overclocking that's pretty much a given already.
Upper-Midrange/High-End
Intel Core 2 Quad Q6600
: $260
(Kentsfield 2.4GHz 2x4MB socket LGA775)
Arguably the most popular CPU right now, the quad-core Q6600 once again stakes its claim as one of the best bang-for-the-buck options. You can get similarly priced quad-core courtesy of the Phenom 9500 (2.2GHz), but with the Q6600 generally besting even the not-yet-available Phenom 9900 (2.6GHz) we see no reason to go that route, unless you already have an AM2 motherboard and don't mind second-class performance. This is perhaps the final hurrah for the Q6600, as the faster, slimmer, and more overclocking friendly Q9450 is due out in January of next year. That may necessitate the purchase of a Penryn compatible motherboard, however, so if you don't feel like waiting there's still plenty to like with the Q6600.
There's still a shortage of software that benefits from more than two cores; however video encoding, 3D rendering, and certain other tasks will appreciate the extra cores. It may be some time yet before games truly benefit from quad-core, but for $260 you can be ready today for whatever CPU requirements the software of tomorrow brings. If you don't mind overclocking, with appropriate cooling we've also hit over 3.4GHz. Just don't look too closely at the power use of the CPU when you're overclocked that far. Alternately, if you don't want to overclock but you still want improved CPU performance for dual-core applications, consider the E6850. Clocked at 3.0GHz and priced only slightly higher than the Q6600 ($276), for games you will still end up with better performance and less power use by going the dual-core route. (E6550 and E6750 are also reasonable options, naturally.) If you want more than the Q6600, we wouldn't bother with the Q6700. At roughly twice the price, we'd recommend a minor overclock first. Otherwise, you might as well just go all out and grab our extreme recommendation....
Extreme Performance
Intel Core 2 Extreme QX9650
: $1,150
(Yorkfield 3.0GHz 2x6MB socket LGA775 130W 45nm)
After months of information trickling out regarding Penryn and Intel's move to a 45nm manufacturing process, the major benefits appear to be the increase of L2 cache (2x6MB vs. 2xMB on the Q6xx0) and the reduction in power consumption. SSE4 is also present in Penryn, but application support for the new instructions is relatively limited. Despite its evolutionary nature, Penryn is a worthy successor to the Core 2 line. This is not yet a native quad-core design like AMD's Phenom X4, but Intel's approach of pairing two processor dies onto one package seems to be holding its own. Weighing in with approximately 820 million transistors, the QX9650 comes clocked at 3.0GHz with a system bus frequency of 1333MHz, and is a behemoth of a processor. The 130W TDP is anything but tame, but then you don't expect the heavyweight champion of the CPU world to get by eating only vegetables and fruits.
Mountains of Motherboards
It would be nearly impossible to put together a complete listing of motherboards that address every possible sector or potential requirement. We have decided simply to list the boards that we have experience with and would recommend to our friends or family. Of course, some of our suggestions might indicate we do not like our friends or family members, but that is the fun in putting together a guide. We tend to be a little more liberal in some choices and conservative in others. We stayed on course with a consumer slant for the boards but will visit the server and enterprise section in the near future. As usual, we probably missed a few reader favorites but we certainly welcome your comments on those boards. Time and space constraints limit how many products we can discuss.
We are in the midst of AMD, NVIDIA, and Intel releasing several new chipsets along with a several more in the near future. Intel recently released the X38, the G35 is next week, and we expect to see the X48 in January. AMD just launched the 790FX, 790X, and 770 chipsets with the Phenom and RV670 products stealing the spotlight. We will provide our first look at the 790FX later this week but for now, it is an excellent chipset hampered by an aging Southbridge and a less than stellar quad-core processor; AMD should address both of these issues in Q1. NVIDIA is planning on releasing the 780i next month after spending some additional time to ensure Penryn compatibility, and hopefully we will see the 680i working properly shortly with Yorkfield processors. NVIDIA has been nearly silent on the 780a release schedule but rumors indicate this will occur in the next sixty days.
Given the fact that motherboard platforms are not compatible and that we have plenty of options to get through, we're going to break things into AMD and Intel specific recommendations. We'll start with AMD.
AMD Budget
Gigabyte GA-MA69GM-S2H
: $80
Biostar TA690G AM2: $85
The 690G chipset caught our eye on the day it launched. Either of these two boards will provide the features and layout to make a great budget system; they would also work well in a budget-minded HTPC. The multimedia capabilities of the 690G chipset together with HDMI output and an impressive feature make this chipset a star buy. AMD's Athlon X2 processors are great bargain at this point and offer a competitive price/performance ratio. These boards work very well with Microsoft Vista, and with a BIOS update they will even run AMD's new Phenom processors. The primary difference between the two boards is the Biostar board will overclock slightly better while the Gigabyte board offers superior onboard sound.
Biostar TF7050-M2
: $75
Based on NVIDIA's MCP68 chipset, this motherboard has all the requisite features to build a great entry-level PC. Like the 690G boards, we have HDMI output - with H.264 decoding and Realtek HD audio - both great for a budget HTPC. We also find RAID 0,1,5,0+1 and JBOD support, providing ample data storage flexibility. The one thing this board does better than others in its class is offering slightly better graphics performance under Windows XP, although Vista performance favors the 690G. Note that the 690G does omit SM3.0 support, however. If you want to use an external NVIDIA graphics card, then we suggest sticking with an NVIDIA chipset; the same holds true for the AMD/ATI combinations. This chipset also supports the Phenom processor series and we should have a compatible BIOS shortly for testing.
A couple other boards worth a look:
MSI K9NBPM2-FID: $75
AMD Midrange
We have not received any new AMD 770 chipset boards yet. Based upon an early preview last month, we would recommend looking at these new boards as they hit the market place, especially if you are purchasing a new Phenom processor.
Biostar TF560 A2+: $80
This board was a pleasant surprise when we reviewed it earlier this year, and the latest BIOS releases have certainly improved the overclocking capabilities. The board supports Phenom now and offers an inexpensive upgrade for S939 users looking to stay with AMD - you'll still need a new CPU and RAM, of course. Although the chipset has been around for a while now, it still performs very well. Overall, this board represents the solid values that the AMD market has been offering since the introduction of the Athlon 64.
Foxconn C51XEM2AA-8EKRS2H: $105 with $60 rebate
It is hard to believe that the board that introduced the AM2 platform almost 18 months ago is available for nearly $100 with a rebate. The board features NVIDIA's top of the line 590SLI chipset and offers an excellent blend of performance and features. We know in early testing the 590SLI will run the Phenom processor, but what we do not know is if this particular board will receive a BIOS update. If it does, current users will have a top performing board for SLI operation until NVIDIA launches the 780a chipset.
DFI Infinity NF570 SLI-M2/G: $110
This is one of our favorite mid-range boards for the AM2 processor family. The board features SLI capability, an excellent combination of expansion slots, FireWire, and the typical DFI BIOS that provides great performance and plenty of tuning options.
Another reasonable option:
ASUS M2N-SLI Deluxe: $135
AMD High-End
AMD just released the 790FX chipset and we are still in the process of testing several boards based on the latest design from AMD. It is too early to declare a winner, so we are just listing the boards currently available. However, we can say without a doubt that the 790FX chipset is incredible, even if it's hampered by the SB600 Southbridge and the new Phenom chips aren't up to speed yet.







MSI K9A2 Platinum: $180
Gigabyte GA-MA790FX-DS5$210: Gigabyte GA-MA790FX-DQ6 : $270
ASUS M3A32-MVP Deluxe/WiFi-AP: $250
Intel Budget
Gigabyte GA-73UM-S2H
: $100
The Gigabyte GA-73UM-S2H uses NVIDIA's new GeForce 7150 chipset that features native HDMI output with full support for HDCP and 1080p playback. The onboard graphics performance is superior to the Intel G31/G33 chipsets and provides significantly better multimedia capabilities. Gigabyte has included FireWire support along with the Realtek ALC889a HD codec. The board only supports up to 4GB of memory with two slots, but this should not be a problem for most users. The board supports all current Intel Core based processors up to the QX6850 and the chipset supports the upcoming Yorkfield and Wolfdale CPU families. Overall, those looking for a multimedia capable IGP solution should be satisfied with the latest offering from Gigabyte.
ASRock ConRoe1333-D667
: $50
This board utilizes the revised Intel 945GC A2 chipset that allows it to run all Core 2 dual processors including the upcoming Wolfdale 1333FSB 45nm processor. The board does not support quad-core processors, but for those looking for an inexpensive board to run an E2160 CPU this will do. The onboard graphics engine is the Intel GMA950, which means the board will be limited to office applications and games that do not require decent 3D graphics capability. However, this board offers a very solid foundation for that second or third PC to handle Internet, email, and general office work. The board is Vista Premium 2007 certified and offers a PCI Express x16 slot to upgrade the graphics capabilities.
MSI P35 Neo2-FR
: $100
While this board does not have onboard graphics, it does offer one of the latest performance based chipsets from Intel, the impressive P35. We had a hard choice to make in this category with the abit IP35-E and Gigabyte GA-P35-DS3L offering very stiff competition; in fact all three of these boards are worthy of Editors' Choice awards. We are going to recommend the MSI board based upon it having a better feature set that includes the ICH9R Southbridge and the Marvell 88SE6111 chipset for a total of five internal SATA ports and two eSATA ports. Armed with the latest BIOS, the overclocking capabilities of this board are excellent, and you get CrossFire capability.
If you're interested in some other options, you can always go straight to the source and pick up an Intel branded board:
Intel DG33TL: $122
Intel Midrange
abit IP35 Pro
: $165
It is truly difficult to look past our Gold Editor's Choice winner when we get to the midrange Intel options. Teamed with a decent GPU and CPU combination, this is a killer board. It has a great layout, very good BIOS options, and performance is on par with every P35 board out there (including DFI's offerings). We have not had any real component compatibility problems and the motherboard works well with non-Micron based memory. There have been a few niggling issues reported here and there, mostly to do with the JMicron controller (so what's new?); however, the overall result is very positive. When the other motherboard companies asked us as why this board received our highest honor, our reasoning was simple: the µGuru utility combined with the fact that this board set the standard other P35 offerings must now meet.
EVGA 680i SLI 775 A1: $180
We cannot ignore the option of NVIDIA's SLI graphics for gamers, so we had to throw in the NVIDIA 680i SLI chipset. Overall, quad-core CPU overclocking is a little short compared to the Intel chipsets, and the chipset is having a tough time with Yorkfield at this point. The 8800 GTS/GTX/Ultra still have some life left in them, but new buyers will prefer to experience the goodness of two 8800 GT cards running Crysis. If SLI gaming is your goal, then this is the board to buy for now.
We have several other boards that deserve your attention, so we are providing links for further information. All of these products have our recommendation in this category:
ASUS P5K-E: $142
Gigabyte GA-P35-DS3R 2.0: $130
Foxconn P35A-S: $125
MSI P6N SLI Platinum: $120
Tweaker's Choice board
DFI LANPARTY UT P35 T2R/G: $250, $210 for the T2R without the transpipe cooling option.
Still based on the Intel P35 chipset and more expensive than the abit IP35-Pro, this board is worth the money for users who have to extract every possible ounce of performance from a CPU. Advanced GTL tuning and more overclocking options than any other board we have used led us to pick this board as the one to have for those running a single graphics card. The extra GTL tuning ability is great for squeezing high but stable FSB rates from both 45nm and 65nm quad-core CPU's. Intel's dual die packaging on quad-core CPUs makes it essential for overclocking motherboards to provide good GTL voltage level control in the BIOS.
Motherboards priced over $200 have no excuse for cost cutting in component choices or skimping on devices that provide the means for precision voltage tuning. However, only DFI has managed to unveil the "Full Monty" for quad-core users. Patience is required to extract the most from the board, and PSU and other component choices can be critical. DFI's latest UT offering probably has the best slot/component layout of any P35 board. There are more than enough BIOS tweaking options to keep even the most restless minds occupied, and for once the tweaks are actually useful. While not quite at the same level, the ASUS ROG (Republic of Gamers) boards are fast approaching the capabilities of the DFI UT series, but for now this is the board to have for the tweaker at heart.
Intel High-End
DDR2
Gigabyte GA-X38-DQ6
: $270
We were not real big fans of the X38 at launch time, but with the latest BIOS releases we are no longer hesitant to recommend the boards. This is especially true if you want to run CrossFire or plan on buying one the latest Yorkfield or Wolfdale processors. Out of the DDR2 compatible X38 boards available, we think the Gigabyte is the overall best choice. Dual PCI-E 2.0 for Crossfire, a good layout, and very solid BIOS with the latest F7C release enabled our board to boot a quad-core CPU all the way to 510FSB. That's the highest of any X38 board we have tested thus far. Gaming on Vista with DX10 will demand dual GPUs at this time in order to run high resolutions at decent frame rates. The new HD 3850/3870 cards are an excellent choice in CrossFire mode on this board and should provide the user a system with a long life span.
Foxconn "Digital Life" X38A
: $230
This jack-of-all-trades X38 motherboard is something of a diamond in the rough. Foxconn made a decision to offer a board that features support for both DDR2 and DDR3 while offering a feature set targeting the gamer and multimedia user. The board features six SATA ports, two eSATA ports, two FireWire ports, dual Gigabit LAN, Realtek ALC 888 HD Codec, and a general polish that we did not expect from Foxconn. The board's performance in early testing is competitive with the other X38 and P35 boards. Overall, this board is a solid choice for a gaming/multimedia platform that offers an upgrade path to DDR3; we're more inclined to recommend going either full DDR2 or DDR3, however, as otherwise you will be limited to two DIMMs.
ASUS P5E
: $230
The ASUS P5E is the sleeper of the X38 group. This board offers superb quality, an extensive feature list, and almost top-flight performance. It seems as if this board is the orphan child in the ASUS lineup, but do not overlook it for the sexy-yet-untamed Maximus Formula SE. Separated at birth, these two boards have taken a different path with the Formula receiving the majority of attention. It harkens back to making a choice between Ginger and Mary Ann; we prefer Mary Ann, so the P5E is our choice. This board is one BIOS away from overtaking most other X38 boards; it seems our only problem now is overclocking the memory with the 4:5 ratio and quad-core stability stopping around the 465FSB mark. These two problems will probably not affect the majority of users but they do not occur on the Gigabyte board. Otherwise, we prefer the feature set of the ASUS P5E board.
DDR3, aka "Cost Is No Concern!"
ASUS P5E3 Deluxe/WiFI-AP@n
: $335
If you're willing to spend $500 or more on 2GB of high-performance DDR3, the conventional wisdom appears to be that $300+ for a motherboard is reasonable. We veered away from the ASUS ROG line of boards here as they are undergoing Northbridge water block revisions, although they are still excellent boards. Normally, we could live with these shortcomings, but ASUS designed the ROG series for the enthusiast and we feel like ASUS needs to make a few changes before they garner our full support. The Premium series is not out yet so that leaves the P5E3 Deluxe as our choice in this category.
The board lacks a few key voltages for an extreme overclocking board but it has a class-leading feature set, very good layout, and overclocks DDR3 Micron based modules like a demon. We still find plentiful BIOS functions for overclocking and the board can easily overclock the Core 2 Extreme quad processor range to 4GHz and beyond with water cooling. We found the stable FSB limits are around 440-460FSB with the 65nm quad-cores. At this moment, the ASUS P5E3 Deluxe is the king in this category, but competition has recently arrived with the MSI X38 Platinum and Intel DX38BT boards while Gigabyte is concentrating on bringing their GA-X38T-DQ6 up to speed.
Graphics Galore
While plenty has happened in the graphics industry of late, the operative word these days is availability. Our preferred cards are currently difficult to come by, regardless of brand or manufacturer, so we will focus on chipsets rather than on specific offerings here. Outside of any extra warranty of factory overclocking, most of the cards come with nearly identical features and use the reference designs anyway.
Entry-level (IGP)
Gigabyte GA-MA69GM-S2H
: $75
AMD Radeon X1250 (690G Chipset)
For those using IGP systems, the 690G chipset represents remains one of the best solutions. Considering the IGP market accounts for 90% of PC shipments, it makes sense for both AMD and NVIDIA to have strong packages in this area. The 690G features low power consumption and ATI X1250 graphics performance with HDMI output and full HDCP support. It also includes DX9 and Shader Model 2.0 (SM2.0) support along with excellent audio and video capabilities. Don't expect to be doing much gaming on the 690G (especially with the latest games), but for general home or office PCs the 690G IGP is an excellent choice for AM2 systems.
In reality, the graphics performance offered by the three top IGP solutions - Intel GMA X3100, AMD 690G, and NVIDIA GeForce 7050 - is pretty similar, at least when drivers are up to date and working properly. Intel's Windows XP drivers have been ahead of their Vista drivers for a while, but the gap is finally narrowing. X3100 also offers SM3.0 support, as does NVIDIA's 70xx IGP, putting them one step higher on the feature checklist. We would still give the edge to AMD and NVIDIA, however, since we appreciate better graphics driver support. The inclusion of DVI and/or HDMI/HDCP on more motherboards plus the lower price is one more reason to choose AMD/NVIDIA offerings instead of Intel.
Budget Gaming
AMD Radeon HD 3850
: $179
GeForce 8800 GT 256MB: $???
With the availability of the 8800 GT causing prices to rise above the $300 mark, the HD 3850 could not have come at a more fortuitous time for AMD. They have been struggling on to the CPU and GPU fronts for the past year, but the pricing and availability of HD 3850 cards - not to mention great performance for the price - gets our recommendation for a budget gaming system.
There are cheaper graphics cards that provide adequate performance and DirectX 10 support, but the difference in performance between the $100 you might spend on the Radeon HD 2600 XT 256MB/GeForce 8600 GT 256MB and the HD 3850 is substantial. Let's not even get into a discussion of performance requirements for Crysis, Hellgate: London, or Unreal Tournament 3. Needless to say, there are plenty more titles coming out where $100 graphics cards will need to drop down to lower resolutions and medium detail settings in order to provide adequate performance. NVIDIA's GeForce 8800 GT 256MB should also start showing up with a similar price to the Radeon HD 3850; availability remains a concern, naturally.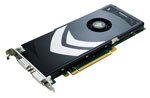 While we're on the topic of availability, we must say that we don't know how long AMD will continue to keep up with demand for the Radeon HD 3850/3870. As with the NVIDIA GeForce 8800 GT, many resellers are now backordered and we wouldn't be surprised to see prices begin climbing. Assuming these cards are available at MSRP, all four options are viable. Users with motherboards that support CrossFire will probably prefer AMD cards, while nForce SLI users will prefer the 8800 GT. Hopefully, we will see increased supply and reduced prices in the near future. These are great cards when priced between $180 and $250; at $250-$300 (or more), we're a lot more hesitant to recommend any of them.
Midrange/High-End
Radeon HD 3870: $219 MSRP
GeForce 8800 GT 512MB: $249 MSRP
CrossFire or SLI optional
Given what we just finished saying about availability, we obviously have a problem coming up with any reasonable upgraded solutions. If you don't mind the price gouging (and can still find cards in stock), Radeon 3870 and 8800 GT 512MB comprise our midrange recommendation. The GeForce 8800 GT 512MB is faster, but it also has a higher MSRP, so price/performance ends up being a tie.
CrossFire or SLI with any of the above offerings would be our next recommendation. Obviously, you need the appropriate motherboard. We showed in our recent HD 3850/3870 article that 3850 CrossFire performance roughly matches what you get from a single 8800 GTX; at current prices, that should make HD 3870 CrossFire about $60 cheaper and significantly faster - $60 which would then go towards the price of a CrossFire compatible motherboard. That said, we prefer the smaller card size and added features that you get with the newer cards.
High-End/Extreme Performance
GeForce 8800 GTX SLI
: $1000
GeForce 8800 Ultra SLI: $1200
(Mail-In Rebates available)
We're loath to recommend anyone purchase an 8800 GTX/Ultra card at this stage, let alone two. NVIDIA has confirmed December 3 as the launch date for the 8800 GTS (G92 core), and GTX and Ultra editions will no doubt follow in time. If you haven't already, it makes little sense to purchase an older model GTX/Ultra now. Still, if you want maximum gaming performance right now, NVIDIA's GeForce 8800 GTX/Ultra in SLI is the most stable, mature, currently best-performing option at the extreme end of our price range. Just remember that the 8800 GTX/Ultra cards are often CPU limited at 9x266MHz (2.4GHz) CPU speeds on current Intel platforms. With SLI, you definitely don't want to skimp on the CPU.
Although we considered including AMD's Spider platform for the Extreme Performance option, it's a bit early for that. Outside of the HD 3850/3870, this has so far been a paper launch by AMD. Motherboards with the required AMD 790X/FX chipsets are still in their infancy and Phenom X4s are almost impossible to find without paying a price premium. We recommend waiting for AMD to iron out some of the inevitable bugs before making any move to the Spider platform. It looks like that won't happen until January at the earliest, at which time we will be more than happy to reevaluate the platform.
Megabytes of Memory
Windows Vista has significantly changed the requirements for memory since its release last January. While this operating system will run on 1GB of memory, we firmly believe that anyone not wanting to experience some agonizing delays should run a minimum of 2GB. This is particularly important if you plan to use the Media Center Functionality or if gaming is a priority. We can also make a strong case for using 2GB with the Business Edition version if you happen to be a user multitasking between several Office 2007 applications. For those who have gone the extra step to run Vista 64 (or XP 64 for that matter), we highly suggest 4GB of memory, or even 8GB for users who spend their day doing CAD/CAM or Financial Modeling.
If you are still using Windows XP then now is a great time to upgrade to 2GB of memory if you have not already done so. As games increase their requirements and we encounter more media centric applications, it is always nice to have additional memory available for the operating system. We may sound like members of the "Please Buy More Memory" council, but unlike Bill Gates infamous quote over 20 years ago, believe us when we say you can never have enough memory.
After deciding the amount of memory you need, the next decision is deciding the type, configuration, and then settling in on a supplier. When utilizing a 2GB configuration we recommend a 2x1GB setup to take advantage of the dual-channel memory controllers present in our motherboard selections. Dual-channel operation can improve system performance an average of 3%~5% in most cases, so you should take advantage of it. If you already have a 2x1GB configuration and plan on upgrading to 4GB, adding an additional 2x1GB is the generally the best way to go if you have four memory slots. Those buying new systems who do not plan on running higher memory speeds (i.e. overclocking), we suggest going the 2x2GB route if you plan on upgrading to 8GB at a later date.
While there has been a continual race between memory module manufacturers to provide memory that can run at ever increasing speeds, the fact of the matter is that we have reached a plateau with current processors and chipsets. Memory performance past DDR2-800 is generally not that important in the grand scheme of things. Yes, running DDR2-1066 or higher at low latency timings such as 4-4-3-9 1N will certainly improve your synthetic benchmark scores and can even make a minor difference in certain applications, but these differences are generally minute unless you benchmark for a living. Spending money on upgrading other areas almost always brings larger performance dividends than upgrading memory - the only exception being those you plan on serious overclocking beyond 500MHz base bus speeds (2000FSB).
While we are usually the first ones to line up for the latest and greatest in technology, we are going to take a more pragmatic view in our choices for memory this time around. Don't get us wrong: we greatly appreciate the performance gains and cost reductions that competition has brought to this market. Nevertheless, for the typical user we generally think DDR2-800 with CAS4 latencies offers the best all around value and performance at this time. Additionally, most of the current DDR2-800 CAS4 memory can typically hit DDR2-1000 to DDR2-1066 speed with timings reduced to 5-5-5-15 and a small bump in voltage to 2.0V~2.15V, keeping those who want to dabble in mild to moderate overclocking happy.
Of course, one could argue that DDR2-800 CAS5 or even DDR2-667 should be just fine and that any difference in performance is negligible. For those with budget systems for SOHO or office use, you would be right and we agree. However, we like to think our audience is diverse enough that our recommendations will satisfy the vast majority of users. The cost difference for DDR2-800 CAS4 vs. CAS5 is minor and ensures some additional headroom if you want to dabble in overclocking. A minor (less than 3%) performance increase is nothing special, but then an extra $10 (less after rebates) is well within the means of most people as well.
For enthusiasts, now is a great time to be in the market for high speed DDR2 and a decent time to make the jump to DDR3. We are experiencing a mini-revival in the high-end DDR2 market with DDR2-1066 CAS4 modules at low voltages becoming readily available, and the top modules now reach close to DDR2-1300 at 2.4V. We expect to see DDR2 modules eventually hit DDR2-1333 before we see widespread adaptation of DDR3. Speaking of DDR3, we are finally starting to see some price relief, but the cost of entry is still prohibitively high for most users.
We are seeing DDR3-1333 CAS7 (capable of CAS5) modules priced around $170 per GB. DDR3-1600 CAS7 and DDR3-1866 CAS9 modules are going for $215 and $250 per GB, respectively. By comparison, top DDR2 kits usually cost less than $100 per GB. Based upon performance results and the upcoming 1600MHz FSB capable Yorkfield processors, if you're going to upgrade to DDR3 we would have to recommend DDR3-1600 as the minimum, with a strong inclination for the DDR3-1866 kits for overclocking headroom. While we expect to see prices come down 40% over the next year, DDR3 will only remain an option at the enthusiast level for the near future.
Entry-level SOHO/Office Systems
DDR2-800 2x1GB Kits
A-DATA 2x1GB DDR2-800 CAS5 Kit
- $40 with $10 Rebate

If you are looking for a solid set of DDR2-800 memory, then you cannot go wrong A-DATA's entry-level kit that features 5-5-5-18 timings at 1.8V. Sure, they might not overclock very far (though you can still run 1:1 ratio with 1600FSB on Intel), but in this category users are primarily concerned inexpensive and reliable memory.
DDR2-800 2x2GB Kits
GSkill 2x2GB DDR2-800 CAS5 F2-6400CL5D-4GBPQ Kit - $80 after $40 rebate
This will be the first of many GSkill recommendations today, their 2x2GB kit runs fine in a wide variety of boards. The memory is set at DDR2-800 with 5-5-5-15 timings on 1.80V. We had to increase voltage to 1.90V to ensure absolute stability on most of our P35 boards. These modules will overclock up to the DDR2-900 range at 5-6-5-18 timings on 2.0V. If you want a reasonable way to run 8GB, this would be our choice in the budget sector (especially considering the rebate available today).
Mainstream Gaming/Entry Level Overclocking
The following are kits that provide an excellent price to performance ratio and will suffice for a large majority of users. We were even able to extract a fair amount of overclocking headroom from these choices.
DDR2-800 2x1GB Kits
A-DATA 2x1GB DDR2-800 CAS4 Extreme Edition Kit - $45 with $10 Rebate
Once again, we have to give the nod to A-DATA's Extreme Edition kit that will run 4-4-4-12 timings at 1.8V on most boards. We recommend bumping the voltage to 1.9V to ensure stability, however. These modules are overclocking friendly for the beginner with speeds up to DDR2-1000 at 5-5-5-15 timings on 2.0V. We have even overclocked them on our DFI P35 board to DDR2-1066 at 5-6-5-18 timings with 2.1V.
Team Group 2x1GB DDR2-800 CAS4 Xtreem Dark Kit
- $40 with $30 Rebate
If you can find this memory on sale with the rebate, then we highly recommend it. This kit will run 4-4-4-12 timings at 1.9V on most boards. We recommend bumping the voltage to 2.0V to ensure stability on just about any motherboard. These modules are overclocking friendly with speeds up to DDR2-1000 at 5-5-4-12 timings on 2.2V. We have reached DDR2-1066 at 5-5-4-15 timings with 2.3V and 5-5-5-18 at 2.2V on our DFI P35 board.
Mushkin 2x1GB DDR2-800 CAS4 HP2-6400 Kit
- $63
We have had good luck with this memory on our NVIDIA boards and it features EPP capability. This kit runs 4-4-4-12 timings at 1.9V on several of our mid-range P35 and NV650i SLI boards. Again, we recommend bumping the voltage to 2.0V to ensure absolute stability across most boards. We were able to keep 4-4-4-12 timings up to DDR2-950 with 2.1V on our Gigabyte P35 DS3R board. These modules will run at speeds up to DDR2-1000 at 5-4-4-12 timings on 2.2V and DDR2-1066 at 5-5-5-15 timings with 2.2V on our P35 boards. Our MSI 650i SLI board reached an overclock of DDR2-960 at 4-5-4-11 2T timings with voltage set to 2.1V.
Mainstream Gaming/Overclocking
The following kits are highly recommended for users who like to push their systems but are not into extreme overclocking or setting benchmark records. To be honest, most modules in this $65 to $100 range will work just fine from a wide of variety of suppliers from Corsair to OCZ. We picked out a few that we have personally used with good results.
DDR2-800 2x1GB Kits
G.Skill 2x1GB DDR2-800 CAS4 F2-6400CL4D-2GBHK Kit
- $75
Although this memory is not available with a rebate and costs more than our other recommendations, we have to give this memory a recommendation for flawless operation across every DDR2 board we have tested in our labs. The modules offer excellent overclocking capabilities for the money. This memory will run at DDR2-800 4-4-4-12 timings on 1.8V on most boards. We recommend bumping the voltage to 1.9V to ensure stability but we have not had to set the base voltage to 2.0V as recommended in any system. These modules are overclocking friendly with speeds up to DDR2-1000 at 4-4-4-12 timings on 2.0V. Our top overclock on the DFI P35 board is DDR2-1120 at 5-5-5-15 timings with 2.25V. We were also able to achieve 4-4-3-6 at DDR2-800 at 2.0V.
GEIL 2x1GB DDR2-800 CAS4 GX22GB6400UDC Kit
- $45 with $30 rebate
Patriot 2x1GB DDR2-800 CAS4 PDC22G6400LLk Kit - $39 with $40 rebate
Crucial 2x1GB DDR2-800 CAS4 Ballistic Kit - $50 with $40 rebate
OCZ 2x1GB DDR2-800 CAS4 Reaper HPC Kit - $56 with $35 rebate
Super Talent 2x1GB DDR2-800 CAS4 T800UX2GC4 Kit: $75
All five of these kits offer similar performance and overclocking capabilities, with the ability to run at least DDR2-1066 with relaxed timings and additional voltage. While the rebates are nice, we're all too aware of how often those seem to slip through the cracks. That's one more reason to stick with the G.Skill or SuperTalent modules, which have a lower price if you don't want to bother with a short-term loan to the manufacturer.
DDR2-1000 2x2GB Kits
G.Skill 2x2GB DDR2-1000 CAS5 F2-8000CL5D-4GBPQ Kit
- $150
These modules run at DDR2-1000 5-5-5-15 timings on 2.0V in the majority of our 680i, X38, and P35 boards. We have been able to overclock these modules to DDR2-1066 with 5-5-5-15 timings at 2.25V on some boards. The modules will also run at 4-4-4-12 DDR2-800 with 2.0V or 5-5-5-15 with 1.9V.
Overclocking Enthusiast - DDR2
We recommend the following kits for users who overclock their systems on a 24/7 basis and are interested in benchmarking. This category is extremely competitive but like the mainstream/overclocking section, these modules will satisfy a majority of users and come from the top suppliers.
DDR2-800 2x1GB Kits
G.Skill 2x1GB DDR2-800 CAS4 F2-6400PHU2-2GBHZ Kit - $130
We may sound like a broken record, but again we have a set of memory from G.Skill that provides flawless operation across every DDR2 board we have tested with in our labs. The modules are Micron D9 based and offer excellent overclocking capabilities. This memory will run at DDR2-800 3-4-3-8 timings on 2.0V on most boards. These modules also reach speeds up to DDR2-1066 at 4-4-4-12 timings with 2.2V. Our top overclock on the DFI 680i board was DDR2-1160 at 5-5-5-18 timings with 2.30V.
DDR2-1066 2x1GB Kits
Corsair 2x1GB DDR2-1066 CAS5 Dominator Kit - $121 after $40 rebate
We have been utilizing this particular Corsair Dominator memory in our test systems for several months now. Their compatibility across a wide variety of chipsets has been flawless. We have been running these modules at DDR2-1066 at 5-4-4-12 timings with 2.1V. Our top overclock on the DFI 680i board is DDR2-1180 at 5-5-5-18 timings with 2.30V.
DDR2-1150 2x1GB Kits
OCZ 2x1GB DDR2-1150 CAS5 FlexXLC Kit
- $196
This unique memory offers the choice of water or air-cooling and like the G.Skill and Corsair modules, their compatibility across a wide variety of motherboards has been flawless. We have been running these modules at DDR2-1066 at 5-4-4-12 timings with 2.1V. Our top overclock on the DFI 680i board is DDR2-1240 at 5-5-5-15 timings with 2.30V.
Here are a couple alternatives worth considering:
Buffalo FiresStix DDR2-1200: $289
DDR2-800 2x2GB Kits
OCZ 2x2GB DDR2-800 CAS4 ReaperX Kit - $180
These modules run at DDR2-800 4-4-3-15 timings on 2.0V in several of the 680i, X38, and P35 boards. The modules will overclock to DDR2-1117 with 5-5-4-18 timings at 2.25V on the DFI P35 board. The interesting aspect is this DDR2-1117 overclock was accomplished with 8GB in Vista 64. If you plan to overclock an 8GB configuration, then these are the modules to have in your system. OCZ will introduce a DDR2-1000 kit shortly that should offer improved overclocking capabilities, something we are looking forward to seeing.
Overclocking Enthusiast - DDR3
At this time, we consider DDR3-1600 to be the base entry point for enthusiasts who want to go the DDR3 route. Just about all of the DDR3-1600 kits will clock up to DDR3-1800 with 2.0V, so we suggest purchasing a kit with CAS7 latency from a supplier you trust. We believe if you are going to spend the money on DDR3, then go ahead and purchase one of the DDR3-1800+ kits. We recently reviewed several DDR3-1800+ kits and came away with the opinion that all of the kits perform nearly the same. The reason for this is that all of these kits utilize the same Micron Z9 ICs. There can be performance differences based upon custom SPDs and binning. Overall, we suggest buying the least expensive DDR3-18xx kit knowing you will probably get the same overall performance from the CellShock/Kingston products as you will from the more expensive OCZ/Corsair kits.
DDR3-1800 2x1GB Kits
Corsair 2x1GB DDR3-1800 CAS7 Dominator Kit
- $560
We have been using 4GB of the Corsair DDR3-1800 Dominator memory in most of our DDR3 motherboard reviews and have been impressed with its performance on both the P35 and X38 platforms. Our best possible timings have occurred at DDR3-1840 with 7-7-7-18 timings on 2.0V in the X38 platform. We have also run this memory at 5-5-5-15 at DDR3-1333 with 1.70V. While the price is hard to swallow, the performance at times is intoxicating.
Other selections -
CellShock 2x1GB DDR3-1800 8-7-6-21 Kit - $421
Kingston KHX14400D3K2/2G - $444
Closing Thoughts
We decided to skip right past the appetizers and go for the main course, so now you should all have a decent idea of what your options are for putting together any decent computer upgrades this holiday season. We will return shortly with a look at some of the other accessories and various other goodies you might like to find stuffed in your stockings. (Again, feel free to insert whatever politically correct equivalent you desire.) Having just laid the foundations for potential computer upgrades, let's take a step back and look at the bigger picture for a moment.
Depending on what you want to do with your computer, you may find the entry-level options more than sufficient. In terms of CPU processing power, today's entry-level computers are easily able to best just about anything from two years ago. Affordable dual-core processors run circles around Pentium 4 Hyper-Threading chips, and they do so while using less power. If you need more number crunching prowess, now is a great time to upgrade. That said, if you don't require a lot of performance - surfing the Internet and reading email generally doesn't qualify as "heavy multitasking" - even a system that's three or four years old should work fine. A few upgrades in other areas might still be useful, however.
One of the easiest upgrades to make, and one that can have a dramatic impact on overall system responsiveness, is to add more memory. Budget and even midrange computers from several years back might have a paltry 512MB of memory - in some cases even less! Not all motherboards can handle larger memory modules, so some research prior to investing money in more memory may be required, but if you can get your system up to 1GB or 2GB of memory you might quickly discover that there's no need to upgrade anything else. Just make sure purchase the correct type of memory, and in some cases that might not be practical. In other words, we wouldn't recommend purchasing RDRAM or SDRAM, and if you have to get some DDR memory we would see about someone trying to get rid of their old stuff rather than buying new. If you can score 2GB of DDR-400 for $50, an older Pentium 4/D or Athlon 64 system can still run most applications without trouble.
Those interested in running games, not surprisingly, are going to have higher requirements. For modern gaming, we wouldn't think about trying to get by with less than 2GB of RAM. You'll also need a reasonably fast graphics chip, preferably at least a GeForce 7800/7900 or Radeon X1800/X1900 or better. If you don't have something like that already, there's a good chance you're running an older AGP graphics card. If you're hoping to find a faster AGP solution without spending a lot of money, you're probably spinning your wheels; bite the bullet and upgrade to a PCI Express platform. That might mean you need to upgrade your processor and memory as well, but if you've managed to limp along in games so far, the latest titles are ready to put the nail in your AGP coffin.
The last item we've discussed today is sort of odd man out when it comes to upgrading. Generally speaking, we don't usually find ourselves in need of a motherboard upgrade unless we are also planning on changing processors and perhaps memory and/or graphics cards as well. About the only other time you need to buy a new motherboard is if your old one breaks. In that case, compatibility with existing components is probably going to take precedence over new features; otherwise you're back to upgrading everything again.
While we've covered plenty of options, there are more products and technologies coming that will help keep things interesting. In the graphics department, we have the potential for running three or four AMD cards on the appropriate platform. If everything works okay with the drivers, the potential performance increase sounds great. Then again, we all saw how easy it was for NVIDIA to stay on top of Quad-SLI driver support. Speaking of which, NVIDIA also appears to be ready to run more than two cards in SLI. So the multi-CPU wars between AMD and Intel will soon extend to multi-GPU wars for AMD and NVIDIA. As long as compatibility and performance make adding more GPUs a worthwhile proposition, we're willing to give them a chance. Considering we still encounter issues with new games and CrossFire/SLI compatibility, though, we'd like to see more work on that area before marketing starts to sell people on three or four graphics cards.
We also have new chipsets, additional CPUs, and DDR3 price reductions to look forward to… and that's only looking at the four major components for computers. We will have an additional Holiday Buyers' Guide out before the Black Friday sales strike, looking at many of the other components and other techo-accessories. If you have money, rest assured we'll provide ways for you to spend it!