Original Link: http://www.anandtech.com/show/2371


Introduction
While we've reviewed many higher-end (and higher-cost) power supplies, we've neglected the lower power segment. We hope to address that omission with today's roundup of four units ranging from 400W to 450W. Not many manufacturers these days make units rated at less than 500W - especially if we're talking about high-quality power supplies. Seasonic - both on their own and as an OEM manufacturer - is one of the few companies that continue to supply this market segment. We recently tested Seasonic's
330W and 500W models
and found they were more than capable of powering most decent systems. There are far more midrange and lower systems on the market than high-end systems, so we thought it prudent to look at several competing models from other companies.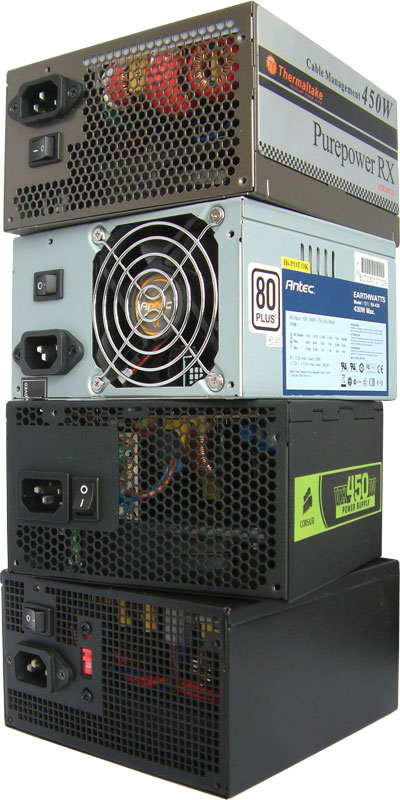 The type of components used in a computer determines the power requirements for the system. If you want to build an extreme performance, highly overclocked computer then you will need a large (and high-quality) power supply. On the other hand, if you're mostly going to be doing office work, most of the "best" power supplies are complete overkill. In fact, even most higher-end systems rarely require more than 500W of power. So why do we have these 1000W+ PSUs? In a word: profit. Assuming you're not going to be running multiple graphics cards or a significant number of hard drives, one of the power supplies we're looking at today -- or something similar to them -- should be ideal.
Because of the potential for greater profits, power supplies with lower ratings are getting rare -- not many manufacturers that want to produce these units anymore. We talked to Silverstone not too long ago about a 300W version of their Element series. The conclusion was that the price for the production is similar to higher-end power supplies and it wouldn't make sense to build these power supplies anymore. That seems surreal when we think about the number of users that don't need more than 500W, but it appears that the minimum price for a quality power supply -- regardless of wattage -- has bottomed out at around $65. That's not to say you can't find cheaper power supplies out there, but the quality of such units is at best... suspect, as we will see shortly.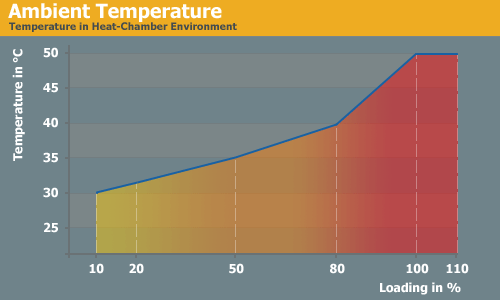 As usual, we are testing with our Chroma programmable loads to load each rail to a specific amount. This is important to get truly accurate results and not merely approximate values. We conduct tests in two different temperature environments. One is normal room temperature of 25-26°C, while the second environment goes from room temperature and increases steadily up to 50°C. Especially during the higher temperatures we will see how good the power supplies are and what whether or not they're truly worth your hard-won clams. Components inside will perform much worse at higher temperatures, but we expect any good quality PSU to deal with such test conditions without failing.
On the DC output graphics, we show the range of highest and lowest voltage. There is usually a bit of variance, particularly with multiple 12V rails, but with a PSU roundup we want to convey as much information as possible without simply bombarding our readers with graphs and charts. In essence, we will show the voltage range on each rail at various load points. This is especially easier to read and understand when you have multiple 12V rails since we will show them all in one graph together.
Note: If you would like to know more about our testing methodology, equipment, and environment, please read our PSU testing overview.
Antec Earthwatts 430W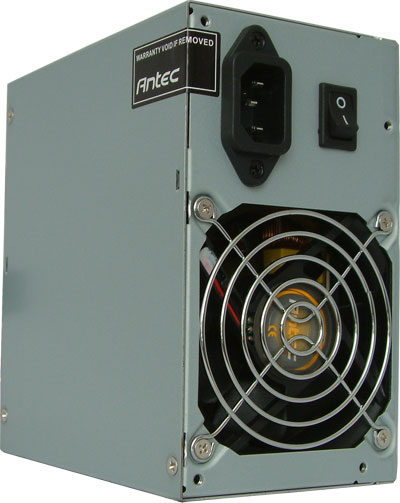 We begin with the Antec Earthwatts 430W. Antec's Earthwatts series first became available around a year ago, with the "earth" in the name apparently there because the product is more environmentally friendly. The design and appearance of the Earthwatts 430W bring us back to a time when nobody was asking about shiny coatings and sleeved cables. The housing is a simple grey color, similar to what we see on OEM power supplies. The back has the expected AC jack and a power switch, along with an 80mm fan that provides cooling. This is a different approach to cooling than what we'll see with the other units in this roundup.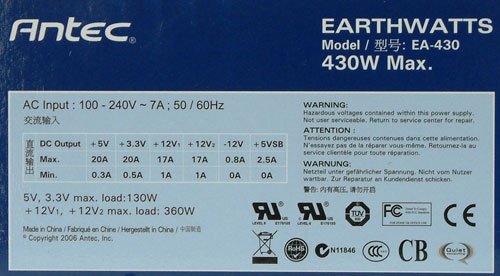 The label provides the typical information we find on power supplies, with the expected figures for a 430W maximum output. Two 12V rails of 17A each are enough for most users, and the combined 12V power of 360W is quite acceptable. 360W combined equates to 15A when both are "fully" loaded. We would be hesitant to try to use this PSU with one of the top-end graphics cards, but if you're using a power supply with a single 6-pin PCI-E connector you should be fine.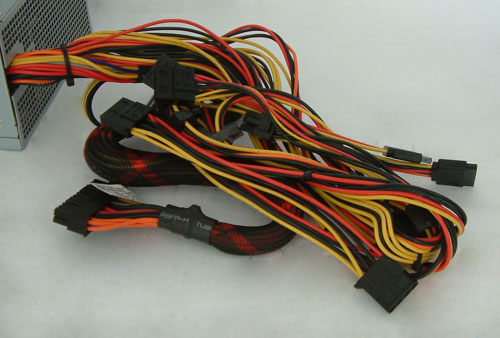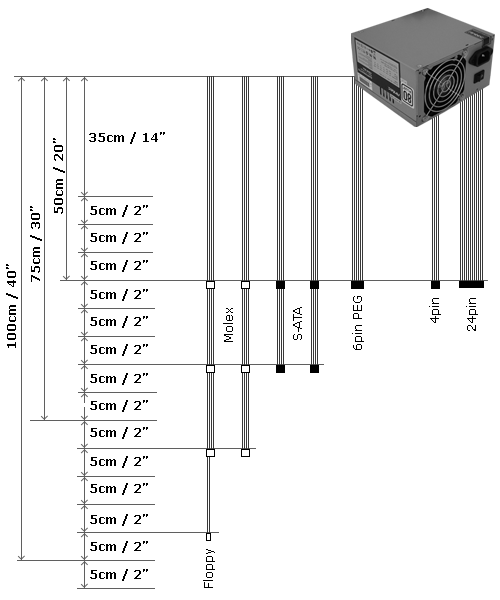 Other than the main 24-pin ATX power cable, the cable-harnesses are sleeveless. Antec has taken a very simple approach in terms of appearance, and the only concession to keeping the cables tidy is the use of cable ties located over the length of the cables. The length of the harnesses is average, with the last Molex connector just 80cm distant from the power supply. The main connectors are all on 50cm cables. The quantity of connectors could have been better, but a normal midrange PC shouldn't require more than what Antec has provided. There is only one 6-pin PEG connector, which makes sense considering the overall wattage and target market.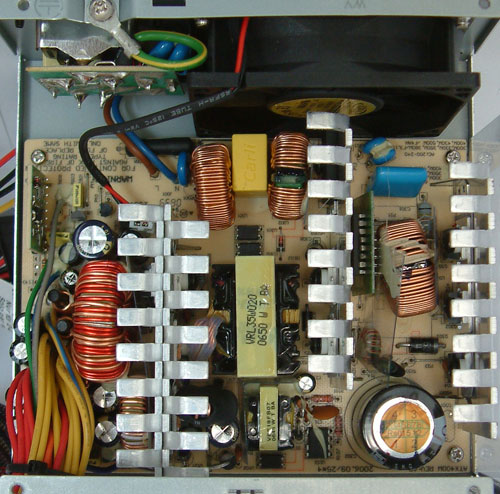 The inside looks quite familiar to a couple previously tested power supplies; indeed, the same manufacturer produces this power supply as well. Of course, that doesn't mean the power supplies themselves are actually the same. There are several differences, and we expect this unit will be at a slight disadvantage. Antec uses an 80mm exhaust fan located at the rear of the power supply, but the heatsink design would normally use a 120mm intake fan. We expect this unit to be slightly warmer and/or noisier than similar designs that use a single 120mm fan. Nippon Chemi-Con manufactures the primary capacitor
Antec DC Outputs
Antec Earthwatts 430W
PSU Load
3.3V
5V
12V1
12V2
Wattage
All Rails
10%
1.34A
1.34A
1.28A
1.28A
46W
20%
2.68A
2.68A
2.57A
2.57A
87W
50%
6.70A
6.70A
6.42A
6.42A
208W
80%
10.72A
10.72A
10.27A
10.27A
340W
100%
13.40A
13.40A
12.84A
12.84A
422W
110%
14.74A
14.74A
14.12A
14.12A
461W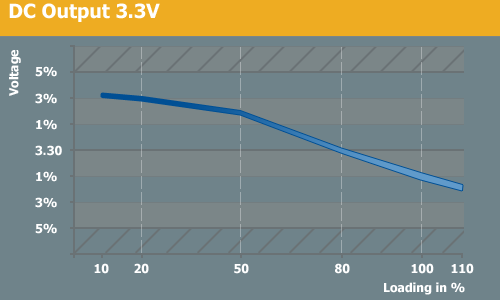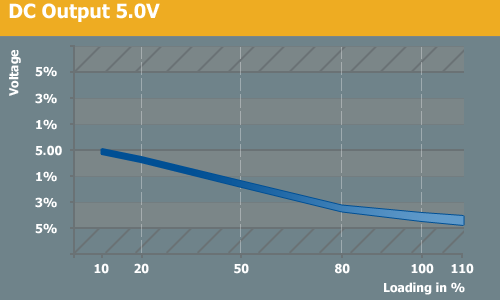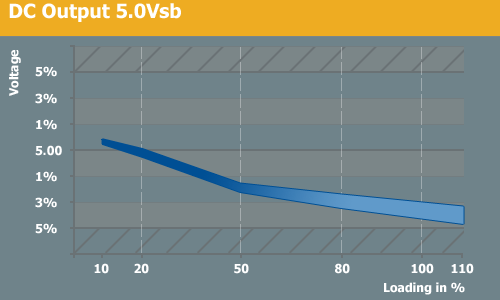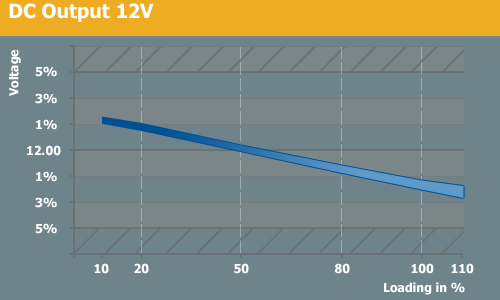 The voltage distribution is good and we didn't encounter any problems. The 3.3V rail starts a little high at around 3% over the ideal of 3.30V, while the 5V rail starts at the ideal and drops down to the 5% specification limit at the highest loads. Both rails remain within specs, however. The 12V rail behaves similar to the 3.3V rail. It starts above 12.00V and drops to 3% below ideal.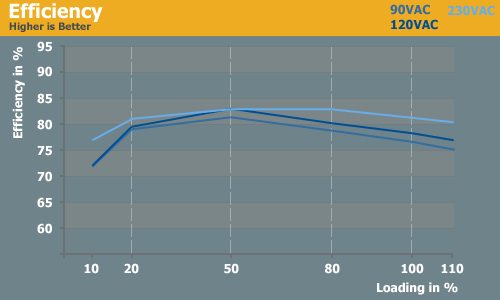 The efficiency is good but not great, reaching 84% at medium load. It is rare to see that at medium load the unit reaches the same efficiency with both 120VAC and 230VAC. However, while the folks in Europe can be happy about good efficiency throughout the loading range (we measured more than 80% at any load above 85W), 120VAC users as usual will get lower efficiency at higher power draws.
Ripple & Noise Results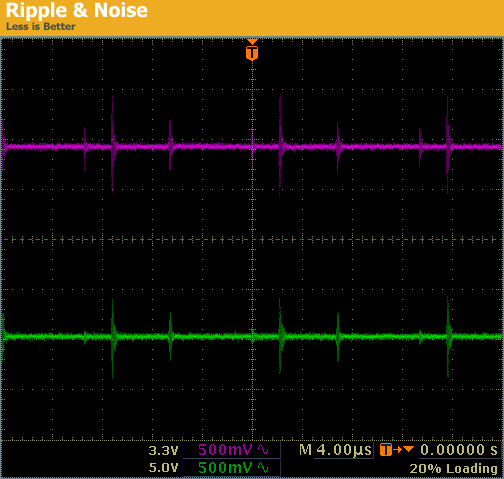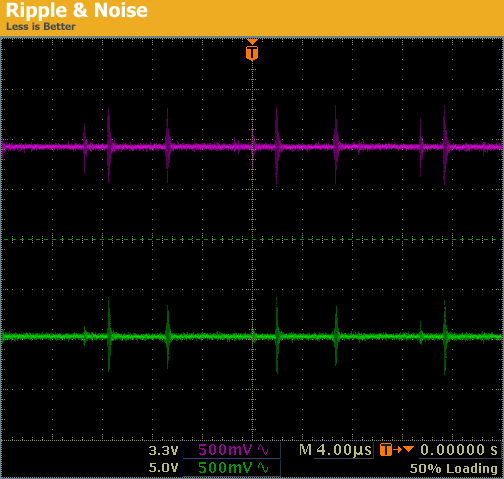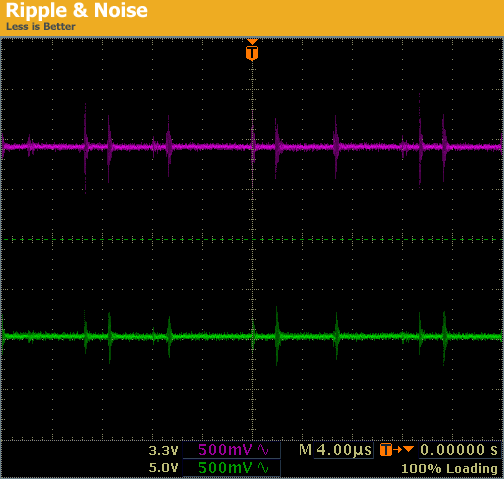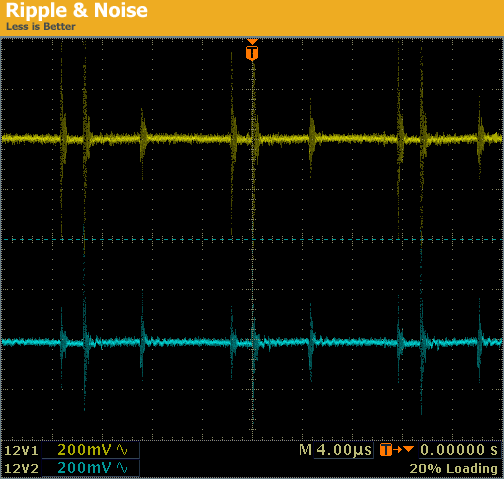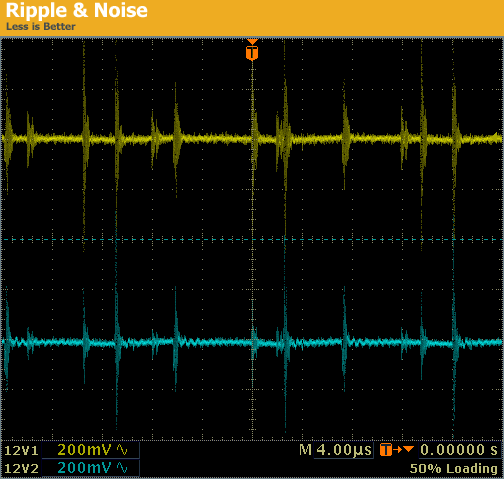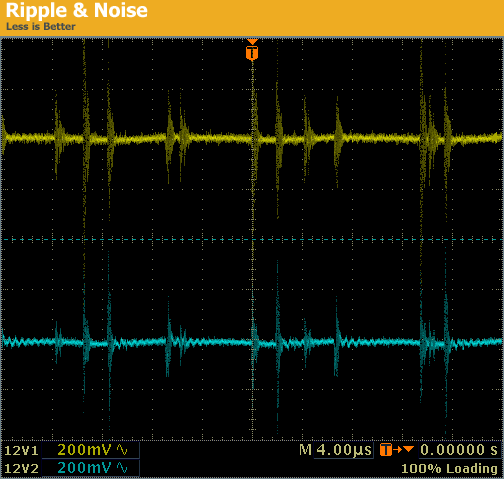 Antec PFC, Temperature, Fan Speed, and Acoustics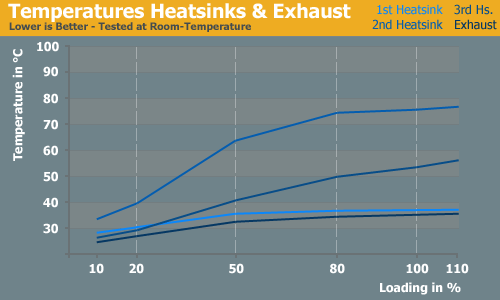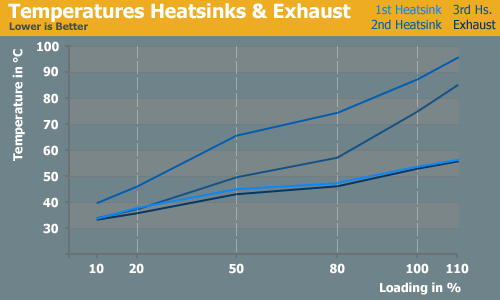 The heatsinks get far hotter than we have seen from similar models. The best comparison is the relation between the heatsink temperature and the exhaust temperature. The fan seems to be removing very little heat, since the temperature stays at an average level of 35°C at room temperature and 45°C in the heat chamber. The heatsink temperature is up to twice as hot at the exhausted temperature, clearly indicating the flaws with thermal management.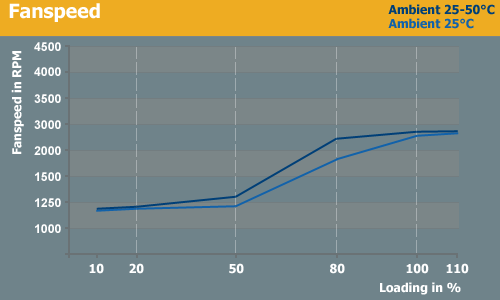 The installed 80mm fan wasn't the best idea, as we can clearly see from the temperature and fan speed results. A fan running at almost 3000 RPM should be enough to cool a moderate power supply like the 430W Earthwatts. The heatsinks simply are not getting enough cooling, and it all goes back to the overall design. The design of the heatsinks works best with a 120mm fan blowing directly at them. Antec chose to use an 80mm fan that moves air through the power supply in a very different fashion. The heatsinks do not get enough airflow, which means they can't dissipate heat, and they end up getting hot. It might be possible to design an effective cooling arrangement using an 80mm exhaust fan, but that would definitely require different heatsinks. Not surprisingly, the fan isn't particularly quiet either, especially in light of the low power output. We've seen much noisier PSUs, but those are often providing two or even three times as much power. At loads of around 430W, many PSUs are significantly quieter.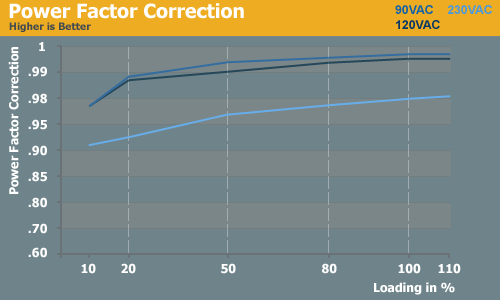 Corsair 450VX 450W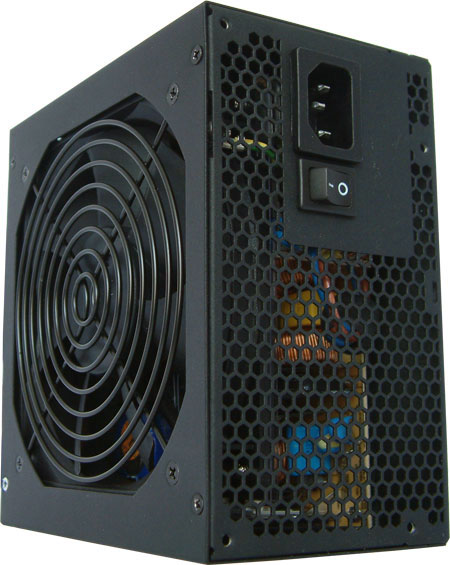 The 450VX Corsair is another power supply based on the same basic power supply as the Antec Earthwatts, a fact that will become clear when we crack open the housing. However, unlike the Earthwatts, Corsair chose to use the exact same housing and black paint job as the original Seasonic unit, and they use a 120mm fan located on the bottom of the housing. The length of the power supply is 140mm, allowing it to fit in most PC cases. The packaging is quite good and the power supply comes wrapped up in a little bag - not necessarily as environmentally friendly as other options, but there's a good chance shipping won't cause any damage to the PSU.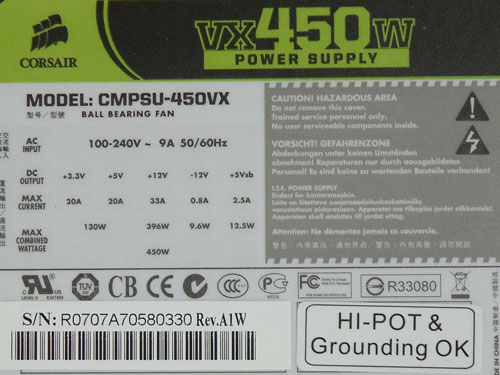 The 450VX comes with a single 12V rail rated at 33A. The original design used two 17A 12V rails (as does the Earthwatts), but given the lower total wattage the single 12V rail may make for easier power management - there's no need to worry about whether you're overloading one rail and not using the other rail enough.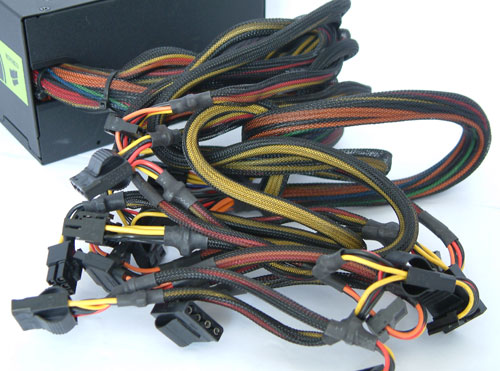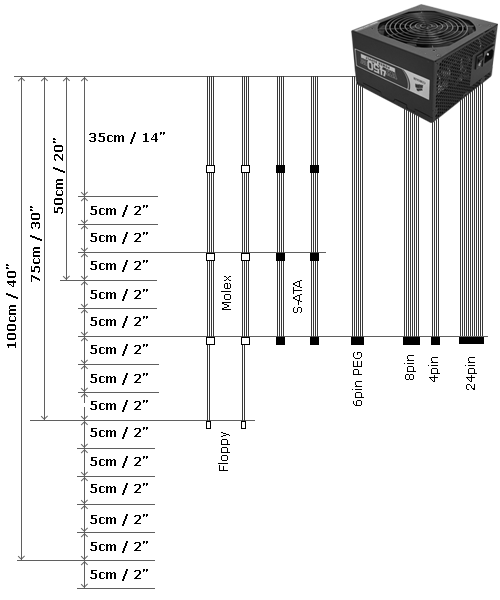 All cables come with sleeving, even between the connectors, so despite the moderate 450W rating we can expect the cost to be somewhat higher than competing models. The main 24-pin ATX cable is 60cm long, which is good for some of the larger cases. There are six Molex and six SATA connectors on four cables with a maximum length of 60cm. The first connector is only 30cm from the power supply, which might be a bit close to the PSU for some peripherals, but unless you plan on using all six connectors this should not present a problem. The maximum length is the bigger concern here, and it might prove difficult to reach the bottom drive bays on a full-size tower case if the PSU is located at the top of the box.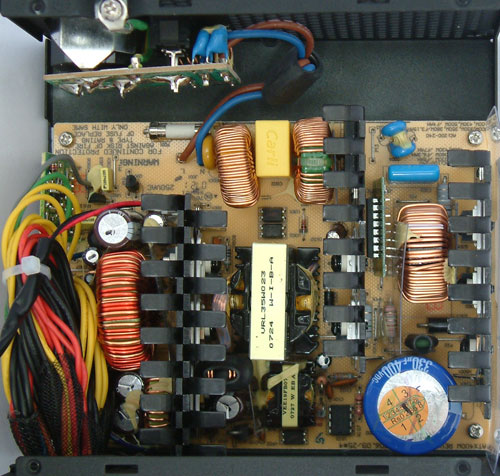 The inside looks quite empty, as is often the case with these smaller power supplies. It is not necessary to have as many components -- or as large of components -- considering the smaller amounts of current passing through the PSU. The heatsinks are quite small, but higher efficiency should help to keep heat levels down. Hitachi makes the primary capacitor, rated at 330µF with 400V. The fan blows air directly at the circuit board and heatsinks, which should easily provide adequate cooling.
Corsair DC Outputs
Corsair 450VX 450W
PSU Load
3.3V
5V
12V1
Wattage
All Rails
10%
1.31A
1.31A
2.76A
45W
20%
2.62A
2.62A
5.52A
90W
50%
6.54A
6.54A
13.79A
224W
80%
10.47A
10.47A
22.06A
354W
100%
13.09A
13.09A
28.58A
440W
110%
14.40A
14.40A
30.33A
480W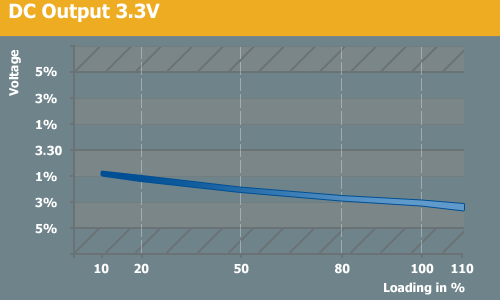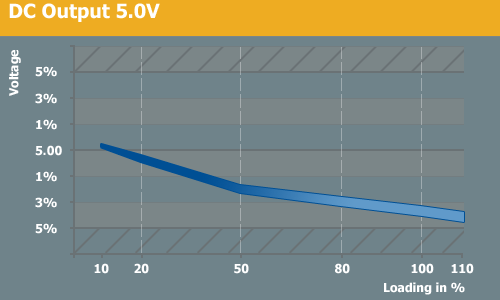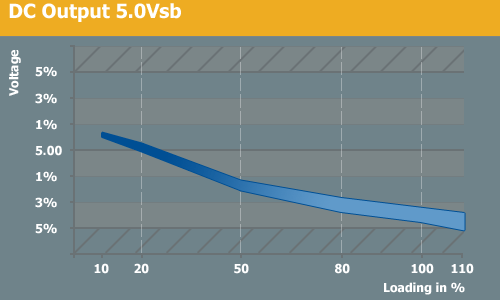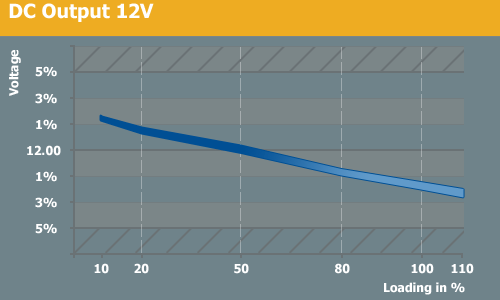 The DC output has minor flaws on the 3.3V and 5V rails, as we have seen with other similar models. The 12V rail stays within 3% of 12.00V. We have frequently heard complaints that our output results are lower than other reports on the net, particularly on the 3.3V and 5V rails. Please compare the load on the rails, however, as we are testing in accordance with the ATX12V v2.2 guidelines which requires higher loads. We think the loads on these rails might be a little outdated and hope that Intel will adjust these levels with an updated specification, but until then we will continue to push these rails to their limit even though it might be different in actual computer systems.
Efficiency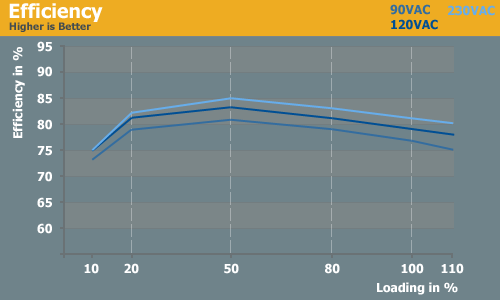 The efficiency reaches its maximum 85% at 220W, with the 230VAC input achieving 1.5% higher than the 120VAC input. With a 90VAC input, the unit only reaches 81% efficiency. While this may not be the most efficient power supply we've ever tested, it still manages to stay above 80% efficiency at most loads and is definitely a cut above the numerous budget power supplies that are on the market.
Ripple & Noise Results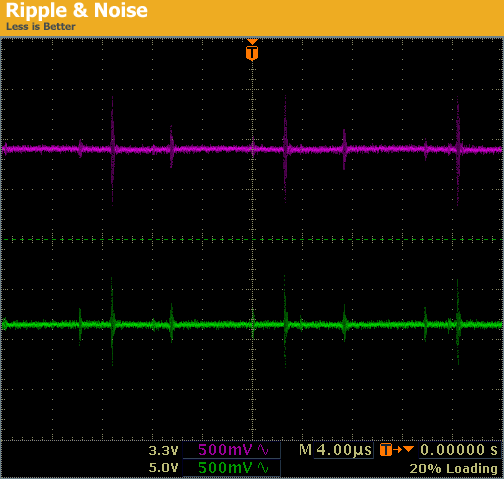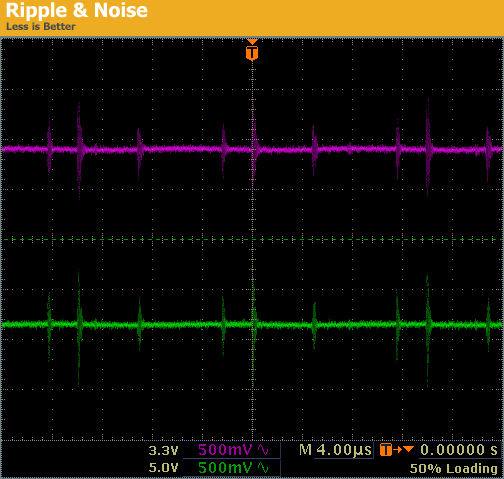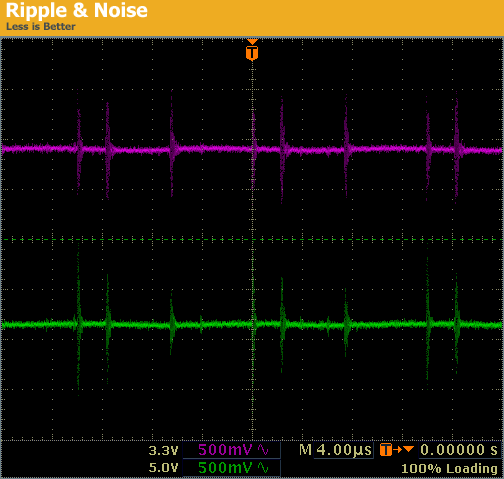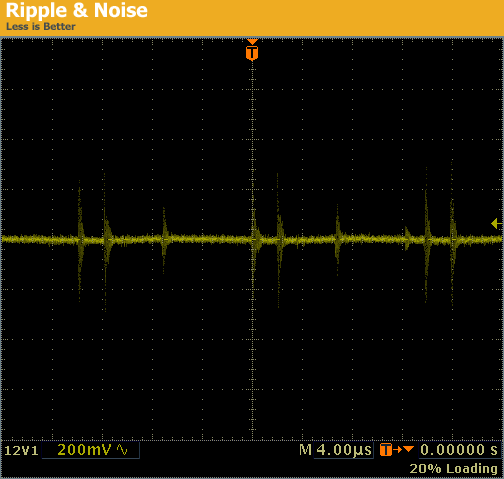 Corsair PFC, Temperature, Fan Speed, and Acoustics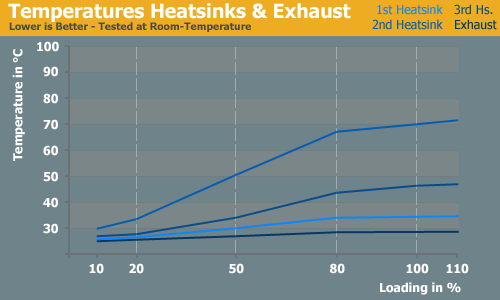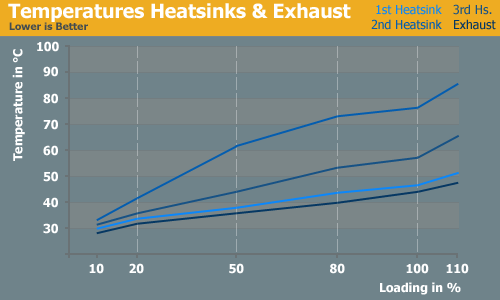 Again, we find that the exhaust temperature is much lower than the heatsink temperatures. This indicates the heatsinks are not properly dissipating heat into the streaming air. Instead, the heat stays inside the power supply and builds up over time. While the positioning of the fan and perhaps the airflow might be to blame, the more likely problem is that the heatsinks simply aren't large enough and lack sufficient surface area. In our stress test heat chamber, we see the temperatures that are twice as high as the exhaust temperature, with the secondary heatsink reaching 85°C at the worst-case 110% load. Running a PSU under such conditions for an extended period of time would almost certainly result in a dead power supply, but it did manage to survive our short-term stress test.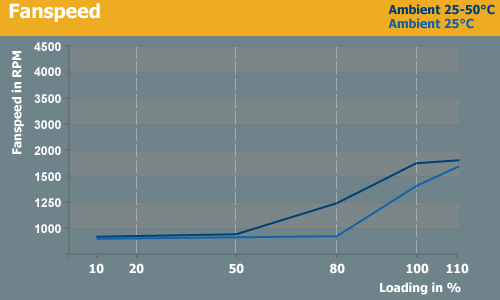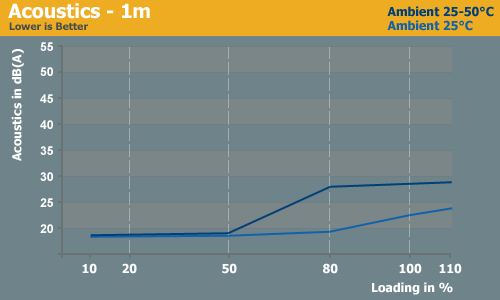 Up to medium load, the power supply is extremely quiet registering less than 20dB(A). Higher loads result in increased fan speed and noise levels, and in our stress chamber we reach a maximum noise level of 28dB(A) at 80% of load (350W). However, 28dB(A) is still very quiet so in terms of noise levels users should be very pleased with Corsair. The problem is, low noise levels and low fan RPMs contribute to the relatively high heat sink temperatures. We are not sure if Corsair really tested this unit under stressful conditions - maximum load and a high ambient temperature - and we would caution users against using any of these power supplies in such an environment. Under more sedate operating conditions, however, the Corsair 450VX performs extremely well.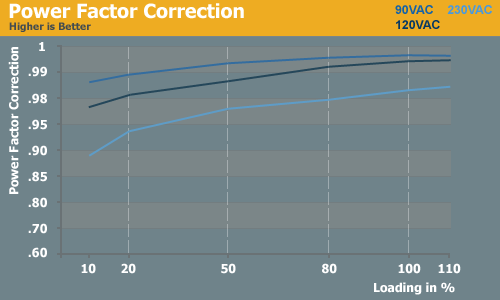 Thermaltake Purepower RX 450W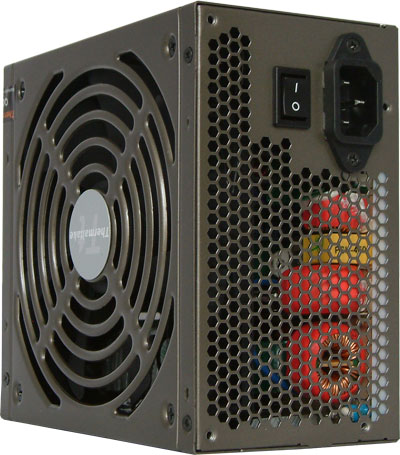 Next up is the Thermaltake TR2 RX Purepower 450W PSU, stepping into the ring wearing the standard Thermaltake silver colors. One of the more unusual aspects about this PSU is that thermal take uses punch holes for the fan grille. This looks a bit unusual, and we can't help but think that this design will impede airflow -- double the odd considering the use of a larger 140mm fan -- but most likely this was a cost-cutting measure. A normal fan grille would provide better ventilation and we definitely think it looks better, but we aren't going to try to pretend that appearance is the most important factor when it comes to picking out a power supply.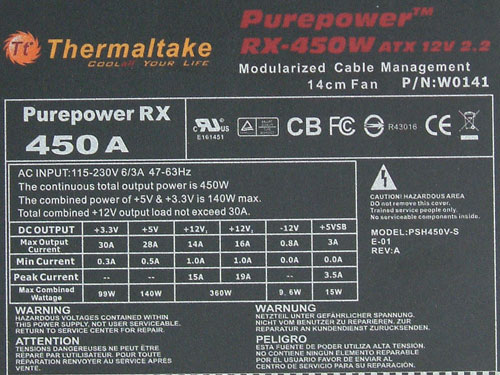 The label indicates 14A and 16A outputs on the 12V rails, which is a bit lower than we would expect, but the combined power is also 30A and the result is the same as the previous two models. The columns for the 3.3V and 5V rails are a bit confusing, as you have to read the text above to find out that the maximum combined power of these two rails is 140W. The ratings end up being similar to what we find on just about any other 450W power supply, however.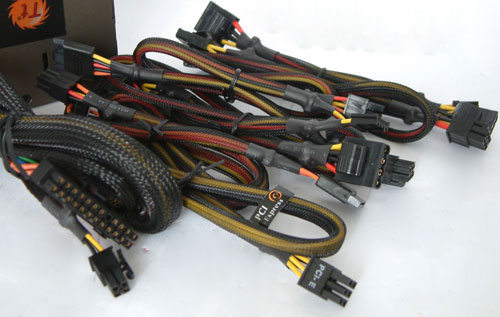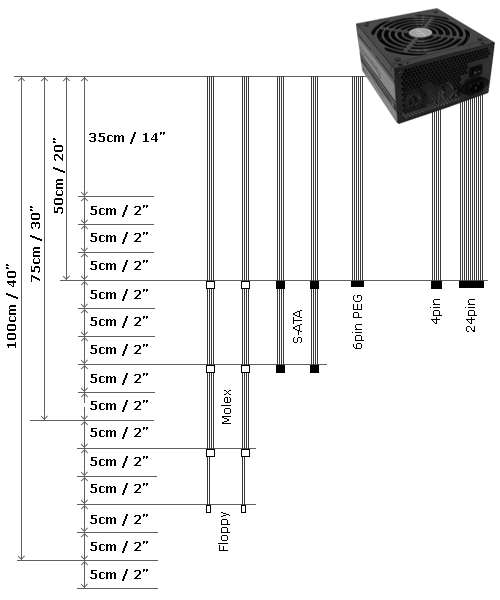 The Thermaltake unit has also all cables sleeved, even between connectors. Since this is a modular power supply, Thermaltake includes a small bag where unused cables can be stored. The main ATX cables are 50cm long, which might not be long enough for use in full tower cases. The package includes six Molex connectors and four SATA connectors plus a single 6-pin PCI-E connector. That may be inadequate for a high-end system, but it's more than sufficient for midrange computers.
The inside is a typical CWT layout with the filtering stage in the top row and the poorly designed heatsinks all over the place. A large fan can reach most components on the PCB, but the heatsinks act like an umbrella since there is simply no space where air can come through. There are more and more Thermaltake power supplies out there, and each one has these lousy heatsinks. It's no wonder that all of these units have a bad thermal management and in most cases need to have a little piece of plastic installed under the fan to direct the air in the right direction. Only bad thermal designs need this kind of help. Instead of taking the brute force approach of a 140mm fan, it would be better for Thermaltake to spend a bit more effort on improving their heatsinks.
Thermaltake DC Outputs
Thermaltake Purepower RX 450W
PSU Load
3.3V
5V
12V1
12V2
Wattage
All Rails
10%
1.54A
1.43A
1.22A
1.40A
45W
20%
3.07A
2.87A
2.45A
2.80A
90W
50%
7.68A
7.17A
6.12A
6.99A
225W
80%
12.28A
11.47A
9.79A
11.18A
356W
100%
15.36A
14.33A
12.23A
13.98A
442W
110%
16.89A
15.76A
13.46A
15.38A
484W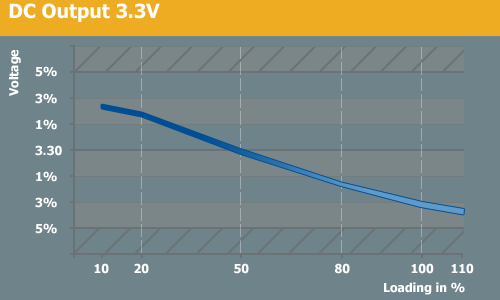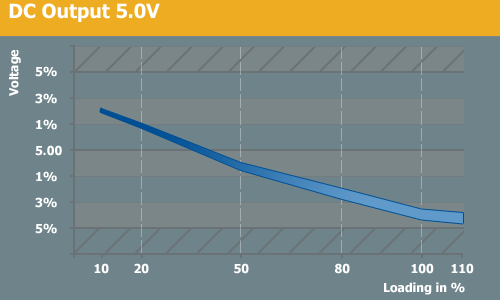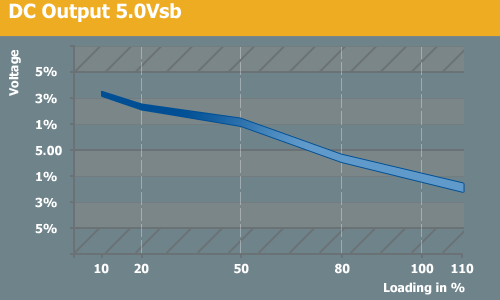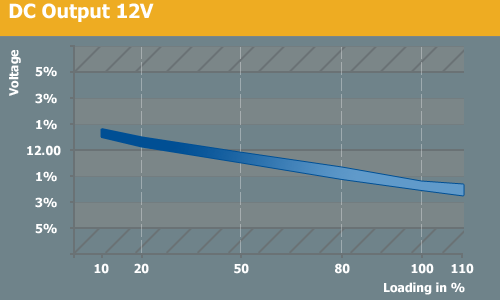 The output stability is good, as we have seen from most CWT models these days. The 3.3V and 5V rails start at the upper end of the specified range and almost drop out at maximum loads (a 6-7% drop overall), but almost falling out of spec is not the same as actually dropping out. The 12V rails show good stability and stay within 3% of the ideal value.
Efficiency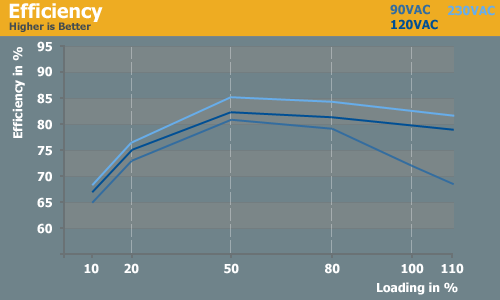 Efficiency once again registers over 85%, but this is only with a higher 230VAC input voltage. With 120VAC efficiency is mostly above 80%, but the results with 90VAC show a rapid falloff from 80% load and above.
Ripple & Noise Results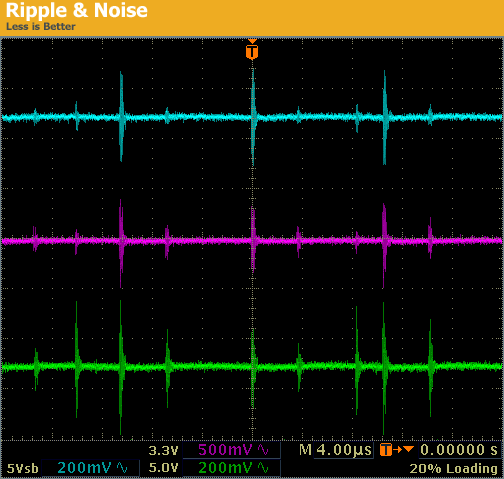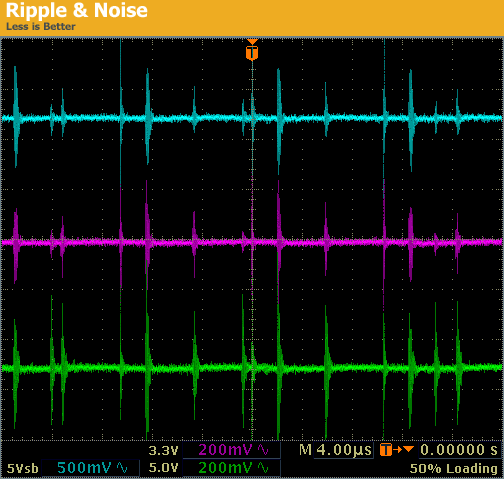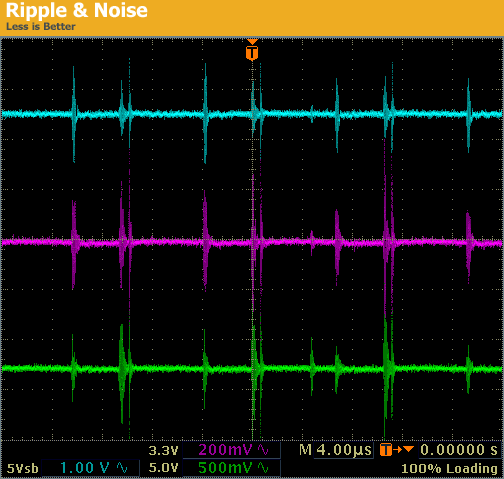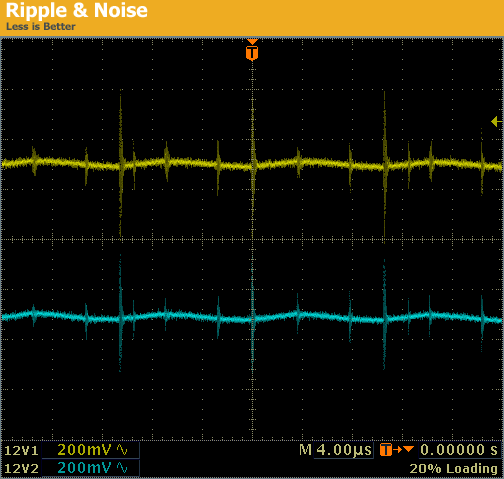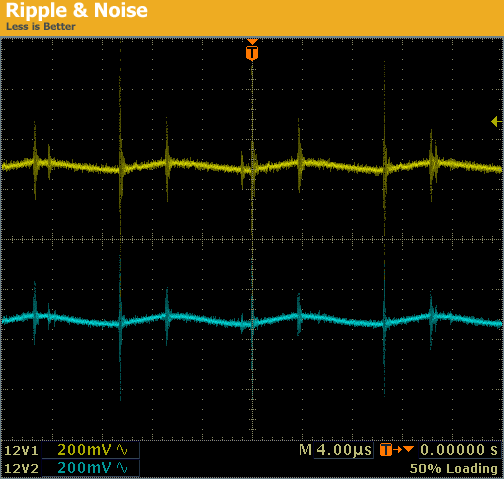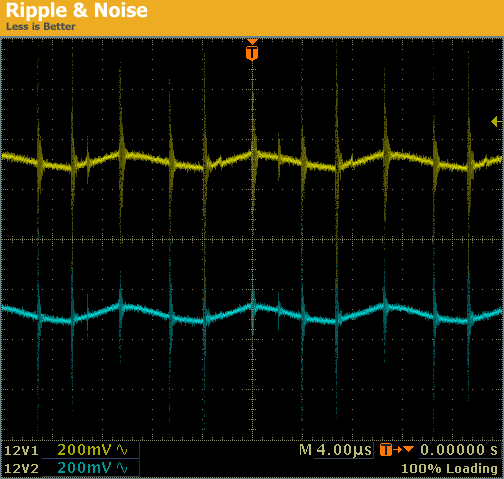 Thermaltake PFC, Temperature, Fan Speed, and Acoustics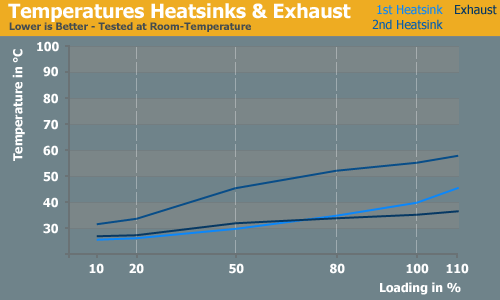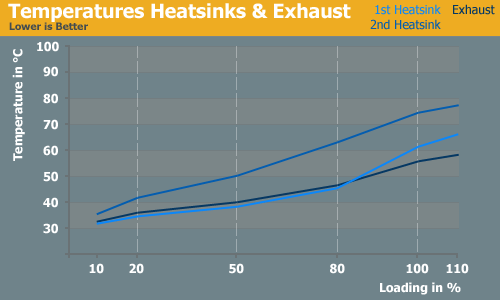 Heatsink temperatures aren't as hot as what we saw with the Corsair and Antec units, but they still reach nearly 80°C during stress testing in our heat chamber. The heatsinks do seem to be able to dissipate a bit more heat into the airflow -- or more likely the large fan and increased airflow are simply doing a reasonable job of removing heat.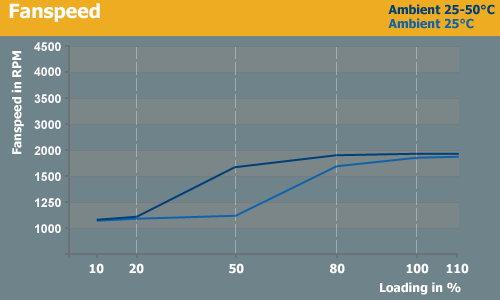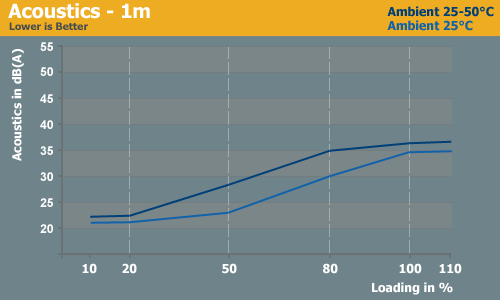 At normal room temperature, the fan turns at its minimum speed of 1100 RPM off to a load of around 220W. Maximum fan speed occurs at loads of roughly 80% and above. Thermaltake is definitely erring on the side of fan speed and airflow rather than keeping noise levels low, as the heat chamber reaches maximum fan speed at the 50% load. With a larger fan and relatively high RPMs, it's not too surprising that this becomes one of the noisier power supplies, particularly in the 500W and lower range.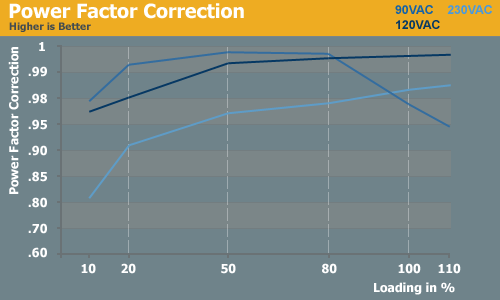 Ultra V-Series 400W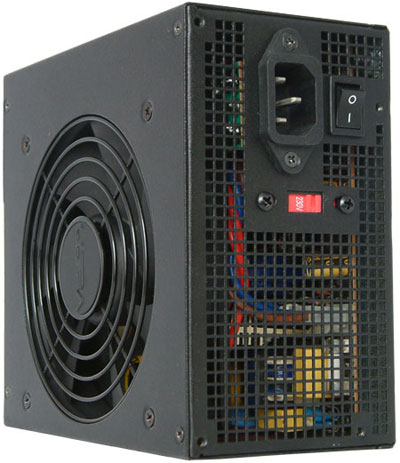 Ultra sent us their V-Series 400W power supply for this roundup, but testing revealed quite a few surprises. We'll get to those in a moment, but let's start with initial impressions. Like many other power supplies, the Ultra 400W is black and has a 120mm fan intake fan located on the bottom. The exhaust has square-shaped holes punched out, except for right around the power connector, switch, and the voltage selector. Wait... voltage selector!? One of the first things surprises is the small red switch that allows users to choose between 115VAC and 230VAC power input. It has been a long time since we've seen such a switch -- these were commonplace several years ago, but today their presence is usually an indication of a very cheap power supply. Let's not draw any premature conclusions, however; we'll give it a try and maybe get some interesting results. Since there are only two options for power input, we only tested this unit with 115VAC and 230VAC.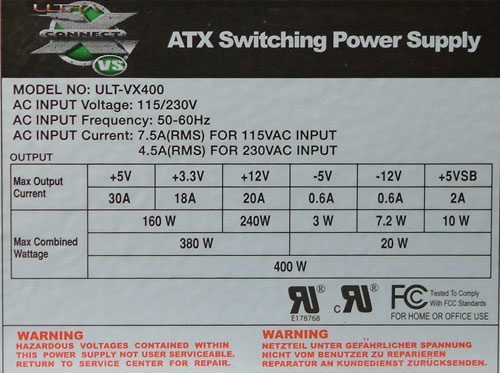 The label shows a single 12V rail rated for 20A, a 5V rail rated at 30A, and a 3.3V rail with up to 18A. This power supply does not meet current ATX12V 2.x standards; it appears to be more of an ATX12V 1.2 PSU -- circa 2004.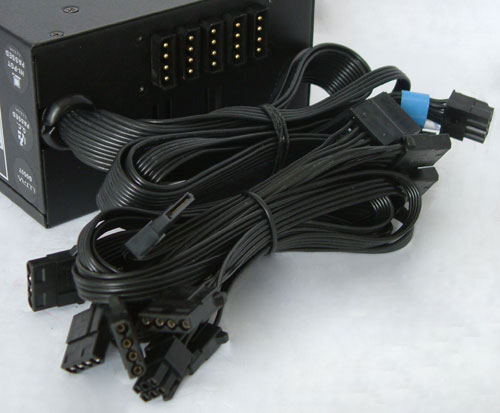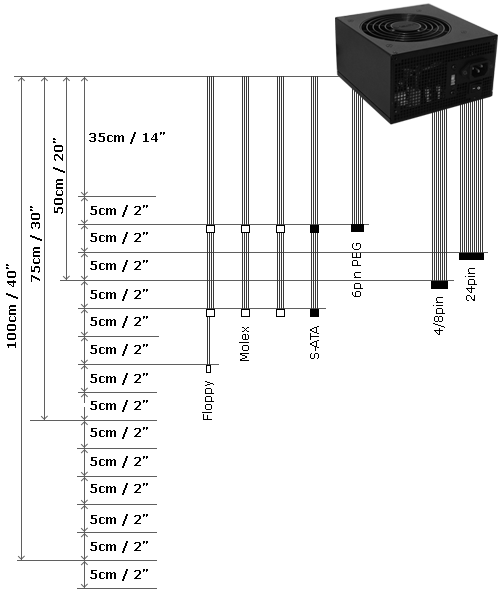 One of the better aspects of this power supply is the cables. They are very nice since they are all flat like IDE cables, and there's no need for sleeving since the cables aren't broken up into individual strands. Most of the cables are detachable. The longest cable harness from the Ultra 400W is 65cm long, and it's a floppy connector. The Molex and SATA connectors have a distance of 40cm and 55cm measured from the power supply. The 24-pin connector has a length of 45cm -- tolerable, but it could present difficulties in larger cases. Frankly, we are surprised to see a 6-pin PEG connector, but there it is -- all 40cm of it.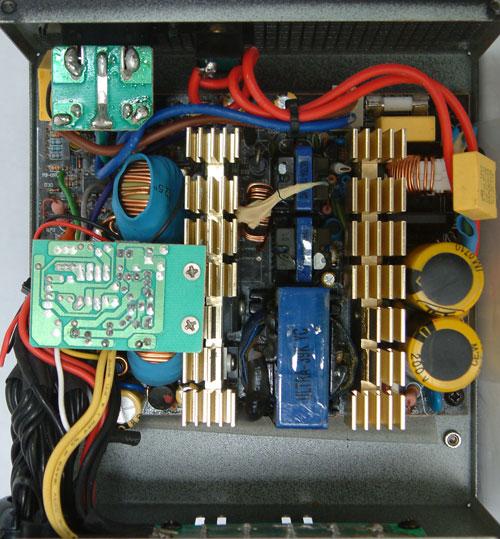 The inside doesn't look too bad, but several components missing. Where is the PFC stage for example?
(Yeah, that's what the red switch is for.)
The filtering stage is also under-equipped. This topology is definitely very old and we are surprised to see such an old-timer rear its ugly head these days.
Ultra DC Outputs
Ultra V-Series 400W
PSU Load
3.3V
5V
12V1
Wattage
All Rails
10%
1.34A
2.24A
1.95A
41W
20%
2.68A
4.47A
3.90A
73W
50%
6.71A
11.18A
9.76A
198W
80%
10.73A
17.89A
15.61A
308W
100%
13.42A
22.36A
19.51A
378W
110%
14.76A
24.60A
21.46A
411W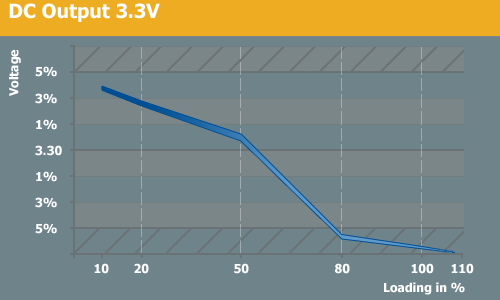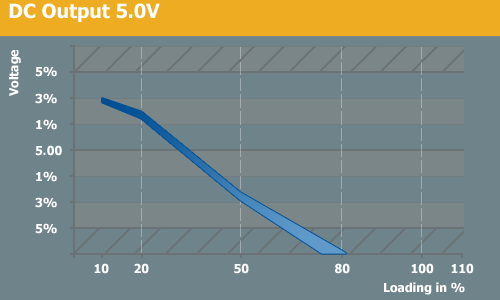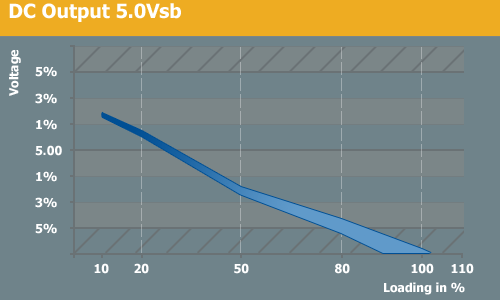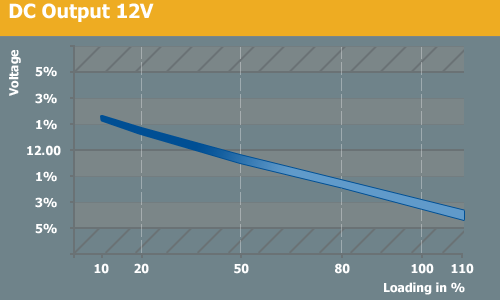 If our earlier comments seemed derogatory, you can now see the reason why. Obviously, this type of power supply will not withstand modern test methodologies. Every rail except the 12V rail falls far out of spec before we even reach 300W of load. This is the worst result we have seen so far, and we could see that there is no Under Voltage Protection installed since we measured just 2.6V on the 3.3V rail. You might be able to use this power supply in a budget system, but we would even hesitate to use it there.
Efficiency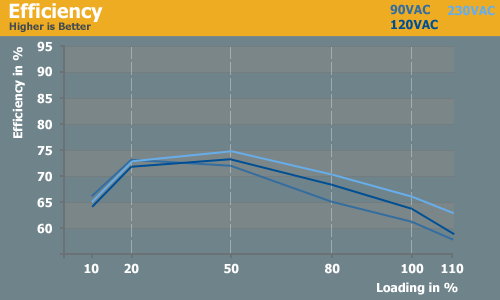 Efficiency results are not the best either. Ultra achieves a maximum 75% efficiency, but with increasing loads it rapidly drops below 70%.
Ripple & Noise Results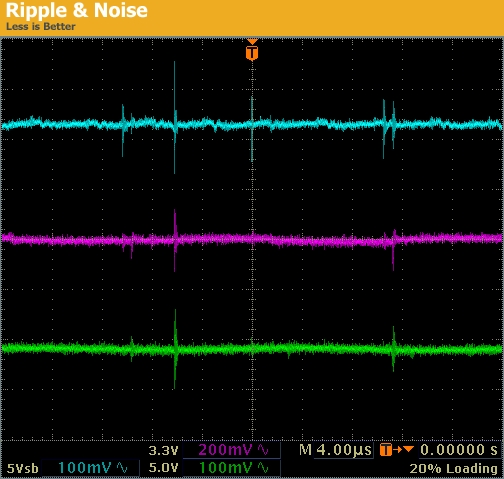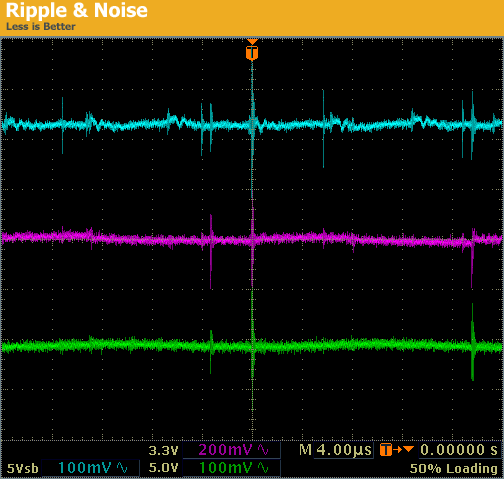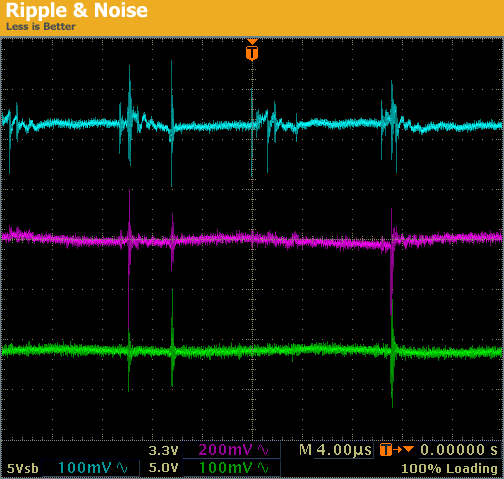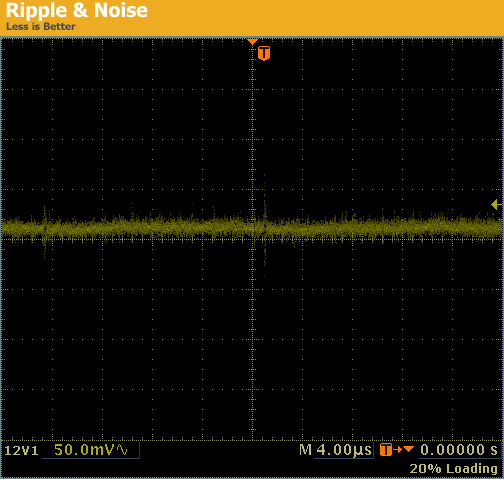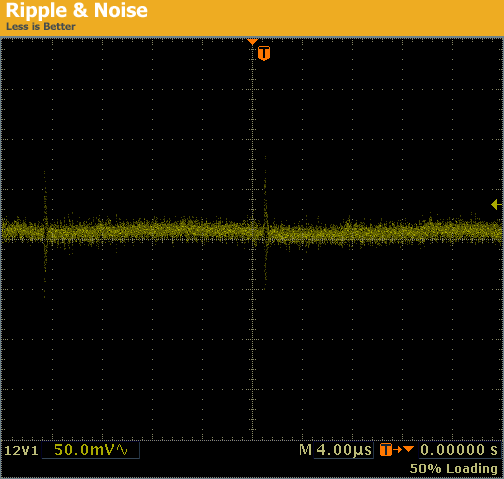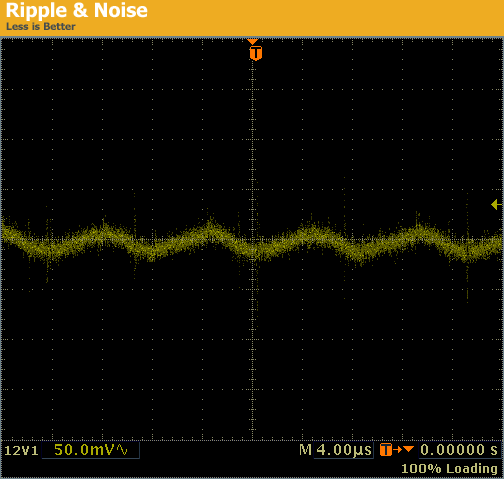 Ultra PFC, Temperature, Fan Speed, and Acoustics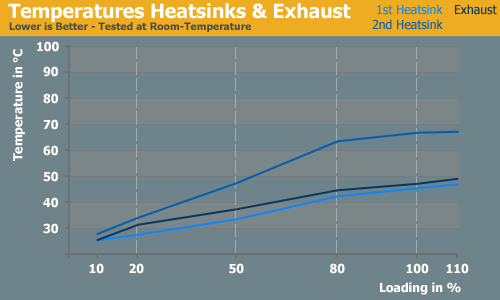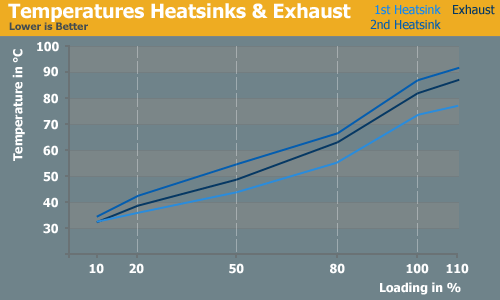 The small heatsinks don't seem to have any problem with room temperature, with the secondary heatsink reaching 68°C. In the heat chamber things up quite a bit worse, with temperatures increasing with every minute of testing. At least the airflow is managing to remove a lot of heat, as seen by the 87°C exhaust temperature. Given the results on the previous page, however, we would recommend against using this power supply in any situation where it is running at a load of more than 250W.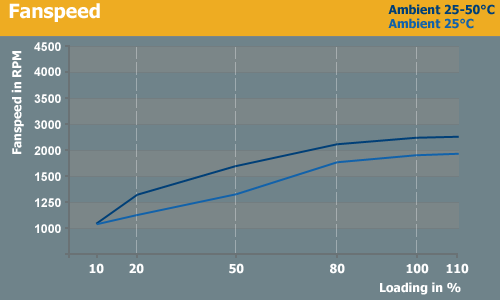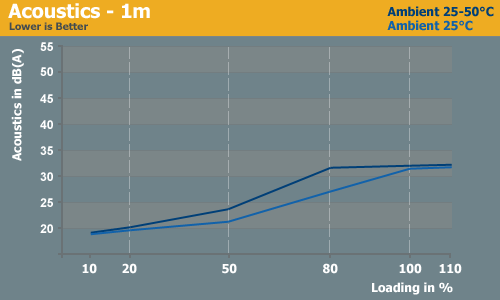 With a maximum speed of 2500 RPM, the fan is not the fastest model out there and therefore it's also quiet. It starts with a low rotational speed and only 20dB(A) and reaches its maximum noise level of 32dB(A) at 80% load.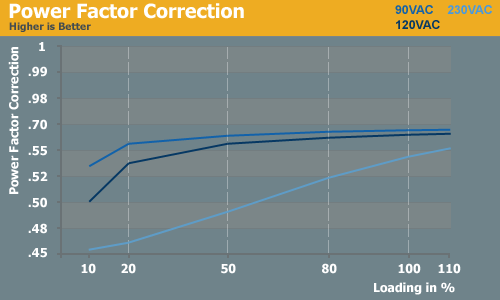 Needless to say, Europe will not allow the sale of this unit since there are tight restrictions for PFC.
Comparison
With the four power supplies tested today, we can get a basic idea about the products in the market. Unfortunately, this is a market where higher quality power supplies are getting rare since 500W is the lower end for most companies. A few good manufacturers make 400W and maybe sometimes 350W models, but with many graphics cards "requiring" 500W and higher power supplies marketing has definitely moved to less reasonable units. Rather than creating a good quality 350W power supply, most manufacturers are more interested in attaching a few more cables, adding a couple more components, and selling a 500W (or higher) power supply.
Seasonic is one of the few companies that continue to cater to this market, so it's not too surprising that in addition to their own brand they are also the production facility for the Earthwatts and Corsair power supplies. Staying with Seasonic, however, the M12II series will come out soon and Seasonic wants to start the series at 500W -- just as they did with the first M12 series. That leaves Maxpoint as one of the only remaining companies looking to continue producing lower wattage models.
Despite the marketing hype, many users really have no need for anything beyond a moderate 400W power supply, and perhaps not even that. Consider our results from the
GeForce 8800 GT article
: with an upper-midrange system, we still topped out at a whopping 327W -- and that's power draw from the wall, not power supply output! Assuming 80% efficiency for the power supply, that particular test system is only using around 260W of power.
As we have seen today, of course, simply going out and grabbing any old 400W power supply might not be a good idea for such a system. While three of the tested power supplies today perform well, we would be very concerned with the prospect of using something like the Ultra 400W. As usual, you get what you pay for. Unfortunately, it seems as though most of the quality power supplies in this range will disappear over the coming year or two, leaving the lower wattage market to cheaper designs that really underperform.
Before we wrap up, let's take a quick look at how the power supplies stack up in a few meaningful areas. We'll start with fan speeds and acoustics.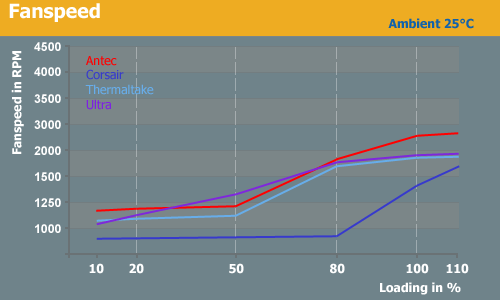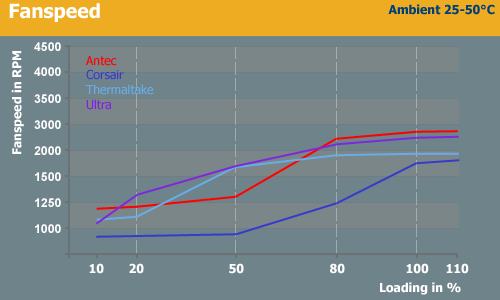 Corsair clearly has the lowest fan speeds in comparison to the other units. It stays below 1000 RPM until a load of more than 350W is applied. In most actual computers, it will be nearly silent. The other units start to ramp up fan speeds much earlier, which should be not necessary. Corsair keeps the lead even under higher ambient temperatures, despite the fact that the other three power supply fans are spinning 50% faster. Fan speed doesn't really count for noise levels or fan size, however, so let's look at noise measurements.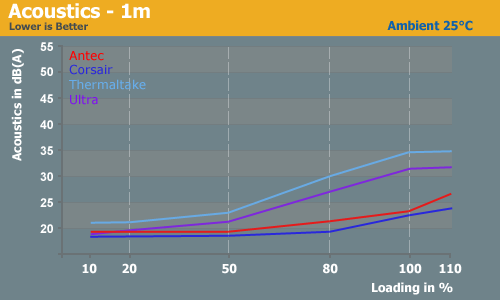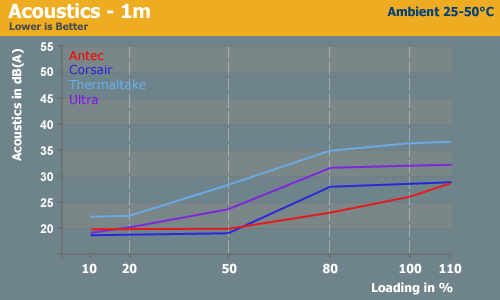 Comparing the acoustics is interesting because the Antec shows its potential here. The fan turns slightly faster but still produces less noise. Both the Antec and Corsair have a very low noise level and are practically silent. If you're interested in a low wattage, low noise level PSU, Antec and Corsair are definitely worth a look (as well as Seasonic, naturally). The other two power supplies don't do nearly as well. Thermaltake is even louder than the Ultra unit is, even though the fan spins at lower RPMs. Thermaltake should definitely think about changing the fan -- or maybe redesigning the fan grill, heatsinks, or whatever else is necessary -- to bring performance up to the level of Seasonic, et al.
Comparison and Conclusion
Let's come to the interesting part of performance. The output stability has been quite similar from the three higher-end units. Thermaltake looks a little better than the others do, but all are well within specs. Ultra ends up as a very low-end unit and the results clearly show this better than any words.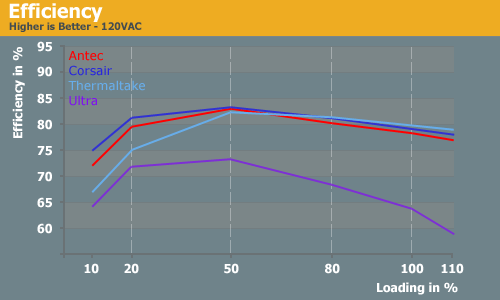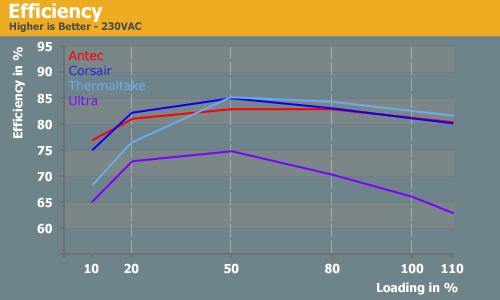 In the area of efficiency, the Antec and Corsair units take the lead again. Both are at 80% efficiency starting with loads of around 90W while the two other are at 76% and 73%. The components in the Corsair PSU seem to be slightly better than the cost-reduced Antec PSU, as evidenced by the 1% higher efficiency. Still, 1% higher efficiency should not be the only reason for buying this unit since there are so many other points to keep in mind. Thermaltake does achieve a high 85% efficiency with a medium load of 225W as well.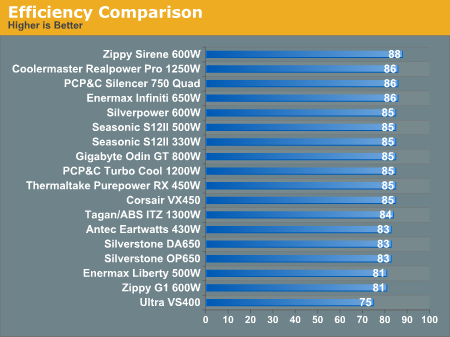 In terms of connectors, the Corsair clearly has the most options and is the best-equipped PSU of the bunch. There are six Molex and six SATA connectors attached to four harnesses with a minimum length of 30cm and a maximum length of just 60cm. The ATX connector, PEG and CPU connectors have a length of 60cm as well which is nice and long. The corsair is the only unit today with an 8-pin EPS connector
(not that it's really necessary for a 450W PSU)
.
When it comes to prices, it's no shock that the Ultra is the cheapest (by far!) of the four tested units, with prices as low as $40US. The V-Series 400W is not available in Europe because of the missing PFC. The Antec Earthwatts 430W comes next, with prices starting at $60. That may be 50% more than the Ultra, but we hope it's now clear that this is money well spent. Corsair and Thermaltake come in as the most expensive of this batch, with the Corsair 450VX selling for around $78 and the Thermaltake Purepower 450W going for a few dollars more ($84).
After looking at the test results, one of these power supplies clearly rises above the rest: the Corsair 450VX. It provided the best overall performance, it wins in the area of connector options (though not by a large amount), and it also provides the lowest noise levels. It's not perfect, as heatsink temperatures were still a bit higher than we'd like under stress conditions, but if you're after a high quality, moderate wattage power supply this one definitely ranks above the rest. The price is even acceptable. If you'd rather spend less than $60, while the Earthwatts isn't bad, we'd probably just go back to the source and pick up a Seasonic 380W unit.