Original Link: http://www.anandtech.com/show/2367


abit
was the top manufacturer of enthusiast level boards a few short years ago, but after they expanded into areas where they didn't have the manufacturing expertise or cost advantages to compete with the larger tier one manufacturers they fell on hard times. As a result, abit lost market share as well as mind share. Fortunately, abit entered into a long-term partnership with USI that saved the company. With that save came a name change, Universal abit is the successor to the Abit motherboard brand name. Since the merger, the company has tried to rekindle their former leadership in the computer enthusiast, extreme overclocker, and high performance markets.
The first wave of products in the summer of 2006 from Universal abit was interesting to say the least. In some cases like the
abit AW9D-MAX
they released a top performer that reminded us of the old Abit; in other areas, however, we found boards like the ABP9 Pro represented a crossroads in abit's new product launch. This board held great promise in our early looks, but it quickly turned into disappointment at launch and then finally redeemed itself near the end of its product cycle. However, this series almost spelled doom for the new Universal abit as it only reinforced problems that users had grown tired of in the last year of Abit's existence.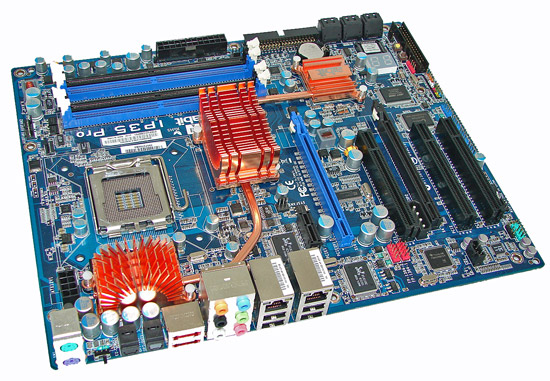 abit took tremendous criticism for the AB9's poor layout and early BIOS issues when the product launched. It was not feasible to alter the layout after the product launch, but they solved most of the initial performance and compatibility issues after several BIOS releases. After listening to the loud chorus of boos, abit did something that most motherboard companies do not; they addressed the majority of complainants with the AB9 Pro board by introducing a mid-life product update. Thus the
abit AB9 QuadGT
was born and it most definitely addressed the layout, component selection, feature set, and BIOS options that dogged the AB9 Pro.
Sadly, the BIOS engineering and quality assurance groups did not make the same headway, and the QuadGT board again experienced nagging BIOS problems for numerous weeks after the initial launch. It seemed as if the ghosts of Abit's past were determined to see the new abit fail. It was with great apprehension that we awaited the release of their P35 boards. Would this series of motherboards continue the downward spiral of being late to market with severe BIOS problems like the previous product launches, or would the new Universal abit finally have products that would capture the minds and hearts of the enthusiast community once again?
Fortunately for abit's remaining customers (and us), they succeeded in delivering an entire series of P35 motherboards that make amends for the past. These boards are not perfect by any stretch of the imagination, but they do show that abit is finally back to delivering products that target certain market sectors and have the features and performance to back it up. With that said, let's look today at the IP35-Pro feature set and performance results.
abit IP35-Pro: Board Layout and Features
The abit engineers spent the proper amount of time on the layout of this board. The color scheme is simple and almost elegant when comparing it to some of the Crayola color schemes we have seen in the labs. The board was a snap to install in our Antec P180 and Cooler Master 830 cases with most connections easily reached. The board features a high quality four-phase voltage regulator system that provided excellent stability throughout testing. The board also utilizes Conductive Polymer Aluminum Solid Capacitors.
The IP35-Pro comes with six fan headers (1 x 4-pin, 5 x 3-pin) that provided an excellent balance of cooling options. Control of the individual fan headers is available via the BIOS and the µGuru program within Windows. Each header type has the three options of monitoring and control settings within the BIOS. abit utilizes a well-engineered heat pipe system for cooling the MCH, ICH, and PWM component areas.
Engineering can only take you so far, and unfortunately the execution is not always up to standards. Out of the three boards we tested, two had problems with the heatsink properly making contact on the PWM components and the MCH heatsink was not completely flat. A quick Google search will lead you to a forum
user
who "fixed" this problem. We tried it on one of our boards and noticed the MCH temperatures dropped 5C while PWM temperatures dropped over 9C when overclocking the board.
Around the CPU socket area, we find an ample amount of room for the majority of cooling solutions. We utilize the stock heatsink/fan in our base testing but also installed several aftermarket Socket-775 cooling solutions such as the Tuniq 120 and Thermalright Ultra 120 eXtreme during our overclocking tests. However, based upon our initial overclocking tests, if a vertical mounted fan in an air cooling unit such as the Tuniq 120 or water-cooling is utilized then additional air cooling will be required on the MCH and PWM areas. In other words, the heat pipe system works best with a downward blowing CPU HSF fan in mind.
The 8-pin ATX power connector is located on the edge of the board behind the PS/2 ports and did not interfere with our various cooling units. It is easy to
remove the
heat pipe system if you wish to water cool the MCH/ICH chipsets or perform the PWM heatsink mod.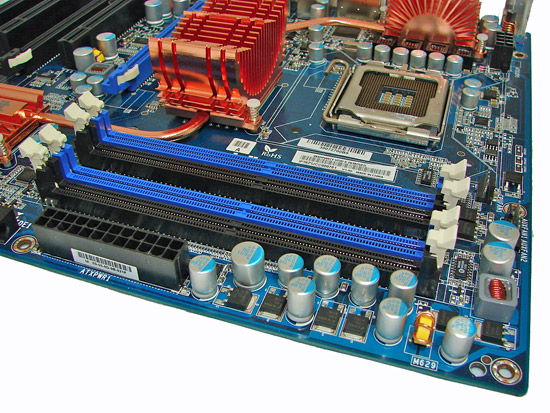 The DIMM module slots' color coordination is correct for dual channel setup based upon the premise of installing DIMMs in the same colored slots for dual-channel operation. Installing memory modules will not be a problem, even with a full-size video card in the first PCI Express x16 slot. The 24-pin ATX power connector is located on the edge of the board along with the number three system fan header.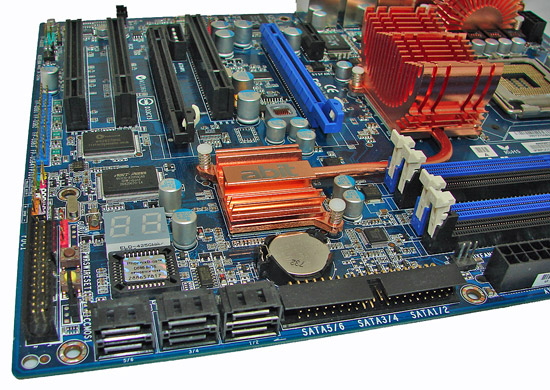 We found the positioning of the six black ICH9R SATA ports to be excellent when utilizing the expansion slots, as they are out of the way of most long cards. The ICH9R chipset uses passive cooling and was reasonably cool to the touch throughout testing. To the right of the SATA ports is the IDE connector and battery.
In a nod to those users who run their systems on an open platform or get tired of hooking up the chassis panel connections, abit has added power on and reset buttons on the board. These buttons have always been useful for us and should be standard on any board in this market segment. Of course, a POST Code Debug LED is included in typical abit style and the floppy drive connector is located next to it.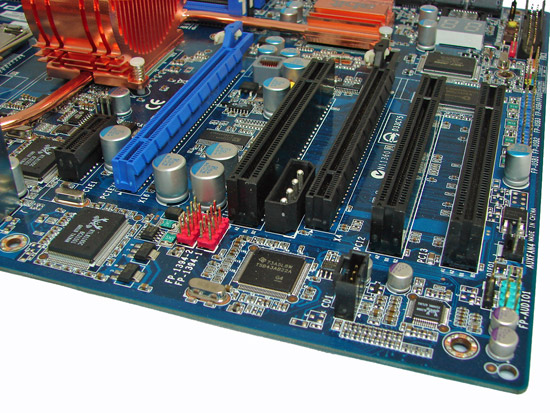 The board comes with two physical PCI Express x16 connectors (1 x16, 1 x4 electrical), one PCI Express x1 connector, and three PCI 2.3 connectors. A dual slot graphics card will block the second PCI slots. Several cards we tried in the PCI Express x1 slot had a tight fit with our 2900XT card installed. A 4-pin 12V Molex connector is to the right of the first PCI slot; CrossFire configurations (or systems where all of the expansion slots are populated) should use this extra power connector.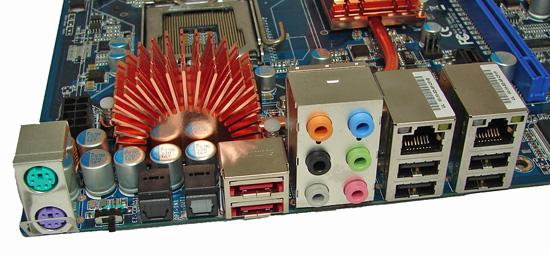 The rear panel contains the standard PS/2 mouse and keyboard ports. The panel also includes two RJ-45 LAN ports with activity indicator lights, four USB ports, and optical in/out S/PDIF ports. The audio panel consists of six ports that support 2, 4, 6, and 8-channel audio connections for the Realtek ALC888 HD codec. Finally, there are two eSATA ports along with a handy clear CMOS switch.
abit IP35-Pro Specifications
abit IP35-Pro Specifications
Market Segment
Enthusiast - $174.99
CPU Interface
Socket T (Socket 775)
CPU Support
LGA775-based Core 2 Duo, Core 2 Extreme, or Core 2 Quad Recommended
Chipset
Intel P35 (MCH) Northbridge and ICH9R Southbridge
Front Side Bus Speeds
Auto, 100 ~ 750 in 1MHz increments
Memory Speed DDR2
Auto, Six Ratios
PCIe Speeds
Auto, 100MHz - 200MHz
PCI Speeds
Locked at 33.33MHz
Core Voltage
Auto, Base to 1.8000 in .0100 increments
CPU Clock Multiplier
6x ~ 12x, downward adjustable for Core 2, upward to 50 for Extreme
DRAM Voltage DDR2
Auto, 1.50V ~ 2.78V in .02V increments, 1.50V standard
DRAM Timing Control
Auto, Manual - 9 DRAM Timing Options (tCL, tRCD, tRP, tRAS, tRFC+ 4 sub-timings)
DRAM Command Rate
Auto, 1N, 2N
NB Voltage
Auto, 1.25V ~ 1.72V in various increments
ICH Voltage
Auto, 1.05V ~ 1.38V in various increments
ICHIO Voltage
Auto, 1.50V ~ 2.00V in .05V increments
CPU VTT Voltage
Auto, 1.20V to 1.57V in various increments
GTLRef
45% ~ 80% in 1% increments
Memory Slots
Four 240-pin DDR3 DIMM Slots
Dual-Channel Configuration
Regular Unbuffered DDR2 Memory to 8GB Total
Expansion Slots
2 - PCIe x16 (1 - x16, 1 - x4 electrical)
1 - PCIe x1
3 - PCI Slot 2.3
Onboard SATA/RAID
6 SATA 3Gbps Ports - ICH9R
(RAID 0,1, 10, 5)
2 eSATA 3Gbps Port - JMicron JMB363
Onboard IDE
1 ATA133/100/66 Port (2 drives) - JMicron JMB363
Onboard USB 2.0/IEEE-1394
12 USB 2.0 Ports - 4 I/O Panel - 8 via Headers
2 Firewire 400 Ports by TI TSB43AB22A - 2 via Header
Onboard LAN
2 - Realtek RTL8110SC - PCI Gigabit Ethernet controller
Onboard Audio
Realtek ALC888 - 8-channel HD audio codec
Power Connectors
ATX 24-pin, 8-pin ATX 12V
I/O Panel
1 x PS/2 Keyboard
1 x PS/2 Mouse
2 x SPDIF - Optical Out, Optical In
2 x eSATA
1 x Audio Panel
2 x RJ45
4 x USB 2.0/1.1
Fan Headers
6 - (1) CPU, (1) System, (4) Aux
Fan Control
CPU, System, Aux Fan Control via BIOS/uGuru
BIOS Revision
B.16
Board Revision
1.00
The abit IP35-Pro targets the enthusiast user, with an emphasis on BIOS features for those interested in overclocking the system. abit provides the standard laundry list of board options such as the JMicron JMB363 chipset for eSATA and IDE support, IEEE 1394 support from TI, decent onboard audio support from the Realtek ALC888, 12 USB ports, Intel Matrix RAID, and Gigabit LAN support from the ubiquitous Realtek RTL8110SC controller chipset. Both LAN ports run off the PCI bus but it is doubtful that most users will ever exceed their throughput rate of 735Mbps.
The board offers a very good mix of expansion slots although utilizing a CrossFire setup will create the physical loss of a PCI slot. We still recommend utilizing the 975X or X38 chipsets for CrossFire operation. The BIOS options for the IP35-Pro are good for a motherboard in this sector, and of course the board features abit's excellent µGuru technology. We ran a few early tests with the QX-9650 Yorkfield CPU and the board would POST and operated fine except for one problem. The CPU multiplier runs at 6X and will continue to do so until the next BIOS update. This a problem we have experienced with most of the P35 boards, and a BIOS code update to include full functionality for the Penryn family is all that's required.
abit IP35-Pro BIOS Overview and Software Features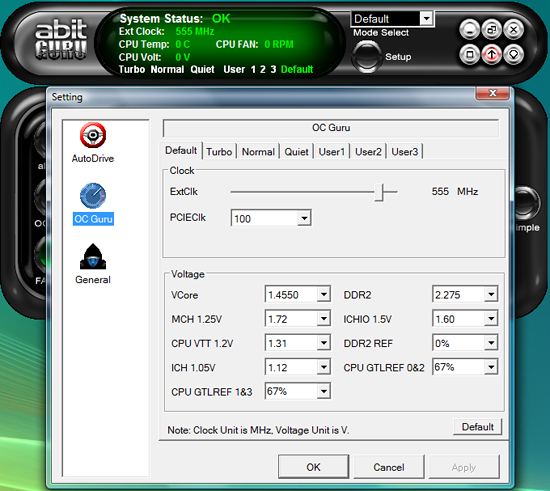 The IP35-Pro board features abit's excellent µGuru technology, which allows the monitoring/control of the system's fan headers and the ability to set voltages and FSB rates on the fly. We have always been enamored of µGuru and consider it the best available platform control application available from the motherboard manufacturers. The application worked extremely well during testing and provided accurate feedback on temperatures and voltages along with the capability to fine tune voltages and FSB rates during overclocking sessions.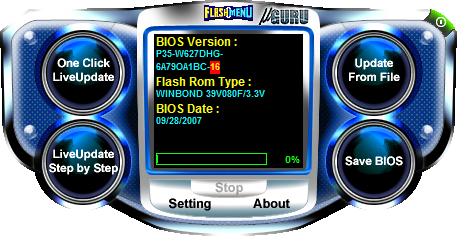 abit includes a BIOS flash utility as part of the µGuru. We still feel flashing via the DOS floppy method is the most reliable way to update your BIOS, but we flashed our board six times with this utility without any problems.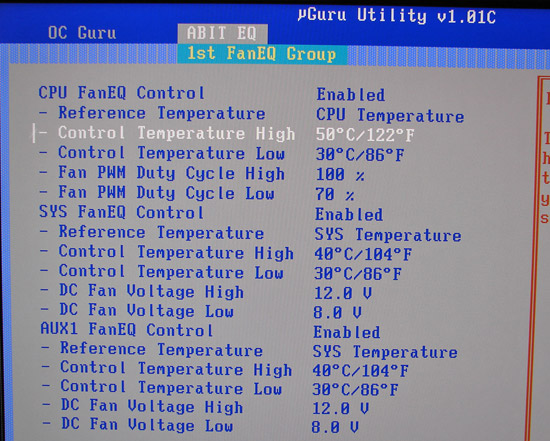 abit allows the monitoring and control of the CPU, System Fan, and Auxiliary fan speeds and voltage settings within the BIOS. Fan control is very extensive with three different monitoring modes available within the BIOS settings.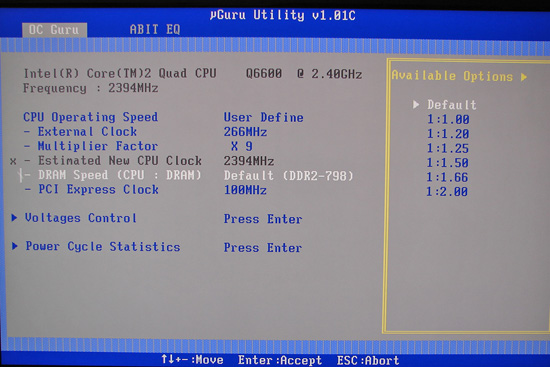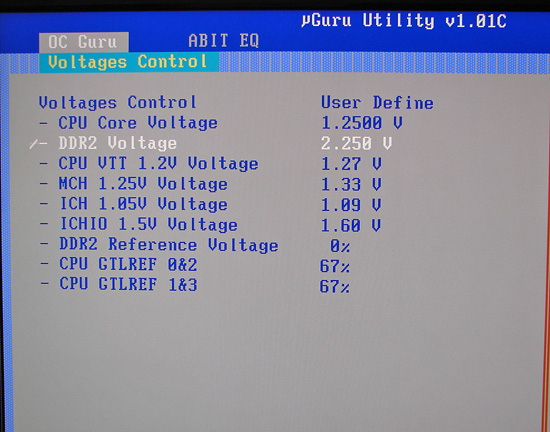 The OC Guru sections contains the standard overclocking options that includes FSB rates, multiplier selection, DRAM ratios, PCI Express clock speeds, and voltage controls. Although not as extensive as the typical DFI enthusiast board, the options are good with the notable exception being the inability to control the FSB Strap settings.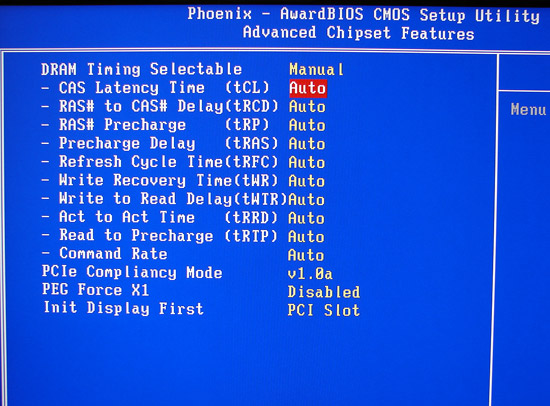 The BIOS offers 8 different memory configuration options and generally utilized the memory SPD settings at a given clock speed if the DRAM timing was set to auto when in manual mode. Although the Clock per Command appears as 1T or 2T, the proper terminology is 1N or 2N on the Intel chipsets this and works differently than the 1T/2T command rates on the AMD chipsets. 1N is generally equivalent to a 1.5T type performance level at this time. It is not possible to adjust tRD manually, but abit typically sets this option at a very aggressive level in order to improve memory latencies.
Test Setup
abit IP35-Pro Testbed
Processor
Intel Core 2 Quad Q6600
Quad Core, 2.4GHz, 8MB Unified Cache, 9x Multiplier, 1066FSB
CPU Voltage
1.200V Stock
Cooling
Thermalright 120 Extreme
Power Supply
OCZ 1000W
Memory
Corsair Twin2x2048-10000C5DF (4GB)
Memory Settings
4-4-4-12 (DDR2-1066)
Video Cards
MSI HD X2900 XT 512MB
Video Drivers
ATI Catalyst 7.10
Hard Drive
Western Digital 7200RPM 750GB SATA 3/Gbps 16MB Buffer
Optical Drives
Plextor PX-B900A, Toshiba SD-H802A
Case
Cooler Master Stacker 830 Evo
BIOS
B.16
Operating System
Windows Vista Home Premium 32-bit
.
Test conditions remain the same, as much as possible, over the platforms tested. We run our game tests at settings of 1280x1024 HQ to ensure our MSI HD 2900XT is not the bottleneck during testing. Results are color-coded for easier identification in the charts.
We selected the Intel Core 2 Quad Q6600 as our processor of choice since it represents one of the better price to performance values in the midrange processor market and is the CPU we will concentrate on in future reviews. We are utilizing Microsoft Vista Home Premium 32-bit as our operating system along with a 4GB memory configuration. Even though Vista 32-bit cannot take advantage of the entire 4GB of memory address space (3.326GB), we found the additional 1.278GB of memory available provides improved performance during multitasking events and gaming. We would not recommend anything less than 2GB with Vista Home Premium. We conducted additional testing with 2x2GB and 4x2GB modules without problems at DDR2-800 with 5-5-5-15 timings.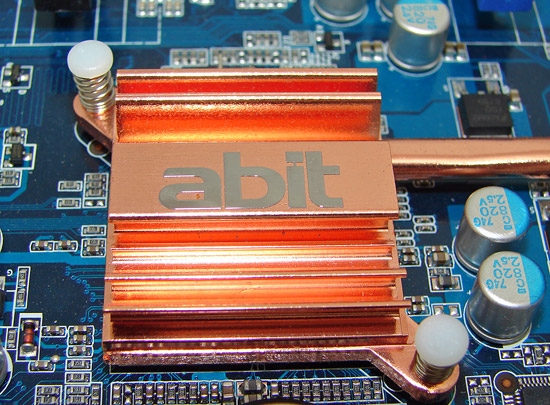 We utilize new drive images on each board in order to minimize any potential driver conflicts. Our 3DMark results utilize the standard benchmark resolution for each program. We run each benchmark five times, throw out the two low and high scores, and report the remaining score. All results at stock speeds for this article are with memory timings at 4-4-4-12 (DDR2-1066). Where possible, memory sub-timings are set the same to ensure consistency between the boards.
Our choice of software applications to test reflects programs that enjoy widespread usage and produce repeatable and consistent results during testing. Microsoft Vista has thrown a monkey wrench into testing as the aggressive optimization of application loading and execution presents some interesting obstacles. This along with what we still see as a lack of driver maturity continues to present problems with benchmarking. Our normal process is to change our power settings to performance, delete the contents of the Prefetch folder, and then reboot after each benchmark run. This results in better consistency over the course of benchmark testing. All applications are run with administer privileges.
Memory Testing and Overclocking
:
The abit IP35-Pro has the second best latency scores of our test units thanks to very aggressive tRD settings. abit's Sandra unbuffered scores are around 2% lower than the ASUS and Gigabyte boards but as we will see, overall performance is still extremely competitive with these boards.
Q6600 9x266
Q6600 8x455 2GB
Q6600 8x450 & 8x455 4GB
We were able to reach a final 8x455FSB overclock with our Q6600. The first 8x455FSB screenshot is with the 2GB memory configuration set at DDR2-1092 at 4-4-4-12 timings. Memory voltage was set to 2.30V although the system ran fine at 2.275V except with Supreme Commander, which, would lock up at any voltage setting under 2.30V. Our CPU voltage was set at 1.50V and was at the absolute limit of our air cooling setup during the POST routine. The one problem we had with the board throughout testing with the Quad Core processors consisted of Vdrop/Vdroop levels of up to .08V under load. With additional cooling and increasing the CPU voltage to 1.53V (1.45V after Vdroop) the board was able to POST and complete our test suite at 8x470FSB.
The 4GB configuration was still able to reach 455FSB but only at a 1:1 memory ratio that resulted in a DDR2-910 speed with 4-4-4-10 memory timings. We were able to drop our memory voltage to 2.250V with this configuration while CPU voltage was dropped to 1.49V resulting in a 1.43V reading under load. We were able to run our memory at the 5:6 ratio but had to drop our FSB settings to 450 and loosen timings to 5-5-5-15. Our test results generally favored this configuration when using 4GB of memory as it exhibited better latencies and throughput compared to the 8x455FSB 4GB setup. A couple of CPU centric benchmarks still favored the slightly higher CPU speed but overall, most applications performed better with the 8x450FSB setup.
E6550 7x550
We were able to reach a final FSB setting of 555 with our E6550. Our 2GB memory configuration was set at 1:1 ratio with 5-4-4-12 timings. This will result in the board setting performance level (Read Delay) to 7 but required memory voltages to be set to 2.275V. The maximum MCH voltage is 1.72V, and 520FSB and higher required that setting with this particular CPU. CPU voltage was set to 1.46V with Vdrop/Vdroop realizing a final 1.41V during normal operation. The highest FSB we have been able to attain with this CPU is 570 on the DFI P35 board.
The overclocking capability of this motherboard is extremely good but more importantly, very easy. The board's stability will start to trail off when you are near its limits so there is feedback from the board before you go over the edge. The board does not overclock quite as well as the DFI P35 TR, Gigabyte GA-P35-DQ6, or the ASUS Blitz series of boards. However, unless you are trying to set overclocking records, the board will satisfy 95% of the users. If we could change one item with the overclocking capabilities, it would be excessive Vdroop with the quad core processors.
Synthetic Graphics Performance
The 3DMark series of benchmarks developed and provided by Futuremark are among the most widely used tools for benchmark reporting and comparisons. Although the benchmarks are very useful for providing apple to apple comparisons across a broad array of GPU and CPU configurations they are not a substitute for actual application and gaming benchmarks. In this sense, we consider the 3DMark benchmarks to be purely synthetic in nature but still valuable for providing consistent measurements of performance.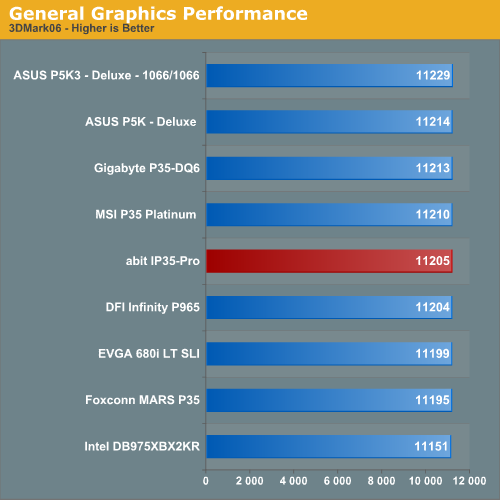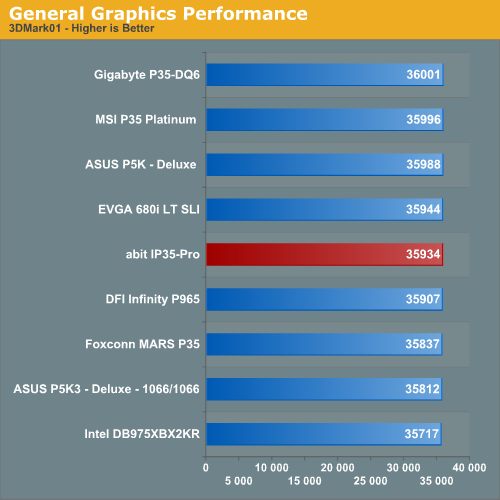 In our 3DMark06 test, all of the boards are within 1% of each other. When looking at the individual tests, the Foxconn board scores well in the CPU and SM3.0 sections but is third from the last in the SM2.0 tests.
In the more memory and CPU throughput sensitive 3DMark01 benchmark, we see the spread between boards is way under 1%. The abit board once again scores in the middle of the pack but is only 67 points from the lead.
General System Performance
Futuremark's PCMark05 benchmark measures overall system performance for the typical home computing user. This tool provides both system and component level benchmarking results utilizing subsets of real world applications or programs. This benchmark is still useful for providing comparative results, but we will use PCMark Vantage in our next article.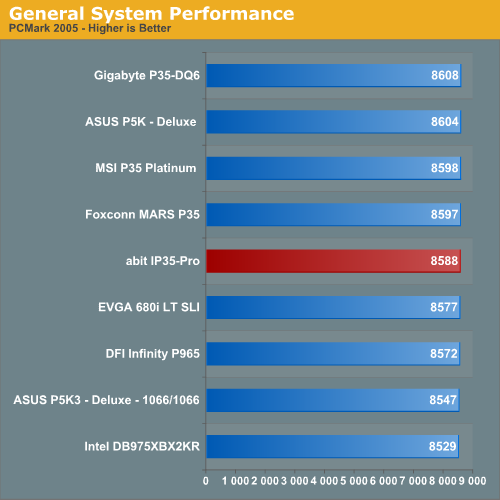 Once again, all of the boards are within shouting range of each other with the abit board finishing in the middle of the test group. The abit board scores very well in the Graphics and CPU sections while falling towards the middle of the pack in the storage system test.
Media Performance
We will take a brief look at general media performance with our test suite that includes Adobe Photoshop CS2 and Adobe Photoshop Elements 5.0.
We utilize the PC WorldBench 6.0 Test for measuring platform performance in Adobe's Photoshop CS2. The benchmark applies an extensive number of filters to the test image and heavily stresses the CPU and storage systems. The scores reported include the full conversion process and times are in seconds with lower numbers indicating better performance.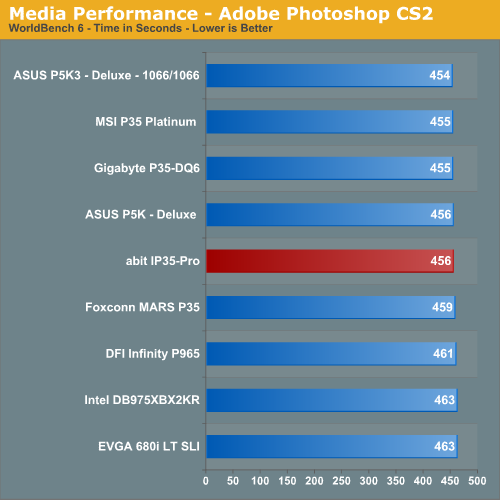 The results are interesting, as this test requires a balance between CPU speed and a fast storage subsystem. The abit board scores near the top of the DDR2 based P35 boards. However, the overall difference in scores is minimal between the P35 boards.
Our next test is one recommended by Intel, but the test itself appears to be fair and results are very repeatable. This test simply measures the amount of time required to fix and optimize 103 different photos weighing in at 63MB. Times are in seconds, with lower times resulting in better performance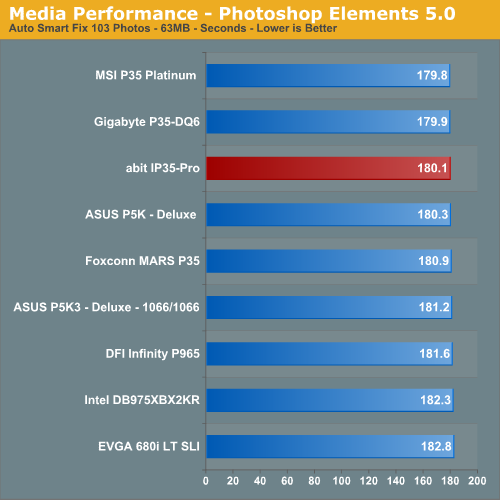 The abit board scores well in this CPU intensive test and is only three-tenths of a second slower than the MSI board.
Media Encoding Performance
We are utilizing Nero Recode 2 and Sony Vegas 7.0e for our video encoding tests. The scores reported include the full encoding process in seconds, with lower numbers indicating better performance.
Our first series of tests is quite easy - we take our original Office Space DVD and use AnyDVD to rip the full DVD to the hard drive without compression, thus providing an almost exact duplicate of the DVD. We then fire up Nero Recode 2, select our Office Space copy on the hard drive, and perform a shrink operation to allow the entire movie along with extras to fit on a single 4.5GB DVD disc. We leave all options on their defaults except we uncheck the advanced analysis option.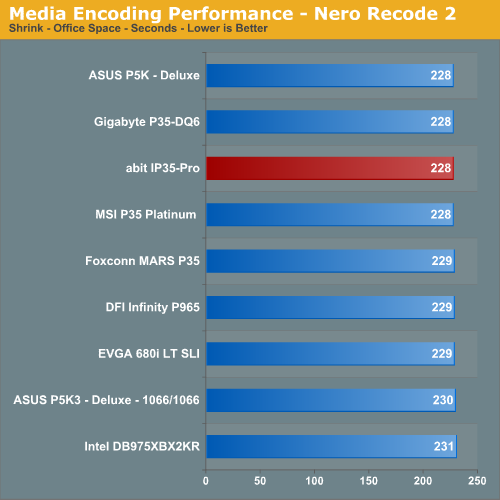 We find in this CPU and disk intensive test that all of the boards are within 2% of each other with the abit board finishing at the top of the pack.
Our Sony Vegas 7.0e test converts several of our summer vacation files into a plasma-screen-pleasing 1080/24P format with a 5.1 audio stream. We ensure our quality settings are set to their highest levels and then let the horses loose.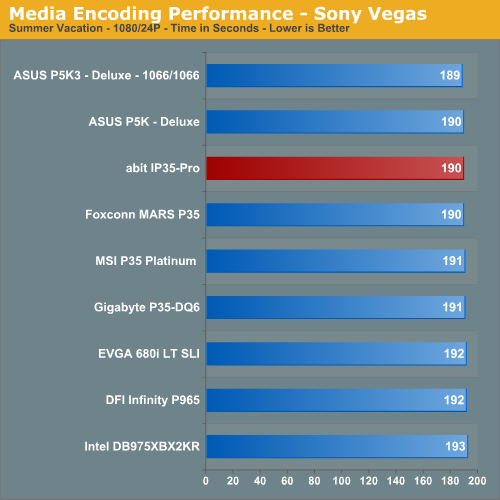 In a test that really stresses the CPU and memory subsystem, we see the abit board finishing ahead of several other DDR2 equipped P35 boards. This result once again confirms the abit board excels at CPU intensive tasks.
Audio Encoding Performance
We will utilize iTunes 7.4 for our audio encoding tests, as it is one of the most utilized audio applications available due to the immense popularity of the iPod.
Our first task was to figure out what test CD to utilize. We needed one that contained a significant number of tracks and had over 600MB of data in order to stress our platforms. As in previous articles, we are using an INXS Greatest Hits CD for testing, which contains 16 tracks totaling 606MB of songs. Our next two tests have us utilizing iTunes to convert our WAV files into ACC or MP3 compatible formats. We utilize 320kbps or 256kbps and variable bit rate options for both tests.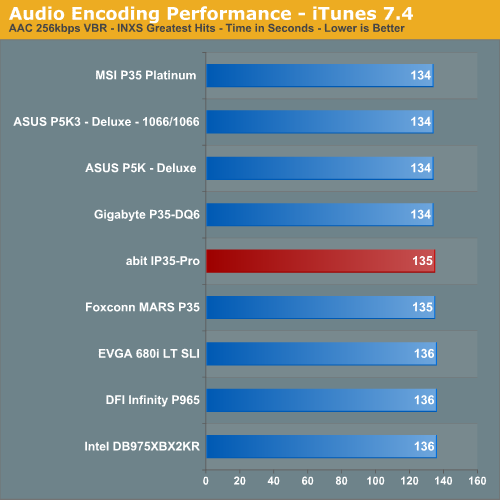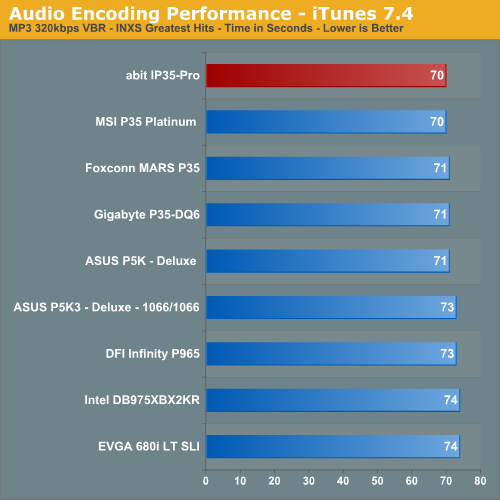 We usually see iTunes favoring a system with excellent CPU throughput and these tests indicate the abit board is up to speed in this area. However, if it is not apparent by now, all of the P35 boards generally score within 2% of each other.
File Compression Performance
In order to save space on our hard drives and provide another CPU crunching utility, we utilize WinRAR 3.70 to perform some compression tests. WinRAR now fully supports multithreaded operations, making it more interesting for those with dual-core or multi-processor systems. Our test folder contains 444 files, 10 subfolders, and 602MB worth of data. We use WinRAR's default settings and defragment our hard drive before each test.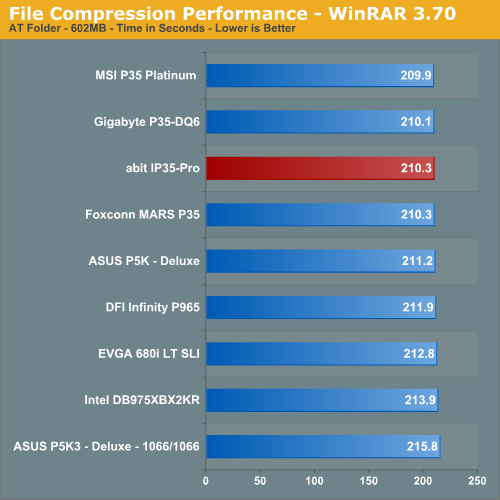 Once again we see the abit board performing well in a test that stresses overall memory latencies and CPU/Memory throughput. The abit board finishes four-tenths of second behind the MSI board. The nature of file compression is such that memory is accessed almost constantly in a very random fashion, so page misses requiring additional time as memory banks are swapped is common.
Rendering Performance
We are using the Cinebench 10 benchmark as it will heavily stress the CPU subsystem while performing graphics modeling and rendering. Cinebench 10 features two different benchmarks with one test utilizing a single core and the second test showcasing the power of multiple cores in rendering the benchmark image. We utilize the standard multi-core benchmark and default settings.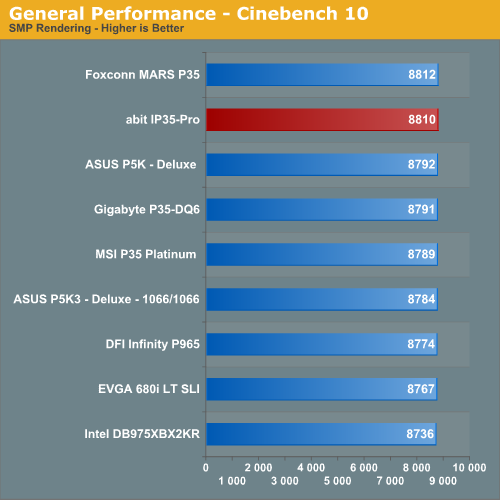 The abit IP35-Pro board performs extremely well in this CPU intensive test and finishes a close second to the Foxconn MARS.
Gaming Performance
As usual, we test gaming performance with a variety of current games. We ran our benchmarks at a 1280x1024 resolution with high quality settings
Battlefield 2
We use DICE's built-in demo playback functionality with additional capture capabilities designed in house. During the benchmark, the camera switches between players and vehicles in order to capture the most action possible. There is a significant amount of smoke, explosions, and vehicle usage as this a very GPU intensive Battlefield 2 benchmark. We run Battlefield 2 using medium quality graphics settings available in the video settings. The game works best with average in-game frame rates of 35 or higher.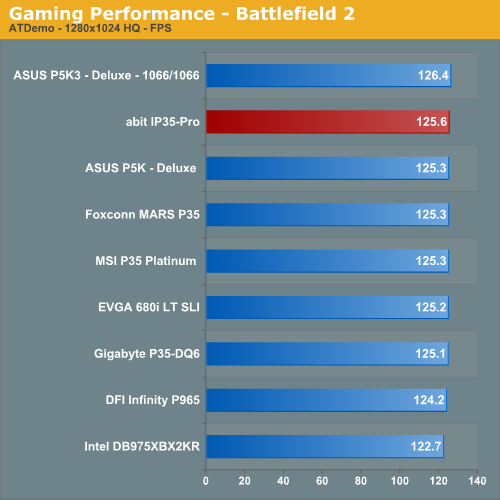 Company of Heroes
Company of Heroes arrived last year and remains one of the best samples of the genre. The game is extremely GPU intensive and requires a hefty CPU as well. The game contains a built-in performance test that utilizes the game engine to generate several different action scenes. We find the performance test gives a good indication of how well your system will perform throughout the game. Some of the in-game action sequences can be more demanding than the performance test, however, and we recommend an average frame rate in the performance test above 35fps for an optimal experience.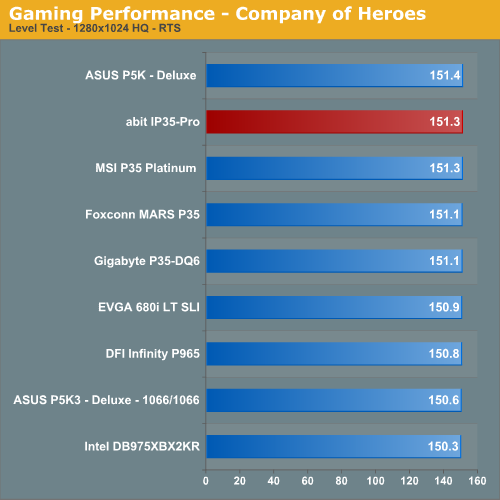 Prey
Prey offers some superb action sequences, unique weapons and characters, and is a visually stunning game at times. (Ed: And for some people, it's a great way to induce nausea!) It still requires a very good GPU to run it with all of the eye candy turned on. We set all graphic settings to their maximum except for AA/AF and utilize a custom timedemo that takes place during one of the more action-oriented sequences. We generally find the game to be enjoyable with an average frame rate above 35fps.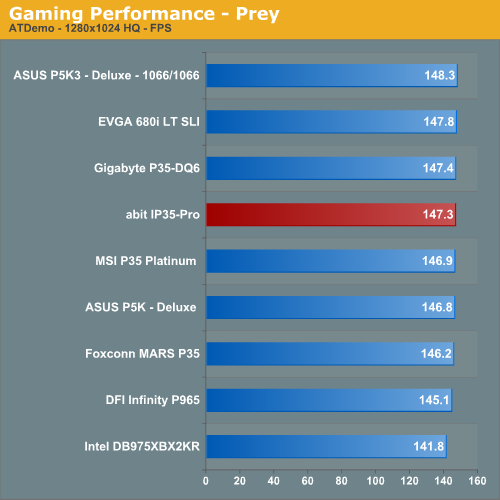 Supreme Commander
Supreme Commander is one of the favorite real time strategy games around the office as it continues to provide a great deal of replay value and the graphics are very good once the eye candy is turned on. What we especially like about the game is the fact that it can bring the best system to its knees and that fact makes it a great system benchmark. This particular game requires both a very good CPU and GPU when playing the game at anything above 1024x768 with decent settings. We utilize the game's built-in benchmark and generally find the game to be enjoyable with an average frame rate above 25fps.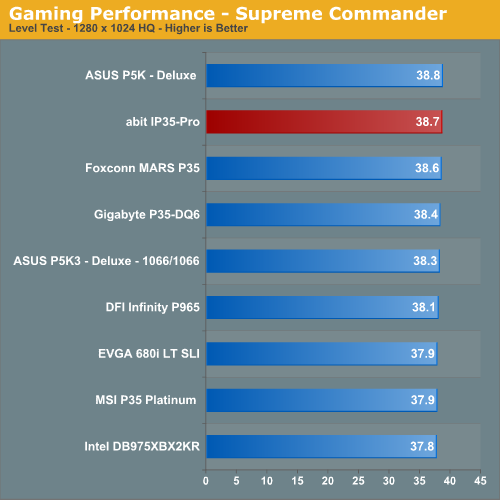 Gaming Summary
The abit IP35-Pro board continues its pattern of finishing in the near the top in each of our gaming tests. The board's overall performance is extremely consistent, and we did not notice any real weaknesses throughout testing.
Disk Controller Performance
We have utilized the Intel iPEAK test for the past few years to measure "pure" hard disk or controller performance on Windows XP. Unfortunately, iPEAK is not compatible with Vista so we will utilize two sections of the HDD test suite within PCMark05 for comparative hard disk or controller scores until our Vista hard disk test suite is ready.
This particular test suite provides a mixture of actual application results and specific read/write percentages within these programs. The program utilizes the RankDisk application within the Intel iPEAK SPT suite of tools to record a trace of disk activity during usage of real world applications. PCMark05 replays these traces to generate performance measurements based upon the actual disk operations within each application. The HDD test suite contains 53% read and 47% write operations with each trace section utilizing varied amounts of read or write operations. Additional information about the test suite is
available in PDF format
.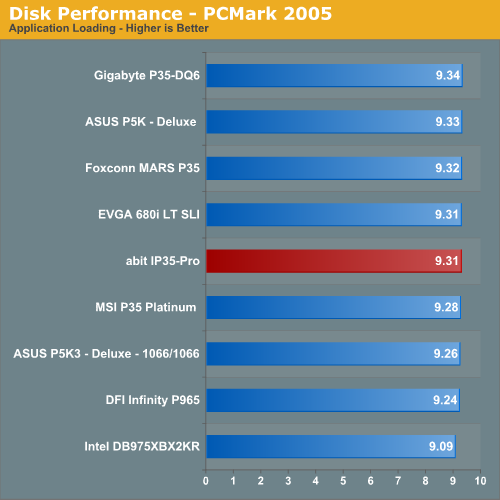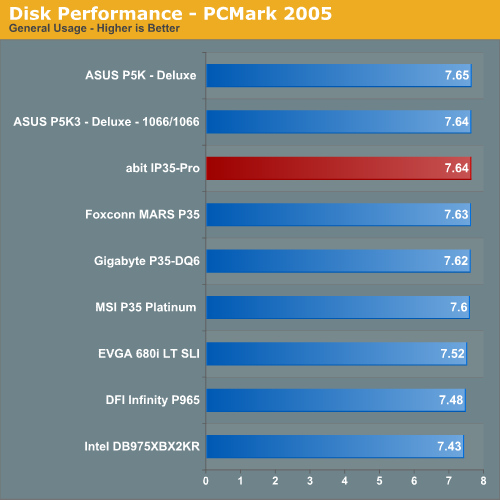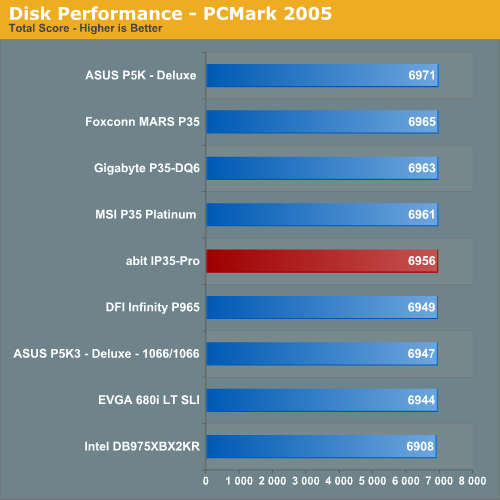 The performance pattern in these tests indicates what we witnessed in actual application testing. In tests that are heavily dependent on the storage system, the abit board performs very well with consistent results near the top of the test group in our individual application tests. However, the board finished in the middle of the pack in the total score results as it fell behind in the Window's XP startup test when compared to the boards.
Ethernet Performance
LAN performance is also an area worth looking at, as these boards might be serving up media to the rest of the house. All of these boards utilize PCI or PCI Express based controllers with the only difference being the supplier of the core logic.
The Windows 2000 Driver Development Kit (DDK) includes a useful LAN testing utility called NTttcp. We used the NTttcp tool to test Ethernet throughput and the CPU utilization of the various Ethernet Controllers used on the Intel motherboards. We set up one machine as the server - in this test, an Intel system with an Intel CSA Gigabit LAN connection. Intel CSA has a reputation for providing fast throughput and is a logical choice for our Gigabit LAN server.
On the server side, we used the following Command Line as suggested by the VIA whitepaper on LAN testing:
Ntttcpr -m 4,0,‹server IP› -a 4 -l 256000 -n 30000
On the client side (the motherboard under test), we used the following Command Line:
Ntttcps -m 4,0,‹client IP› -a 4 -l 256000 -n 30000
At the conclusion of the test, we capture the throughput and CPU utilization figures from the client screen.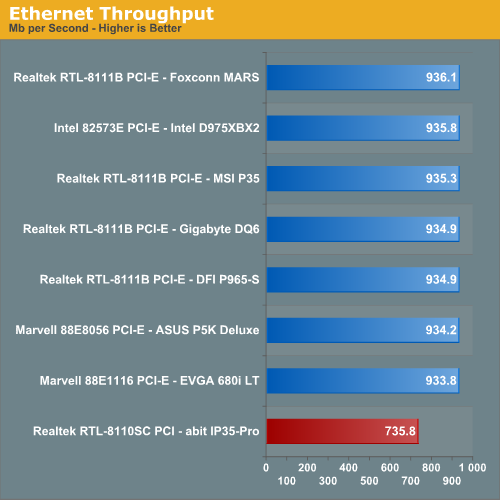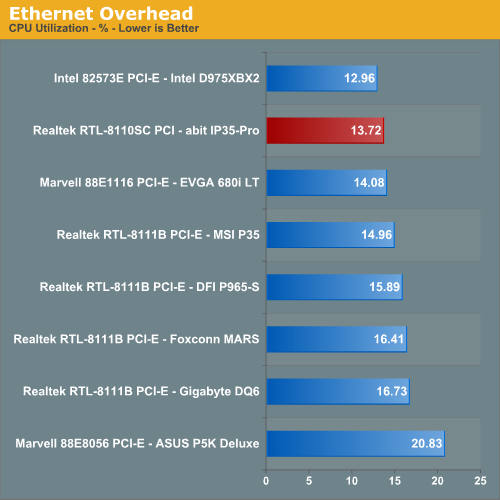 The throughput performance favors the PCI Express Gigabit controllers, but in reality the PCI based Realtek 8110SC controller offers throughput capability that most users will never fully utilize. The CPU utilization numbers favor the Intel controller the Realtek 8110SC offers an attractive alternative plus wide spread OS support. However, the differences are slight and generally not noticeable under normal operating circumstances.
Final Thoughts
We are quite pleased with the performance of the abit IP35-Pro board. Our expectations were set high after seeing an early sample in action at Computex 2007. We listened intently to everyone from engineering to marketing harping about the change of direction in product quality, engineering support, and industrial design that abit was introducing with their P35 lineup. We bought into the hype before and were certainly disappointed with the P965 product launches. We even started to write off abit after the delays of their P35 product - it was not even near being market ready at a time when Gigabyte, MSI, and ASUS were already shipping products in volume.
When the IP35 series finally started shipping, it was met with enthusiasm from users and an almost universal acceptance as a group of products that offered the right balance of features, performance, and support for the price. We initially had some growing pains with the BIOS and 4GB memory support, not to mention an overindulgence of Vdroop when overclocking Intel's latest and greatest quad core processors. Other minor problems such as the heat pipe system not fitting firmly on the MCH and PWM areas had us a little scared also.
We kept looking for problems - or rather, we kept expecting problems to show up as they had on previous products. However, the more we used the board, the more we became enamored of it. It was not any single feature (although the excellent µGuru technology does stand out in the crowd) that eventually won us over but the combination of several features and renewed commitment to support that had us eventually singing praises for this board.
With praises come accolades, and AnandTech is proud to present the Gold Editors Choice to the
abit IP35-Pro
. abit has come a long way in the last two years and the result is an exceptionally stable motherboard, full of useful features, along with being one of the most consistent performing products we have tested recently. abit's µGuru technology clearly stands out as the best platform tuning and monitoring tool currently offered by any motherboard manufacturer; it sets the standard that other brands would do well to emulate. Except for µGuru, there is not a single feature on the board that really stands out from the crowd. However, every feature that abit has included on the IP35-Pro along with the board layout, color selection, BIOS design, accessories, support, and consistent performance certainly leads us to believe the whole is greater than the sum of its parts in this case.
Not all is perfect, however; we still need to nag about the Vdroop exceeding that of other board manufacturers when overclocking quad cores, but how much that really matters is clearly debatable depending upon your overclocking objectives. We are still not pleased with overclocking when utilizing 4GB of memory and exceeding DDR2-1100 speeds. Overall, the positives of the board greatly outweigh the negatives, and while we have expressed these concerns to abit, the IP35-Pro remains one of our favorite P35 boards.
With that said, abit is launching their
IX38 QuadGT
board shortly and potentially its greatest competition will at first will be the IP35-Pro. We just hope that abit does not overlook the continued need for first tier support on this board, especially with Yorkfield and Wolfdale launching shortly. The P35 chipset still has a lot of life left in it and is certainly our choice at this time for most Intel users. We congratulate abit on getting back up to speed with its product designs and look forward to reviewing the IX38 QuadGT. However, we need to warn abit as we now have higher expectations after seeing the results of the IP35-Pro. In the meantime, we have a winner.