Original Link: http://www.anandtech.com/show/2329


The launch of the Intel X38 chipset is just a few days away (after several delays, 9/19 update - Launch is moved to October 11th) and we have a feeling the product managers and press relations personnel in and around Santa Clara are a bit nervous at this point. While the P35 launch was a bit convoluted as product was available on the street before the launch date, the X38 launch is heading down a slightly different path.
Everyone we spoke to just over a month ago expected the same launch situation that we had with the P35. Boards would be hitting certain distribution channels before the press launch date and everyone would be scrambling to figure out which board best met their needs. Well, it's not going to happen that way now. In fact, most manufacturers are scrambling at this point to get boards ready for the press activities on Monday. At this point, they are wondering if there will even be sufficient quantities of product in the distribution channel for a smooth launch. So, what happened?
It seems the X38 was not exactly ready for a grand debut on the 24th after all. We thought it was ready based on what was supposed to be final board designs a couple of weeks ago, but it turns out a few technical issues arose during final QA testing and Intel had to respin the X38 chipset. The chipset has passed the final quality hurdles and is now in full production with quantities being delivered to the major manufacturers. That's the good news, but many manufacturers are still scrambling to get boards ready.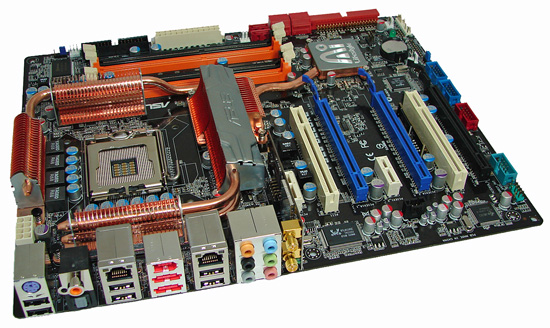 Click to enlarge
After discussions this evening, it does appear that retail boards should arrive from a few motherboard manufacturers by early next week, but we do not expect the channel to be full until sometime in October now. This includes additional designs from the launch partners and competing solutions from other suppliers. While that is disappointing to us, we understand the situation and applaud Intel for making sure the chipset is actually ready for the market before releasing it. It appears they have learned their lessons after the rough P965 debut last year, at least.
In the meantime, we have been testing one of the first X38 boards with DDR3 capabilities for the past couple of weeks. ASUS sent us their new P5E3 Deluxe for an early look at the board design, performance, and new features that will be included when this board is released shortly. Although it turns out this board is not based on final silicon, the performance and stability have been excellent in testing to date, and it comes with a very nice feature set.
With that in mind, we are going to provide a very early look at the feature set and a few benchmarks that show its potential. The BIOS is still maturing and based upon the improvements we have seen over the last five releases, this chipset is looking more and more like a winner, especially in a DDR3 configuration. We just hope retail boards make it in time for the launch date; if not, we will have a lot of nice graphics to look at and will then move on to a very interesting product launch from the guys in green on the 25th.
Let's take a look at the feature set of the ASUS P5E3 Deluxe and check out preliminary performance in a handful of benchmarks.
ASUS P5E3 Deluxe: Board Layout and Features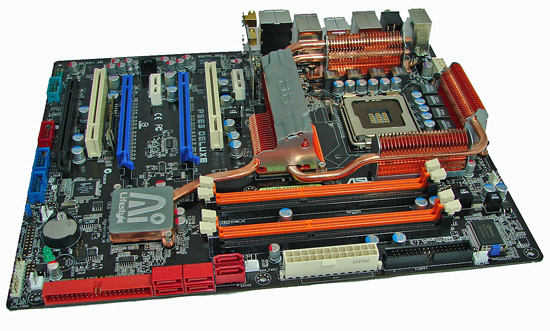 Click to enlarge
ASUS has designed a board that reminds us of cars from yesteryear: large, solid, and seemingly engineered as if it's a tank ready for the front lines. The board easily installs into a variety of cases from Antec and Cooler Master. The majority of connections are easily reached within a full size ATX case. The board features an eight-phase voltage regulator system that contributes to the excellent stability we experienced throughout testing. The P5E3 Deluxe uses 100% Conductive Polymer Aluminum Solid Capacitors. ASUS installs a total of six fan headers (1 x 4-pin, 5 x 3-pin) which is an excellent decision in our opinion. The CPU and four of the five system fan headers can be controlled via the BIOS and the ASUS AI Suite program within Windows.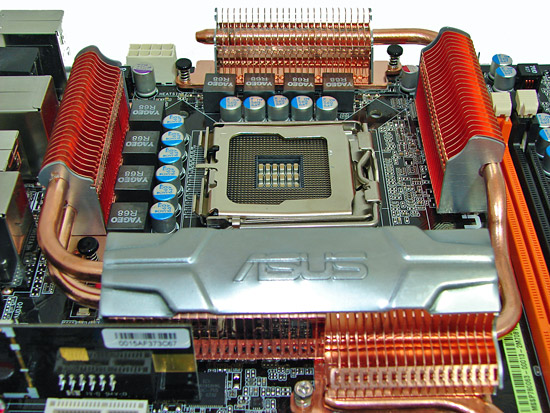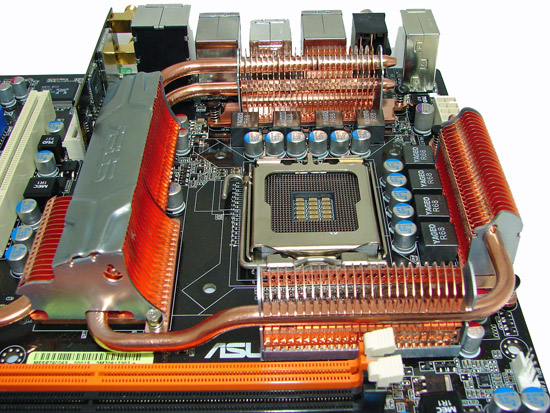 Around the CPU socket area, we find an ample amount of room for the majority of cooling solutions. We utilize the stock heatsink/fan in our base testing but also verify the ability to install several aftermarket socket 775 cooling solutions such as the Tuniq 120 and Thermalright Ultra-120 during our overclocking tests. The 8-pin EPS12V power connector is located on the edge of the board behind the PS/2 keyboard port and does not interfere with our various cooling units. However, based upon our preliminary overclocking tests, if a vertical mounted fan in an air cooling unit such as the Tuniq 120 or water cooling is utilized then additional cooling will be required on the MCH and PWM areas.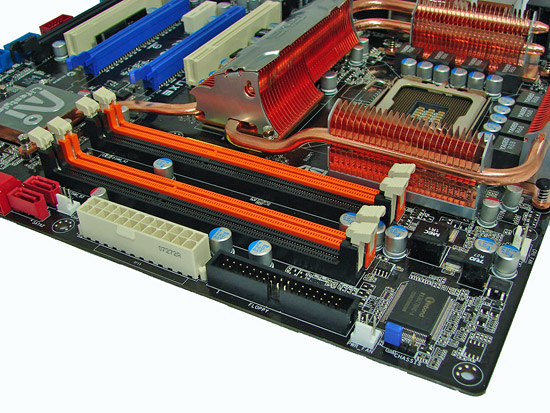 The DIMM module slots' color coordination is correct for dual channel setup based upon the premise of installing DIMMs in the same colored slots for dual-channel operation. The black and orange slot colors
(Ed: Happy Halloween
?) look out of place on this board, but then again we do not express any love for several board manufacturers who tend to use the entire Crayola color palette on their boards. Installing memory modules will be a slightly difficult affair with a full size video card placed in the first PCI-E x16 slot.
The 24-pin ATX power connector is properly located on the edge of the board along with the floppy drive connector. The CPU fan header is located on the far right edge of the board and works well with our test fans. Two additional fan headers are located on either side of the floppy and power connectors.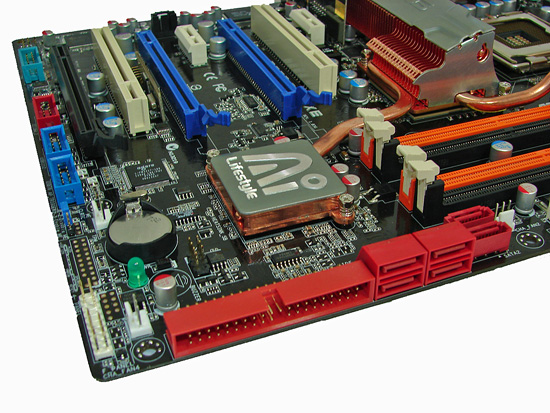 The positioning of the six red ICH9R SATA ports is excellent when utilizing the expansion slots. The ICH9R chipset is passively cooled and remained fairly cool to the touch throughout testing... well, at least until we installed our CrossFire setup and then it became quite toasty to the touch. The IDE connector is at a right angle next to the SATA ports and generally is easy to reach in our case. The chassis panel is located on the bottom left edge of the board along with the number three fan header. Right above those two items is a green LED power-on indicator, the battery, and the number four fan header. The two blue connectors are for the additional USB ports and the red connector is for the extra IEEE-1394 connector.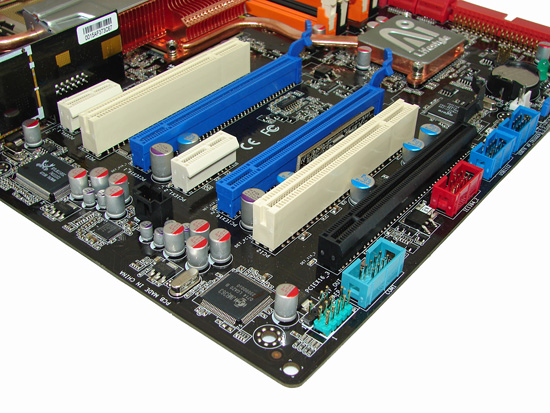 The board comes with three physical PCI-E x16 connectors (2 x16, 1 x8 electrical), two PCI-E x1 connectors, and two PCI 2.2 connectors. The second PCI-E x1 and PCI slots will be blocked by dual slot graphics cards. Several cards we tried in the first PCI-E x1 slot were a very tight fit if a full size card was used in the first PCI slot. Due to the location of the two x16 capable PCI-E slots, there is not much room for custom cooling solutions on the video cards. ASUS has informed us the Republic of Gamers board will have a different layout that will be conducive to custom cooling solutions. We also tried a TriFire setup on this board (three HD 2900 XT cards), but we did not have proper driver support for that to work at present - although we expect it soon.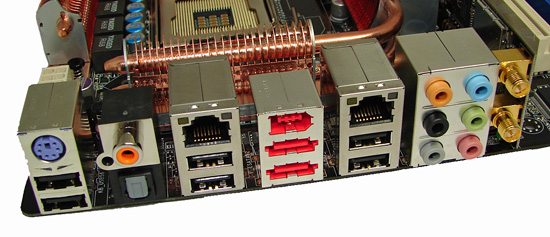 The rear panel contains the standard PS/2 keyboard port along with several other connectors. The panel also includes dual RJ-45 LAN ports with activity indicator lights, six USB ports, and optical/coaxial S/PDIF out ports. The audio panel consists of six ports that can be configured for 2, 4, 6, and 8-channel audio connections for the ADI 1988B HD codec. The board contains an 802.11n specification WiFi card that worked flawlessly with several different Draft N routers. Finally, there are two eSATA ports along with an IEEE-1394 port which completes a back panel that pretty much covers a wide array of options designed with the home user in mind.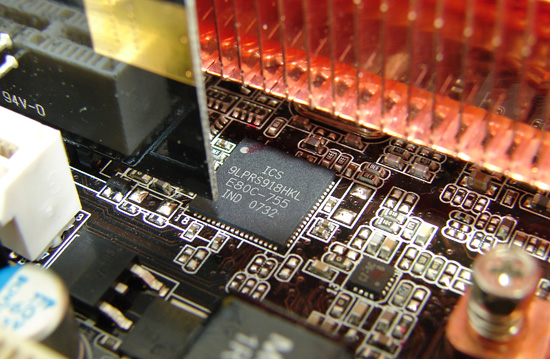 ASUS will utilize the ICS 9LPRS918HKL clock control chipset on this board.
ASUS P5E3 Specifications and BIOS Overview
ASUS P5E3 Deluxe
Market Segment
High Performance Enthusiast - $259.99 (estimated)
CPU Interface
Socket T (Socket 775)
CPU Support
LGA775-based Core 2 Duo, Core 2 Extreme, or Core 2 Quad Recommended
Chipset
Intel X38 (MCH) Northbridge and ICH9R Southbridge
Front Side Bus Speeds
Auto, 200 ~ 800 in 1MHz increments
DDR3 Memory Speed
Auto, Eight Ratios dependent upon Strap Setting
FSB Strap
Auto, 200, 266, 333, 400
PCIe Speeds
Auto, 100MHz - 150MHz
PCI Speeds
Locked at 33.33MHz
Core Voltage
Auto, 1.10000 to 1.70000 in .00625 increments
CPU Clock Multiplier
6x ~ 11x, downward adjustable for Core 2, upward to 50 for Extreme
DRAM Voltage DDR3
Auto, 1.50V ~ 2.78V in .02V increments, 1.50V standard
DRAM Timing Control
Auto, Manual - 16 DRAM Timing Options (tCL, tRCD, tRP, tRAS, tRFC + 11 sub-timings)
DRAM Command Rate
Auto, 1T, 2T
NB Voltage
Auto, 1.25V ~ 1.91V in .02V increments, 1.25V standard
SB Voltage
Auto, 1.05V, 1.20V, 1.05 standard
FSB Termination Voltage
Auto, 1.20V to 1.50V in .02V increments, 1.20V standard
Clock Over Charging
Auto, .70V to 1.00V in .10V increments, .80 standard
CPU Voltage Damper
Auto, Enabled, Disabled
CPU Voltage Reference
Auto, .63, .61, .59, .57
NB Voltage Reference
Auto, .67, .61
AI Clock Twister
Auto, Light, Medium, Strong
AI Clock Skew CA/CB
Auto, Normal, 50ps to 350ps either advance or decrease
AI Transaction Booster
Auto, Enabled, Disabled, settings 1 to 8, higher increases performance
Memory Slots
Four 240-pin DDR3 DIMM Slots
Dual-Channel Configuration
Regular Unbuffered DDR3 Memory to 8GB Total
Expansion Slots
3 - PCIe 2.0 x16 (2 - x16, 1 - x8 electrical)
2 - PCIe x1
2 - PCI Slot 2.2
Onboard SATA/RAID
6 SATA 3Gbps Ports - ICH9R
(RAID 0,1, 10, 5)
2 eSATA 3Gbps Port - JMicron JMB363
Onboard IDE
1 ATA133/100/66 Port (2 drives) - JMicron JMB363
Onboard USB 2.0/IEEE-1394
10 USB 2.0 Ports - 6 I/O Panel - 4 via Headers
2 Firewire 400 Ports by Agere FW3227 - 1 I/O Panel, 1 via Header
Onboard LAN
Realtek RTL8110SC - PCI Gigabit Ethernet controller
Marvell 88E8056 PCI Express Gigabit Ethernet controller
ASUS 802.11n Wireless Port
Onboard Audio
ADI 1988B - 8-channel HD audio codec
Power Connectors
ATX 24-pin, 8-pin ATX 12V
I/O Panel
1 x PS/2 Keyboard
2 x eSATA
2 x SPDIF - Optical Out, Coaxial Out
1 x IEEE 1394
1 x Audio Panel
2 x RJ45
6 x USB 2.0/1.1
Fan Headers
6 - CPU, (5) Chassis
Fan Control
CPU and Chassis Fan Control via BIOS/AI Suite, PC Probe II monitoring
BIOS Revision
v1.4
Board Revision
v1.0
As mentioned, the P5E3 Deluxe board is designed for the general enthusiast with an emphasis on features designed for the home user, whether it is for gaming or home theater usage. ASUS provides two eSATA ports via the JMicron JMB363 chipset, IEEE-1394 support from Agere, excellent onboard audio support from the ADI 1988B, an 802.11n WiFi port, and dual Gigabit LAN capability. The board offers a very good mix of expansion slots, though utilizing a CrossFire setup will create the physical loss of a PCI-E x1 and PCI 2.2 slot. The third PCI-E x16 slot operates at x8 electrically and can be utilized for various PCI-E cards including AGEIA PhysX, RAID controllers, or a third video card. This slot will support a third ATI graphics card for "TriFire" operation once drivers are released with the proper support, according to our current information.
We will go into the BIOS settings in additional detail once we receive the retail kit and official launch BIOS. However, the following screenshots represent features that we know will be in the retail BIOS.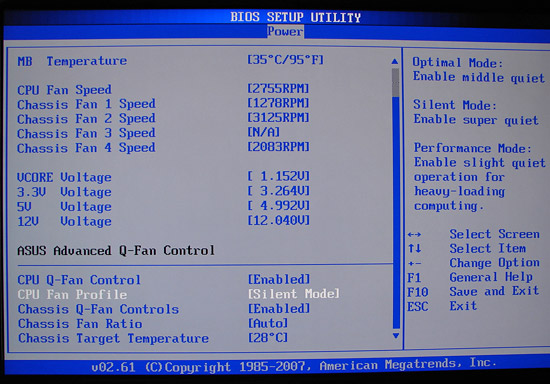 ASUS monitors the standard CPU fan speed and voltage readings. One item of note is that the BIOS monitors the CPU fan speed and four chassis headers but not the fifth header. Fan control is fairly limited when comparing it to abit's excellent uGuru setup with very simple options based on fan percentage speeds or base system temperatures. While the ability to individually control fan speeds is good, the speed options are too limited in our opinion for a board in the enthusiast category.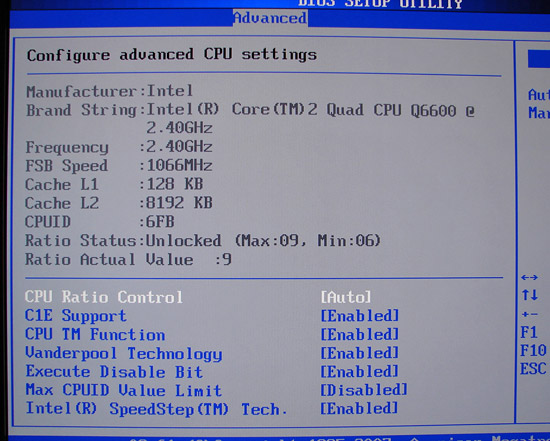 The advanced section of the BIOS contains the standard power saving options and an additional control for the CPU ratio.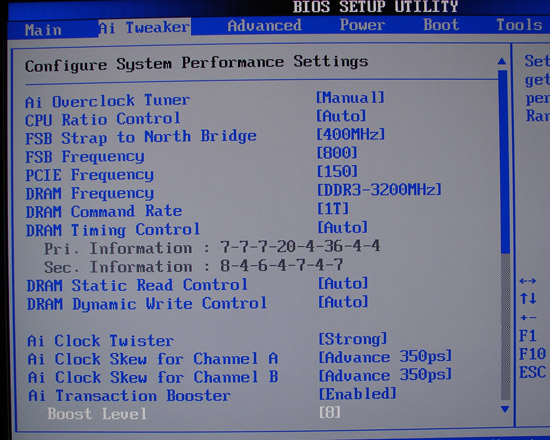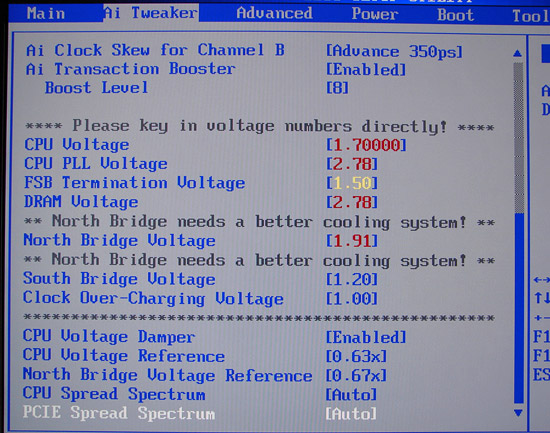 The heart of the BIOS is under the AI Tweaker section with a wide variety of options for tuning the board. Although not as extensive as the typical DFI enthusiast boards, the options are fairly extensive with the notable addition being the 400FSB Strap setting in addition to 200, 266, and 333. Although not shown, the DRAM timing control section offers 15 different memory settings and hopefully they will remain in the retail BIOS.
ASUS has added the Ai Clock Twister option which basically offers slightly tighter sub-timings when set to strong. We noticed a slight decrease in latencies when utilizing this particular setting, but no tangible real world results that would matter to most users. ASUS has also revamped the Ai Transaction Booster setting when compared to their P35 boards. The old Transaction Booster setting of 0 on the P35 board is now 1 on the X38 board with the remaining ratios offering the same offset. Ratios 5 through 8 are new to the board although we could not get the board to POST with a ratio higher than 3.
Our screenshots show the maximum value for each option. Any setting greater than 1.77V for the Northbridge resulted in a warning for better chipset cooling. Although previous engineering samples of the X38 ran warm to hot when overclocking, our current sample stayed around 74C with 1.91V after two hours of looping 3DMark06. The available voltage options should satisfy about 95% of the users; however, we feel like the available CPU voltages are lacking when compared to the other X38 boards we have in-house as well as some of the upper-end P35 boards. ASUS has also included the ability to save BIOS profiles, although it is currently limited to two profiles.
ASUS P5E3 Deluxe Express Gate Features
One of the new features that ASUS is launching with this board is their Express Gate application that is based on Splashtop technology. Express Gate features a unique startup screen when the system is first booted. This technology allows you to continue the POST process into your operating system, enter the BIOS setup, and power down or restart the system. The current utilities allow the user to enter a built-in web browser or launch Skype provided an internet connection is available through one of the Gigabit LAN controllers or the 802.11n wireless connection. ASUS includes a windows based utility to update the current Express Gate program code and applets.
Startup / Exit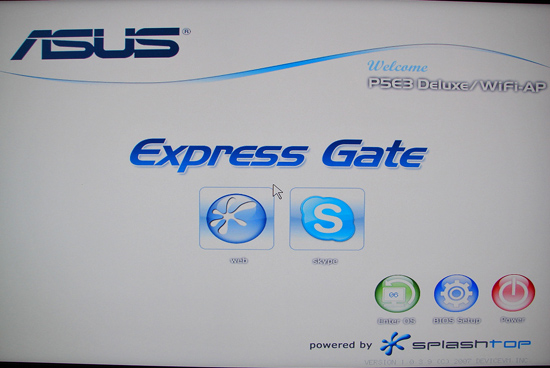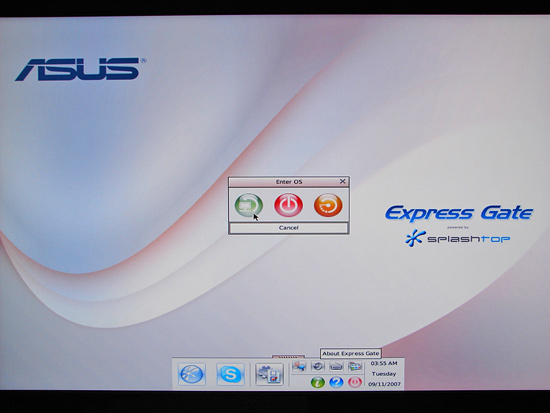 The top screenshot shows the startup screen with the bottom screenshot showing the exit options. Express Gate can be turned off in the BIOS if this application is not interesting to the user.
Configuration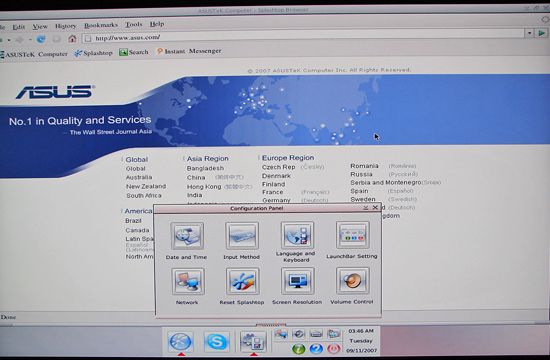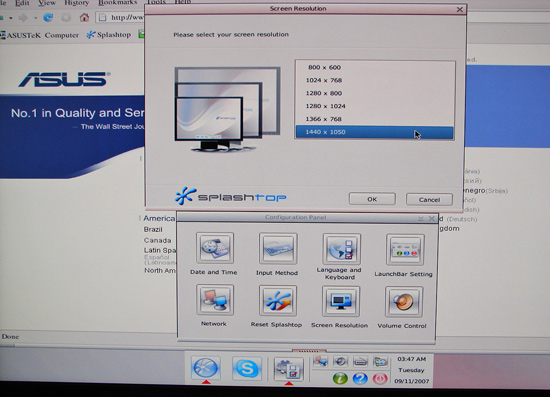 The setup and configuration of Express Gate was fairly straightforward with individual options for Date and Time, Input Devices, Language and Keyboard Layout, LaunchBar settings, Network configuration, Volume control, and Screen Resolution. Screen Resolution is limited to 1440x1050 currently but the ability to define the network connection is extensive.
Skype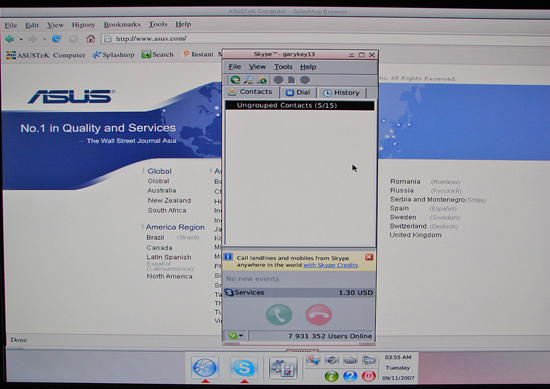 During testing, our Skype connection worked perfectly during several extended conversations. The current code included will be updated before product launch and we will provide details on the final version at that time.
Web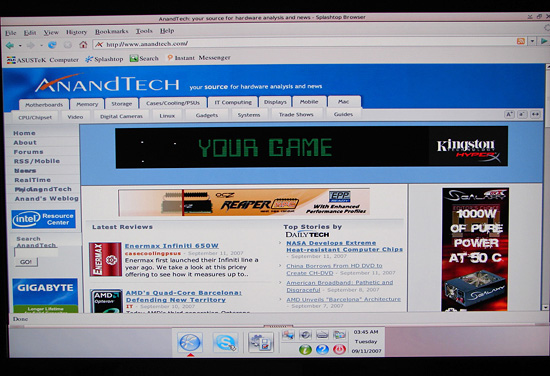 The browser is based on Splashtop technology and performed admirably in early testing. The current code release is being optimized along with additional browser features. We visited several websites and did not run into any layout or display issues in our initial testing with this applet. Adobe Flash is also supported within the browser.
ASUS P5E3 Deluxe Additional Features
WiFi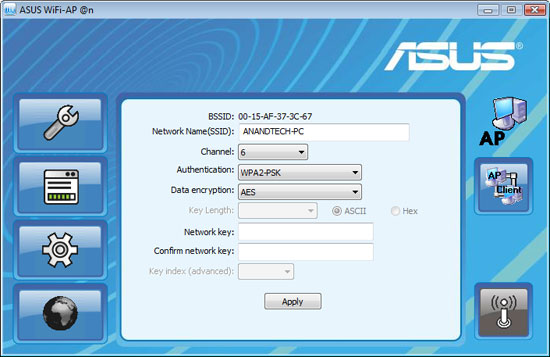 ASUS includes their standard WiFi-AP applet for configuration of the wireless connection. Our initial testing with the board's Draft N capabilities was very good with general compatibility across a wide range of routers. However, we will wait on final production hardware and software before passing judgment on this feature.
Audio
Audio duties are left to the Analog Devices
1988B
codec that ASUS has used extensively over the past year in their Deluxe and Premium boards. The move to Windows Vista has allowed ADI to introduce Sonic Focus's
Blackhawk - for SoundMAX
technology. This technology encompasses the full suite of Sonic Focus's PC audio technologies, including their Adaptive Dynamics, Extrapolator, and X-Matrix processes.
We will have full details and benchmarks in an upcoming audio article, but to put it simply, this program suite allows the user optimize the quality of compressed audio streams from a wide variety of sources. Our subjective opinion is that it works, and works very well for an integrated audio solution and provides sound quality that easily exceeds the current Realtek offerings.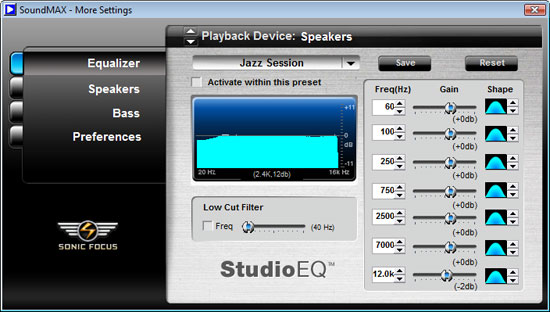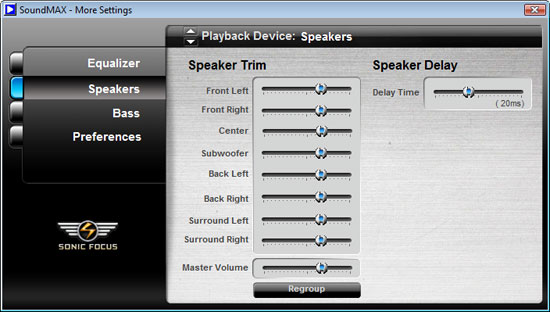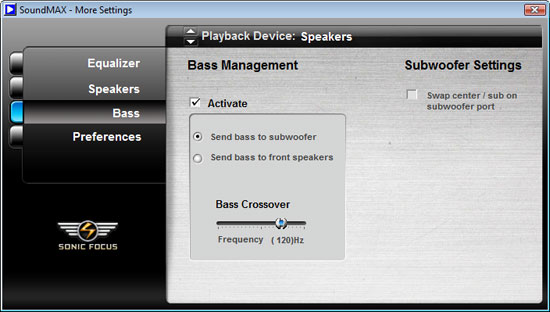 The above screenshots represent a sampling of the control panel and configuration settings available within the BlackHawk audio suite.
Test Setup
ASUS P5E3 Deluxe Testbed
Processor
Intel Core 2 Quad Q6600
Quad Core, 2.4GHz, 8MB Unified Cache, 9x Multiplier, 1066FSB
CPU Voltage
1.1500V Stock
Cooling
Tuniq Tower 120
Power Supply
OCZ 1000W
Memory
Super Talent DDR3-1866
Memory Settings
5-5-4-12 (DDR3-1066)
Video Cards
MSI HD X2900 XT 512MB
Video Drivers
ATI Catalyst 7.9
Hard Drive
Western Digital 7200RPM 750GB SATA 3/Gbps 16MB Buffer
Optical Drives
Plextor PX-B900A, Toshiba SD-H802A
Case
Cooler Master Stacker 830 Evo
BIOS
0302
Operating System
Windows Vista Home Premium 32-bit
.
Test conditions were maintained the same, as much as possible, over the platforms tested. Our game tests were run at settings of 1280x1024 HQ to ensure our MSI HD 2900 XT is not the bottleneck during testing. All results are reported in our charts and color-coded for easier identification of results.
We selected the Intel Core 2 Quad Q6600 as our processor of choice since it represents one of the better price to performance values in the midrange processor market and is the CPU we will concentrate on in future reviews. We are utilizing Microsoft Vista Home Premium 32-bit as our operating system along with a 4GB memory configuration. Even though Vista 32-bit cannot take advantage of the entire 4GB of memory address space (3.326GB), we found the additional 1.278GB of memory available provided improved performance during multi-tasking events and gaming. We would not recommend anything less than 2GB with Vista Home Premium. We will also provide select Vista 64-bit results in the X38 launch article.
We utilize new drive images on each board in order to minimize any potential driver conflicts. Our 3DMark results are generated utilizing the standard benchmark resolution for each program. We run each benchmark five times, throw out the two low and high scores, and report the remaining score. All results at stock speeds for this article are with memory timings at 5-5-4-12 (DDR3-1066) and at 6-6-6-15 (DDR3-1600) for our overclocking tests. Where possible, memory sub-timings were set exactly the same to ensure consistency between the boards.
Our choice of software applications to test is based on programs that enjoy widespread usage and produce repeatable and consistent results during testing. Microsoft Vista has thrown a monkey wrench into testing as the aggressive nature of the operating system to constantly optimize application loading and retrieval from memory or the storage system presents some interesting obstacles. This along with what we still see as a lack of driver maturity will continue to present problems in the near future with benchmark selections. Our normal process is to change our power settings to performance, delete the contents of the Prefetch folder, and then reboot after each benchmark run. This process results in consistency over the course of benchmark testing. All applications are run with administer privileges.
Note
: Due to the preview nature of this article, including the use of a pre-release board, our benchmark test suite will be very limited. A full range of benchmarks will be available on September 24th, provided retail kits arrive as planned.
Memory Testing

Click to enlarge
The Sandra unbuffered scores on the Gigabyte X38 DDR2 board are around 2% better than the ASUS X38 DDR3 board and about 4% better than the abit P35 board. Our Gigabyte board is a production sample board with an early release BIOS. The scores have dropped about 1% from the engineering board we tested previously, although Gigabyte confirms that the BIOS is not fully tuned yet.
We did not expect the memory performance of DDR3 to be this close to the DDR2 board as we noticed significant differences on the P35 boards when running DDR3 at 1066. Intel and the board manufacturers have repeatedly said the X38 chipset will show improved performance with DDR3, especially with the 1333MHz FSB CPUs that allow DDR3 to run at stock 1333MHz rates. The latest BIOS spins show this trend and hopefully the retail releases will show the same progress we have noticed over the past couple of days. However, the price differential between the two memory technologies still means the DDR3 boards will be relegated to the very high end of the market for the near future.
Q6600 9x266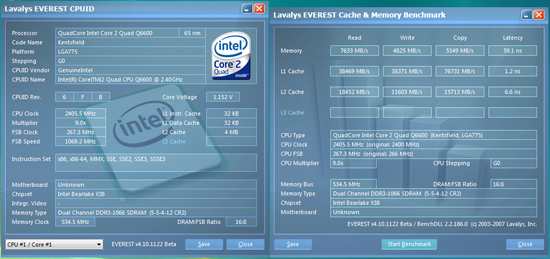 Click to enlarge
Q6600 9x333
Click to enlarge
Q6600 9x400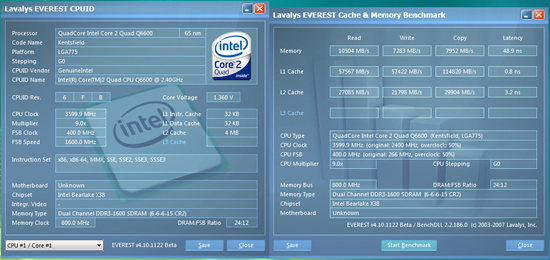 Click to enlarge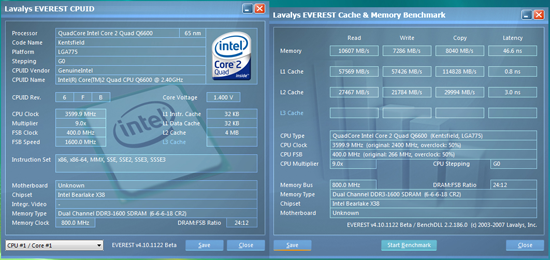 Click to enlarge
Our memory results are very preliminary considering the beta nature of the latest 1.4 BIOS. We are not showing comparisons to the other DDR3 boards until the BIOS is finalized, but at this time it appears performance is generally a few percent better than the X38 DDR2 boards. In the 9x400 results, the top screenshot is with the system set to the 400 strap and the bottom screenshot is with the 333 strap setting. The improvements in chipset latencies result in slightly better read/write/copy numbers and memory latency is improved about 5%, although tRAS timings were increased from 15 to 18. However, we had to increase our MCH voltage by .04V and CPU voltage from 1.375V to 1.41875V.
Speaking of CPU voltages, we had no issues completing our entire benchmark test suite with our Q6600 set to 1.1500V at stock settings, 1.19375V at 9x333, 1.3750V at 9x400, and 1.44375V at 7x505. Even though we are not at liberty to discuss overclocking results at this time, we do have permission to show our top FSB overclock with the Q6600.

Click to enlarge
We were able to reach a final FSB setting of 505 with our Q6600. This required the 400 strap setting, MCH voltage to 1.77V, and several other BIOS settings that we will discuss in the launch article. The board actually posted our Q6600 at 522FSB, but benchmark stability was not reached until the 505FSB level. We hit 498FSB with 4GB of memory and the same settings. Hopefully the latest chipset spin and BIOS tweaks will improve upon this result. Vdroop averaged around .02~.04V throughout testing with CPU Voltage Damper enabled; without it, we noticed Vdroop around .07V~.09V when overclocking a quad-core CPU.
Gaming and Graphics Performance
The 3DMark series of benchmarks developed and provided by Futuremark are among the most widely used tools for benchmark reporting and comparisons. Although the benchmarks are very useful for providing apples-to-apples comparisons across a broad array of GPU and CPU configurations, they are not a substitute for actual application and gaming benchmarks. In this sense we consider the 3DMark benchmarks to be purely synthetic in nature but still valuable for providing consistent measurements of performance.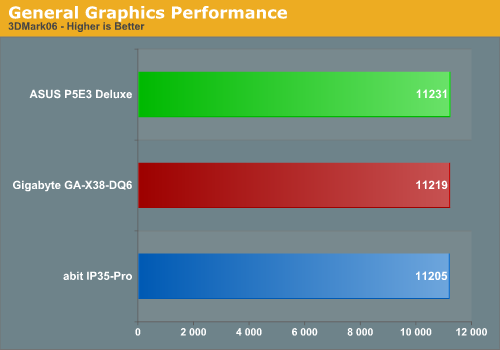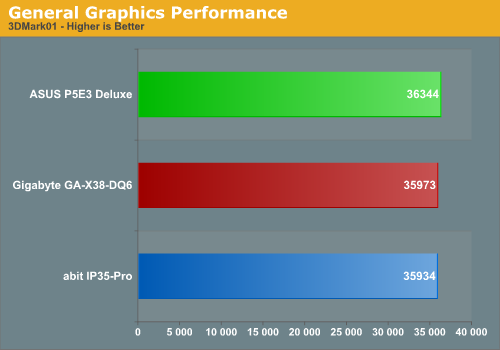 In our 3DMark06 test, all of the boards are basically even in this test. When looking at the individual tests, the ASUS board scores slightly better in the SM2.0 and SM3.0 tests while the CPU scores are just about identical between all three boards - we'll ignore the ASUS board's seven point advantage.
In the more memory and CPU throughput sensitive 3DMark01 benchmark we see our ASUS P5E3 Deluxe board is around 1% faster. We believe Gigabyte still has some tuning left to complete with their DDR2 X38 board as it scored a fairly anemic 35311 with the memory set to DDR2-800 with 3-4-3-9 1T timings. The differences in performance are not really noticeable in either 3DMark unless you're looking to reach the top of the ORB, which we have a good feeling the X38 was designed to do with the right setup.
Gaming Performance
As usual, gaming performance was tested with a couple popular games. We ran our benchmarks at a 1280x1024 resolution with high quality settings
Battlefield 2
This benchmark is performed using DICE's built-in demo playback functionality with additional capture capabilities designed in house. During the benchmark, the camera switches between players and vehicles in order to capture the most action possible. There is a significant amount of smoke, explosions, and vehicle usage as this a very GPU intensive Battlefield 2 benchmark. We run Battlefield 2 using medium quality graphics settings available in the video settings. The game itself is best experienced with average in-game frame rates of 35 and up.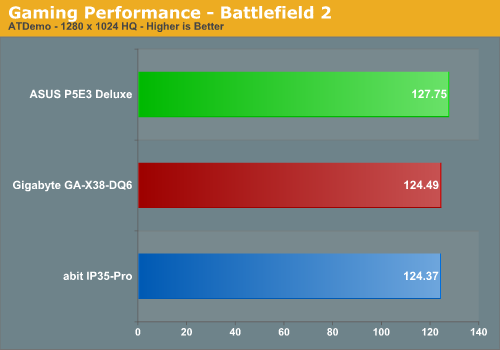 Prey
Prey offers some superb action sequences, unique weapons and characters, and is a visually stunning game at times. It still requires a very good GPU to run it with all of the eye candy turned on. We set all graphic settings to their maximum except for AA/AF and utilize a custom timedemo that takes place during one of the more action oriented sequences. We generally find the game to be enjoyable with an average frame rate above 35fps.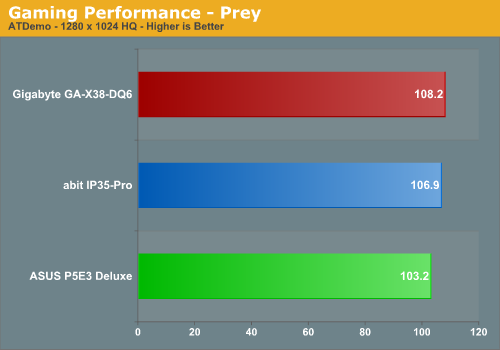 Gaming Summary
The ASUS P5E3 provides an almost 3% improvement in frame rates under BF2, which tends to be more CPU limited than most games, but in the latency sensitive Prey benchmark we find it falls about 5% behind the Gigabyte board. This is the only benchmark where we witnessed a measurable decrease in performance when utilizing DDR3 at 1066 on the X38 chipset. For now, we will chalk it up to the BIOS needing fine tuning as other latency sensitive benchmarks did not show this pattern in offline testing. Once we receive the shipping BIOS for the retail boards, we will revisit these same games and provide CrossFire results against the P35 and 975X equipped boards. However, the preliminary CrossFire results show minimal gains for the X38 over the 975X when comparing percentage increases between single and dual card configurations.
First Thoughts
We have thoroughly enjoyed our test sessions with the ASUS P5E3 Deluxe board. Although we still do not have final silicon boards yet, we have to say that ASUS has done an excellent job with their design implementation on this board. While the new or revised features such as Express Gate, 802.11n, and the BlackHawk audio technology might mean little to some users, we think the additions complete the overall package that ASUS is after with their Deluxe series of boards. The early package we received just showed a certain level of polish that our other X38 boards do not have at this time. Sometimes that means little, but it certainly left an impression on us in early testing. This is an impression that we hope continues with the retail package as this board is certainly worth a second look.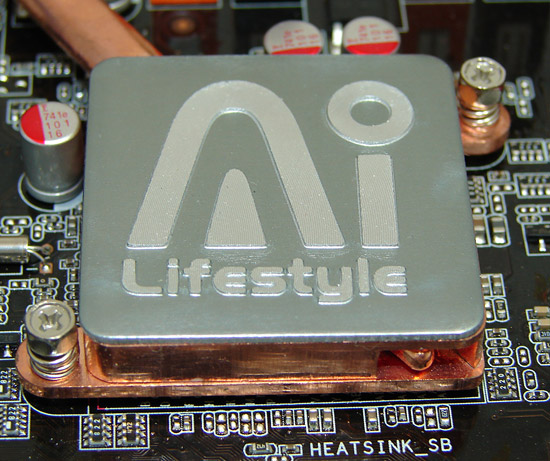 Overall performance has been very good at stock speeds even with the slight memory throughput penalties that running DDR3 at 1066 brings to the table compared to DDR2 at 1066. However, unlike what we witnessed with the P35 DDR3 boards at launch, the ability to have DDR3 1066 performance match or better DDR2 1066 is impressive considering the potential clocking headroom DDR3 enjoys. Unfortunately, the performance potential of DDR3 sounds great until you realize the current entry price for the high performance modules. As a buyer, looking at the prospect of spending up to four times more for DDR3 is daunting considering the minimal advantages it offers.
We are only a few days away from the official X38 launch and the ability to show a full test suite, provided the retail boards show up in time. We had actually planned on providing a lot more detail today, but last minute updates from the involved parties limited our reporting. With the launch article, we will have additional details including some impressive power consumption numbers that are now lower than the P35 chipset and improved thermal characteristics. We say "impressive" because the early boards showed just the opposite trend. While we would love to provide more information, at the behest of our contacts at Intel it will have to wait. We just hope the wait is not longer than expected.