Original Link: http://www.anandtech.com/show/2316


The show floor doesn't open until tomorrow, but there's already lots to talk about. Think of this as a sort of sneak peak of some of the highlights of this year's CEDIA. The show is already attracting all sorts of interest: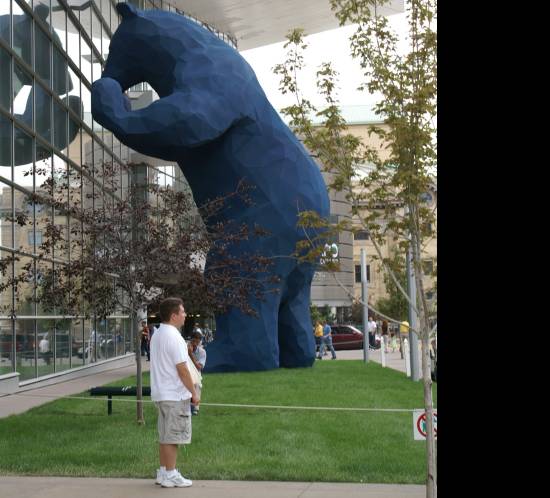 The day started off not with JVC's 1080p projector announcements, but with a Monster Cable press conference. The electrical engineers inside us have kept us from ever purchasing overpriced cables, but we were curious to see how a Monster press conference would unfold - so we went.
Picture this: a room full of chairs, pull down projector screen, a curious wheelchair ramp leading up to the stage. On the speakers was some quiet rap music, but upon closer inspection the song revealed itself to be a Monster Cable rap. The hook had a rapper spelling out H-D-M-I and of course reciting the company name, and no Monster Cable rap would be complete without the line "you gotta 60 inch screen."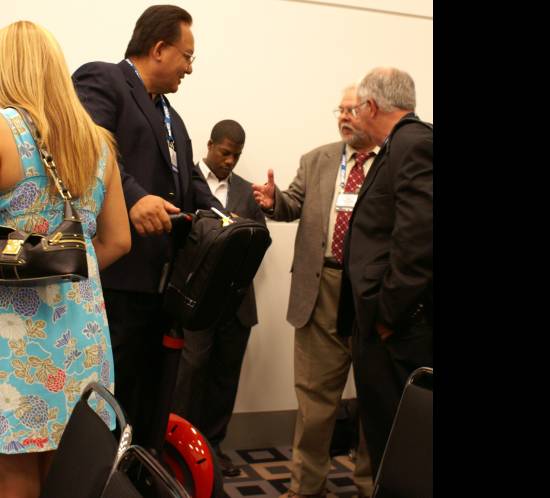 The purpose of the ramp to the stage was revealed upon the arrival of Noel Lee, the founder of Monster Cable. Mr. Lee arrived on a tricked out Segway, painted red and black. Rolling up to the stage, Mr. Lee began the press conference.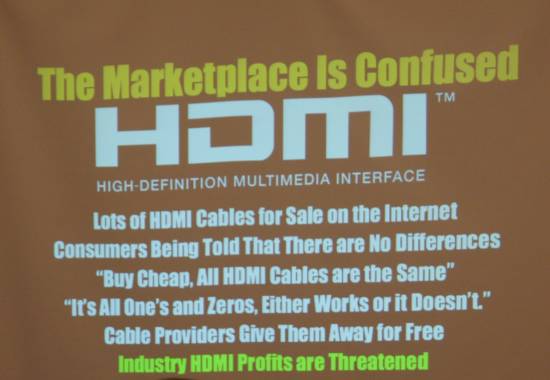 The number one item of discussion was Monster's new speed-rated HDMI cables which you may have heard of. The premise is this: in order to help consumers differentiate between the various types of HDMI cables out there, Monster is now offering speed ratings on their cables. The bandwidth required for 1080p video + audio from a Blu-ray player is obviously greater than the bandwidth required for simple 480p from a DVD player, so why shouldn't Monster differentiate its cables for the various needs of its customers?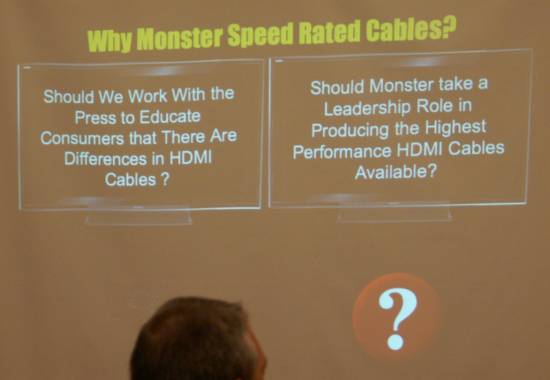 The speed ratings are as follows: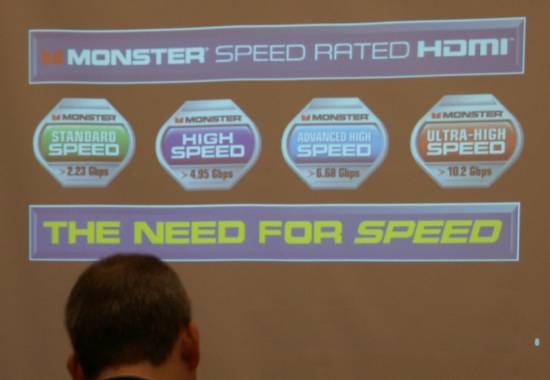 At the low end we have the Standard Speed HDMI cable, which is capable of > 2.23Gbps of bandwidth, priced at $49.95 for a 1m cable. Next is the High Speed model (4.95bps) at $69.95 (1m), Advanced High Speed (6.68Gbps) at $79.95 (1m), Ultra High Speed (10.2Gbps) at $99.95 (1m) and Ultimate High Speed (14.93Gbps) which will be shipping by the end of this year.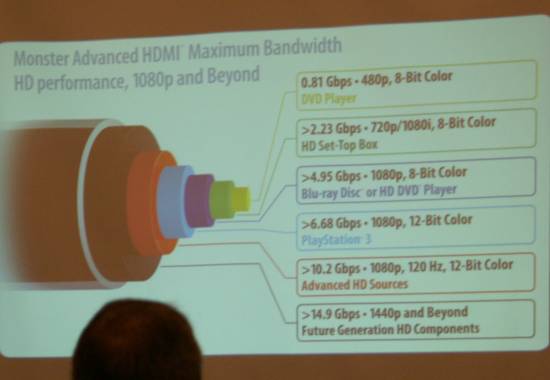 Monster insisted that its branding was to help the consumers decide which cable was right for them, despite one audience member warning that having so many "standards" may do more to confuse the consumer than educate him/her. We also had issues with the ratings, so we posed two questions to Mr. Lee. The first question was a desire for more technical detail on how the various speed rated cables differed from one another; Mr. Lee seemed to imply that the thickness of the "pipe" is what determined how much bandwidth you could send down a single HDMI cable, we wanted to know more. Unfortunately, our request was not met, Mr. Lee said that there are too many factors to take into account to answer such a question here but listed a number of factors such as how the cables are cut, connector assembly and distinct eye requirements of higher bandwidth HDMI.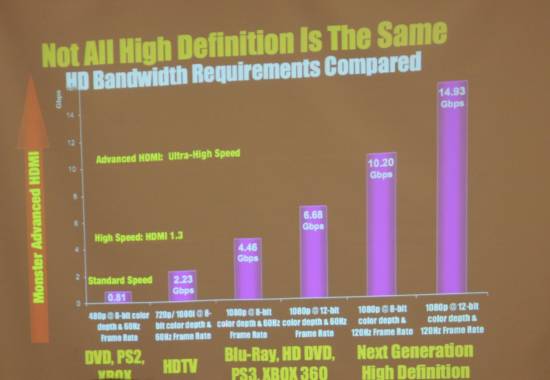 Much to our surprise, Mr. Lee did answer our next question. We stated that cable "speed" and the ability to transmit a signal was directly related to cable length, but we wondered how fast the lower speed rated cables would be at shorter distances. Take the lowest end Standard Speed HDMI cable, Mr. Lee mentioned that at 2m it would be capable of transmitting around 12Gbps of data - nearly as much as Monster's high end Ultimate High Speed HDMI cable. Mr. Lee requested that we didn't quote him exactly because he didn't know the specific bandwidth rating at 2m off the top of his head, so don't take the 12Gbps figure to heart - but we would suspect that the actual number is somewhere around there.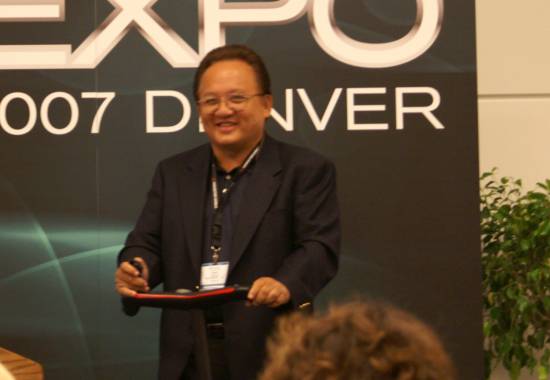 The point being that Monster's high end cables are definitely necessary for very long cable runs, but most consumers aren't installing their HD-DVD/Blu-ray players more than 1 - 2 meters away from their TVs, where these ultra expensive cables are not necessary at all. In our opinion, Monster would be doing the consumer a greater service if it simply replaced speed ratings with length ratings: e.g. buy cable X if you need 0 - 10m, cable Y for 11 - 30m, etc...
Noel's counter-argument to our length rating proposition was that customers could buy these expensive HDMI cables today and be future proof for higher bandwidth implementations of HDMI that may come down the road. Our bet is that you'd still be better off buying good, cheap HDMI cables today and replacing them when necessary or that the HDMI connector would end up getting replaced before the time you'd need to upgrade your cables.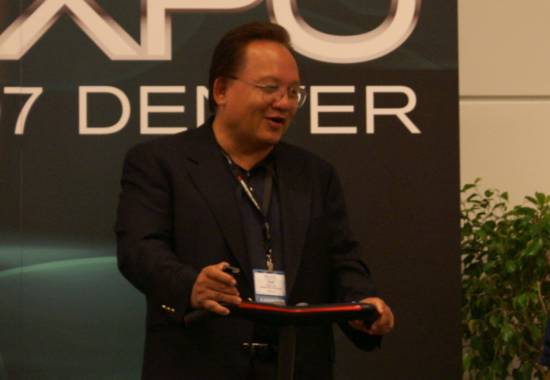 We did appreciate Mr. Lee's honesty in stating the futility of using even Monster's own high end HDMI cables for short runs, we just want to see less confusing marketing to consumers who will inevitably be pushed towards Monster or other expensive cables.
In order to compete with no-name cable manufacturers, Monster will also begin selling a HDMI cable in a box which is unrated, not "certified" but competitive with other cheaper cable available on the market.
Monster also introduced its Cable for Life Performance Guaranteed program; if your 1000-series (Ultimate High Speed) cable becomes obsolete because of a change in spec, Monster will replace it free of charge. Again, depending on the length of cable you're buying, you'd probably be better off simply buying cheaper cables when you need them rather than attempting to future proof your cables. It's sort of like an extreme case of the argument for purchasing SLI ready motherboards/video cards.
More Monsters
Monster showed off its FS Perfectview 450, flat screen mounting hardware with integrated cable management and surge protector. The 450 supports 37" - 60" screens and will be shipping by the end of September.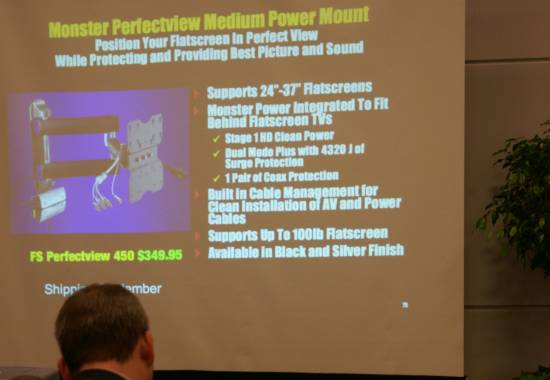 Monster's Cable It is an insta-conduit product, you simply bunch your cables together, put on the Cable It zip connector, connect the flexible conduit and zip down the line of cables. The demonstration Monster put on was quite impressive, but as expected the pricing is a bit steep compared to simply running conduit before running your cables.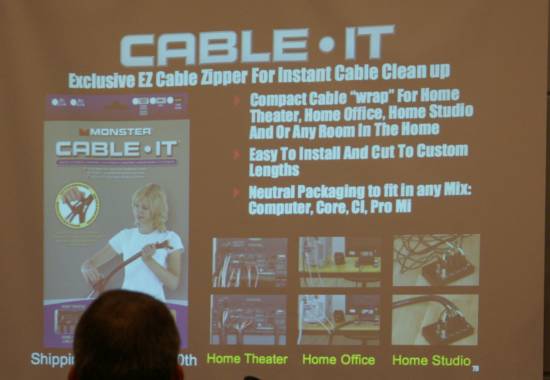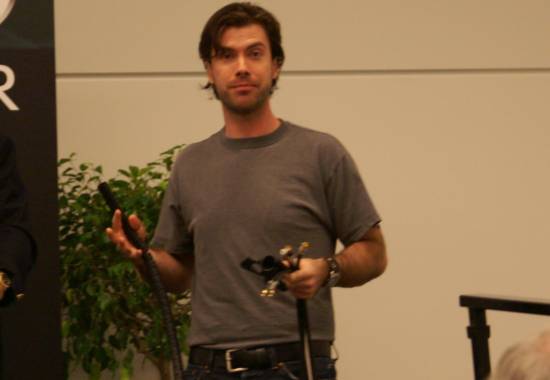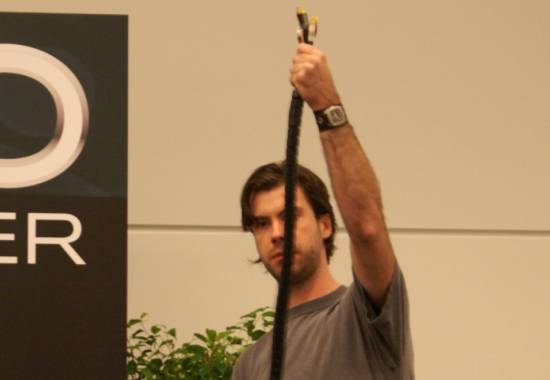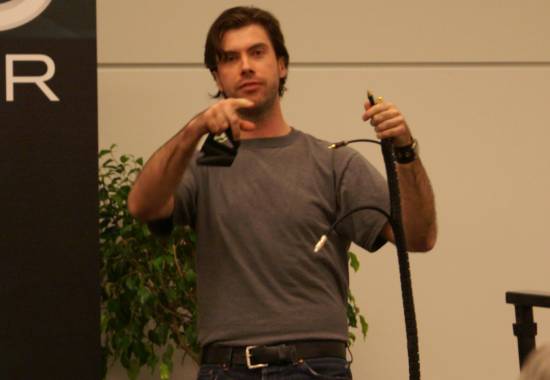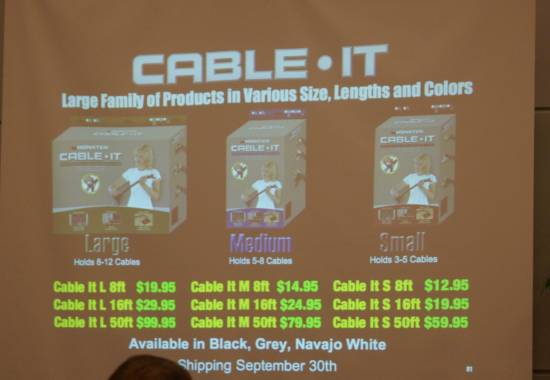 Toshiba and Star Trek
Toshiba's press conference at this year's CEDIA was definitely the most original. Presenters "beamed" onto the stage for a "Star Trek: The Original Series" themed press event. The audience was also treated to Star Trek sound clips throughout the show. It was definitely cheesy, but also creative and very entertaining.
The reason for all the treky love was that one of the big announcements for Toshiba was the joint promotion with CBS of the release of the first season of "The Original Series" on HD DVD. The 10-disk set will feature re-mastered versions of the entire first season and be able to play on both HD DVD players as well as standard DVD players. The biggest selling point to this set, however, is the limited edition Star Trek Phaser remote control which you can get with the purchase of both the box set and a Toshiba HD DVD player. The box set will be available nation wide on November 20th.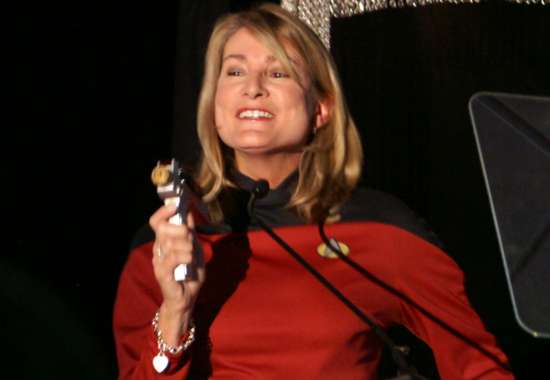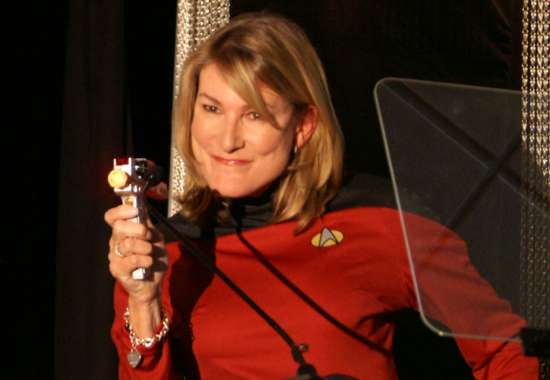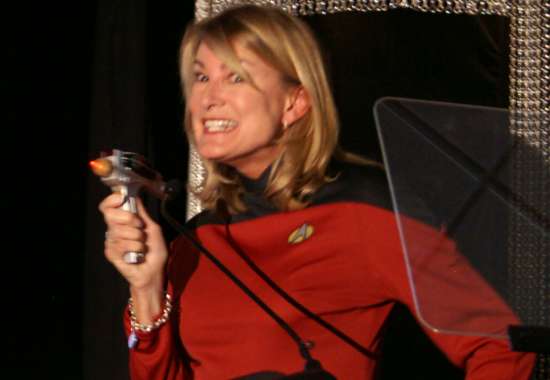 The first part of Toshiba's press event was centered around the huge growth of LCD televisions in the 30" to 40"+ segment. This area, which used to be dominated by rear projection TVs, is now starting to get taken over by LCD based TVs based on data taken by the Consumer Electronics Association for the 1st half of 2007.
Toshiba continued by announcing their new line of REGZA 1080p LCD televisions which feature the "worlds thinnest LCD TV bezel" measuring less than 1" wide. Also called Super Narrow Bezel (SNB) televisions, Toshiba states that these TVs will fit in into spaces that used to be reserved for smaller screen sizes. Toshiba says that the 40" SNB model has the same dimensions of Toshiba's conventional 37" LCD TV. These TV's feature many of the features of the current REGZA line including 10-bit LCD panel, xvYCC signal support for more colors, dynamic backlight, and 3 HDMI ports. The SNB models will come in two sizes, the 40" 40RF350U and 46" 46RF350U. Prices are set at $1,899 and $2,499, respectively. Both sets should be available this month.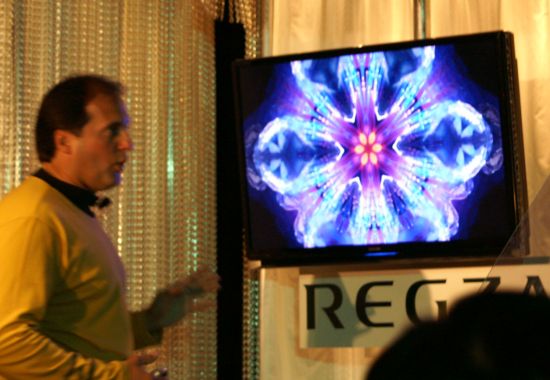 Scott Ramirez, Toshiba's VP of Marketing and an SNB REGZA
Toshiba on HD-DVD
The final part of the Toshiba press conference focused on HD DVD. As one of the major backers of HD DVD, Toshiba made sure to pay special attention to this topic. Jodi Sally, VP of Marketing for Toshiba's Digital A/V group, beamed to the stage and presented some interesting data on HD DVD's infiltration into the market. She focused on HD DVD's dominance in the PC drive market stating 62.7% of PCs shipping with HD drives are using HD DVD.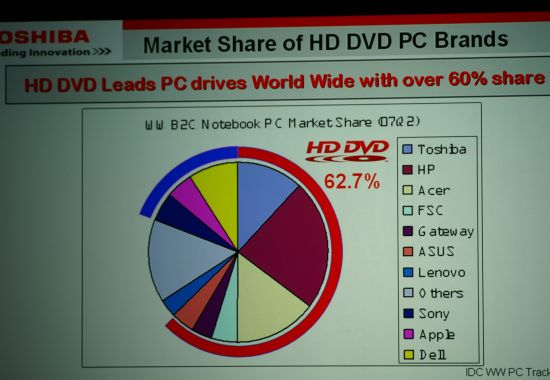 She went on to draw a parallel between DVD's growth in the past and HD DVD's current growth. DVD players saw a large surge in growth when the Chinese DVD Players entered the market back in 2000 at a price point of $250. Toshiba is predicting the same kind of growth in HD DVD players since they are just now hitting that price point.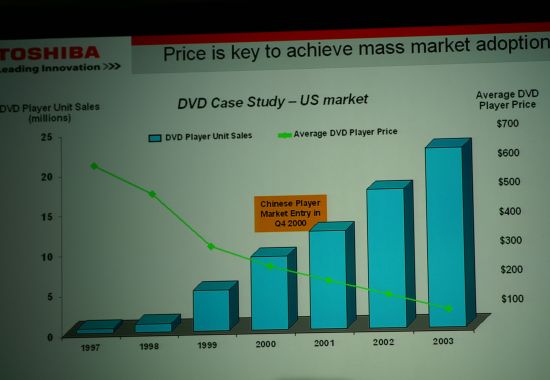 One more interesting statistic that Jodi showed in her presentation was that twice as many of those likely to buy a next generation DVD solution chose HD DVD over Blu-ray. However as the pie chart below shows, 51% of the total pool of people were not sure which they would purchase. Both formats still have a long way to go before penetrating the majority of the market.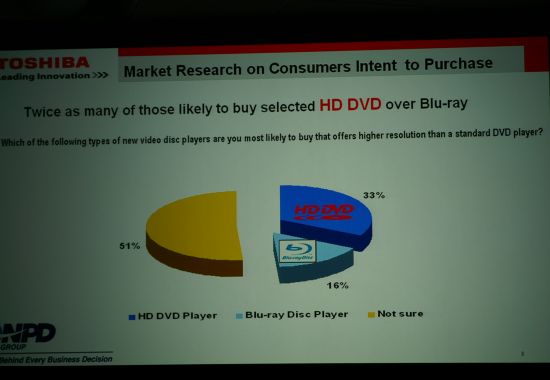 Toshiba's HD-DVD Players and Tons of Free HD-DVDs
Now we'll go into the new HD DVD products being released by Toshiba for 2008. The new models are the HD-A35, HD-A30, and HD-A3. All three models are part of Toshiba's third generation of HD-DVD players and are about ¼" slimmer than their predecessors.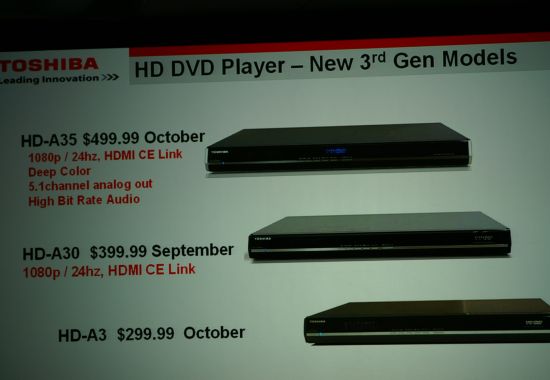 The HD-A3 is the entry level model which has an MSRP of $299 and will ship in October. This model only features 1080i output and no other bells and whistles.
The HD-A30 is the successor to last years HD-A20. The unit is capable of outputting 1080p/24 frames per second as well as "CE-Link." Almost all moves are recorded at a rate of 24 frames per second. Having a player that can output at that rate removes the need for extra post processing which can have adverse affects on picture quality. CE-Link allows two-way communications between devices over HDMI. The player can then be controlled by compatible equipment (such as A/V receivers) for a more seamless integration of home theater components. The HD-A30 will have an MSRP of $399 and should begin shipping this month.
The HD-A35 will have the same features as the HD-A30 but will also include deep color support, PCM analog audio out, and high bit rate audio. Deep color support is a new addition to the HDMI 1.3 standard which allows for up to 48-bit color depth. PCM analog audio out allows you to output the uncompressed PCM audio channels used in many HD movies directly out of the player without the need to decode them using a receiver. High bit rate audio simply refers to the latest HD audio standards including Dolby TrueHD and DTS-HD. The HD-A35 will have and MSRP of $499 and should begin shipping by October.
Toshiba also announced that they will be releasing an firmware update for the 2nd generation HD DVD players to add support for 1080p/24 frames per second.
Toshiba has made a name for themselves in the HD DVD arena with their gratuitous movie giveaways when purchasing a new HD DVD player. They are continuing this tradition will all new promotions starting immediately. First they will be giving away a copy of "300" and "Bourne Identity" with the purchase of a new Toshiba HD DVD player. These movies will be included right out of the box so there's no waiting for the movies in the mail.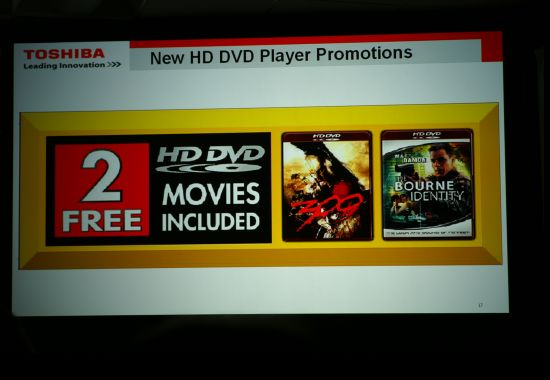 In addition to this bundle, Toshiba announced "The Perfect HD Offer," which will begin on October 1st 2007 and end February 28th 2008. This offer is similar to earlier offers this year where Toshiba will allow you to chose 5 free HD DVD movies with the purchase of an HD DVD player. However this time Toshiba as upped the ante and will extend this offer to not only Toshiba HD DVD drives, but also all HD DVD capable Toshiba PCs as well as the Microsoft XBOX 360 HD DVD add-on. The only downside is that the movies will still be mailed to the consumer after purchase.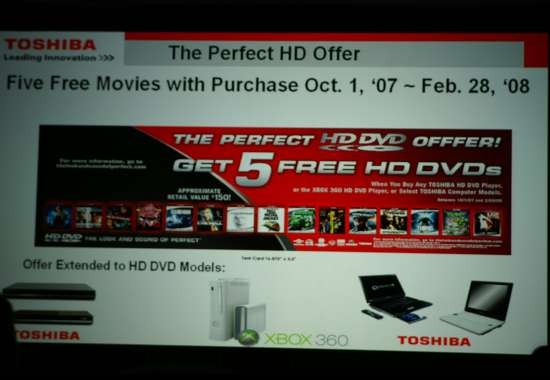 Sony's New 1080p Projectors
The problem with CEDIA is that the show is targeted mainly to integrators, resellers, and custom installers, in other words: people looking to sell you this stuff. Every press conference and presentation ends up talking about protecting your profits, fighting commoditization and selling better - in other words, it's not very consumer friendly. It's sharp contrast to what we're used to talking about in the PC market where it's all about bang for your buck and the manufacturers mostly get that. Needless to say, Sony is committed to fighting commoditization with its products thus keeping prices high, um, yay? :)
As expected, Sony introduced two new projectors at CEDIA: the VPL-VW60 and the VPL-VW200. The VW60 was announced a couple of weeks ago as the long awaited successor to the VW50 (aka Pearl), Sony's first affordable 1080p SXRD (Sony's LCoS) front projector.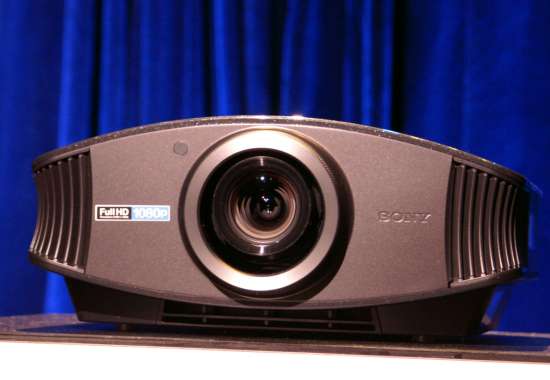 VPL-VW60
The VW60 features 3 1080p SXRD panels with a 35,000:1 dynamic contrast (using dynamic iris, unlike JVC's HD100/RS1). Sony mentioned that the VW60 used an updated video processor but it wasn't clear whether or not the UHP lamp was any different than the VW50's. Panel alignment is now supported to address issues where the three SXRD panels are misaligned, a feature lacking from the VW50. Sony mentioned that the panel alignment feature was specifically developed for installers, which could mean that it's only accessible through a service menu.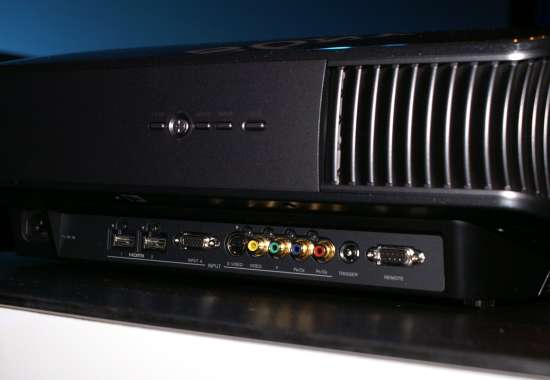 Adjustable lens shift and a special "theater mode" calibration are both VW60 features, and the projector has 2 x HDMI ports as well as a RS232 port for automation. The video processor will stretch the picture vertically to support 2.35:1 aspect ratio setups with an optional motorized anamorphic lens. Sony didn't mention what company would be producing the lens itself.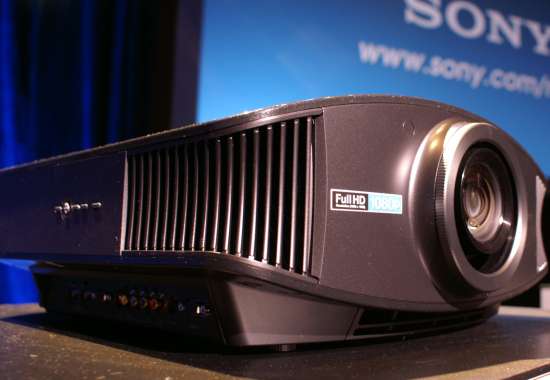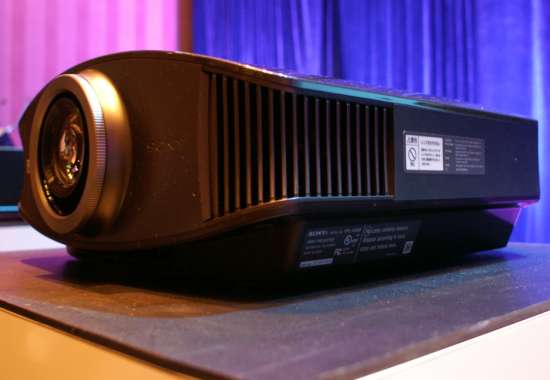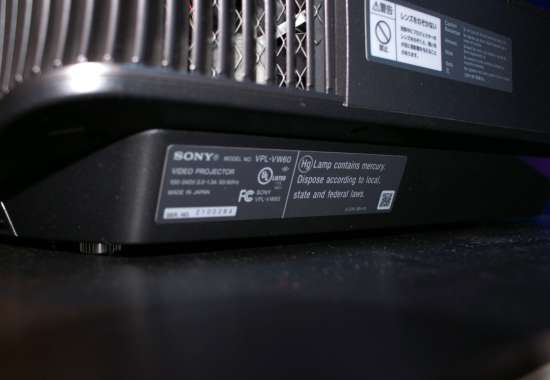 The VW60 retails for $4999, but street price should be lower, and it is currently shipping.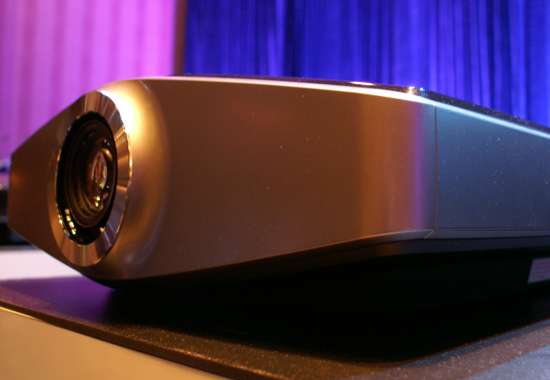 VPL-VW200
The VW200 is a higher end projector using a 400W Xenon bulb (better color gamut, not necessarily better brightness though) and a custom Carl Zeiss Vario-Tessar lens. The VW200 also brings Sony's 120Hz Motionflow technology to the projector, supporting both frame interpolation (like JVC) or black frame insertion to achieve 120Hz.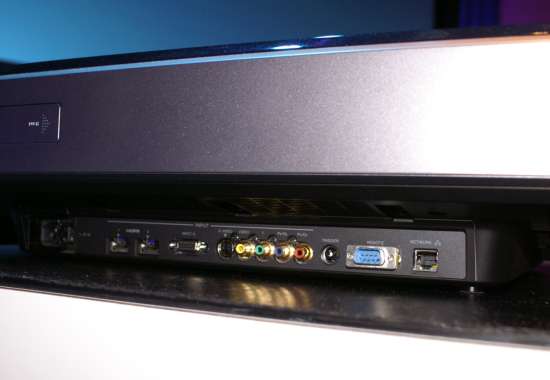 Panel alignment and 2.35:1 scaling support are both standard (with an optional anamorphic lens) just like the VW60, but the 200 does add an ethernet port possibly for automation or firmware updates.
The VW200 will begin shipping in October at under $15,000.
Compared to JVC's recently announced HD100/RS2, it looks like the two companies will have fairly complementary offerings on the market. We'll have to wait until November before finding out how the WV60 stacks up to JVC's latest and greatest though.
Barry Sonnenfeld and his VW200
In order to talk up the VW200, Sony invited Barry Sonnenfeld on stage to talk about his experiences with the projector. Sonnenfeld is a director/producer with such credits as Get Shorty, Out of Sight, Men in Black and from earlier in his career as director of photography on When Harry Met Sally and the Tom Hanks classic, Big.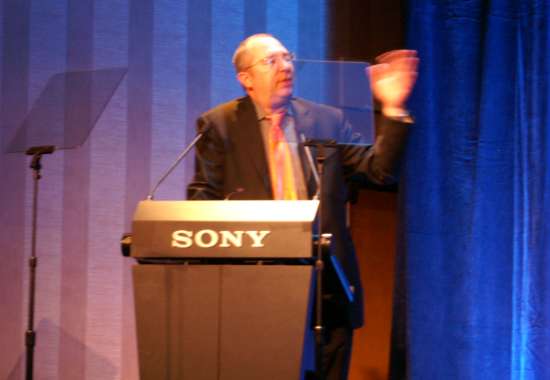 Barry took us through his history of home theaters, starting with his first one in the mid 90s at his mansion in East Hampton, Long Island.
Barry went nuts with this theater, he had all curved walls and construction alone must've cost around $500K (according to him). Steven Spielberg, whom Sonnenfeld likes to call "Spiely" because it annoys Steven, would come over and smoke cigars in the theater as it had a wonderful ventilation system and Spielberg's wife apparently wouldn't allow him smoke at their house.
This first theater had a Sony G90 CRT projector, as well as film projectors in it. Barry built it because you can honestly get a "better movie going experience at home than in a movie theater" which is "very unfortunate" he added; citing poorly implemented sound systems and corrosive spills on the floor doing who knows what to your shoes.
Sonnenfeld then sold the mansion in East Hampton, the children had all moved out and he and "sweety" built a smaller home. In the new home he built an all-digital screening room and got a phone call from Sony's Mark Finer. Mark suggested that Barry check out the new (at the time) Qualia 004, Sony's first 1080p SXRD projector - widely regarded as an amazing product. Barry was quick to point out that Mark introduced the Qualia 004 "at list price", Sony never cuts anyone a break it seems.
Barry got the Qualia and loved it, he even told us about how he had spent around $20K on building a rear soffit in the screening room to air condition and hush the projector that would inevitably be back there, only to have to tear it down because the Qualia was so quiet.
Sonnenfeld added another home in Colorodo to his stable: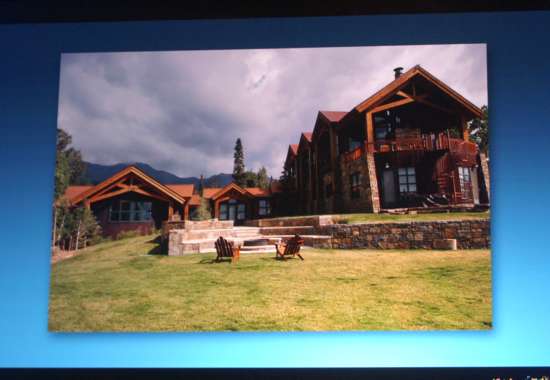 He showed us the view in the Summer: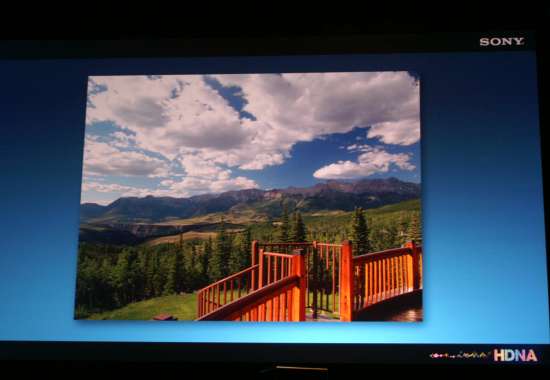 And the view in the Winter: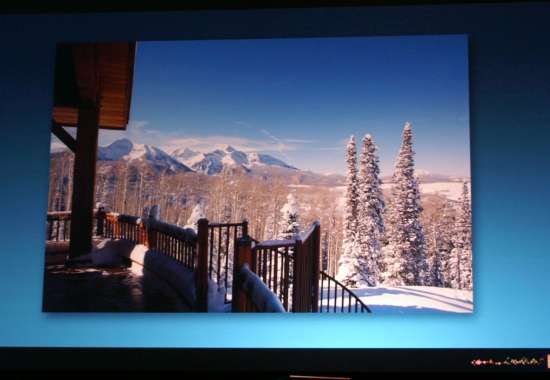 Adding: "the problem with that view, is that you wife makes you go out and walk in it." The problem here is that "my house is at 10,000 feet and I'm jewish", Sonnenfeld explained that he was somewhat afraid of having a massive heartattack walking in the snow at his new home: he needed another theater.
Barry eventually convinced his sweety to build another screening room, mainly to avoid death and bears in the summer. And here's a shot of that screen room: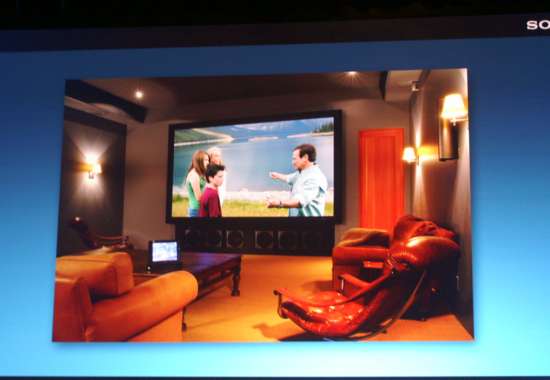 Barry added: "oh, I directed that movie, available on Blu-ray by the way...Did you hear that I said Blu-ray Finer and not Bluetooth?"
This screening room had a Stewart Firehawk grey screen, which Barry added was a mistake as he didn't need one. Sony had him use a VW100, and although he liked it, he didn't love it as much as the Qualia. The latter wasn't an option as Sony had stopped selling it, so Mark Finer brought over a prototype VW200.
Obviously Sony had Sonnenfeld up there for a reason, and this quote about the VW200 should explain why: "[the V200] is an amazing projector" and like the Qualia, Barry said that it was "super quiet so you don't have to box it in".
If anyone is thinking of building a theater in Colorado, Barry offered the following advice:
"At 10,000 ft nothing works, not only can you not breathe but you can't have gas plasma televisions because they sound like neon bar signs."
"I outbid the city of Montrose, CO for the emergency generator for their hospital...well please, they'll get another generator".
Barry Sonnenfeld's contributions to the Sony press conference were far more entertaining than anything else we'd been through today, thanks Barry. We'd have to see how the VW200 performed for ourselves, but you'll undoubtedly hear resellers recanting Barry's story as they attempt to sell the VW200.
Sony's Receivers
Sony's audio group talked about three of its new receivers: the STR-DA3300ES, STR-DA4300ES and the STR-DA5300ES, retailing for $999, $1299 and $1699 respectively.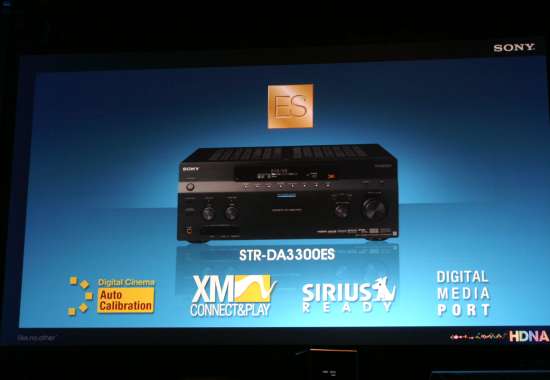 The STR-DA3300ES is an 8 channel receiver with support for XM/Sirius, x.v.Color, a built in Faroudja scalar (everything gets upscaled to 1080p), iPod support, MP3/AAC/WMA streaming over wireless and Sony's BRAVIA Theater Sync which allows other Sony products to automatically connect/configure themselves with each other. The 3300ES includes 12V triggers and IR blasters as well as a RS232 port for automation.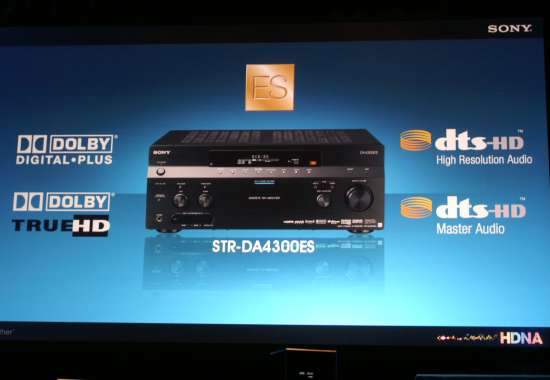 Moving on up you've got the STR-DA4300ES, which adds support for all of the new audio standards: Dolby True HD and DTS-HD, while building on all of the features of the 3300ES.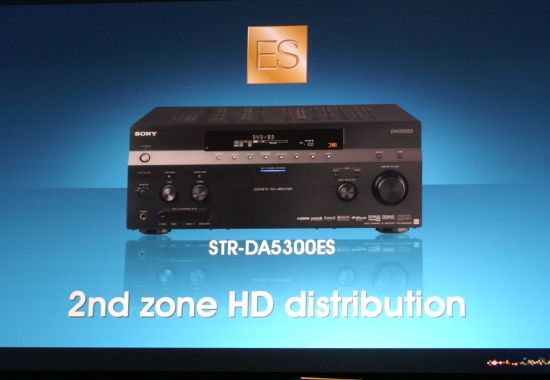 The STR-5300ES is the next step up, delivering 120W per channel, two zone HD distribution and six assignable HDMI inputs.
Sony on Blu-ray
Much like Toshiba touted the HD-DVD horn, Sony was out in full force promoting Blu-ray, even going as far as to say that the question was no longer if Blu-ray would win, but when. Sony does have a lot to be happy about as Blu-ray has been doing quite well, with virtually exclusive support from places like Blockbuster, BJ's and Target.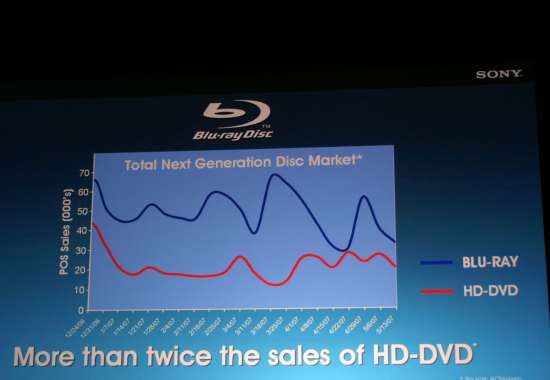 On the Sony front, it has shipped the 100,000th Blu-ray player and PS3 sales have exceeded 1.8M units in the US - a lot for a Blu-ray player, but not much for a next-gen console.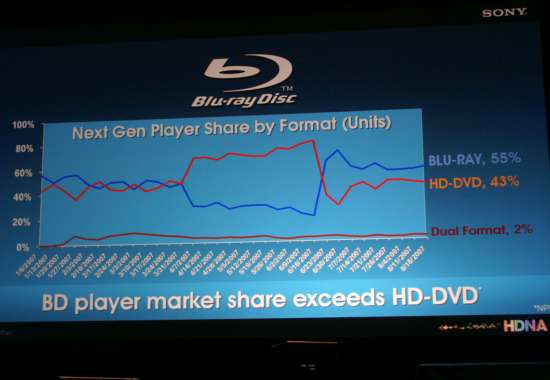 Sony introduced three new Blu-ray products, the BDP-S500, BDP-S2000ES and the HES-V1000.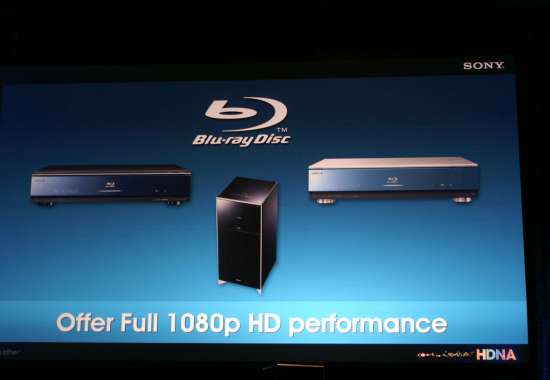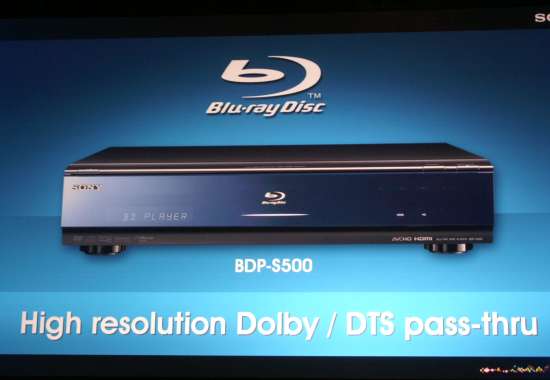 The BDP-S500 is a stand alone Blu-ray player, supports both BD-R and BD-RE, upconverts to 1080p, supports x.v.Color, Dolby True HD/DTS-HD and will be available next month for $699 (yes, more expensive than a PS3).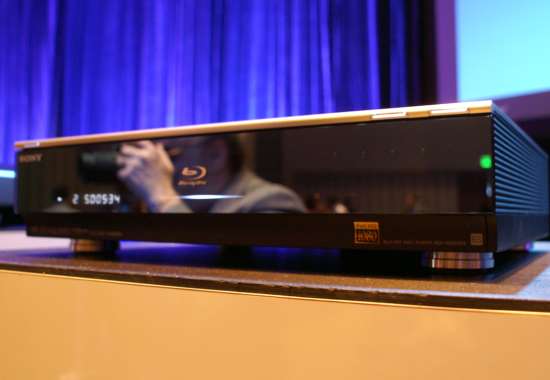 The BDP-S2000ES adds a bunch of stuff to the chassis to help keep noise levels down (rigid beam chassis and drive bracket, Aluminum top panel, dual shielded isolated disc drive) as well as an "oxygen free power cable".
Sony also claims the BDP-S2000ES has separate audio and video boards, the presenter held up two separate PCBs; we're assuming one was for audio and one handled all the video signals to isolate them as best as possible. This player will retail for $1299 and begins shipping in November.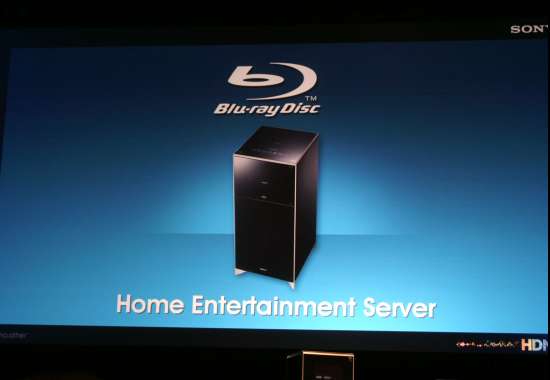 Finally, there's the HES-V1000: Sony's first home entertainment server. The HES-V1000 features a 200 disc BD/DVD/CD changer, full BD read/write support and a 500GB hard drive. There's a built in multicard reader for importing images and can distribute music wirelessly or via ethernet to up to "10 different rooms" although we're not sure how that limitation is enforced. The HES-V1000 is available now for $3499 and looks like a gigantic black tower.